Hey, y'all, are you ready to explore the best restaurants in San Antonio, Texas? I recently returned from my first trip to the Alamo City since launching Feastio, and I'm excited to share some of the best places to dine there.
From nationally recognized chefs serving seasonal menus to top South Texas barbecue joints, San Antonio serves up an diverse feast.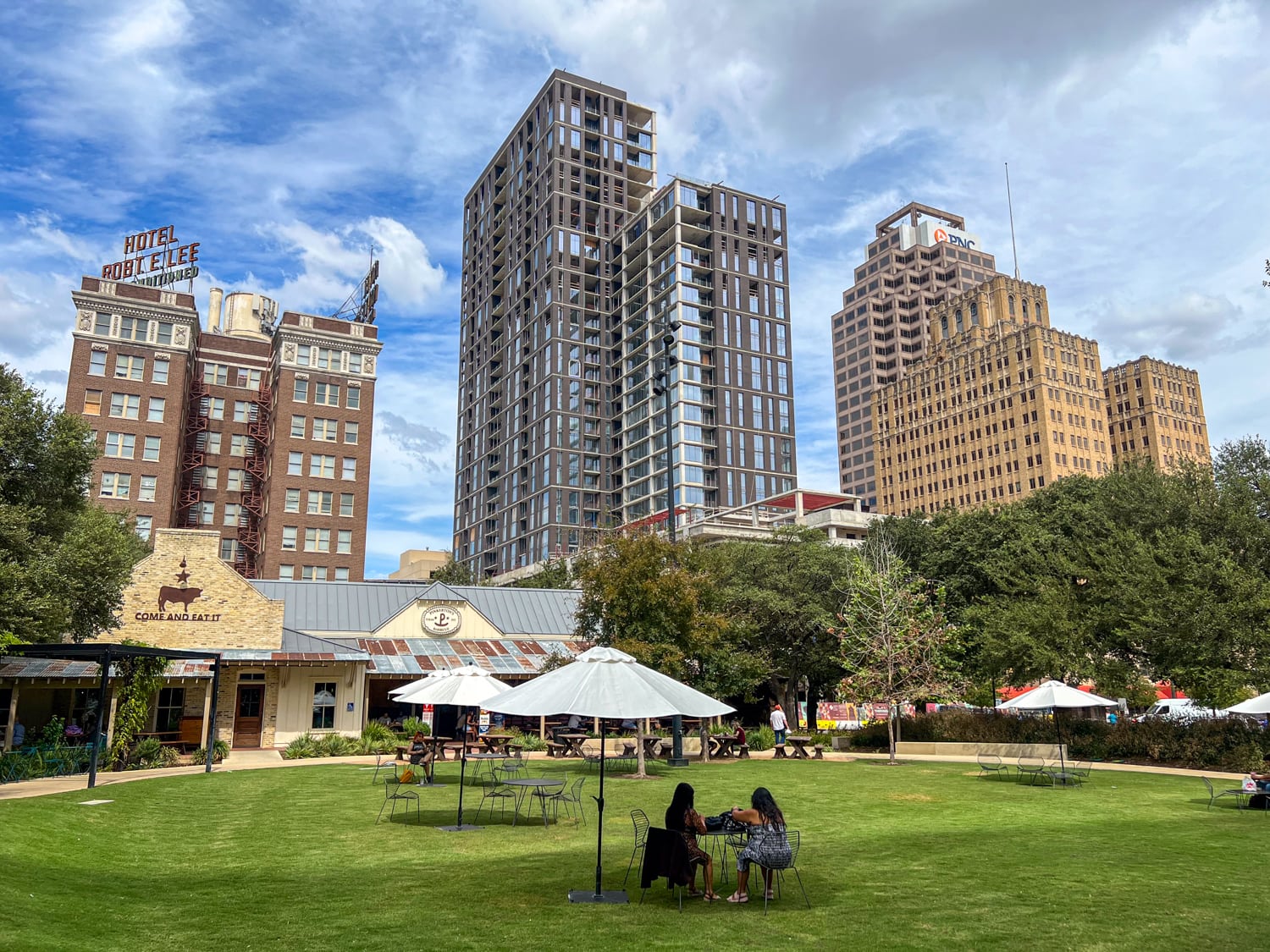 Join me as we dive fork-first into San Antonio's buzzing restaurant scene, where the flavors are as rich as the history. Trust me, you'll want to bring your appetite and an adventurous spirit.
Top San Antonio Restaurants
1. Clementine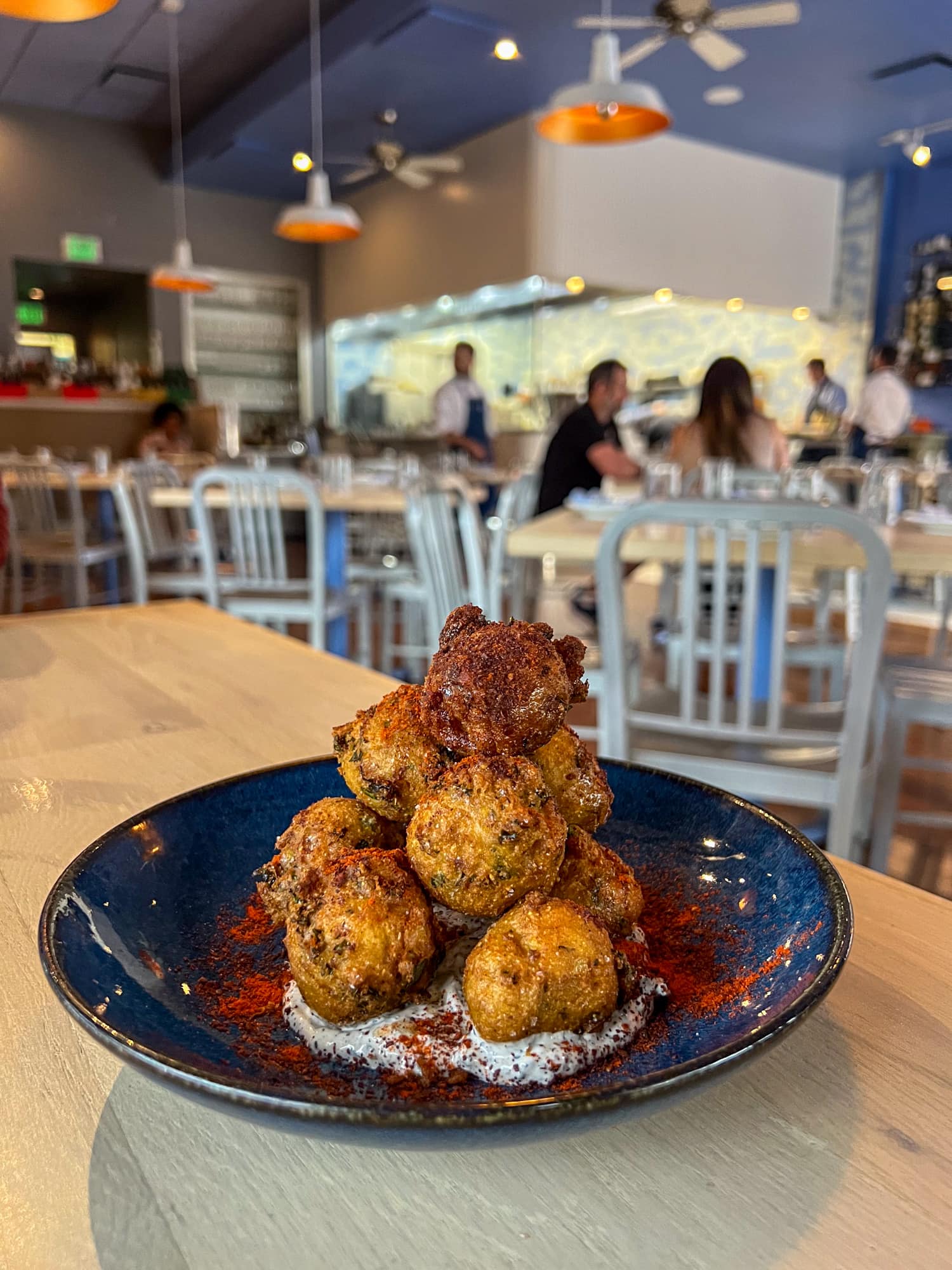 My first choice for dinner was Clementine, an unassuming restaurant at the end of a strip mall in the Castle Hills neighborhood north of downtown San Antonio.
Executive chef John Russ, a New Orleans native and 2023 James Beard Award Finalist for Best Chef: Texas, co-owns Clementine with his wife, pastry chef Elise Russ.
Menu items are split into four sections: Petites, Sideboard, Platters, and The Best Parts (being the desserts, of course).
You can order what you want or outsource the decision-making to the kitchen with the "Feed Me" option. The chefs will design a family-style meal for your table, starting at $81 per person.
Kel and I kicked off our dinner date with pomegranate sangria and one of the "petite" offerings, a mountain of hush puppies served with herb-laden labneh, wildflower honey, and sumac.
Next, we received an unexpected gift from the open kitchen: a crispy flame tart with smoked bacon, sweet onions, bechamel sauce, and pink peppercorns.
My entree of choice was the meaty Alaskan halibut with sweet Texas corn, huitlacoche, and a bacon and truffle jus. The side of sweet corn risotto was also fantastic, and Kel enjoyed the broccolini.
Once plates were cleared, we shared the restaurant's namesake dessert, a Clementine Crunch Bar. It featured an excellent chocolate mousse with toasted hazelnuts and clementine sherbert.
Overall, we had a wonderful experience. A minor downside to the restaurant's success is the noise, which steadily increased as the dining room filled up. If you're sensitive to noise, arrive early or choose the outdoor seating.
2195 NW Military Hwy, San Antonio, TX, clementine-sa.com
2. Brasserie Mon Chou Chou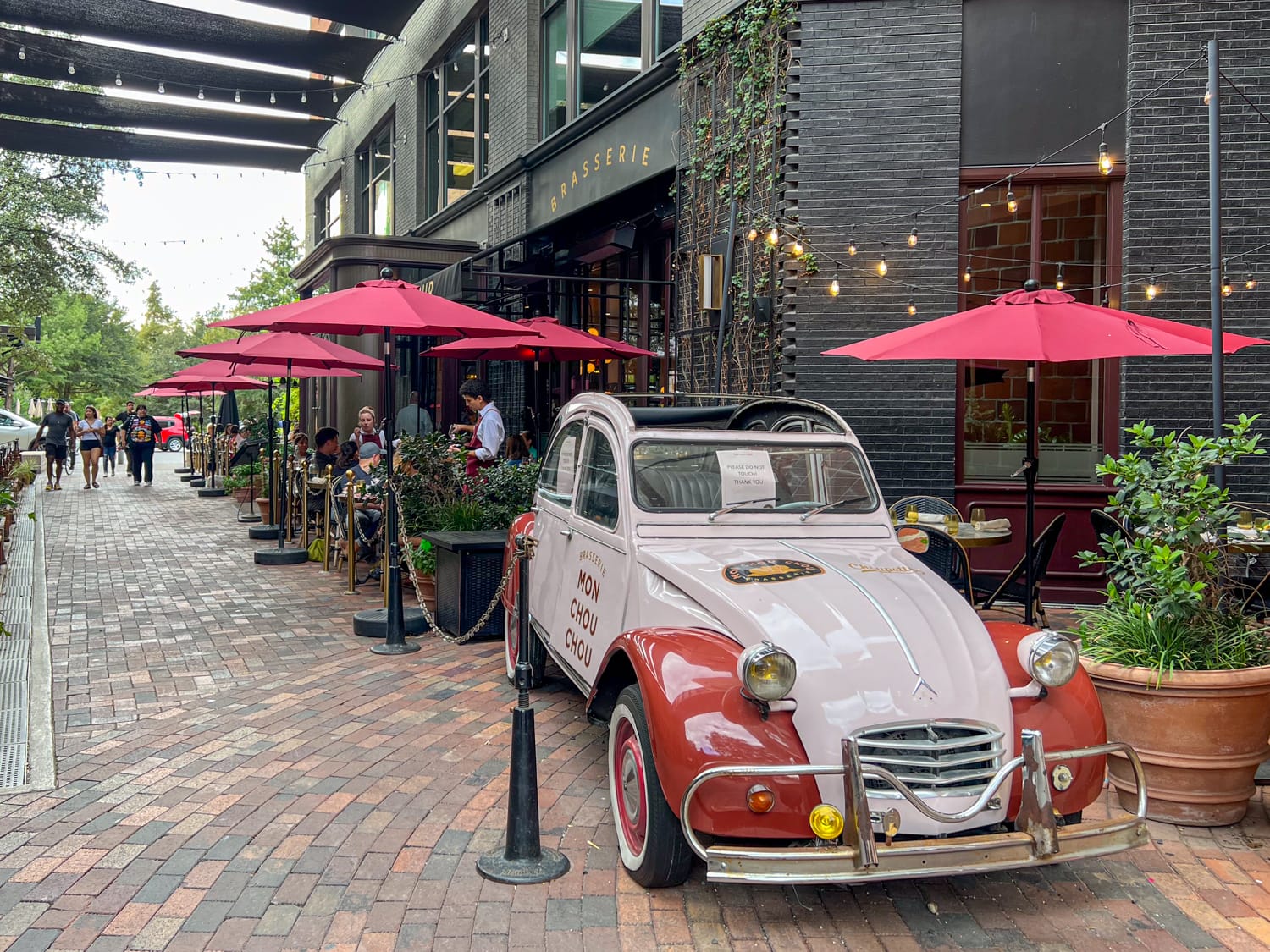 Next, let's head to the Pearl Brewery, a historic district along the San Antonio River Walk. What was once the largest brewery in Texas is now one of San Antonio's top dining spots.
Eventually, I'll write a separate story on the Pearl, including the Food Hall, weekend markets, and stunning Hotel Emma. But, for now, I'd like to draw your attention to Brasserie Mon Chou Chou.
Here, you'll find a busy Parisian-inspired restaurant that's open for lunch and dinner daily, plus brunch on Sundays. You can dine al fresco on their covered patio, at the gorgeous indoor bar, or at a table in the dining room.
The extensive menu is full of French comfort foods, some of which Kel and I were eager to order for dinner.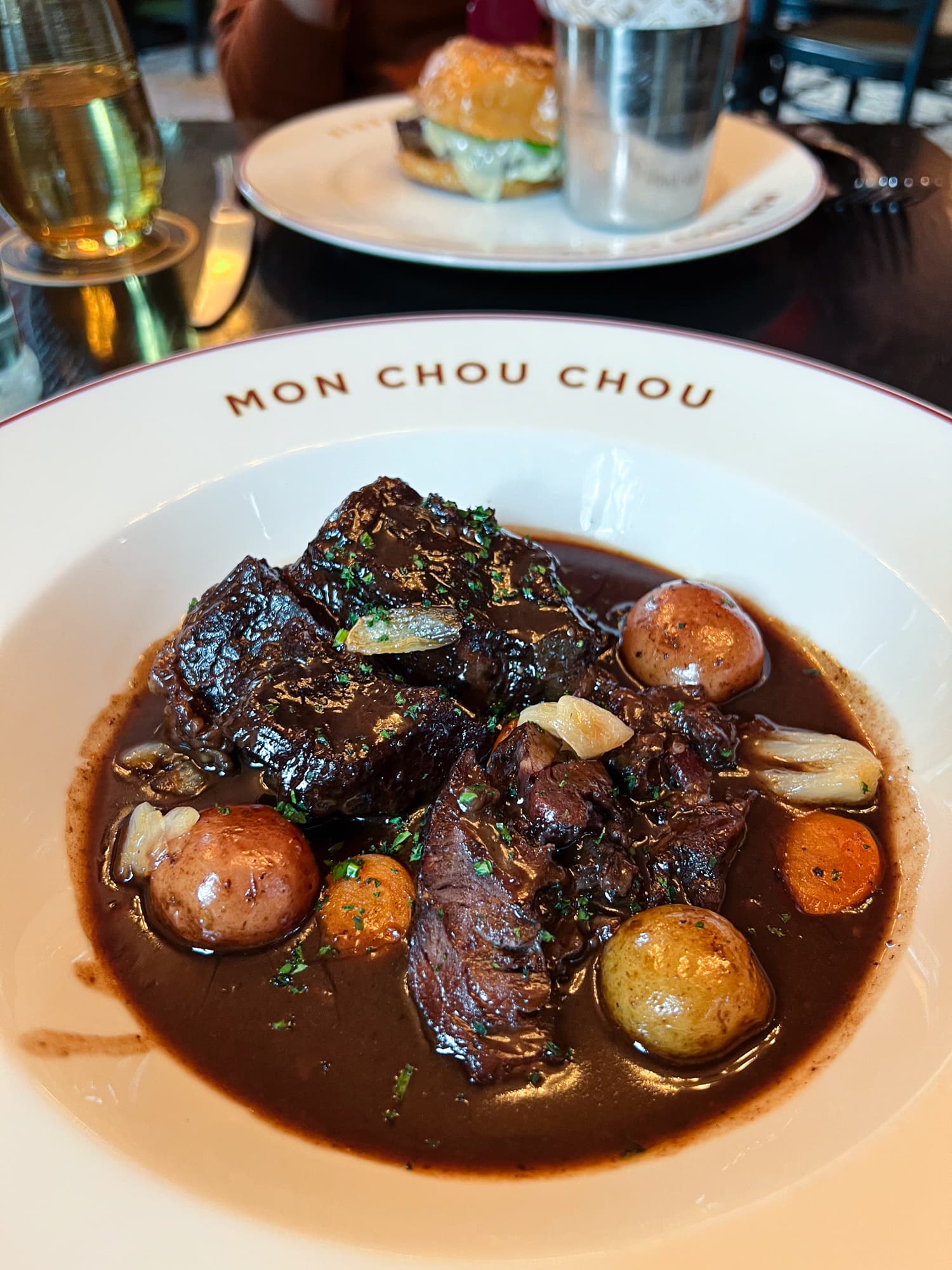 If I hadn't been feeling full from meals earlier in the day, I'd have begun with an indulgence, the raclette cheese sandwich on a crisp baguette served tableside.
Instead, I skipped to a hearty cold-weather entree of braised beef cheeks in a Burgundy wine sauce (Bourguignon de Joue de Boeuf).
The preparation was fabulous, with the meat easily pulled apart by the forkful.
Meanwhile, Kel opted for the Cheeseburger Mon Chou Chou with melted Gruyere and shallot sauce on a sesame bun. The French fries, as one would hope, were on point.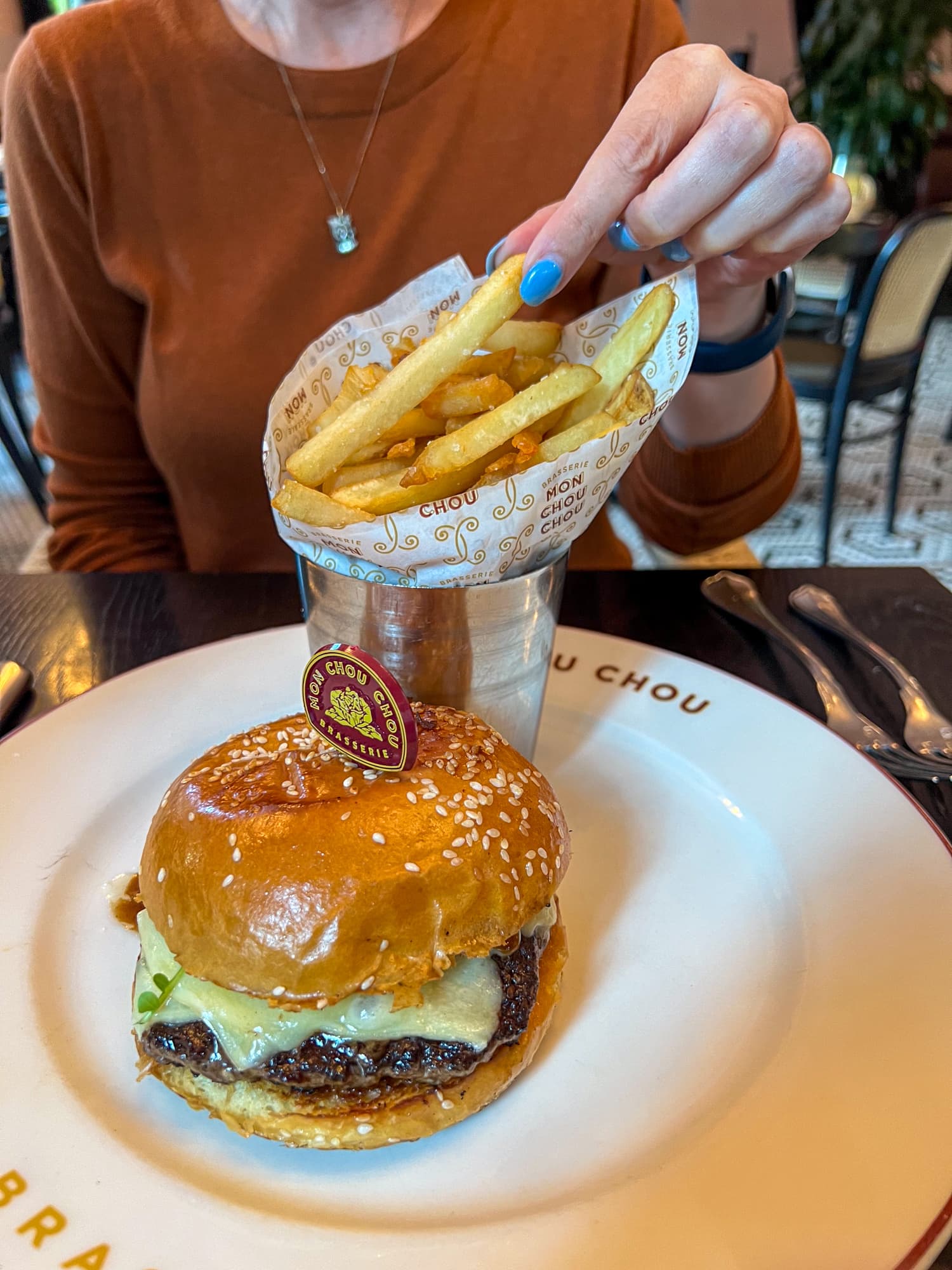 A half-dozen desserts tempt those with a sweet tooth. I'm well-versed in the delights of heavy New York-style and silky Basque cheesecakes. However, I wasn't sure I'd ever tried France's Alsace-style cheesecake.
So, that's what we ordered. It's traditionally lighter and less sweet than the NY and Spanish versions. The version at Mon Chou Chou was a bit crumbly and left me wanting to try their coffee and chocolate pot de creme with sea salt caramel instead. Next time!
312 Pearl Pkwy, San Antonio, TX, brasseriemonchouchou.com
3. Cured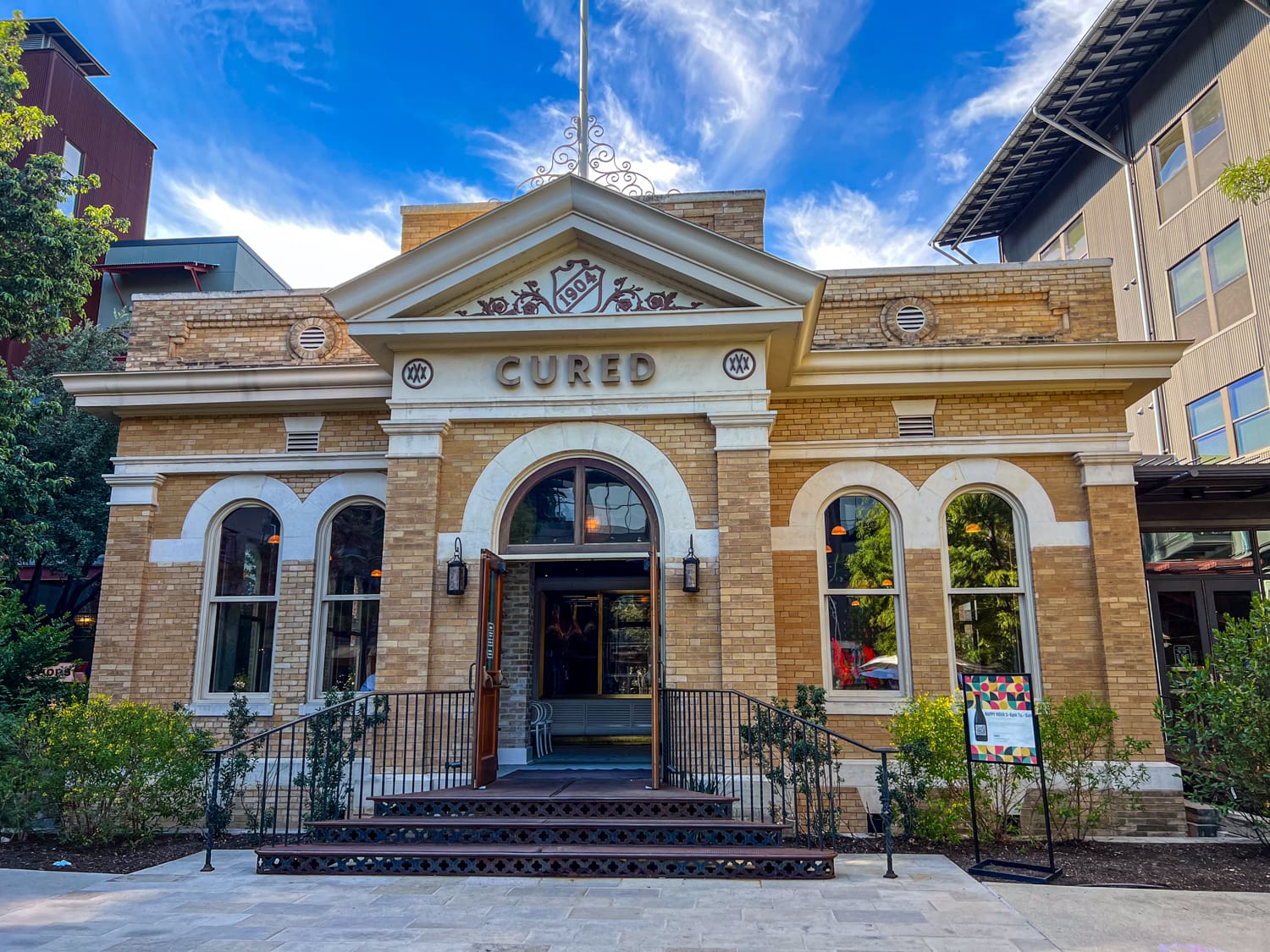 Cured is another great place to eat at the Pearl. The stately structure originally functioned as the brewery's Administration Building in 1904.
The restaurant's name is a nod to Wisonsin-born chef Steve McHugh's triumph over cancer, as well as his artisanal approach toward curing meats.
After perusing the Sunday Farmer's Market, I walked to Cured for brunch.
Diners are greeted inside the entrance by an attractive glass case full of meats in various stages of being cured. Behind it, a large bar anchors the main dining area. Counter seating facing the kitchen is available in an adjacent room.
Exposed brick walls, wood flooring, and a pressed-tin ceiling add to the old-world aura of this historic building.
The brunch menu features egg dishes, including a Butcher's Benedict with lamb merguez and harissa hollandaise, as well as sandwiches. The Double Blue Ribbon Burger with Wagyu-bacon blend and onion jam sounds fantastic.
Instead of fried chicken and waffles, there's chicken and doughnuts with buttermilk-brined chicken thighs. But I was there for the charcuterie.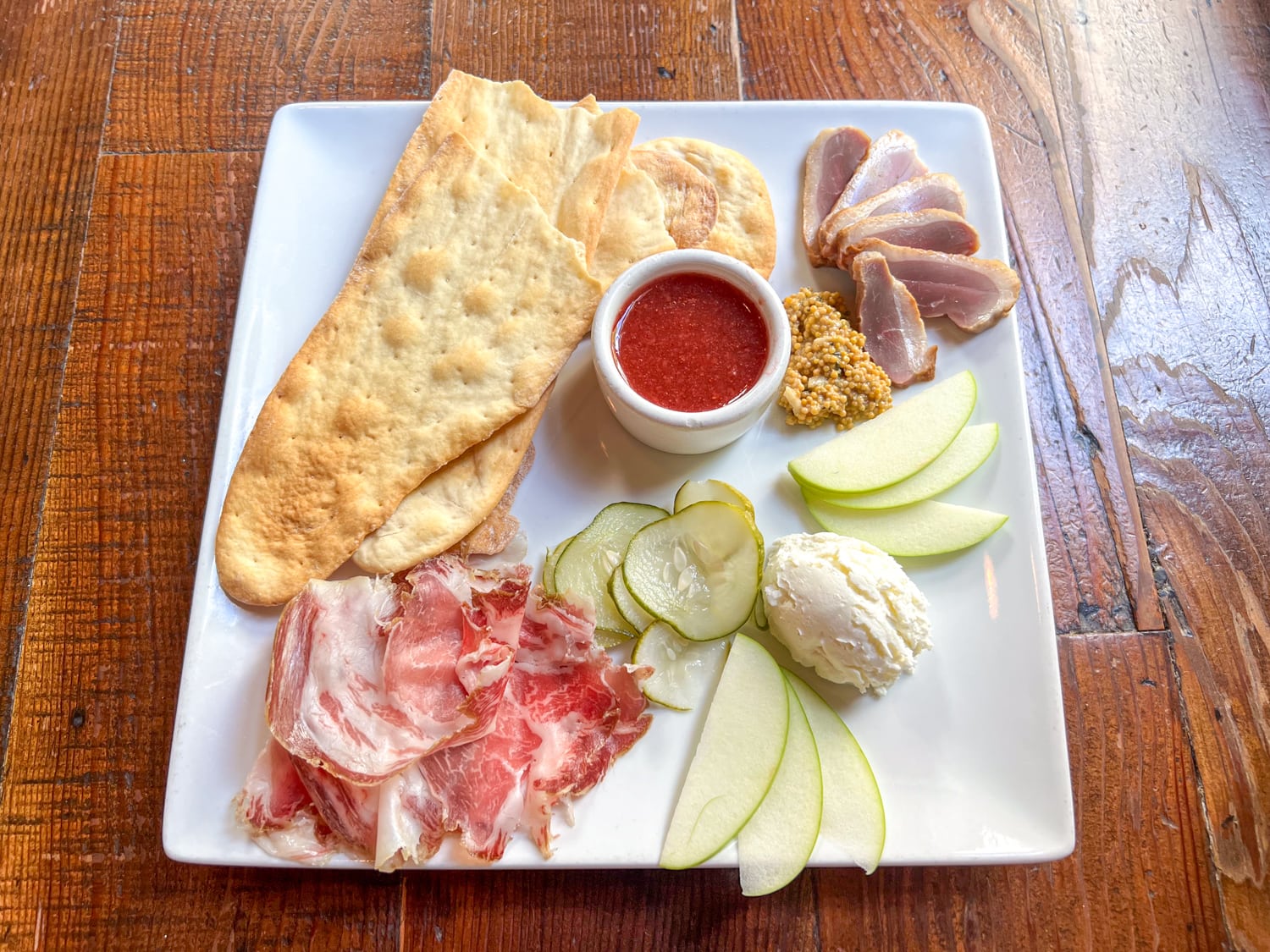 The charcuterie section of the menu offers nearly a dozen options. You can order three for $22, six for $32, or nine for $42.
As my day was just getting started, I picked three:
60-day cured pork coppa
Smoked duck ham
Dapper Goat Chevre
I took an immediate liking to the silky slices of pork coppa, while the thicker duck ham was too smoky for me. When my server saw that I wasn't eating the duck ham, she offered to substitute something else.
Following her advice, I got the thinly shaved beef cecina, which I enjoyed as much as the pork. And I appreciated the customer service she provided.
My Sunday brunch at Cured was capped with a generous serving of chocolate pot du creme with cherries and tonka bean cream.
306 Pearl Pkwy UNIT 101, San Antonio, TX, curedatpearl.com
4. Restaurant Claudine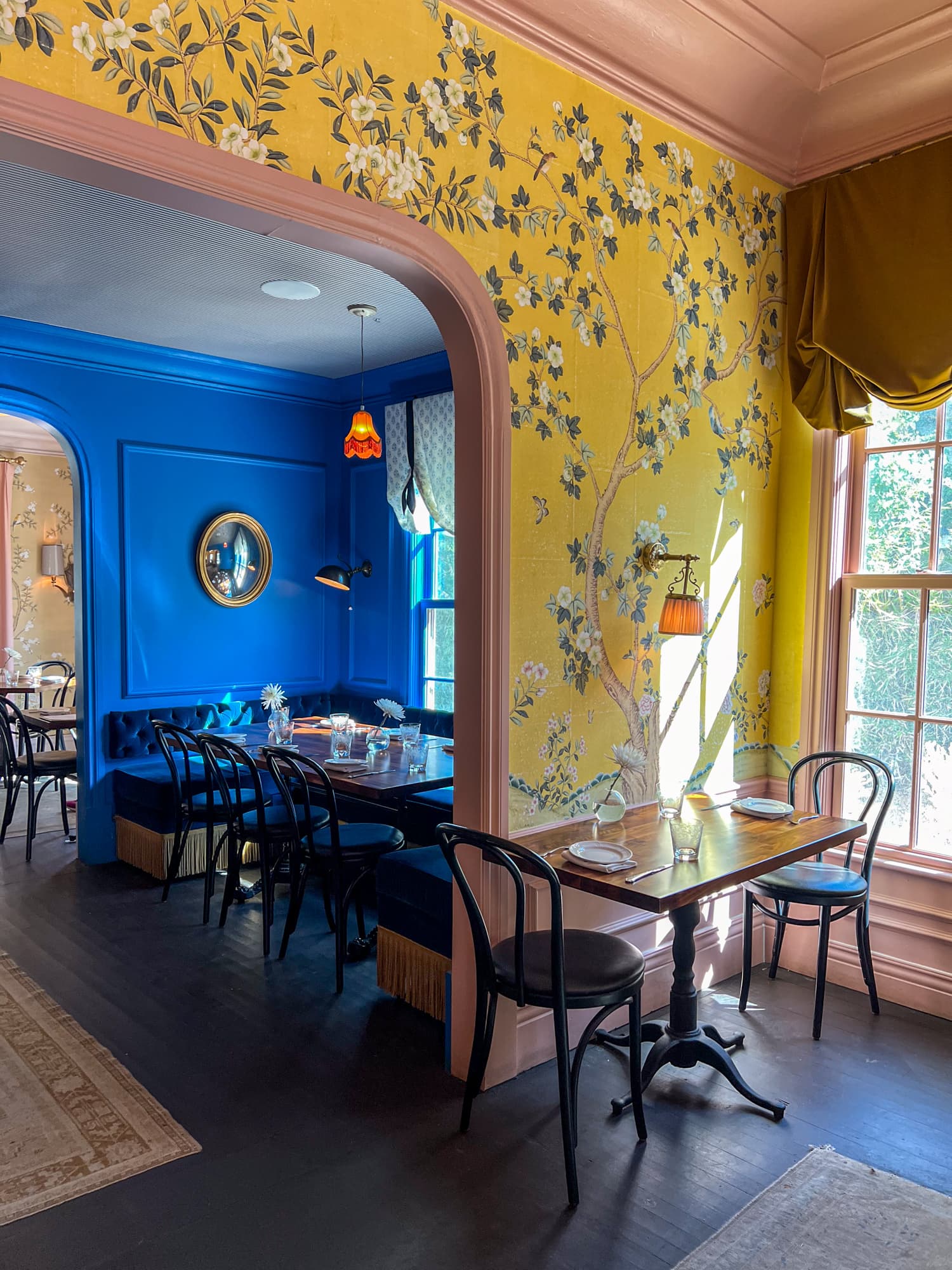 The award for the best decor in a San Antonio restaurant goes to Claudine in the Government Hill neighborhood a few blocks east of the Pearl District.
Restaurant Claudine opened in October 2022, the third offering by local restaurateurs Houston and Emily Carpenter.
The intimate five-room restaurant is named after Houston's grandmother, and the Southern menu pays homage to her cooking.
Kel and I stopped by for an early lunch the Monday we departed San Antonio for Austin.
It was love at first sight upon walking in the front door. The colorful wallpapers and painted walls were just as beautiful in person as they appear on Instagram. And jazz music was playing over the sound system.
We began with Grandma's cornbread served with smoked wallflower butter and an order of blue crab beignets.
For the latter, I was expecting deep-fried balls, similar to what we experienced at La Petite Grocery and Carousel Bar in New Orleans. However, Claudine's version wasn't deep-fried, and I missed the contrasting textures.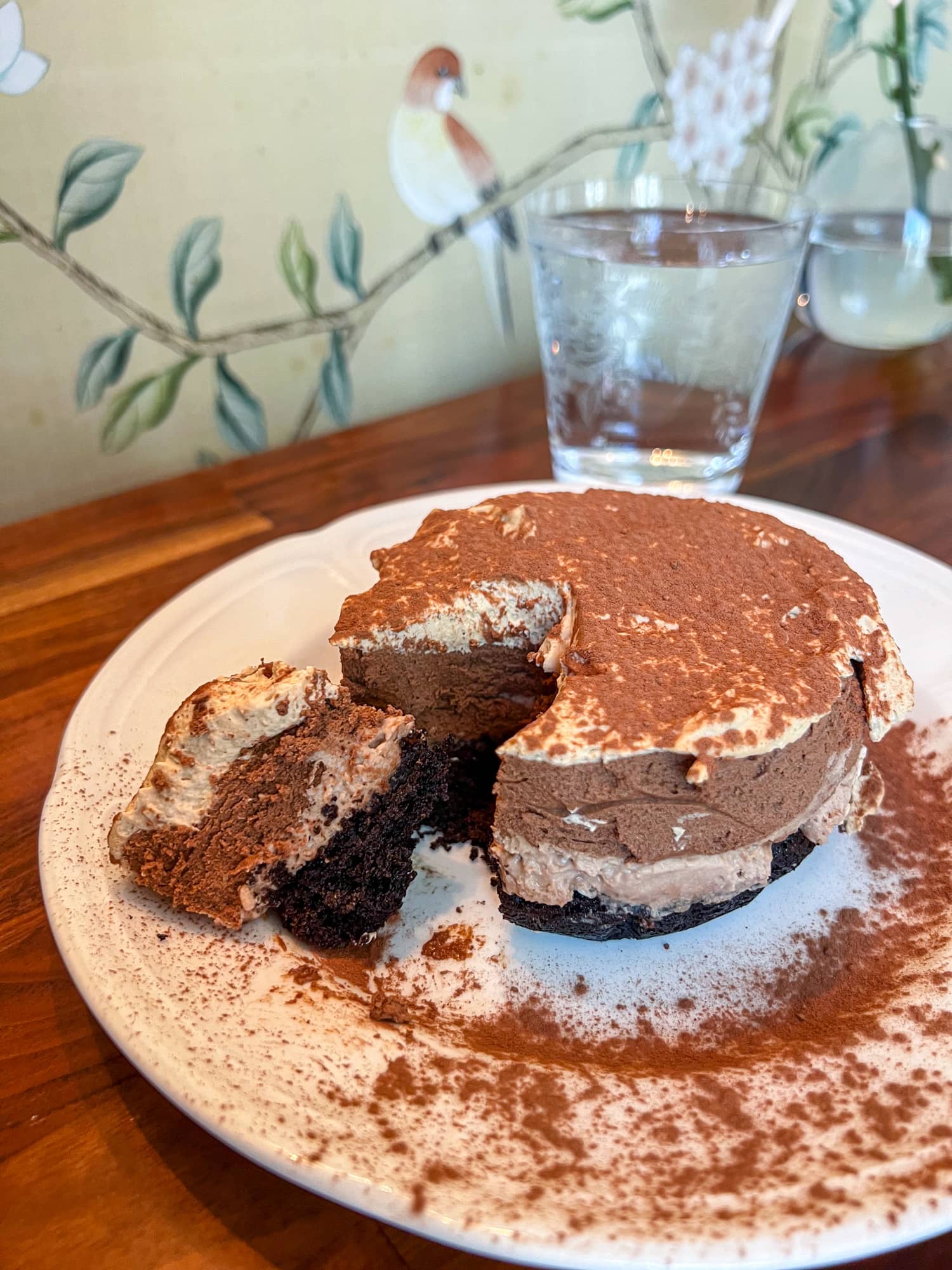 Kel and I shared a chicken salad sandwich with tarragon and dill on toasted brioche bread with a side of housemade potato chips that provided a satisfying crunch.
For a more substantial main course, there's a shrimp po'boy, gumbo, and ruby red trout with field pea succotash.
I went with a monumental chocolate mousse pie for dessert, most of which we packed up to take home. Cardamom cake and banana pudding were also available.
Despite being in a rush our first time, we had an excellent experience. I'd like to try their dinner menu next. A decision between duck confit and rabbit bolognese awaits.
517 E Grayson St, San Antonio, TX, restaurantclaudine.com
5. Tokyo Cowboy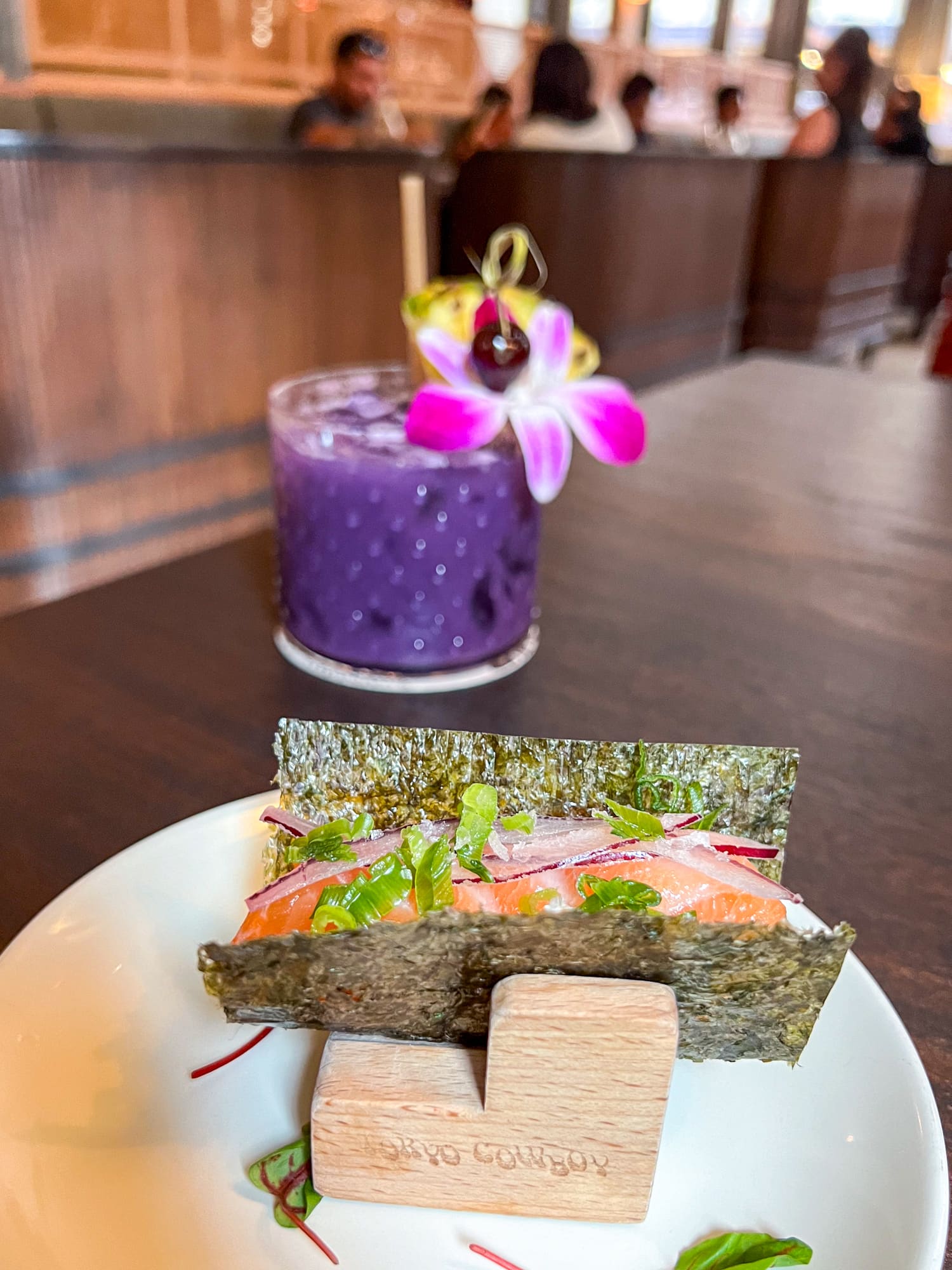 If you're looking for a fun happy hour spot along the San Antonio Riverwalk, look no further than Tokyo Cowboy Whisky Diner.
"Southern comfort meets Japanese street food" is the promise on the website, and based on our dinner there, they deliver.
First and foremost, the entertaining cocktail menu offers drinks named after popular music and movies, such as Fists of Fury, 36 Chambers, and my pick, the Cobra Kai.
My purple mixed drink arrived with a fresh flower, a tropical mix of Japanese whisky, ube, coconut, pineapple, and Becherovka (an herbal bitter).
Kel went with the Fists of Fury, a light and refreshing rum cocktail with lychee, strawberry, and mint.
Sake, beer, and a small selection of international wines are also available.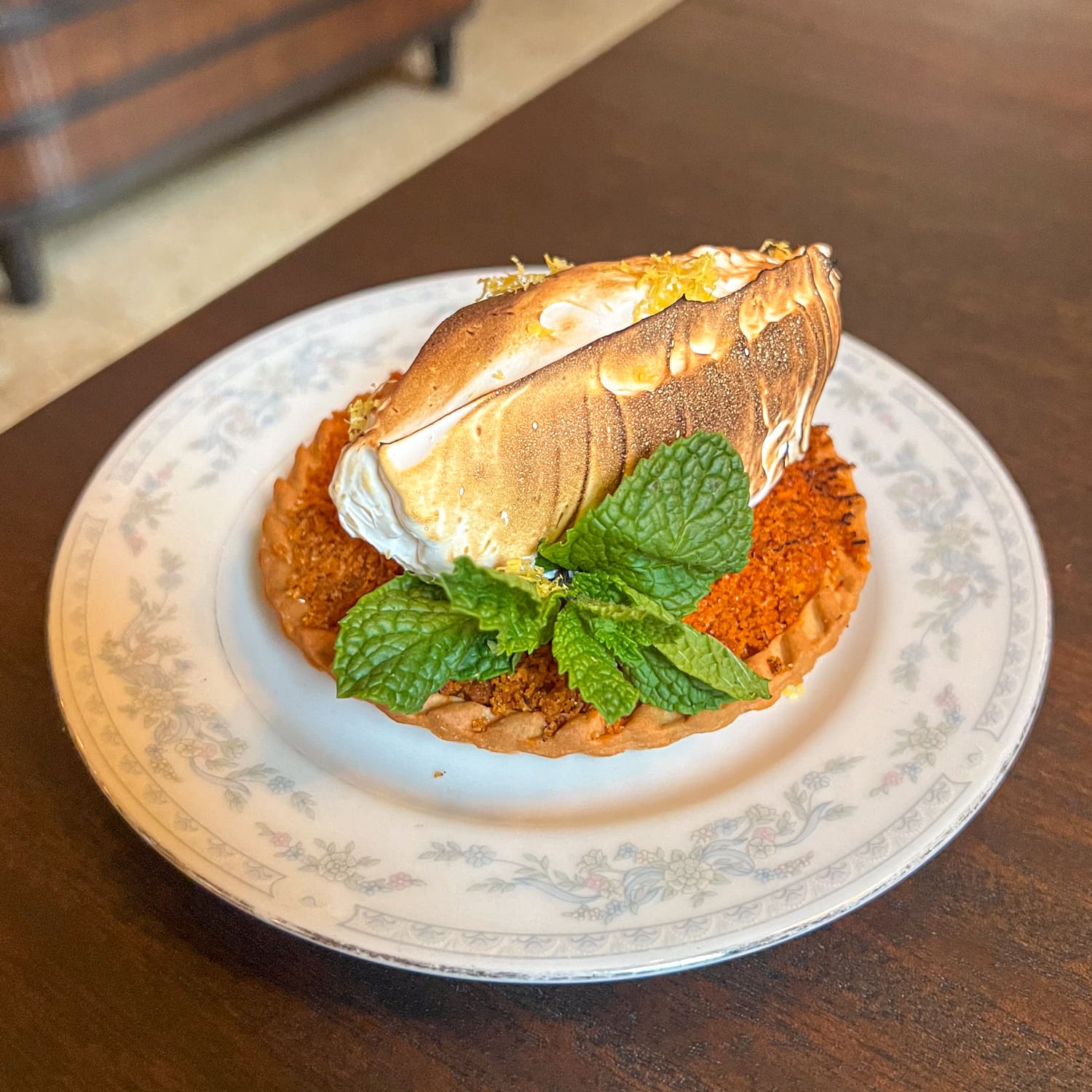 Foodwise, I enjoyed the two-bite salmon poke taco while Kel and I split the larger brisket egg roll with pickled collards and queso asadero, served with a chili herb ranch dip.
We also tried the dashi corn waffle, which layers shrimp atop kewpie-drizzled pork belly. Kewpie is a Japanese mayonnaise made from egg yolks (instead of whole eggs).
A beautifully presented yuzu tart with burnt meringue completed our dinner at Tokyo Cowboy, which deserves a spot on any list of the best restaurants in San Antonio.
135 E Commerce St, San Antonio, TX, tokyocowboytx.com
6. Curry Boys BBQ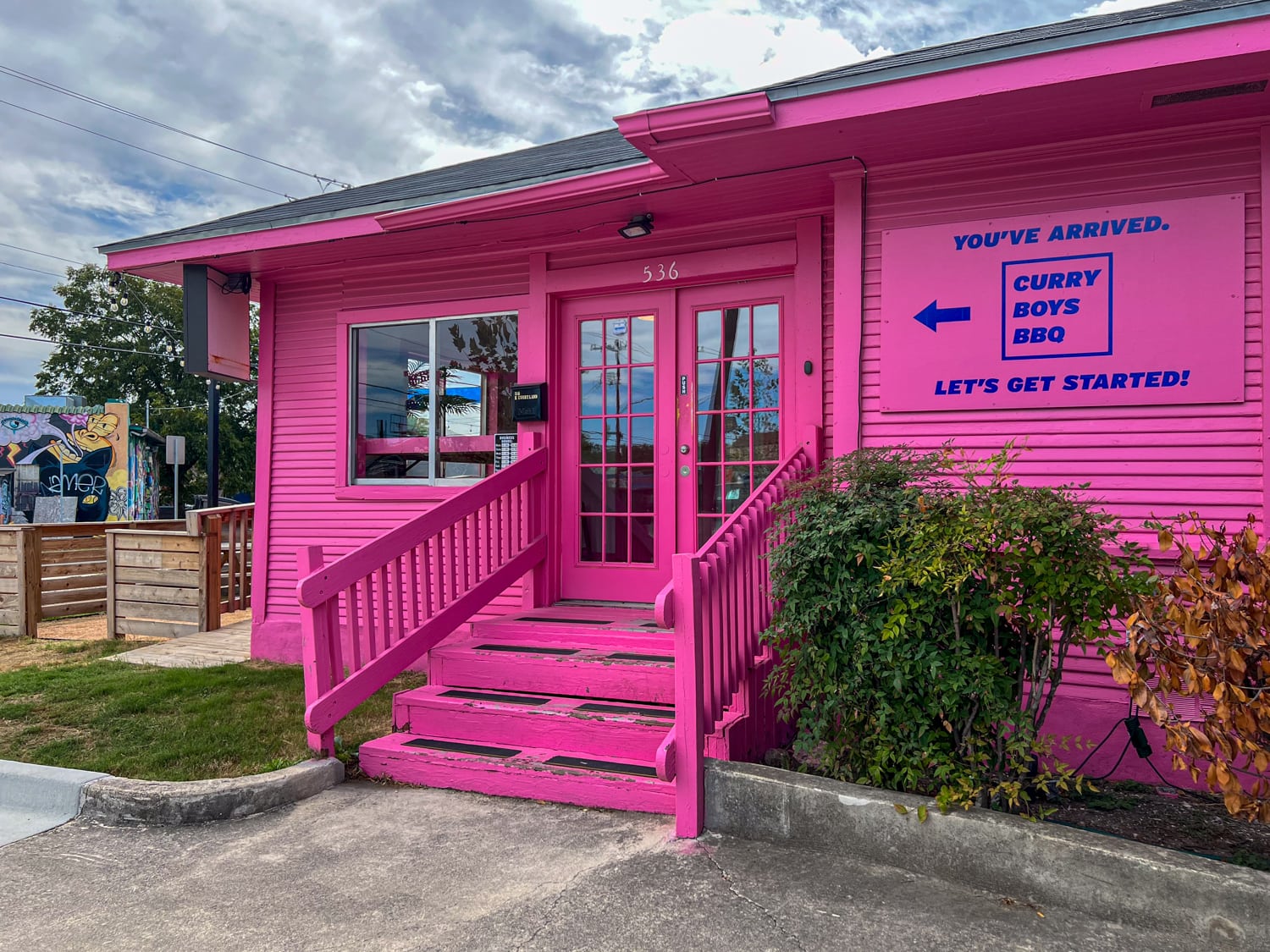 A delicious food I never knew I needed is the Brisket Smoke Show at Curry Boys BBQ. You'll find it at their fluorescent pink restaurant on The Strip, a nightlife district west of the Pearl.
The concept seems so simple. Smoke prime brisket and then drop it in a bowl of green curry with jasmine rice. For fans of brisket and Thai curry, the result will rock your world.
To kick up the heat, pay the extra 75 cents for a tablespoon of crispy chili oil. So worth it. Once you've ordered at the counter, sit inside or on their patio, and they'll bring you the food.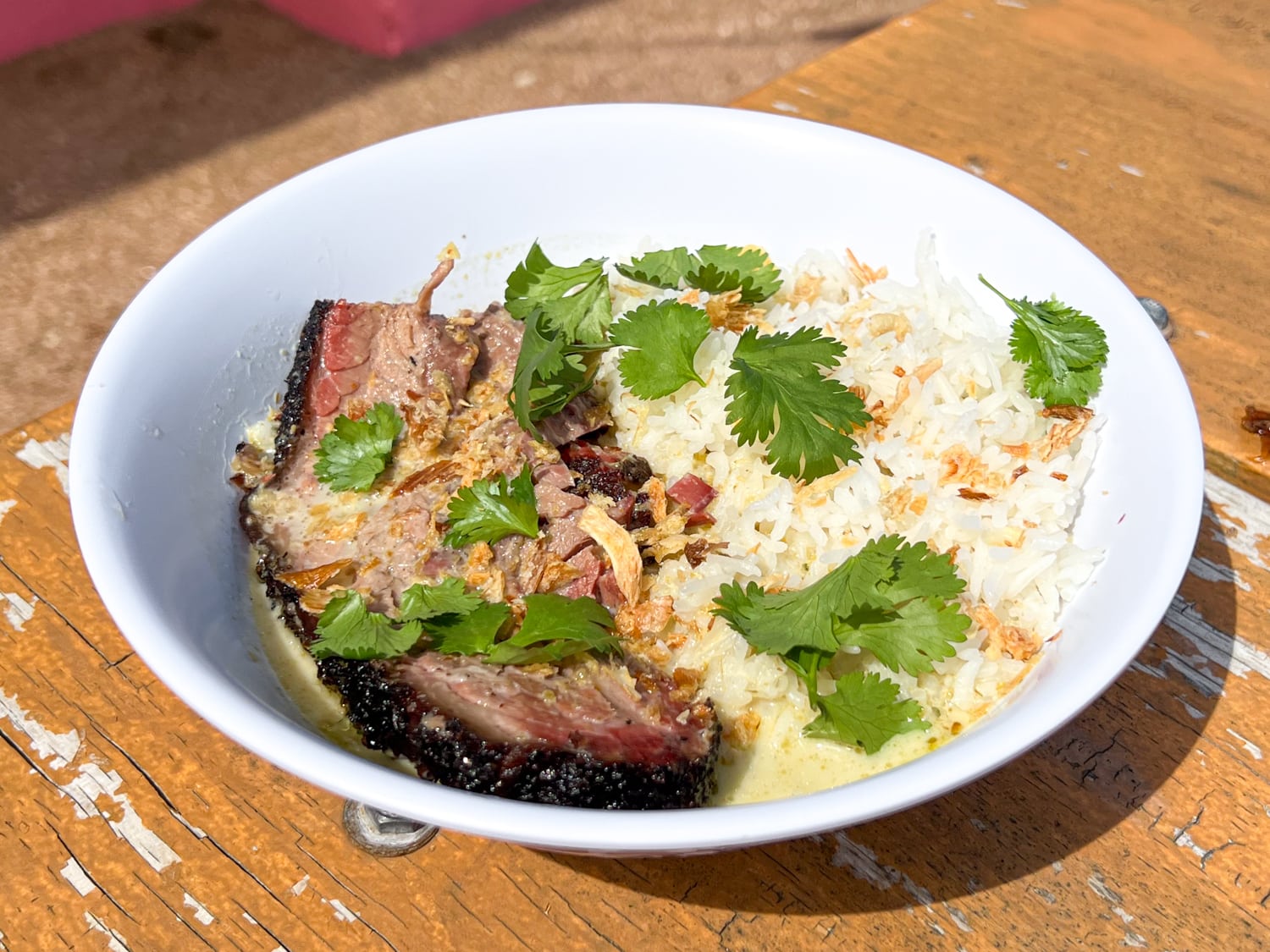 Additional menu options include pulled pork nachos, curry queso and chips, the Good Luck Cluck (smoked chicken thigh with yellow curry), and the Tony Porker (pulled pork with Penang curry).
For their innovative Asian cuisine, chefs Andrew Ho, Andrew Samia, and Sean Wen were recognized as 2023 James Beard Award Semifinalists for Best Chef: Texas.
536 E Courtland Pl, San Antonio, TX, curryboysbbq.com
7. Pinkerton's BBQ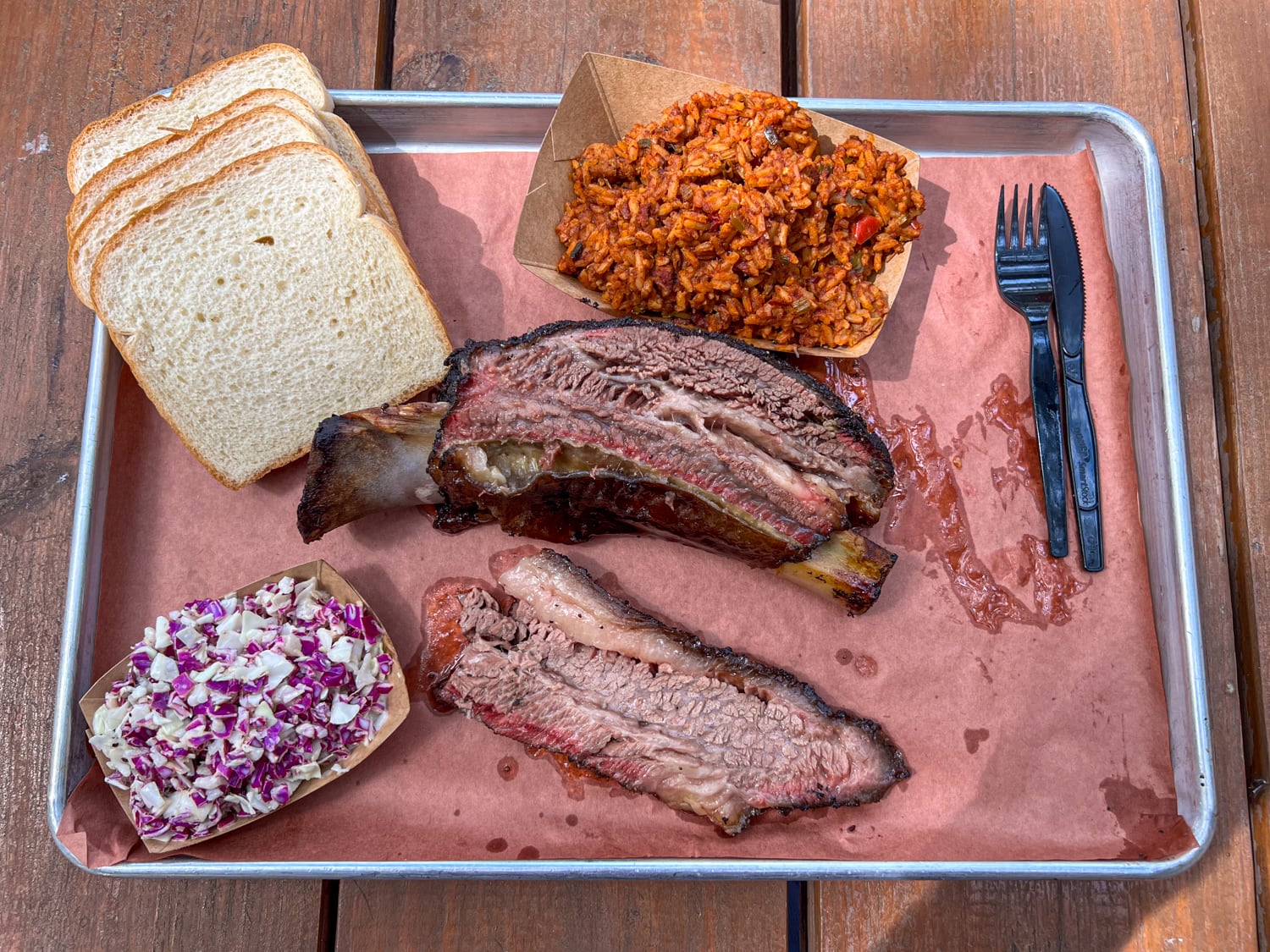 For a more traditional Texas BBQ experience, head to Pinkerton's Barbecue at Legacy Park in downtown San Antonio.
After graduating from the University of Texas in Austin, Houston native and self-taught pitmaster Grant Pinkerton returned home and followed his passion for smoking meats, ultimately opening his own BBQ joint and attracting national attention.
Pinkerton's Barbecue has been named by Texas Monthly as one of the Top 50 BBQ Joints in the state and has been featured on The Food Network.
After checking into The St. Anthony Hotel on our first day in town, Kel and I walked over to Pinkerton's to sample the goods.
As has become a habit, we ordered a giant 1.5-pound beef rib and a quarter pound of brisket.
For sides, we tried the tangy cole slaw and jambalaya with smoked duck and sausage. Slices of white bread were provided at no cost. And dessert was a piece of Aunt Ruby's blackberry cobbler.
The beef rib edged out the brisket in my mind, though both were excellent. It was a lovely 83-degree day, so we ate outside at one of the picnic tables on their large patio.
107 W Houston St, San Antonio, TX, pinkertonsbarbecue.com
Final Thoughts
As my first culinary journey through San Antonio wraps up, I'm left with the lingering smoky scent of brisket and an appreciation for this city's great food scene.
The best thing about dining in San Antonio isn't just the food itself, but the stories behind every restaurant and the passion chefs bring to their projects.
From the seasonal menu at places like Clementine to the innovative fusion of Curry Boys BBQ, the variety is as expansive as Texas.
The city of San Antonio marries tradition with modernity, welcoming food lovers with open arms.
So whether you're indulging in classic French fare or slicing into a BBQ beef rib, remember: in San Antonio, every bite tells a story of history, community, and craftsmanship.
Shortlist for Future Visits
Here are a few places I'm excited to try on my next trip to San Antonio, which may happen as soon as the holiday season this December: