At Slate Theory Winery in Fredericksburg, Texas, skulls and schizophrenia are on the menu. Literally.
One of Texas Hill Country's youngest wineries has created an edgy brand "based on the combination of art and historical psychology." And it's a family affair, as I learned from father and co-founder Randy Jones on a recent visit.
Jones spent several years and millions of dollars building his first winery, which opened on the Texas Wine Trail (U.S. Highway 290) six months ago, despite having no prior experience in the industry.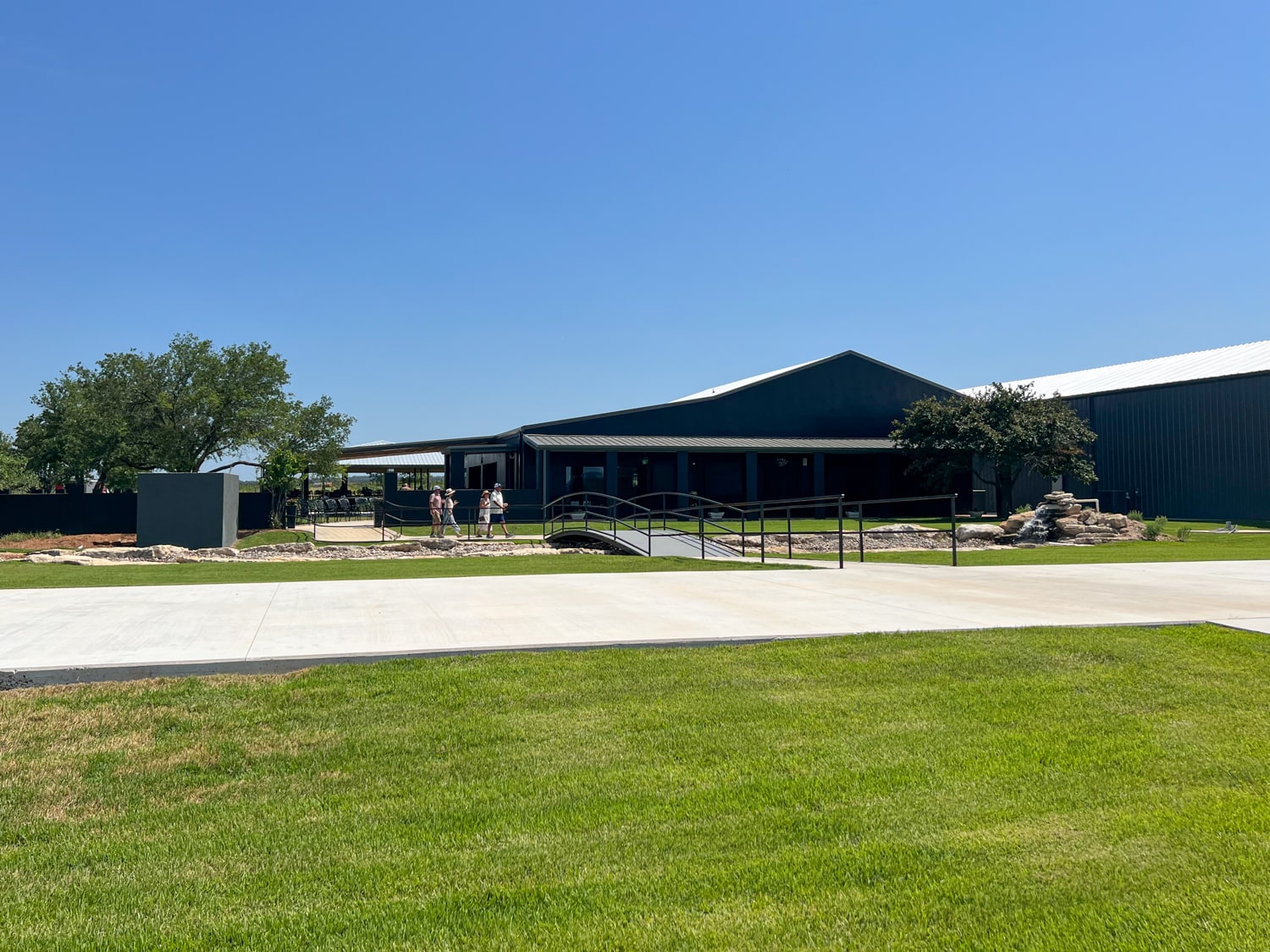 What he did have, he told me, was a business background from years spent working in oil. And so began his entrepreneurial journey into winemaking.
His wife and seven kids are joining him on this new adventure, including daughter Emily, the Vineyard Manager, and son Cody, responsible for the artistic styling and graphic design.
The name Slate Theory is based on tabula rosa ("blank slate") theory, which, according to Wikipedia, posits "...individuals are born without built-in mental content, and therefore all knowledge comes from experience or perception."
This was an appropriate name for the Jones family, given they were a blank slate regarding the Texas wine industry.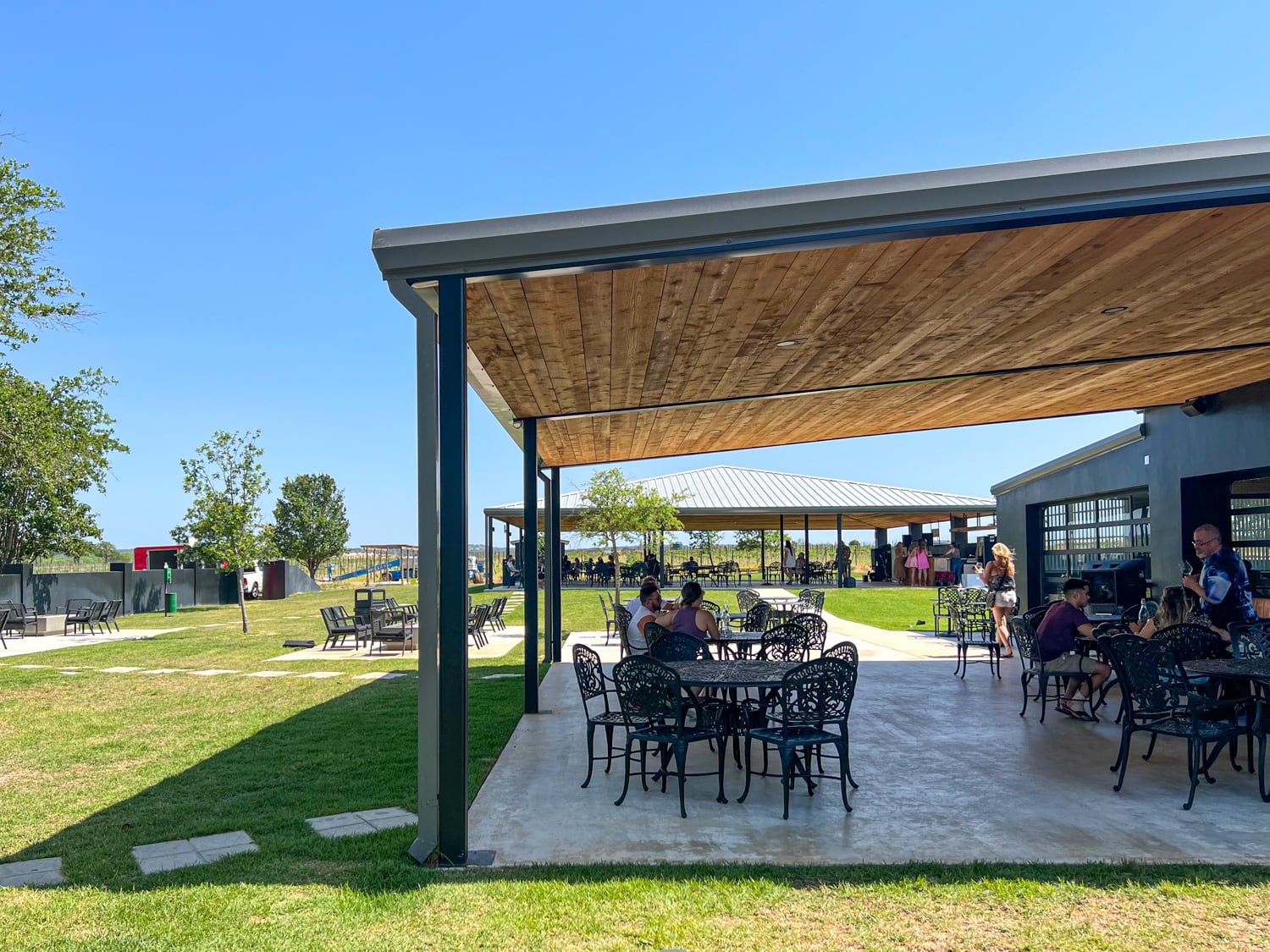 Our Arrival
Slate Theory Winery was the second I visited on my first wine tasting trip to Fredericksburg.
I'd heard about their wine cave from a friend. However, the weekend's wine tastings and production tours were sold out.
My girlfriend, Kel, and I decided to check them out anyway, and I'm so glad we did. We moved to Slate Theory after a wine tasting across the highway at Signor Vineyards.
The Jones family acquired the former Torre di Pietra estate vineyards to build their winery. The property neighbors Heath Sparkling Wines and Grape Creek Vineyards to the west.
They refurbished the tasting room to match their brand and aesthetics and built the underground wine cave from scratch.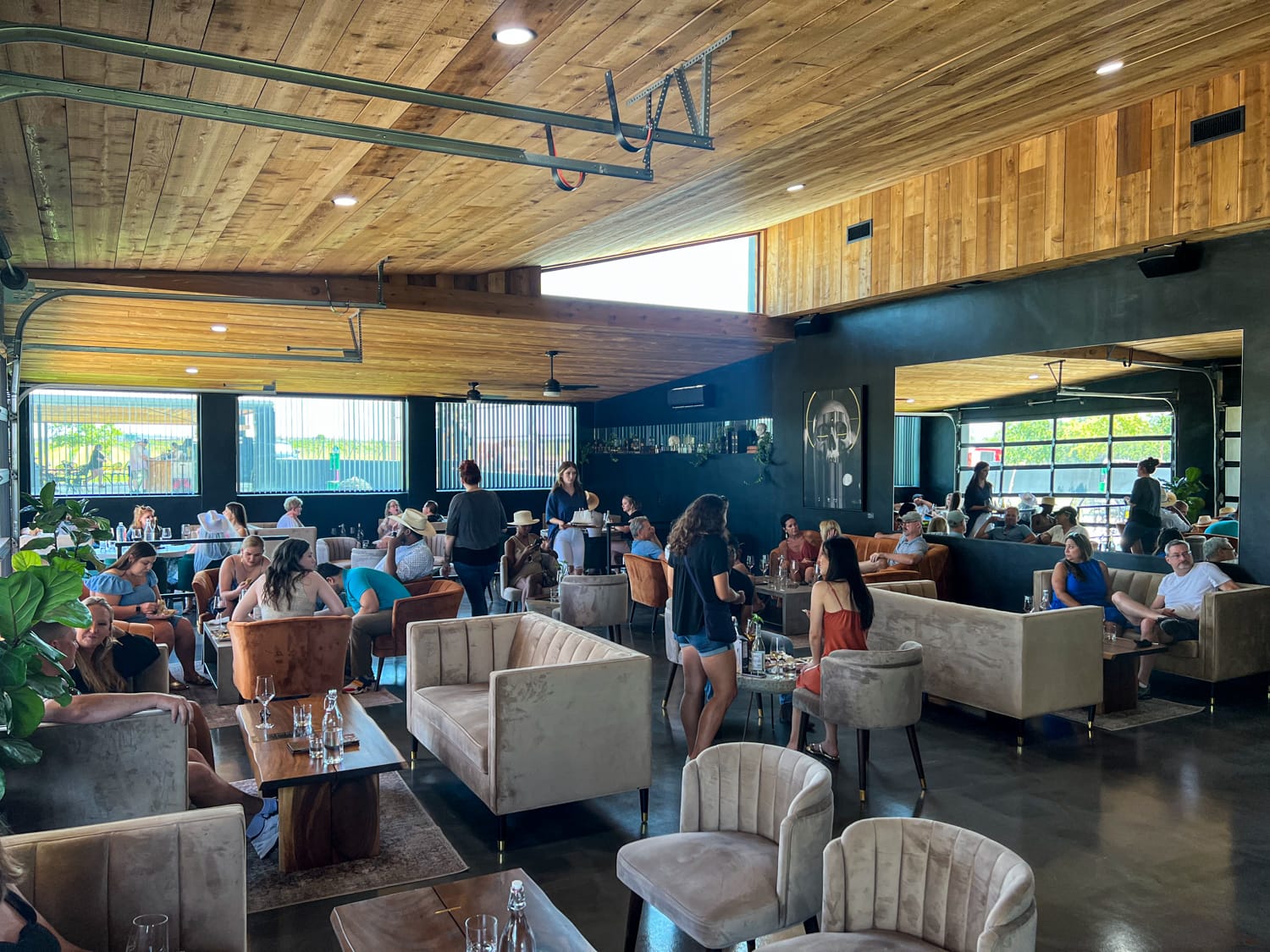 It was mid-afternoon, and the Texas heat was high, so we chose to sit in the air-conditioned and spacious tasting room. A standing bar is near the entrance, but I prefer the cozy sofas.
At this point, I mentioned to the hostess my interest in seeing the wine cave, as I was planning to write about my trip to Texas wine country.
Before I knew it, Randy Jones sat opposite us, offering to take us to the cave.
I was thrilled by this unexpected turn of events, but first, I wanted to try the wines made with 100% Texas grapes.
We also ordered some fig and honey goat cheese and crackers. Additional cheese options include smoked gouda, blue cheese, and double cream brie.
They also offer prosciutto, soppressata, and Spanish Iberico chorizo if you're going for a charcuterie board.
At this time, Slate Theory can only serve pre-packaged foods, although I'm sure they're working to change that as soon as possible.
Related: Where to Eat in Fredericksburg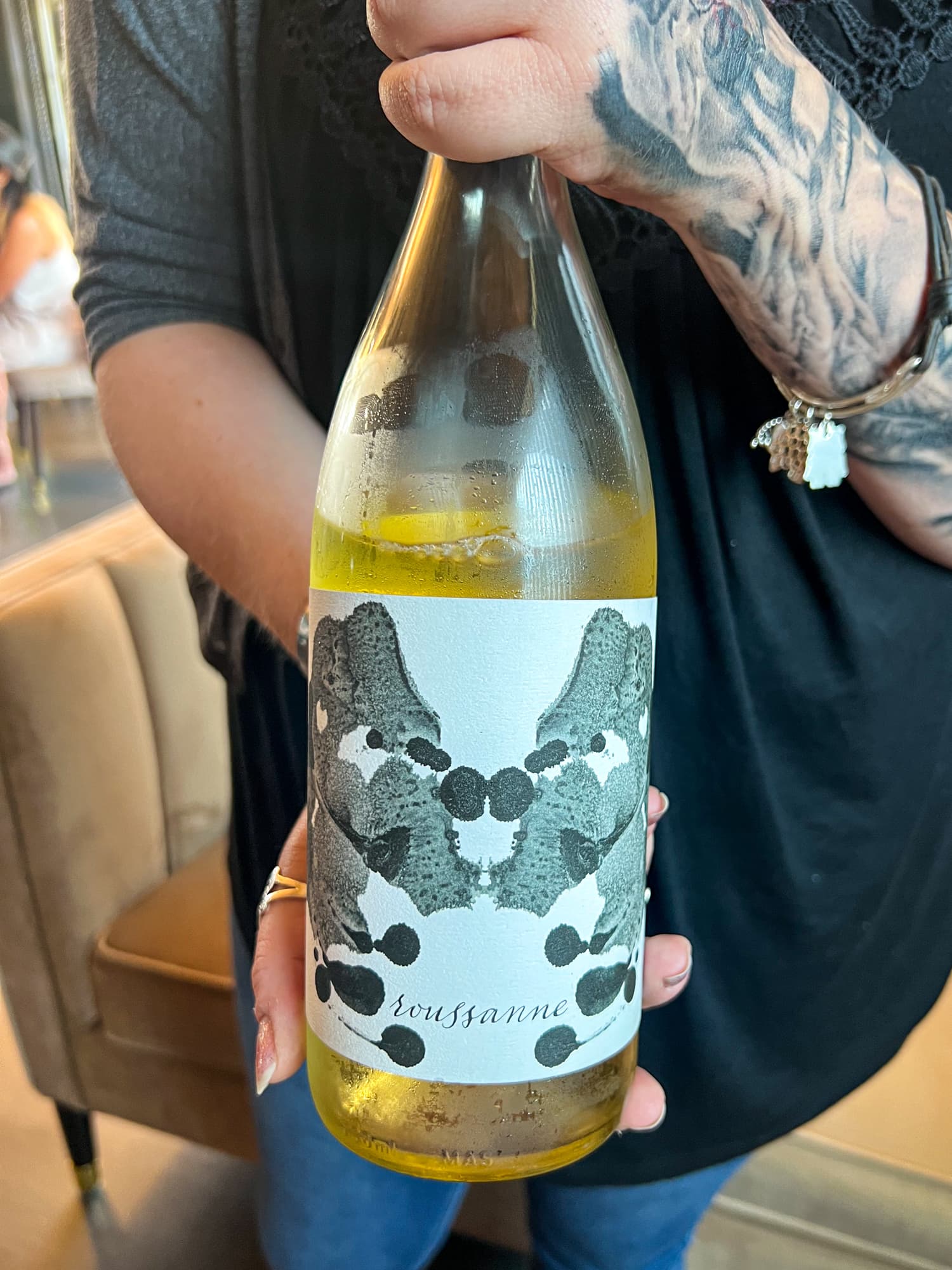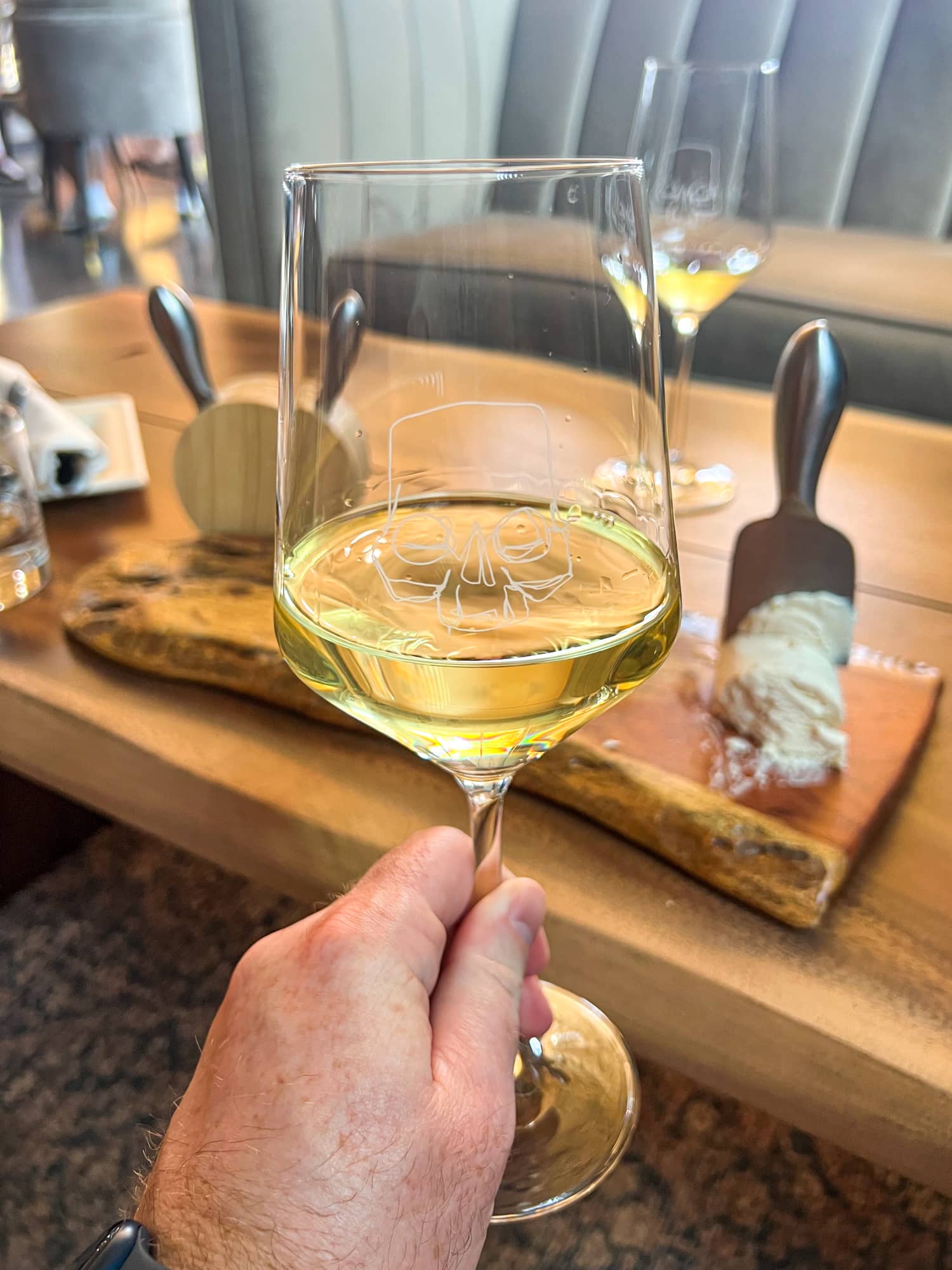 Wine Tasting at Slate Theory
Slate Theory offers a standard five-wine experience for $25 and a reds-only tasting for $30.
You can also order a glass of wine for $17. I wanted to try the whole gamut of quality wines and chose the standard option.
White Wines
The first wine poured was The Pharmacist 2020, made with 82% Orange Muscat and 16% Muscat Cannelli.
It was followed by their Roussanne 2020, which was 100% Roussanne. I preferred the second white wine to the first.
Bottle label designs are based on the type of wine— a skull for blended wines, a Rorschach test for single grapes like the Roussanne.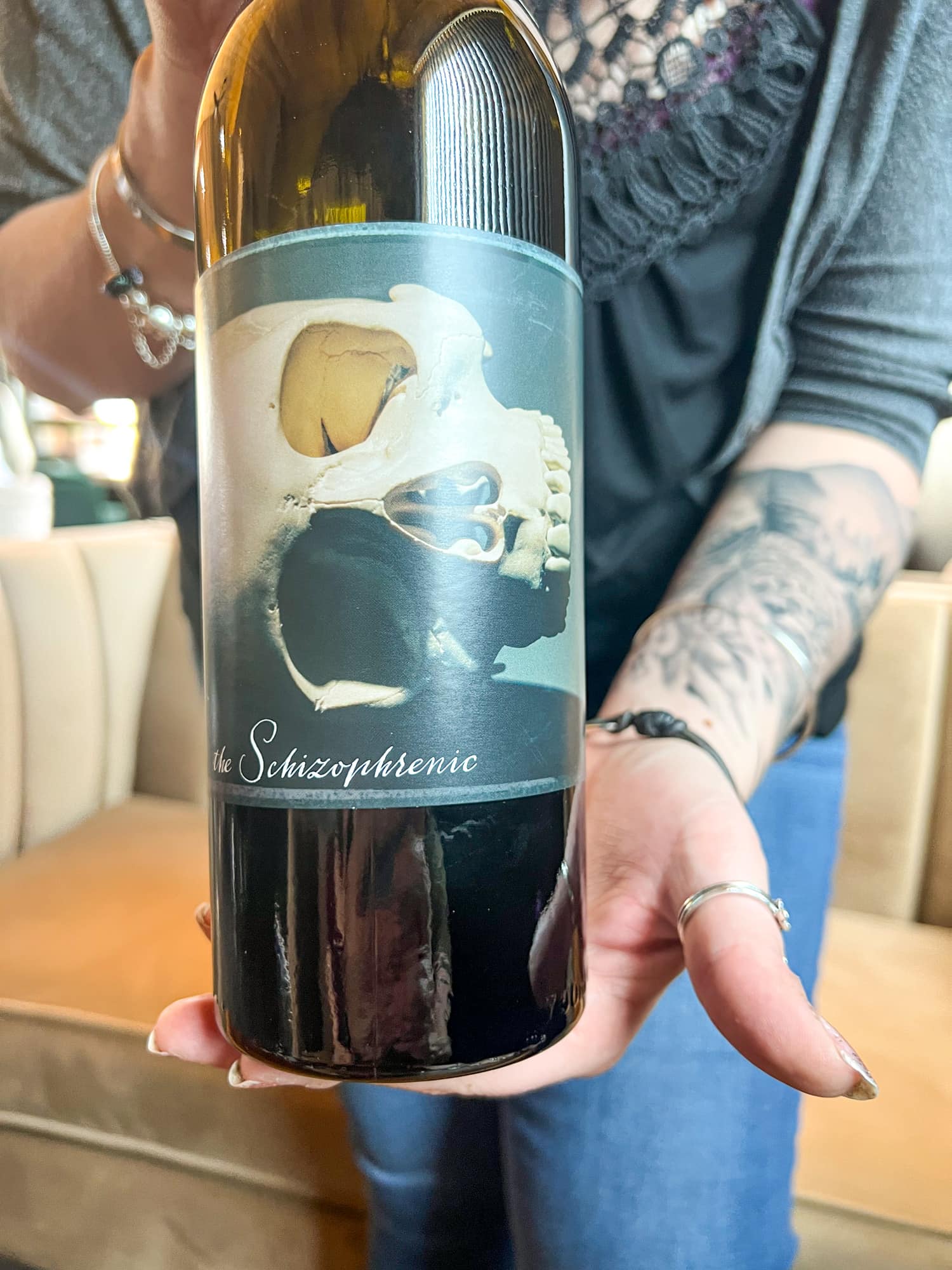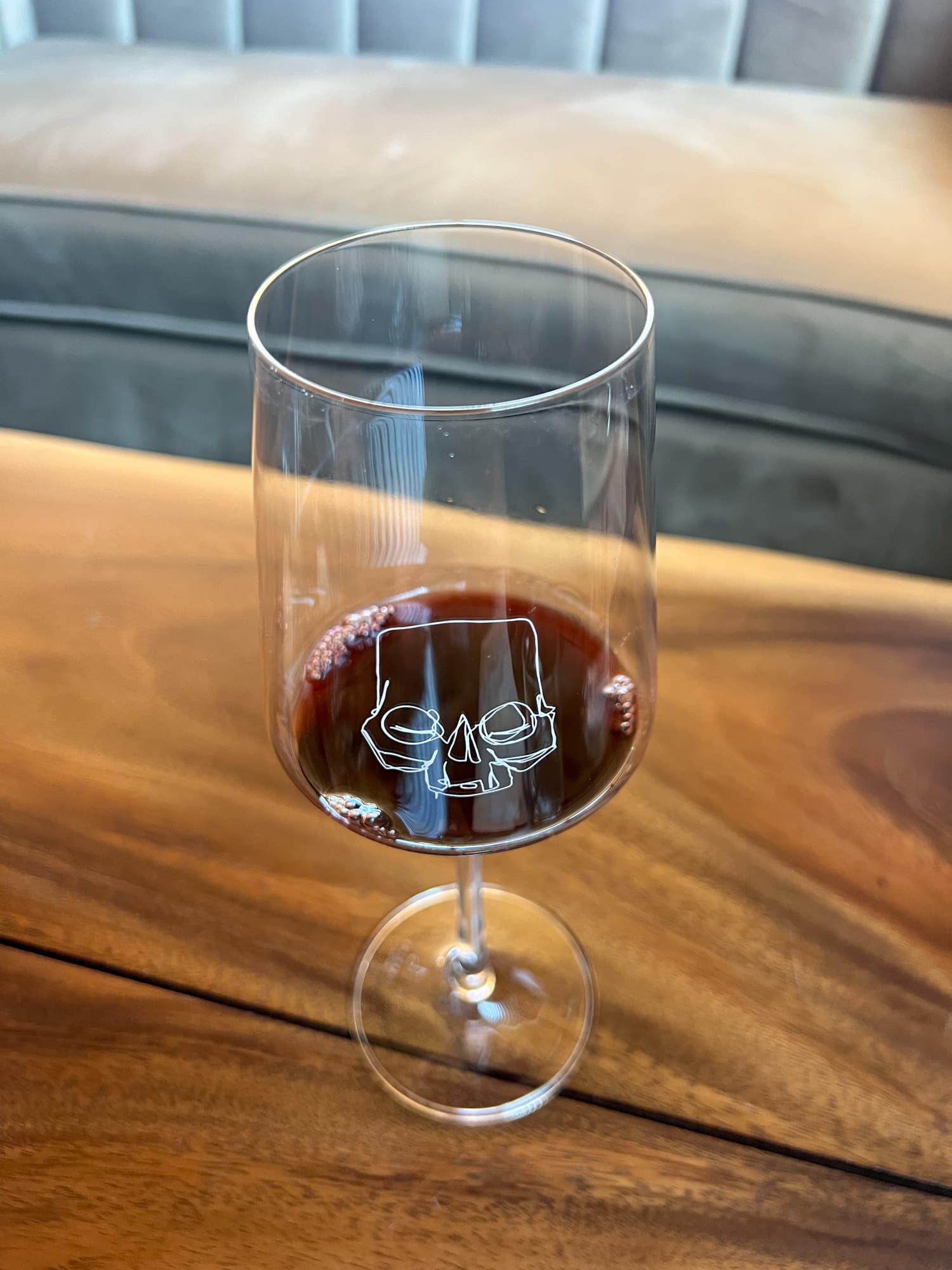 Red Wines
The third wine was a 2017 Merlot, and I liked it more than the whites.
But the 2017 Schizophrenic was one of the weekend's best wines. It blends Cabernet Sauvignon, Cabernet Franc, Merlot, and Petite Sirah.
The fifth and final wine was The Disassociate 2017, a blend of 43% Tannat, 29% Petite Sirah, and 28% Souzao.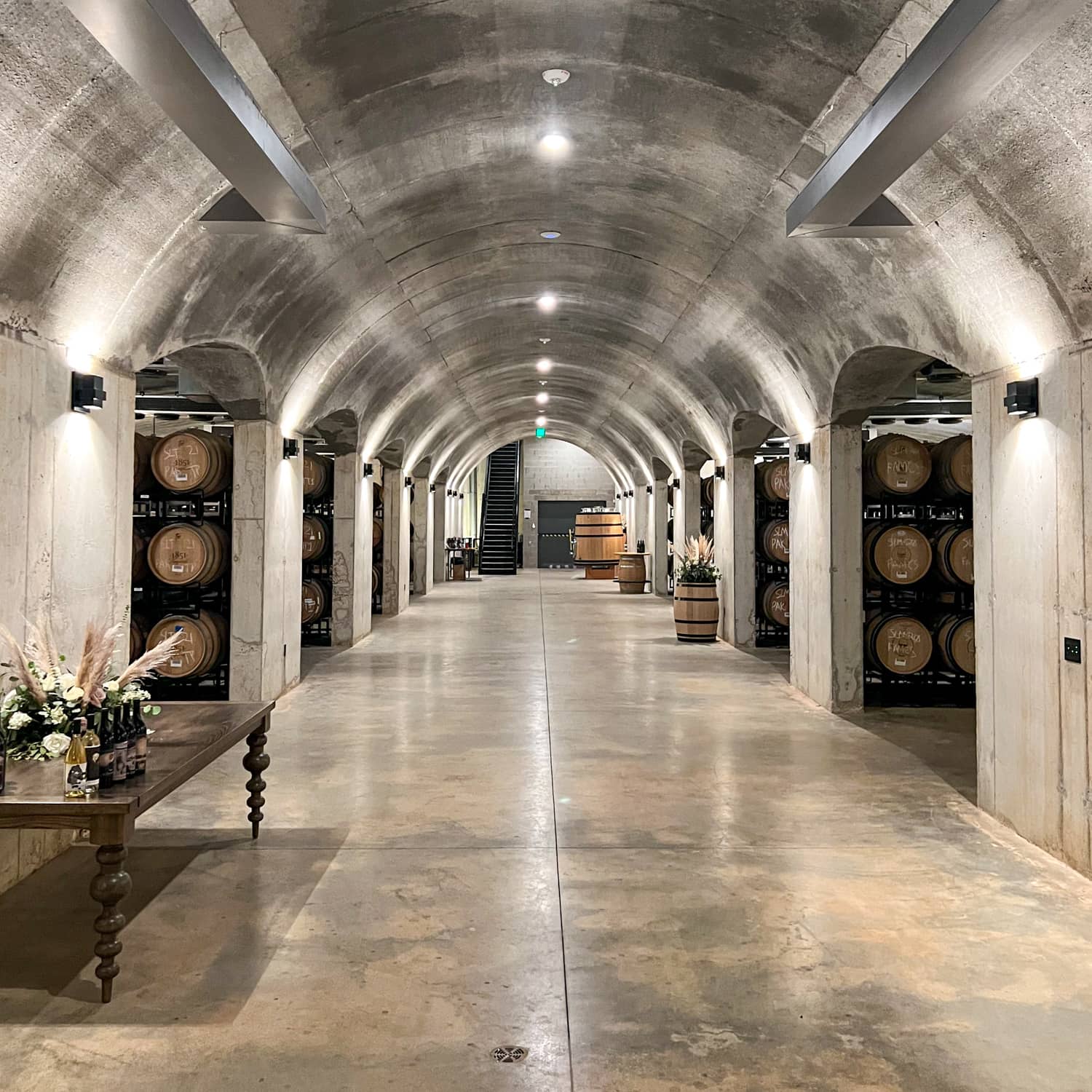 Wine Cave
After the wine tasting, we reconnected with the affable Mr. Jones for a quick walk through the wine cave.
The Hobbit-like entrance is currently quite evident from the parking lot. He said the door would be hidden once the new tasting room was built above it.
A staircase leads visitors down a flight to the underground barrel cellar. Wine barrels act as partitions, creating semi-private spaces for wine tastings with good company.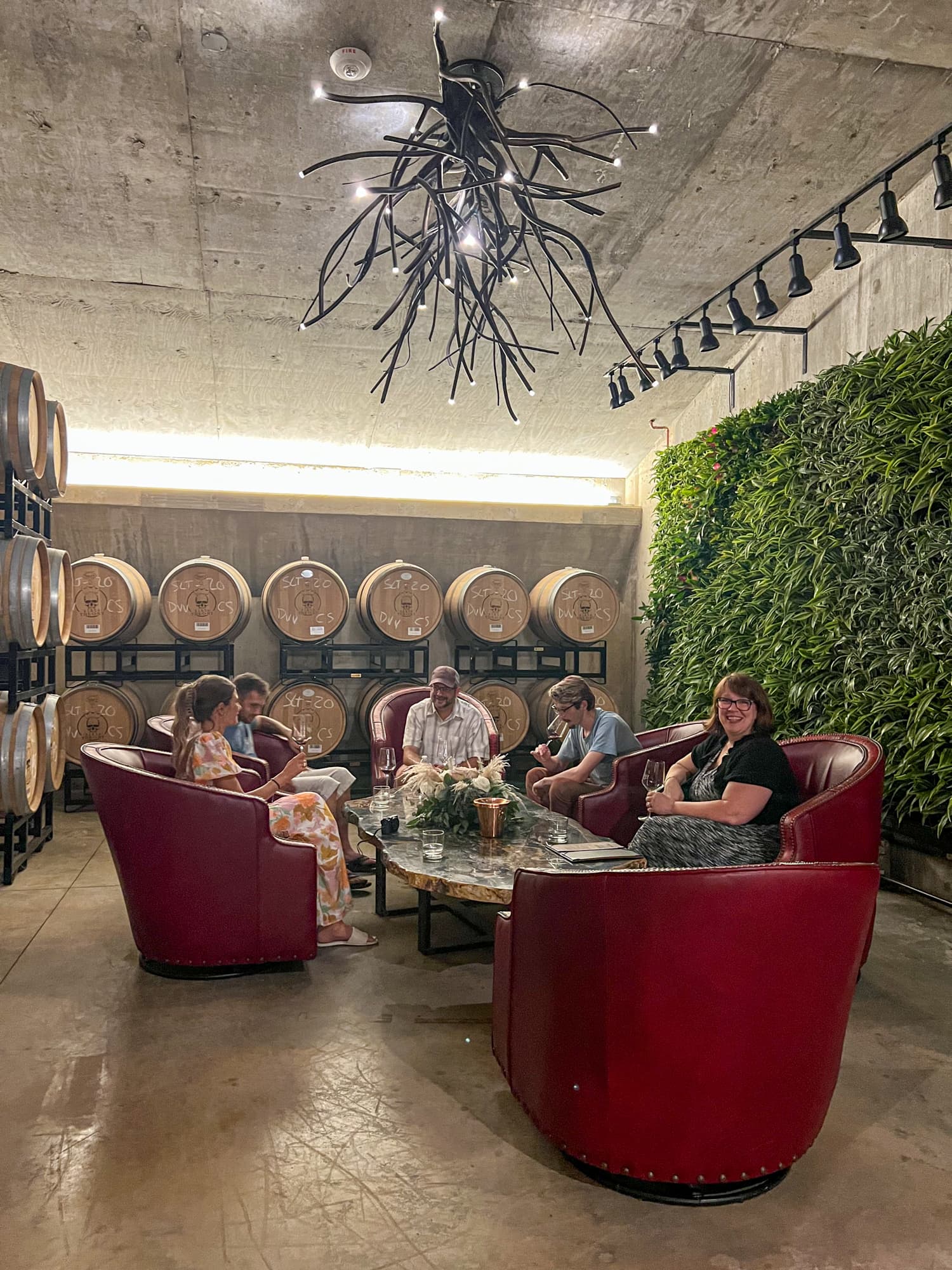 Each space is uniquely designed with different tables, chairs, and chandeliers. Two of the areas feature living walls, an idea from Mrs. Jones.
Aside from the aesthetics of having green walls down there, the plants serve a secondary purpose. They absorb some of the carbon dioxide emitted from the barrels.
Mr. Jones was kind enough to ask the group pictured above for permission so I could take a photo since all the tables were booked. I'm going to plan further ahead for our next visit.
Related: Speakeasy at Salvation Spirits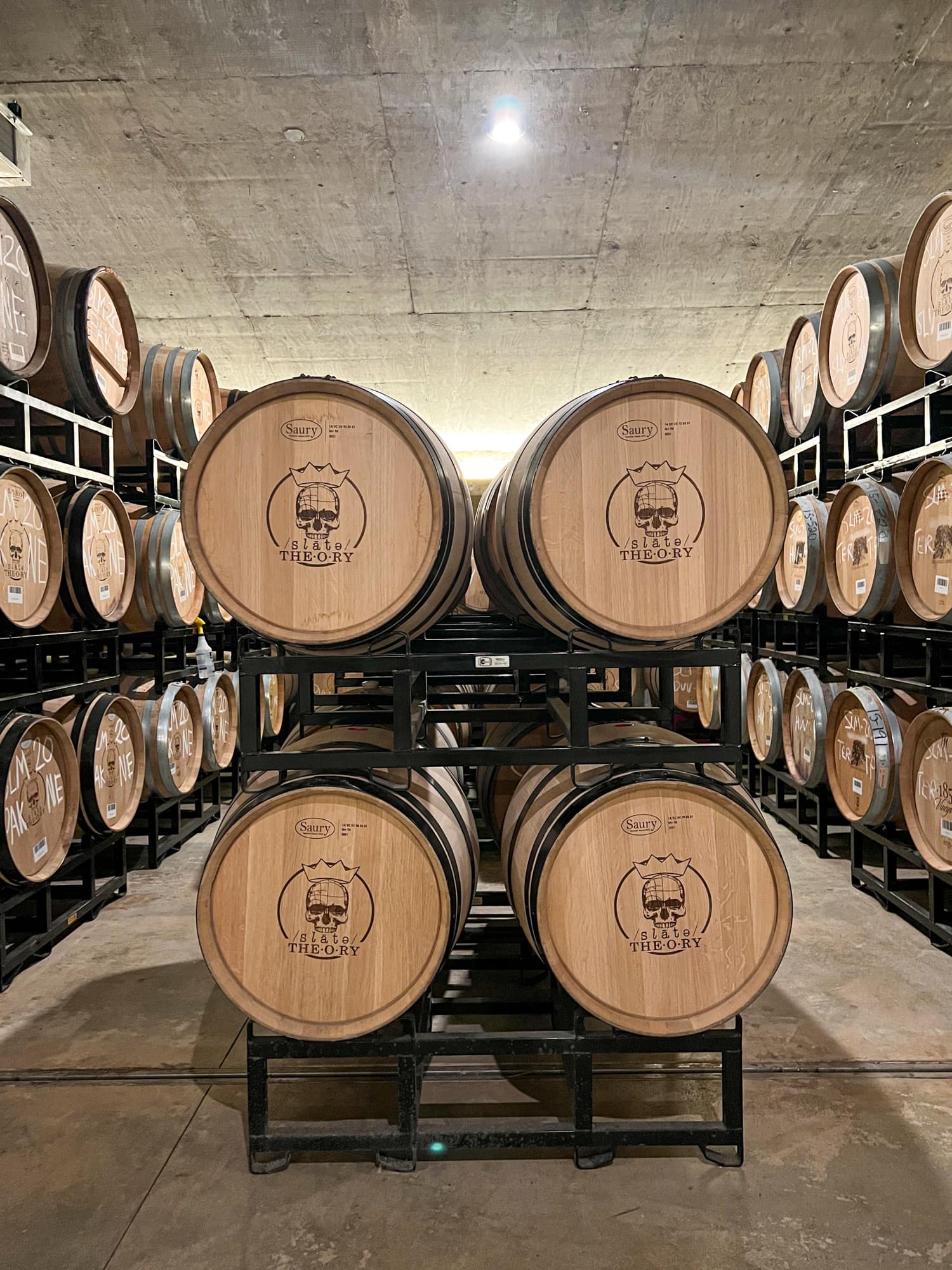 You get a better feel for the winery's branding in the wine cave. Every barrel is stamped with the logo and brandmark, a skull with a crown designed by co-founder Cody Jones.
According to a post on their Instagram account, "'The Sleeping King' is a representation of what rested inside of the founding family's mind. Slate Theory emerged from our dreams into reality, challenging societal ideals with artistic thinking and experimentation."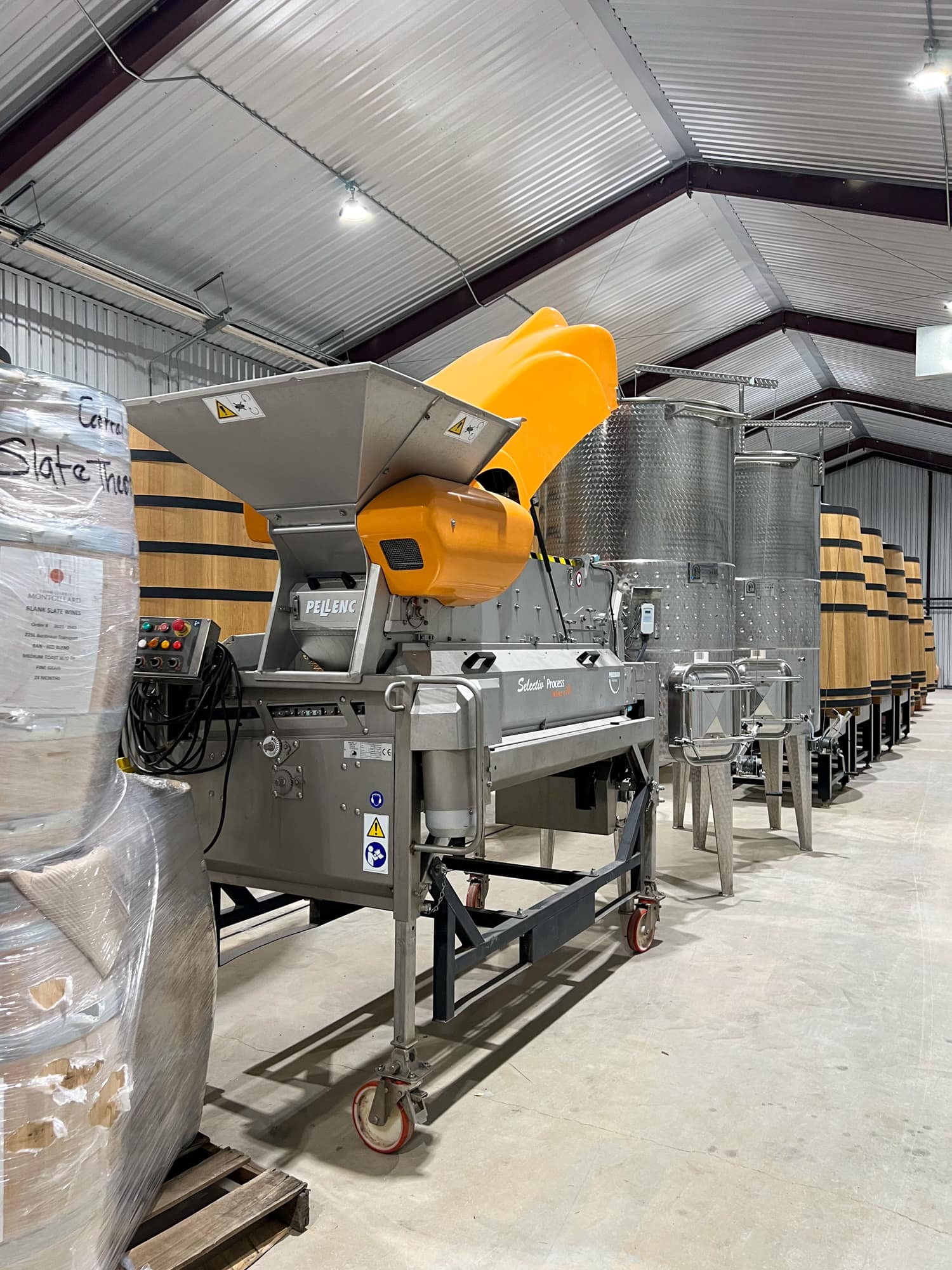 Following a walk through the cave, Randy led us up a staircase and back to ground level, where we entered a separate building with wine production equipment.
Everything looked so clean and attractive, waiting to be used. New barrels from France had yet to be unwrapped.
I'd only met Randy an hour earlier, yet everything I saw and heard led me to believe Slate Theory Winery would be a successful venture.
Related: Kuhlman Cellars Vineyard Tour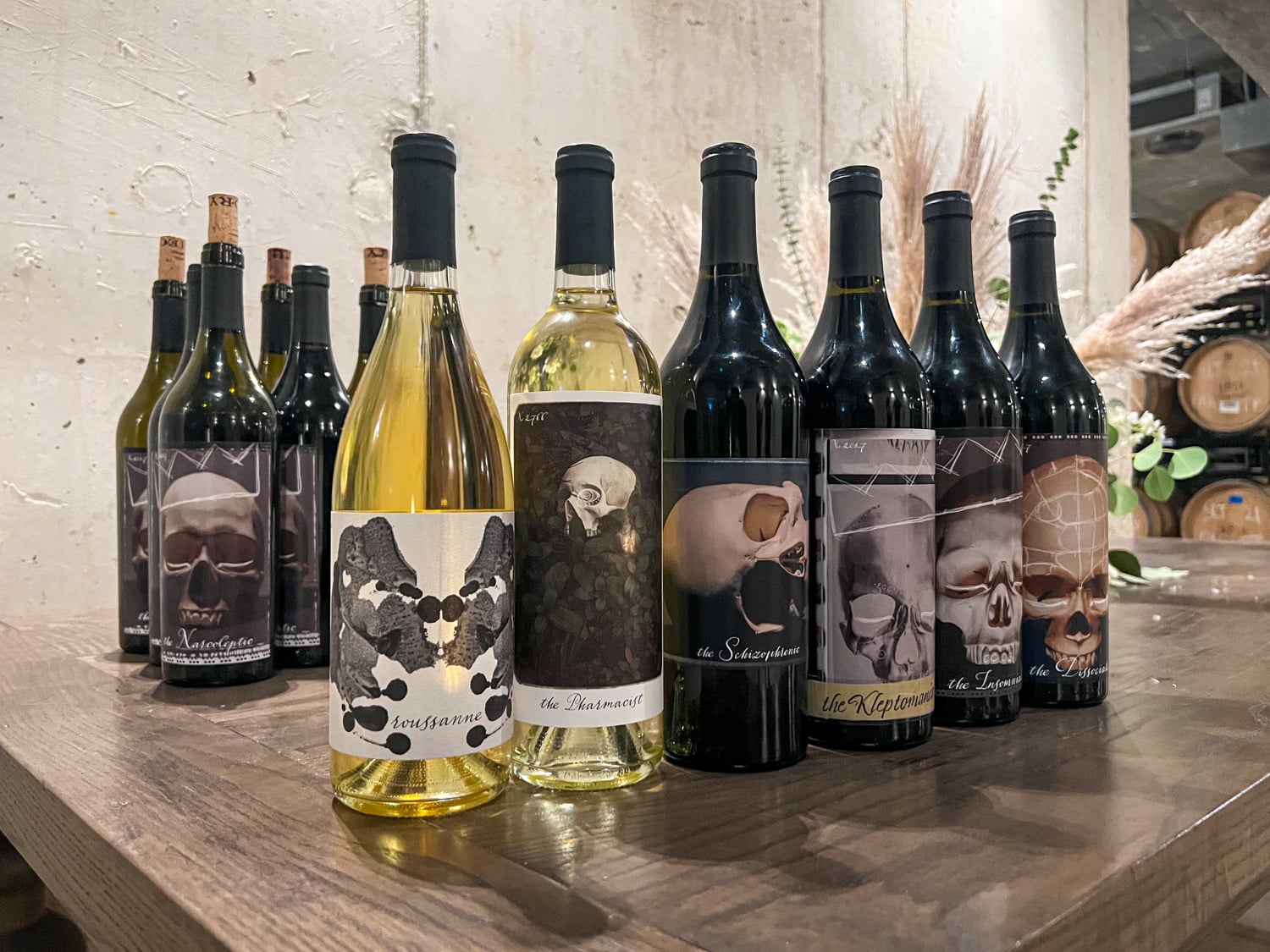 Additional Notes
Before I wrap up with some details about how you can visit Slate Theory on the Texas Wine Road, I'd like to thank Randy Jones for giving me an impromptu tour.
I'd also like to note that, as it's written on their website's "about us" page, the use of mental health terminology in their brand and business is not just for show.
The owners want to reduce the stigma around mental illness and raise awareness about how people can get help. It's a good cause we can all support.
Visit Slate Theory Winery
Address: 10915 US-290, Fredericksburg, TX 78624, United States
Website: slatetheory.com
Wine Tastings: Walk-ins are welcome to buy a wine tasting, bottle of wine, or glass without a reservation. Seating indoors or on the patios is on a first-come, first-serve basis.
Reservations are required via Tock for the 45-minute production tours ($45) and cave tastings ($50). No minors or pets are allowed with the reserved experiences.

Wine club memberships are available for four, six, and 12 bottles.