Every winery in the Texas Hill Country has a story to tell, and on my second visit, I was there to learn about Kuhlman Cellars.
I'd stopped by this boutique winery for a glass of rosé with my girlfriend Kel a few weekends earlier, which led to an invitation.
I was invited to take Kuhlman Cellars' free vineyard tour, available at 11 a.m. Friday mornings through mid-July (2022), and partake in a Barranca vertical wine tasting ($35).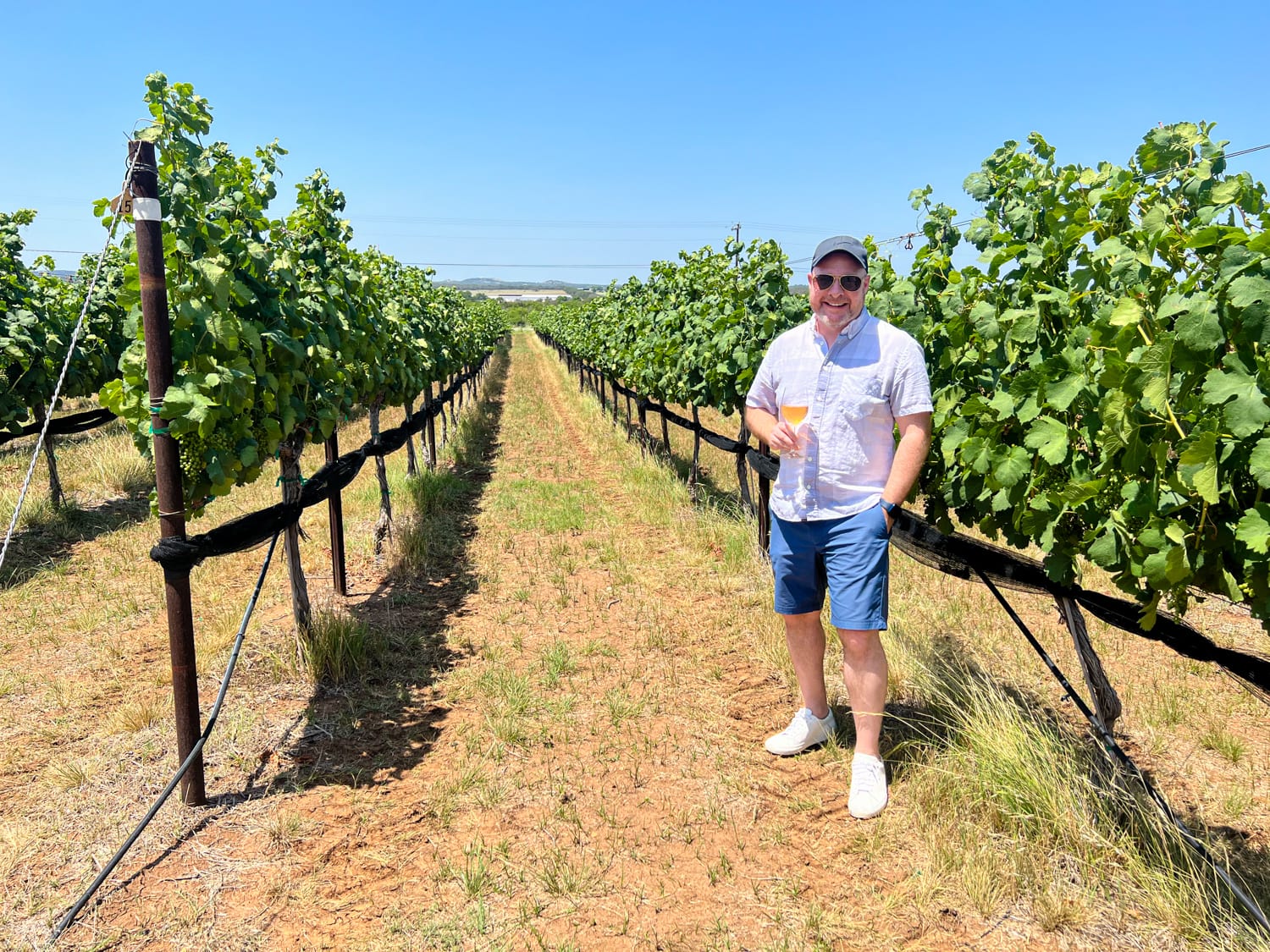 It didn't take long to confirm our availability and return to the Texas Wine Trail for another weekend of wine tasting and farm-to-table dining.
About Kuhlman Cellars
Kuhlman Cellars is an award-winning winery in Stonewall, TX, about 60 miles west of downtown Austin, 12 miles west of Johnson City, and 18 miles east of Fredericksburg.
The estate vineyard was founded by Chris and Jennifer Cobb on the south side of the Pedernales River, near the Lyndon B. Johnson National Historical Park.
The winery's name was taken from Kuhlman Creek on their 39-acre Texas Hill Country farm. Coincidentally, their neighbor was Bénédicte Rhyne, an accomplished French winemaker from Aix-en-Provence.
Before moving to Fredericksburg in 2002 to open a wine laboratory, Béné had worked at wineries in New Zealand, England, and Sonoma County, California.
After confirming her approach to making wines complimented the Cobbs' vision for their new winery, she became their partner and winemaker in 2012. Kuhlman Cellars opened to the public two years later.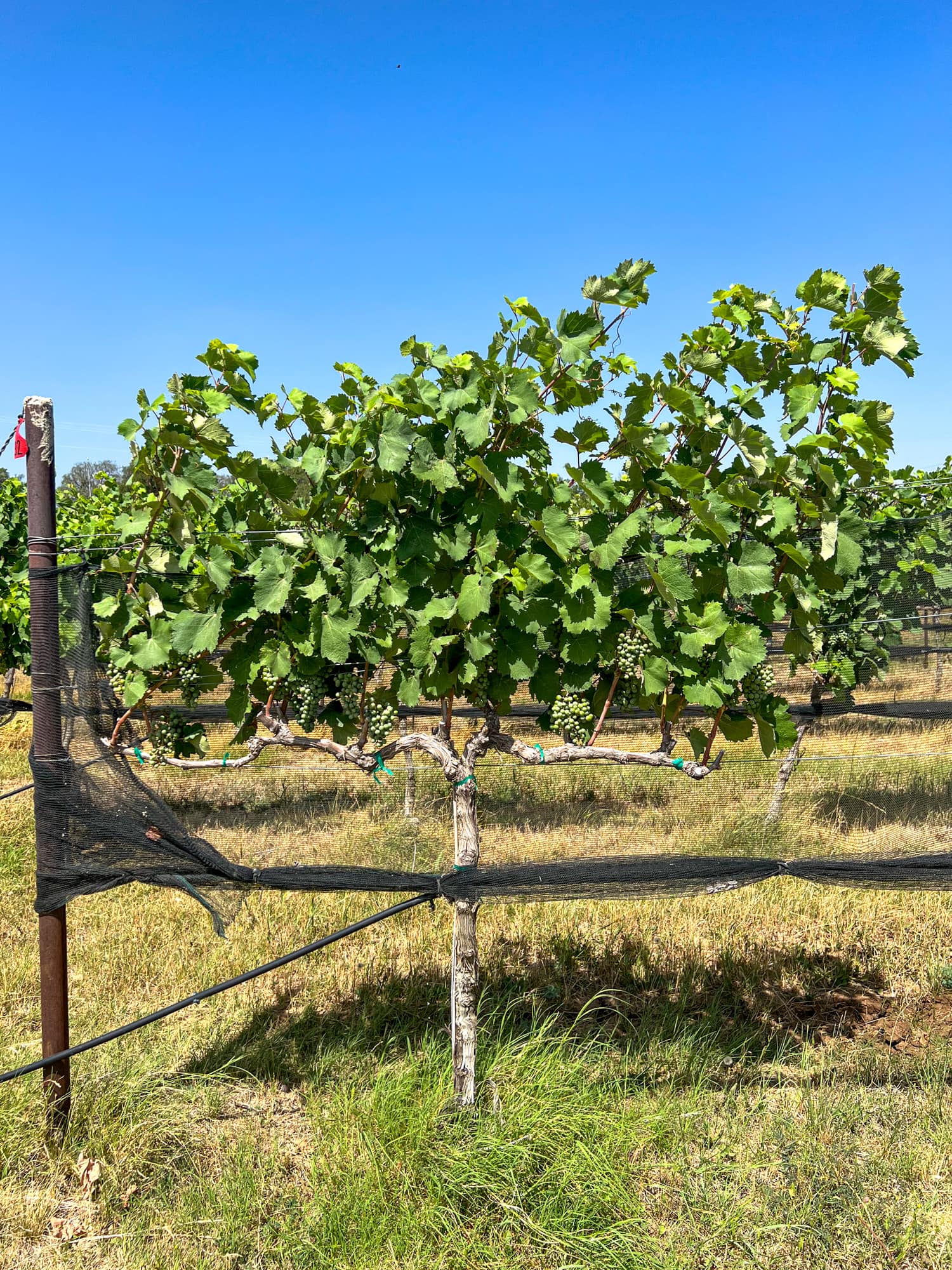 Vineyard Tour
On a recent Friday morning, Kel and I turned off Highway 290 and into Kuhlman Cellars' parking lot. At the tasting room, we were greeted by Michael Maynard, the vineyard manager.
Two women, one of whom had just moved to Fredericksburg, were also there for the free tour. We were all offered a glass of chilled rosé to take with us into the field.
Michael proceeded to share with us the process for growing and managing the five grape varietals on the seven acres of Texas terroir planted with vines:
Mourvèdre (red wine grape common in Rhône and Provence, France)
Marsanne (white wine grape from Northern Rhône, France)
Roussanne (white wine grape from Rhône, France)
Carignan (red wine grape originally from Spain and common in French wine)
Aglianico (a black wine grape from Southern Italy)
Each acre holds 900 vines, enough to produce four tons of grapes, and 3,000 bottles of wine.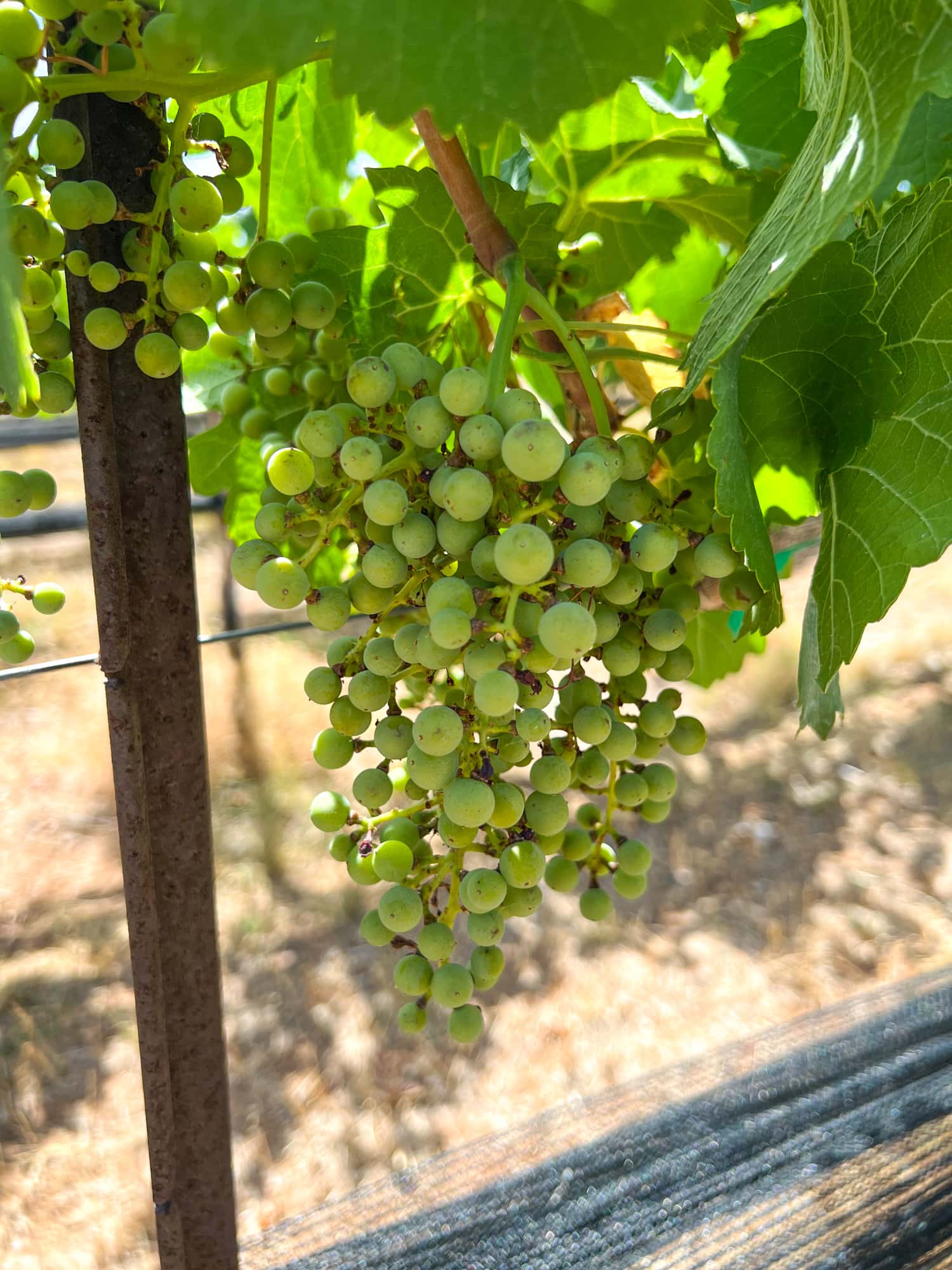 To ensure the vines get enough water, an irrigation hose runs underneath the grapes, dripping up to one gallon of water per hour on the soil.
Given Kuhlman Cellars' focus on quality over quantity, these grapes get a lot of love and attention.
Michael introduced us to terms like "leafing" which involves removing leaves from in front of the grapes when they reach a certain point in their growth.
The black netting is used at another point in the process to wrap up the vines and protect them from birds, which become attracted to the maturing grapes.
The vineyard tour lasted about 30 minutes, which is about as long as I wanted to be out in the sun.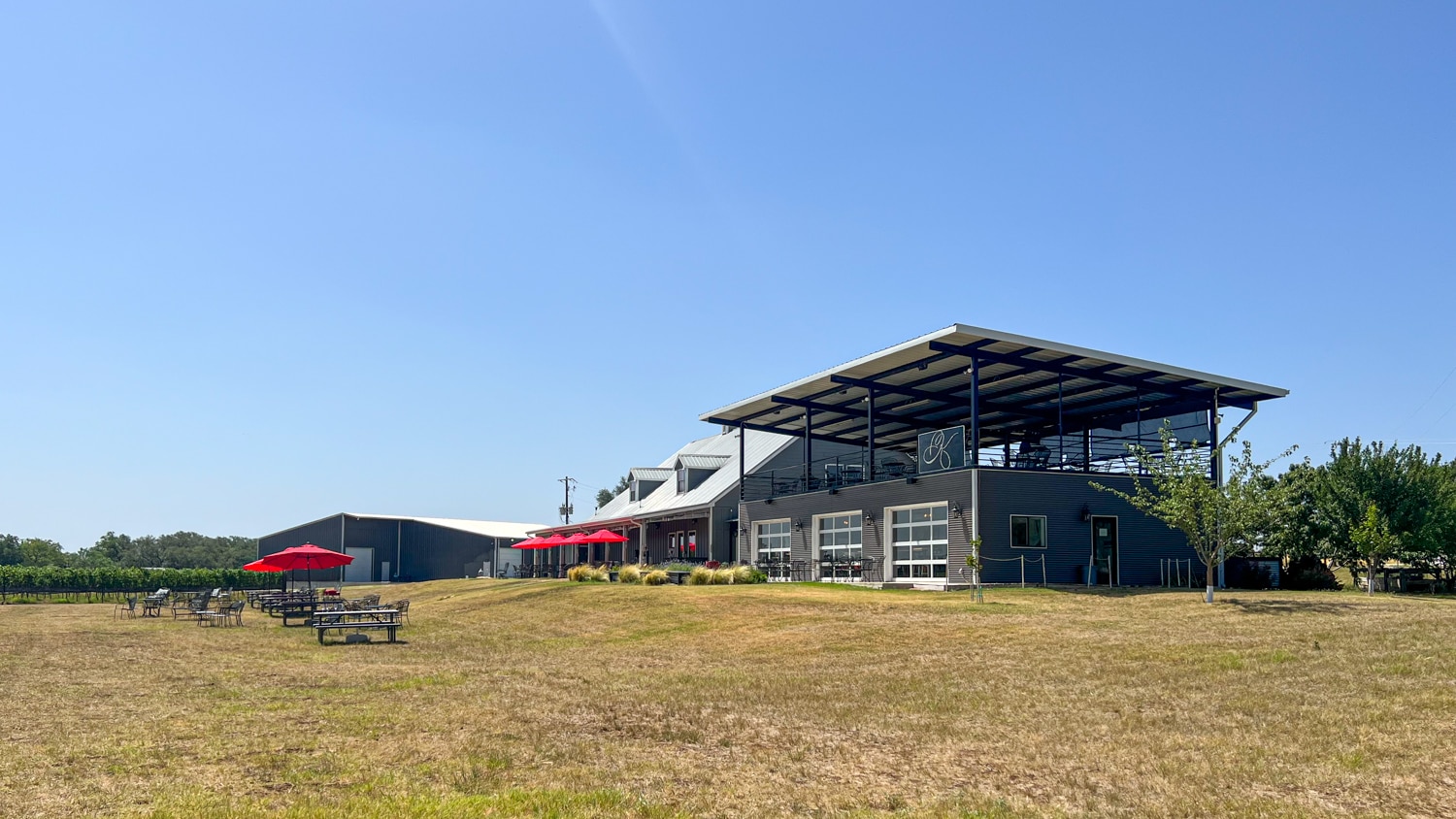 Barranca Vertical Tasting
Back in the air-conditioned tasting room, it was time to begin my first vertical wine tasting. A different, but equally knowledgeable guide, Michael, took over and explained the concept.
Guests try five different vintages of a signature blend, Barranca, to experience how the character of Kuhlman Cellars wines change over the years.
Barranca, like all of their wines, is named after a geological formation. The word means a cliff or palisade in Spanish, and "pays homage to the cap rock of West Texas."
Three grapes are used in all of the Barrancas produced: Mourvèdre, Petite Sirah, and Tempranillo; these are building blocks of the wine.
Barranca is a "big" wine with a more "tannic structure" according to Michael.
The wine is aged in new oak barrels (used for the first time) and neutral oak (barrels used one to five times). And the flavor profile is that of blueberries, blackberries, plum, dark cherry, and strawberries.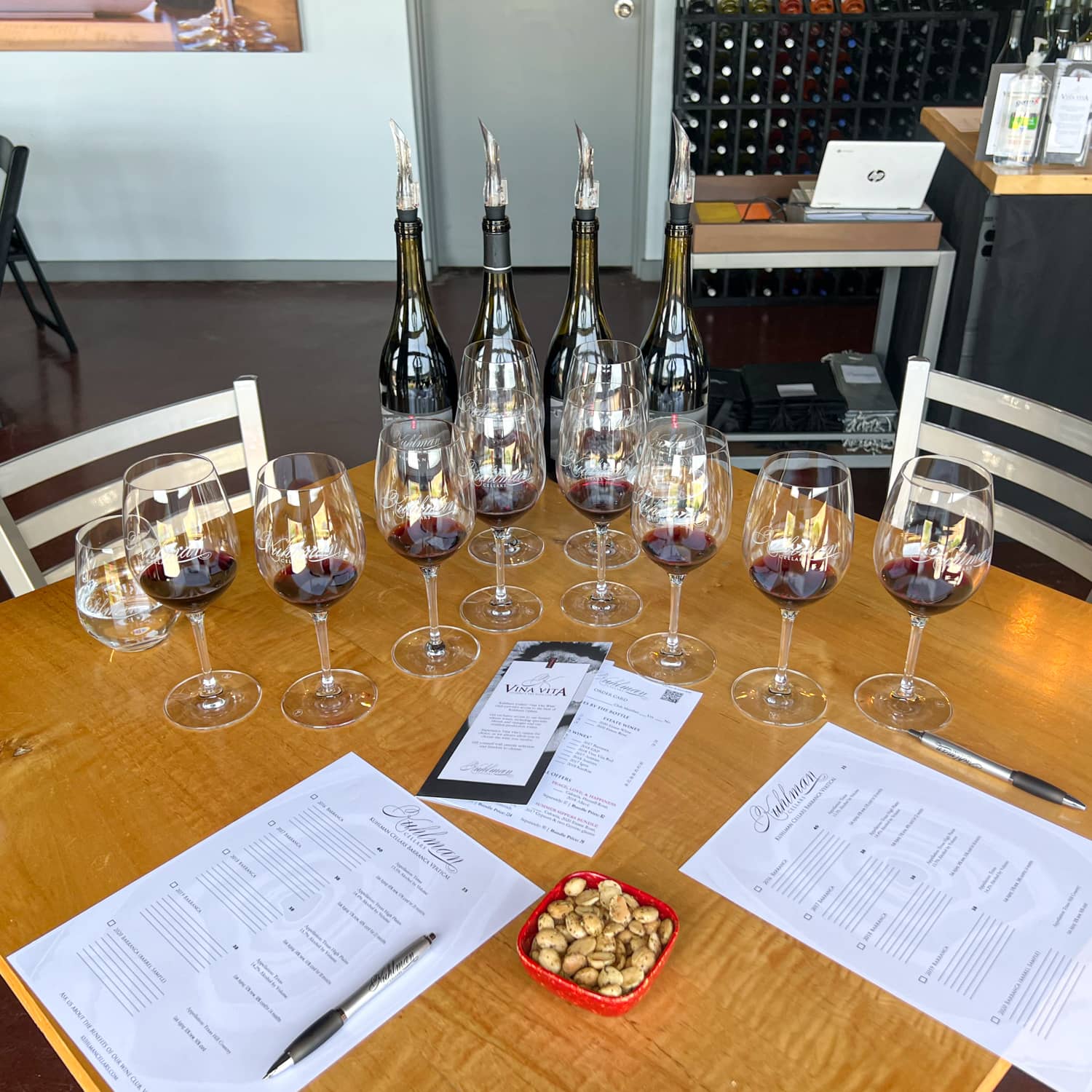 The 2016 Barranca is from the Texas appellation and has 13.5% alcohol by volume. I liked this one.
The 2017 Barranca is from the Texas High Planes, an area in north Texas near Lubbock; it was too strong for me at 14.4% alcohol.
Michael said that 2017 was a once-in-a-decade year for grapes in the Texas High Plains region.
Apparently, that was lost on me, because my favorite of the five wines we tried was from the following year.
The 2018 Barranca was 13.7% alcohol and fruitier, with 87% Texas High Planes grapes and 13% from the Hill Country.
Related: Austin Food + Wine Festival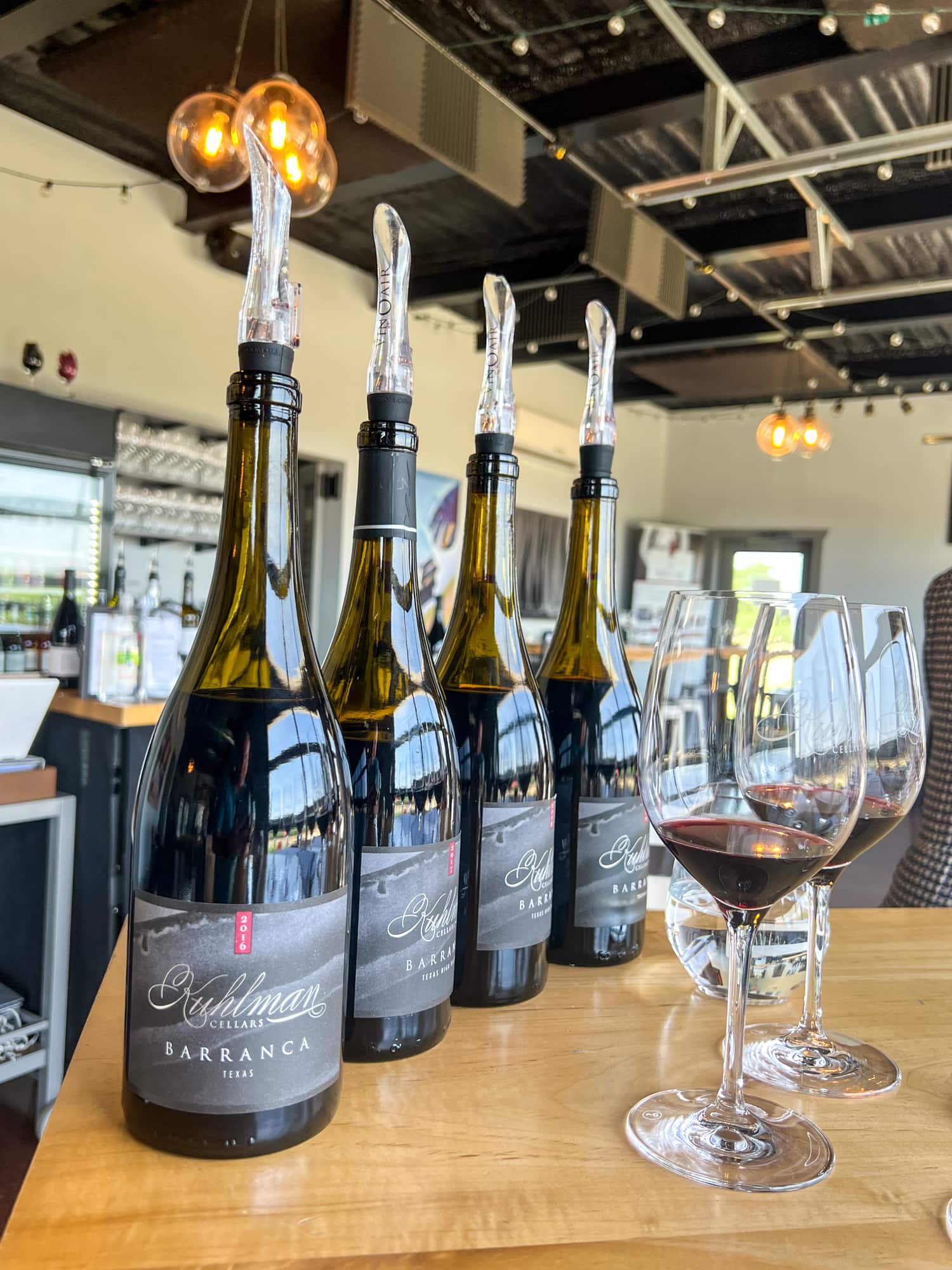 As the tasting continued, Michael shared more about Kuhlman Cellars and how the winery came to be, including how the owners met and began working with Bénédicte.
It was during a visit to Bénédicte's hometown of Aix-en-Provence that the Cobbs grew fond of fresh Herbs de Provence, some of which they took back to Texas and began experimenting with.
The result is the most addictive herbed almonds you'll ever eat. Kel and I had bought some on our prior visit and went through several servings during the wine tasting.
The pre-release 2019 Barranca was our fourth wine of the vertical tasting and was the second-strongest at 14.2% alcohol. It consisted of 77% Texas High Plains grapes with 18% from Hill Country, and 5% from California.
Our fifth and final wine was a barrel sample of the 2020 Barranca, which still has another eight to 12 months left to age.
This one is 91% Hill Country grapes, and only 9% from the Texas High Plains due to hail damage that occurred in 2020.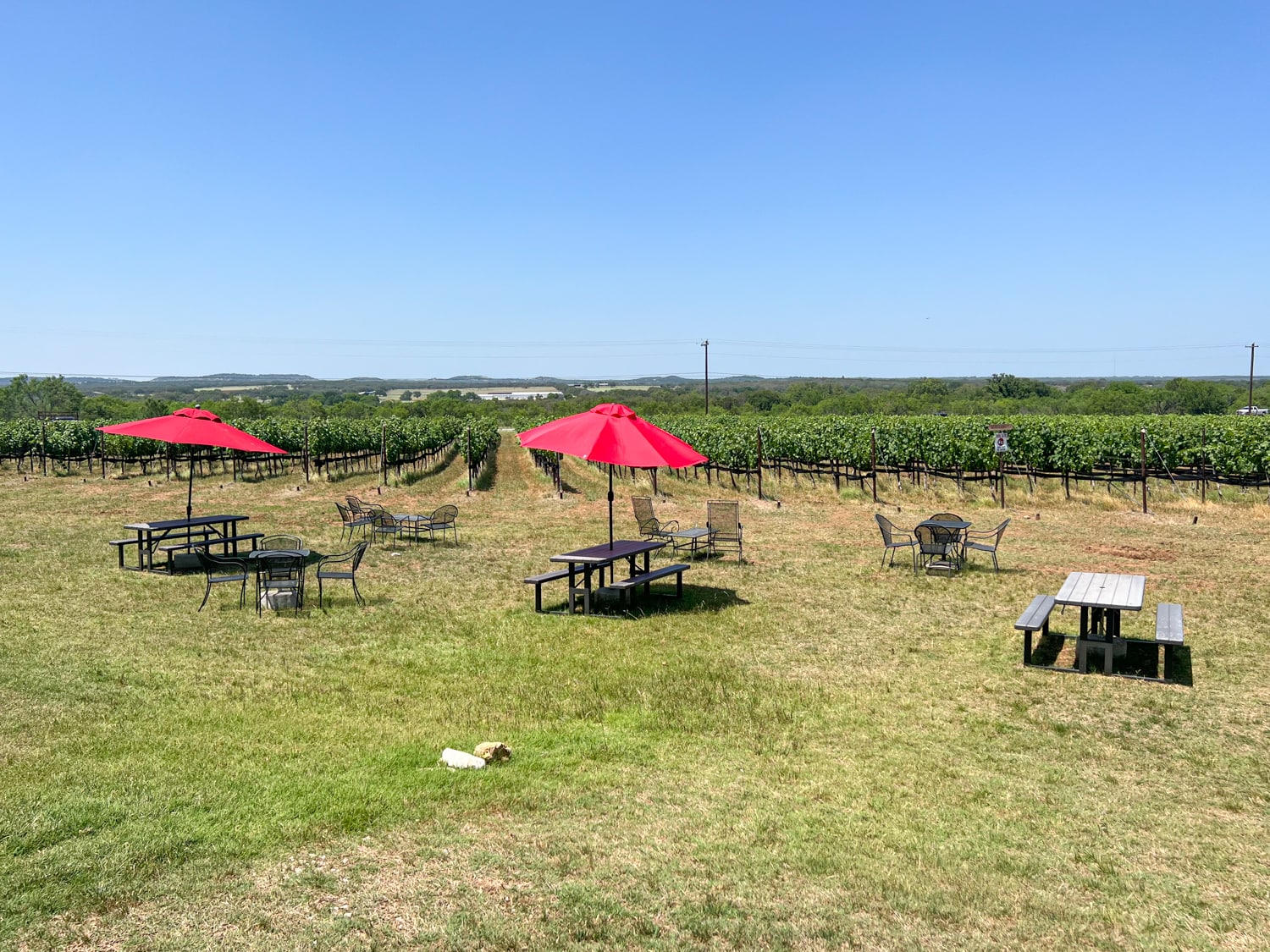 Visit Kuhlman Cellars
I had a wonderful experience going back to Kuhlman Cellars to learn more about their wines and history.
As I mentioned at the top, free vineyard tours are being offered at 11 a.m. Friday mornings through mid-July (2022). No reservation is required, but they do ask you to show up on time.
The Barranca vertical wine tasting is $35 per person or $15 for Vina Vita Wine Club members and is available until July 9, 2022.
Kuhlman Cellars is also known for its wine and food pairings, available for $37.50 per person as part of a 45-minute tasting experience.
Need to Know
Address: 18421 E, US-290, Stonewall, TX, United States
Website: kuhlmancellars.com