Twenty-five miles due north of Austin on the I-35 Highway is the Most Beautiful Town Square in Texas. Here, centered around Williamson County Courthouse, you'll find several of the best restaurants in Georgetown, TX.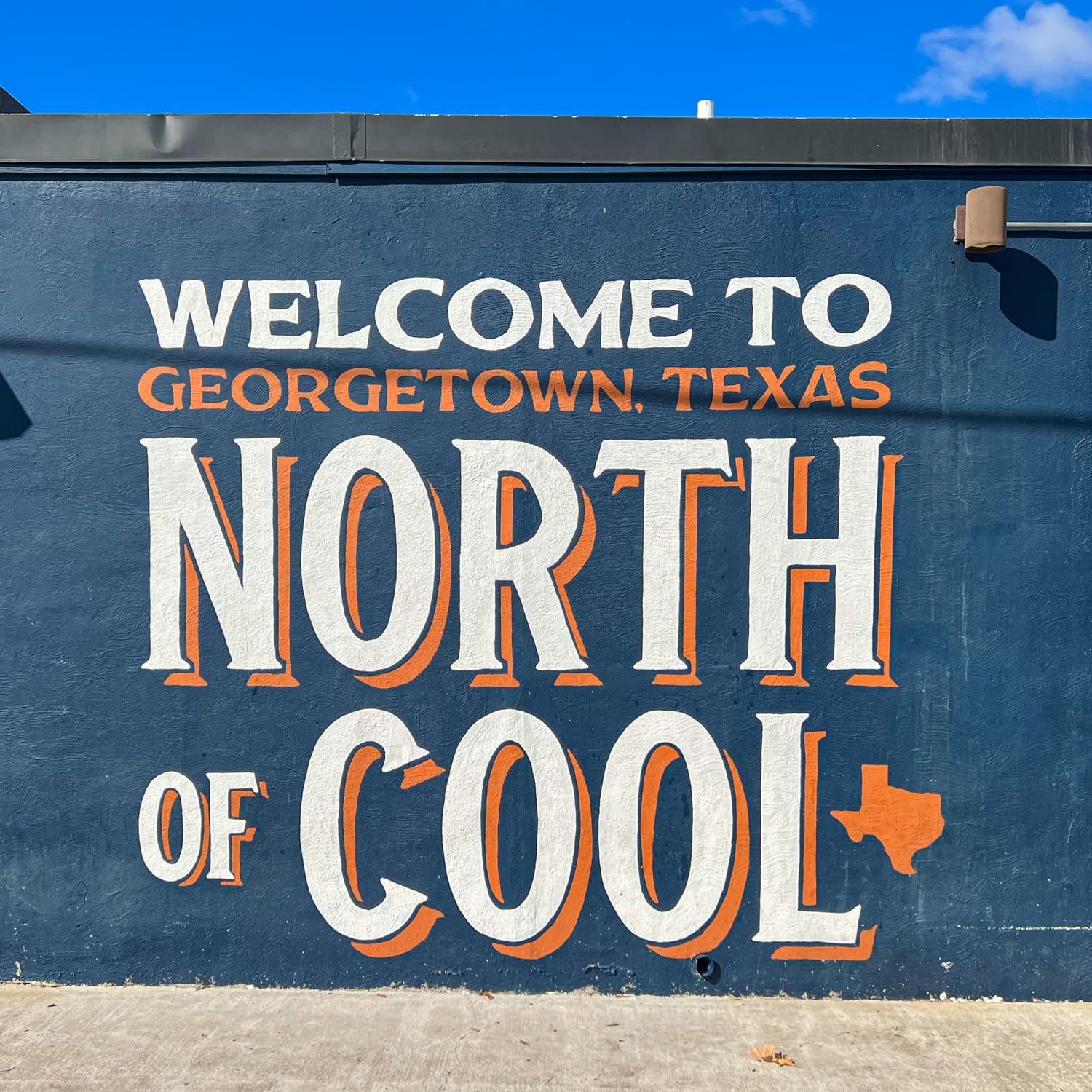 Georgetown is the second city I visited in Texas after Austin. I hired a photographer there to take headshots of me around the main square.
I was struck by the buildings' various textures and materials during the photoshoot. This part of the city is on the National Registry of Historic Places.
However, it wasn't until recently that I began exploring the dining scene.
Georgetown is a relatively small, albeit quickly-growing city, with about 75,000 residents as of 2021. Here are some of the best places to eat in Georgetown.
Top Georgetown Restaurants
1. City Post Chophouse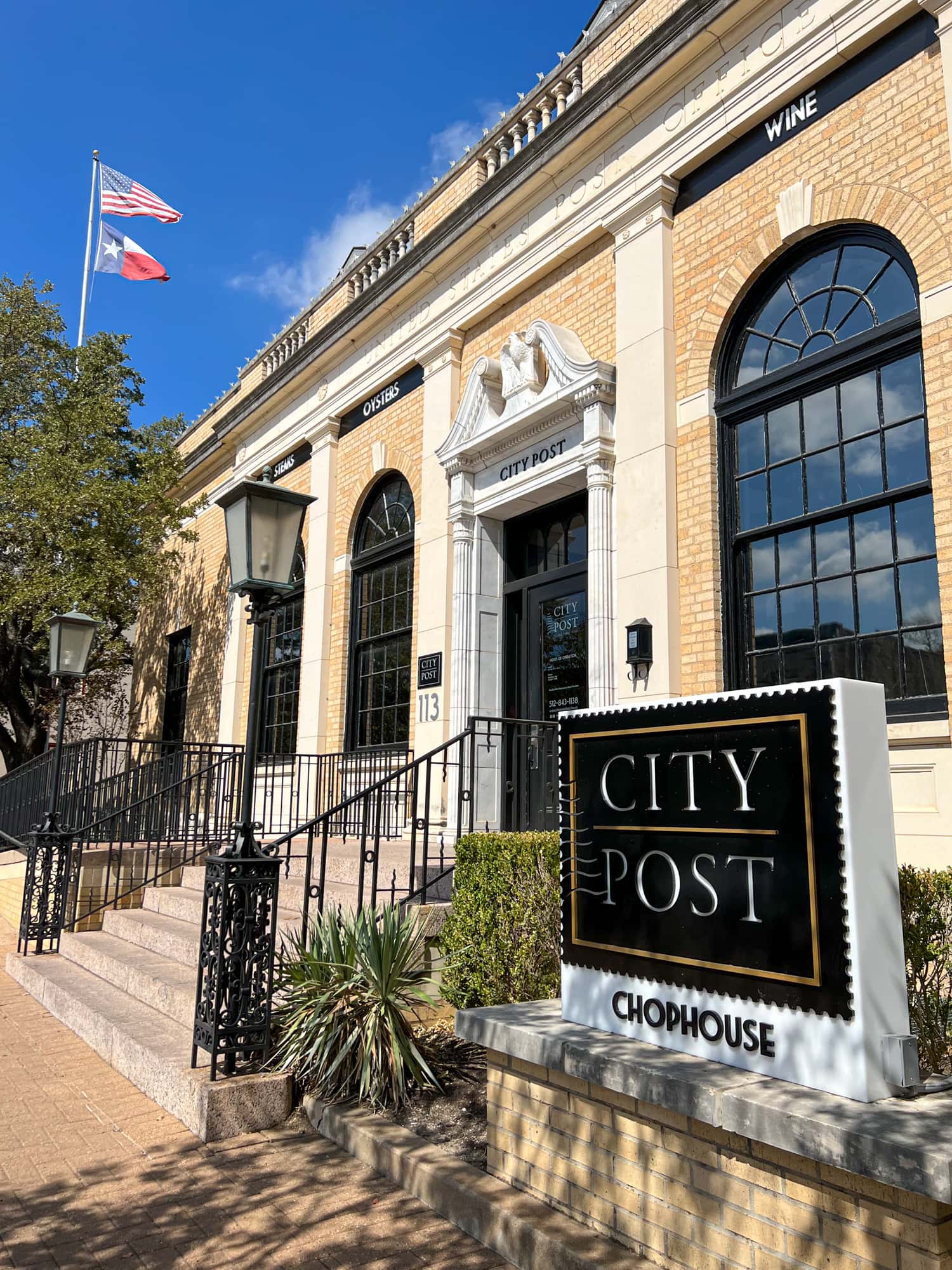 Based on the recommendations of friends who live in Georgetown, a meal at the City Post Chophouse was a high priority.
Georgetown's newest fine dining establishment occupies the building formerly used as a U.S. Post Office starting in 1931 and, later, City Hall. It's a half-block east of the main square.
There, I met a friend for lunch on a weekday afternoon. We were seated at a table in front of the open kitchen in the main dining room.
The lunch menu offers fewer steaks than dinner, but it was sufficient to get a feel for the place.
Drinks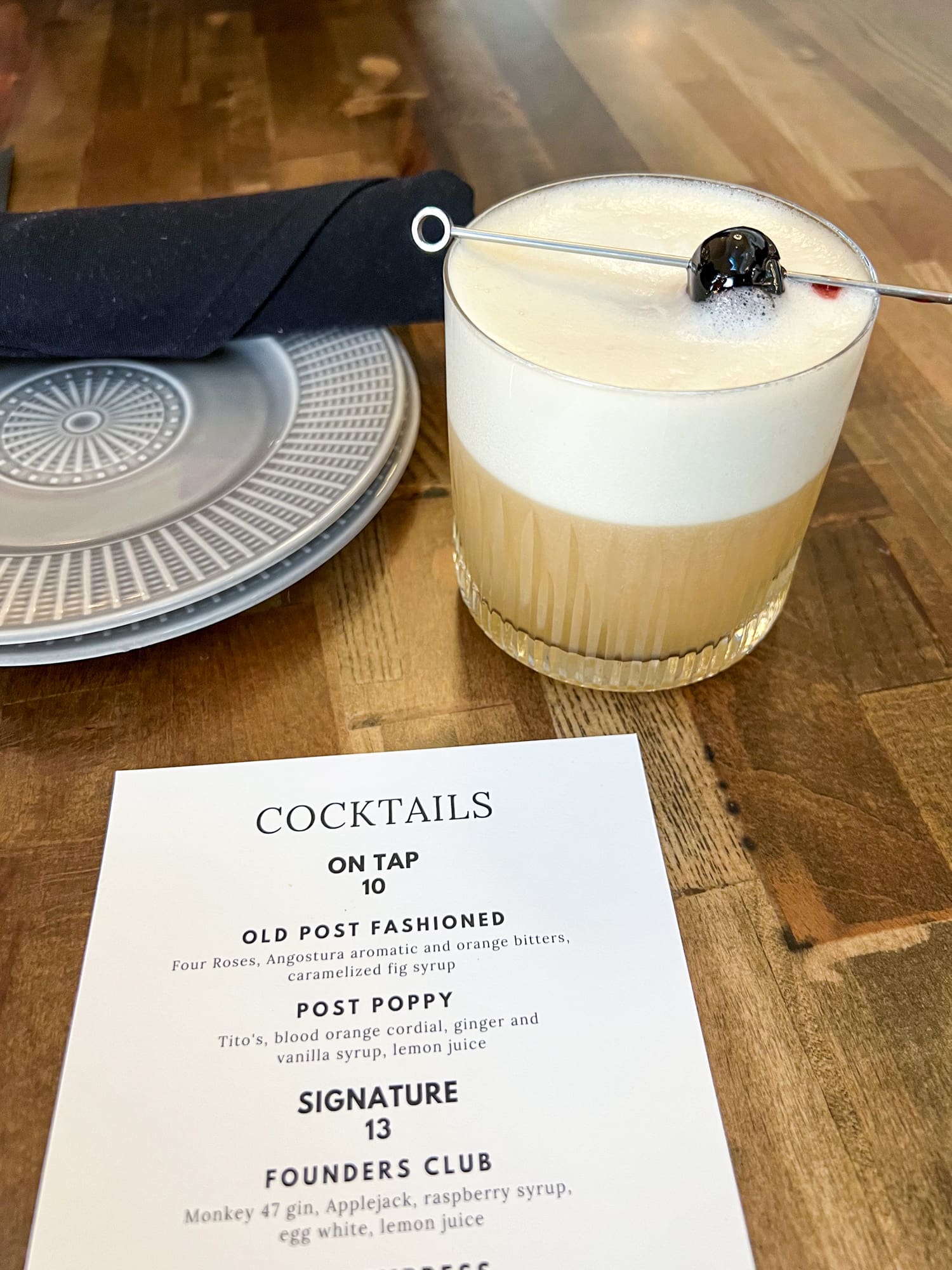 The cocktail menu had several appealing options, including three zero-proof drinks.
Curious, I ordered Dry County with Spiritless Kentucky 74, egg white, lemon juice, and simple syrup. The mixed drink looked and tasted excellent.
Spiritless Kentucky 74 is a distilled, non-alcoholic spirit; enjoy caramel, oak, and vanilla flavors minus the burn of bourbon.
The wine list had about 20 options, primarily from Italy, France, and California. I would've liked to have seen at least one Fredericksburg winery.
Food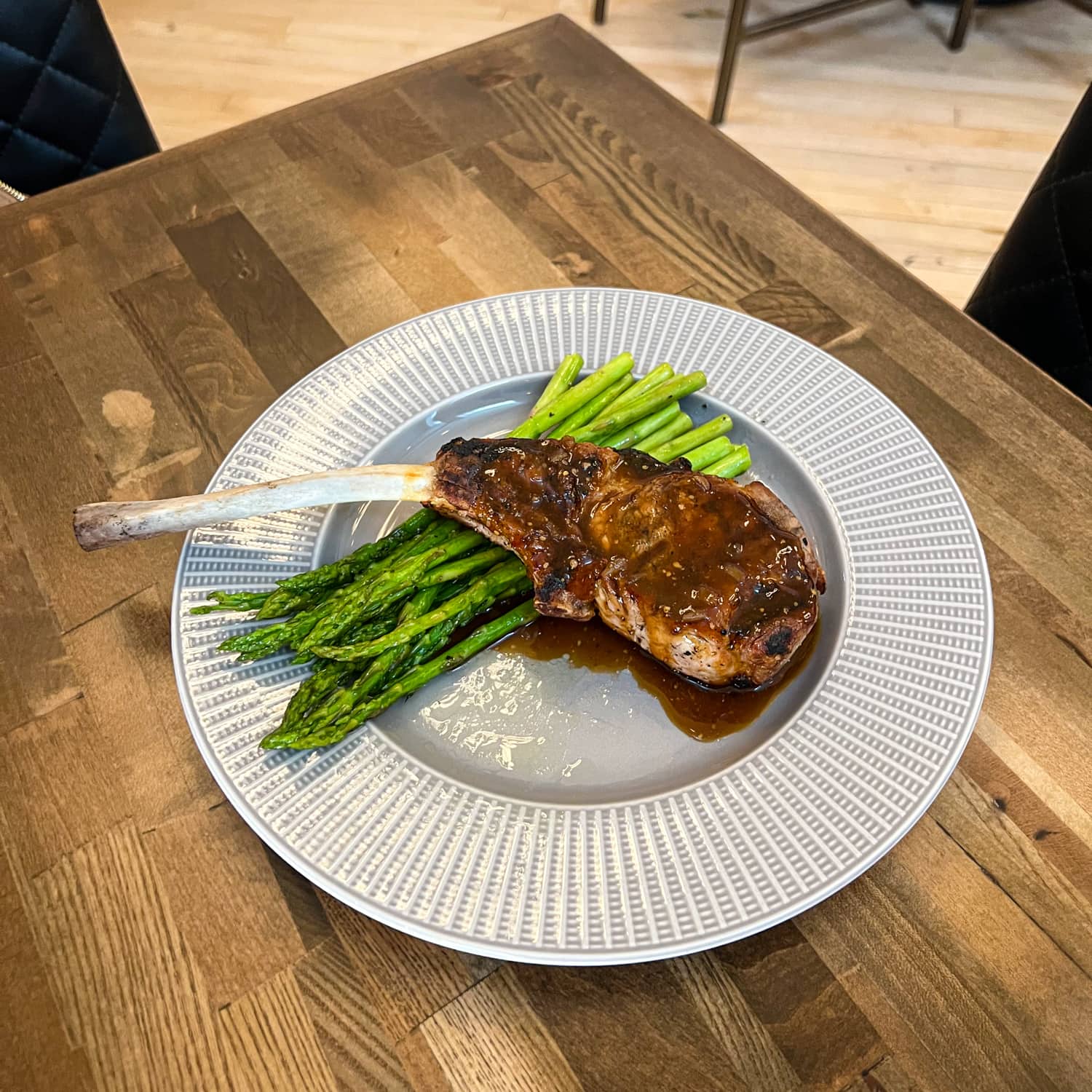 I went overboard ordering a three-course meal for lunch, beginning with the rich four-onion soup with brandy, sherry, gruyere, and mozzarella.
Other appetizers include fresh oysters on the half shell, a Gulf Coast shrimp cocktail, and a cheese and charcuterie board. They've got salads, too.
I was tempted to order the lobster roll or wagyu burger but opted for the excellent 10-ounce tomahawk pork chop with whiskey and mustard veal demi-glace instead.
Dinner menu items include filet mignon, a 14-ounce NY strip, a 22-ounce bone-in ribeye, and Chilean seabass.
The desserts I tried were made in-house, including a terrific lemon cake and apple pie a la mode.
City Post is currently my pick for the best restaurant in Georgetown, TX.
113 E 8th St, Georgetown, TX, citypostchop.house
Related: Jack Daniel's Distillery Tour
2. Monument Cafe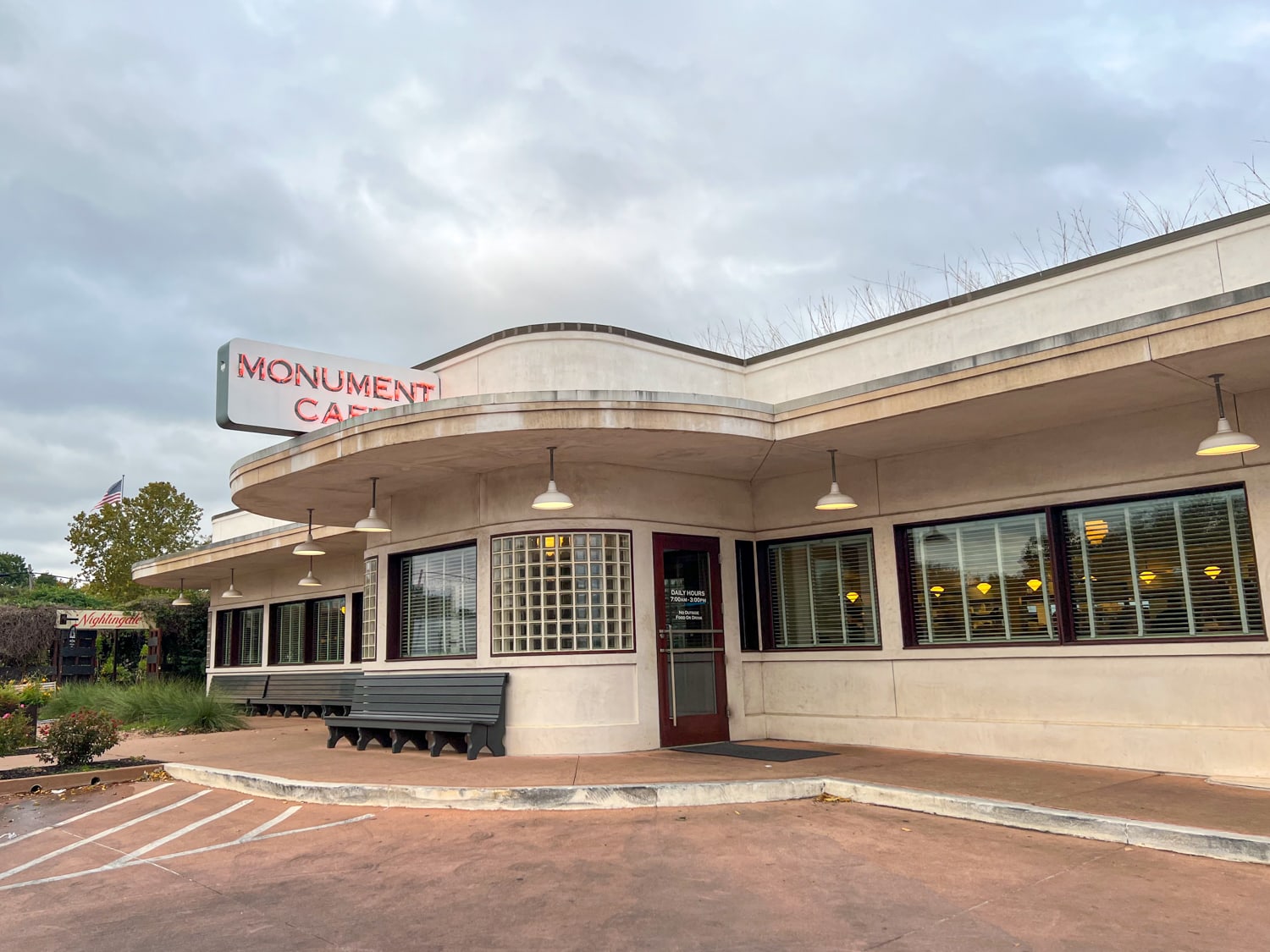 Opened in 1995, a block and a half north of Georgetown's square, Monument Cafe is an ode to the rural, family-owned Texas cafes of the 1920s and 30s.
The restaurant has a dedicated fan base and fills up quickly. I arrived by 8:15 a.m. on a chilly Saturday morning, only to find it almost full.
Since I was eating alone, I got a seat at the counter without a wait.
Despite the appearance, this isn't your typical greasy spoon — there's an emphasis on fresh, local, and seasonal foods.
Everything on the main menu is made in-house, including the biscuits and salad dressings. This is classic American comfort food you can feel good about.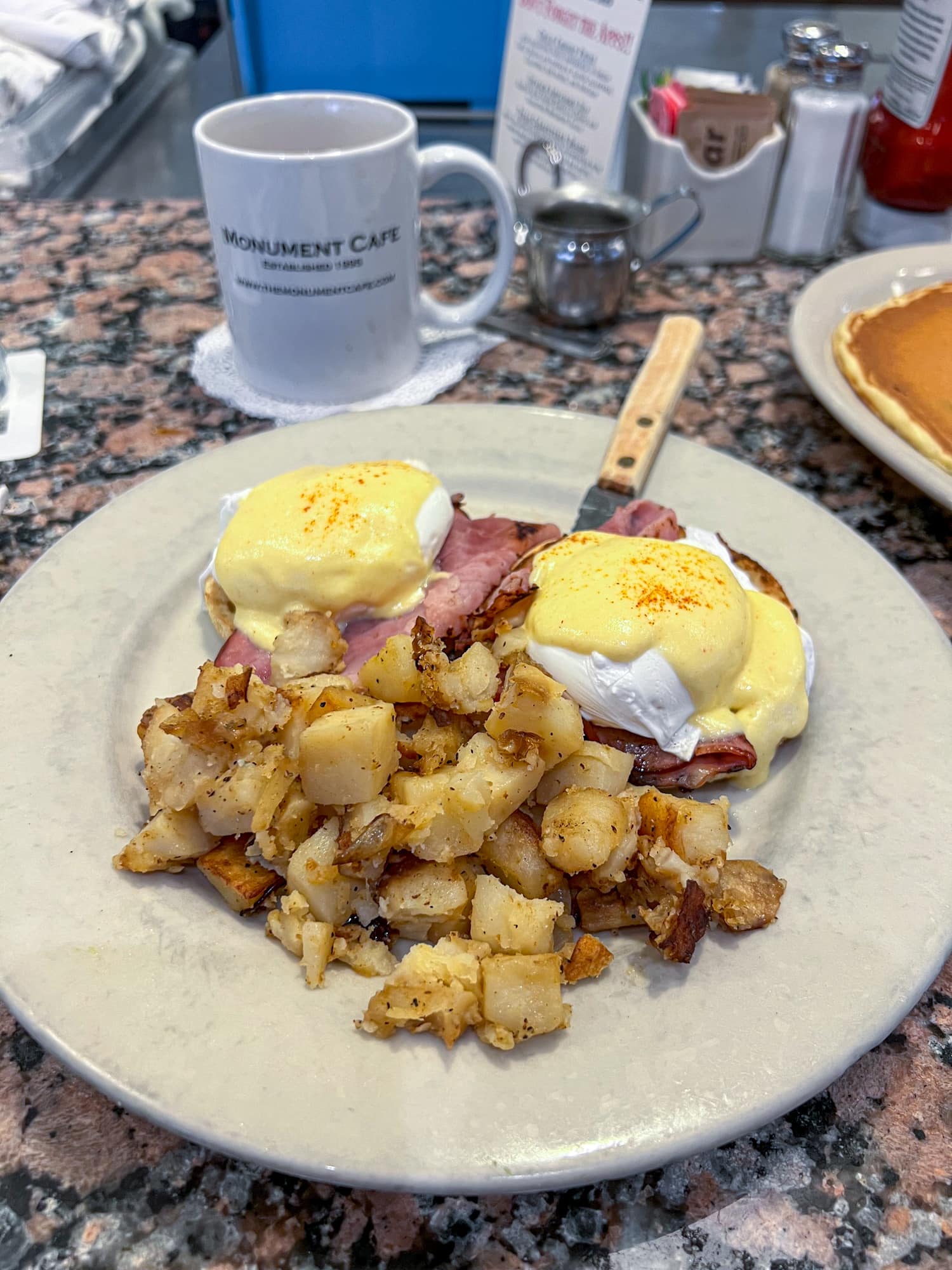 Delicious food like migas, chicken and grits, biscuits and gravy, and eggs with chicken fried steak are all on the menu.
Plus, more deluxe options like the eggs Benedict, which is what I chose. The eggs were perfectly poached, the hollandaise sauce was on point, and the glazed ham was flavorful.
I also tried a fluffy blueberry buttermilk pancake with maple syrup the size of a plate.
Monument Cafe was featured on an old episode of The Food Network's Diners, Drive-Ins, and Dives with Guy Fieri and a young Matthew McConaughey.
In the video clip above, one of the chefs makes King-Ranch Casserole, a Tex-Mex recipe I don't know if they offer anymore.
Side note: McConaughey's black t-shirt is from Mean Eyed Cat, a Johnny Cash-themed dive bar in downtown Austin.
The owners of Monument Cafe also run El Monumento, a restaurant serving Mexican food with views of the San Gabriel River four blocks further north.
500 S Austin Ave, Georgetown, TX, themonumentcafe.com
3. Sweet Lemon Kitchen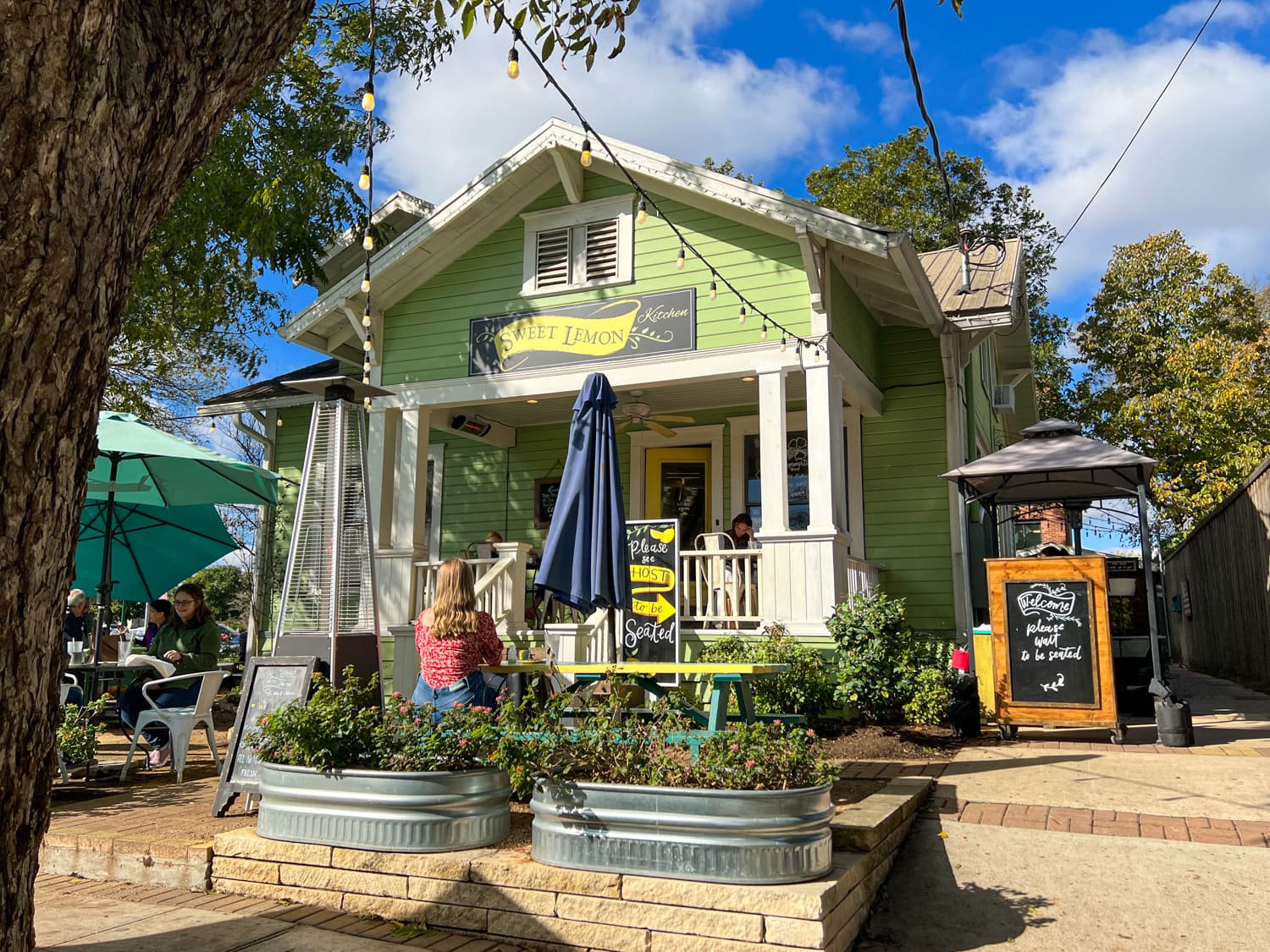 If it's coffee and pastries in a cute cottage you seek, head to Sweet Lemon Kitchen, a block and a half southeast of the town square, near Founder's Park.
The coffee, espresso, and tea options are numerous, including a signature cream latte with honey, lavender, or maple.
Rich hot chocolate is made by combining organic milk with Ghirardelli Chocolate.
Housemade desserts use organic flour and include:
Lemon bar
Lemon bundt cake
Key lime pie
Mississippi mud bar
Assorted cookies
Breakfast pastries include cinnamon rolls, scones, kolaches, and a chocolate Nutella croissant. There are gluten-free menu items, too.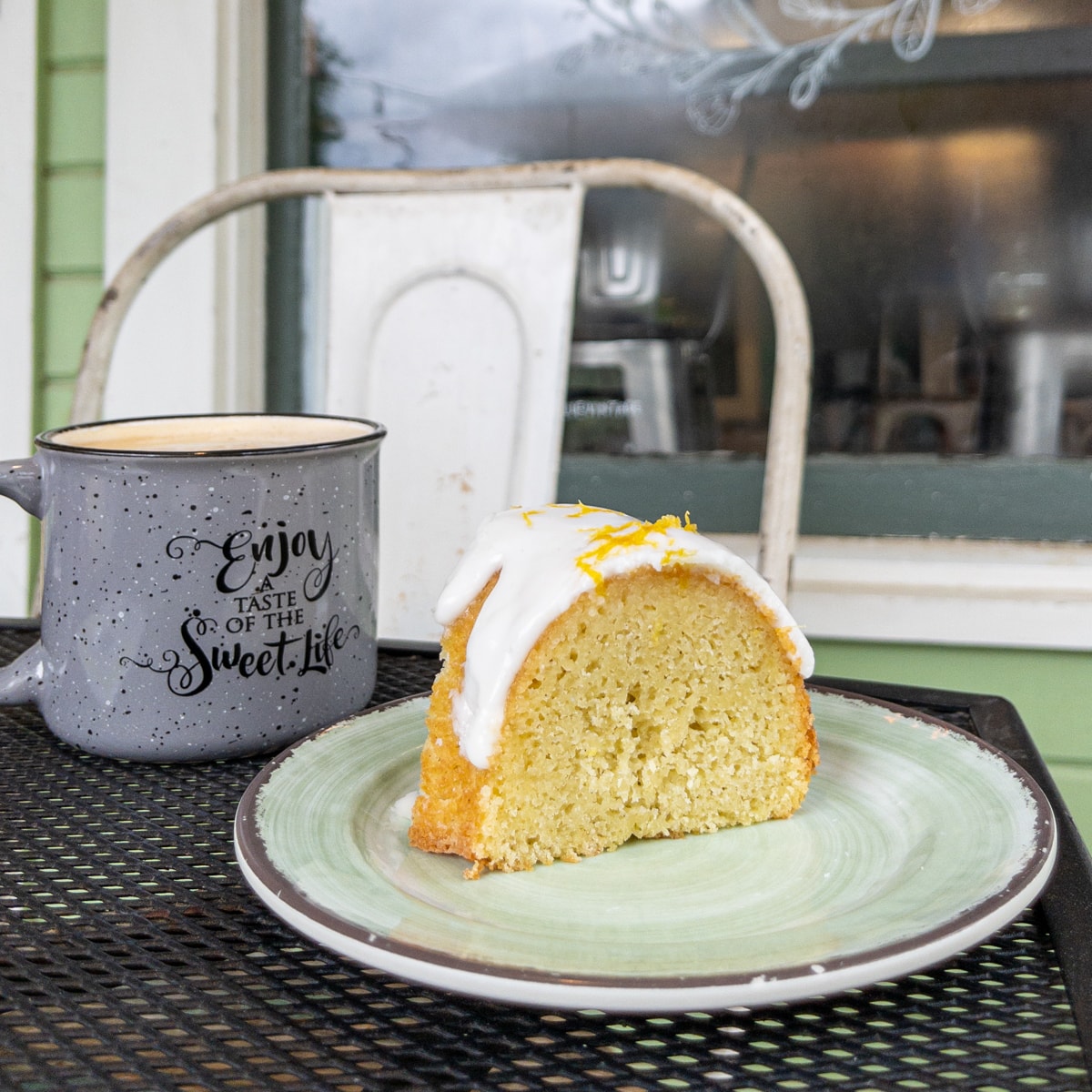 Greek yogurt parfait, avocado toast, heavier fare like the steak and egg croissant sandwich, and scratch-made quiche Lorraine are also available.
While a great place for breakfast and brunch, Sweet Lemon Kitchen also serves lunch from Tuesday through Sunday and dinner on Friday and Saturday nights.
Hot and cold gourmet sandwiches and salads with the freshest ingredients, including a turkey and brie panini, are available.
Dinner entrees include Mediterranean salmon, lasagna, and orange citrus chicken.
As one of the best restaurants in Georgetown, TX, seating fills up fast on the weekends. Go early to sit inside; otherwise, there are tables on the lawn and a counter to order items for take-away.
Sweet Lemon Kitchen's coffee, pastries, and sandwiches are available at the Georgetown Public Library.
812 S Church St, Georgetown, TX, sweetlemonkitchen.com
Related: Best Brunch in Austin
4. Jimmy Vega's Smokehouse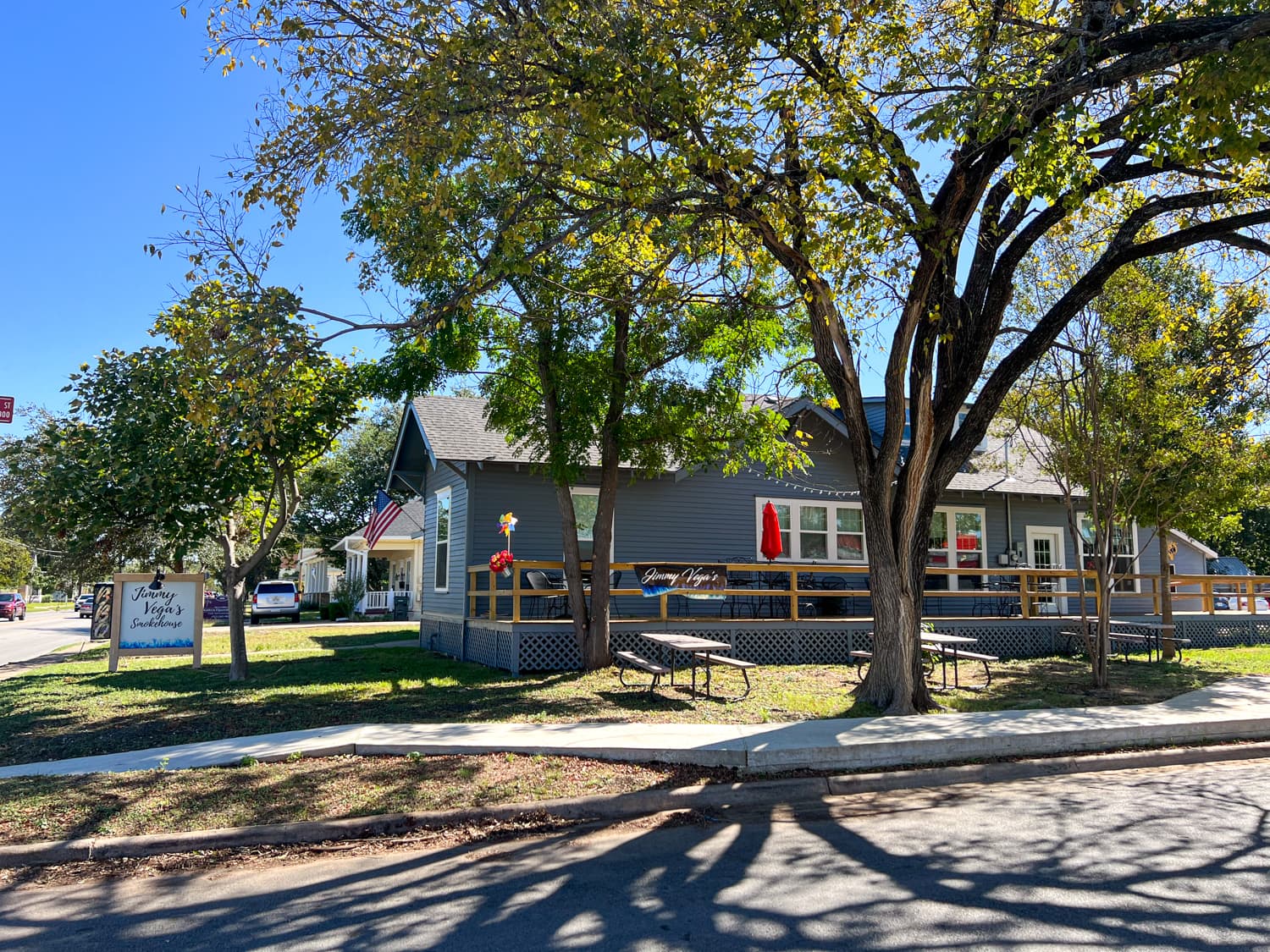 Despite the city's proximity to award-winning BBQ in Austin, there are surprisingly few barbecue restaurants in Georgetown, TX.
So far, I'm happy to recommend Jimmy Vega's Smokehouse, which opened at a new location in mid-2022, a half-mile south of the town square.
You'll find all the usual suspects, including the Texas trinity (brisket, pork ribs, and sausage), smoke-roasted bacon, and pulled pork.
I got the comically named "I Don't Know" sampler plate, with three types of meat and two sides, for $15.75.
Whether on purpose or by mistake, I received four portions of meat — brisket, baby-back ribs, sausage, and tender turkey breast.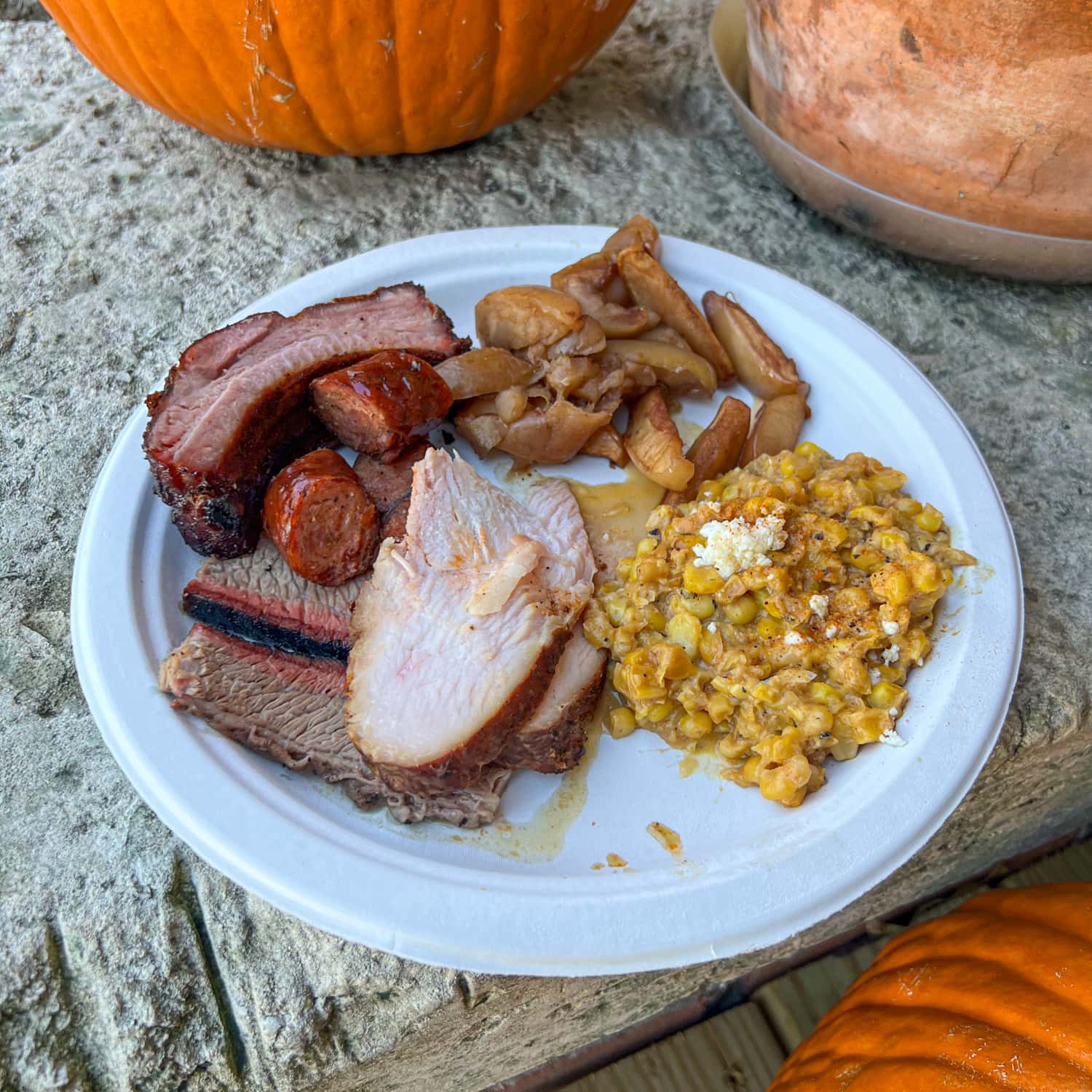 I picked Crack Corn (similar to Mexican street corn) and rum-braised apples for the sides.
The ribs, turkey, and corn were my favorites, while the brisket was average.
The slices were tiny compared to the thick pieces I'm used to when ordering brisket by the pound at places like Franklin Barbecue or Truth.
And instead of a more traditional cobbler or apple crisp, I got the "Hobo" milkshake with ice cream and pieces of Texas sheet cake. It was fantastic.
Other enticing shake flavors include s'mores, campfire, mocha, and choco strawberry banana.
My visit to Jimmy Vega's was a good experience and an excellent value.
408 W University Ave, Georgetown, TX, jimmyvegas.biz
5. Goodfolks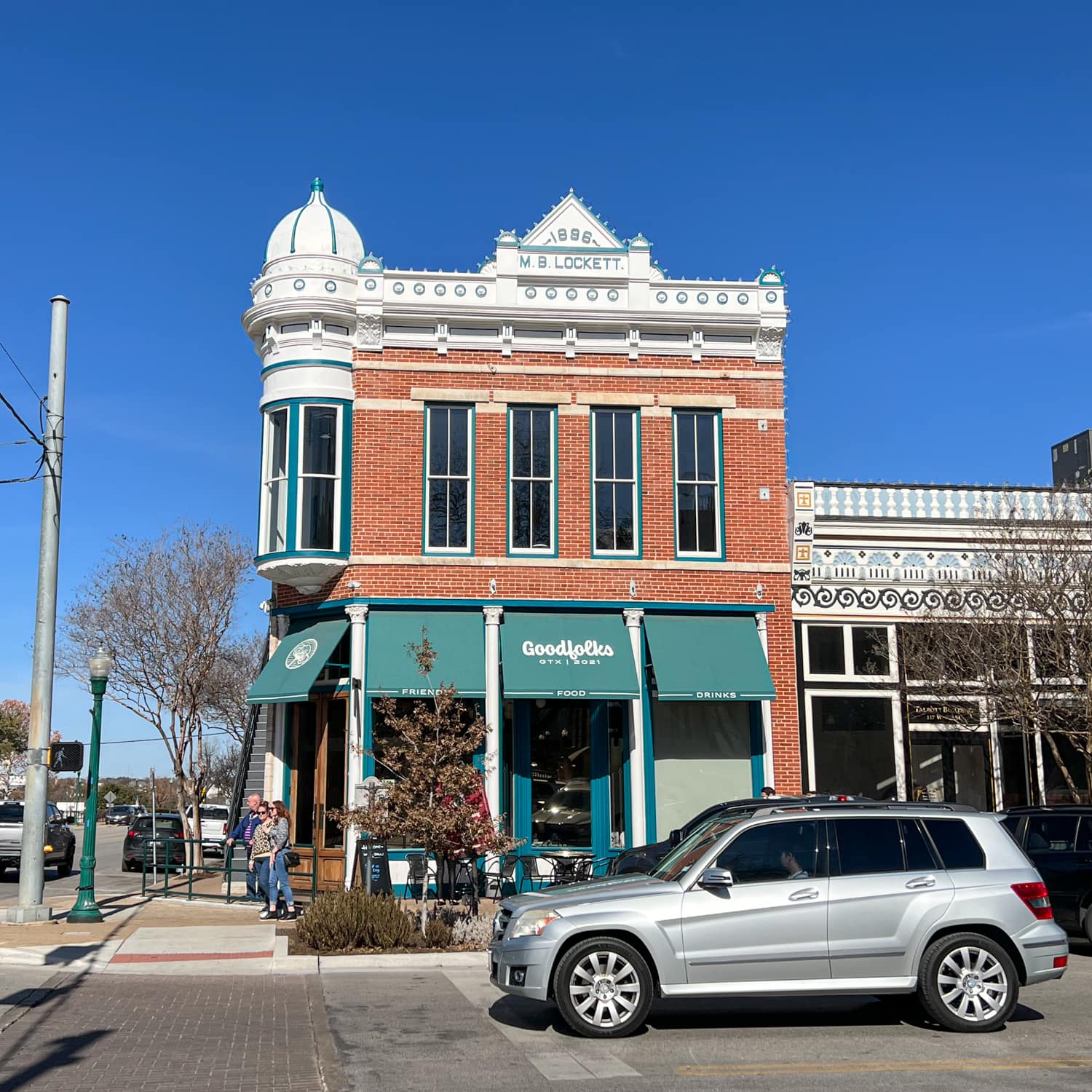 On the north side of Georgetown Square, you'll find Goodfolks, a Southern-style restaurant in the M.B. Lockett Building, a Texas Historic Landmark.
The red-brick building with cast iron columns, metal parapet, and corner turret dates back to the late 1800s.
The split-level restaurant offers tables on the ground floor and smaller ones on a second-floor wrap-around balcony. The upper level also features a bar.
The menu offers many mouthwatering meals, including fried items, such as fried pickles, cornmeal-crusted catfish, fried chicken salad, and chicken and waffles.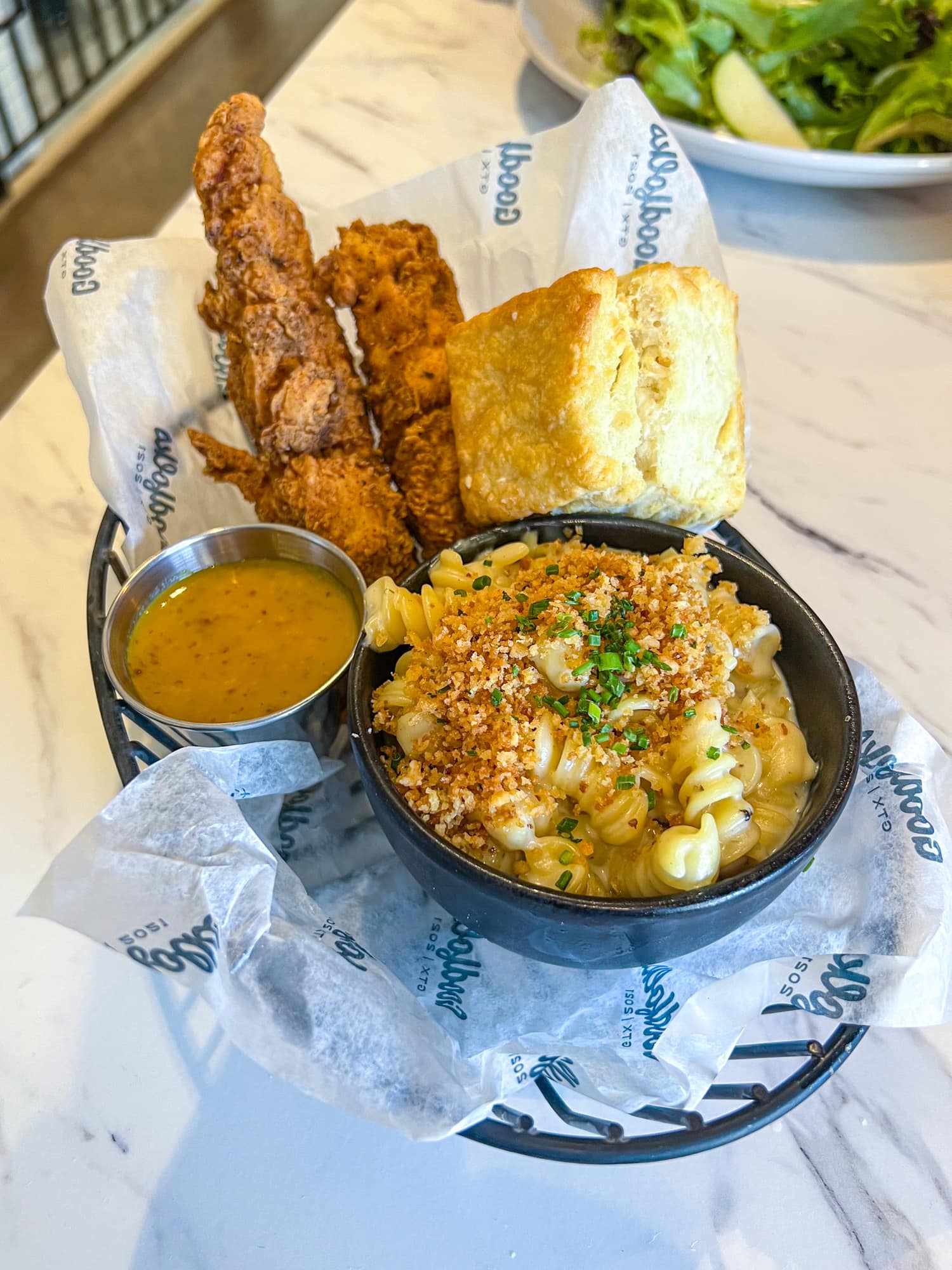 Honey butter biscuits are served with cane syrup honey butter and can be ordered independently or as part of some dishes.
For my first visit, a late lunch with my friend Laura, I ordered the two tenders basket with a biscuit and choice of dipping sauce, and a side of truffle mac 'n cheese.
The meal reminded me of my childhood when mac 'n cheese and chicken tenders were two of my favorite foods.
Not content to stop there, I consumed the peanut butter mousse pie with cinnamon vanilla whipped cream in record time.
The milkshakes (strawberry shortcake, cookies and cream) also sound incredible. Add whipped cream vodka to any of them for an extra $5.
Goodfolks may be the new kid on the block, but they're easily one of the best overall restaurants in Georgetown.
119 W 7th St, Georgetown, TX, goodfolksgtx.com
6. 600 Degrees Pizzeria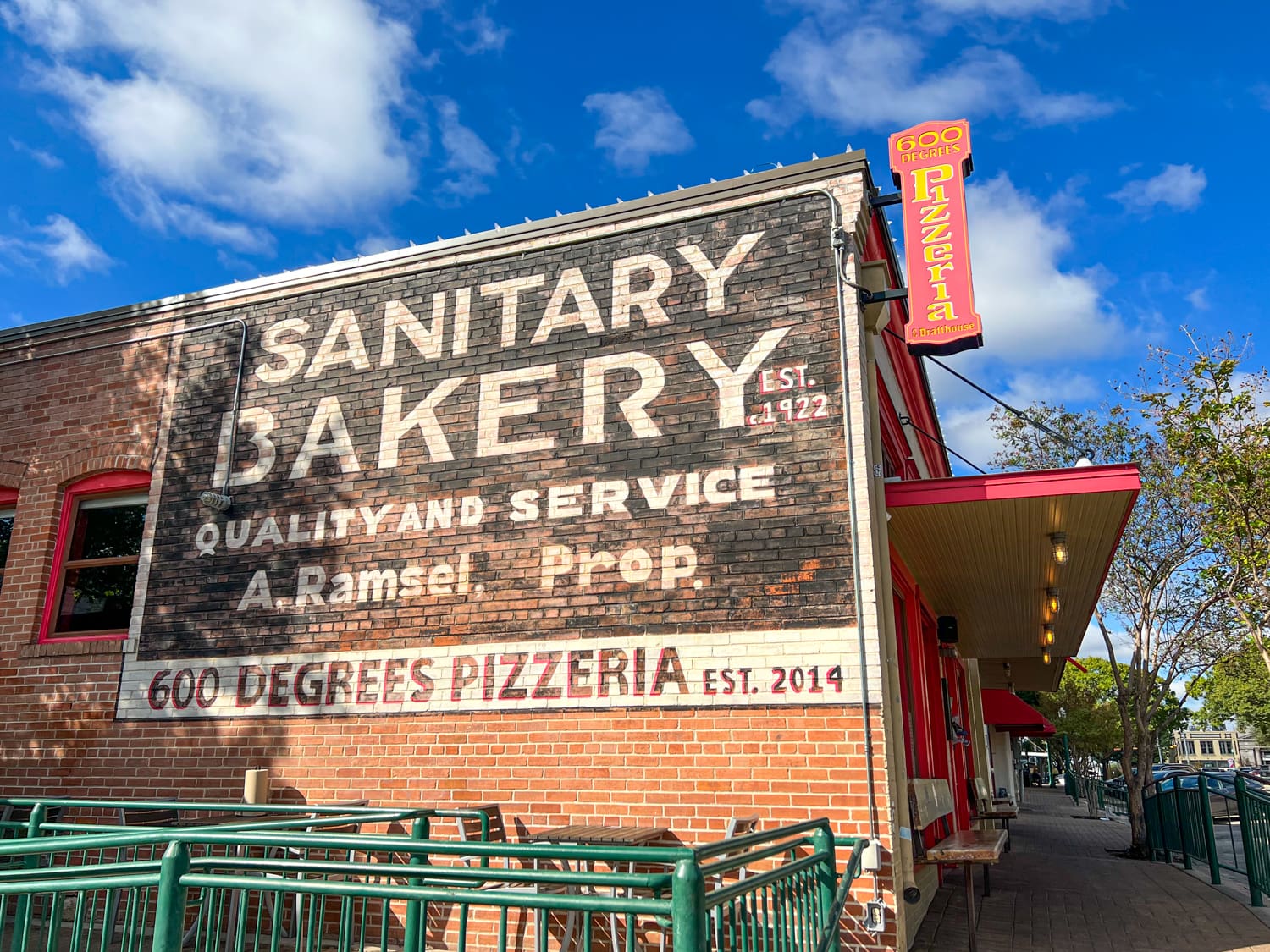 Across the street from City Post is the best restaurant for pizza in Georgetown, TX.
600 Degrees Pizzeria serves enormous slices of pizza with traditional and unique flavors.
There are three seating areas: booths, communal tables, and a bar with TVs and craft beer on tap, perfect for happy hour.
They have an extensive menu with pizza by the slice or pie. I ordered two pieces, not realizing a single portion at 600 Degrees is the equivalent of two anywhere else.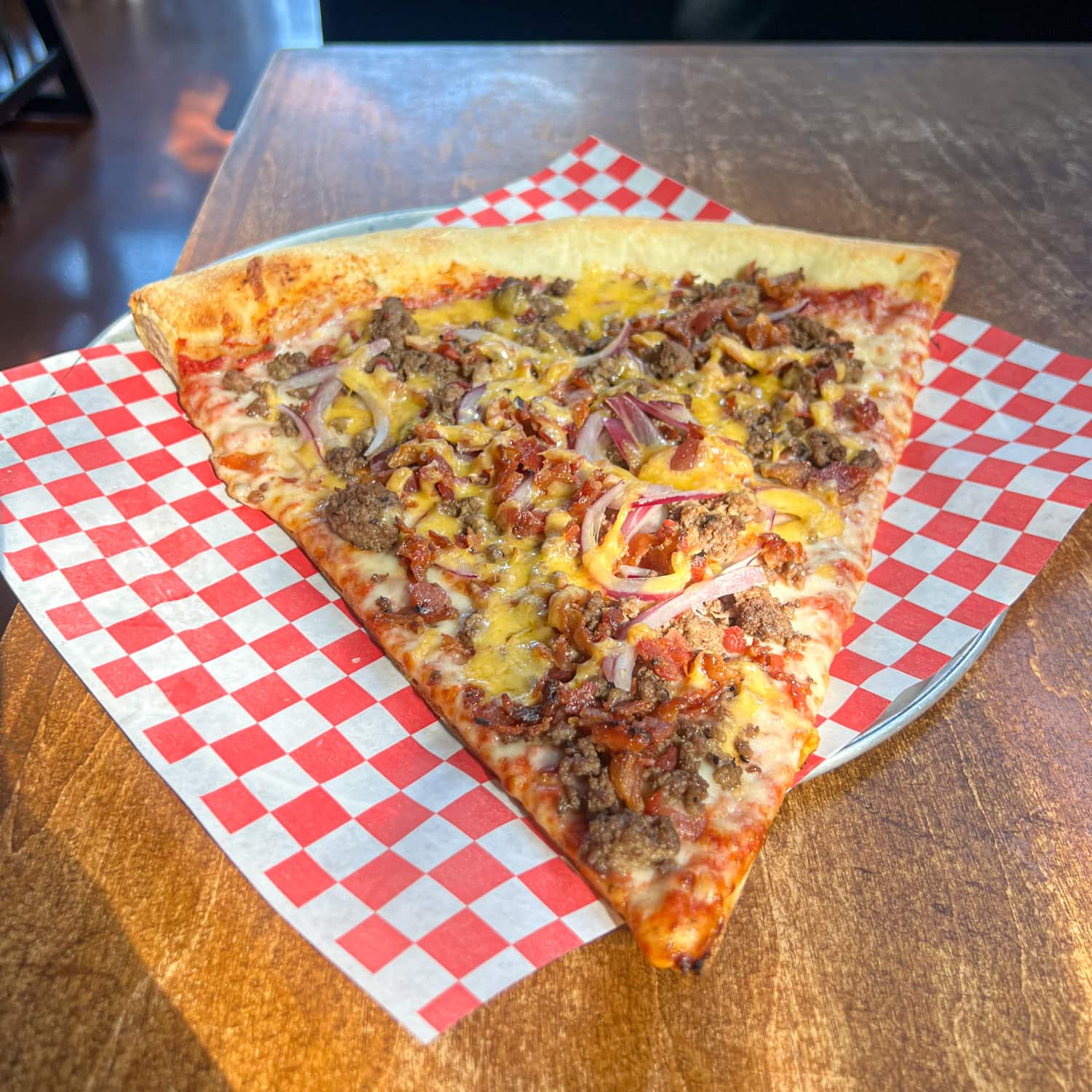 The first slice, Queen Margherita, was made with Roma tomatoes, fresh mozzarella, Parmigiano-Reggiano, and basil.
The second slice was more adventurous — a Royale with Cheese topped with seasoned hamburger, bacon, Tillamook cheddar cheese, and red onions.
I managed to eat about half of each and took the rest home. I couldn't even fathom dessert, a choice of NY-style cheesecake, tiramisu (my favorite!), and a triple chocolate cake.
There's more to this Italian restaurant than pizza, though. They also offer handmade meatballs in marinara sauce, gourmet cheese bread, pork shanks with Thai chili, and wings.
If you're looking for casual dining with friendly service in the downtown area, head for 600 Degrees.
124 E 8th St, Georgetown, TX, 600degreespizzeria.com
7. Alma By Stephan Pyles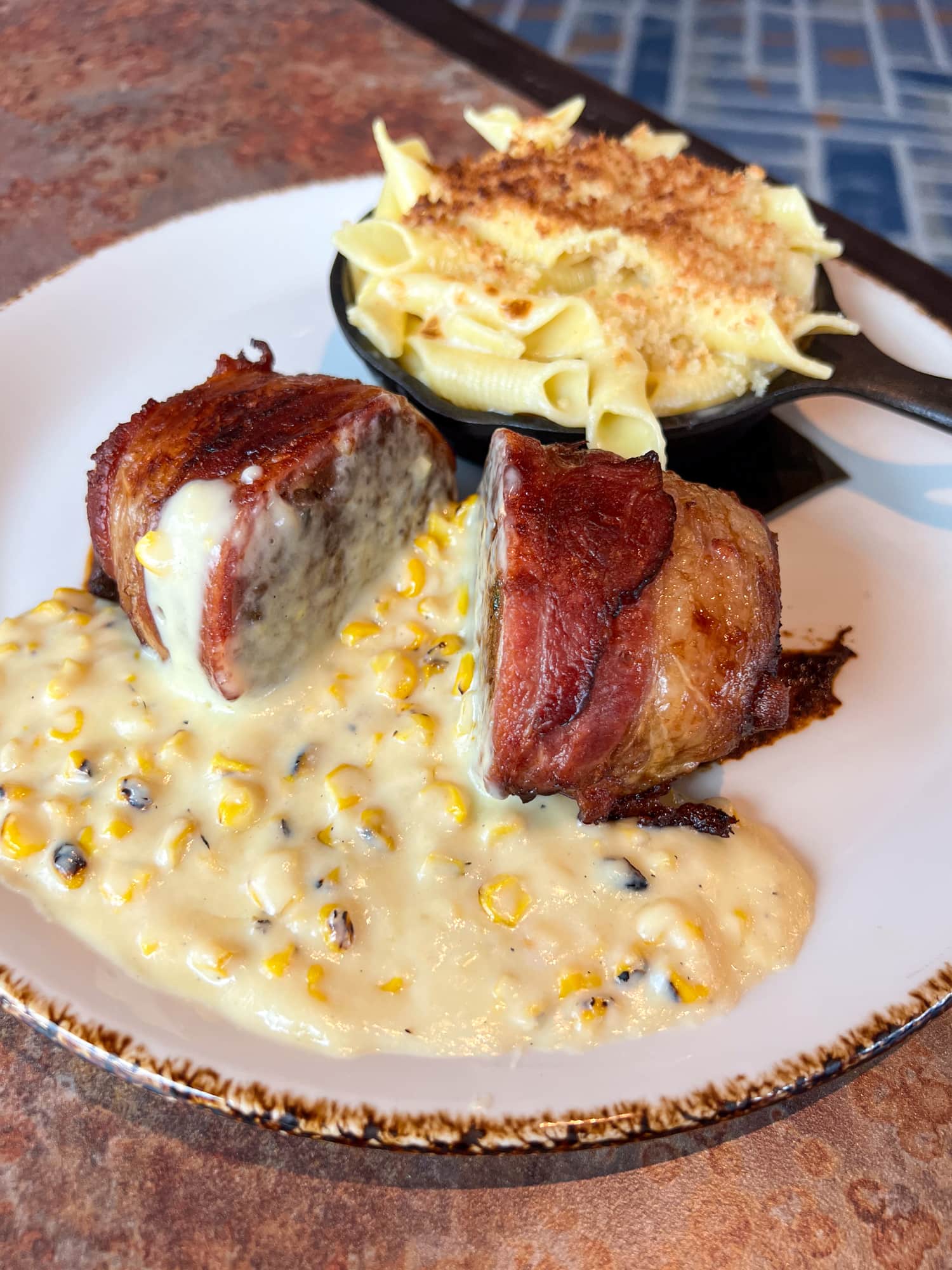 Texas' first James Beard Award winner, chef Stephen Pyles, opened Alma in 2023 at The Hacienda, a new retirement community in Georgetown.
Featuring Texas Hill Country fare, the offerings at Alma are downright delicious and provide excellent value.
I ordered a bacon-wrapped meatloaf (my first!) served with creamed corn and a small skillet of mac 'n cheese.
This was not my mother's meatloaf. It was dense and tightly wound with juicy bacon. I had to take half home for lunch the next day.
While I wished the mac 'n cheese was cheesier, it was made up for by SP's Heaven & Hell Cake, a devilish dessert.
Chocolate and peanut butter cake is paired with raspberry sorbet, resulting in the chef's take on a PB&J.
Alma is about six miles northwest of Georgetown's main square.
60 Del Webb Blvd, Georgetown, TX, almahacienda.com
***
Thanks to its title as the Most Beautiful Town Square in Texas, Georgetown attracts visitors throughout the Austin area, including neighboring cities like Cedar Park and Round Rock.
Finding good food at the best restaurants in Georgetown, TX, is as simple as parking in the main square and picking which direction to walk.