The Mansion Restaurant at Rosewood Mansion on Turtle Creek offers diners in Dallas a taste of how high society lived when it debuted in August 1980.
Celebrated chef Dean Fearing, credited with developing Southwestern cuisine, led the kitchen for 20 years (1987-2007) before departing to open his own. A succession of talented chefs came in his wake.
Texas-born executive chef Sebastien Archambault, who previously worked at the Park Hyatt New York City, is at the helm now, offering New American cuisine with French influences.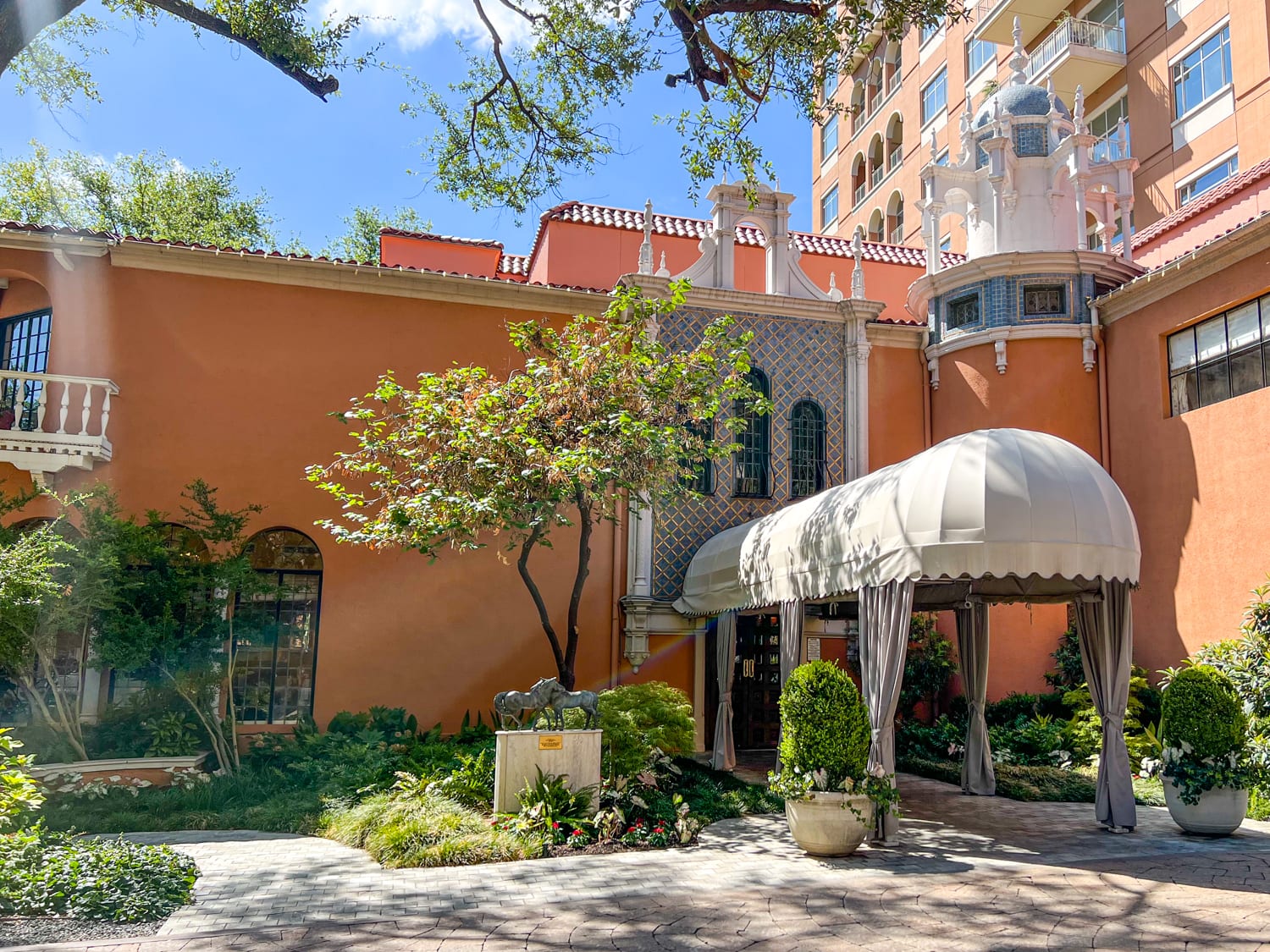 The Mansion Restaurant and Rosewood Mansion hotel are on the former estate of Sheppard W. King, a wealthy cotton magnate.
During the Roaring Twenties, King traveled Western Europe with his wife and architect, collecting antiques and inspiration for their 10,000-square-foot Italian Reinassance-inspired home.
The palatial King estate opened in 1925, featuring a marble staircase in the foyer, stained glass windows, hand-carved fireplaces, a silver vault in the basement, and the first private elevator in Dallas.
Ten years later, the King family lost their fortune and sold the estate to Freeman Burford, whose wealth was made in the oil business.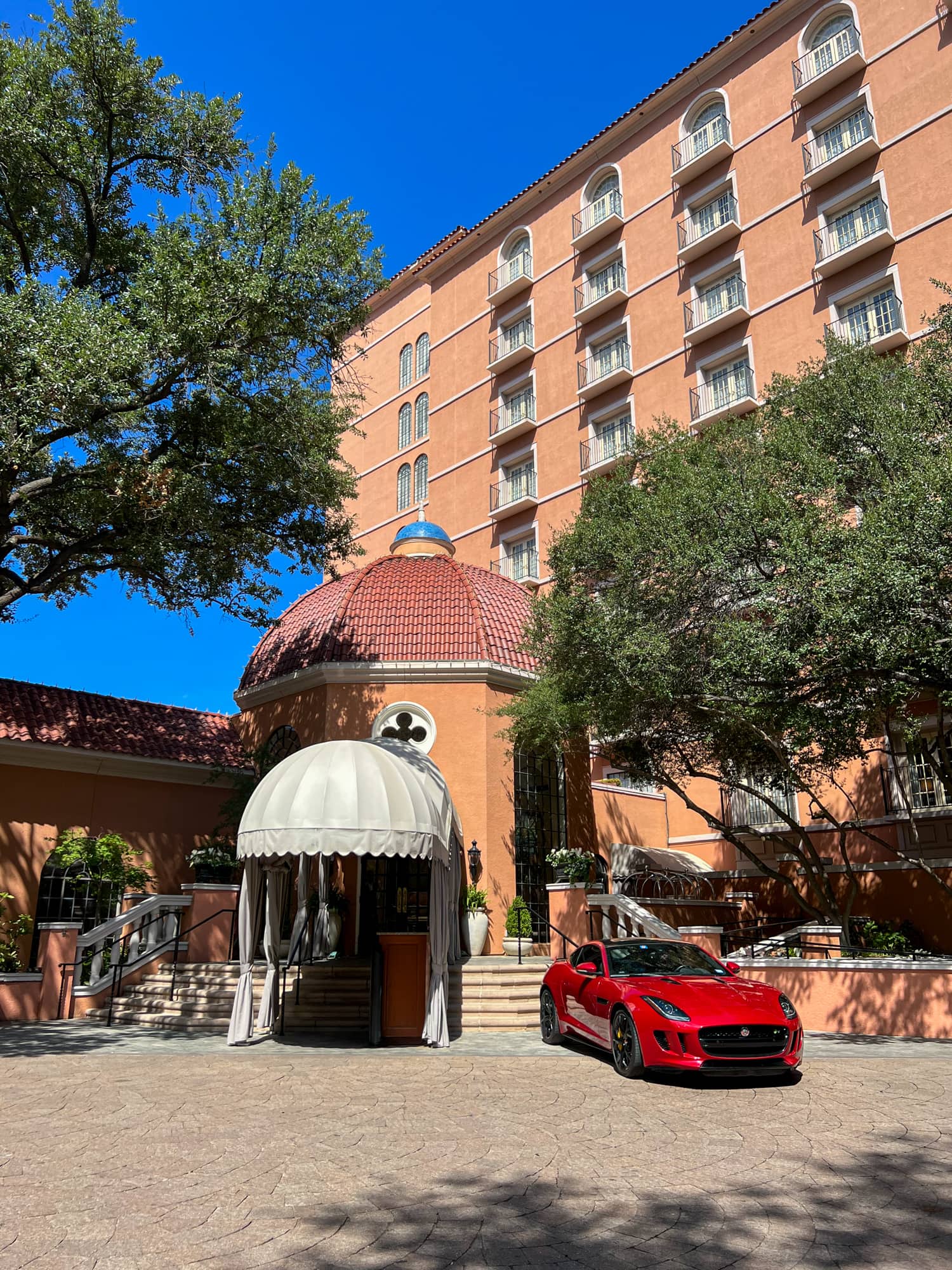 The following year, Mr. Buford hosted President Franklin D. Roosevelt and later famed playwright Tennessee Williams.
From the late '40s to the late '70s, the estate was used by several corporations before being rescued by the Dallas-based Rosewood Corporation, which invested $21 million to restore the home and add a luxury hotel.
In 2020, Rosewood Mansion was voted the best hotel in Texas in the Conde Nast Traveler's Readers' Choice Awards. And the Mansion Restaurant continues to be considered one of the best restaurants in Dallas.
First Impressions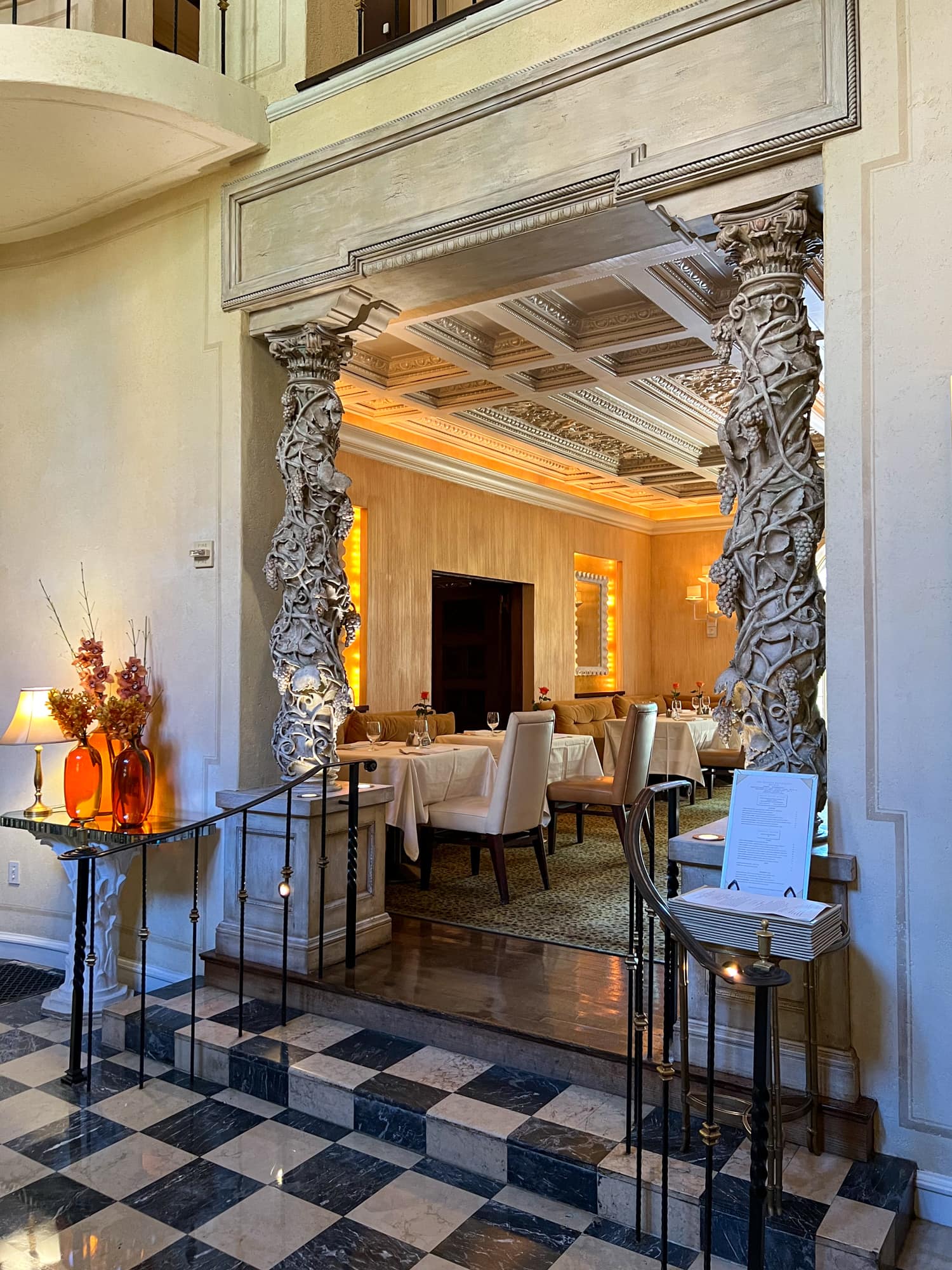 I pulled into the tree-covered driveway of The Mansion Restaurant a few minutes before 11 a.m. on a Saturday in mid-summer. A friendly valet greeted me and took care of the car.
Entering The Mansion Restaurant felt like stepping into an Italian villa. Marble floors shined beneath my feet, and a cantilevered staircase hung from the wall above.
Two ornately carved 16th-century Rosa Verona marble columns procured from Italy form a striking entrance to the main dining room (originally the home's living room and library).
I was a little early, and there was nobody at the host stand to greet me, so I looked in the Mansion Bar to the right.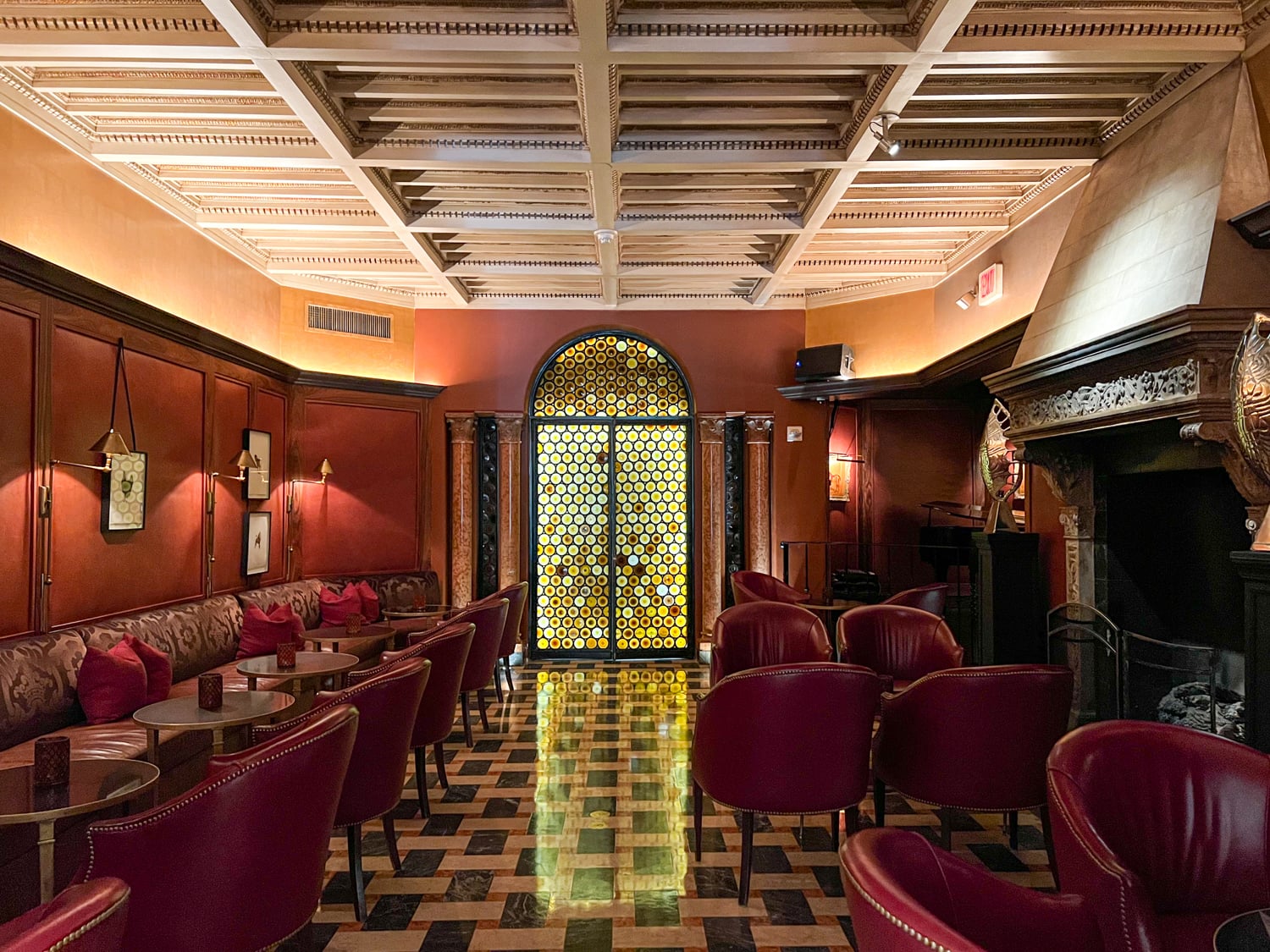 The elegance of the foyer extended into the dimly-lit two-room bar, originally the estate's kitchen and dining room. In one nook, there was a grand piano.
I made a mental note to return for drinks on a future trip to Dallas, so I could soak up the sexy setting and try the much-talked-about Mansion gin and tonic.
Happy hour at the Mansion Bar is 4 p.m. to 8 p.m., Monday to Friday, and they've got live music on the weekends.
Related: Soba Noodles at Tei-An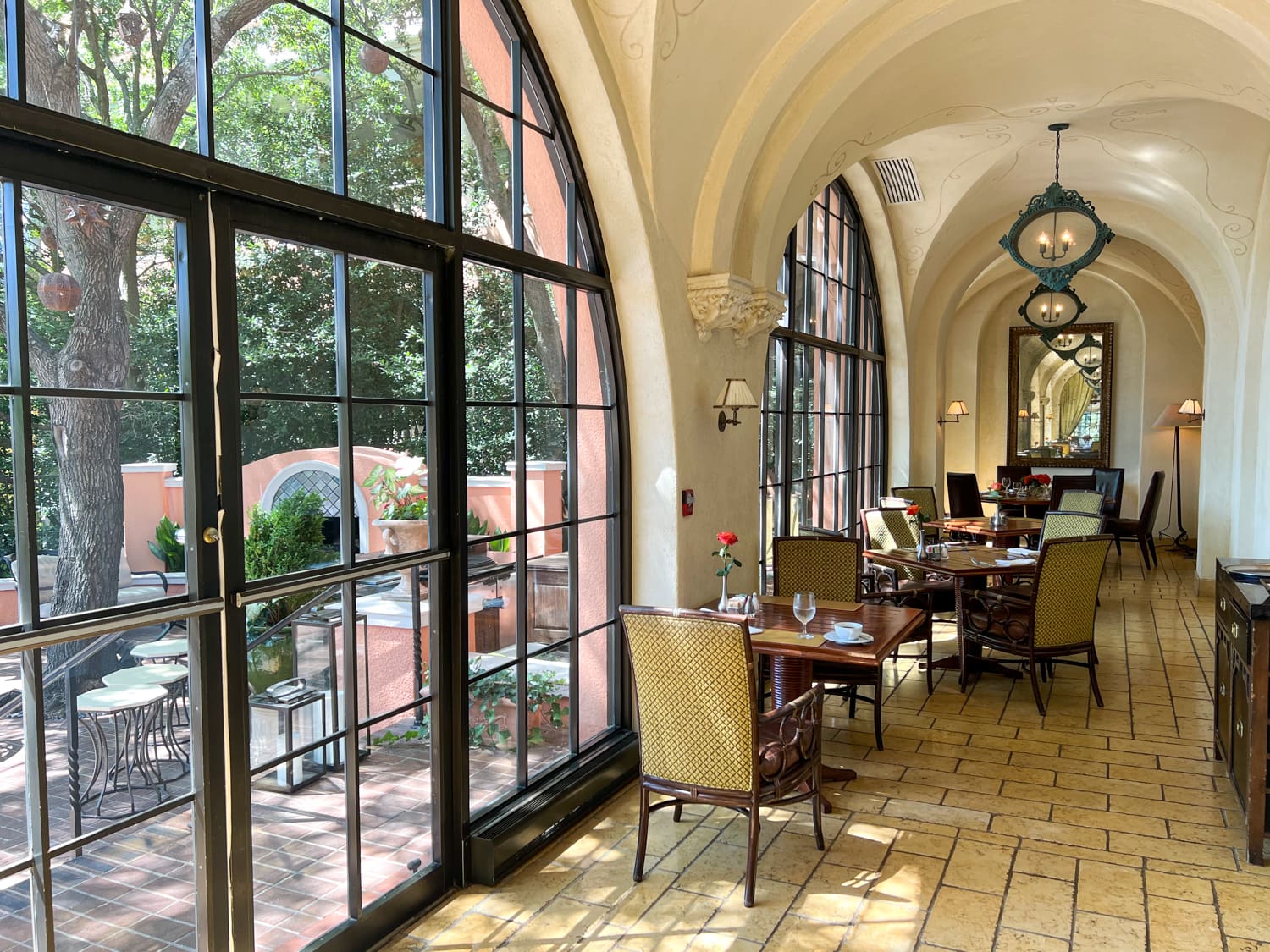 Brunch
Back in the foyer, I was greeted by a host and offered my choice of seating in the dining room or the veranda.
Once I saw the sunlight pouring into the latter, I knew that's where I wanted to enjoy my first brunch at The Mansion Restaurant.
Light jazz was playing, and diners were chatting at a few tables as they finished breakfast (hotel guests, perhaps?). When they left, I was thankful to have such a stunning space to myself.
Feeling curious, I asked my waiter if it was always this quiet for Saturday brunch, and he explained that many locals were out of town on their summer vacations.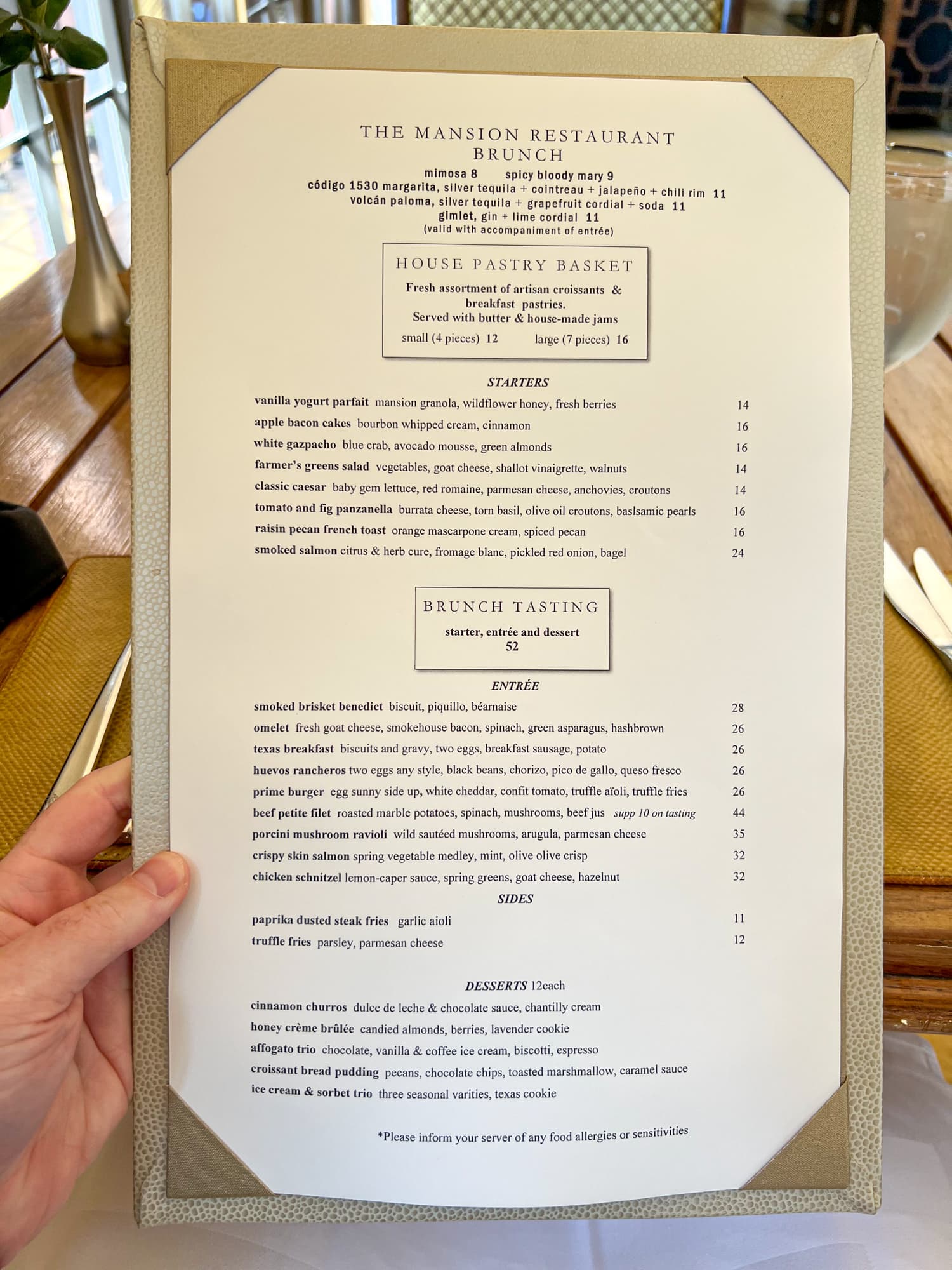 The Mansion's one-page brunch menu has a lot to offer. There are the standard mimosas, margaritas, and Bloody Mary's, and an award-winning wine list. But I got a less-intoxicating cappuccino as my day in Dallas was just starting.
You can order a la carte or possibly save a few bucks with the prix-fixe tasting menu, including starter, entree, and dessert, for $52. I took the deal and overindulged.
Related: High Tea at The Adolphus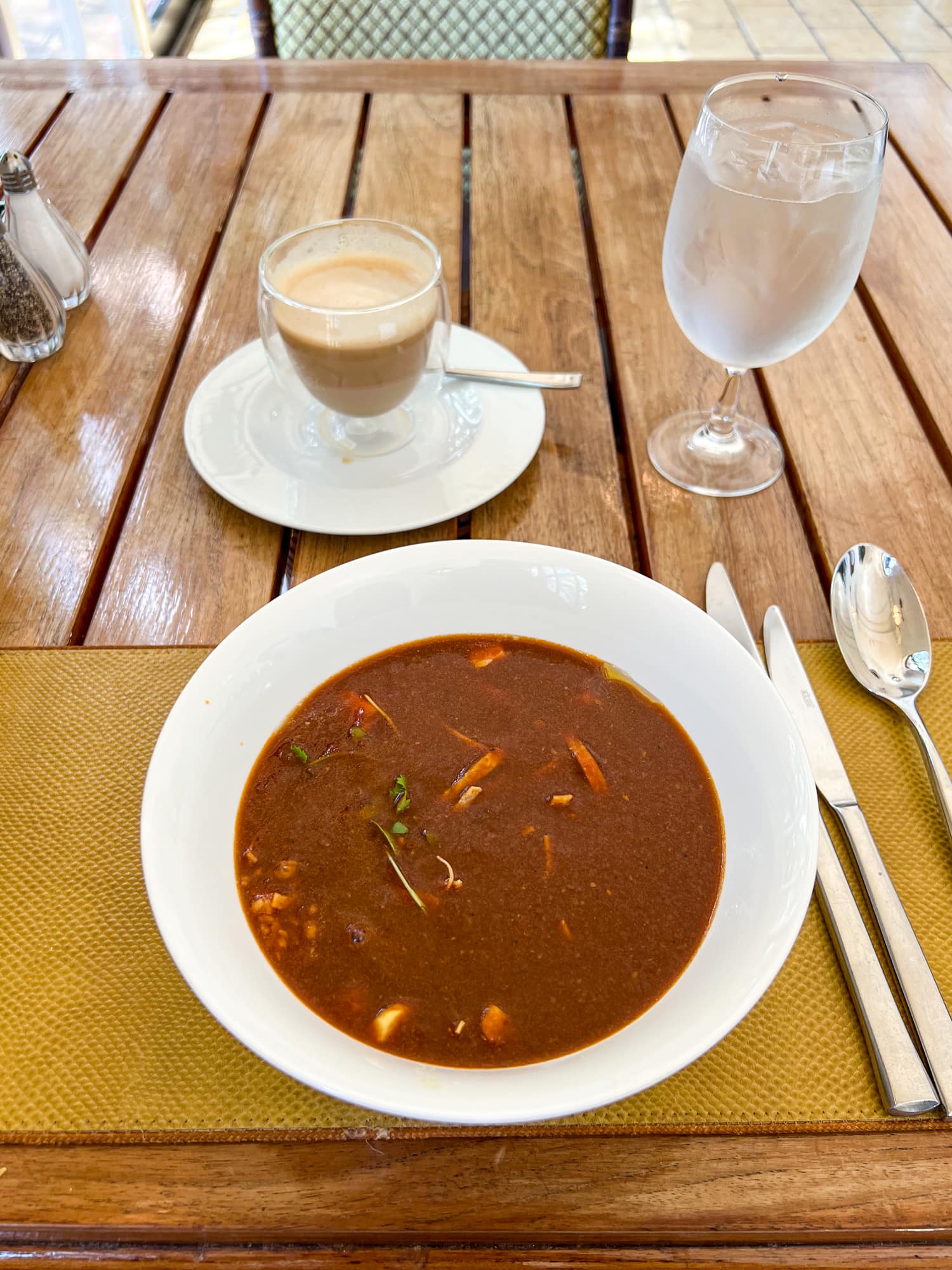 Tortilla Soup
My first course, The Mansion Restaurant's signature tortilla soup, wasn't on the brunch menu; I learned about it from the waiter.
The smokey, moderately-spicy soup was poured into my bowl at the table, thick with chicken, aged cheddar, avocado, and tortilla strips.
Other appealing starters on the brunch menu include:
Vanilla yogurt parfait with granola, wildflower honey, and fresh berries
Apple bacon cakes with bourbon whipped cream
White gazpacho with blue crab and avocado mousse
Raisin pecan French toast with orange mascarpone cream and spiced pecan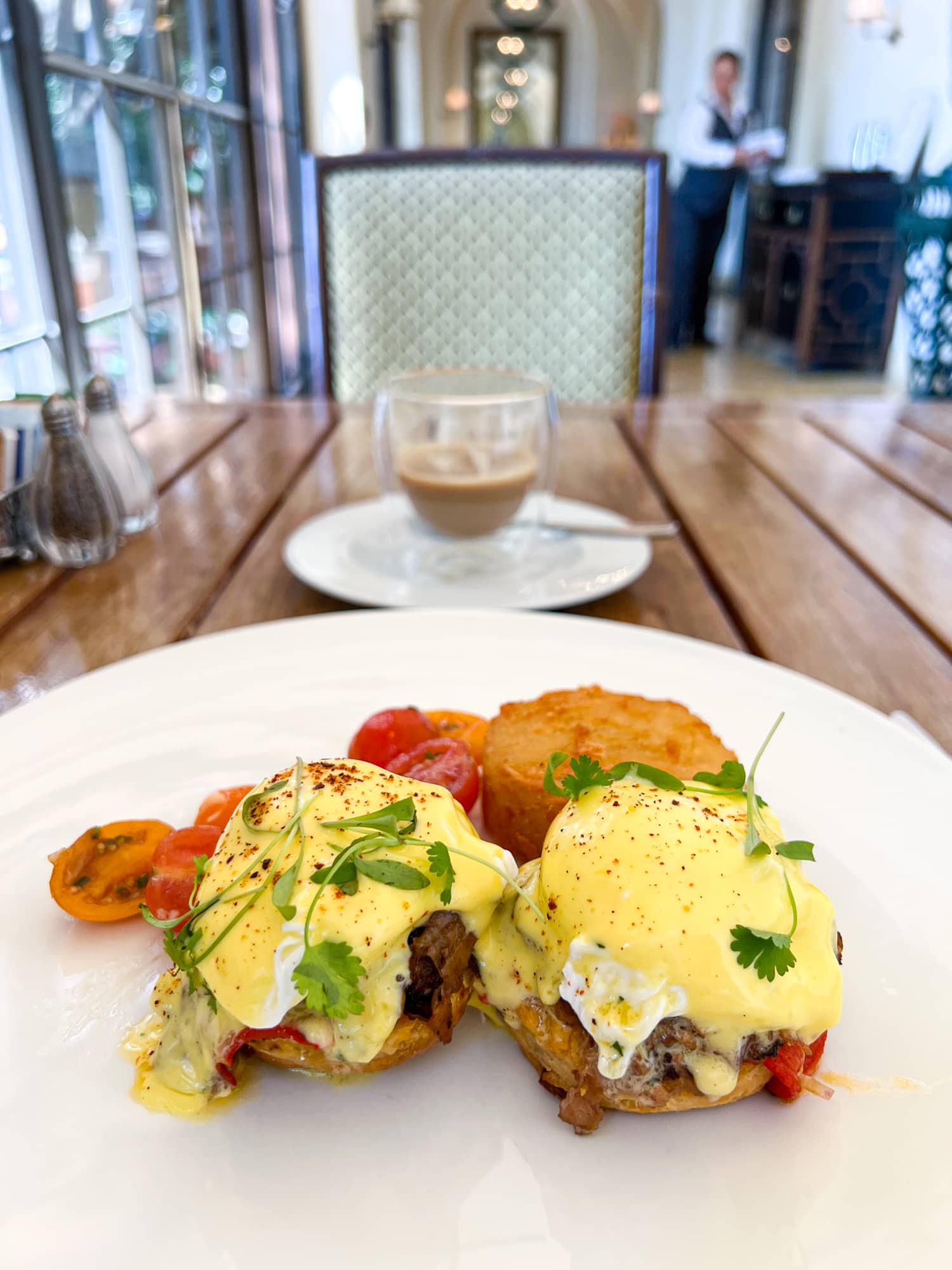 Brisket Benedict
My entree was a Texas take on eggs Benedict — smoked brisket Benedict with a biscuit, sweet piquillo peppers, and bearnaise sauce. It was served with colorful tomatoes and fried potatoes.
If you're trying to avoid a food coma after brunch, one of their other main courses may suit you better:
Omelet with fresh goat cheese, smokehouse bacon, spinach, and asparagus
Texas Breakfast with biscuits and gravy, eggs, sausage, and potato
Prime burger with a sunny side up egg, white cheddar, and truffle fries
Huevos rancheros
Related: Where to Get Brunch in Austin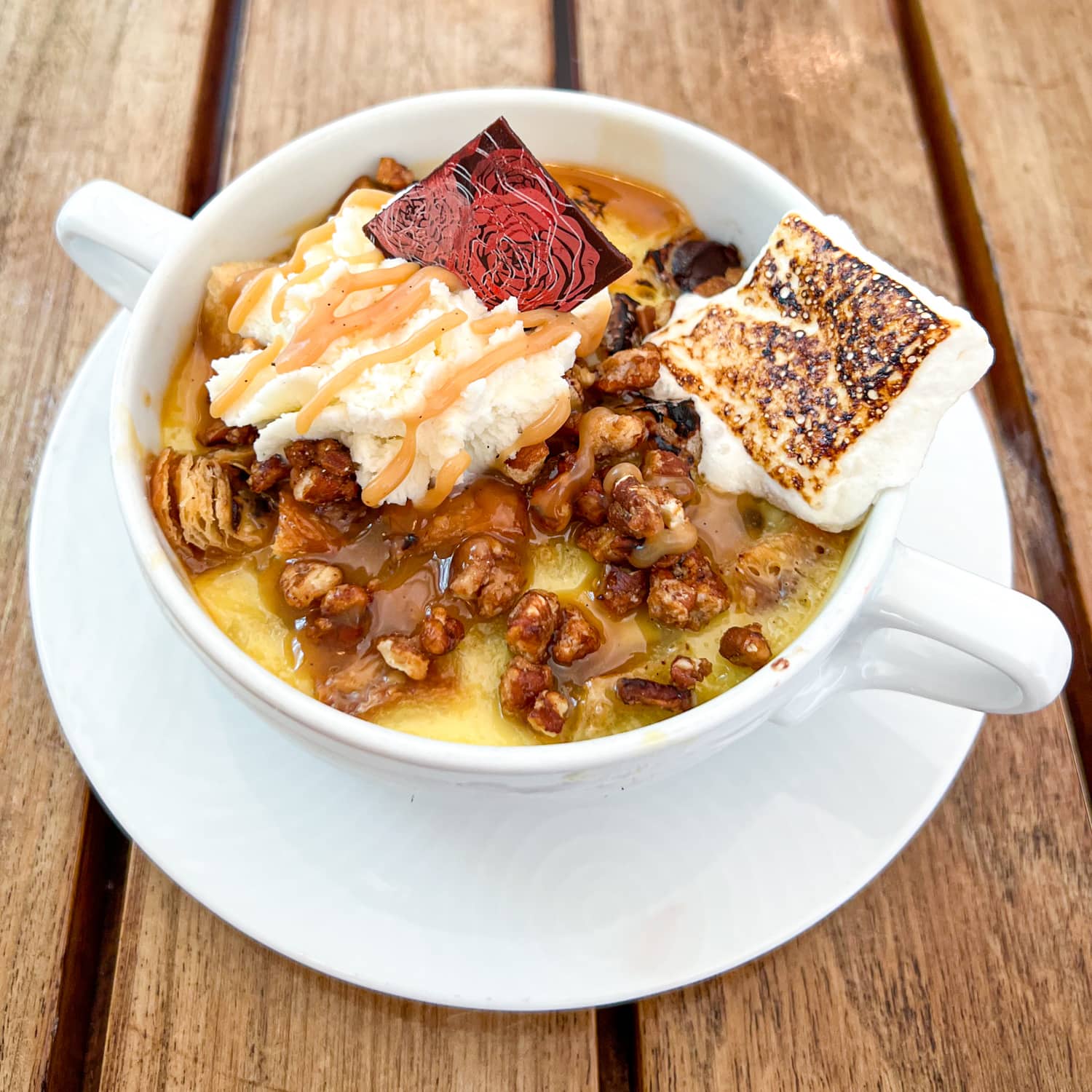 Bread Pudding
I also took my waiter's recommendation for dessert, ordering the croissant bread pudding with pecans, chocolate chips, marshmallows, and caramel sauce.
The bread pudding arrived fresh from the oven, begging for every spoonful to be savored. I made it halfway through before I had to tap out, too full to continue.
Additional desserts include cinnamon churros with dulce de leche, honey creme brulee with a lavender cookie, and a trio of seasonal ice creams and sorbets.
***
Overall, I had a fantastic brunch at The Mansion Restaurant at Rosewood Mansion on Turtle Creek.
I lucked out on timing and had the sunny veranda to myself. The contemporary American cuisine was terrific, and the prix-fixe menu is an excellent value.
If the Michelin Guide awarded stars in Texas, The Mansion Restaurant would earn one. The atmosphere reminded me a little of dining at La Leggenda dei Frati in Florence.
I see more experiences at The Mansion in my future. There's a happy hour G&T at the bar and perhaps the chef's seasonal tasting menu with wine pairing for dinner in the dining room.
Visit The Mansion Restaurant
Address: 2821 Turtle Creek Blvd, Dallas, TX 75219
Dress Code: Smart casual
Reservations: Highly recommended via Open Table.
Restaurant Hours
Brunch — 11 a.m. to 2 p.m., Saturday and Sunday
Breakfast — 7 a.m. to 10:30 a.m., daily
Lunch — 11 a.m. to 2 p.m., Monday to Friday
Dinner — 6 p.m. to 9 p.m., Tuesday and Wednesday and 6 p.m. to 9:30 p.m., Thursday to Saturday