The best restaurants in Waco, TX, might surprise you. The city that gave us Dr Pepper, Baylor University, and Chip and Joanna Gaines is experiencing a growth spurt, with new restaurants opening downtown and east of the Brazos River.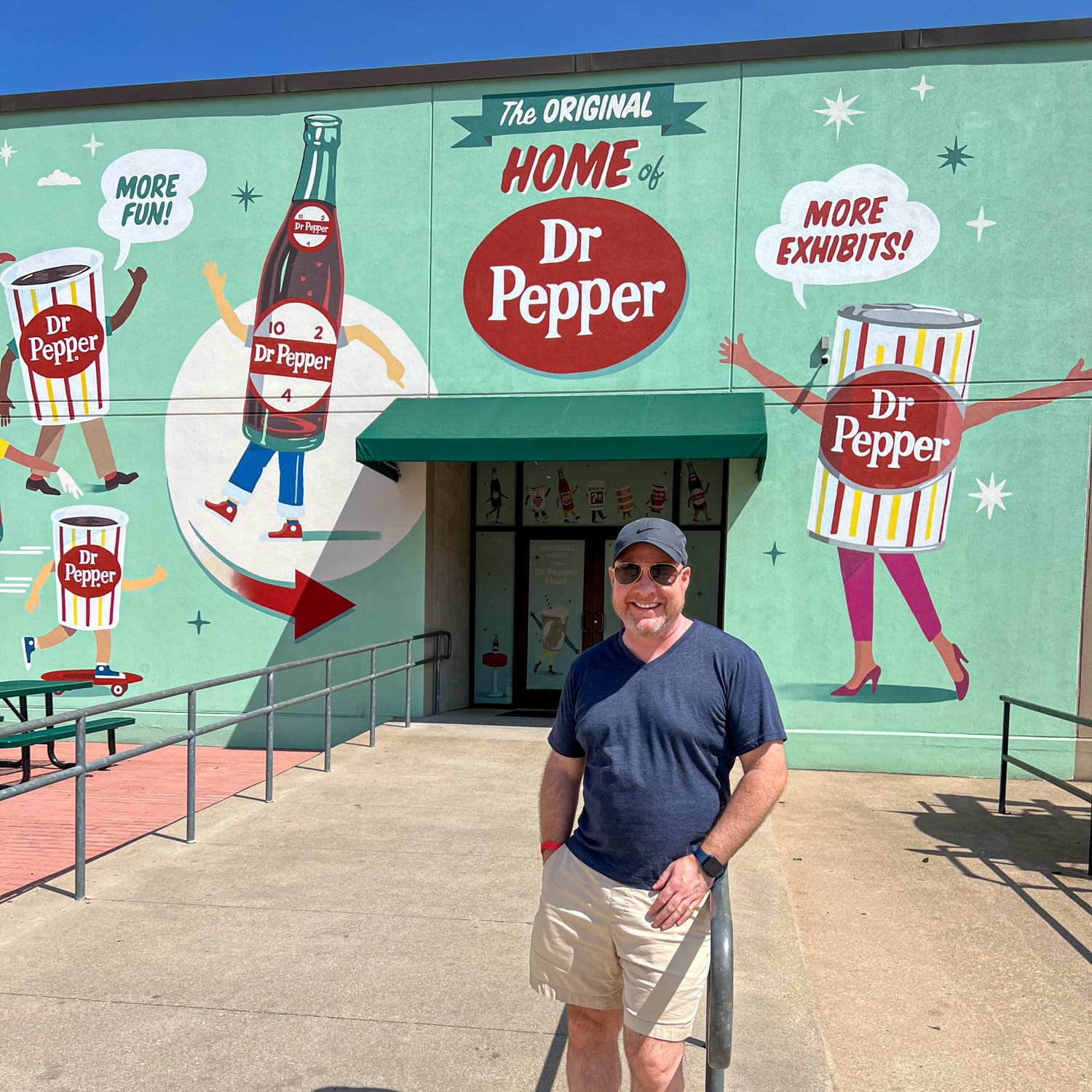 Waco is halfway between Austin and Dallas on the I-35 highway, a convenient spot for great food on the go and a destination unto itself.
Kel and I have gone to a Baylor football game, Magnolia Market at the Silos, the Cameron Park Zoo, and Mammoth National Monument.
My ongoing exploration of Central Texas and Dallas has led me 95 miles north of Austin to Waco many times in the past several years.
Each visit brings new opportunities to feast at local restaurants. Here are some of the best places we've tried so far.
Top Waco Restaurants
1. Magnolia Table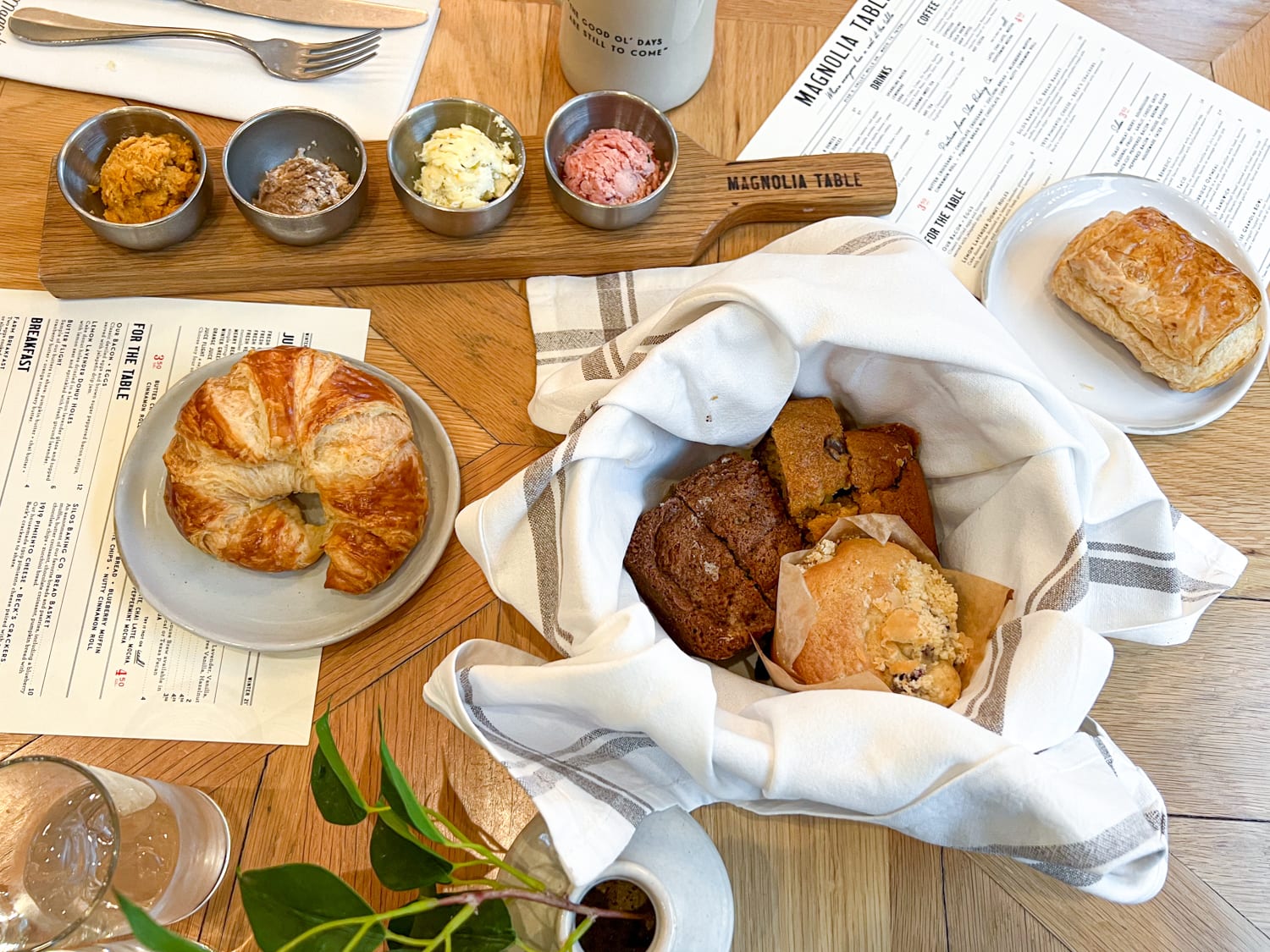 Chip and Joana Gaines renovated a historic building to open Magnolia Table in 2018, and it's been a destination dining experience ever since.
This breakfast and lunch restaurant charms fans of the Gaines with fresh pastries from Silos Baking Co., seasonal butter flights, and classic brunch dishes like avocado toast on sourdough bread, lemon blueberry pancakes, French toast, and burgers.
Entrees are $8 to $14, a terrific value provided the quality of ingredients, preparation, and ambiance.
Dessert fans can order a three-scoop ice cream sundae with one of five Magnolia flavors produced in collaboration with Blue Bell of Brenham, TX.
Banana pudding, a skillet cookie, and fresh-baked pie are also available to excite your taste buds.
Approximate wait times for walk-in customers are updated dynamically on Magnolia Table's website. But, given this is one of the best Waco, TX, restaurants, I recommend making a reservation.
2132 S Valley Mills Dr, Waco, TX, magnolia.com
2. Cafe Homestead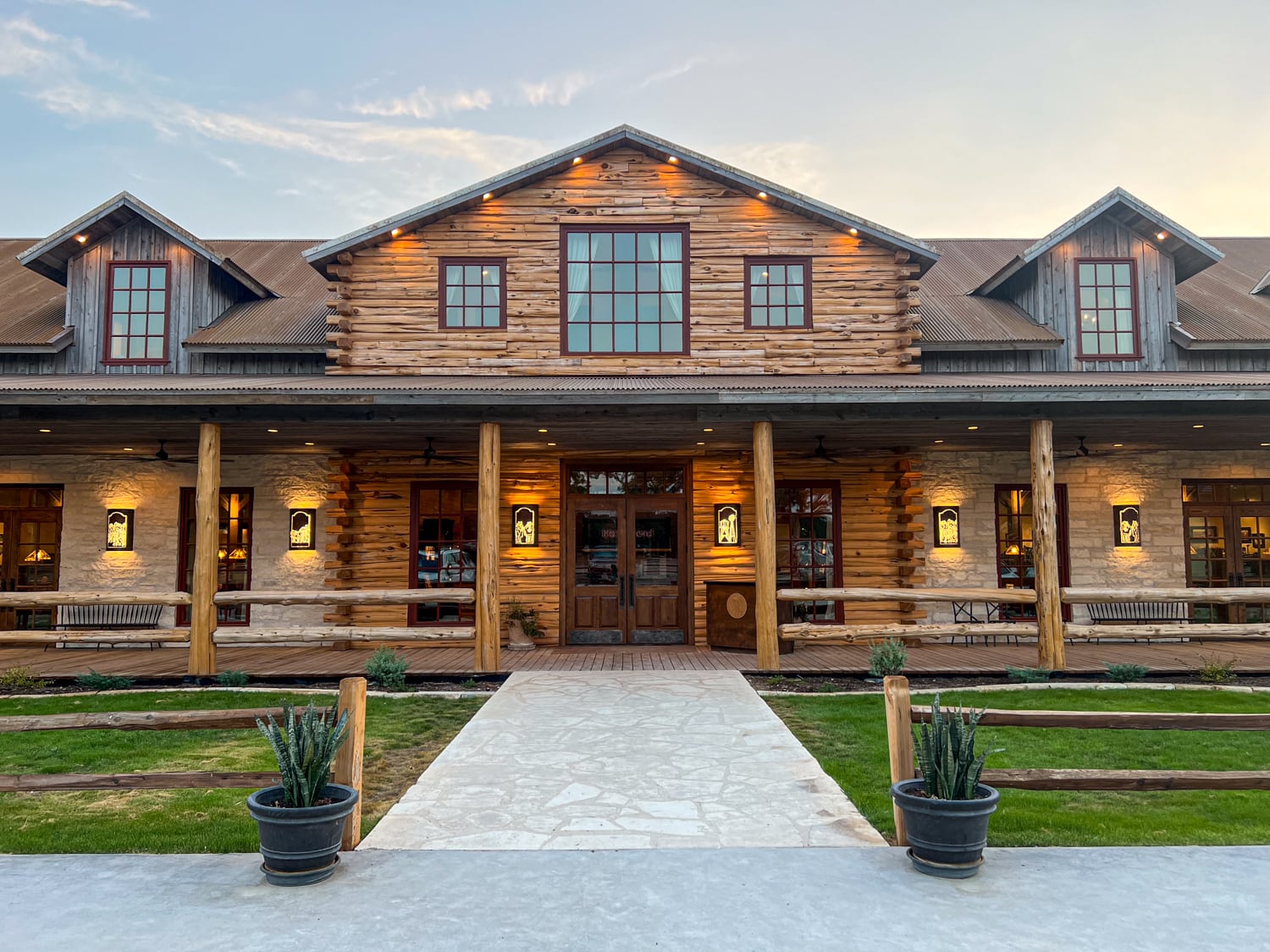 Cafe Homestead offers a delightful blend of farm-to-table dining and rustic charm.
Located within the sustainable farming community of Homestead Heritage in North Waco, this restaurant is more than just a pit stop for food; it's an experience and an example of resilience.
In December 2022, a few days before Christmas, the original building suffered a catastrophic fire.
Incredibly, the Homestead Heritage staff began collaborating that same night, and six months later, the new-and-improved Cafe Homestead re-opened.
In keeping with the community's DIY ethic, furniture and interior decor were constructed from scratch. The full scope of the project is detailed on the back of the menus and is worth a read.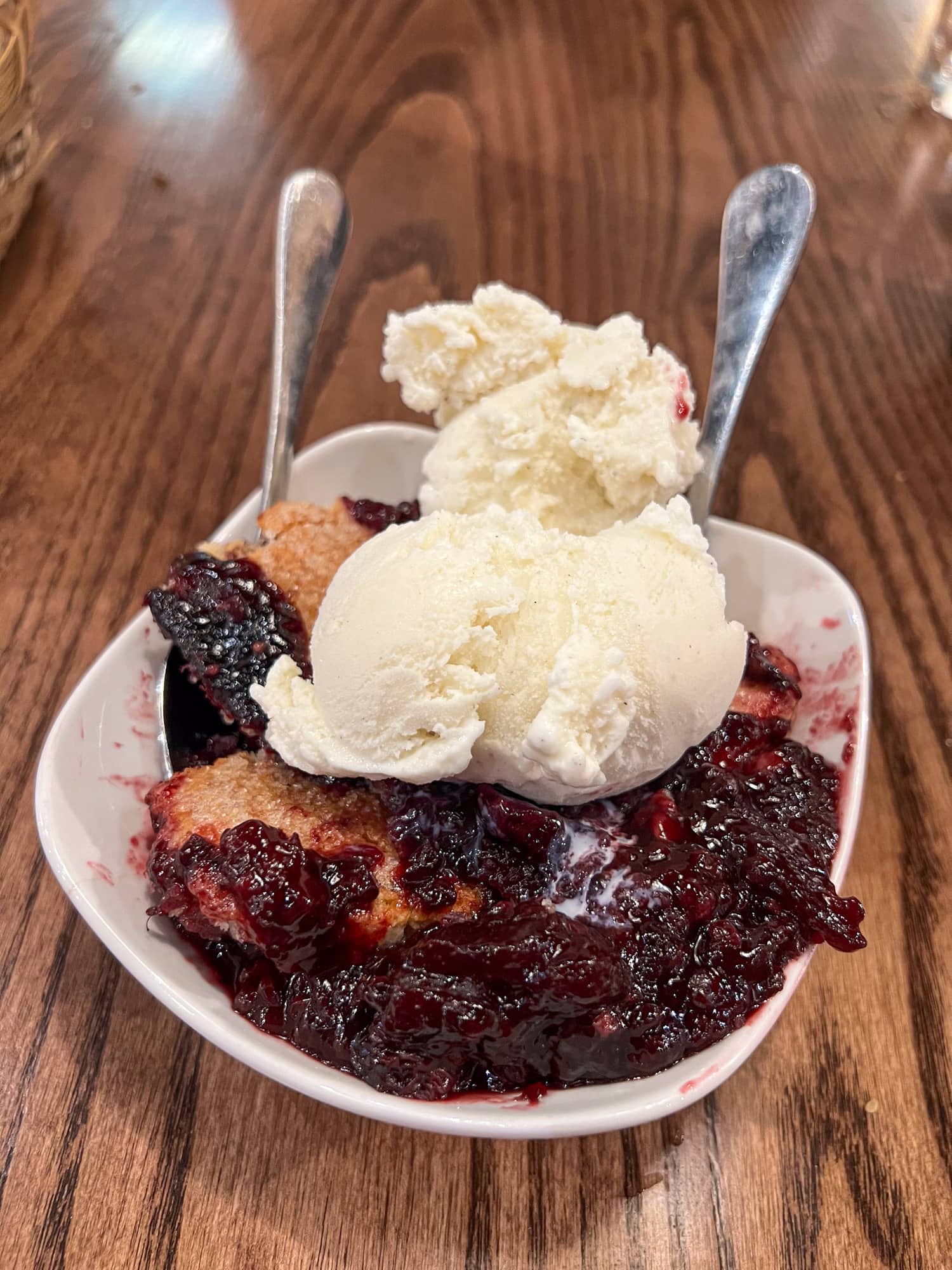 The menu celebrates organic, locally sourced ingredients, featuring comfort foods like grass-fed burgers, homemade sourdough bread, and farm-fresh eggs.
When Kel and I went to the newly re-opened restaurant for dinner, we began with the Southern corn fritters.
I enjoyed the house-smoked chicken enchiladas, while Kel got the evening's special, a wedge salad and loaded baked potato with brisket and bacon.
We shared a generous portion of blackberry cobbler a la mode for dessert.
The incredible rebuilding of Cafe Homestead in six months made me appreciate the wonderful atmosphere, menu, and service.
608 Dry Creek Rd, Waco, TX, cafehomestead.com
3. OneThirtyFive Prime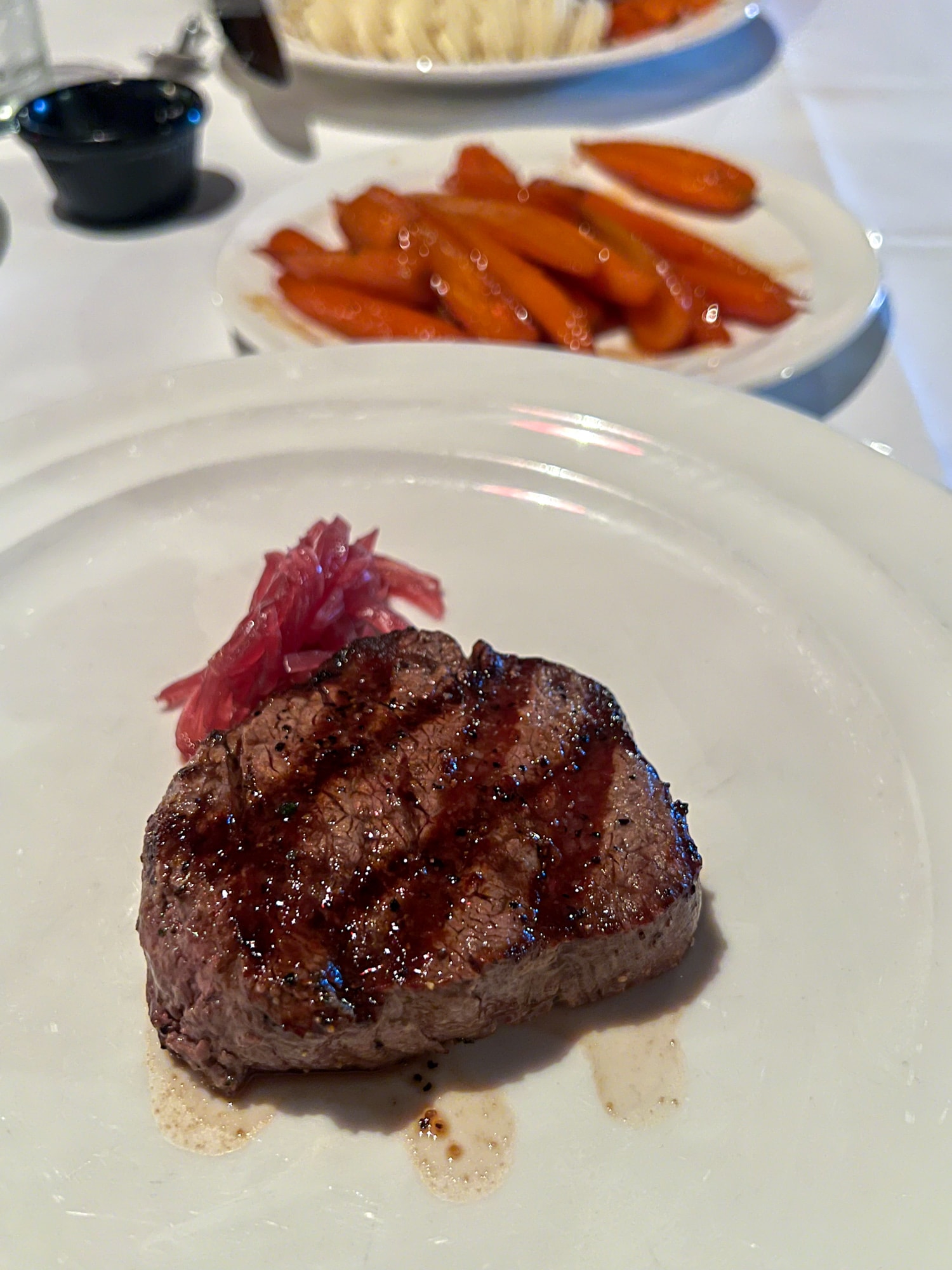 If you want to treat yourself, plan a date night, or enjoy time with friends and family over an excellent steak dinner, head to OneThirtyFive Prime in Hewitt, a suburb in South Waco.
This steakhouse has served the community for ten years, offering prime Akaushi Beef from HeartBrand Beef, a fifth-generation Texas ranch.
I recently became a fan of Akaushi Beef after getting one of the best burgers of my life at LeRoy and Lewis, a food truck in Austin.
At OneThirtyFive Prime, I tried the six-ounce filet of tenderloin ($44) and bourbon-glazed carrots.
I initially forgot to order brandy peppercorn sauce, so I took my first few bites without it and was reminded of how incredible this wagyu beef tastes.
Other options include a 12-ounce New York strip steak ($54), ribeye ($74), and Chateaubriand for Two ($175).
The Chateaubriand is a three-course meal for two, including salad, steak carved tableside, choice of two sides, and creme brulee.
A 14-ounce New Zealand rack of lamb also looked appealing. OneThirtyFive Prime serves sushi-grade fish and has a surprisingly extensive seafood menu.
Related: Best Restaurants in Fredericksburg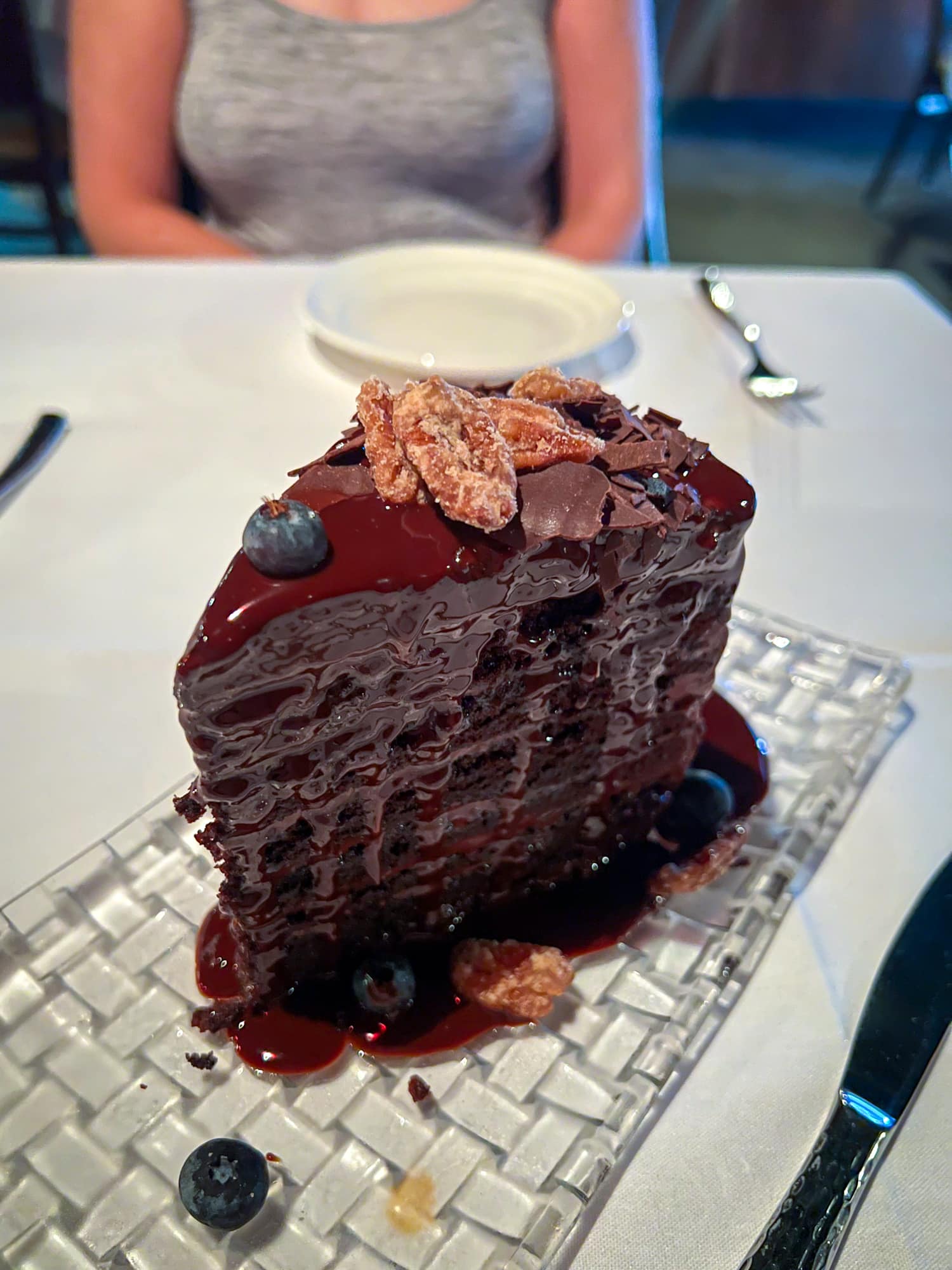 I'd be remiss, not to mention dessert, as I couldn't resist the Tower Cake, an eight-layer amaretto chocolate cake with Callebaut chocolate buttercream frosting.
It was drenched in chocolate sauce and garnished with blueberries and candied pecans. Kel helped me with it, though we still took half of it home.
Other desserts at one of Waco's best fine dining restaurants include key lime pie, seasonal gelato, NY-style cheesecake, and marbled bread pudding.
1201 Hewitt Dr, Suite 110, Waco, TX, 135prime.com
4. Milo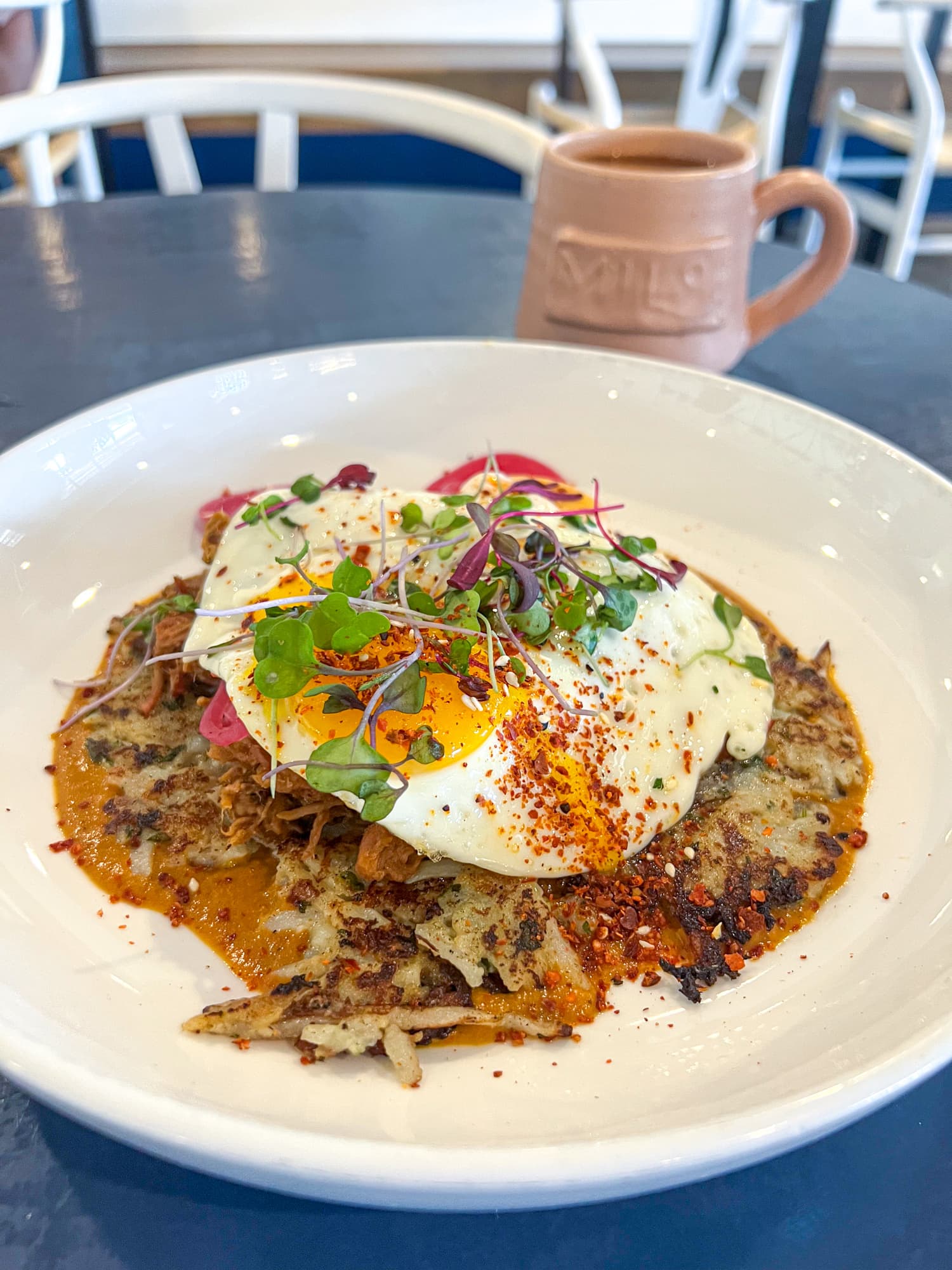 Milo All Day, commonly known as Milo, celebrates Southern comfort food made with seasonal ingredients.
The plant-filled restaurant exudes a relaxed, industrial-chic vibe that's attractive and welcoming.
A local favorite, diners are known to line up before the restaurant opens on the weekends, especially when there's a Baylor football home game.
The brunch menu by co-owner and chef Corey McEntyre features elote corn ribs, truffle fries, salads, blue corn pancakes with Earl Gray maple syrup, and Nashville chicken tacos.
I went with my server's favorite, the smoked pork hash made with sweet potato mole and eggs. It was both delicious and filling.
My beverage choice was a Pinewood drip coffee, which Milo serves in custom clay mugs. Pinewood is a popular coffee shop in downtown Waco.
Entrees on the dinner menu look equally appetizing. There's a cheeseburger made with two 44 Farms beef patties, short rib au poivre, and pan-seared trout.
To produce the best food possible, Milo partners with nearby farms to ensure the ingredients they receive are as fresh as possible.
The bar isn't to be overlooked either; it offers a curated selection of craft beers, wines, and cocktails to complement the food.
1020 Franklin Ave, Waco, TX, milowaco.com
5. Ninfa's Mexican Restaurant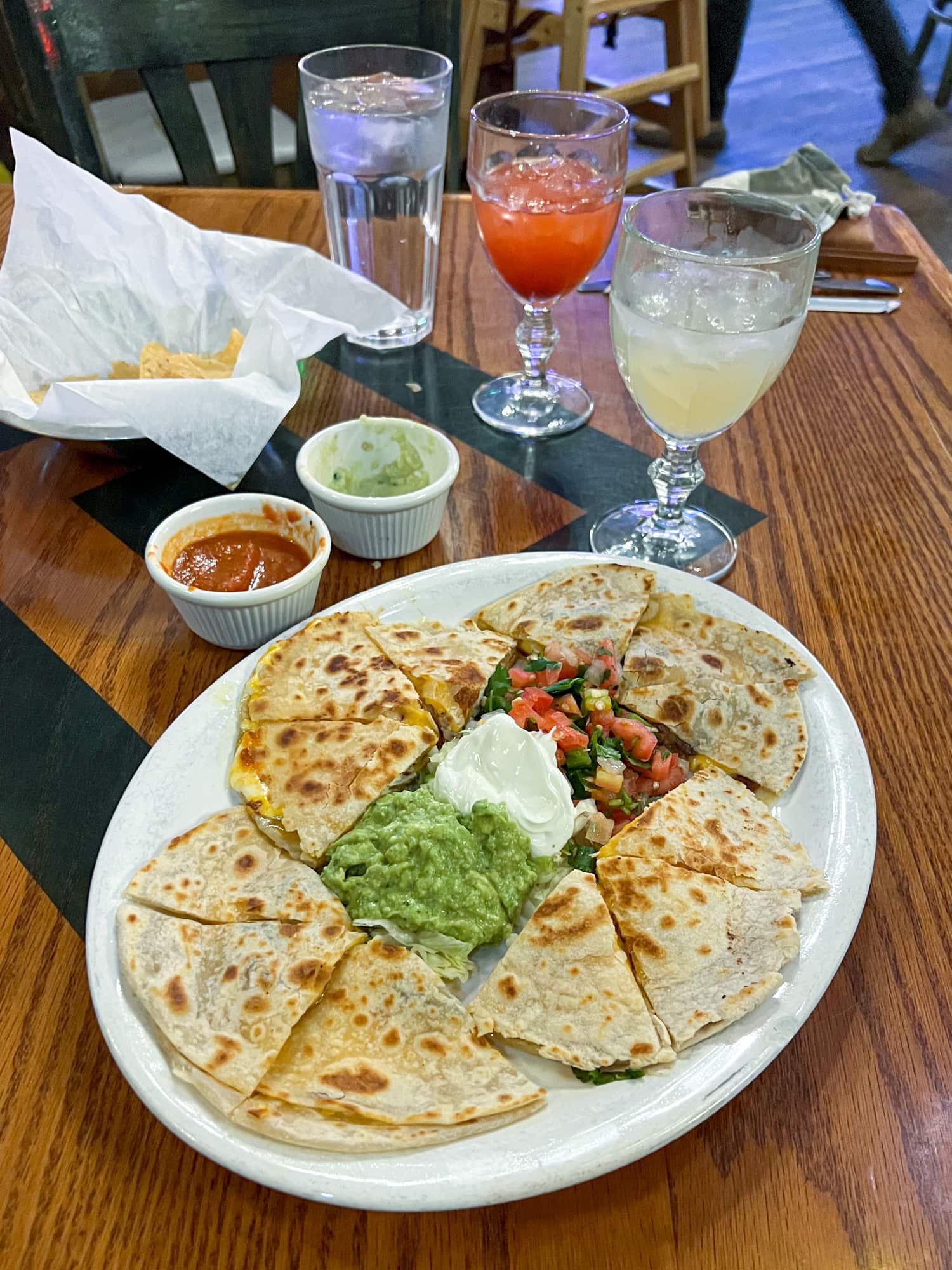 If you're craving Tex-Mex or Mexican food at an affordable price, check out Ninfa's in downtown Waco.
The Original Ninfa's on Navigation Boulevard in Houston was opened by "Mama" Ninfa Laurenzo in 1973. She's credited with popularizing fajitas in H-town.
While opened by descendants of Mama Ninfa and previously licensed to use the name, the restaurant in Waco is not affiliated with the original Ninfa's on Navigation.
Regardless, you can count on chips and queso, handmade tortillas, various quesadilla and nacho options (including BBQ brisket nachos), burritos, and fajitas.
The margarita menu will ensure a good time, whether you're there for lunch, happy hour, or dinner.
When Kel and I ate dinner at Ninfa's, we were seated near a staircase leading to a small loft.
It seemed like an odd spot, but when Kel noticed the head coach of Baylor Football, Dave Aranda, walking down with some college students, it became a memorable experience.
In 2021, Aranda led the Baylor Bears to their best record in school history (12-2), a Big 12 Championship, and a win at the Sugar Bowl in only his second year.
220 S 3rd St, Waco, TX, ninfaswaco.com
Related: Best Restaurants in Houston
6. Schmaltz's Sandwich Shoppe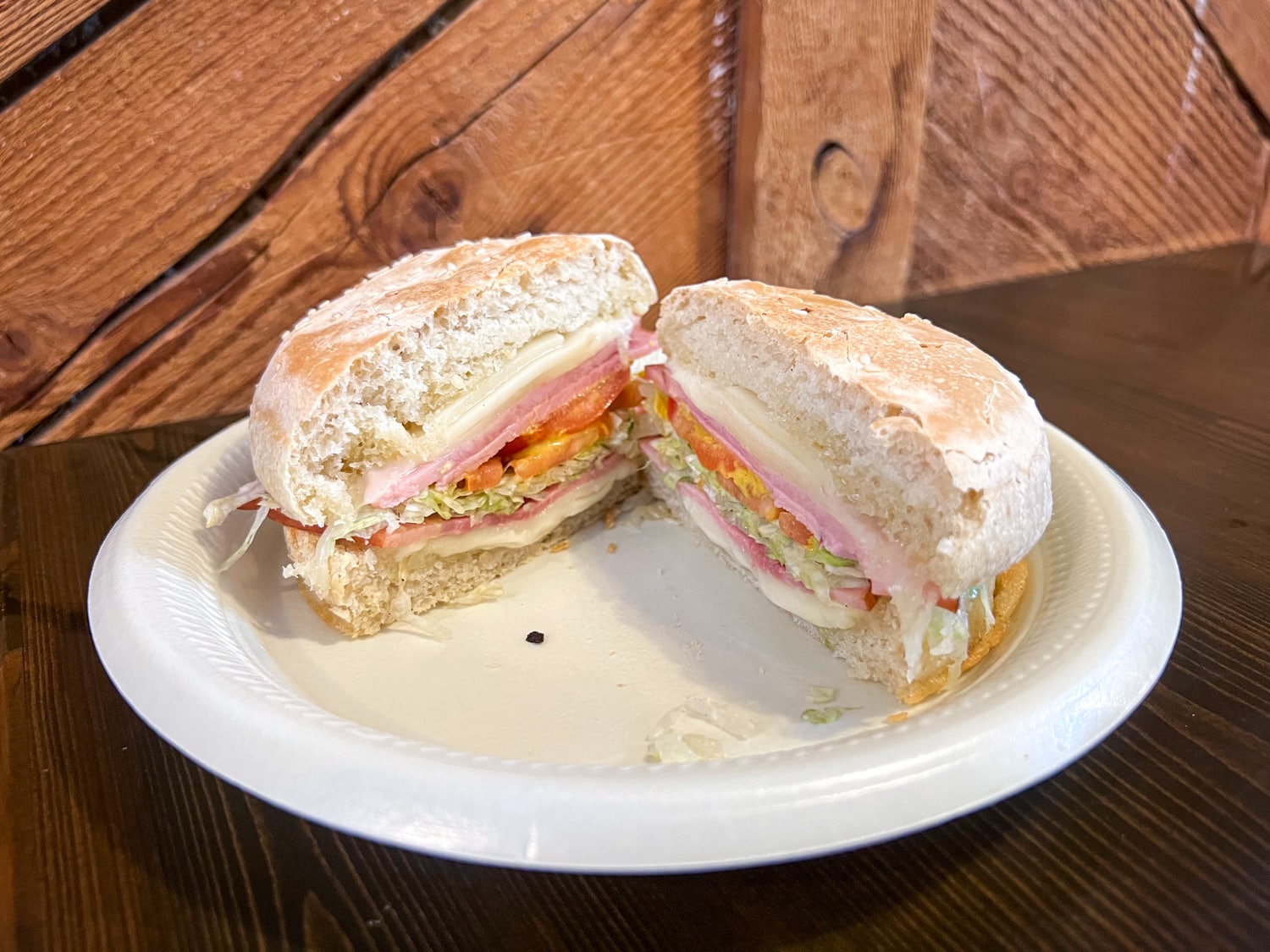 Opened in 1975 on the Baylor University campus, Schmaltz's Sandwich Shoppe has been in business as long as I've been alive.
When Kel suggested I check out this sandwich shop she frequented during her graduate school days at Baylor, I wondered what could be so special.
The answer is in their circular loaves of artisan white and whole wheat bread, handmade every morning with no additives or preservatives.
While the Baylor location closed decades ago, you still have a choice to dine downtown or at their North Valley Mills restaurant near Lake Waco.
I went to the latter at peak lunch rush on a Tuesday afternoon, and they were so busy it took 25 minutes for my ham and Swiss cheese sandwich to be prepared.
Once I received the warm deli sandwich, I sat in a booth and sunk my teeth into it.
The bread truly makes the difference here, and the buzzy atmosphere complimented my experience at one of the best restaurants in Waco, TX.
1412 N Valley Mills Dr #136, Waco, TX, schmaltzssandwichshop.com
7. Tru Jamaica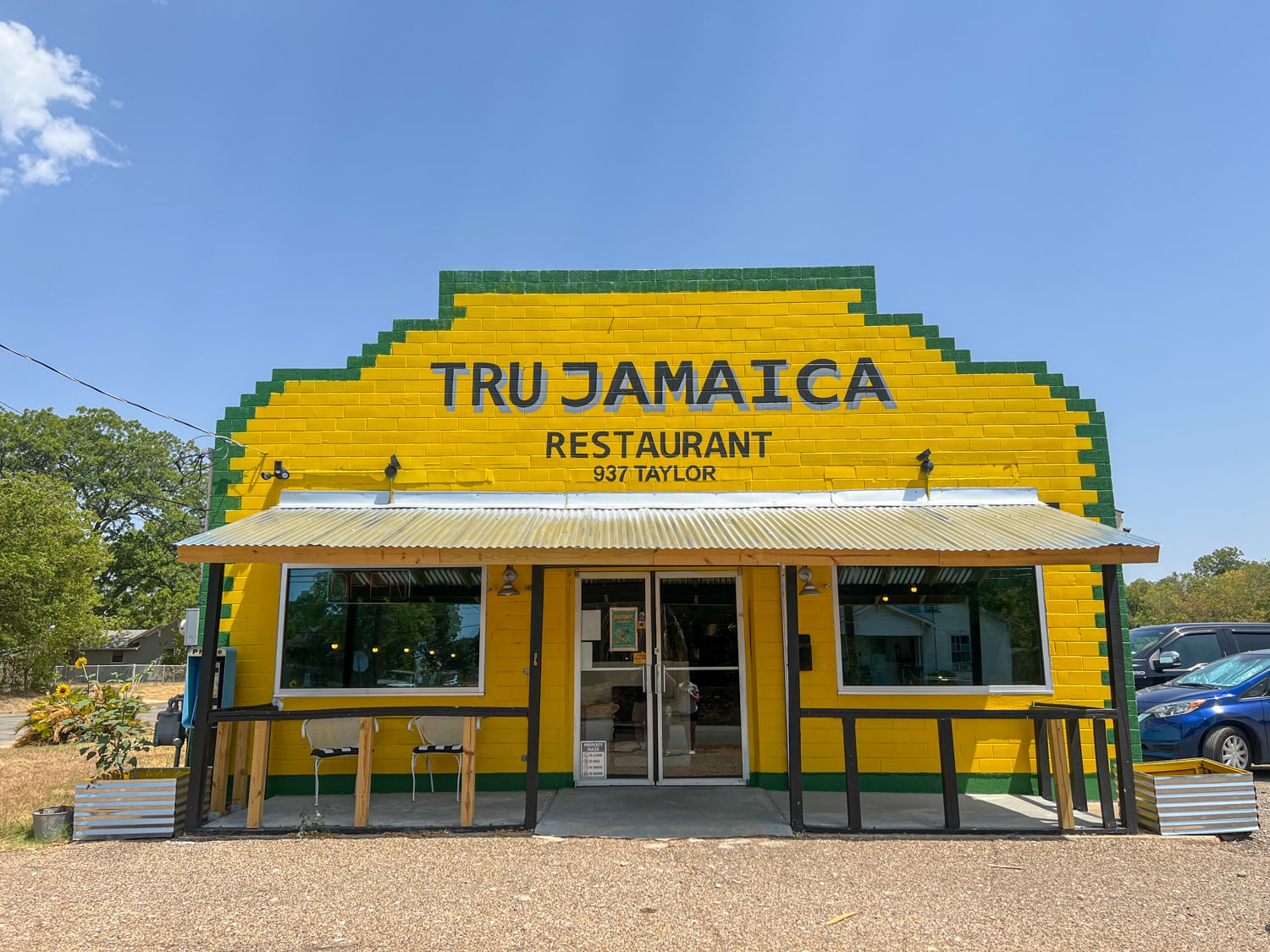 Note: Tru Jamaica is temporarily closed due to a fire in December 2022 that caused significant damage. They're accepting donations to help rebuild.
On a recent drive home from Dallas, Kel and I stopped at Tru Jamaica, which "promises to entertain your soul with authentic Jamaican cuisine."
The cheerful yellow-and-green-painted facade invites customers to take a break from Texas for a genuine taste of the Caribbean.
Owners Vivia Charles and her son Aniceto returned to Waco to open the restaurant after living in Northern Virginia (where I once lived).
Inside, the reggae is playing, and the decor is reminiscent of Caribbean island restaurants I've experienced in the Bahamas, Belize, and Colombia.
Though I've yet to see Jamaica, it currently tops my bucket list.
Related: Memorable Memphis Restaurants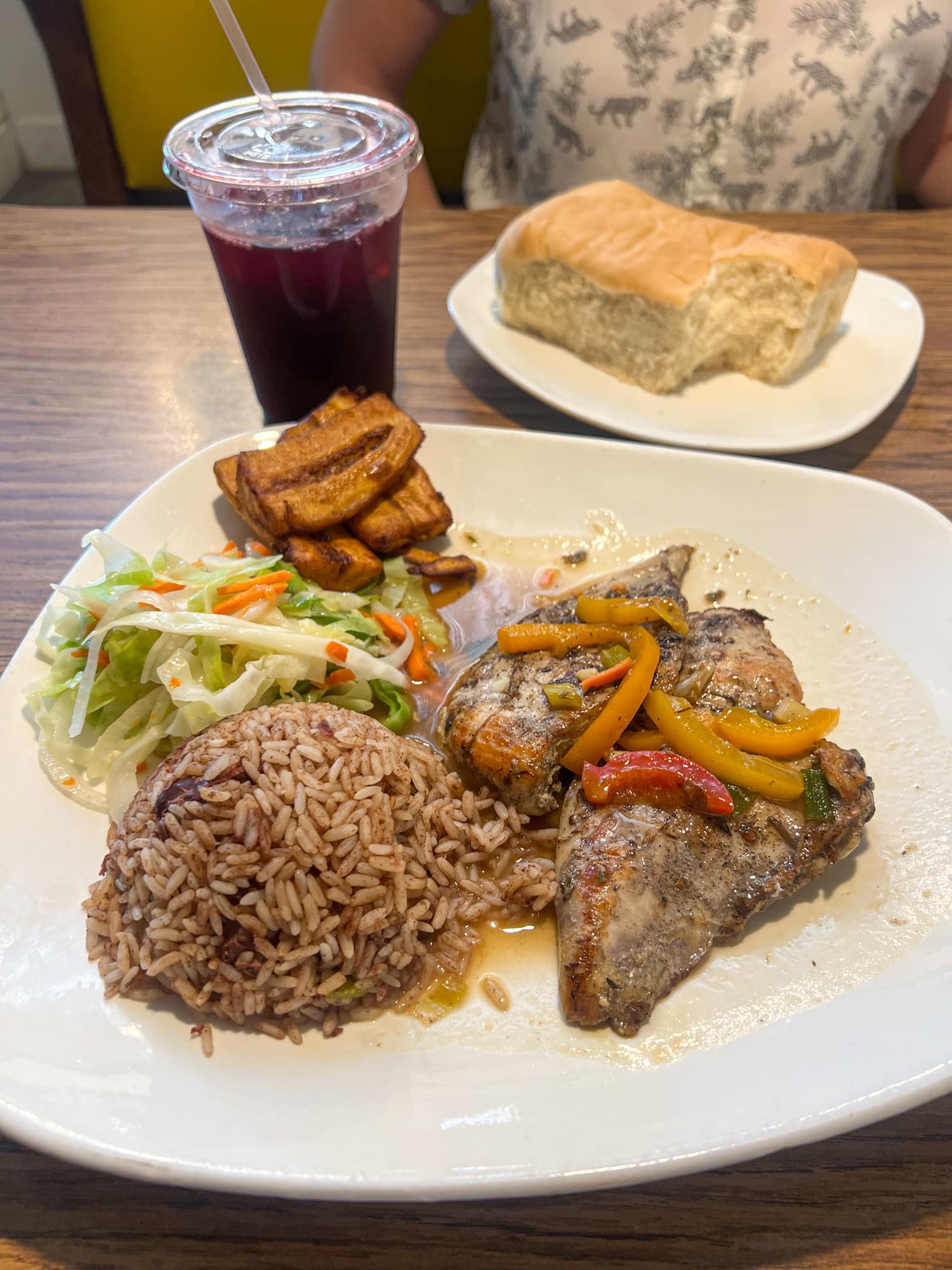 We split a jerk chicken breast entree with coconut rice, salad, and fried plantain. The chicken is baked instead of fried and is moderately spicy.
We also tried the sorrel ginger juice, coconut milk bread, and a terrific rum cake made with Jamaican Overproof Rum.
Other dishes include jerk shrimp, curry goat (shrimp, chicken, or vegetables), oxtails, red snapper, and Rasta pasta (penne in jerk sauce with bell peppers and spinach). Imported Jamaican sodas are also available.
937 Taylor St, Waco, TX, trujamaica.com
8. Guess Family Barbecue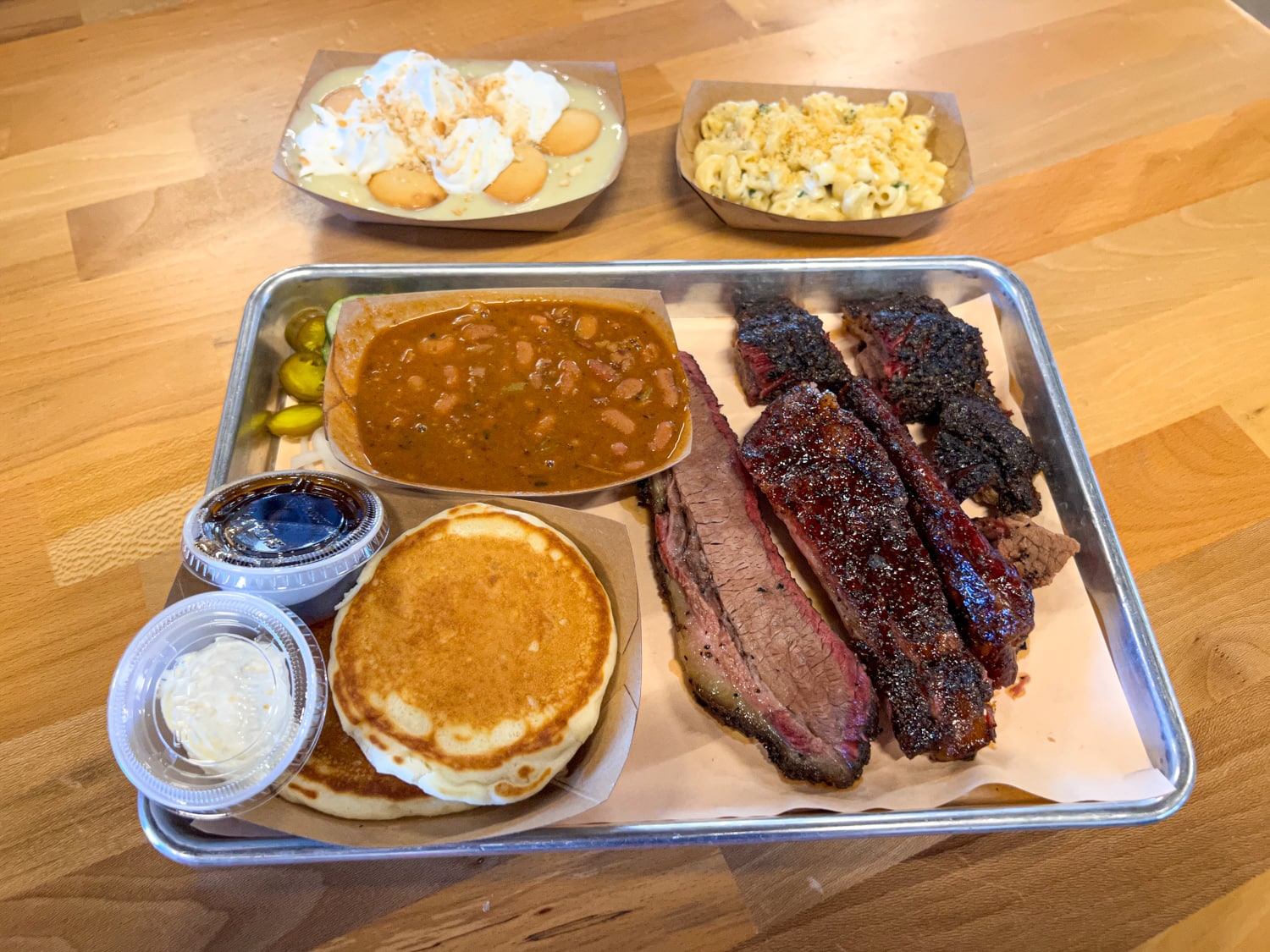 Central Texas may be known for award-winning BBQ restaurants, but Waco has played little role in its rise.
Reid Guess (formerly of Lamberts in downtown Austin) is trying to change that with his BBQ joint.
Guess moved to Waco in 2016 and opened an old-school barbecue trailer by the following year; he relied on wood-fire cooking for everything as an upstart.
In 2019, he graduated from the trailer to a 7,000-square-foot restaurant, Guess Family Barbecue, about three blocks away.
His efforts to contribute to the state's barbecue scene have paid off, with Guess Family Barbecue making Texas Monthly's Top 50 BBQ Joints in 2021.
Highlights of our Sunday brunch included brisket from 44 Farms in Cameron, TX, pork spare ribs, and green chile mac 'n cheese.
I was intrigued by the pancakes with pulled pork on the breakfast menu.
Unfortunately, I opted for the silver dollar-size pancakes, and there wasn't as much pork as I'd hoped. Next time, I'd get the full-size pancakes or try the brisket hash instead.
Kel and I agreed the banana pudding was too soupy; I'd suggest one of their pies for dessert.
2803 Franklin Ave, Waco, TX, guessfamilybbq.com
9. Alpha Omega Grill & Bakery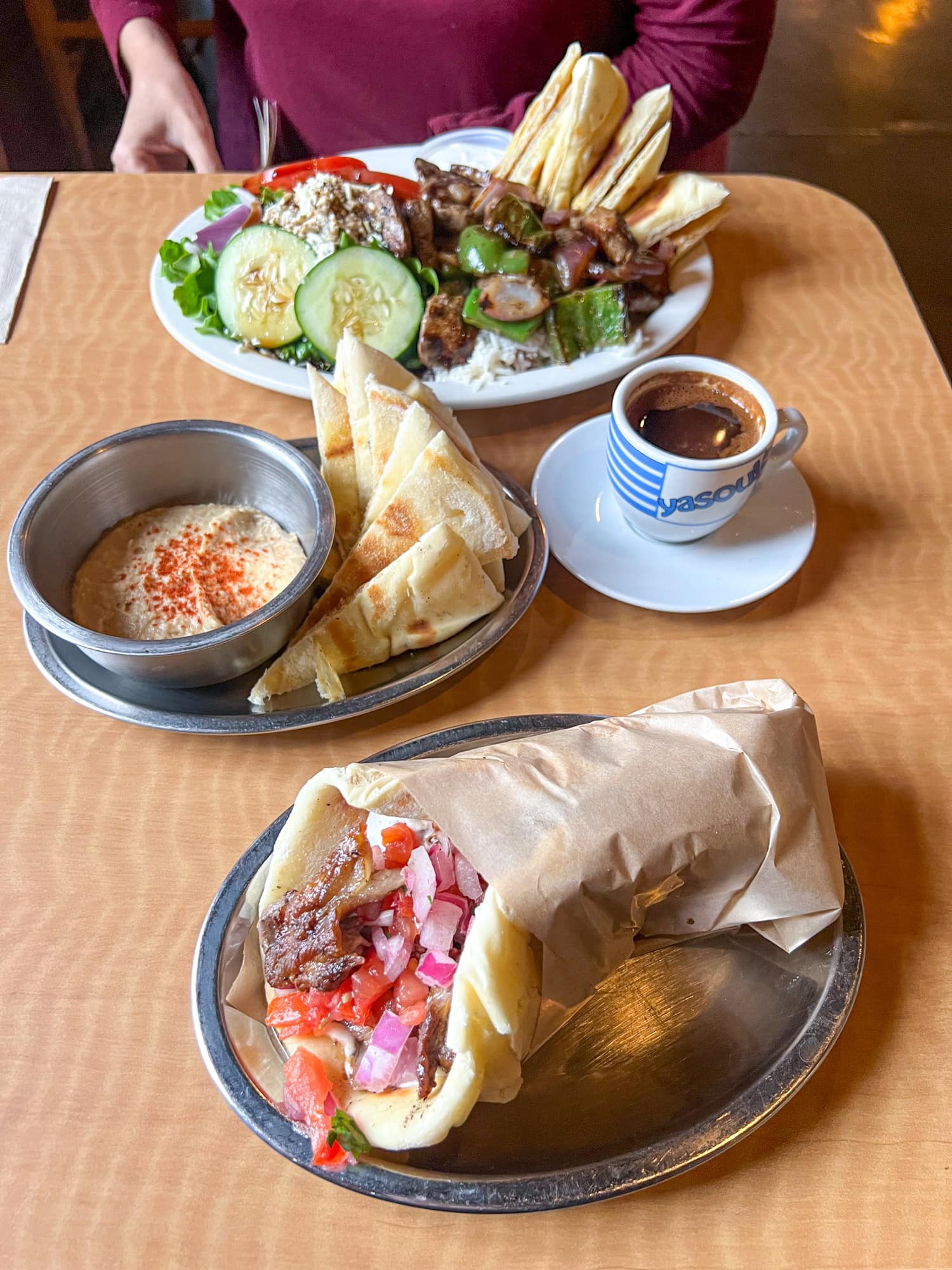 A great place to satisfy your cravings for Mediterranean food is the Alpha Omega Grill & Bakery.
Located in Waco's historic district, the old brick building was a transmission shop in the 1950s and was lovingly restored ahead of Alpha Omega's 2016 opening.
We pulled into the spacious parking lot for an early dinner on our way back from a visit to Fort Worth and had the place to ourselves.
I got a customer favorite, the pork gyro, a side of hummus, a strong cup of traditional Greek coffee, and a giant piece of baklava for dessert.
Baked goods, including the pita bread, are made in-house, and you can tell; their pita is light and fluffy, encouraging you to eat whatever's wrapped in it.
Gyros are also available with chicken, beef, lamb, ribeye, shrimp, fish, chickpeas, and vegetables.
Other delicious-sounding menu items include a Greek salad, Greek feta fries, feta cheese phyllo rolls, and spanakopita.
929 Franklin Ave, Waco, TX, alphaomegawaco.com
10. Kitok Restaurant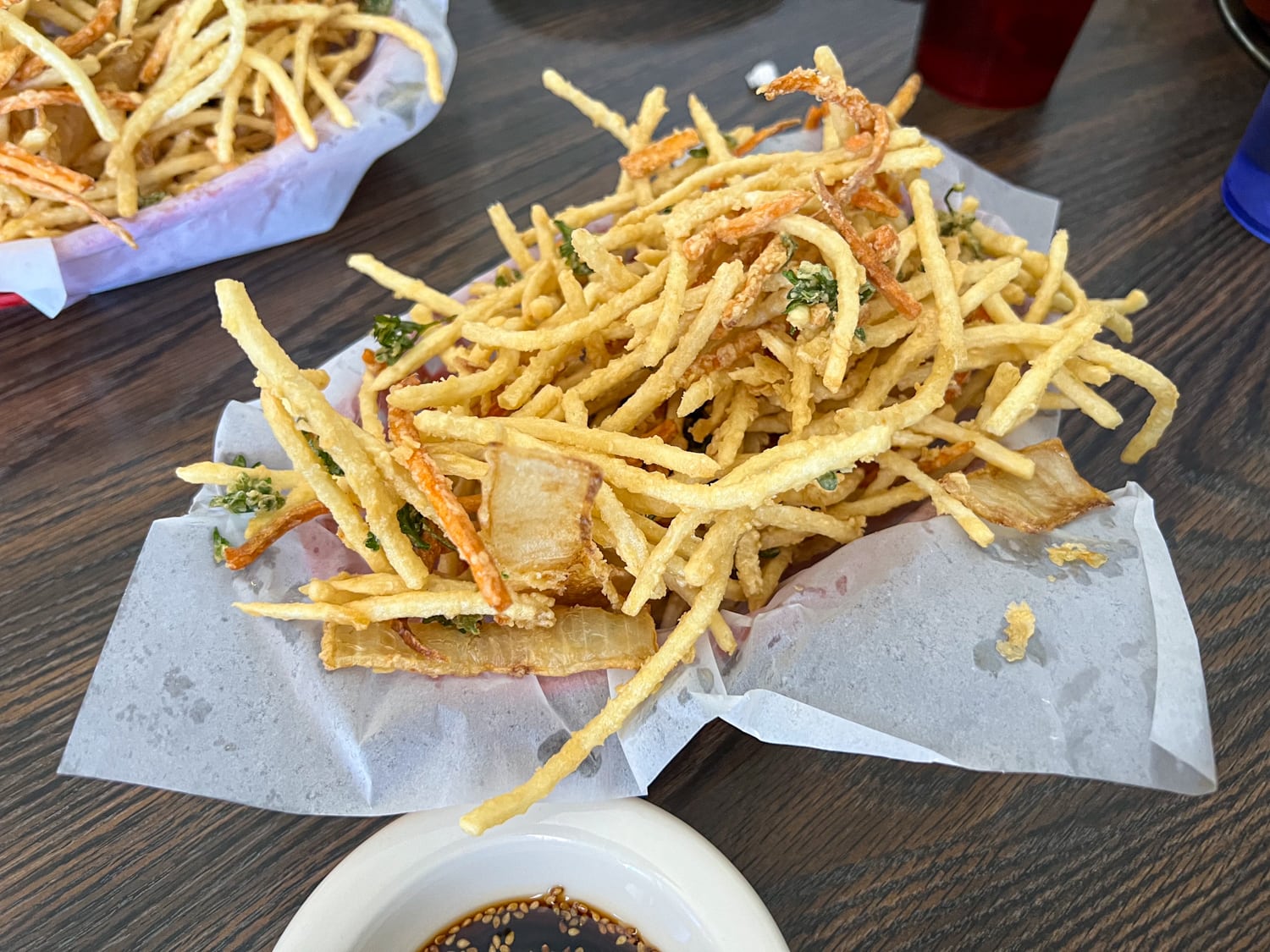 Like Schmaltz's, Kitok opened in 1975 and remains a favorite restaurant of Waconians today.
The restaurant is named after its first owner, Kitok, a Korean woman who met her American husband, Robert Moore, while he was stationed in South Korea.
Upon returning to the U.S. and settling in Waco, Kitok opened a small restaurant serving American comfort foods and Southern classics like chicken fried steak.
After attracting some regulars, one of them suggested she offer something unique.
The tip led to Kitok's signature oriental fries, a mix of fried shoestring potatoes, carrots, onions, and parsley served with soy sauce.
I can attest to the addictive nature of these fries, which I ate on my first visit, along with a tasty bulgogi burger marinated with soy sauce, garlic, ginger, wine, sugar, and sesame oil.
I also tried a bite of another customer favorite, the Lip Locker, a double patty cheeseburger; however, I preferred the more flavorful bulgogi burger.
There's bulgogi with beef, chicken, or pork and galbi (short ribs) for traditional Korean dishes.
Kitok has changed owners several times since it first opened, but they all have been Korean-American women who've kept the restaurant's original look and feel alive.
1815 N 18th St, Waco, TX, Kitok on TripAdvisor
11. Pivovar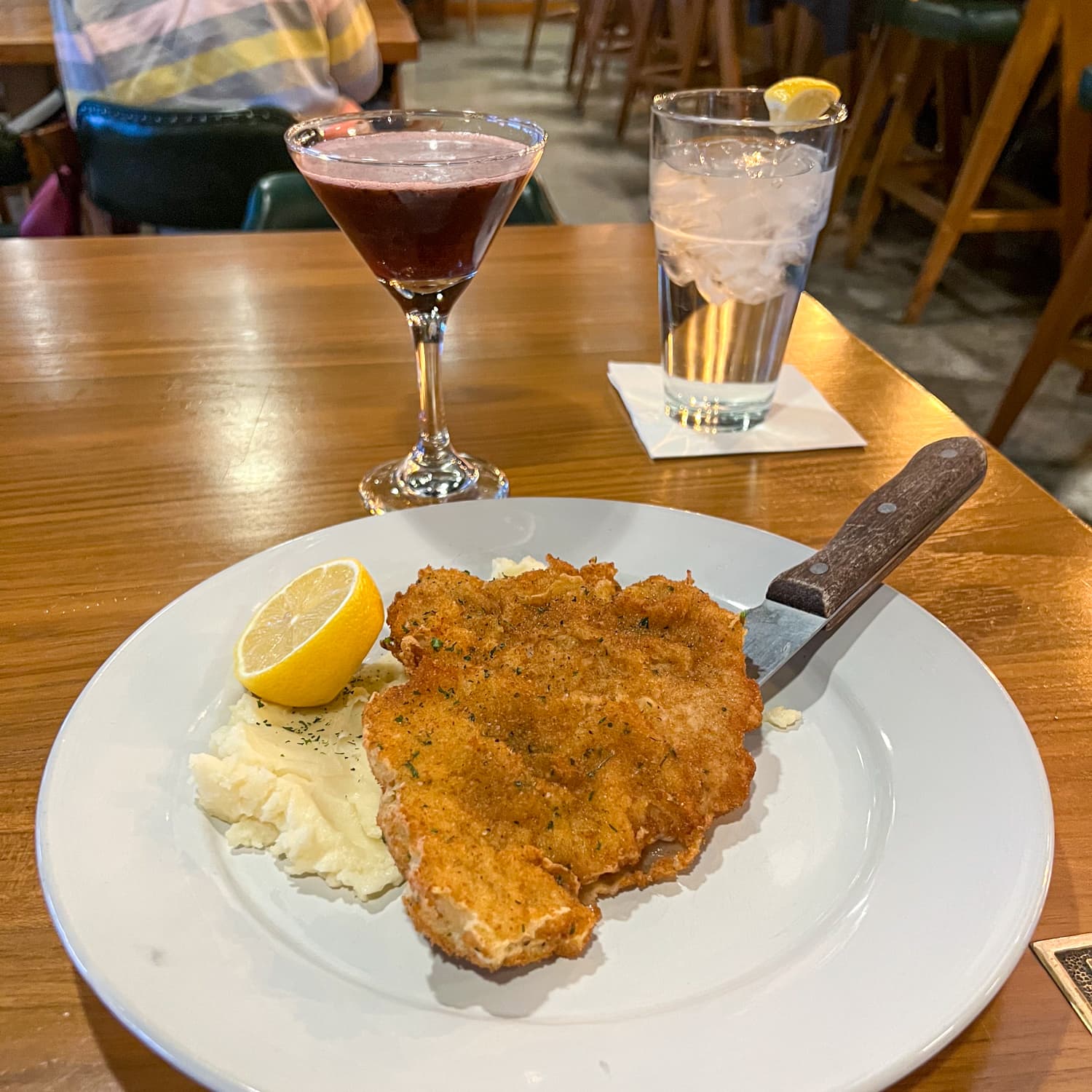 Pivovar is a new Czech-style boutique hotel, brewery, restaurant, bakery, and beer spa in the historic Katy Hotel building across the street from the Magnolia Silos.
In late 2022, Kel and I entered the hotel's bar and restaurant for an adult egg nog. A few weeks later, we ate there while in town for a Baylor men's basketball game.
The restaurant and bar are well-appointed, with comfortable seating and views of the on-site brewery. An atrium adds to the spacious feel.
The beer, wine, and brandy flights caught our attention, but we ultimately ordered the seasonal Blackberry Bramble cocktail.
The menu offers traditional Czech food with Texan influences.
Kel went with the charcuterie board with cheeses and local sausage, and I had a delectable Czexan Schnitzel (the breading is made with their beer).
Additional Czech specialties include braised pork shank with mashed potatoes and a short rib goulash.
Angus Beef burgers, a 14-ounce ribeye, filet mignon, and house sausage are also available, as are seafood, pasta, soups, and sandwiches.
320 S 8th St, Waco, TX, pivovar.com
12. Revival Eastside Eatery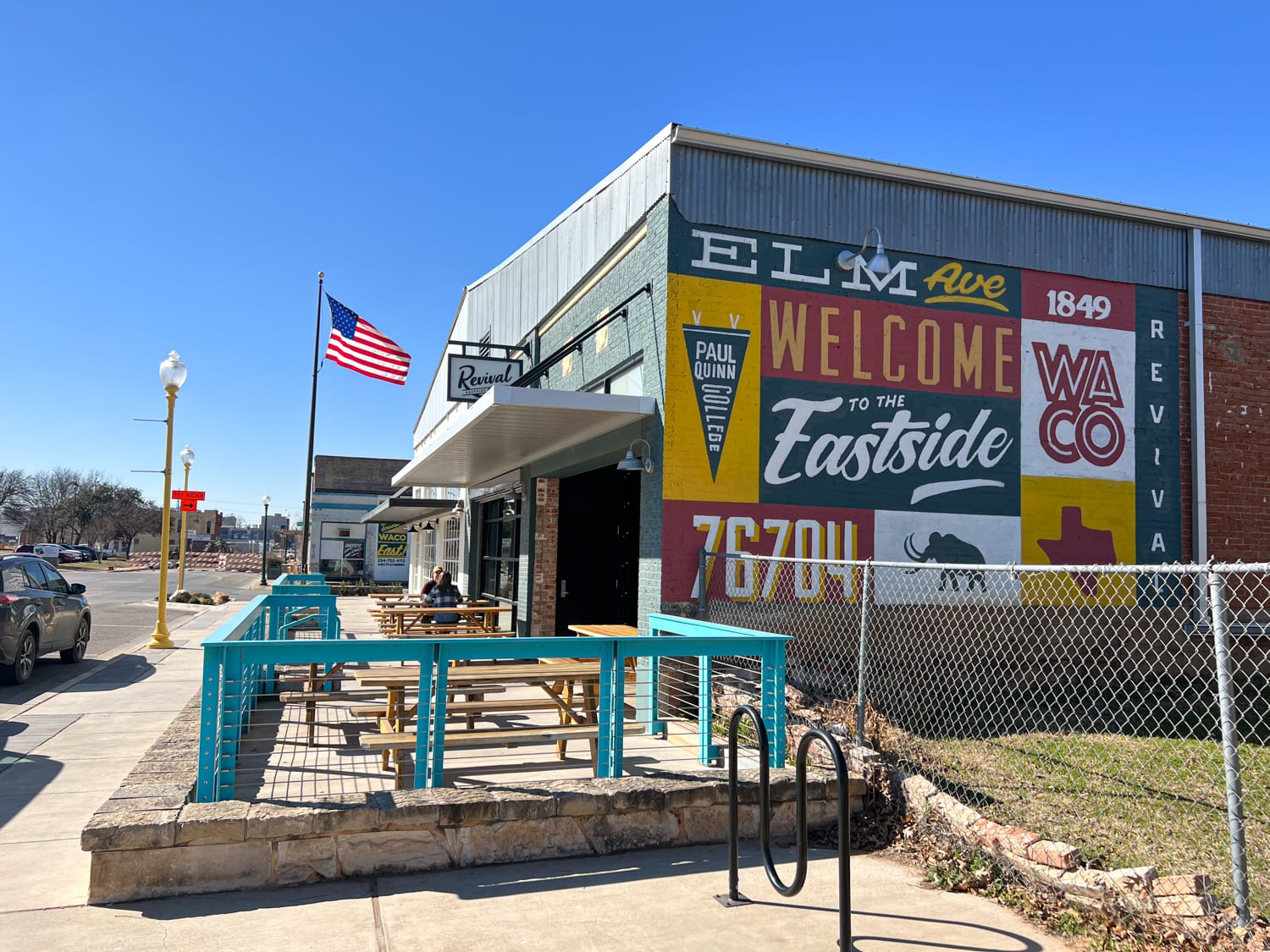 The welcoming Revival restaurant opened in 2019 at the site of an abandoned church, a few blocks south of True Jamaica in Waco's up-and-coming Elm Avenue neighborhood.
Every effort was made to preserve the original building's materials, including the roof timbers, tin ceiling tiles, and red brick walls. There's plenty of outdoor seating, too.
Texas-sourced ingredients are used whenever possible, and the salads, sandwiches, and burgers are made in-house.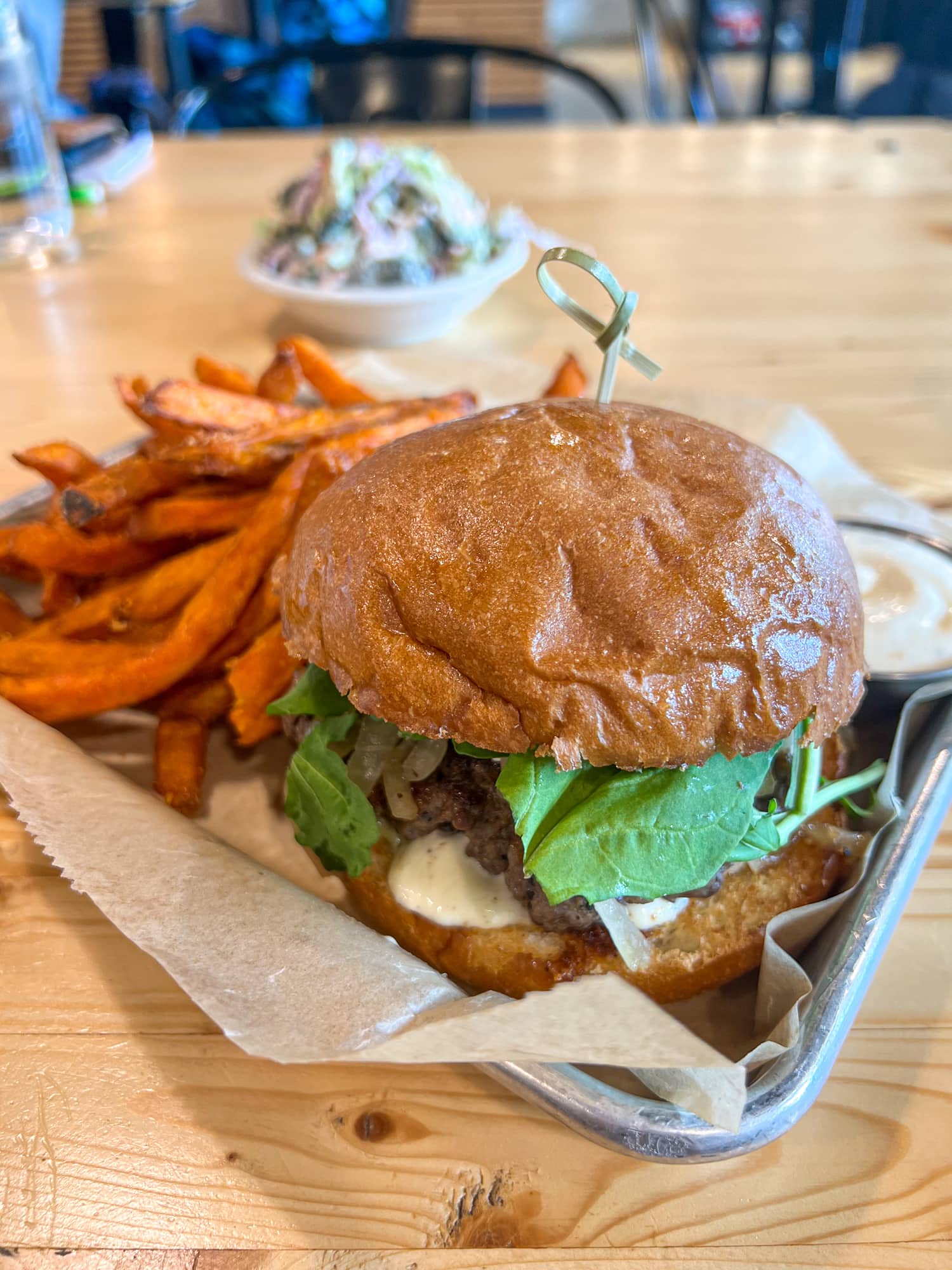 I ordered the Golden Calf cheeseburger, a customer favorite, for $13.
The five-ounce beef patty is topped with caramelized balsamic onions, whipped herbed goat cheese, and lemon garlic aioli on a brioche bun.
The burgers and sandwiches are served with French fries, which you can upgrade to sweet potato fries, broccoli slaw, a side salad, or tomato soup for an extra $2.
I left Revival feeling like it was a great option for a budget-friendly meal or quick bite, given the freshness of the food, friendly service, and interesting interior.
704 Elm Ave, Waco, TX, revivaleastsideeatery.com
***
I hope this cross-section of outstanding restaurants in Waco, TX, is exciting your appetite.
I've also eaten at Union Hall on Franklin Ave., the city's European-style food hall, which boasts about 20 different vendors.
Future trips to the Waco area will include Jasper's BBQ, Vitek's BBQ, George's Restaurant (est. 1930), Jakes Texas Tea House, and Health Camp (an ironic name for a fast food restaurant).