Opened in 1840, Antoine's New Orleans restaurant is the oldest family-run restaurant in the United States.
Go to Antoine's Restaurant if you're looking for historic fine dining in the French Quarter.
This French-Creole restaurant is named after its founder, Antoine Alciatore, an immigrant from France.
Antoine's son, Jules Alciatore, invented Oysters Rockefeller, the restaurant's signature dish named after John D. Rockefeller.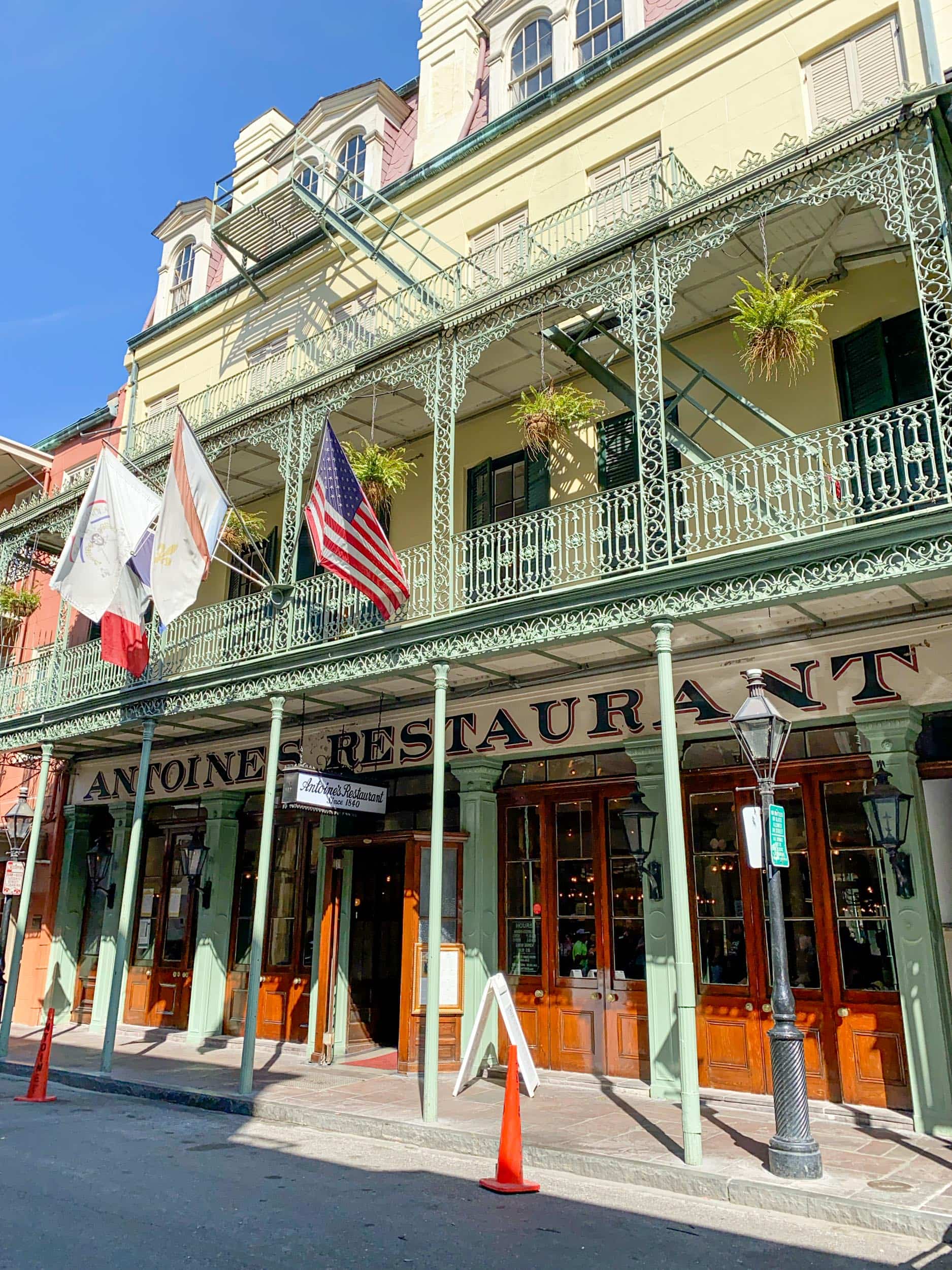 Today, Antoine's Restaurant is run by fifth-generation relatives of the founder.
Given its history and reputation, having hosted everyone from Anthony Bourdain to Pope John Paul II, I was excited to go for lunch at Antoine's.
Spoiler alert! The experience was so enjoyable I put Antoine's first on my list of the best restaurants in New Orleans.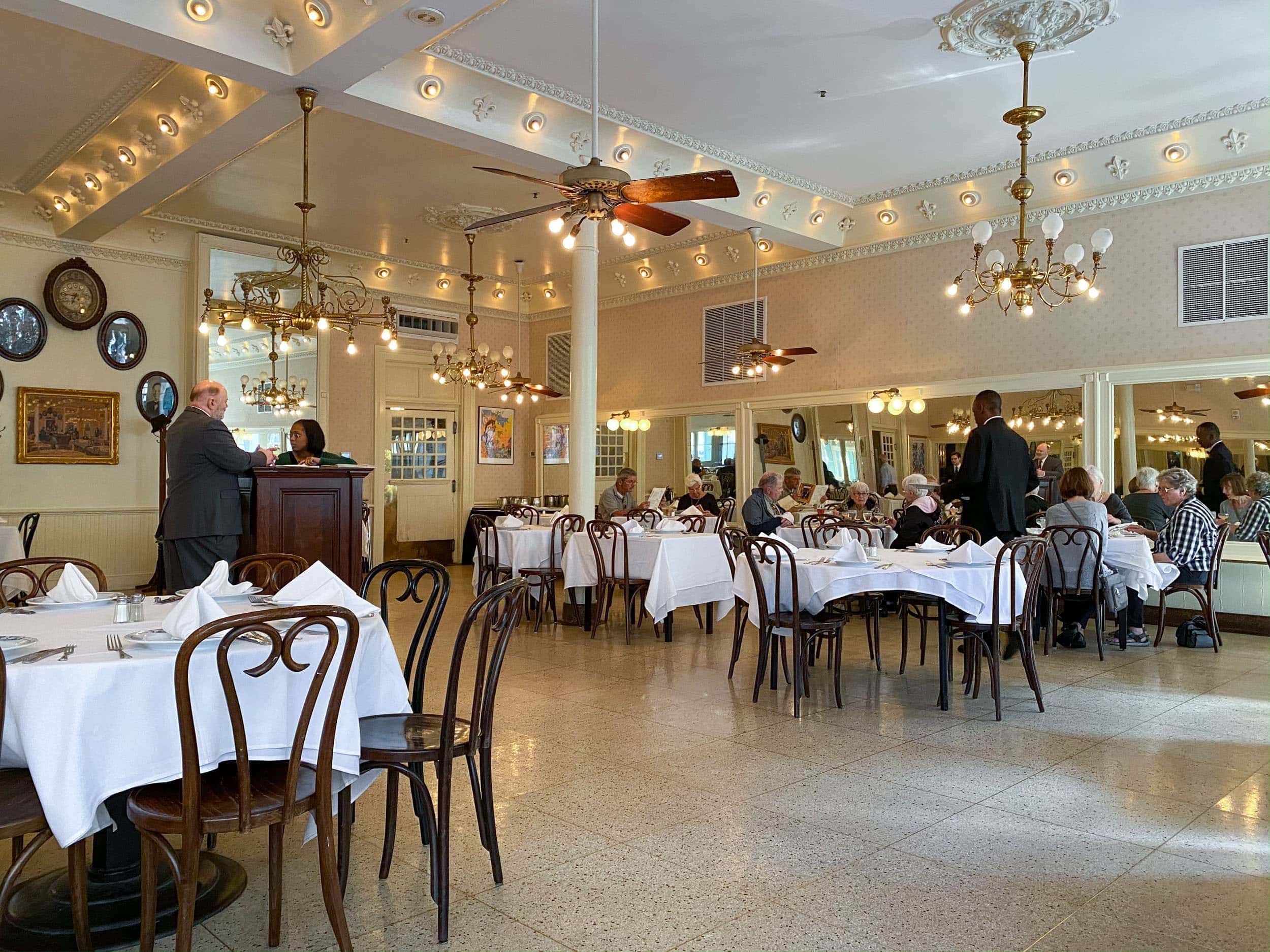 Lunch at Antoine's
Entering the brightly lit front dining room at 11:30 a.m. on a Wednesday, I walked up to the host stand set amidst the tables and introduced myself.
I found it interesting that the position of the host/hostess is in the center of the room, which allows guests to walk inside the space before being greeted.
I hadn't asked for a specific table, so I was grateful to be seated by one of the front windows, allowing me to watch who was walking by during lunch.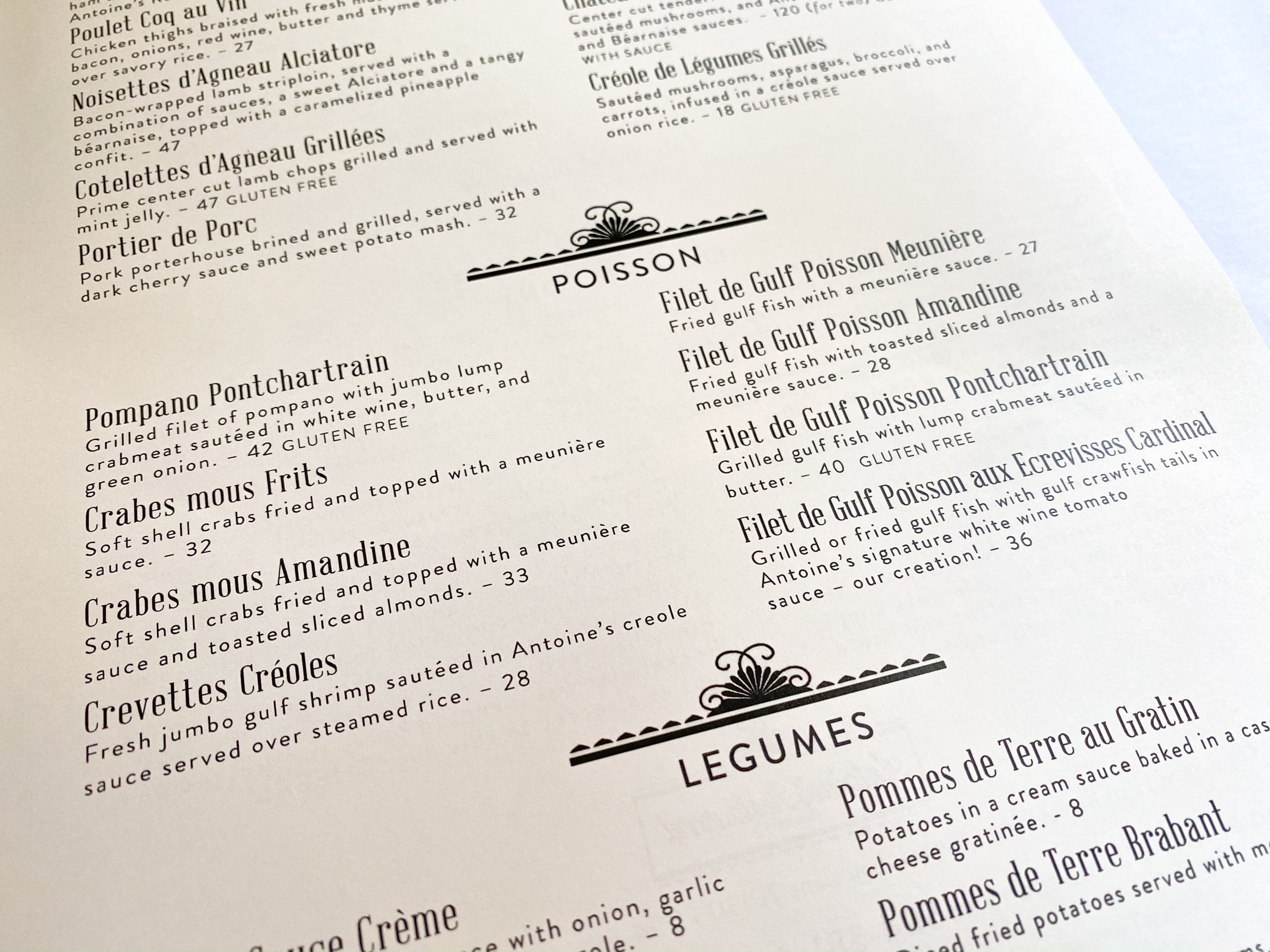 The Menu
Overwhelming would be an excellent way to describe the menu at Antoine's in New Orleans.
I already knew I wanted to try the Oysters Rockefeller, but that didn't mean the other appetizers like Antoine's Seafood Duo with shrimp remoulade and crabmeat ravigote didn't tempt me.
Beyond the seafood, another house specialty is Pommes de Terre Soufflés (fried puffed potatoes).
Gumbo and alligator bisque are listed among the soups; there are a few salads for those who prefer a light start.
Entrees include a variety of meats, such as steak frittes, chateaubriand, bacon-wrapped medallions of lamb, and grilled pork porterhouse.
Seafood options are no less luxurious and include fish almandine, a filet of fish, and crab cakes.
I'll touch on the many fabulous desserts further down.
See also: Galatoire's: The Best Restaurant on Bourbon Street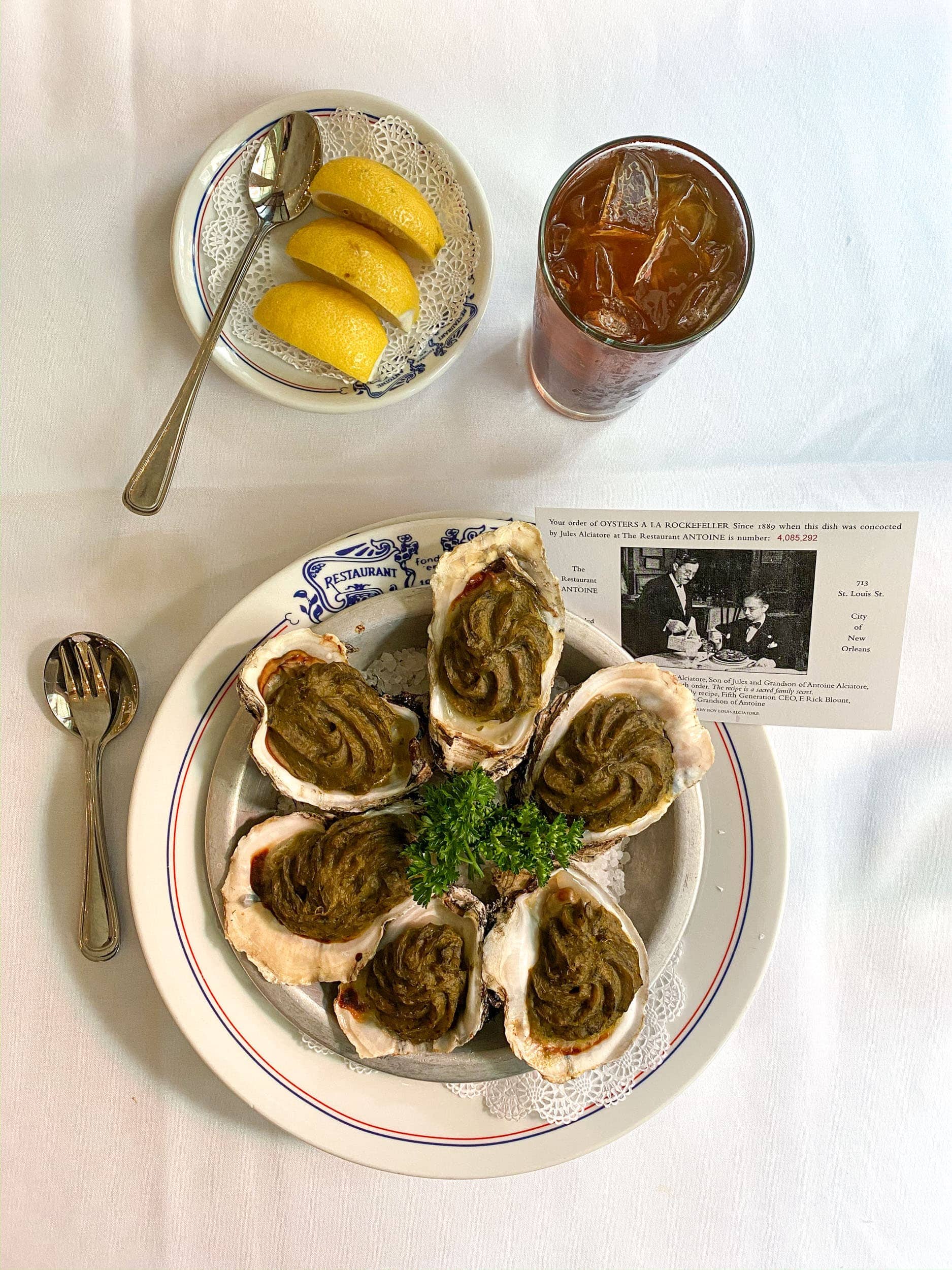 The signature Oysters Rockefeller are prepared on the half-shell and topped with a green sauce of fresh herbs and vegetables.
They're then broiled and presented with a side of lemon wedges.
My waiter said the topping doesn't include spinach, but beyond that, the recipe remains a family secret.
Every order is numbered. Diners are given a souvenir postcard with the exact number of their order.
I was number 4,085,292 to be served this dish, an experience I shared with former U.S. presidents, including Franklin D. Roosevelt, who dined at Antoine's in 1937.
It's not the prettiest dish, but the sauce and oysters both tasted fresh, and I enjoyed trying something new.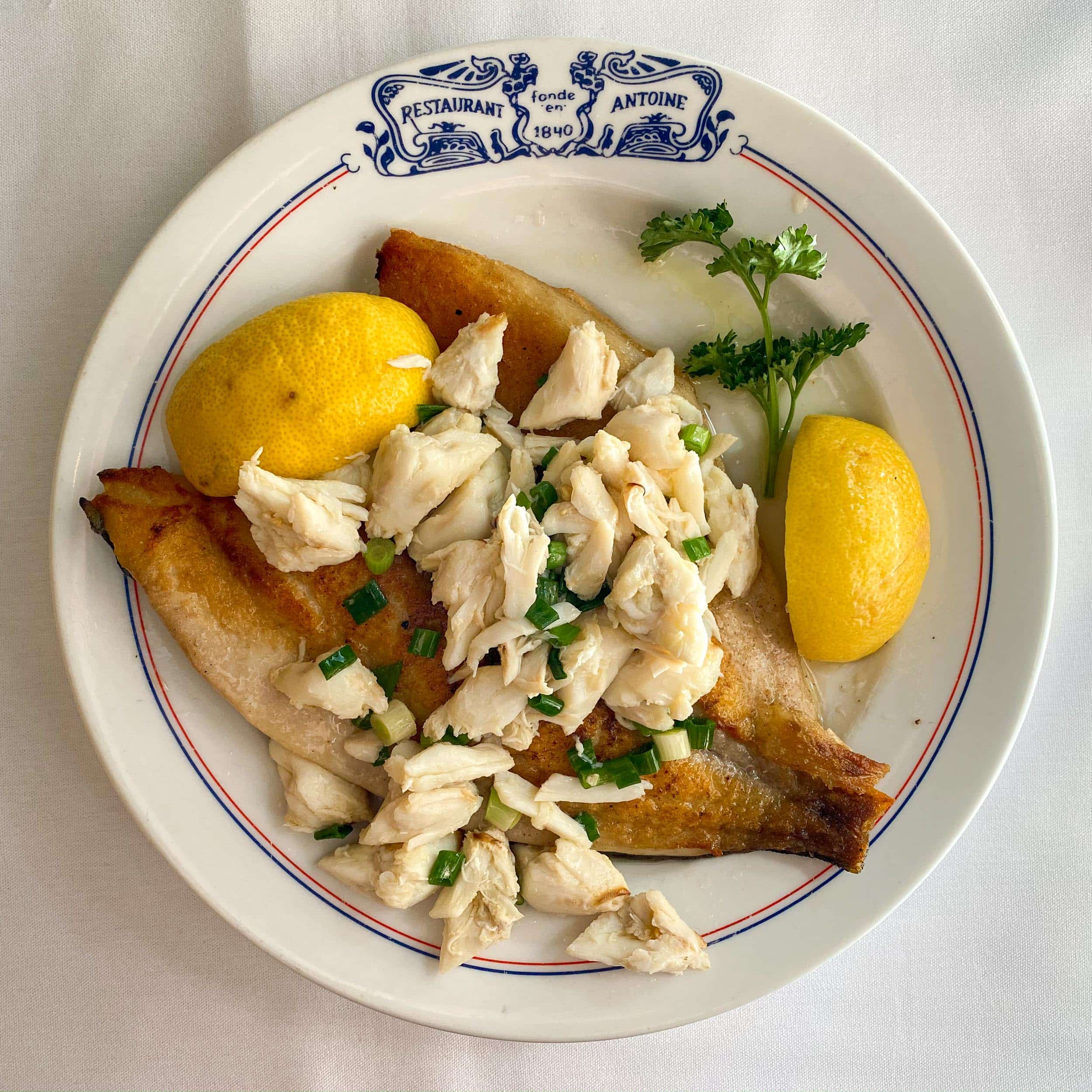 I continued with seafood for my entree, ordering the Pompano Pontchartrain -- a grilled filet of fish topped with crabmeat and a white wine butter sauce.
The fish filet may not have been all that big, but it was plenty filling when taken together with a generous portion of fresh crabmeat and butter sauce.
It was so luscious and flavorful. I don't even want to think about how much butter was used.
The dish comes from Lake Pontchartrain, the 630-square-mile estuary north of New Orleans.
See also: Breakfast at Brennan's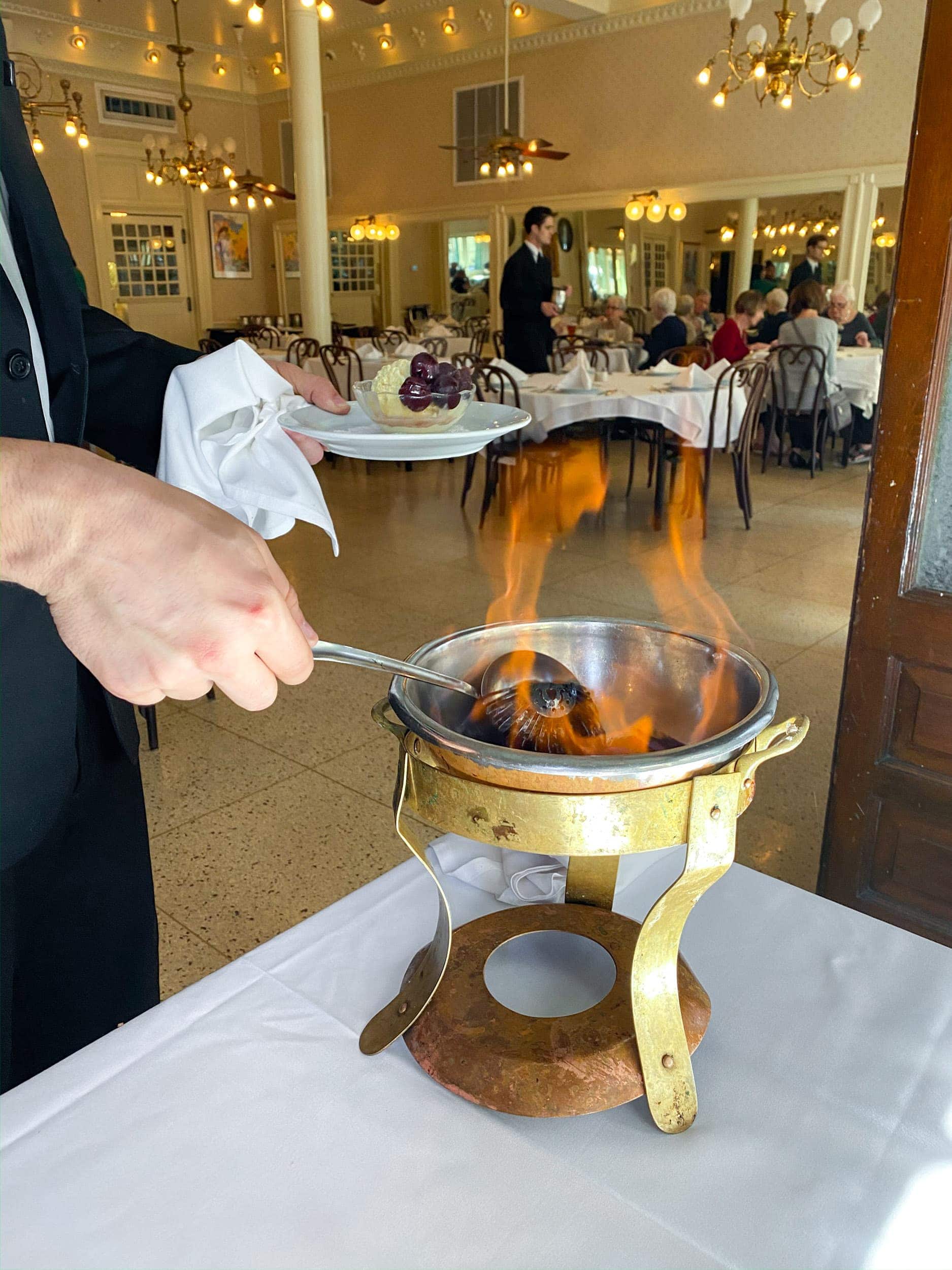 Antoine's has a killer dessert menu, so be sure to leave room for something sweet at the end of your meal.
Three options are flambeed tableside: Baked Alaska, Cherries Jubilee, and Café Brulot Diabolique. That last option, a coffee cocktail, is another recipe credited to Jules.
A key lime tart, crème brûlée, and flourless chocolate torte are a few more of the ten options making up the dessert menu.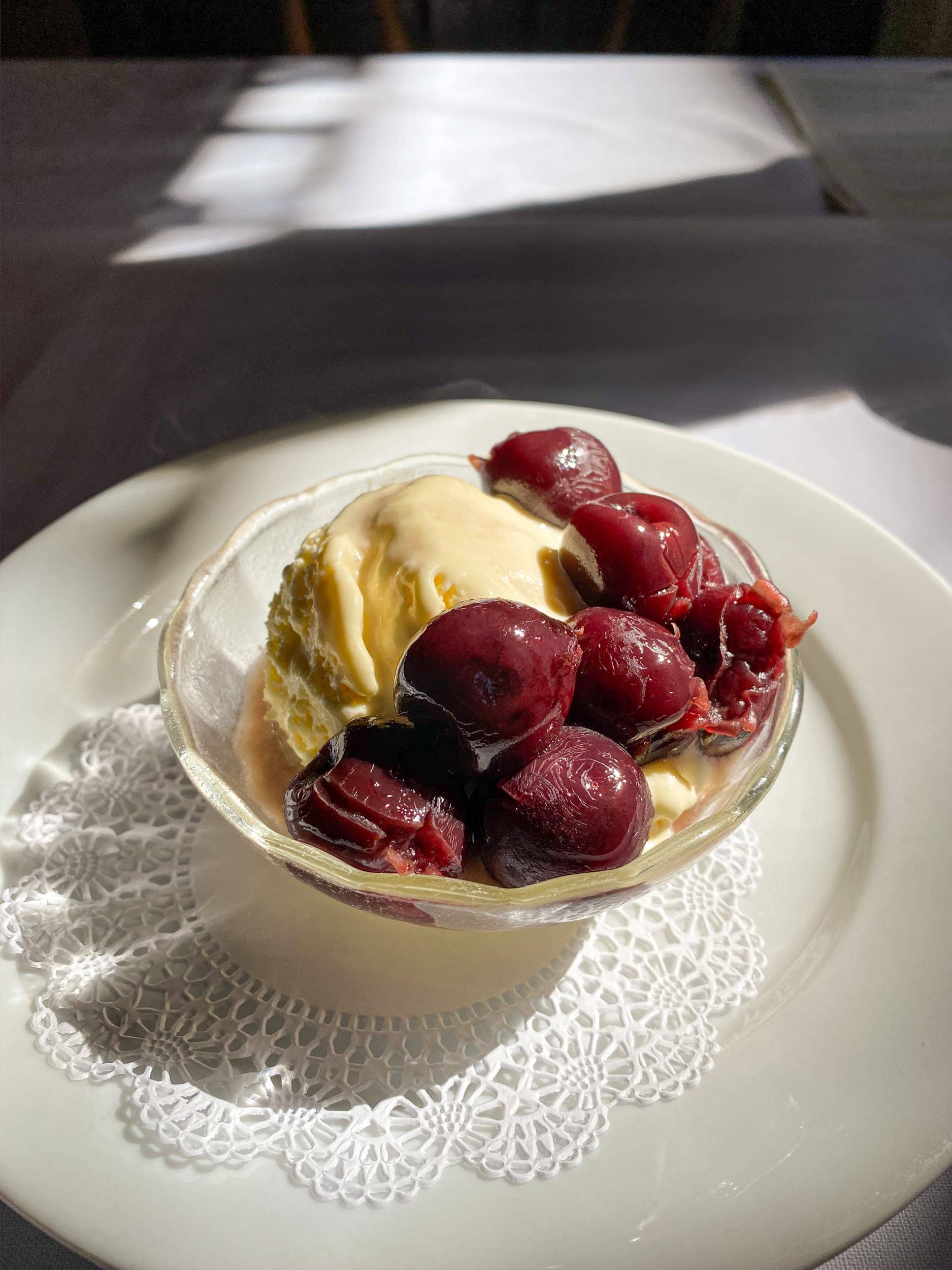 I ordered the Cherries Jubilee, which is flambeed in brandy and served over Angelo Brocato's vanilla ice cream.
The tableside preparation was quite the show, even during the day.
Upon presentation, steam was still rising from the cherries as they slowly melted the vanilla ice cream below.
See also: Best Cocktail Bars in New Orleans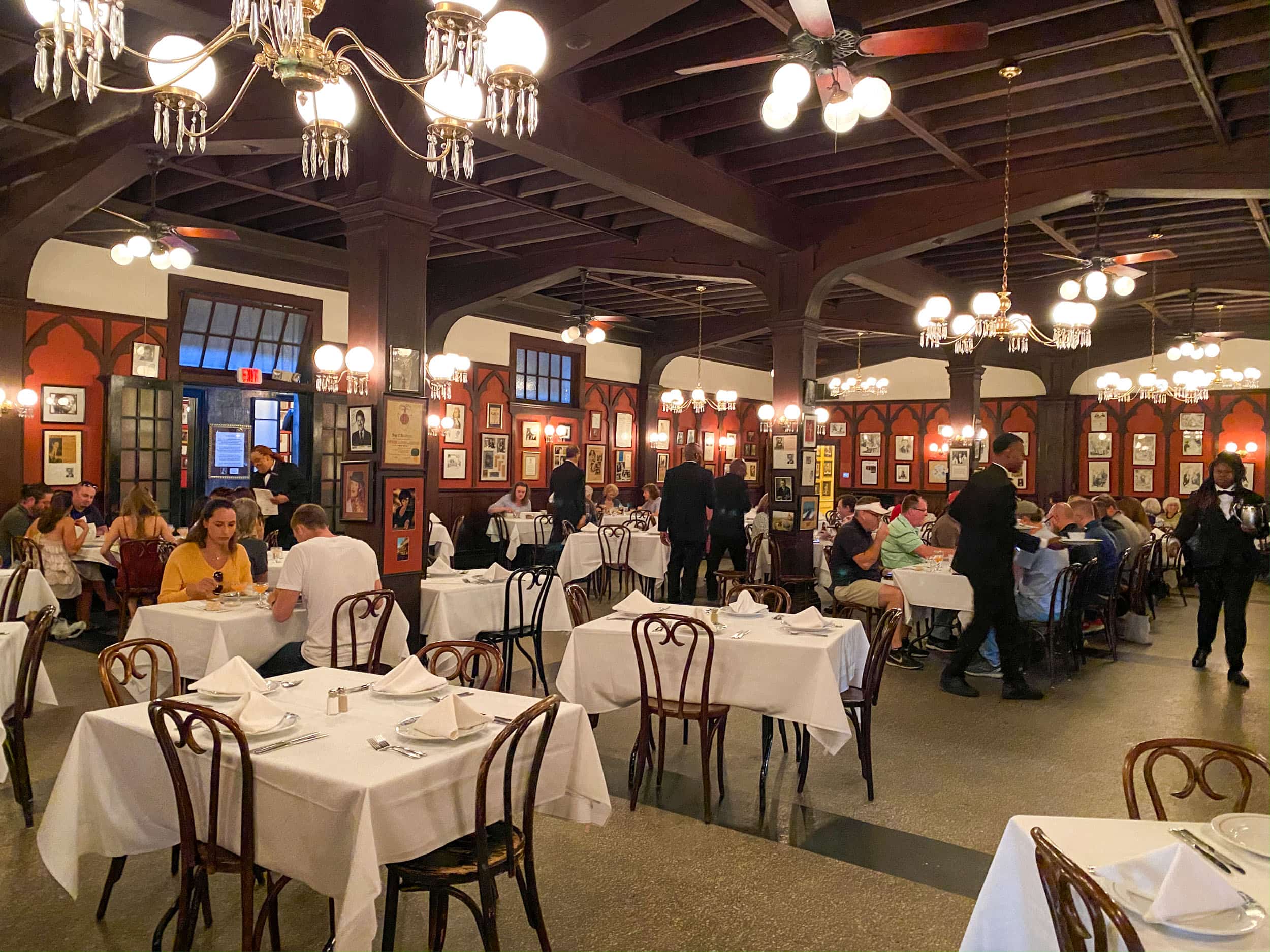 Dining Rooms
After lunch, I took a walk through the historic New Orleans restaurant, as it's much larger than it seems.
Over the years, Antoine's has expanded to a dozen rooms on two floors, many used for private parties.
Some are decorated in honor of local Mardi Gras parade krewes, making for a unique atmosphere.
The red room pictured above is another public dining area. It doesn't face the street and lacks natural light; therefore, it's better suited for large group dining.
My favorite room was the elegant Rex Room with green walls below. Keep scrolling down to see all the private dining rooms on the first floor.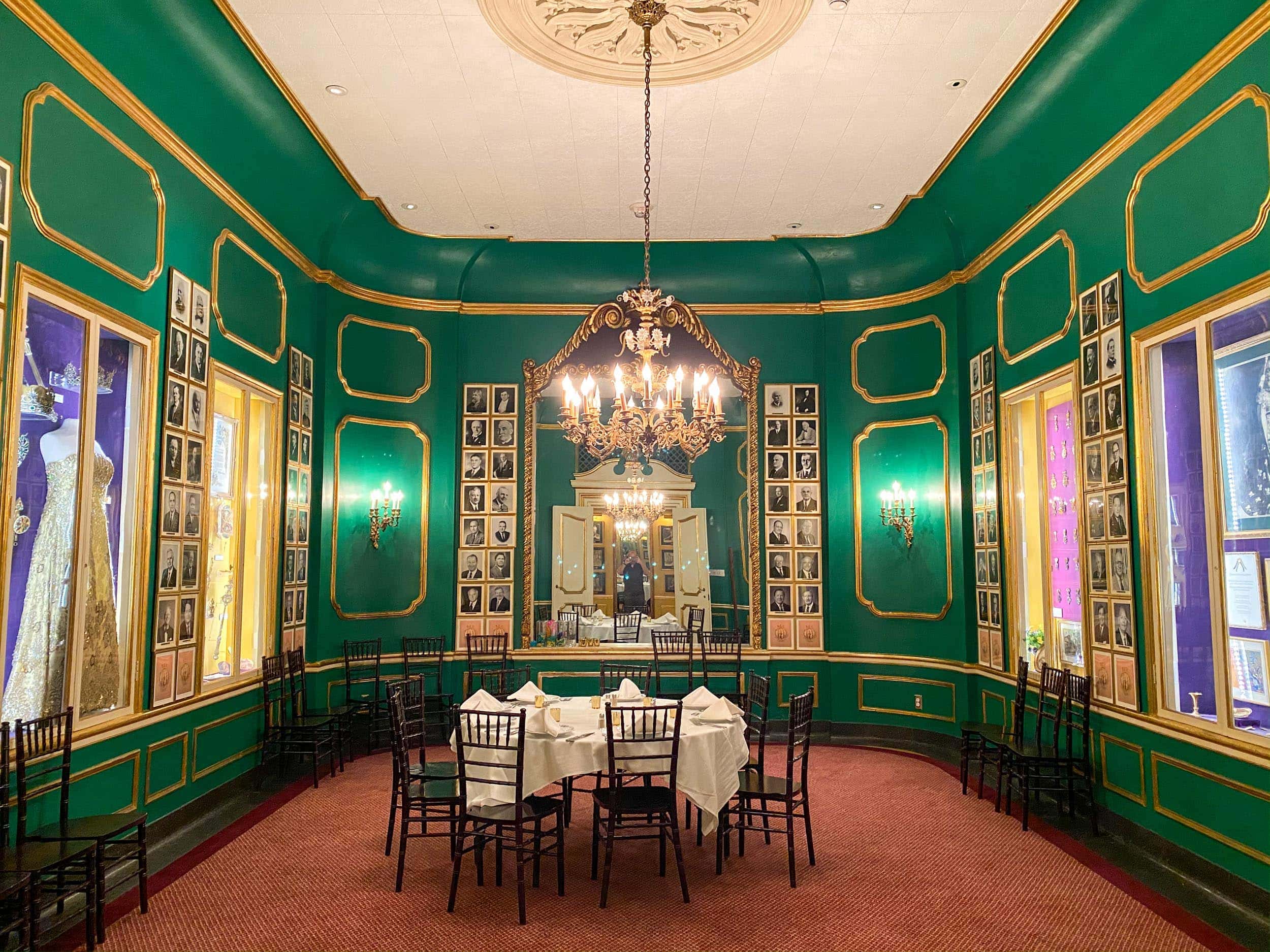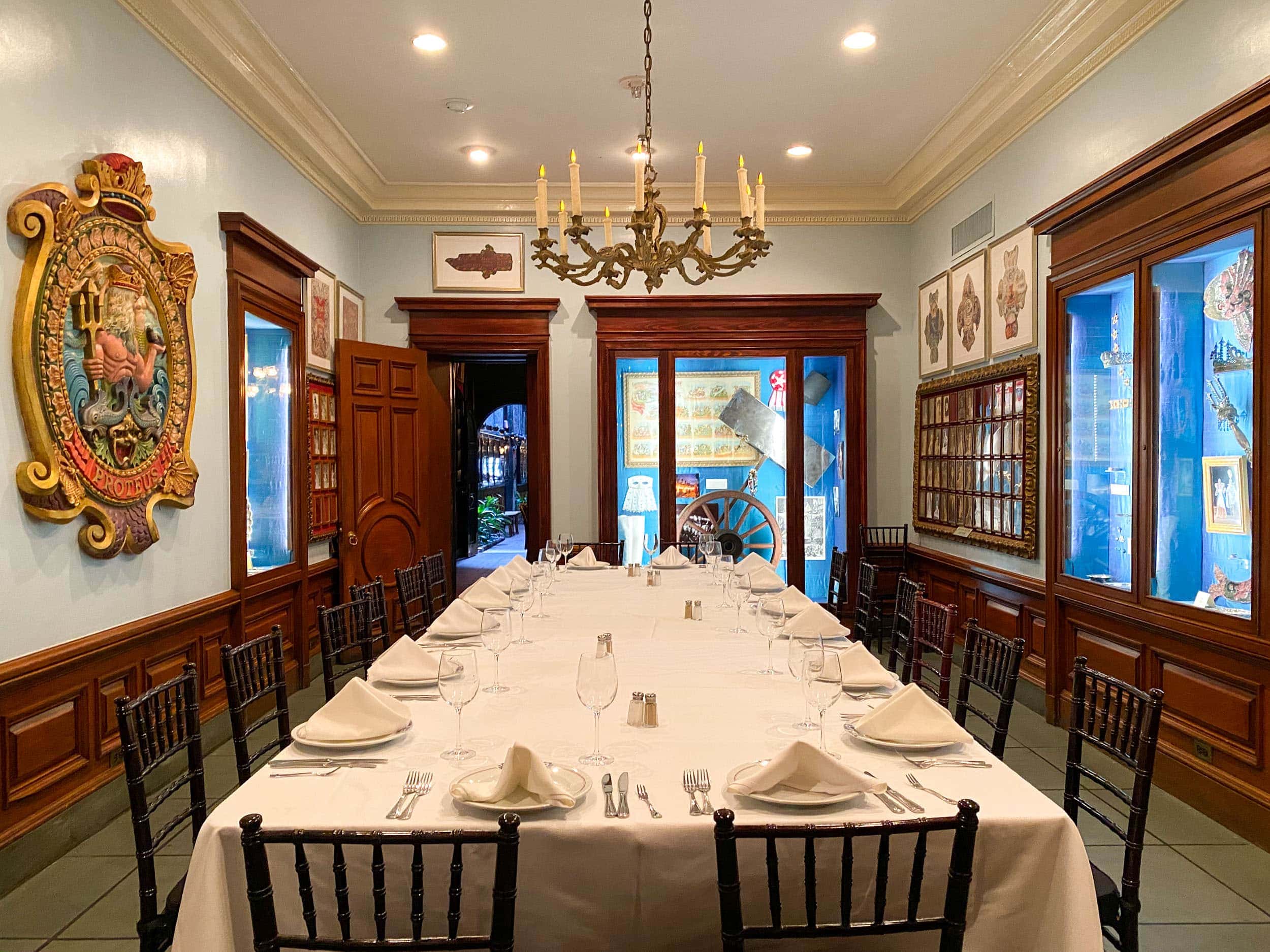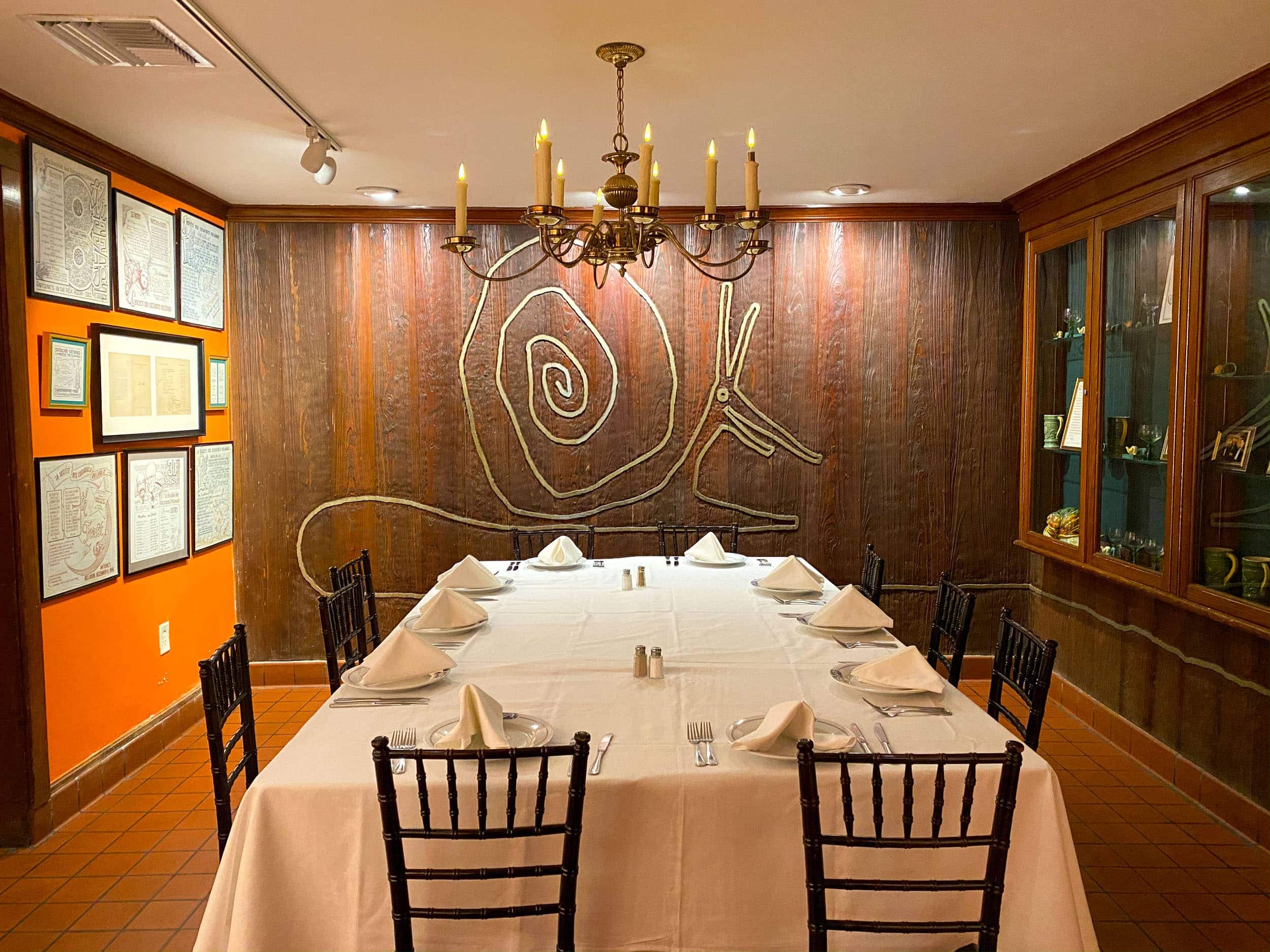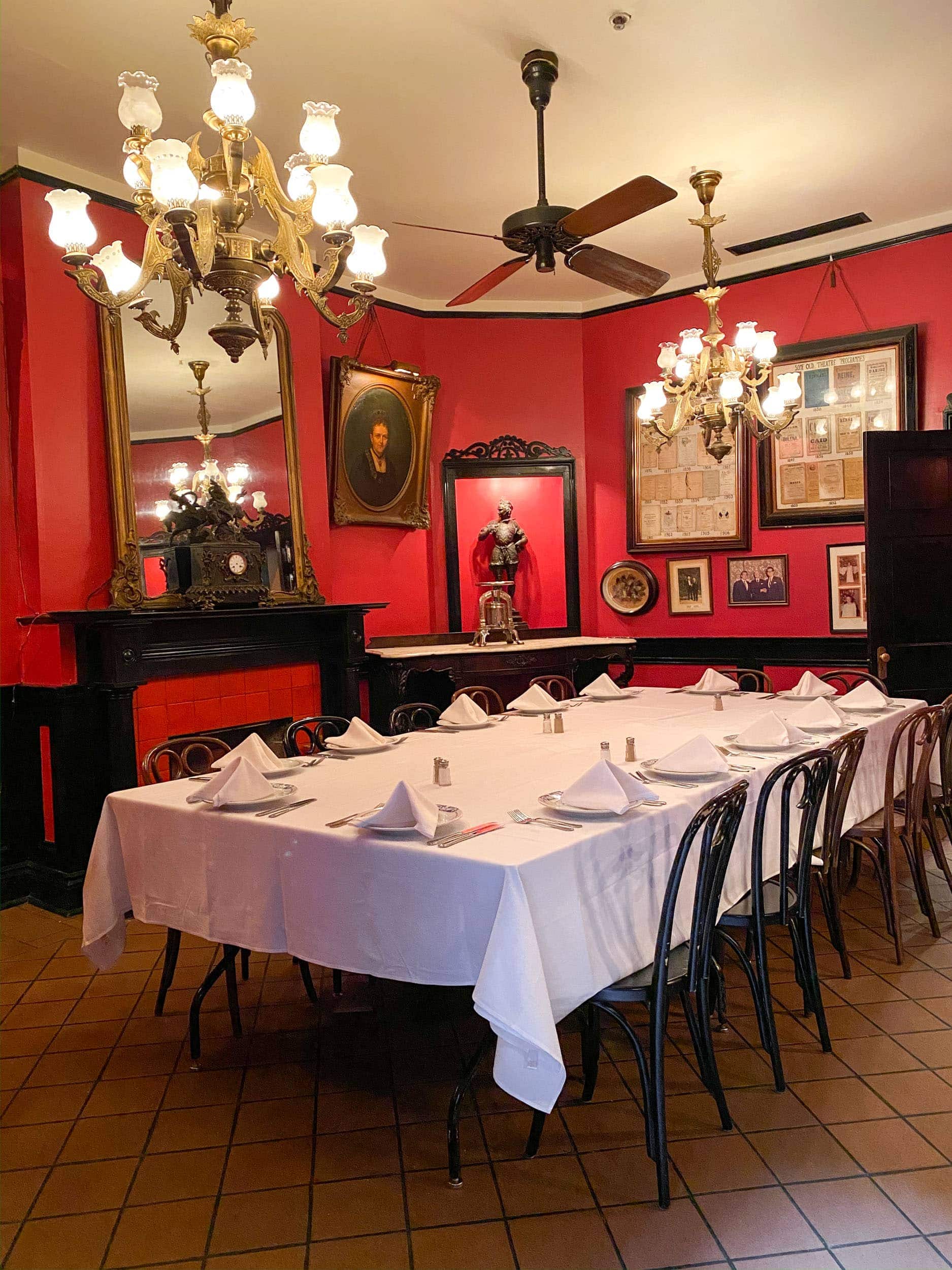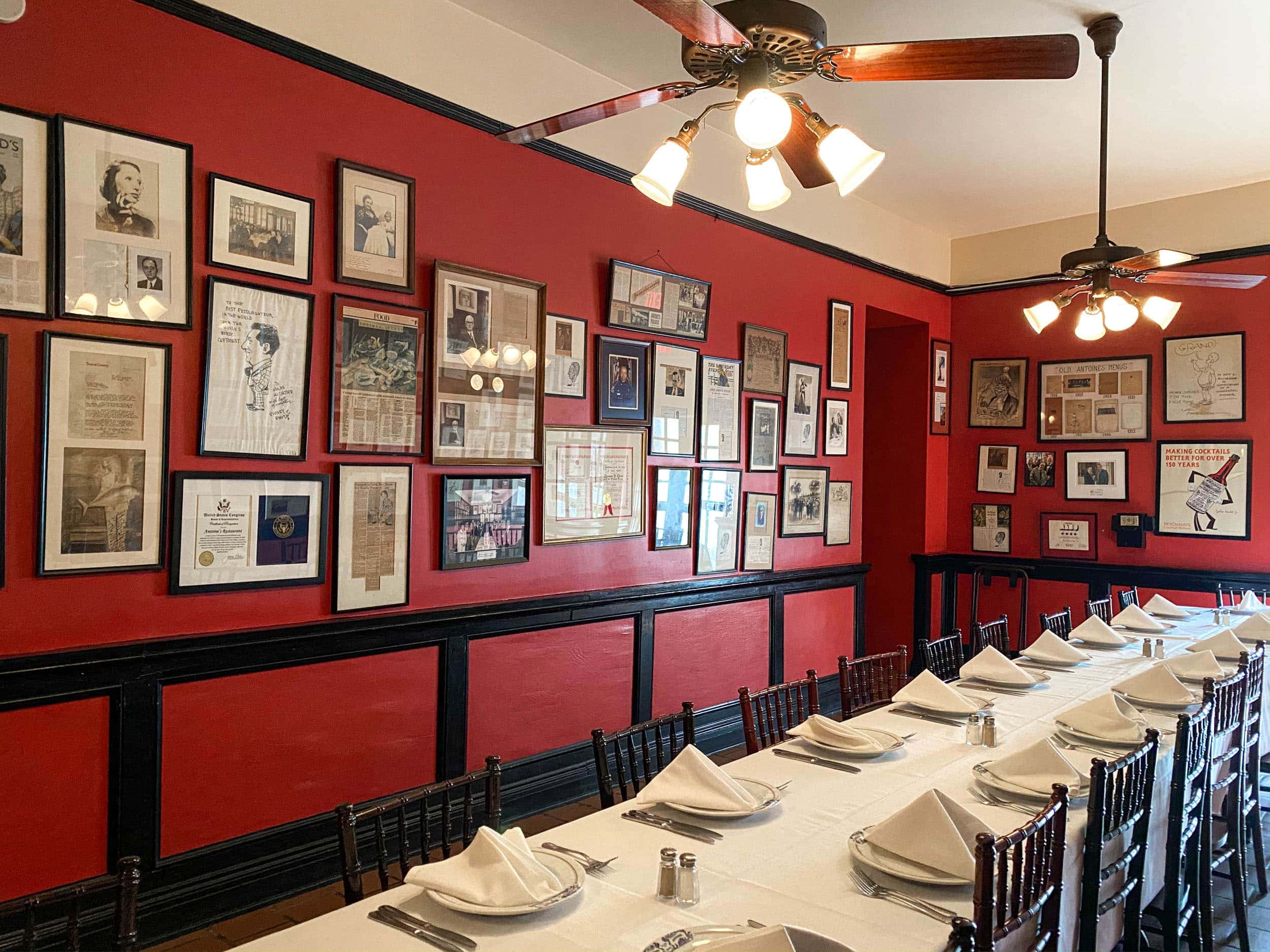 Overall, I had a fantastic time at Antoine's New Orleans. For fine dining in the French Quarter, you'd be hard-pressed to find a restaurant with as much history and character.
Plus, it offers an exceptional dining experience in a setting that still feels casual, comfortable, and friendly.
Including tax, tip, and an unsweetened ice tea, my three-course lunch at Antoine's Restaurant cost me $98. It was one of my most memorable meals of the year.
Plan Your Visit
Address: 713 St. Louis St., French Quarter, New Orleans
Hours: 11:30 a.m. - 2 p.m., and 5:30 p.m. - 9 p.m., Monday to Saturday; 10:30 a.m. - 2 p.m., Sunday
Dress: Business casual -- collared shirts for men, jackets preferred but not required, no flip-flops, t-shirts, or shorts
Reservations: Recommended — make a reservation (if you like natural light and people-watching, ask for a table in the front)