Shiner is synonymous with Texas beer, and there's no better way to learn more about it than on a Shiner brewery tour.
When the opportunity to join a media trip to tour the brewery came up, I jumped at the chance. Road trip!
Tours cover the brewery's 110+ year history and include tastings. I came away a new fan of several seasonal beers.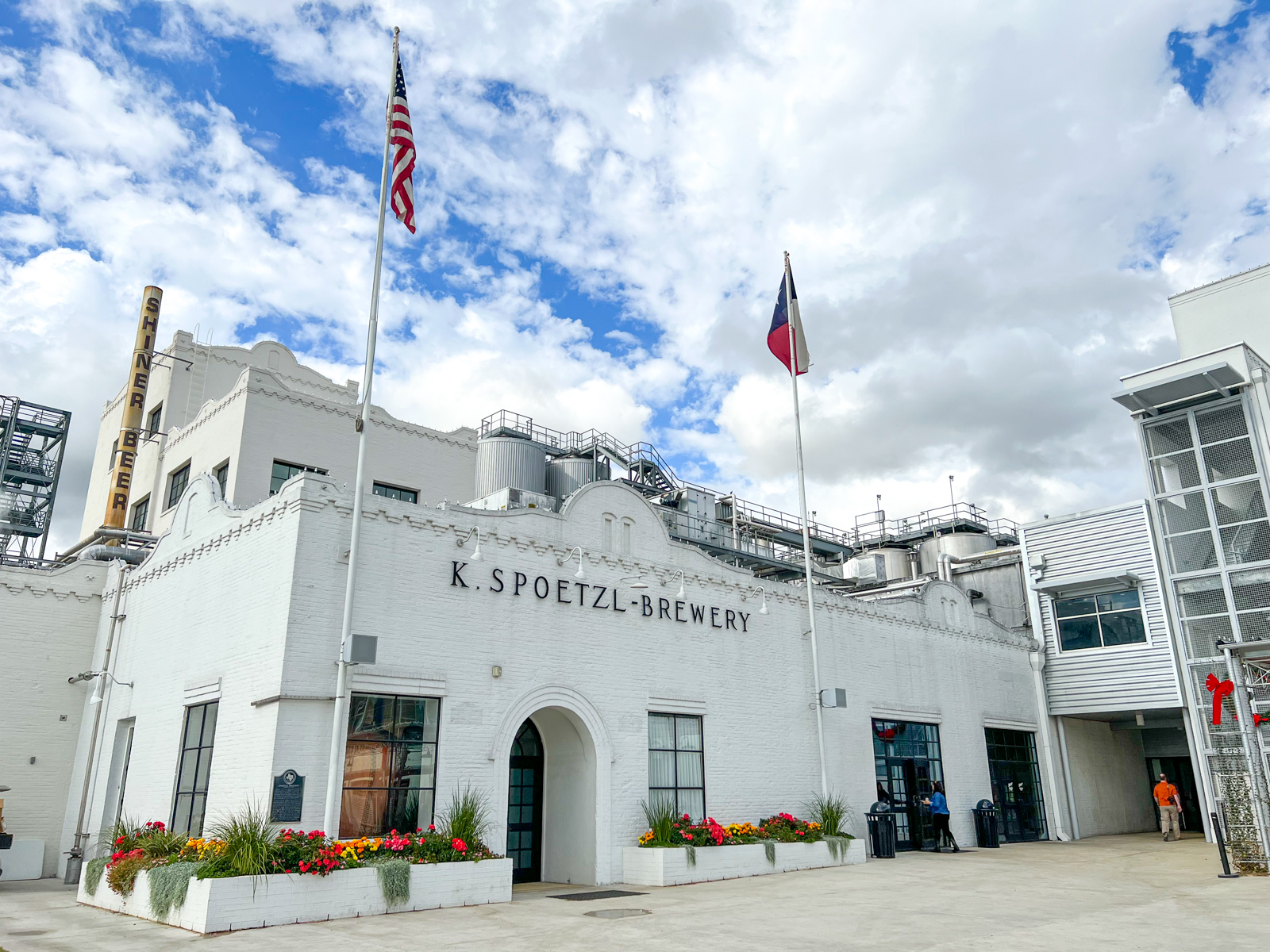 History of Spoetzl Brewery
The Spoetzl Brewery, named after its first owner, Kosmos Spoetzl, was founded in 1909 by German and Czech immigrants.
Artisan well water under the town offered a limitless supply of a key ingredient.
As the brewery grew in popularity, they searched for a well-trained brewmaster.
Enter Kosmos, a Bavarian-born German brewmaster who spent his life brewing beer around the world, including stints in Cairo, Canada, and San Francisco.
He'd come to San Antonio, Texas, searching for warmer weather, and soon learned about the opportunity to buy the little brewery.
Kosmos became the owner in 1915 and worked there for nearly 50 years before passing the torch.
He helped the brewery survive Prohibition by selling ice and low-alcohol beer.
Spoetzl Brewery is the oldest independent brewery in Texas and the fourth-largest craft brewery in the U.S.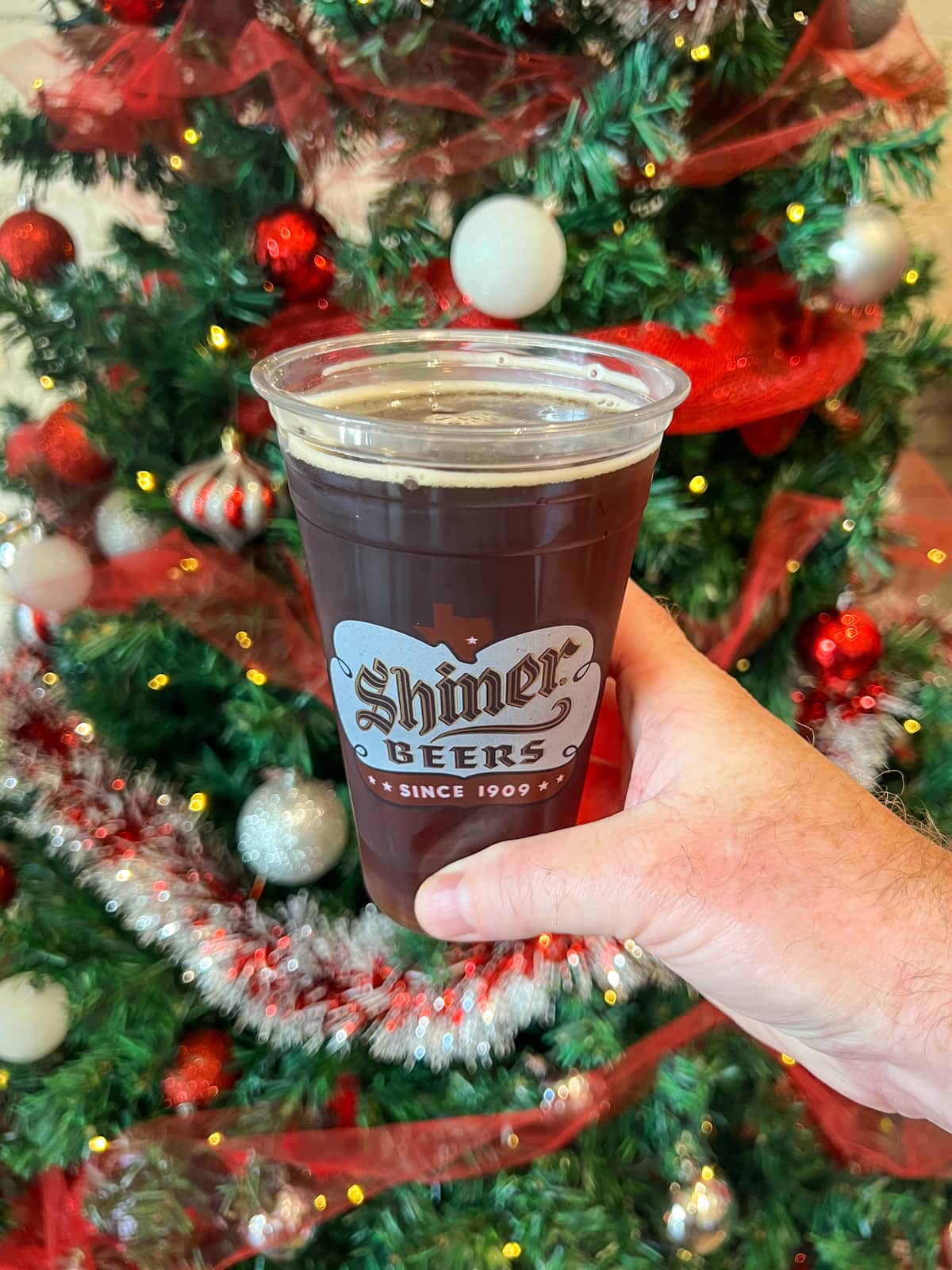 Brewery Tour
As you can tell from the photo above, I took a Shiner brewery tour in December, when the facility was decorated for Christmas. We began in the taproom with our beer of choice.
Feeling festive, I chose Shiner's Holiday Cheer, a Bavarian Style Dark Wheat (Dunkelweizen) beer made with local Hill Country peaches and roasted pecans.
After enjoying my first beer, our guide for the brewery tour led us from the taproom to a hallway with a life-size sculpture of Kosmos Spoetzl.
The lights dimmed, and we were treated to a multimedia presentation about this life and arrival in Shiner, TX.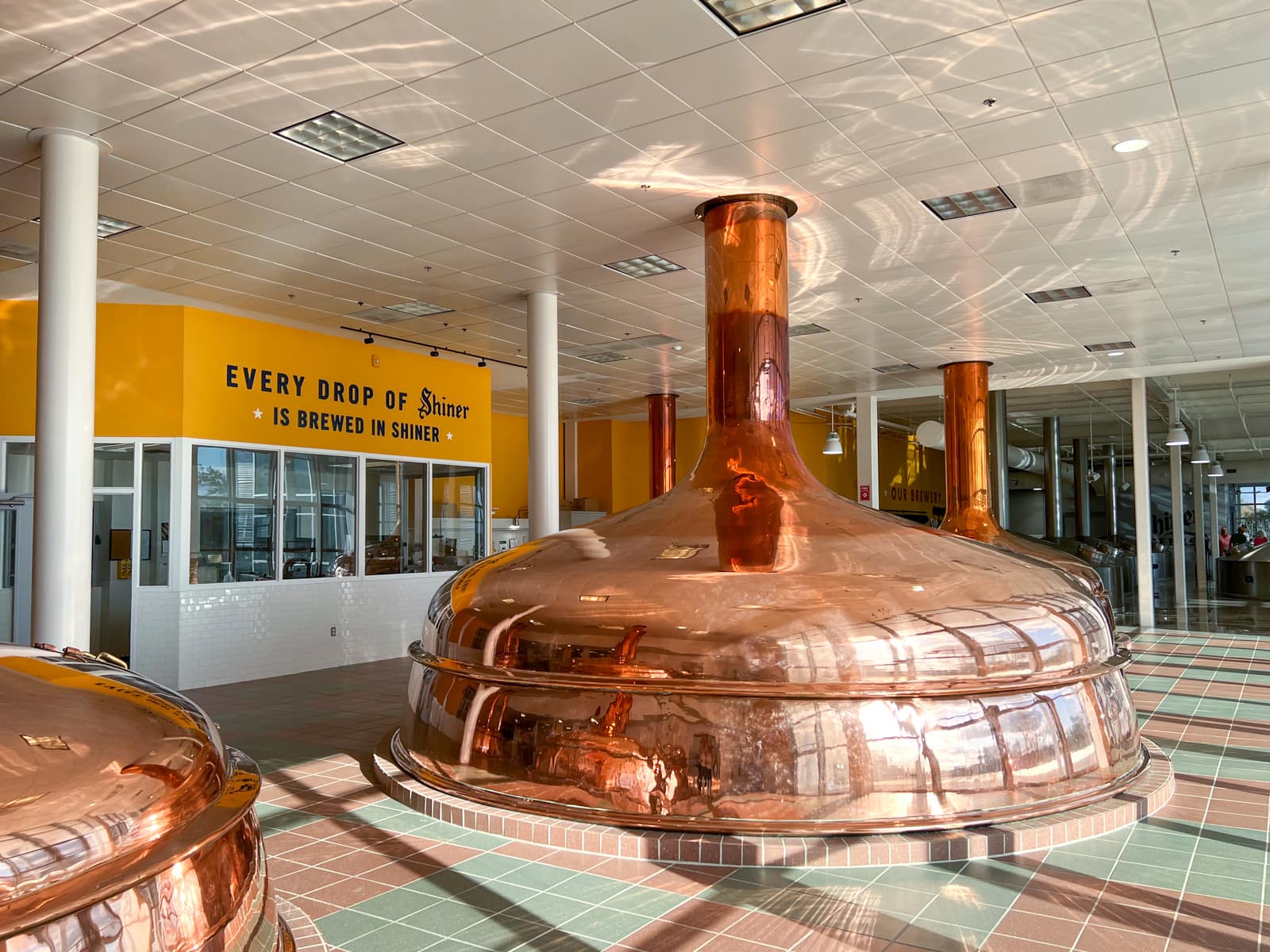 When the show was over, we walked through a pair of doors into a nicely decorated room. Here, the beer-making process was explained.
The tops of the many fermenters used to brew Shiner beer were to our right.
There were silver stainless steel fermenters and original copper ones, too.
As is written on the wall, "every drop of Shiner is brewed in Shiner." Today, that's six million cases worth of beer annually!
I was reminded of the Jack Daniels Distillery in Lynchburg, Tennessee, which relies on local well water for its product.
Like Shiner beer, every drop of Jack Daniel's ever made comes from the one distillery.
See also: Best Bars in Nashville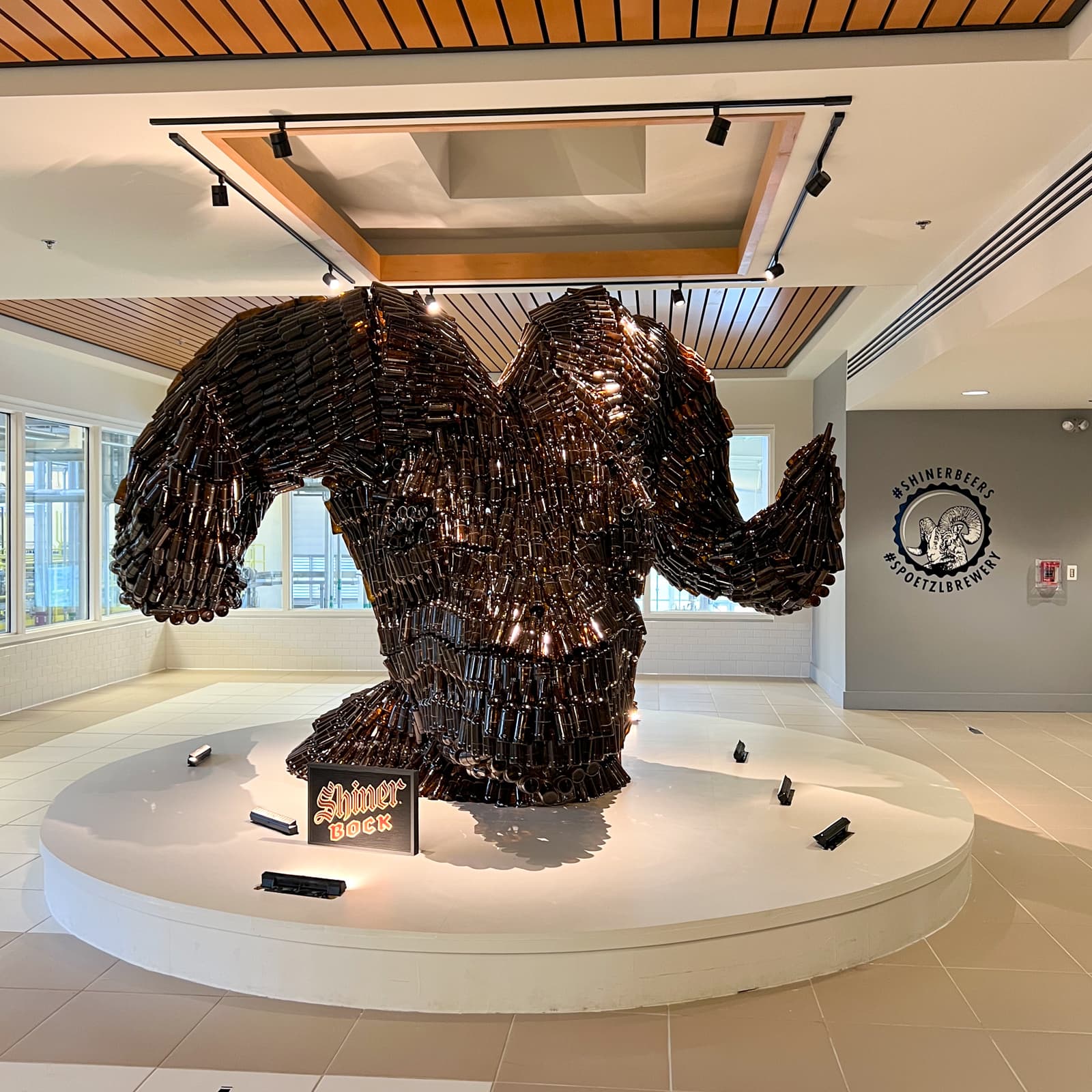 As the tour continued, we were led to an observation deck overlooking the bottling plant.
There's an impressive sculpture made from thousands of Shiner beer bottles in the shape of a ram's head.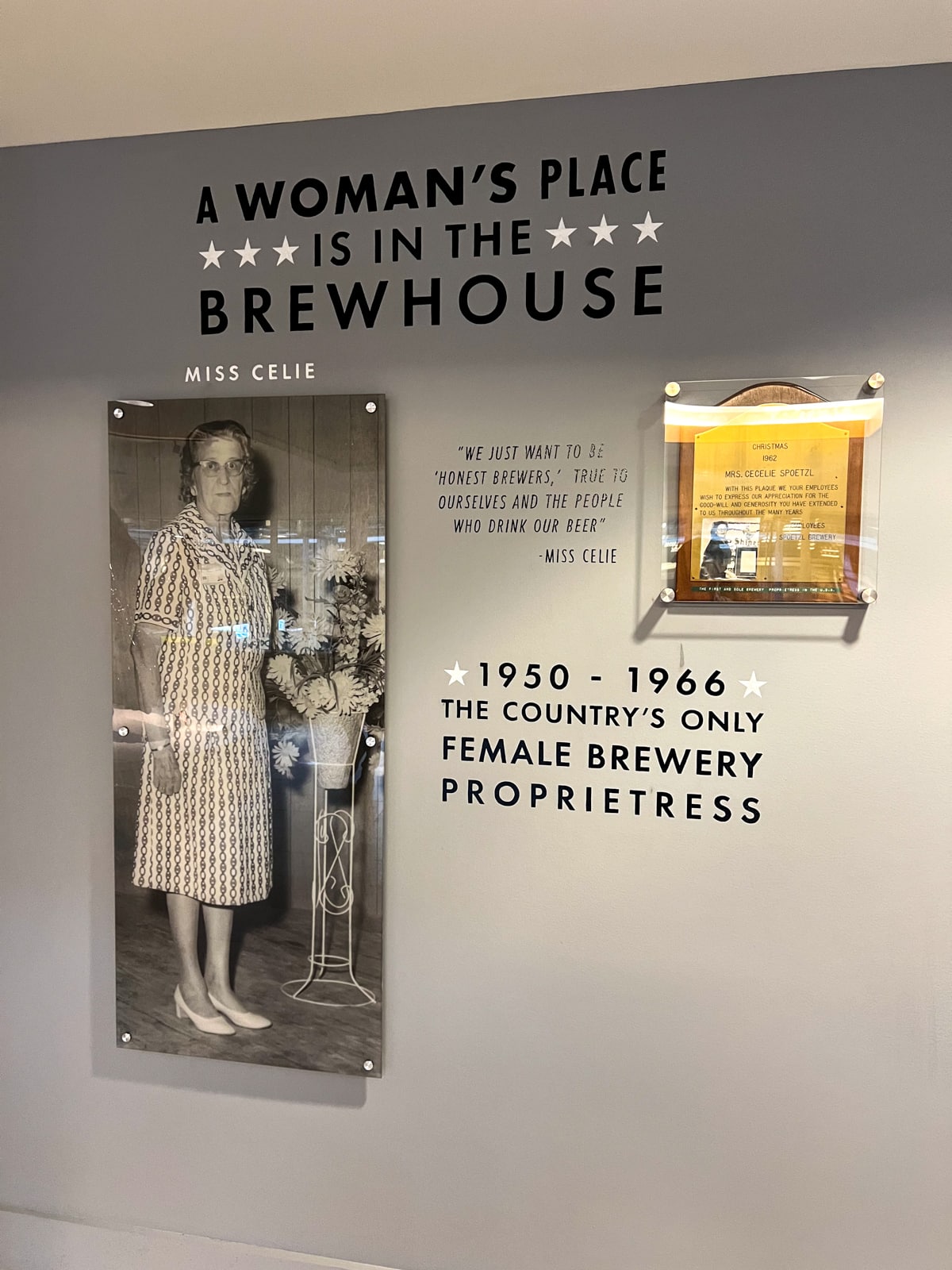 And we learned about Miss Celie, the country's only female brewery proprietress, from 1950 to 1966.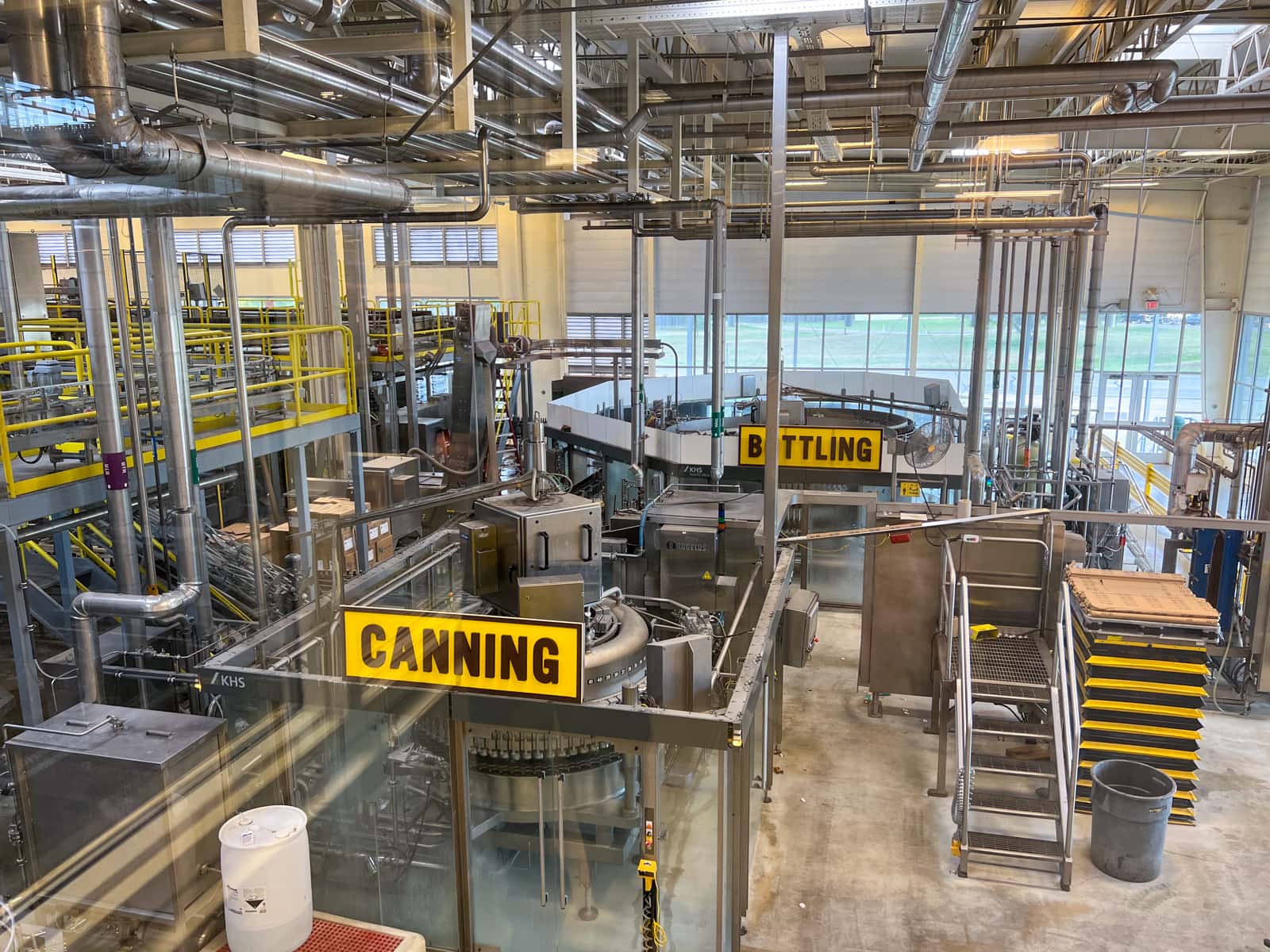 The view of the production line for Shiner's beer reminded me of that 70s sitcom Laverne & Shirley.
I was old enough to watch this show about two women working at a beer plant in Milwaukee.
I could almost hear the theme song playing as the bottles went by.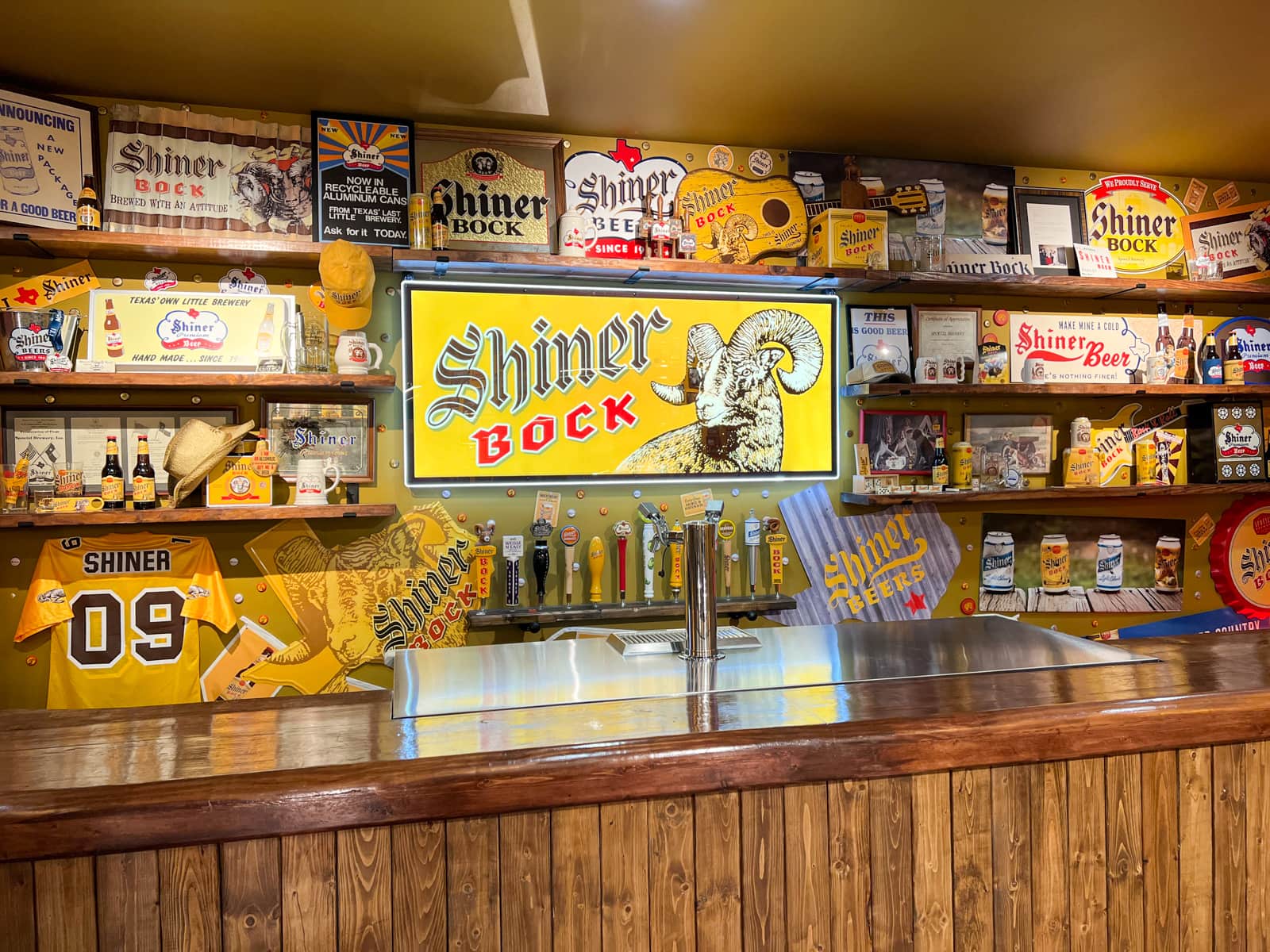 The penultimate stop on our Shiner brewery tour was a memorabilia-filled bar.
There were black and white pictures of the founder, Kosmos Spoetzl, and posters from the Bocktoberfest concert series, which used to be held at the brewery each October.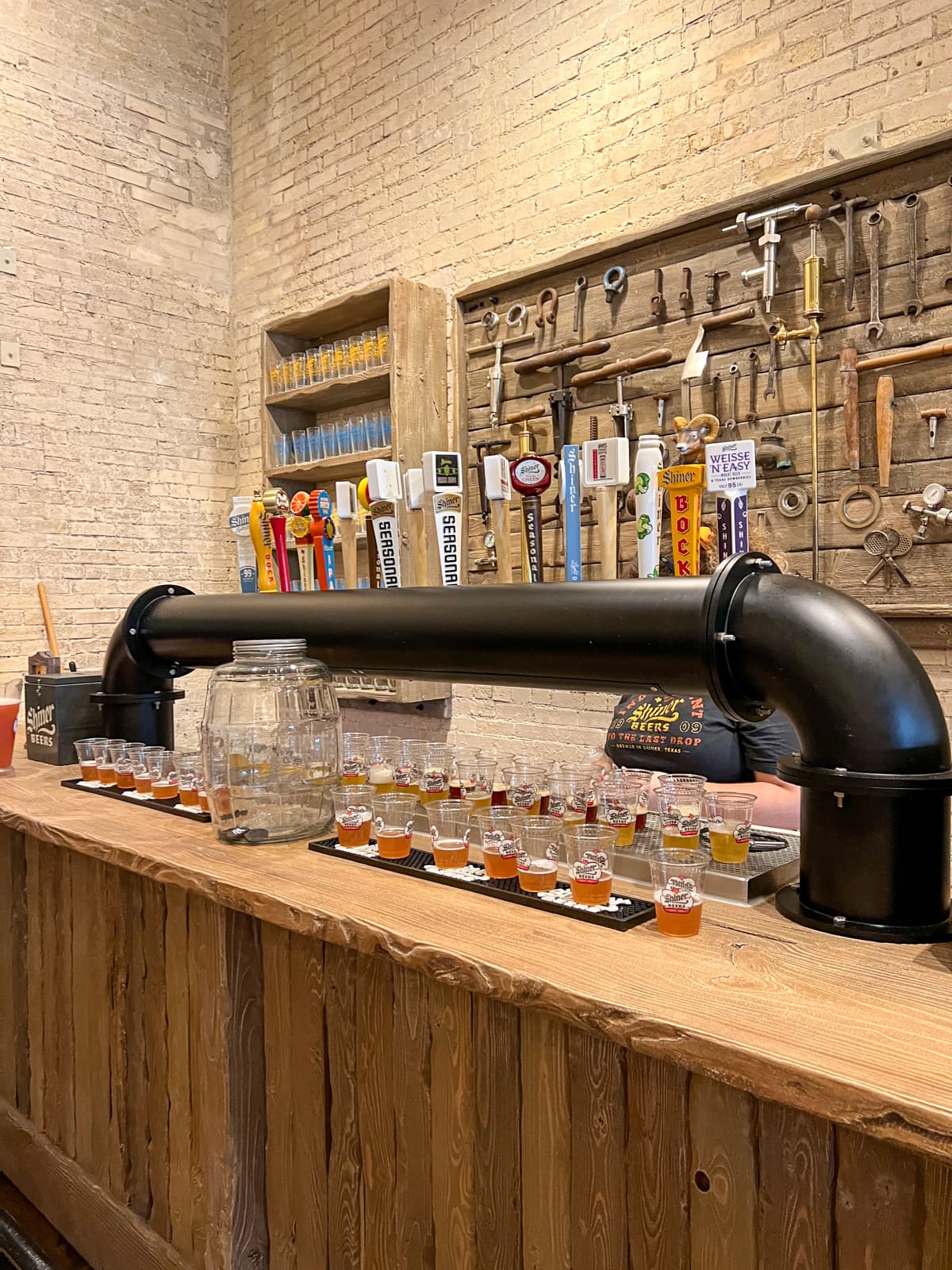 Beer Tasting
Last but certainly not least, we were treated to a thorough beer tasting in the brewery's taproom, where we began.
Jimmy Mauric, Shiner's sixth brewmaster, was present to tell us all about the many (many) beers we were trying.
My favorite was the Sea Salt & Lime, which began as a seasonal summer brew and became so popular they started offering it year-round.
It's made with artisanal Mediterranean sea salt and natural lime peel.
I appreciate how Shiner invests in high-quality ingredients, whether they're sourcing local peaches for their Holiday Cheer beer or sea salt from Europe.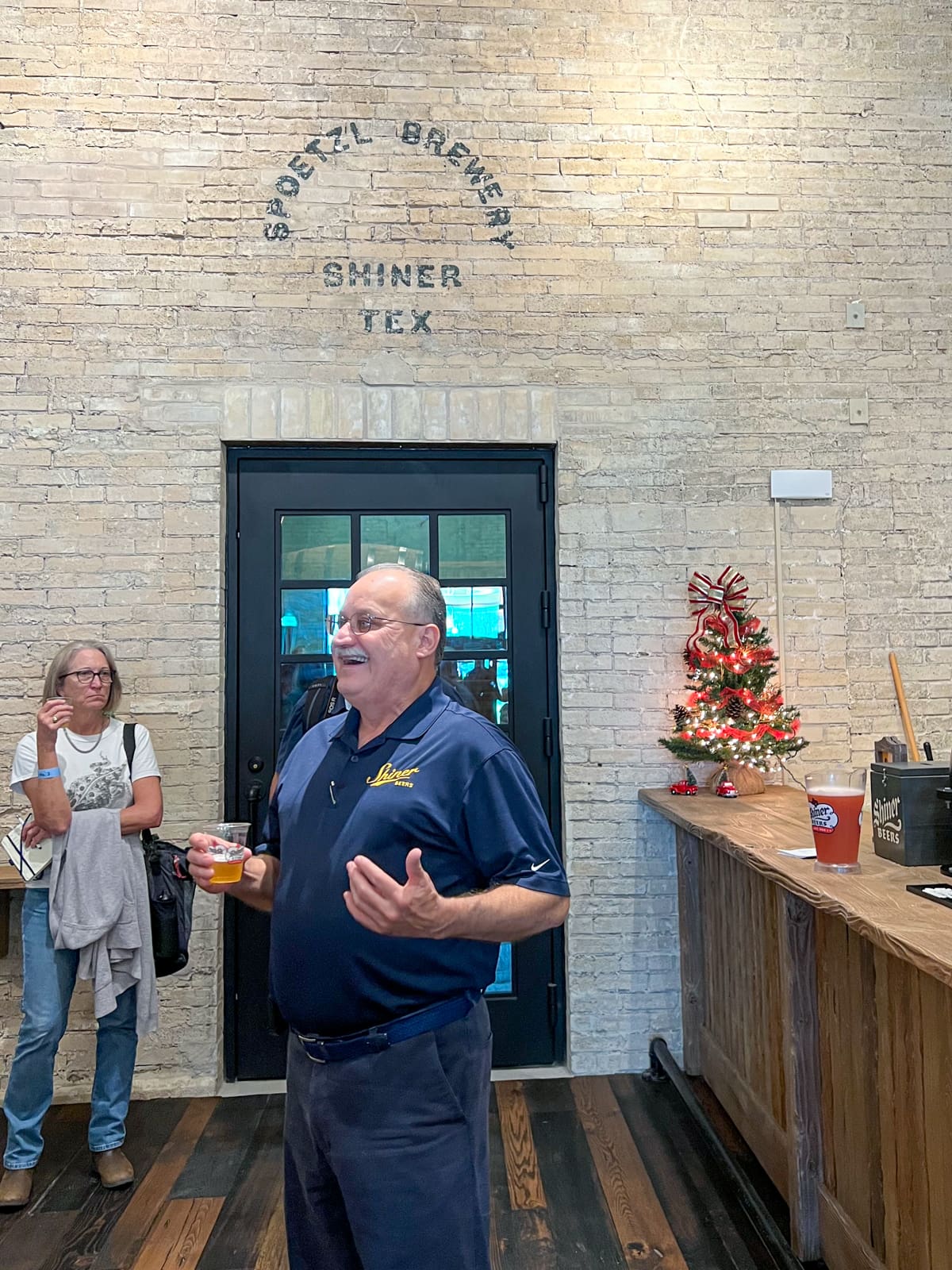 Once we'd run through at least a half-dozen beer samples, we moved on to the hard seltzers, which Spoetzl Brewery has also begun to produce.
Like Shiner's beer, they're using the same clean well water to make flavored seltzers, which is now a billion-dollar market.
The 100-calorie Watermelon Margarita was my favorite seltzer of the ones we tried.
Jimmy's joy for brewing beer was self-evident, and it was a fun and engaging way to conclude the tour.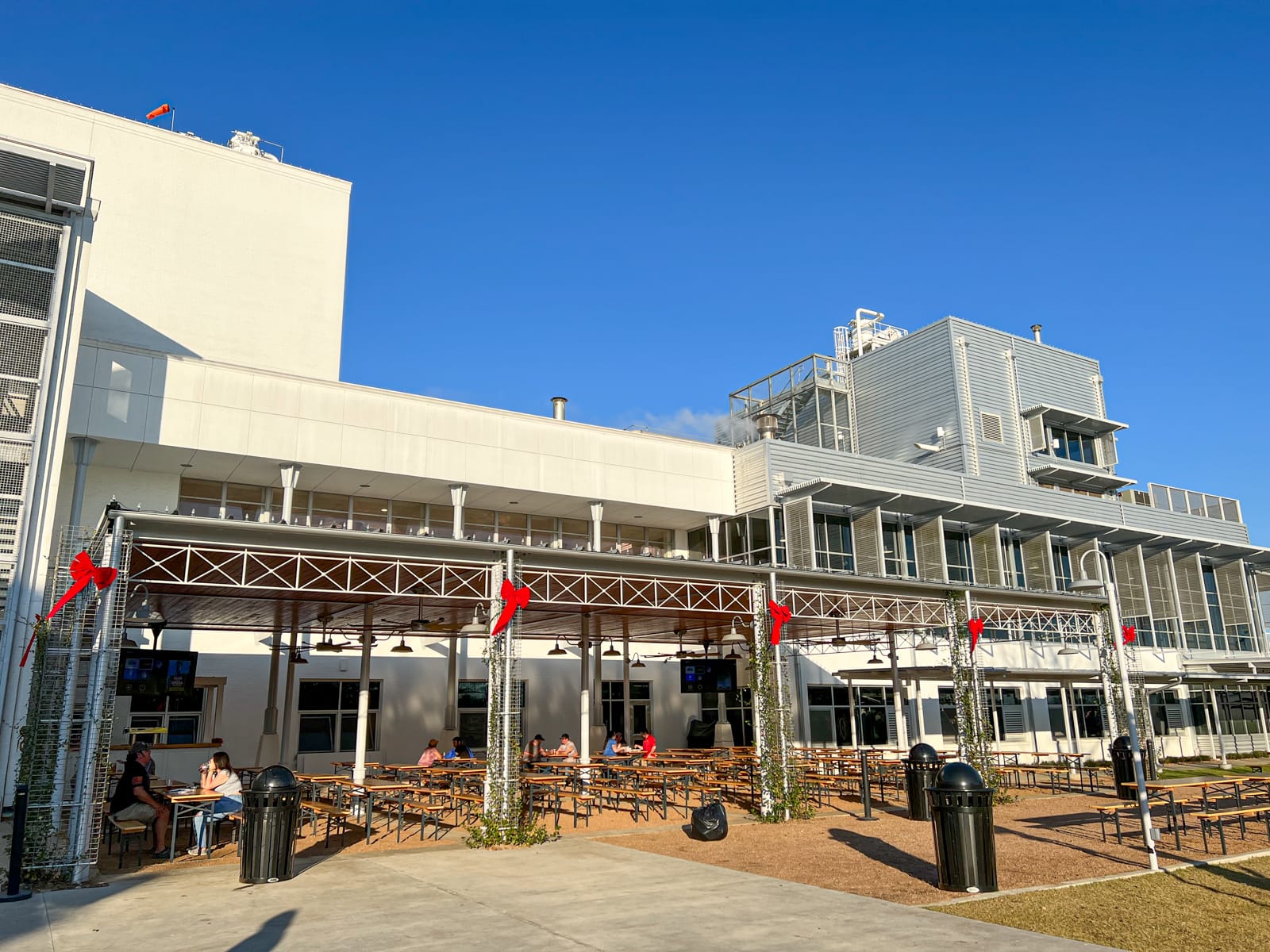 After thanking Jimmy and our other tour guide, I wandered into the Shiner gift shop adjoining the taproom and perused their product line.
A large covered patio outside offers ample seating should you want to stay a little longer and enjoy the atmosphere. I imagine it fills up on weekends.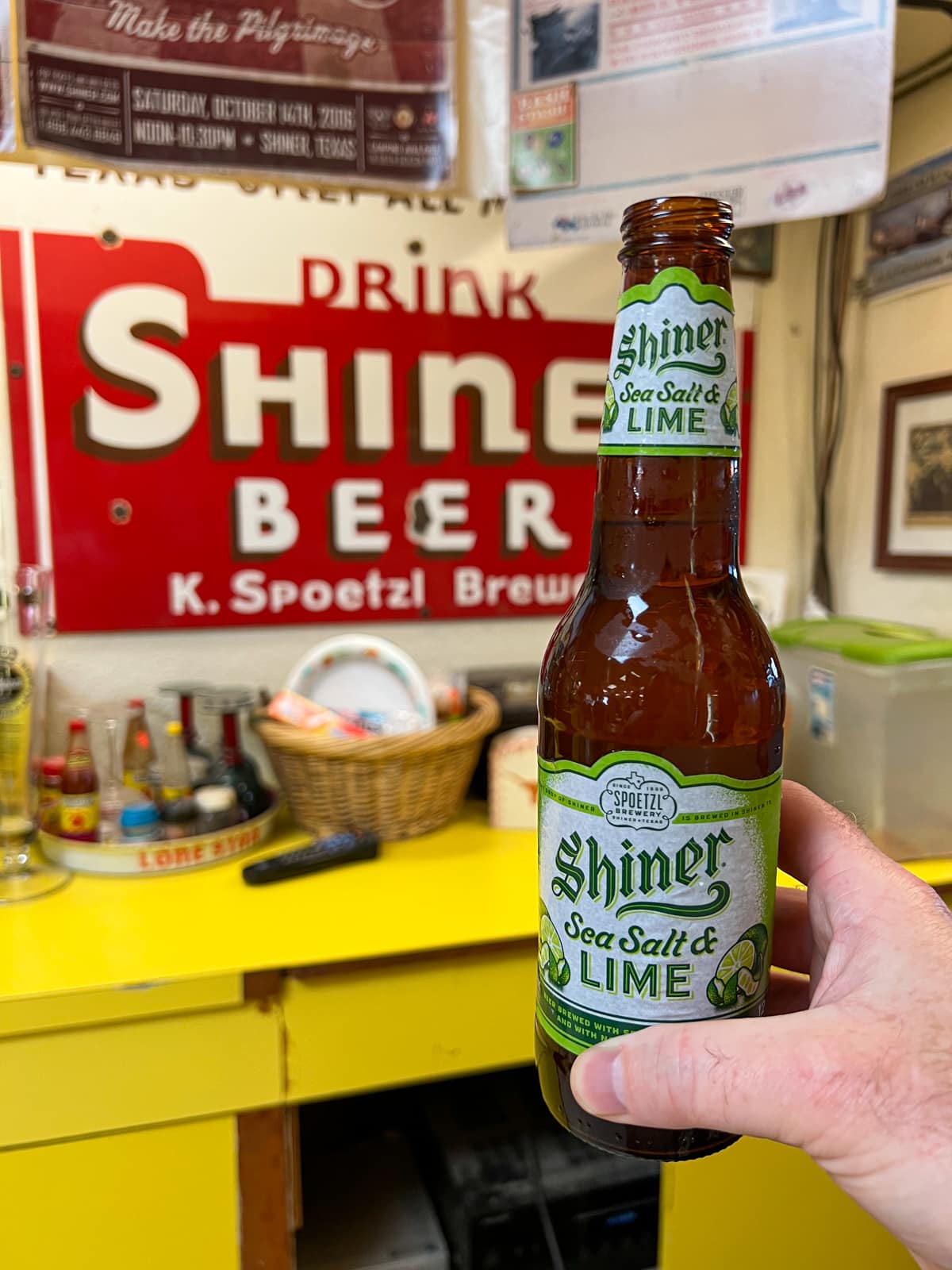 Shiner at Howard's
If you're planning a day trip to Shiner for a brewery tour, give yourself extra time to stop by Howard's (1701 N Ave E, Shiner, TX), a hangout spot for locals.
Howard's, as I quickly discovered, has a lot to offer:
Gas station
Convenience store
Movie rentals
Shiner draft beer on tap
Shiner bottled beer
Patio for drinking your Shiner beer
Since I wasn't driving, I took the opportunity to indulge in one of those Shiner Sea Salt & Lime beers I'd gotten a taste for back at the brewery.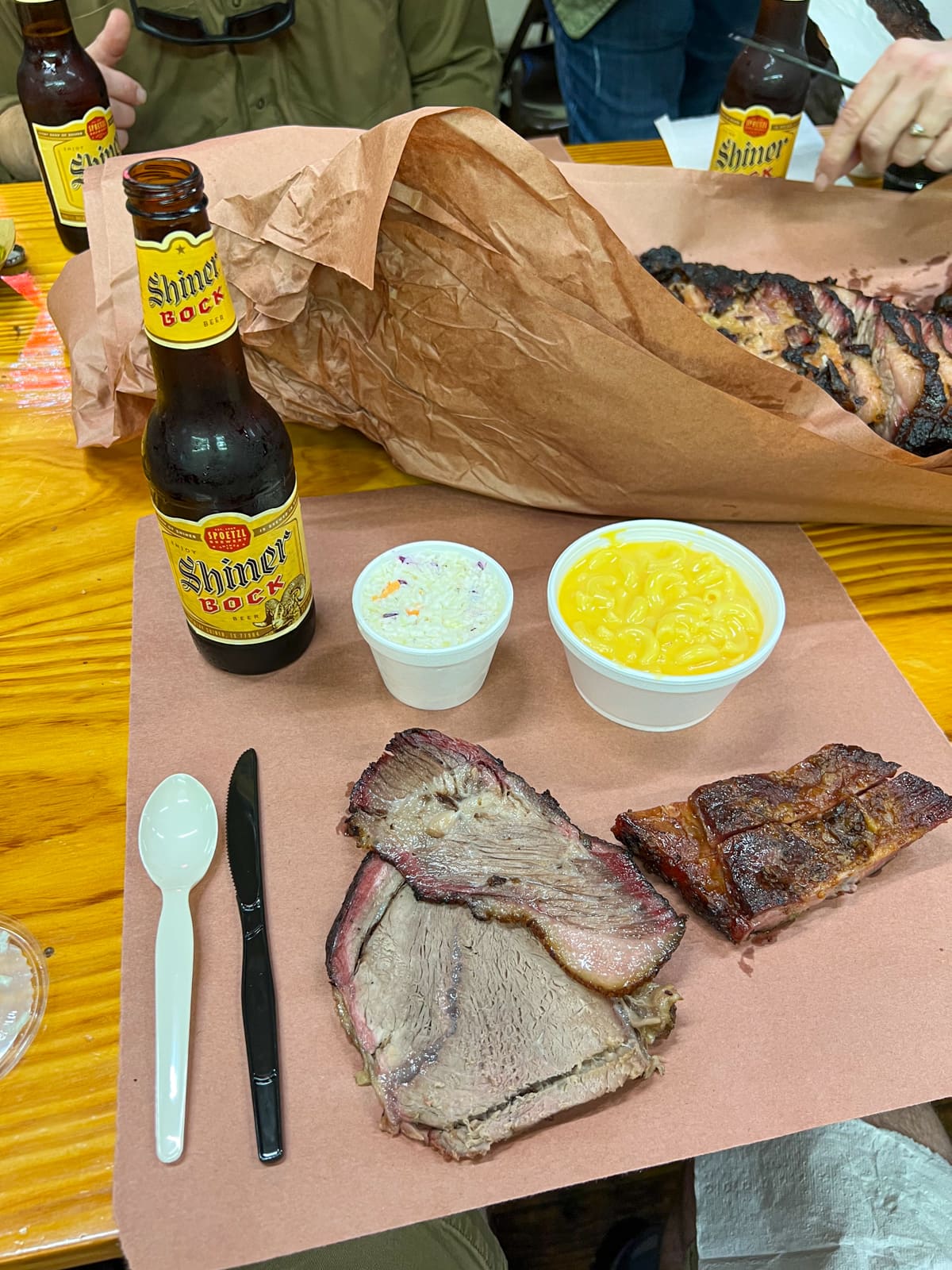 Plan Your Trip
Getting There
Address: Spoetzl Brewery, 603 E Brewery St, Shiner, TX 77984
The brewery is about 84 miles southeast of Austin and 92 miles east of San Antonio. It's about a 90-minute drive from either city, without traffic.
The drive from Houston is a little longer at 127 miles and about two hours.
Regardless of which major city you're coming from, it's worth making a day out of the trip.
If driving down from Austin, stop at Smitty's Market in Lockhart for a BBQ lunch.
Tours
The cost of a tour is currently $20 for adults and $10 for those under 21. Children nine and younger can go for free.
Brewery tours are offered hourly from 11 a.m. to 4 p.m., Monday through Saturday, and 1 p.m. to 4 p.m. on Sundays.
For more details, visit shiner.com.
______
This story results from a media trip to Spoetzl Brewery; my complimentary tour and drinks didn't necessarily reflect the standard tour.