Are you ready for a smokin' adventure? Then consider checking out the Texas Monthly BBQ Fest in Lockart, Texas.
Since 2010, the annual barbecue event has brought together 50 of the Lone Star State's top pitmasters and thousands of their fans from across Texas and the United States.
In 2023, the TM BBQ Fest's biggest year, the projected attendance was 10,000 enthusiasts. This was also the first year I went to cover the event.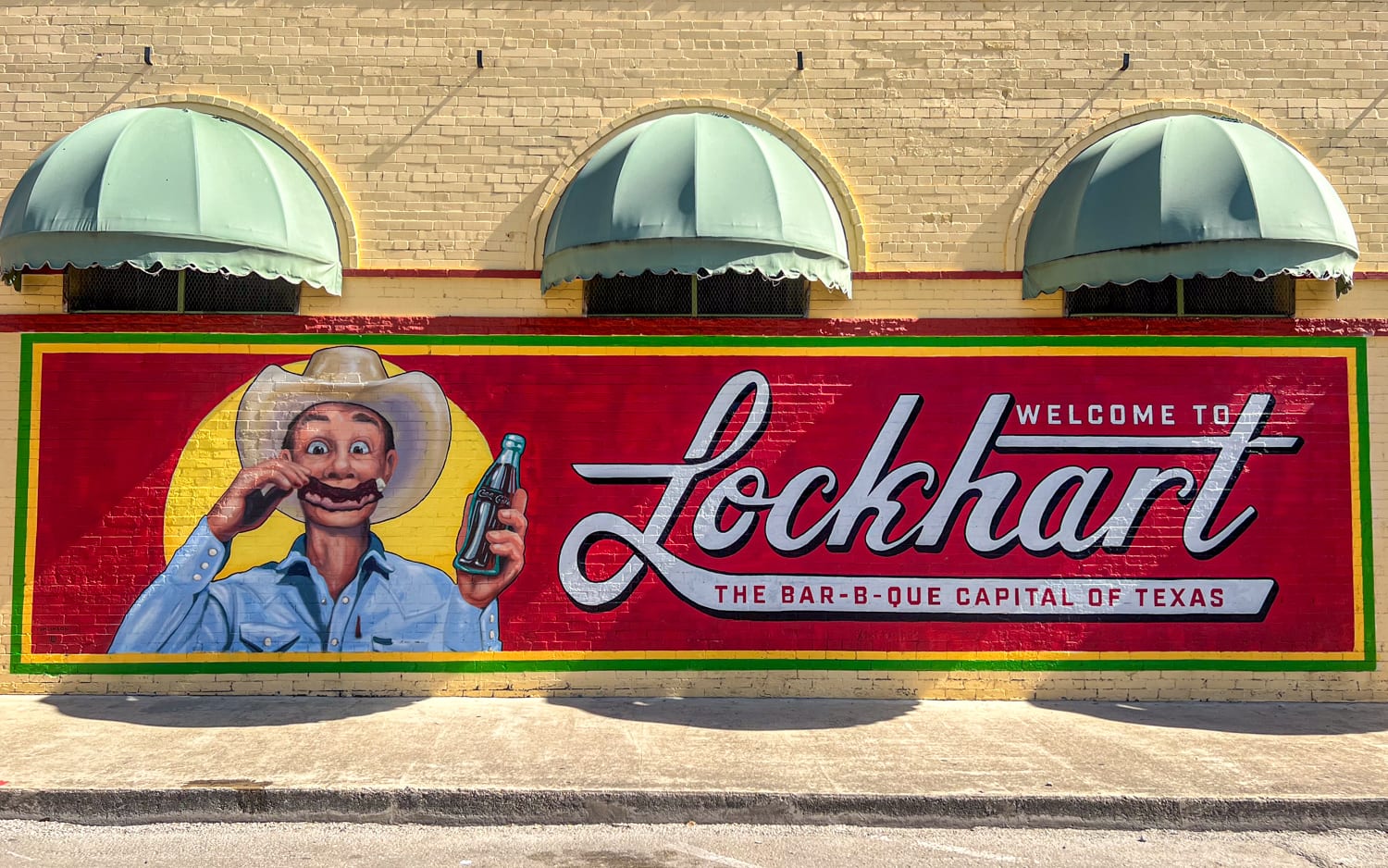 For the casual fan of smoked meats, it's a chance to check out barbecue from faraway cities you might not otherwise visit (i.e., Marfa, Lubbock).
Serious hobbyists can scope out what's happening in the Texas BBQ community and talk about the craft with other festivalgoers.
I fall more on the casual side of the spectrum, as I enjoy learning about and eating Texas barbecue but stop short of wanting to make it myself.
Now, are you ready to get your grill on? Let's 'cue this up!
Day 1: BBQ World's Fair
The Texas Monthly BBQ Fest is held the first weekend in November in Lockhart, the official Barbecue Capital of Texas. The town is about 33 miles south of Austin and 66 miles northeast of San Antonio.
The first day, a Saturday, centers on the BBQ World's Fair, a public street festival around the Caldwell County Courthouse in historic downtown Lockhart.
This event is free and open to the public. No ticket is needed. However, you'll have to pay for any food and drinks you want, save for some samples given out at vendor demonstrations.
After driving from Austin, I parked at Lockhart High School and took the free shuttle (a school bus) for the under-five-minute drive to the town center.
Lockhart Town Square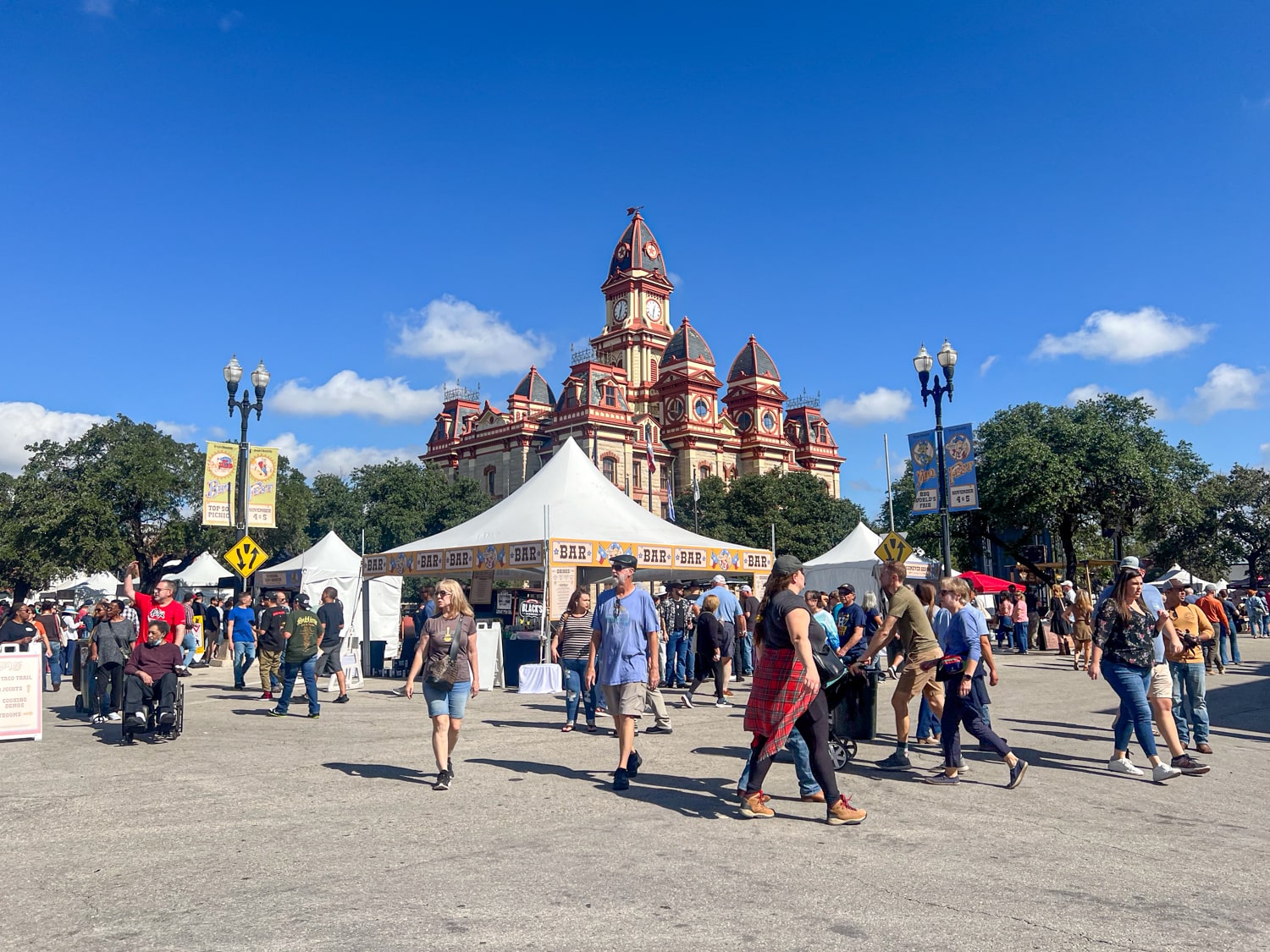 Not knowing how crowded it'd be, I arrived early at the BBQ World's Fair and had some time to kill before the vendors opened at noon.
I popped into Chaparral Coffee for a pecan cold brew to sip on while walking around the town square. Three sides of the four sides were closed to cars.
Chaparral is adjacent to Barbs B Q, a female-owned BBQ joint Kel and I tried for lunch on my first trip to Lockhart a few weeks earlier.
Texas Monthly has a glowing write-up about them, and Eater named it one of the 12 best new restaurants in the United States for 2023.
Barbs is only open on Saturdays (from 11 a.m. to 3 p.m.), so people wanting to get an early start to the festivities were already eating there.
In addition to Barbs' brick-and-mortar location, there was Smitty's Market, where I'd eaten last year on the way to Spoetzl Brewery in Shiner, TX.
Plus, there were eight more BBQ places from out of town offering food around the courthouse, including:
Brix Barbecue (Fort Worth)
CM Smokehouse (San Antonio)
GW's BBQ (San Juan in South Texas)
KG BBQ (Austin)
Khoi Barbecue (Houston)
The Original Black's BBQ (Lockhart)
Rosemeyer Bar-B-Q (Spring, north of Houston)
Sundbird Barbecue (White Oak in East Texas)
After getting my bearings, I lined up before the Khoi Barbecue tent and waited for the clock to strike noon.
Barbecue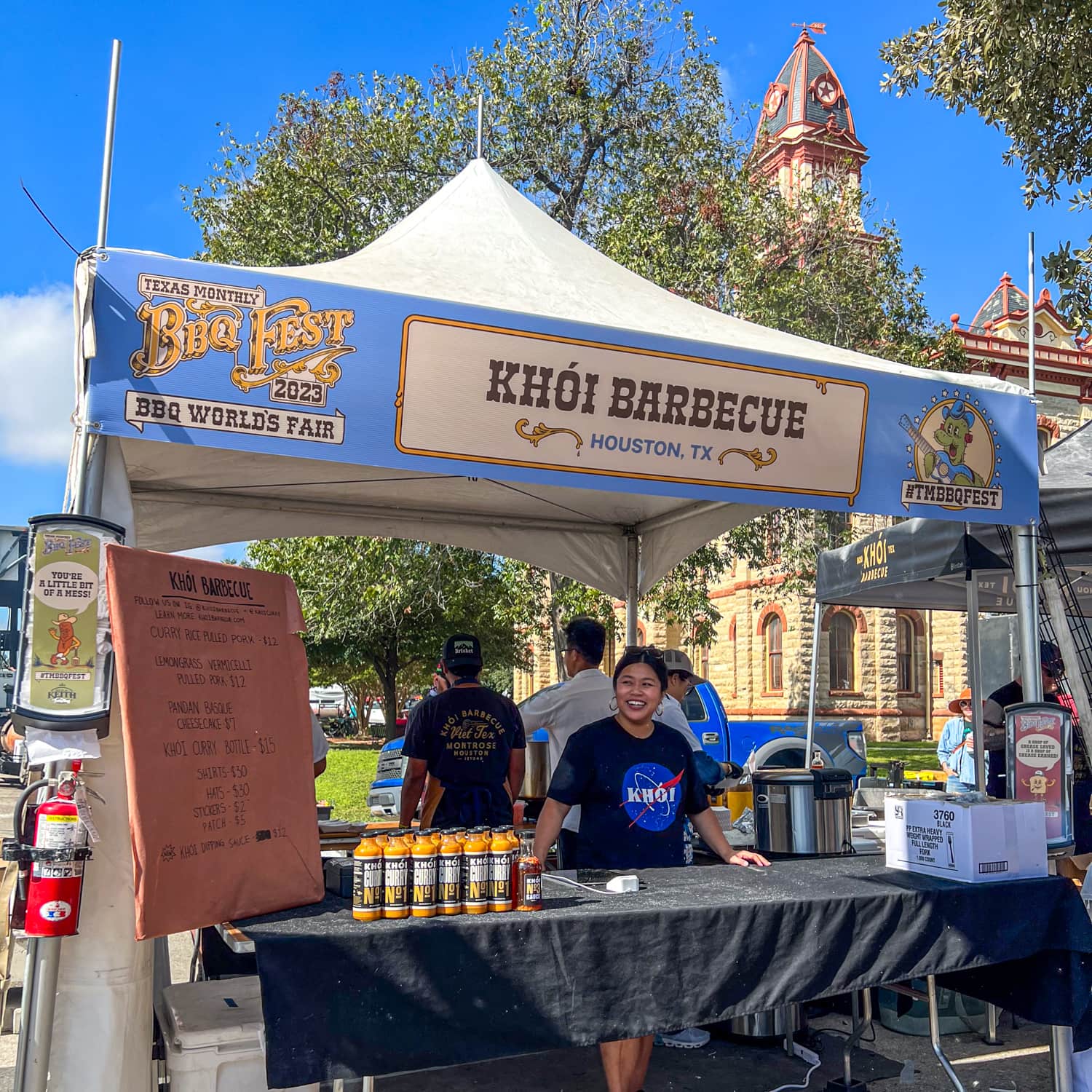 Established in 2017 by brothers Don and Theo Nguyen, Khoi ("smoke" in Vietnamese) operates as a pop-up in Houston serving Viet-Tex barbecue.
Combining Central Texas barbecue with Vietnamese food has proven to be a winning combination. Texas Monthly BBQ Editor Daniel Vaughn wrote about the brothers in January 2020.
For the BBQ World's Fair, pitmaster Don Nguyen cooked two whole hogs overnight with Palmira Barbecue (Charleston, South Carolina).
The offer to us, the dining public, was twofold (with each priced at $12):
Curry rice pulled pork
Lemongrass vermicelli pulled pork
I opted for the curry rice pulled pork, which I sat with under a tree near their tent. The creamy curry-soaked rice complimented the tender pork beautifully.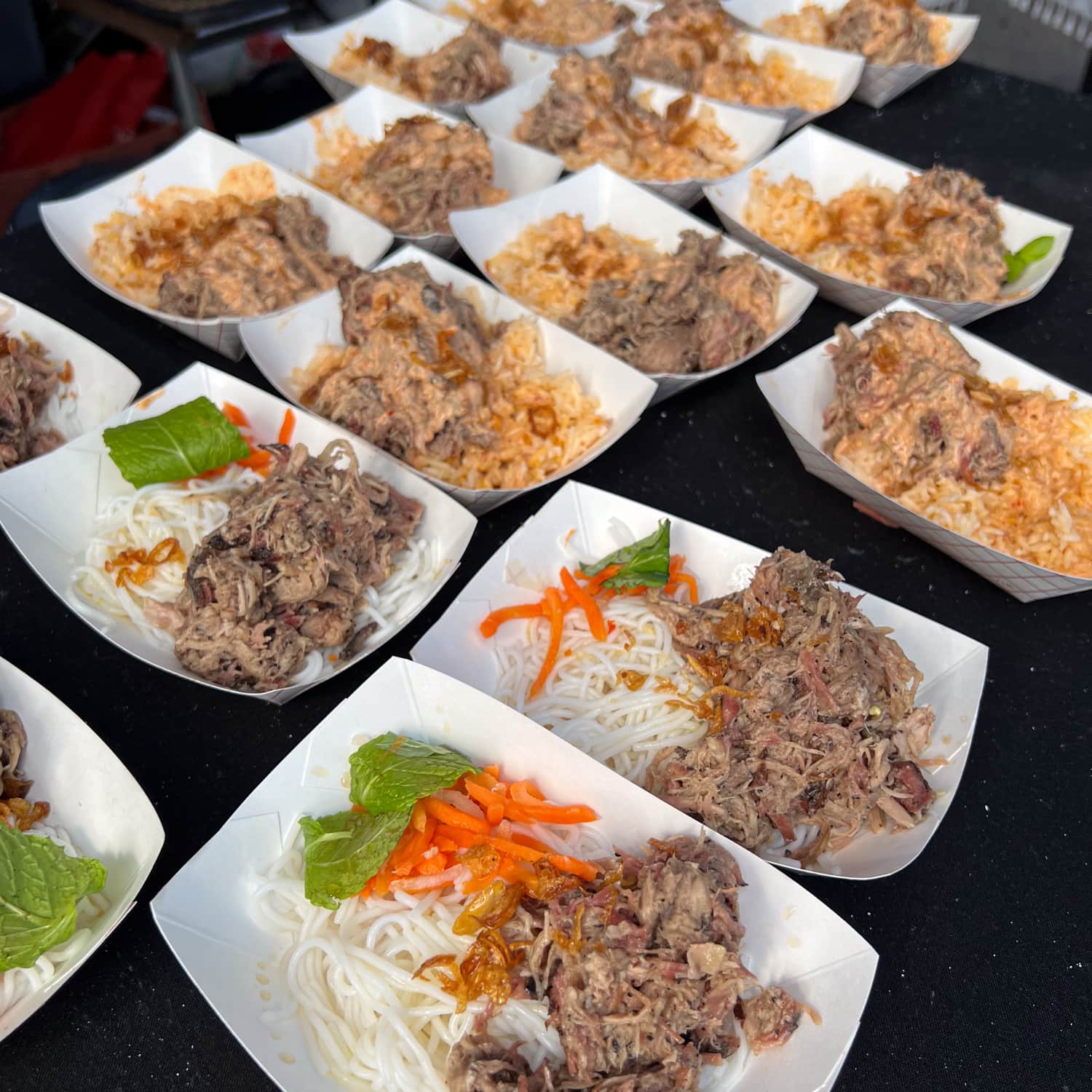 My introduction to pairing curries with barbecue came a few weeks earlier at Curry Boys BBQ in San Antonio, and I'm excited about the approach.
Just as I had finished my portion and was moving on to dessert, which I also bought from Khoi, one of the women working there offered me seconds!
I liked the dish too much to resist and was soon shoveling more forkfuls of tender pork and curry into my mouth. After all, people stayed up all night to make this for us; we should enjoy it.
Next, I focused on Khoi's creamy green Pandan Basque Cheesecake with tropical fruit sauce ($7). Pandan, a shrub common in Southeast Asia, is known for its vanilla flavor.
The color makes for an eye-catching dessert, and the texture of the cheesecake was terrific, too.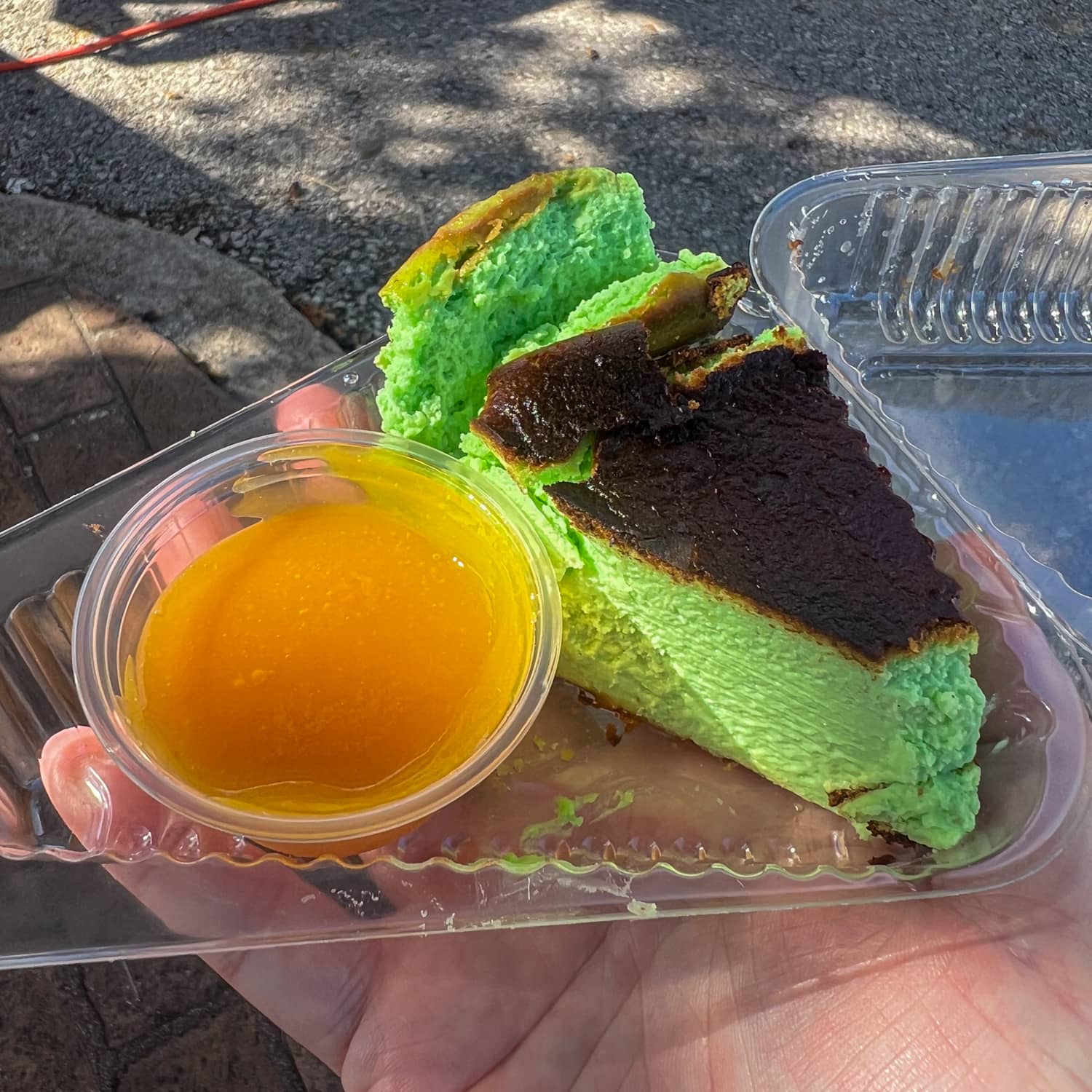 Beverages
I'd gotten off to a quick start food-wise, so I pumped the brakes with a sample sip of Baby Blue, the newest whiskey from Balcones Distilling in Waco (where Kel and I shared a memorable adult egg nog the previous year).
As a fan of the Welcome to Wrexham TV series (Hulu), I also needed to try Aviation American Gin (you're welcome, Ryan Reynolds). They served two drinks on tap; I walked away with the refreshing gin and tonic with Aperol ($12).
Balcones Distilling, Aviation Gin, Hornitos tequila, Jim Beam whiskey, and Tito's vodka were among the sponsors of the Texas Monthly BBQ Fest in 2023.
Next, my curiosity led me to the Taco Trail, an element of the festival that celebrates the mouthwatering combination of tacos and barbecue.
Taco Trail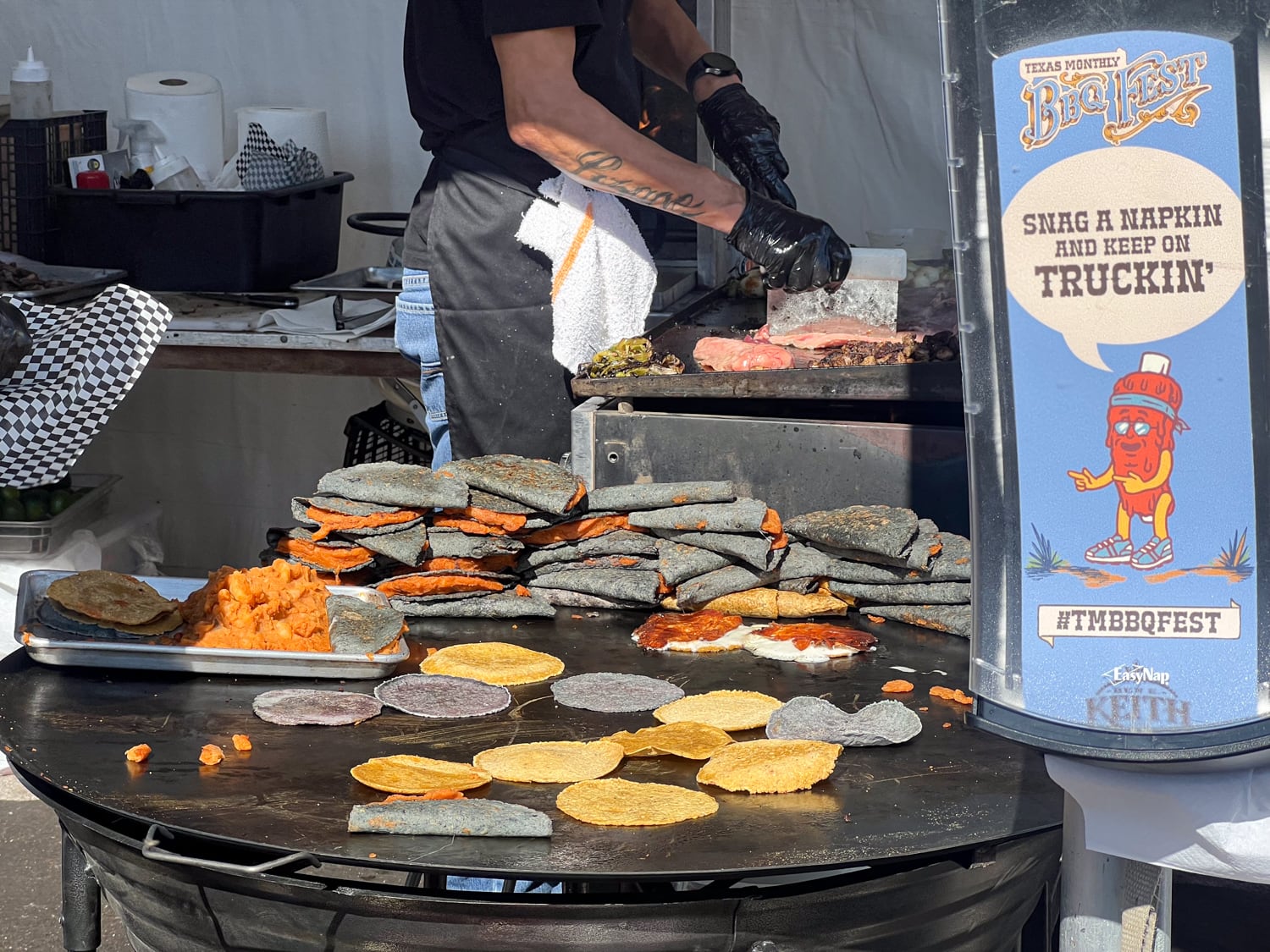 Texas Monthly's taco editor, Jose Ralat, curated the group of three taco vendors:
Davila's BBQ (Seguin, northeast of San Antonio)
Jimenez Tortilleria y Taqueria (Lubbock)
El Charlatan Taqueria y Ramen-Ya (Socorro, south of El Paso)
I lined up at El Charlatan, which was producing a steady stream of corn tortillas that reminded me of street food in Oaxaca.
They offered three taco options for $10 apiece:
Potato and guajillo machete taco
Carne Asada
White "Al Pastor"
Still full from Khoi Barbecue, I opted for the sweet potato taco, served on a blue corn tortilla. I gave it a minute to cool down, then sat on a curb and promptly devoured the spicy creation.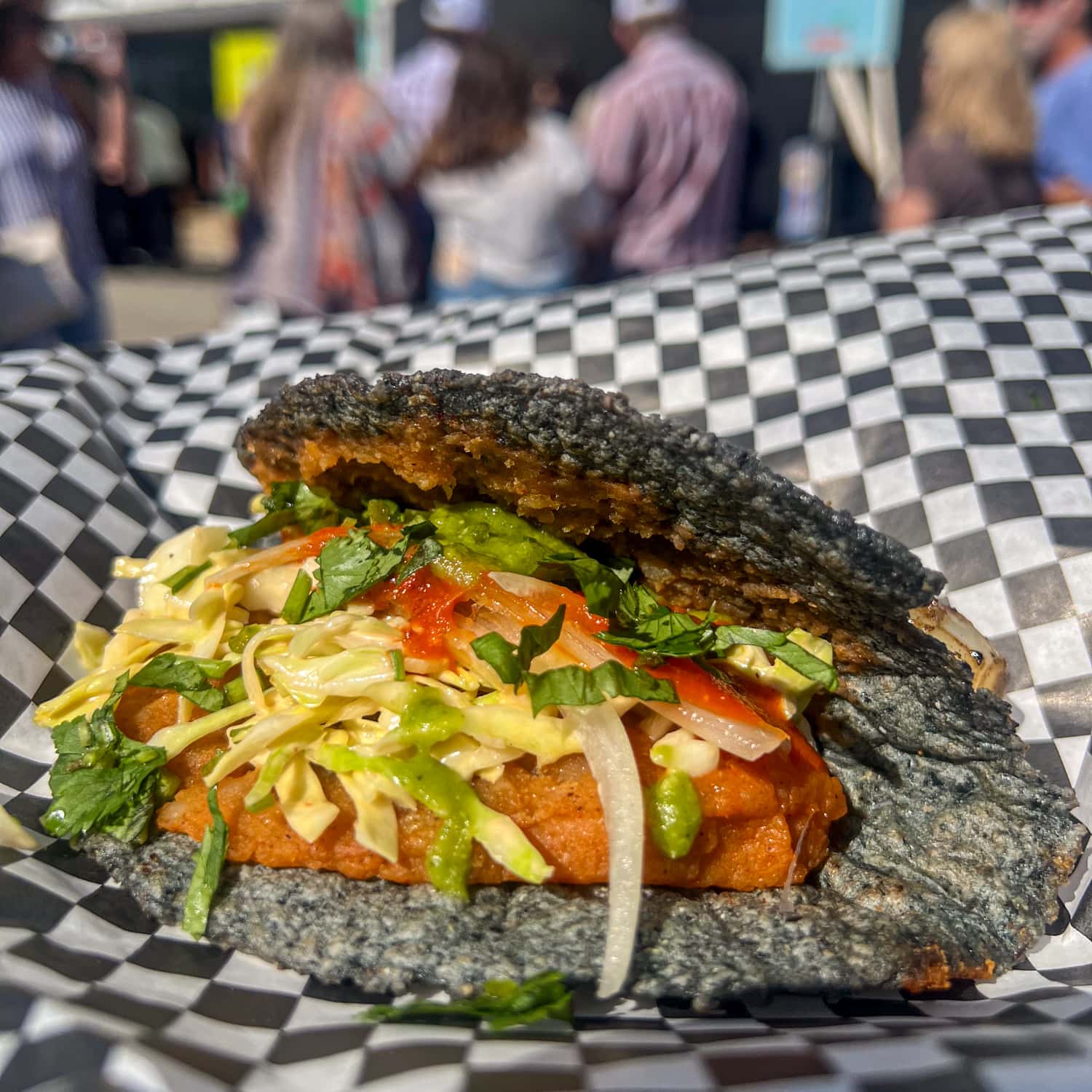 When my hands were free, I bookmarked El Charlatan Taqueria on Google Maps.
I want to visit El Paso one day, perhaps en route to White Sands National Park in New Mexico, and I would go out of my way to try more tacos from El Charlatan.
Latin music played over speakers at nearby Jimenez Tortilleria y Taqueria, drawing me closer.
Their menu was also enticing, especially the beef rib taco ($15). Each of their tacos came with two corn tortillas, refried beans, cheese, and a fried egg.
Cooking Demos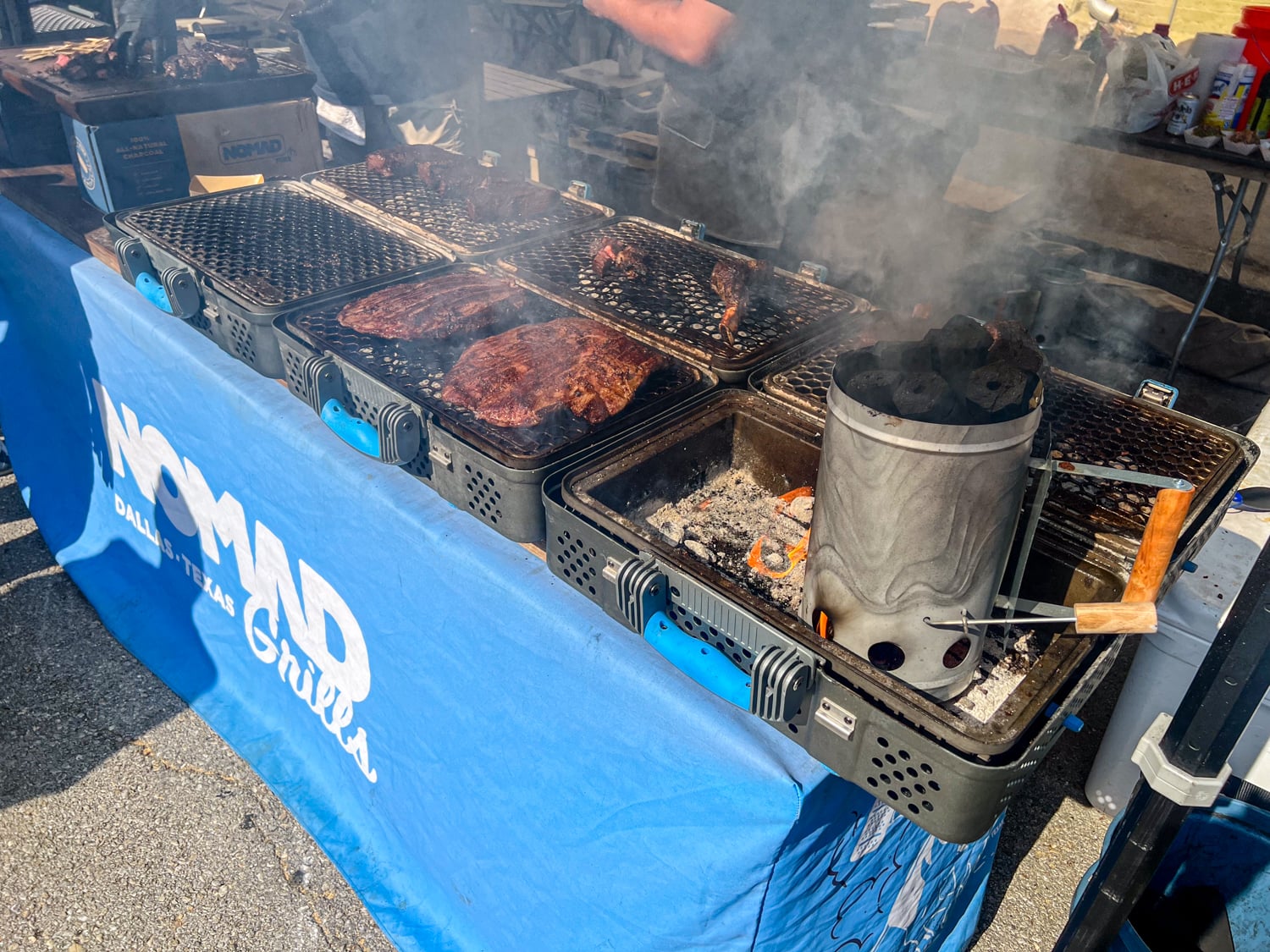 Having sampled some tacos and barbecue, including a juicy pork rib from Rosemeyer Bar-B-Q, I turned my attention to the demos.
Live Fire Lane featured live-fire cooking demos by BBQ Fest sponsors. These included Nomad Grills (Dallas), M&M BBQ Company (Tool, south of Dallas), and Ooni Pizza Ovens.
While I find all the large-scale barbecue equipment fascinating from a metalworking perspective, the portable, folding Nomad Grills were the ones I could most see myself buying one day. Ok, maybe a pizza oven, too!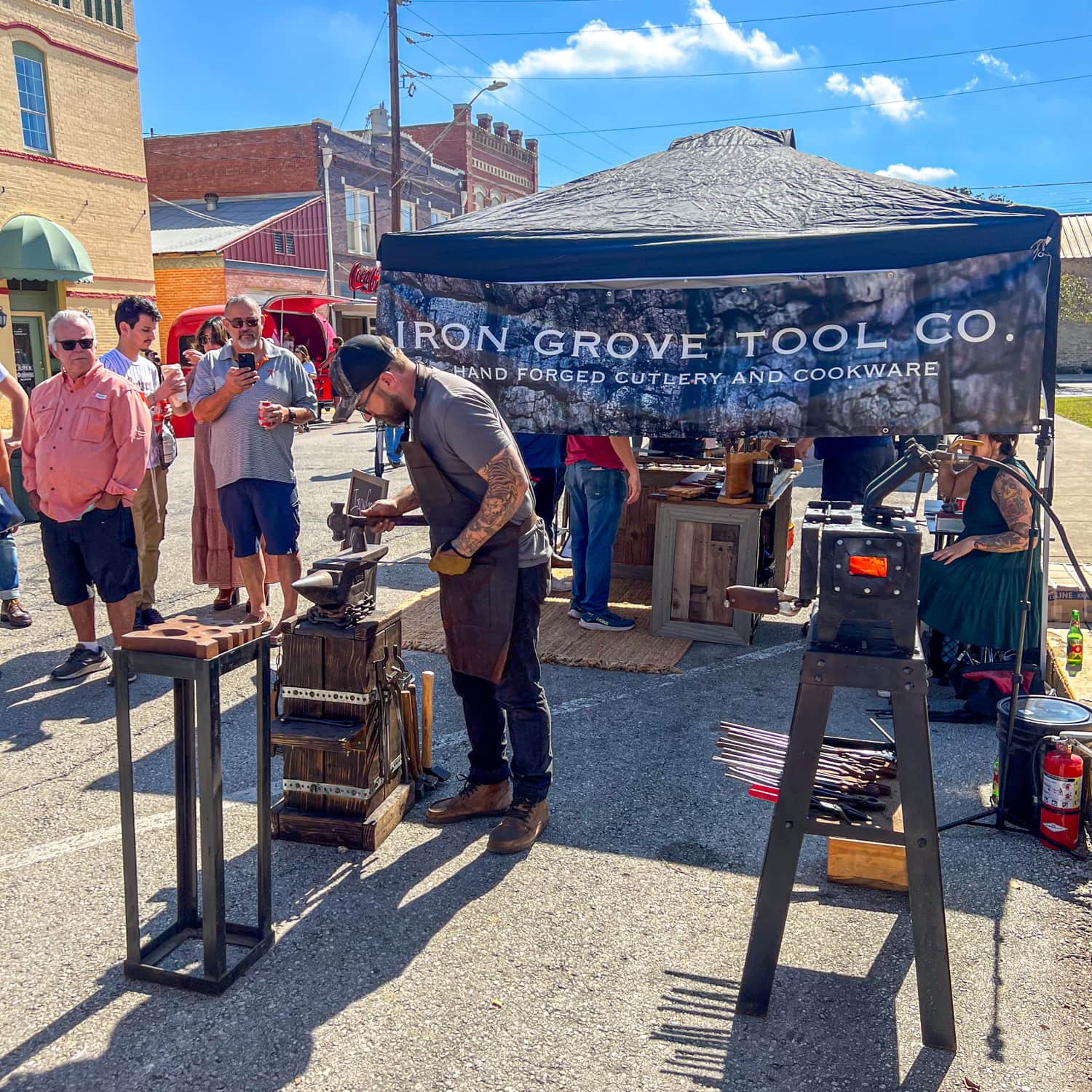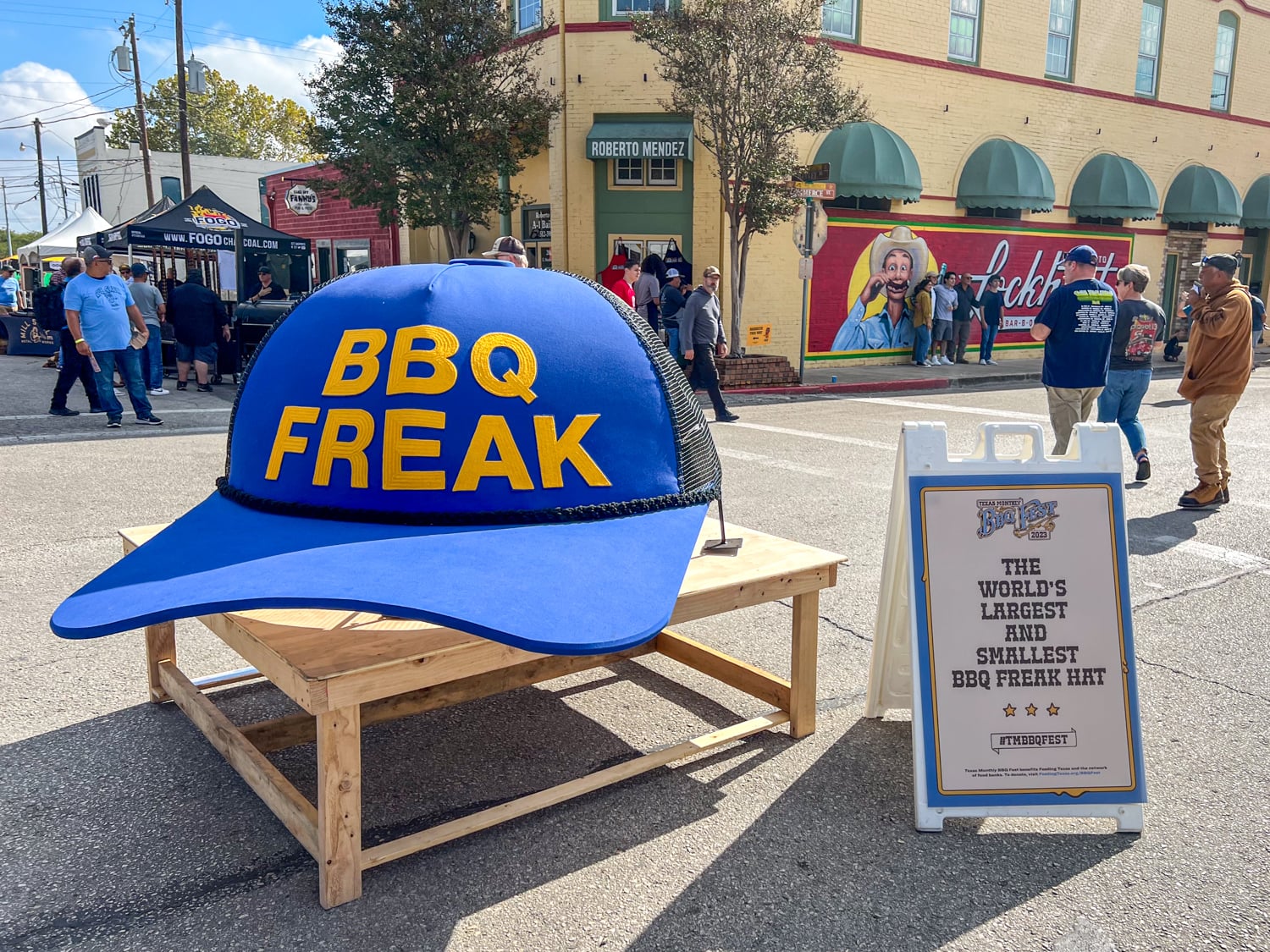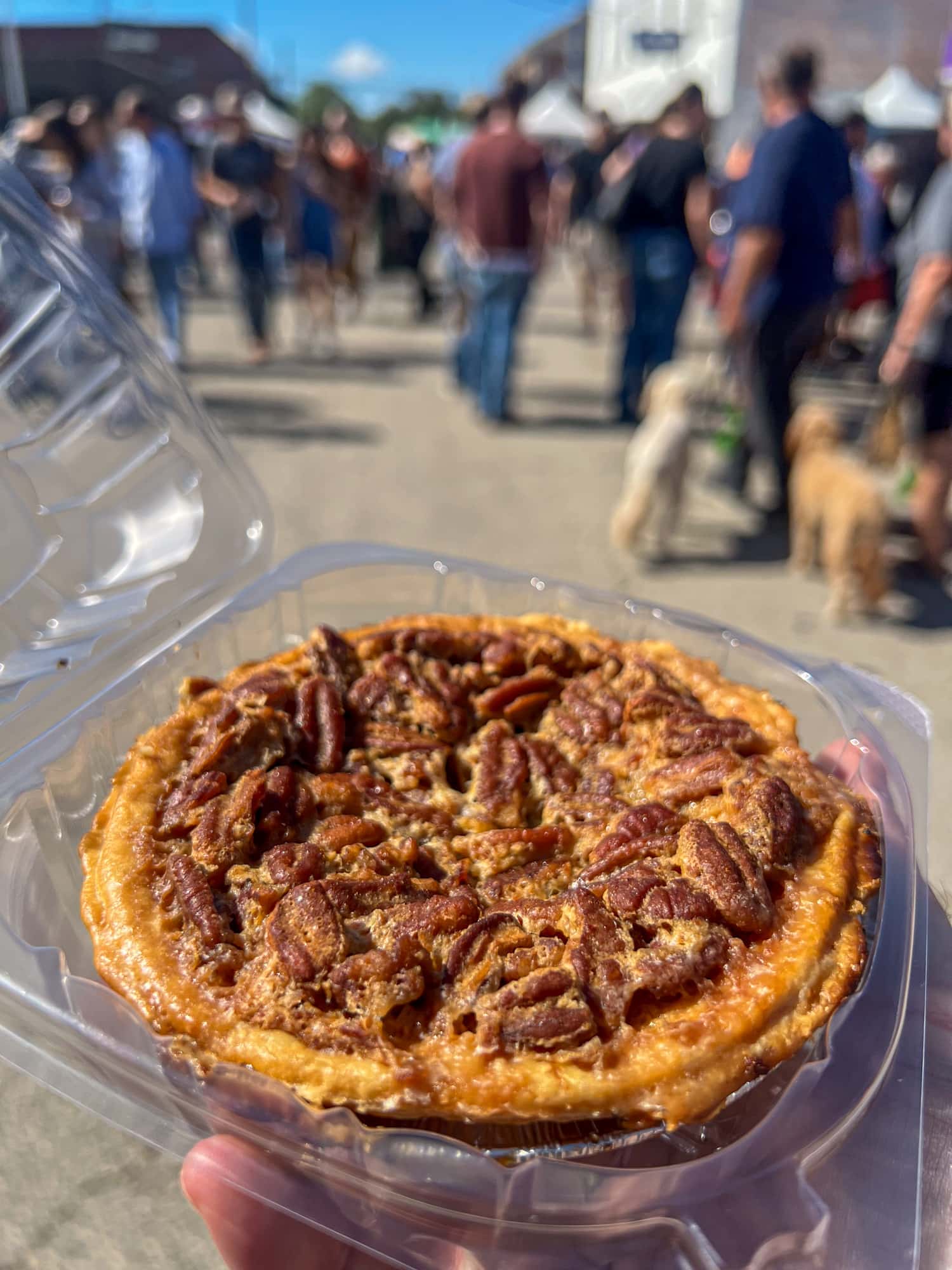 After making another lap around the courthouse and realizing I wouldn't be hungry for hours, I picked up a mini smoked pecan pie ($15) cooked over a wood fire from the Texas Pie Guy and headed home.
Leaving at about 1:30 p.m. meant missing the live musical performances, which included RF Shannon, Rattlesnake Milk, and Tomar & The FCs.
The 2023 BBQ World's Fair ended with a drone light show shortly before 7 p.m., which looked neat from the photos I saw on Instagram.
Day 2: Top 50 Picnic
I returned to Lockhart the following day for the main event, the Top 50 Picnic, an all-you-can-eat celebration of Texas barbecue.
For those not familiar, Texas Monthly magazine produces The Top 50 Best BBQ Joints list every four years. It's a barbecue lover's roadmap to the best places to eat in The Lone Star State. The most recent list was released in 2021.
Appearing on the list can help shoot pitmasters to national and international acclaim, especially for those in the top ten spots. Franklin's and Snow's have held the coveted top spot. Goldee's was #1 in the 2021 edition.
In the September 2023 Texas Monthly, barbecue editor Daniel Vaughn compiled a list of The 25 Best New and Improved BBQ Joints in Texas.
From these two lists, the state's top pitmasters were invited to the Texas Monthly BBQ Fest Top 50 Picnic on the first Sunday in November.
Lockhart City Park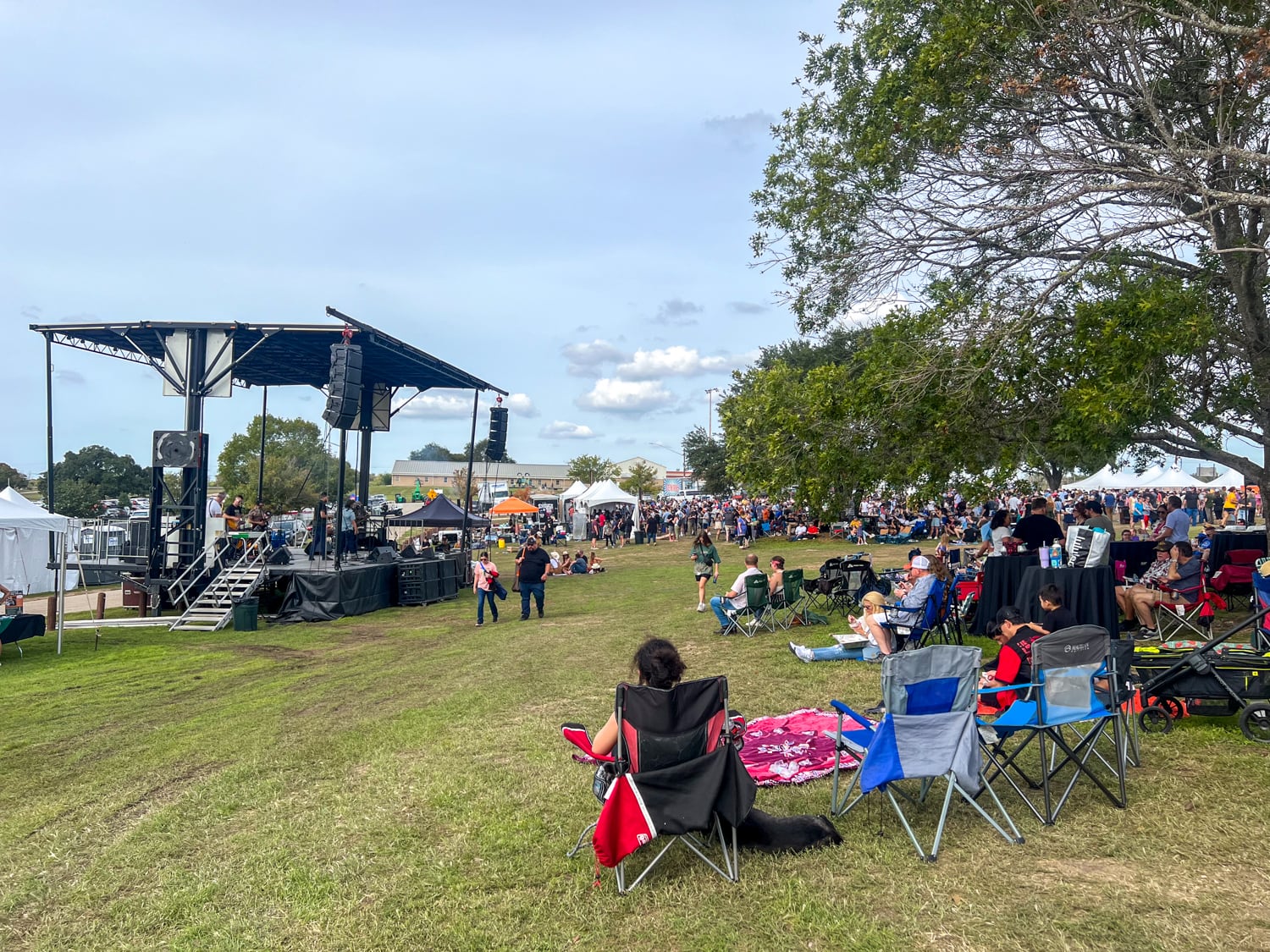 The setting for the Top 50 Picnic is Lockhart City Park, a few minutes drive from the town square.
I'd applied for and received a media pass to cover the event for Feastio, so my entry was at 1 p.m. with the General Admission ticketholders.
I'd prepaid the $10 for event parking, and it was a short walk from there to the entrance. A line had already formed to the Box Office (a tent in a field) by 11:45 a.m. There was no shade or drinks available to buy while we waited.
At noon, the VIP ticketholders, who had already been given wristbands lined up at the event's entrance, began to stream inside.
For an extra $30, they were granted one-hour early access, a worthwhile investment (if you could get them before they sold out).
By the time 1 p.m. arrived, I was feeling hot and impatient. Once inside the event, much of the shade under the handful of trees had been claimed by VIP attendees with camping chairs.
Since I was there by myself, the only thing to do was to begin eating barbecue!
Texas BBQ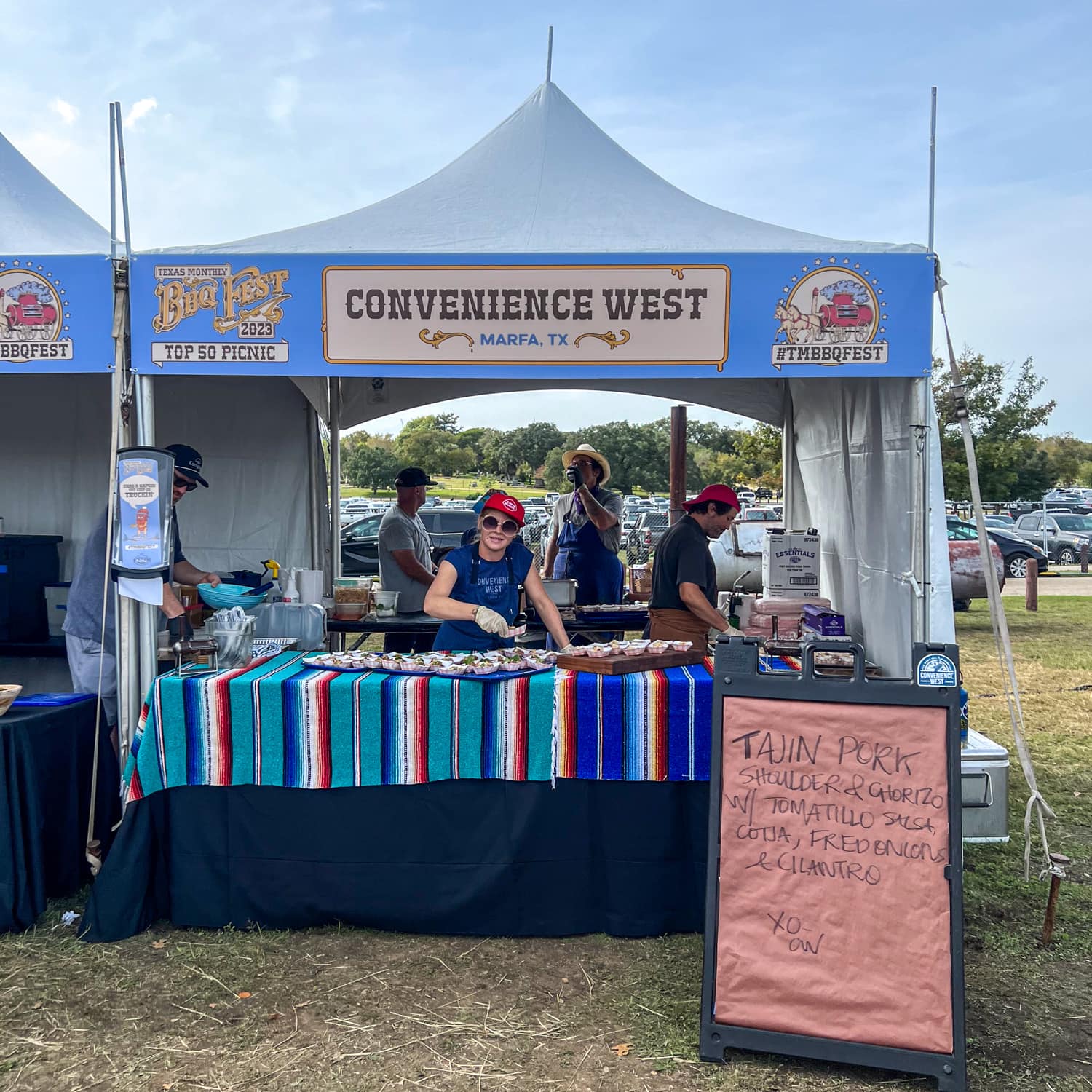 Most BBQ vendors were grouped in threes and fours, except for the famous Snow's BBQ (Lexington, east of Austin) and Truth BBQ (Houston). All the places were numbered from 1 to 40 in a clockwise manner.
The line for Snow's was the longest from when I walked into the picnic to when I left. While it was the place I was most excited to try, I didn't want to wait in another long line after having spent 75 minutes waiting to get into the event.
So, I went to as many other places as possible, favoring the BBQ joints I hadn't experienced before over the ones I had (14 out of 40).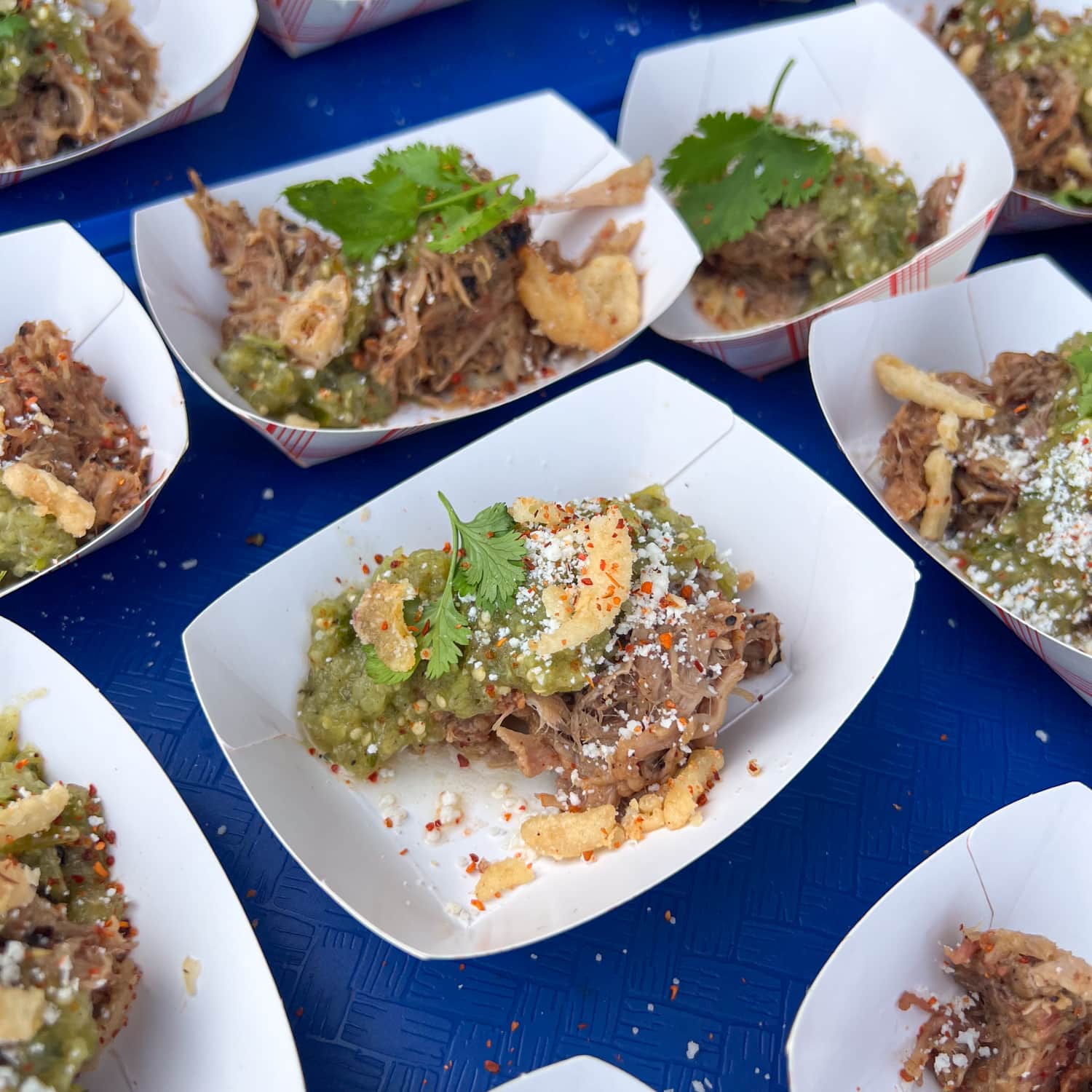 My first bite was tajin pork shoulder and chorizo with tomatillo salsa from Convenience West in Marfa, West Texas.
They're only open on the weekends, and since Kel and I visited early in the week on our way to Big Bend National Park, we missed out.
Next, I drifted toward Snow's BBQ to see if I could glimpse Ms. Tootsie Tomanetz, the famous pitmaster. I didn't, but I later saw photos of her on Instagram from the event.
I'd been to Panther City BBQ on my first trip to Fort Worth for their lauded brisket elote, so I was curious to see what they were serving at BBQ Fest.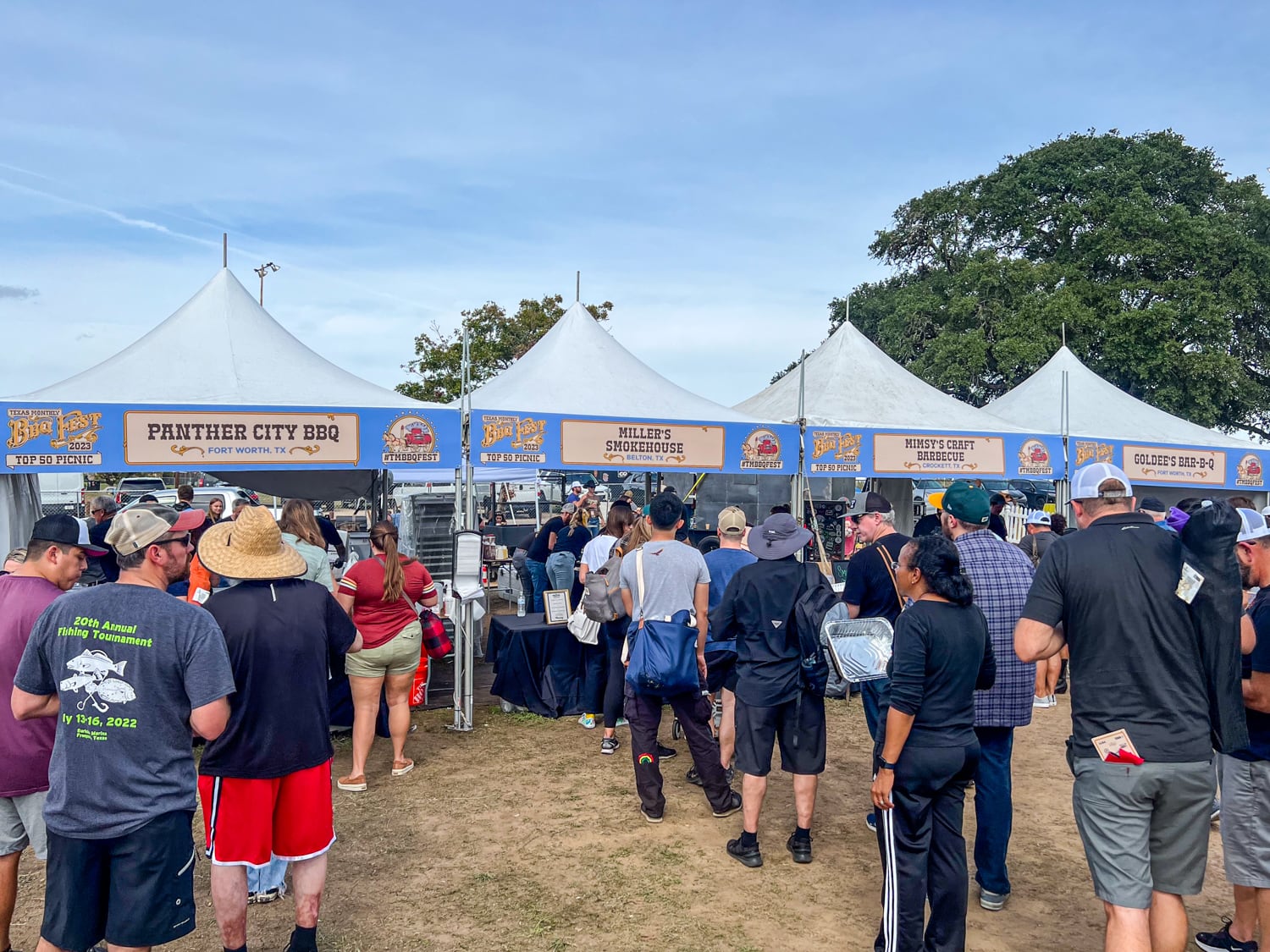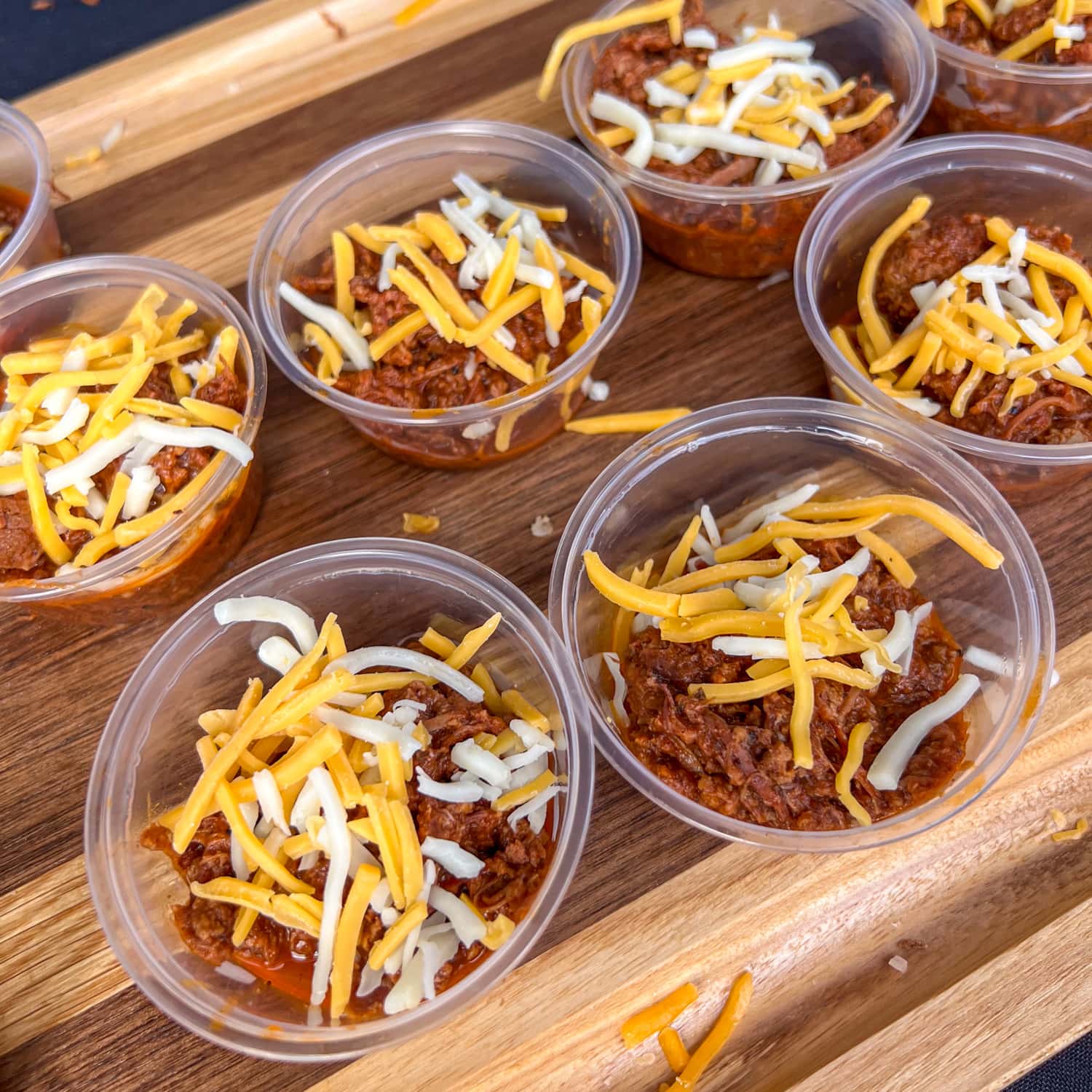 Little cups of brisket chili, it turned out, along with Nutter Butter cheesecake. I took little cups of each.
Next up is Brotherton's Black Iron Barbecue from Pflugerville, a city just north of Austin.
They were serving samples of Brazilian food:
Cupim (a traditional Brazilian beef cut)
Picanha com farofa (grilled steak with toasted yuca flour or cassava flour)
Linguica carne e queijo (sausage with cheese)
I appreciated the variety and hope to get to Brotherton's restaurant soon.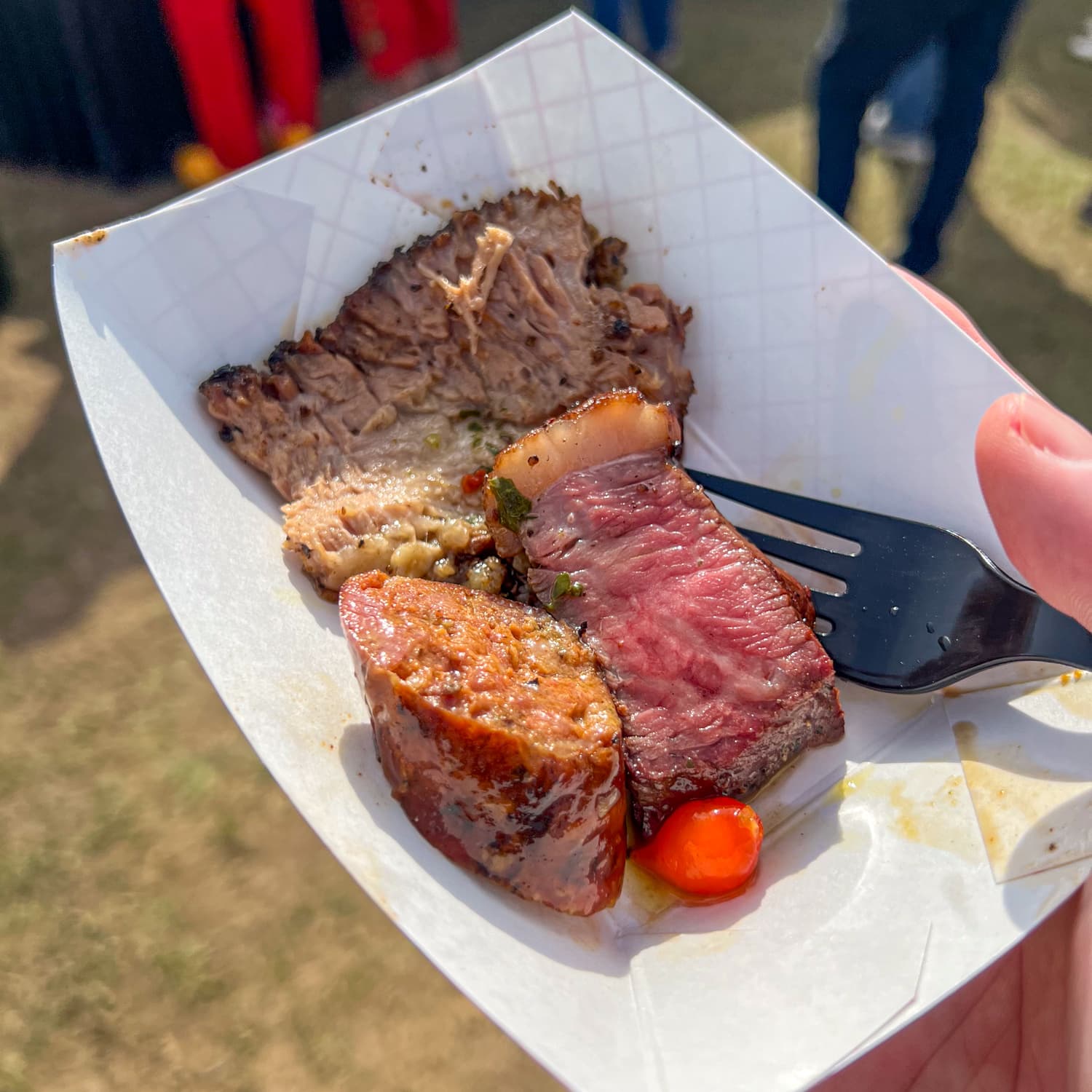 Smokey Joe's BBQ (South Dallas) served Meat Lover's Pizza Sausage with bacon, Italian sausage, and pepperoni. Their recipe succeeded in tasting like a piece of pizza.
After having had such a wonderful lunch at Tejas Chocolate + Barbecue over the summer, I couldn't resist dropping by their tent.
Tejas was also serving up an assortment of smoked goodies, including:
Pork belly
Chile relleno sausage
Carrot souffle
Manhattan panna cotta
While the pork belly piece I got seemed 100% fat, the sausage was one of the best bites I had at the Texas Monthly BBQ Fest Top 50 Picnic.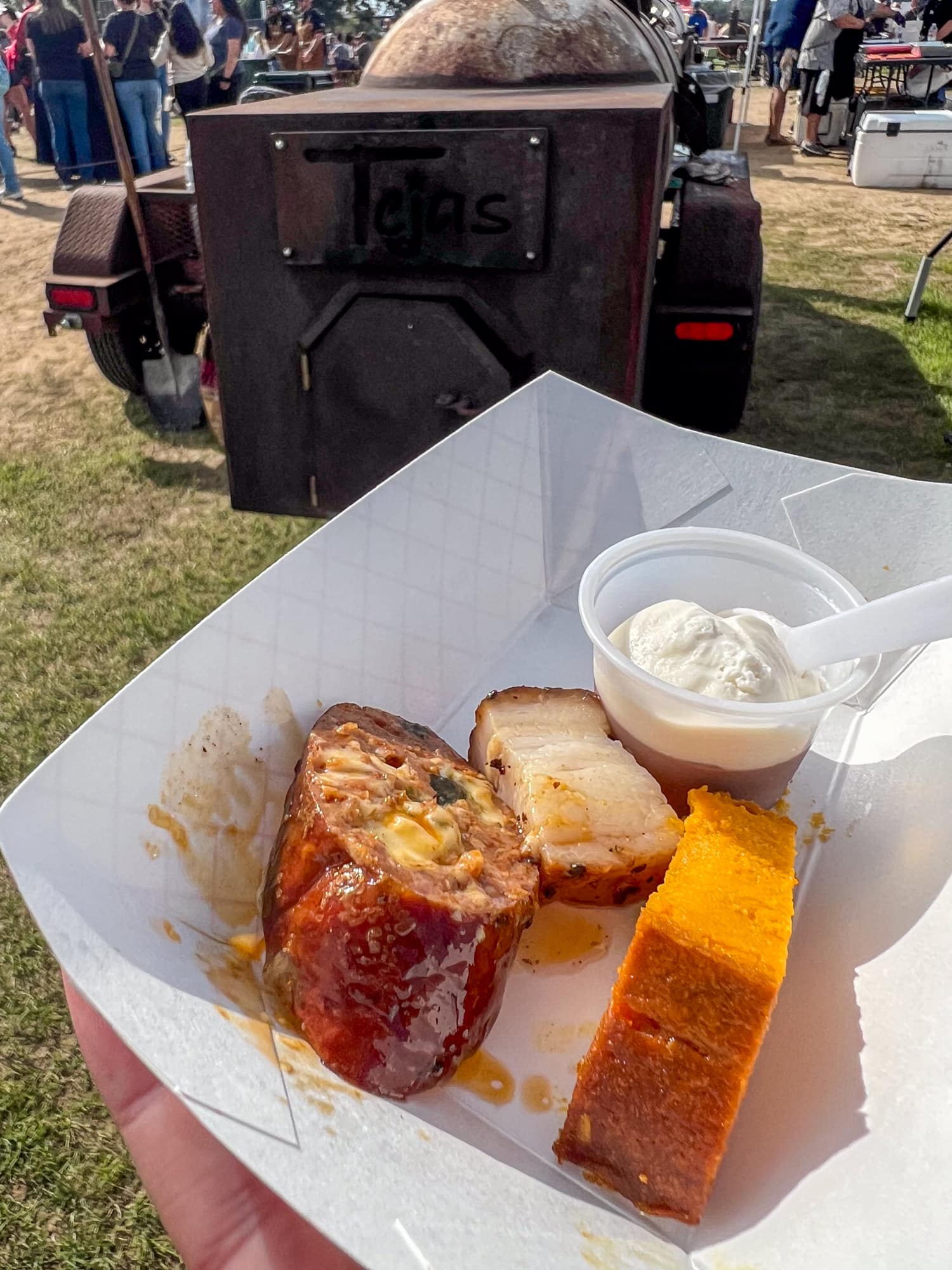 The carrot souffle is a unique side dish you won't see anywhere else in Texas. I'd had it when Kel and I ate at their restaurant north of Houston.
When I picked up the pork belly burnt ends at Teddy's Barbecue (Weslaco in South Texas), I thought of Kel. They were drizzled with goat milk caramel and candied pecans. Yum!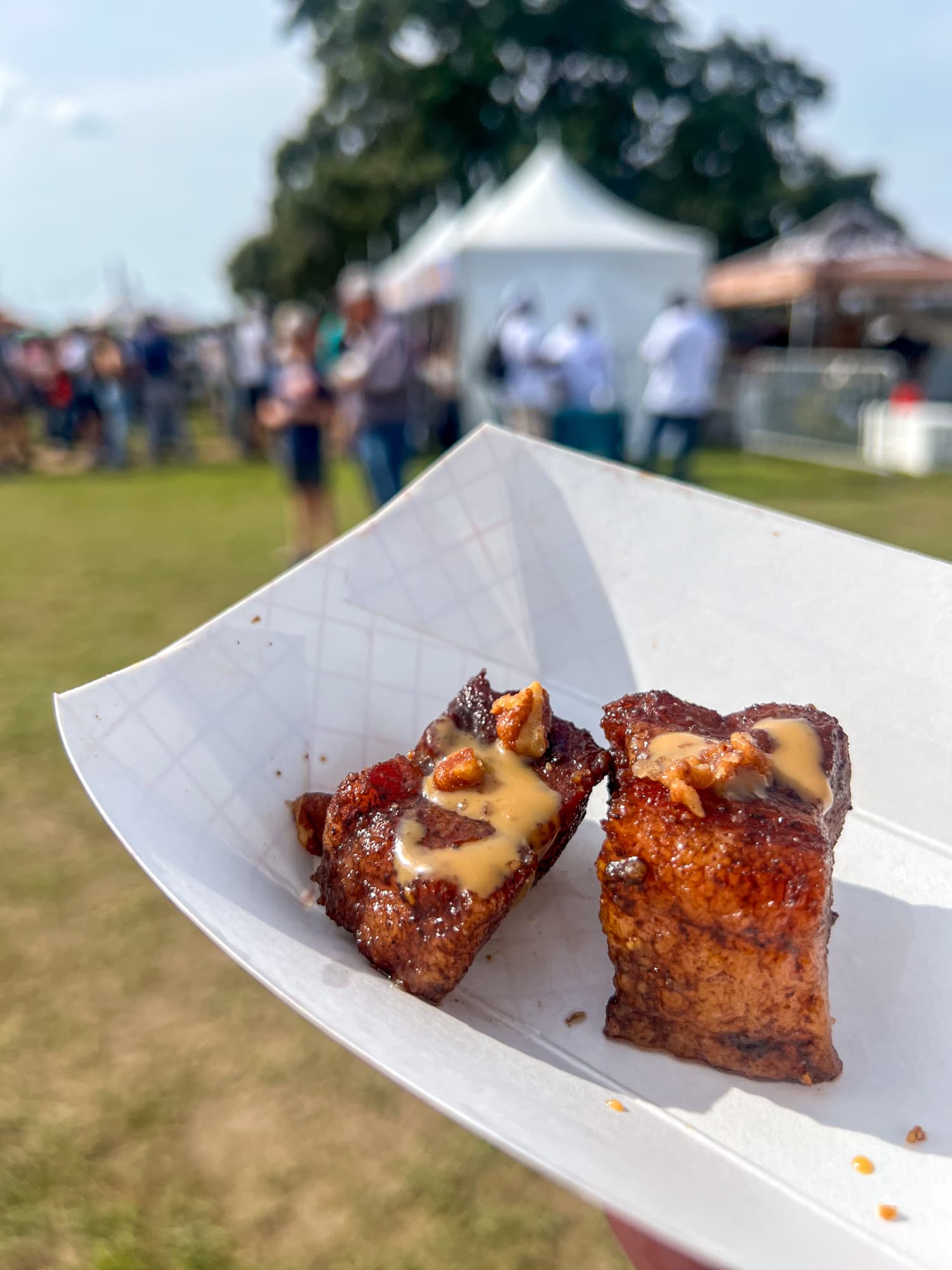 At this point, I'd had my fill of sausage and was looking for creative flavors produced with other meats.
Soon after, I saw Micklethwait Craft Meats BBQ, a food truck in East Austin, and their smoked confit lamb taco. It was just the change of pace I was looking for.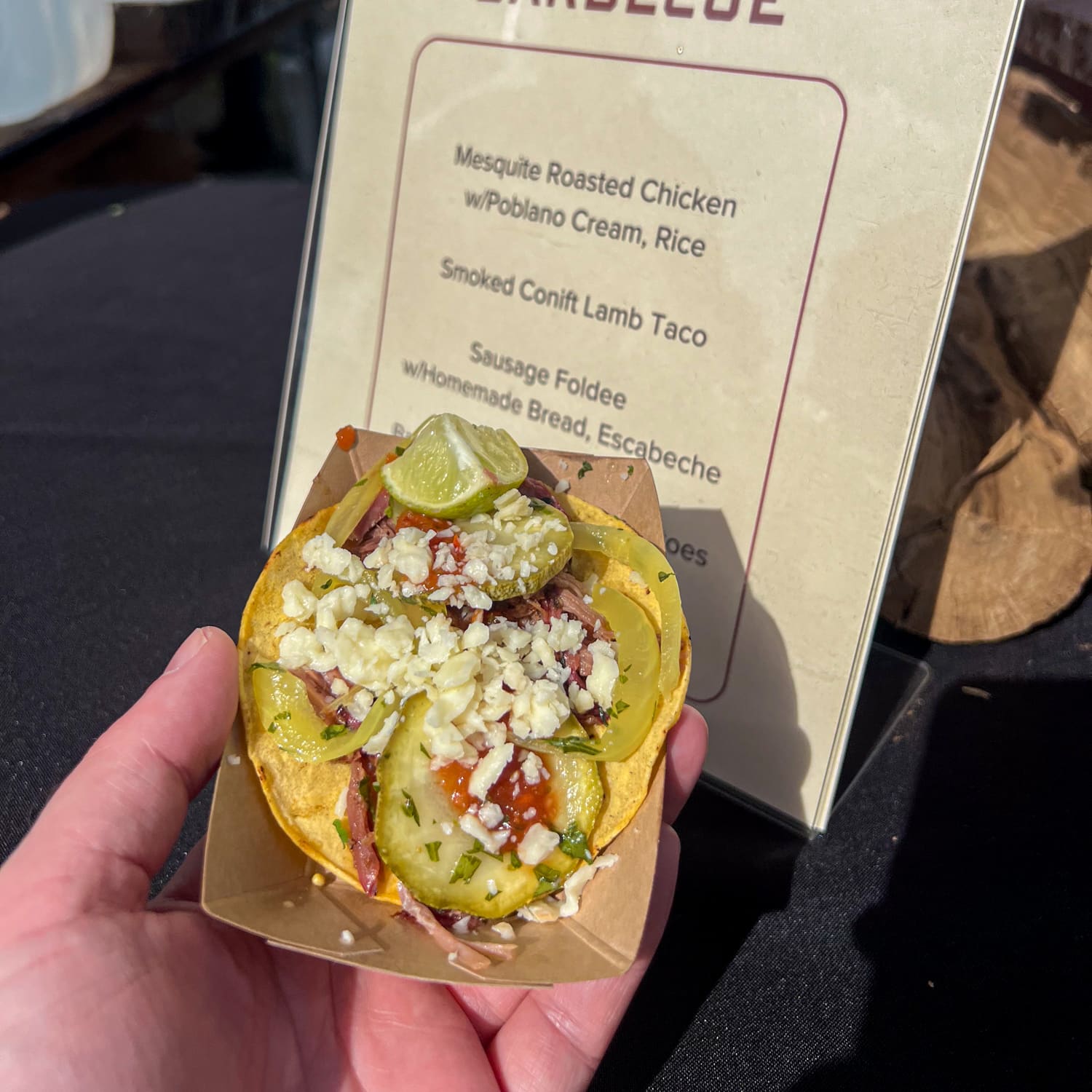 My last bite of meat came from 2M Smokehouse, a barbecue joint in San Antonio, serving pork belly with a homemade orange sauce and sesame seeds.
I picked up a pumpkin spice pudding from nearby Helberg Barbecue (Woodway, west of Waco) before taking a break to assess my hunger.
I walked another lap around the Top 50 Picnic, noticing that some places had already run out of items by that point (about 2:15 p.m.).
The sheer size and variety of the trailer-mounted smokers and grills impressed me—so much custom metalwork. Most of the equipment didn't have to be moved off the flatbed trailers.
I realized investing in that must mean you attend many events like the Texas Monthly BBQ Fest and competitions. Some barbecue joints also offer catering services.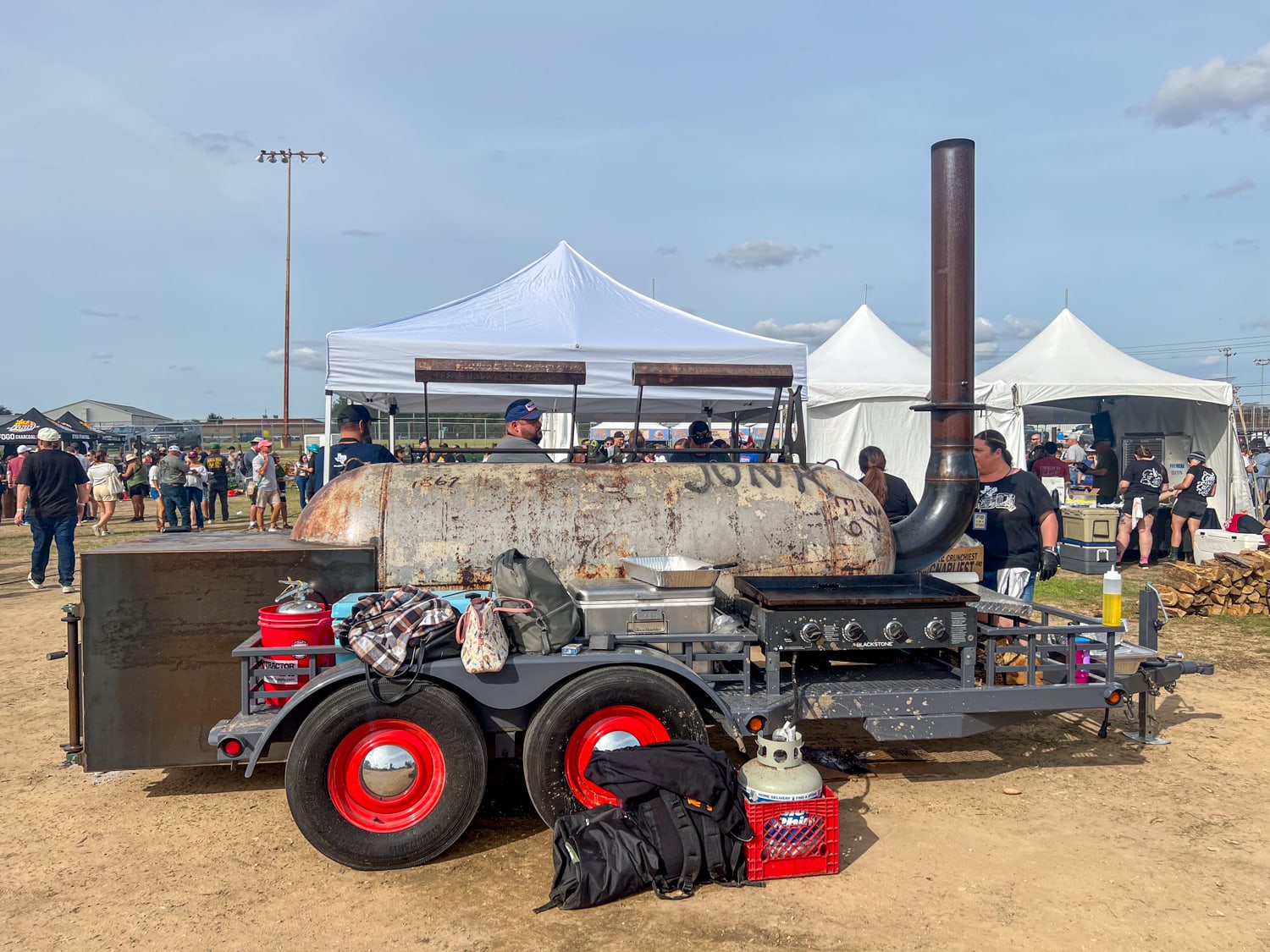 As I rounded the circuit of Texas BBQ restaurants for the second time, I picked up one last bite to end on a sweet note: B's banana pudding from LJ's BBQ (Brenham). And then, it was time to wave the white flag.
The band Hard Proof had been on the live music stage since I entered the event at 1 p.m., and they played me out. A "special guest" performer was slotted to close the event from 3 p.m. to 4 p.m.
I'd sampled nine of the 40 BBQ vendors; seven were new to me.
I was more than satisfied as I walked back to my car, turning around occasionally to glimpse the thousands of attendees and staff still enjoying the sun and smoke in Lockhart City Park.
Final Thoughts
This weekend wasn't just about devouring the best BBQ Texas has to offer; it was a celebration of community, craft, and creativity.
From Khoi's Viet-Tex fusion to Smokey Joe's pizza-inspired sausage, each bite was a reminder of the endless possibilities that arise when passion meets pit.
Texas Monthly BBQ Fest, you've outdone yourself. Until next year, keep those fires burning and the brisket turning because this blogger will be back.
_____
Disclosure: I attended the Top 50 Picnic using a media pass and did not have to buy a ticket.