It was 7:50 a.m. on a cold, wet Friday in November when we turned off a two-lane road into Goldee's BBQ in southeast Fort Worth, Texas.
A year had passed since Goldee's Barbecue was ranked number one in the state by Texas Monthly Magazine.
And Kel and I knew the long lines that result from a BBQ joint being awarded the top spot.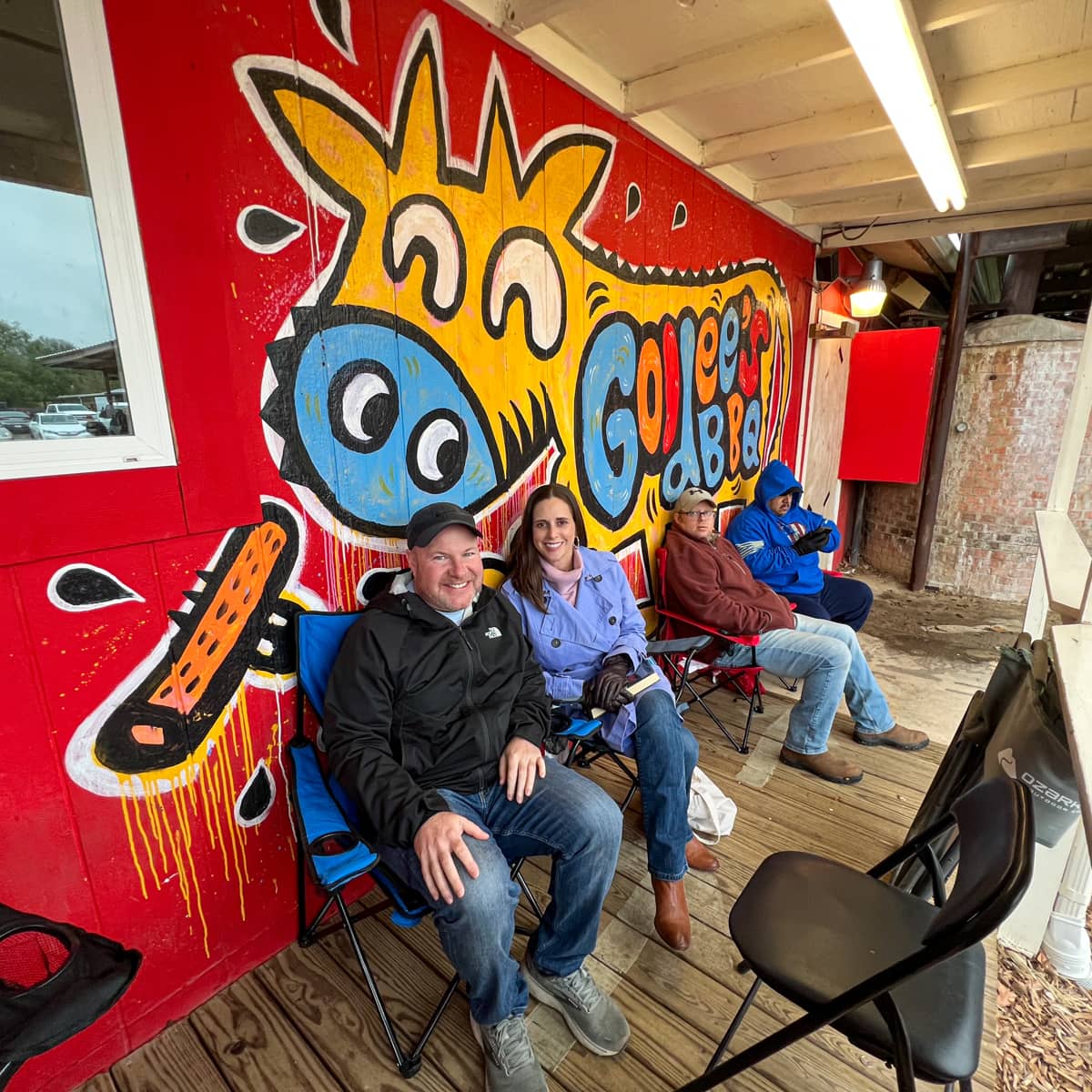 Ten months earlier, we'd waited for three hours in the cold at Franklin Barbecue in East Austin.
Franklin's was already well-known in 2013, but hitting #1 on the Texas Monthly list that year only increased the demand for their fatty brisket.
Spending a morning at Franklin's taught me that the best Texas barbecue is worth waiting for and that the time spent in line is a part of the experience.
It builds anticipation, influences your enjoyment of the food, provides time to socialize with other barbecue fans, and leaves you with a fun story.
Before I share how we passed our three-hour wait at Goldee's BBQ, here's a little background on the burgeoning barbecue business.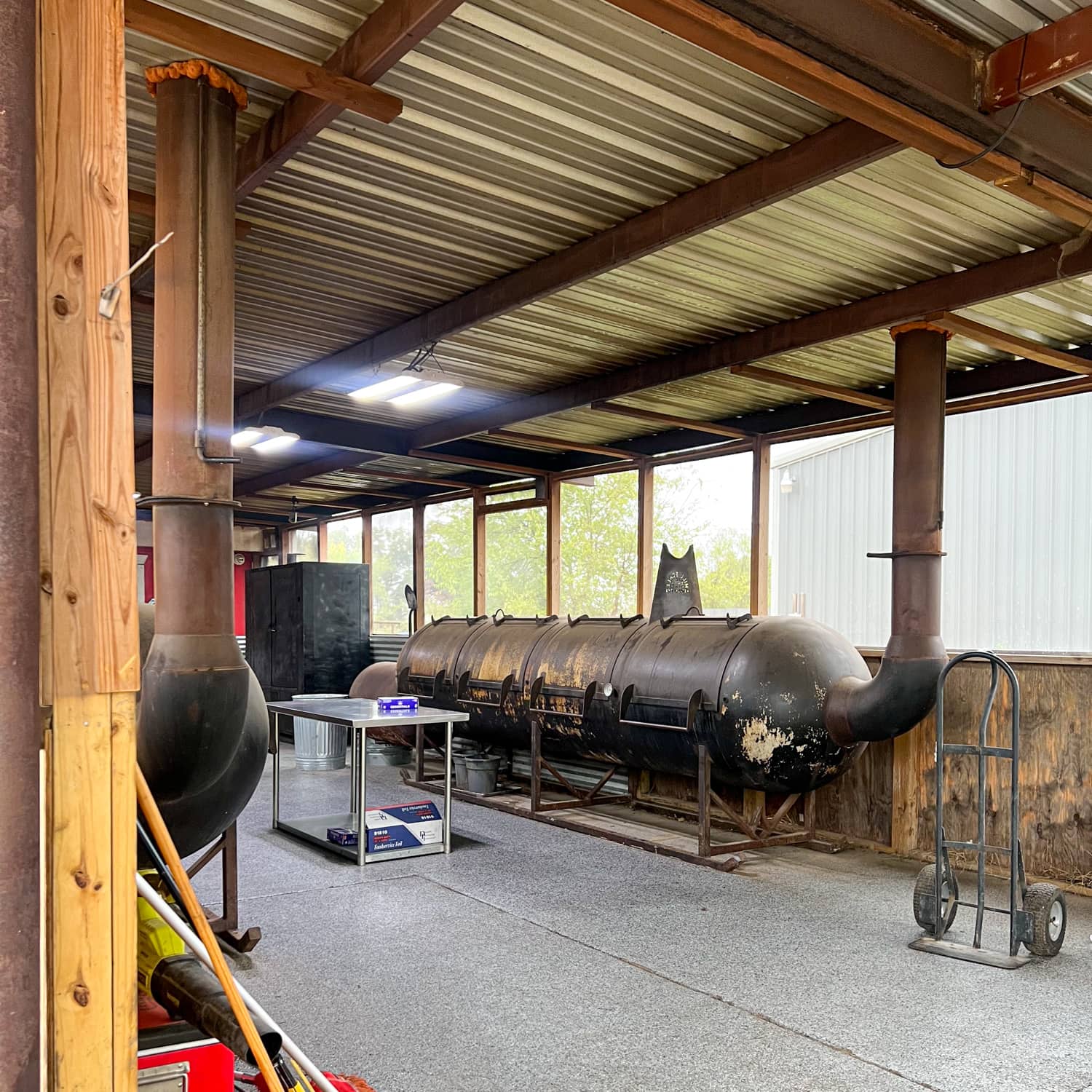 About Goldee's BBQ
This story is about friendship, the Texas barbecue community, hard work, and resilience.
Goldee's owners (Jalen Heard, Nupohn Inthanousay, Lane Milne, Dylan Taylor, and Jonny White) have known each other since childhood, as they grew up together in Arlington, Texas.
Arlington is a city sandwiched between Dallas to the east and Fort Worth to the west.
After high school, the five friends moved south to Central Texas and began taking jobs with some of the best pitmasters in the country.
They worked at top Austin barbecue places (including Franklin's, Valentina's, and La Barbecue) and 2M Smokehouse in San Antonio for years.
Then, the friends combined their knowledge, skills, and resources to pursue the dream of owning their own barbecue restaurant.
They traded Austin for Fort Worth and found an abandoned building on the outskirts of town amid a stretch of Dick Price Road with concrete and gravel suppliers as neighbors.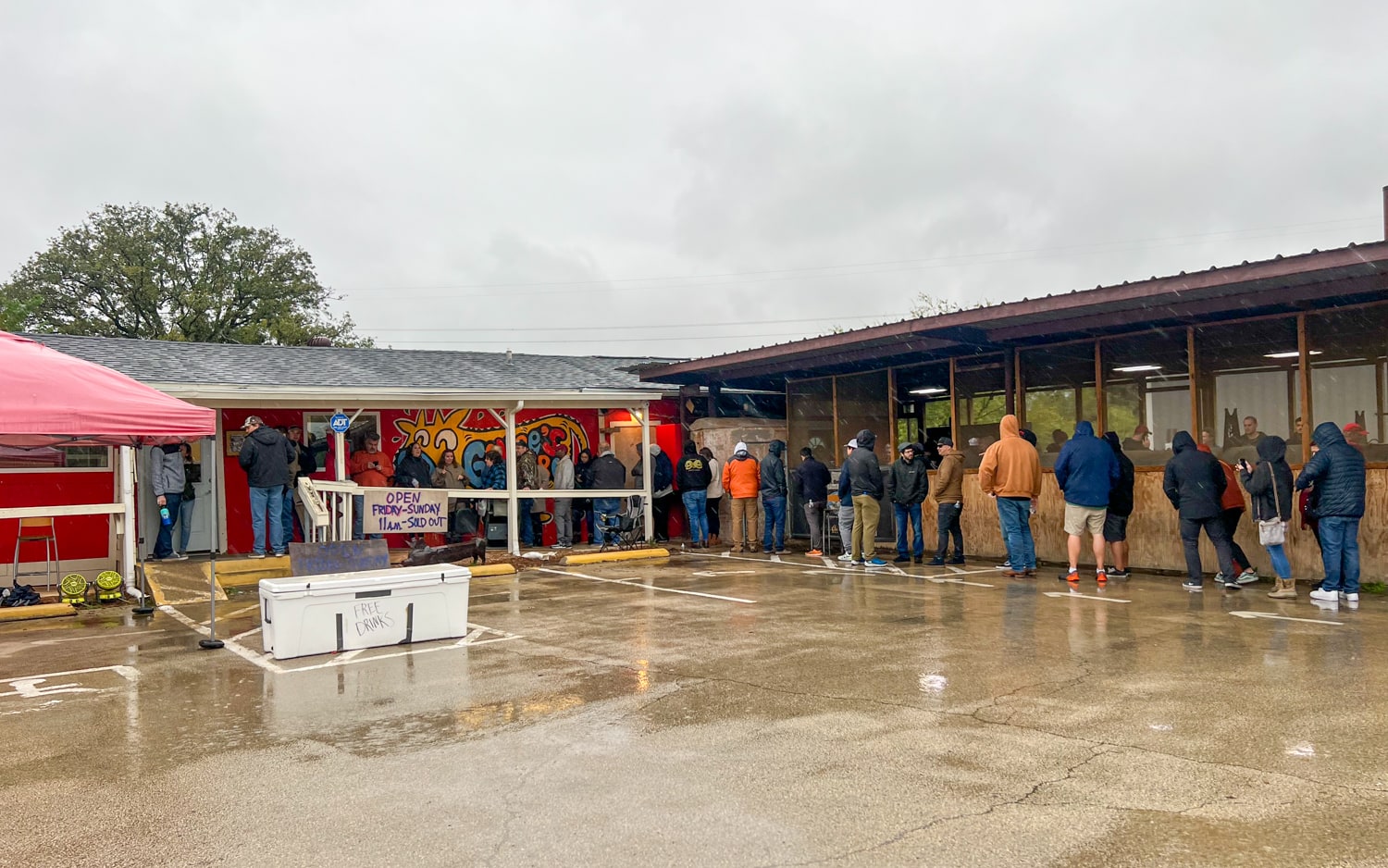 The Early Years
Goldee's BBQ, named after the golden Ford F-250 pick-up truck used to tow their first barbecue pit, opened its doors in February 2020.
At the time, they were selling four to six briskets a day, about double what pitmaster Leonard Botello IV was selling when he began Truth BBQ in 2015.
By comparison, a well-established restaurant like Franklin Barbecue makes 100 briskets a day.
Then the pandemic hit, calling into question the survival of the friends' new venture. Like so many restaurants, they pivoted to a take-out operation.
In spring 2021, they re-opened for dine-in service; by October 2021, Goldee's was declared the best barbecue joint in the Lone Star State.
After the new list came out, 200-300 people per day began lining up to eat at Goldee's BBQ restaurant.
Demand hasn't let up since. Their brisket per day count is up to 50, and they reliably sell out by 3 p.m. the days they're open (Friday, Saturday, and Sunday).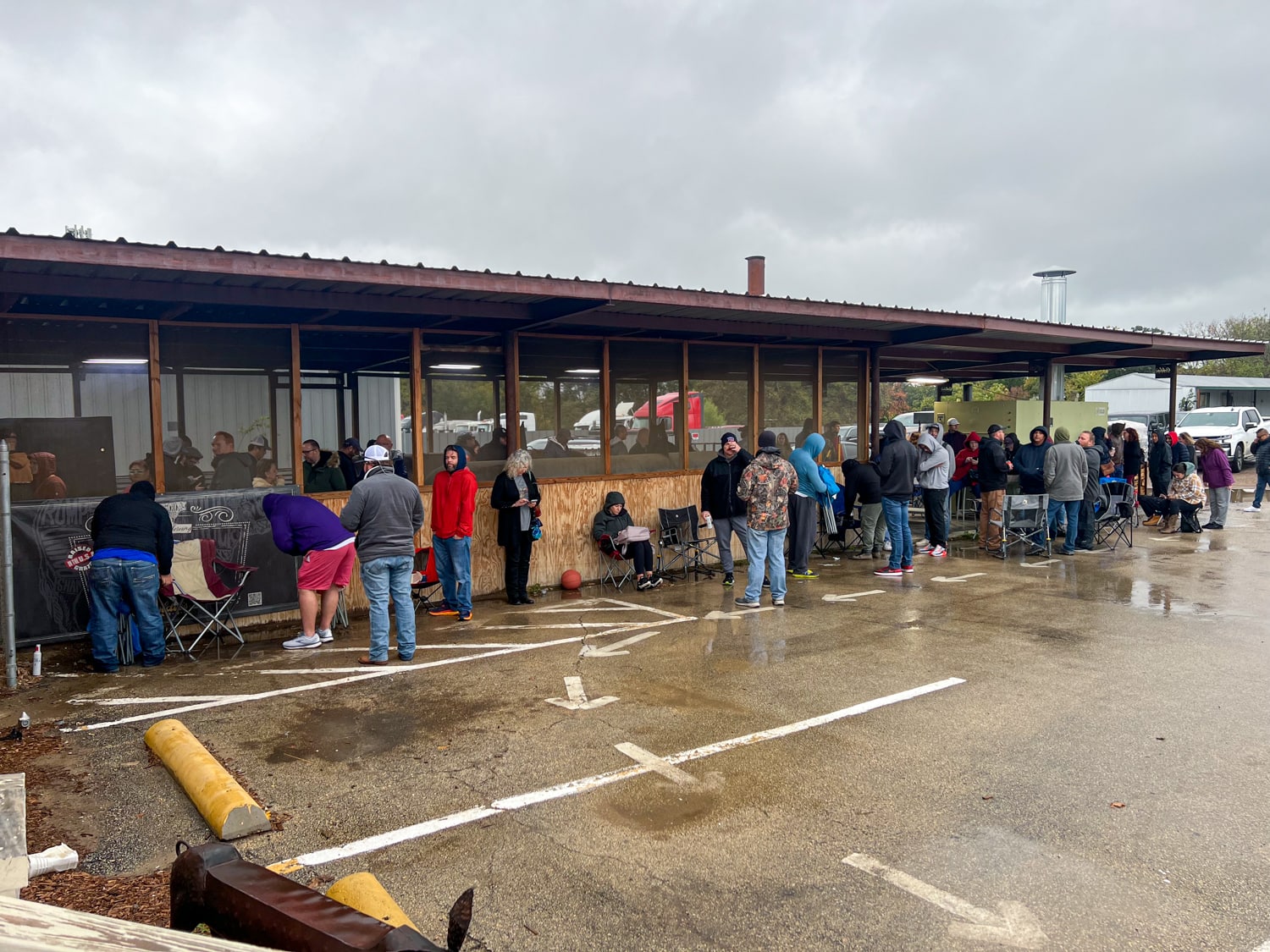 Our Experience
Since it was in the mid-50s and pouring rain when we arrived, Kel and I were in no hurry to leave the car. We weren't the only ones trying to stay warm, either.
Several barbecue devotees had arrived before us, and we were all delaying the need to line up until someone made the first move.
The Line
Around 8 a.m., a young couple celebrating a birthday claimed the coveted first and second spots at the beginning of the line.
Reed, a friendly guy from Florida on a week-long tour of the best BBQ in Texas, was next. We'd learn he does backyard barbecues and pop-ups at home.
Kel and I were fourth and fifth, a strong showing! We hadn't brought lawn chairs, so I was relieved to find a half-dozen under the awning keeping us dry.
The rain continued throughout the morning, with the wind making it uncomfortably cold and my body physically shivering at times.
I wondered if the weather would keep people away—silly me. The line at Goldee's BBQ continued to grow, with a steady stream of new arrivals.
By 10 a.m., an hour before opening, the line was at least 50 people long, snaking along the edge of the parking lot and through the smokehouse.
Free beer and bottled water were available in the parking lot in a large white Yeti cooler. Many people took advantage, despite getting wet on the walk there.
We spent the hours talking with the friendly folks in front of us, all of whom we shared a table with once we got our barbecue trays.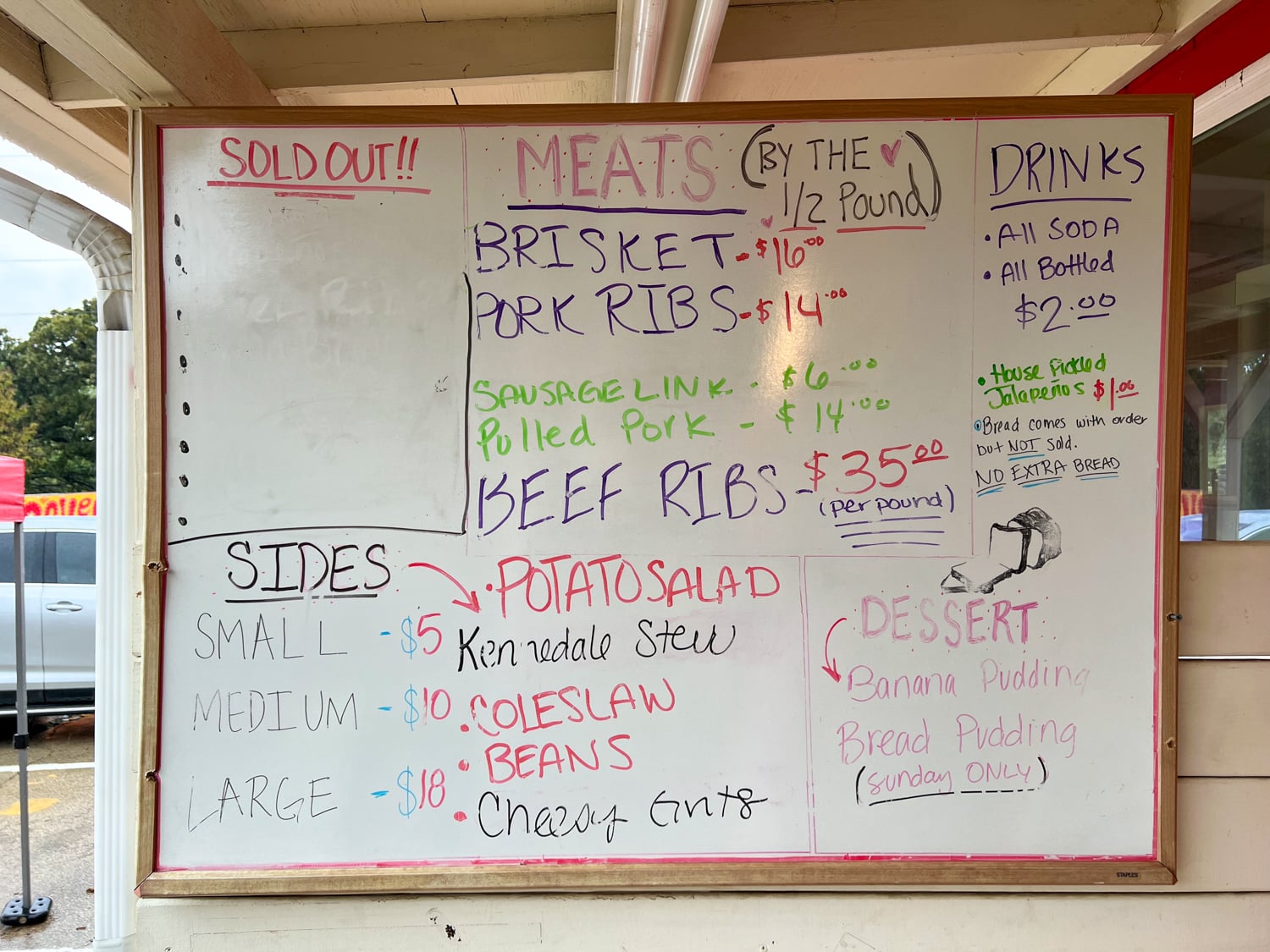 Goldee's BBQ Menu
A decent amount of time was also spent contemplating what we'd order from Goldee's BBQ menu.
Everything we needed to know was written on a whiteboard outside the front door.
How much does Goldee's BBQ cost?
Smoked meat is priced per half-pound (8 ounces), and you can order less than a half-pound if you wish; all prices are subject to change.
$16 brisket
$14 pork ribs
$14 pulled pork
The beef ribs are $35 per pound, and the jalapeno and cheese sausage is $6 per link.
I've seen mentions of smoked turkey online, but it wasn't available the day we were there.
Sides are priced by size ($5 small, $10 medium, $18 large) and include:
Potato salad
Coleslaw
Beans
Cheesy grits
Kennedale stew (pork gravy over white rice)
Goldee's makes their white bread from scratch. And since it's not the typical store-bought variety, you can't ask for more than they give you for free.
However, they sell their bread by the loaf if you want to take some home.
Desserts include their signature banana pudding. Bread pudding is available on Sundays only, and both desserts are about $4 or $5.
Sodas and bottled waters are $2 each. However, if you're only interested in water, grab a complimentary bottle before reaching the front line.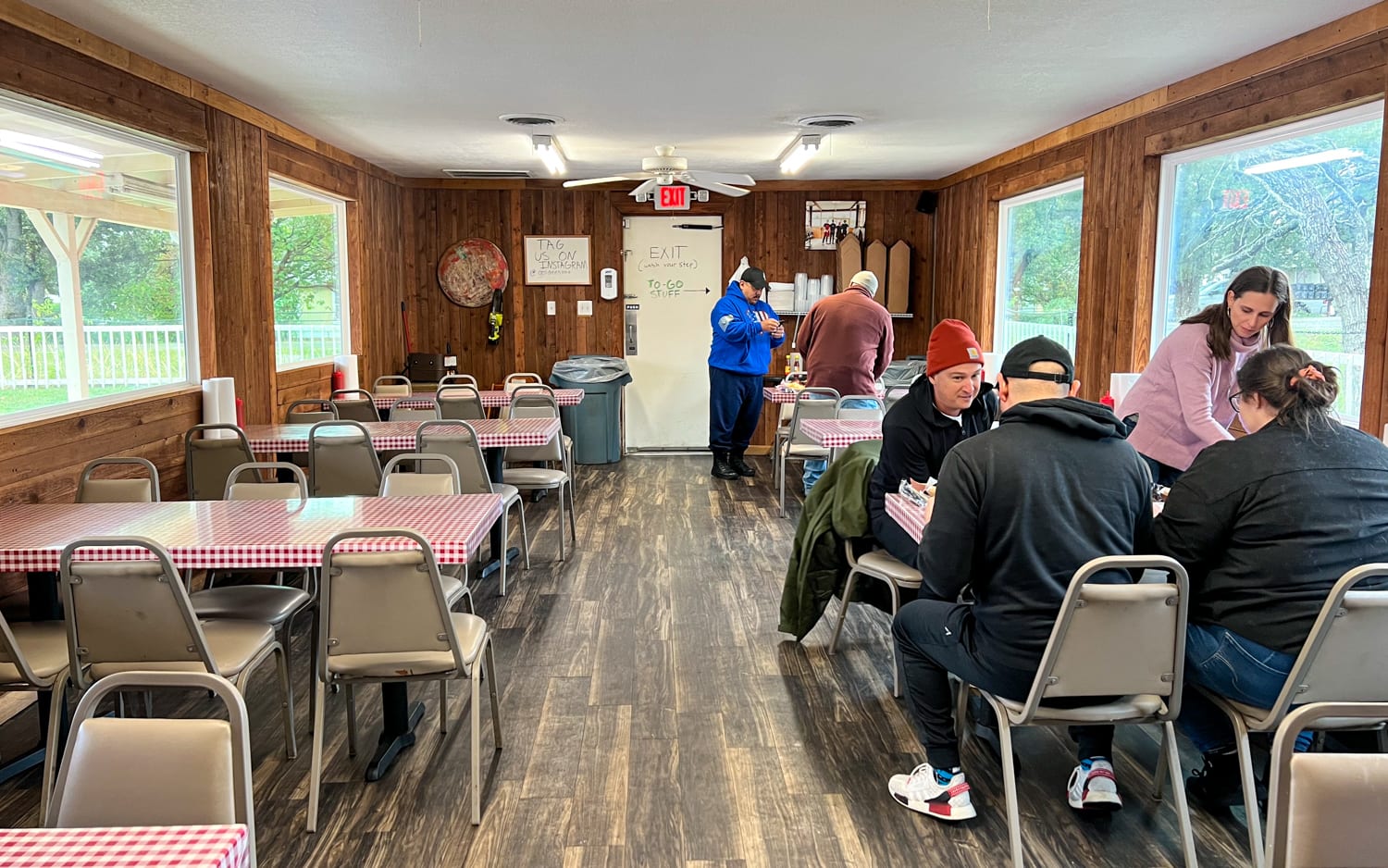 Dining Room
Goldee's BBQ opened on time at 11 a.m., allowing us to step inside the modest joint for the first time.
We were greeted by several of the owners, all friendly and chatty, as we placed our orders and paid our bills.
No phones are allowed while ordering, a way to keep the line moving efficiently.
Kel and I ordered the following:
¼ pound of brisket
¼ pound of pork ribs (two ribs)
1 beef rib
1 sausage
Kennedale stew
Cheese grits
Banana pudding
The bill was about $100, plus I gave a 20% tip, bringing our total cost to $120.
As we took half back to our accommodation as leftovers and got another meal each out of it, the cost was about $30 per serving.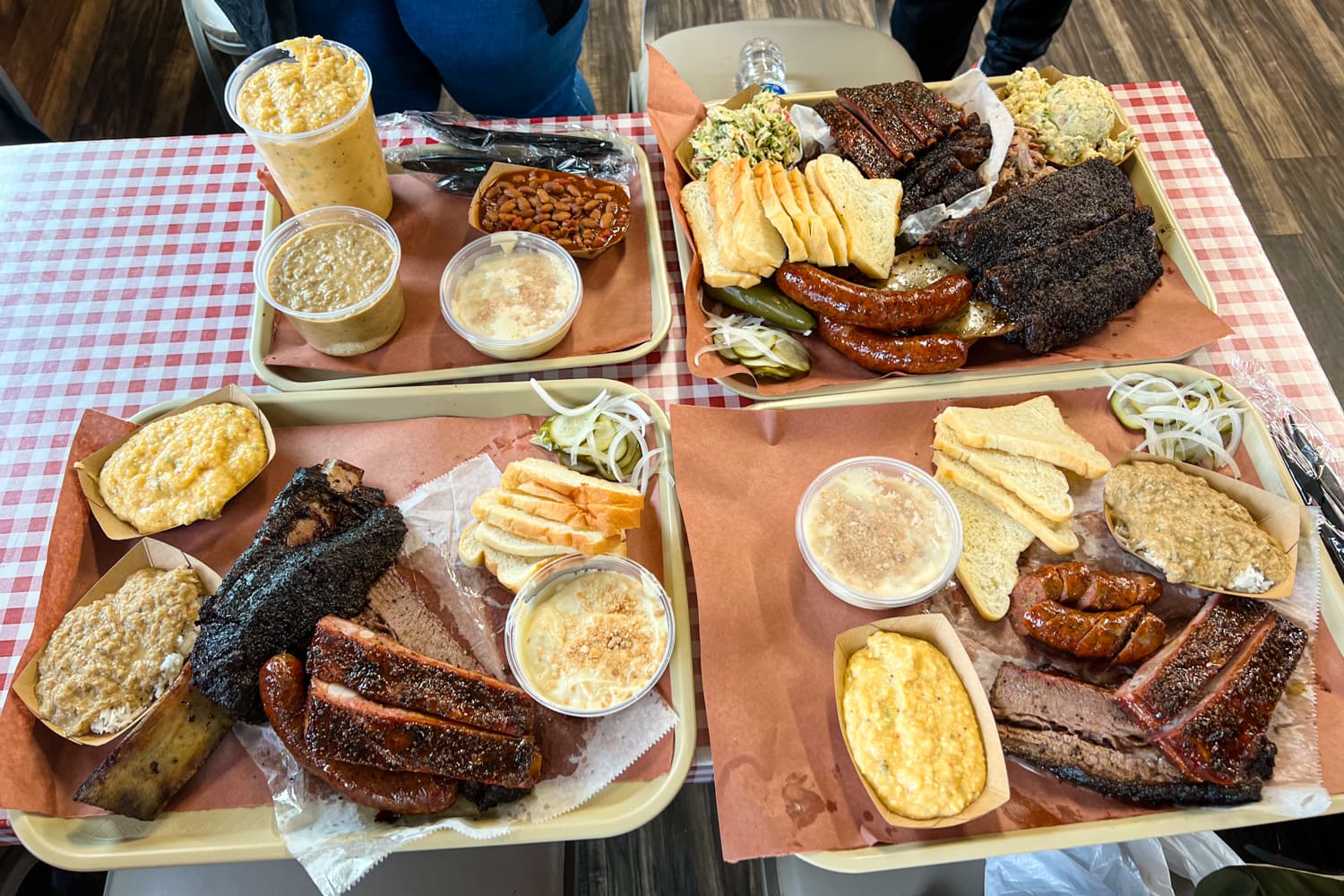 Brisket
The best BBQ begins with brisket in Texas, and Goldee's delivers. Their simple, well-executed Central Texas barbecue brisket melts in your mouth.
Like many of the best barbecue joints, they rely on Texas post oak wood and simple seasonings.
The crew at Goldee's share their knowledge in a monthly brisket class taught at the restaurant.
Instruction covers barbecuing brisket, including how to trim and season, manage the fire, render fat, know when it's done, and slice and plate it.
Despite the $1,000 per person price, Goldee's BBQ brisket class is regularly sold out.
See also: Best Restaurants in Houston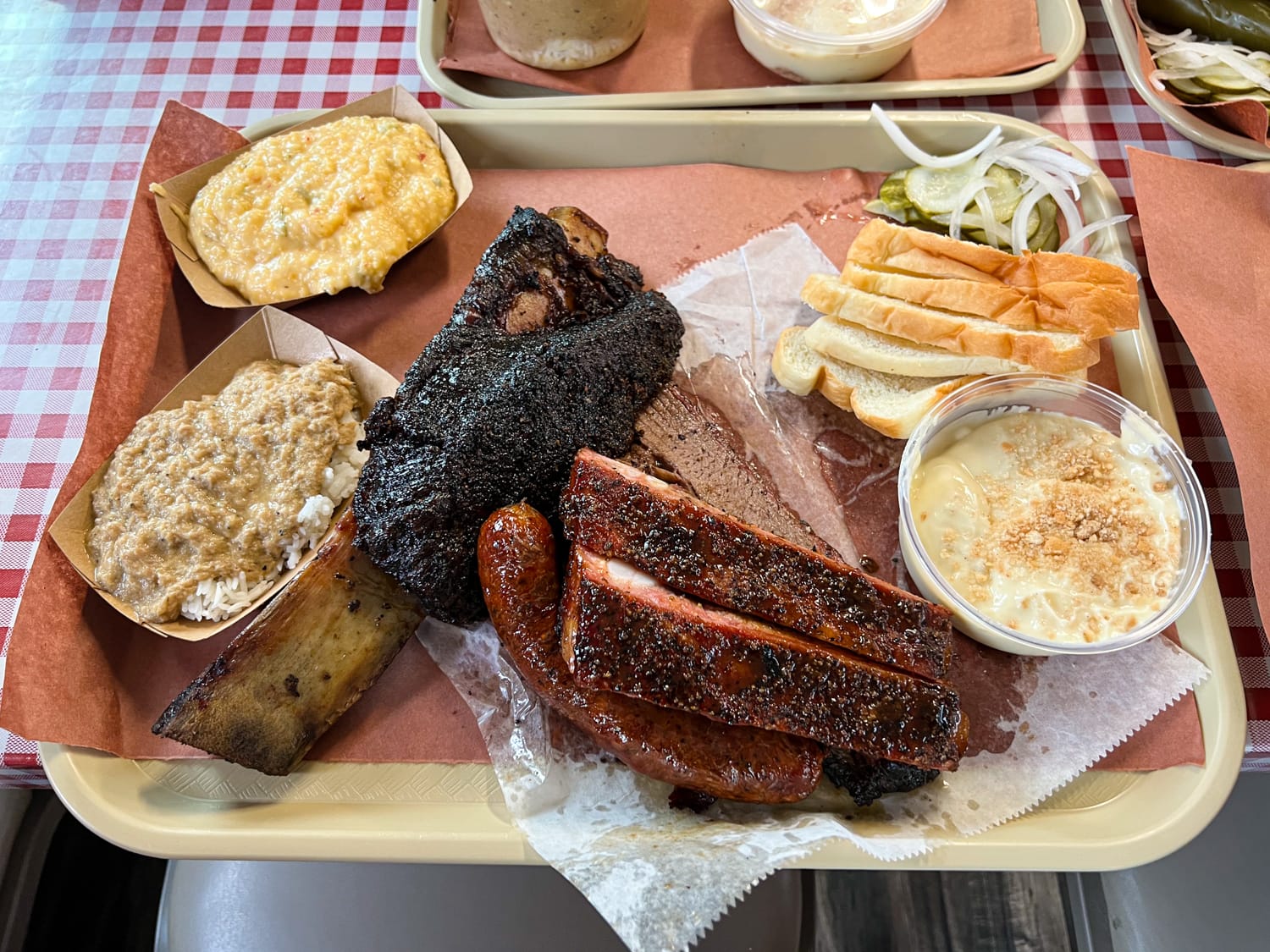 Beef Rib
As much as I enjoyed their brisket, Goldee's beef rib was the scene-stealer. This giant hunk of smoked meat on a bone was well worth the $35 price tag.
The beef was so tender my plastic fork had no trouble scraping it off the bone.
And I must add, the photos don't do justice to the amount of meat you're given, and certainly not the richness of each juicy bite.
Related: Best BBQ in Texas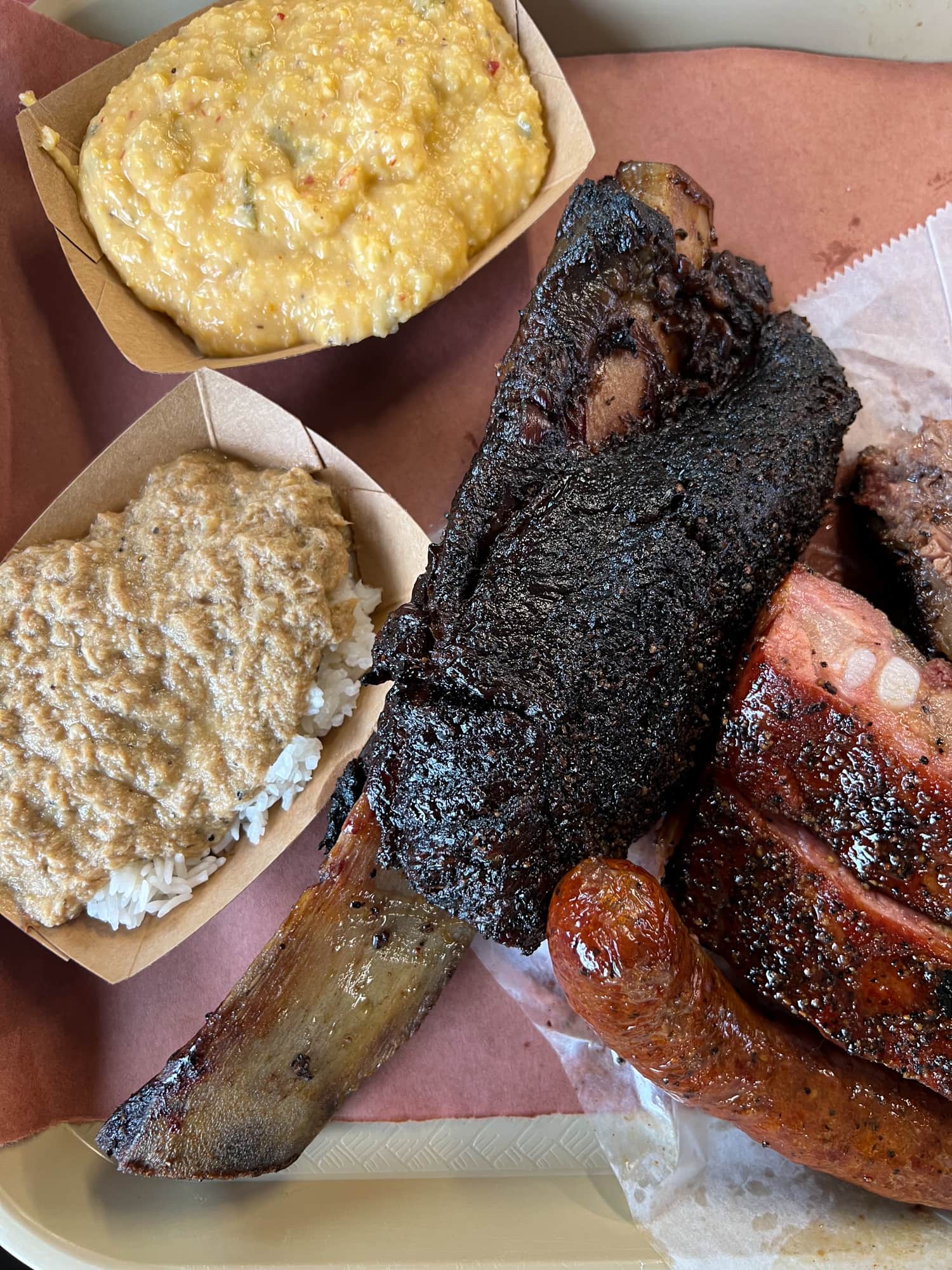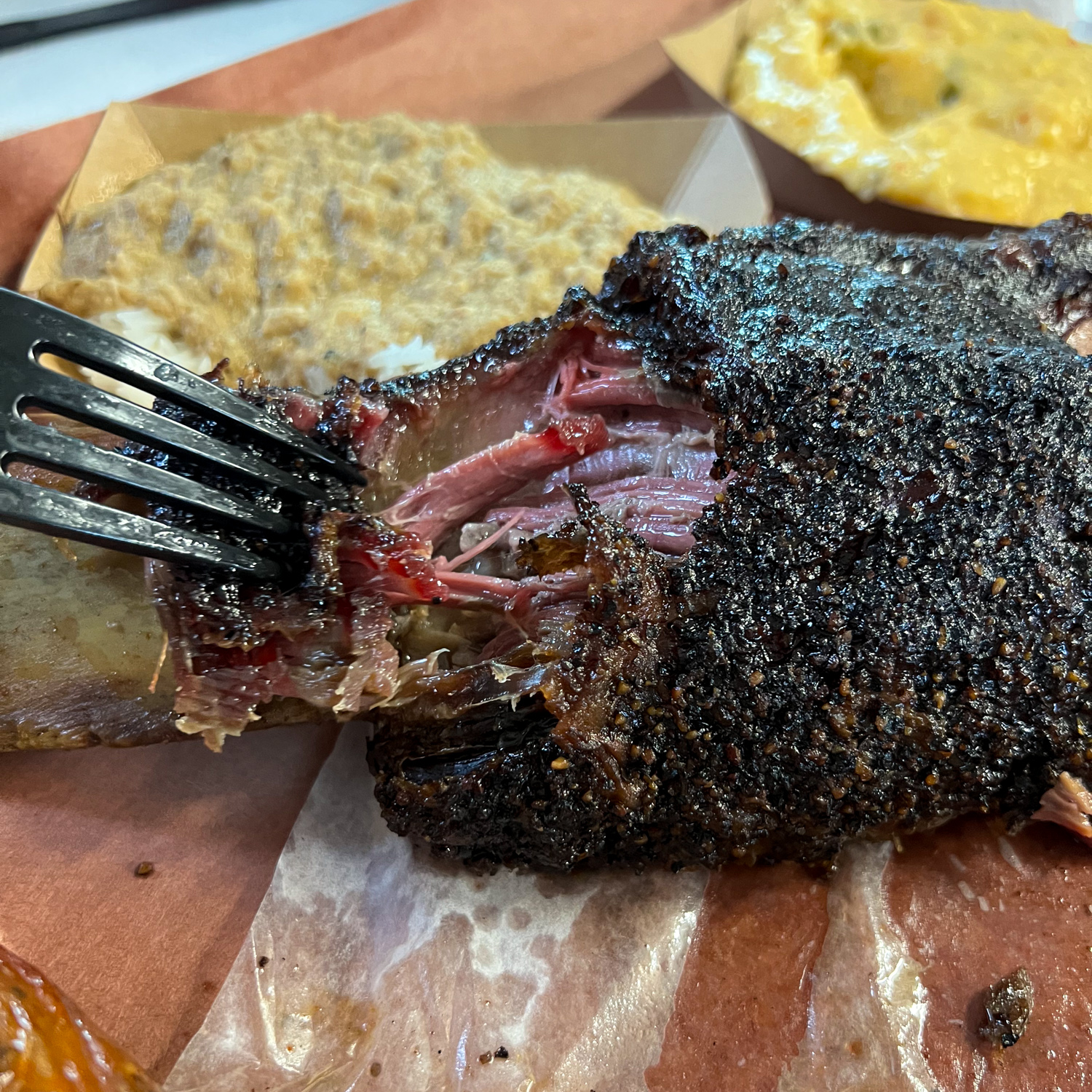 Pork Ribs and Sausage
Goldee's BBQ pork ribs were on par with what I've experienced at other top barbecue restaurants, which is to say, okay.
I order them everywhere, but I've yet to have a spiritual experience with pork ribs (unlike the best brisket and beef ribs).
As for the sausage, since it's usually cheaper, I also try it but rarely finish. It's the chewiness of the casings I dislike, not the flavors of the meat fillings.
That was my experience at Goldee's, though I've read plenty of write-ups that rave about their Laotian sausage with sticky rice.
Sides and Dessert
The jalapeno cheese grits were delicious, though we barely made a dent in the medium-sized container while at the restaurant.
I wish I could say the same for the Kennedale stew (pork gravy on rice); it was rather bland.
On a high note, we ended our lunch at Goldee's BBQ in Forth Worth with spoonfuls of creamy banana pudding.
The smooth texture, bits of vanilla wafer, and hints of cinnamon made it stand out from the many others I've tried across Texas lately.
Final Thoughts
During our time in line, we learned that a recent documentary that goes behind the scenes at Goldee's BBQ has further contributed to its popularity.
When I got home from Fort Worth, I watched the well-edited "Day In The Life of The #1 BBQ in Texas," which went viral with 8 million views in its first four months.
Watching the movie gave me a better feel for how much time, energy, and teamwork it takes to run an award-winning barbecue joint. Check it out.
And check out Goldee's BBQ if you're in Fort Worth, or plan to visit the city.
4645 Dick Price Rd, Fort Worth, TX, goldeesbbq.com