Mixology fascinates me. My affinity for cocktails and the cool places to consume them grew significantly upon relocating to Austin, TX (from Colombia).
Living downtown, I had several speakeasies within walking distance of my apartment.
It wasn't long before I began consulting the annual World's 50 Best Bars list for spots to try while traveling.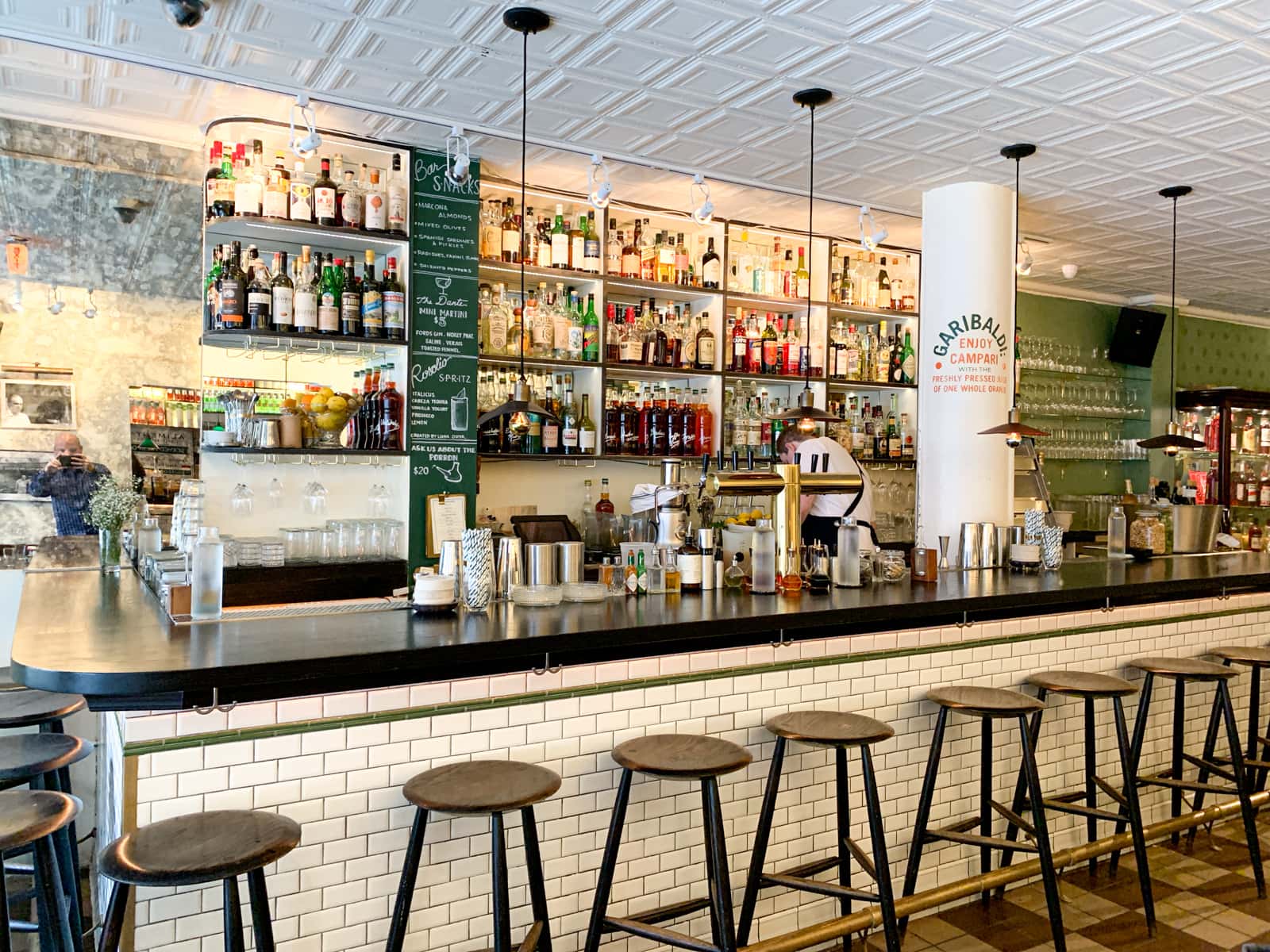 This newfound desire to check out bars abroad presented me with an engaging social challenge.
Given most of my travel has been solo, I'd long ago become comfortable eating out alone. After all, food is a necessity.
But was I going out to bars alone? That was optional. And I'd usually choose a night in if I hadn't met anyone to hang out with.
Perhaps to nobody's surprise but my own, I quickly found cocktail bars welcoming places for solo travelers.
The best experiences involved bartenders who knew how to make sophisticated drinks and helped me feel welcome with engaging conversation.
My running list of the world's best bars I've visited follows.
Best Cocktail Bars
Dante NYC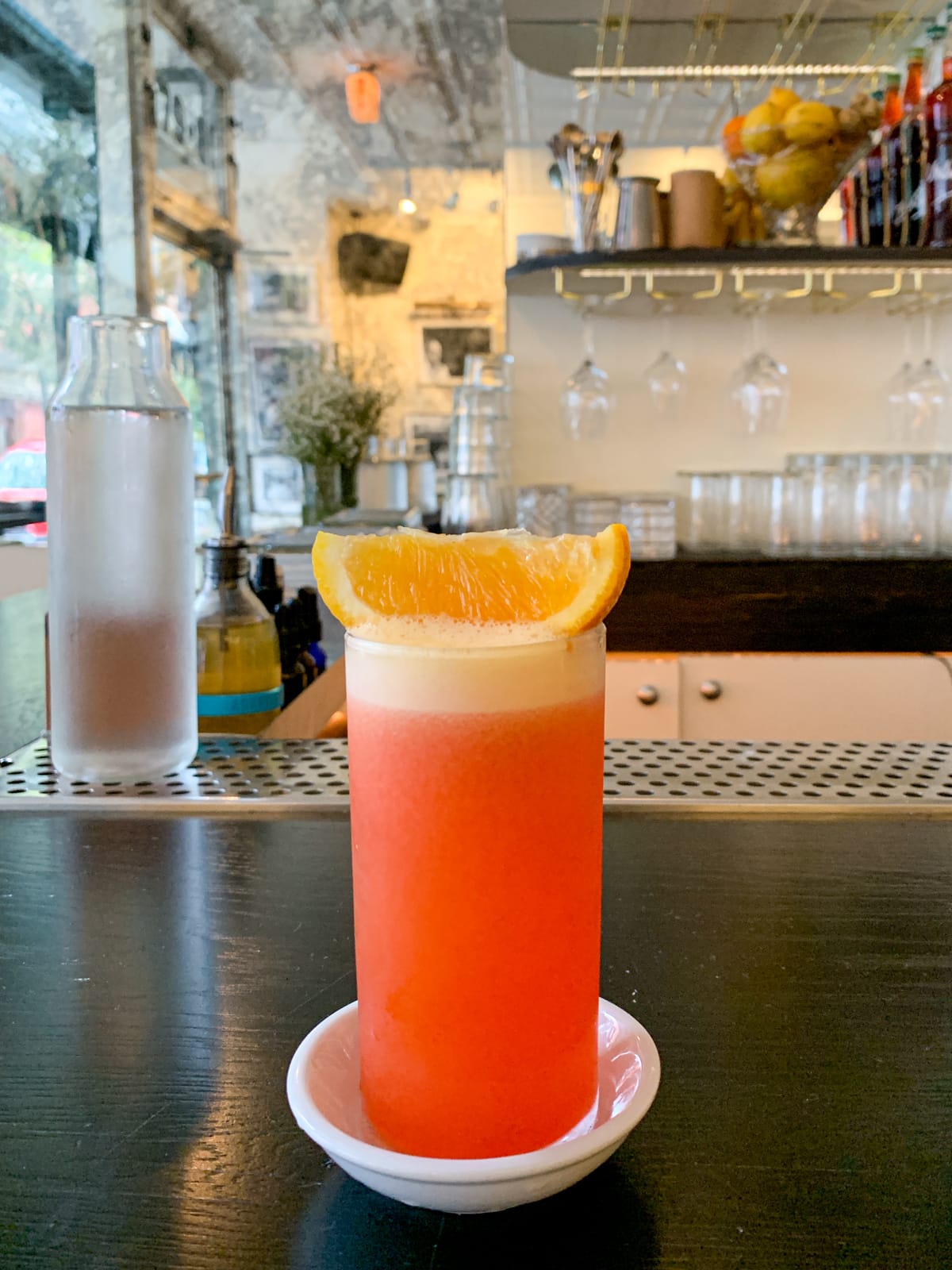 In 2019, Dante was flying high, recognized as the #1 bar in the world by the World's 50 Best Bars and Tales of the Cocktail Foundation.
Those are honorable accolades for a humble Italian bar serving Manhattan's Greenwich Village since 1915 (thus making it one of NYC's oldest bars).
Over the years, Dante has attracted a creative crowd, including Ernest Hemingway, Al Pacino, Bob Dylan, and Patti Smith.
The year before, Dante was named the world's best bar, and I'd dropped in to check it out. I was fresh off a three-week trip to Tuscany and had Italy on my mind.
I tried their award-winning Garibaldi at the bartender's suggestion, consisting of just two ingredients: Campari and fresh, fluffy orange juice.
It was still morning, but I was having such a good time with the bar practically to myself that I also got a Rosalio Spritz (Italicus, Cabeza Tequila, vanilla yogurt, Prosecco, lemon).
As seen in the video above, Dante weathered the pandemic while delivering 5,000 meals to local hospitals.
They've re-opened and serve seasonal and signature cocktails, negronis, and wine by the glass or bottle.
The a la carte food menu features Italian favorites like burrata, prosciutto and melon, paninis, pastas, and chicken parm.
Flourless chocolate cake, ricotta cheesecake, tiramisu, and cannolis will satisfy anyone with a sweet tooth.
79-18 MacDougal St, New York City, dante-nyc.com
Attaboy NYC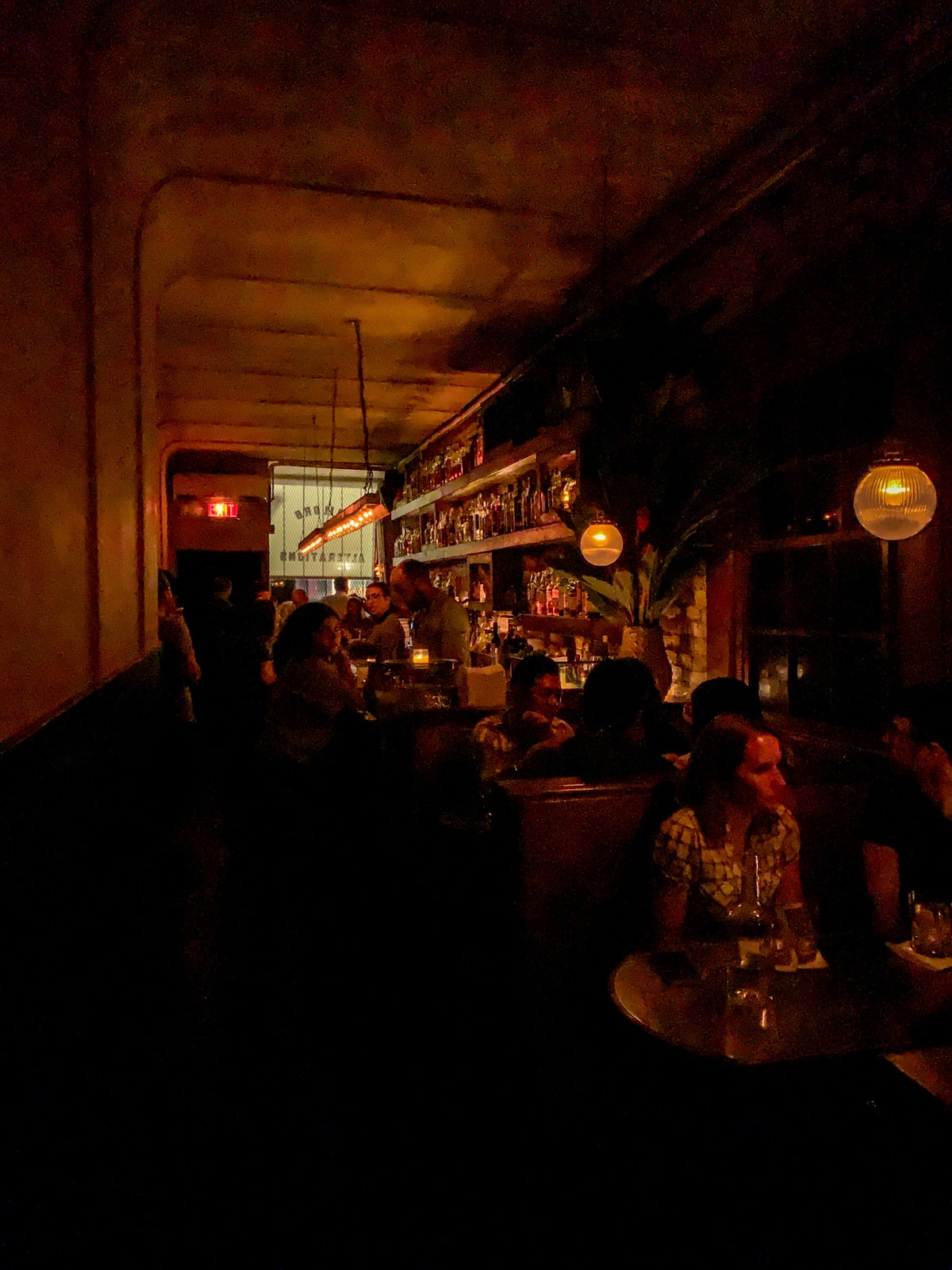 Occupying a sliver of dimly lit space in Manhattan's Lower East Side, Attaboy serves some of the city's best-mixed drinks.
Owned and operated by Sam Ross and Michael McIlroy, both formerly of the highly acclaimed Milk & Honey, Attaboy is as unpretentious as an award-winning cocktail bar can be.
It's best to arrive early with your entire party, as seating is minimal. There's a small bar with stools and only three booths that can seat four (maybe six) people each.
I had to wait an hour on the sidewalk outside Attaboy because we didn't make it inside for the first seating.
I thought about going elsewhere more than once but was glad to stick it out to see another of the world's best bars.
There are no menus in Attaboy. Inform the bartender of what you like (or don't like), and they'll create something to suit your preferences.
For me, that's a vodka or gin drink that's light and refreshing, with citrus or sweet.
My advice is to get to Attaboy when it opens and go solo or with one other person so you can hopefully get a seat at the bar.
134 Eldridge St, New York City, attaboy.us
NoMad Bar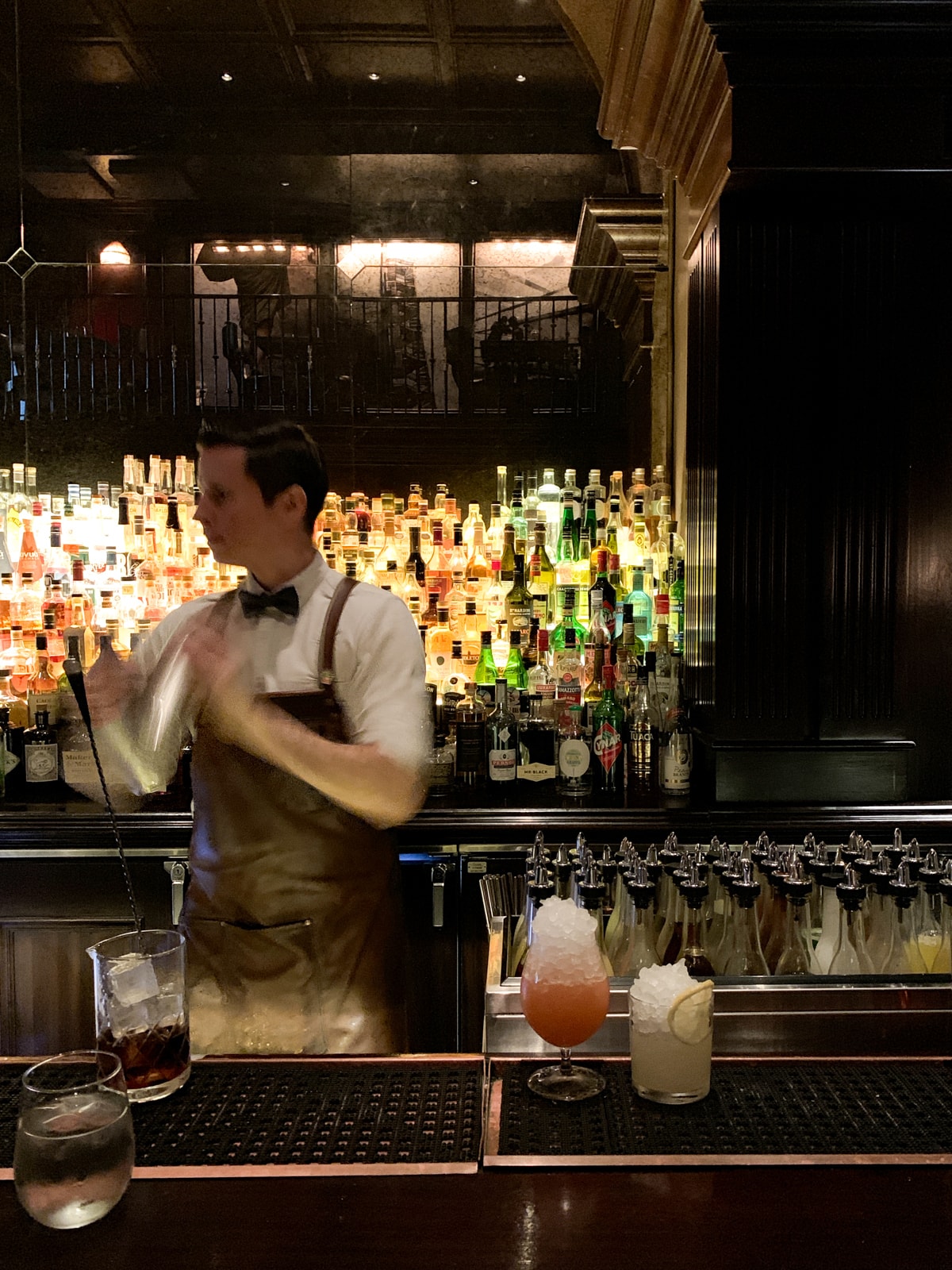 Since it opened in 2012, the food and beverage program at The NoMad Bar in midtown Manhattan has been run by chef Daniel Humm and Will Guidara of Eleven Madison Park.
In 2018, it was named the number one bar in North America by the World's 50 Best Bars. And it was fourth worldwide.
That was the same year I visited, and I didn't feel incredibly impressed. You can read about it here.
A year later, Humm and Guidara parted ways. In January 2020, Humm announced he was leaving his role with The NoMad Hotel line.
Today, the NoMad Bar is managed by the Sydell Group, owner of NoMad Hotels.
The James Beard Award-winning Bar Director is Leo Robitschek, formerly of Eleven Madison Park.
10 W 28th St, New York City, thenomadhotel.com/new-york/dining/
Licorería Limantour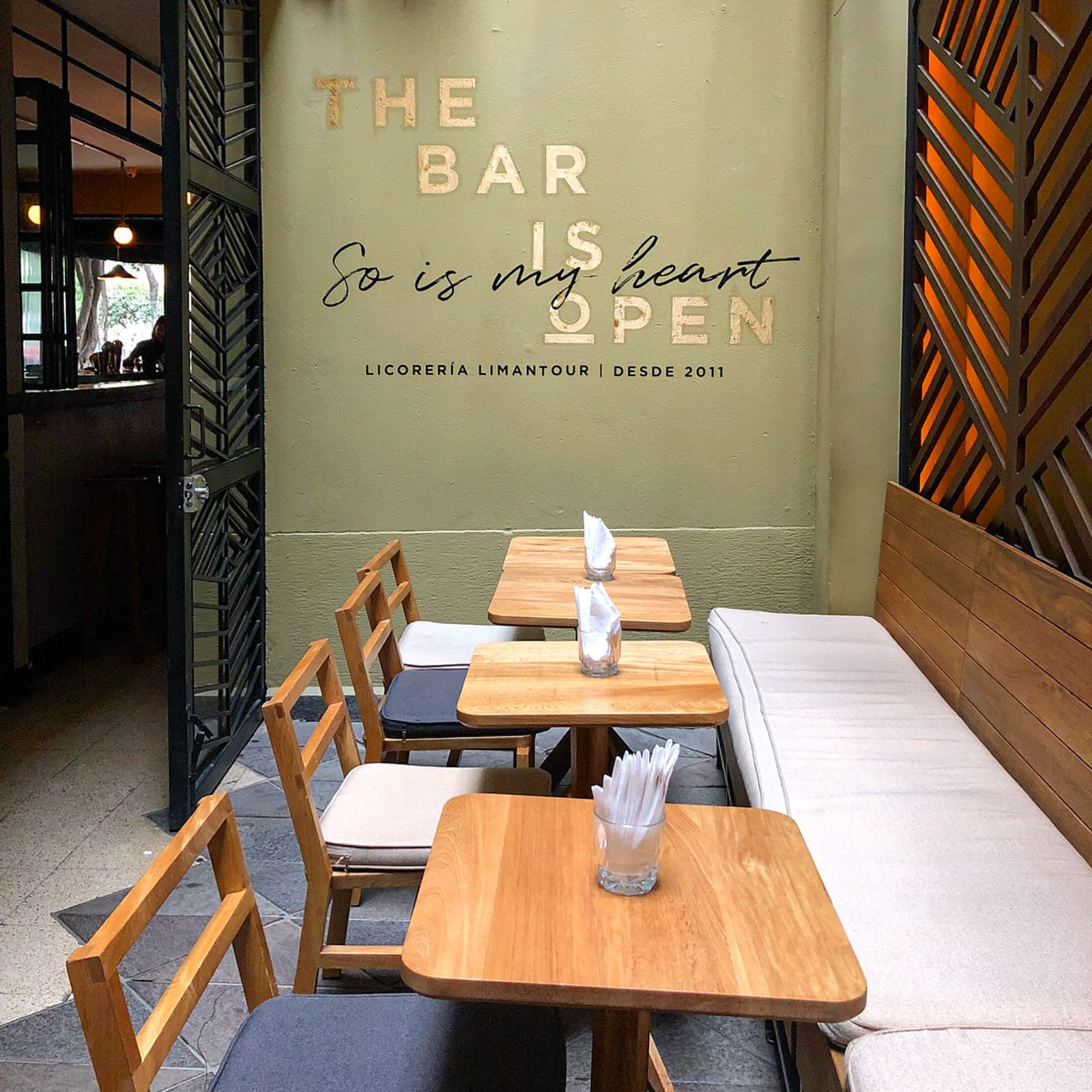 Opened in 2011 by owner Benjamin Padrón and bar manager José Luis León, Licorería Limantour has been lauded for its innovative craft cocktails in Mexico City.
Licorería Limantour is both approachable and welcoming in the hipster-friendly Roma Norte neighborhood.
During my visit, I sat at the bar and tried two drinks -- the Mexican Maid (Tequila Don Julio 70, Anche Reyes Verde, cucumber, and beer) and a Mexican gin cocktail.
What began in Roma Norte has extended west to the tonier Polanco business district, which is also home to Pujol and Quintonil.
A perennial on the World's 50 Best Bars list since 2014, Licorería Limantour is currently ranked #17.
Av. Álvaro Obregón 106, Roma Norte, Mexico City, limantour.tv
Paradiso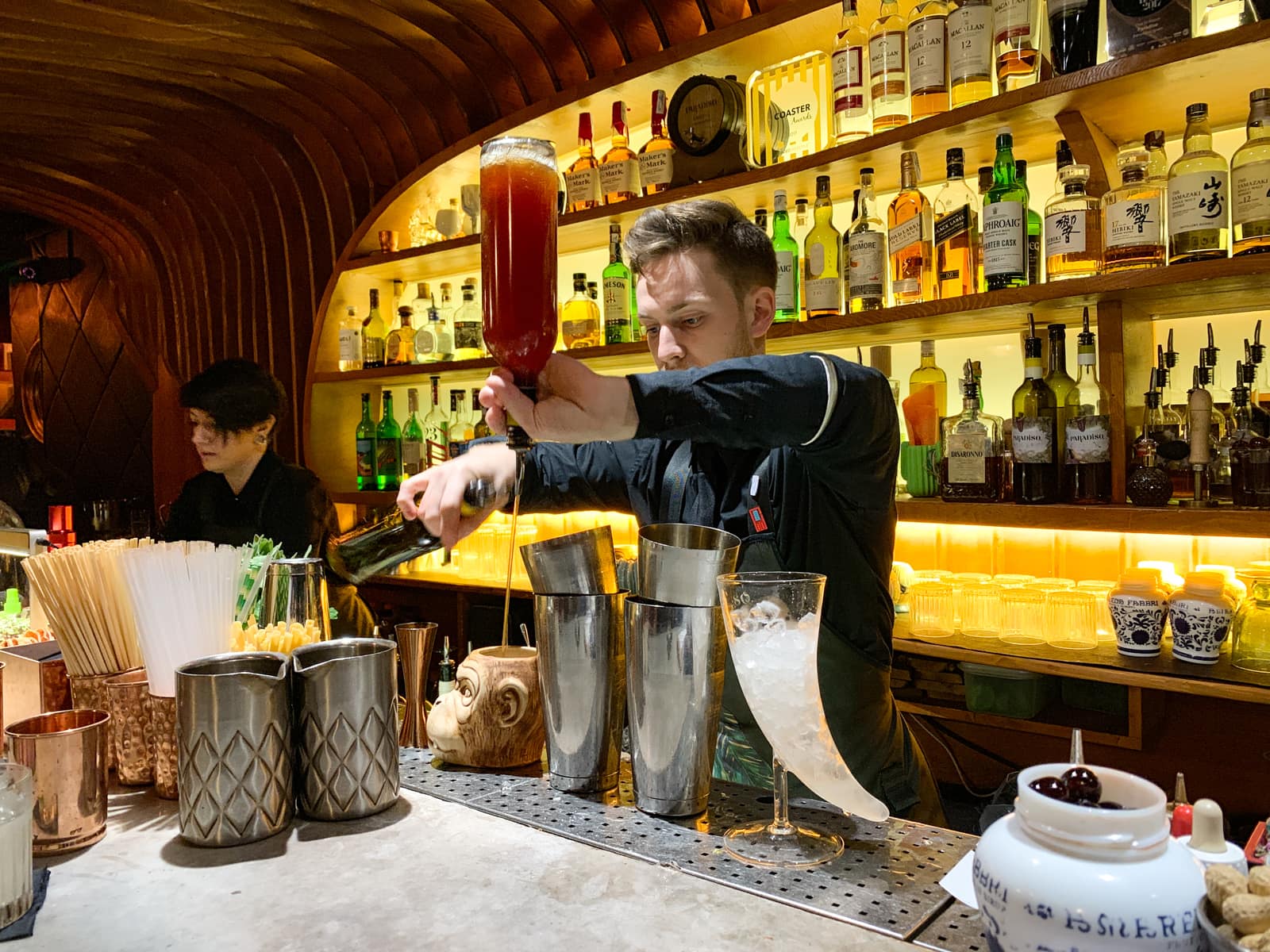 Paradiso is the name of a pastrami shop in Barcelona's El Born neighborhood and the speakeasy behind the shop's refrigerator door.
Once inside, you're in another world with various fascinating cocktails.
Giacomo Giannotti, the 2014 World Class Best Bartender winner in Spain, is the man behind the bar, currently ranked #19 worldwide.
In 2018, I tried a floral Sipsmith Gin cocktail with Italicus and lavender honey and the Mediterranean Treasure with Ketel One vodka served out of a shell. The latter is still available.
Today's menu takes its inspiration from the planets and the universe.
Gelato Paradiso is served in a faux cone and made of Ketel One vodka with turmeric, sheep's milk kefir, grapefruit and lemon, and a nitro foam.
The fluorescent yellow Kriptonita features Tanqueray Ten gin, riboflavin, and electric liquor.
Paradiso's signature Supercool Martini is made with Gin Plymouth, redistilled with fennel and oregano.
C. Rera Palau, 4, El Born, Barcelona, paradiso.cat/en
Carnaval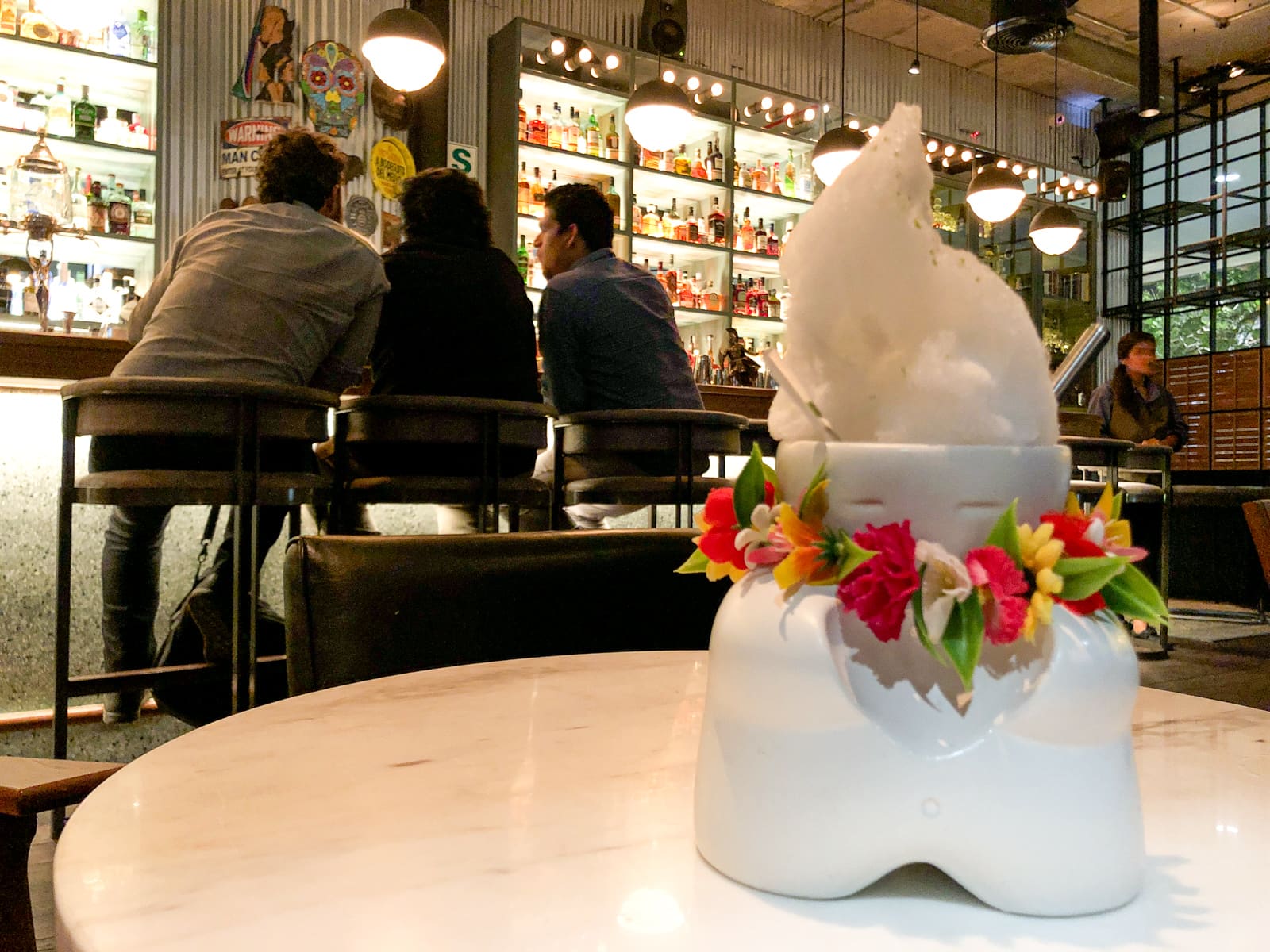 Lima has long been home to some of Latin America's best restaurants, and now it features on the World's 50 Best Bars list, too, thanks to Carnaval.
According to its website, the #21-ranked Carnaval was born from Aaron Diaz's travels abroad. It was a concept that matured in his mind over seven years.
Upon returning to Lima, he assembled a team to bring it to fruition in the San Isidro business district. The bar is adjacent to Osaka, an excellent sushi and Nikkei restaurant.
During my 2019 visit, I tried a tiki drink (pictured above), and one was served in a life-size black cobra.
Large, over-the-top presentations like these make Carnaval a fun happy hour spot.
Av. Pardo y Aliaga 662, San Isidro, Lima, carnavalbar.com
Related: Best Restaurants in Lima
Tjoget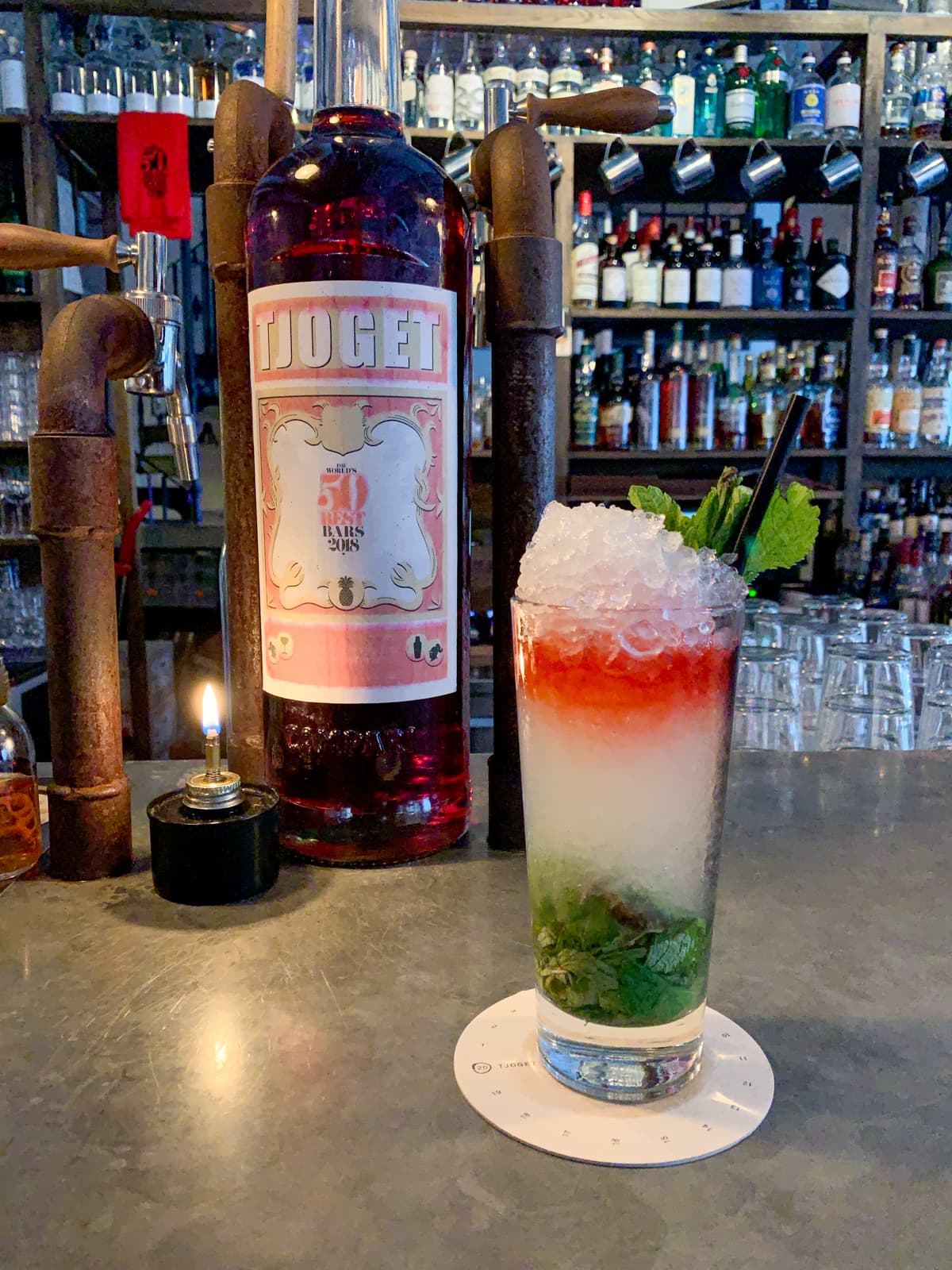 My last international trip before the pandemic struck was to Sweden for an adventure travel conference.
In Stockholm, I had the chance to do a little sightseeing and reconnect with an old Australian friend I'd met ten years earlier in Medellín.
I suggested Tjoget for happy hour and arrived early as usual. The cocktail bar hadn't opened yet, so I ordered a non-alcoholic IPA from the beer café.
Tjoget offers multiple spaces. In addition to the café serving small plates, coffee, and Czech-style beer, there's an award-winning cocktail bar, wine bar, and a Mediterranean restaurant.
My friend arrived as the cocktail bar opened, and we moved into the new space, taking seats at the shiny silver bar.
Tjoget was opened by two bartenders, Andreas Bergman, and Joel Söderbäck, with a menu inspired by "flavours and fragrances of Southern Europe, Northern Africa, and the Middle East."
I started the experience with their signature Beets by Tjoget with spa-retreated beetroot, Absolut Vodka, lemon, coconut, nutmeg, and ginger.
I followed it up with the Perroquet with Havana 3, Pernod Pastis, lime, sugar, and mint (pictured above).
Tjoget currently ranks #36 on the World's 50 Best Bars list, a deserved position.
Hornsbruksgatan 24, 117 34 Stockholm, tjoget.com
The Dead Rabbit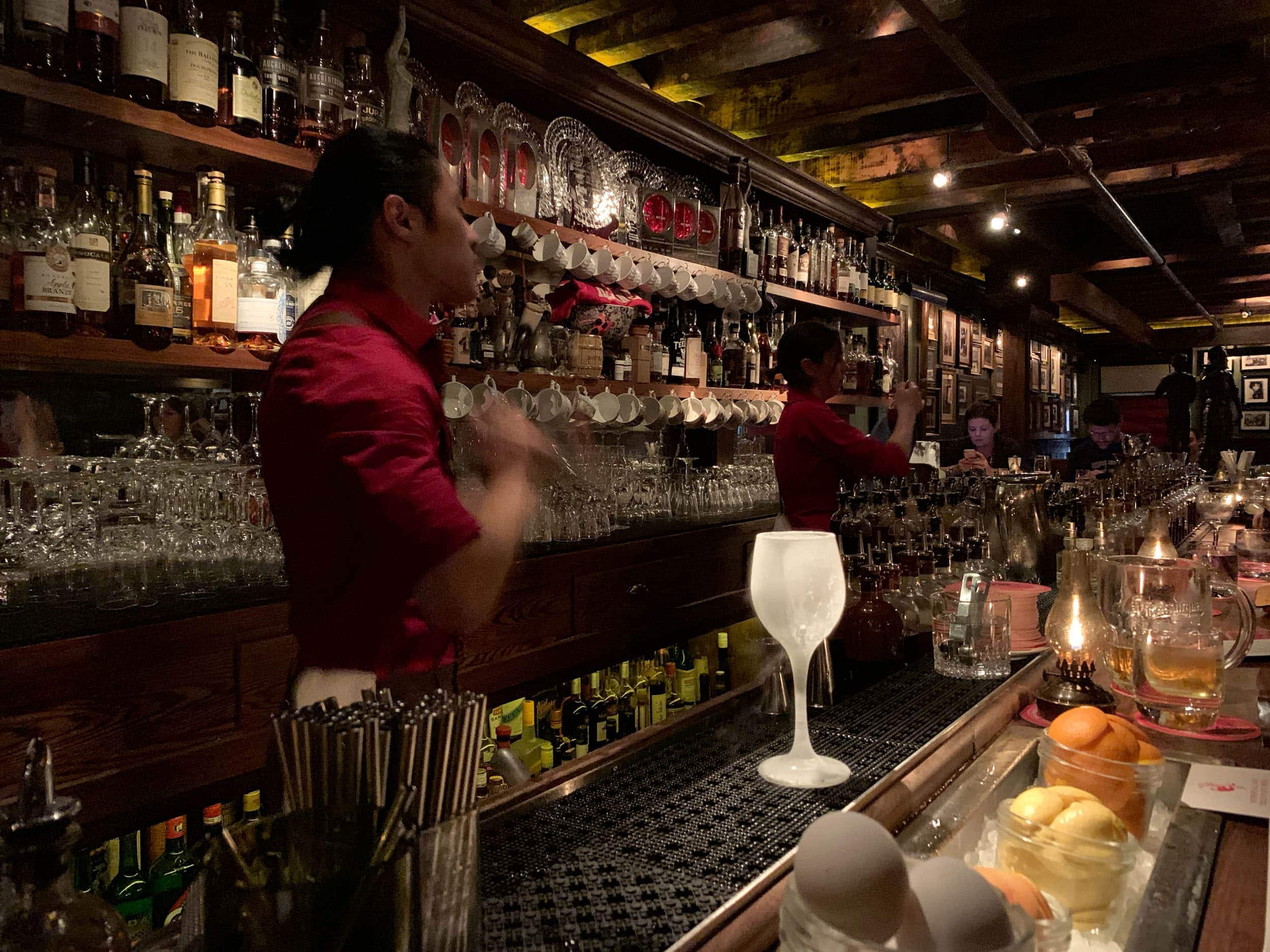 The coasters at The Dead Rabbit in lower Manhattan said, "born in a hurricane, forged in a fire," as the bar opened after Hurricane Sandy in 2012 and later suffered a kitchen fire in 2018.
One of New York City's best cocktail bars can now add a pandemic to the list.
Founded by two friends from Belfast, Jack McGarry and Sean Muldoon, the bar occupies a brick building dating back to 1828. Actually, The Dead Rabbit is two bars.
The ground-floor Taproom is a traditional Irish pub where you can order a perfect pint of Guinness, Irish whiskey, or an old-fashioned punch. Sundays feature prime rib and live trad music.
The second-floor Parlor has previously ranked among the world's best bars.
The Parlor is open Friday and Saturday evenings, though they eventually intend to return to pre-pandemic availability.
The specialty cocktails I tried in 2018 have all moved off the menu; however, the options replacing them look just as appealing.
30 Water Street, New York City, deadrabbitnyc.com
Nottingham Forest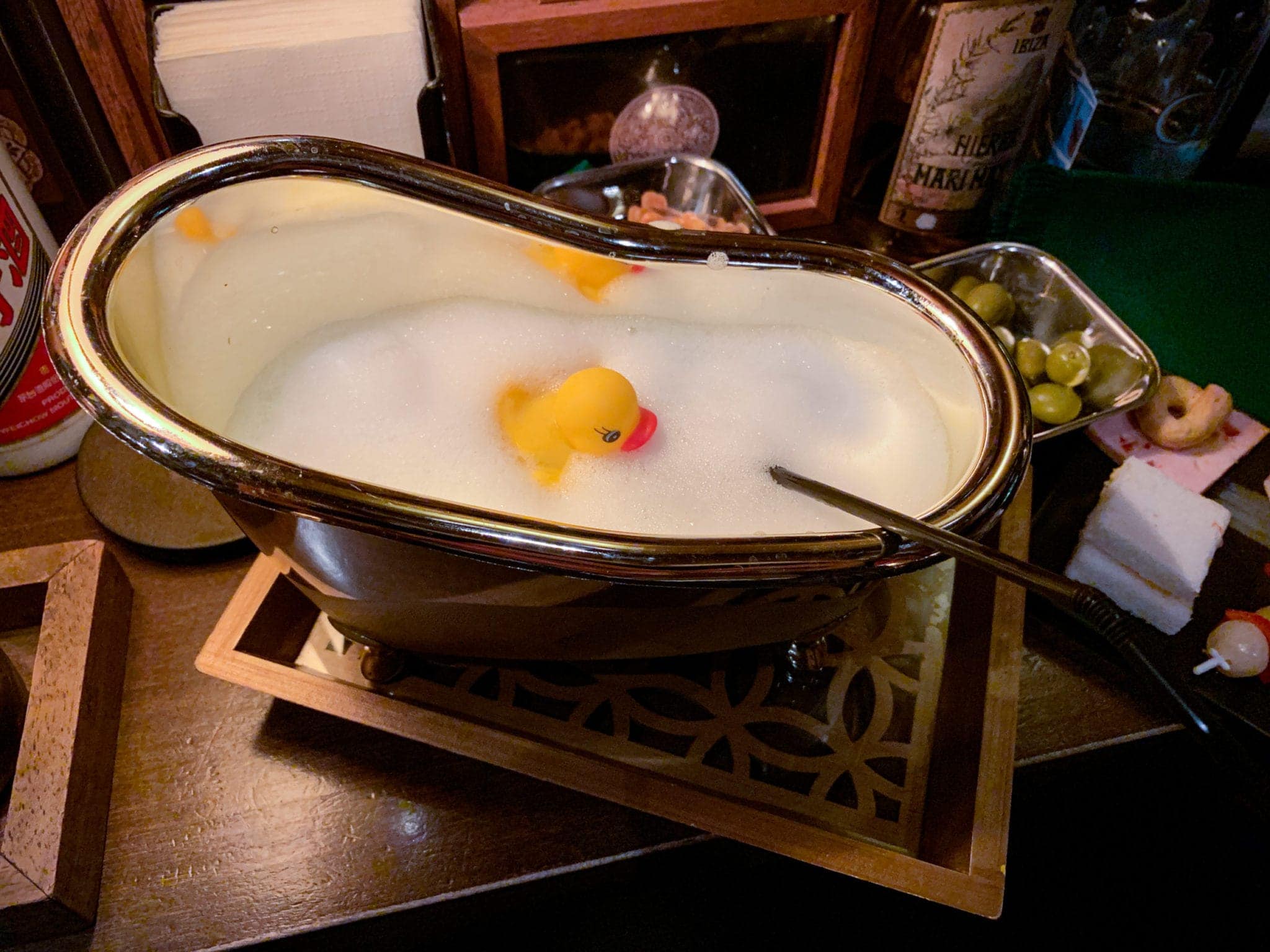 Lastly, we've got Nottingham Forest, which I visited on my third day in Milan during my 2018 Italy trip.
Dario Comino's science-lab-like bar has been a regular on The World's 50 Best Bars list since 2010, appearing at #38 in 2016.
I'll forever remember Nottingham Forest for the Sephora gin cocktail served in a bathtub, with peach liquor foam and a mini rubber ducky.
***
These are the world's best bars I visited in the before times. I hope to check out many more as the world re-opens, and I return to traveling again.