Have you ever wondered where you can sip a beer in New York City and soak in some history simultaneously? Well, you're in luck. We're diving into the heart of the Big Apple to uncover the oldest bars in NYC.
These aren't just watering holes; they're time capsules that have witnessed the American Revolution, Prohibition, the Roaring '20s, and everything in between.
So, put on your most dapper outfit or comfortable jeans—either work—and come along as we journey through NYC's most iconic and historic bars.
NYC's Oldest Bars
1. Fraunces Tavern (1762)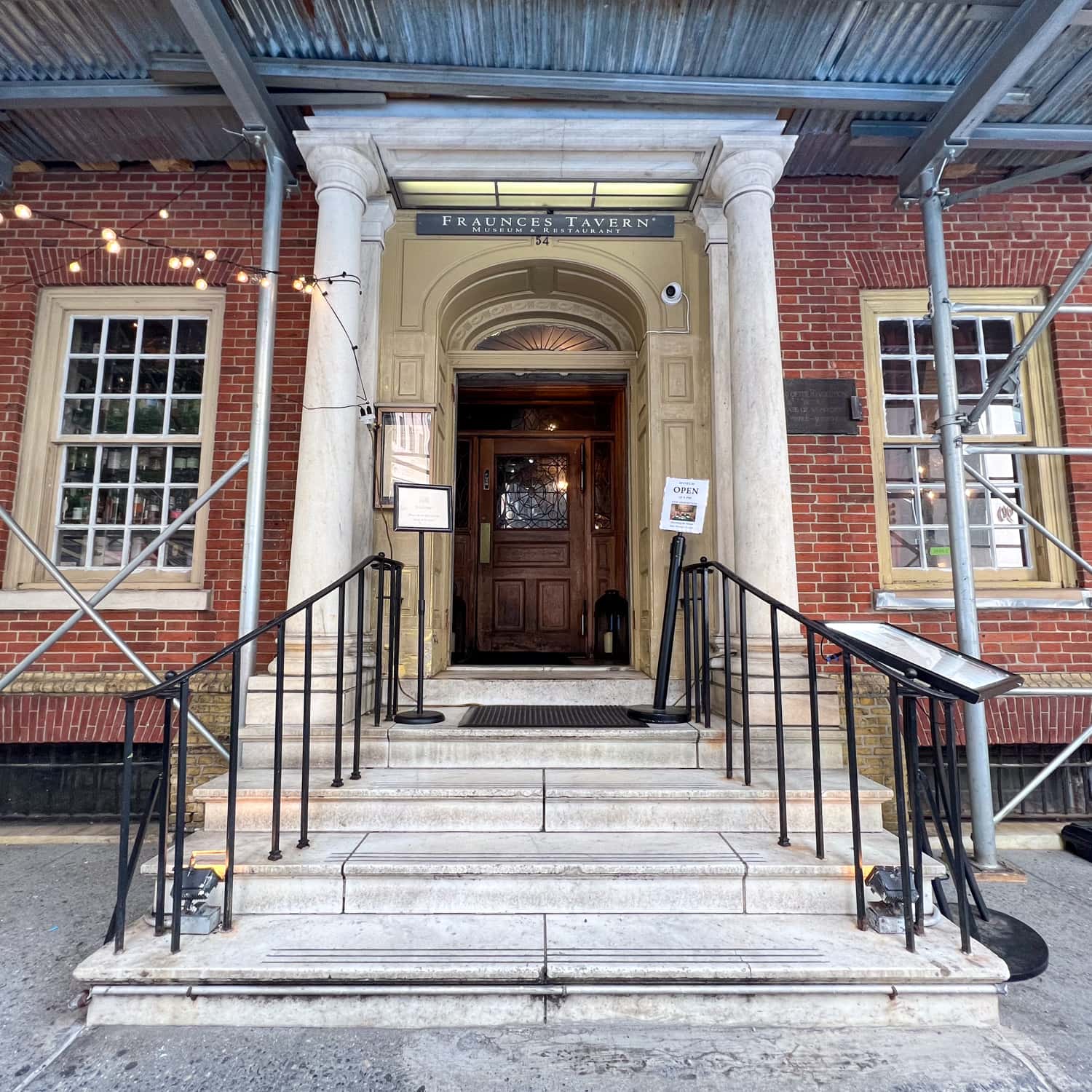 In the heart of the Financial District, around the corner from The Dead Rabbit, Fraunces Tavern, a National Historic Landmark, has been serving drinks since 1762.
But it's not just the age that makes it unique; it's the role it played in American history. Imagine sipping a pint where George Washington bid farewell to his officers after the Revolutionary War.
Samuel Fraunces founded this historic bar in Lower Manhattan, a key meeting place for the Sons of Liberty, who fought for America's independence from British rule.
It even functioned as an office for the Departments of Foreign Affairs, Treasury, and War. New York City briefly served as the capital of the United States from 1785 to 1790.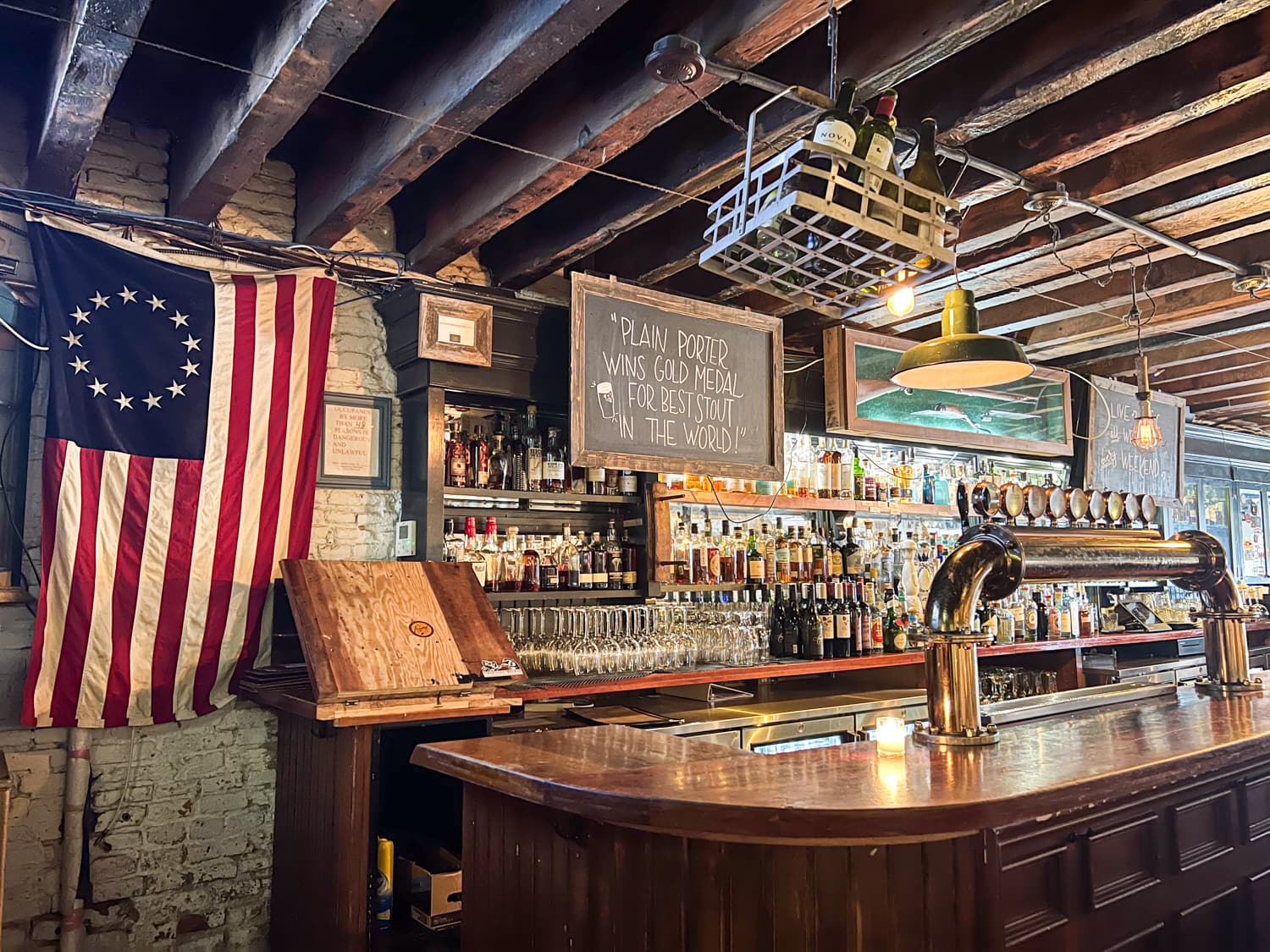 The building itself is a blend of 18th-century architecture and modern-day renovations, creating a unique atmosphere that's both cozy and awe-inspiring.
Today, you can visit the Long Room on the second floor, where George Washington said his goodbyes on December 4, 1783.
It was remodeled in the 1960s based on prints and paintings of taverns at the time.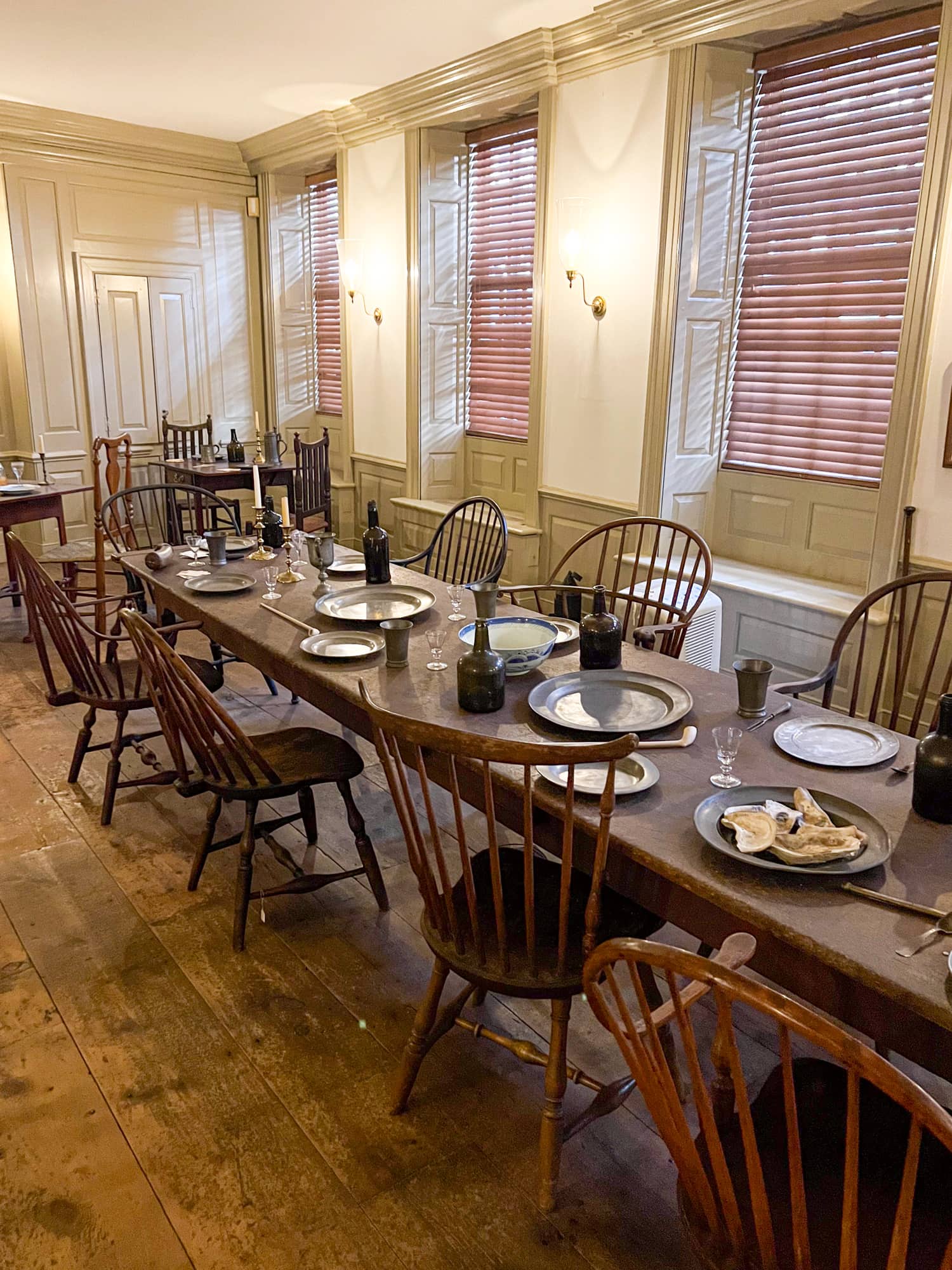 The Fraunces Tavern Museum continues on the third floor, where you can dive deeper into the building's storied past.
Or, enjoy a craft beer, cider, or cocktail in the same space where our Founding Fathers once plotted the course of a new nation.
So, here's to history—may it never be forgotten, especially over a good drink!
54 Pearl Street, New York, NY, frauncestavern.com
2. Ear Inn (1817)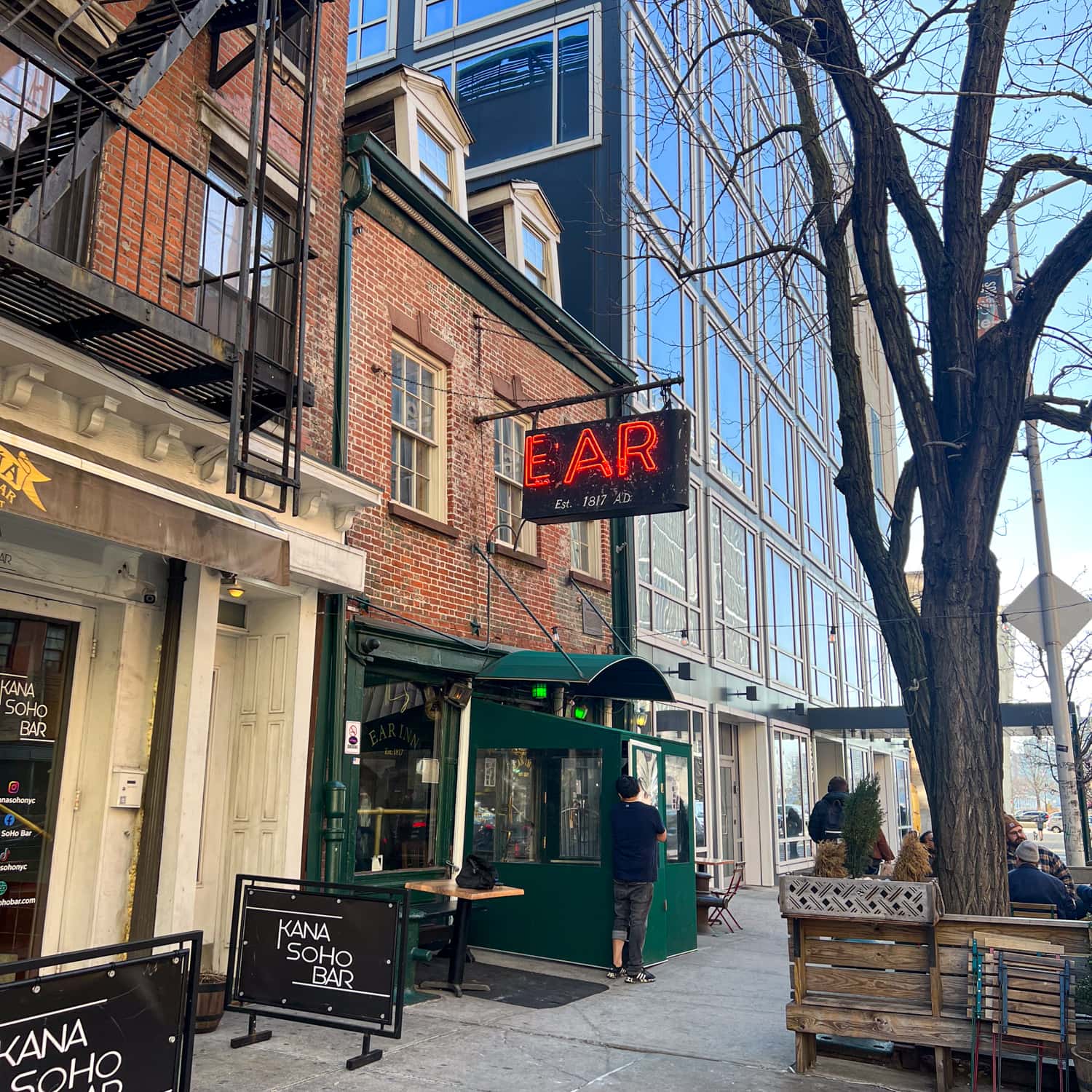 Situated on Spring Street, just north of Tribeca, west of Soho, and one block east of the Hudson River, the Ear Inn has been pouring drinks since 1817.
The small red brick building was originally constructed around 1770 for James Brown, an aid to George Washington.
Thanks to his successful tobacco industry career, Brown could afford to live here, not far from Washington's Richmond Hill estate. At the time, the Hudson River was only five feet from his door.
According to Ear Inn's website, following Brown's passing, "In the mid-1800s, Thomas Cooke sold home-brewed beer and crocks of corn whiskey to a constant wave of sailors."
A restaurant was later added, and the bar survived Prohibition in the 1920s by operating as a speakeasy.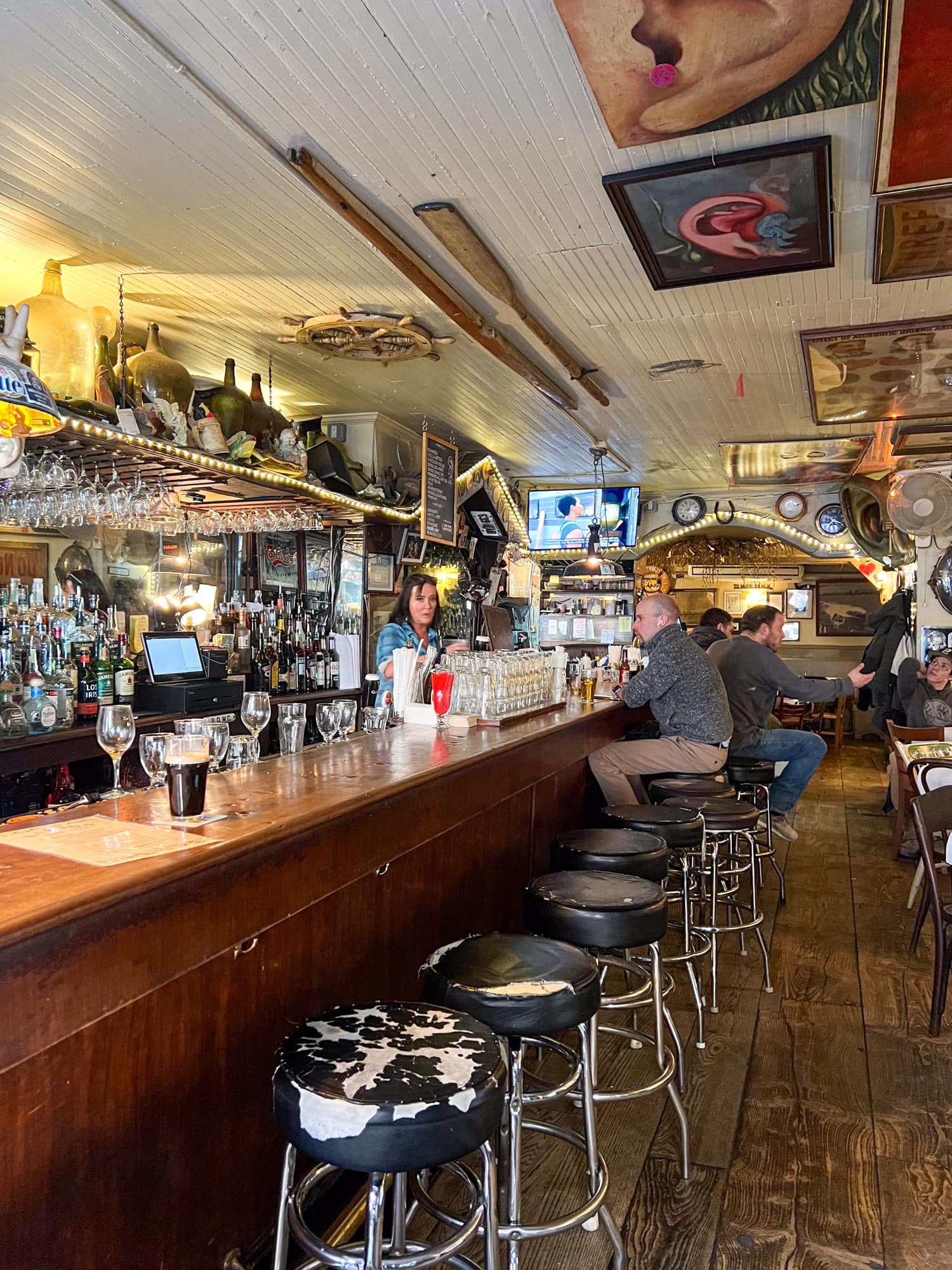 The two-story townhouse is one of the few Federal-era structures in New York City.
And the story behind The Ear Inn's name is as entertaining as it's history.
In the 1970s, the owners didn't want to deal with the burdensome process associated with new signage for a landmark building, so they blacked out the first letter of the red neon "Bar" sign hanging out front, thus transforming it to "Ear."
The interior of the first-floor bar is a mix of maritime bric-a-brac and paintings of ears adorning the ceiling.
I dropped in early the afternoon before St Patrick's Day and enjoyed a pint of Guinness.
Here, at one of the oldest bars in NYC, you'll find friendly bartenders and a diverse crowd enjoying live music, food, beer, and cocktails.
326 Spring Street, New York, NY, theearinn.com
3. McSorley's (1854)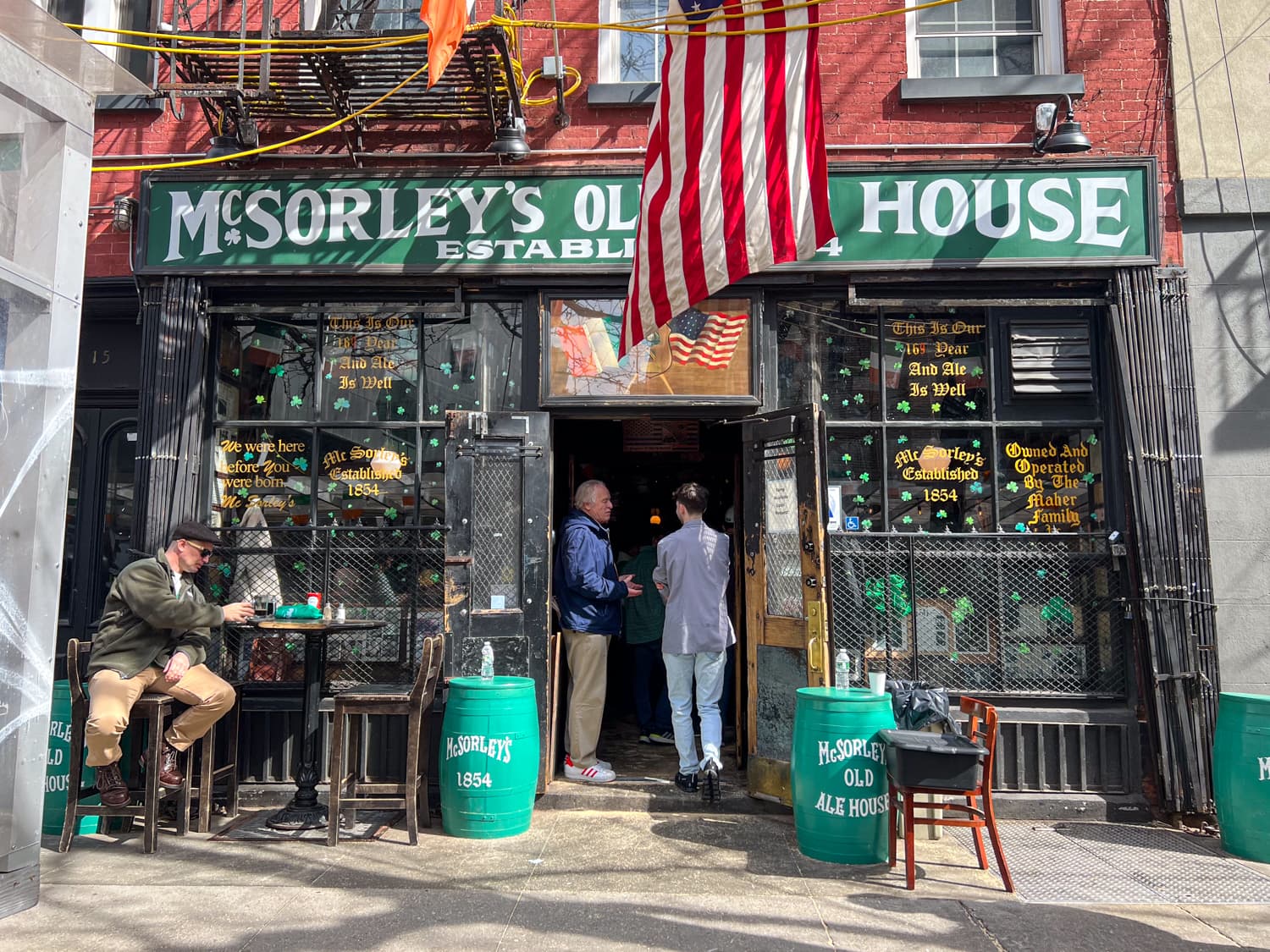 Speaking of St. Patrick's Day, there's no better place to celebrate than McSorley's Old Ale House, where you can practically feel the history seeping through the sawdust-covered floors.
Established in 1854, this East Village institution is one of the oldest continuously operating bars in New York City and its oldest Irish pub.
Walking into McSorley's is like stepping back in time; the walls are adorned with memorabilia that spans decades, from old newspaper clippings to dusty wishbones left by World War I soldiers hoping to return home safely.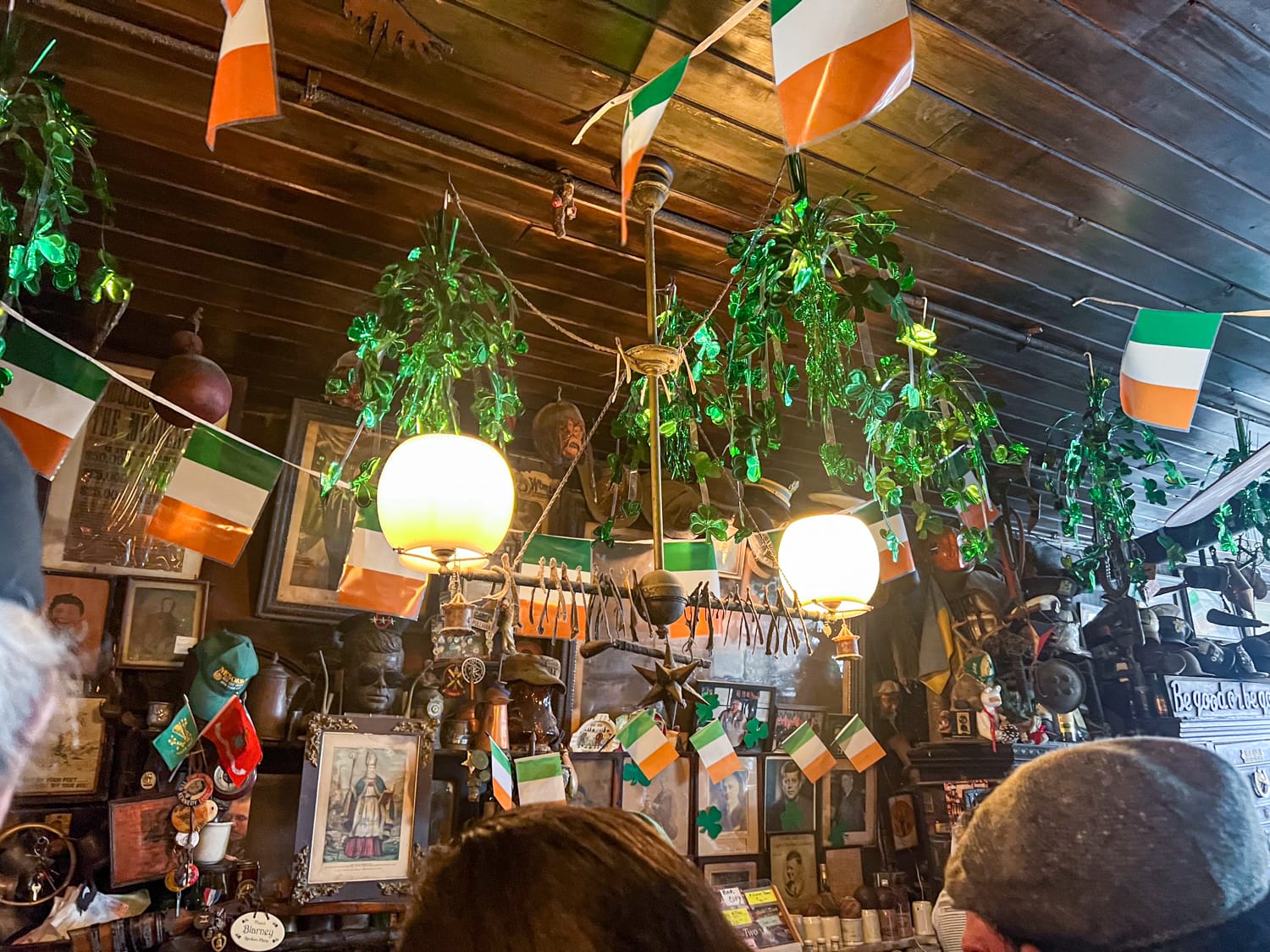 Now, let's talk beer. Since it opened about 169 years ago, McSorley's has served only one drink—ale. You've got two choices: light or dark ale. That's it. No fancy craft beers or IPAs here, folks.
Served in small mugs, the signature ale is brewed exclusively for McSorley's, capturing the essence of the bar's rich history in every sip.
The beauty lies in the simplicity, allowing you to focus on the atmosphere and the stories unfolding within these walls.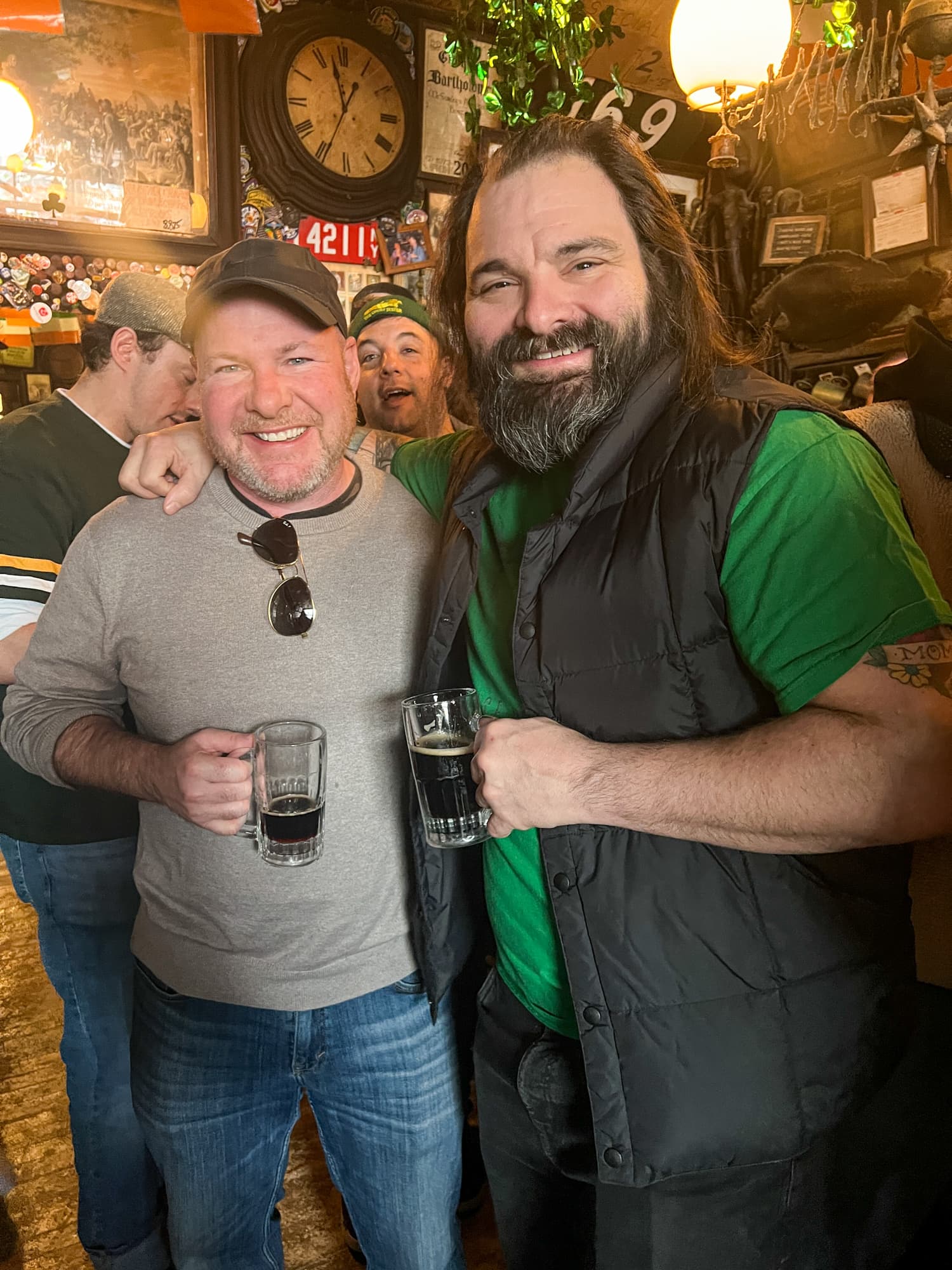 The list of famous figures who've spent time at McSorley's is long and includes:
Abraham Lincoln
Ulysses S. Grant
Theodore Roosevelt
John Lennon
Hunter S. Thompson
It was the subject of a notable New Yorker essay, "The Old House at Home" by Joseph Mitchell, and a poem by E.E. Cummings.
As you can see, McSorley's is more than just a bar—it's a living, breathing piece of American history.
So grab a seat, order a round, and become part of the tale that McSorley's continues to tell. As far as the oldest bars in NYC go, this is one of my favorites.
15 East 7th Street, New York, NY, mcsorleysoldalehouse.nyc
4. Pete's Tavern (1864)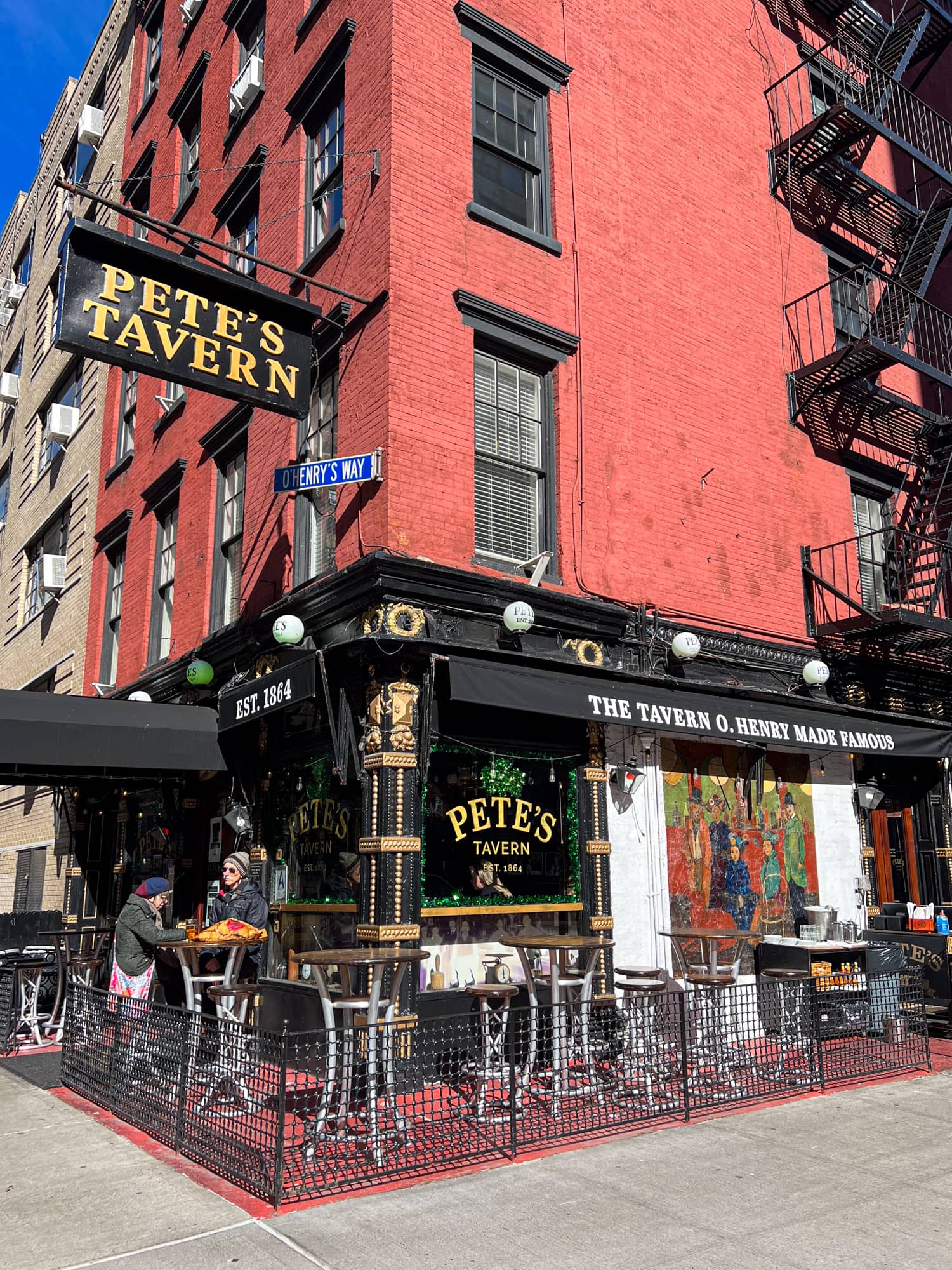 Next up on our bar-hopping journey through time is Pete's Tavern, a watering hole between Union Square and Gramercy Park serving patrons since 1864.
This place has been around since the Civil War era, and it bills itself as "America's oldest continuously operating bar and restaurant."
But what's even more fascinating is how it managed to keep its doors open during Prohibition.
During those dry years from 1920 to 1933, Pete's cleverly disguised itself as a flower shop.
While the front of the establishment sold bouquets, the back room continued to pour drinks for those in the know. Talk about a speakeasy in full bloom!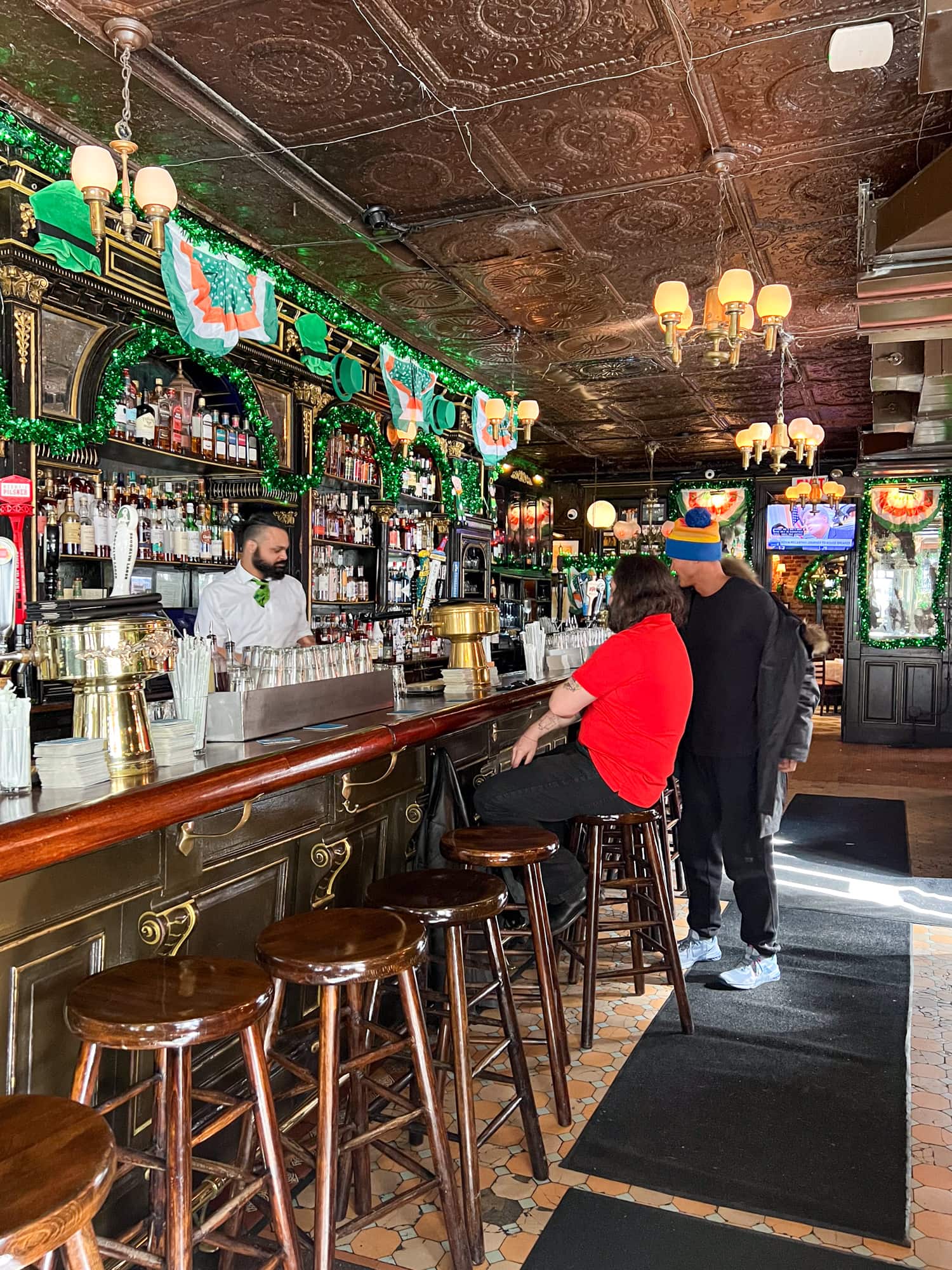 Today, Pete's Tavern retains much of its 19th-century charm, from the original 40-foot rosewood bar and tin ceiling to the tile floor.
It's said that O. Henry, the famed short-story writer, penned "The Gift of the Magi" in 1903 in one of its booths.
So, whether you're a literary fan or just someone who appreciates a good pint and some intriguing history, Pete's Tavern is a must-visit.
Raise a glass to resilience and the enduring spirit of New York City!
129 East 18th Street, New York, NY, petestavern.com
5. Landmark Tavern (1868)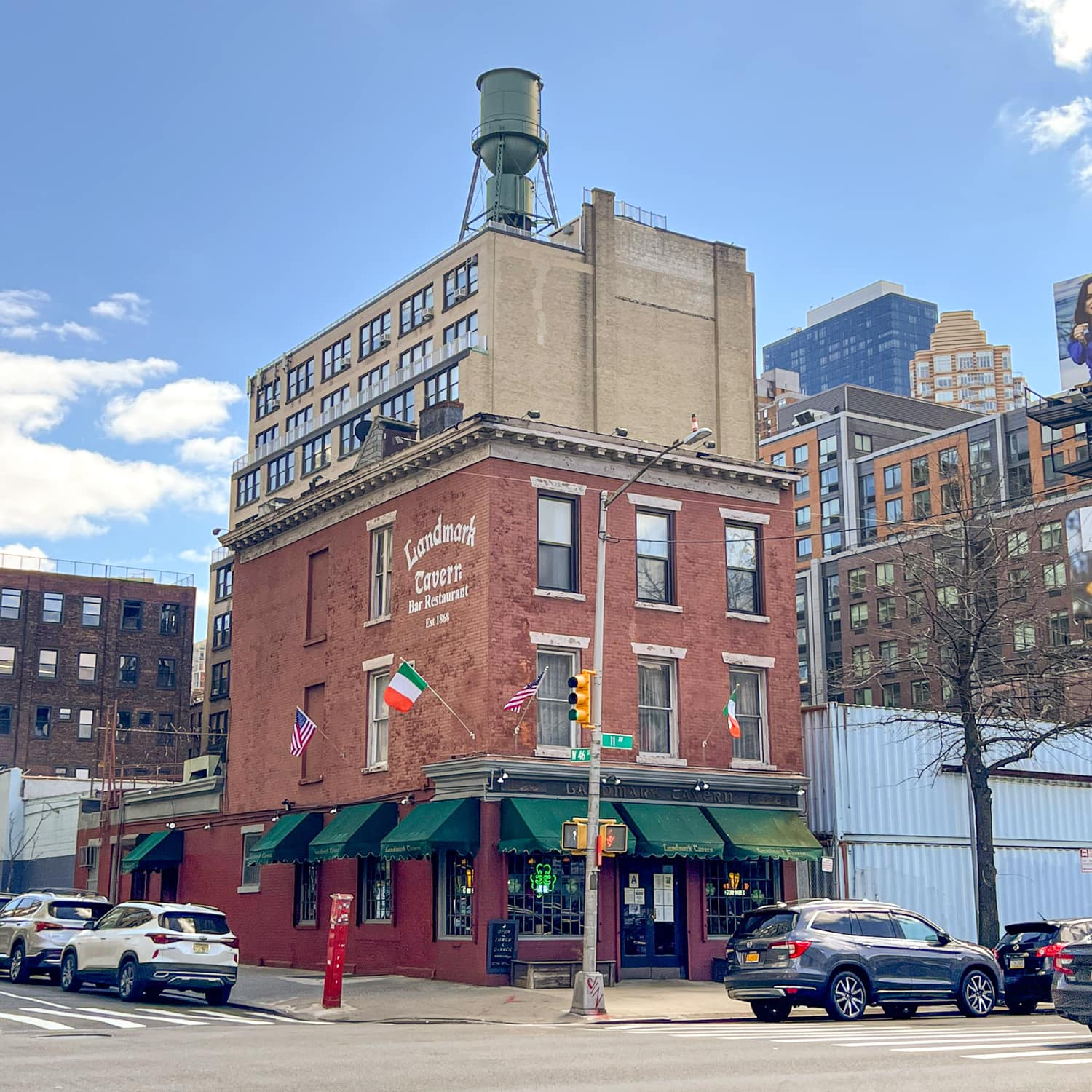 The Landmark Tavern is an Irish pub that's been a cornerstone of New York City's drinking scene since 1868, cementing its spot as one of NYC's oldest bars.
Situated in Hell's Kitchen on the far west side of Manhattan, one block from the Intrepid Air & Space Museum, this tavern was built on the banks of the Hudson River back then.
The upper floors were designed as an apartment for the owners, Patrick Henry Carley and his wife, and their children.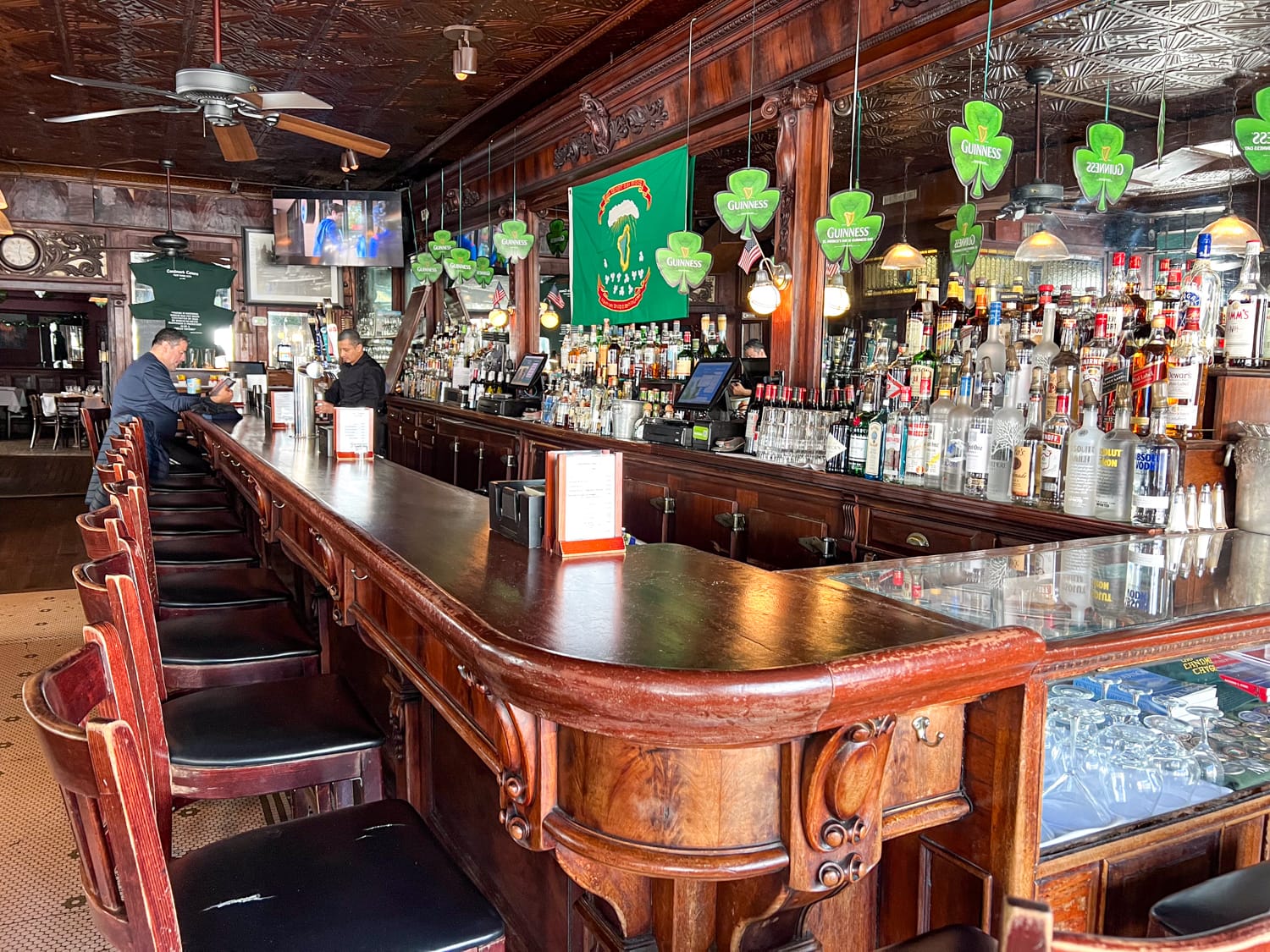 Like many bars of its era, The Landmark Tavern had to get creative to survive Prohibition. The owners transformed the third floor into a speakeasy.
While the ground floor operated as a restaurant, the upstairs became a secret refuge for those looking to wet their whistle.
The bar even had a hidden dumbwaiter to hoist drinks to the upper level, away from prying eyes.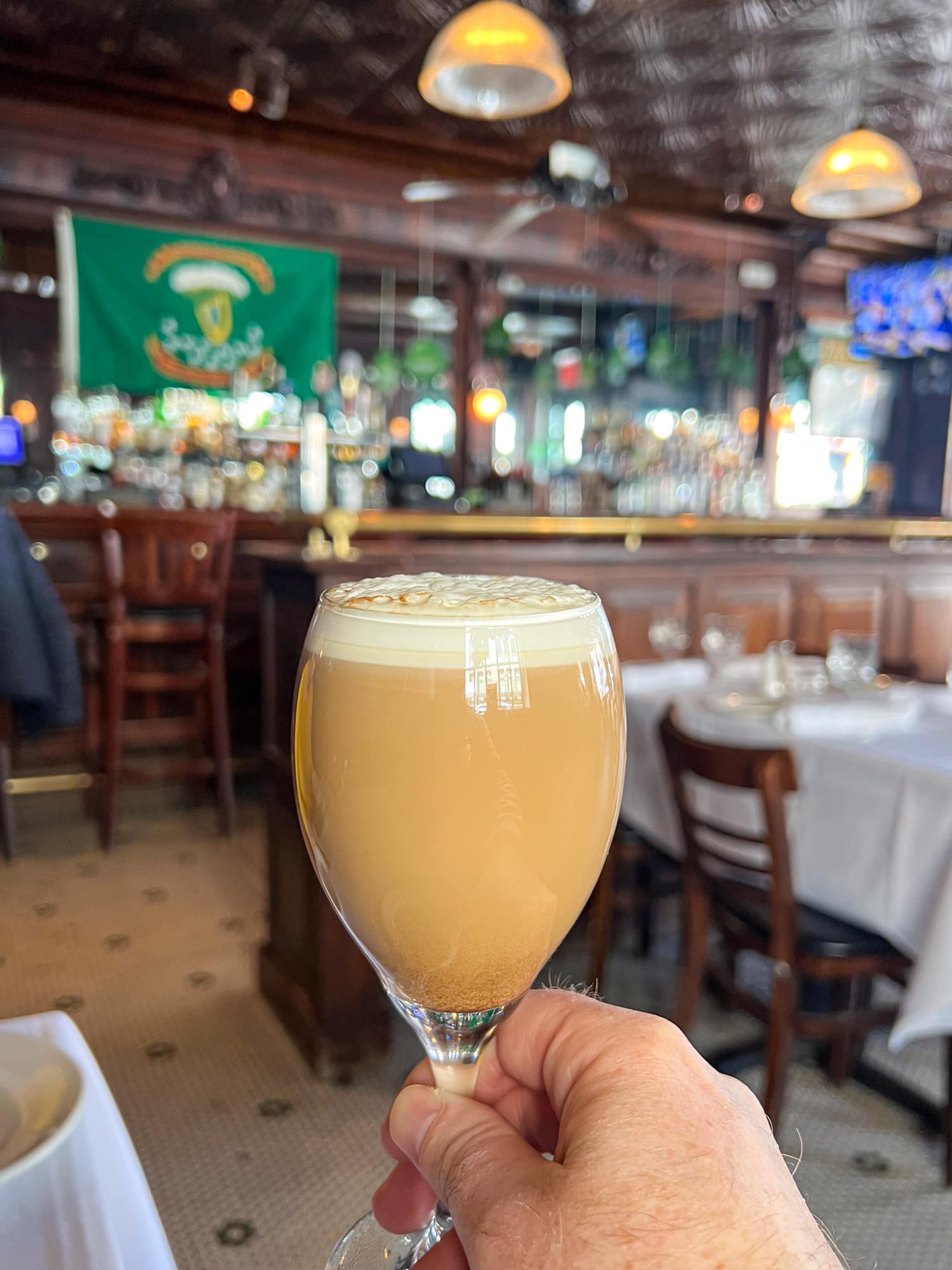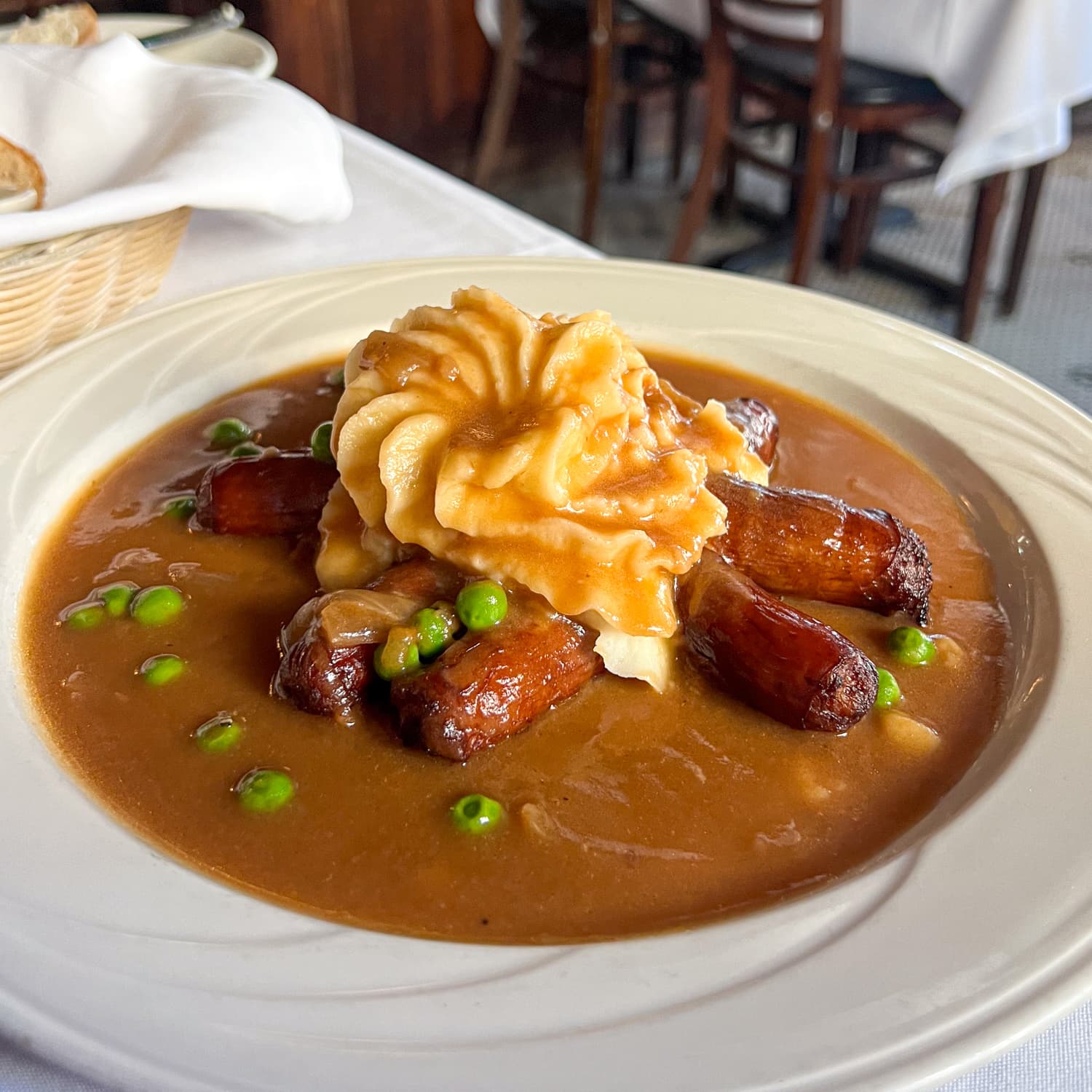 Today, The Landmark Tavern offers a mix of Irish classics and modern fare, all served in an atmosphere that transports you back to the 19th century.
It's a perfect blend of history, culture, and, of course, good drinks. Slainte!
626 11th Avenue, New York, NY, thelandmarktavern.com
6. The Paris Cafe (1873)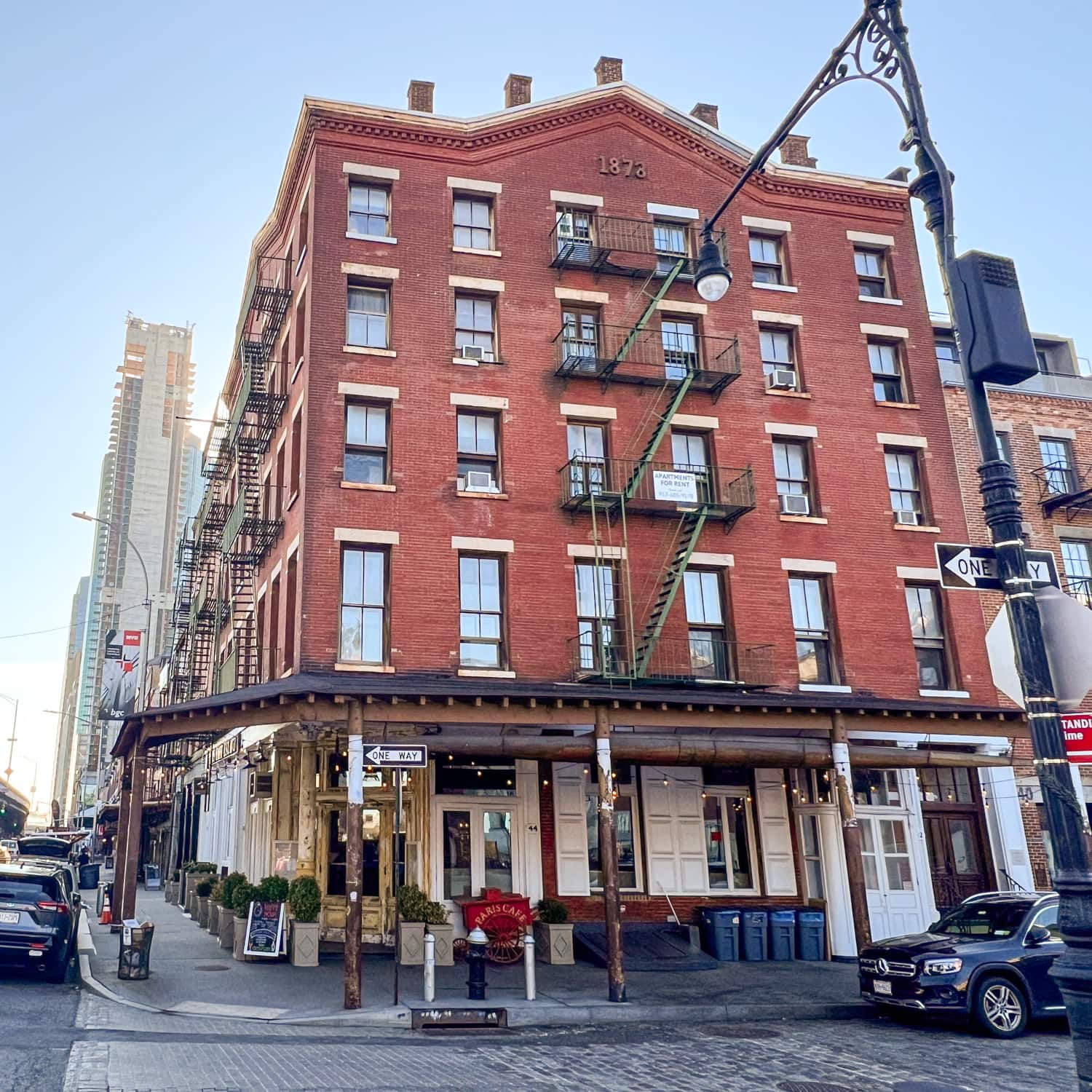 This spot is a delightful blend of Old World charm and New York grit, and it's been a fixture in the Historic South Street Seaport District since 1873.
Imagine a place where you can almost hear the clip-clop of horse-drawn carriages and the chatter of dockworkers along the East River, all while sipping a modern-day craft cocktail or a cold pint.
According to their website, "Bob Dylan, Thomas Edison, Teddy Roosevelt, Lauren Bacall & Butch Cassidy were all guests of this iconic establishment" a block south of the Brooklyn Bridge.
The Paris Cafe has seen its share of ups and downs, including surviving the devastating impact of Hurricane Sandy in 2012.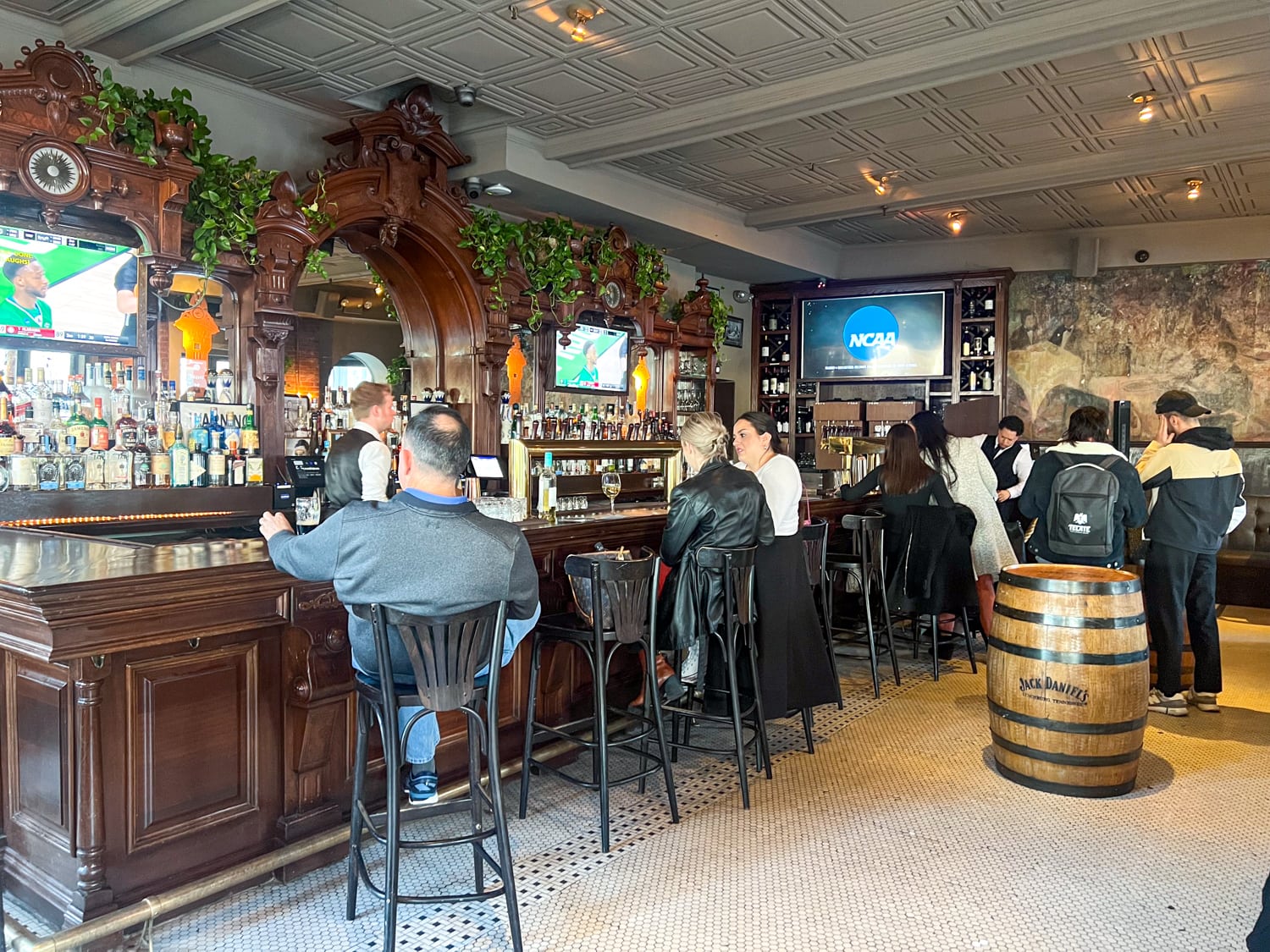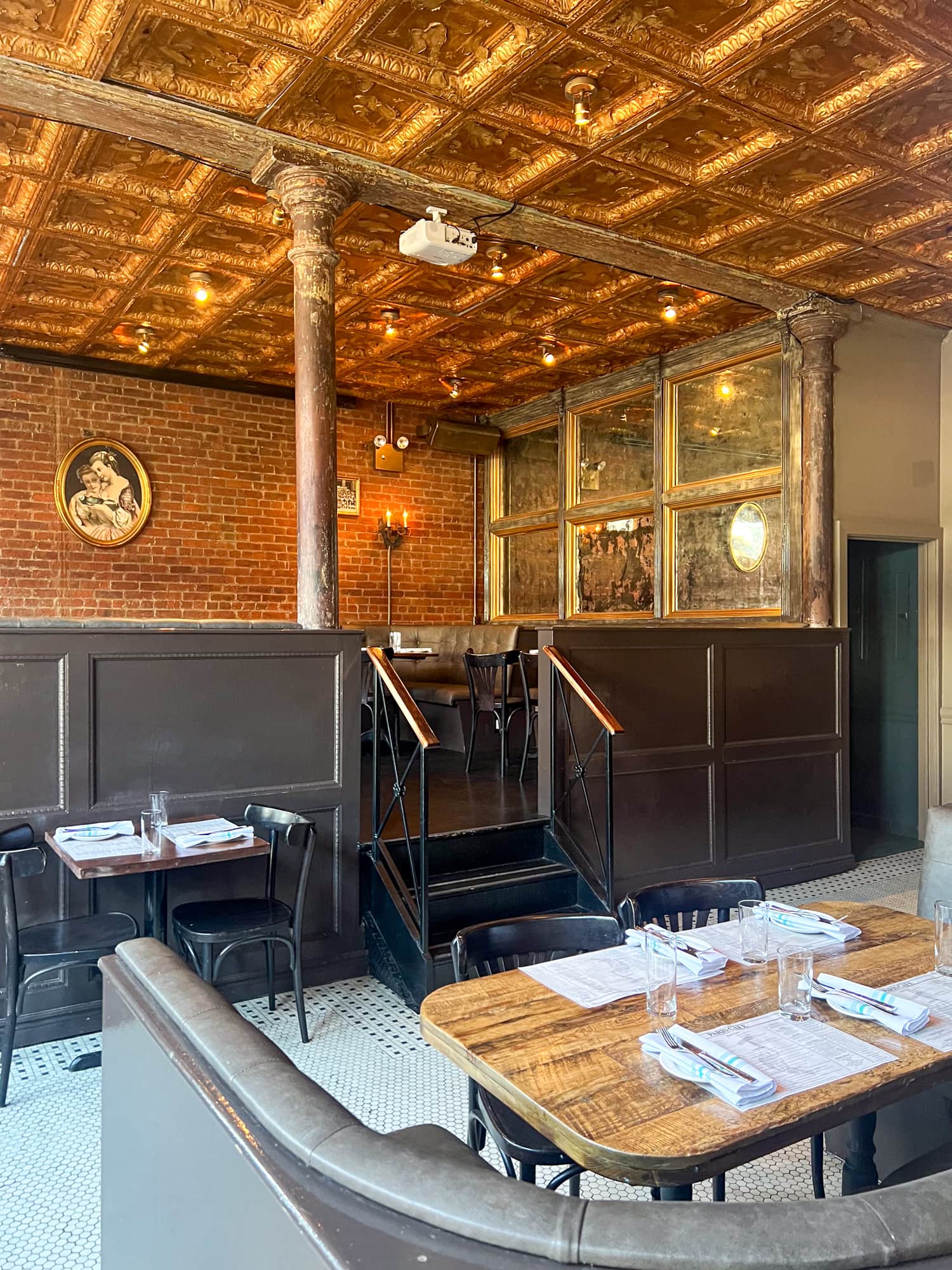 The storm forced the cafe to close for renovations, but like a phoenix, it rose from the ashes while maintaining its historic essence.
Today, the bar offers a diverse menu catering to traditionalists and foodies, featuring everything from classic pub grub to more refined dishes.
The kitchen is open for happy hour, dinner, and weekend brunch.
The atmosphere is a cozy mix of vintage and contemporary, making it a perfect spot for anyone looking to experience a slice of New York history while enjoying some great food and drinks.
119 South Street, 119 Peck Slip, New York, NY, pariscafenyc.com
7. White Horse Tavern (1880)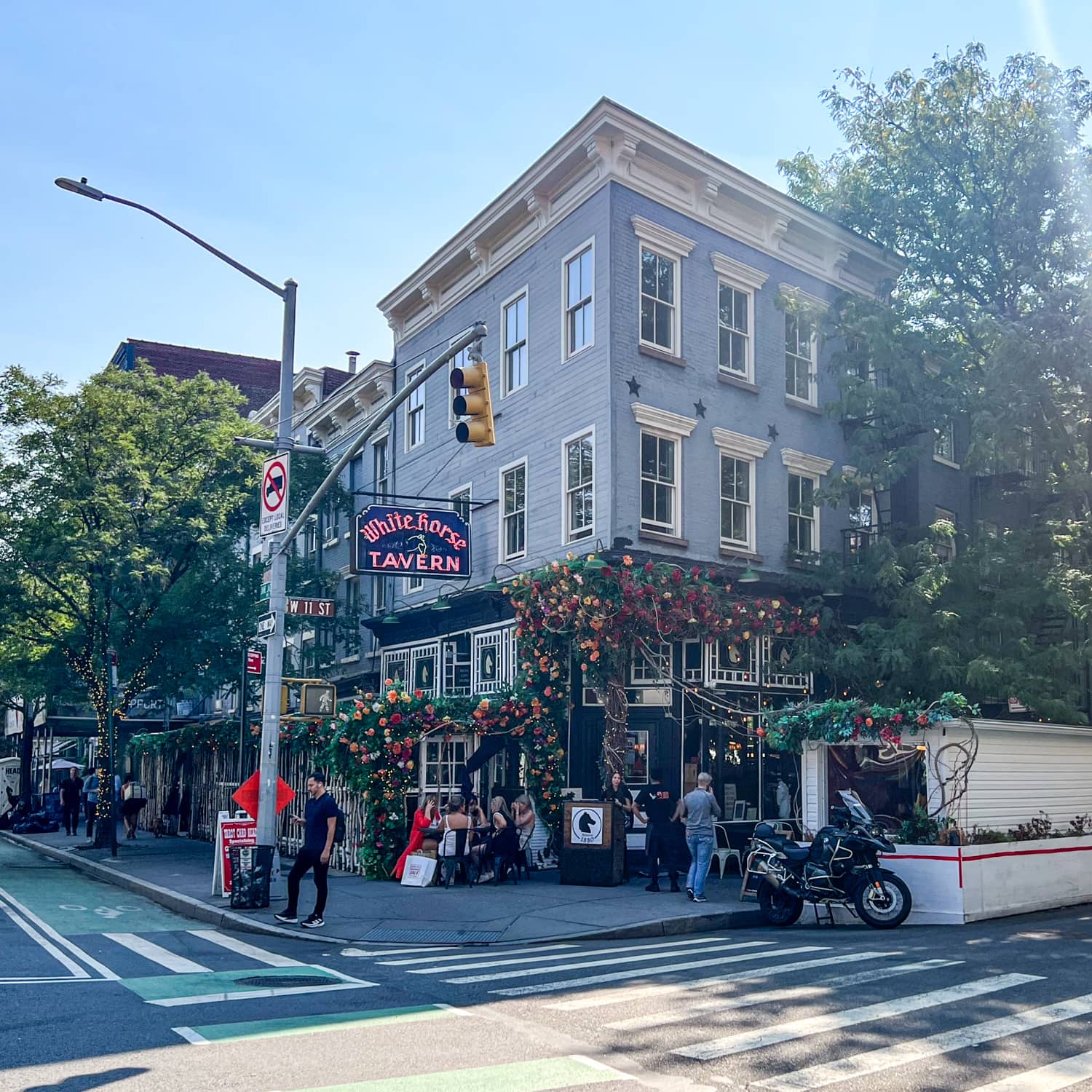 The White Horse Tavern is a Greenwich Village institution that's been quenching the thirst of New Yorkers since 1880. But this isn't just any old tavern; it's a mecca for writers, artists, and intellectuals.
The legendary poet and writer Dylan Thomas was a regular here, and it's said that he downed his last whiskey at this very bar before his untimely death.
The White Horse Tavern has always been a gathering spot for free thinkers and rebels.
In the 1950s and '60s, it became a hub for the Beat Generation, attracting figures like Jack Kerouac ("On the Road") and Allen Ginsberg ("Howl").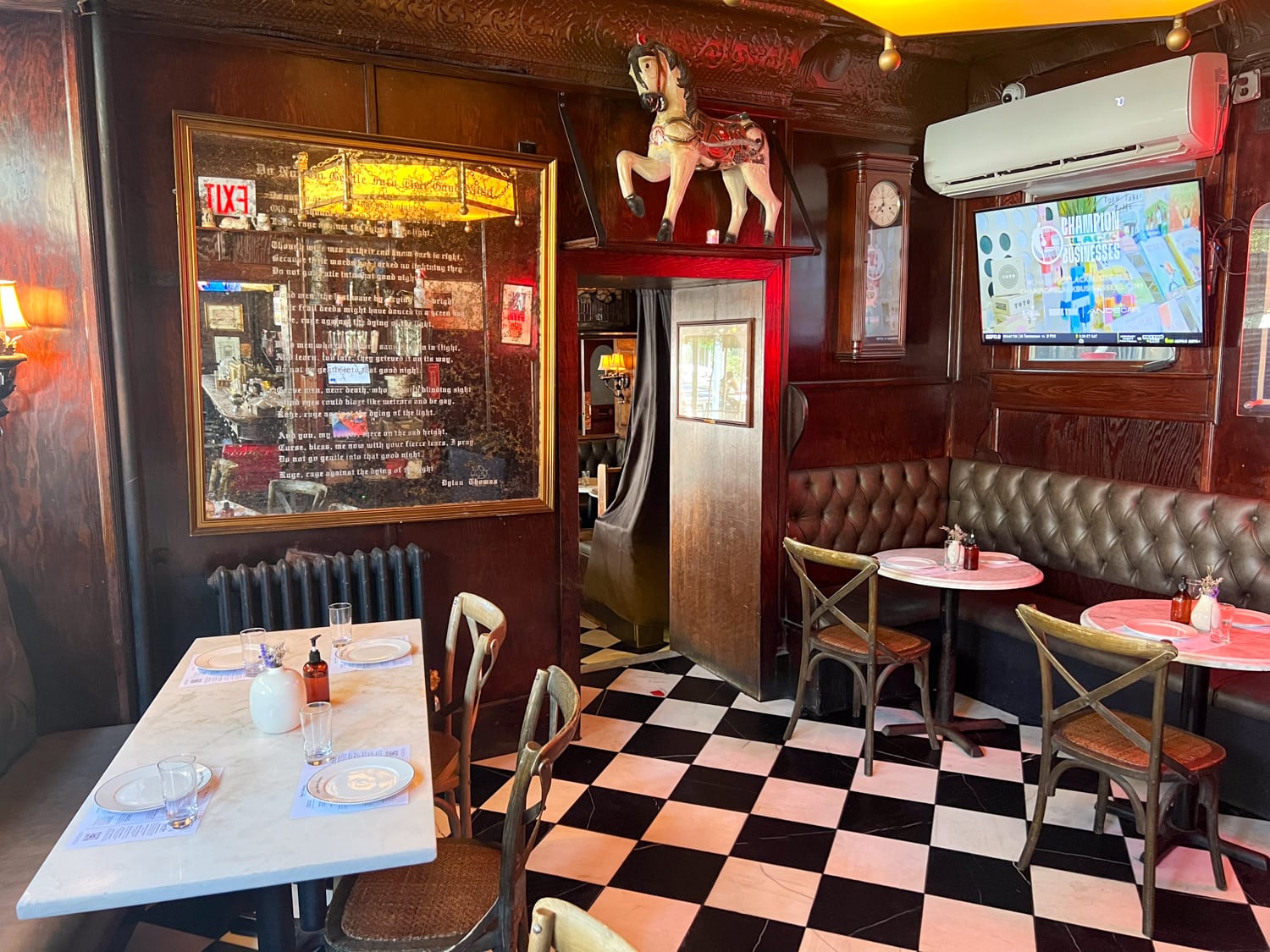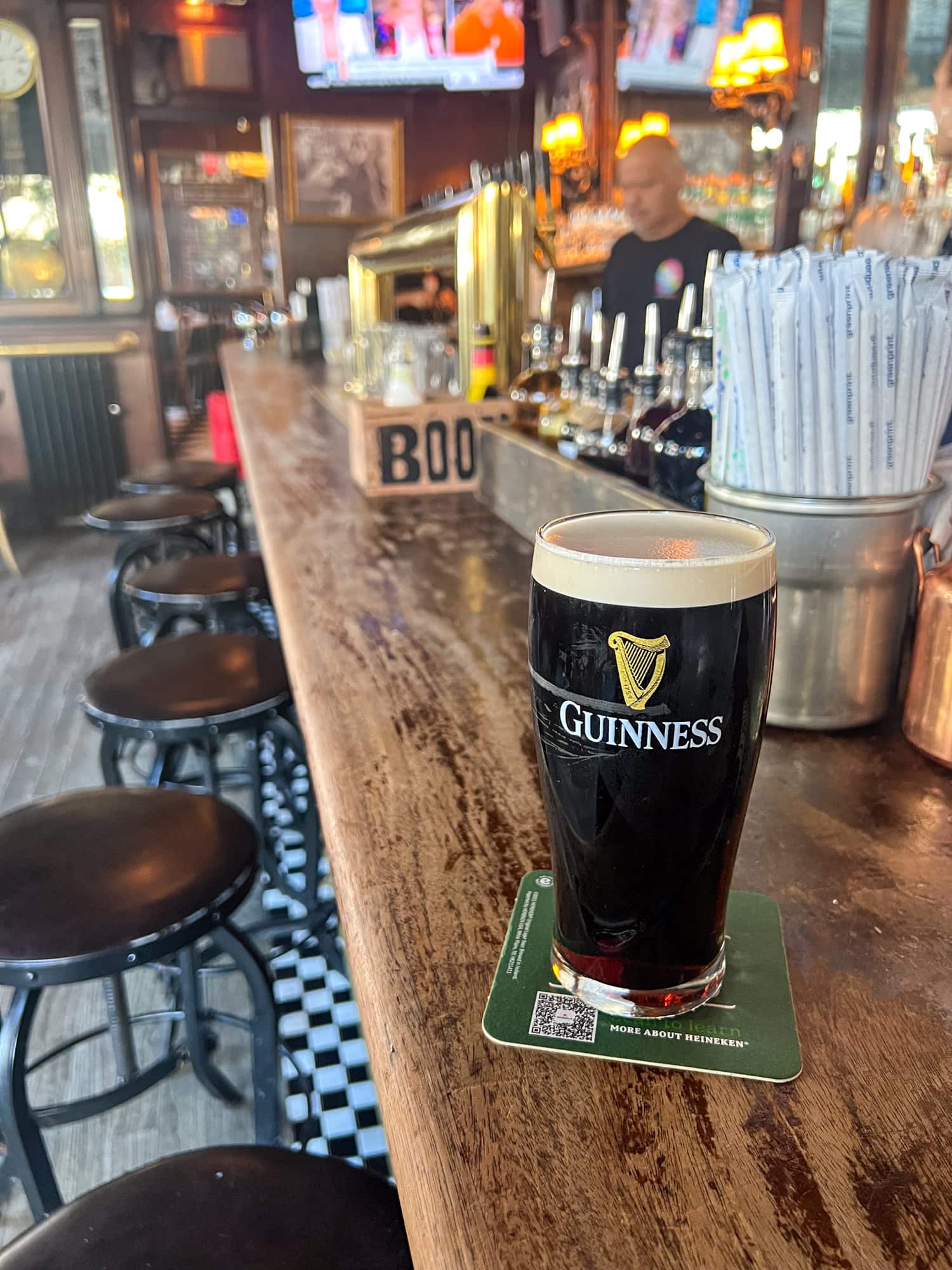 Fast forward to today, and you'll still find a diverse crowd of locals and tourists, all drawn by the tavern's rich history and laid-back vibe.
The bar itself is a cozy, wood-paneled space. While the extensive beer list and the food menu offer classic pub fare, the atmosphere truly sets this place apart.
567 Hudson St, New York, NY, whitehorsetavern1880.com
8. P.J. Clarke's (1884)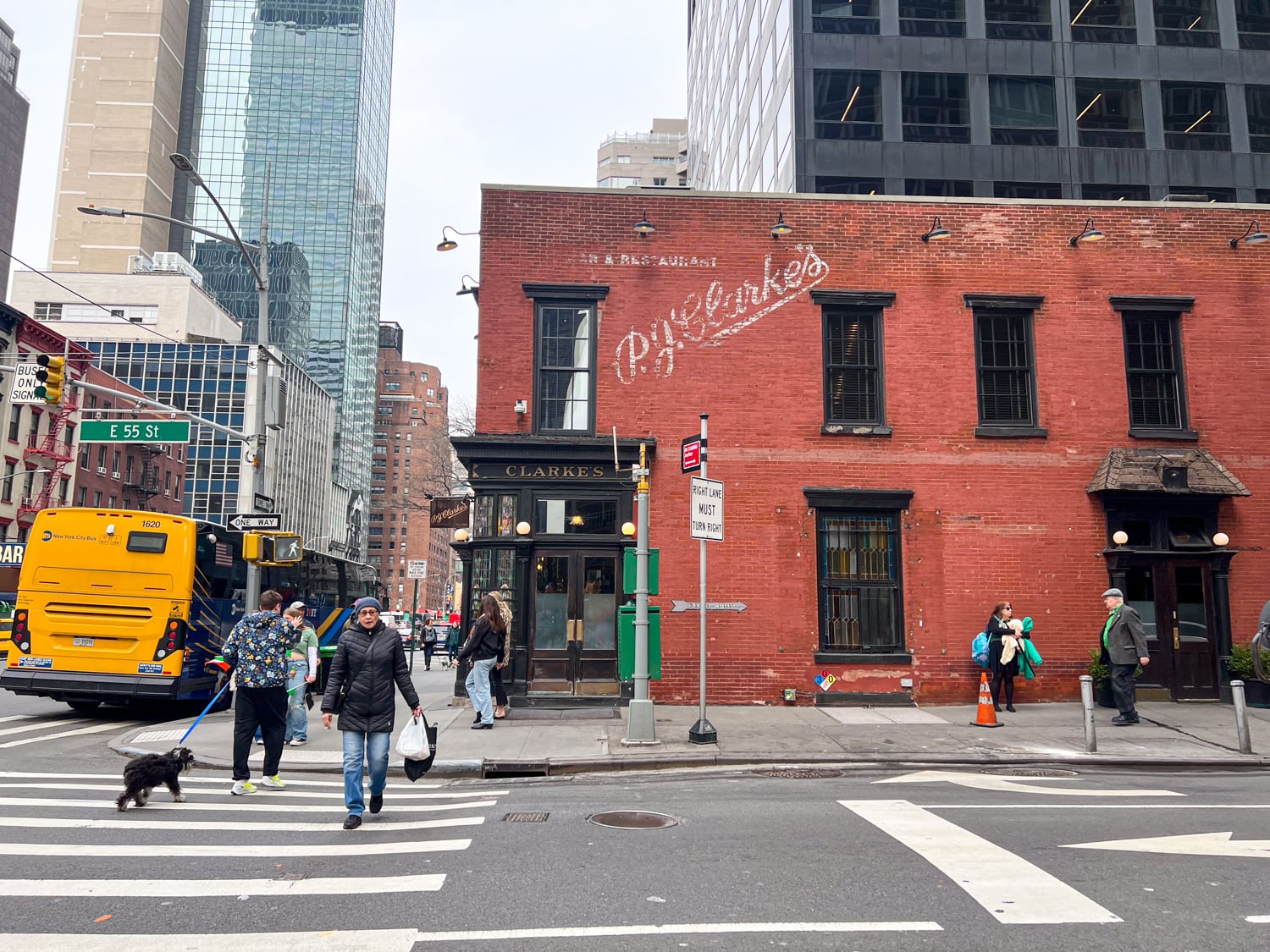 P.J. Clarke's is a Midtown Manhattan classic that's been serving up drinks and memories since 1884.
This place epitomizes an old-school New York saloon with a red-and-white checkered floor, dark wood paneling, and a vintage jukebox that'll transport you back in time.
The original proprietor, Patrick "Paddy" J. Clarke, survived Prohibition from 1920 to 1933 by producing bathtub gin and importing Scotch from Canada.
But what sets P.J. Clarke's apart is its star-studded history.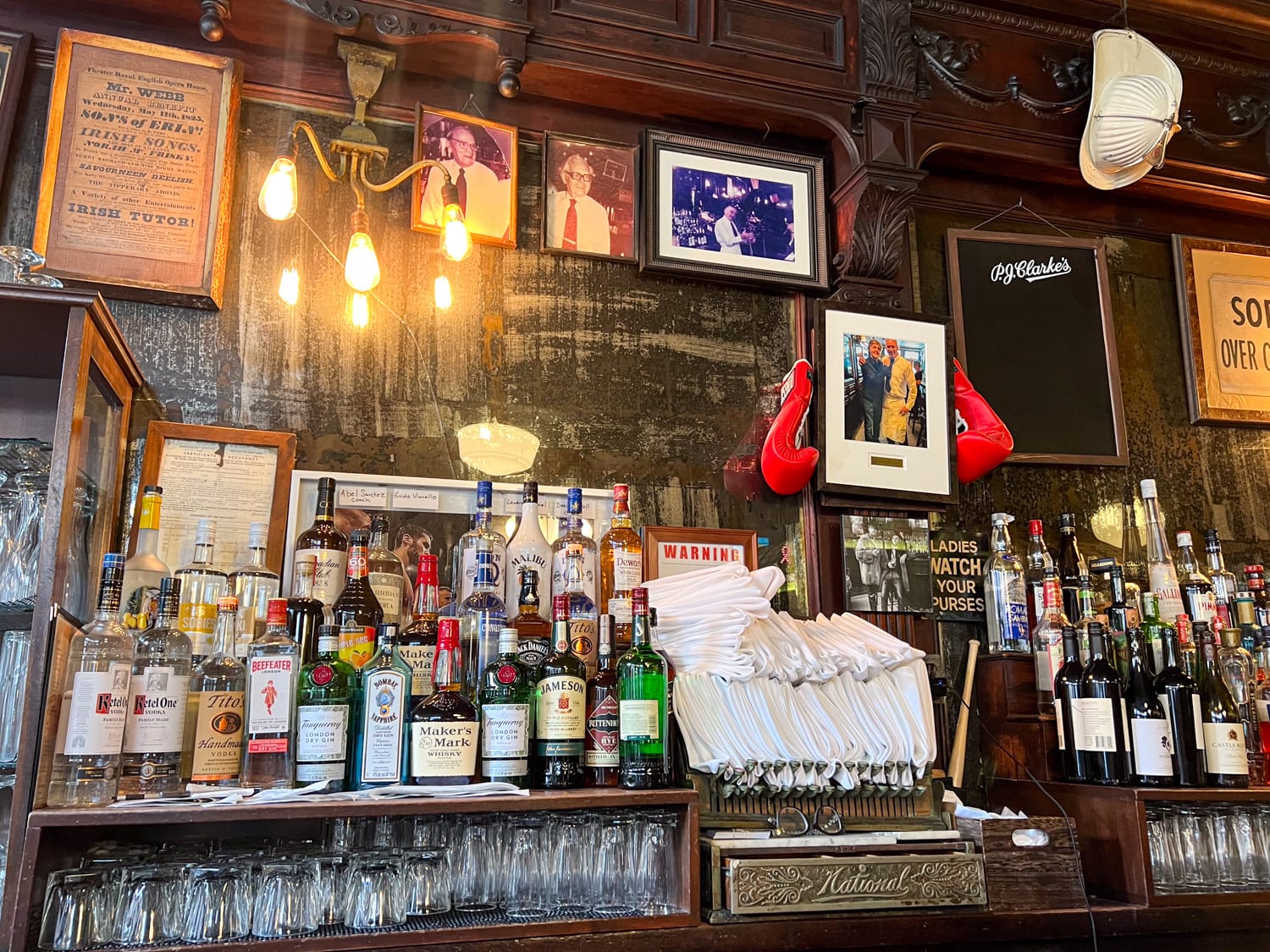 This bar has been frequented by a who's who of American culture, from Frank Sinatra to Jackie Kennedy. Sinatra had his own designated table (#20). And in 1958, Buddy Holly proposed to his wife here.
And let's not forget the famous "Cadillac Burger," a bacon cheeseburger named by Nat King Cole himself when he proclaimed it "The Cadillac of burgers."
While the bar has undergone renovations over the years, the current owners have ensured that P.J. Clarke's maintains its original charm and character.
915 3rd Avenue, New York, NY, pjclarkes.com
9. Old Town Bar (1892)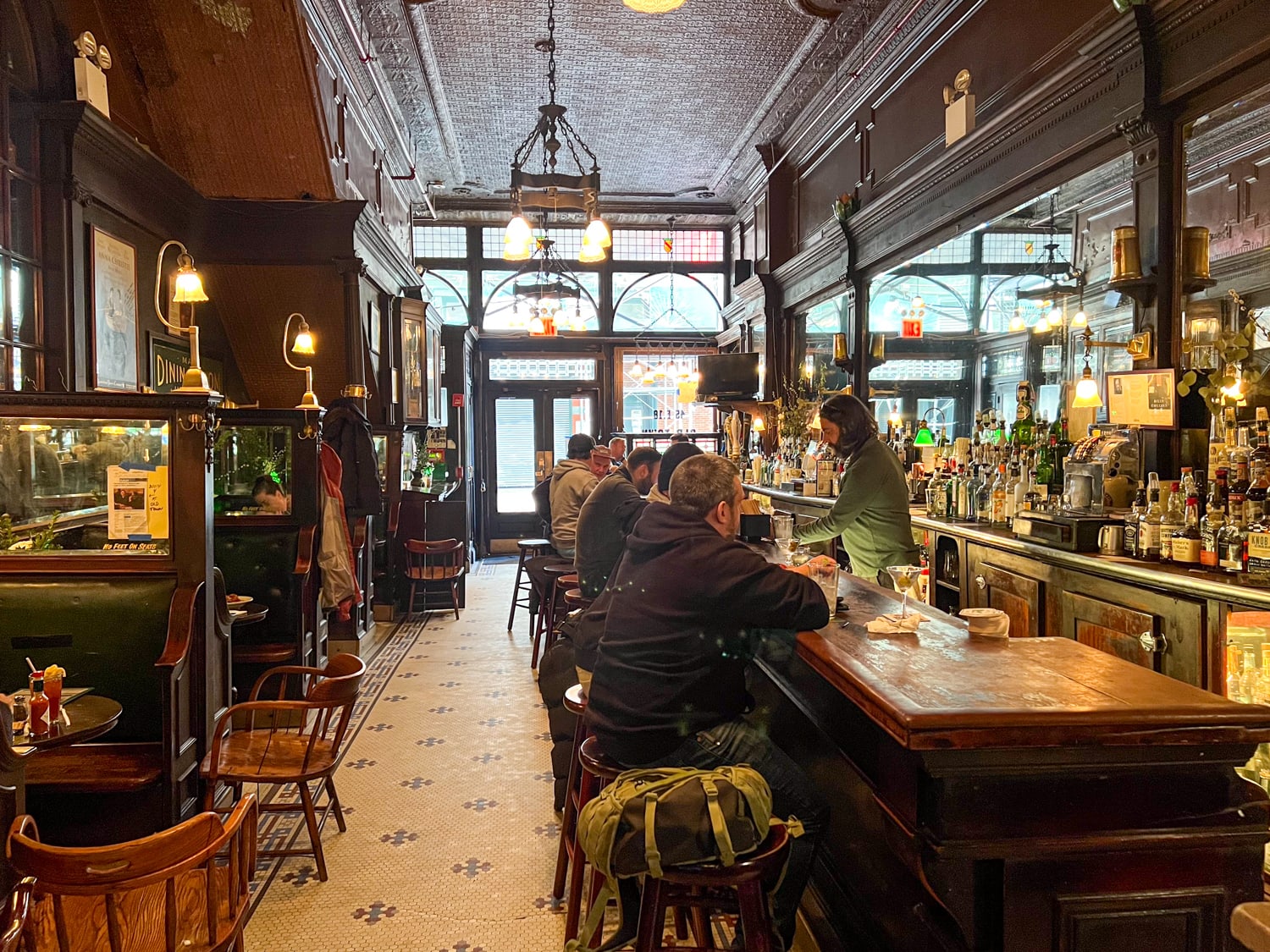 Nestled in the Flatiron District, this New York City bar has served drinks since 1892.
And get this: it still features the original wooden booths and marble-topped mahogany bar, giving you a genuine taste of old New York.
But its commitment to preserving its past sets Old Town Bar apart. The bar still uses the same dumbwaiters installed over a century ago to ferry food and drinks between floors.
And let's talk about those high, tin ceilings and Hinsdale urinals in the men's room—both are original to the bar and designated as New York City landmarks.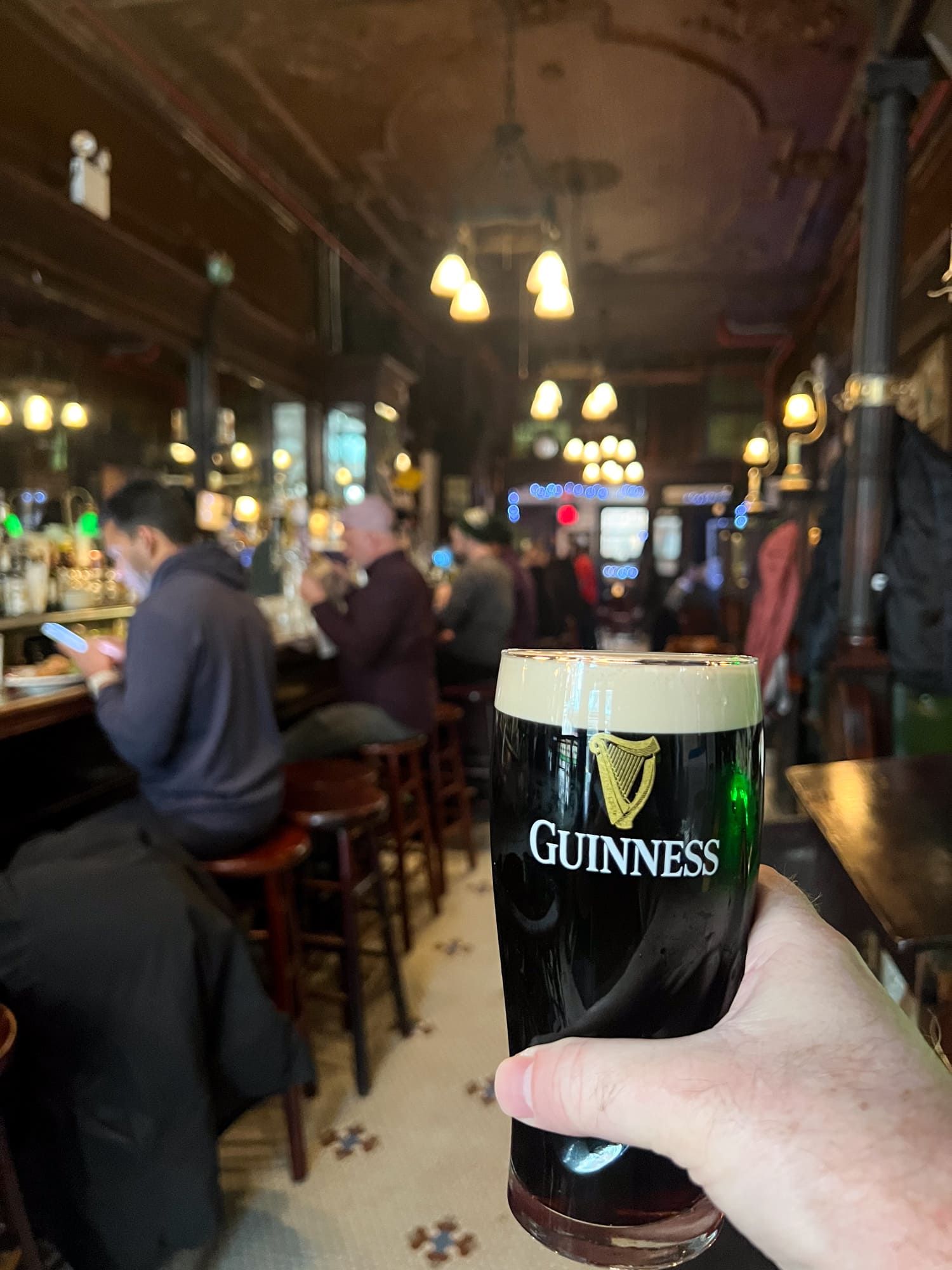 Old Town Bar has been a favorite haunt for writers, journalists, and artists. It's even made its way into pop culture, appearing in TV shows and movies.
Old Town Bar is a must-visit whether you're looking to enjoy a classic burger and a pint of ale or simply keen to soak up some NYC history.
45 East 18th Street, New York, NY, oldtownbarnyc.com
10. Mulberry Street Bar (1908)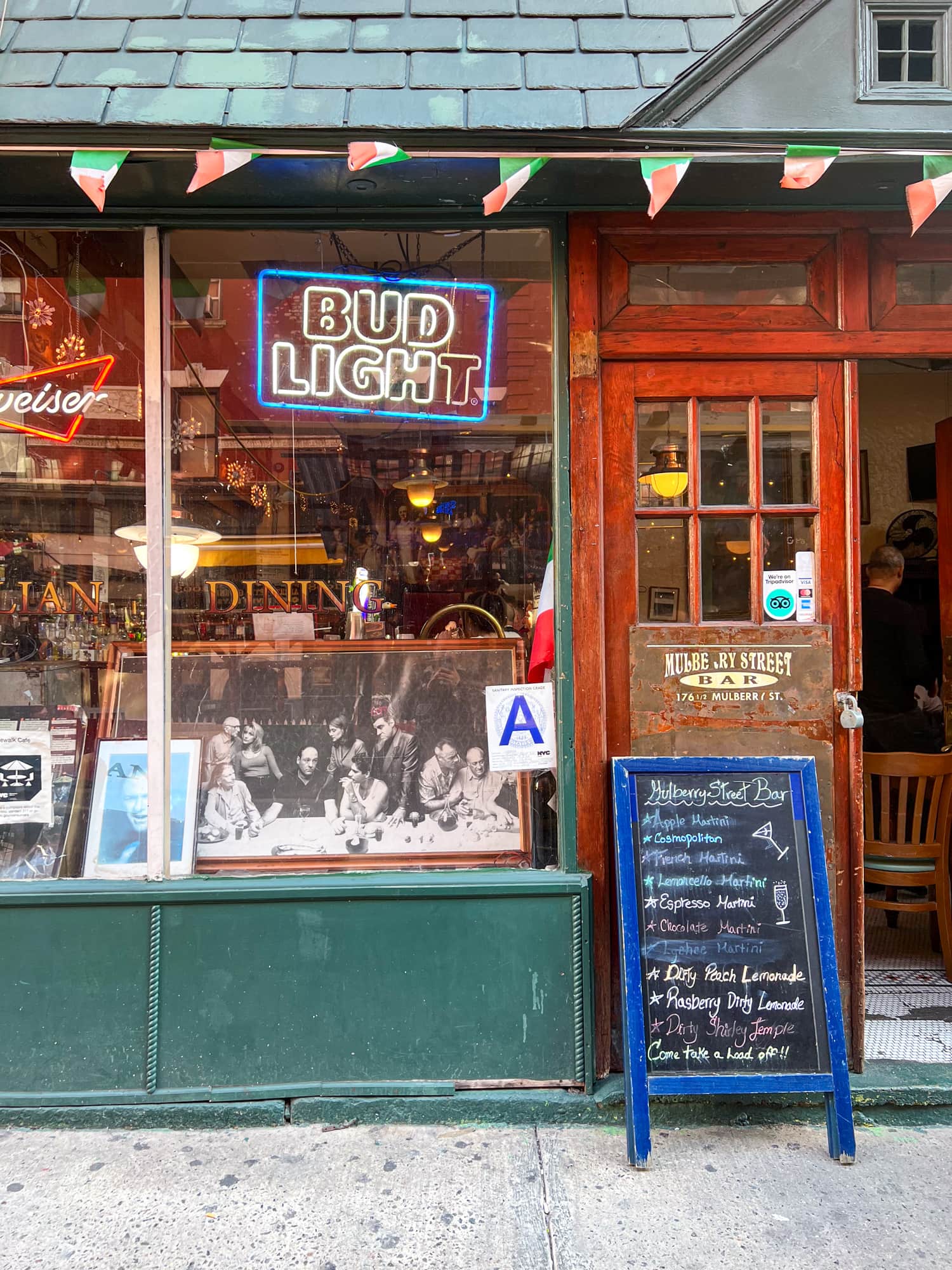 Ready to step into a scene straight out of a movie? Let's swing by Mulberry Street Bar, a Little Italy staple that's been around since 1908.
This bar has been featured in classic films like "Donnie Brasco" and "The Godfather III," as well as TV shows like "The Sopranos."
A large black-and-white photo of The Sopranos cast sits in the front window, advertising their pop-culture credentials.
Mulberry Street Bar is a living testament to the rich Italian-American heritage of the neighborhood.
With its tin ceilings and old-school wooden bar, you'll feel like you've traveled back to the early 20th century.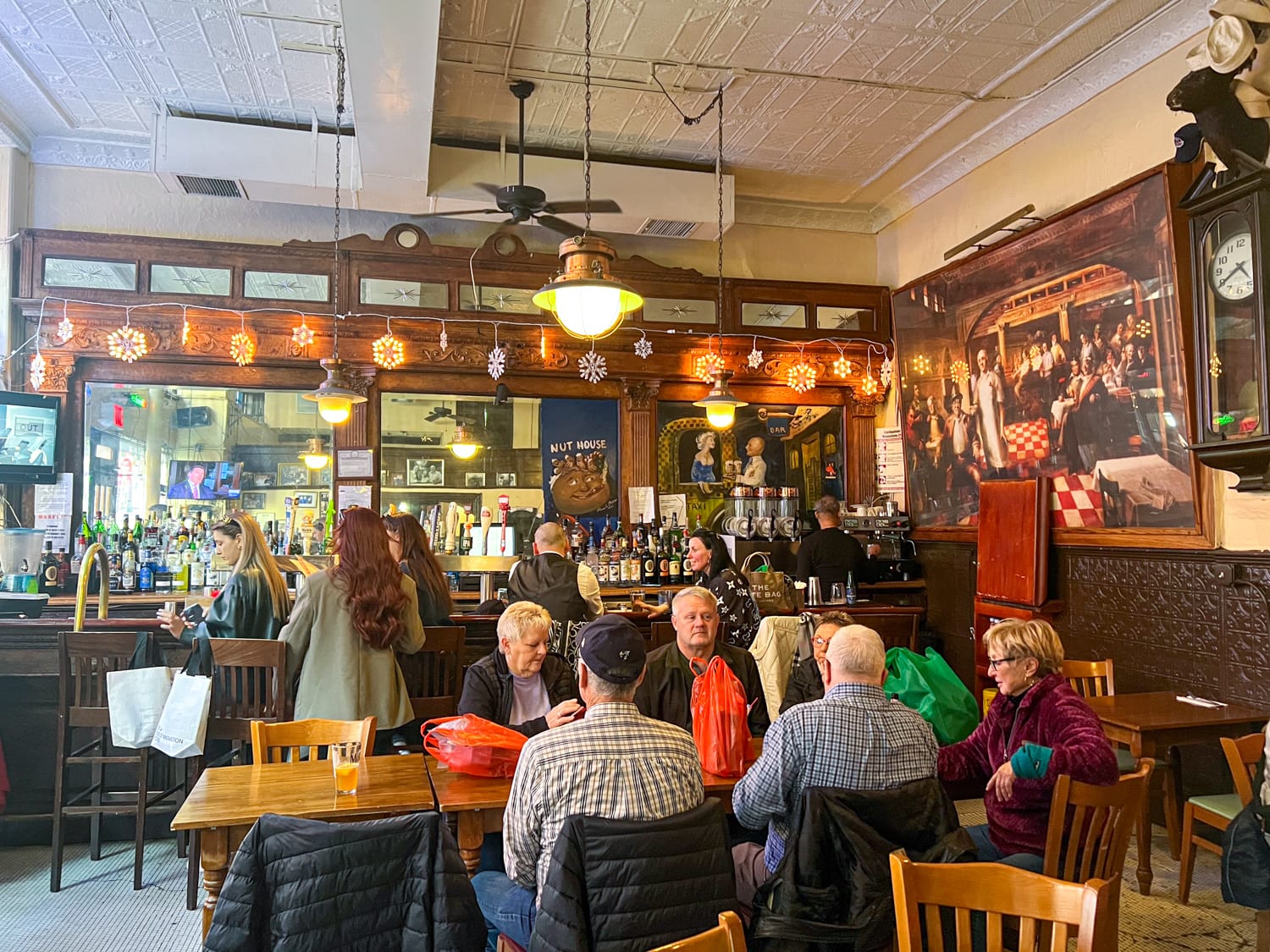 The atmosphere makes it a popular spot for locals and tourists. But it's not just the ambiance that keeps people coming back; it's the sense of community.
This, one of NYC's oldest bars, has been a gathering place for generations, where stories, laughter, and great drinks flow freely.
Whether you're in the mood for a classic Italian cocktail or just a cold beer, Mulberry Street Bar offers a unique blend of history and hospitality.
176 Mulberry Street, New York, NY, facebook.com
11. Dante (1915)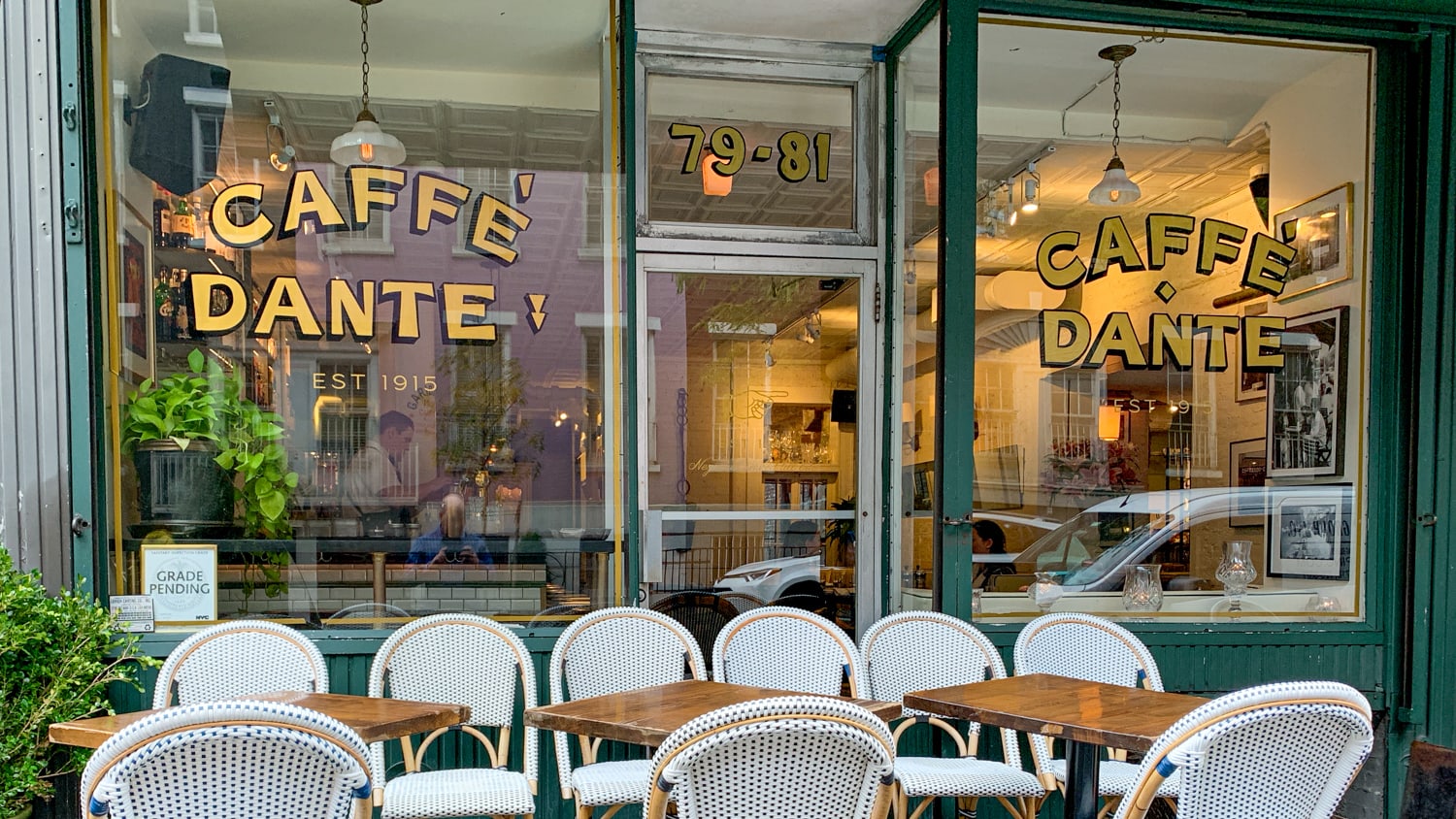 Caffe Dante has been serving the Greenwich Village community since 1915.
Initially an Italian cafe, it's evolved into a craft cocktail bar crowned the World's Best Bar in 2019 by the World's 50 Best Bars. Now, that's something to toast to!
Caffe Dante started as a humble espresso and pastry shop, serving Italian immigrants and bohemian artists.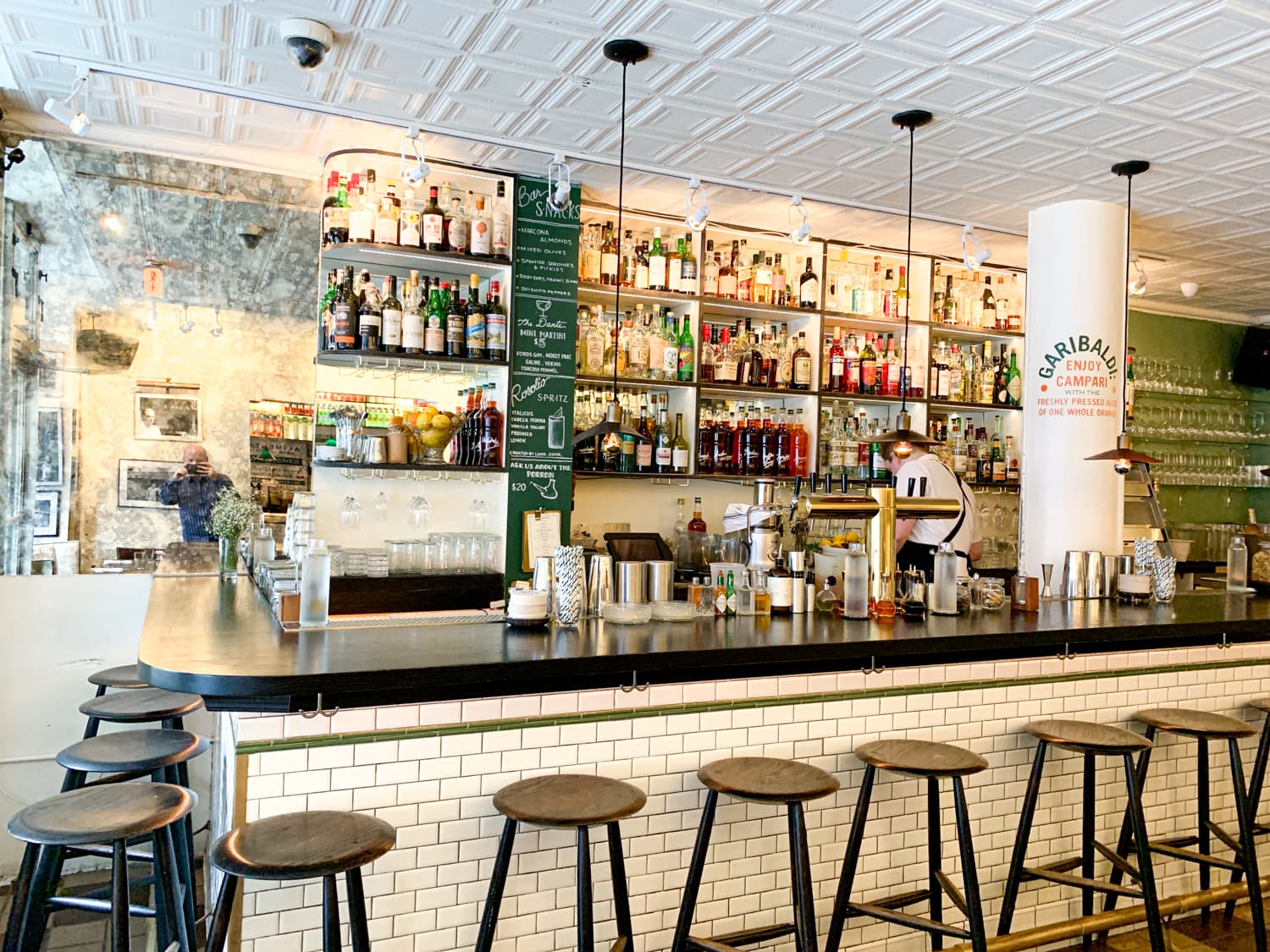 Over the years, it's transformed into a cocktail mecca without losing its Italian soul.
Think Negronis, Aperol Spritzes, and other Italian-inspired drinks that'll make you say, "Saluti!"
What sets Caffe Dante apart is its commitment to quality and innovation.
The bar team crafts each cocktail precisely, using top-notch ingredients and inventive techniques. It's a place where classic Italian charm meets modern mixology.
79-81 MacDougal St, New York, NY, dante-nyc.com
Wrapping Up
New York City's oldest bars are predominantly located in Manhattan, as this article reflects. However, there are a handful in other boroughs.
Based on my research, no list of the oldest bars in NYC would be complete without Neir's Tavern (1829) in Queens, which was featured in the movie "Goodfellas," Killmeyer's Old Bavaria Inn (mid-1800s) on Staten Island, and The Brooklyn Inn (1885). I'll share more about these once I visit them in person.
We've journeyed through time, sipped on history, and raised a glass to some of New York City's oldest and most beloved bars.
From Revolutionary War hangouts to Prohibition-era speakeasies, these watering holes are more than just places to grab a drink—they're living, breathing chapters in the Big Apple's storied past.
Whether you're a history buff or just someone looking for a unique night out, these bars offer a one-of-a-kind experience that's quintessentially New York.
So, the next time you're in the city that never sleeps, why not make a pit stop at one of these legendary locales?
Cheers to history, good company, and even better drinks!