Paradiso ("Paradise") in Barcelona, Spain, seems like an odd name for a pastrami sandwich shop, which is your first clue that there's more than meets the eye here.
Walk in the front door, bypass the Pastrami Bar to your right (unless you're hungry for a pastrami sandwich), and step through the white fridge door to enter Paradiso.
You're now inside an elegant yet casual speakeasy with friendly bartenders serving artfully crafted cocktails on a Carrara marble bar.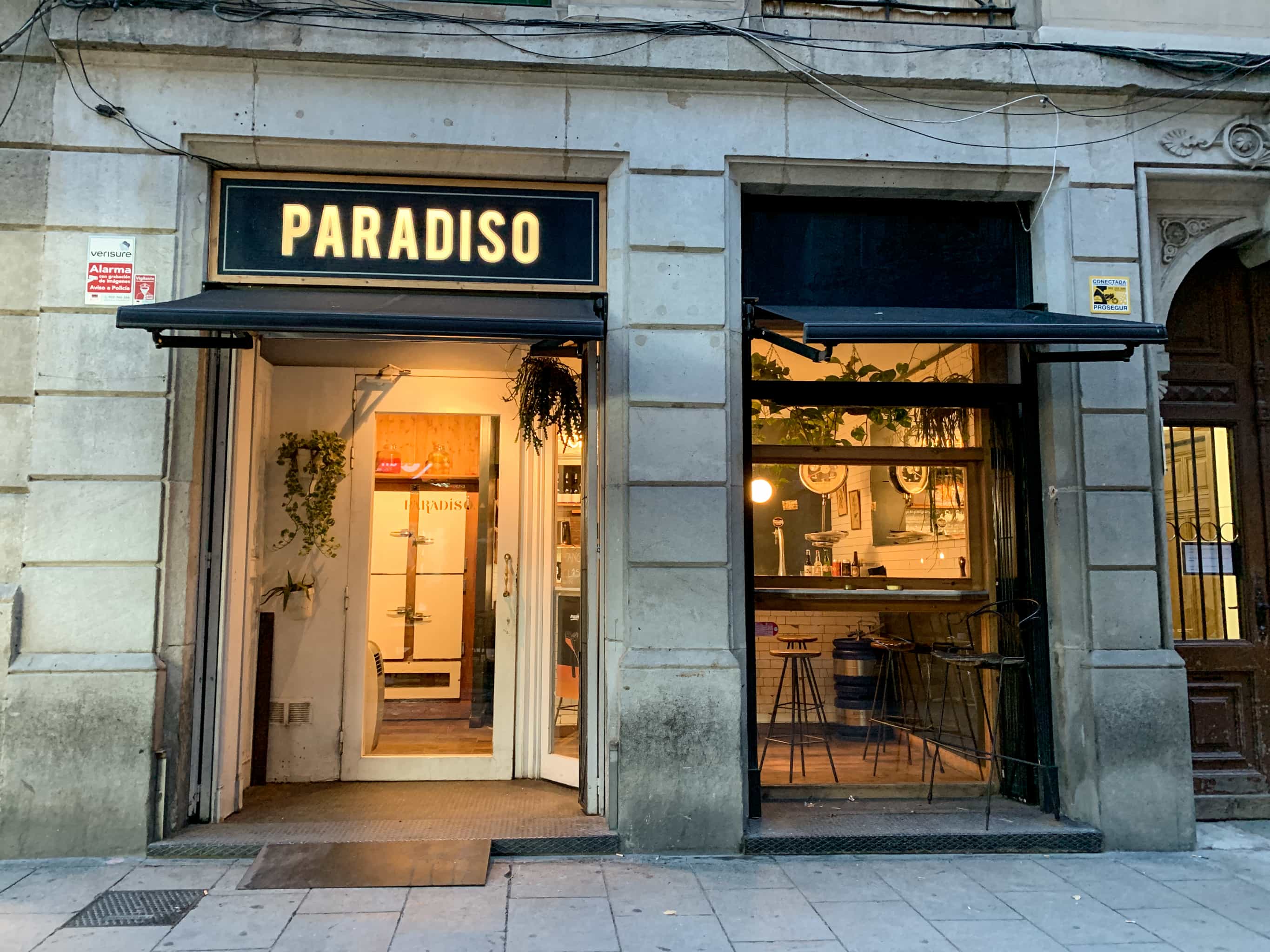 In 2021, Paradiso bar was ranked the #3 best cocktail bar in the world according to the World's Best Bars list.
Giacomo Giannotti, winner of the "Best Barman of Spain" (2017) and "Best Italian Bartender Abroad" (2019), is the man behind the accolades.
Following my travels in Tuscany, where Giannotti is from, I stopped in the capital of Catalonia to visit my friend Shannon.
At my invitation, we met outside Paradiso, located in the trendy El Born neighborhood of Barcelona, one night a few minutes before 7 p.m.
As two of the first customers inside this hidden gem, we took our seats in the center of the bar.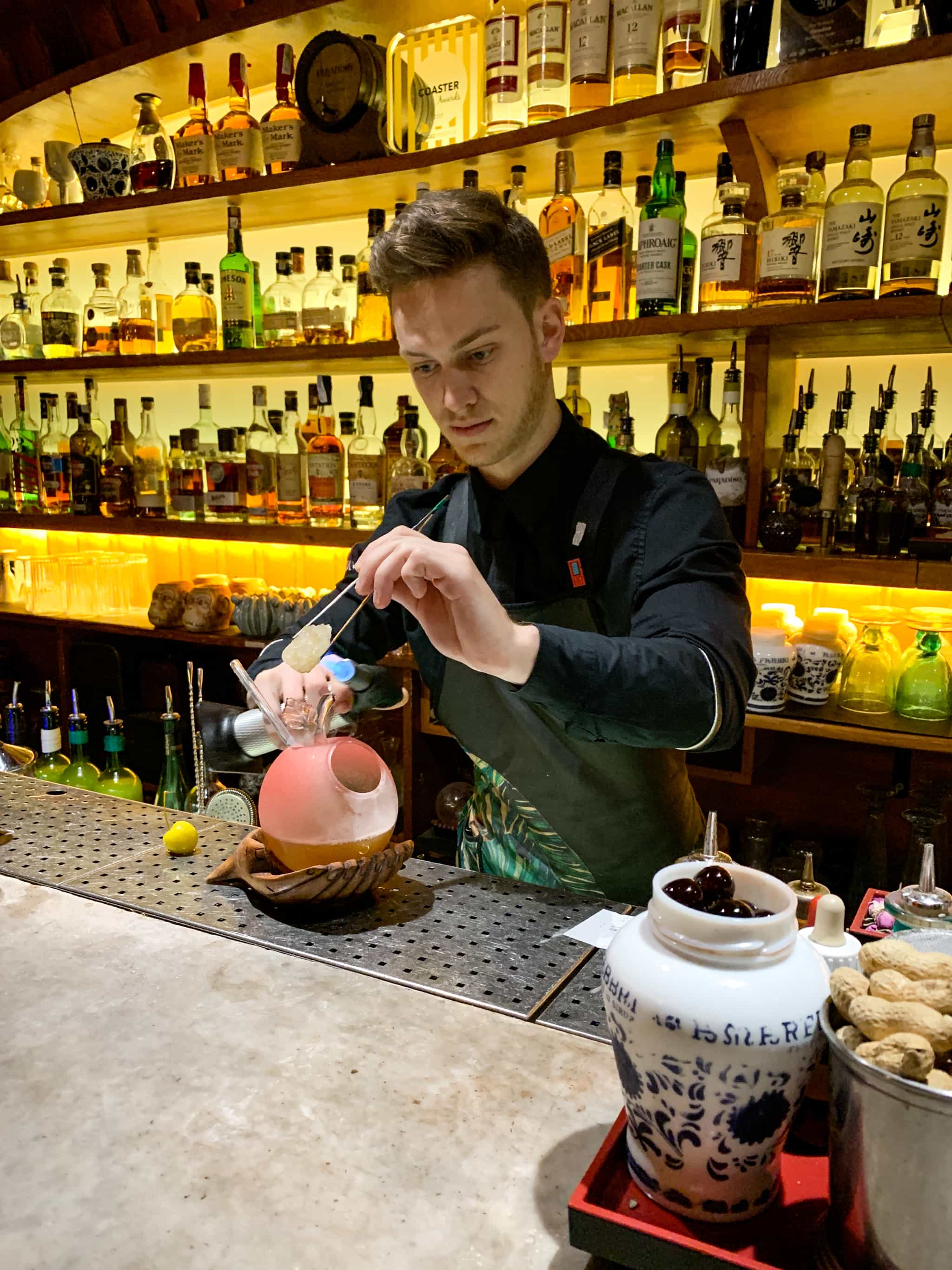 The amiable bartender in front of us was fine with me taking photos.
I gather he's used to it, given he works at one of the world's best bars in one of the most visited cities on Earth, but it's still appreciated.
Shannon and I began perusing the cocktail menu as more customers streamed in behind us.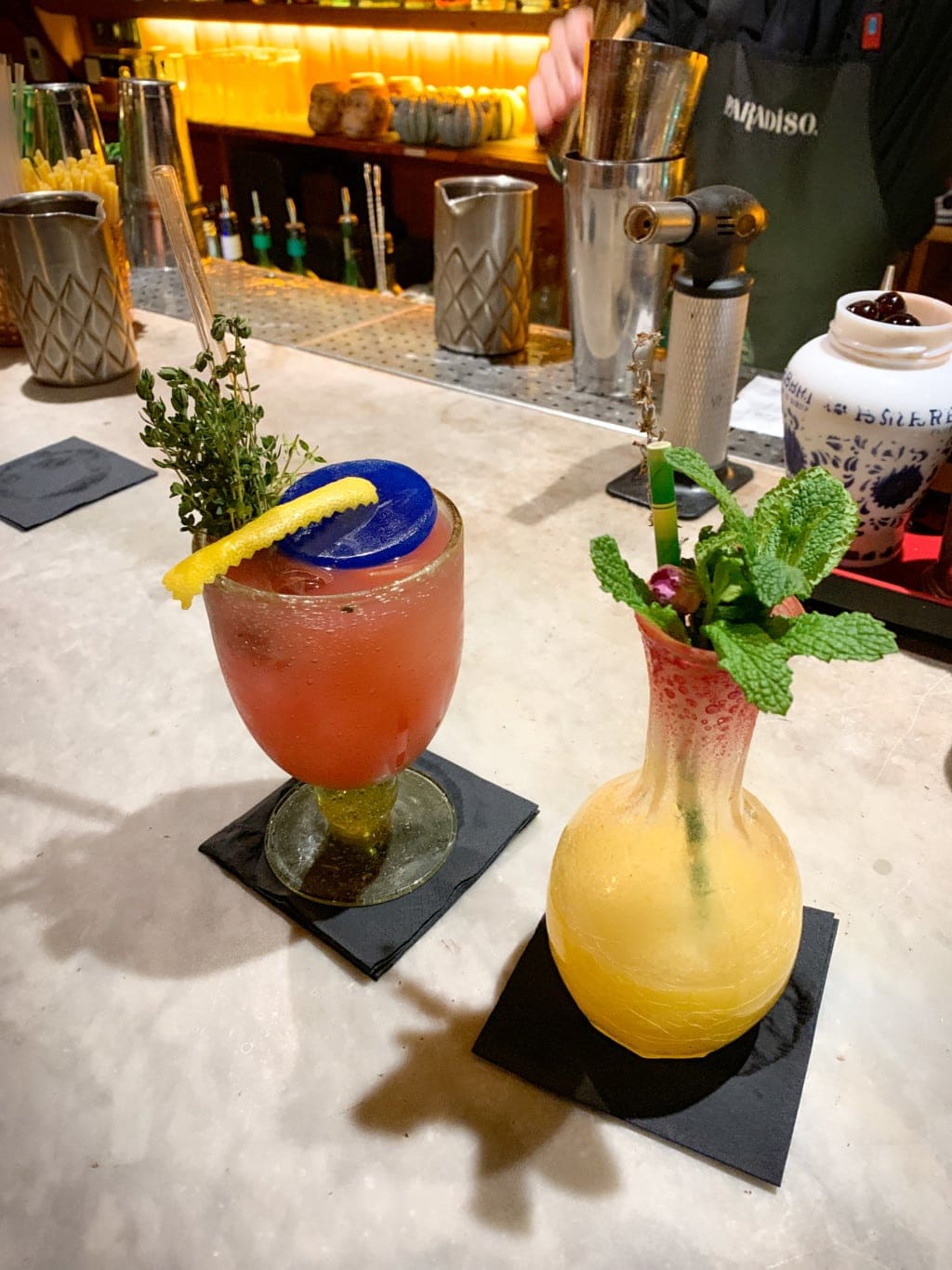 Paradiso Cocktails
For my first drink, I ordered the floral Lavande (€11, $10), made of:
Sipsmith Gin
Italicus Rosolio di Bergamotto
Lavender honey
Apricot
Passion fruit
Meanwhile, Shannon chose the more delicate Cleopatra (€10, $11) made of:
Italicus Rosolio di Bergamotto
Kombucha of hibiscus
Lychee and rhubarb bitter
Both of the creative cocktails were colorful and garnished with fresh herbs, and they were also easy to drink.
Mine included a paper straw, something I'm happy to see more of for environmental reasons. However, I must admit the feel of plastic on the lips is a noticeably better experience.
Related: Best Bars in Copenhagen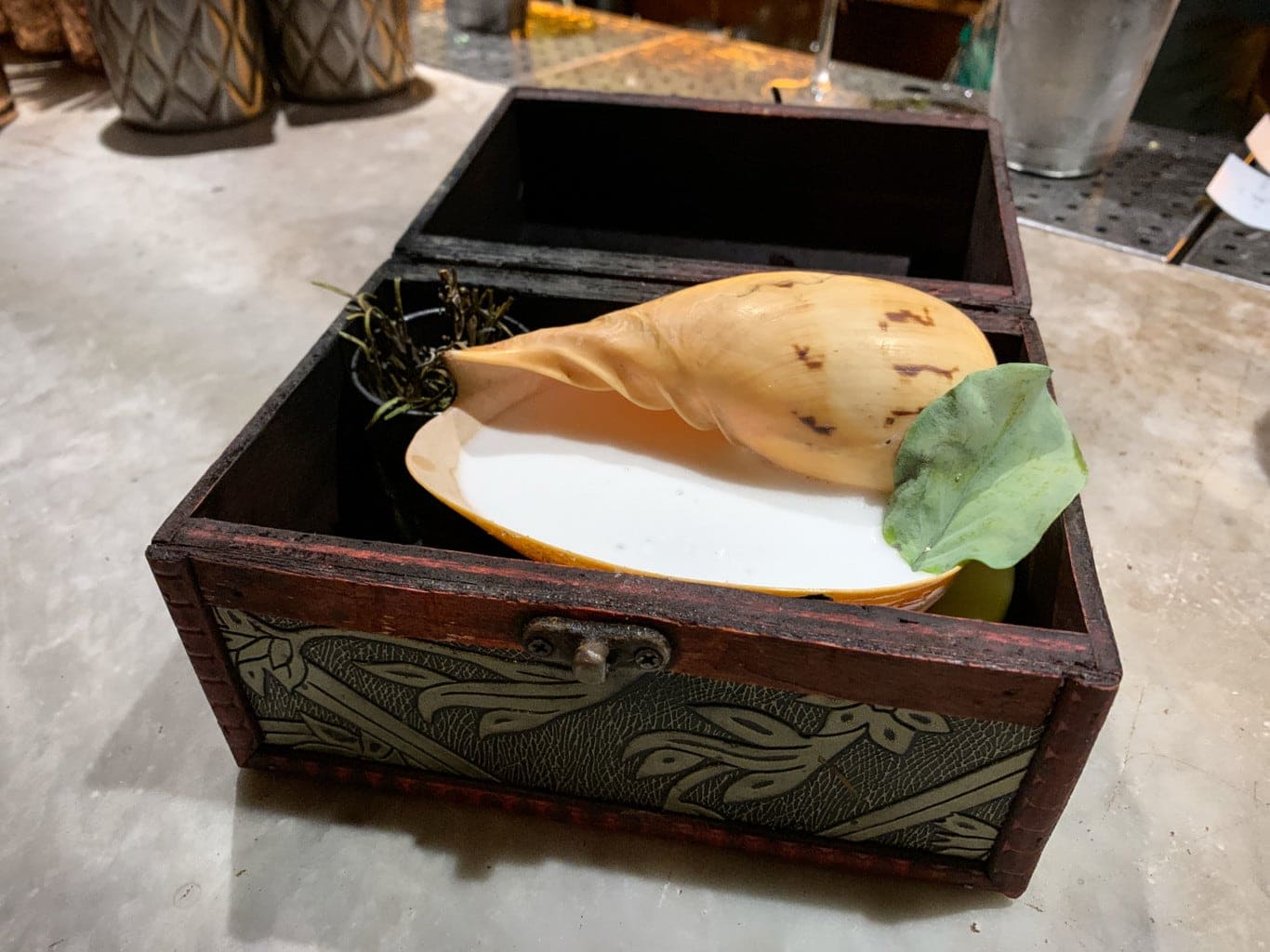 As we sat and sipped our first Paradiso cocktails, I was enamored with the bartending in front of us.
Mini torches were being used to burn things, dry ice was in effect, and a drink was served in a tiki monkey head.
For my second drink at Paradiso in Barcelona, I was inspired to choose something a little more dramatic.
The Mediterranean Treasure (€13, $12) is in a natural seashell nestled in a treasure chest, which, when opened, releases a puff of smoked Mediterranean herbs.
The cocktail is made of:
Ketel One vodka (one of my faves)
Fino sherry macerated with oyster leaves
Lemon
Agave honey
Coriander
Egg white
There's no subtle way to drink it, which is part of the fun.
Related: Massana Restaurant in Girona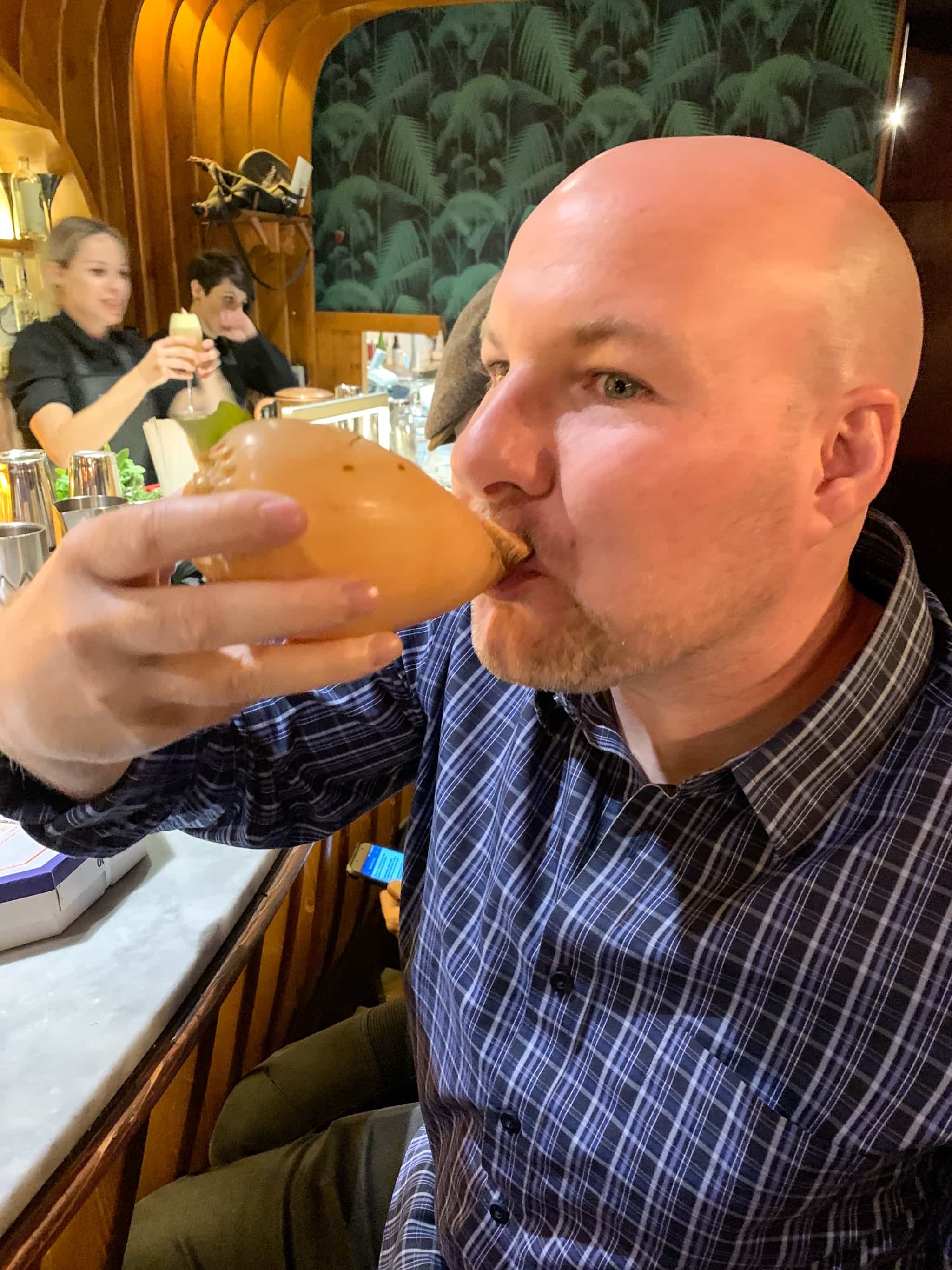 I thoroughly enjoyed slurping from the shell and everything about my experience at Paradiso, one of the best cocktail bars in Barcelona.
A signature cocktail at Paradiso is The Great Gatsby, their take on an Old Fashioned. Watch Giacomo Giannotti mix one up in the video below.
Visit Paradiso in Barcelona
Address: Carrer de Rera Palau, 4, 08003 Barcelona, Spain
Dress Code: None, but I'd suggest smart casual.
Reservations: Not taken. It's first come, first serve.