Wondering where to eat in Stockholm, Sweden? You're in the right place, my friend.
Stockholm is a capital city I'd been curious about for years.
When I finally decided to go en route to an adventure travel conference in Gothenburg, I made the most of my few days there.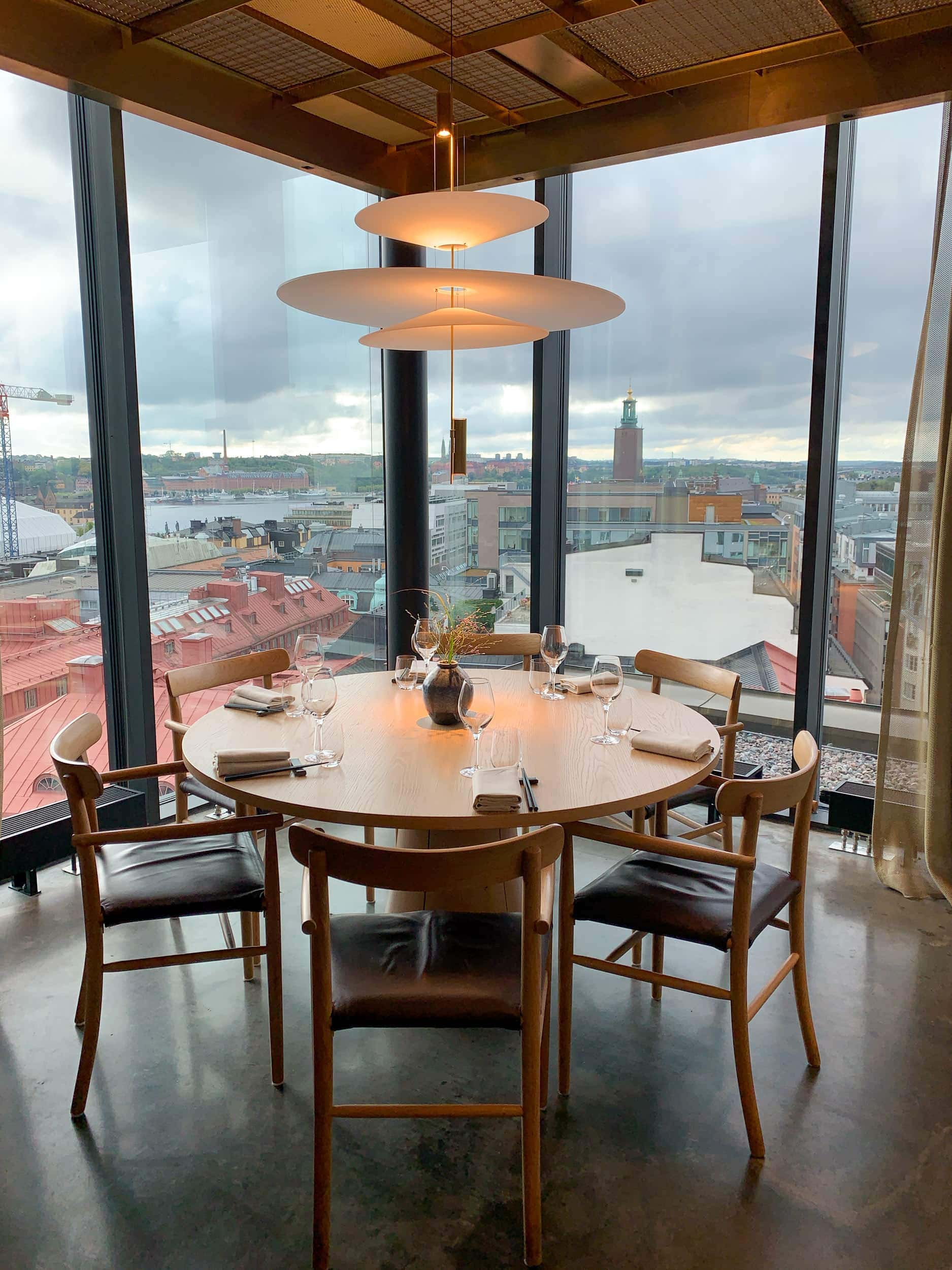 My Swedish adventure began with museums, palaces, and these fantastic places to eat and drink in Stockholm.
Swedish food and culture were entirely new to me before this trip, so I was excited to dig in.
Casual Places to Eat in Stockholm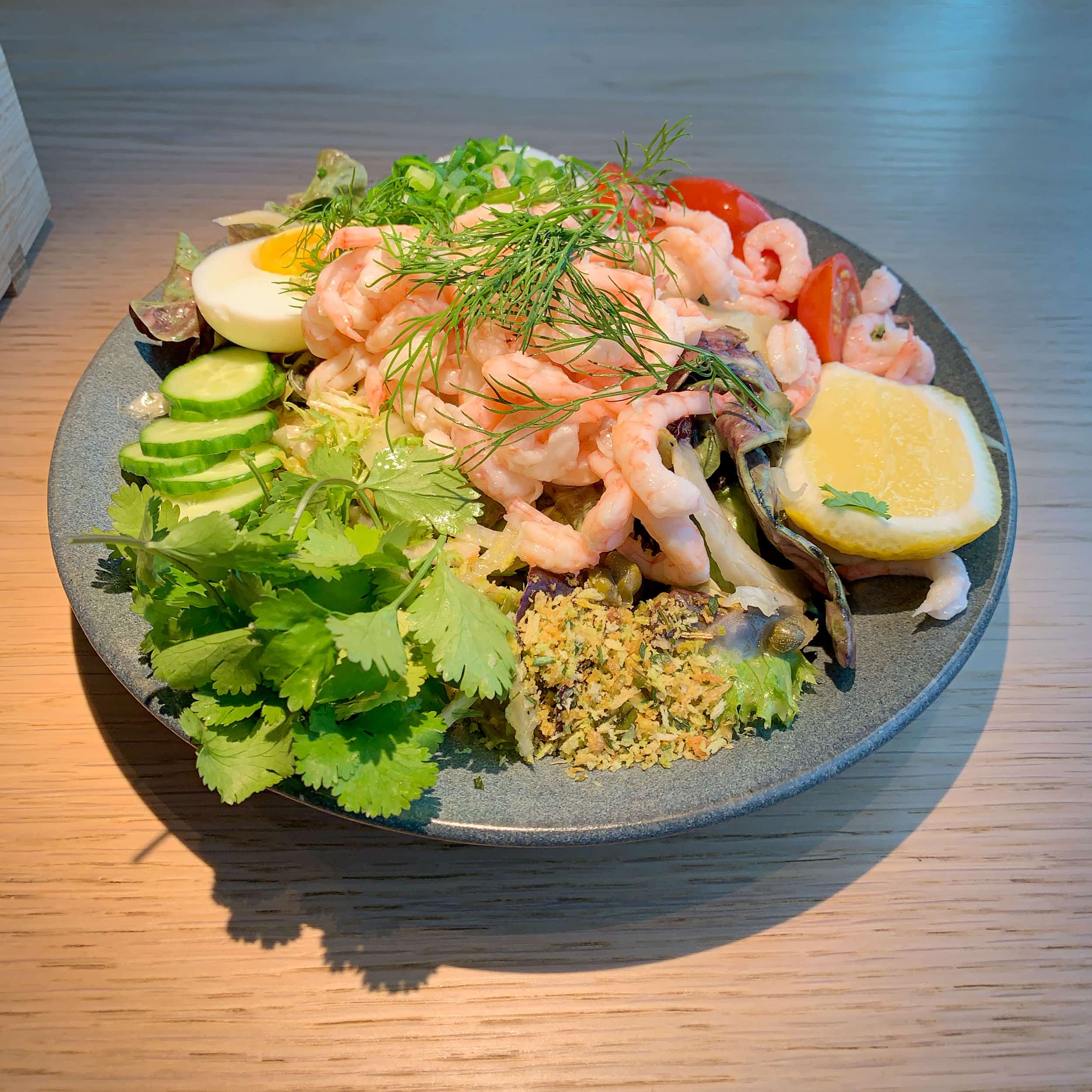 TAK
My first meal in Stockholm was lunch at TAK, a recommendation by my Aussie friend Jared.
I met Jared and his wife nine years earlier while we were both living in Medellin, Colombia. Now they live in Stockholm.
It was 1:30 pm, but due to jetlag, I'd only woken up an hour earlier. I was still in a mental fog (and would be for days).
I arrived by Uber and took an elevator up to the restaurant, which offers "modern Scandinavian food culture influenced by Japanese cooking methods and flavors," according to the website.
The beautifully designed restaurant was practically empty, making it easy for me to be seated at a table by the window.
The sky was overcast, but it didn't matter. I was thrilled to set foot in Stockholm finally!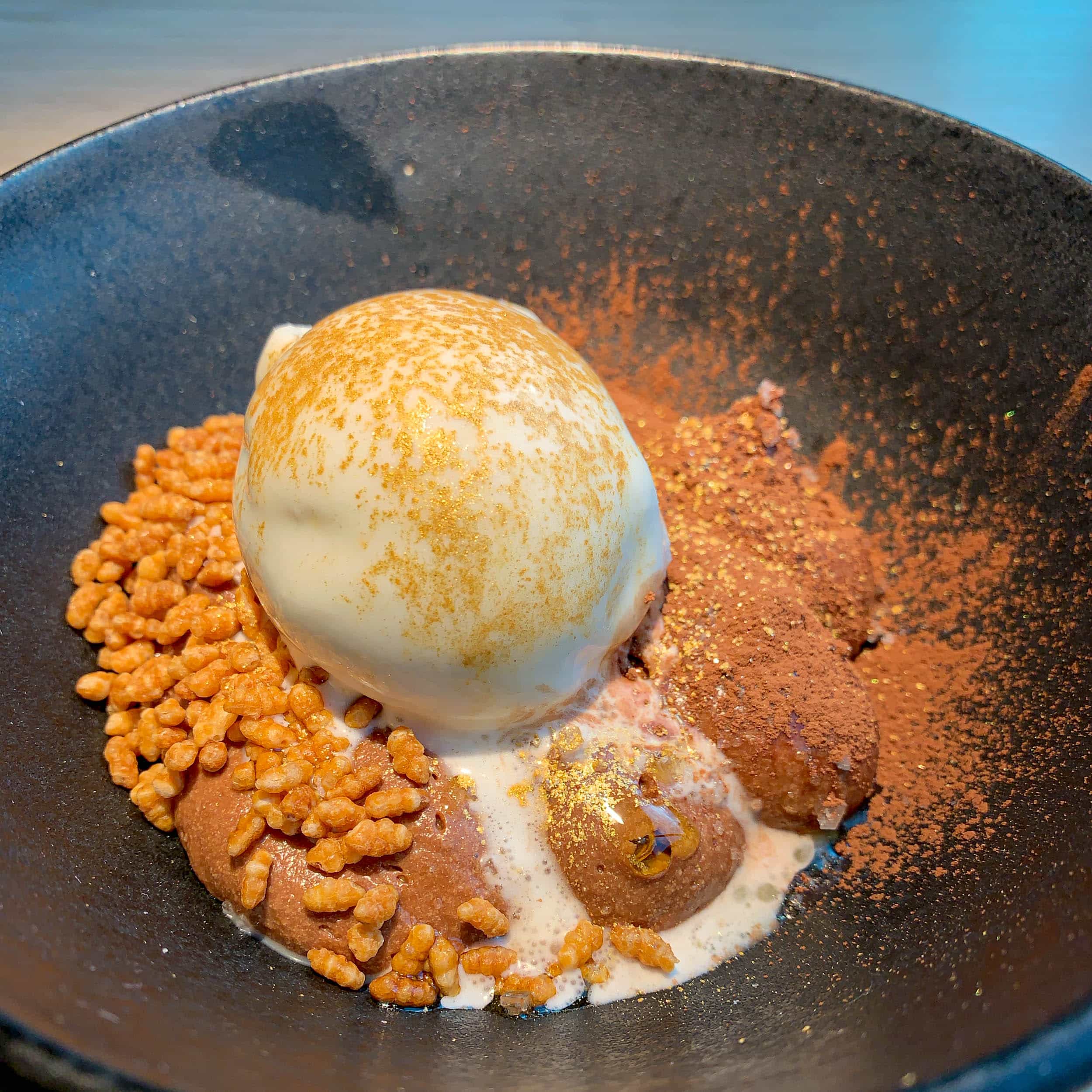 The prix-fixe lunch menu seemed reasonably priced at $45 and saved me from having to make any decisions.
Course 1: tataki of arctic char, dashi, trout roe, cucumber, kohlrabi, cress
Course 2: MSC-shrimps, tomatoes, egg, coriander, yuzu-kosho dressing, fennel, lemon, spring onion
Course 3: Chocolate mousse, olive oil, sea salt, ice cream of Jarna milk
The arctic char was excellent; the shrimp salad was full of fresh ingredients.
And when the chocolate mousse arrived, I was officially in heaven.
Address: Brunkebergstorg 2-4, Stockholm. tak.se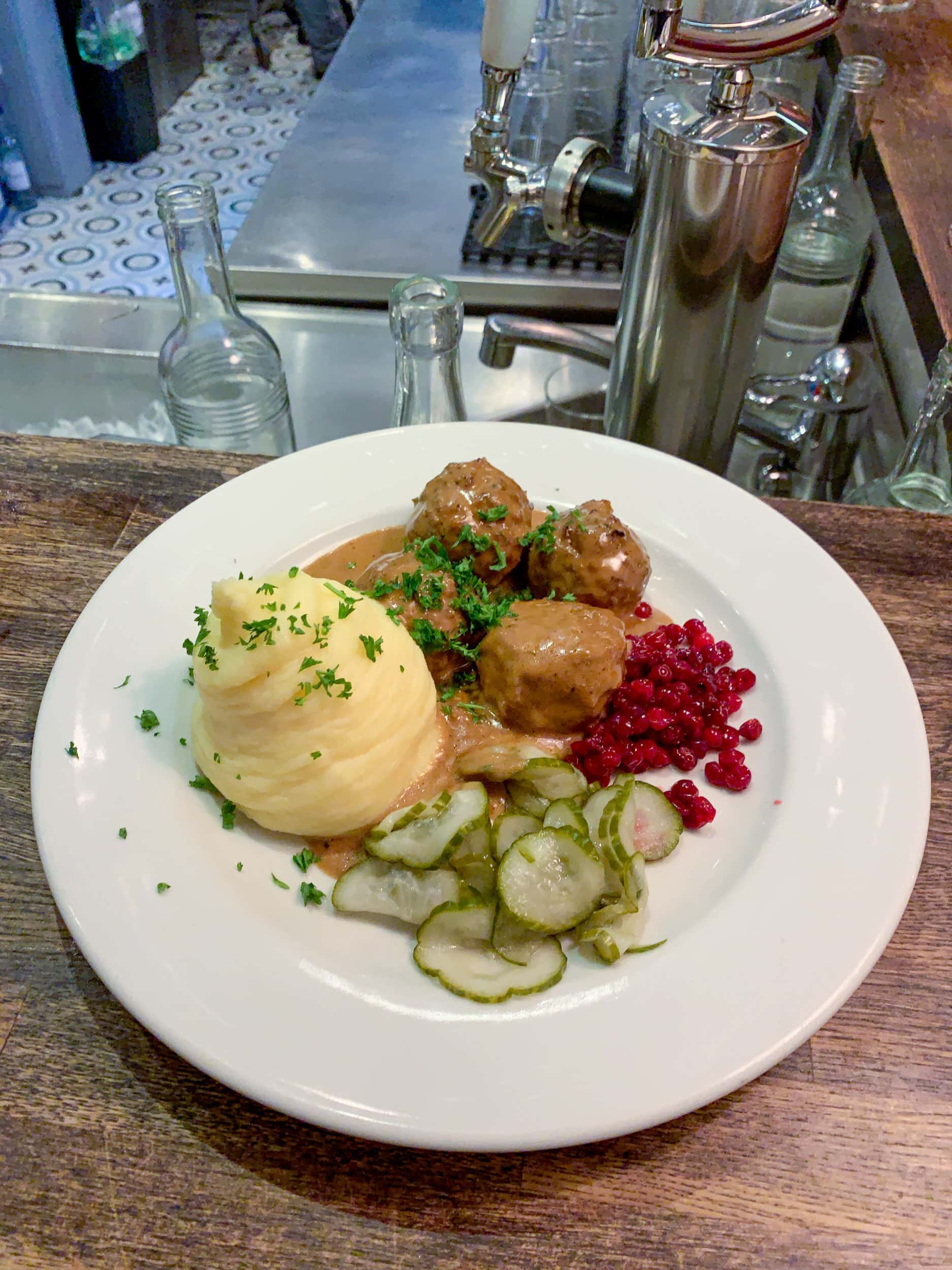 Swedish Nomad Food & Bar
Located adjacent to the City Backpackers Hostel, the Swedish Nomad Food & Bar serves authentic Swedish food.
For weary travelers staying at the hostel, it affords easy access to traditional dishes at budget-friendly prices (at least by Stockholm standards).
For my first dinner, I sat at the bar here and ordered the Swedish meatballs with potato puree, lingonberries, and pickled cucumbers ($15).
The soft golf ball-sized meatballs doused in gravy and creamy potatoes paired perfectly together.
The lingonberries and cucumbers added some much-needed color. It reminded me of Thanksgiving dinner.
I went back to Nomad for dinner the following night, ordering a fried white fish with potatoes and string beans and lingonberry ice cream for dessert.
Address: Upplandsgatan 2, Stockholm. nomad.bar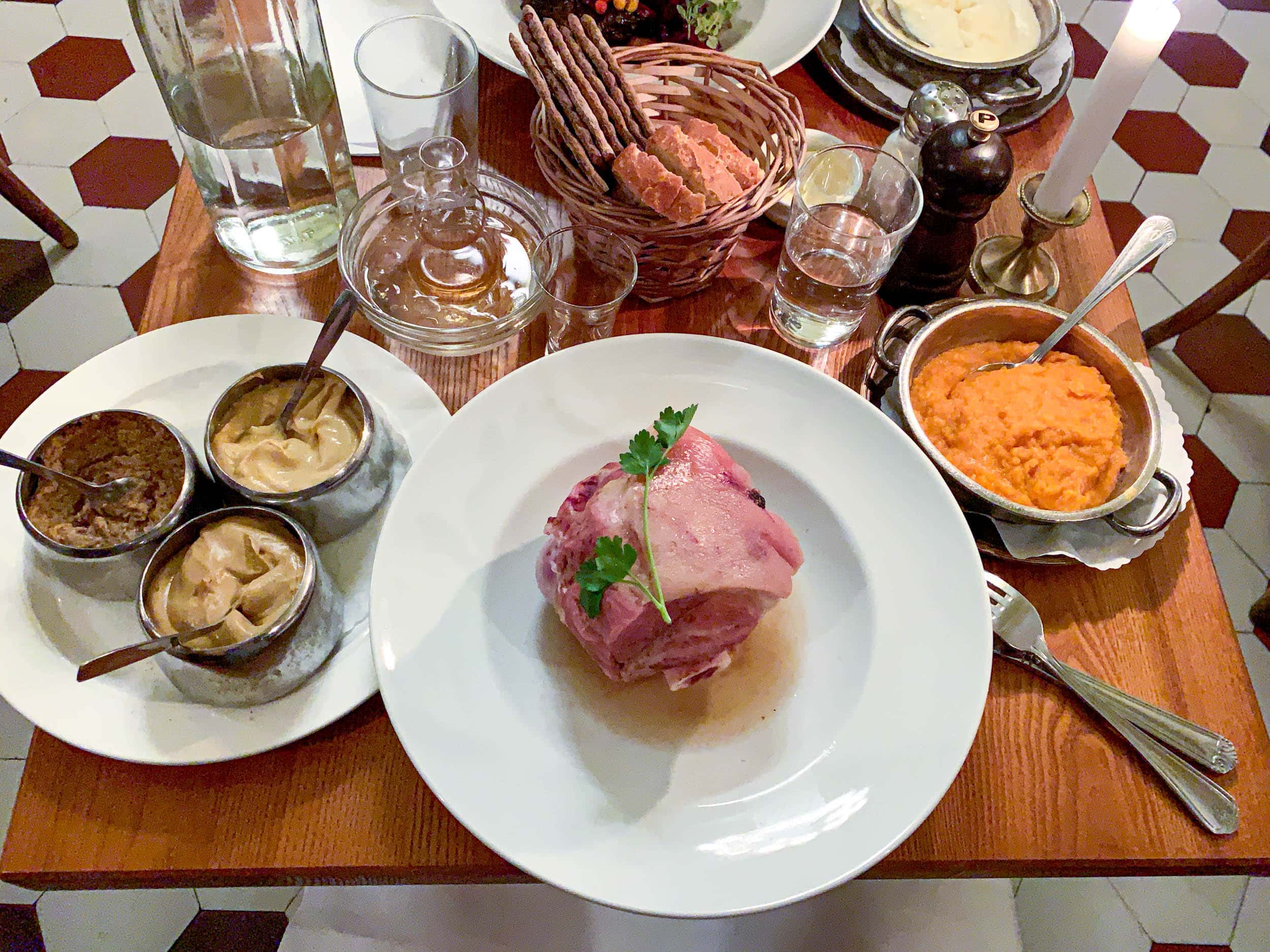 Restaurant Pelikan
Restaurant Pelikan is the place to eat in Stockholm that I was most excited to visit as it was featured on Anthony Bourdain's No Reservations.
In the show, he dines on the boiled pork knuckle, a massive ham ball, while his guests, Swedish pro skiers, eat giant meatballs.
I invited my friend Jared to join me on my last night in Stockholm.
The restaurant initially opened in Gamla Stan, Stockholm's old city center, in 1733.
It's been operating for nearly 300 years -- longer than the United States has been a country.
However, Pelikan has only been in its current location south of Gamla Stan for a fraction of that time (it moved sometime in the 20th century).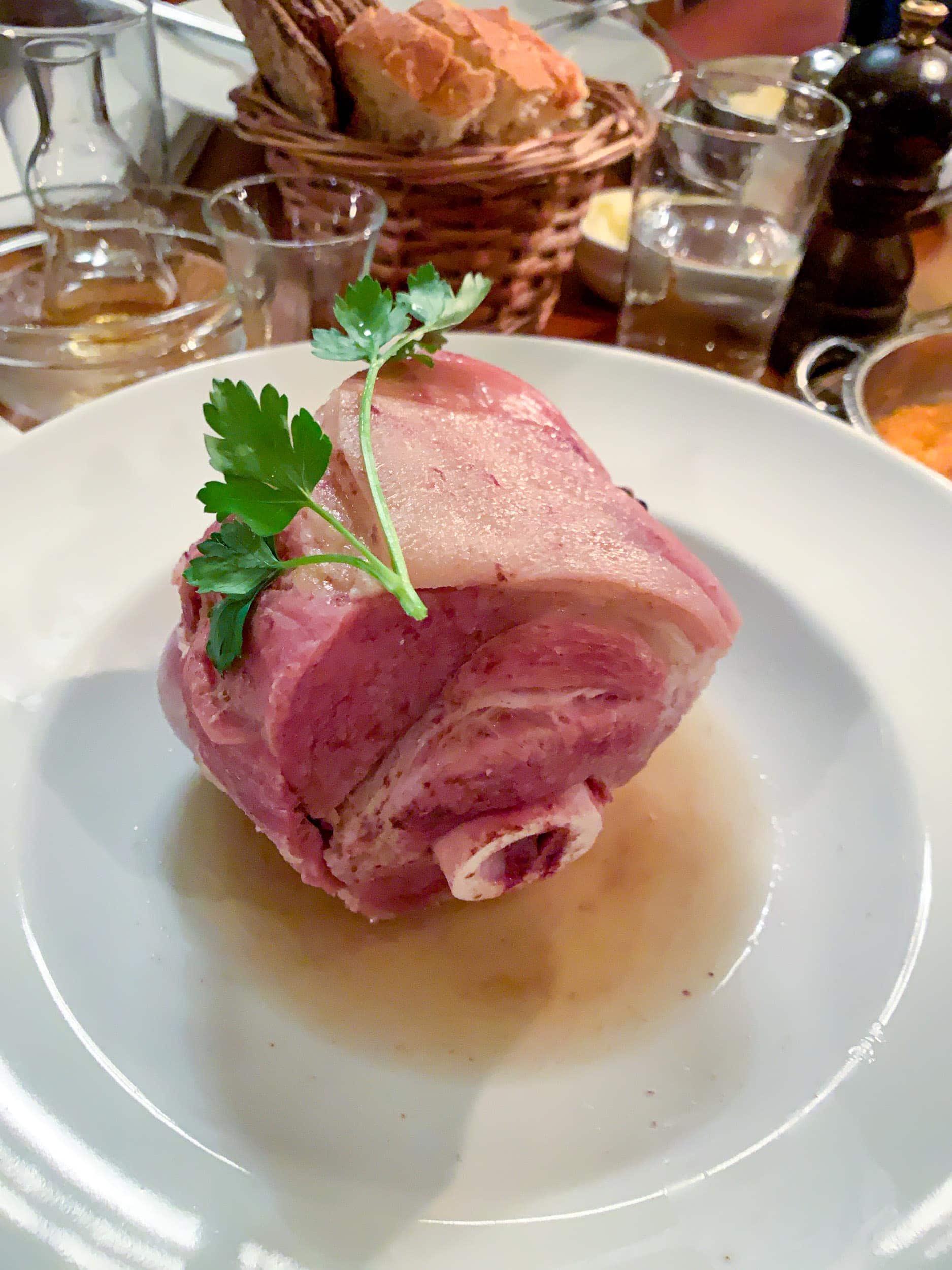 Walking into the Big Hall, I immediately recognized the scene from Bourdain's show.
I ordered the S.O.S. appetizer, which came with a variety of herring and cheese, the boiled pig's knuckle with swede mash (rutabaga), and three mustard types schnapps.
The schnapps, a distilled local liquor common in Sweden, was our waitress's idea. I found it too strong to enjoy. Jared wasn't a fan either.
The herring and ham, on the other hand, were terrific.
I was way in over my head on the pig's knuckle. I filled up on it but couldn't finish. It was a rare occasion I didn't have room for dessert.
Additional Swedish dishes served at Pelikan include a variety of fish (salmon, perch, arctic char), shrimp salad, beef brisket, roasted reindeer, and ox cheek braised in red wine.
Entrees range from $19-$36.
Address: Blekingegatan 40, Stockholm. pelikan.se
See also: My 30 Best Dishes of 2019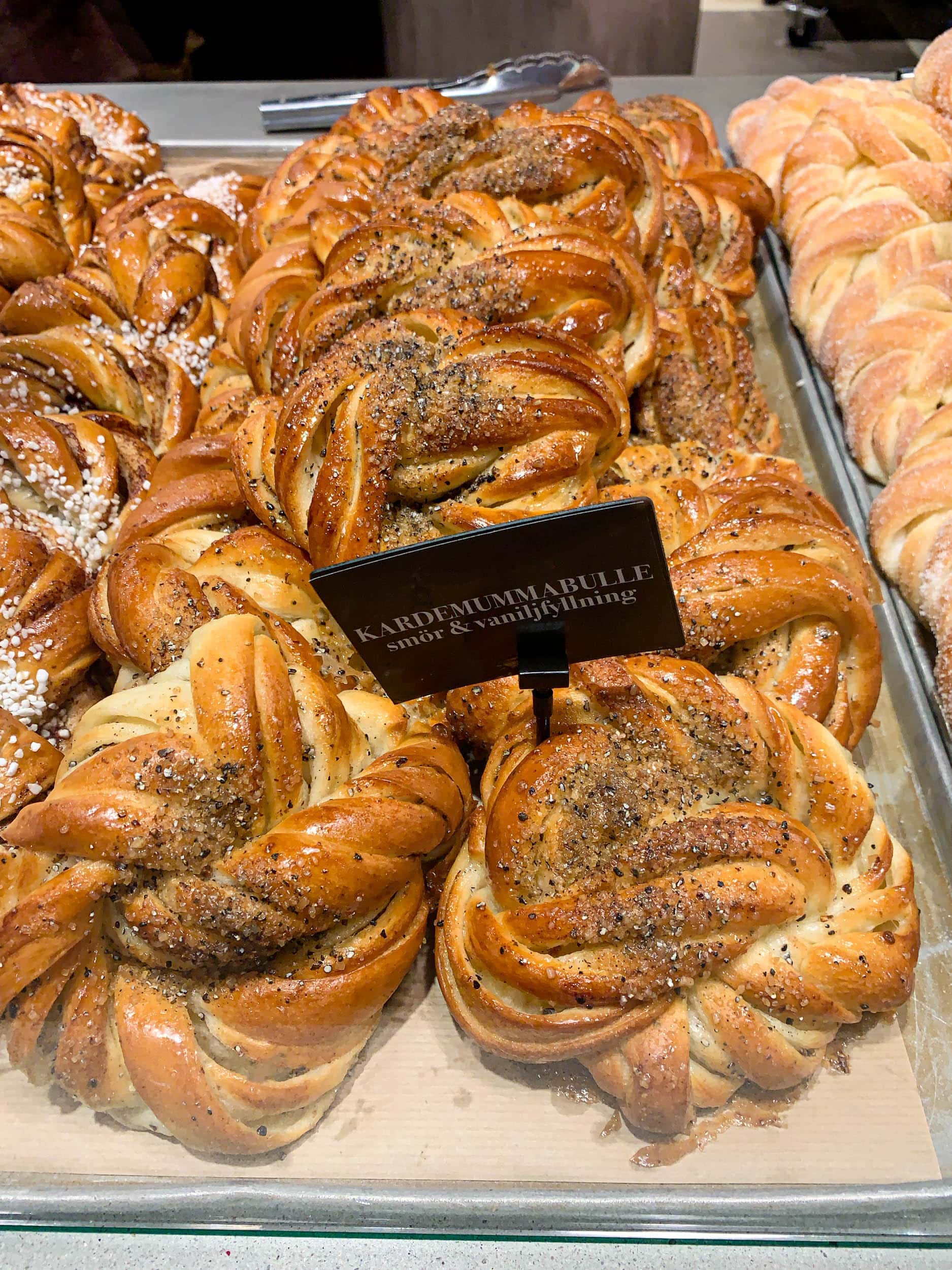 The Best Bakeries
The Swedes have a tradition called "fika," which entails taking a break, usually with coffee and pastry, at some point during the day.
A fika can happen at any time -- morning, afternoon, or evening. You can have a fika alone or use it as an opportunity to socialize.
Given the practice of fika and the fact that the average Swedish person eats 300 cinnamon buns a year, it's no wonder they also have excellent cafes and bakeries.
If you're wondering where to eat pastries in Stockholm, keep reading.
Mr. Cake
On my last day in Stockholm, I dropped into Mr. Cake for a morning fika.
Considered one of the best bakeries in Stockholm, Mr. Cake's display case ensures all their incredible creations are front and center when you step inside.
I chose the cardamom bun and their signature red velvet croissant.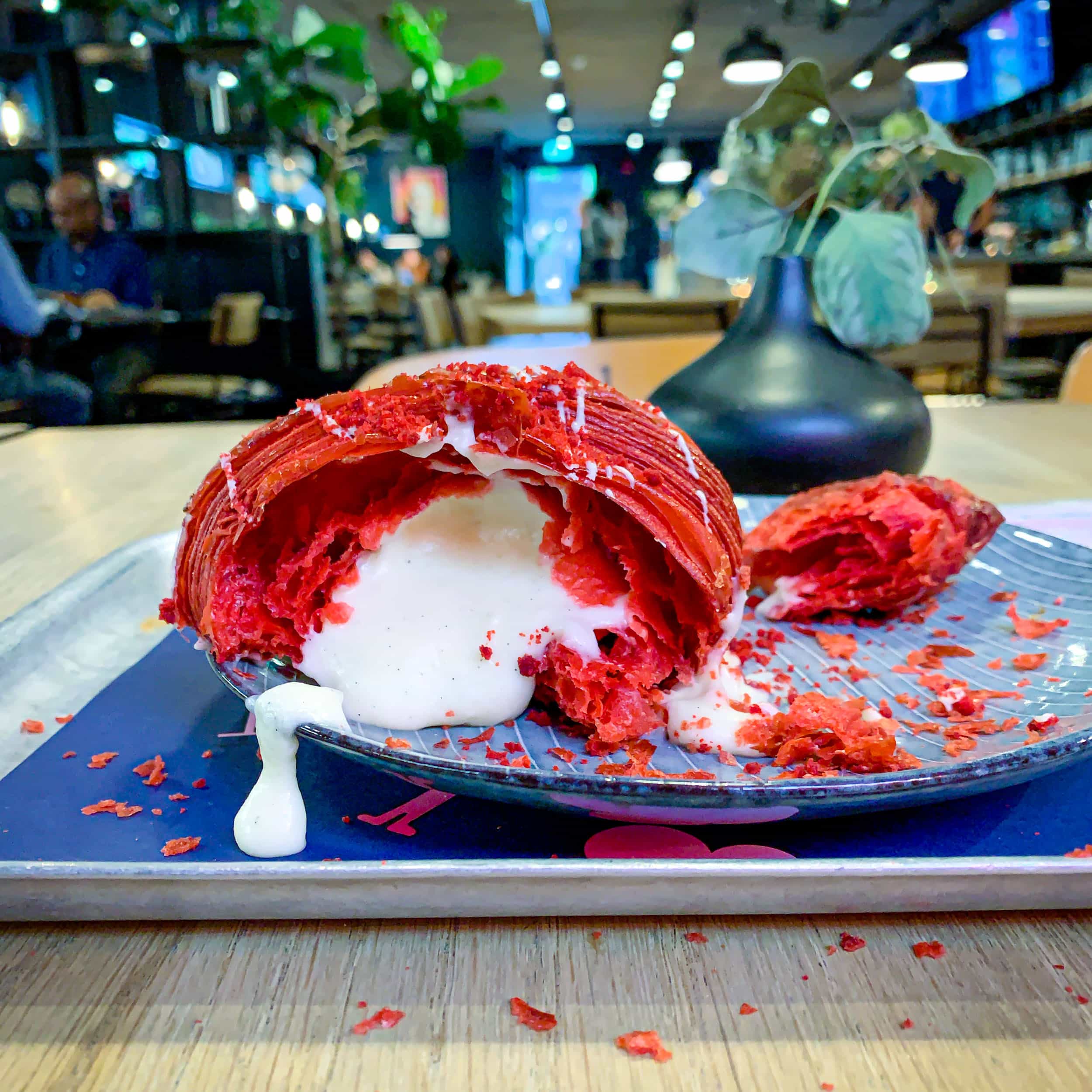 The pastries were provided on a metal tray, which I took to a communal table in the back of the dining room.
It was a Thursday morning, so I had plenty of space to play around.
I broke the flaky, red croissant in half first, thereby revealing the sweet cream cheese frosting in the middle.
As I placed it on the plate, the filling oozed out. I continued to make a mess as I tried to eat it.
Next, I attacked the cardamom bun.
Cardamom reminds me of chai tea, which I drank a lot of when I visited India for seven weeks on my trip around the world in 2008.
Beyond the fresh pastries at Mr. Cake, the space is beautifully designed, well lit, and full of plants. It's very Instagrammable.
Address: Rådmansgatan 12, Stockholm. mrcake.se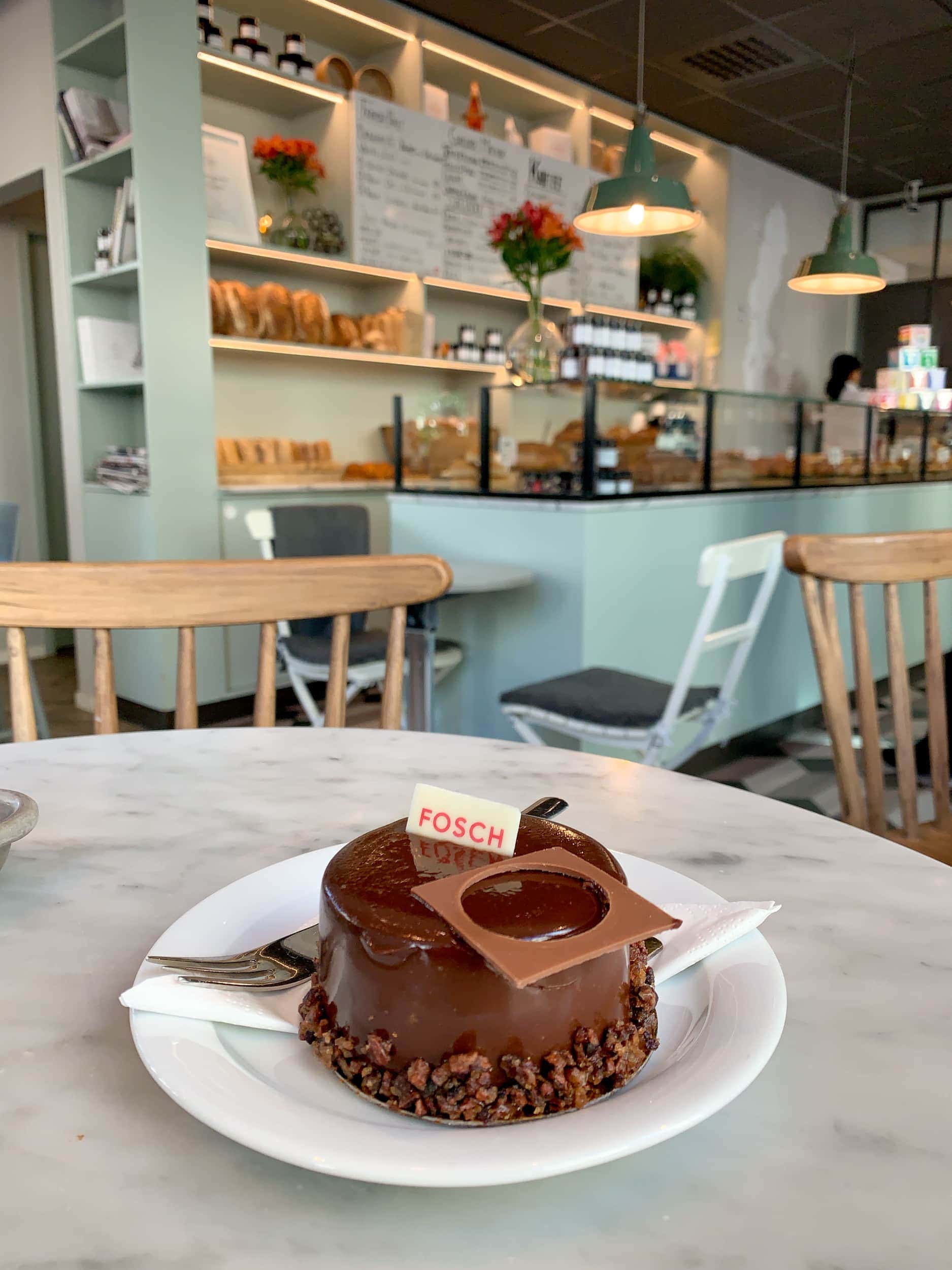 Fosch Artisan Patisserie
Fosch Artisan Patisserie is a five to ten-minute walk from Mr. Cake. And because I'm a glutton, I went there next.
The first thing I noticed walking up to the door was an irresistible piece of chocolate cake in the display case near the window.
Inside Fosch, there were various loaves of bread for sale and a pain au chocolat that looked to be masterfully baked.
I momentarily debated getting both before settling on the chocolate cake and a pot of tea.
Jazz music played quietly in the background as I repeatedly sunk my fork into the moist cake.
Address: Löjtnantsgatan 8, Stockholm. fosch.se
See also: Best Bakeries in Copenhagen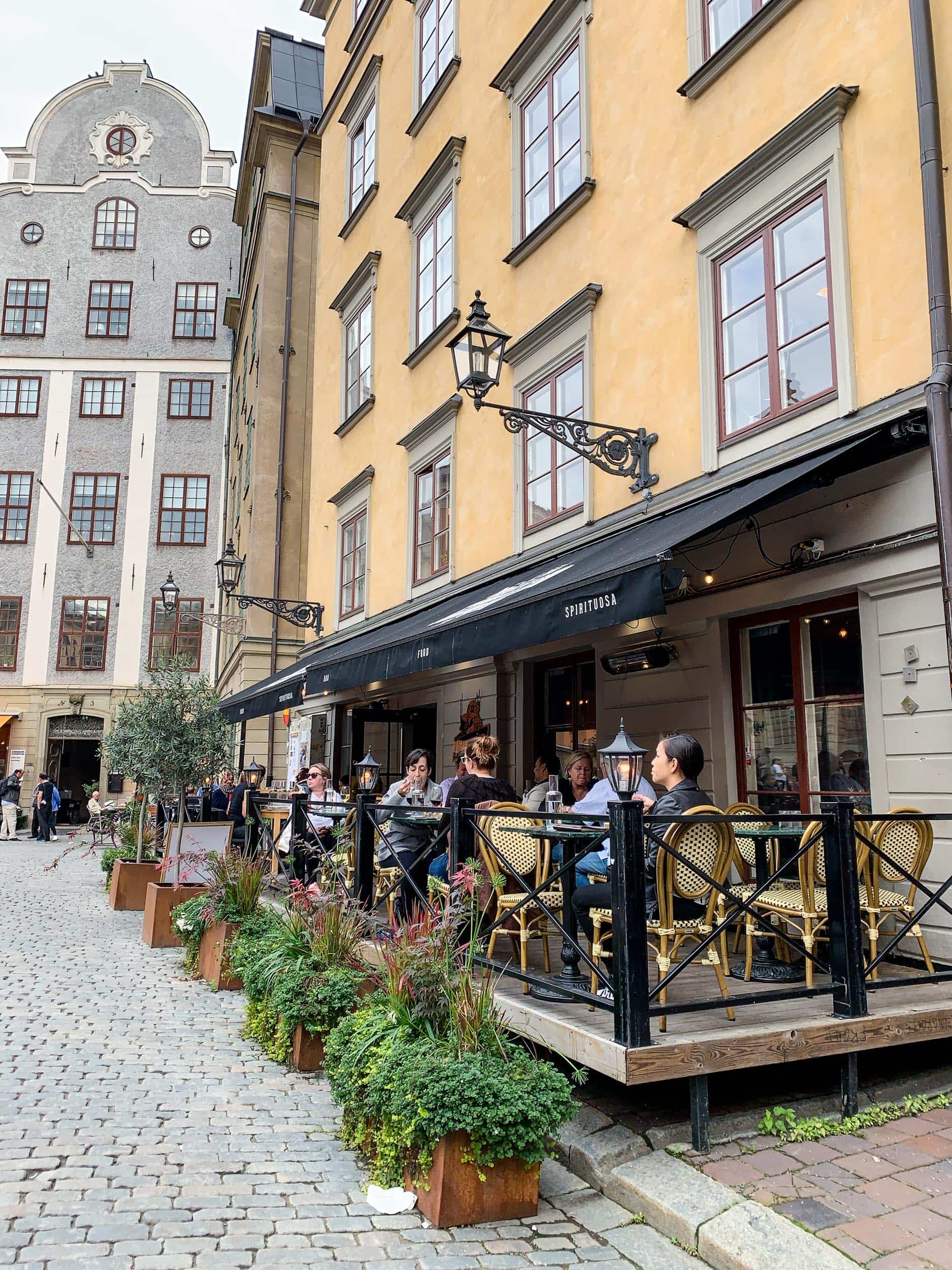 Where to Drink in Stockholm
Drinking alcohol was not top-of-mind upon arriving in Stockholm.
My preference was doing whatever I could to get over my jetlag and back to a regular sleep schedule.
But, there was no way I was leaving the Swedish capital without stopping by two of its best cocktail bars.
Pharmarium
On my second full day in Stockholm, I walked through Gamla Stan, home to historic buildings and Stortorget, the city's oldest plaza.
Here, several cafes and bars line the plaza, which also features the Nobel Prize Museum. Pharmarium is one such bar.
The weather was cool yet mild enough for sitting on the patio to be still enjoyable.
Volume 13 of the menu was entitled "Good Vibes Only" and featured 12 signature drinks.
Little diamond icons signified mixed drinks that taste good with or without alcohol.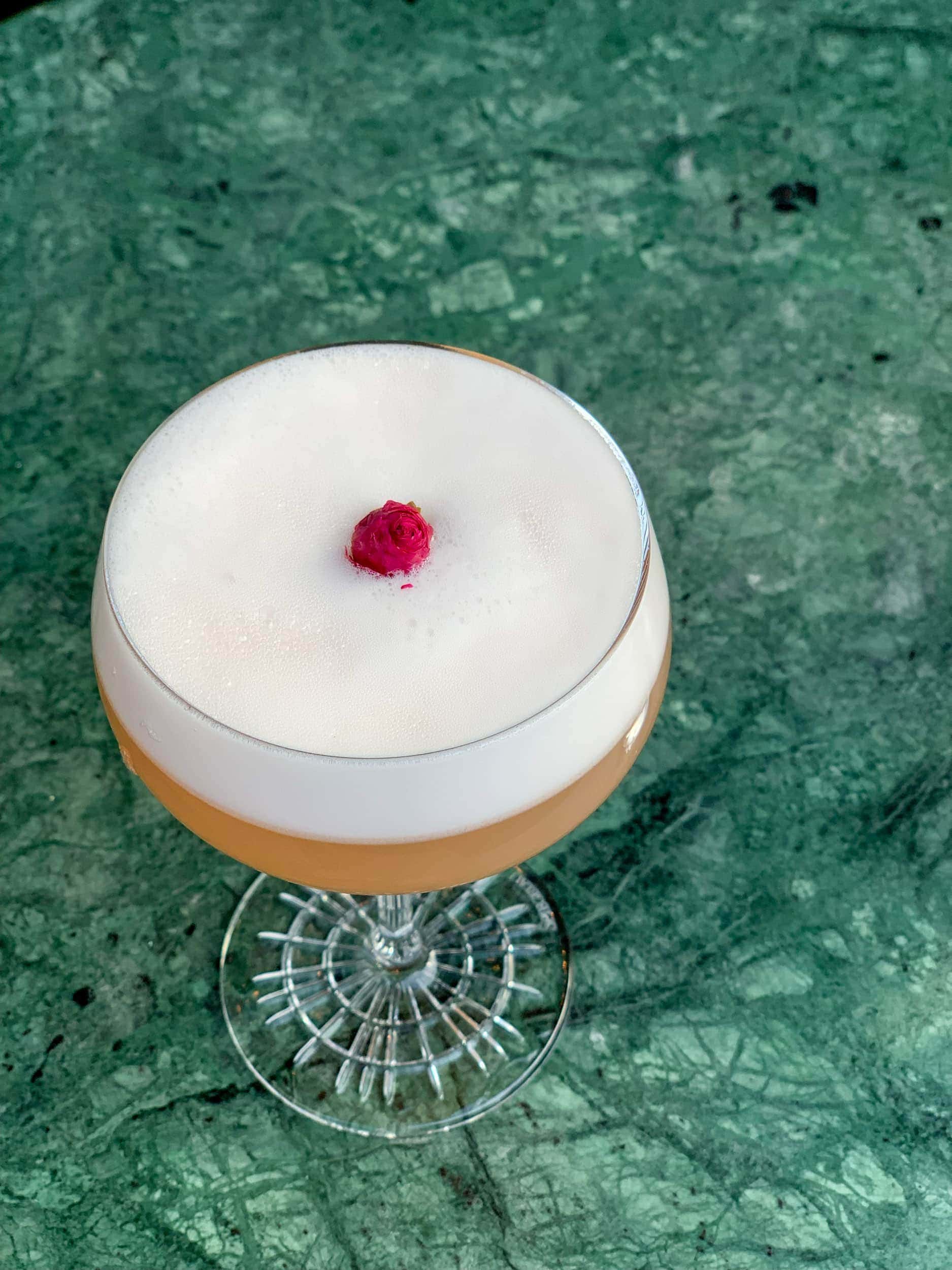 I began with the PillowCase cocktail made of Bombay Sapphire Gin, orange wine, elderflower, egg white, citrus, and orange flower blossom water ($16).
I loved everything about it, from the ingredients and creamy head to the glass it was served in and green (marble or granite) table.
For my second drink, I went with a virgin Eau Tonique consisting of enhanced tonic syrup, rhubarb, and rose elixir, coconut essence, and sparkling water.
The pinkish drink was brought out in a small glass beaker, which I then poured over a large cube of ice in a tumbler ($16).
From looking at it, you'd never know that I left out the Grey Goose Vodka (my favorite brand).
I realize it may seem like a bit of an indulgence to pay regular price for a non-alcoholic drink, but it allowed me to feel comfortable lingering a little longer.
Address: Stortorget 7, Stockholm. pharmarium.se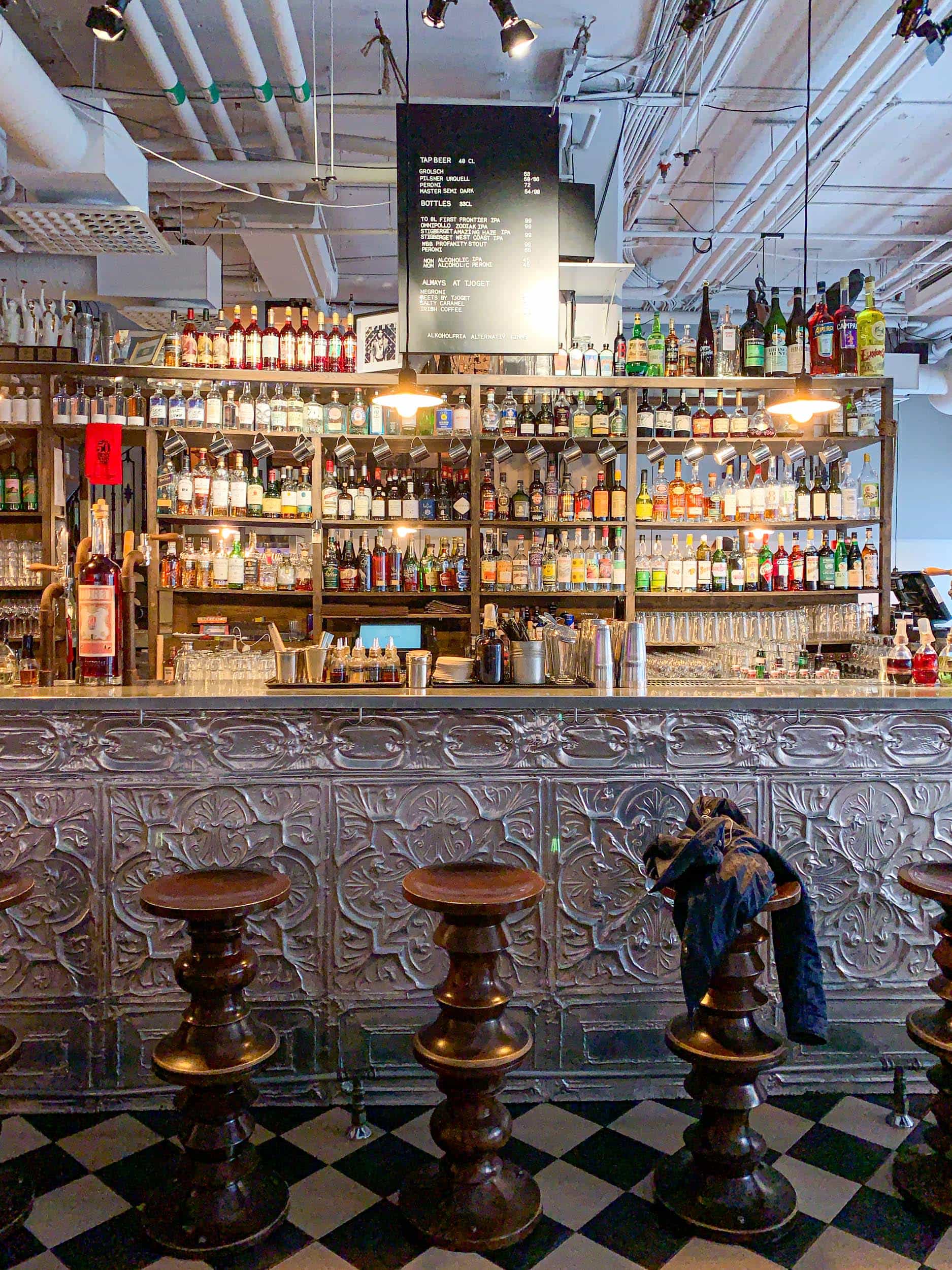 Tjoget
If Pharmarium is the craft cocktail bar, every tourist who comes to Stockholm stumbles across as they walk through Gamla Stan, Tjoget is off the beaten track.
Currently ranked #37 on the World's 50 Best Bars list, Tjoget (formerly known as Linje Tio) is several bars in one.
I arrived at 4 pm, believing that to be opening time; however, only the beer cafe opened at that time.
Here, I learned Sweden has a law stating all bars must serve non-alcoholic drinks, which is essential given the country's zero-tolerance policy for drunk driving.
So, I sat down and enjoyed a non-alcoholic beer, and waited for my friend Jared to arrive.
Jared joined me a little before 5 pm, and we were allowed to enter the cocktail bar (pictured above).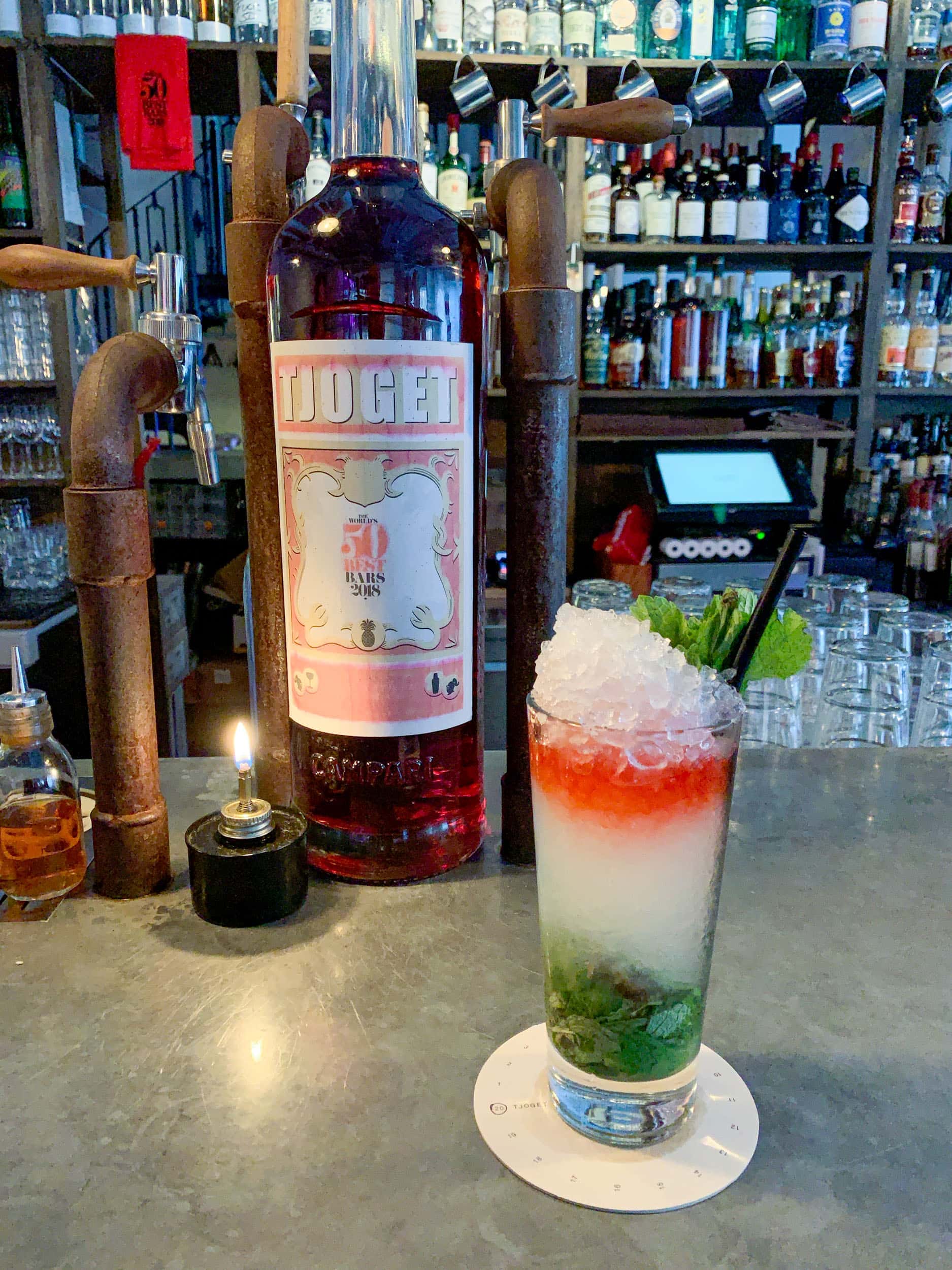 I was happy to have company as it meant exploring more of the menu as we caught up. (It was after Tjoget that we went to dinner at Pelikan.)
The bartender informed us they were getting ready to transition from the summer to the winter menu.
I began with the Beets by Tjoget with spa retreated beetroot Absolut Vodka, lemon, coconut, nutmeg, and ginger.
Lately, I've been a fan of beet juice in cocktails, mainly for the color, though I like the flavor it adds too.
Jared got the Milano with Aperol infused with coffee and tonic (served in a pint glass with lemon).
I went with the colorful Perroquet with Havana 3, Pernod Pastis, lime, sugar, and mint for the next round.
Tjoget also has a wine bodega and a dining room where a full menu is served, including Sunday brunch.
Address: Hornsbruksgatan 24, Stockholm. tjoget.com
***
Despite the jetlag, I made it to these seven casual places to eat and drink in Stockholm. All are worth your time.
Closing Notes
Stockholm is home to one 3-star Michelin restaurant (Frantzen), five 2-star restaurants, and sixteen 1-star restaurants.
I was unable to get reservations at a few of the spots I tried, and even if I could, I don't think I was feeling alert and upbeat enough to enjoy them fully.
Tipping is not common in Swedish culture. In most situations, you won't be expected to provide one, which helps lessen the cost of eating and drinking in Stockholm.
At fine dining restaurants, such as those with Michelin stars, I was advised by Anders Husa, a Norwegian food blogger, that it's customary to give a 5-10% tip if the service was excellent.
P.S. On my last night in Sweden, I managed to squeeze in a dinner at a one-star Michelin restaurant, Koka, in Gothenburg.
Did you enjoy this story? Join me on Instagram and Facebook to share thoughts, ask questions, or keep up with my latest adventures.