In 2018, The NoMad Bar at the NoMad Hotel in midtown Manhattan was named the #1 bar in North America by the World's 50 Best Bars for the second year in a row. It placed #4 worldwide.
The food and beverage program is run by Chef Daniel Humm of Eleven Madison Park (currently ranked the #1 restaurant in North America and #4 in the world by the World's Best Restaurants) and Will Guidara.
I'd eaten an incredible dinner at Eleven Madison Park in 2014, so it was with excitement that I set my sights on this project.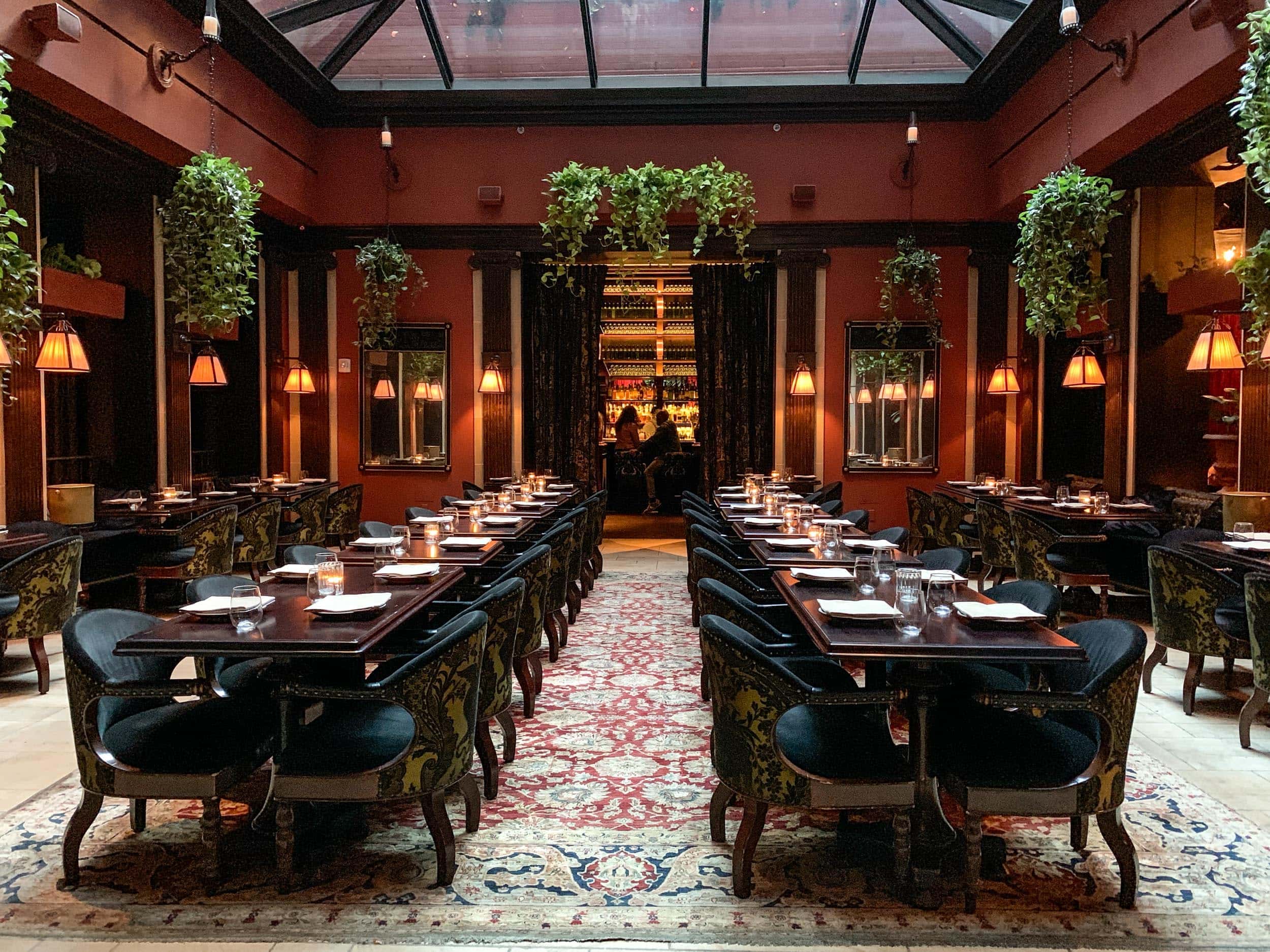 Following my morning stop at Dante, I headed for the luxurious NoMad Hotel a little after noon.
I can't recall why I went so early in the day. Perhaps, thinking it was a hotel bar, I thought I'd be able to get a drink at any time.
Alas, I learned a few things on arrival. The glass-covered Atrium is a casual spot to enjoy lunch or dinner.
During the week, it fills up with suits on business lunches.
The bar immediately off the Atrium is the small but elegant Elephant Bar.
See also: World's Best Restaurants: 15 Fine Dining Experiences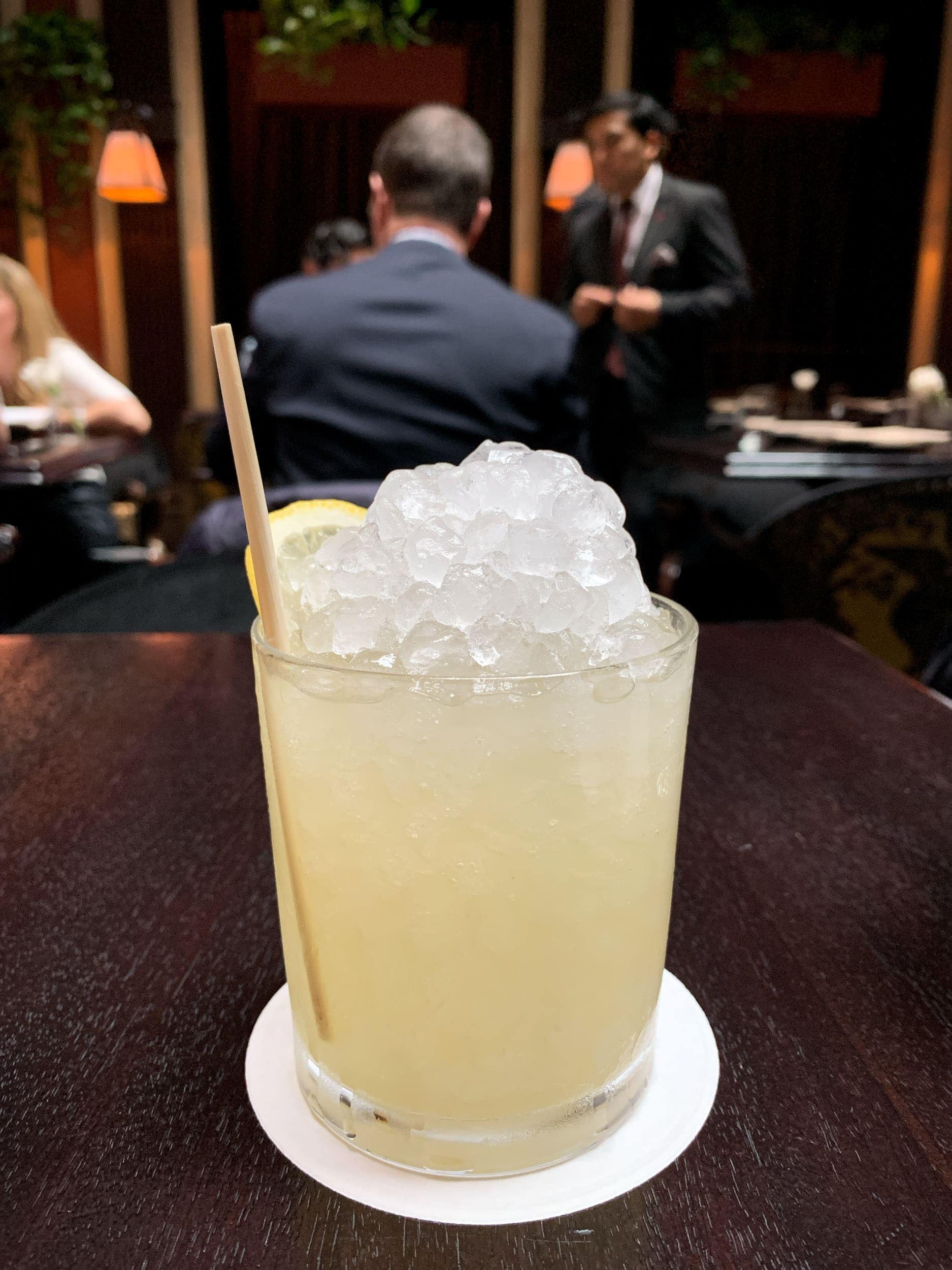 Friday Lunch at NoMad Hotel
One has to walk through The Elephant Bar to get to The NoMad Bar; however, the latter doesn't open until 5 pm (daily).
Since I was already there, I decided to stick around and soak up the atmosphere over lunch in the Atrium.
The waiter confirmed some of the cocktails on the restaurant's menu were from the NoMad Bar.
I ordered a Nod to Nothing:
London Dry Gin
Cocchi Americano (an aromatized wine)
Lemon
Jasmine Pearl Tea
Apricot
Yuzu
Sage
I liked the drink and the presentation with ice that reminded me of a loosely packed snowball.
A large piece of fresh house bread was brought out, but I set it aside.
See also: 13 Best Cocktail Bars in New Orleans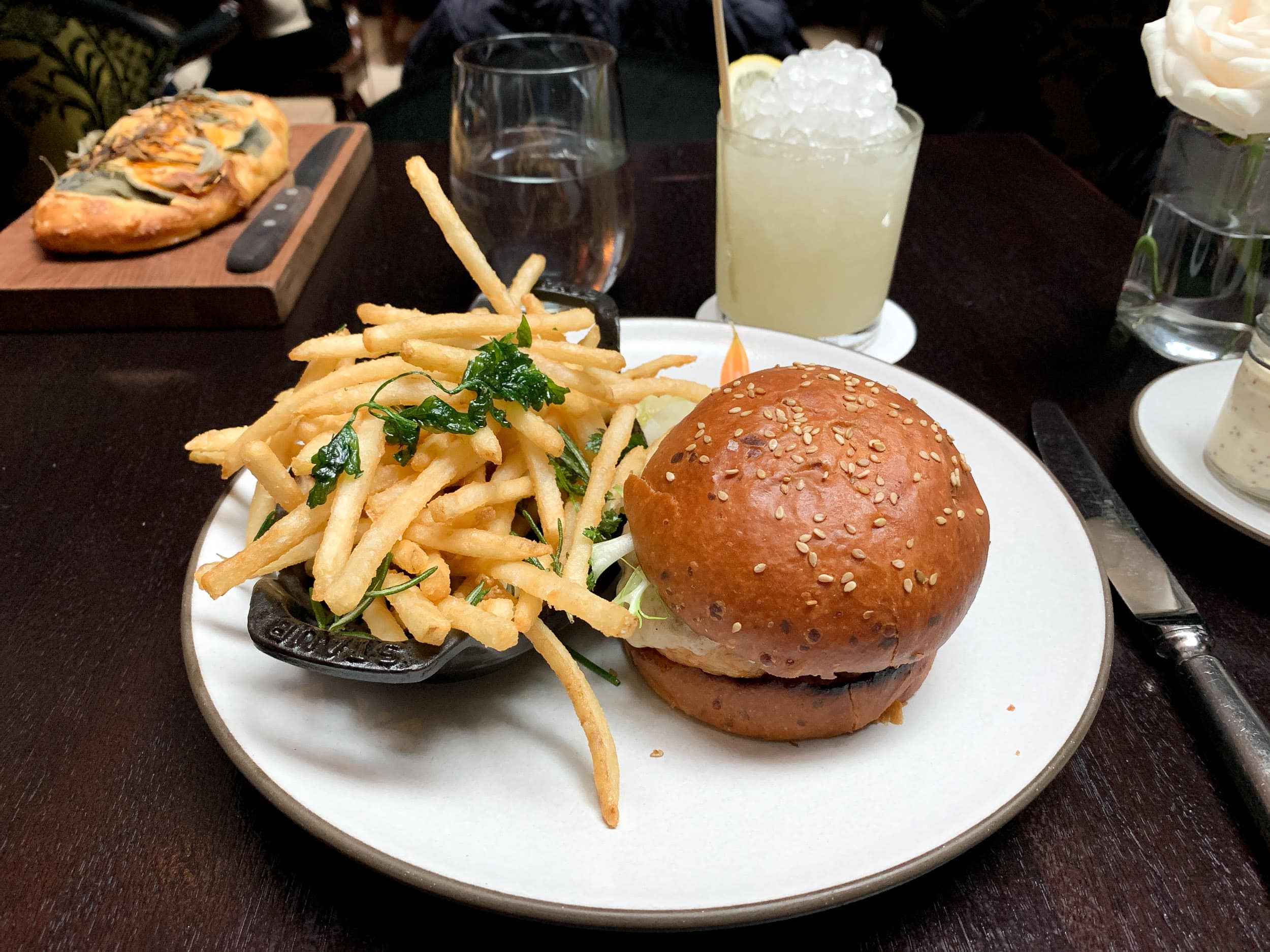 I'd gone all out ordering the chicken burger with gruyere cheese, and foie gras, and black truffle mayonnaise, presented with a side of perfectly cooked fries.
My stomach was soon full of the rich offerings.
Next on my bar crawl agenda was a former #1 bar in North America, The Dead Rabbit in lower Manhattan, but not before making plans to return to The NoMad Bar the following day.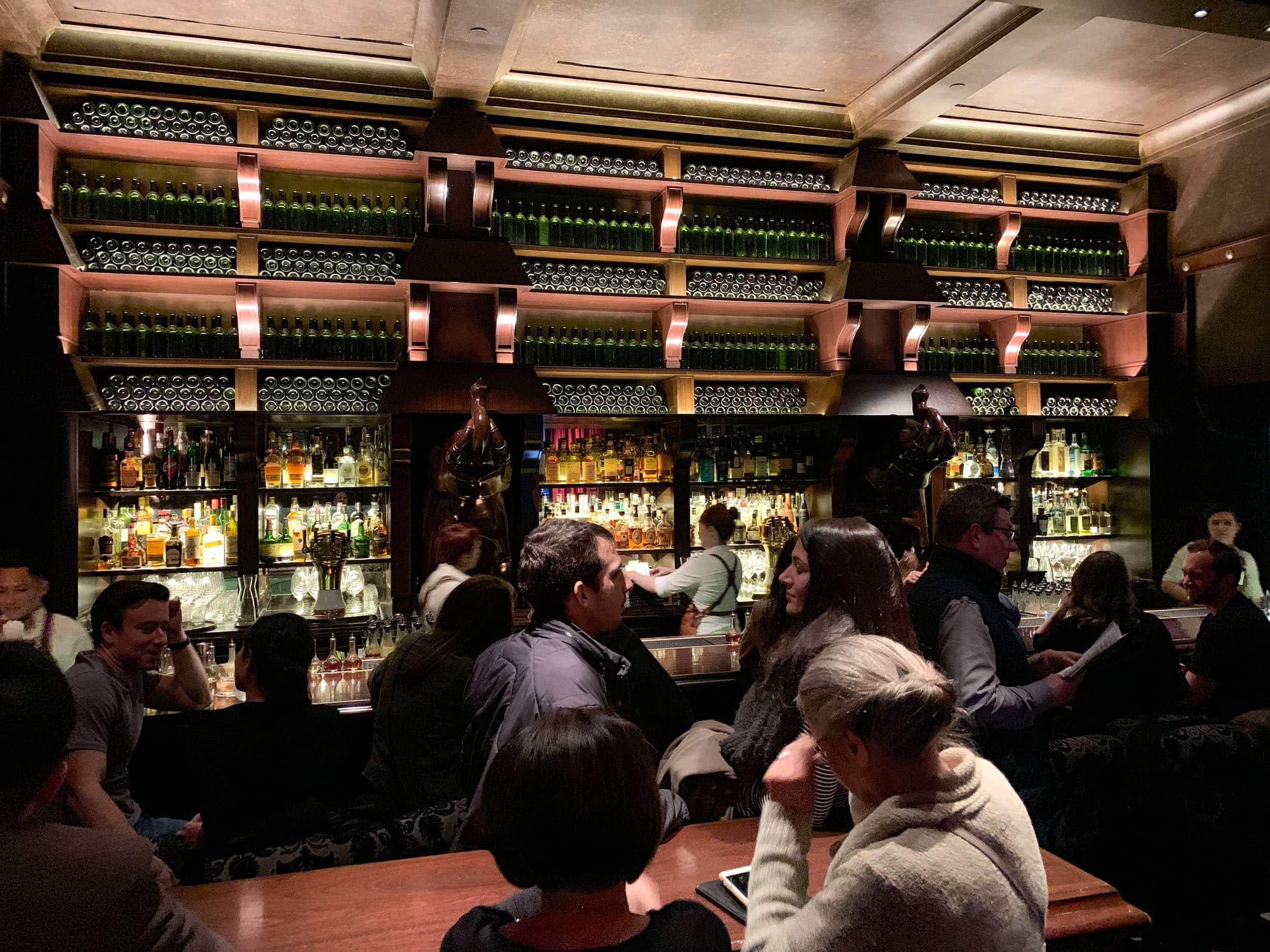 Saturday Drinks at NoMad Bar
It was a few minutes before 5 pm, Saturday, as I waited patiently in The Elephant Room for The NoMad Bar to open. I wasn't the only one.
There's also a direct entrance to NoMad Bar from the street at 10 West 28th Street, but it's certainly more comfortable to wait inside the hotel.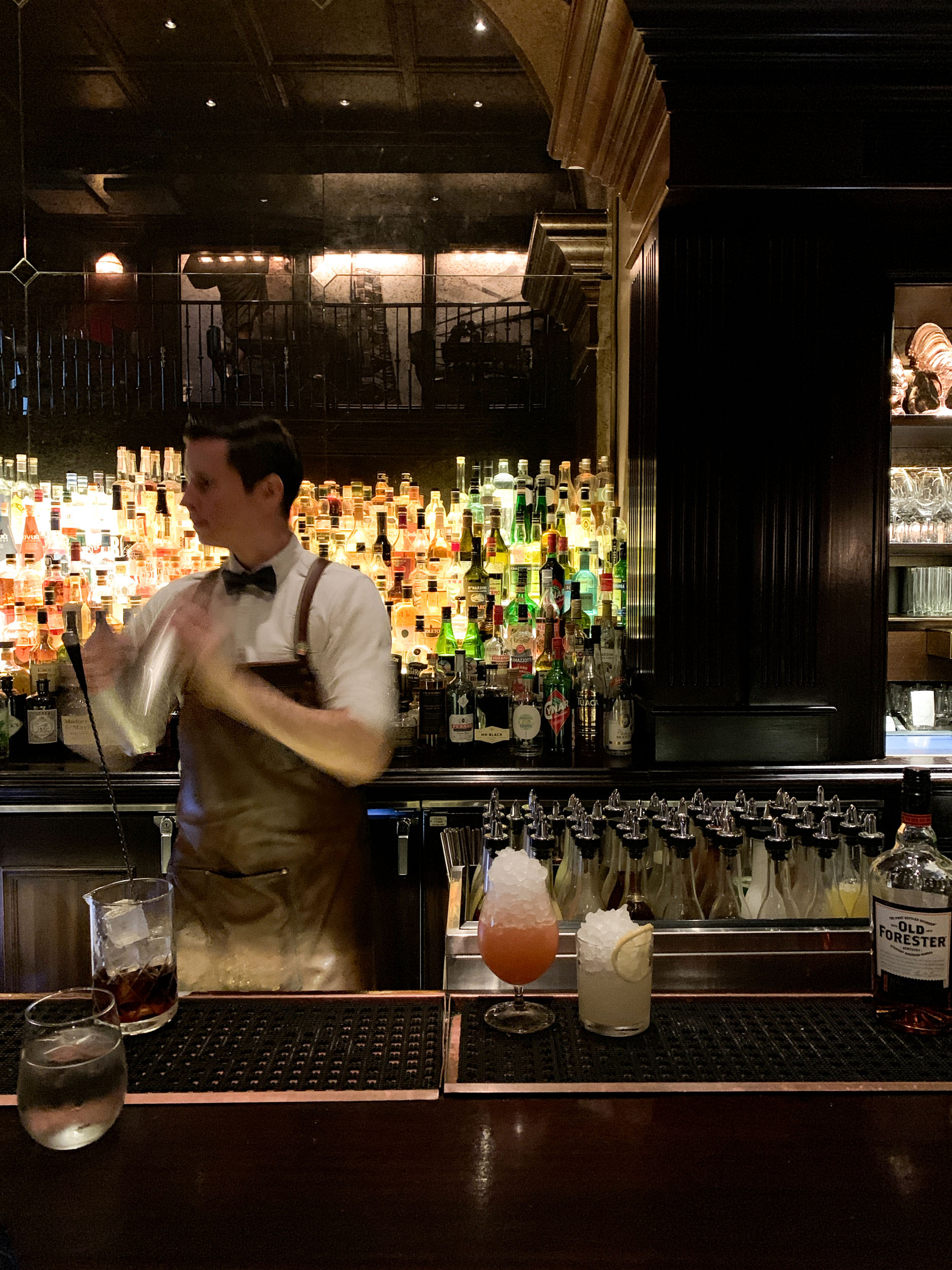 By the time I was let in The NoMad Bar, the seats at the bar had already been taken.
I claimed space at a small counter opposite the bar and was soon joined by my brother and friend.
I noticed a second floor, too, had we wanted a table, but I preferred to be in the center of the action.
The atmosphere is that of a typical New York City tavern, and as a result, it doesn't have a unique feel.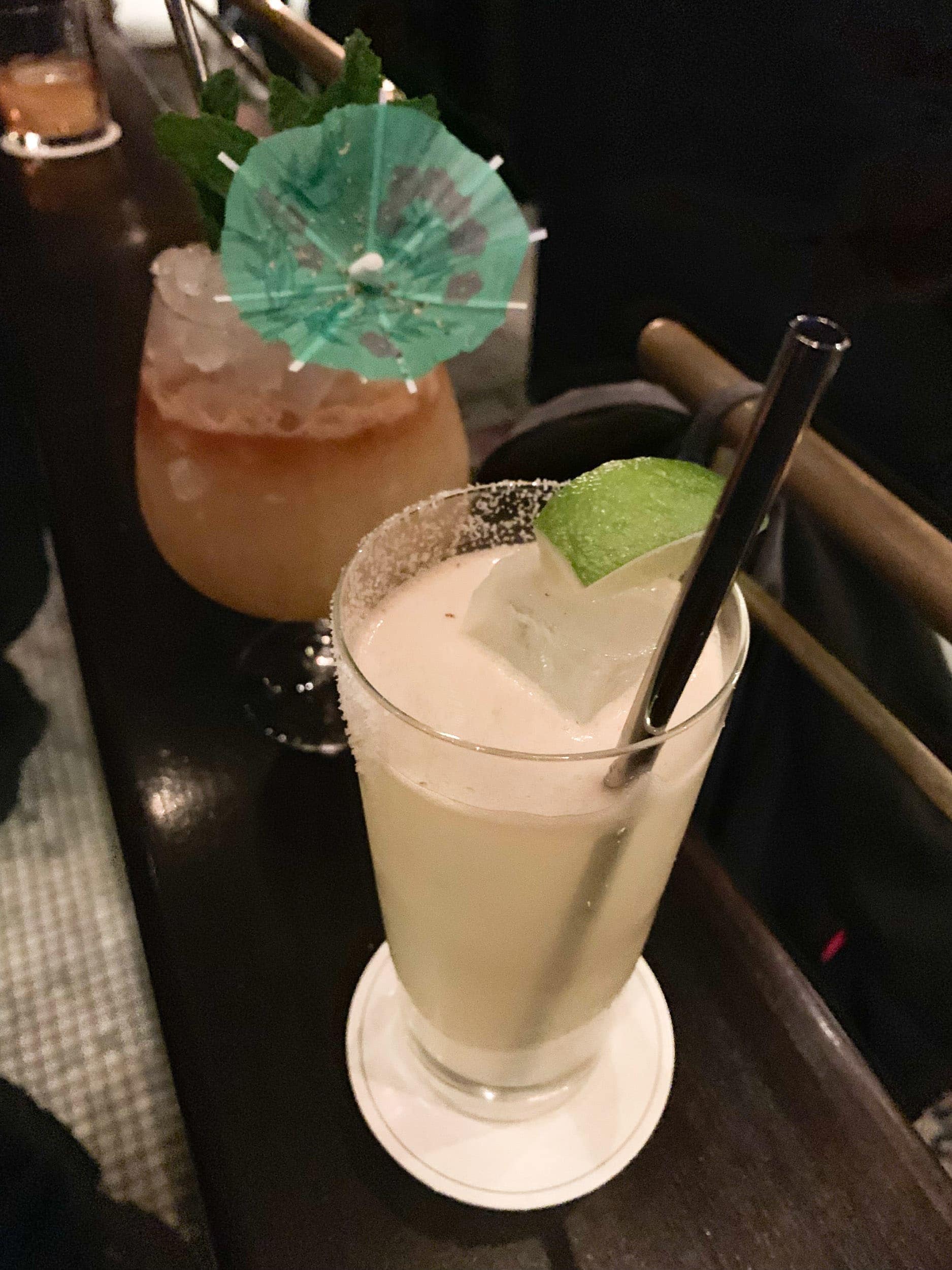 Venezuelan Bar Director Leo Robitschek previously worked at Eleven Madison Park for ten years and has brought his talent for mixology to the NoMad hotels.
According to the hotel's website, Leo has "has created a beverage program that celebrates classically-focused cocktails, while delving into two new arenas: festive, large-format drinks and a selection of reserve cocktails crafted with rare spirits."
It was from the latter arena that I ordered a Paloma:
While I enjoyed the flavors and less common liquors, the presentation left me wanting more.
As the bar continued to fill up, I didn't mind leaving after only one drink.
Compared to some of the other cocktail bars I've visited from the World's 50 Best Bars list recently, the interior design and atmosphere at NoMad Bar didn't hold my attention.
Certainly not in a city with as many bars to explore as New York.
See also: Best Speakeasies in Austin, Texas
Need to Know
The NoMad Bar
Address: 10 West 28th Street, The NoMad Hotel, New York City
Hours: Sunday 5 pm - 10 pm, Monday & Tuesday 5 pm -12 am, Wednesday - Saturday 5 pm - 2 am
Dress: Casual
To view current menus, visit the website
Did you enjoy this story? Join me on Instagram and Facebook to share thoughts, ask questions, or keep up with my latest adventures.