If you're anything like me, you know that a great craft cocktail is more than just a drink—it's an experience. And when it comes to the best cocktail bars, New York City is the mecca.
From swanky rooftop bars with skyline views to hidden speakeasies that transport you back in time, the Big Apple has something for every palate.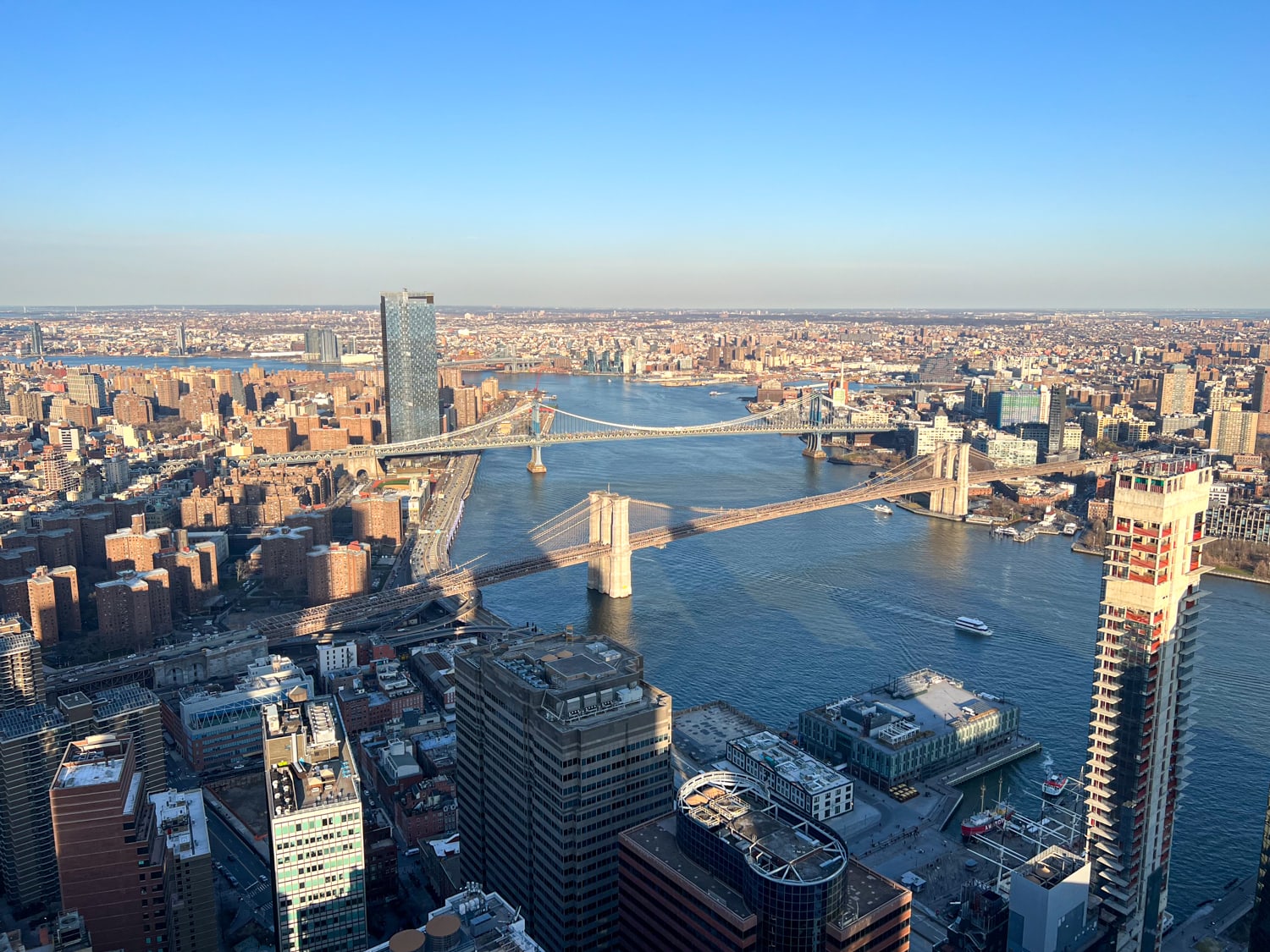 So buckle up whether you're a Martini maven or a Negroni newbie. We're about to take a spirited journey through the best cocktail bars NYC has to offer.
NYC Cocktail Bars
Overstory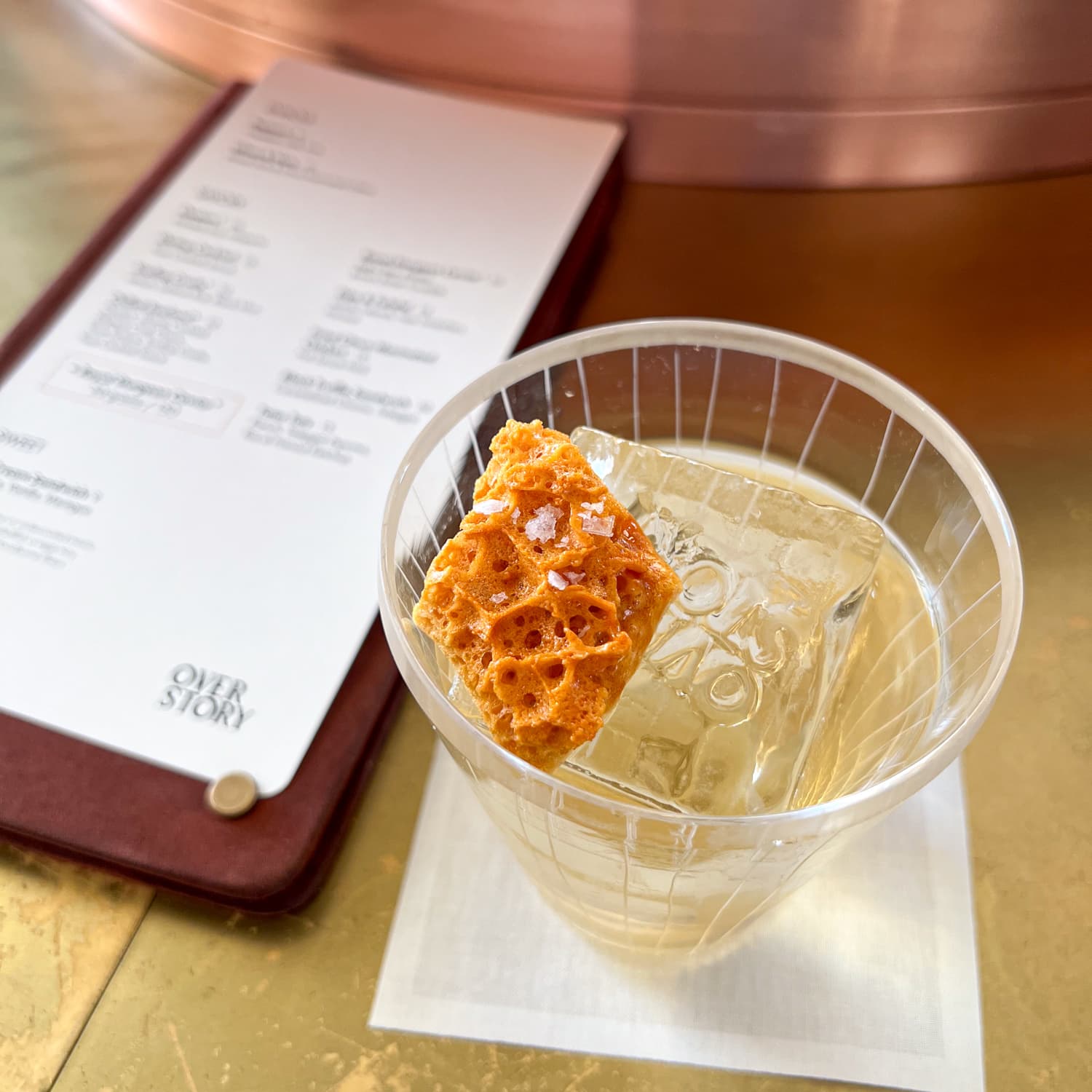 This rooftop bar offers more than just spectacular 360-degree views from the 64th floor of a Financial District skyscraper; it's a cocktail lover's paradise.
World-renowned mixologists curate Overstory's menu. Each drink is a work of art, balancing flavors and aesthetics.
Think seasonal ingredients, house-made syrups, and unique spirits that elevate your cocktail experience to new heights—literally.
It's not just the drinks that make Overstory stand out; it's the ambiance. Chic decor, intimate seating, and an upscale, inviting atmosphere make it a must-visit.
From mid-spring to fall, the outdoor terrace is open for seating, an experience even long-time New Yorkers will appreciate.
On my first visit, I savored one of Overstory's signature cocktails, the Terroir Old Fashioned, with reposado tequila, palo santo, and Tilden salt.
It was served in a beautiful glass with crystal-clear ice; it was nuanced and smooth.
To meet the $50 minimum, I followed it up with Easy Money, a vodka cocktail made with coconut, yuzu, lime leaf, and soda. A small food menu is also available.
Given the cost of tourist attractions like The Edge, getting a couple of world-class cocktails at an upscale bar with city views is a great deal.
Overstory entered The World's 50 Best Bars list at #34 in its first year (2022) and ranked #7 for North America's 50 Best Bars (2023). It's currently my favorite cocktail bar in New York City.
70 Pine St 64th Floor, New York, NY, overstory-nyc.com
Dante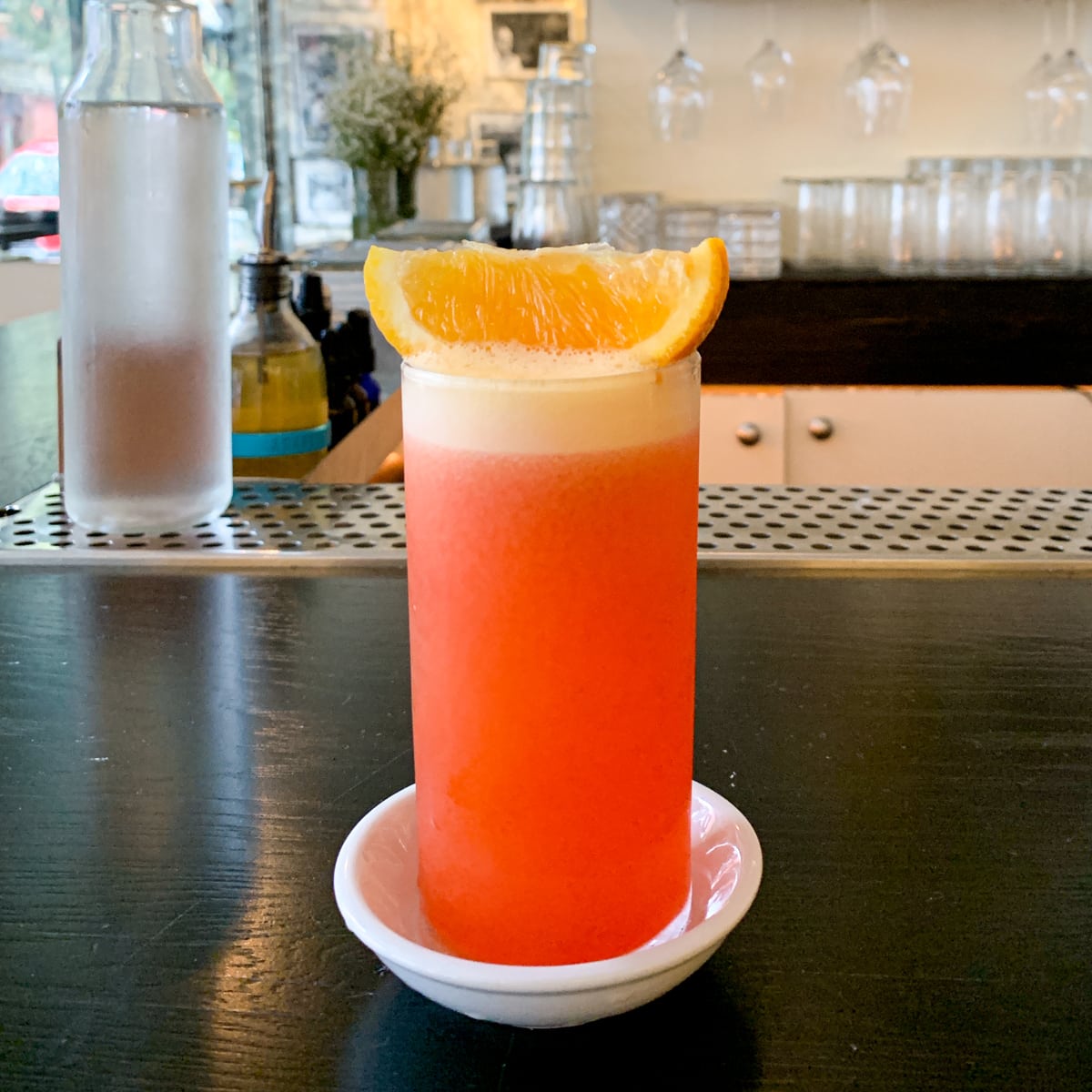 At Caffe Dante, classic meets contemporary in the heart of Greenwich Village.
This iconic Italian bar has been serving drinks since 1915, and let me tell you, they've mastered the art of the cocktail.
Awarded "World's Best Bar" in 2019, Dante is famous for its Garibaldi made with Campari and fresh-squeezed orange juice and Negronis, but the menu doesn't stop there.
From aperitifs to classic cocktails, each is crafted to perfection, which is why it's one of the best bars in New York City.
The atmosphere? Think European cafe meets New York cool, complete with vintage photos and cozy banquettes.
Whether you're a cocktail connoisseur or just in for a casual sip, Dante delivers an experience that's both timeless and trendy.
After reaching #1 on The World's 50 Best Bars list in 2019, Dante has slipped to #36 for 2022. It's ranked #6 on North America's 50 Best Bars list for 2023.
79-81 MacDougal St, New York, NY, dante-nyc.com
Katana Kitten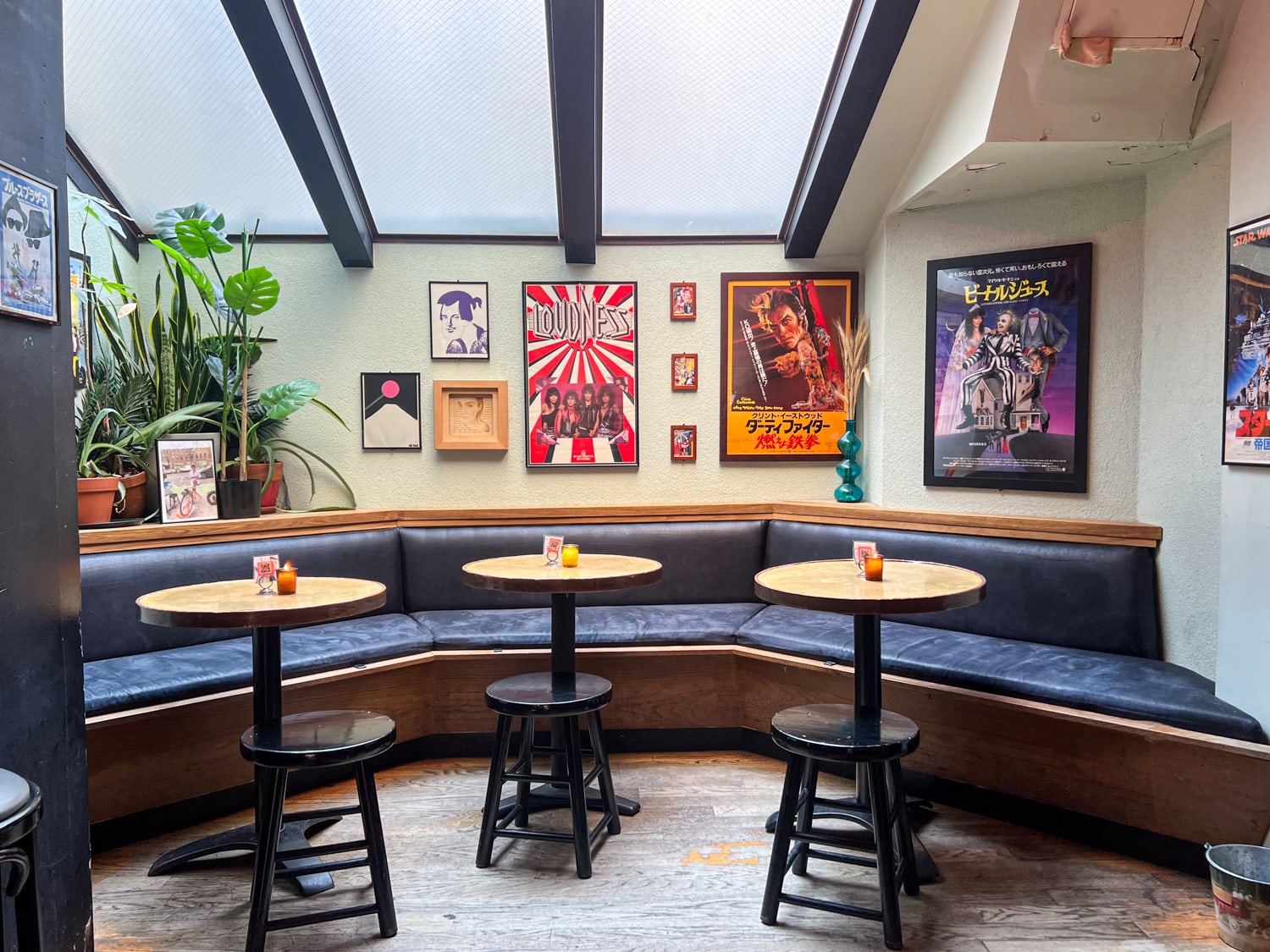 If you're craving a cocktail experience that's a fusion of East meets West, look no further than Katana Kitten.
Situated in the West Village, this bi-level Japanese-inspired bar is a delightful blend of the high-energy izakayas of Tokyo and New York's craft cocktail scene.
The drinks? Think Japanese whisky highballs, matcha-infused creations, and umami-packed cocktails that are as delicious as they are Instagrammable.
The feel inside this welcoming bar is light and fun, with retro Japanese pop culture decor and a playlist to match.
This unique blend of flavors, aesthetics, and atmosphere makes Katana Kitten a standout in NYC's crowded cocktail landscape.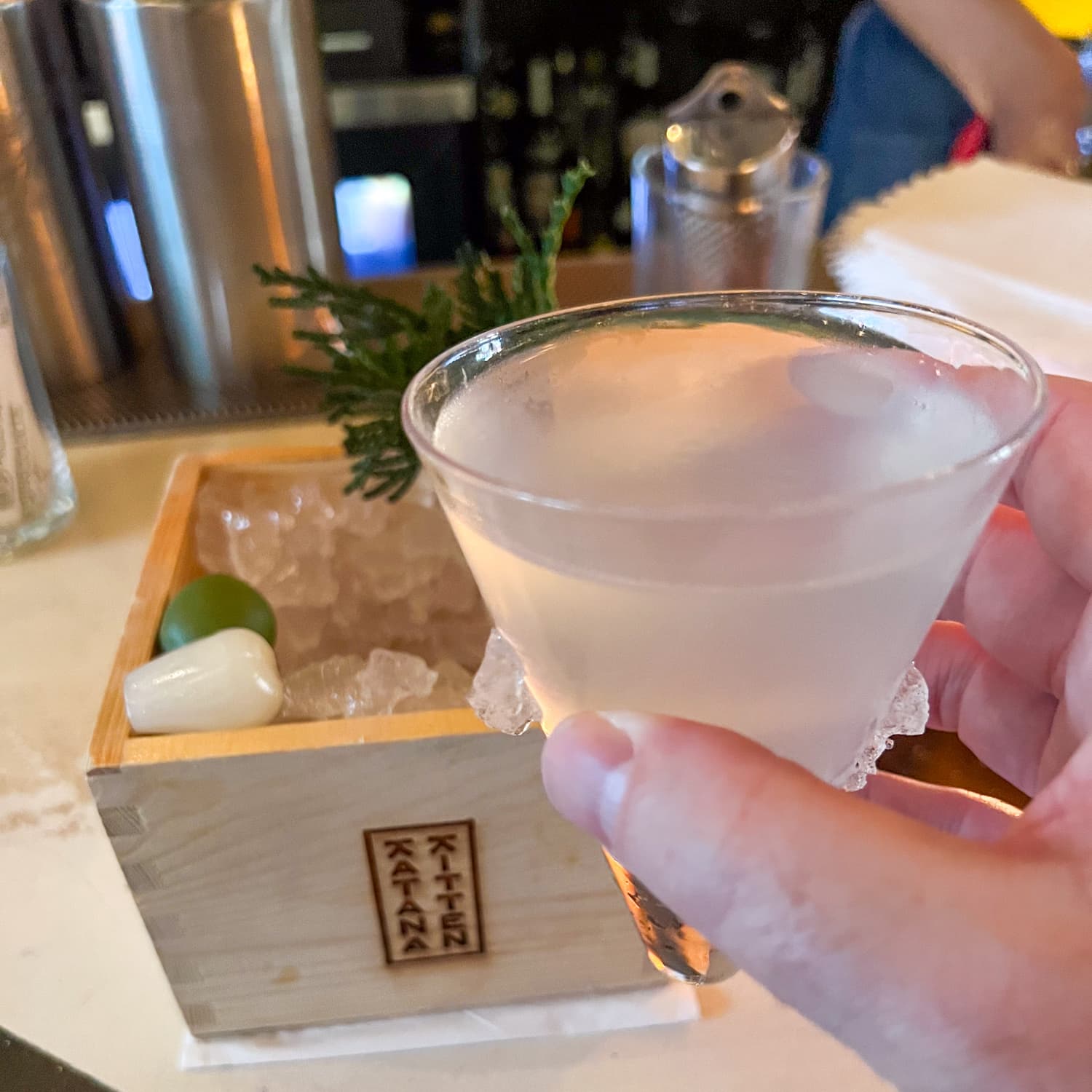 When I invited a friend to join me for happy hour at 4 p.m. on a Friday, we took our seats at the bar upstairs.
I began with the signature Hinoki Martini with Grey Goose vodka, Spring44 Mountain Gin, fino sherry, junmai daiginjo, and hinoki tree essence.
The alcohol-forward martini was too strong for me, and I retreated to a more palatable Shiso Gin and Tonic made with Ford's Gin.
Katana Kitten ranks #9 on the World's 50 Best Bars list for 2022 and #3 for North America in 2023.
531 Hudson St, New York, NY, katanakitten.com
Double Chicken Please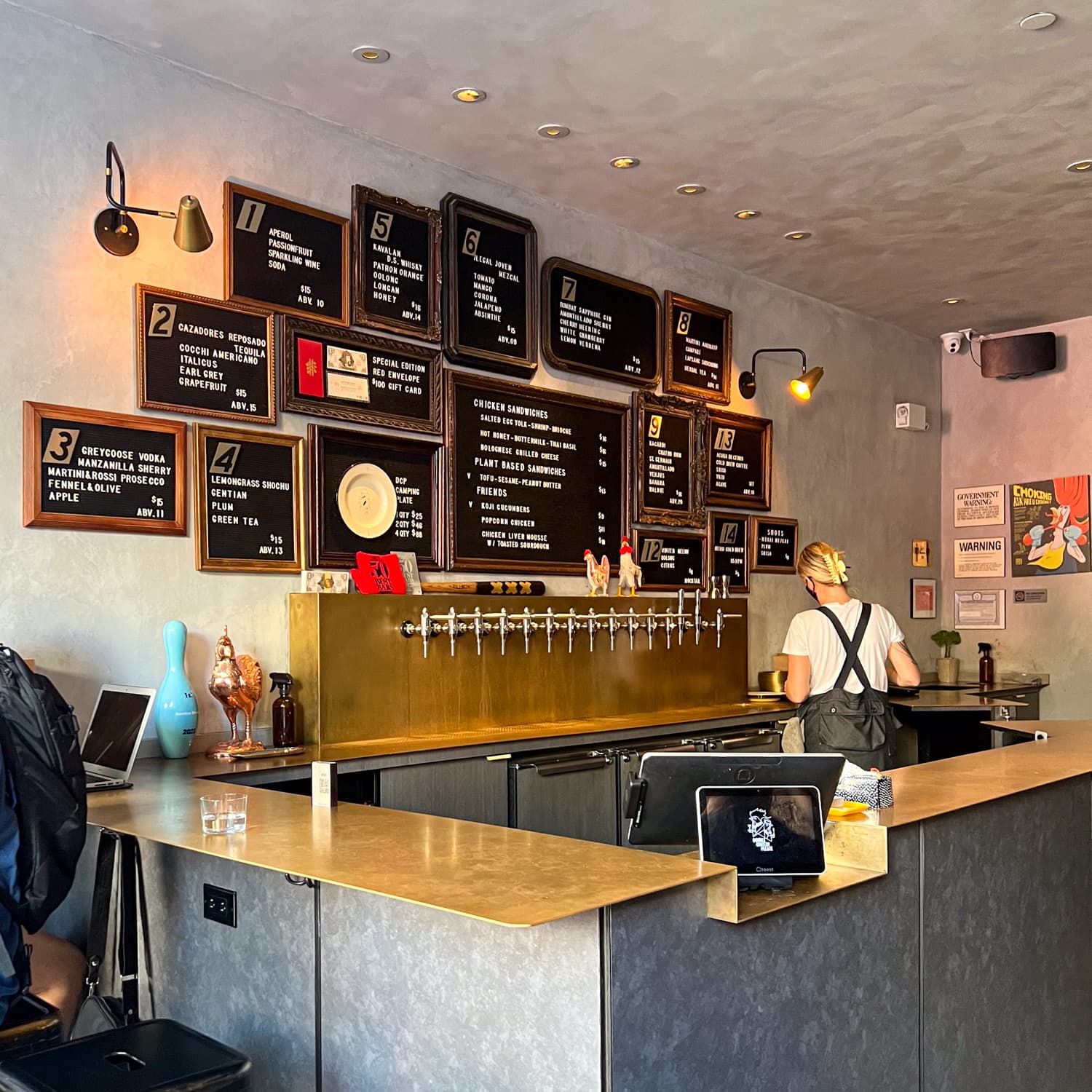 Nestled in the Lower East Side, Double Chicken Please is the brainchild of award-winning mixologists GN Chan and Faye Chen.
What sets it apart? In the casual Front Room, original cocktails on tap are paired with gourmet sandwiches, creating a harmonious blend of flavors.
The cocktail menu in the more intimate back bar, The Coop, is designed to mimic foods, such as the Cold Pizza (Don Fulano Blanco, Parmigiano Reggiano, burnt toast, tomato, basil, honey, and egg white).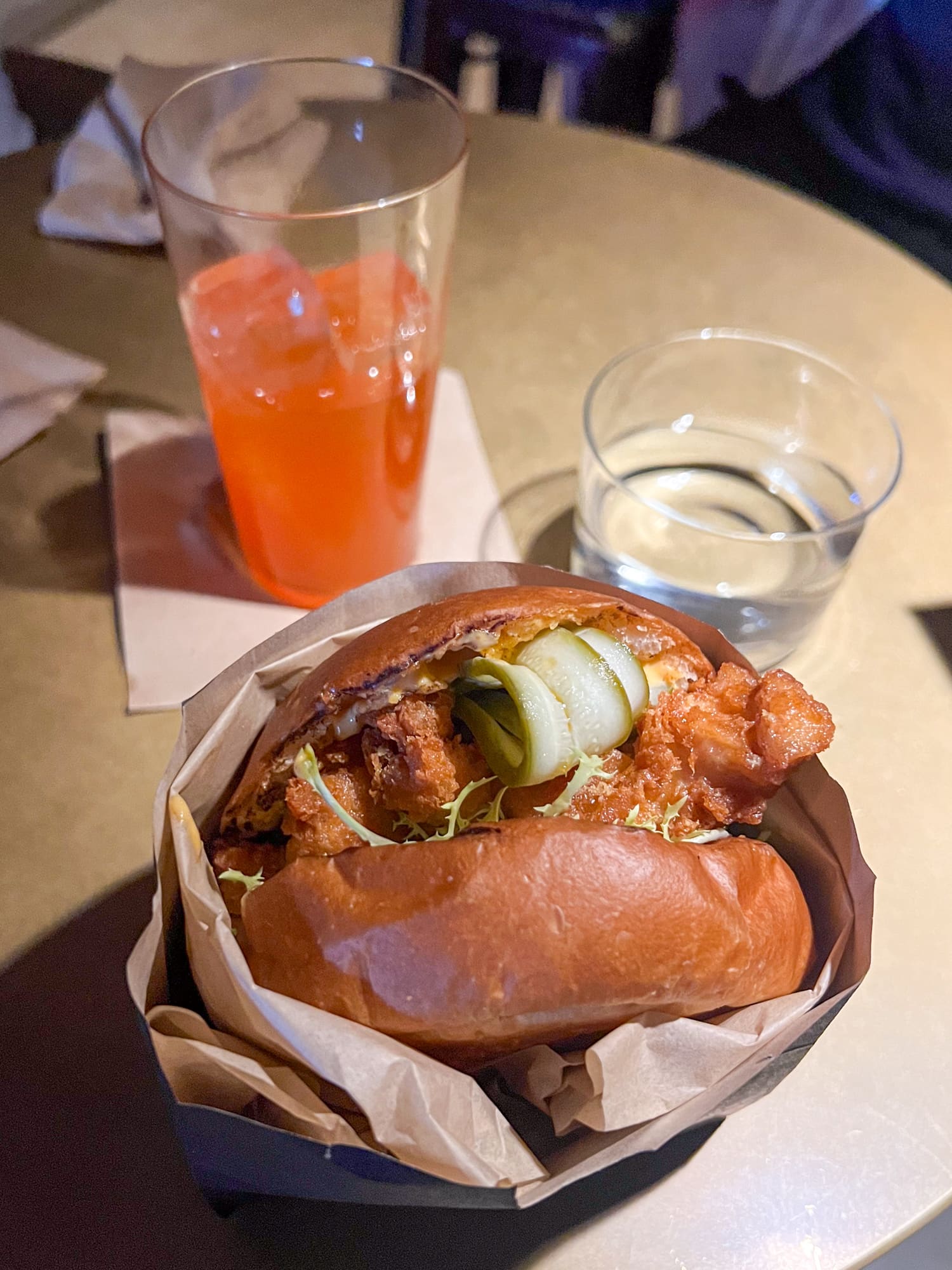 On my initial visit, my brother and I were too far back in line when they opened to be seated in The Coop. However, we did get a small table in the Front Room.
I ordered a neon-orange Aperol cocktail with passion fruit, sparkling wine, and soda and a salted egg yolk chicken sandwich.
The next time I'm in New York City, I'll be sure to arrive early enough to get a seat in The Coop. Reservations are only available for parties of six or more.
Double Chicken Please received the Disaronno Highest New Entry Award when it entered The World's 50 Best Bars list at #6 in 2022. It ranked #1 in North America for 2023.
115 Allen St, New York, NY, doublechickenplease.com
The Dead Rabbit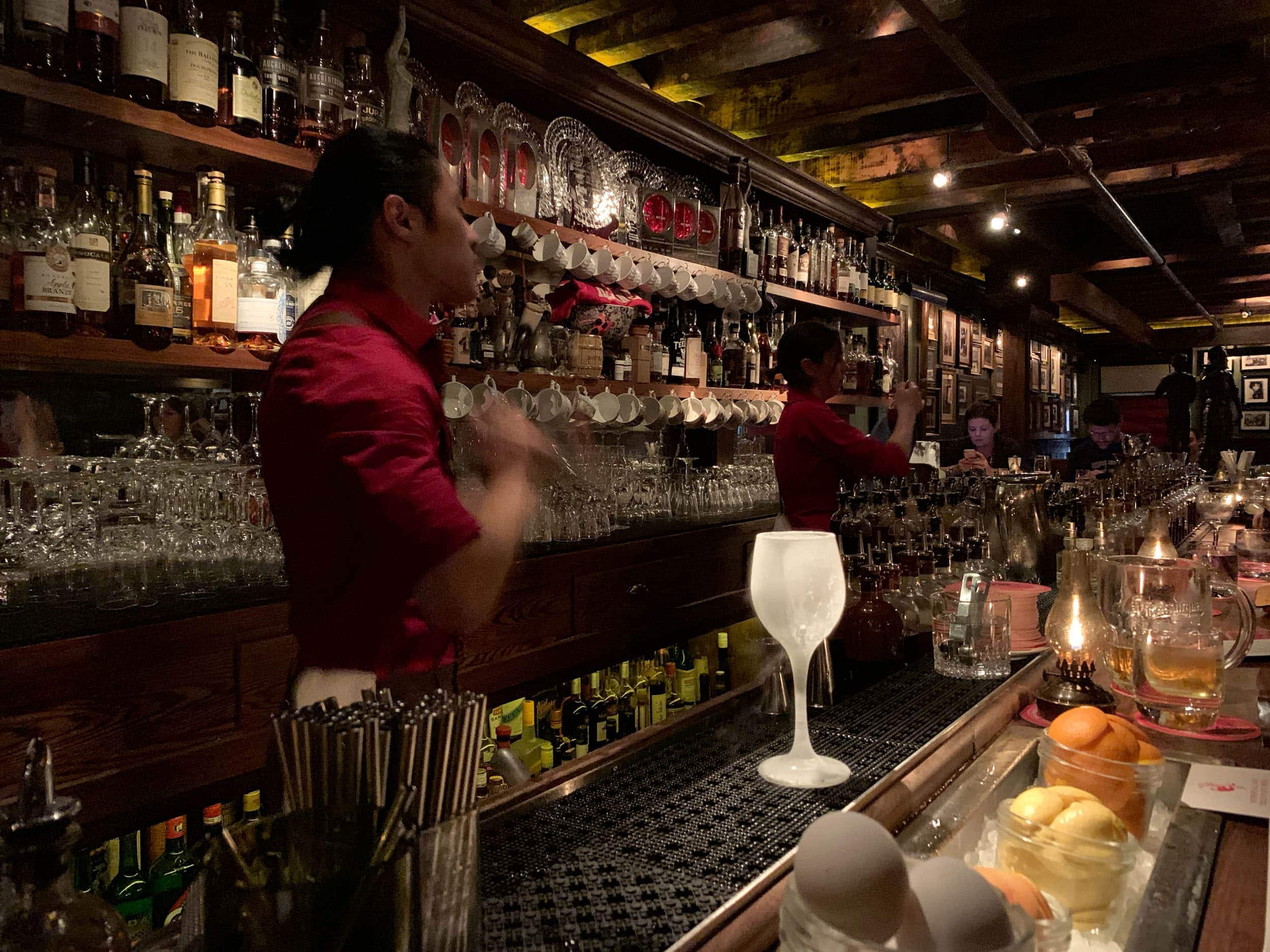 Step into The Dead Rabbit, and you're instantly transported to a traditional 19th-century Irish pub in the heart of Lower Manhattan.
Founded by childhood friends from Belfast, Jack McGarry and Sean Muldoon, the Irish bar is housed in a brick building constructed in 1828.
The name Dead Rabbit comes from an Irish criminal gang that used to roam the same NYC streets.
The ground floor Taproom menu boasts six varieties of Irish coffee, bottled punches, cocktails, and dozens of Irish whiskies. It's also a great place to grab a Guinness.
Meanwhile, modern libations created for the second-floor Parlor led The Dead Rabbit to be named the "World's Best Bar" twice (most recently in 2016).
The current menu features craft cocktails inspired by the people and places in Ireland and offers a traditional mixed drink and a contemporary one for every category.
The Dead Rabbit is expanding with a second location in downtown Austin, Texas, followed by a third bar in New Orleans.
30 Water St, New York, NY, thedeadrabbit.com
Dear Irving Gramercy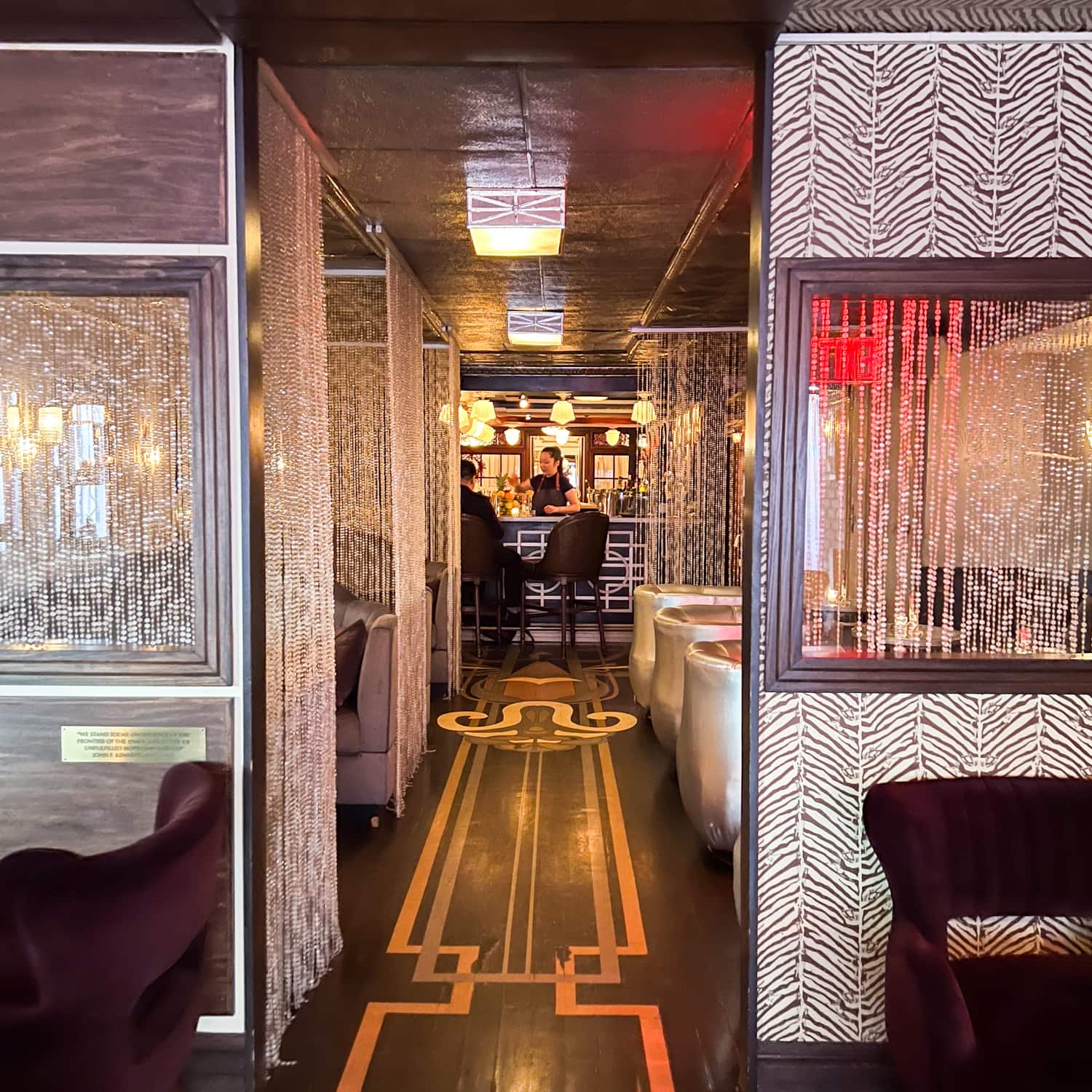 Time travel, anyone? Entering Dear Irving Gramercy is like stepping into different eras, all while sipping on a meticulously crafted cocktail.
Located in Manhattan's Gramercy neighborhood, this bar is divided into themed rooms that range from a Gatsby-esque 1920s lounge to a Marie Antoinette-inspired parlor.
The cocktails are equally theatrical, blending classic recipes with modern twists. Ingredients are top-notch.
What sets Dear Irving apart is the attention to detail—not just in the drinks but in the immersive atmosphere.
This blend of ambiance and mixology makes it one of the best cocktail bars in New York City.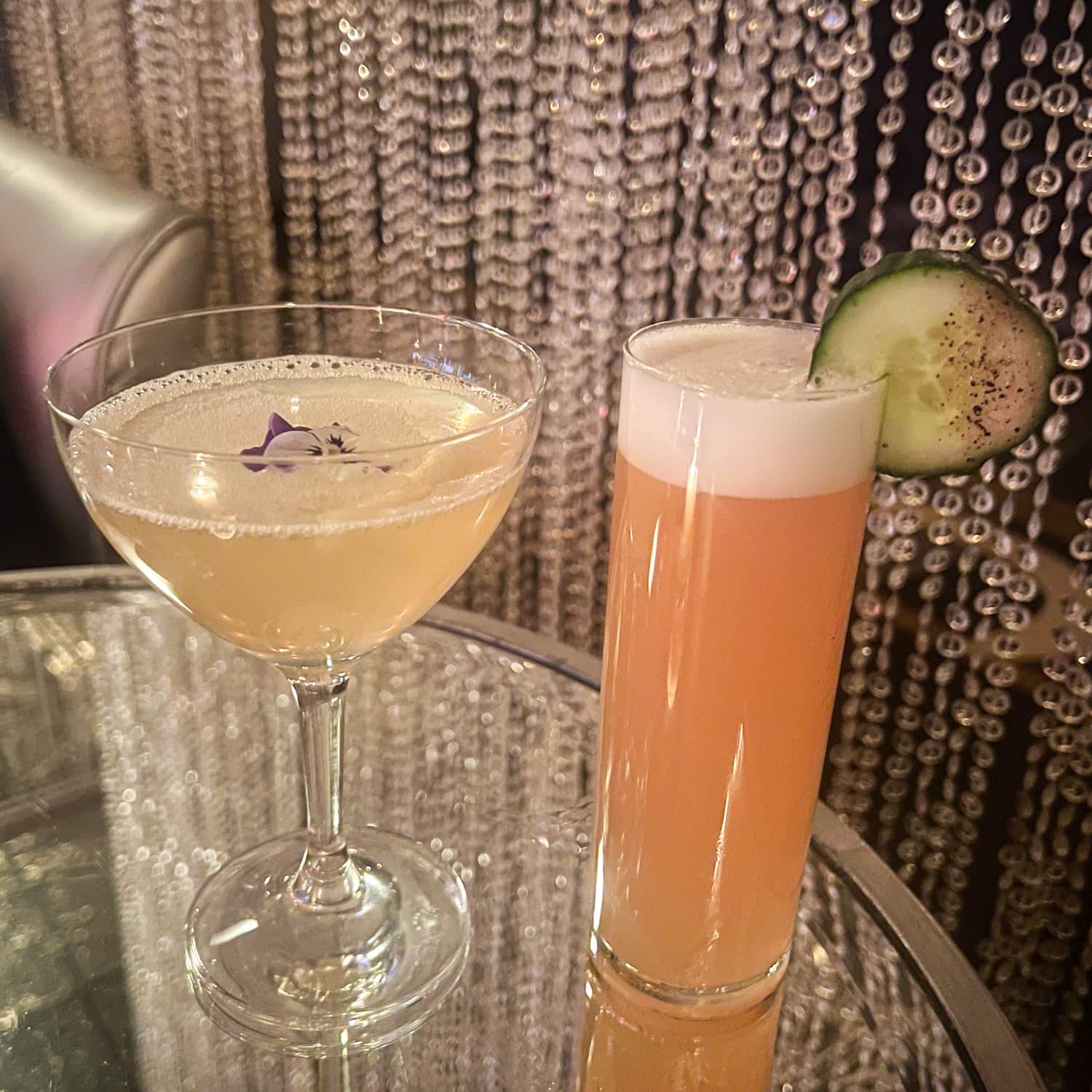 When Kel and I stopped by to check it out, the Marie Antoinette room I'd been hoping to sit in was closed for a private event.
We sat, instead, in the shiny silver Gastby-era room with its mirror-topped tables. I enjoyed a bright and fizzy Sloe Glow made with Ford's Gin.
Dear Irving also serves small plates to share. We got the wagyu sliders.
A sister bar, Dear Irving on Hudson, can be found on the 40th and 41st floors of the Aliz Hotel near Times Square. Floor-to-ceiling windows make enjoying the city views from this rooftop lounge easy.
And the time travel theme is used here, too, only it's inspired by James Bond and the Art Deco movement.
55 Irving Pl, New York, NY, dearirving.com
Amor y Amargo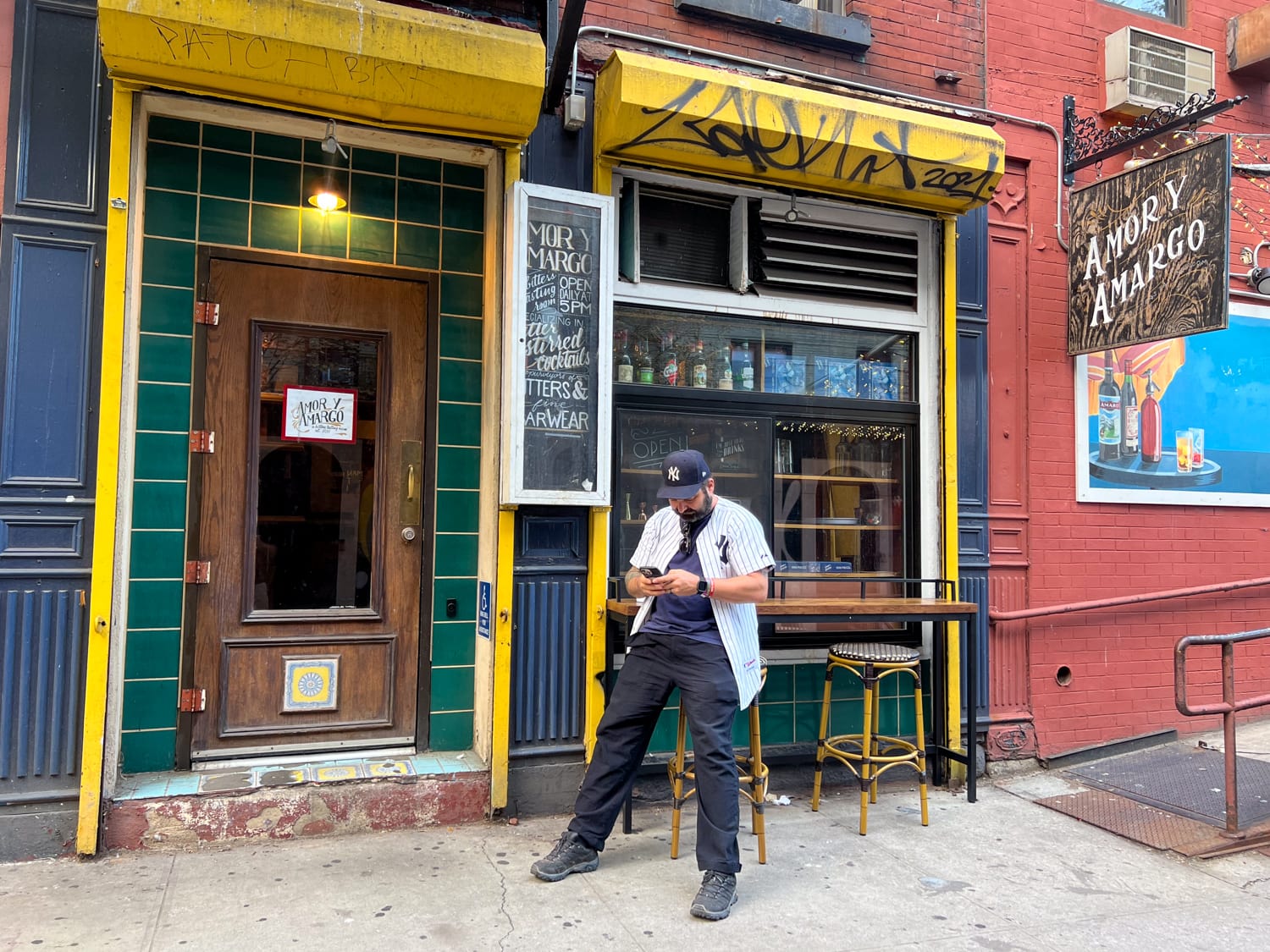 For those who appreciate the nuanced world of bitters and amari, Amor y Amargo is a sanctuary.
Tucked amid the many dive bars of the East Village, this intimate bar is a haven for Italian cocktail purists.
With a "no shaking" philosophy, the focus here is on the complexity of each ingredient.
The space is cozy and unpretentious, letting the drinks take center stage. And don't let the small size fool you; the flavors here are big and adventurous.
When I dropped by with my brother following a Yankees game, I enjoyed a refreshing, low-alcohol spritz, the SOS in Bel Air (Escubac, Cocchi Americano, Carpano Bianco, and cucumber bitters).
In 2022, Amor y Amargo was ranked #23 on North America's 50 Best Bars.
95 Avenue A, New York, NY, amoryamargo.com
Employees Only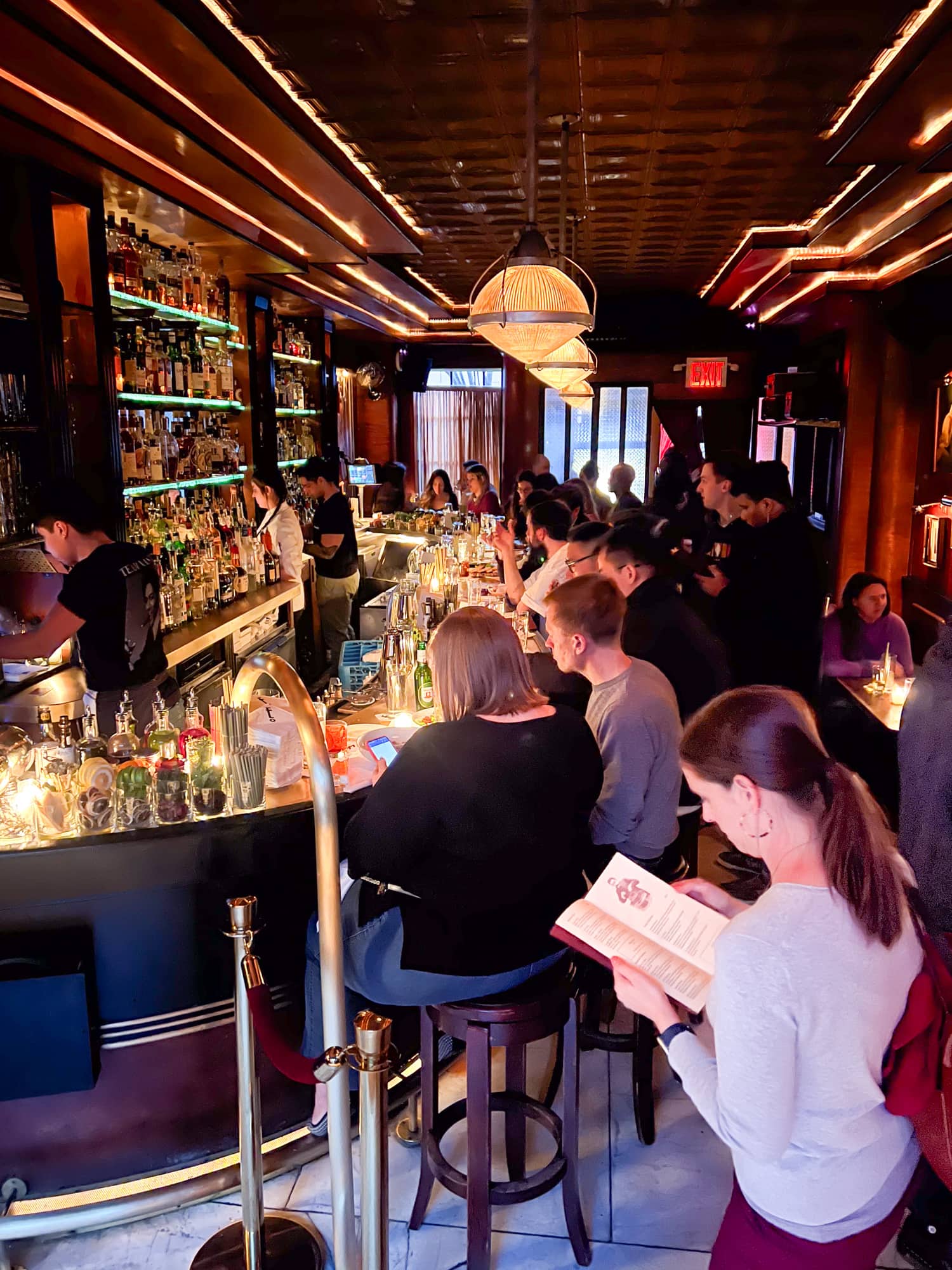 If you're in the know, you've probably heard of Employees Only, a West Village institution setting the standard for NYC's cocktail scene since 2004.
Behind a red neon "Psychic" sign and velvet curtain lies a Prohibition-era speakeasy, complete with bartenders who are masters of their craft.
The cocktail menu mixes classics and inventive new recipes, each executed perfectly.
But it's not just the drinks that make Employees Only special; it's the whole package—an energetic atmosphere, top-notch service, and even a late-night food menu (bone marrow poppers, anyone?).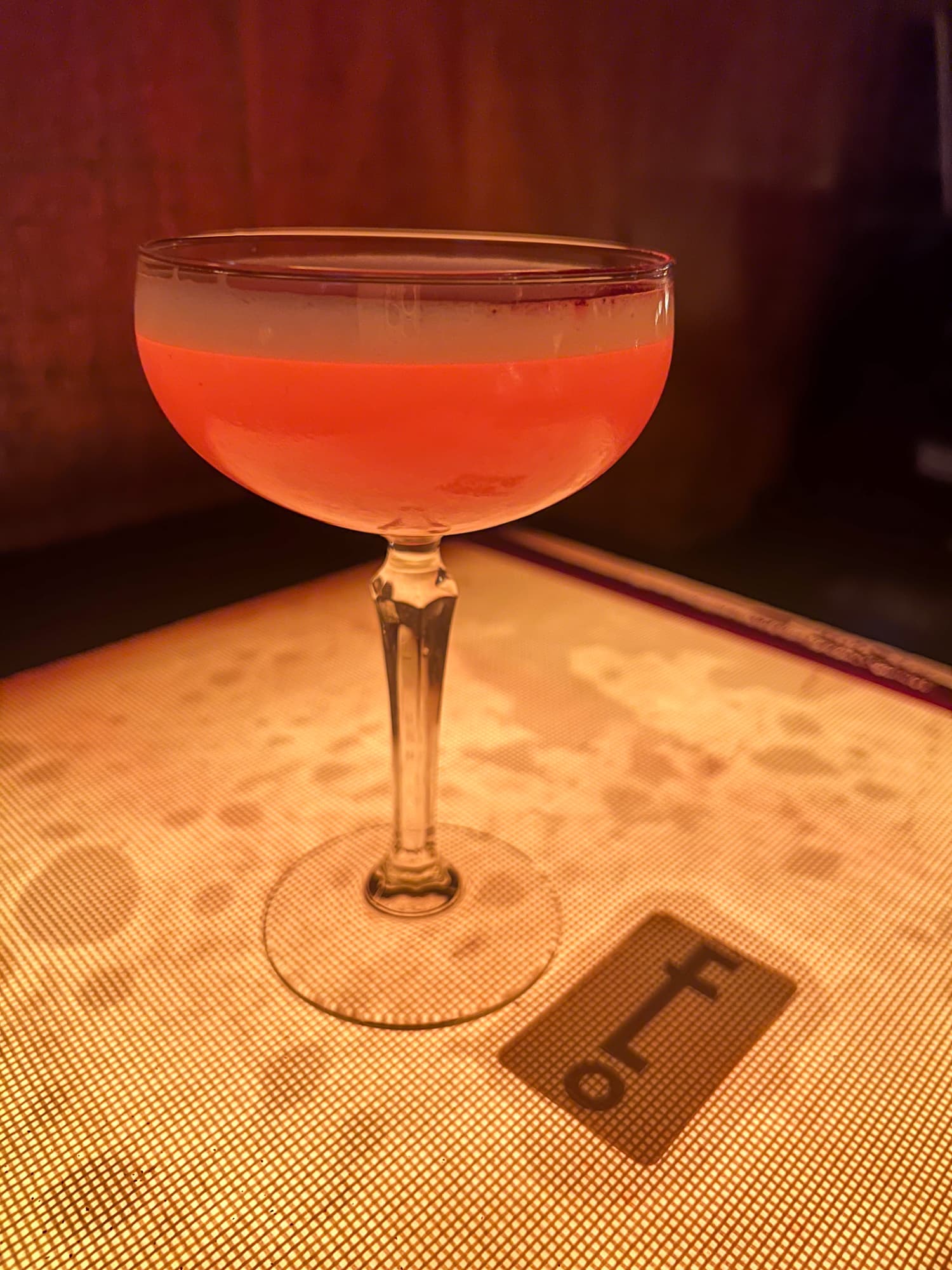 When Kel and I arrived at 6:30 p.m. on a Wednesday, a mere thirty minutes after they opened, it was standing room only at the bar.
Despite the congestion, we placed an order for a pair of cocktails.
The signature Provencal with lavender-infused Roku Gin stirred with Herbs de Provence-infused French vermouth and Cointreau was too strong for us.
We preferred our other drink, the Scarlet Woman with Sipsmith Sloe Gin and Bols Genever shaken with hibiscus cordial, cinnamon, allspice, egg white, and fresh lemon juice.
In 2022, Employees Only ranked #47 on the World's Best Bars list. It appears higher at #14 on the 2023 list of North America's 50 Best Bars.
510 Hudson St, New York, NY, employeesonlynyc.com
Attaboy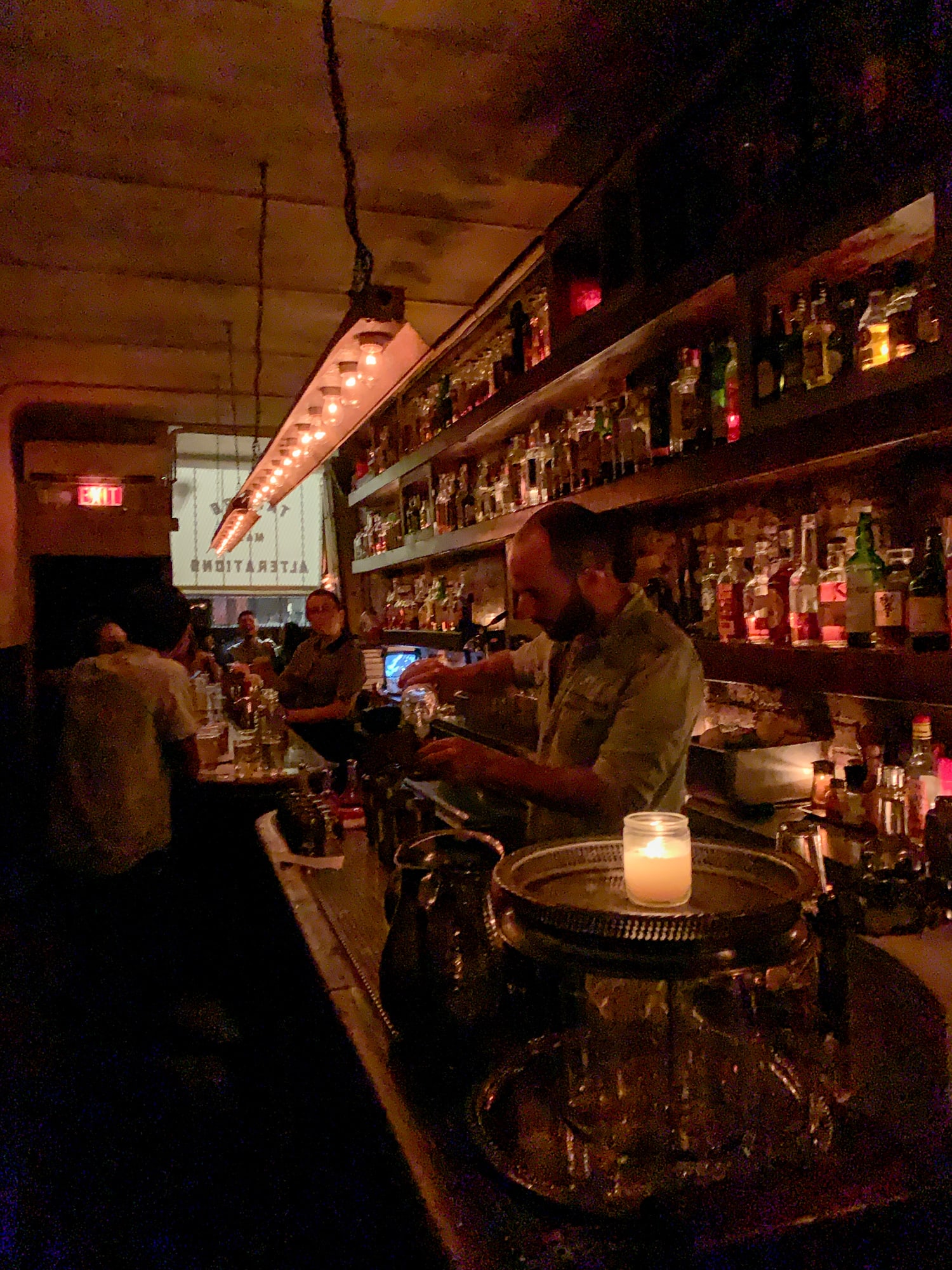 Attaboy is a Lower East Side speakeasy that's been a trendsetter in the cocktail world since it opened in 2013.
Operating in the space that once housed the legendary Milk & Honey by the late NYC native Sasha Petraske, Attaboy carries on the legacy of bespoke mixology.
Petraske's proteges, Sam Ross and Michael McIlroy, have created several modern classics between them.
Ross developed the Penicillin (Scotch whisky, ginger, honey syrup, and fresh lemon juice) and Paper Plane (bourbon whiskey, Aperol, Amaro Nonino, and lemon juice). And McIlroy, the Greenpoint (whiskey, yellow chartreuse, and sweet vermouth).
There's no menu here; bartenders ask customers about their preferences and craft a cocktail tailored to their tastes.
This personalized approach has made Attaboy not just a bar but a cocktail experience that's influenced mixologists and bars globally.
An industrial interior space lets the drinks and the craftsmanship shine (even if your beverage is hard to see in such low light).
Attaboy's success as one of New York City's best cocktail bars led to the opening of a second location in Nashville.
On the 2022 list of the World's 50 Best Bars, Attaboy ranked #22. They hit my lucky number for the 2023 North America's 50 Best Bars list: thirteen.
134 Eldridge St, New York, NY, attaboy.us
Thyme Bar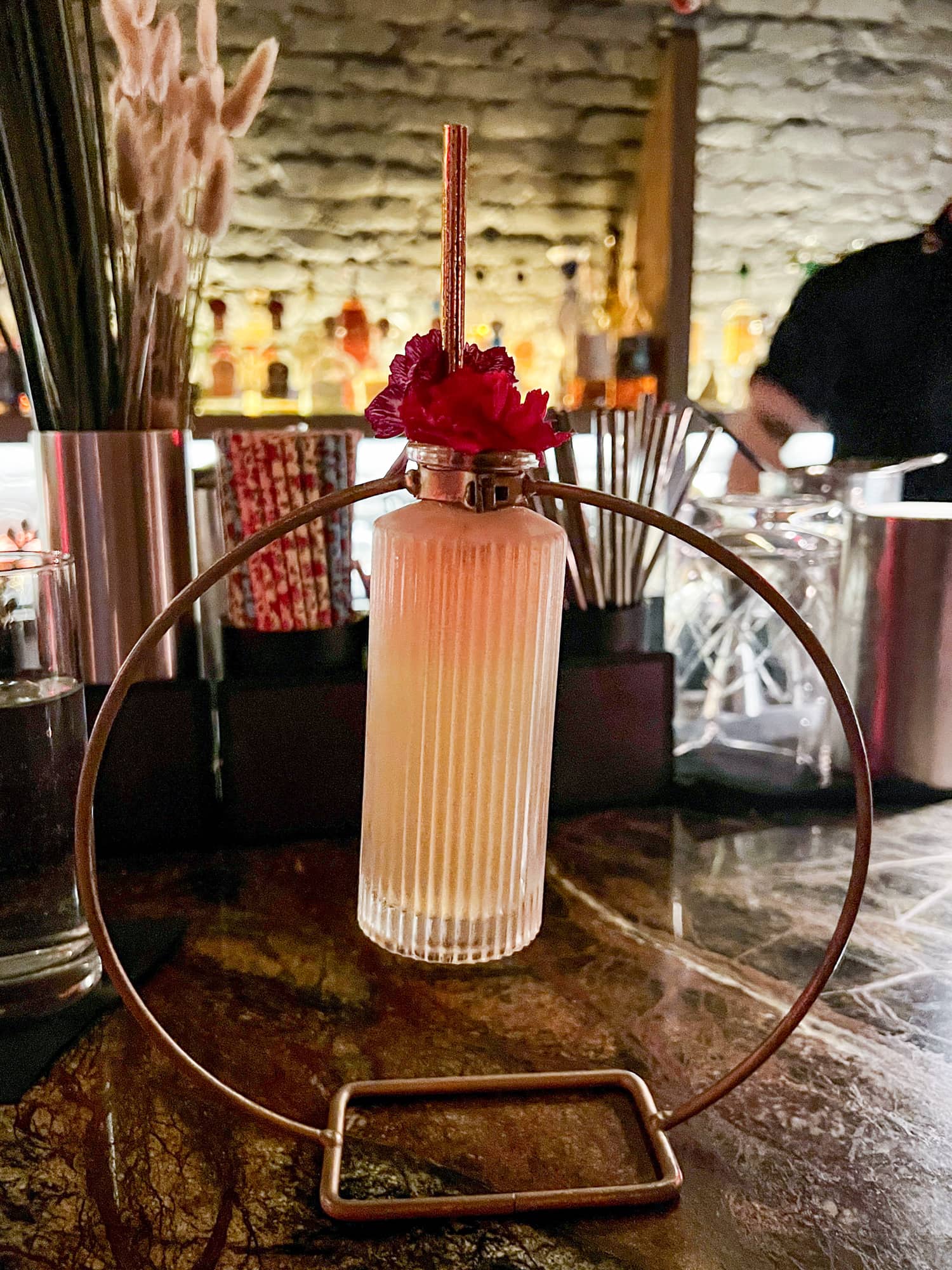 The Thyme Bar pushes the boundaries of what a drink can be. Located in a pre-war cellar with exposed brick walls in the heart of Chelsea, this cocktail lounge is known for its avant-garde approach to mixology.
Think cocktails infused with herbs, spices, and even molecular gastronomy magic.
The bar's namesake, thyme, hints at its focus on herbal and botanical elements, elevating each drink to a sensory experience.
My drink was Le Bains Douches, with Koval Gin, Genepy des Alpes, pine, and green apple. It was served in a bathtub with bubbles and a little rubber duck, reminiscent of Nottingham Forest in Milan.
20 W 23rd St, Cellar, New York, NY, thymebarnyc.com
Conclusion
Wow, what a whirlwind tour of New York City's cocktail scene!
From the sky-high views at Overstory to the time-traveling elegance of Dear Irving Gramercy, we've sipped our way through some of the city's most iconic and innovative bars.
Whether you're a seasoned cocktail connoisseur or just dipping your toes into craft mixology, NYC has a bar that speaks to your spirit.
Each spot offers something unique- a signature drink, an incredible view, or an ambiance that transports you to another time and place.
But what they all share is a commitment to the art of the cocktail, making each visit an experience to remember.
So the next time you find yourself in the Big Apple, thirsty for a good drink, you now know some of the best cocktail bars in New York City.