Estela NYC is a Michelin star restaurant in downtown Manhattan by Uruguayan chef Ignacio Mattos.
I chose this modern American restaurant for brunch with my brother, Jon, after learning about it from The World's 50 Best Restaurants list (it ranked #79 for 2021).
I'd just returned to the United States from Sweden and Denmark and was on a run of Michelin-starred restaurants (Geranium, Relae, Koka) I didn't want to end.
I also enjoyed that we'd be walking in the footsteps of President Obama, who'd eaten at Estela in 2014, a year after it opened.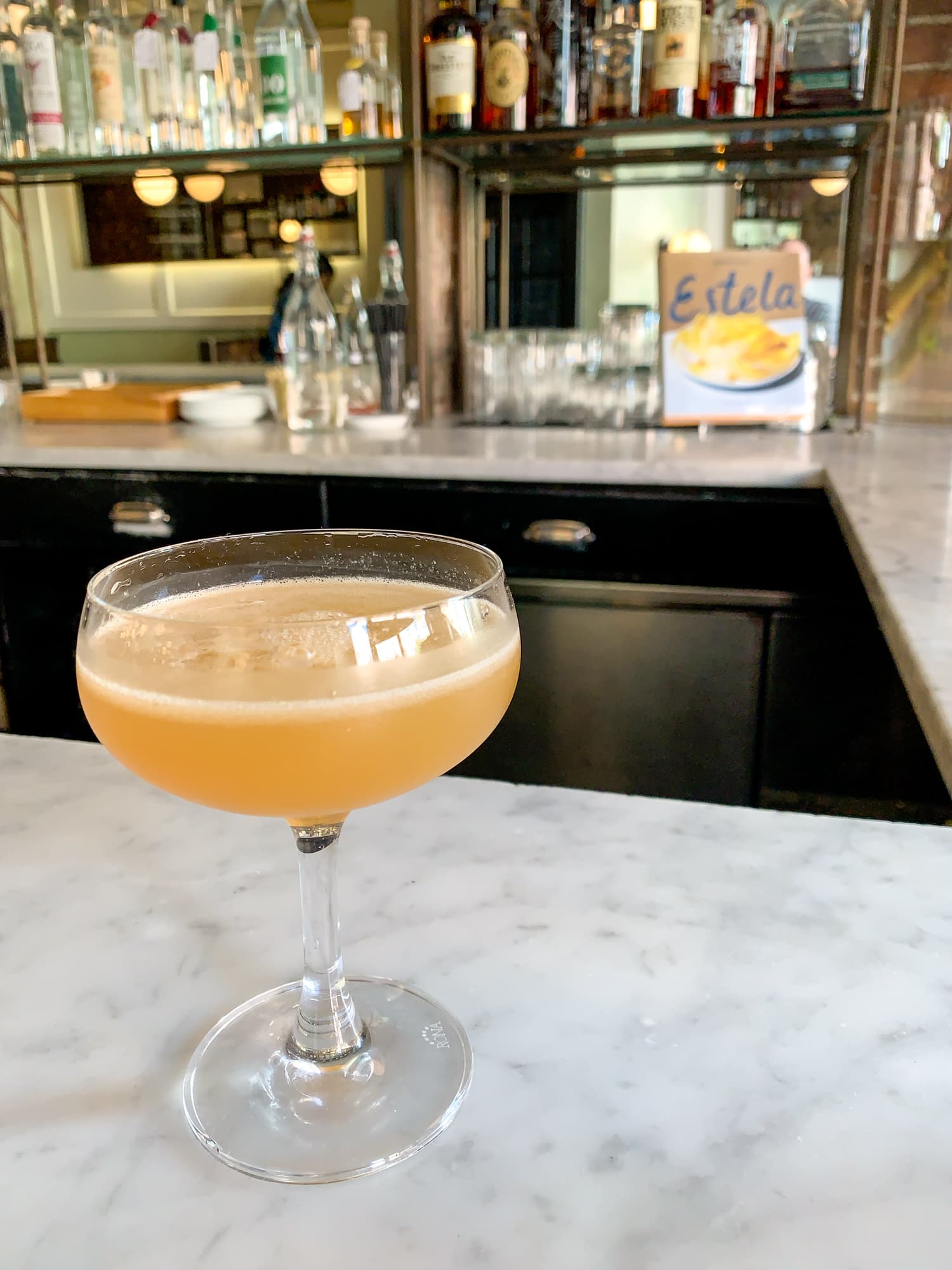 Brunch at Estela
It was 11:30 a.m. on a Saturday when we arrived at Estela to ensure the best seats. The attractive bar, with space for about 14, was open and preferable to the dining room tables.
I ordered The Lanai, a rum cocktail, as we reviewed the brunch menu. Most of the small plates were appealing.
Ultimately, we landed on a balanced mix of signature dishes (still on the menu today) and others that are long gone.
All five plates were presented in ways that surprised us. We knew the ingredients used, but how they were put together wasn't obvious.
This playful game of hide and seek between the kitchen and diners made catching up with my brother at Estela in NYC all the more memorable.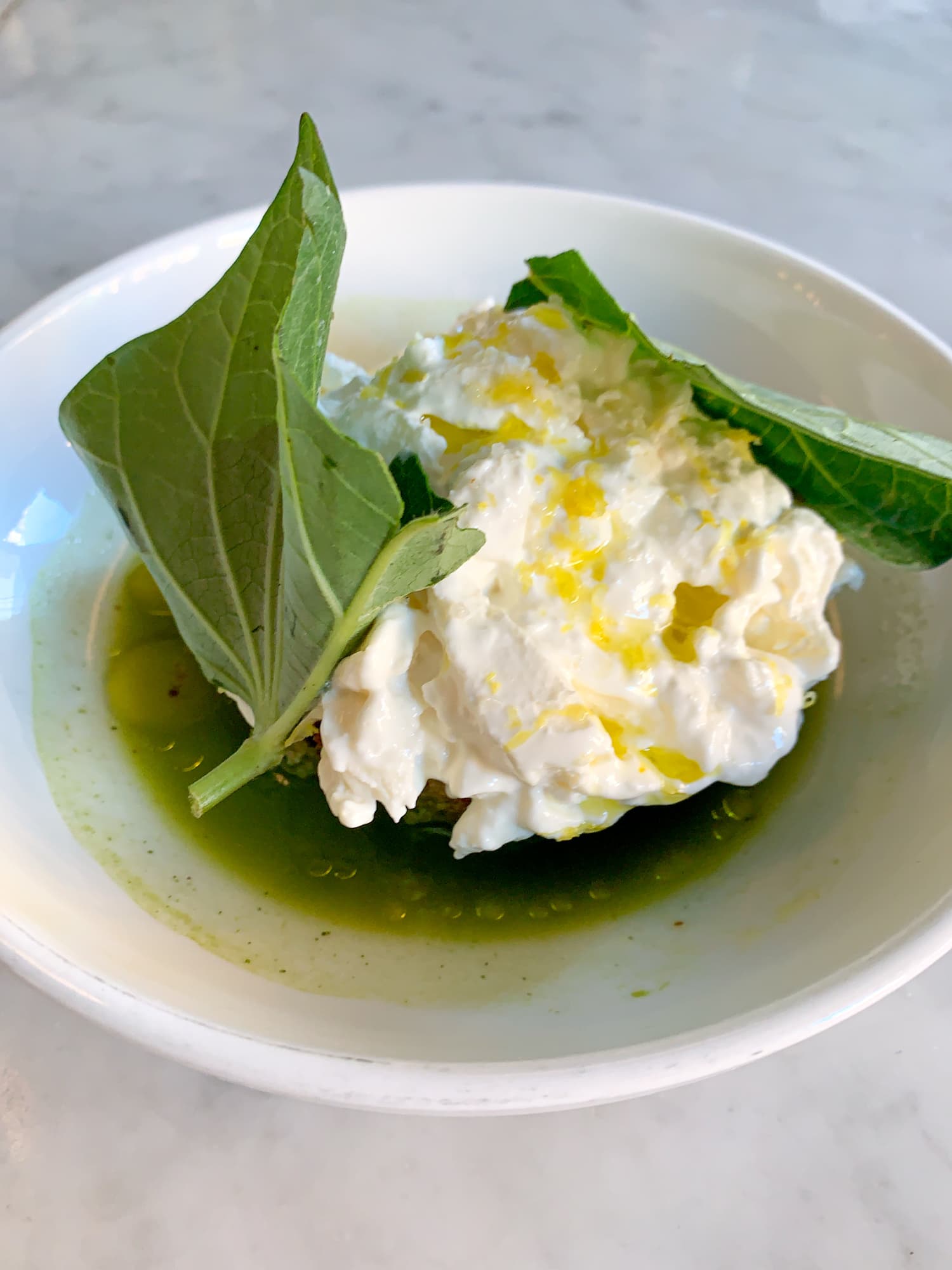 Burrata
The first course we ordered was a burrata with salsa verde and charred bread.
Various versions of this dish have likely been on the menu since the beginning, as it was reportedly served to President Obama.
As you can see in the first photo (above), a mound of fresh cheese cow's milk cheese with lemon zest is presented as though it's hovering above the pool of green sauce.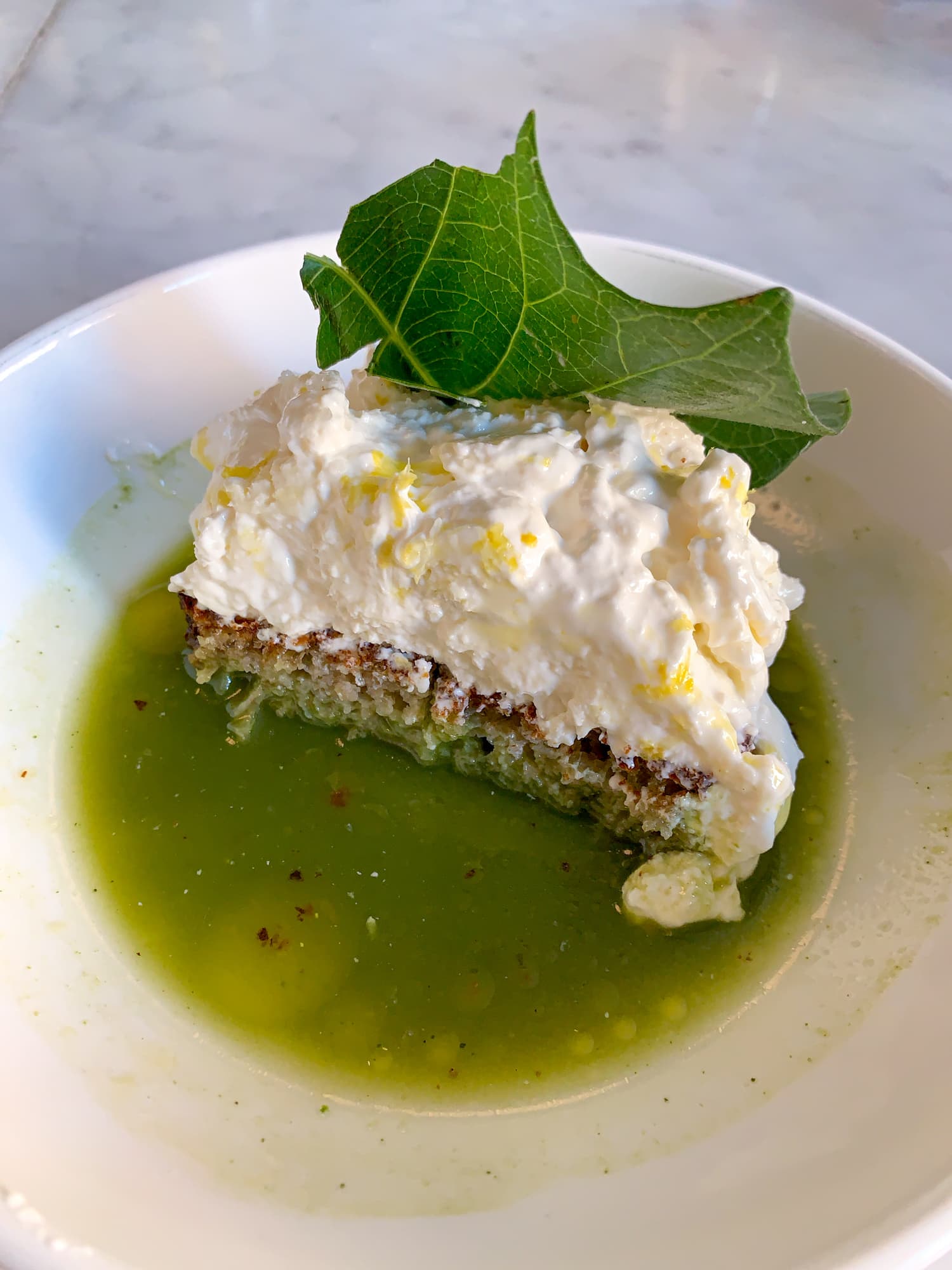 Cut into it, as we did, and a slice of bread is revealed to hold it all up.
Burrata is an undeniably delicious Italian food, and unique dishes like this set the tone for the rest of brunch.
Related: Dinner at Eleven Madison Park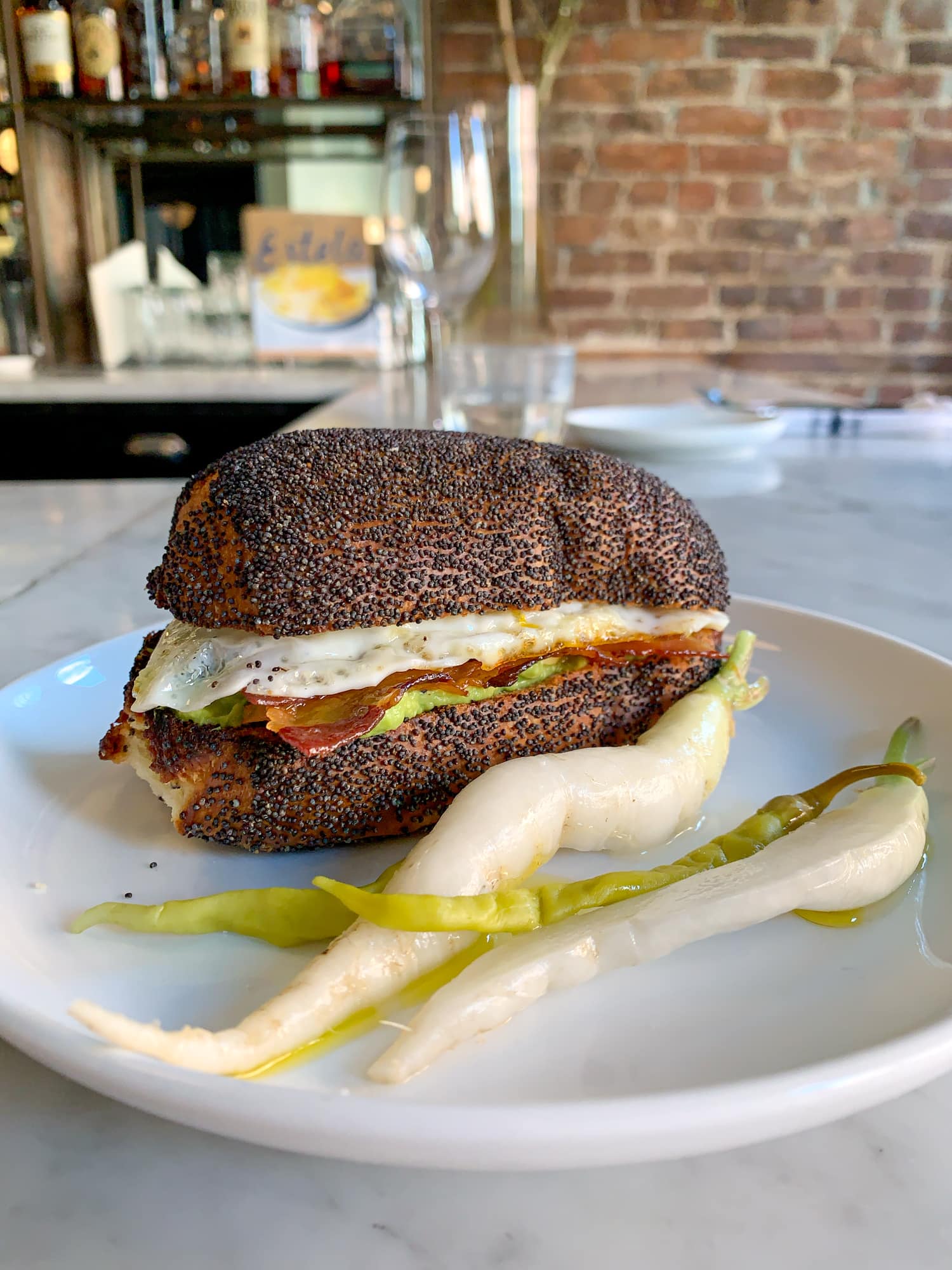 Breakfast Sandwich
Next up, we split an egg, pancetta, and avocado sandwich served on a hearty roll.
It appeared like a mini-hoagie and was delivered with a side of peppers and crunchy white carrots, perhaps chosen for their complimentary colors.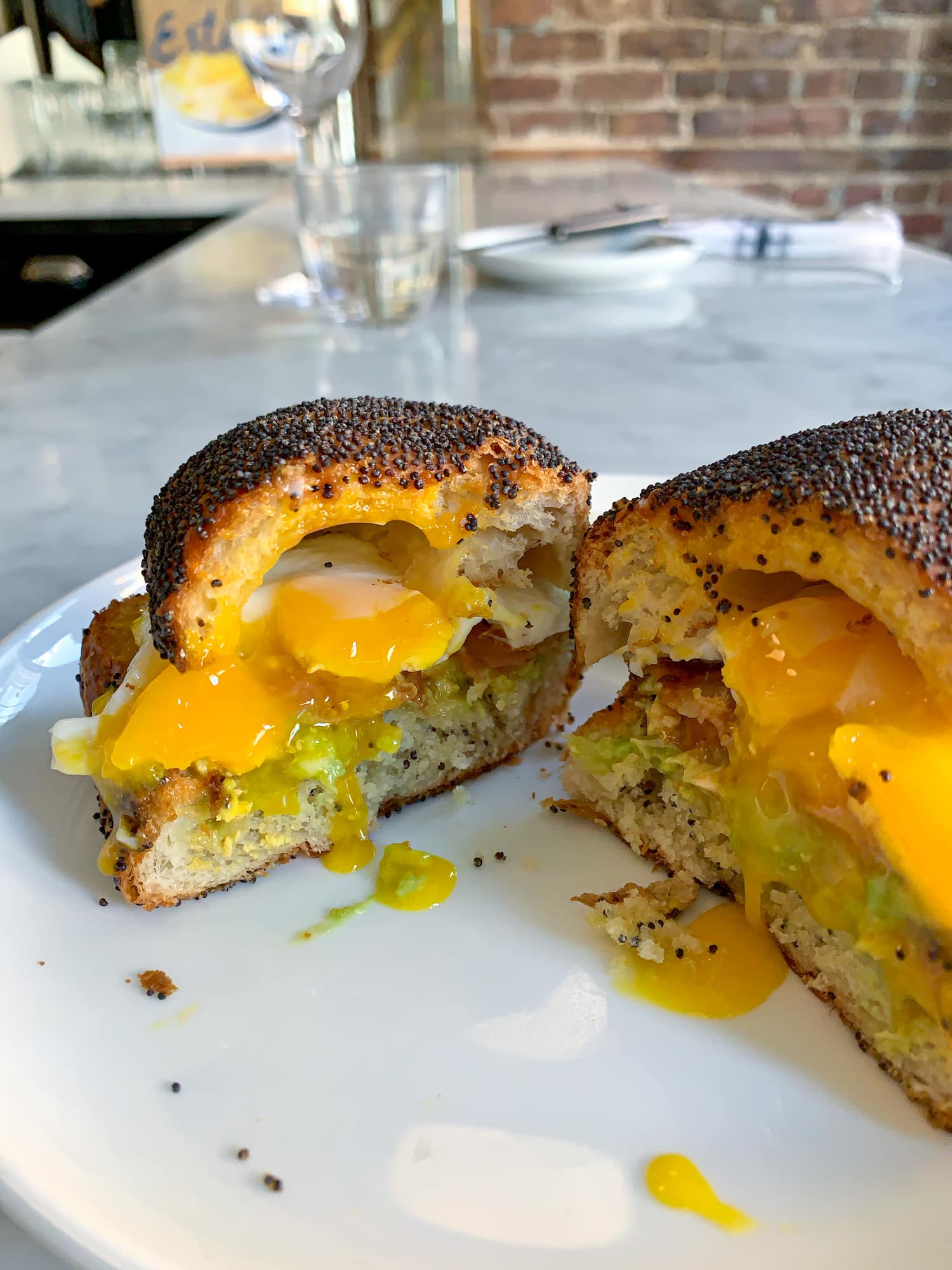 We got an inside look at the sandwich after cutting it in half to share. A sunny egg split open, the yolk slowly spilling out.
Fresh-baked bread, ripe smashed avocado, crispy pancetta, and sexy eggs — what's not to love!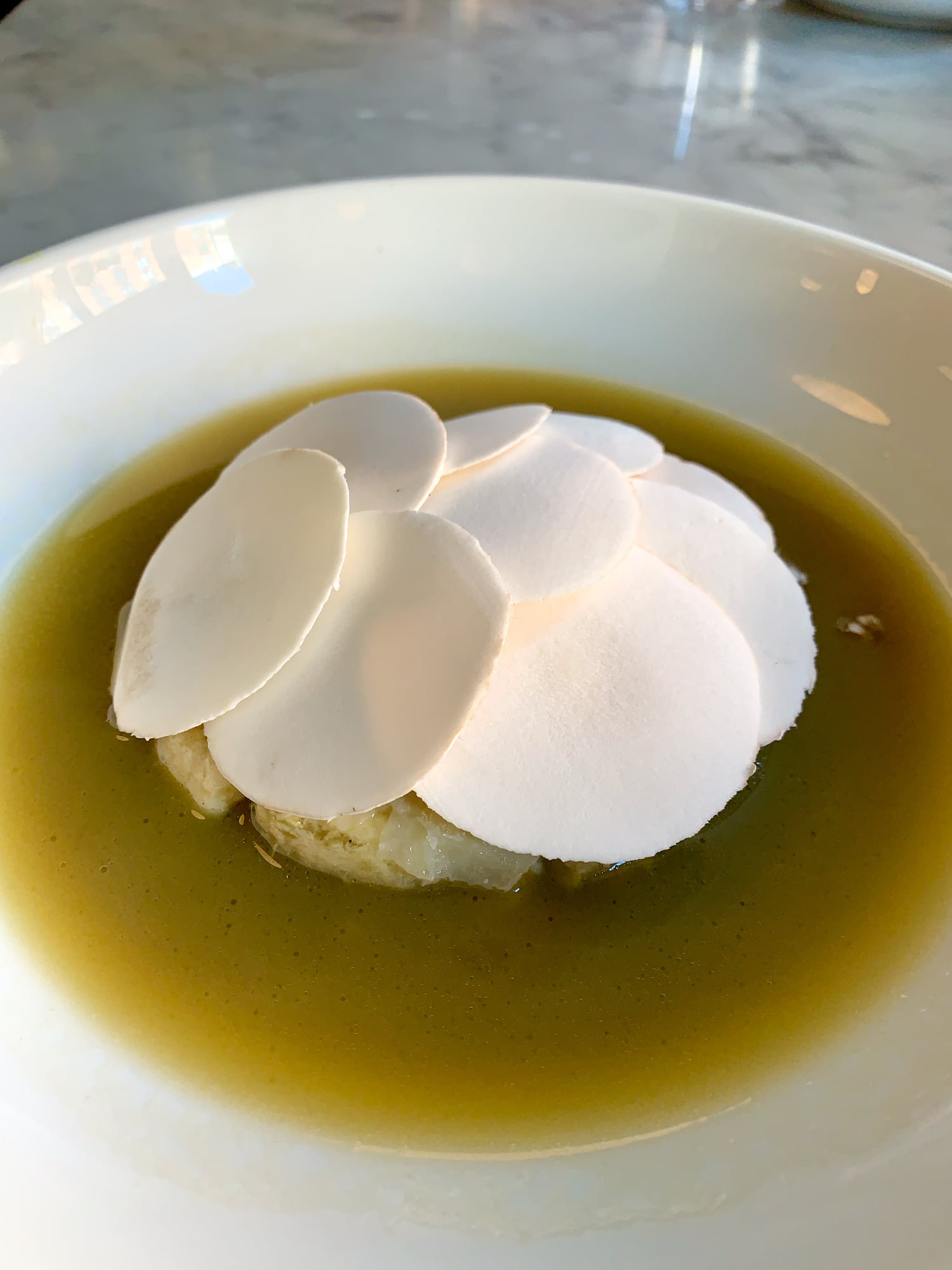 Dumplings
Our third course was another signature dish at Estela NYC — ricotta dumplings with mushrooms and pecorino Sardo (a firm sheep's milk cheese from Sardinia).
The thin white discs are sliced mushrooms, effectively hiding the dumplings.
While I can't recall the flavor of the green broth, I remember this was my least favorite brunch dish, and I found it a less than elegant experience to share.
Related: Where to Get Brunch in Austin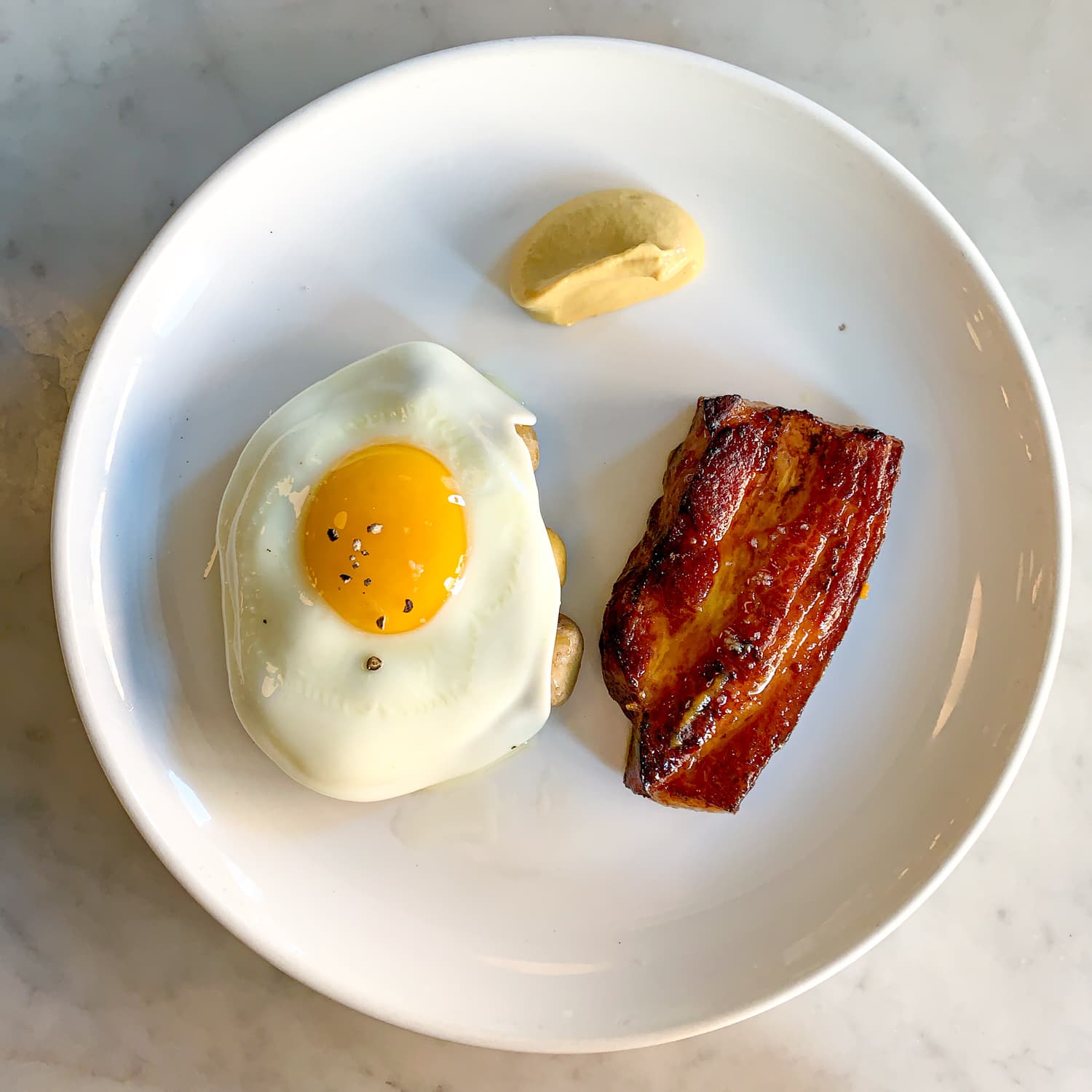 Bacon and Eggs
Whenever I see the word "slab" precede bacon on a brunch menu, I order it.
Such was the case with this terrific plate of bacon, sunny-side-up egg over potatoes, and a dollop of Dijon mustard.
From above, you barely see the potatoes below the egg nor know how thick the bacon was cut.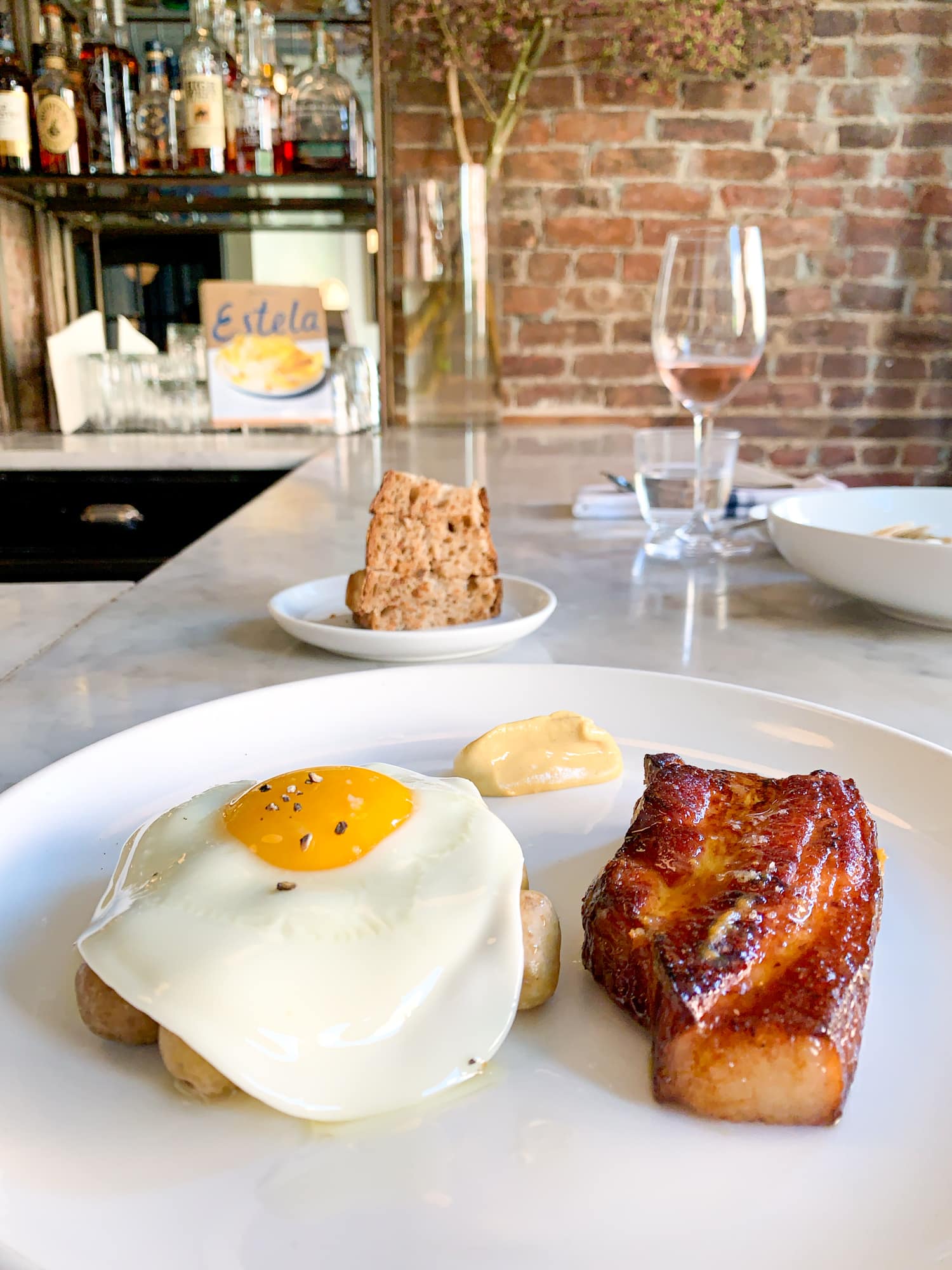 Adjust to a 45-degree angle, as seen in the photo above, and these elements become evident.
This dish feels like the essence of breakfast or lunch, at least the kind I grew up with in New York, but fancier.
High-quality ingredients, novel presentations, and a brightly lit and friendly atmosphere contributed to a beautiful brunch experience at Estela.
But, wait, I have yet to share the little matter of dessert.
Related: Breakfast at Brennan's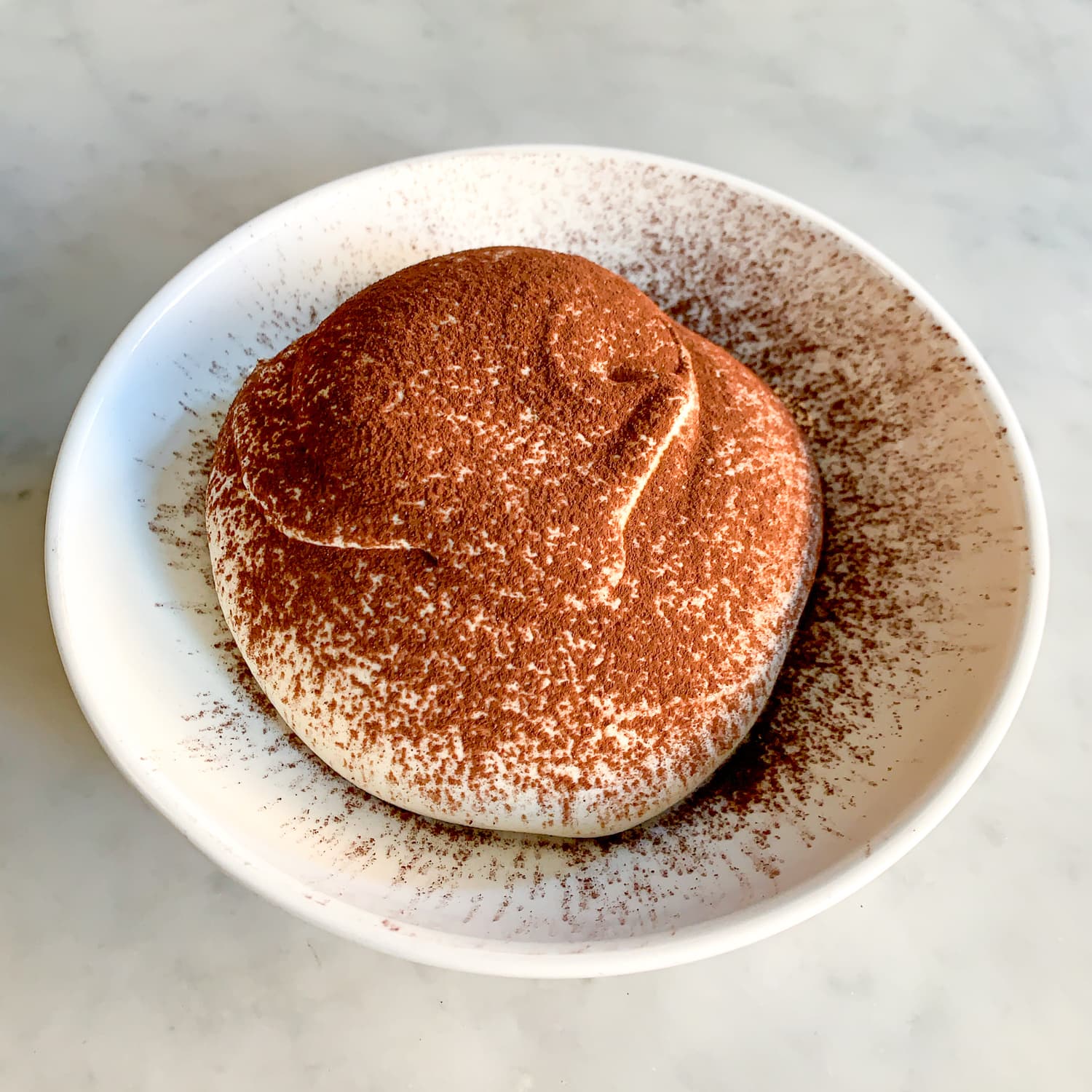 Chocolate Cake
There are three dessert options on the lunch (brunch) menu at Estela NYC, two of which have remained consistent for years:
Chocolate cake with whipped cream
Panna cotta with vinegar and honey
In my book, chocolate cake always trumps custardy desserts like panna cotta, creme brule, and flan, so that's what we ordered.
At this point in the meal, I should've known we'd be getting more than a simple slice of cake with a spoonful of whipped cream.
Sure enough, we were provided a large bowl of what looked to be pure whipped cream, with a generous amount of cocoa powder dusted on top.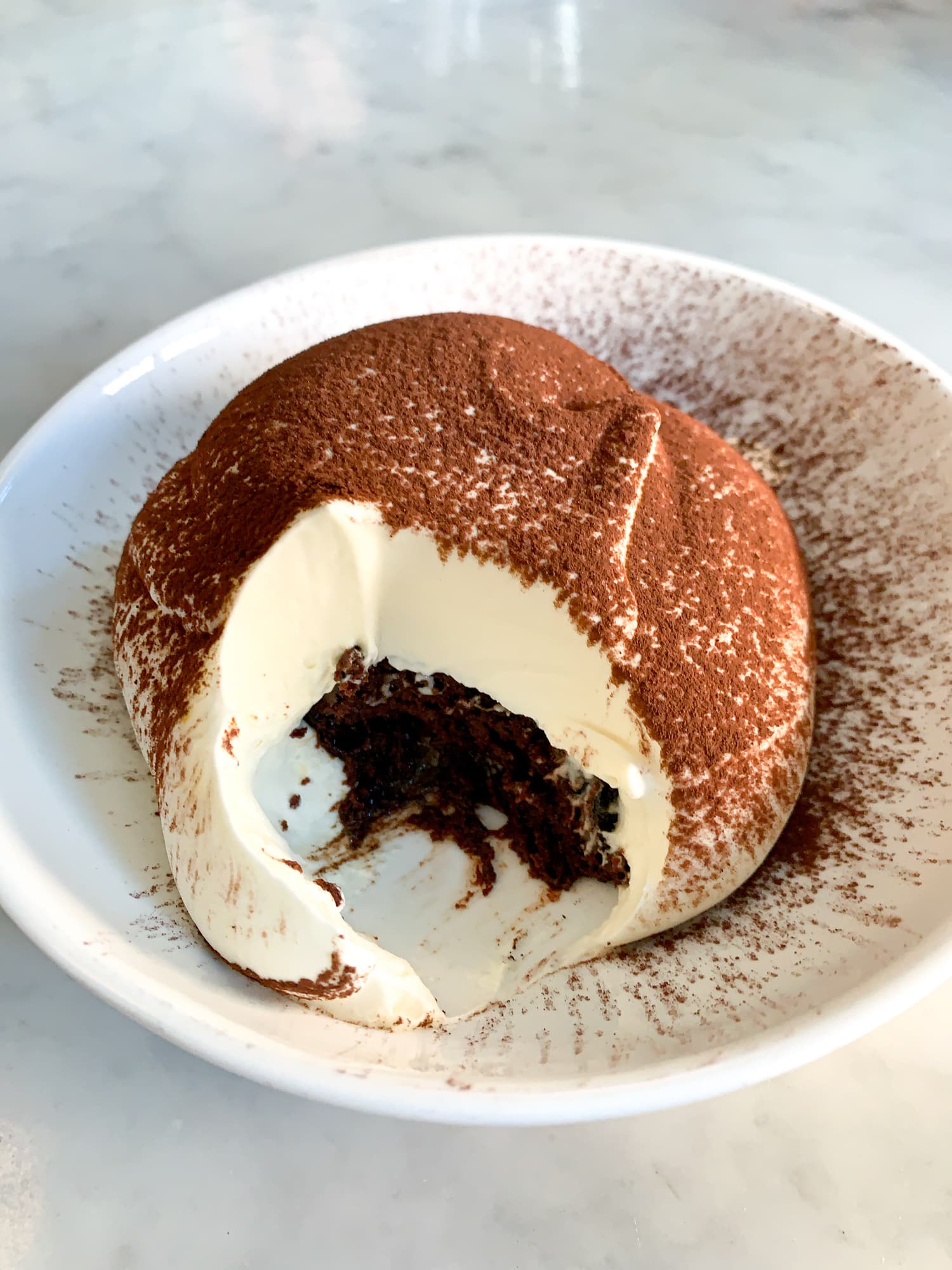 Unsure of what I'd find inside, I recorded a quick video for Instagram as I plunged my spoon into the whipped cream.
This exploration quickly uncovered a small piece of chocolate cake at the bottom of the bowl.
The ratio of cream to the cake was about 3:1, which turned all my past cake-eating experiences on their head.
Related: 30 Best Dishes of 2019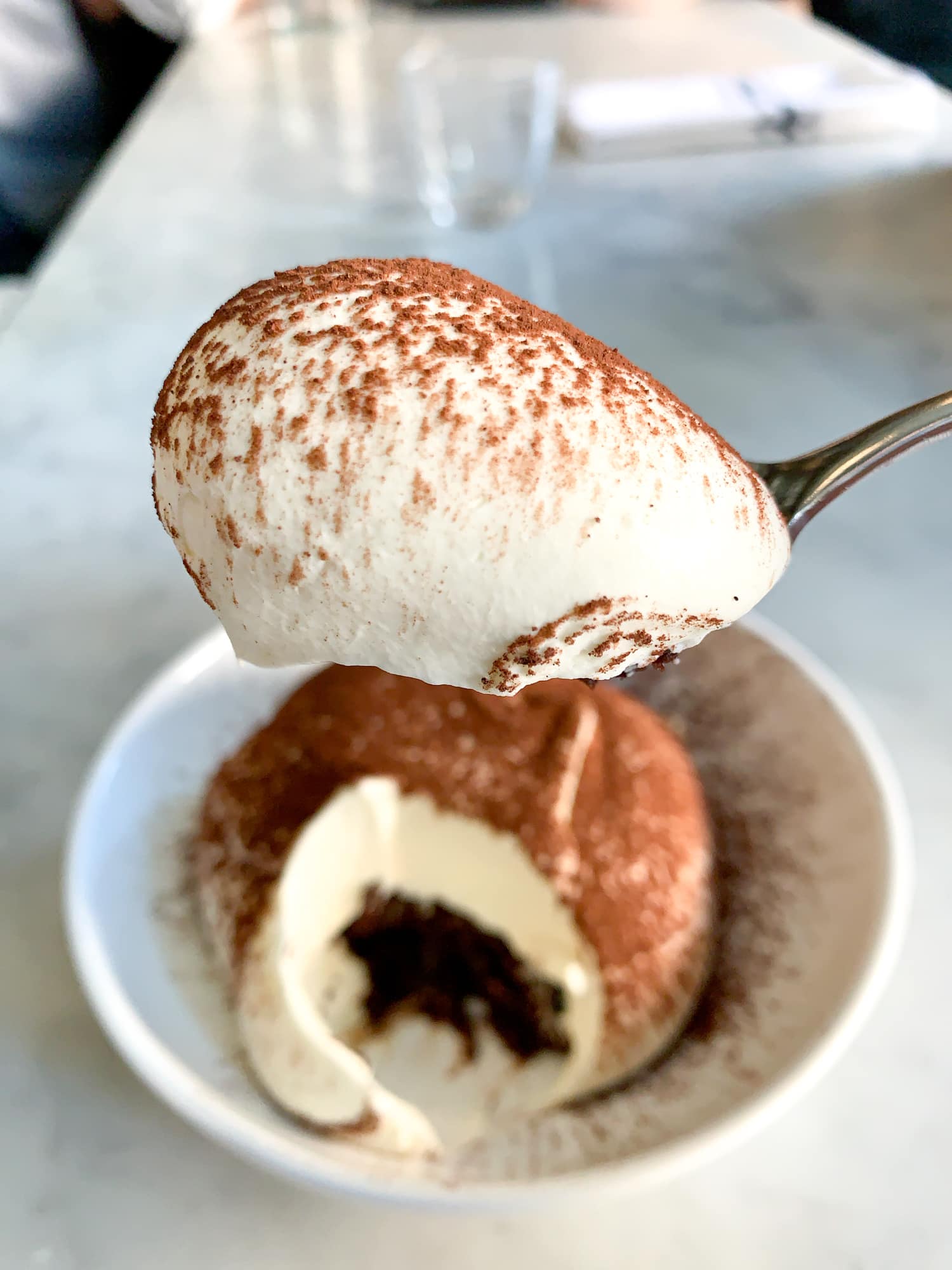 That first bite was mainly light and luxurious whipped cream. Later scoops included more of the cake until it was (weep) gone.
When I shared the short clip of me digging into the chocolate cake at Estela on Instagram, it went a little viral, garnering over 40,000 views.
The big reveal of this dessert reminded me of corn husk meringue at Cosme, also in NYC.
Altogether, brunch for two people costs about $100 for the food, plus cocktail, tax, and tip (I'd say about $150 total).
Visit Estela NYC
Address: 47 East Houston Street, 1st floor, New York, NY