In 2014, Chef Enrique Olvera opened Cosme NYC, a contemporary Mexican restaurant in Manhattan's Flatiron district.
NYC has plenty of Mexican restaurants. However, Cosme became a hit because it introduced diners to a more sophisticated approach to Mexican cuisine.
Cosme is even catching up to Pujol on The World's 50 Best Restaurants list, where they rank #9 and #22, respectively.
A year before Cosme opened, I visited Mexico City for the first time and enjoyed dining at Pujol, Olvera's flagship restaurant.
Chef Olvera happened to be in the front of the house as I was leaving after lunch, and I had the chance to tell him how much I enjoyed the tasting menu directly.
Dining at Cosme
Fast forward five years, and I met my friends Mark Manson and his wife, Fernanda Neute, for brunch at Cosme. Fernanda said there was a dessert there I had to try.
I got to know Mark, author of the bestselling book The Subtle Art of Not Giving a F*ck, and Fernanda while we lived in Medellin, Colombia.
They now live in NYC, near where I grew up in Westchester, while, ironically, I'm living in Mark's hometown of Austin, TX.
We've now dined together at three restaurants from The World's 50 Best list on three different continents (Tim Raue in Berlin, D.O.M. in Sao Paulo, and Cosme in NYC), something I can't say about anyone else.
Cocktails
Since I was still on my cocktail tour of New York City, I ordered a light, refreshing Gin & Shrub ($18) to start:
Fords Gin
Dorothy Parker
Strawberry shrub
Lemon
Q Tonic
Suppose you prefer to stay with the Mexican theme.
In that case, the classics are also available: a margarita (Cimarron Blanco, Combier, lime) or paloma (Cimarron Reposado, house-made grapefruit syrup, lime, soda, grapefruit salt).
The bar features several dozen varieties of tequilas and mezcals. Wine is available, too.
See also: Dante, a 100-Year-Old Italian Bar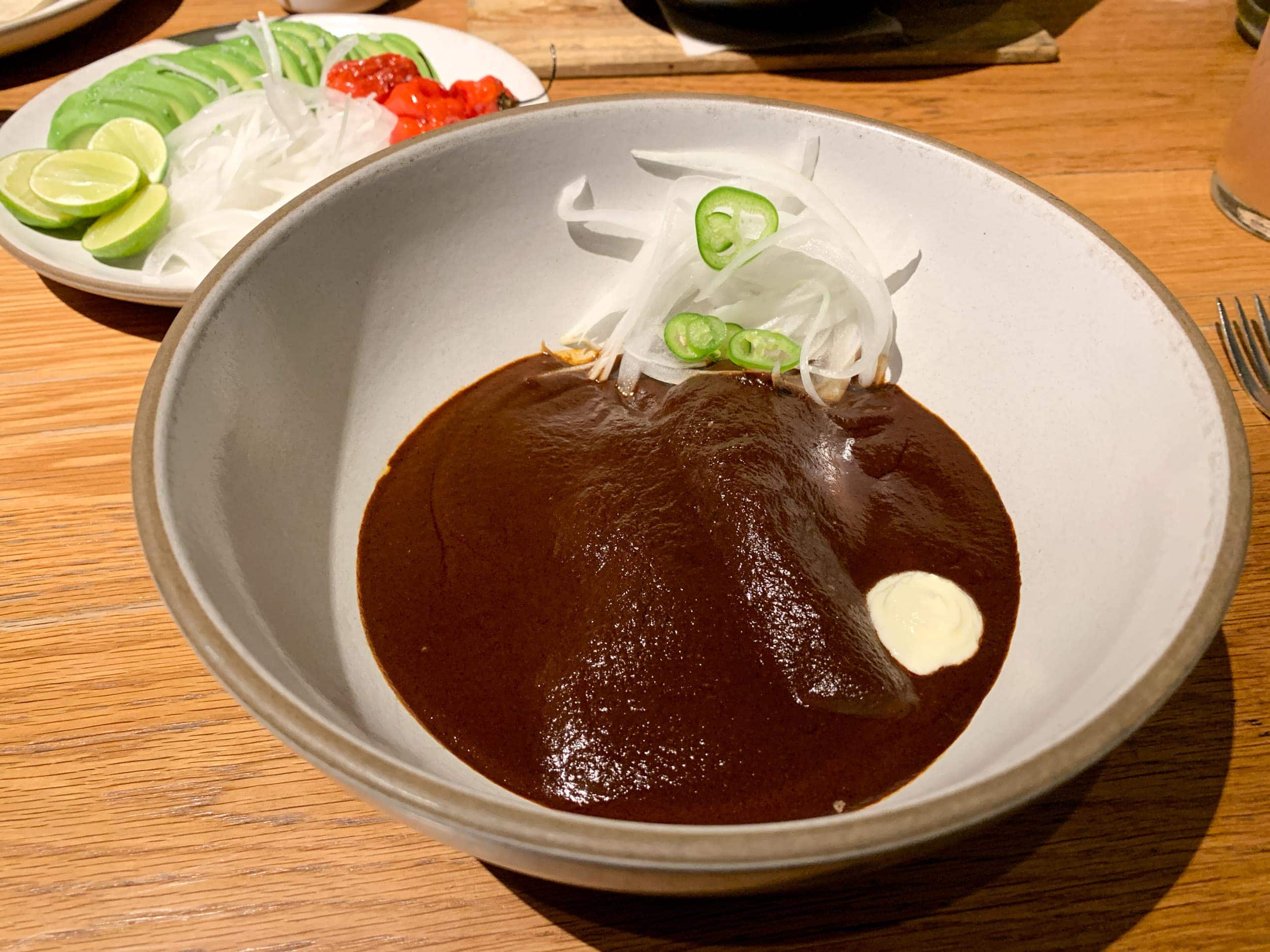 Brunch
The Cosme NYC brunch menu features six small plates, four main courses, and four desserts.
Some of the small plates still on the menu as I write this include:
Arctic char tostada
Prawn tostada
Quesadilla
Chilaquiles
Corn omelet
They are priced between $18 and $25, except for the quesadilla for $8. We skipped these to save room for dessert.
For my main course, I chose the duck enmoladas smothered in red mole sauce with a dollop of creme fraiche ($25).
I love mole, that creamy, complex sauce born from the kitchens of Puebla and Oaxaca, Mexico.
Eating mole in all its forms and colors is one of the reasons I spent two months in Oaxaca before settling in Austin.
Pairing it with duck, instead of my usual choice of chicken, made this dish all the more indulgent.
Additional offerings on Cosme's brunch menu include:
Branzina a la Talla (a type of fish served whole)
Enfrijolada (enchilada) with ricotta, hoja santa (an aromatic herb), and queso fresco
Lamb Barbacoa (tacos) with shishito peppers, quelites, avocado, and salsas
The entrees ranged from $19 to $35, with the lamb tacos being $69 (as there's enough to share).
See also: World's Best Restaurants: 15 Fine Dining Experiences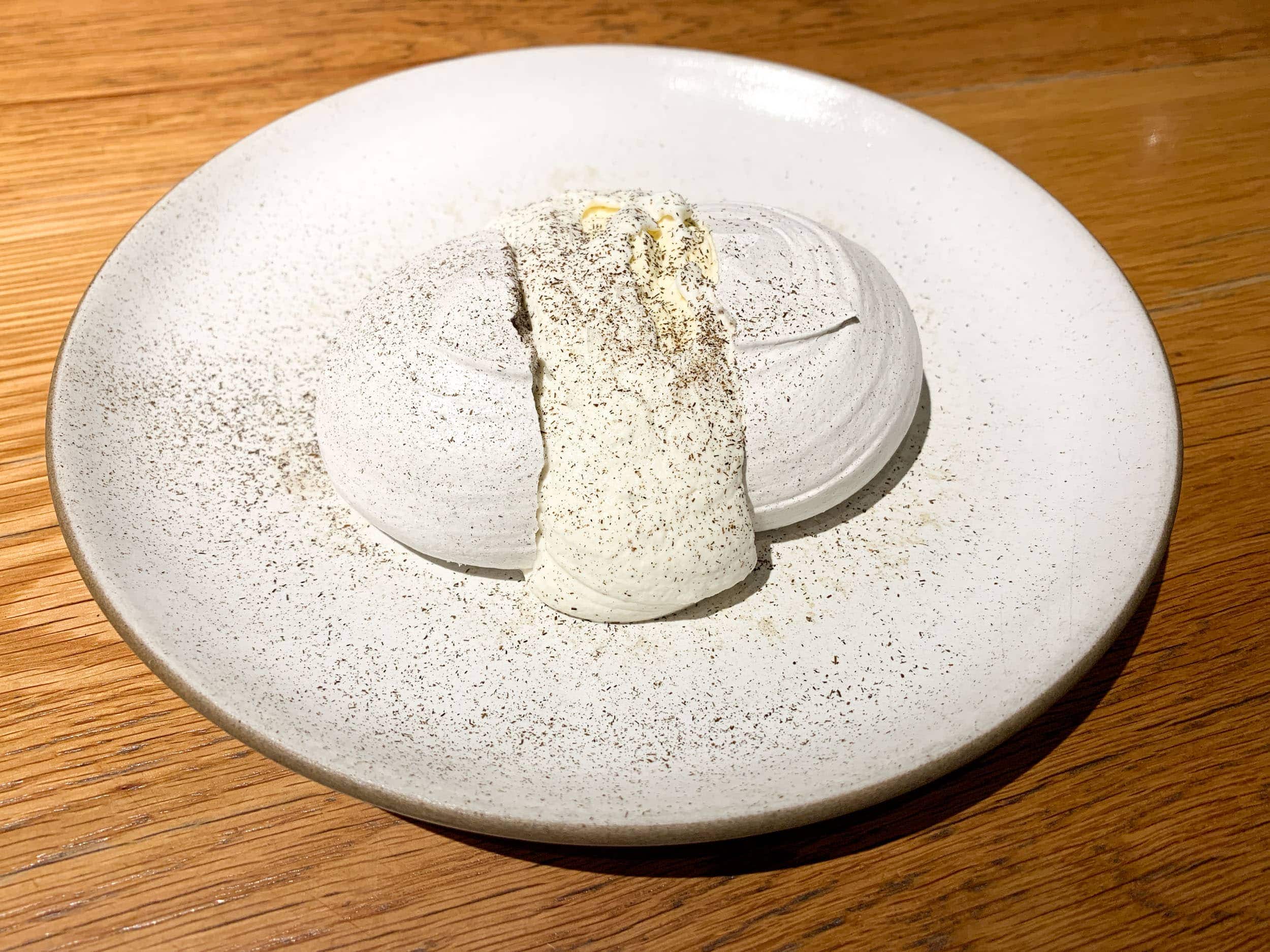 Dessert
And then there was dessert. There was no question; we were ordering the signature husk meringue with corn mousse.
To make the meringues, corn husk leaves are burnt and blended into a fine powder which is whipped into egg whites and sugar until stiff.

For the corn mousse, sweet American corn puree is blended with heavy cream and mascarpone cheese.

The result is an ideal mingling of textures and flavors: the smoothness of the corn mousse up against the delicate chew of the meringue, and the savory hit from the burnt husk and corn contrasting with the sweetness of the cream, sugar and mascarpone.

Zagat
The beautifully presented, Mexico-inspired dessert lit up my eyes and delighted my taste buds.
Should you want to make it at home, the recipe is available in Chef Enrique Olvera's Mexico From the Inside Out cookbook.
The service at Cosme NYC was excellent, which you'd expect, given the cost to dine there, and the ambiance was casual and comfortable.
At age 28, fellow Mexican Chef Daniela Soto-Innes, with whom Olvera opened Cosme, was named the youngest ever recipient of the World's Best Female Chef award by the World's 50 Best Restaurants.
Watch the quick video below to learn more about her.
Plan Your Visit
Cosme NYC
Address: 35 East 21st Street, New York City
Hours: 12-2:30 p.m. and 5:30-11 p.m. Monday to Friday, 11:30 a.m. - 2:30 p.m., and 5:30-11:30 p.m. Saturday to Sunday
Dress: Casual
To view current menus and make reservations, visit the website.
P.S. - In October 2020, chef Olvera opened Damian, described as the "twin brother" of Cosme, in downtown Los Angeles' Arts District.