I became aware of Jack Daniel's whiskey long before I could drink it, thanks to rockstars wearing the iconic brand's t-shirts. Therefore, booking a Jack Daniel's Distillery tour was a given the first time I visited Nashville, Tennessee.
Whether you're an occasional Old No. 7 drinker or a connoisseur, a whiskey tour and tasting at the oldest registered distillery in the United States makes lasting memories.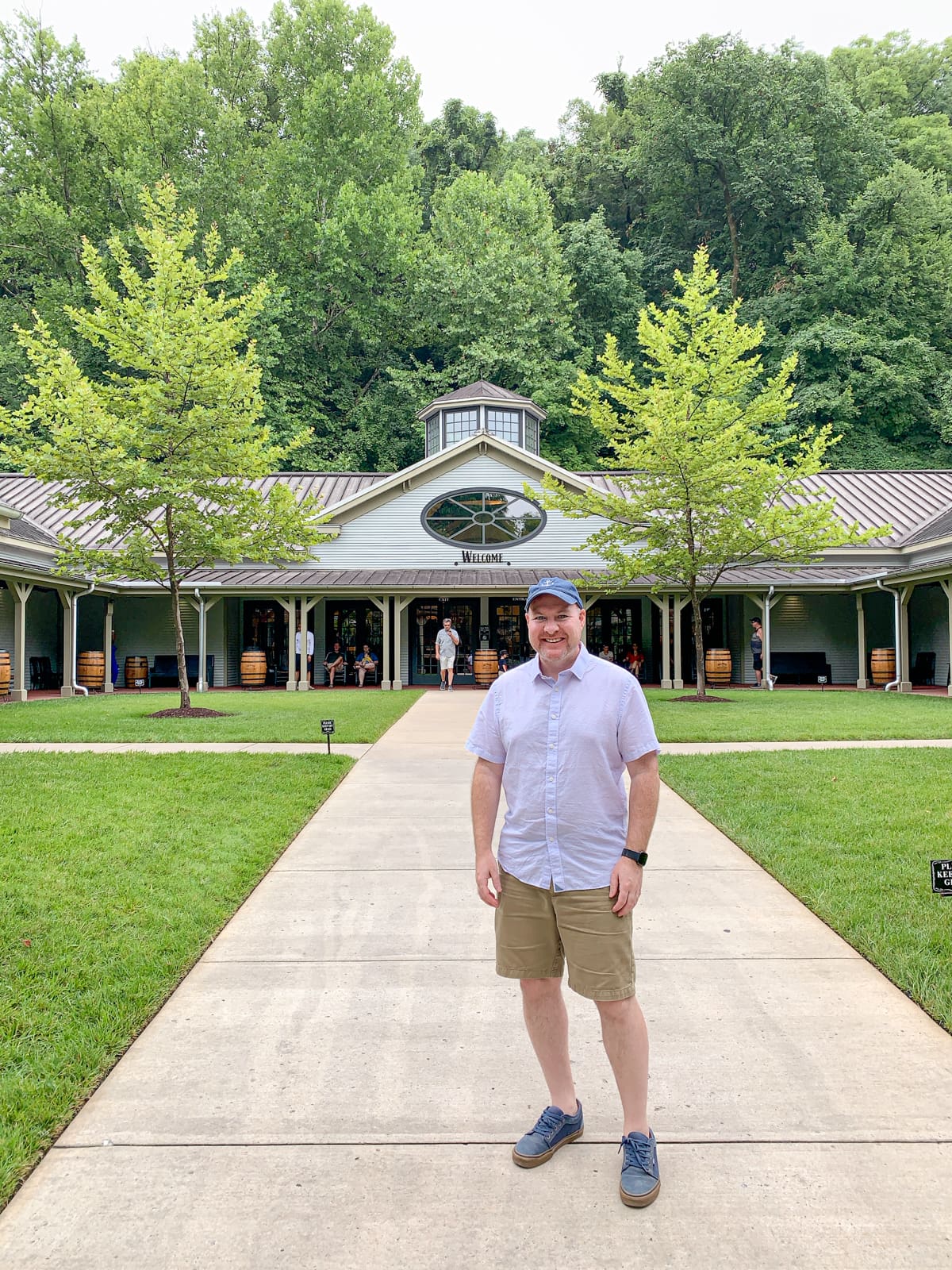 Booking a Jack Daniel's Tour
Upon arrival in Nashville the week of July 4, 2019, I sketched out how I planned to spend the holiday week.
Since I was staying downtown and relying on rideshares, the best way to go on a Jack Daniel's Distillery tour was to find one that included roundtrip transportation.
There's no public transportation between Nashville and Lynchburg, a one-stoplight town with a population of 6,362.
You'll save significantly if you've got a car or are renting one. Order your tour online from Jack Daniel's website (or pay on arrival).
Given the popularity of this day trip from Nashville, I quickly found multiple companies departing daily for the 90-minute journey south to the tiny town of Lynchburg, TN.
I bought a ticket for the Jack n' Back Tour from Tennessee Whiskey Tours for $102 as I was going on a Wednesday.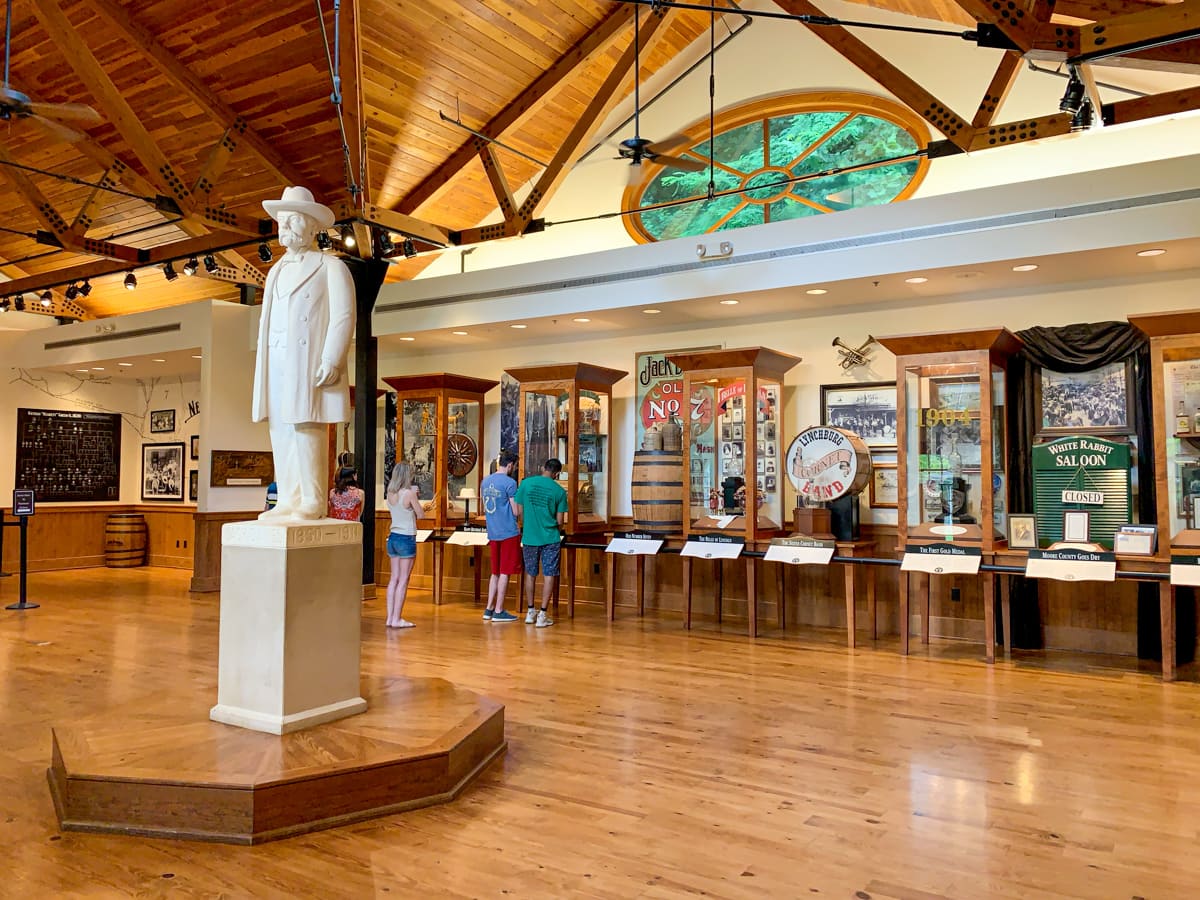 If you're going on a Friday, Saturday, Sunday, or Monday, it'll cost you $121 per person.
The price includes the following:
Roundtrip bus transportation from downtown Nashville.
A ticket for Jack Daniel's Angel's Share tour (90 minutes).
It takes about an hour to wander around Lynchburg's town square.
Complimentary bottled water is available on the bus, which I appreciated on the ride back to Nashville. Alcohol isn't served.
Tickets from Tennessee Whiskey Tours are non-refundable, though they are transferable. For maximum flexibility, book your tour with Viator.
Booking with Viator offers several benefits, including a "book now, pay later" option and free cancellation up to 24 hours before the tour begins.
Read their policies before you buy, as they're subject to change.
The Tour
We disembarked at the Visitor's Center following an uneventful hour-and-a-half bus ride from Nashville to the Jack Daniel's Distillery.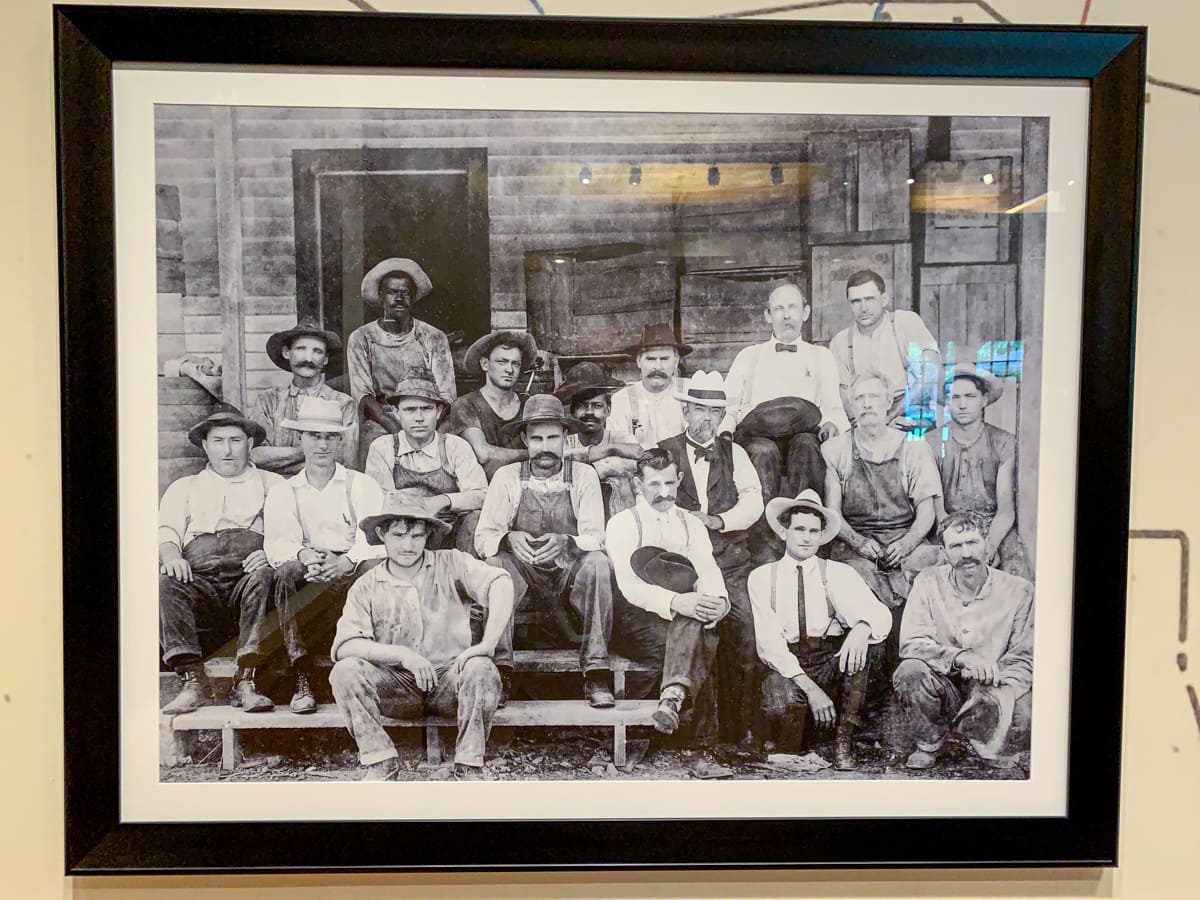 Visitor's Center
We were greeted by a statue of the famous 5'2" proprietor, whose full name is Jasper Newton "Jack" Daniel. Memorabilia and photos line the walls behind him.
When our Jack Daniel's Angel's Share tasting tour began, the guide pointed out an old black and white photo featuring Jack Daniel (center right with white hat and large mustache) and his employees.
The African American gentleman sitting to Jack's right with a dark hat is an important figure. Nathan "Nearest" Green was born into slavery and later taught Jack Daniel his distilling techniques.
After the Civil War, Nearest Green became a free man and was hired as the first head distiller at the Jack Daniel's Distillery.
Today, that position is known as Master Distiller, which means Green was the first African American master distiller in U.S. history.
Since Green's tenure ended, only seven other master distillers have worked to oversee whiskey production and ensure quality control.
See also: Tour Shiner Brewery in Texas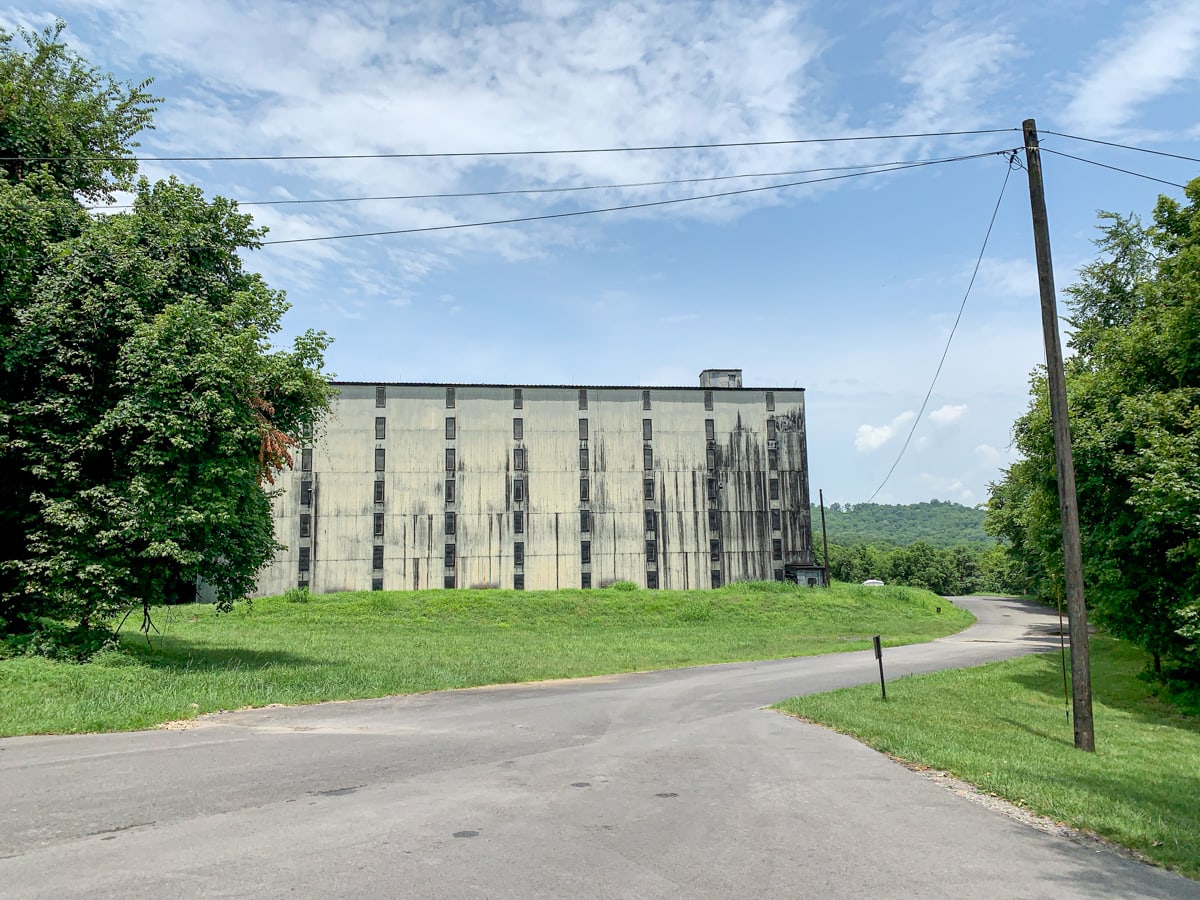 Distillery Grounds
Next, we were led outside, where we briefly looked at one of the massive barrel houses used for whiskey storage.
There are 90 warehouses on the distillery's property and scattered throughout Moore County, with 1.2 million gallons of whiskey per building.
One of the most interesting facts I learned is that Moore County is a dry county, meaning it's legal to distill liquor but not buy it.
An exception was made for commemorative products in Jack Daniel's bottle shop.
At this point in our dry county tour, we boarded a small shuttle bus to see more of the grounds.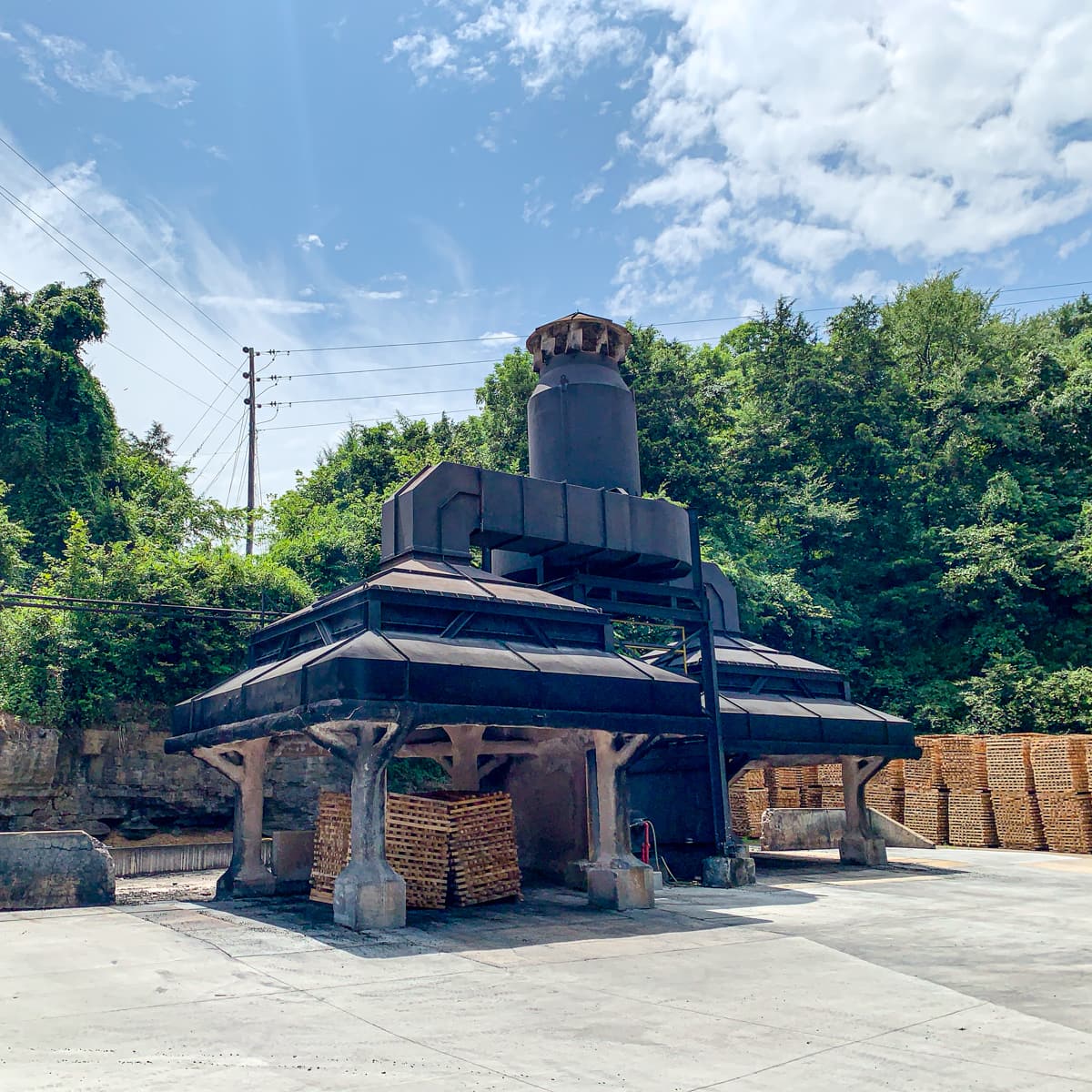 Charcoal Production
Our first stop was the facility where charcoal is produced. Employees light pallets of sugar maple wood on fire three times a day, three days per week, at the charcoal production site.
The fires reach up to 2,000 degrees Fahrenheit to produce charcoal — and lots of it.
Jack Daniel's whiskey is filtered through ten feet of charcoal over three to five days in a process known as mellowing.
It's the charcoal mellowing that helps give the whiskey its smooth taste.
While it wasn't mentioned on the tour that I could recall, I later learned about its commitment to sustainability from the company's website.
This includes water conservation, tree protection, and zero-waste initiatives such as "upcycling sugar maple charcoal used for filtering into smoking pellets for barbecues."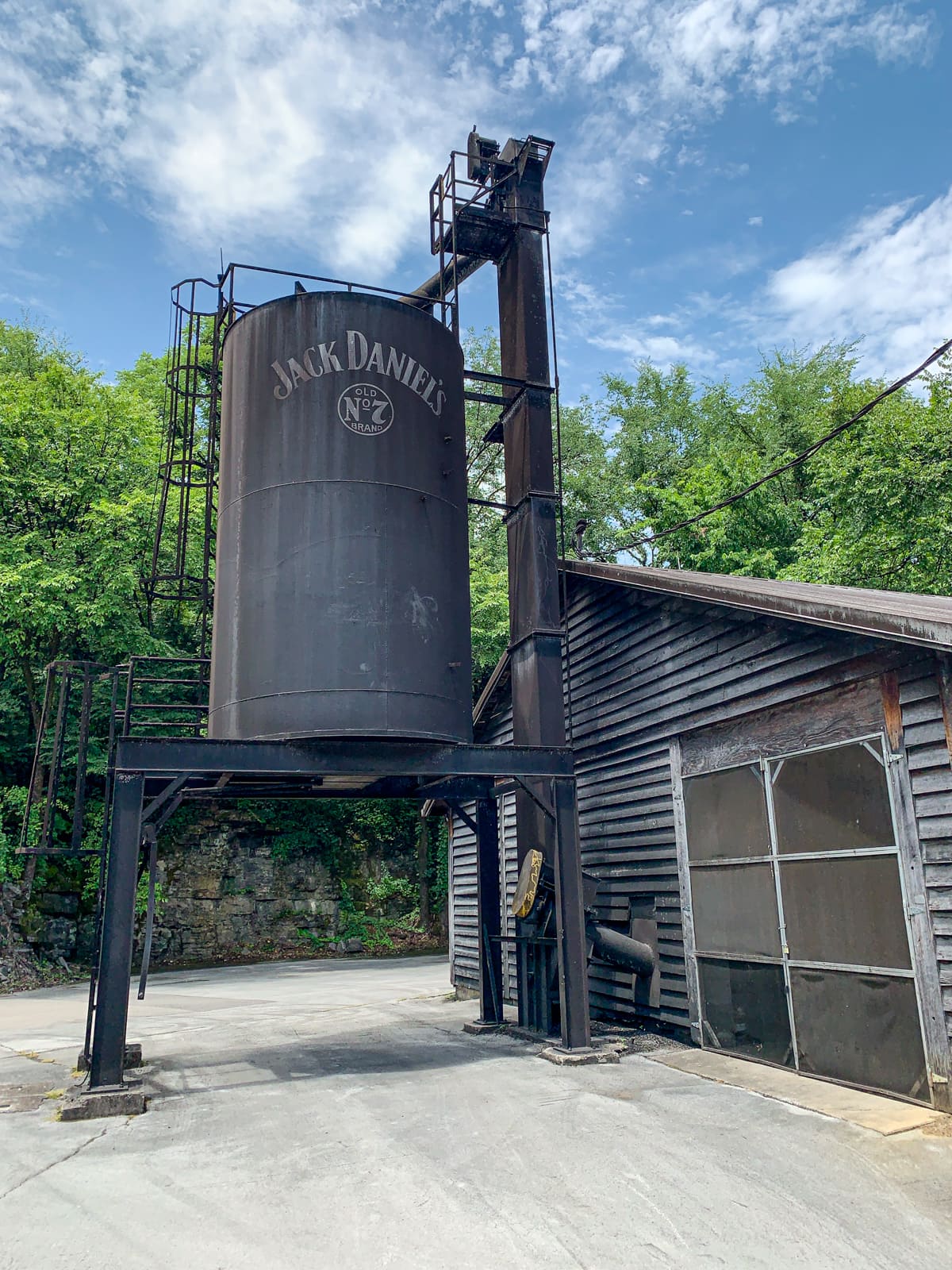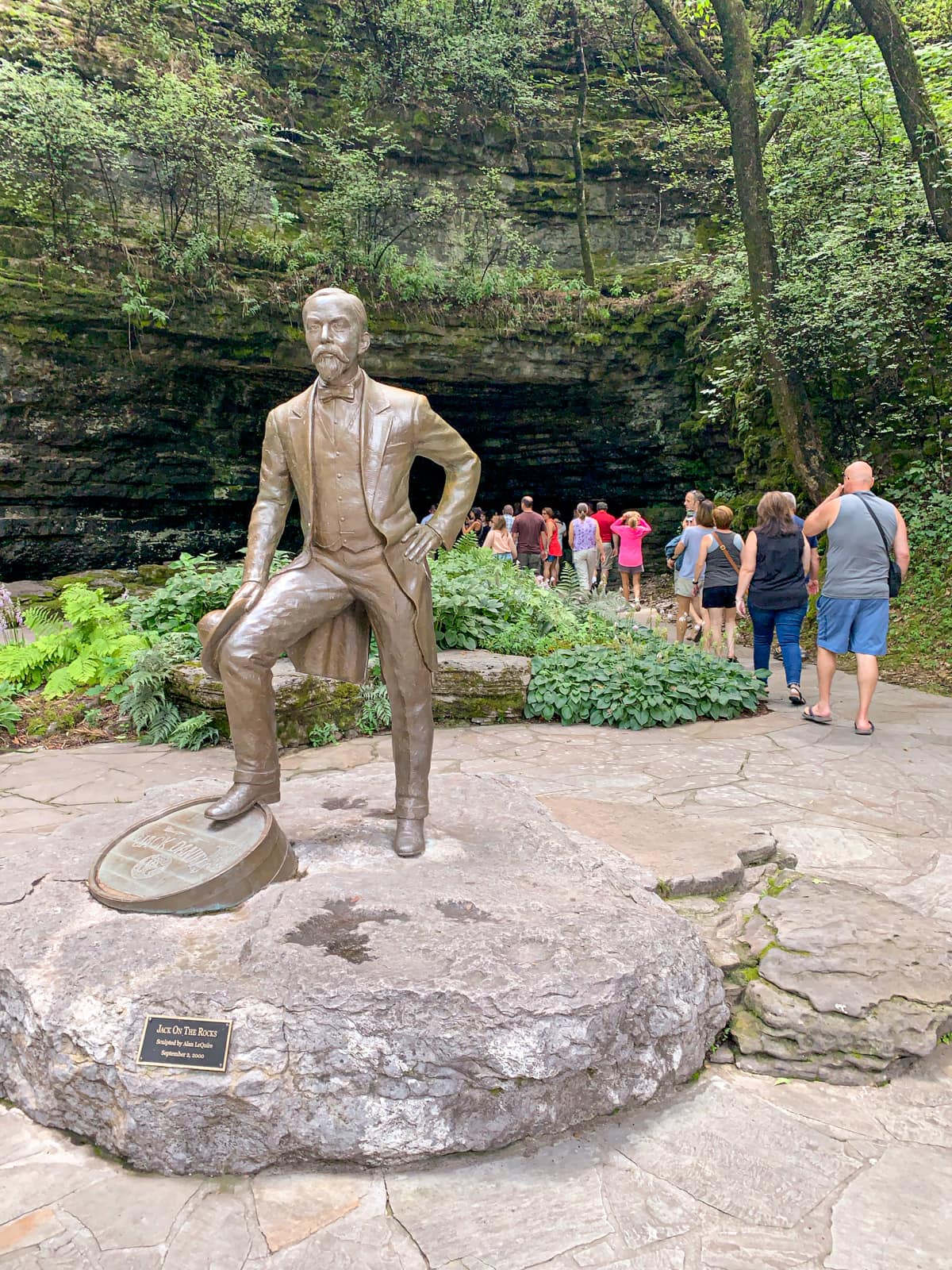 Cave Spring Hollow
Next, we were taken to Cave Spring Hollow, natural springs that run two miles deep beneath a limestone cliff.
This humble-looking spring has provided all the water for Jack Daniel's whiskey since 1866.
The limestone rock filters iron out of the water, making it more suitable for creating whiskies.
In front of the cave, there's another statue of Jack entitled "Jack on the Rocks."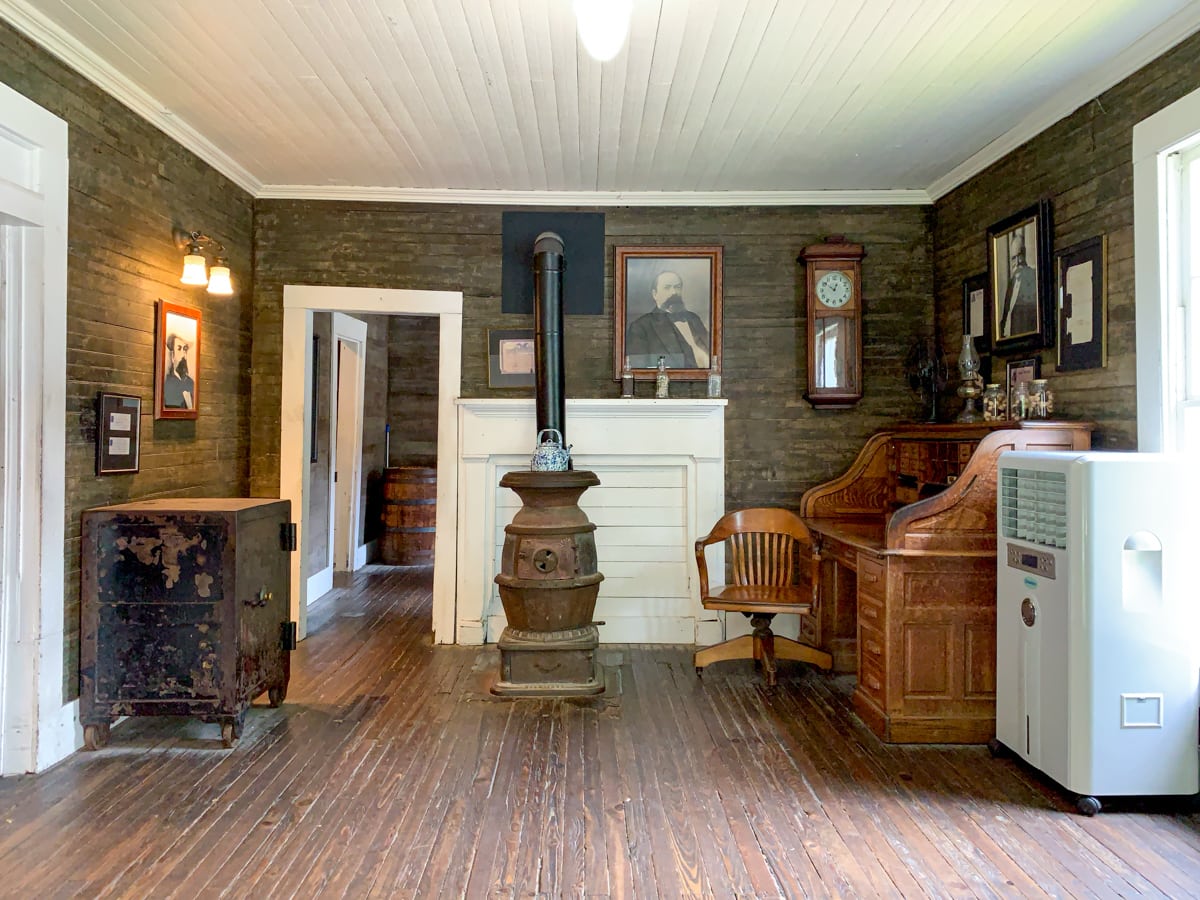 We were also invited into an old wooden building with pictures of Jack on the walls and a heavy floor safe.
According to our tour guide and the company's website, Jack Daniel kicked the safe after forgetting the combination in 1906, leading to a toe injury for which he never sought treatment.
The injury eventually led to gangrene, killing him on October 9, 1911. He was 62.
However, per Peter Krass, author of Blood & Whiskey: The Life and Times of Jack Daniel, the gangrene was unrelated to Jack's frustration with his safe.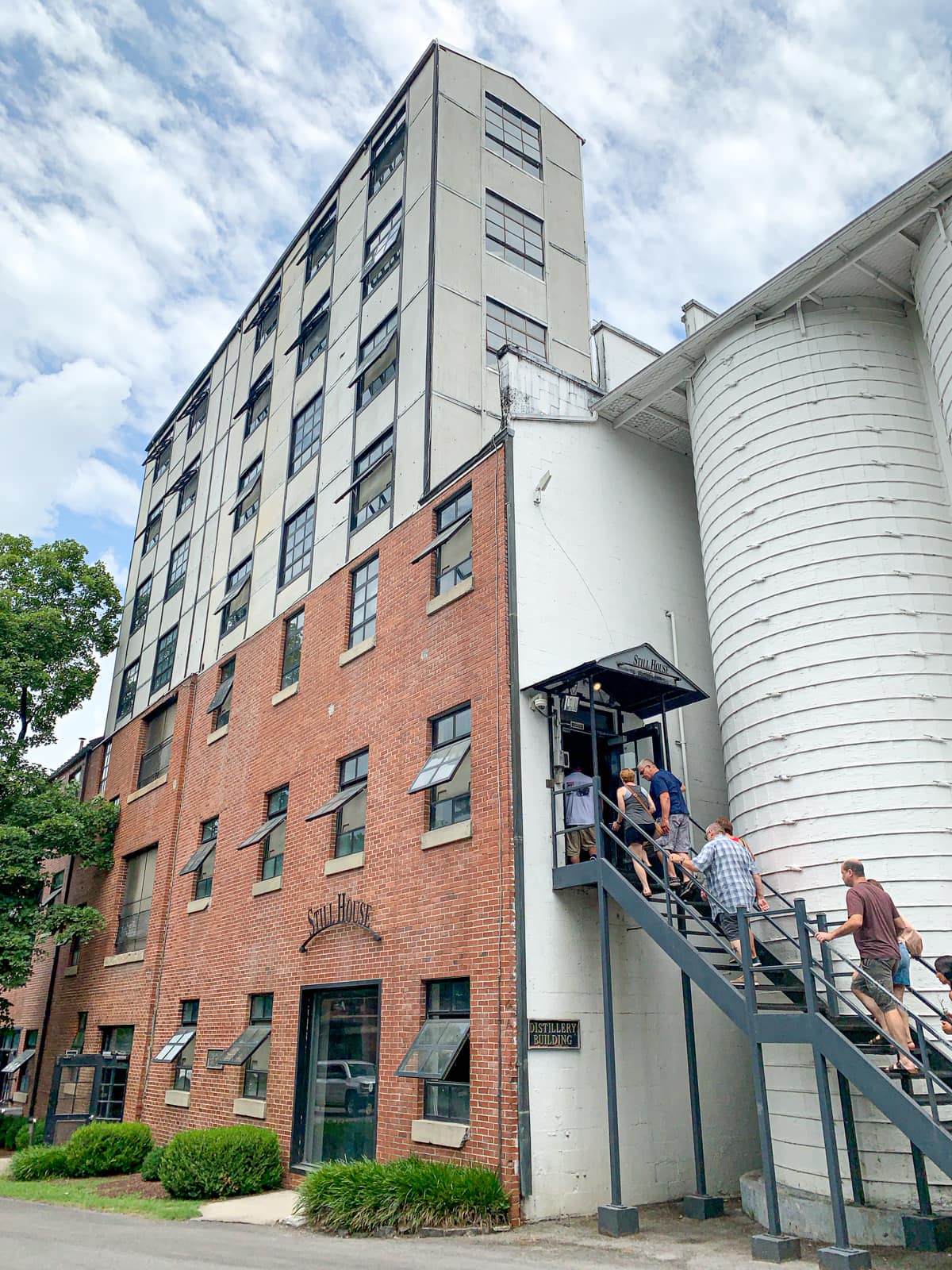 Still House
Our Jack Daniel's Distillery tour continued with a walk up a metal staircase to the second floor of the Still House.
The charcoal mellowing and fermentation processes help produce Jack Daniel's Tennessee whiskey in this seven-story distillery building.
There's no photography allowed inside.
Bottling Room
After passing through the Still House, we briefly looked at the bottling room, which was not in use then.
Every drop of Jack Daniel's ever produced comes out of this one distillery, which means this shiny stainless steel equipment is put to good use.
According to sales figures, over 12.3 million 9-liter cases of Jack Daniel's were sold globally in 2020. That's a lot of whiskey!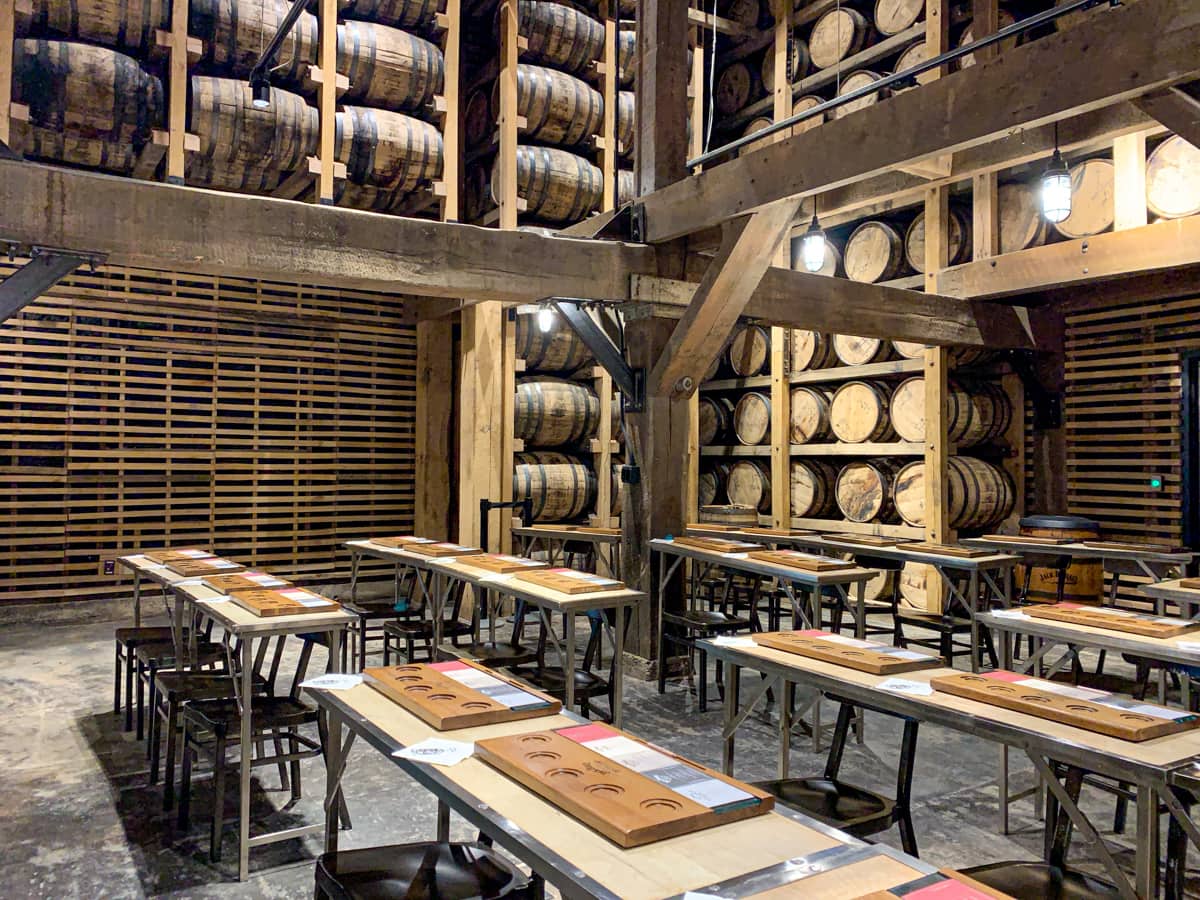 Jack Daniel's Barrel House 1-14
Our tour concluded with a whiskey tasting in the Jack Daniel's Barrel House building adjacent to the Visitor Center, where we'd begun.
Everyone participating was given a flight of Jack Daniel's whiskies to try. These were small pours to get a taste, not shots to get you drunk.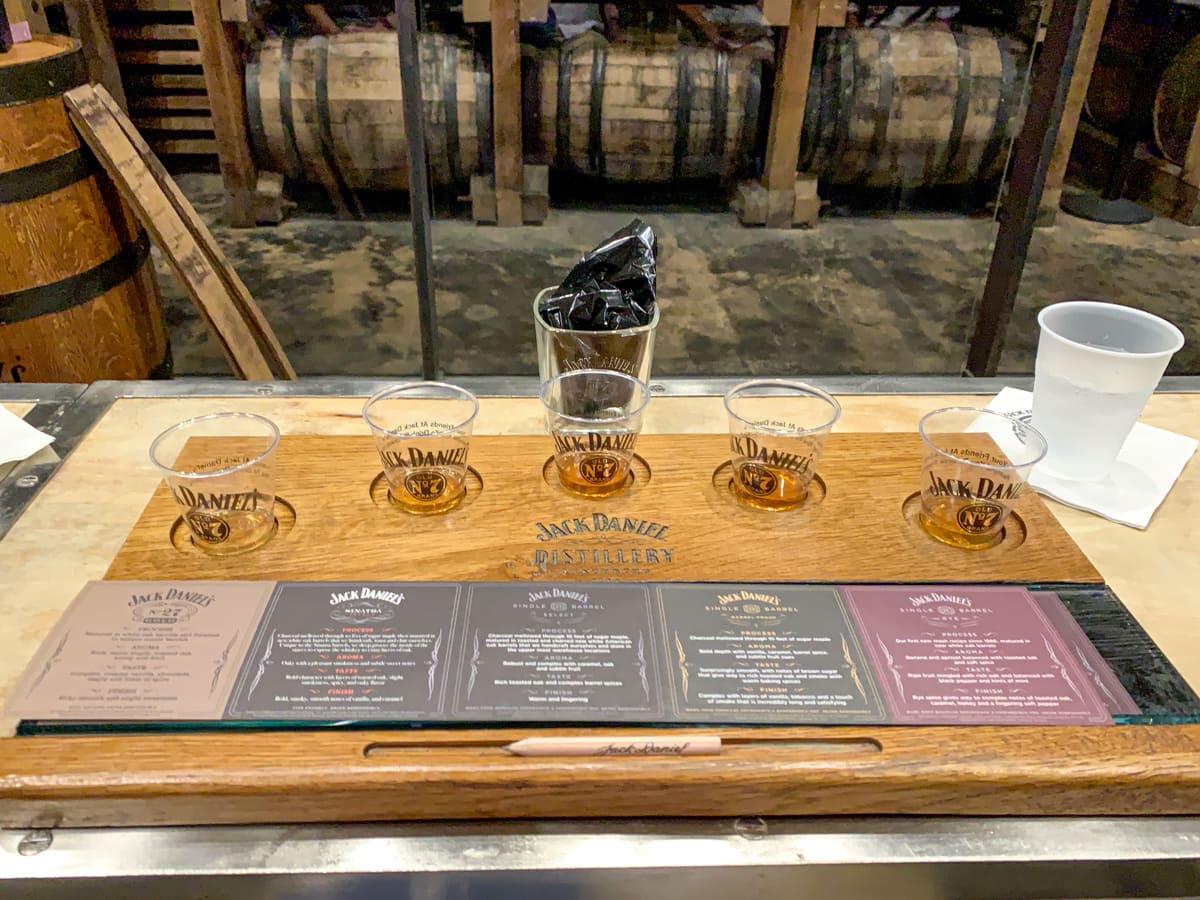 We tried the following varieties of Jack Daniel's:
No 27 Gold
Sinatra Select
Single Barrel Select
Single Barrel Barrel Proof
Single Barrel Rye
Whiskey lovers will appreciate the cards that accompany each whiskey with notes about the process of making it and the flavors.
Once the tasting was over, we exited through the gift shop known as The White Rabbit Bottle Shop.
Here you could buy everything you tasted, plus additional options like Gentleman Jack, Tennessee Honey (which I tried later at a bar in Nashville and liked), and Tennessee Fire.
See also: Food and Ferrari Tour in Italy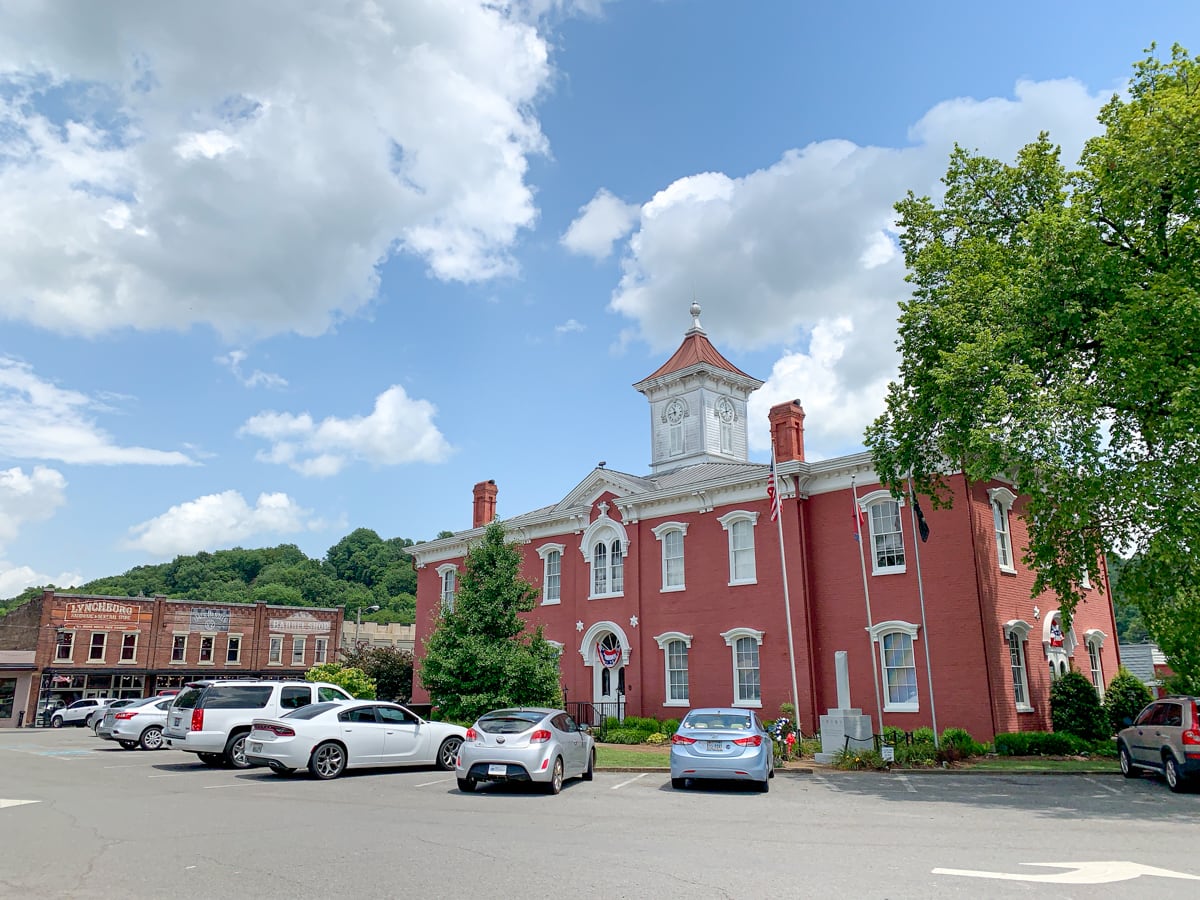 Lynchburg Town Square
We were given an hour to walk around downtown Lynchburg and grab lunch.
The stately Moore County Clerk's building occupies the center of the downtown area, with shops and restaurants around the periphery.
I'd gotten a tip to try Barrel House BBQ, so I ordered their signature Grilled Cheese on Crack (American cheese, pulled pork, and habanero) with a bag of potato chips and a fountain soda.
Related: Memphis Restaurants You Have To Try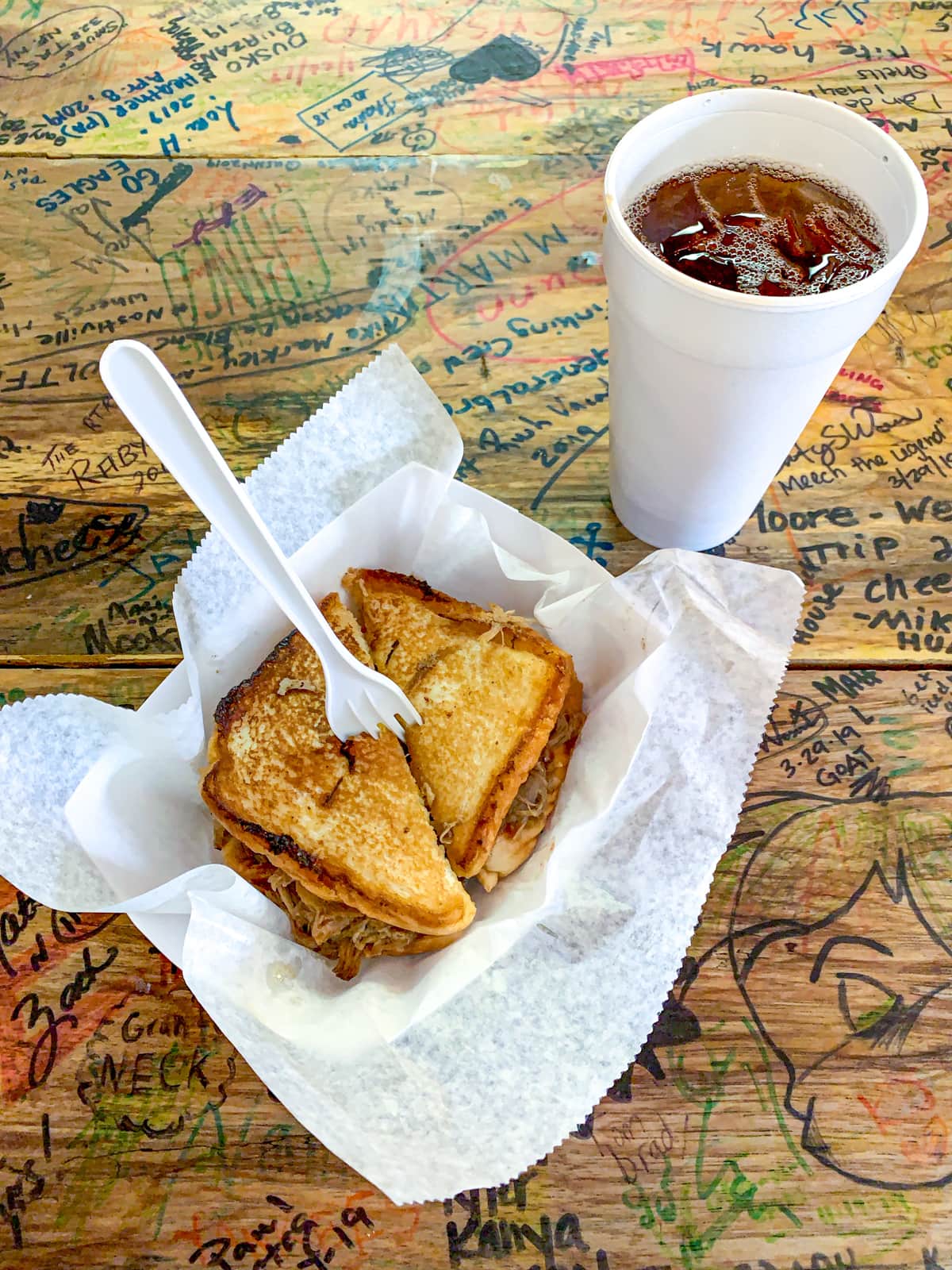 They also served the sandwiches with smoked sausage, pulled chicken, and brisket.
Another option is Miss Mary Bobo's Restaurant, housed in a 100-year-old mansion that used to operate as a boarding house, where Jack Daniel would go to eat.
After my sandwich, I did a loop around the square, stopping in the Lynchburg Hardware and General Store (the official Jack Daniel's gift shop) before returning to the bus.
As scheduled, we'd left Nashville at 9 a.m. and were back by 4 p.m.
The Jack Daniel's Distillery tour was undoubtedly one of the highlights of my first trip to Tennessee.
If you want to learn about American whiskey, I highly recommend making the journey.
Book a tour with Viator and enjoy free cancellation up to 24 hours before your tour starts.