Recognized for its contributions to barbecue, southern food, and the blues, Memphis has much to offer foodies. I recently visited Tennessee's second-largest city for a conference and came away with these seven Memphis restaurants to recommend.
Top Memphis Restaurants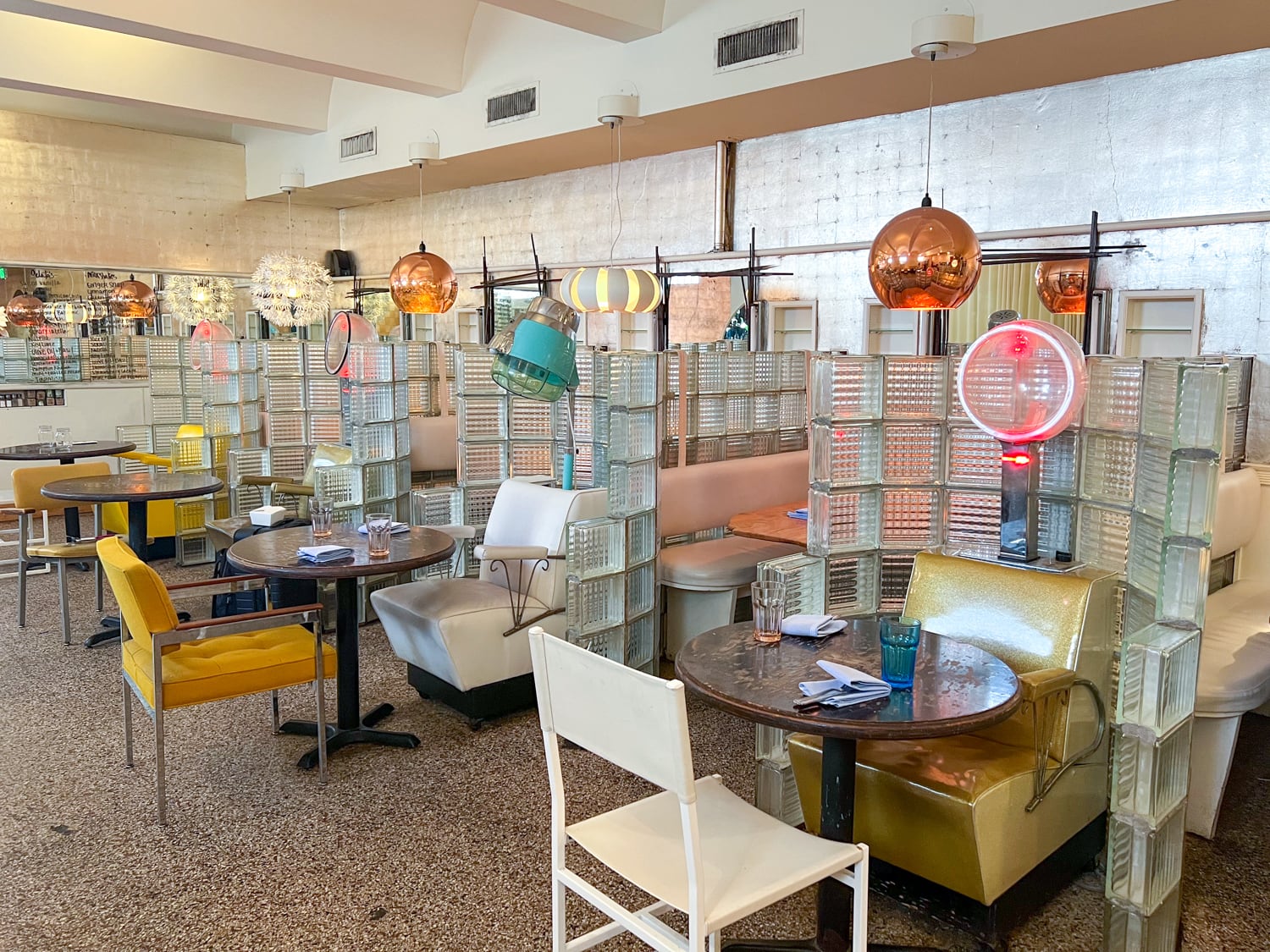 1. The Beauty Shop
Elvis Presley called Memphis home, and Graceland, his former estate, is a must-see for any rock 'n roll fan.
I spent half a day touring his mansion and museum but not before stopping en route from the airport to my hotel for lunch at The Beauty Shop.
This former beauty salon in the hip Cooper-Young neighborhood of Midtown Memphis was frequented by Elvis' wife, Priscilla Presley.
Chef Karen Carrier has kept nostalgia for the 1950s alive with hair dryer seats, original flooring, and glass block booths.
Meanwhile, her lunch menu features modern southern food and international dishes.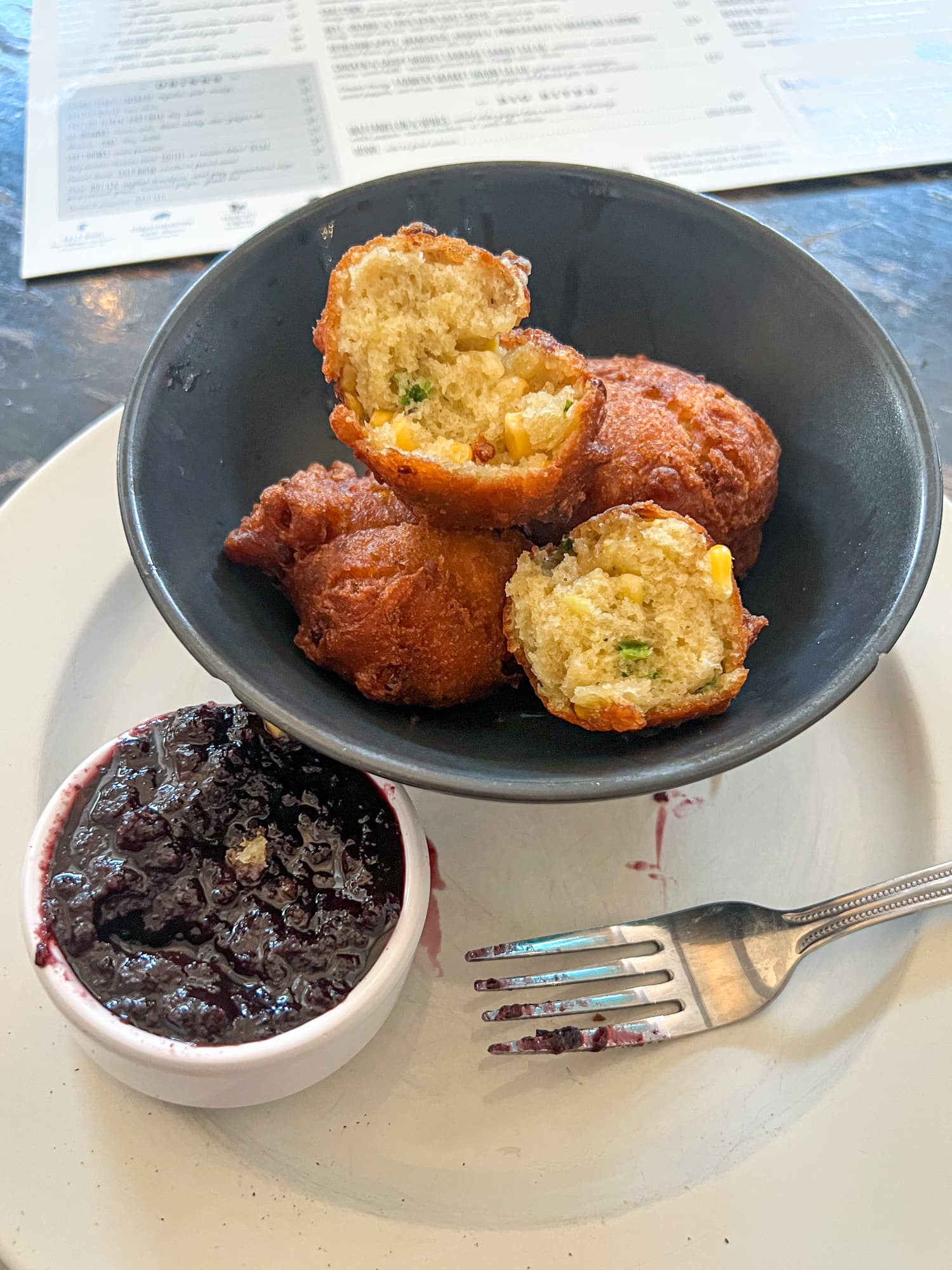 I began with corn fritters and a blueberry jalapeno mint chutney that deserves to be bottled and sold nationwide.
Additional appetizers include matzo ball chicken soup, Belgian-style fries, and caramelized pears.
There are a half-dozen salad options, including steak souvlaki and Thai cobb; however, the sandwiches drew more of my attention.
Gourmet grilled cheeses, sesame pecan chicken, and Bahn Mi pork sandwiches sounded appealing. I landed on a Jamaican jerk fish club sandwich that was a mess to eat but quite tasty.
If you prefer a New York City deli experience, the sandwiches below are all served on Jewish Rye:
Reuben with pastrami or corned beef
Stanley's with corned beef and deli mustard
Hazel's Mazel NYC-style pastrami
Ronzo with pastrami, cole slaw, and Russian dressing
Don't leave without trying one of the desserts. Homemade cakes, pies, gelatos, and milkshakes are all available. My slice of chocolate cake was worth the calories!
The Saturday and Sunday brunch menus are enticing, and if I had the time, I'd have gone back to try one.
966 Cooper Street #5611, Memphis, thebeautyshoprestaurant.com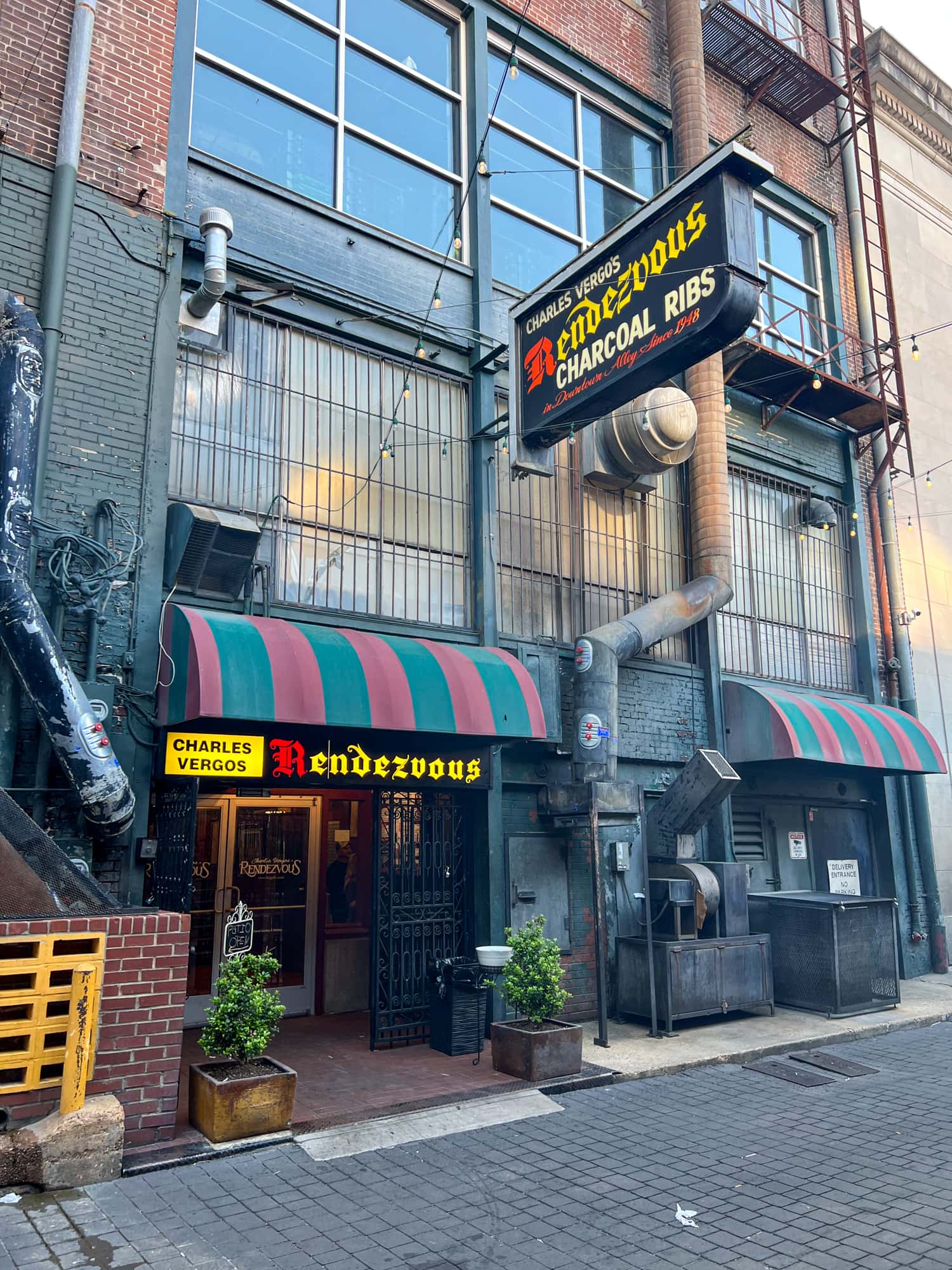 2. Charlie Vergos' Rendezvous BBQ
When I asked my first rideshare driver about the best place for barbecue in Memphis, he said to skip Charlie Vergos' Rendezvous BBQ.
The Memphis local said the food was okay, but it was a tourist trap. While I kept his comments in mind, it didn't deter me from giving the 74-year-old barbecue spot a try.
Charlie Vergos' Rendezvous is in an alley between Union and Monroe Avenues, a half-block from the prestigious Peabody Hotel.
The basement restaurant was opened in 1948 by Charlie Vergos, where he began by selling ham sandwiches and beer before graduating to BBQ pork ribs with his signature dry rub.
Charlie Vergos is credited with creating Memphis-style ribs and was posthumously inducted into the American Royal Barbecue Hall of Fame in 2018.
Rendezvous remains a family-run business, with John, Charlie Vergos' eldest son, and Tina, his youngest daughter, involved.
Some of the staff are second-generation, while others have worked there for decades.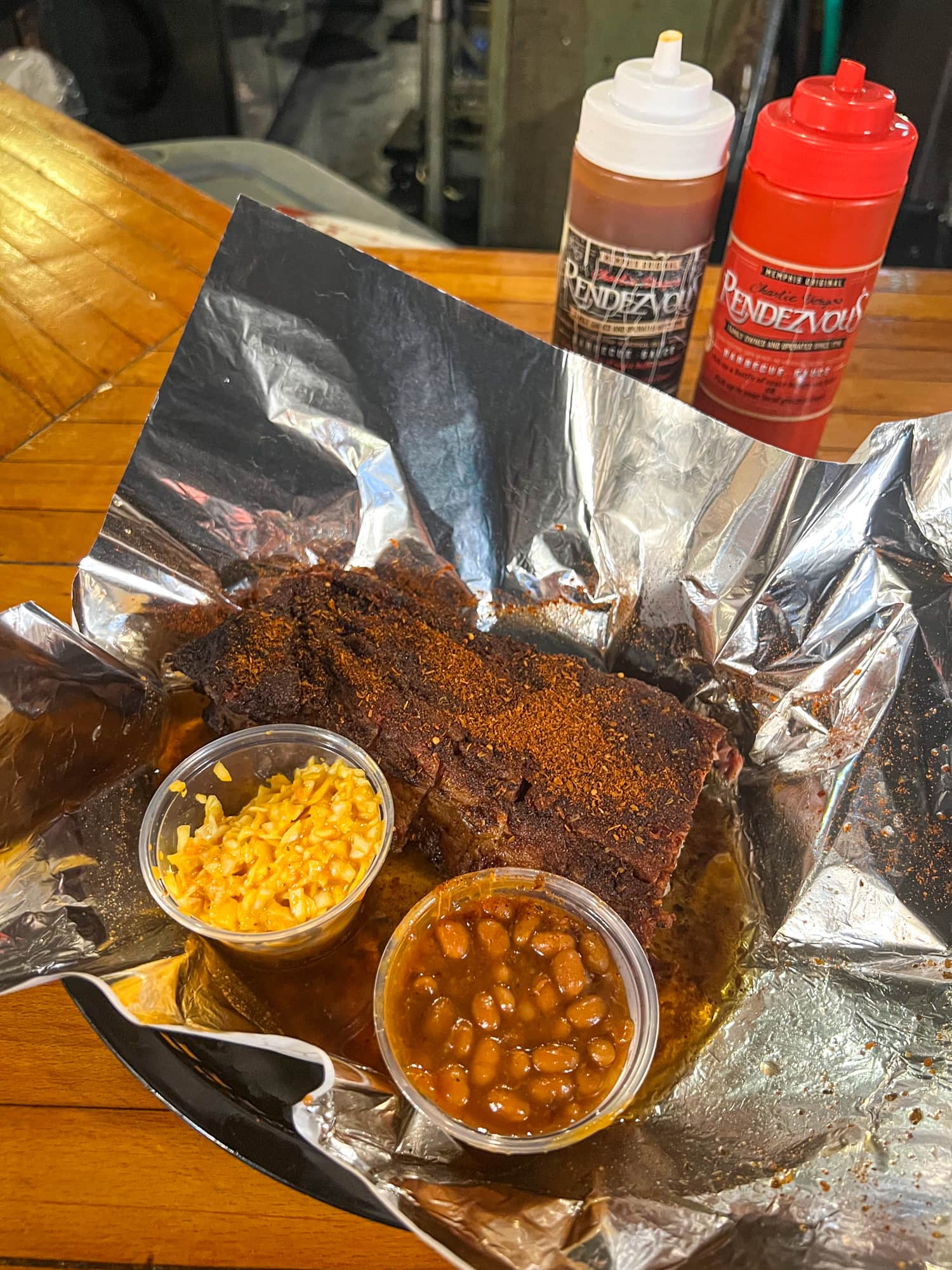 Living in Austin, I've become a big fan of Central Texas barbecue. However, Memphis-style barbecue is best known for its pork ribs, not its beef brisket.
The tables were all taken when I stopped in early on a Wednesday evening, so I took a seat at the bar and got a small order of charbroiled pork ribs with beans and cole slaw.
Eating ribs with a dry rub was a new experience, and they were tasty enough that I didn't mind. They've got mild and hot BBQ sauces available if you must have sauce.
The atmosphere and history on the walls are as much a reason to eat at Rendezvous as the ribs.
52 South 2nd Street, Memphis, hogsfly.com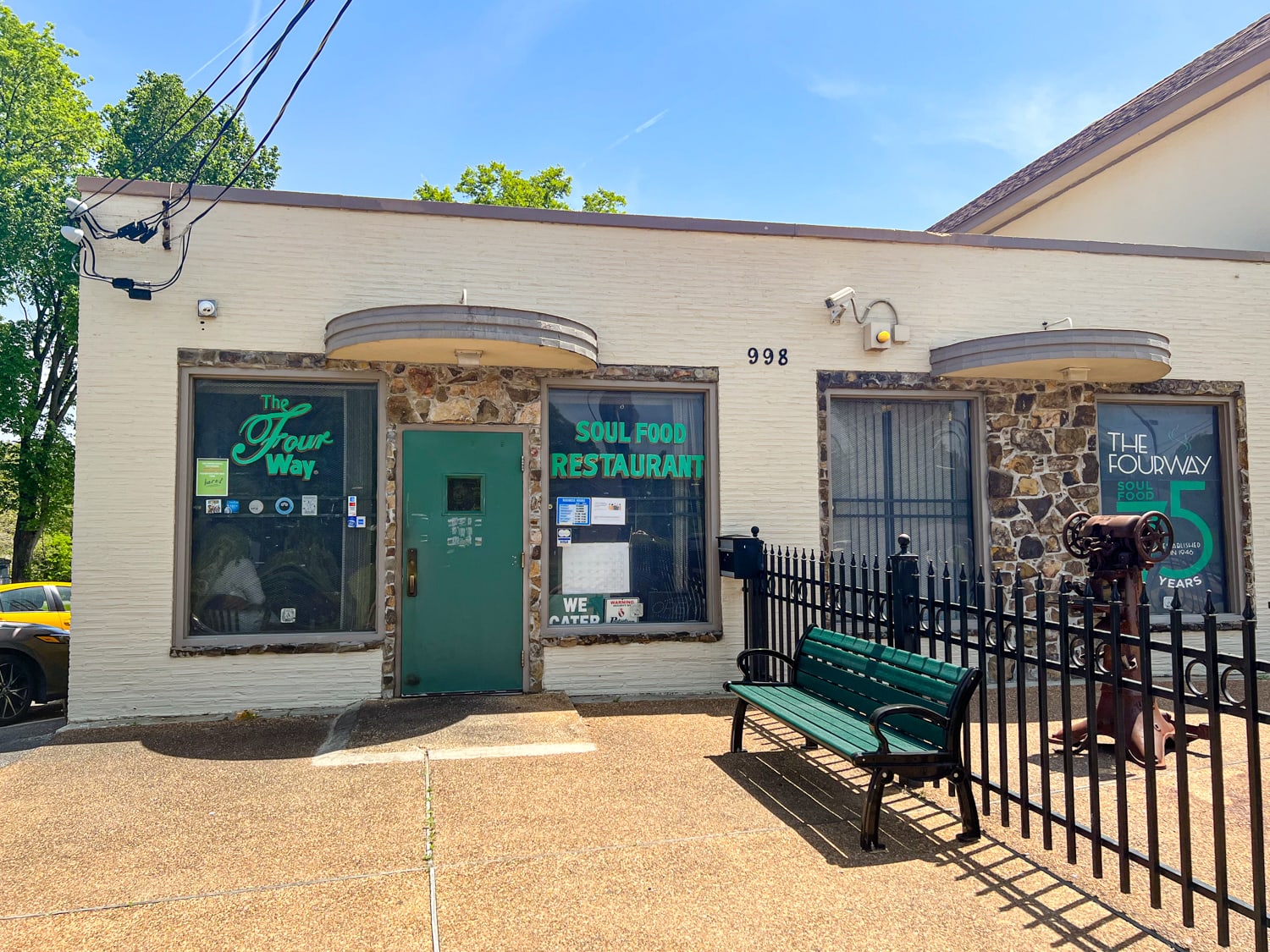 3. The Four Way Restaurant
Speaking of history, The Four Way soul food restaurant in South Memphis celebrated its 75th anniversary in 2021.
Irene and Clint Cleaves opened the restaurant in 1946 with a dream to serve the best soul food in Memphis.
According to the restaurant's website, it was one of the few places where Black and white diners sat together at the time.
In the 1960s, their food attracted Civil Rights leaders such as Dr. Martin Luther King, Jr. and Rosa Parks.
Today, the Cleaves' dream lives on through their daughter, Patrice Bates Thompson, who continues to run The Four Way.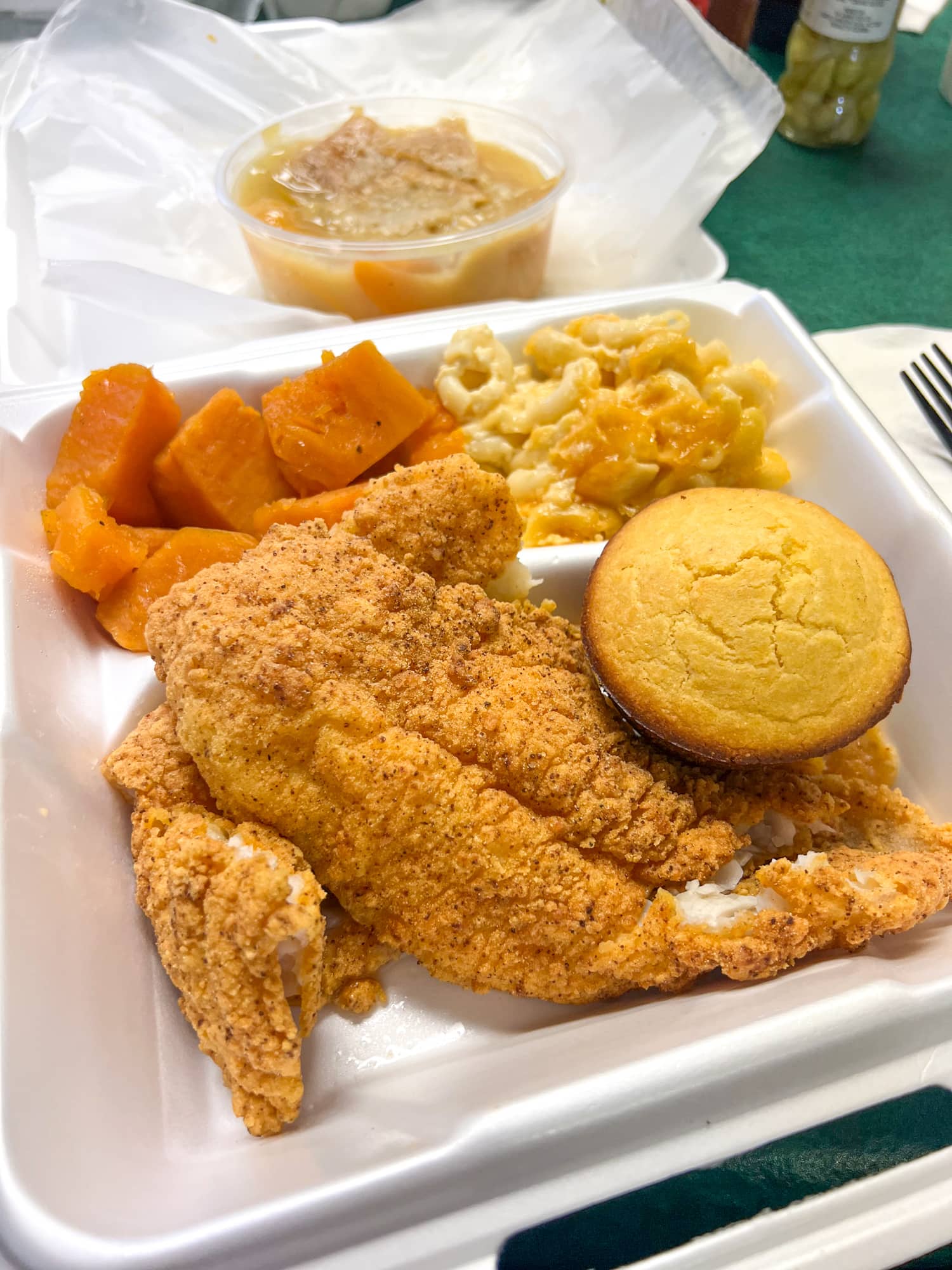 I dropped by The Four Way for a weekday lunch between visits to Graceland and the National Civil Rights Museum at the Lorraine Motel, where Dr. Martin Luther King Jr. was tragically killed on April 4, 1968.
The daily entrees allow a choice of meat with two sides and a serving of cornbread. These traditional dishes are known as "meat and two." They originated in Nashville and are common throughout the South.
I got the fried catfish fillet with mac and cheese, yams, and cornbread for $13.99. The warm peach cobbler was another $4, and The Four Way VIP, a 20-ounce mix of sweet tea and lemonade, cost $2.50.
It was an incredibly filling meal for a little over $20, including tax and tip. The catfish was wonderfully cooked, with a flaky crust and tender white fish inside. The yams, recommended to me by a local, were terrific.
998 Mississippi Boulevard, Memphis, fourway901.com
Related: Dooky Chase's Restaurant in New Orleans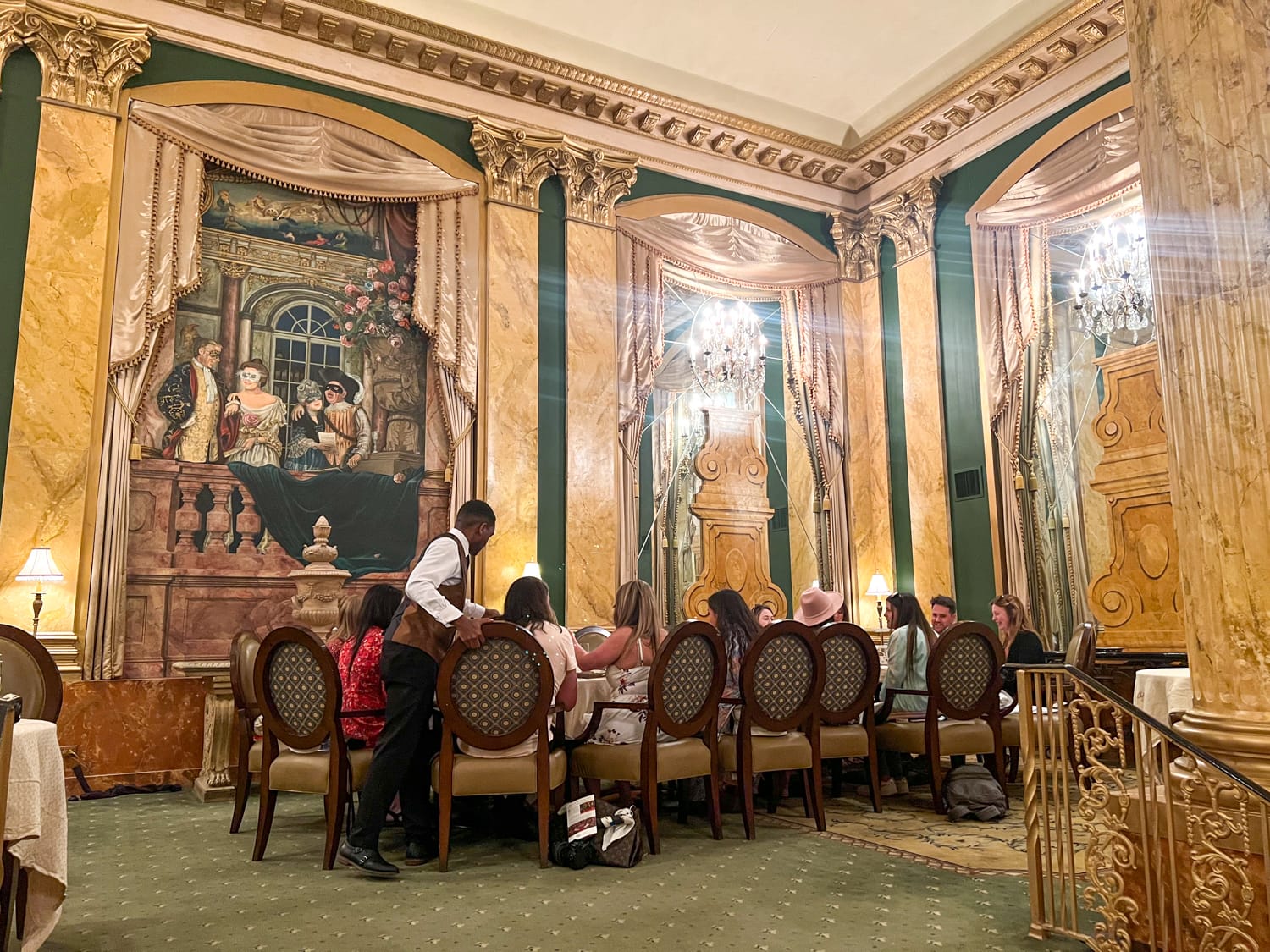 4. Chez Philippe
When it comes to fine dining for special occasions, few Memphis restaurants can hold a candle to Chez Philippe at The Peabody hotel.
The South's Grand Hotel, as it's known, opened in 1869 and is on the National Register of Historic Places.
It's famous for its resident ducks paraded down from their home on the roof (via elevator) to a fountain in the hotel lobby twice daily.
The attraction draws a reliable crowd of curious onlookers as the Duckmaster (yes, it's an actual job title) tells the history of this endearing tradition.
Behind the lobby bar serving classic cocktails is the entrance to Chez Philippe, a classic French restaurant run by chef Andreas Kissler.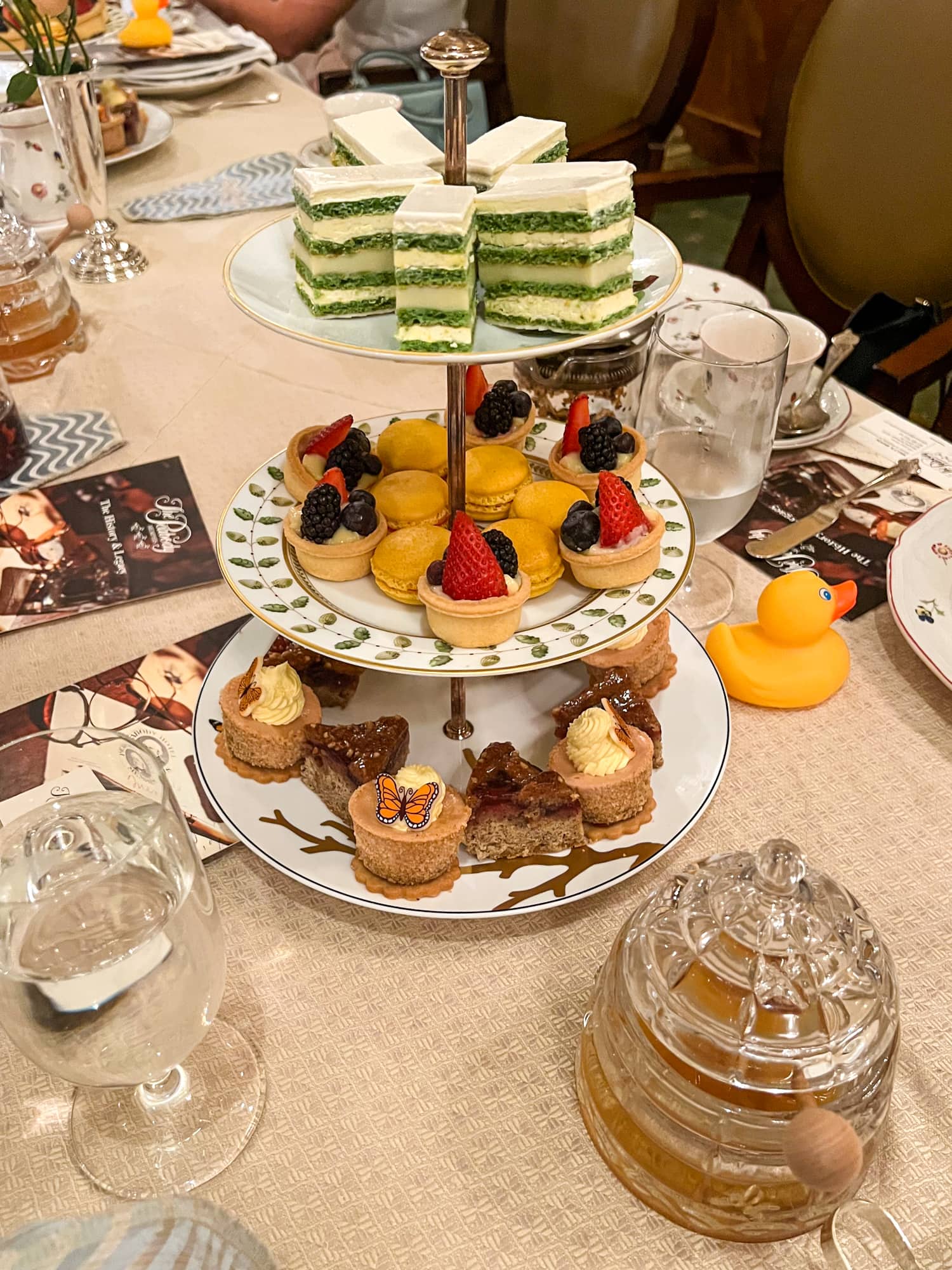 Chez Philippe typically offers multi-course dinners; however, they're only offering afternoon tea right now.
I had the opportunity to try the tea service at Chez Philippe (at no cost) as a part of my attendance at the blogging conference.
The Chez Philippe Tea service is priced at $50 and includes your choice of tea, plus three courses: savory bites, a daily scone, and an assortment of desserts. An additional $10 gets you a glass of Champagne.
I ordered the Peach Blossom, a blended white tea with quince, peach flavor, and orange and tangerine oils. The savory snacks were average; the desserts were better.
2638, 149 Union Avenue #4, Memphis, peabodymemphis.com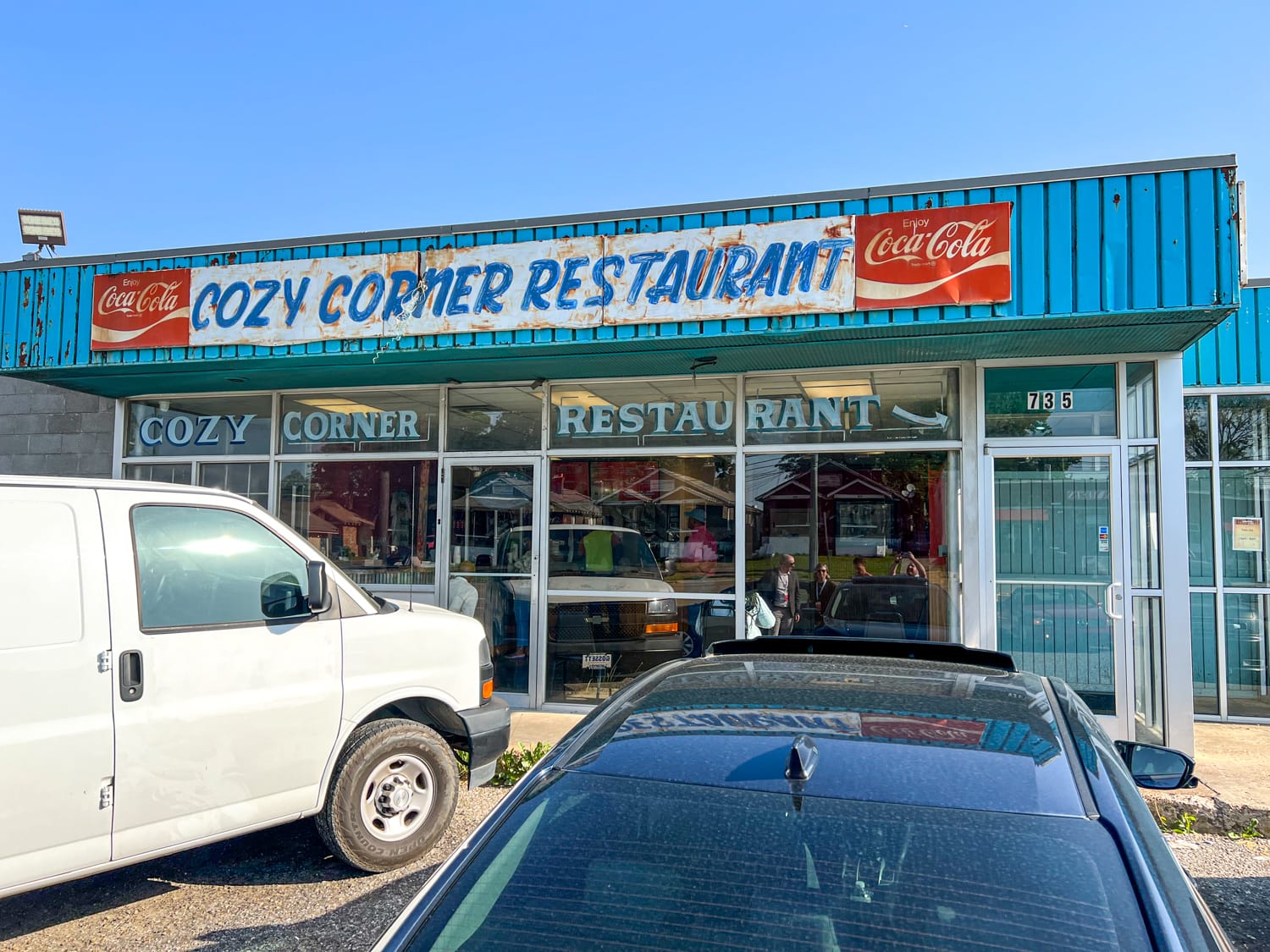 5. Cozy Corner BBQ
Returning to barbecue, the Cozy Corner Restaurant is a popular spot that repeatedly came up from the locals to whom I spoke.
The Cozy Corner has been making and selling BBQ in North Memphis since 1977.
Raymond Robinson began the restaurant and ran it until his passing in 2001, at which point his wife Desiree Robinson took over.
In 2020, Desiree became the first African American woman inducted into the Barbecue Hall of Fame. She was honored the same year as Aaron Franklin.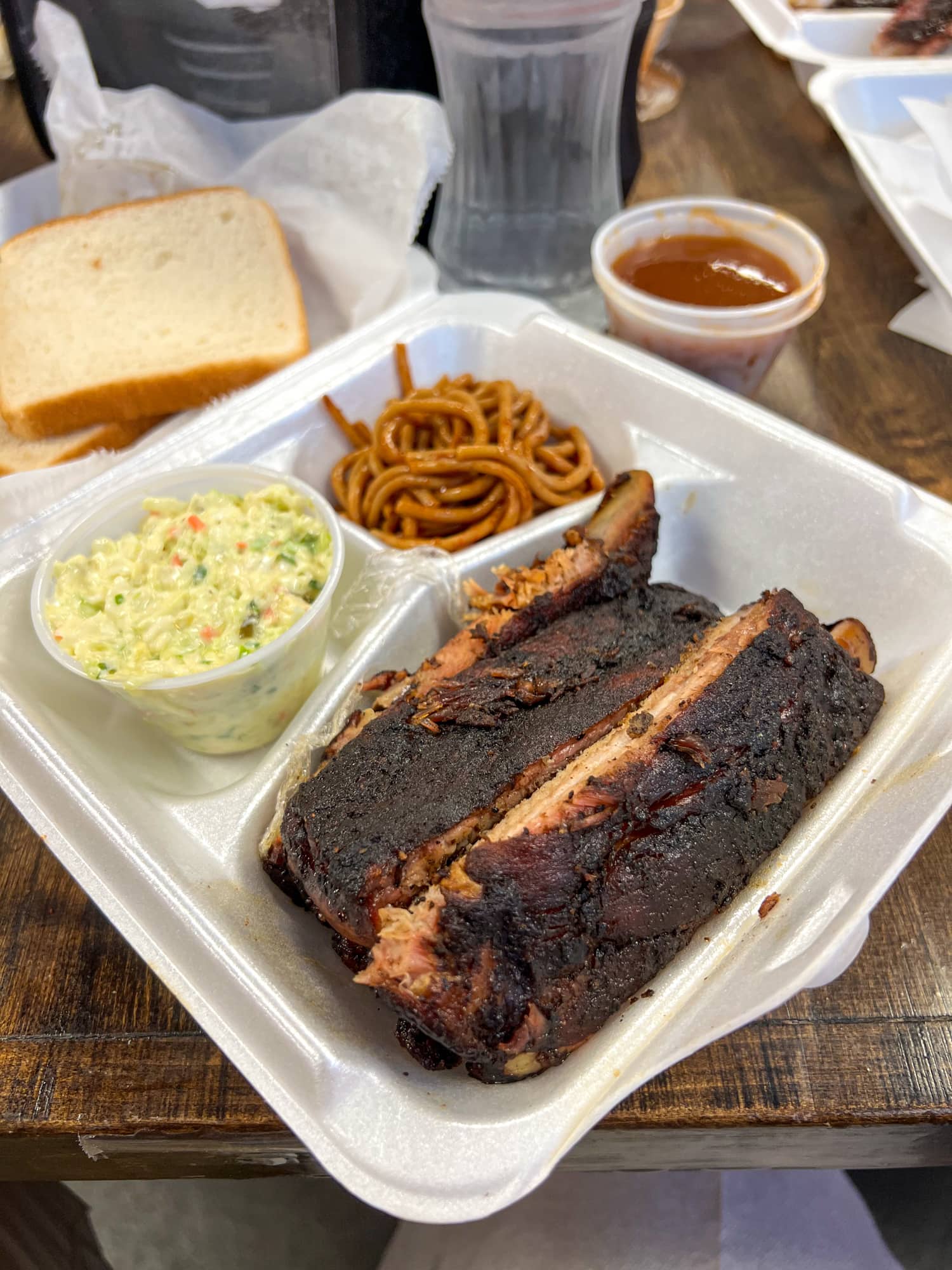 Cozy Corner is a no-frills, counter service restaurant with an open kitchen. I ordered the budget-friendly two-bone rib plate with white bread and two sides (BBQ spaghetti and cole slaw) for $7.75.
My first bite of pork rib was sans sauce, which I'd asked for on the side, but after that, I poured it on and enjoyed them more.
The spaghetti with BBQ sauce was novel, but I prefer to stick with tomato sauce.
I liked the taste of Cozy Corner's ribs more than Rendezvous but preferred the decor and atmosphere at the latter.
735 North Parkway, Memphis, cozycornerbbq.com
After dinner, I headed over to Beale Street, where I marched in a second line, which is the name chef Kelly English gave to his Memphis restaurant featuring New Orleans food.

Chef English, one of Food + Wine's Best New Chefs in 2009, also runs Restaurant Iris, which closed its original location in Midtown and will re-open in East Memphis in 2022.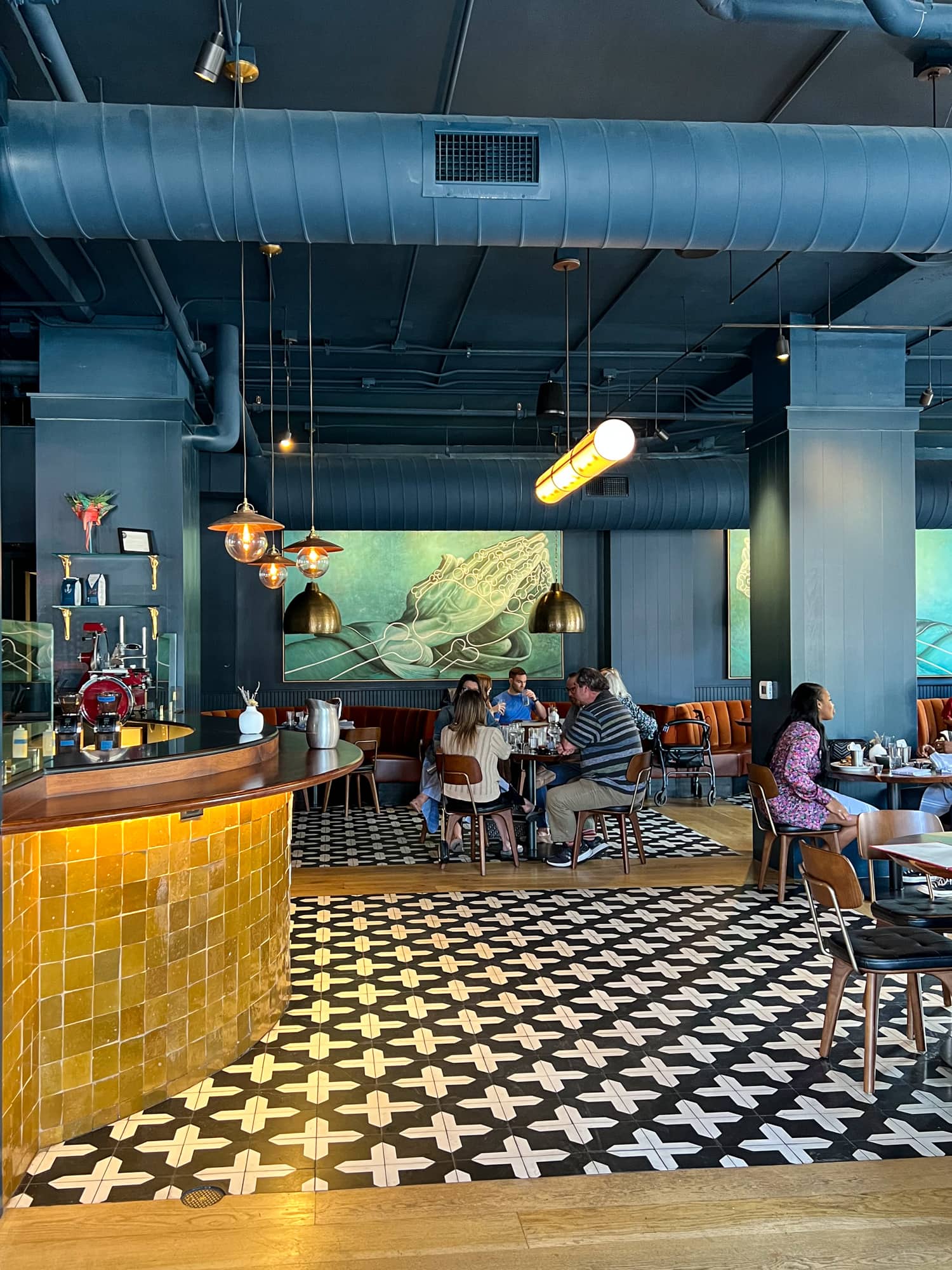 6. Bishop
On the second day of my conference, I high-tailed it out of the convention center for brunch at Bishop, a French brasserie in the Central Station Hotel.
The hotel and restaurant share space in Memphis Central Station, which was built in 1914, and continues to service trains passing through Memphis en route to Chicago or New Orleans.
Walking into Bishop, I was enamored by the interior decor - modern, stylish, inviting, and comfortable. The street-level restaurant also offered plenty of natural light in the main dining room.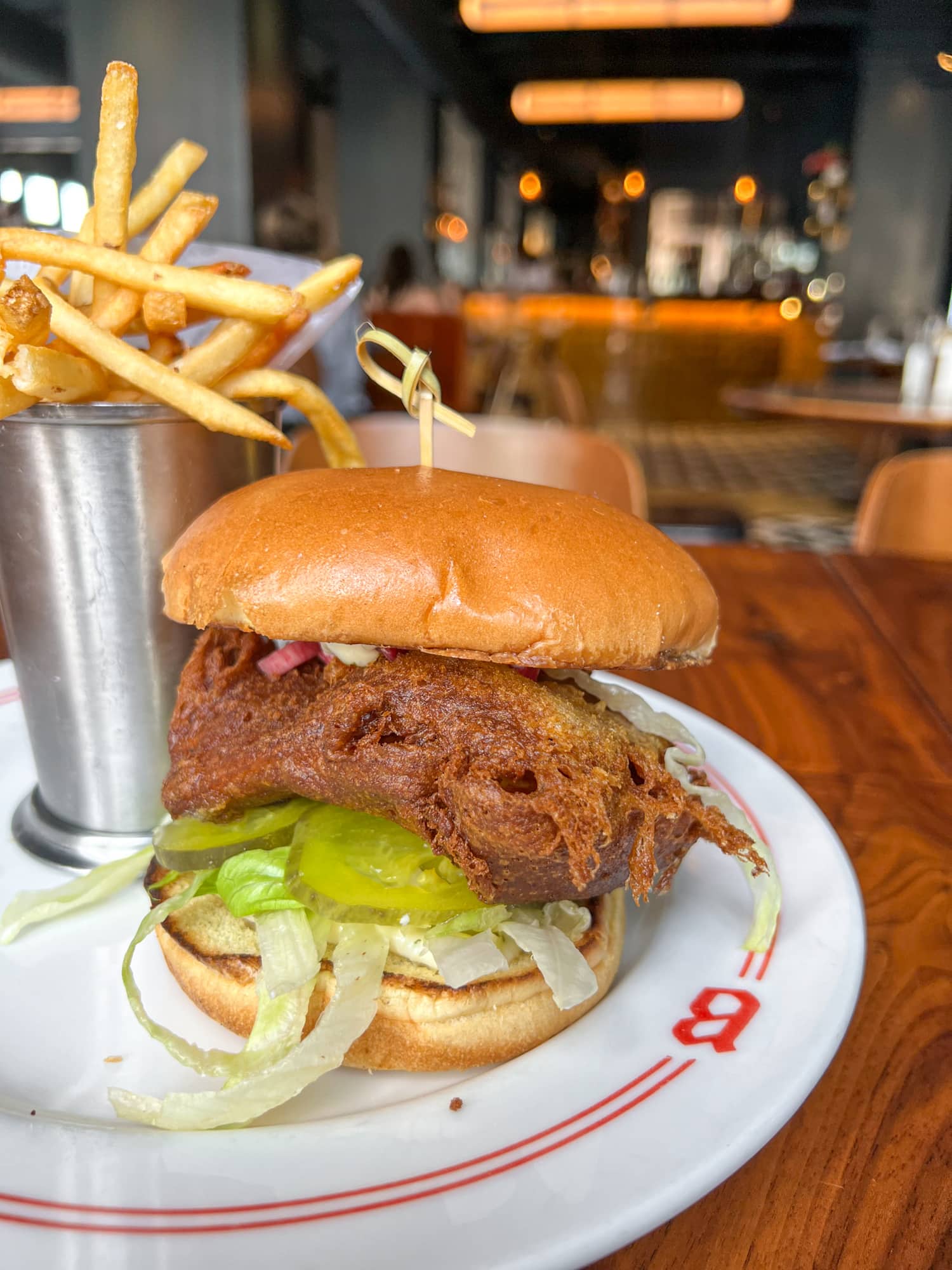 Thankfully, they could seat me as a walk-in, and I was soon ordering fromage brulee with sourdough and an excellent fried fish sandwich on my server's recommendation.
Dessert menus at French restaurants never make for an easy choice, and Bishop offers seven options.
I passed over the creme brulee and opera cake in favor of chocolate, toffee, and banana pot de creme.
A large portion, suitable for two, soon arrived. Bite after heavenly bite had me wishing I could linger a little longer at Bishop, but I had to get back to the convention center.
545 South Main Street #111, Memphis, bishopmemphis.com
Note: On my way out of Bishop, I noticed the Arcade Restaurant next door. This 50s-era diner is the oldest cafe in Memphis.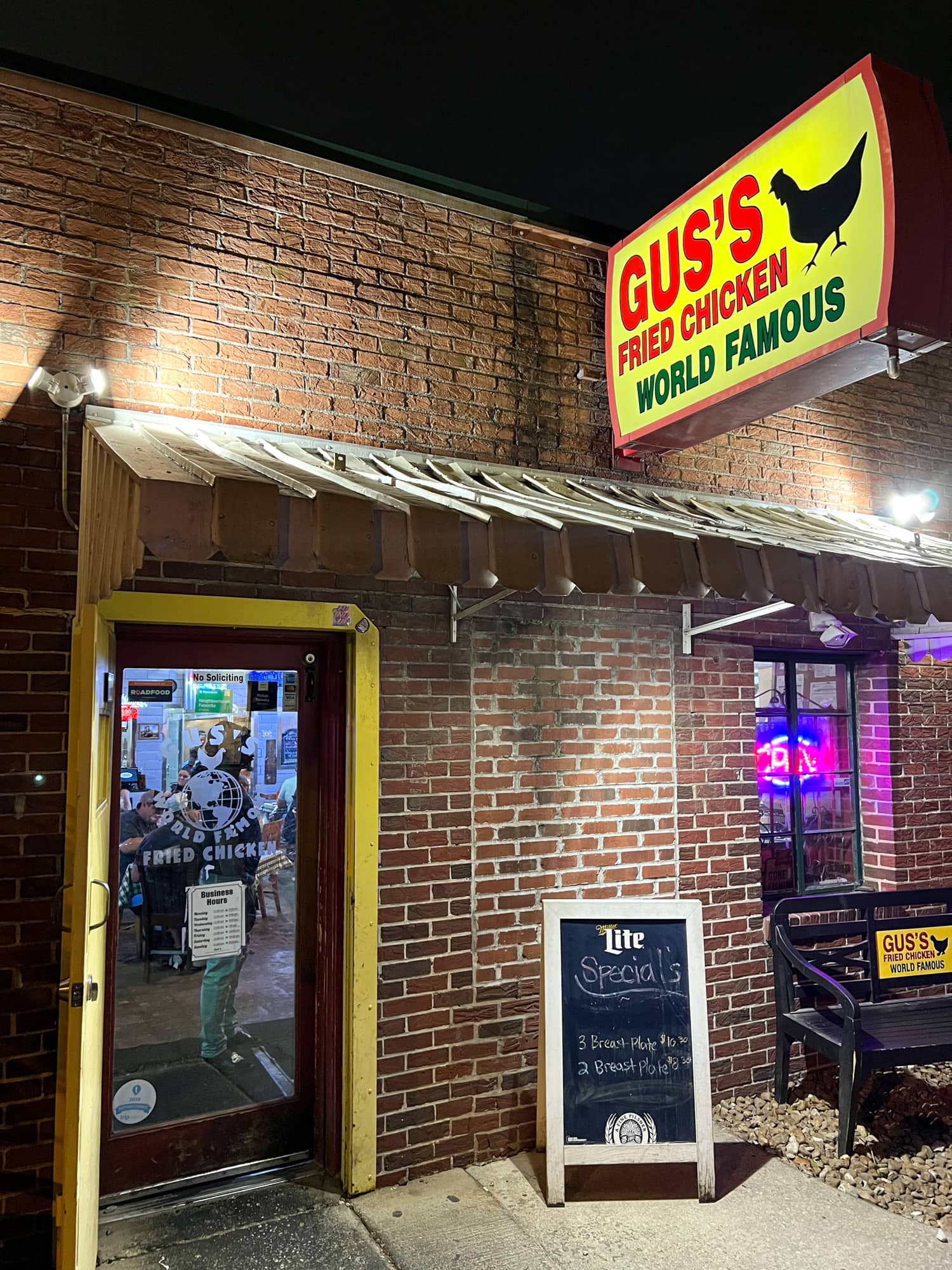 7. Gus's Fried Chicken
My first experience at Gus's World Famous Fried Chicken was at their downtown Austin restaurant not long after I moved to the Texas capital.
I sat at the counter for lunch one day and discovered a joy in fried chicken I hadn't experienced before. It was spicy and more flavorful than what I'd known until then.
Fast forward five years, and I'm in Memphis only to discover Gus's Fried Chicken began as a family business about 40 miles away in Mason, Tennessee.
To make a long story short, the first Gus's Fried Chicken opened in downtown Memphis in 2001, and they've since expanded to 35 locations nationwide.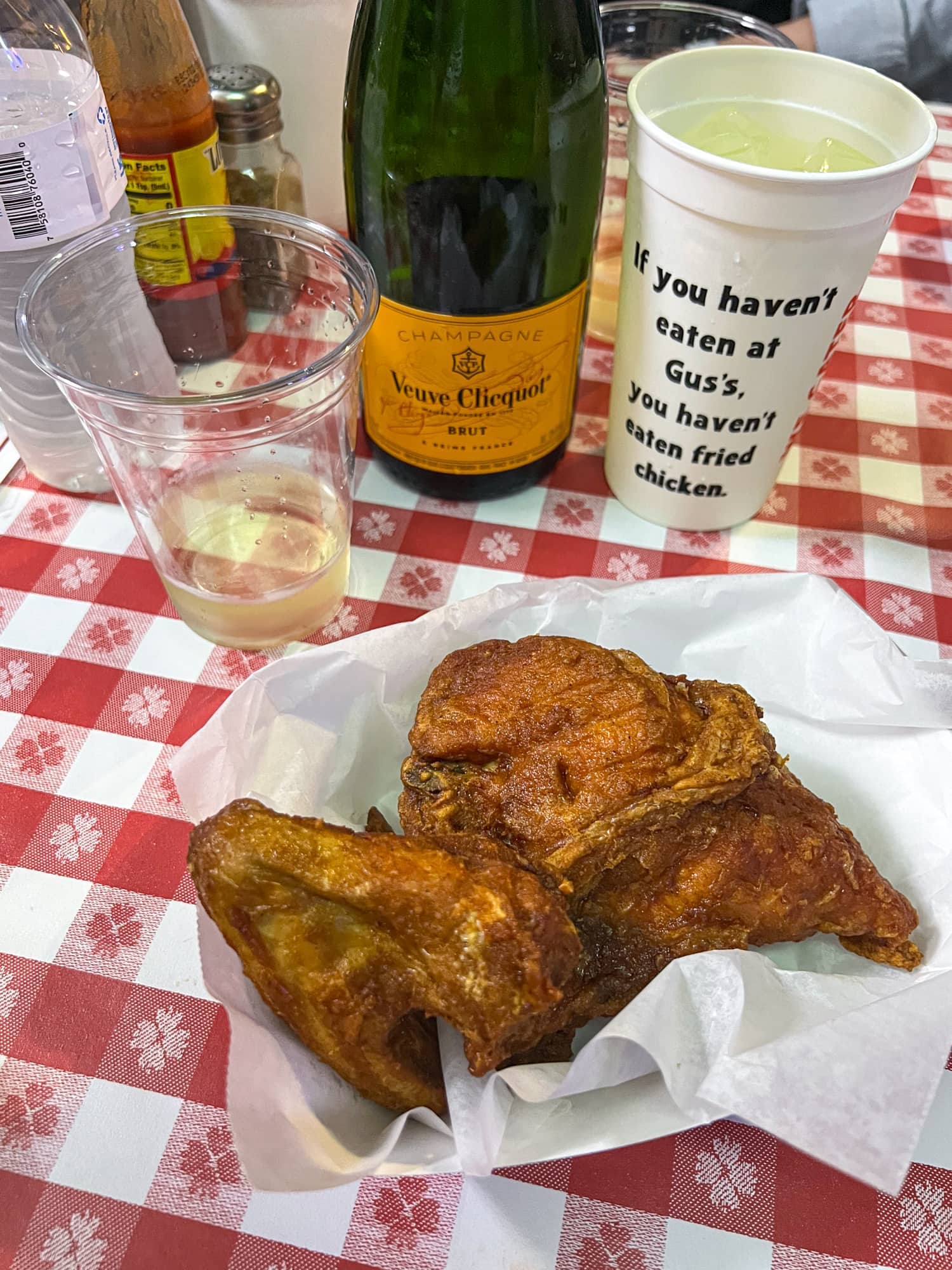 Gus's prides itself on only using fresh (not frozen), hormone-free chicken, and I believe you can taste the difference.
Some friends and I discovered dinner at Gus's in downtown Memphis on a Saturday night requires patience. Six of us waited outside the one-room restaurant for about 45 minutes to be seated.
Once inside, the service was super friendly, and our waitress even complimented us on being her favorite table of the night.
I ordered the two-piece white meat snack, which came with a breast and a wing. I didn't notice the same spicy kick I remembered from the Austin experience but enjoyed it.
One of my friends, Alex, seeing that Champagne was available, ordered a bottle of Veuve Clicquot for us to make a toast with our chicken dinner.
310 South Front Street, Memphis, gusfriedchicken.com
***
Given my limited time trying Memphis restaurants while in town for a conference, I came away feeling like I got a taste for what's on offer.
The best Memphis restaurants include award-winning barbecue spots, world-famous fried chicken, soul food, and French food.
There are undoubtedly more great places to discover in Memphis than the spots I tried, so this is not meant to be a "best of" list.
I hope to have conveyed at least seven excellent Memphis restaurants to consider if you find yourself heading to the Home of the Blues.