Rising from the floor in flourishes or "blooms," the support columns at Born and Raised, the new $6.5 million steakhouse in San Diego's Little Italy, harken back to the early 20th century.
Yellow-tinted lighting bathes the art deco dining room lined with curved leather booths.
A beautiful Italian marble bar with brass accents runs the length of the space; an inviting spot to grab an aperitivo if one needs to wait to be seated.
Candid black and white portraits of rappers appear on the walls, a detail I didn't notice until I was on my way out and saw Ol' Dirty Bastard at the top of the staircase.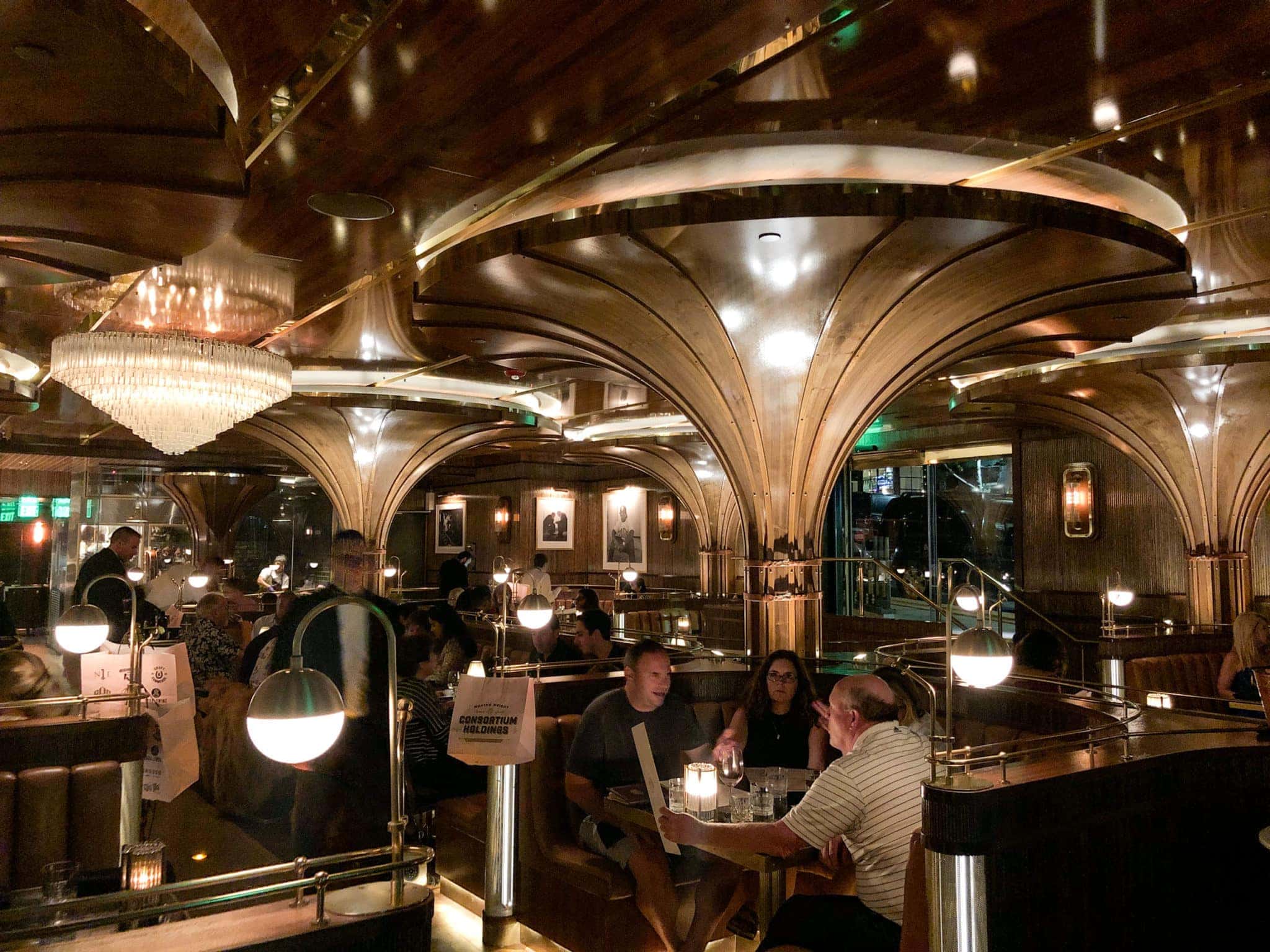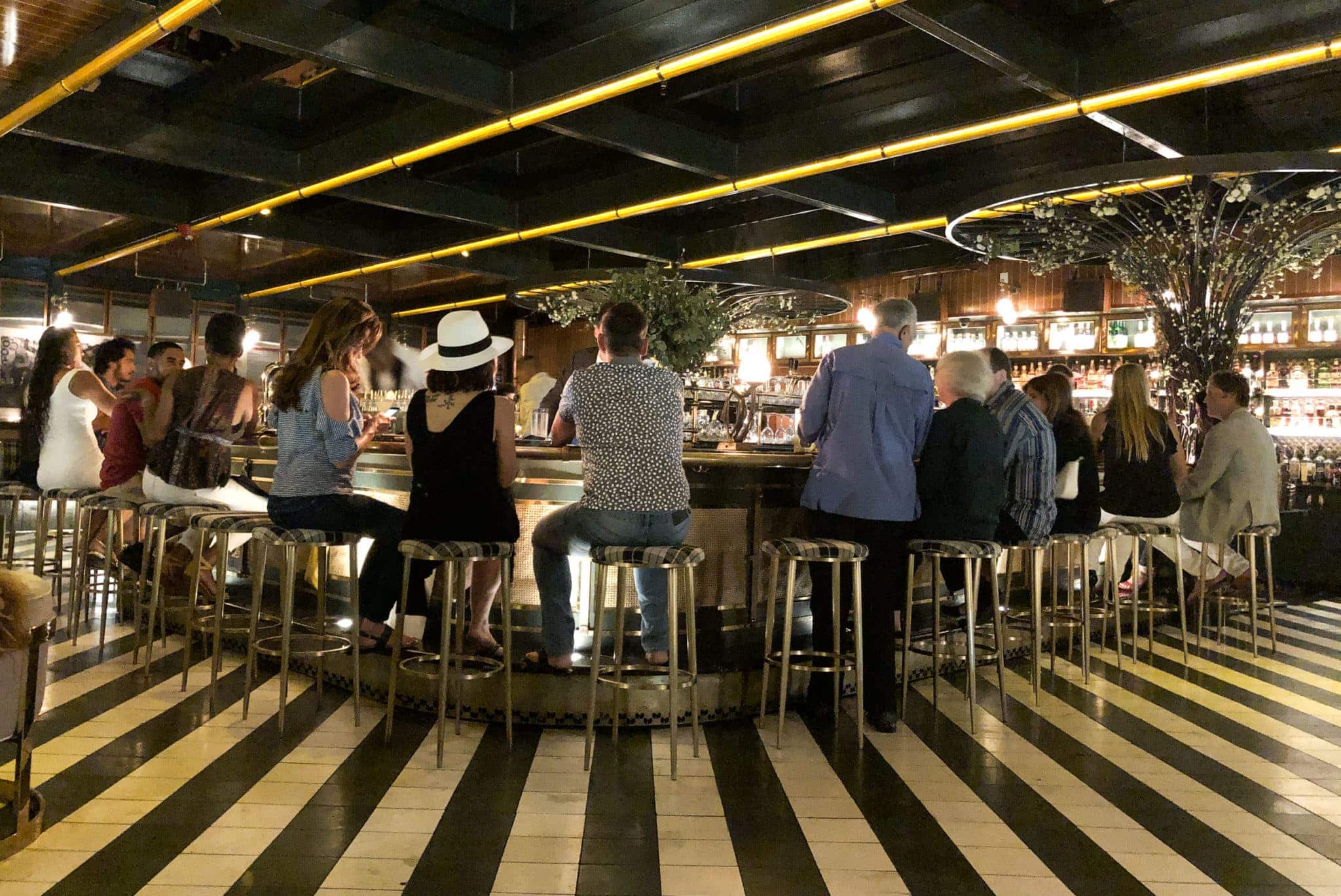 Dinner at Born and Raised
Open Air Rooftop
Speaking of stairs, the table reserved for my friend and me was on Born and Raised's second-story rooftop, which features a circular bar.
I sat facing the skyline; however, the view wasn't noteworthy as we were only on the second floor.
This upscale restaurant's rooftop decor and vibe are more casual than the dining room below.
Given San Diego's delightful summer temps, though, it's hard not to choose it over the main room.
Related: Best Speakeasies in San Diego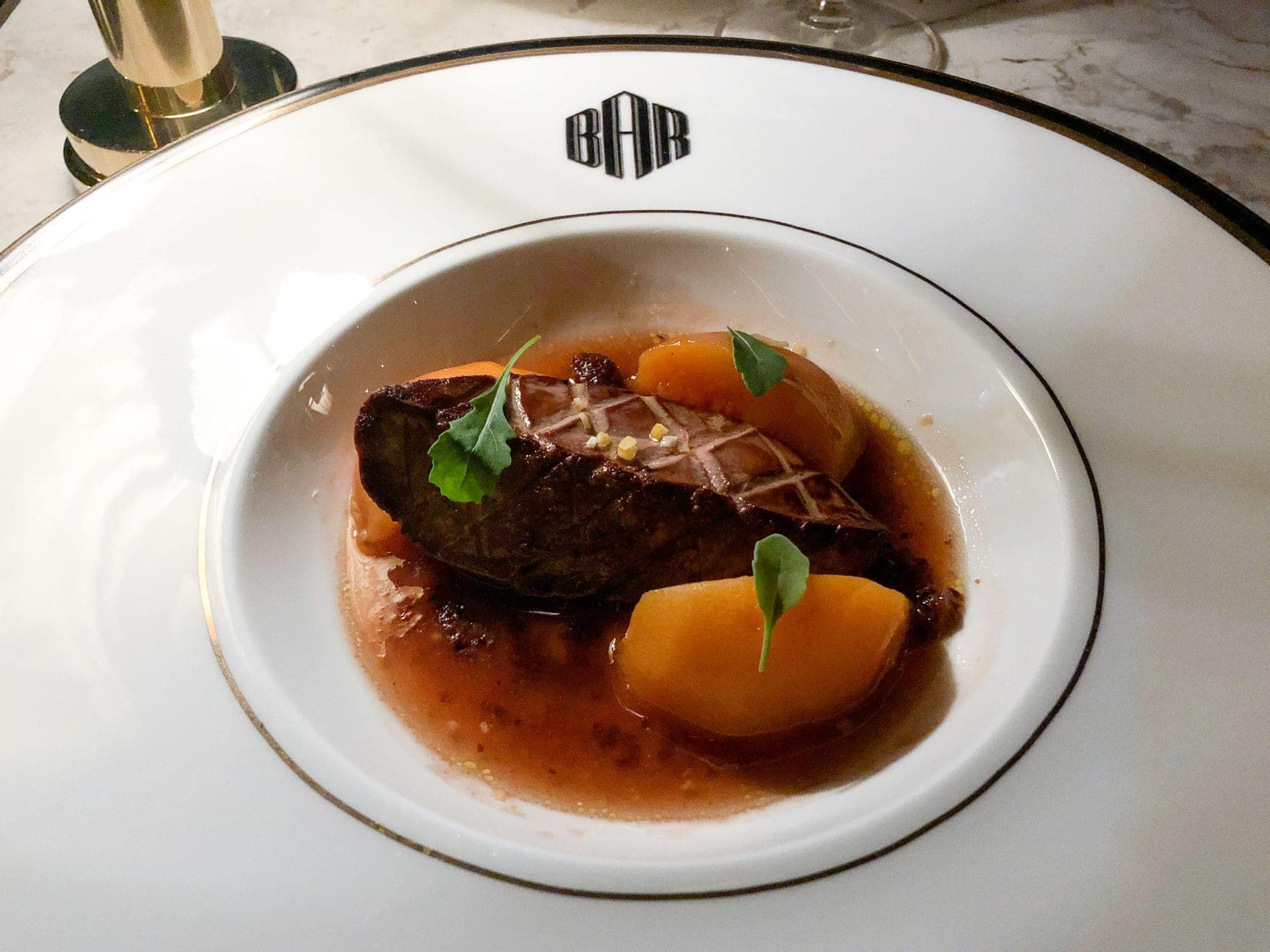 Appetizers
Keeping with the decor, the menus are elegantly designed with gold and black fonts.
Appetizers include American steakhouse classics like dry-aged carpaccio with bone marrow vinaigrette and lobster bisque, as well as two types of foie gras and caviar.
For the vegetarians, there's the house salad and a vegetable "tartare."
I was leaning toward the carpaccio until my friend ordered the seared foie gras with peaches ($24), at which point I changed my order. Go big or go home!
We were each served a massive piece of foie, possibly the most significant portion I've ever eaten, yet I dared not waste a single silky bite.
Lately, I've seen the term "wagyu" everywhere I go, just as truffle oil had been before it. A few years ago, I learned truffle oil is rarely the real thing, as with wagyu.
So when I saw a little Japanese flag and the prices of the wagyu beef on the Born and Raised menu, I felt it was finally time to try the prized Japanese meat.
I visited Japan briefly in 2011. However, I didn't go out of my way to try wagyu while there, as I was focused on sushi and seafood.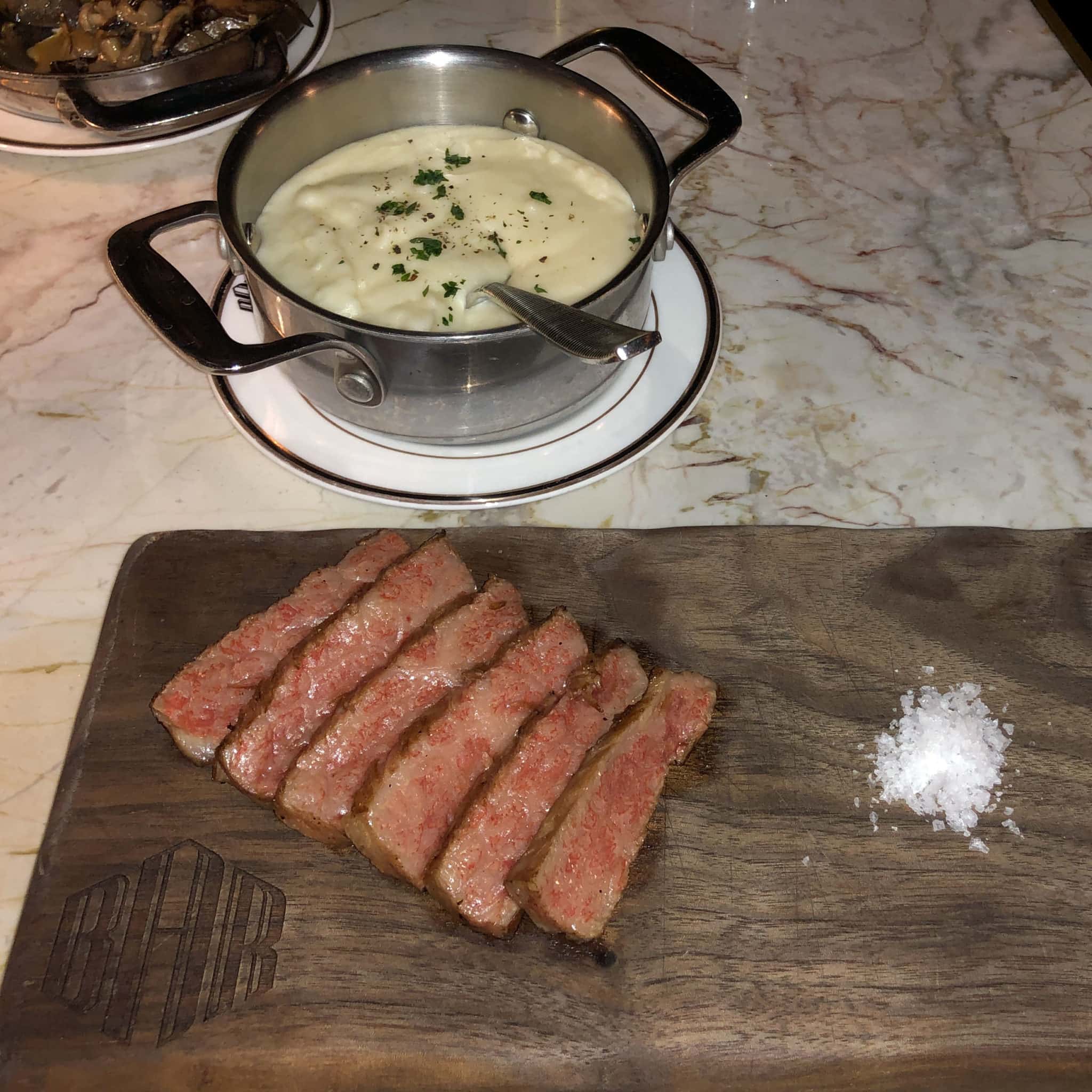 Steaks
The minimum portion size for the imported wagyu is $19/oz, with a minimum of three ounces per order ($57 total).
Cost-wise, this puts it between the aged steaks such as an 8oz filet or 18oz ribeye ($42 to $49) and the more expensive dry-aged steaks ($69-$88).
As if dinner wasn't turning out to be rich enough, I picked the Robuchon potatoes as a side, knowing full well the recipe's not-so-secret secret was copious amounts of butter.
When the wagyu arrived from the Born and Raised kitchen, six slices glistened with more marbling than I've ever seen in a piece of beef. A few pinches of sea salt accompanied it.
Biting into my first slice, I was surprised at how tender the beef felt in my mouth. It practically melted the same way I've become accustomed to with a bite of foie gras.
I wasn't sure that three ounces would fill me up, but given how fatty the meat is, the portion size turned out to be perfect, especially considering my choice of appetizer and side.
The Robuchon potatoes were creamy, as expected, and the portion size was large enough to share.
Add-ons for steaks include foie gras, truffle, crab legs, béarnaise sauce, butter-poached lobster, and truffles (market price).
Sauce options include bearnaise, peppercorn, creamy horseradish, and bordelaise.
Other sides include coal-roasted leeks with goat cheese, hazelnuts, grapes, Parisian gnocchi, and mushroom fricassee with herbs, garlic, and egg yolk (my friend had the mushrooms).
Related: Wine Tasting in Temecula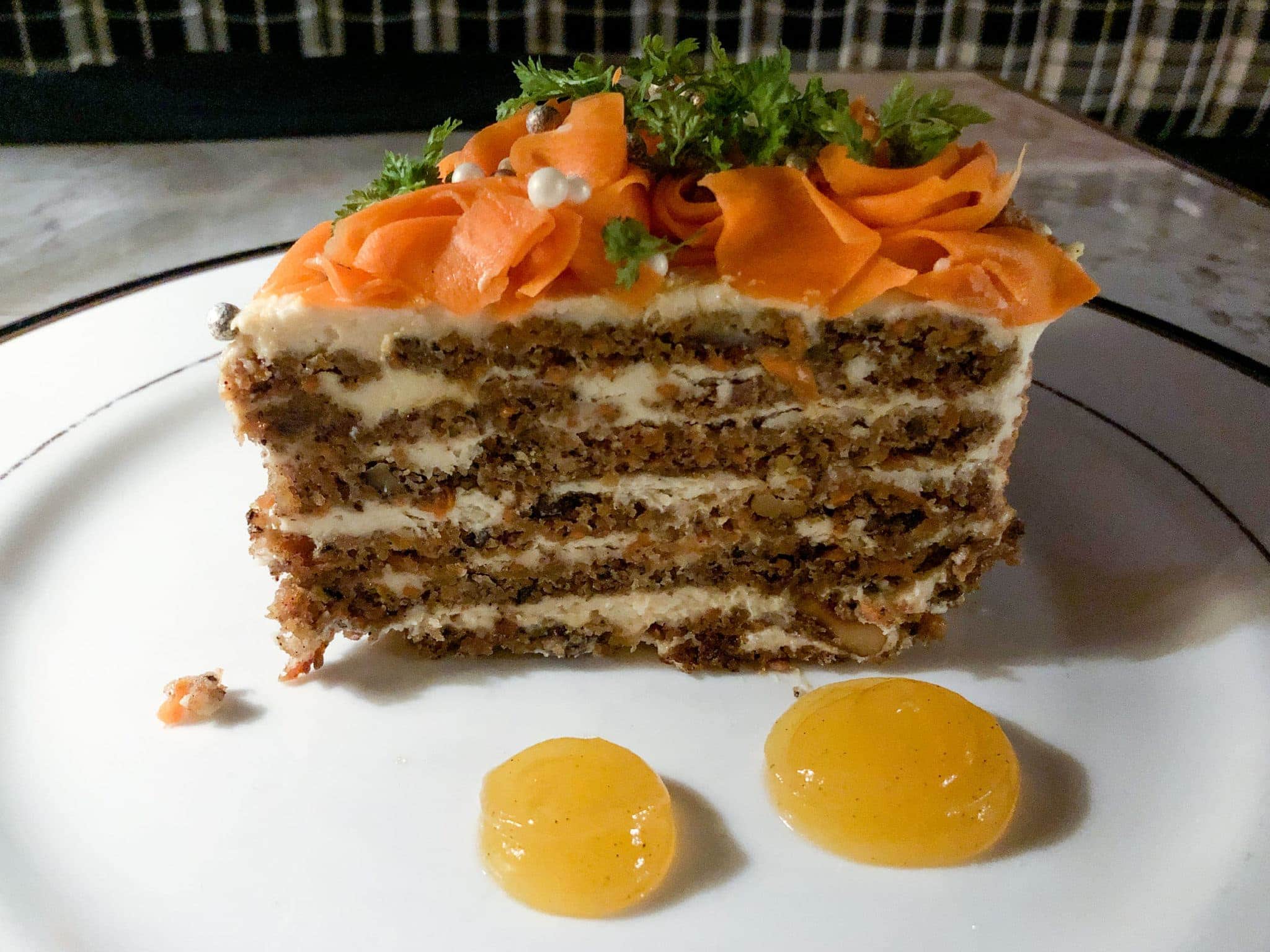 Dessert
In no way did I have room for dessert, let alone carrot cake, which I never order. However, as it's Born and Raised's signature dessert, the dinner would've felt incomplete without it.
The massive, layered piece of carrot cake arrived, and I almost immediately wanted to waive the white flag of surrender.
However, I carried on and dug in. The cake was good, but it was the sweet creaminess of the frosting that I enjoyed most.
I ate more than I should've and accepted the inevitable food coma. The cake, should you choose it too, is large enough to share.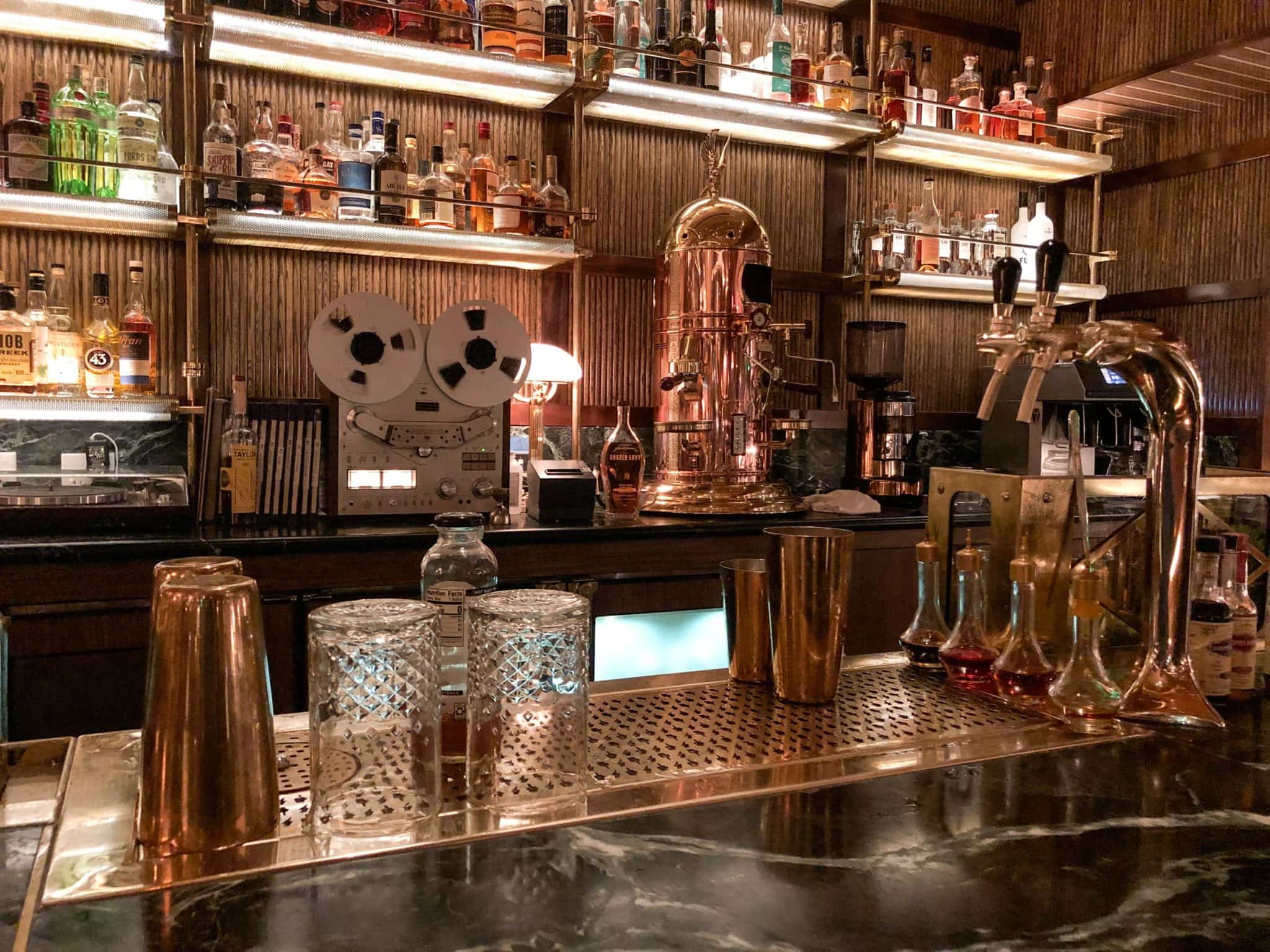 My three-course dinner was $108.83, or about $130, including tip. I stuck with table water; had I not, it would've been closer to $150 with a cocktail.
After paying our checks, we looked at the main bar, open kitchen with a butcher shop, and dry-aging room on the ground floor.
The resident butcher was happy to show off her area, including the aged meats hanging in a display case and a handsome, clearly used ban saw.
Related: Best Bars in San Francisco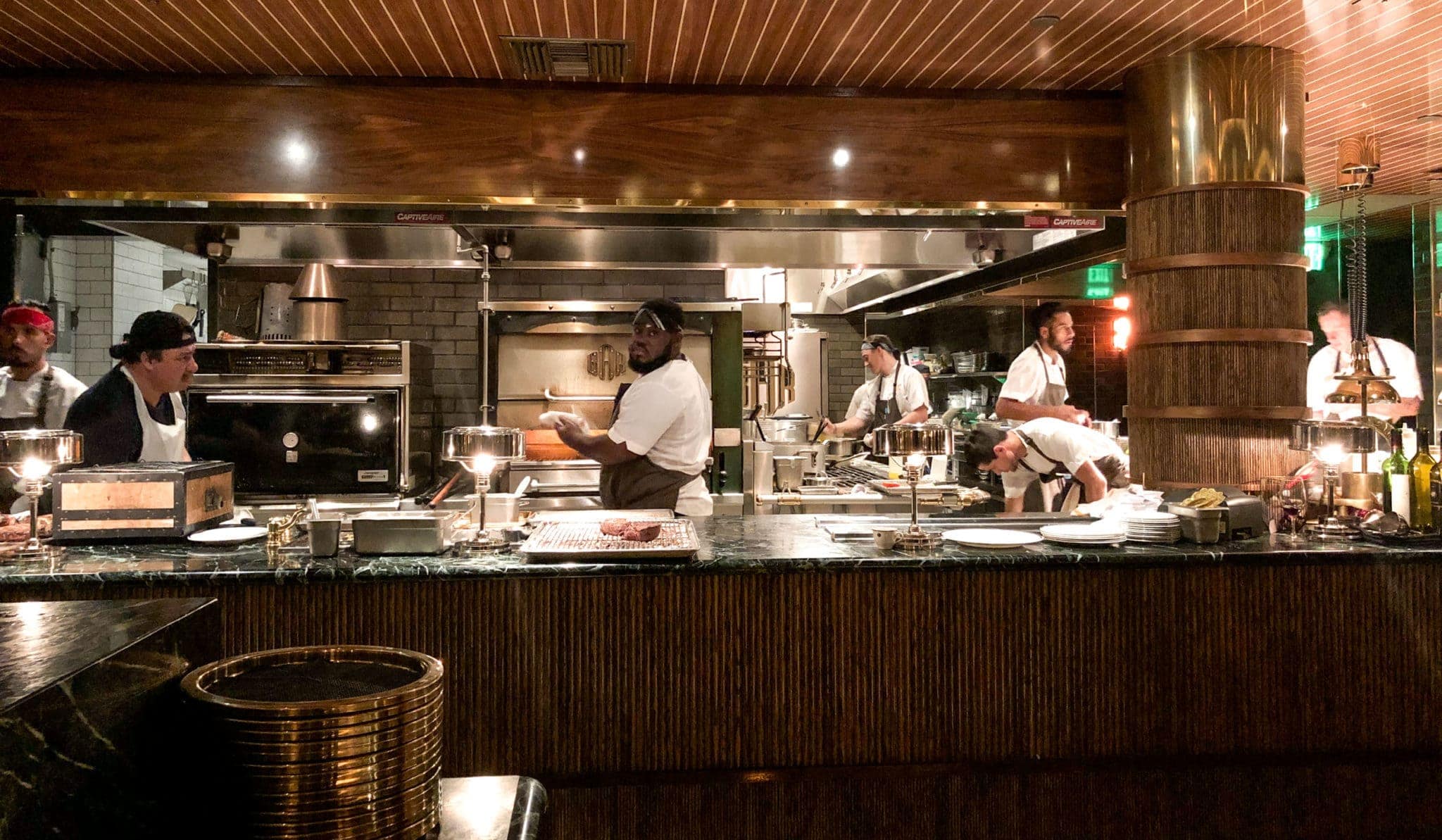 I had a wonderful experience during my first visit to Born and Raised. The interior design is unique and sets the stage for what will likely be a decadent meal.
I recommend the rooftop in warmer months for all occasions and the dining room in winter or if you prefer a more intimate, formal setting.
Born and Raised is a project by Consortium Holdings, which is also behind some of San Diego's coolest speakeasies, including Raised by Wolves and False Idol.
Visit Born and Raised
1909 India St., San Diego, CA 92101
1-619-202-4577
Reservations recommended