Welcome to Portland, the culinary capital of Maine and home to some of New England's best restaurants.
This historic coastal city has something to satisfy everyone, from oyster bars and lobster trucks to bistros and fine dining.
But our journey through Portland's best restaurants is more than an epicurean quest.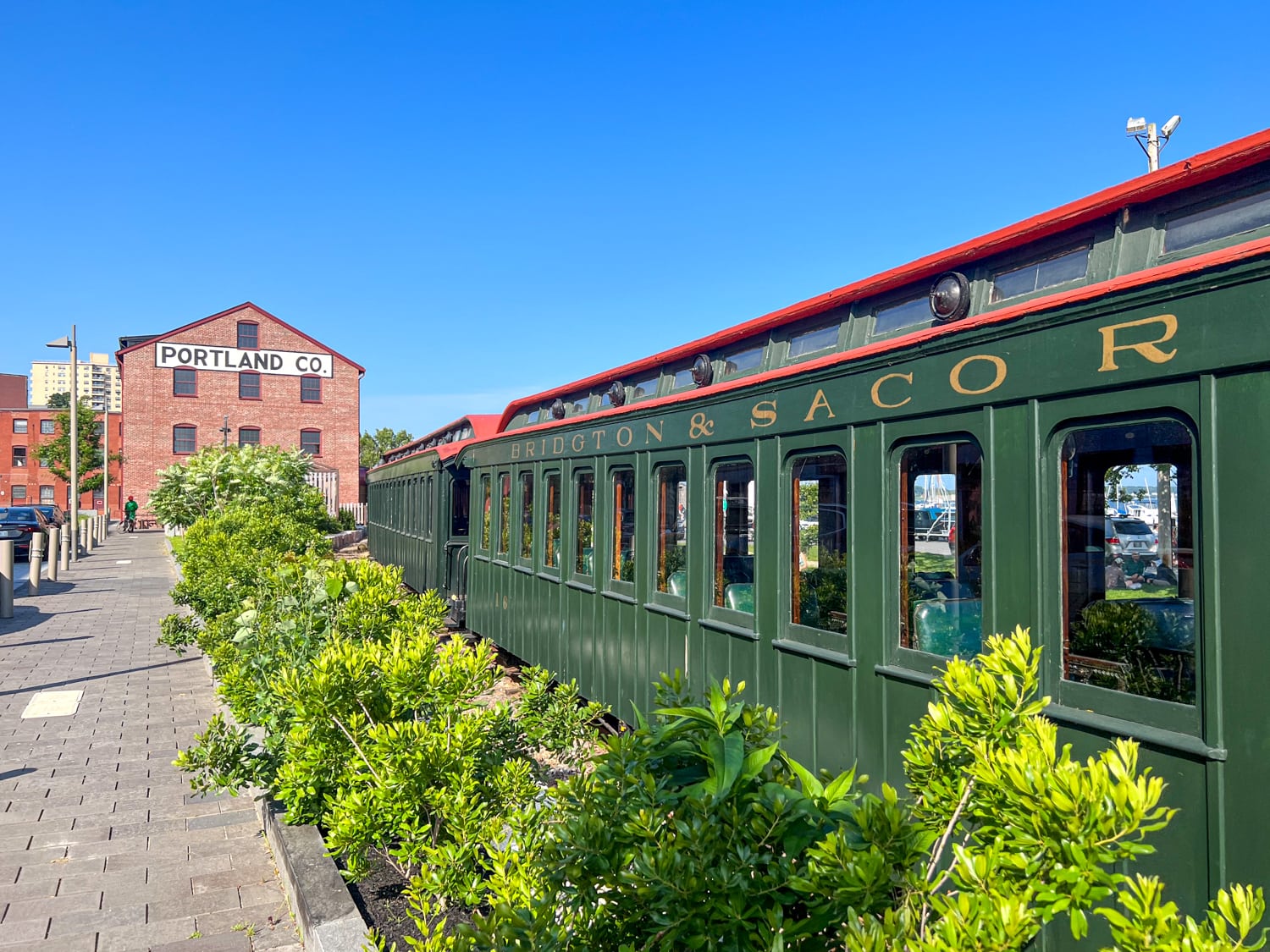 It's an introduction to the passionate chefs who infuse their heart and soul into every dish and a celebration of the local farmers and fishermen who supply the finest ingredients.
So, sit back, relax, and feast your eyes on the best places to eat in Portland, Maine.
Top Portland Restaurants
Twelve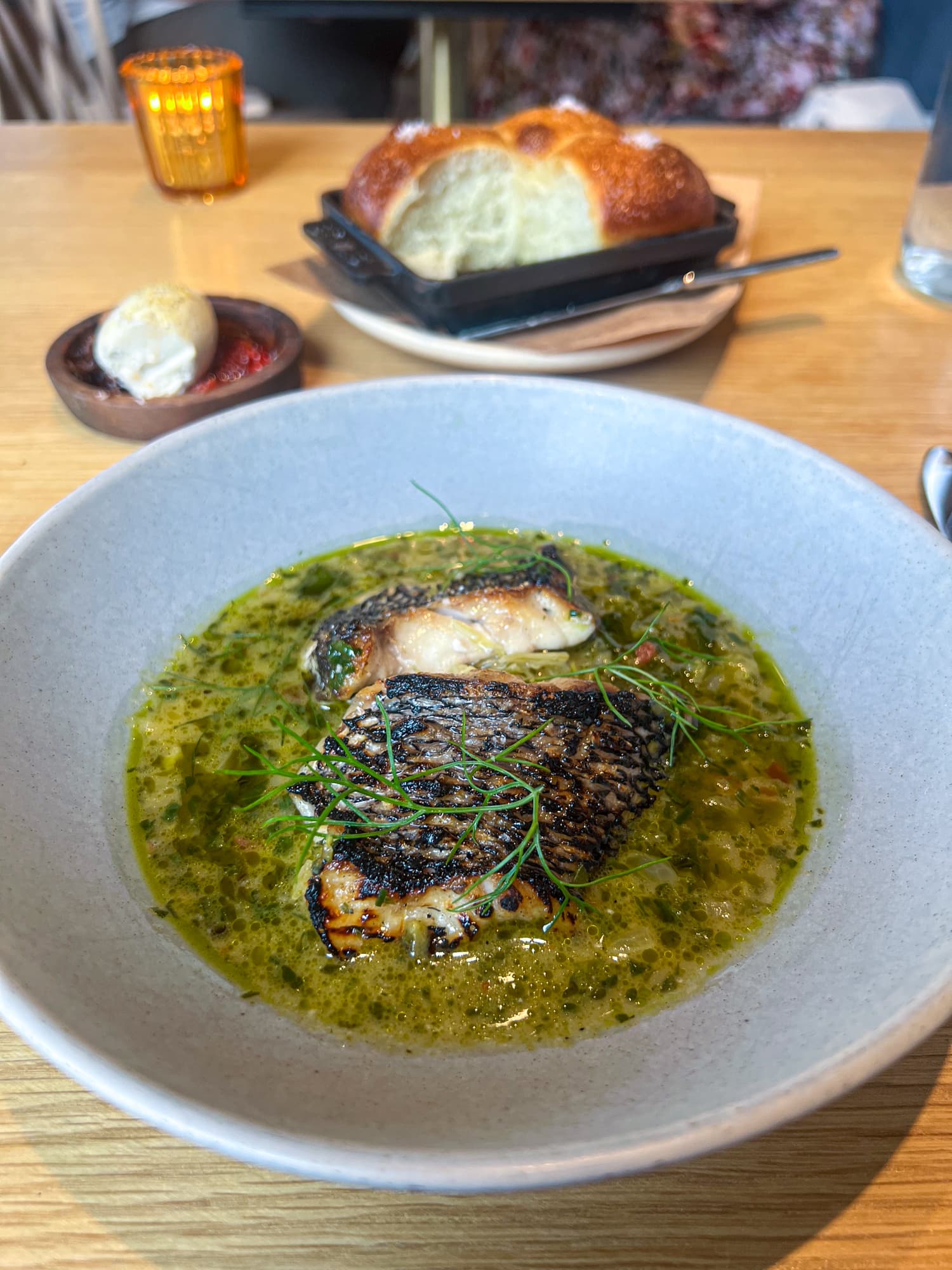 One of the most exciting new restaurants to open in Portland recently is Twelve by executive chef Colin Wyatt. Housed in a historic brick building by the waterfront, Twelve serves modern New England cuisine.
Chef Wyatt returned to Maine in 2020 after years of working at Eleven Madison Park in New York City. He was leading the kitchen in 2017 as executive sous chef when EMP was named the #1 restaurant in the world.
Having dined there during his tenure, I was excited by the prospect of a meal at his new fine dining restaurant.
Portland isn't exactly a mecca for haute cuisine. But Twelve opened offering a four-course, $82 prix-fixe menu that drew immediate praise—the New York Times named it one of the country's top 50 restaurants of 2022.
By the time I arrived a year later, the price had, not surprisingly, increased a bit to $90. But it still represented a fantastic value.
Seasonal ingredients are sourced locally, and the kitchen has access to a rich bounty of fresh seafood. This is Maine, after all.
Guests can choose from a stylish indoor dining room or an outdoor patio.
Charred cucumber, a warm lobster roll with croissant, and dinner rolls with grilled butter to write home about were just the beginning.
I enjoyed every bite of my entree, black sea bass with lovage and fennel, and the roasted rhubarb dessert served with silky-smooth buttermilk ice cream.
115 Thames St, Portland, Maine, twelvemaine.com
Central Provisions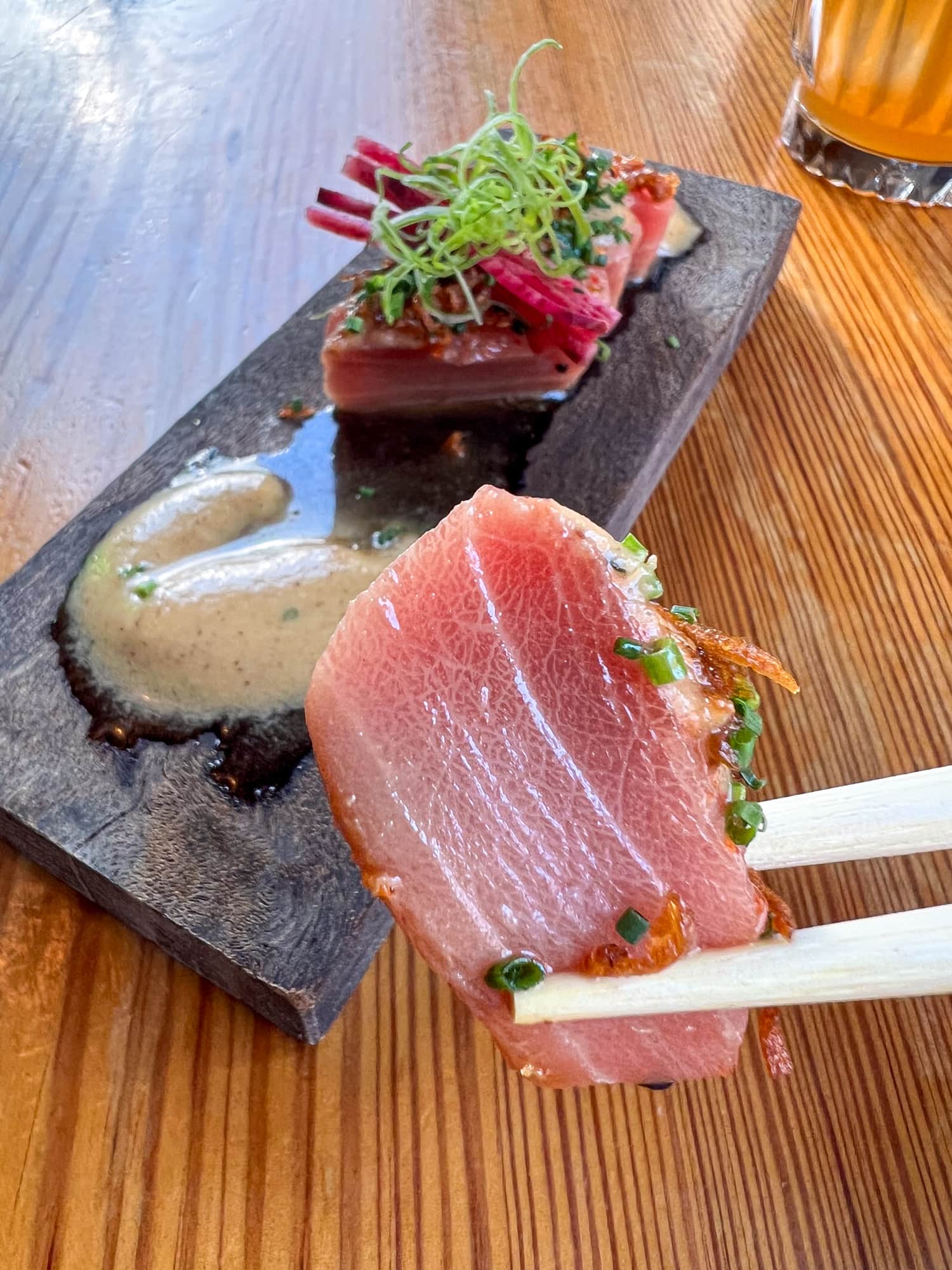 Opened in 2014 by chef Christopher Gould and his wife and co-owner, Paige Gould, Central Provisions serves small plates of internationally inspired food.
This dynamic duo picked a historic building constructed with red brick walls in the heart of the Old Port for their first restaurant.
They brought in skilled craftspeople from around Maine to help renovate the interior and make furniture. An open kitchen features prominently.
Their investment in the building and cooking with local ingredients according to the season paid off. Central Provisions was a 2015 James Beard Award Finalist for Best New Restaurant.
I dropped in for lunch during the adventure travel conference that brought me to Portland for the first time, and I had a wonderful experience.
Since it was the middle of a workday, I skipped the craft cocktails and chose an alcohol-free drink from the "Temperance" section of the menu.
The margarita-like Pineapple Superprizefighter with agave spirit, aperitif, red bell pepper, and acidified pineapple suited me well.
The ever-changing menu features some standards, such as the fresh bluefin tuna crudo from North Carolina served with soy, radish, fried shallot, and scallions.
I also tried two squares of fried Maine grains polenta topped with creamy Chevre, fennel, and black pepper honey.
I savored an incredible foie gras parfait with custard and pear anise gelee for dessert.
414 Fore St, Portland, Maine, central-provisions.com
Leeward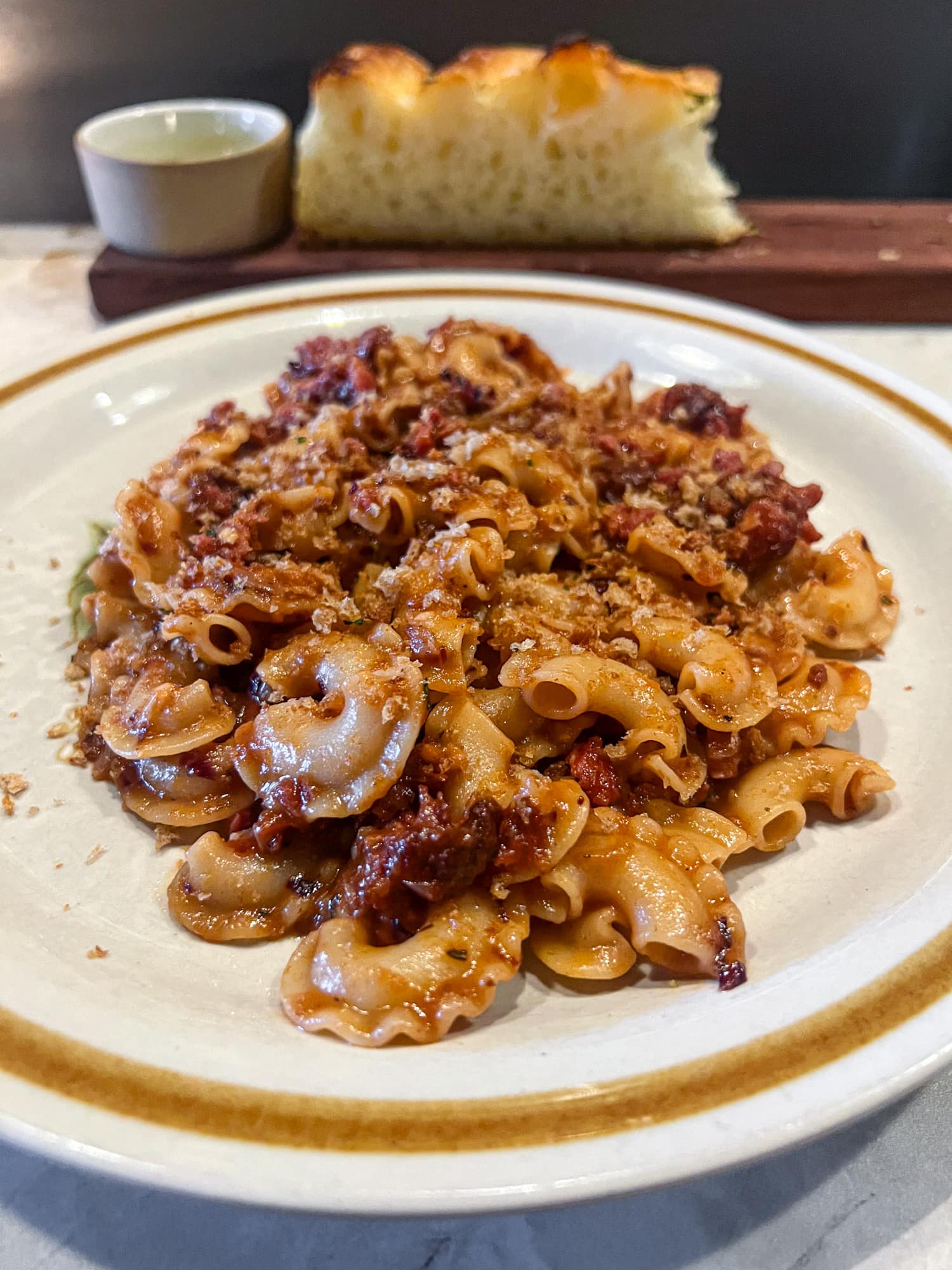 Leeward, a three-year-old Italian restaurant in Portland's Arts District, has a relaxed, casual vibe despite the national attention it has drawn.
Following in Central Provisions' footsteps, Leeward was a James Beard Award Finalist for Best New Restaurant in 2022.
And like Twelve, The New York Times picked it as one of the nation's most exciting restaurants the same year.
Co-owners Raquel and Jake Stevens have built a winner on serving fresh pasta and Italian cuisine to Portland's residents and visitors alike.
Seated in front of the open kitchen at the back of the restaurant, I ordered the housemade focaccia and my server's favorite, creste di gallo.
The shape of this pasta resembles a rooster's crest. At Leeward, it was served with a mildly spicy housemade Calabrian chile sausage, fennel, radicchio, rosemary, and breadcrumbs.
The serving was generous. Had I not been flying home to Austin the next day, I'd have saved half for another time.
After all, I wanted to leave room for one of Kate Fisher Hamm's creations, a coffee budino. Hamm earned national recognition as a 2022 James Beard Award Semifinalist for Oustanding Pastry Chef.
85 Free St, Portland, Maine, leewardmaine.com
Chaval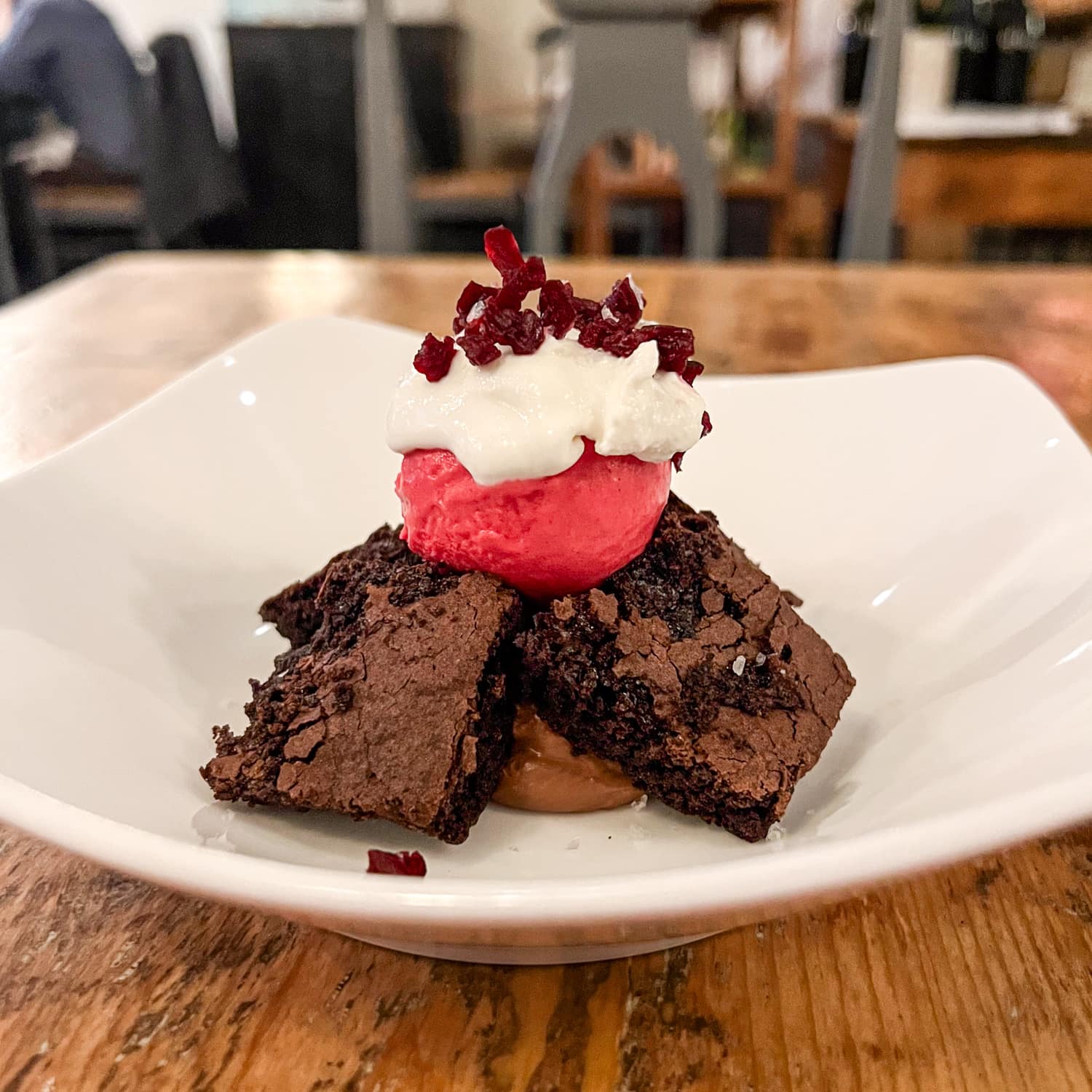 Chaval is another of the best restaurants in Portland. You'll find it in a quiet neighborhood in the West End.
Spanish and French-inspired cuisine is served for dinner here Tuesday through Saturday.
In the early 2000s, chef Ilma Lopez dropped out of medical school to pursue a culinary career. She later gained experience at some of the world's top restaurants, including El Bulli in Costa Brava and Le Bernardin in New York City.
After a long day of sightseeing, I arrived for my 7 p.m. dinner reservation. I'd spent the day walking the Eastern Promenade, visiting Portland Head Light on Cape Elizabeth, and going on a food tour in the Old Port.
Despite a nearly full belly, I still managed to sample some of Chaval's menu, including:
Bone marrow croquettes with Gruyere
Carrot tartare with barley miso and sumac crackers
Chocolate budino with chocolate cake, goat cheese mousse, and beet ice cream
Everything was excellent, and the atmosphere was lively but not too loud.
Before leaving, Charles, my friendly server, informed me of the owners' new luncheonette, ugly duckling, which I stopped by a few days later for breakfast.
58 Pine St, Portland, Maine, chavalmaine.com
EVO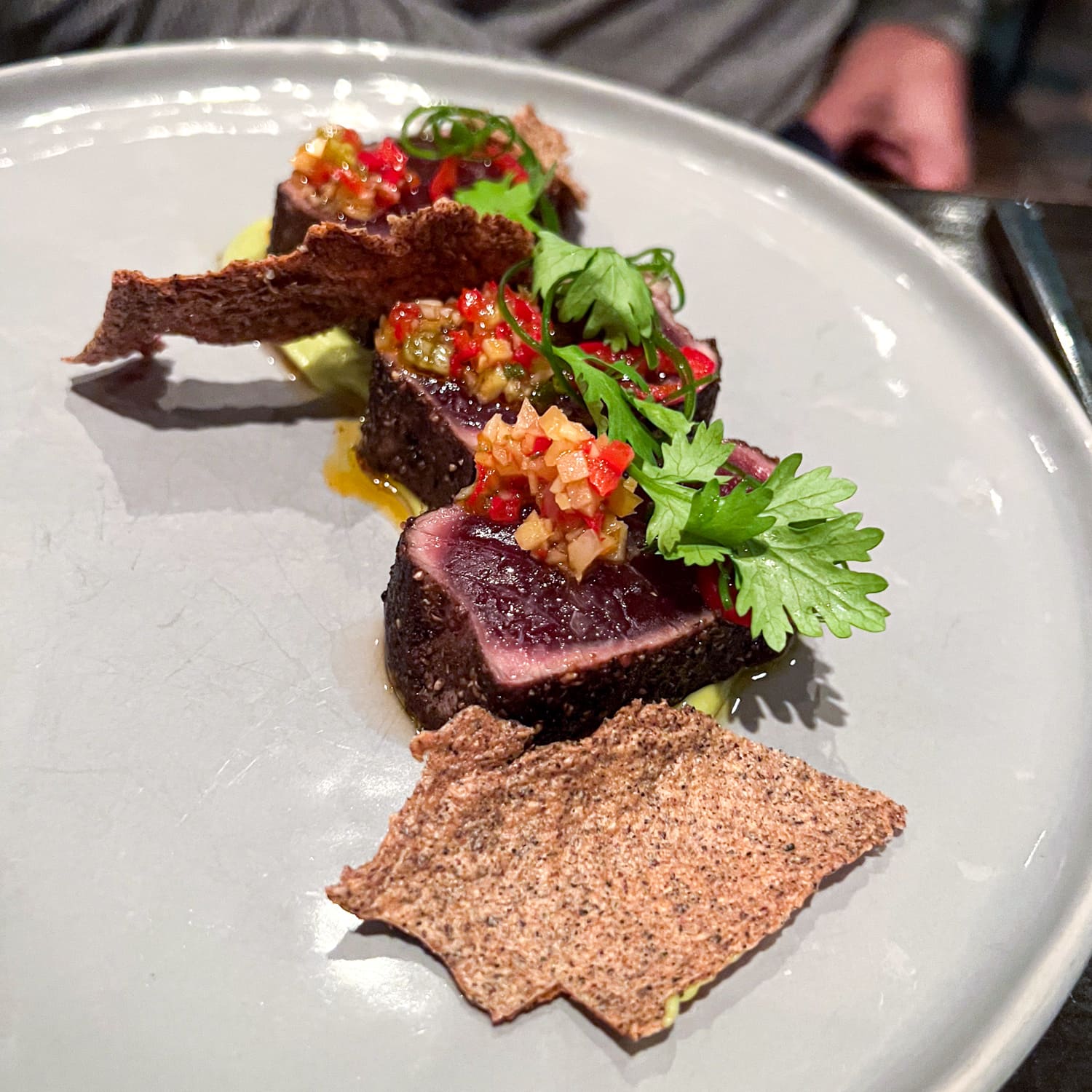 "Maine meets the Mediterranean" is the catchphrase of EVO Kitchen + Bar, a downtown Portland restaurant that opened in 2015.
Chef Matt Ginn is a 3x Champion of "Chopped" on the Food Network, a show that never ceases to stress me out when I watch chefs compete on it.
Like many of the best restaurants in Portland, the kitchen team works closely with local farms, fishmongers, and purveyors to source the freshest ingredients.
I'll never forget EVO as the first place I ate in Maine. The dinner was hosted by Visit Maine and included everyone on my Summer Feet cycling tour. We left on a three-day trip to Bar Harbor and Acadia National Park the following morning.
There may have been only eight of us, but we ordered almost everything on the menu.
Highlights included:
Chickpea "fries" with harissa toum and sumac
Carrots with yogurt, jalapeno, dates, and cilantro
Tuna with avocado toum, Fresno chili pepper, and turmeric
Monkfish with Swiss chard and fiddlehead (a fern that grows in Maine)
Baklava "sundae" with pistachio, brown butter, honey, and rose water
EVO is a part of the Prentice Hospitality Group, which is also responsible for Twelve.
443 Fore St, Portland, Maine, evoportland.com
Eventide Oyster Co.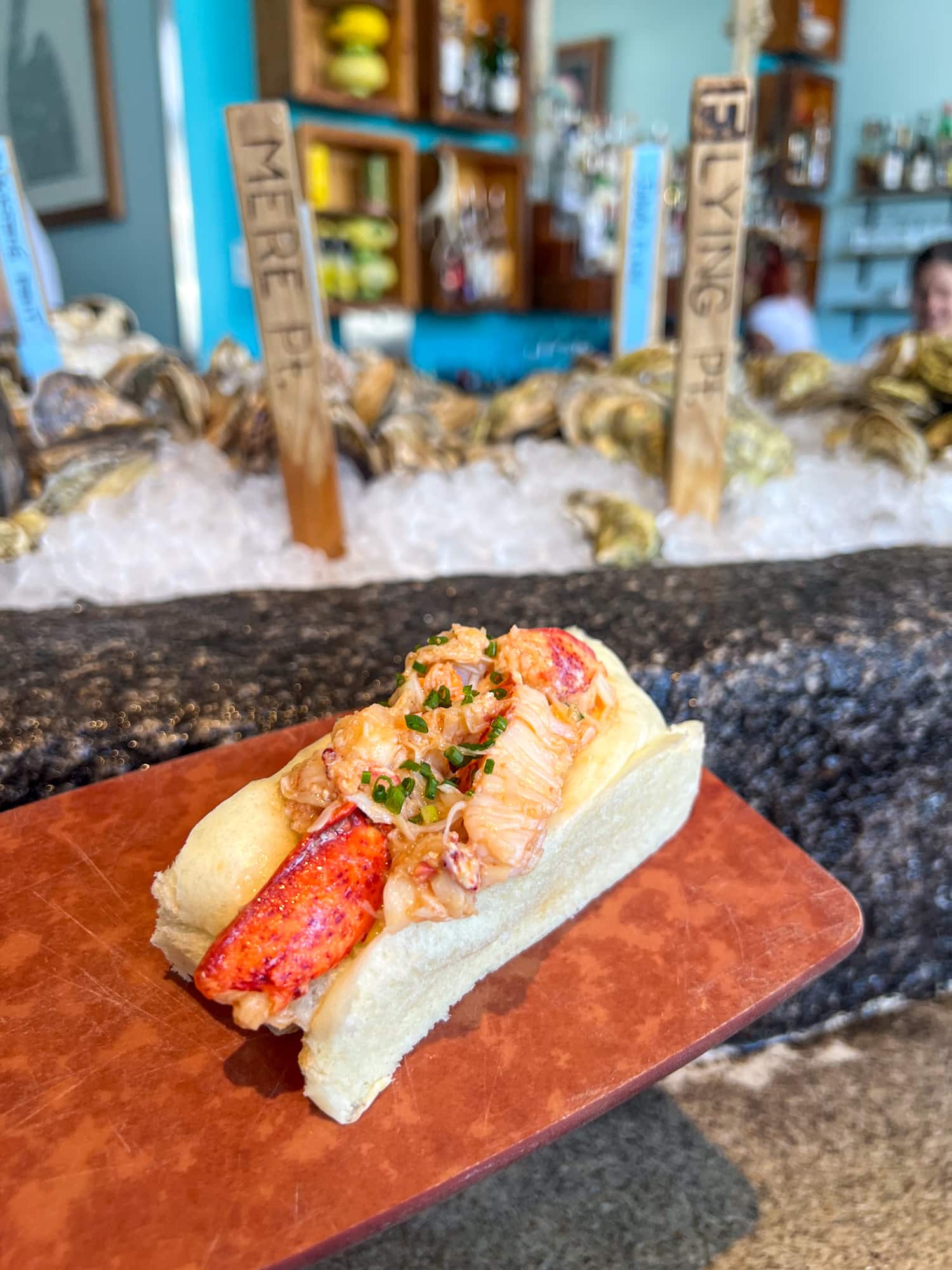 At the eastern edge of the Old Port District sits Eventide Oyster Co., one of Portland's top seafood restaurants.
Co-owners Mike Wiley and Andrew Taylor won the 2017 James Beard Foundation Award for Best Chef: Northeast.
If you want to eat at Eventide, you're best off making a reservation or arriving when they open; otherwise, long lines and wait times are standard.
I did neither but jumped on a spot standing at the raw bar when offered it as an alternative to waiting 30 minutes during the lunch rush.
Despite spending the morning on my feet during a three-hour architecture tour of Portland's West End, I didn't mind standing a little longer.
I had a front-row seat to a display of fresh oysters on ice, held within a giant block of Maine granite. I let my server choose the half-dozen oysters I'd try.
They were all fresh and fantastic, though if I had to pick a favorite, it was the Wet Smack from nearby Freeport (home to L.L. Bean's flagship store).
The main event was Eventide's famous brown butter lobster roll. At 2.5 ounces, it was one of the most petite lobster rolls I'd encountered in Maine but also one of the cheapest ($19).
Eventide's signature lobster roll is made with brown butter sauce and served in a steamed bao bun. It's a fun twist on a New England classic and a sumptuous treat that won't break the bank.
86 Middle St, Portland, Maine, eventideoysterco.com
Bite Into Maine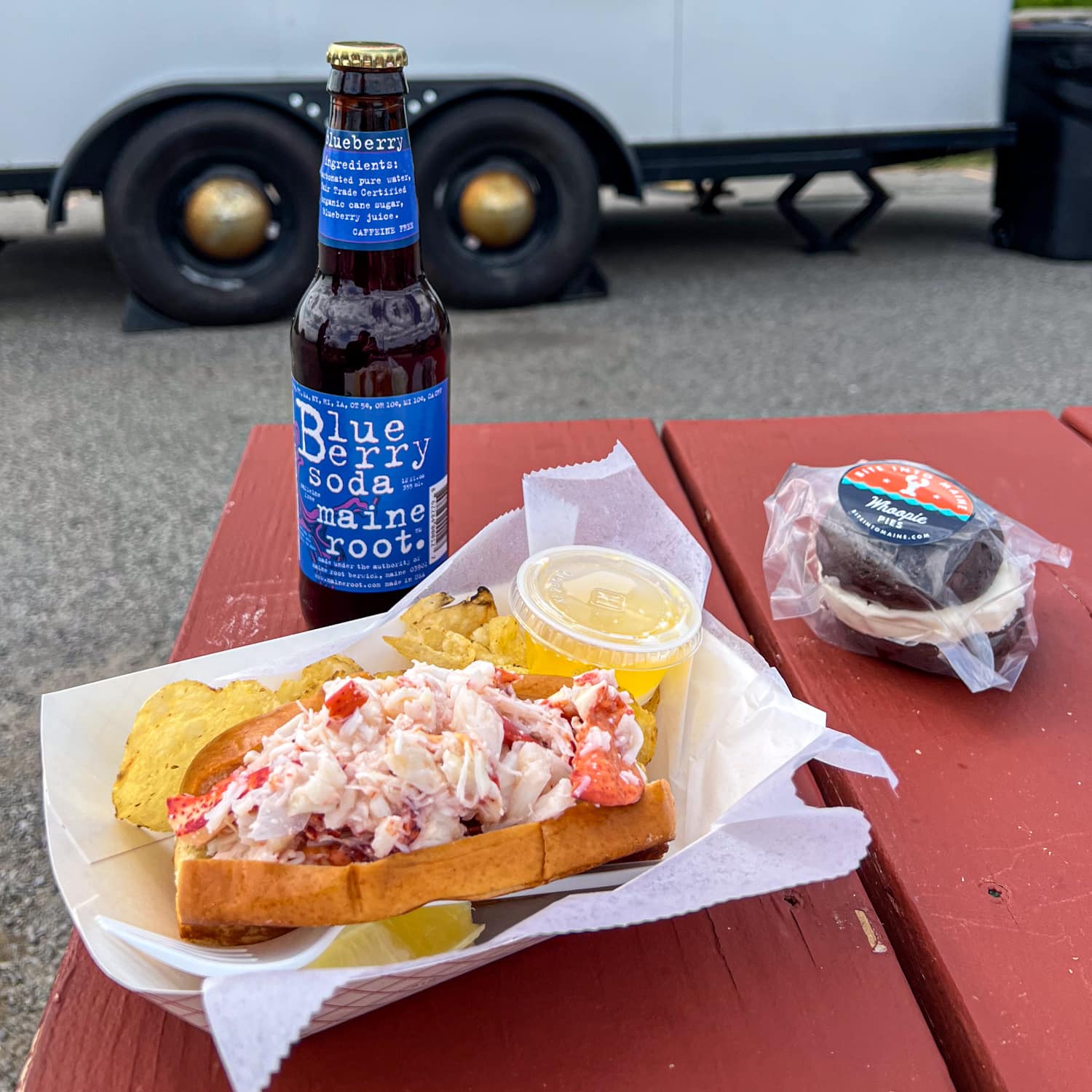 You'll want to grab a lobster roll en route to the Portland Head Light on Cape Elizabeth. Bite Into Maine has a food truck waiting to WOW you.
I arrived on a cold and windy morning without a proper jacket, but devouring one of the best lobster rolls in Maine was worth the wind chill.
The food truck allows customers to order 4.5 or 6 ounces of lobster meat. I appreciated having a choice. Based on market rates, the prices were $29.50 and $37.50, respectively.
Their Maine lobster roll is served cold with mayo and chives. Since I was physically cold despite the sunshine, I ordered the Connecticut lobster roll with warm butter instead.
An older Maine resident ordered before me, advising me to get the butter on the side instead of on top. I took her advice but quickly regretted it, as it was an extra hassle, given the wind.
Bite Into Maine's lobster roll was terrific, as was the setting on a hill in Fort Williams Park. There were plenty of picnic tables with better views of Casco Bay, but I was too cold to move.
After washing down my luscious lobster roll with Blueberry soda, I somehow found a way to polish off a whoopie pie.
For the adventurous eater, Bite Into Maine offers lobster rolls with wasabi mayo, smoky chipotle mayo, and yellow Indian curry mayo.
1000 Shore Rd, Cape Elizabeth, Maine, biteintomaine.com
Duckfat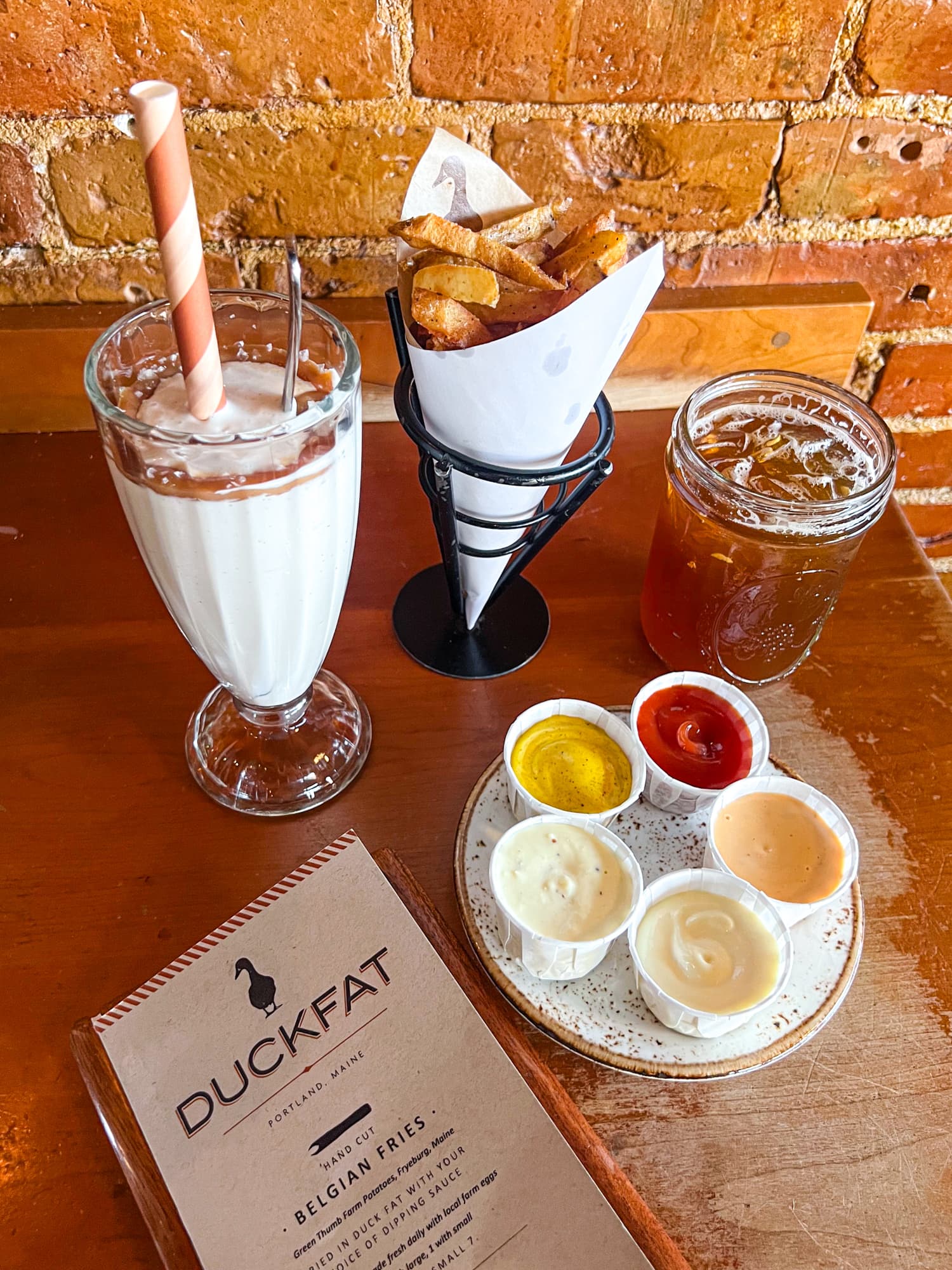 Duckfat is the perfect place to indulge in childhood dreams of eating French fries and milkshakes for dinner.
Well-known as one of the most delicious restaurants in Portland, Duckfat serves "Belgian-style frites, hand-punched, twice-fried in duck fat." What's not to love?
I ordered the Belgian fries with the sauce sampler, which includes five dipping sauces:
Truffle ketchup
Thai chili mayo
Garlic mayo
Horseradish mayo
Rotating special sauce
These were some of the best fries I've ever eaten in recent years. They were nicely salted and would've been delicious even without the sauces.
I washed them down with a tasty housemade craft soda called Roots, Barks, and Sticks. I'm sometimes disappointed by restaurants' attempts at craft sodas, but that was not the case here. It was delicious.
Duckfat also serves their Belgian fries in poutine, topped with cheese curds and smothered in duck gravy.
I couldn't resist also ordering their sea-salted duck fat caramel milkshake. Yes, the caramel in this is made using duck fat. And it was mind-blowingly good.
Overall, I had a great time eating at Duckfat, a small restaurant that made me feel like a kid again.
43 Middle Street, Portland, Maine, duckfat.com
Slab Sicilian Street Food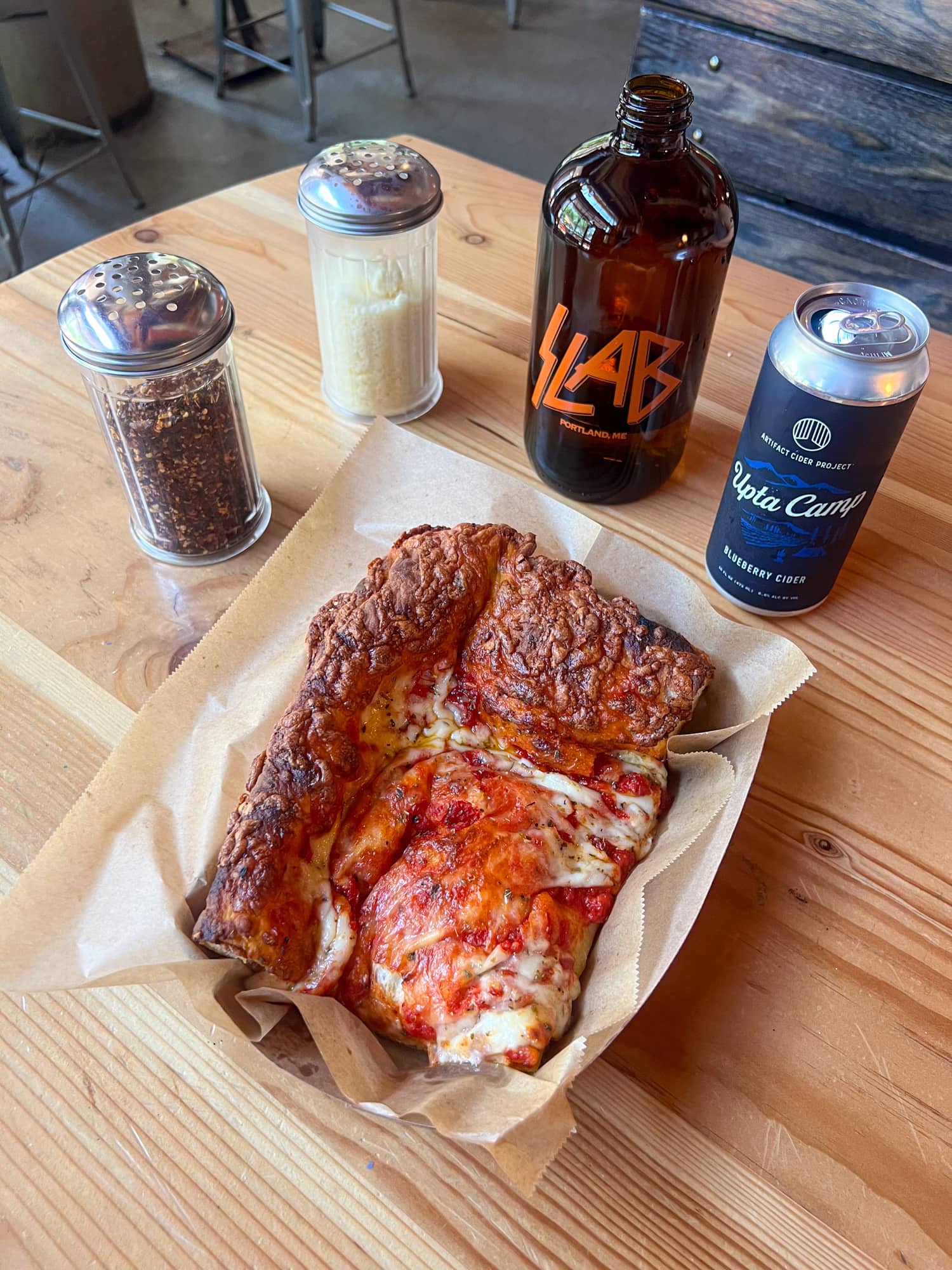 Let's end with one of the biggest pieces of pizza you'll ever encounter. Slab is known for its Sicilian-style pizza made with Old-World-style dough.
Each piece weighs one pound, and while the menu recommends one piece per person, I was fine splitting one with Kel.
Toppings include cheese, pepperoni, spicy meat (pepperoni, pepperoncini, mozzarella, provolone, blue cheese dip), mushrooms, and vegan cheese.
The full menu includes 12" thin-crust pizzas, calzones, sandwiches, appetizers, and desserts.
We washed our Sicilian pizza down with a blueberry craft cider.
25 Preble St, Portland, Maine, slabportland.com
Final Thoughts
This list of the best restaurants in Portland, Maine's largest city, reflects my initial foray into the dining scene. And I'm hooked.
Here are a few more Portland restaurants I intend to visit the next time I'm in the Pine Tree State.