The culinary scene in Portland, Maine, has much to offer travelers, and a walking food tour of the Old Port neighborhood is one of the best ways to begin.
I recently had the opportunity to join an Old Port Culinary Walking Tour by Maine Day Ventures at no cost as part of my attendance at the AdventureELEVATE travel conference.
Whether you're a seasoned foodie or simply curious about exploring Portland's culinary landscape, this walking food tour is a great way to discover the Old Port district.
So, put on your walking shoes, bring your appetite, and prepare for a fun experience that will leave you with a newfound appreciation for the flavors of downtown Portland, Maine.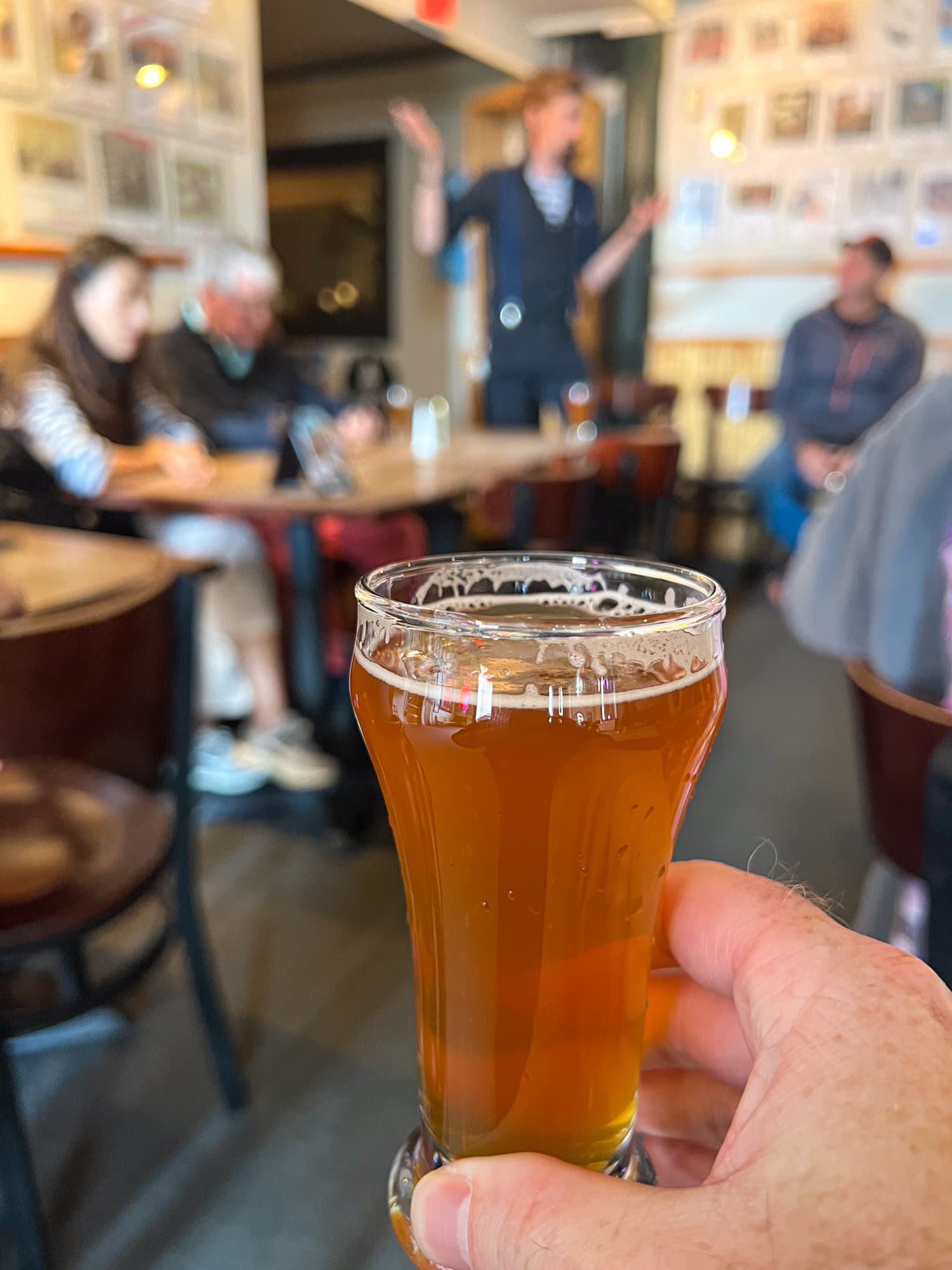 First, I'd like you to feast your eyes on the Portland food tour as I experienced it. And then, I'll tell you more about the female founder, Pam, and her company.
Foodie Tour
Artist, raconteur, and food guide. Timothy Goldkin is all three and more, as he demonstrated during a three-hour walking of Portland's historic Old Port.
We met Tim at 1:30 p.m. on a Tuesday at the first stop on the tour.
1. Andy's Old Port Pub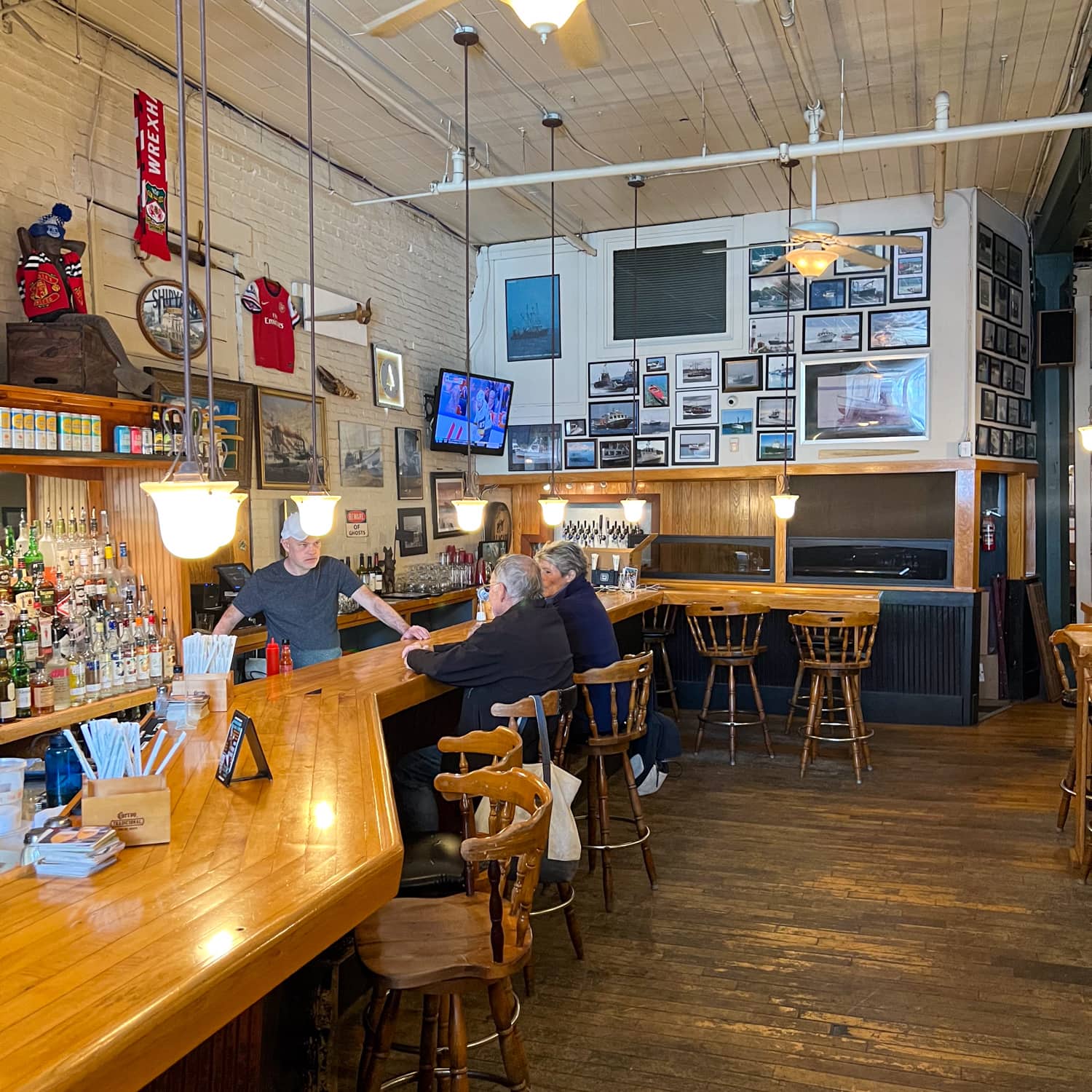 At Andy's Old Port Pub, he led us from the front bar to the back room, where the walls were plastered with promotional posters for past performers.
Everyone in our group took a seat, and Tim began telling us about the pub.
Located on Commercial Street, which runs along Portland's waterfront area, Andy's Old Port Pub is a local favorite among fishermen and women and nearby islanders, who often grab local craft beers before catching the last ferry home.
The Casco Bay Lines ferry service is on a pier one block north of the bar.
Andy's opened in 2007; however, it's clear from the worn floorboards and exposed brick walls that the building is much older.
At this point, we were given a small glass of Andy's Old Port Lager by Island Dog Brewing, a brewery in South Portland, which I enjoyed.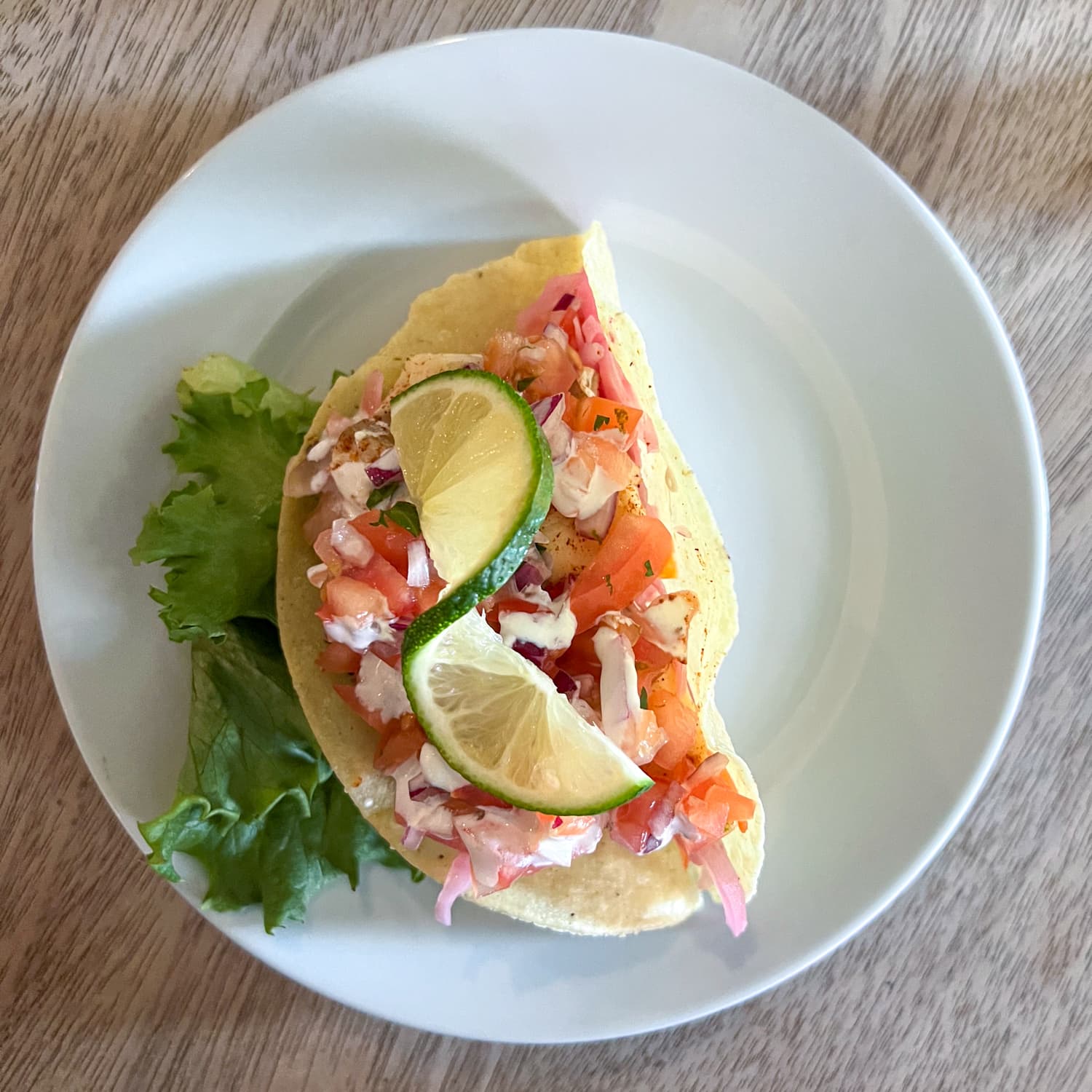 Our first bite of food soon followed, a fresh fish taco made with haddock, cabbage, onion, pico de gallo, and lime crema.
The owners of Andy's Old Port Pub support sustainable fishing practices and source their seafood from the Gulf of Maine.
Their menu includes lobster bruschetta, fish and chips, lobster rolls and BLTs, shrimp po'boys, and pulled pork poutine.
2. Luke's Lobster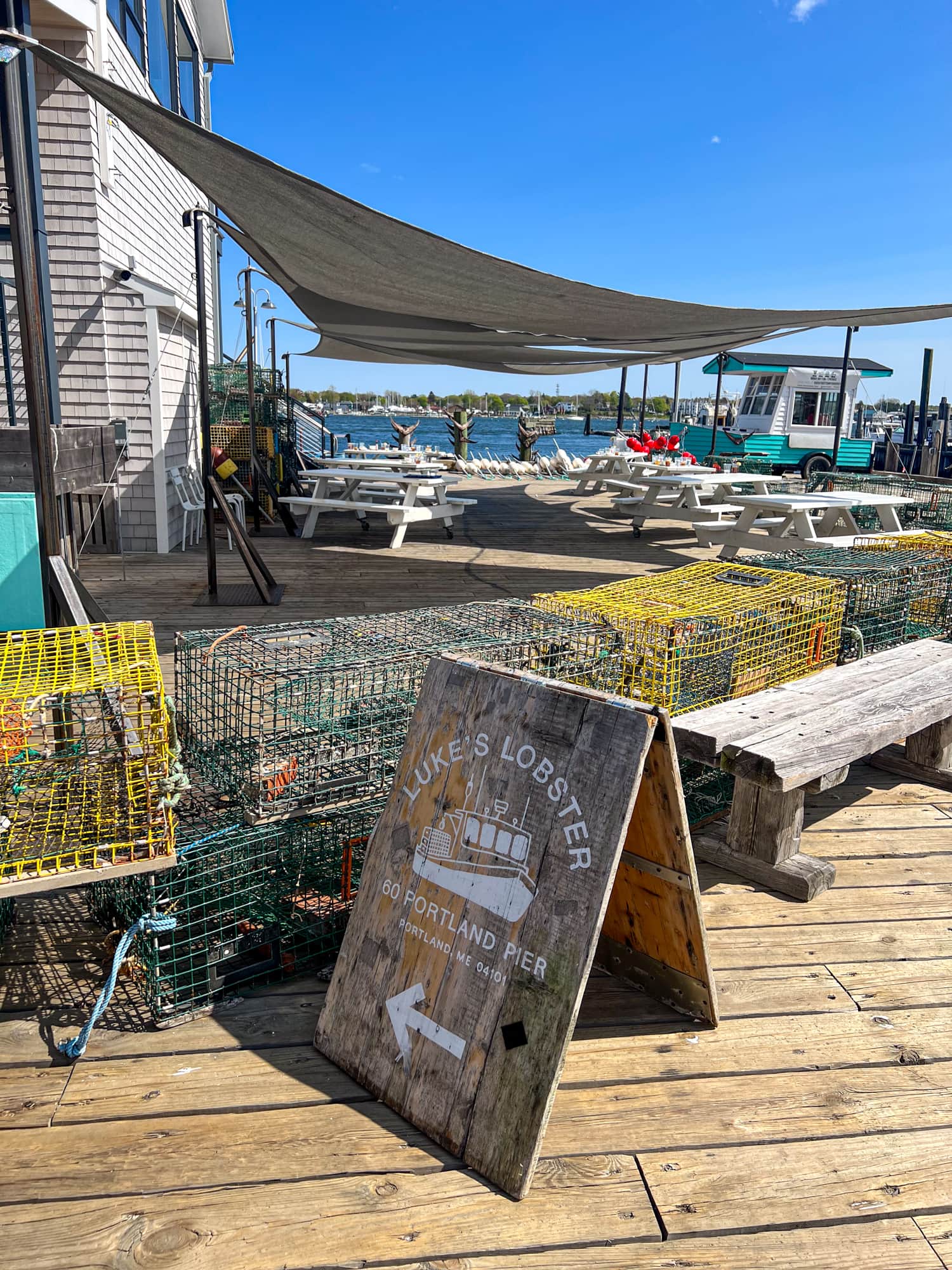 Leaving Andy's, we took a leisurely stroll one block south on Commercial Street and hung a left onto the Portland Pier. At the far end was another of Portland's restaurants and our next stop, Luke's Lobster.
Here Tim gave us the option to sit outside at picnic tables or inside. Despite a chill from the wind, we all chose the patio.
The waterfront view alone was worth the visit. Tim was quick to inform us that we were on a working pier.
To that point, Luke's is adjacent to the station where they buy their lobster. You can't get Maine lobster any fresher than that!
Also, we could see a woman painting buoys for lobster traps on the pier. Rocky Bottom Fisheries provides lobster demo tours and sunset cruises in Casco Bay.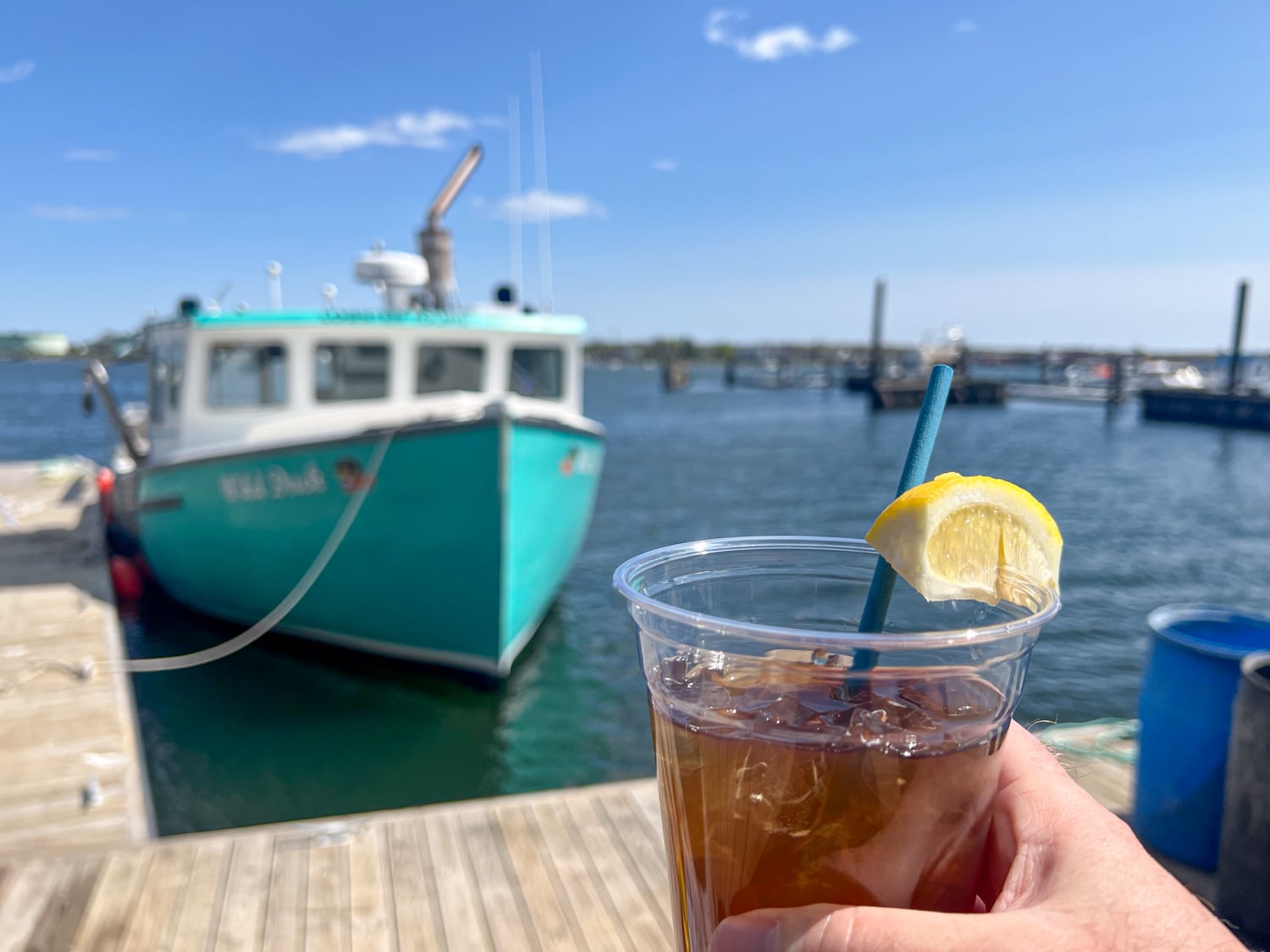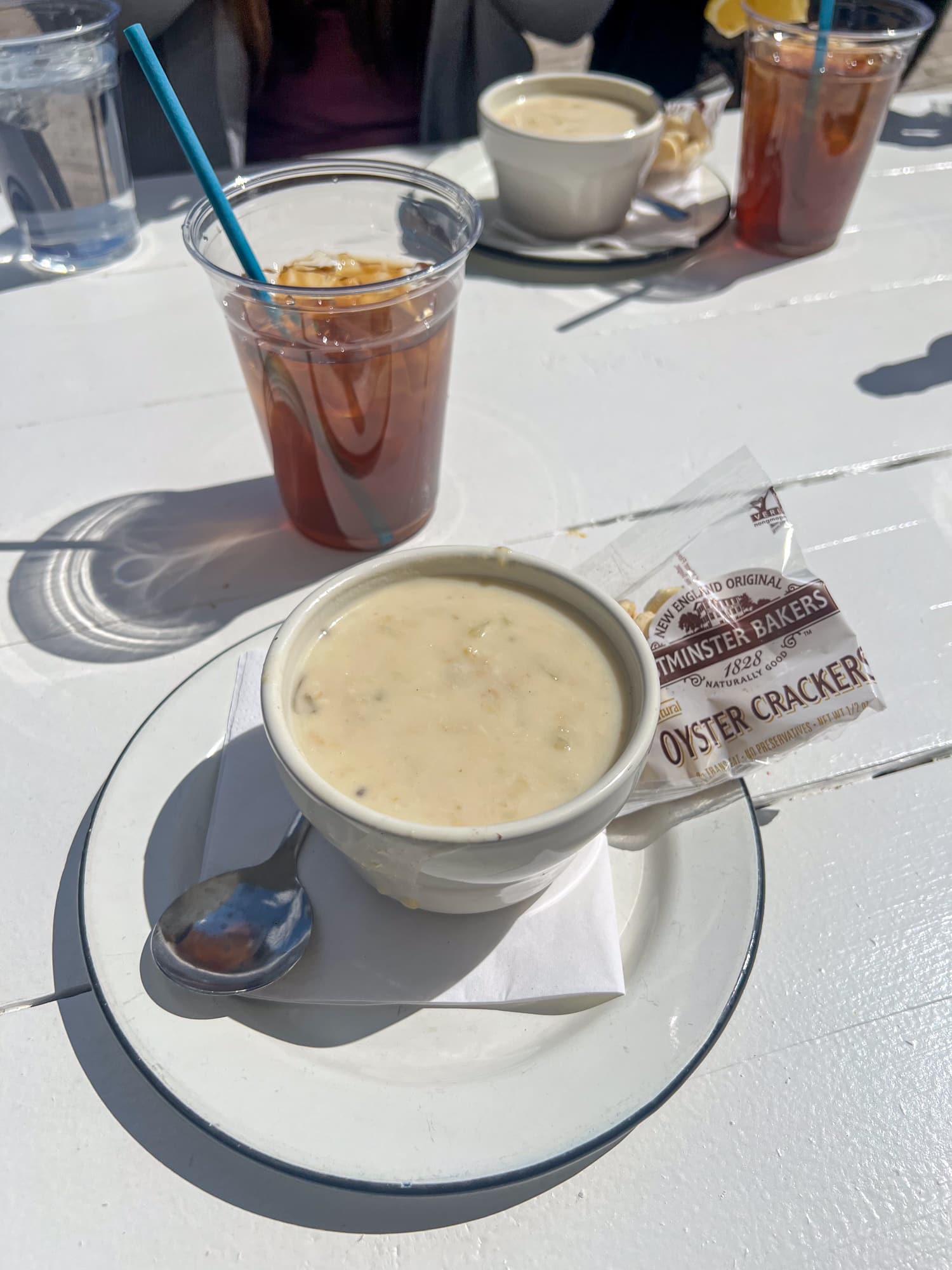 Our drink at Luke's was a refreshing iced tea with lemon, and we had a hot cup of New England clam chowder with oyster crackers to eat.
Tim also used this opportunity to tell us about Peaks Island, which he highly recommended we visit via the ferry.
Portland Waterfront
One of the reasons I liked Tim was that he was very passionate about Portland and the Old Port in particular.
After leaving Luke's, we walked to the end of the Portland Pier and hung a right.
The photo below shows what we were looking at when Tim talked about the slow gentrification of the Old Port neighborhood.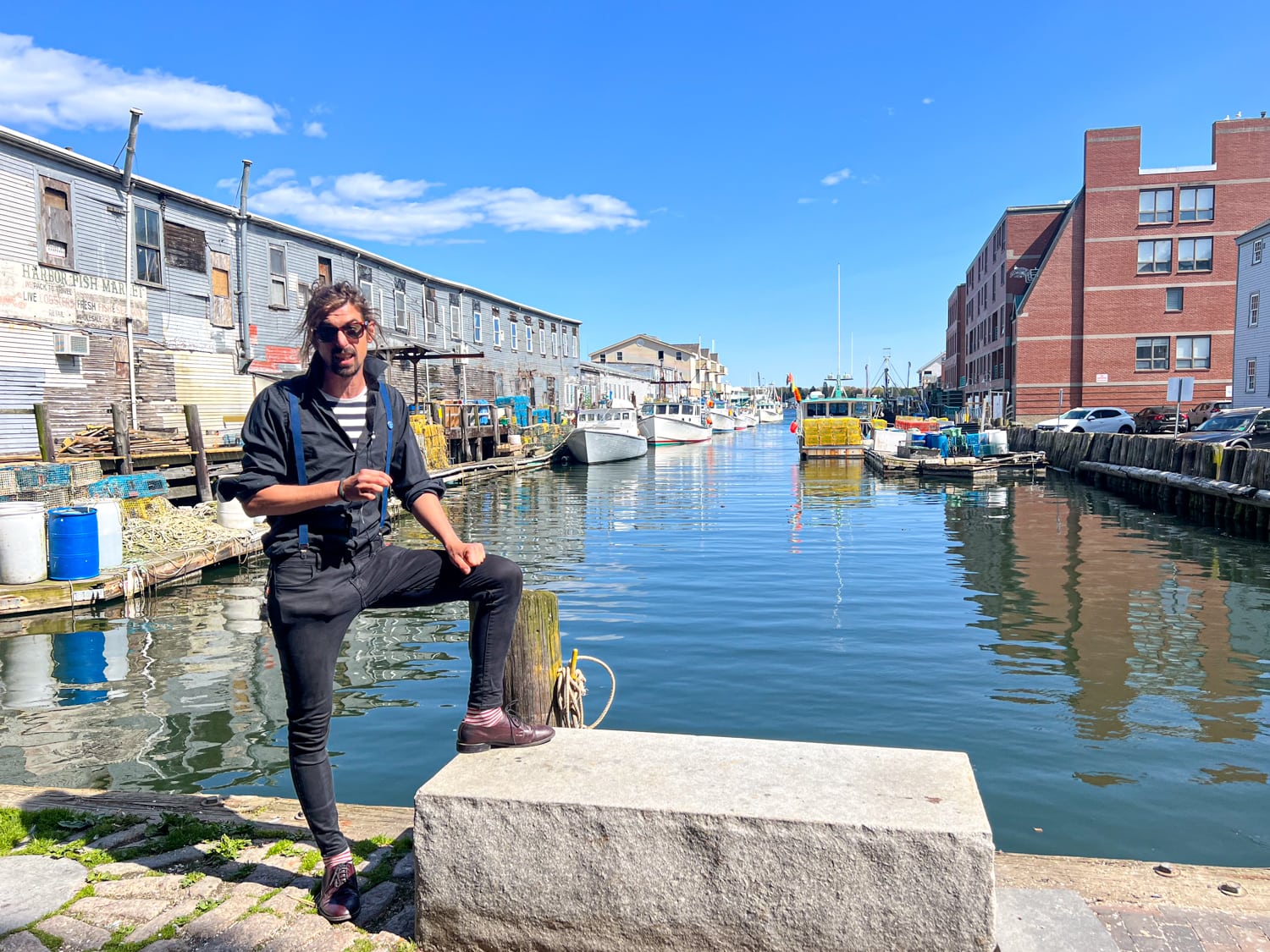 The left shows old, somewhat rickety-looking buildings extending along Custom House Wharf. Contrast these with the newer buildings on the right, and you see where he was going.
He also shared an enlightening anecdote about what it's like to empty an offshore lobster boat.
Wharf Street
Next, we crossed Commercial Street and walked another block to Wharf Street, a two-block cobblestone alley lined with historic buildings.
Tim described it as Portland's version of Bourbon Street in New Orleans, at least on Friday and Saturday nights.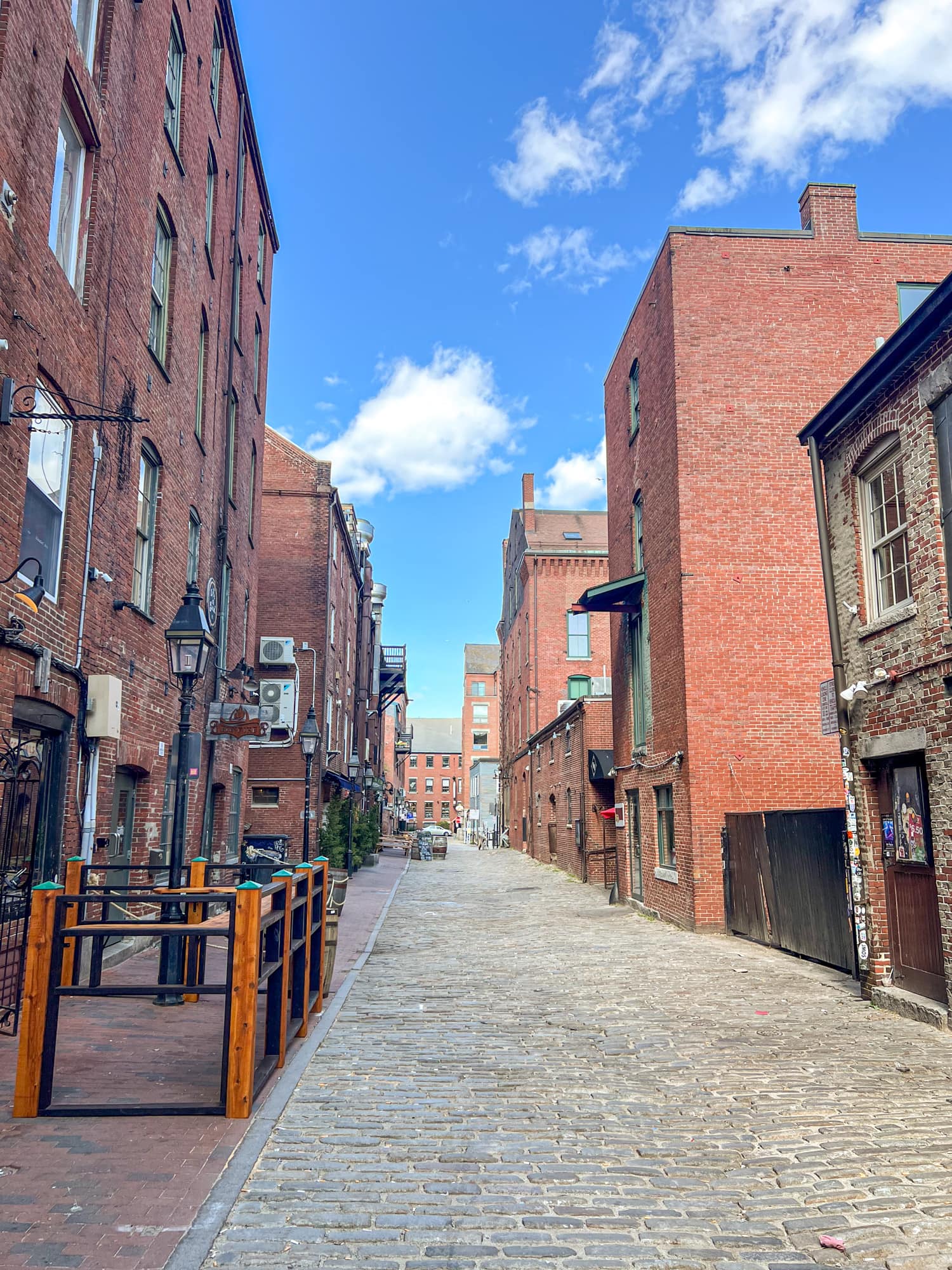 But we were walking through this old cobblestoned alleyway on a beautiful Tuesday afternoon. And you'd never know it's a raucous nightlife spot.
Our guide stopped in front of one particular bar called Bar of Chocolate.
He recommended it for the drinks and vibe. I'd come across it in my pre-trip research. Cocktails served with dessert sounds like a winning combination!
3. Rigby Yard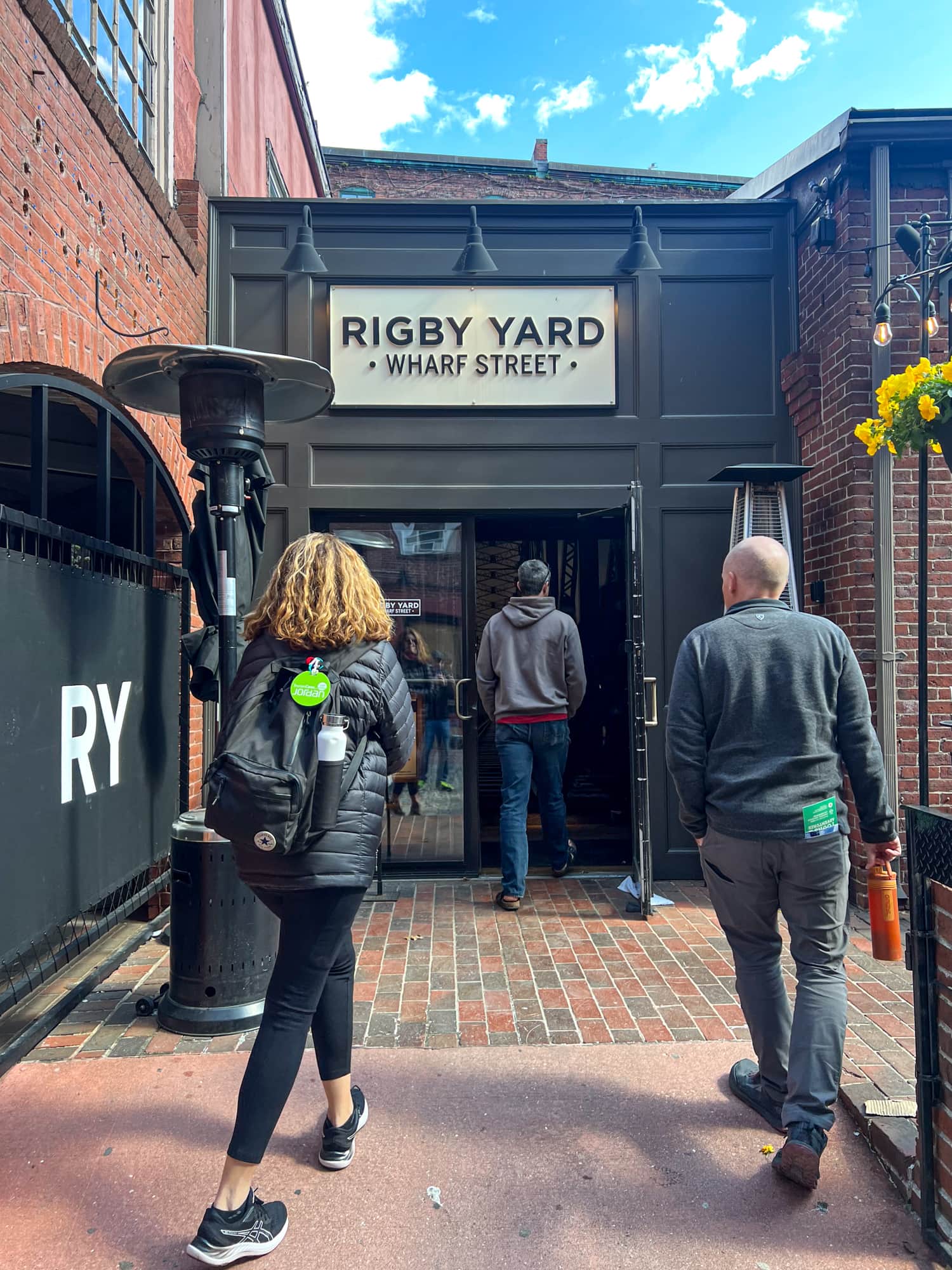 A few doors down was Rigby Yard, our third stop on the Portland food tour by Maine Day Adventures.
Here, housed in an industrial building formerly used to repair train cars, we sat at a large high-top table and were served a Lunch IPA Beer (7%) by Maine Brewing Co. in Freeport.
I'd been wondering whether we'd be treated to a lobster roll on our walking tour, and the answer was yes!
Related: Best Places To Eat in Bar Harbor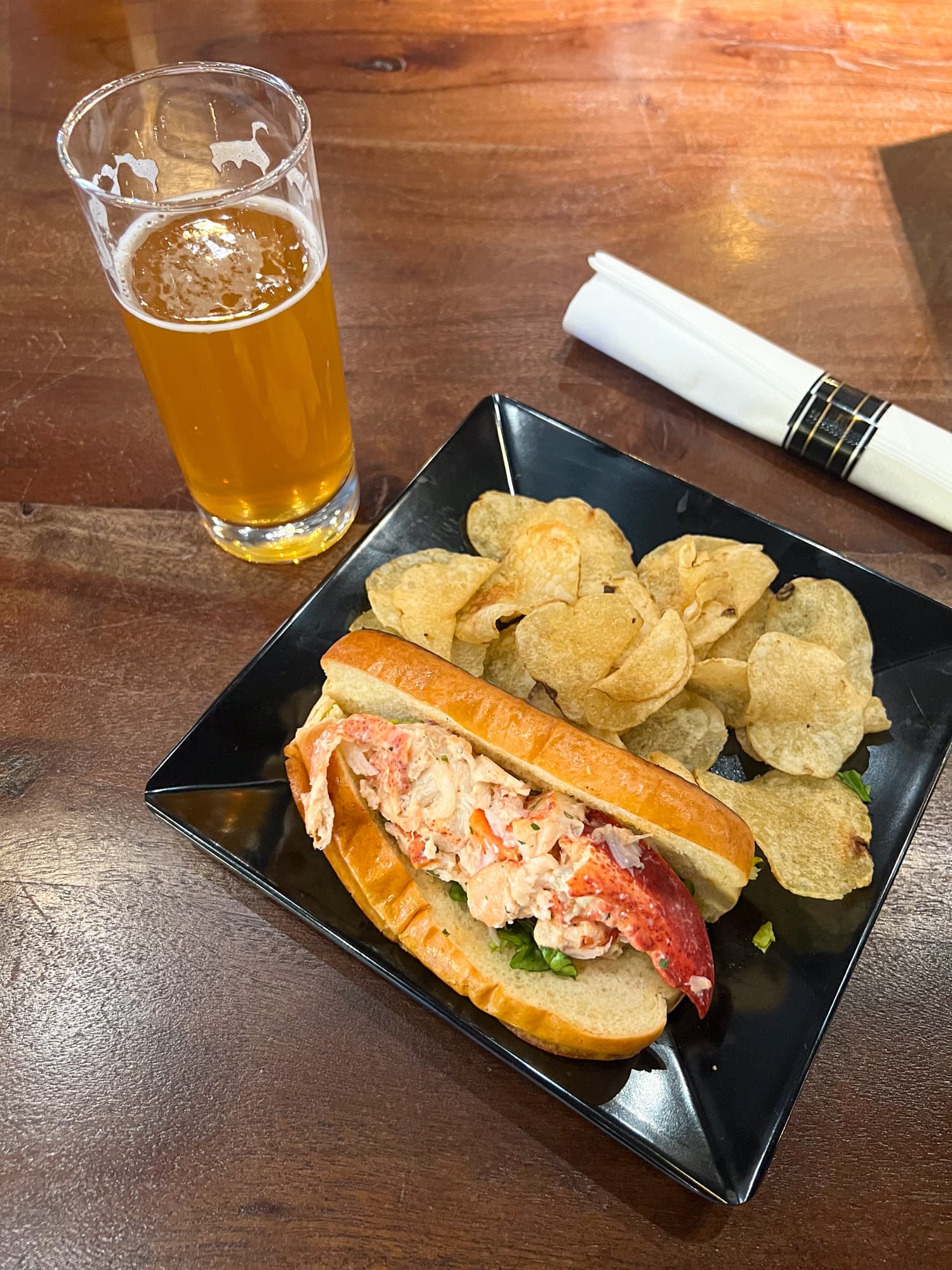 A 3-ounce cold Maine lobster roll with light house-made mayo was delivered to each of us with a side of potato chips.
Whole claw and knuckle meat were used, a sign you're getting the meatiest bits of the crustacean.
This was my second lobster roll that day, as I'd gotten one earlier at the Bite of Maine food truck in Fort Williams Park.
Of course, that didn't stop me from eating the entire thing and licking my fingers afterward.
4. Dean's Sweets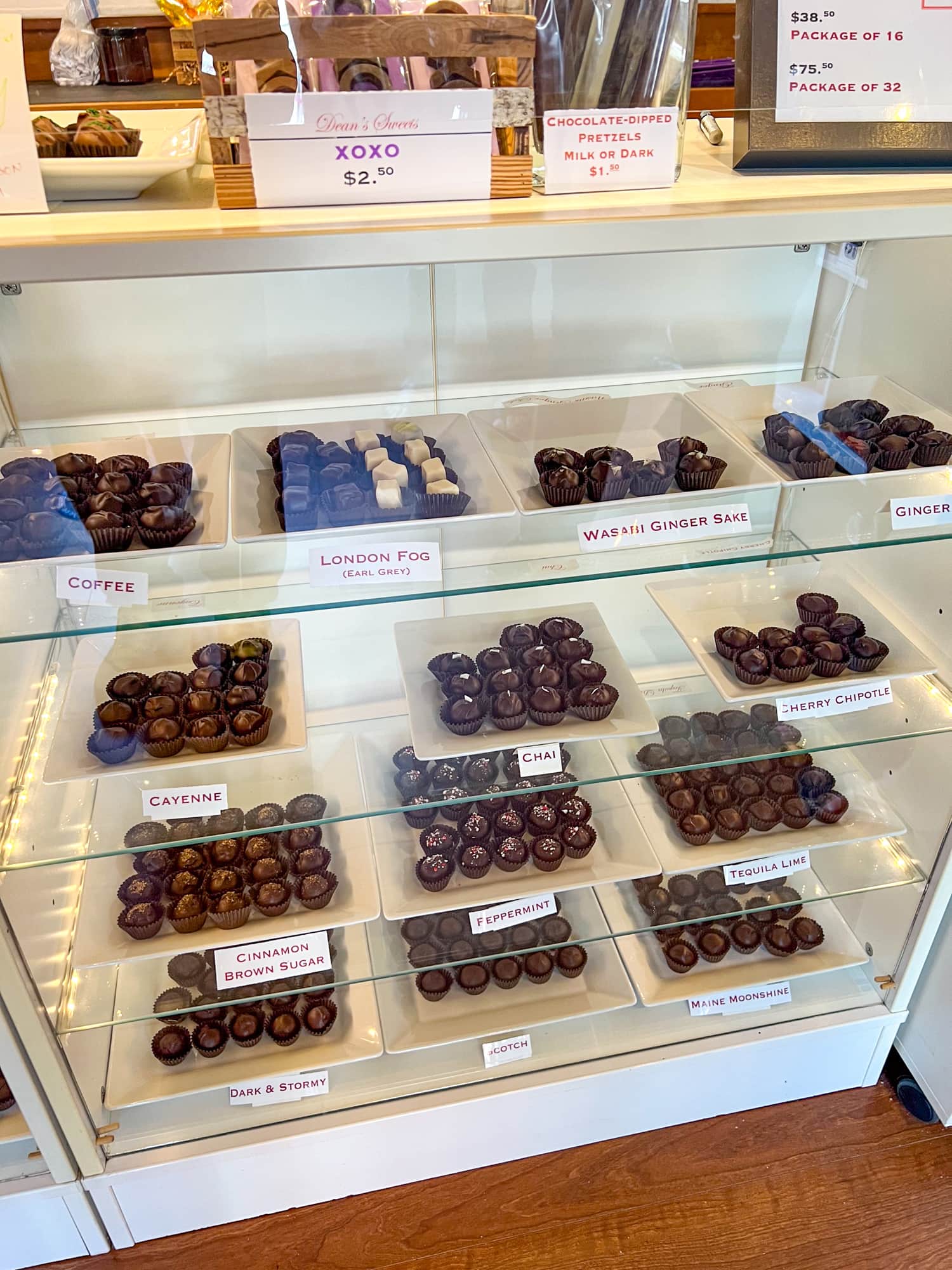 At this point, I was craving a sweet finish to our Portland food tour, and Tim delivered.
Our fourth and final stop was Dean's Sweets, less than a block away on Fore Street.
Co-owners Kristin and Dean Bingham began making chocolate from their home nearly 20 years ago and, before long, built a business from it.
Over 30 varieties of hand-dipped chocolate truffles are made in the kitchen at their Old Port location.
Every effort is made to source local food, such as:
Organic maple syrup tapped in Madison
Sea salt from Marshfield
Butter from Casco Bay Creamery in Scarborough
And, if you have a nut allergy, you're in the right place. They don't use nuts or nut products in their truffles.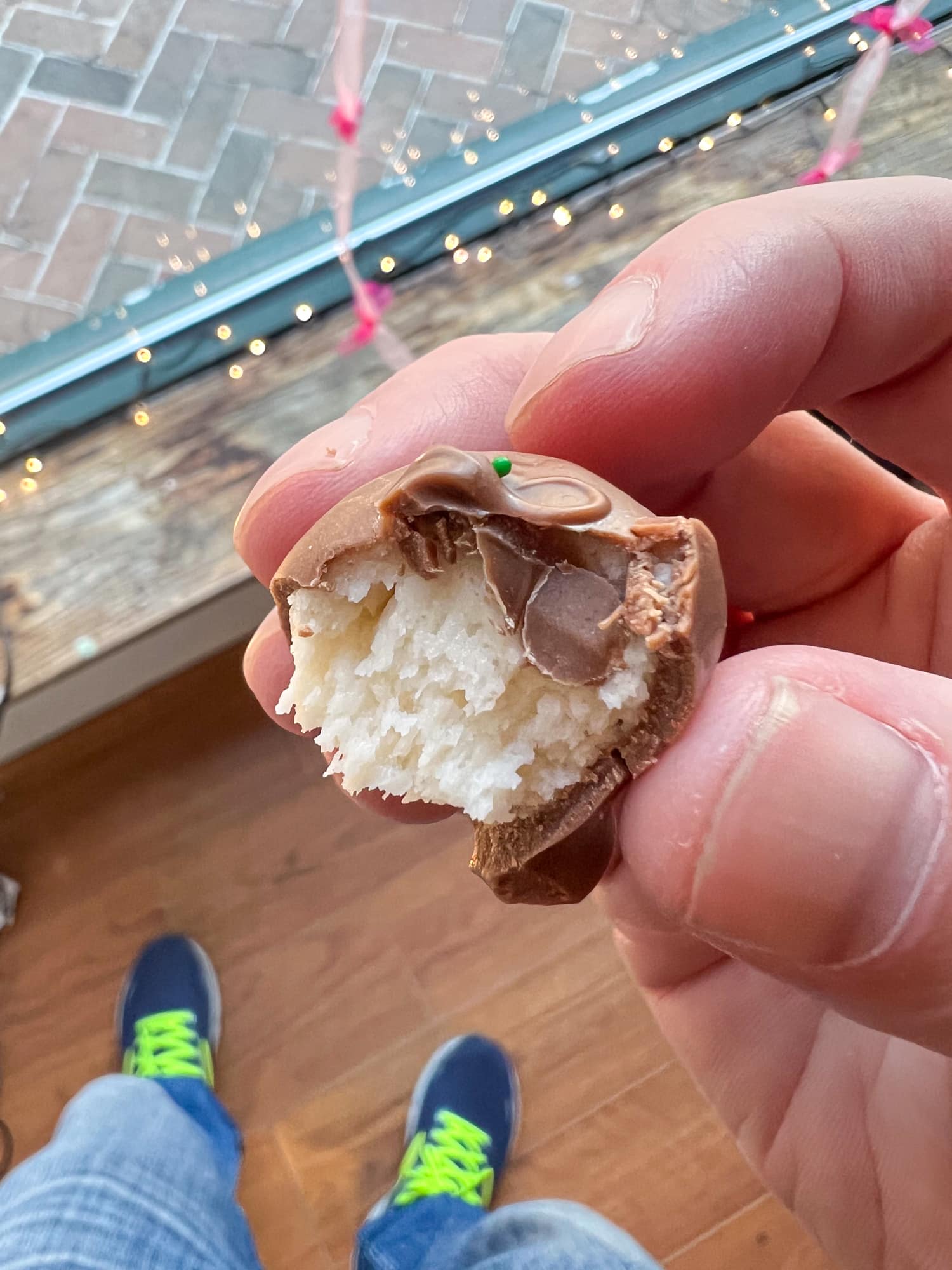 Everyone on our Portland food tour by Maine Day Ventures got to try two chocolate truffles in the shop. The first was provided for us, and the second we could choose ourselves.
I picked a delicious seasonal offering, Dean's Derby Mint Julep, made with spearmint and bourbon buttercream.
Conclusion
Over three hours of learning about the local history of this port city, we enjoyed the following:
Fish tacos
New England clam chowder
Lobster rolls
Handmade chocolates
Craft beers from Maine x2
Iced tea
This is an example of the local cuisine your tour may include. However, some of the places you visit may differ. For example, maybe you'll end up at one of Portland's fantastic donut shops instead of a chocolate shop.
An entertaining and knowledgeable guide makes all the difference between a fun walking tour and a boring one.
Tim was an excellent tour guide, and while I know it's unrealistic for everyone who takes one of Maine Day Ventures' Portland food tours to get him, I'll keep my fingers crossed for you.
The Old Port Culinary Walking Tour includes all food and beverages, plus the guide and gratuities for staff at the locations you visit. Tips for the guide are not included and are at your discretion.
About Maine Day Ventures
Pamela Laskey owns and directs Maine Day Ventures (formerly Maine Foodie Tours), which she began more than 12 years ago.
According to her bio, building the tour business has been a "love-fest with the local Maine food scene, learning about dishes indigenous to this region and watching the creative culinary artistry grow in every direction."
I had the chance to meet Pamela before my culinary tour began and later at the travel conference I was in Portland to attend. She's delightful.
Maine Day Ventures currently operates culinary tours and historical walking tours in five cities:
Portland
Kennebunkport
Bar Harbor
Boothbay Harbor
Biddeford
In the city of Portland alone, there are tons more small-group food tours to consider. Hop on a boat for a Casco Bay Oyster Cruise, or take the Maine lobster roll-making class.
There's even a "Doggy & Me" culinary journey to get your pup delicious food!
_____
My Portland food tour with Maine Day Ventures was provided at no cost in partnership with the Adventure Travel Trade Association and the Maine Office of Tourism as part of my attendance at AdventureELEVATE North America.