Step aboard Schooner J & E Riggin and join me on a five-day windjammer cruise in Maine, where the love of craft beers and breweries takes center stage.
At every lunch and dinner, we toast the Pine Tree State's rich brewing tradition, sampling beers and ciders by some of Maine's best breweries.
The inaugural J & E Riggin Sip & Sail Cruise featuring craft beers from Maine also included two shore excursions, where we strode off the deck and into the breweries themselves.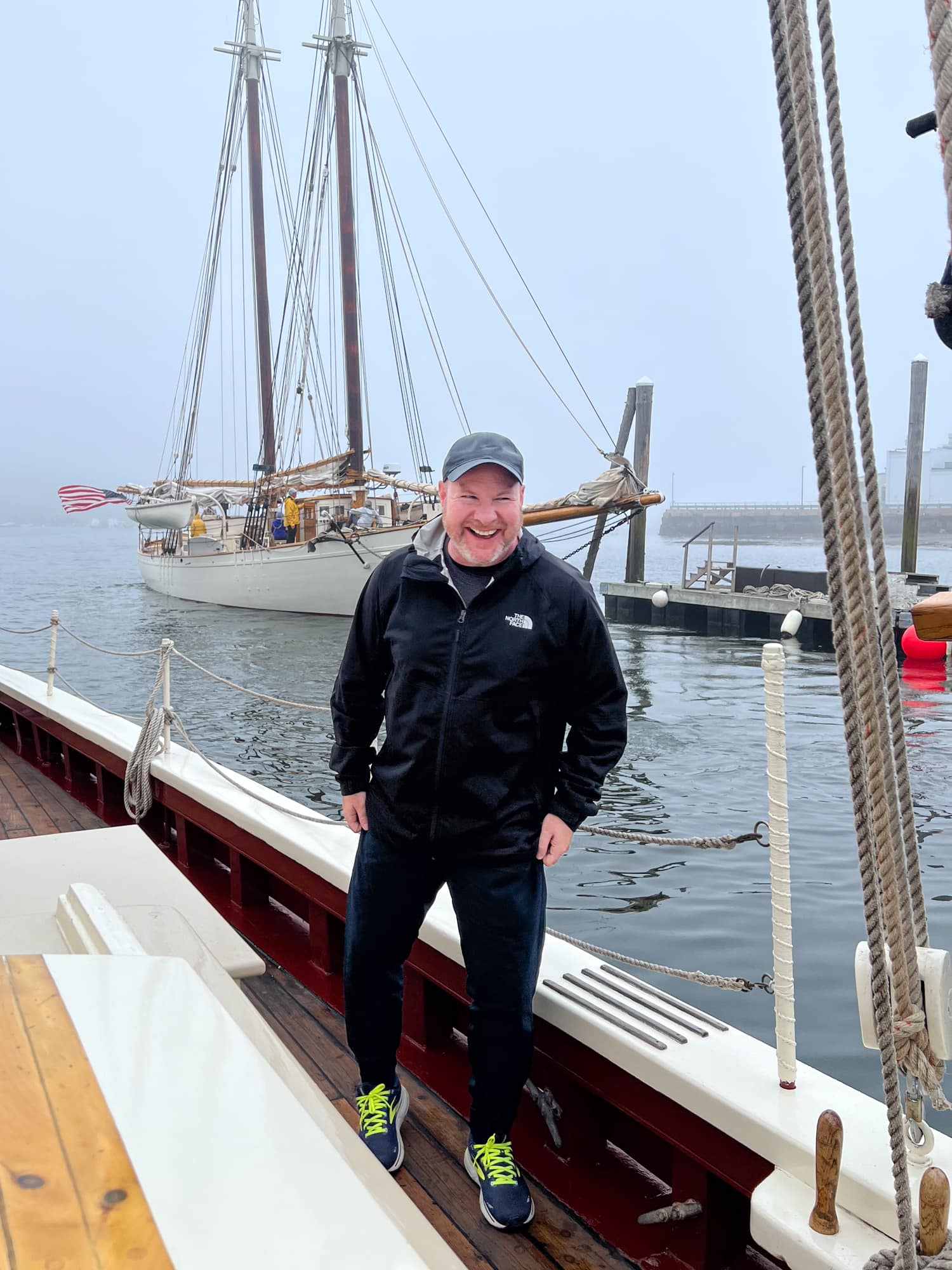 Our guides on this nautical adventure were the J & E Riggin co-owners, Captain Justin Schaefer, and his spouse, Jocelyn Schmidt.
The two met while windjamming together in Maine. Jocelyn also has a Captain's license, though she primarily cooks the incredible meals.
Now, get ready to immerse yourself in the sights, sounds, and tastes of Maine's craft beer scene aboard a nearly 100-year-old sailboat in Penobscot Bay in the eastern United States.
First, I'll show you the craft breweries we visited in person, and then I'll highlight the many beverages we sampled on the boat.
Maine Breweries We Visited
Our first morning on the cruise was spent sailing east out of a foggy Rockland Harbor, J & E Riggin's home port, toward the Fox Islands.
New Haven is the smaller northern island, and Vinalhaven is the larger southern one.
The Fox Islands are separated by a channel, where we anchored for the night, about 12 miles from the mainland.
Following a tasty New England clam chowder lunch, we boarded a tender for our first brewery visit.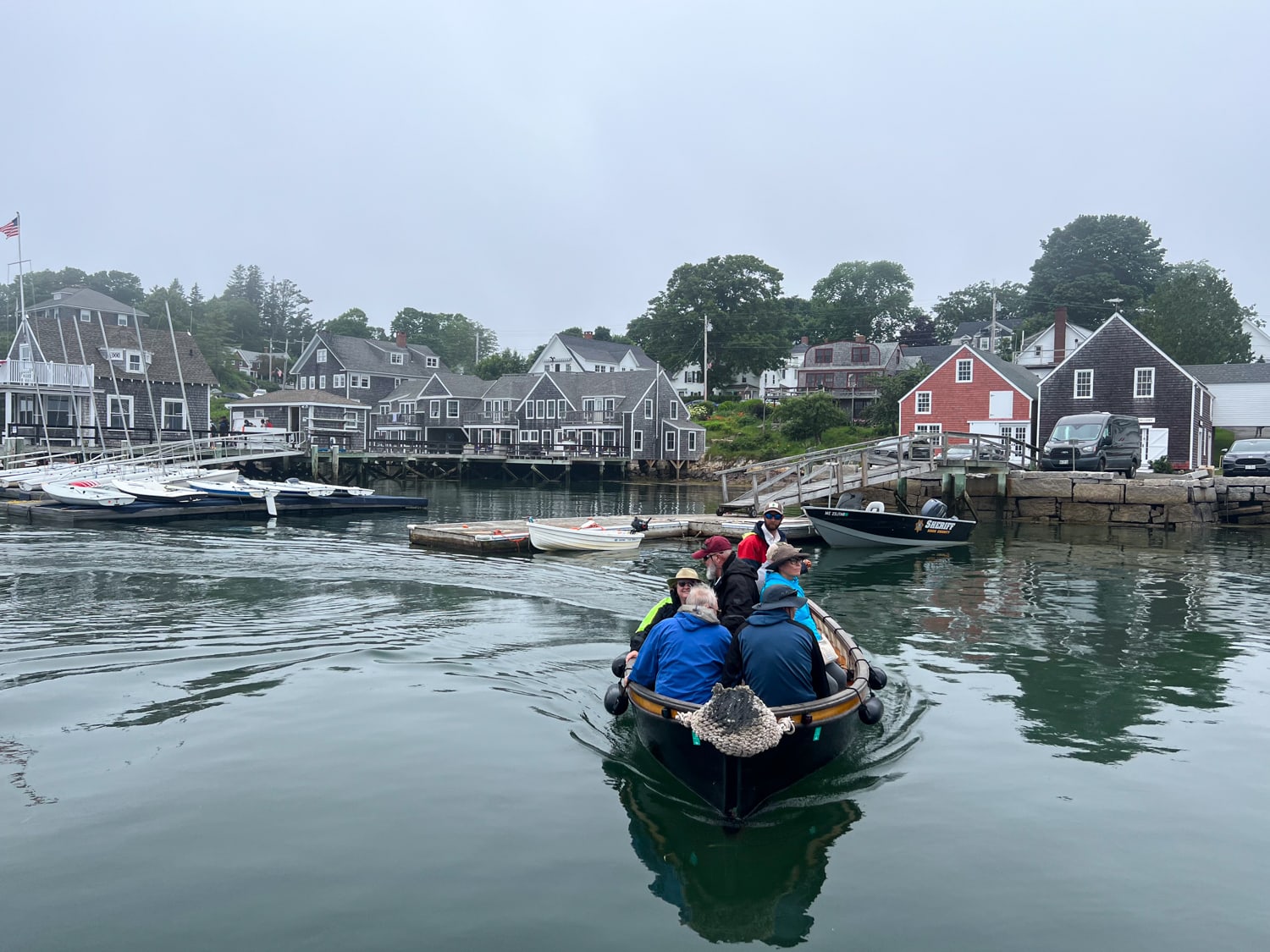 North Haven Brewing Co.
According to the 2020 census, the village of North Haven has a population of 417 people.
Lobstering is a key industry here. However, there's an off-season in the winter when the lobsters move to deeper waters.
During their offseasons after college, friends Ben Lovell and Jesse Davisson began experimenting with homebrewing.
After several productive years, they opened North Haven Brewing Co. in 2016 along with Ben's sister, Elizabeth, a co-owner.
One of Maine's smallest breweries survived the pandemic by offering home delivery on the island. And in 2022, they moved to their current space at Calderwood Hall, a community center.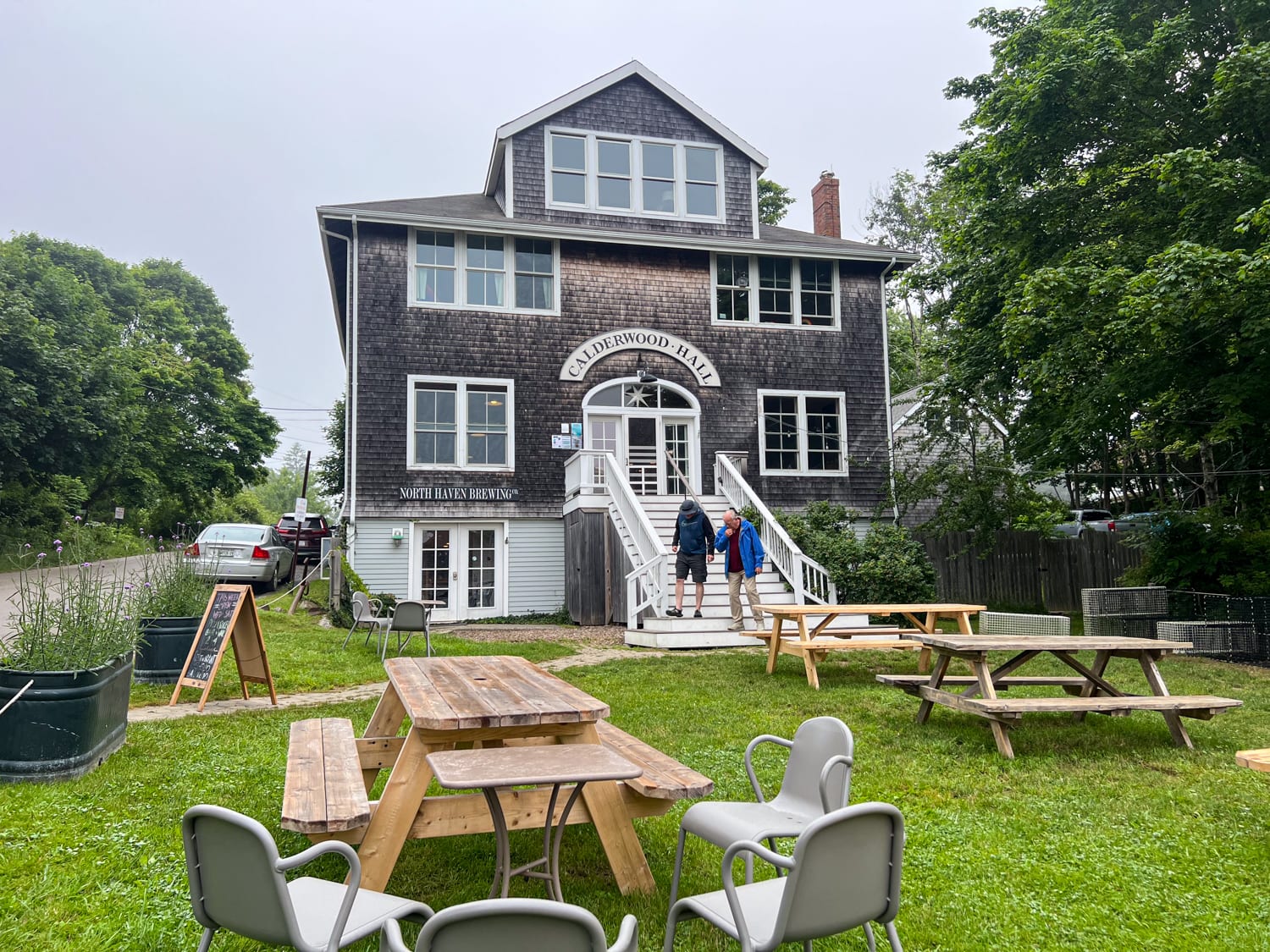 It was a short walk of no more than a minute or two to reach the brewery from North Haven Harbor.
The front lawn serves as a beer garden. But, given the chilly, drizzly weather, we were happy to spend our time indoors.
North Haven Brewing's taproom and a local restaurant serving pizza occupy the first floor.
Beer Tasting
One of the brewery's owners instructed us to choose four of their six beers for a flight.
I selected the following, pictured from left to right in the photo below:
Keeper, an India Pale Ale (IPA) and their flagship brew (6.8%)
Swell, a Kolsch Style Ale (5.6%)
Spark Plug, a Coffee Stout (4.1%)
Barrel Stove, a Brown Ale (6.2%)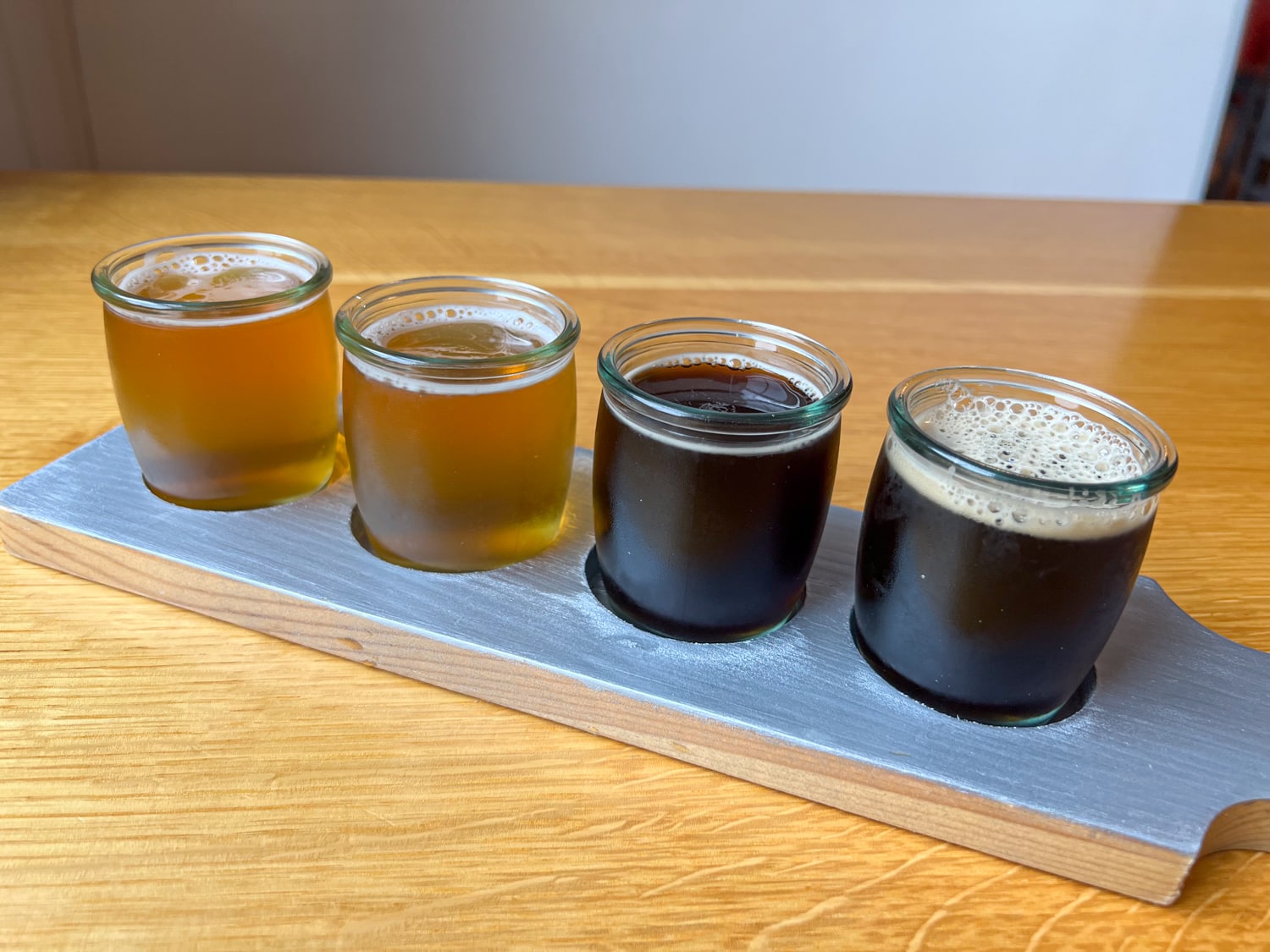 The Keeper IPA is a great beer made with American and English hops. I also enjoyed the Czech-style Swell.
Spark Plug, named after a nearby lighthouse and made with cold brew supplied by Rock City Coffee in Rockland, was less to my taste buds' liking.
The brown ale, Barrel Stove, was my least favorite of the four craft beers.
North Haven Brewing also produces Undertow, a hazy IPA that's 6.4% alcohol, and Fox Islands, a 5.4% Session IPA.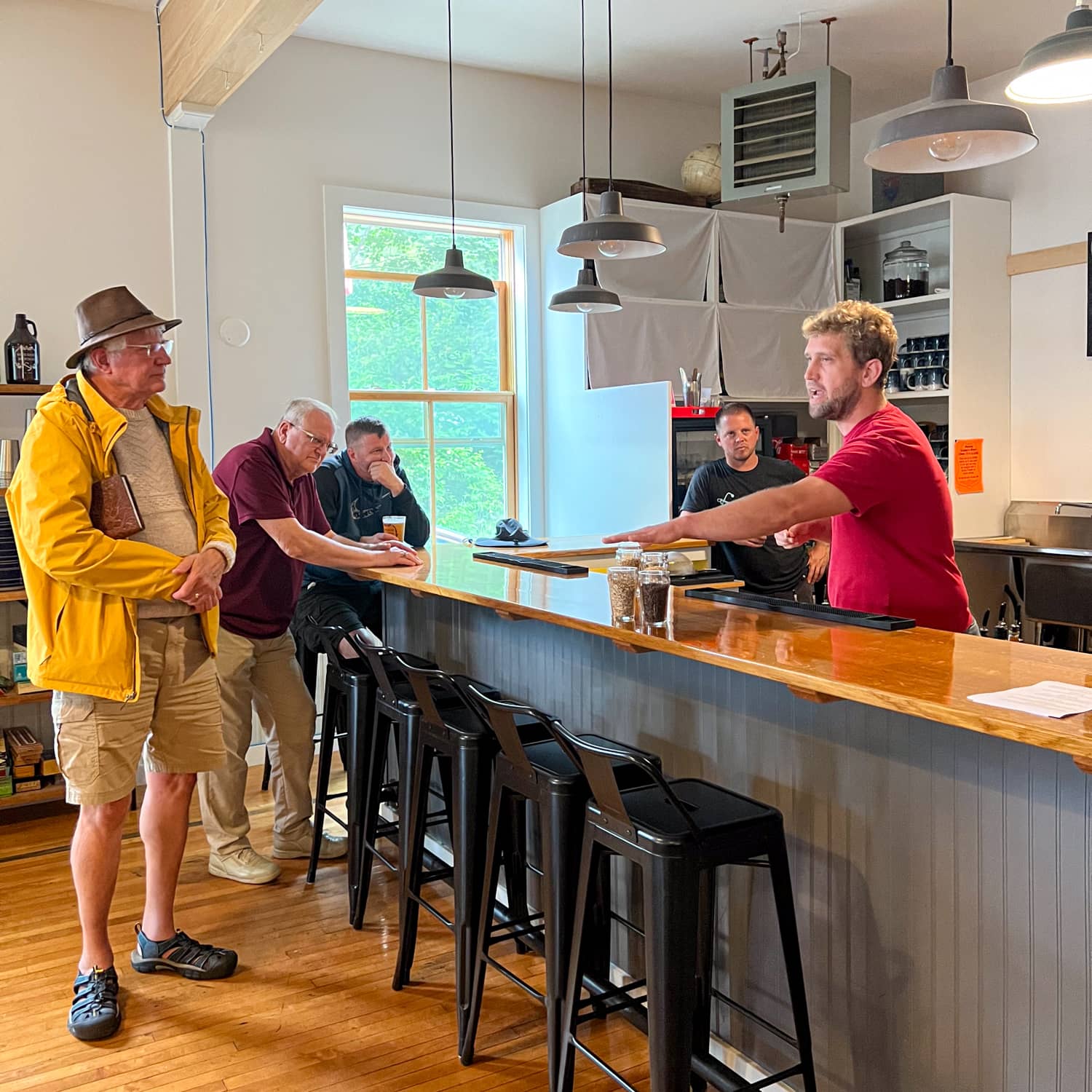 The beers are only available for sale at their brewery on North Haven island, accessible by ferry from Rockland (and worth the visit)!
Four-packs of one-pint cans are $20 each, and growlers are available, too. I was especially impressed by the artwork used for the labels.
Drawings of a lobster, lighthouse, squid, fox, wood stove, and waves reflected the brewery's setting off the rugged coast of Maine.
The beer flight and a pint of our choice were included in the cruise. Our brewery visit lasted about an hour.
Waterman's Beach Brewery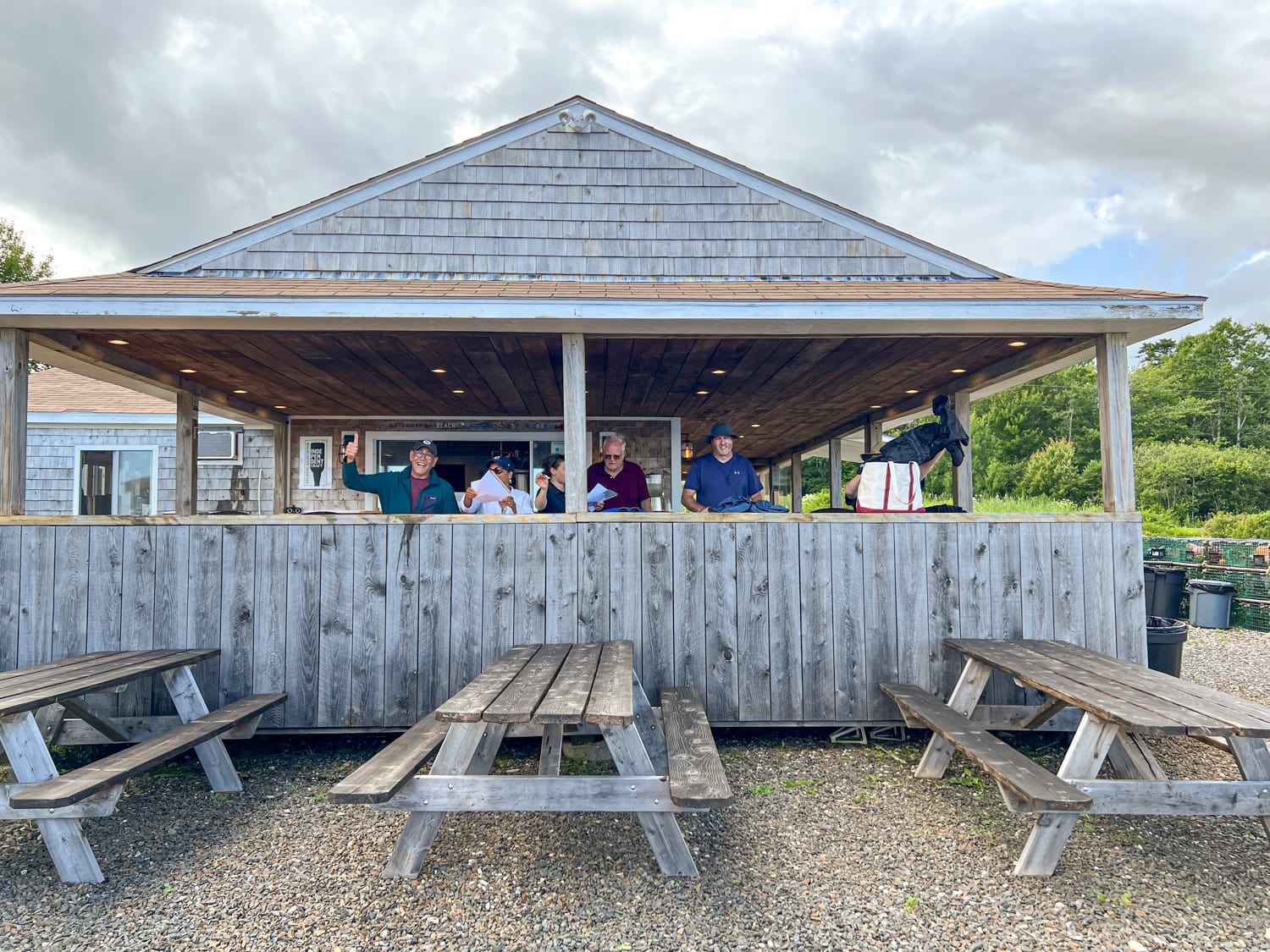 By the following afternoon, the weather had improved significantly. The sun was shining, the temperature had warmed up, and we had mostly clear skies.
This helped set the mood for the second of two midcoast Maine breweries we'd visit, which happened to be located on a beach.
Waterman's Beach Brewery is about seven miles south of Rockland.
Before it was a brewery, it was an award-winning lobster shack called (not surprisingly) Waterman's Beach Lobster Shack.
The family business operated for 30 years until the owners retired.
Heath Curtis, a scallop fisherman, came up with the idea to turn his mom's lobster shack into a craft brewery.
In 2019, the brewery opened with the help of Brad Frost, co-owner and head brewer, and Brad's wife, Anna.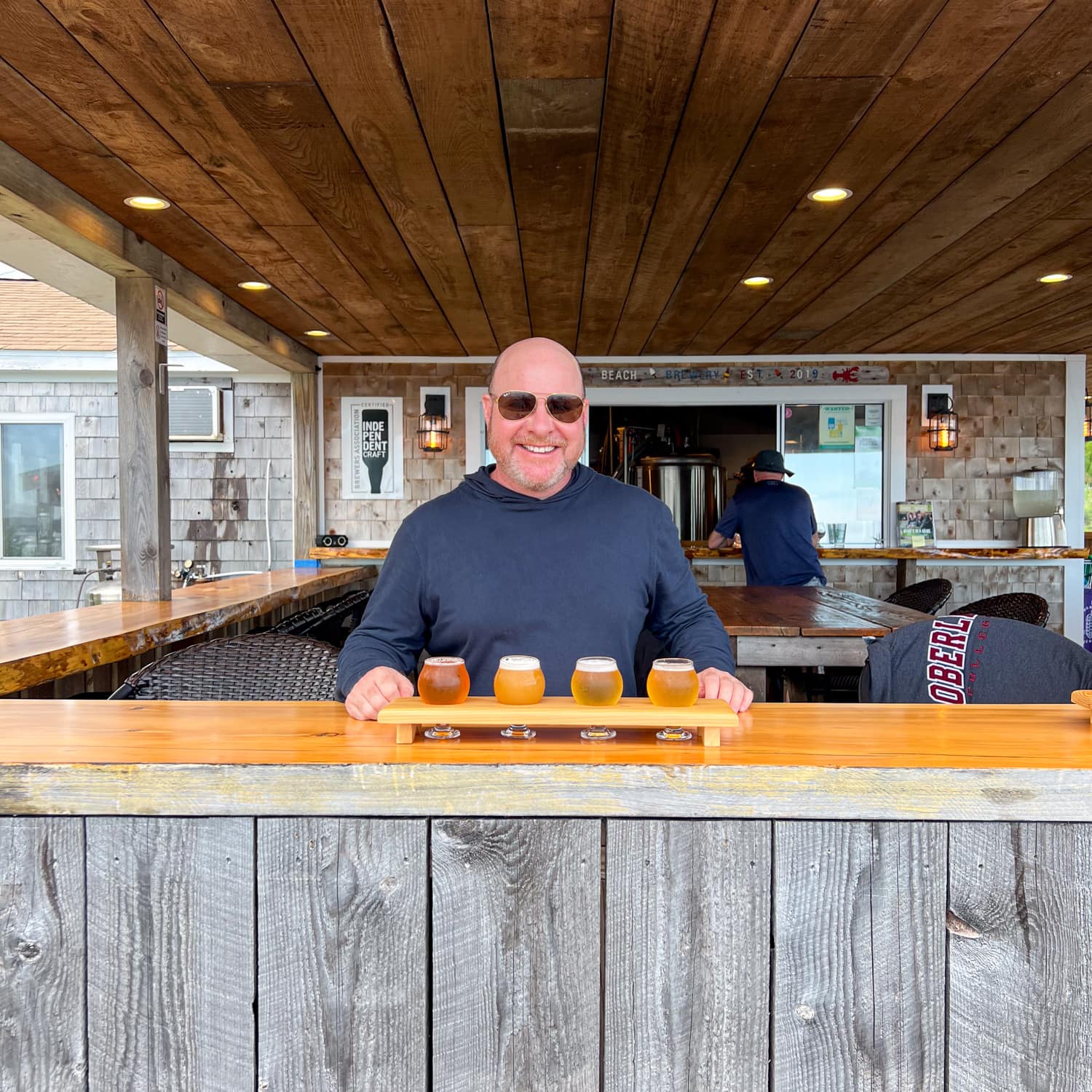 After another delicious lunch aboard the J & E Riggin, Captain Justin began ferrying guests to Waterman's Beach for our second shore excursion.
Meanwhile, the schooner's crew continued transporting supplies to the beach for the evening's lobster bake.
The brewery had opened on their day off, just for our visit, and was also letting us enjoy dinner there.
Beer Tasting
Once again, we had the option to choose four beers to sample.
I requested the following, pictured from left to right:
Crown to Coast Kolsch Style Ale (4.4%)
Loowit Session Ale (4%)
Sonic Temple Pale Ale (5.8%)
Polka Party Smoked Ale (6.2%)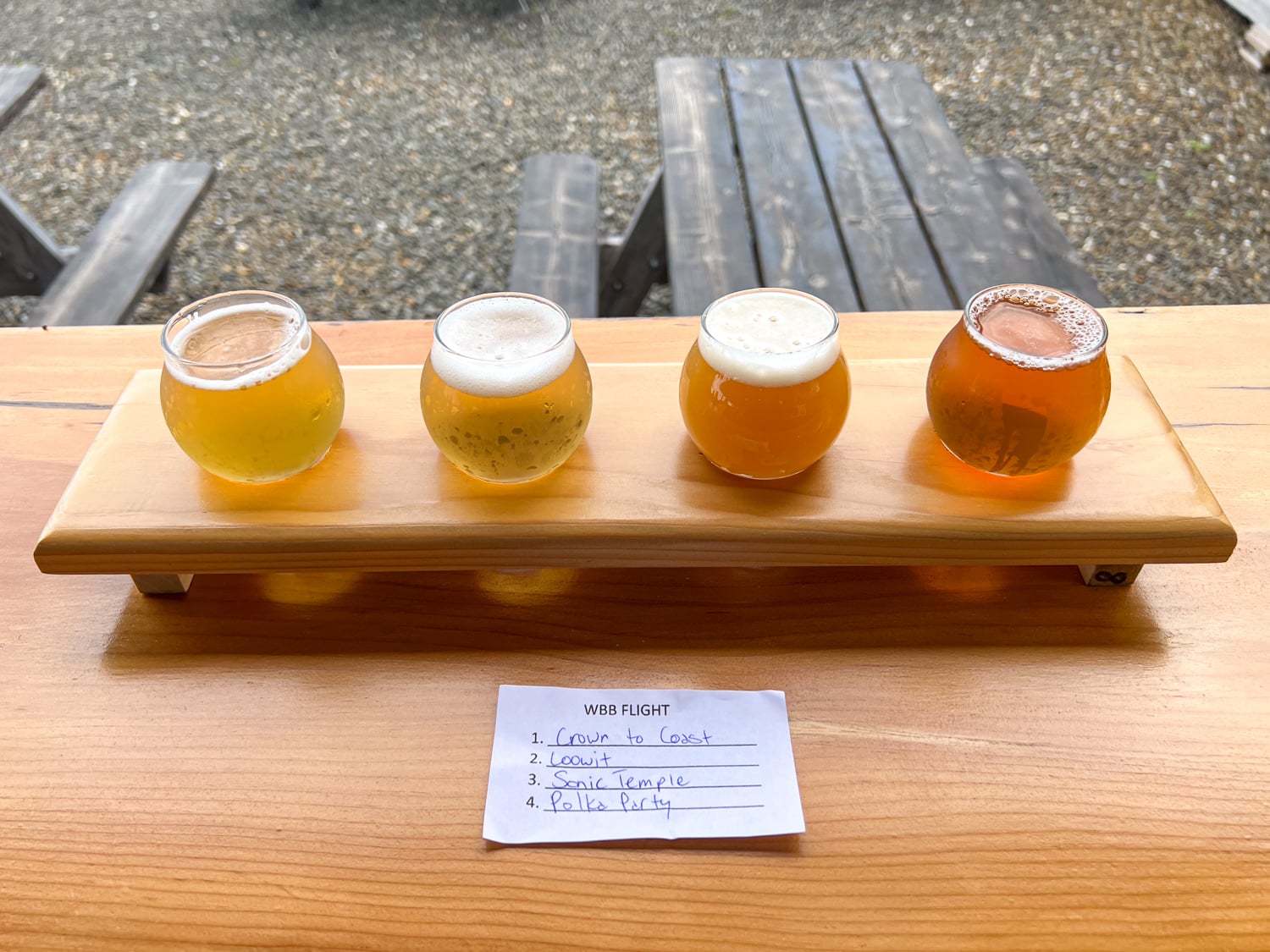 My favorites were the Crown to Coast Kolsch Style Ale and Sonic Temple Pale Ale. And if I had to choose only one, which I did when ordering a pint, I picked Sonic Temple.
Waterman's Beach Brewery obtains most of its grain from Maine, where it is malted.
A benefit to the growth of breweries in Maine (which now numbers 165) is that local farmers can cater and sell to them.
Additionally, per the Maine Brewers' Guild, "In recent years, two malt houses have opened in Maine; one in Mapleton (Maine Malt House) and in Lisbon Falls (Blue Ox Malthouse)."
Malthouses are where barley is processed before breweries can use it to make beer.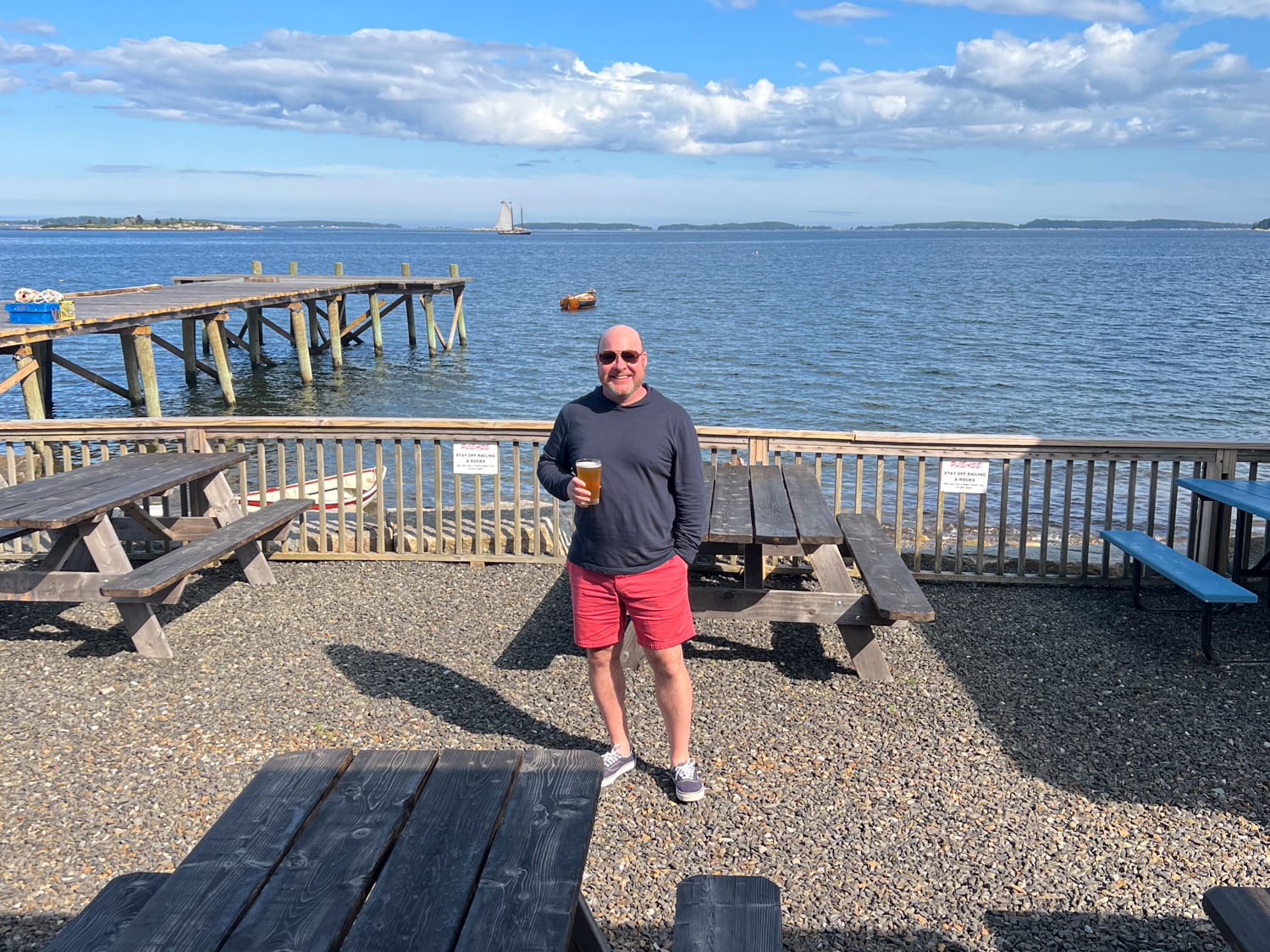 As I was sipping on my first pint of Sonic Temple, Captain Justin excitedly shared that we were all entitled to not one but two pints of beer during our visit.
I took full advantage, enjoying the pale ale, ocean view, and outdoor seating as dinner was prepared.
Lobster Bake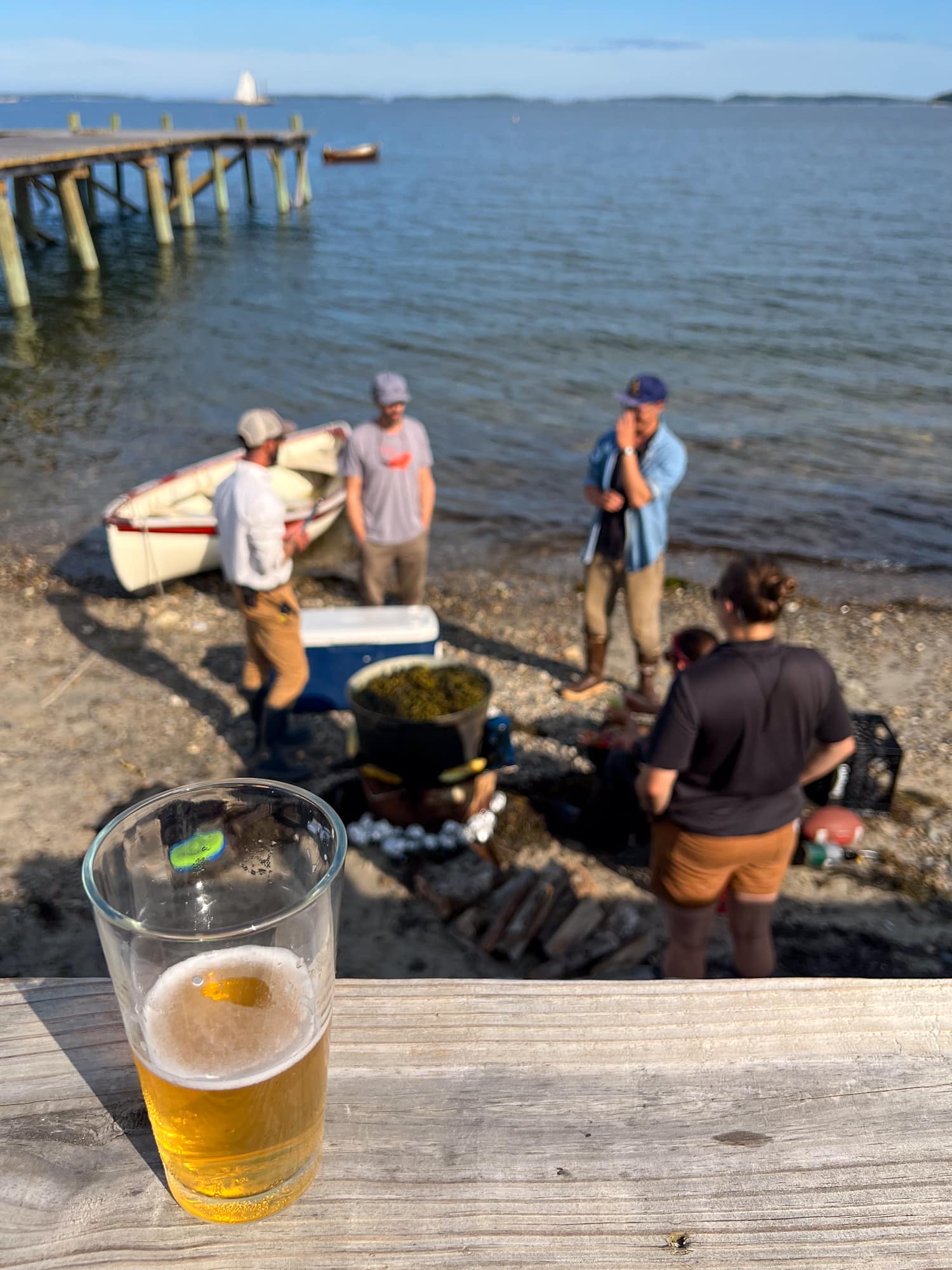 Speaking of dinner, a beachfront brewery was the perfect place to have a lobster bake. The scene felt like quintessential Maine.
I'm still new to traveling in the state, known affectionately as "Vacationland," but I was quickly getting a feel for its appeal.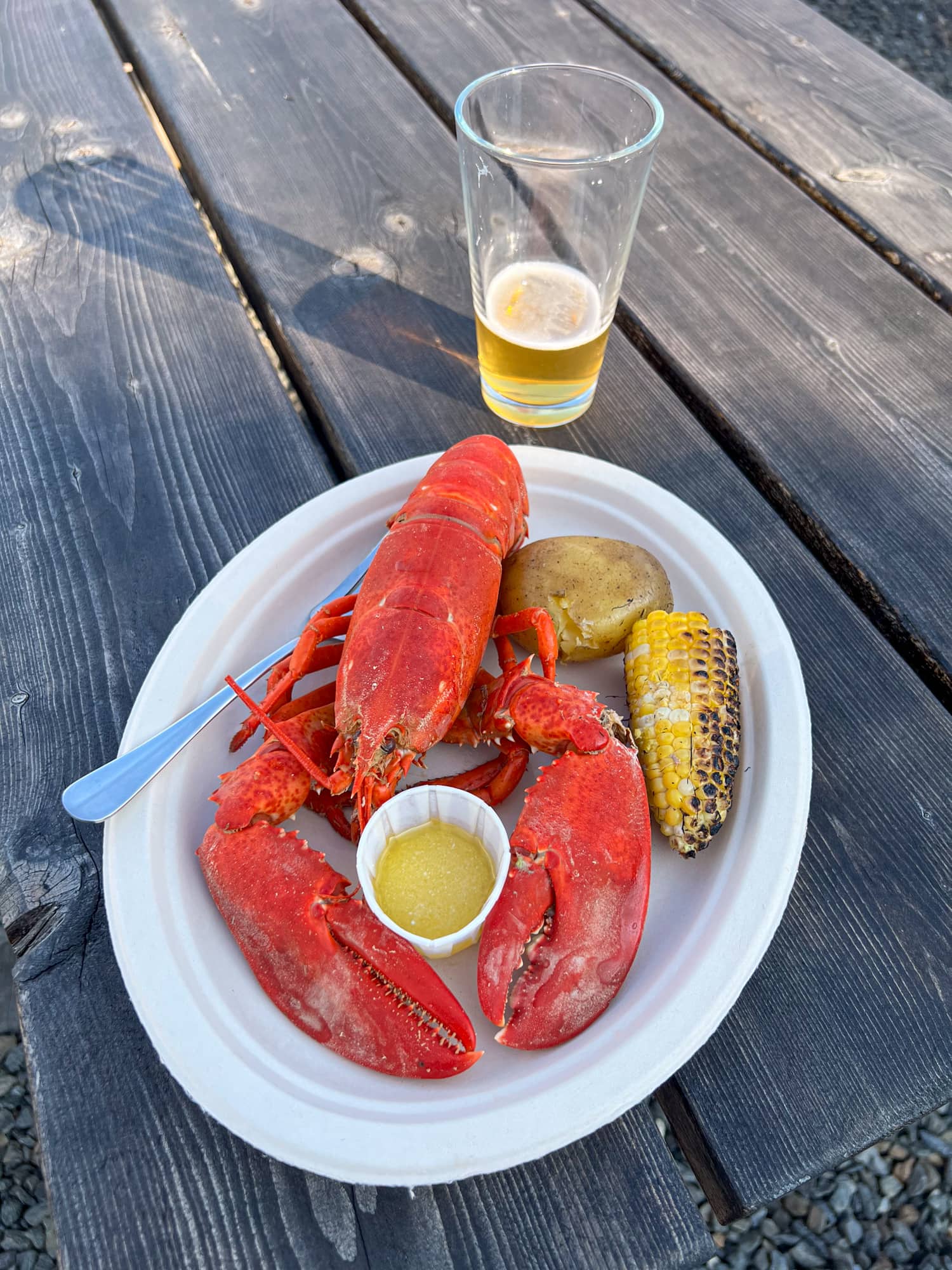 Once we'd feasted on steamed lobsters, grilled corn on the cob, potatoes, and campfire s'more tacos, it was time to return to the sailboat.
Next, let's turn to the Maine breweries Jocelyn chose to serve with meals on our Sip & Sail Cruise.
More Maine Craft Beer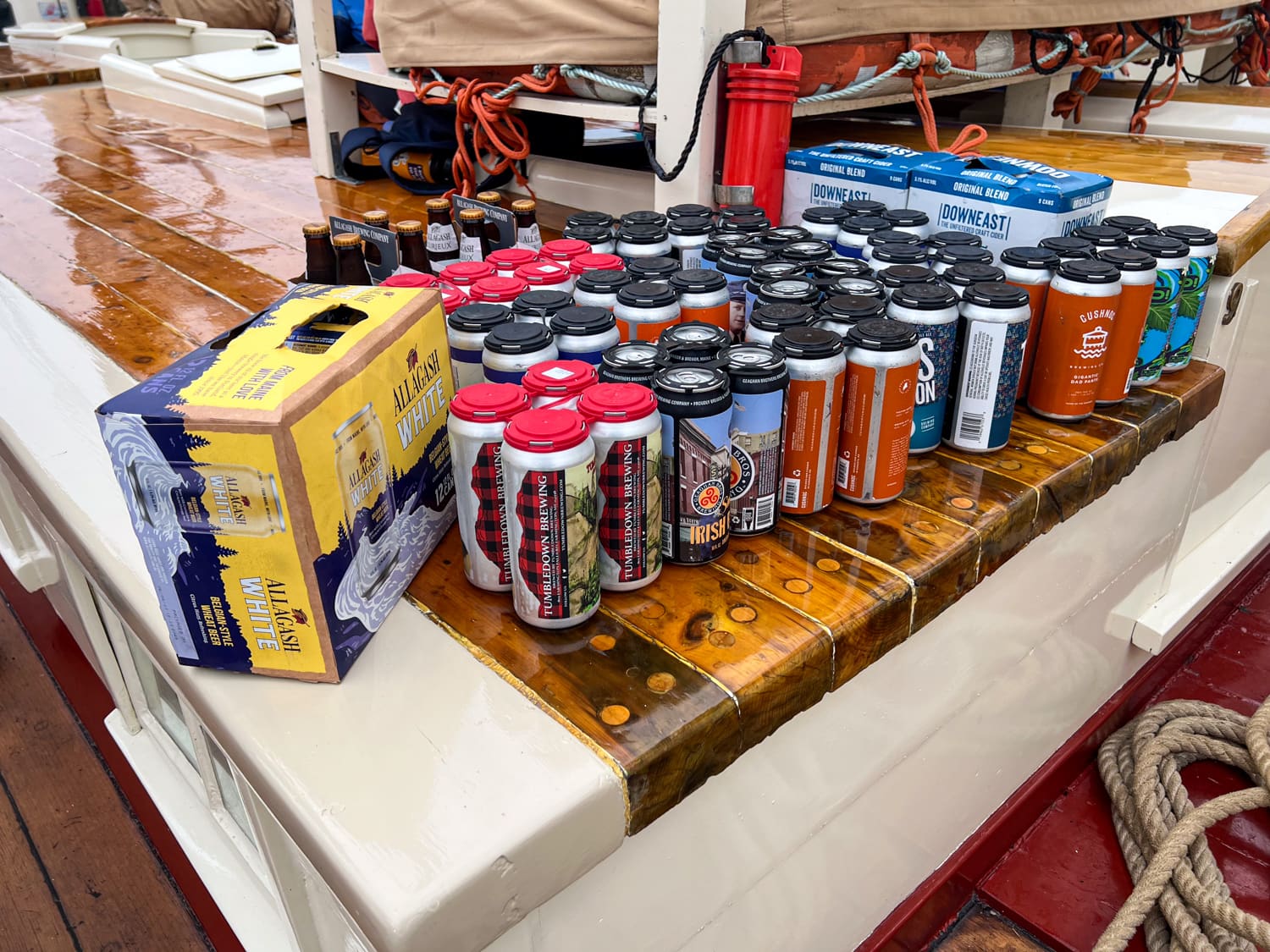 Day 2
Salad Daze, an India Pale Lager (IPL) by Bunker Brewing Co. out of Portland, Maine, was one of two beers served at our first lunch.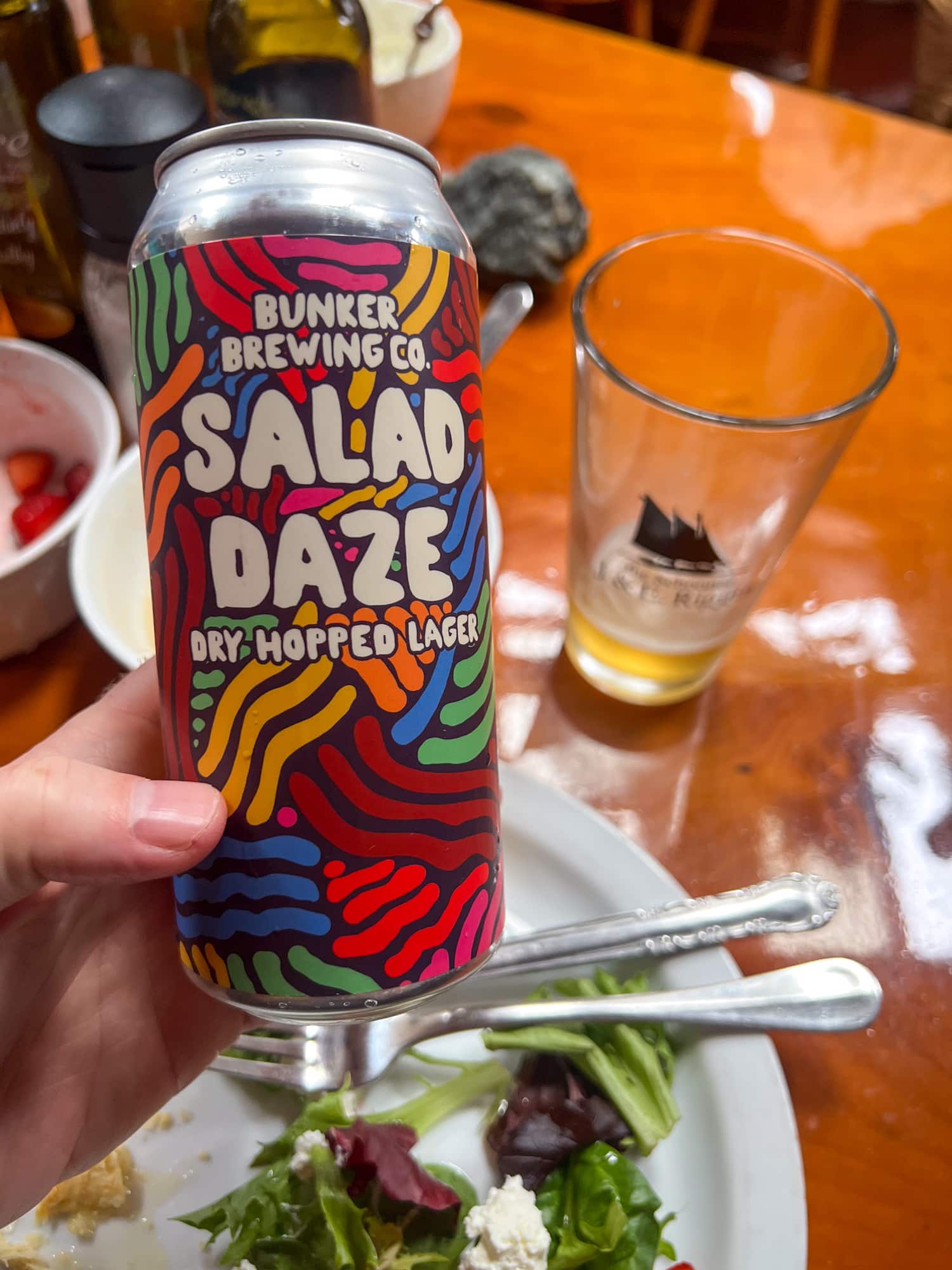 The second beer was Bar Harbor Real Ale, an American Brown Ale with hints of caramel.
It's produced by Atlantic Brewing Company, a family-owned brewery in Bar Harbor, and was more to my liking.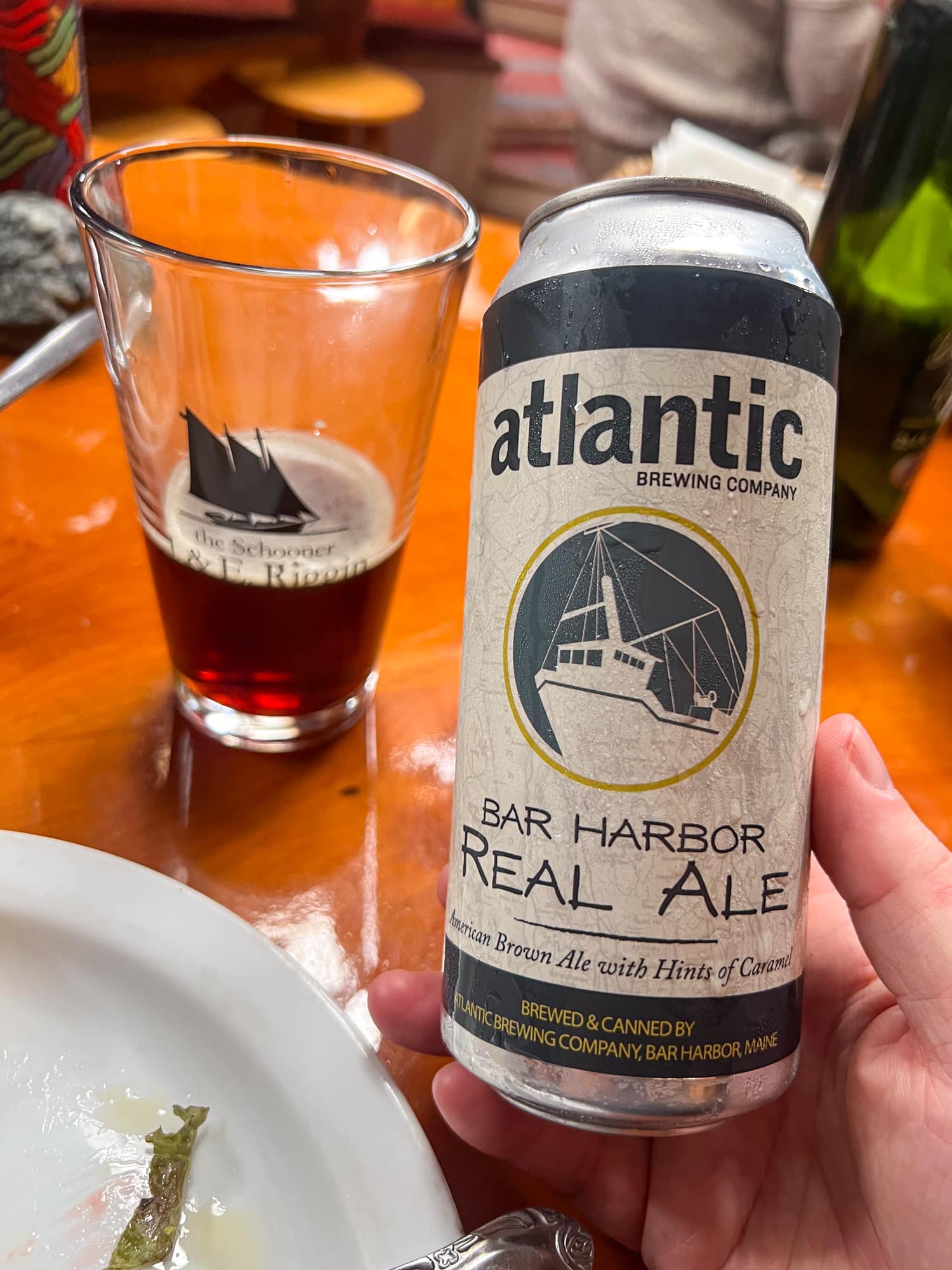 Earlier in the cruise, I was content to sample each beer and perhaps drink a half-pint of the ones I liked. I didn't want to overdo it.
But once I got used to the rhythm of life aboard an old wooden schooner sailing across Penobscot Bay, I began to relax and indulge more.
Ahead of our first dinner aboard the J & E Riggin, Jocelyn introduced two more beers by Maine breweries.
First was the award-winning Allagash White, a Belgian-style wheat beer spiced with coriander and curacao orange peel.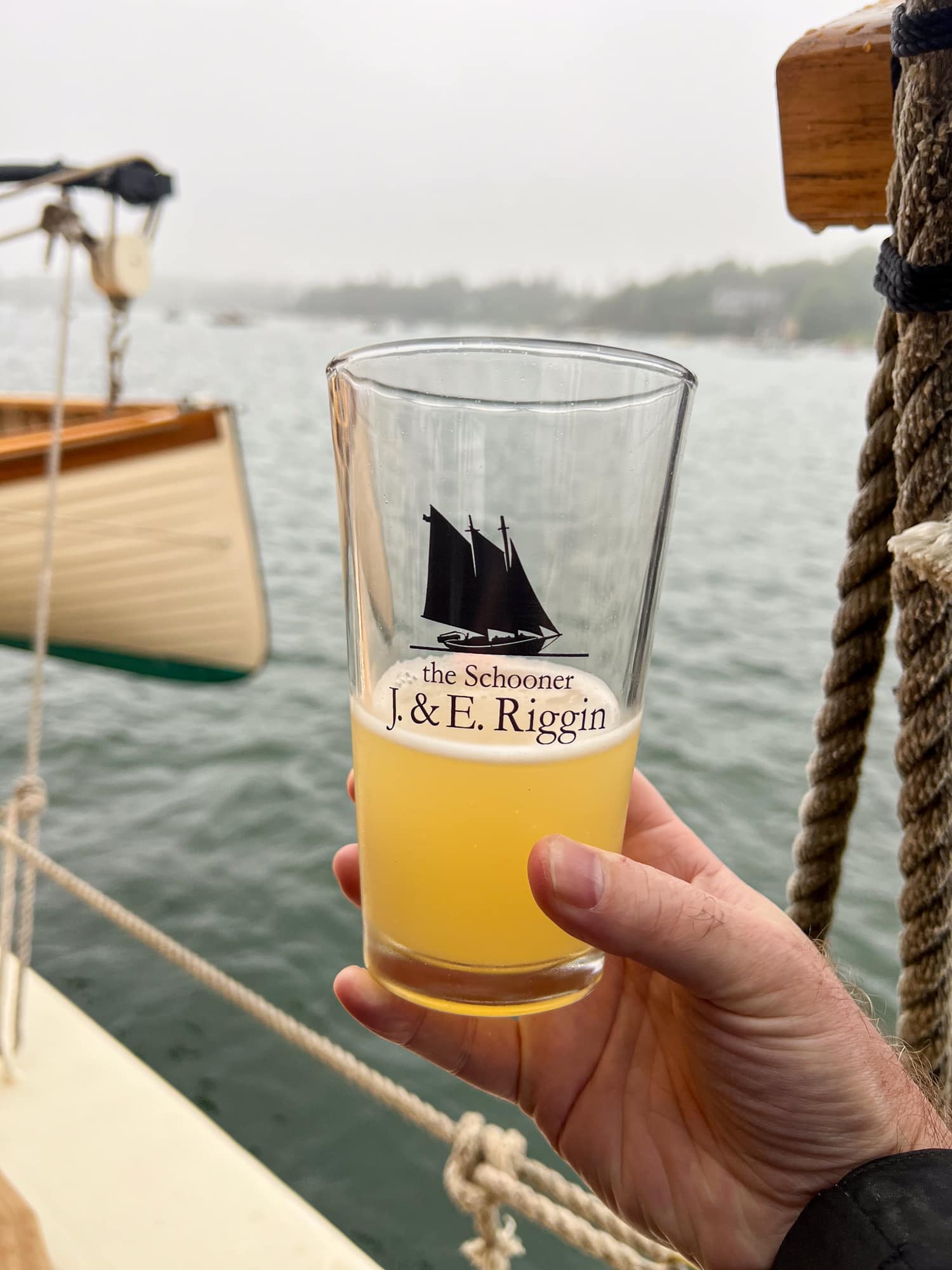 This hazy, light beer by Allagash Brewing Company, one of the largest Portland breweries, paired nicely with the lemon and white wine-poached Atlantic salmon for dinner.
The second beer on tap for us that night was Smiling Irish Bastard, an American Pale Ale by Geaghan Brothers Brewing Company in Bangor, Maine.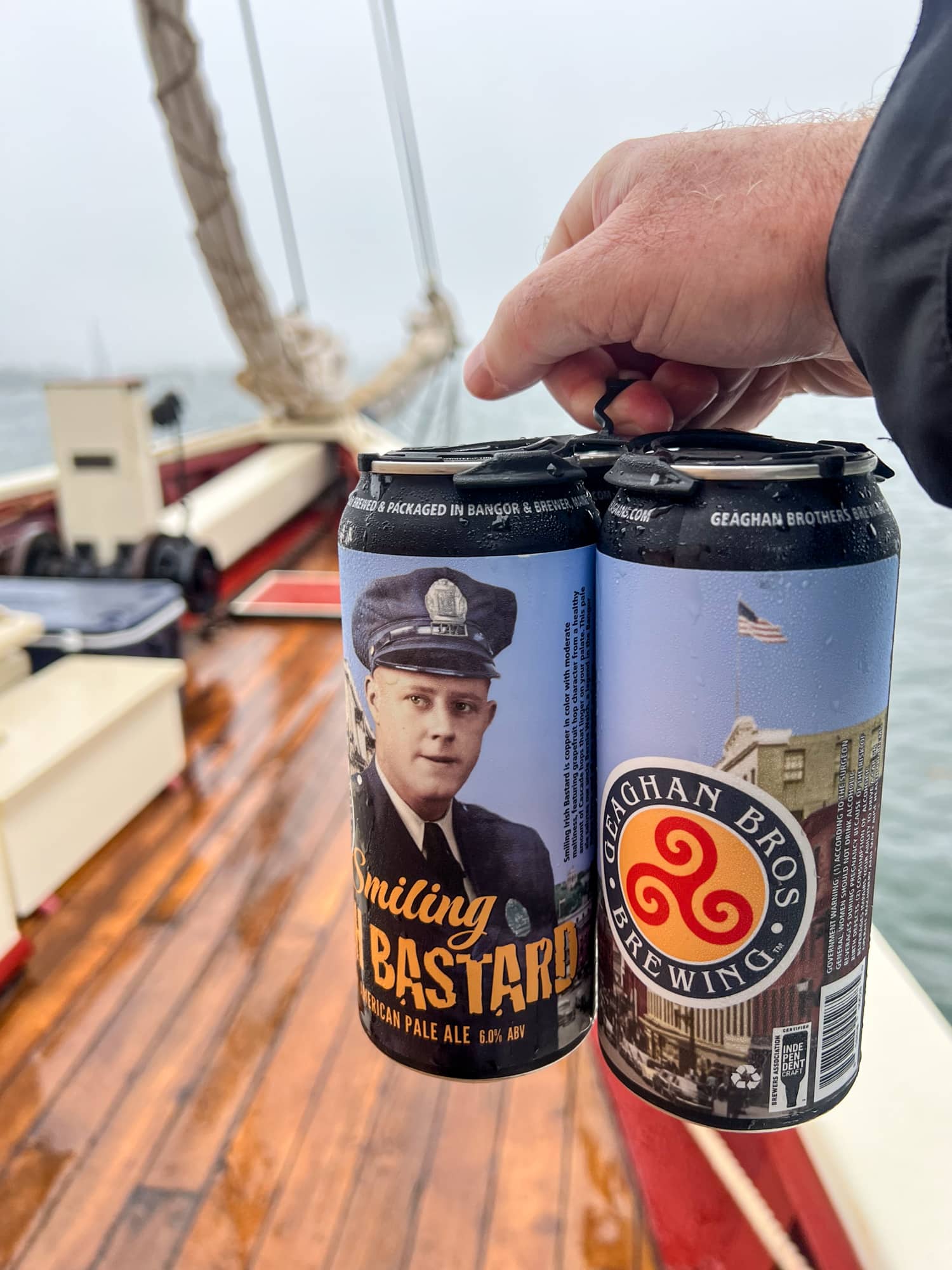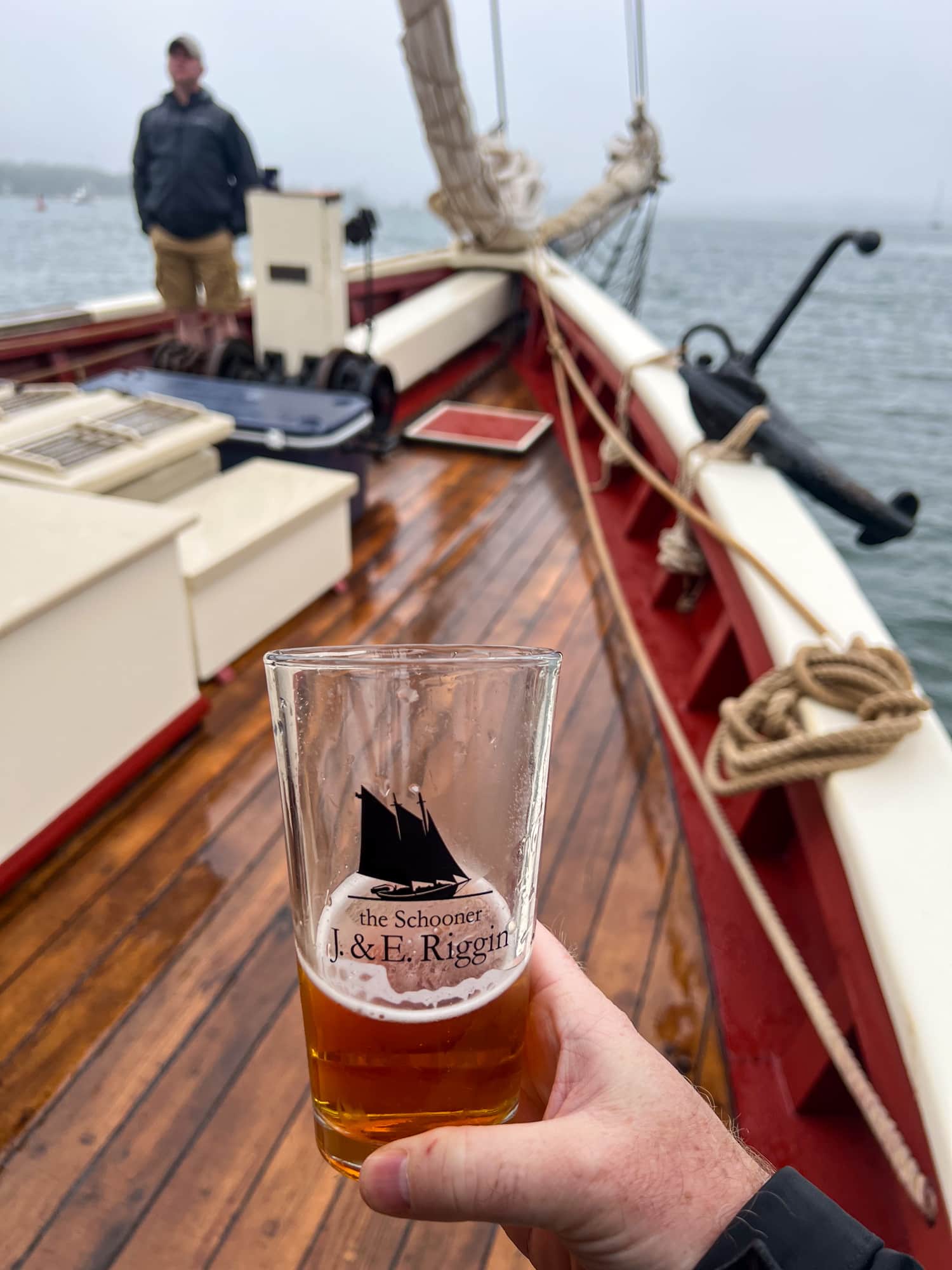 The label features a photo of Officer Bernie Welch, a cop who served on the Bangor Police Force. He also happens to be the uncle of the brewery's owner.
Day 3
Our third day sailing J & E Riggin brought clearer weather and warmer temps, ideal conditions for drinking on the main deck.
Jocelyn surprised us with three options from Maine's breweries at lunch instead of the usual two.
I began with the enjoyable Freedom's Edge Cider. The company was launched in 2018 by brothers-in-law Ned Ervin and Andy Kaplan in Albion, ME.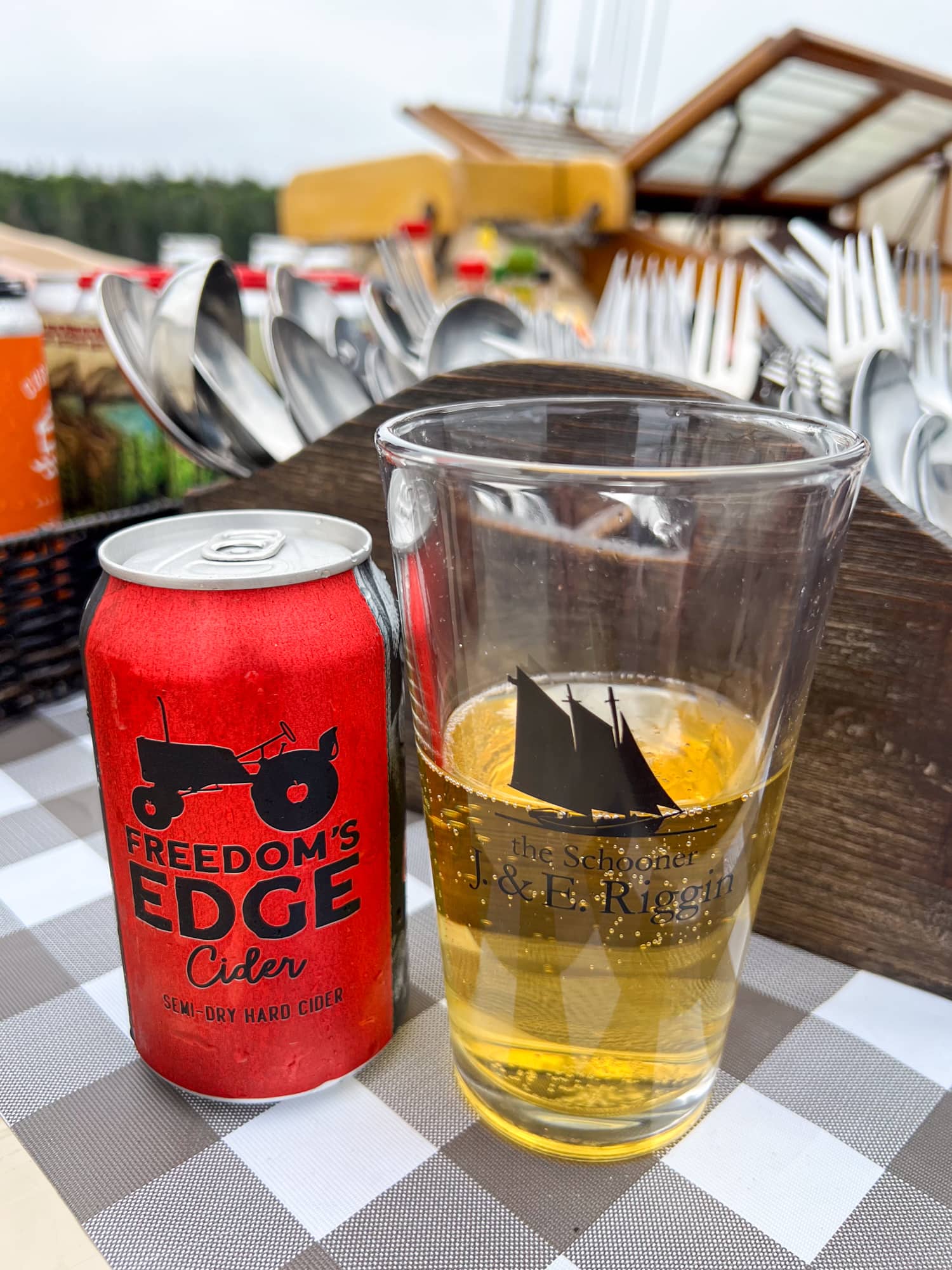 Then, I moved on to a high-quality Irish Red Ale by Tumbledown Brewing in Farmington, ME. This was one of the best beers of the windjammer cruise.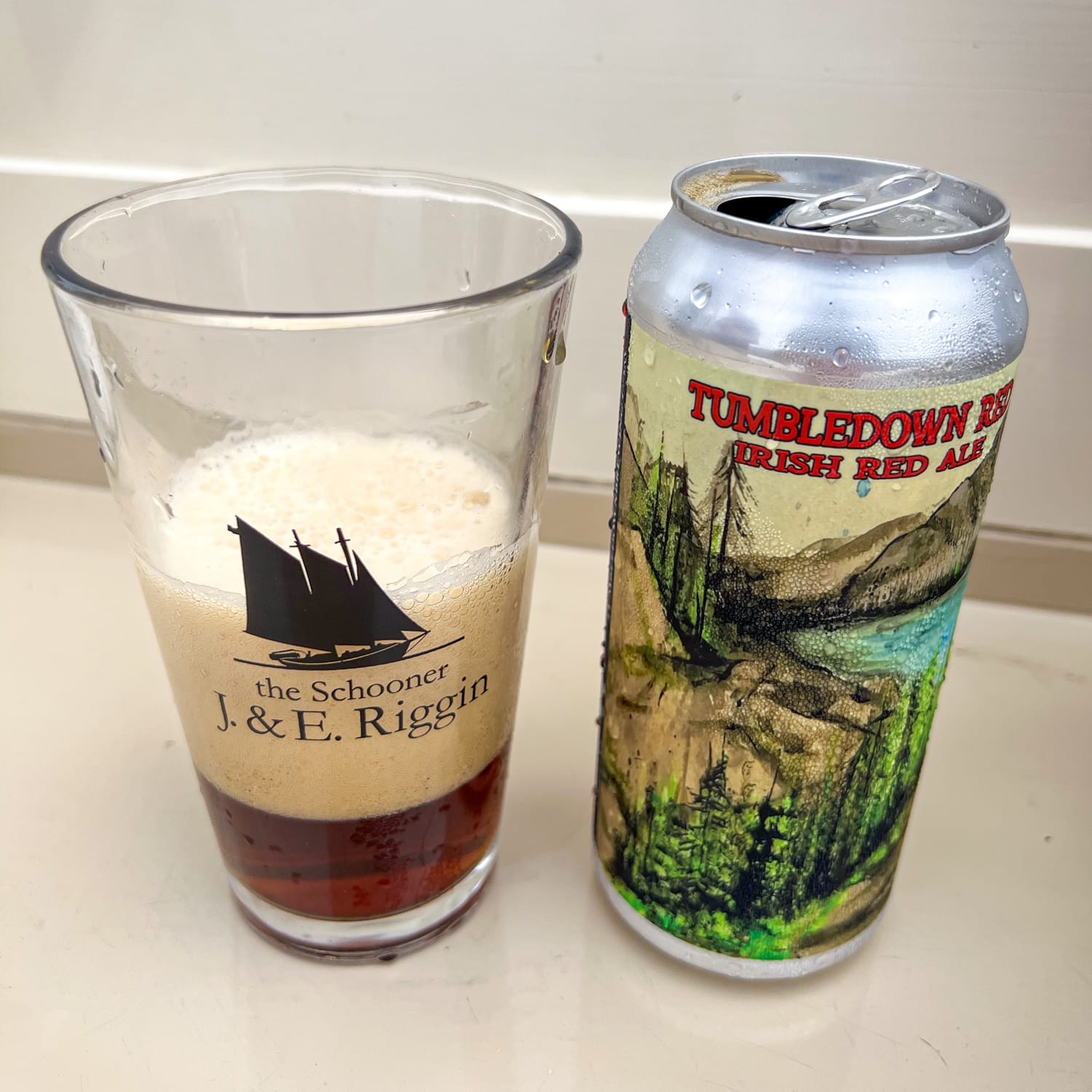 Finally, I sampled the Gigantic Dad Pants, an India Pale Ale by Cushnoc Brewing Co., out of Augusta, the state capital of Maine.
I found this one less appealing, perhaps because of its high alcohol content (7.3%).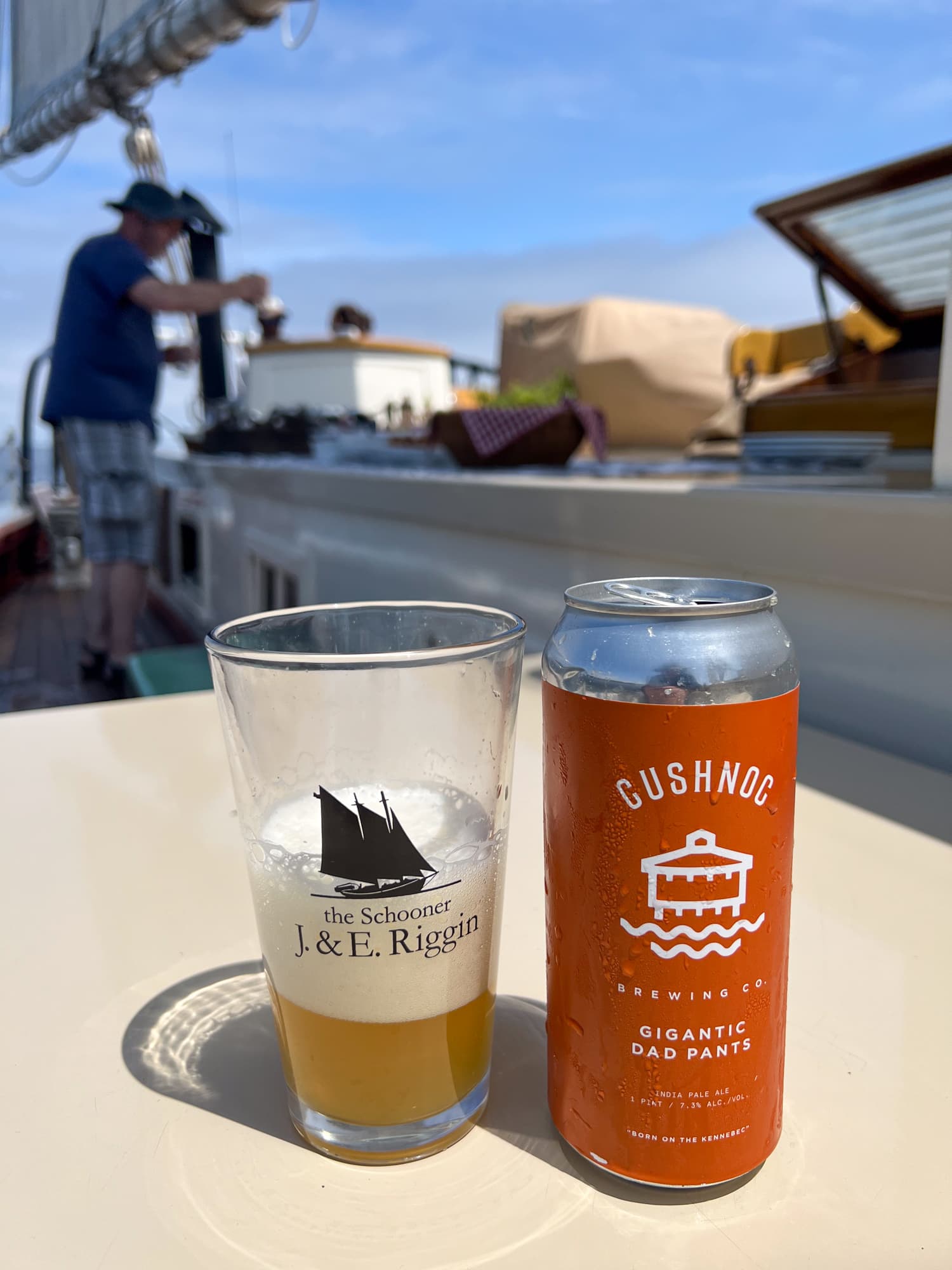 Dinner on our third night was the lobster bake at Waterman's Beach Brewery, so we didn't try any additional beers on the boat that night.
Day 4
Our fourth day at sea was much like the third, only we saw fin whales, a baby shark, and a pair of puffins during lunch. The wildlife viewing was exceptional.
A lobster bisque was served along with salad and fresh-baked rolls. Once again, we had the chance to try up to three new craft beers and ciders from Maine breweries.
I began lunch with the Summer Lights Citrus Wheat Ale by Lone Pine Brewing Company in Portland, ME. It's brewed with lemon and citrus zest and doesn't overpower the soup.
The design of the lobster label for Decadent Decapod by Belleflower Brewing Co., a family-owned craft brewery in Portland, was one of my favorites.
According to its website, the brewery is always looking for talented artists to work with.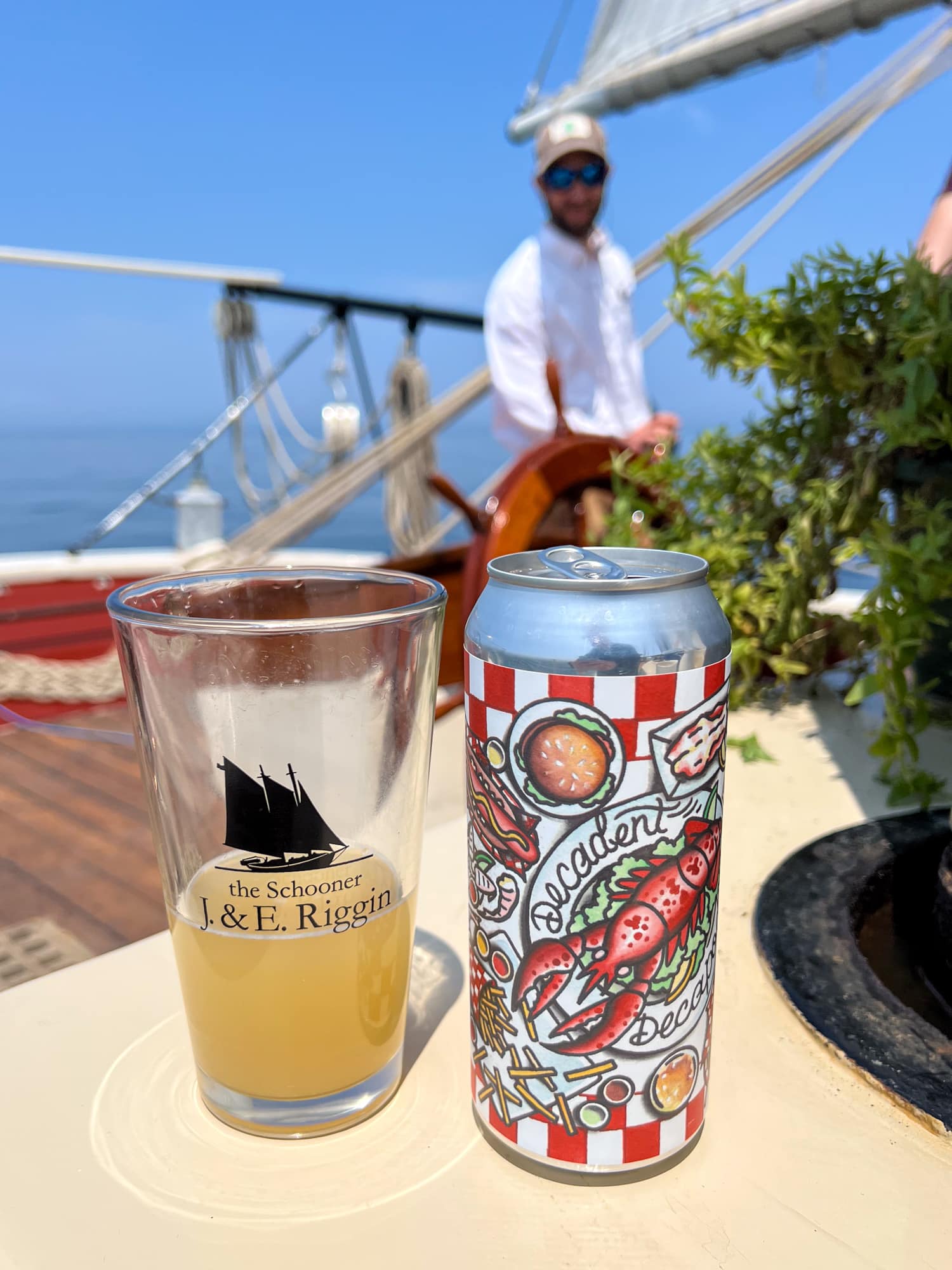 This time, I saved the cider for last. Jocelyn had provided us with cans of Downeast's Original Blend of unfiltered cider.
I got a kick out of the instructions on the label, which are written upside down, thus encouraging you to give the can a little shake before you open it.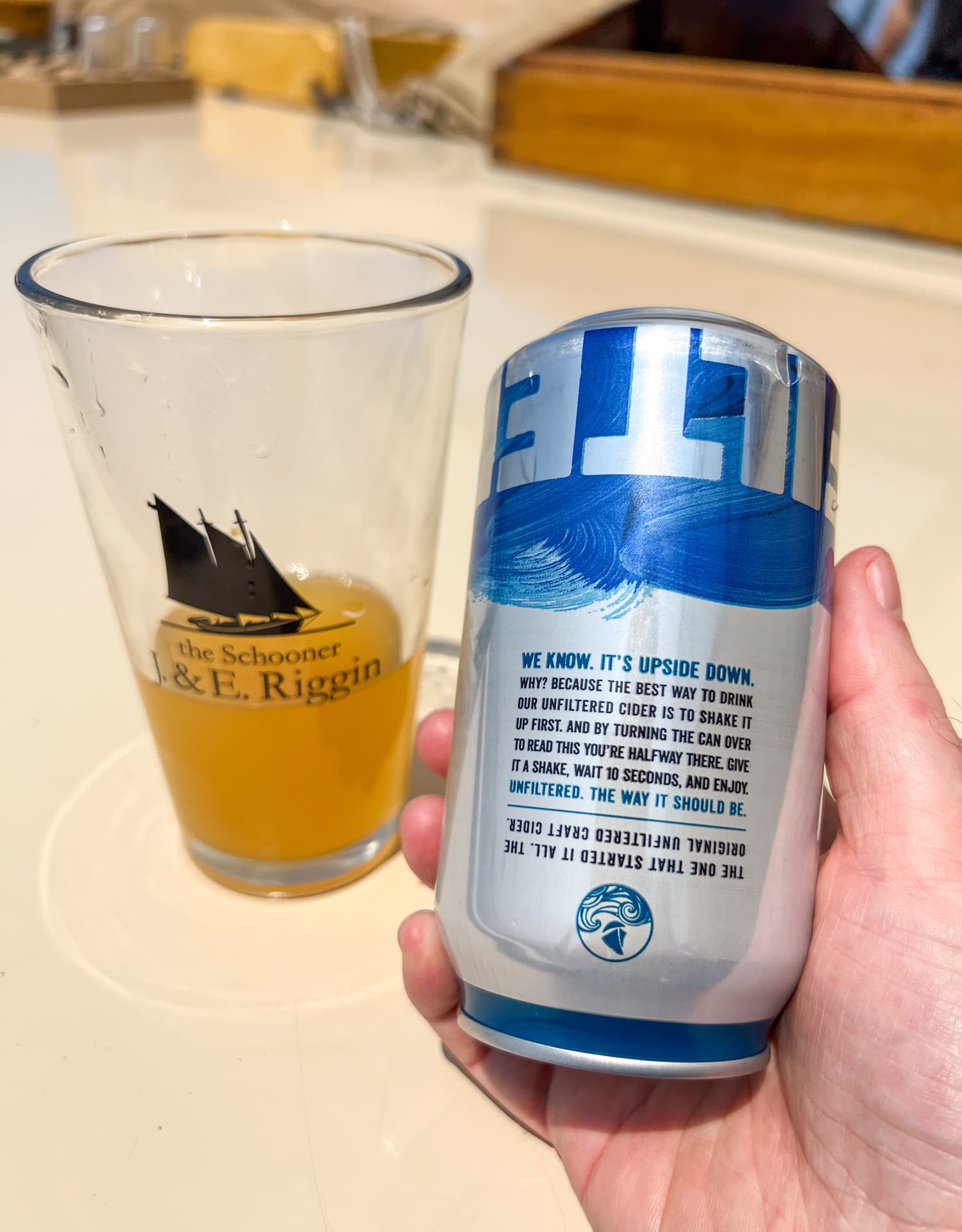 I liked its strong apple flavor so much that I got seconds.
We were served a tender brisket with polenta and Brussels sprouts for dinner that night.
And Jocelyn invited us to choose whichever Maine craft beer or cider we preferred.
I used the opportunity, our last of the cruise, to sip on a Bar Harbor Blueberry Ale by Atlantic Brewing Company.
After all, I'd had one of the most incredible pieces of blueberry pie in that town a few months earlier. I had to try blueberry-flavored beer, too!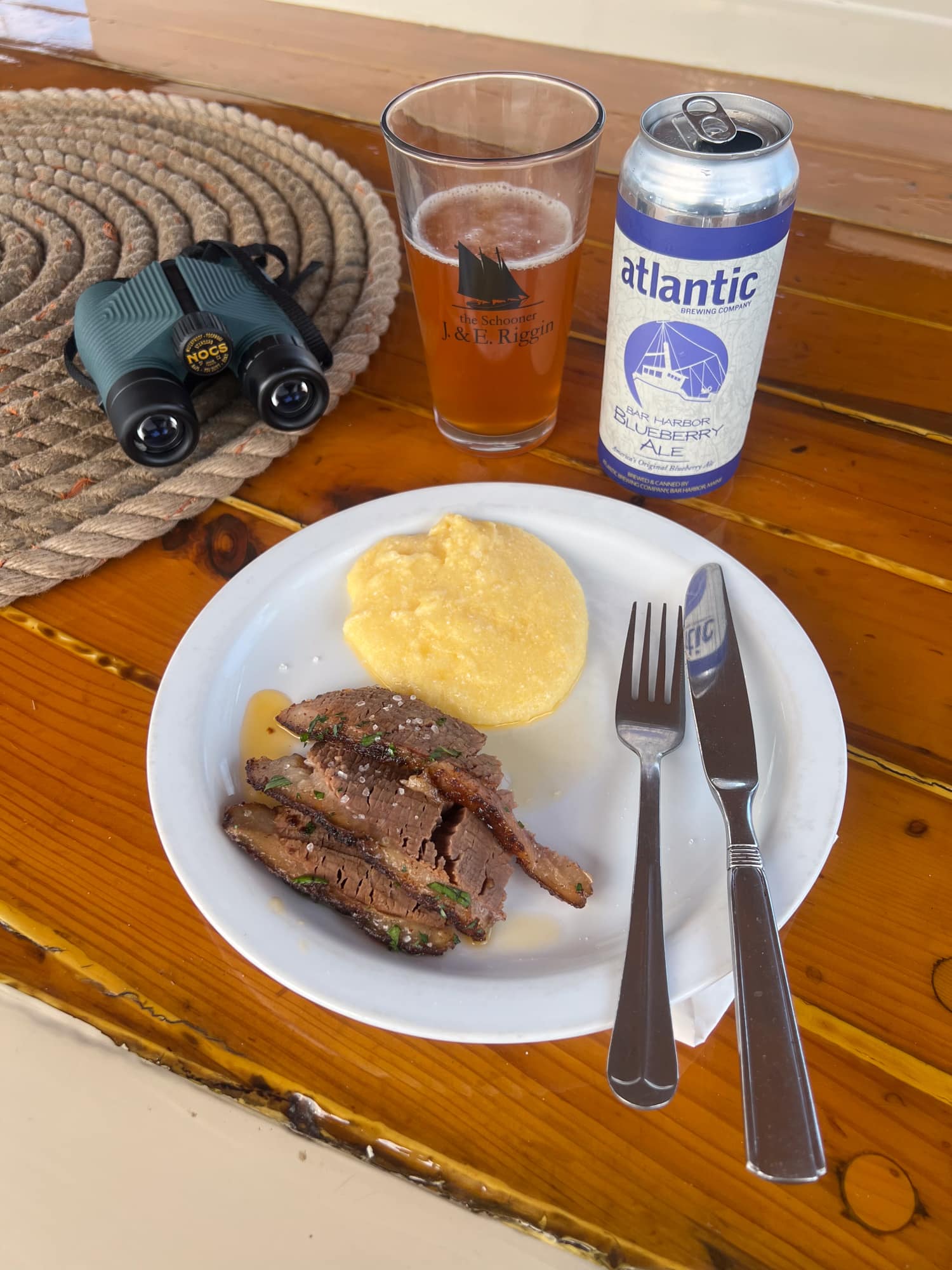 Final Thoughts
I must admit the end of my time aboard Schooner J & E Riggin was bittersweet. All the crew treated us well from the moment we boarded until we disembarked.
Abundance is a word that comes to mind to describe the food and beverage program aboard the J & E Riggin.
There was always more than enough, whether the food Jocelyn and the crew prepared or the wide variety of beers and hard ciders.
I also appreciated how much care was taken to source our beverages from around the state of Maine and provide cider for those who might prefer it.
If I've whetted your appetite for a scenic cruise like no other, check out the schedule of Sip & Sail Cruises offered by J & E Riggin.
You'll see that in addition to windjammer cruises for beer lovers, they offer ones with craft cocktails and an on-board mixologist.
For the complete sailing dates from May to October, click here. Cheers!
_____
Disclosure: My all-inclusive cruise aboard the Schooner J & E Riggin was provided at no cost so that I could share my experience with readers. I received no further compensation, nor was there any outside influence.