I first encountered Twelve, a waterfront fine dining restaurant in Portland, Maine, while wrapping up a morning walk on the city's Eastern Promenade.
I'd read the online press before arriving in The Pine Treet State for the first time, and it was positively glowing.
Vogue listed Twelve as one of 2022's most anticipated restaurant openings, and later, The New York Times included Twelve on its nationwide list of 50 favorite restaurants that year.
Executive chef Colin Wyatt, who worked at Eleven Madison Park when it was rated the World's Best Restaurant, had moved to Portland due to the pandemic.
Together with General Manager Daniel Gorlas (formerly of Per Se, another three-star Michelin restaurant in New York City) and Prentice Hospitality Group (EVO Kitchen, Chebeague Island Inn), they opened Twelve in July 2022.
As I stopped to snap a photo of the red brick building on that lovely spring day, a gentleman walked past me, proclaiming, "It'll never last!"
Surprised by the unexpected engagement, I prompted him, hoping for more. He responded, citing something about a $70 steak.
The interaction left me more curious than before. While I hadn't been there long, it was clear Portland was hardly a haven for haute cuisine.
But did that mean there was no room for Michelin-star-level cooking or a restaurant for celebrating special occasions?
While I didn't get to eat at Twelve on my first trip to Portland, Maine, I did so a few months later, in July 2023, when I returned for a windjammer cruise.
Twelve in Portland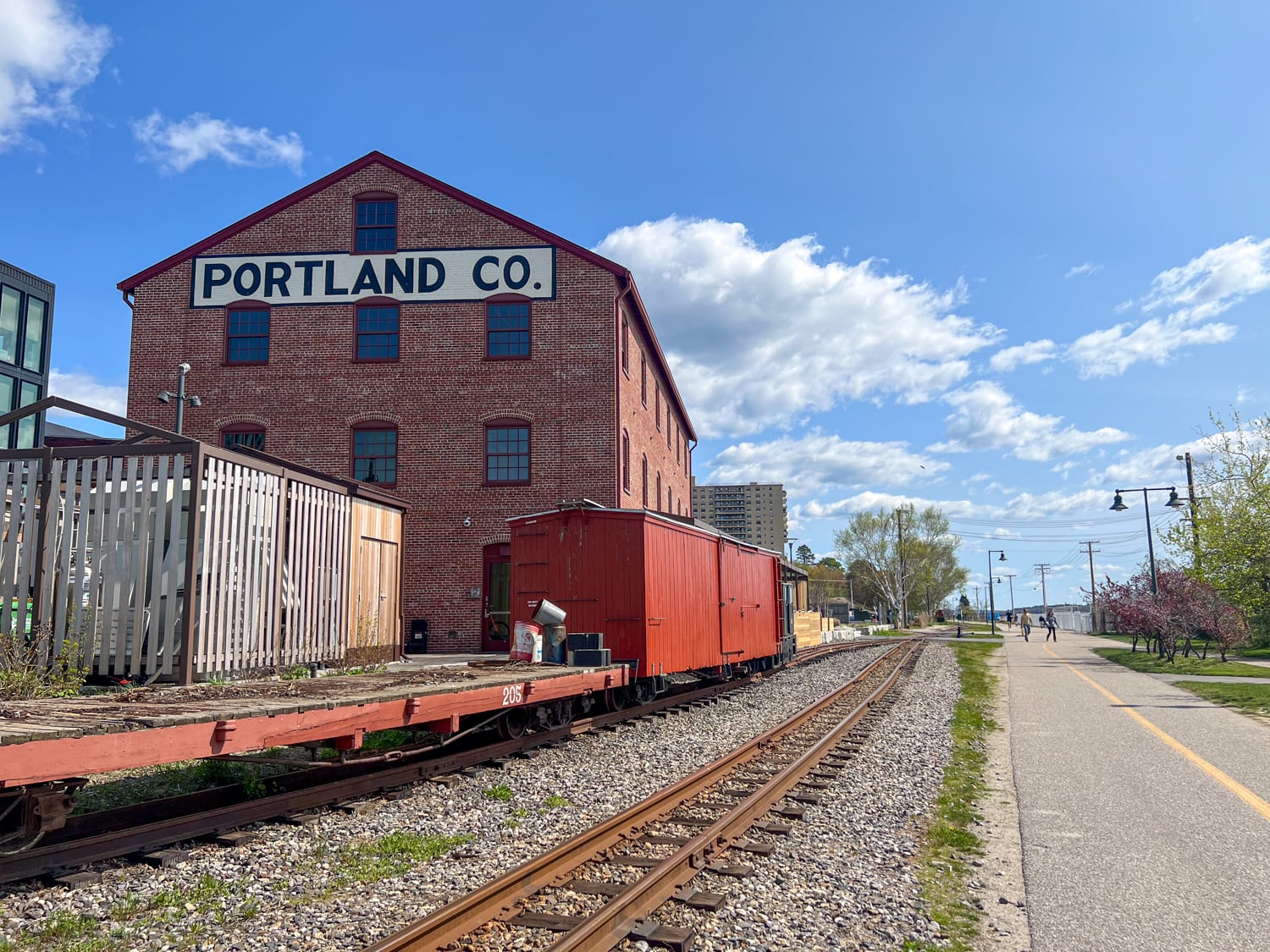 It was a warm Friday afternoon when I made the 20-minute walk from my Aloft Hotel to Twelve at the Portland Harbor waterfront.
The restaurant's name refers to the 127-year-old building's initial purpose—manufacturing train parts. It was initially called "Building 12: Pattern Storehouse" and was part of Portland's largest factory complex.
To preserve the structure and ensure it could function safely as a restaurant, the entire building was disassembled, brick by brick, and reconstructed several yards away on a steel and concrete frame.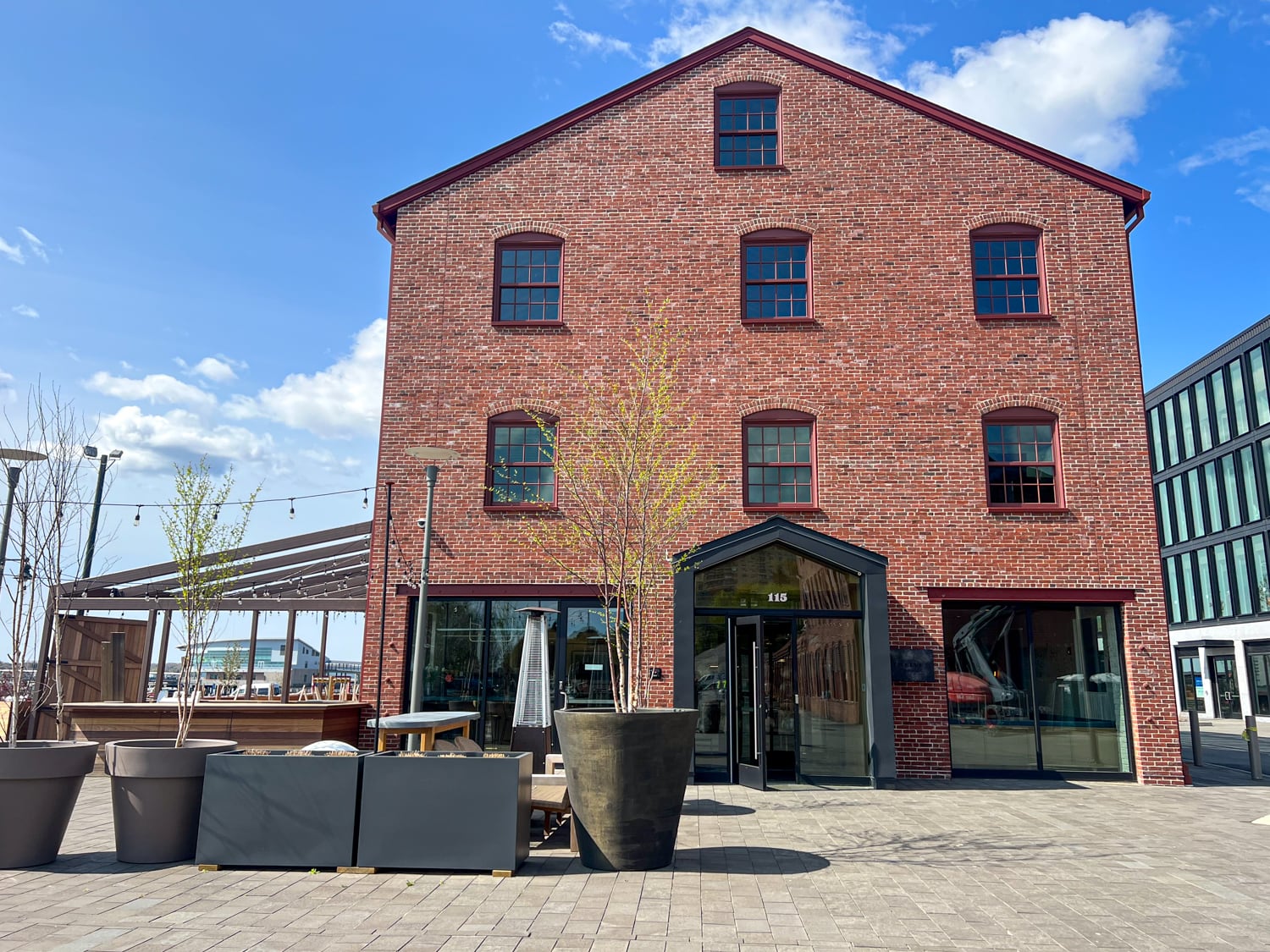 That level of meticulousness is part of why I find this project so fascinating.
In the coming years, a massive 10-acre mixed-use development called 58 Fore will be developed in front of Twelve.
Abandoned 19th-century industrial buildings that once belonged to the Portland Company at 58 Fore Street will be renovated.
The project includes a new 13,000-square-foot food hall, which will be the first of its kind in Portland, Maine.
Terrace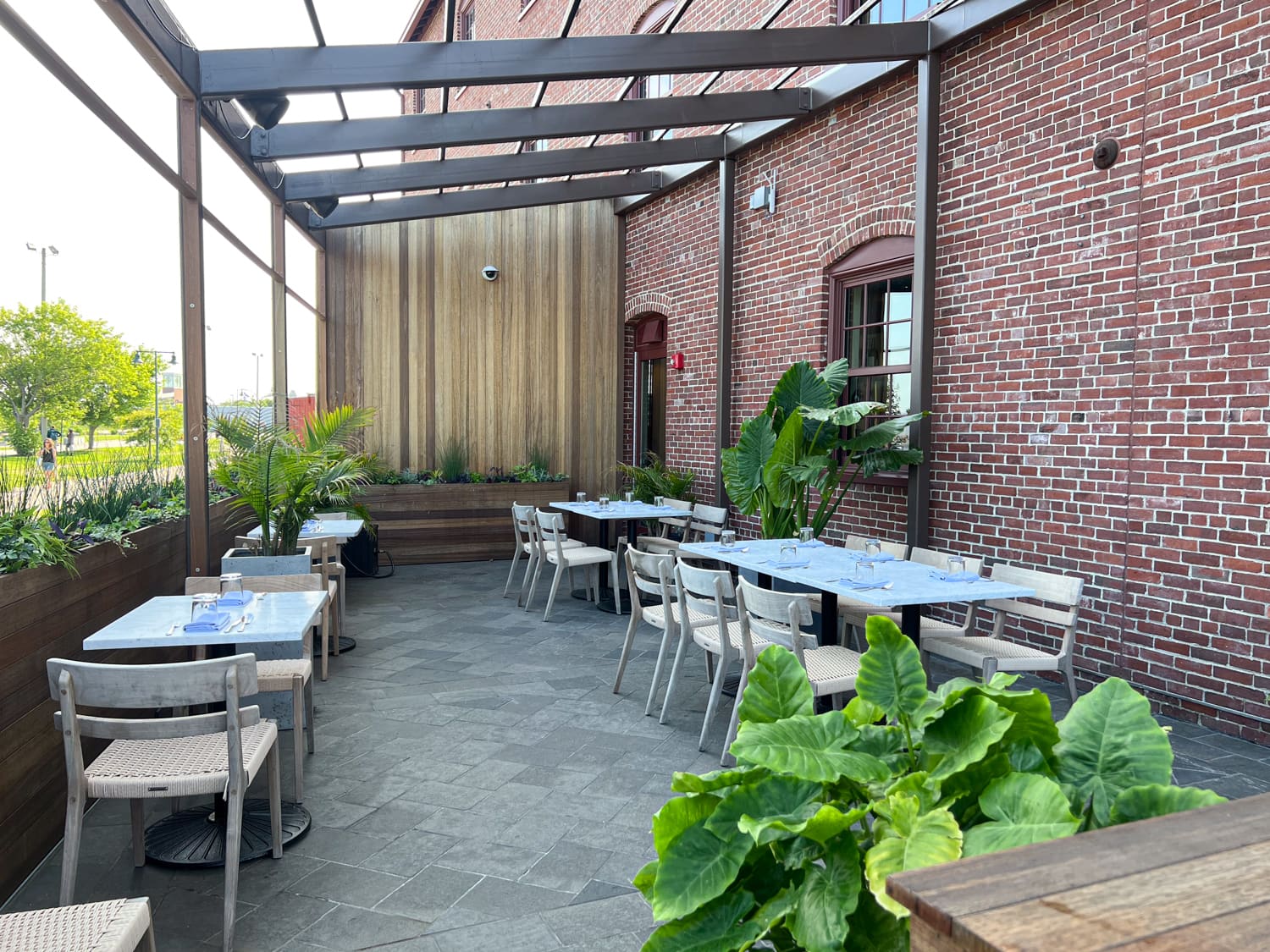 Since I was a few minutes early for my dinner reservation, I sat at the outdoor bar on Twelve's Terrace. Behind, four tables were set for guests.
A steel structure exists for what will eventually be a roof, allowing them to use the space regardless of weather conditions.
I ordered The Fizz cocktail, a sweet and refreshing summer cocktail.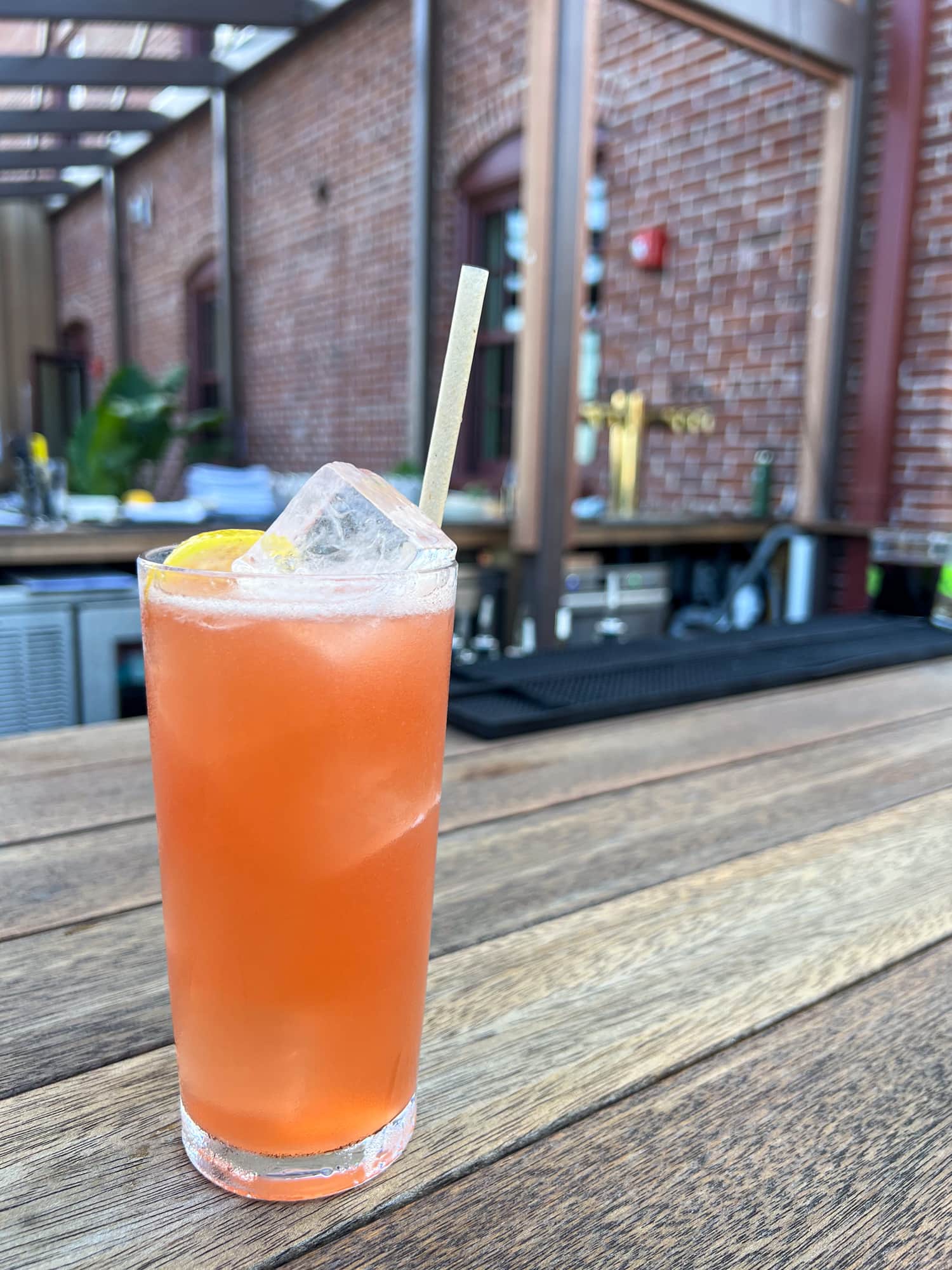 As I was sipping it at the bar, one of the Maine Narrow Gauge Railroad trains passed, chock full of families on a scenic tour.
Beyond the occasional historic train and people walking along the Eastern Prom Trail, you see the sailboats in Fore Points Marina and Casco Bay.
Dining Room
When it was time to feast, I paid my bar tab and stepped inside. The space was bright, the natural light bouncing off near-white walls.
Dark wooden beams drew one's eyes to the ceiling and across the room. The interior design felt very much like coastal New England.
According to Chef Wyatt, materials were reused from the original space, including the seven-seat chef's counter, which offers diners a view into the open kitchen.
The hostess sat me at a corner table with a nice view of the restaurant and bar. However, I could not see the chef's counter and open kitchen around a corner to my right.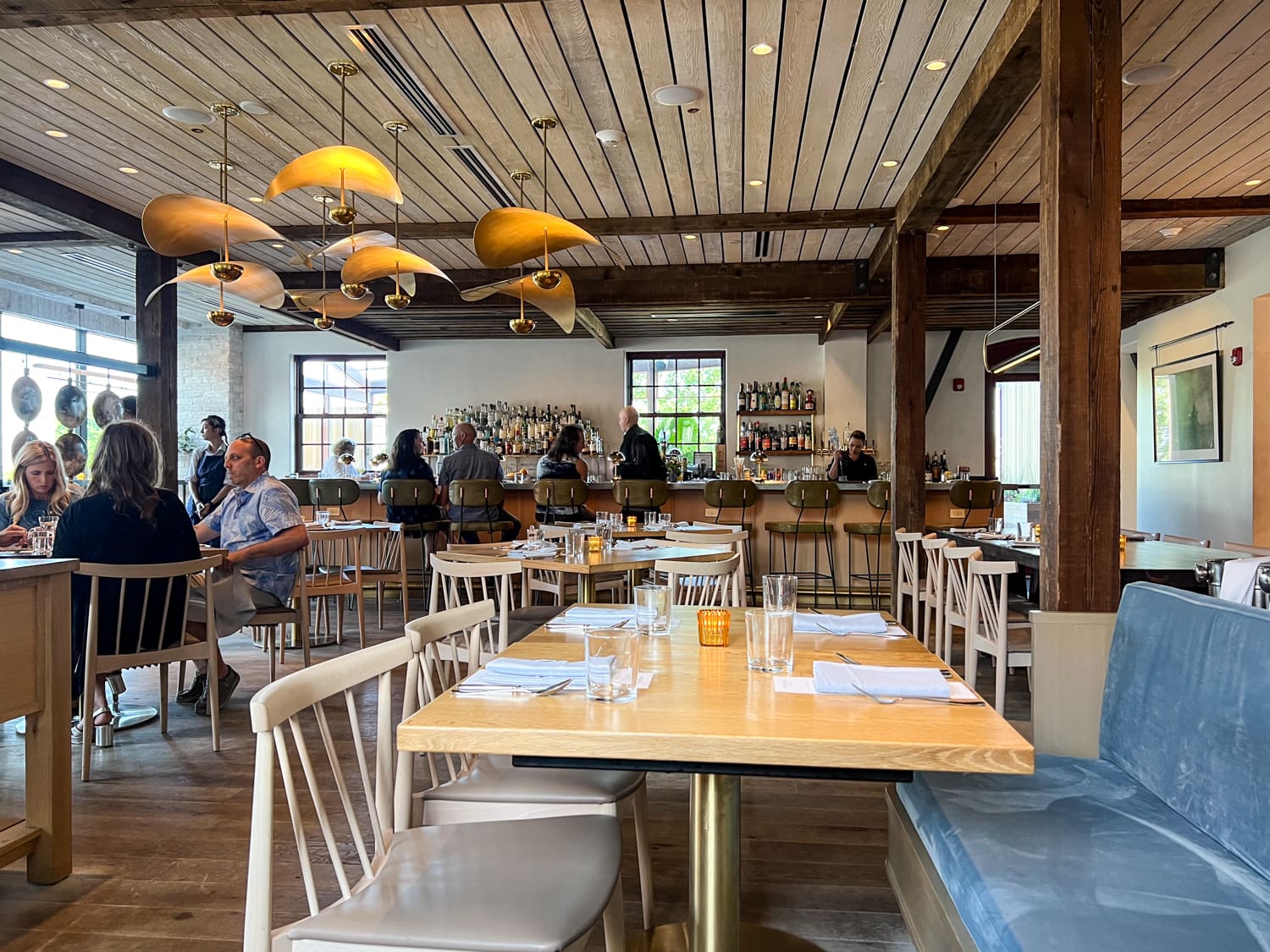 According to Woodhull, the company that built out the interior, they only had "seven months to bring the 1860s structure from bare walls and dirt floors to a fully functioning world-class restaurant." I'd say they did a fantastic job.
Now, let's feast our eyes on Twelve's modern New England food, reflective of the locally sourced ingredients in Maine.
Prix Fixe Menu
By the time I'd returned to Portland, Maine, the price of the four-course prix fixe menu at Twelve had jumped from $82 to $90.
Still, given the talent in the kitchen, the seasonal menu was a potentially excellent value.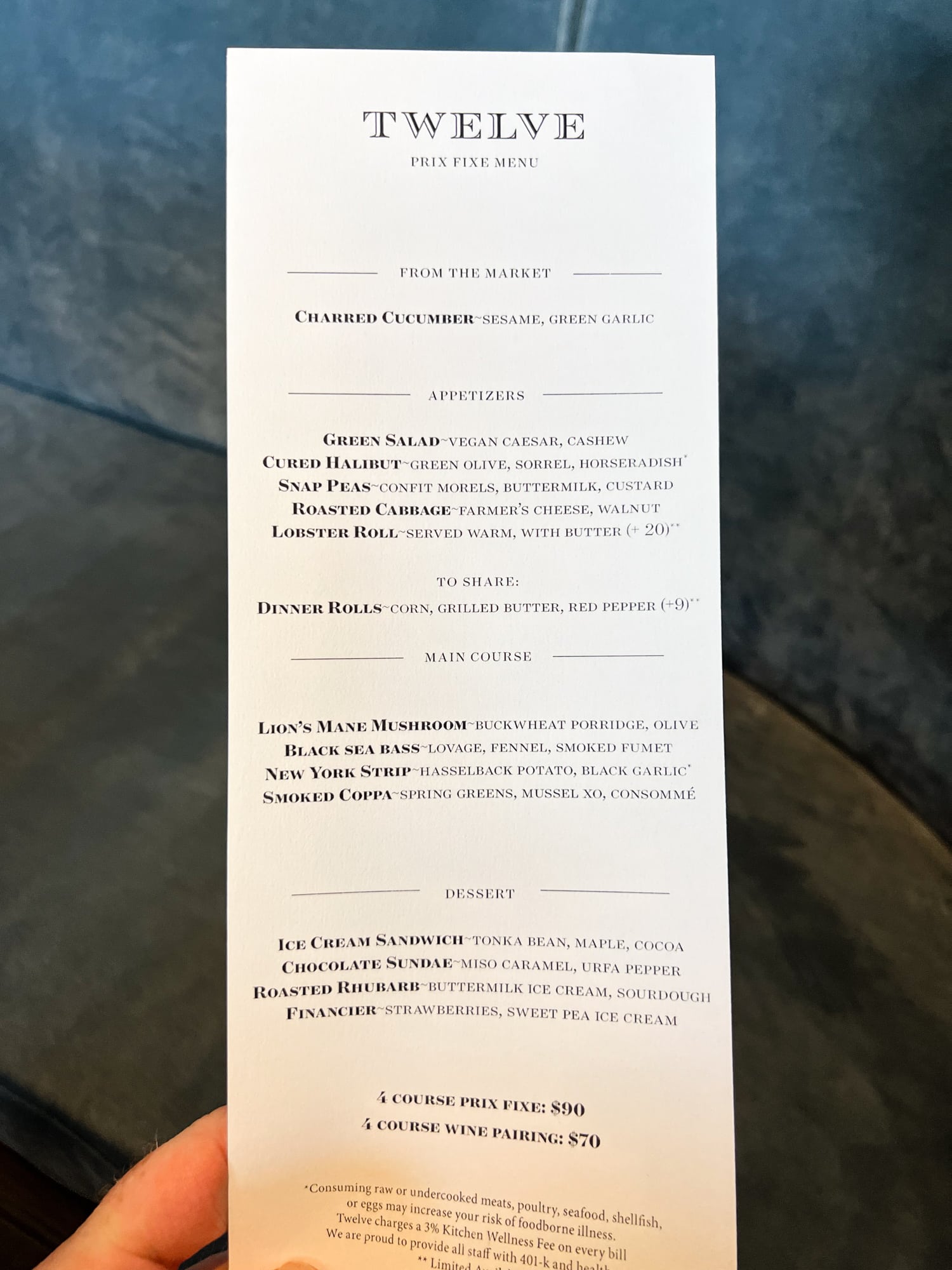 I priced out the cost of ordering a la carte and didn't find it more than a few dollars pricier than the set menu.
But, if you intended to get the signature lobster roll for a supplemental fee, as I did, the savings would increase.
From the Market
The first course was the same for everyone: a charred cucumber dish with sesame and green garlic.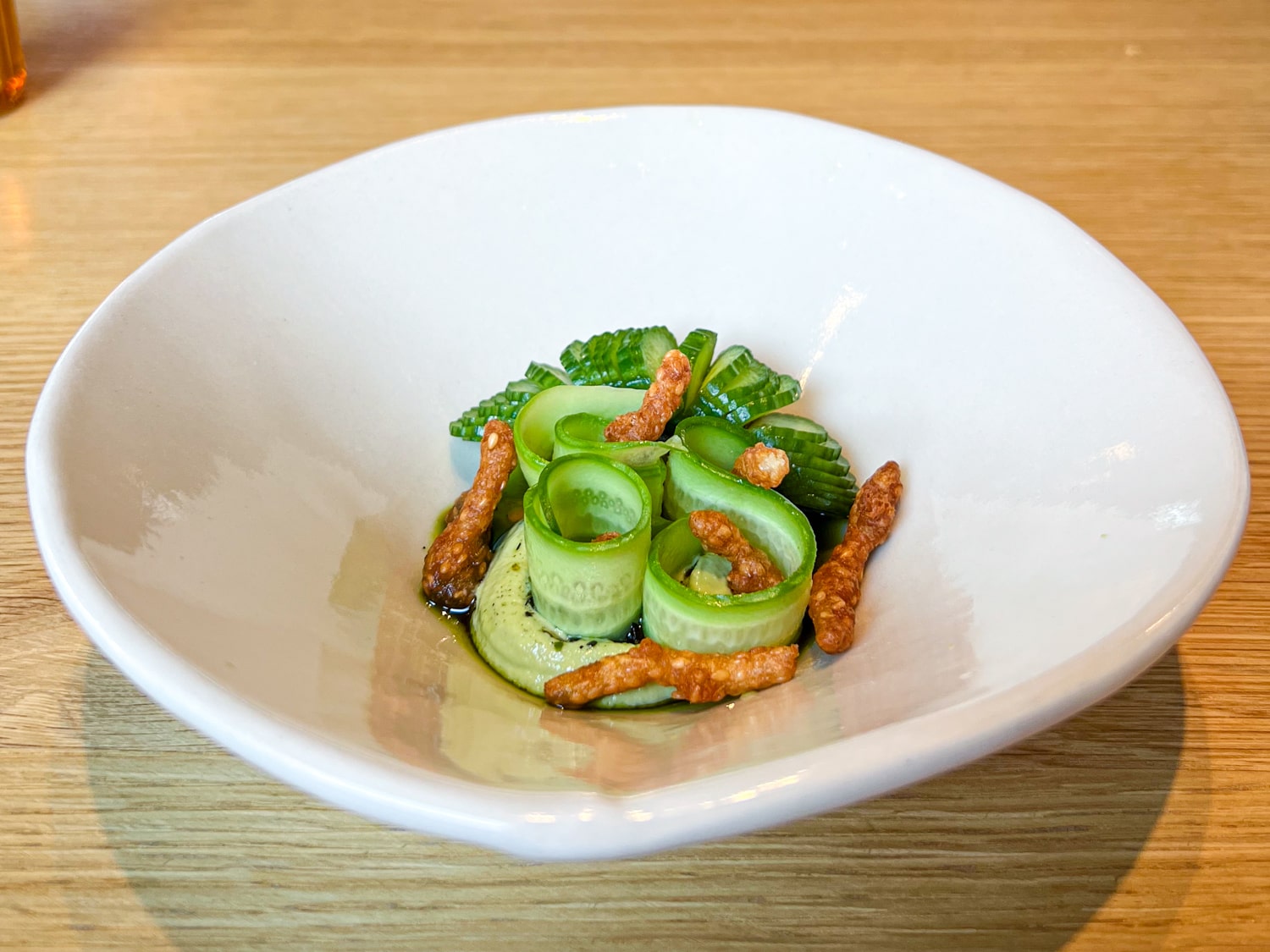 The presentation was attractive, and the ingredients were fresh. We were off to a good start.
Appetizers
Next, there were five appetizer options: a green salad, cured halibut, and roasted cabbage with farmer's cheese and walnuts.
But I'd already set my sights on what'd become Twelve's signature dish, warm Maine lobster served on a flaky, croissant-like roll.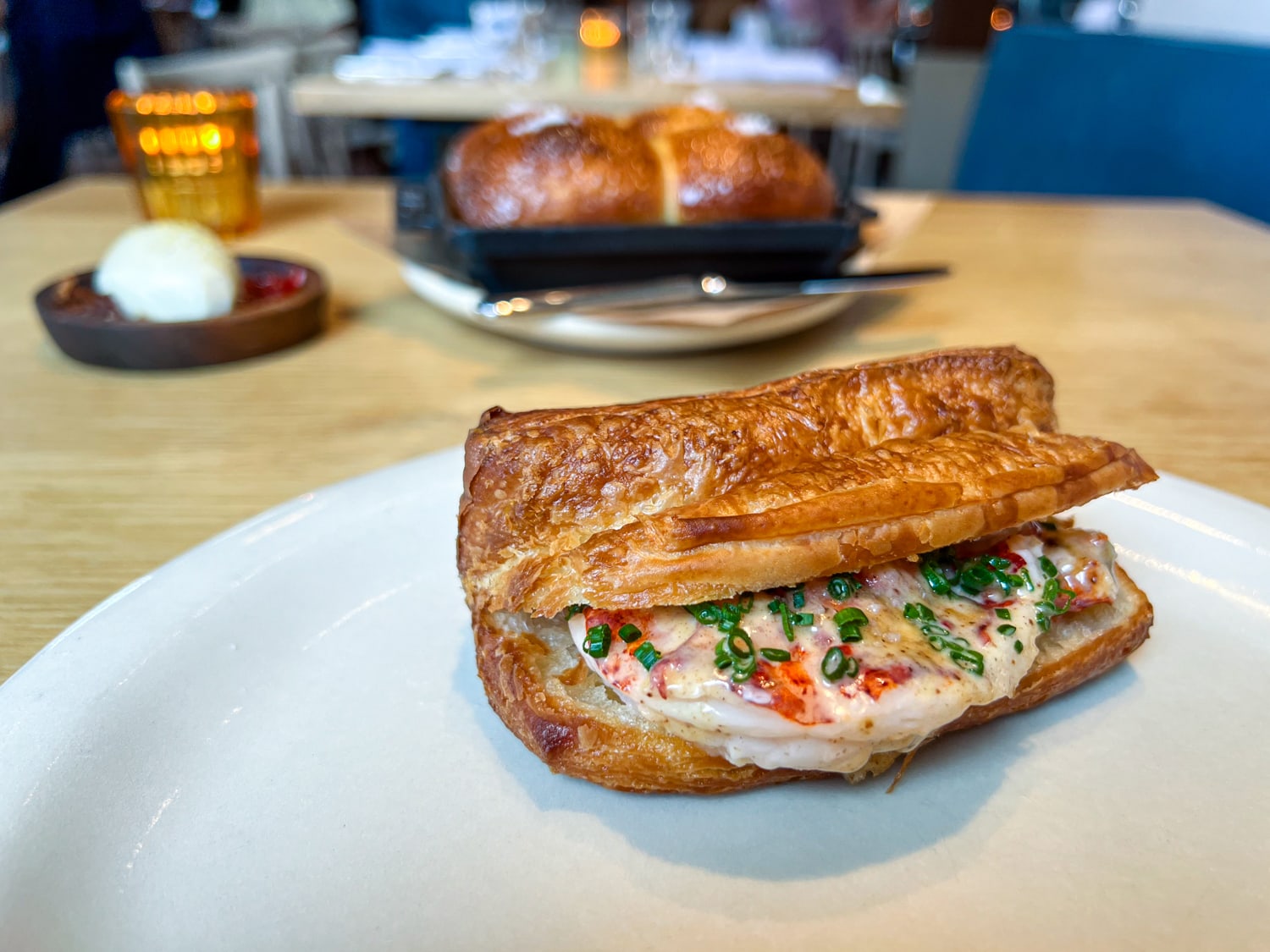 The novel approach is thanks to pastry chef Georgia Macon, a graduate of Le Cordon Bleu in Paris and alumnus of Tartine, one of San Francisco's best bakeries.
In exchange for the $20 upcharge for choosing the lobster roll, you'll get 3.5 ounces of buttery local lobster on a distinctive roll.
I'd also read good things about Twelve's dinner rolls with sea salt, served with a creamy quenelle of charred butter, corn, and red pepper jelly.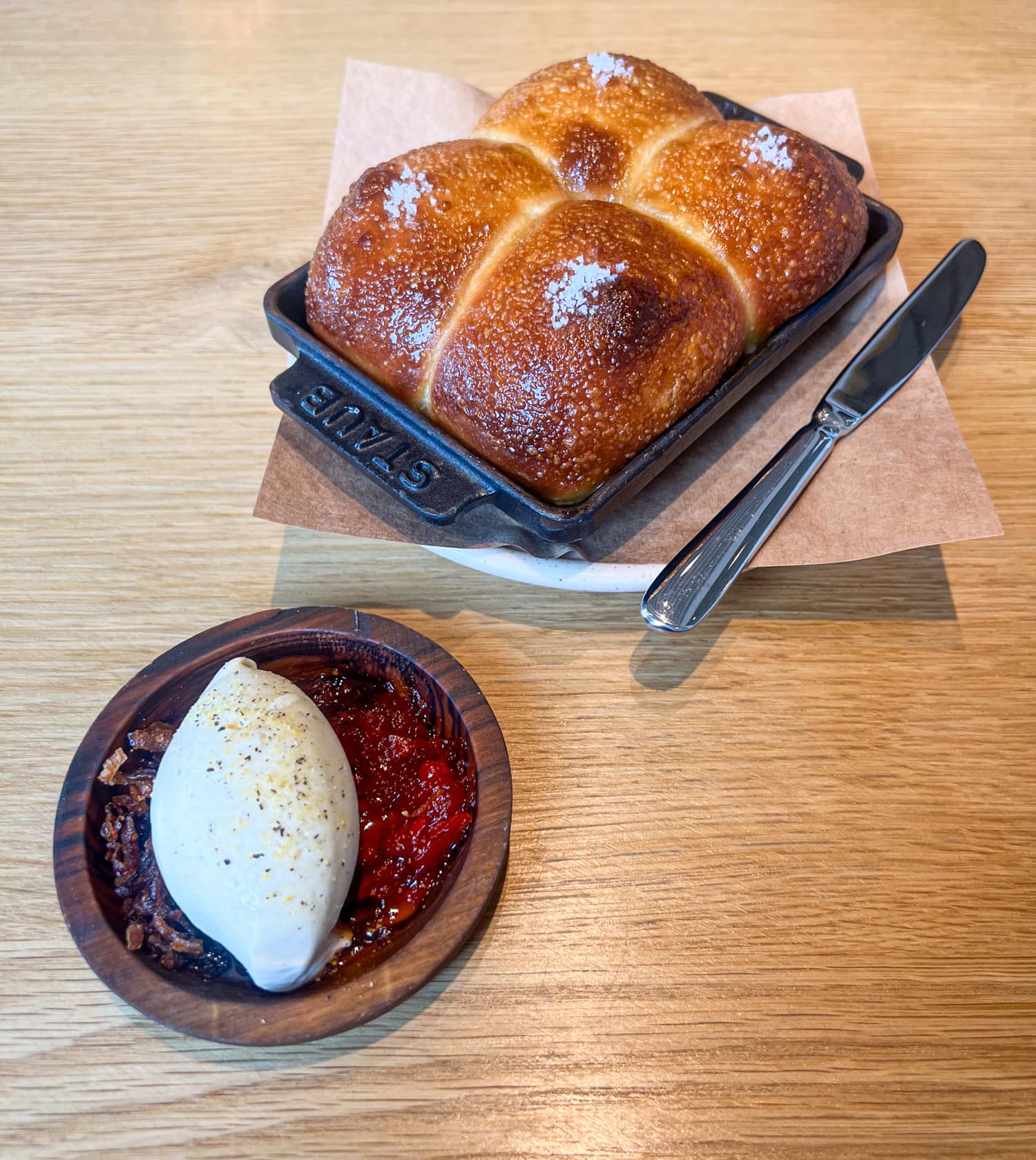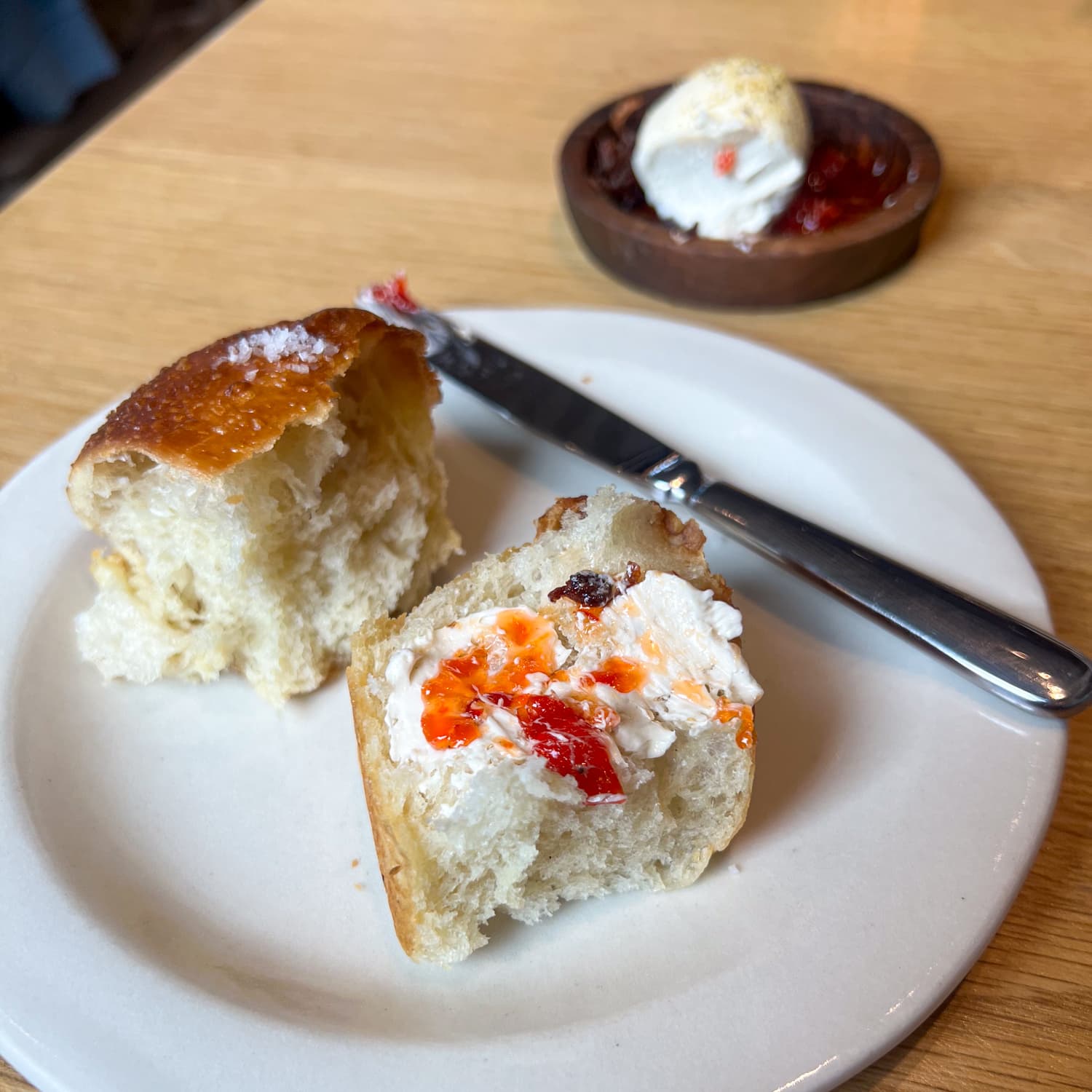 Charcoal is mixed with cream and then strained to make the butter, and boy, was it fantastic. I was still working on the bread and butter, even after dessert.
I packed up the leftovers so I could enjoy them for breakfast the following day.
Main Course
Black sea bass with lovage, fennel, and smoked fumet was my pick for an entree, as we were in a historic waterfront setting. The broth was fresh and herbaceous.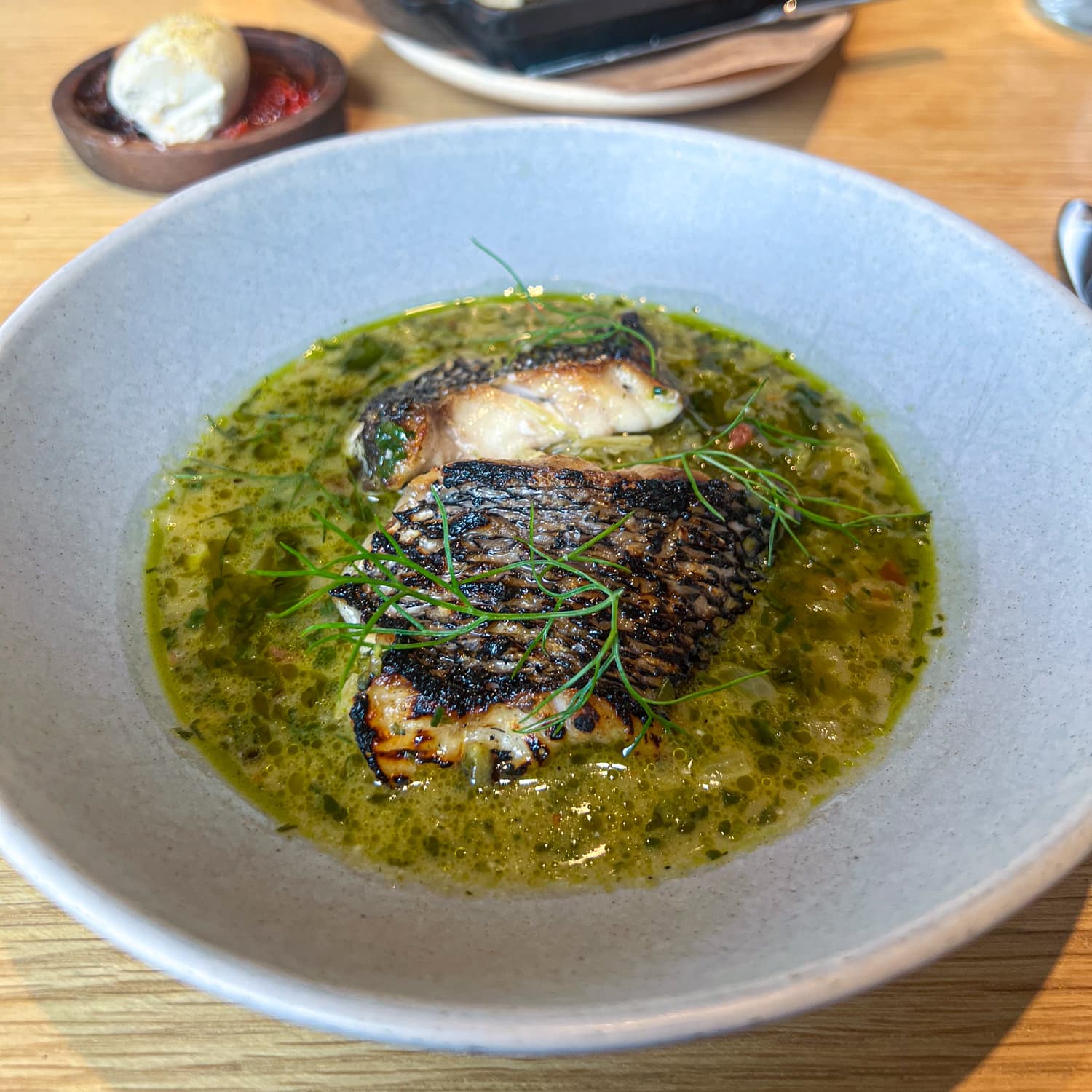 Additional entrees I could've chosen included lion's mane mushroom with buckwheat porridge, a New York strip steak with hasselback potatoes, and smoked coppa (pig shoulder) with spring greens.
Dessert
Finally, there was dessert. An ice cream sandwich with tonka bean, maple, and cocoa appears to be a staple, as does a chocolate sundae with miso caramel and urfa pepper. But I want something seasonal.
The roasted rhubarb with buttermilk ice cream and sourdough crumbles did the trick. And it was beautifully presented.
Related: Portland Food Tour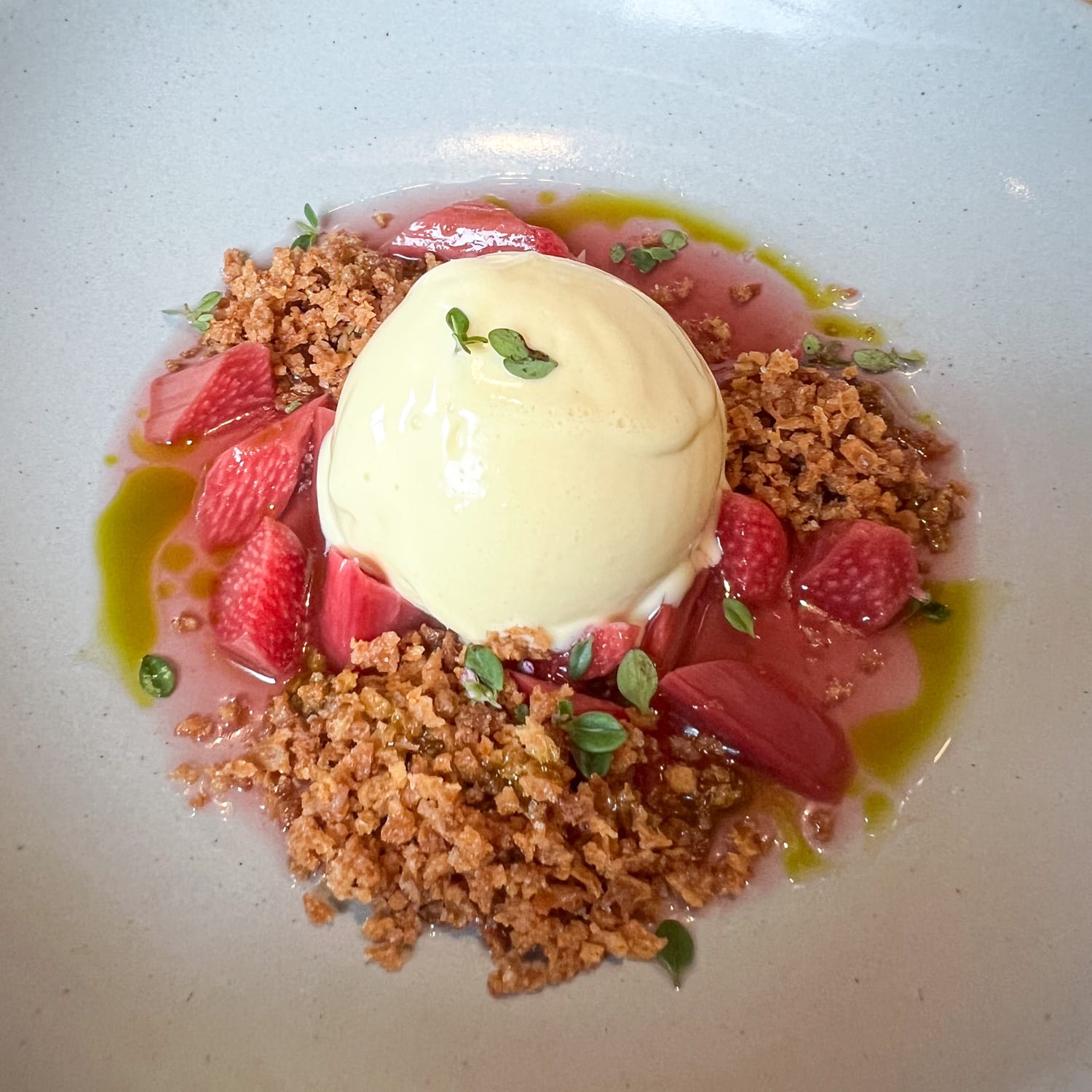 The ice cream was so soft and creamy, and I liked the added crunch of the sourdough.
Service and Cost
As my first dinner at Twelve ended, I reflected on the experience as a whole.
There was the historic setting along Portland's waterfront. World-class chefs, food, and management. Fast and friendly service by my waiter (thanks, Andrew). And despite the restaurant filling up by 5:45 p.m., it never felt too loud.
Altogether, it was well worth the $150 I paid for dinner that night.
The breakdown is $90 for the four-course menu, plus a $20 supplement for the lobster roll, a $9 supplement for the dinner rolls, a 3% Kitchen Wellness Fee, tax, and gratuity.
Based on the experience, Twelve is #1 on my list of the best restaurants in Portland, Maine.
Visit Twelve in Portland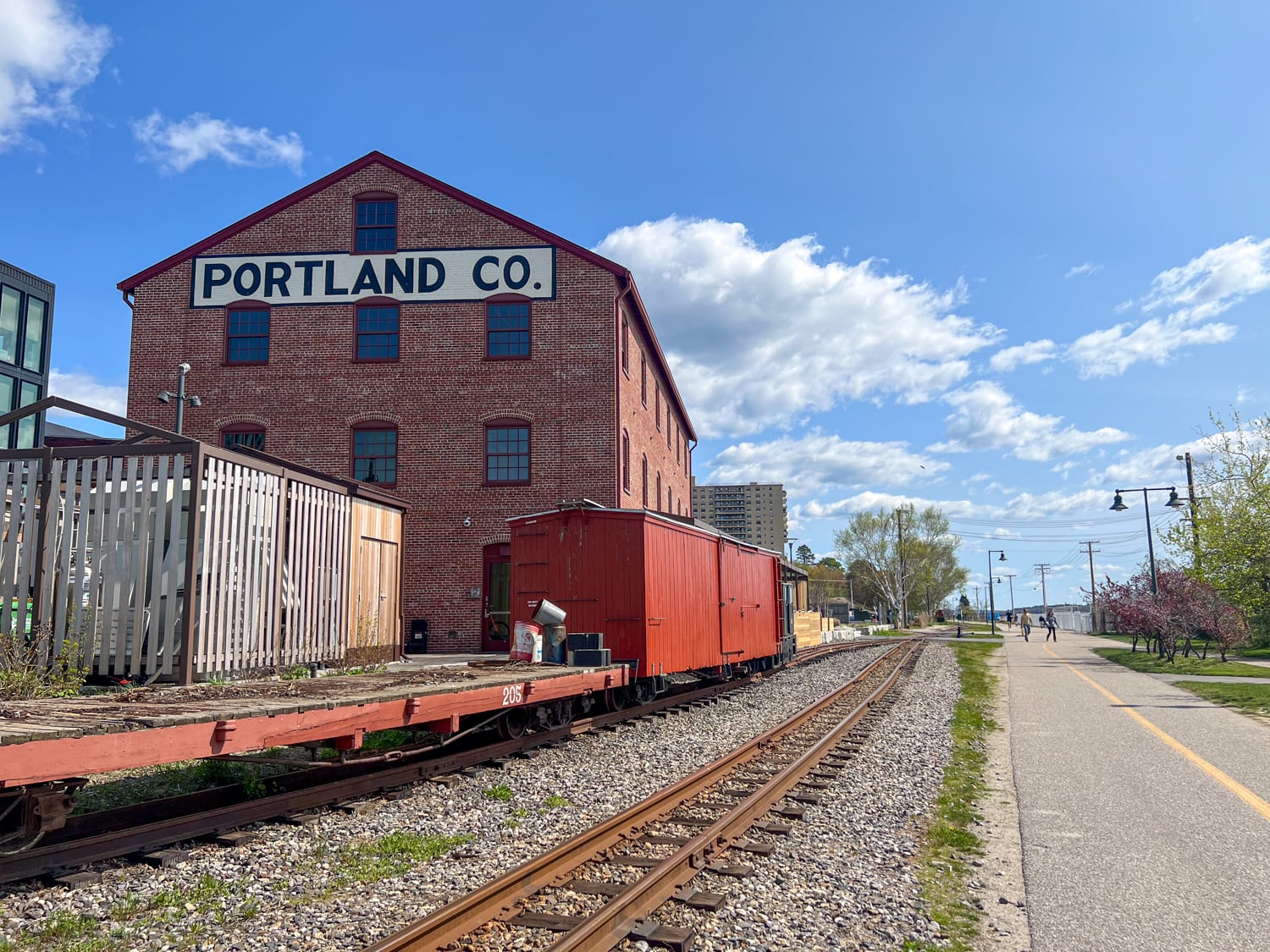 Address: 115 Thames St, Portland, Maine, United States

Reservation: Recommended and can be made on Resy. Walk-in diners can sit at the bar on a first-come, first-serve basis and order from the a la carte menu.

Dress Code: There's no formal dress code. I'd suggest smart casual.
_____
My accommodation was provided courtesy of Aloft Portland in collaboration with the Maine Office of Tourism.