If you find yourself cruising along scenic MidCoast Maine, do yourself a favor and plan for a delicious meal at Primo Restaurant in Rockland.
Located in a charming 19th-century Victorian home, this farm-to-table Italian restaurant is the work of two-time James Beard Award-winning chef Melissa Kelly.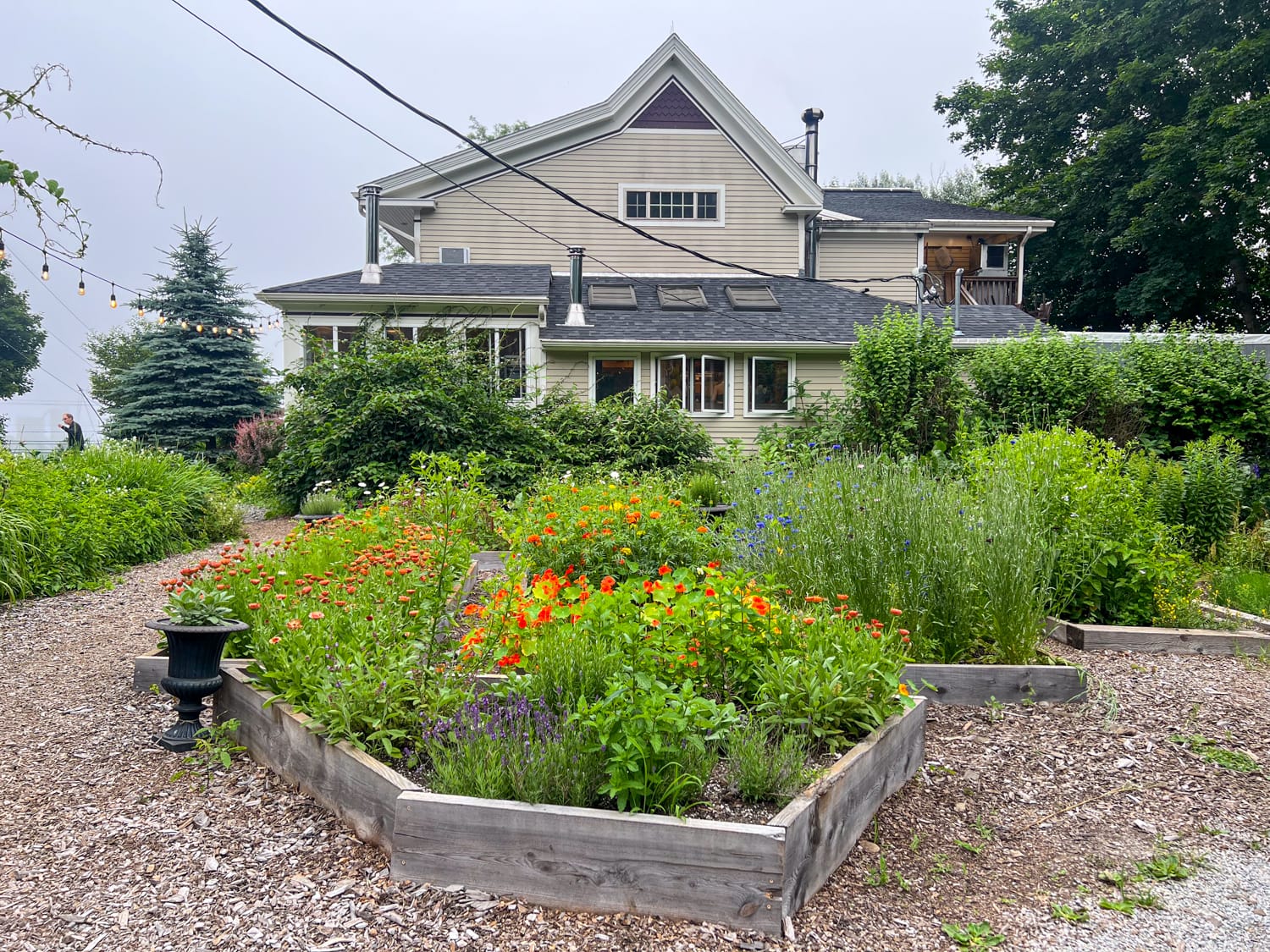 Here, "local" isn't just a buzzword; it's a lifestyle. With a four-acre organic farm, two greenhouses, and an apiary on-site, Primo offers a dining experience where the ingredients are as fresh as the coastal air.
From handcrafted cocktails to mouthwatering entrees and desserts, this restaurant, now in its 24th season, is a culinary experience not to be missed.
Primo in Rockland
I arrived in Rockland by bus from Portland the day before I was due to depart on a five-day windjammer cruise aboard Schooner J & E Riggin.
As I couldn't get a reservation at Primo, I took my chances as a walk-in guest on a Saturday night.
My approach to visiting top restaurants is to arrive as they open and hope for the best. Being a solo diner helps, as we're usually easier to accommodate.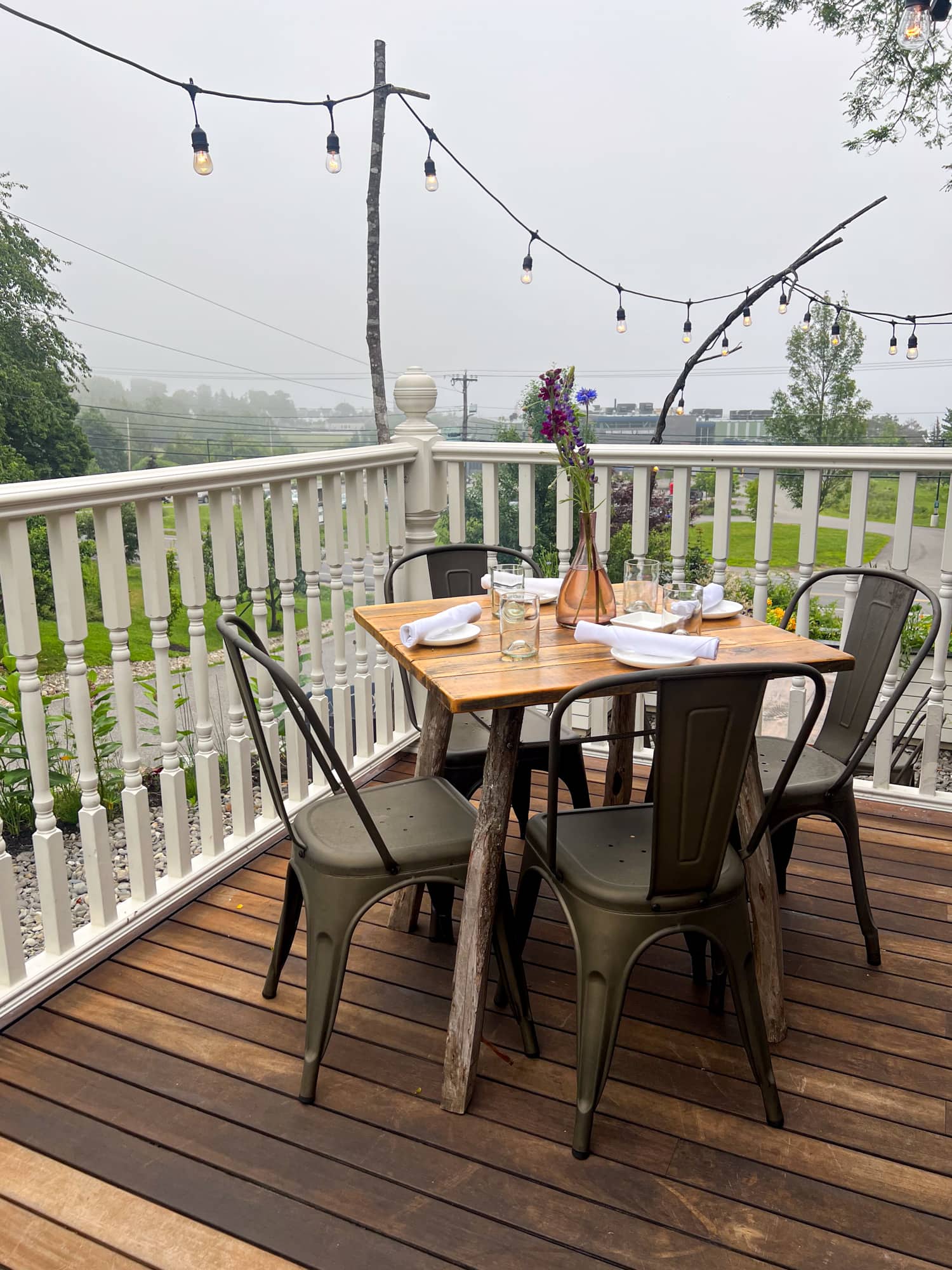 Rideshare apps don't service Rockland; only one on-demand taxi service operates on weekends (Joe's Taxi). So, for $10, I got a ride to Primo from the LimeRock Inn, where I spent the night.
The seating areas at Primo include:
Outdoor tables on the front porch (unheated)
Indoor farmhouse dining rooms on the ground floor
Indoor Bar Room and Counter Bar Room on the second floor (walk-in guests)
My early arrival paid off, and I was promptly shown to a small table in the second-floor Counter Bar Room.
Drinks
I began my epicurean adventure at Primo Restaurant with the cocktail menu, which offered more than a few appealing adult beverages.
The emphasis on farm-fresh seasonal ingredients was clear in drinks like the Spanish Gin and Tonic made with rotating Primo botanicals and a Garden Raspberry Mule with Tito's Vodka.
Ultimately, I couldn't resist ordering You're My Boy, Blue!, a reference to the movie Old School.
It was made with Ford's Gin, pisco, blueberry and tarragon syrup, fresh lemon, egg white, and blueberry dust. It was sweet but not overly so.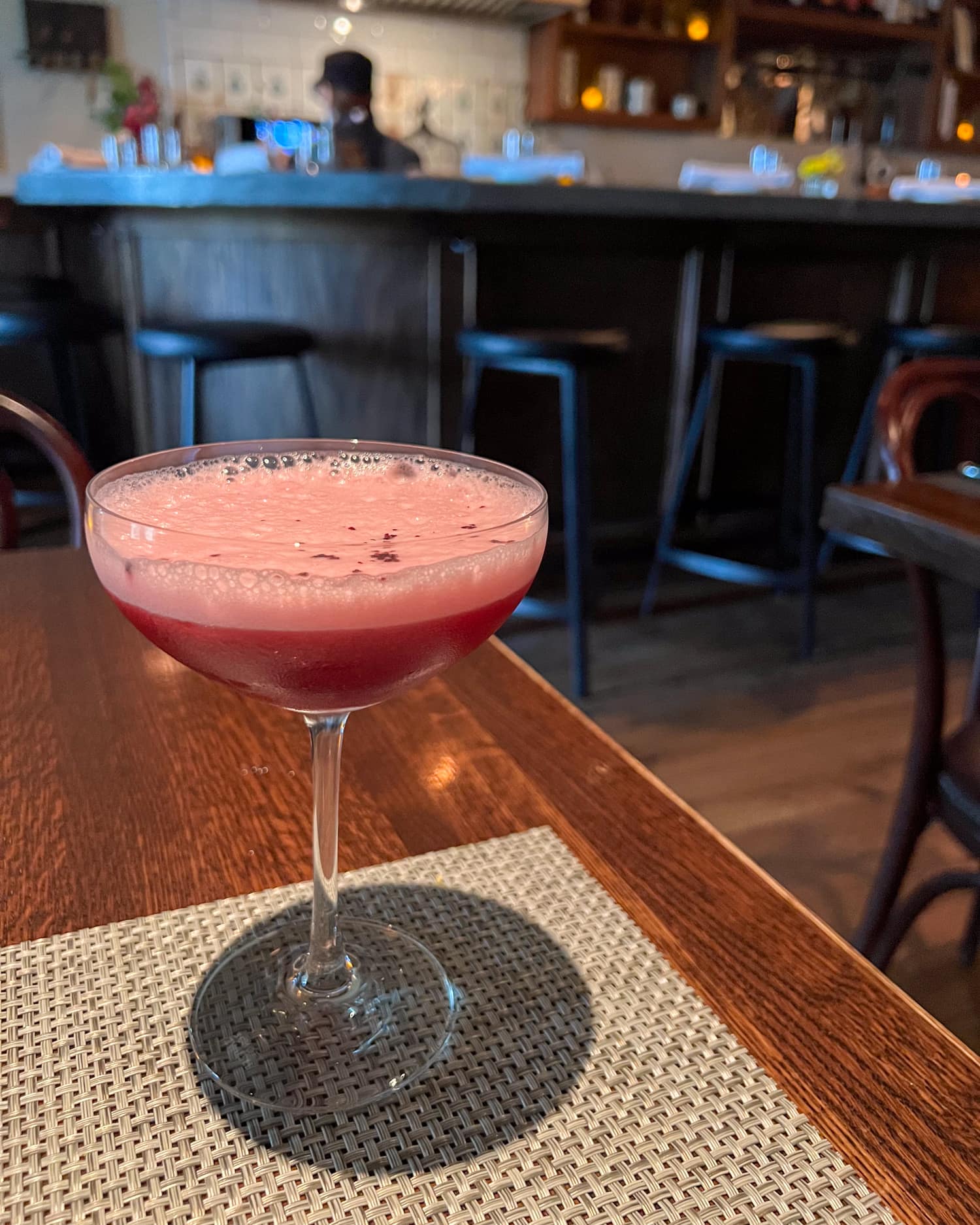 I was also happy to see three zero-proof cocktails on the menu, all of which sounded equally impressive.
A half-dozen beers and ciders are obtainable on tap, including Peroni Italian Lager, Guinness, and a few by Maine breweries. Another half-dozen are available in cans and bottles.
Primo Restaurant in Rockland also offers an extensive international wine list featuring wineries from Sonoma County to Tuscany.
A few minutes after my cocktail was delivered, I received a small salmon pastry, compliments of the kitchen.
Italian Food
The menu changes daily based on ingredients from Primo's farm, seafood providers, and other purveyors. The menu emphasizes this point, as each is stamped with the date.
The appetizer I chose wasn't even on the printed menu. That day's specials included squash blossoms that were lightly fried and stuffed with goat cheese.
Biting into the warm blossoms was heavenly. And I liked the spiciness of the salad's pepper sauce. The dish both looked and tasted fresh from the farm.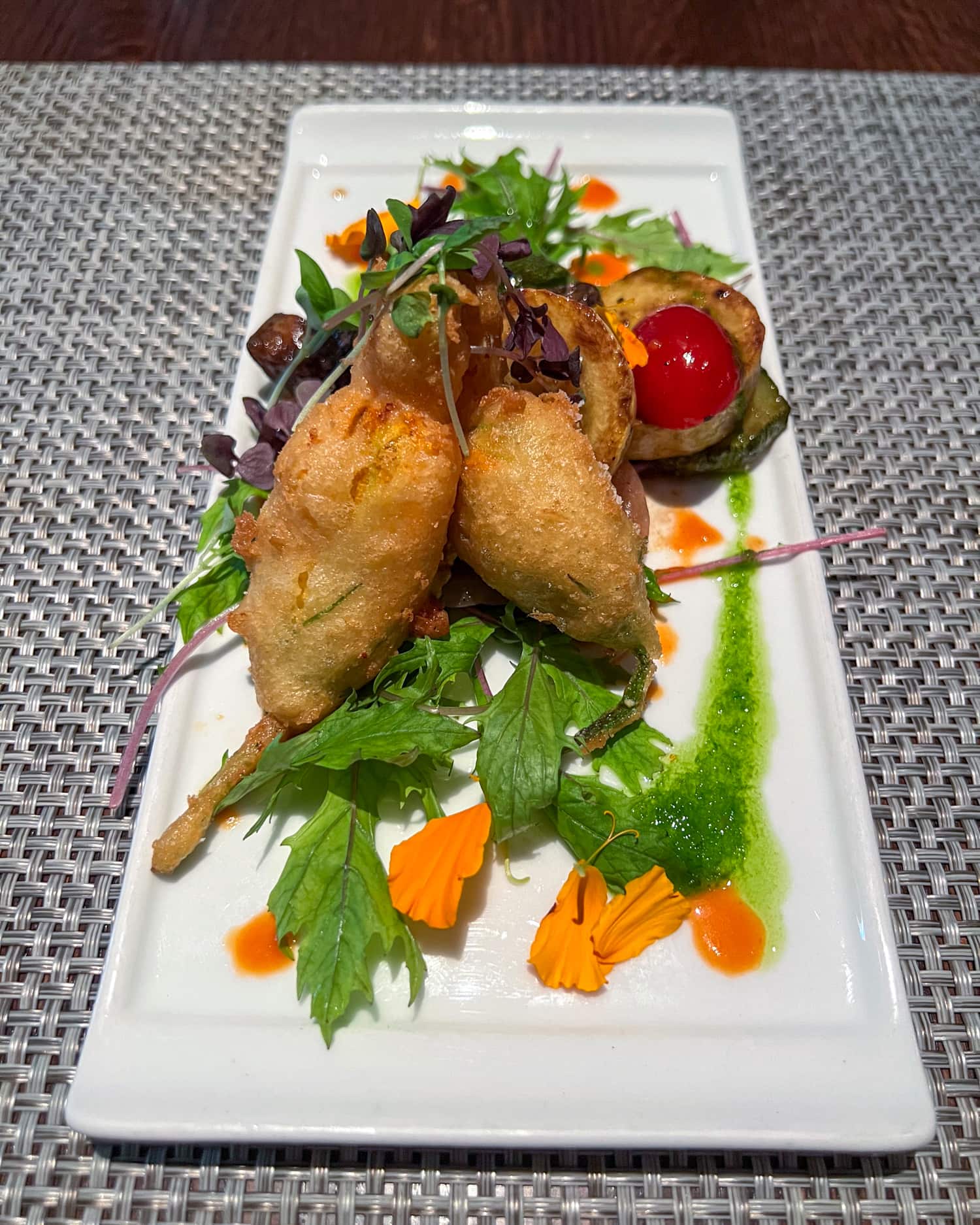 Additional salads, oysters, a charcuterie board, Maplebrook Farm burrata, and LaBelle Farms foie gras are some of the constants, albeit with a rotating cast of supporting ingredients.
Entrees
Fresh pasta dishes at Primo Restaurant included Wild Nettle Spaghetti Alfredo Verde with peas and charred corn, Ricotta Cavatelli, and Lobster Scialatielli with zucchini ribbons.
The menu also featured local bluefin tuna, wild salmon, chicken breast, Cold Spring Ranch New York Strip steak, and LaBelle Farms duck breast.
We were one block from Penobscot Bay, so I wanted to order a seafood entree.
I settled on a sumptuous pan-roasted local halibut served with a sunchoke almond mousseline, crips sunchokes, morel and clamshell mushrooms, and fresh herbs. Once again, the freshness of the ingredients shined through.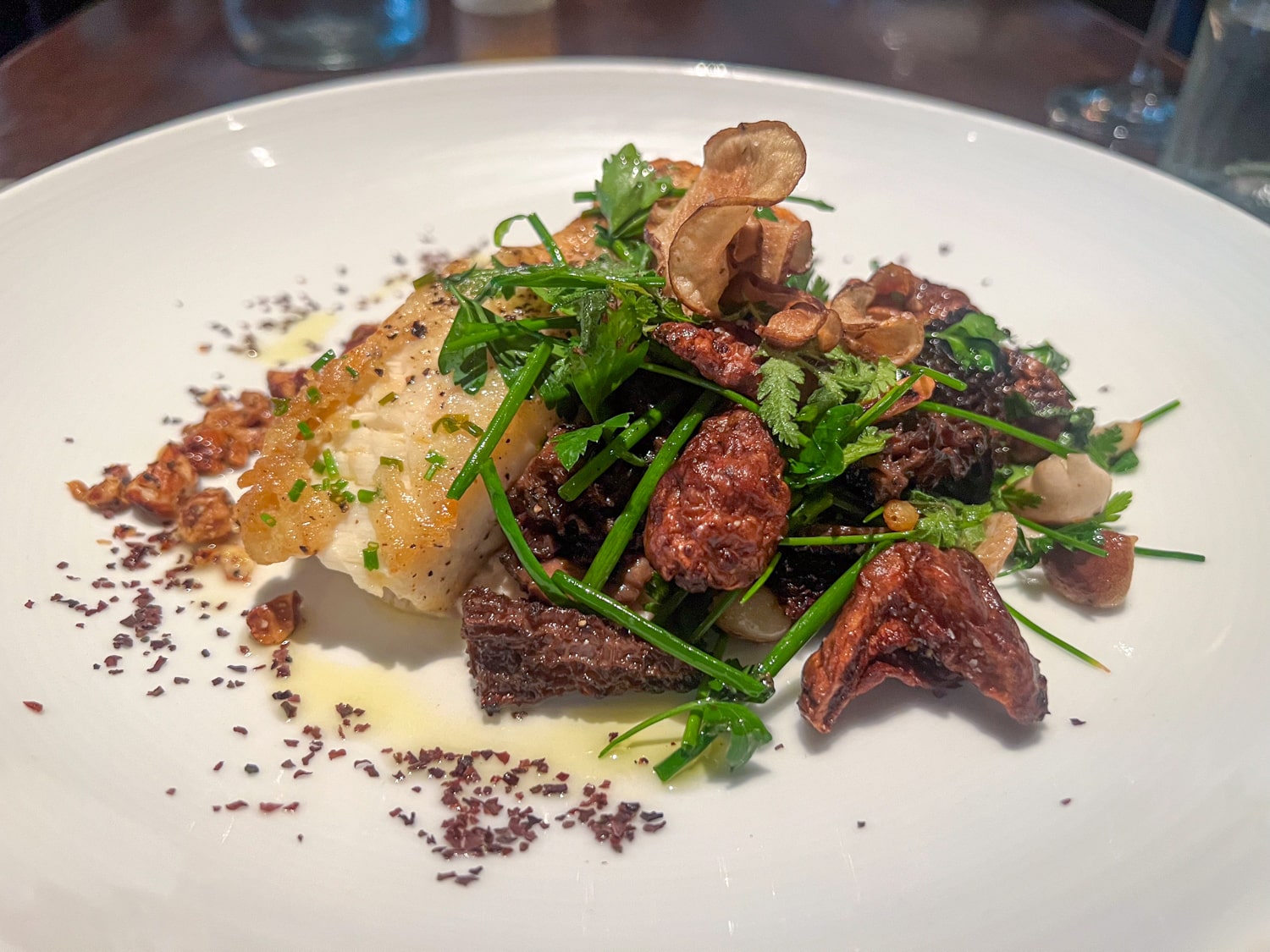 I didn't come to appreciate mushrooms until my forties, and I am still surprised by how amazing they can taste. As with truffles, I enjoy their earthiness.
I briefly considered ordering from the cheese menu in addition to or instead of a dessert.
There were Goat's Milk Rolls with green peppercorn and nutmeg from York Hill Farm in Washington, Maine. And Waldo Smog, a soft-ripened organic Jersey cow's milk cheese with a layer of ash from Fuzzy Udder in Whitefield, Maine.
Despite the cute names and small farms, I felt it'd be too much, so I only requested a dessert.
Desserts
The evening's special, Strawberry Shortcake, had a cream made with whipped mascarpone and lemon balm, and it was served with local strawberries.
According to my server, Jessica, it was made with a James Beard cake recipe that executive chef Kelly could alter.
Related: Modern New England Dining at Twelve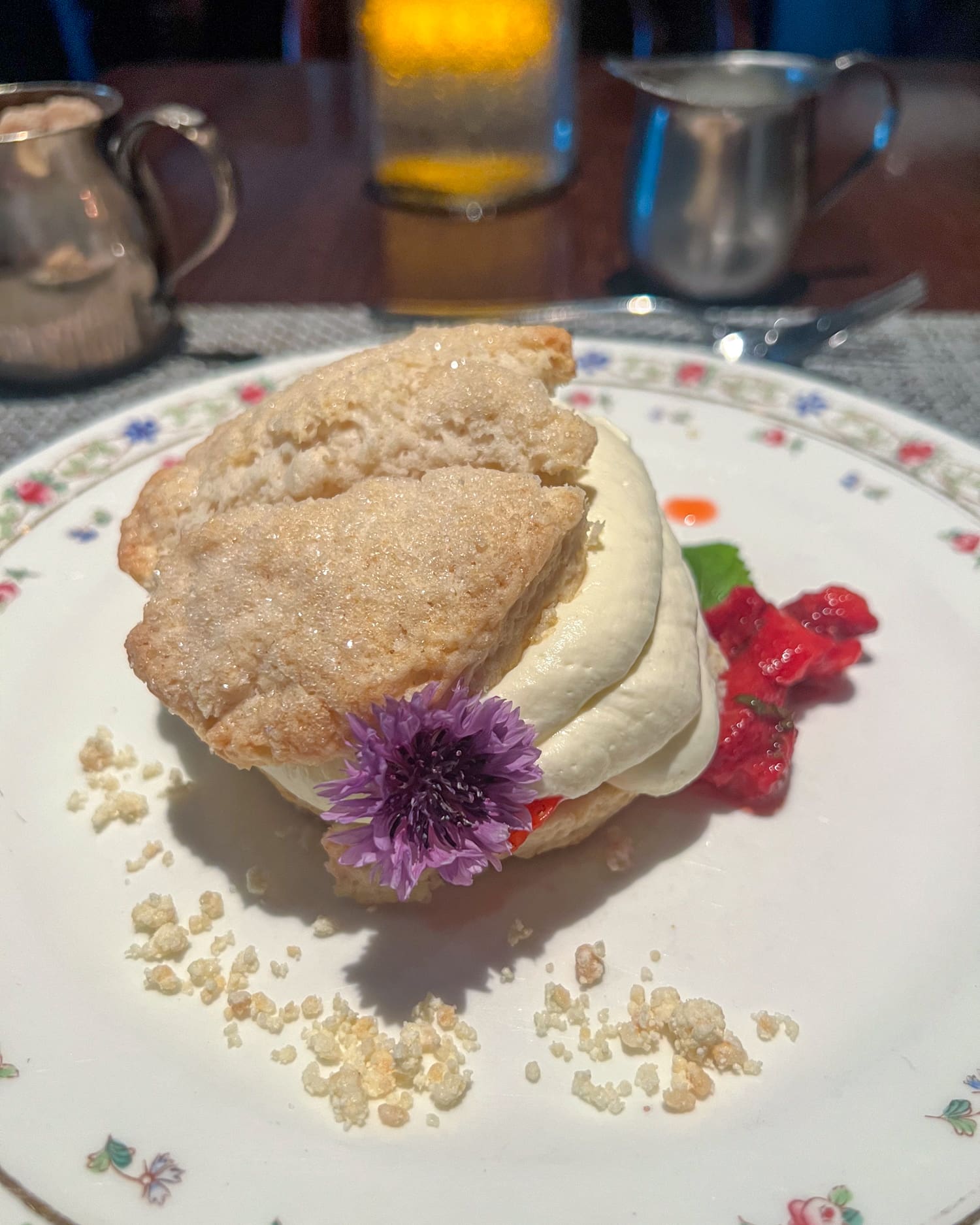 The generous portion size was large enough to share, and I wouldn't have minded Kel's help at this point had she been able to join me.
By this point, I'd transitioned from a cocktail to a decaf cup of Primo Blend by Coffee by Design, a roaster and cafe in Portland.
Additional desserts prepared by pastry chef Melissa Legare included:
Warm Belgium Chocolate Budino Pudding Cake
Baked Citrus Sabayon Tart
Rhubarb Crostata
Housemade Cannoli
My three-course dinner with a cocktail and coffee at Primo Restaurant in Rockland, Maine, cost $133. It was about $100 for the great food and drinks, plus $8 tax and tip.
And it was worth every penny. I hope to return on a future trip to introduce Kel to one of Maine's best restaurants.
0km
Guests are encouraged to walk around the grounds as part of their approach to providing friendly service and building community.
I did so after paying the bill and suspect I was one of the first diners to finish that night, as I was all alone.
Immediately behind the main house/restaurant, there's a garden with flowers, some of which are perhaps used to garnish dishes. There's also a duck pond.
The newest addition to the property, I was told, is 0km, built during the pandemic to allow for outdoor dining.
The "0km" name reflects that many ingredients used in the cooking at Primo Restaurant in Rockland are grown on the property.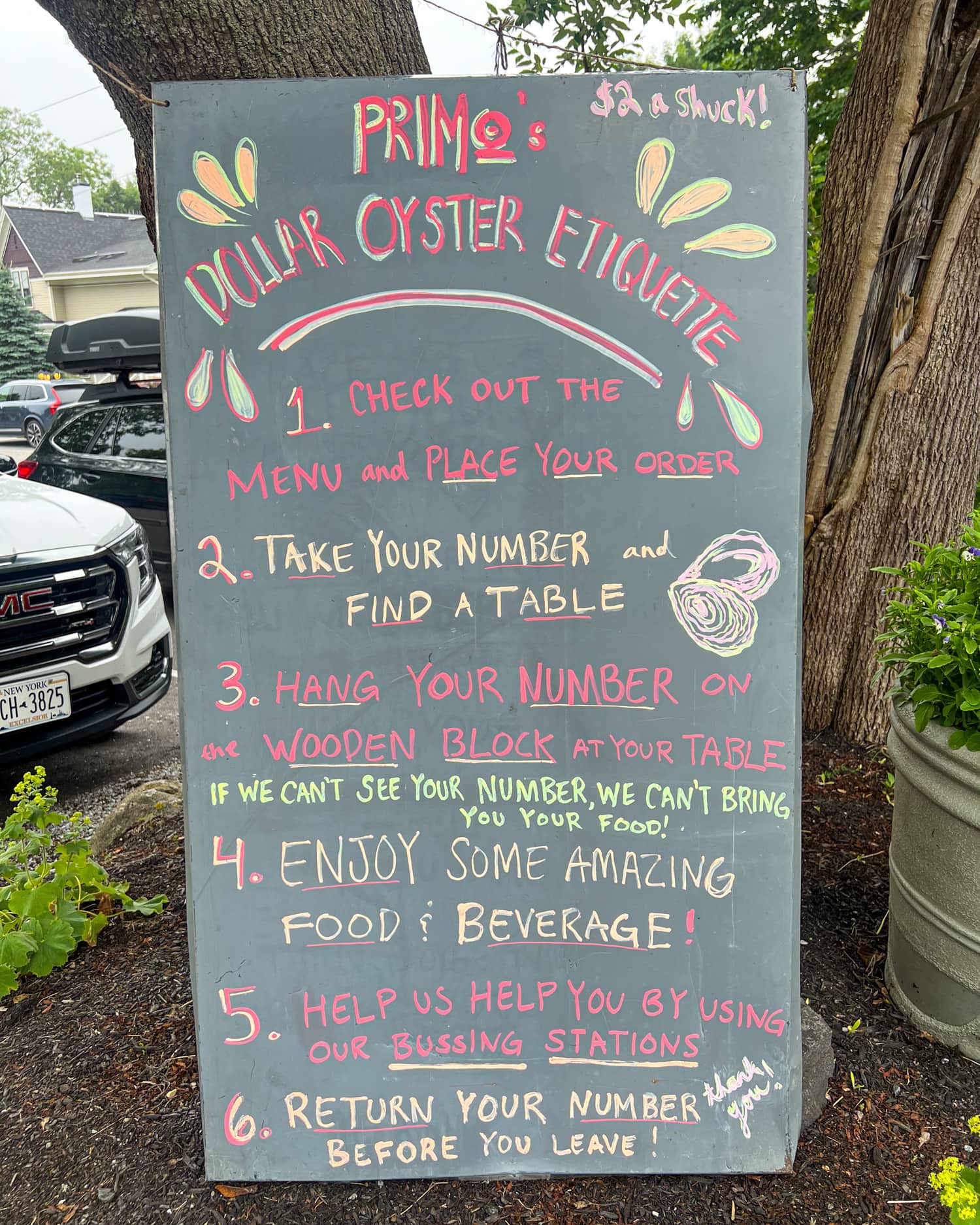 Today, the building offers dinner guests a place to grab a drink and hang out should they arrive early or their table not be immediately available in the main house.
On Sunday afternoons, Primo's offers dollar oysters in 0km, often accompanied by live music.
The Barn at Primo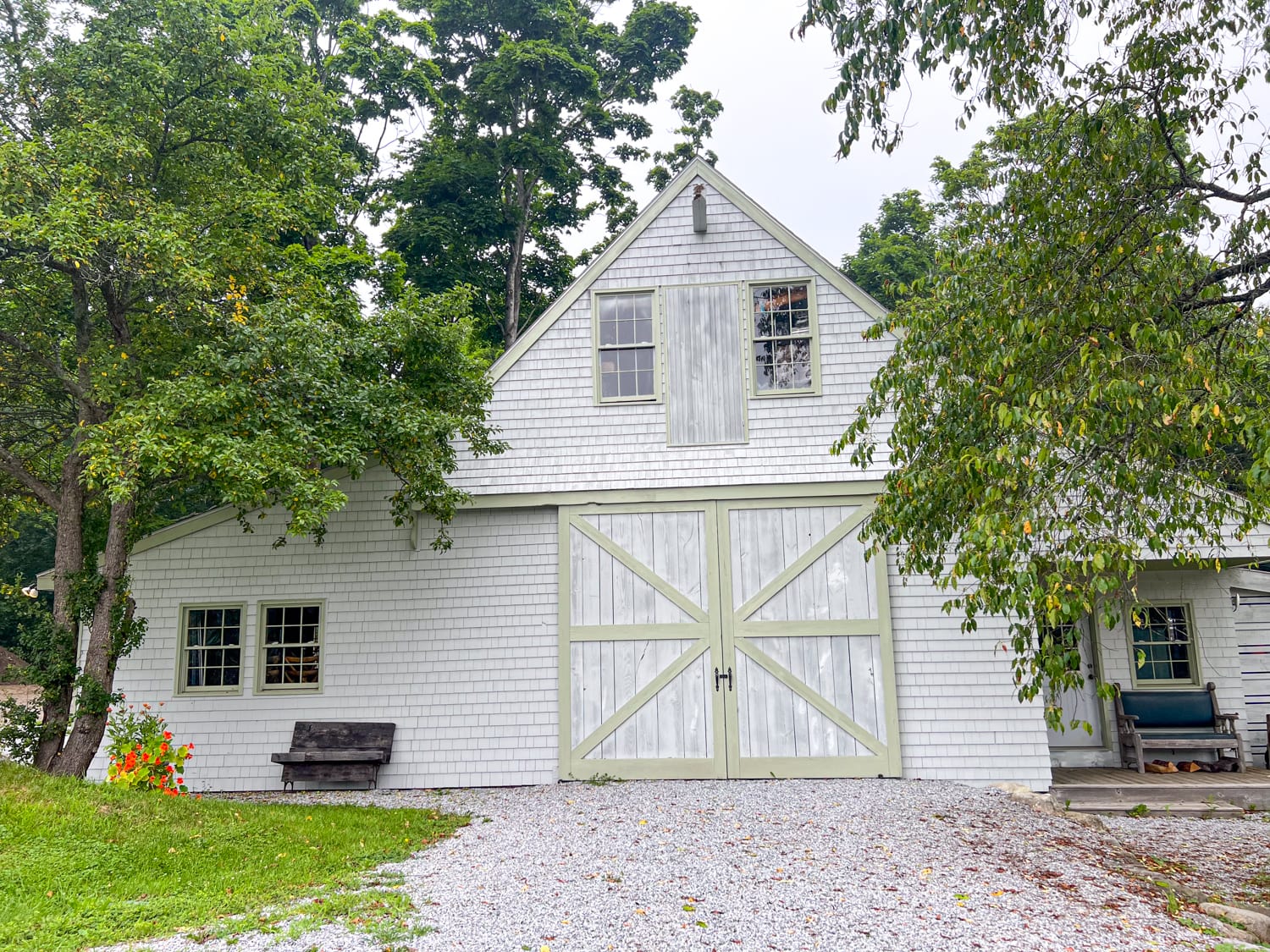 Walking further back on the property, an attractive barn on the righthand side is used for weddings and private events. The images from wedding receptions on Primo's website are gorgeous.
If delicious food is a top consideration for your rehearsal dinner or wedding, booking a venue like The Barn at Primo would make it memorable.
How often have you had wedding food prepared by a James Beard Award-winning chef...and on a farm?
Organic Farm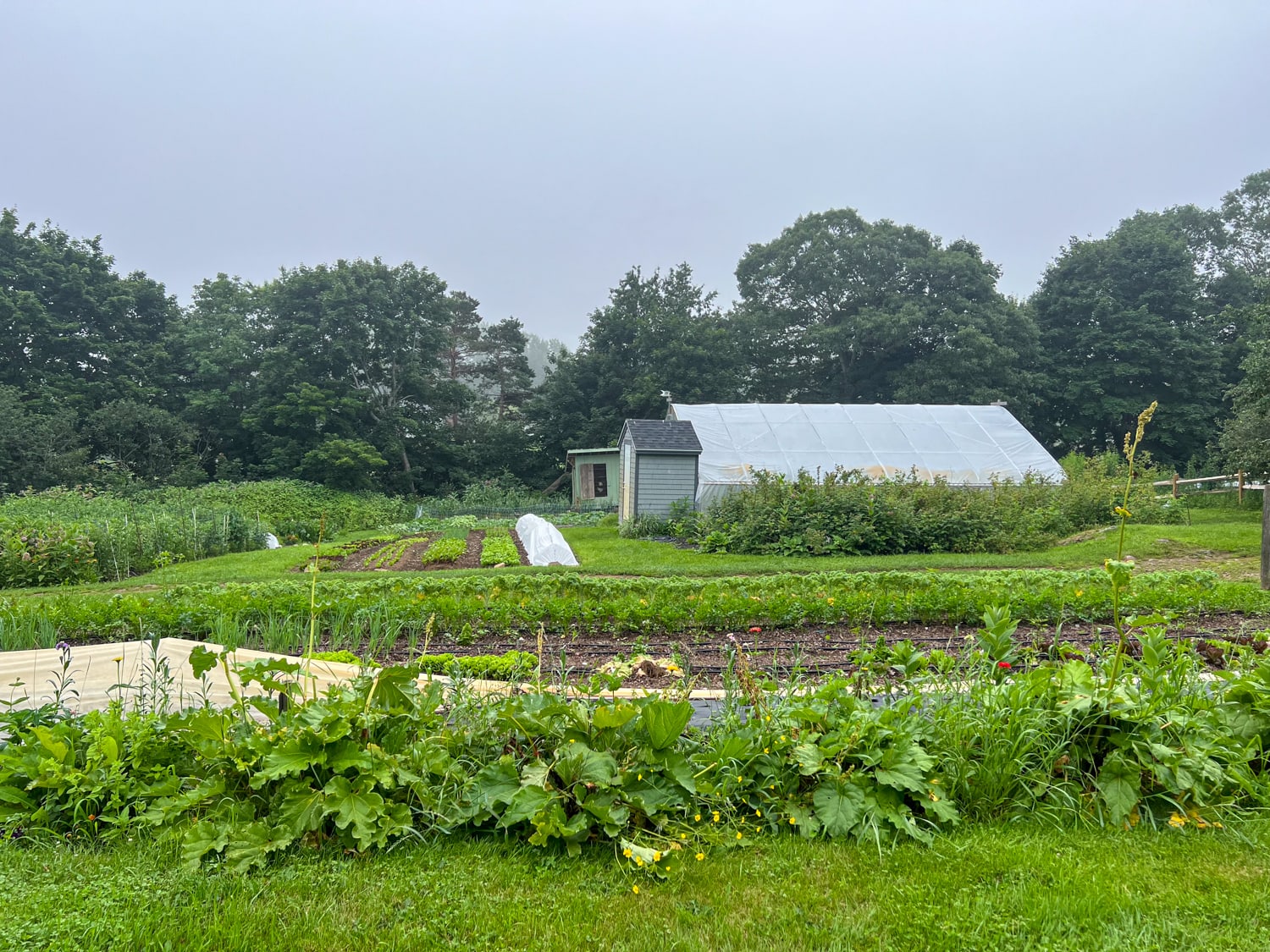 Opposite The Barn are several acres of planted fruits and vegetables. The staff at Primo Restaurant also raises heritage pigs and chickens.
Chef Kelly runs a full-circle kitchen, which is to say there's an eye toward sustainability and minimizing waste.
Food scraps from the kitchen are sorted into color-coded buckets: composting, chicken feed, and pig feed.
Speaking of pigs, as I was walking through the farm, I noticed a particularly ambitious one sticking his nose against the fencing.
It seemed to have made its way past the interior fence and was also trying to get under the exterior white one.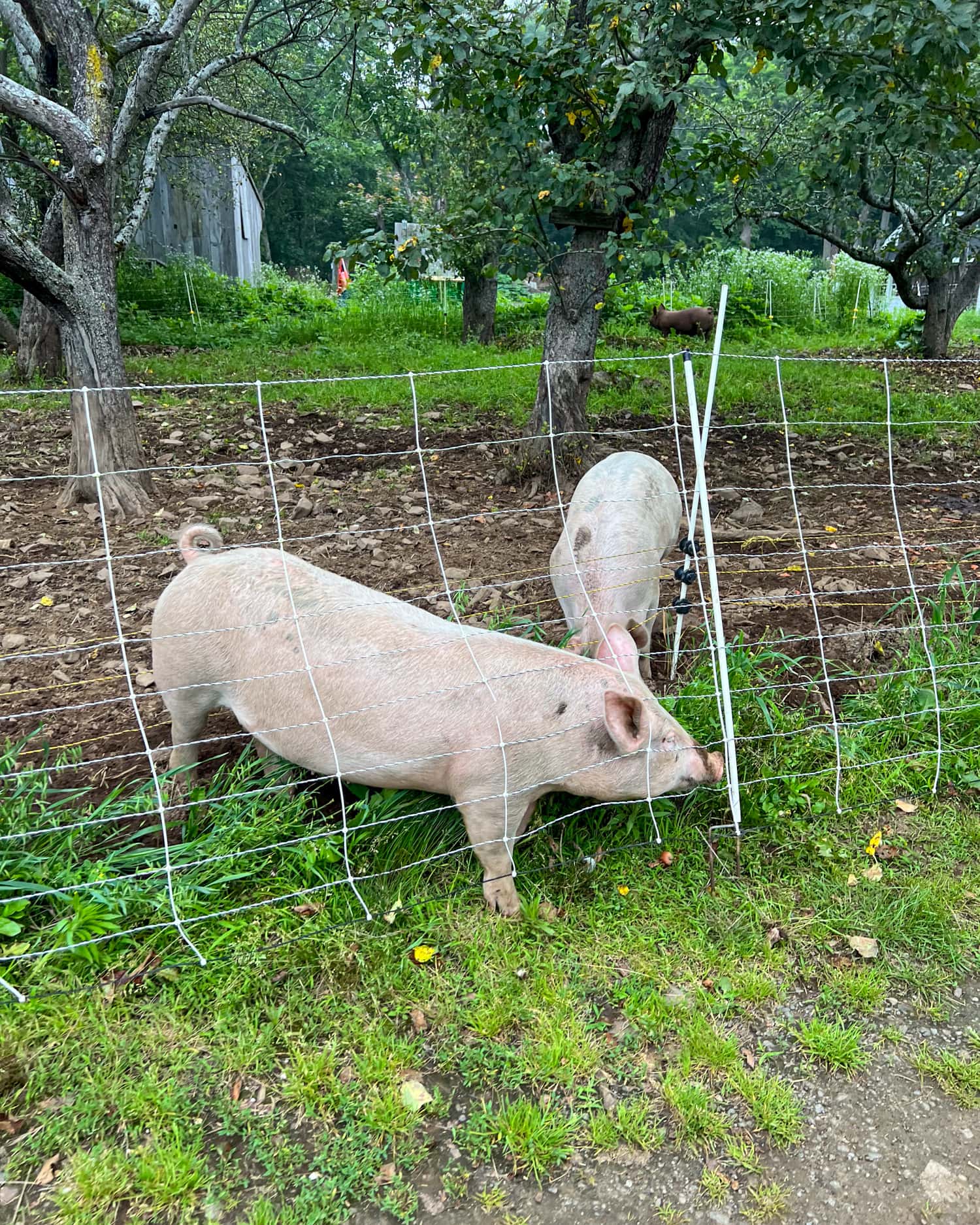 The first time I walked by, he hadn't yet done it, but by the time I turned back and saw him again, he was contently grazing outside the pen.
When I returned to the 0km building, I told the staff member working the bar there about their escapee, and she notified the kitchen.
Soon after, I saw a chef running from the back of the restaurant toward the pig enclosure, briefly pausing to ask me where exactly I saw it last.
I'm sure that was an unexpected moment during their dinner service. Life on a farm, it'll keep you on your toes!
In summary, if you're all about savoring the season's flavors in a cozy, elegant setting, put Primo Restaurant at the top of your must-visit list.
Visit Primo in Rockland
Address: 2 Main St, Rockland, Maine, United States

Reservations: Recommended and available to make online at Resy. Walk-ins are always welcome.

Dress Code: Casual.