Historic bed and breakfasts are one of Maine's many charms. The LimeRock Inn in Rockland was the city's first and offered guests a comfortable stay in a house full of history.
I arrived in Rockland by bus from Portland the day before my windjammer cruise in Penobscot Bay, thus allowing me 24 hours to explore this Midcoast town.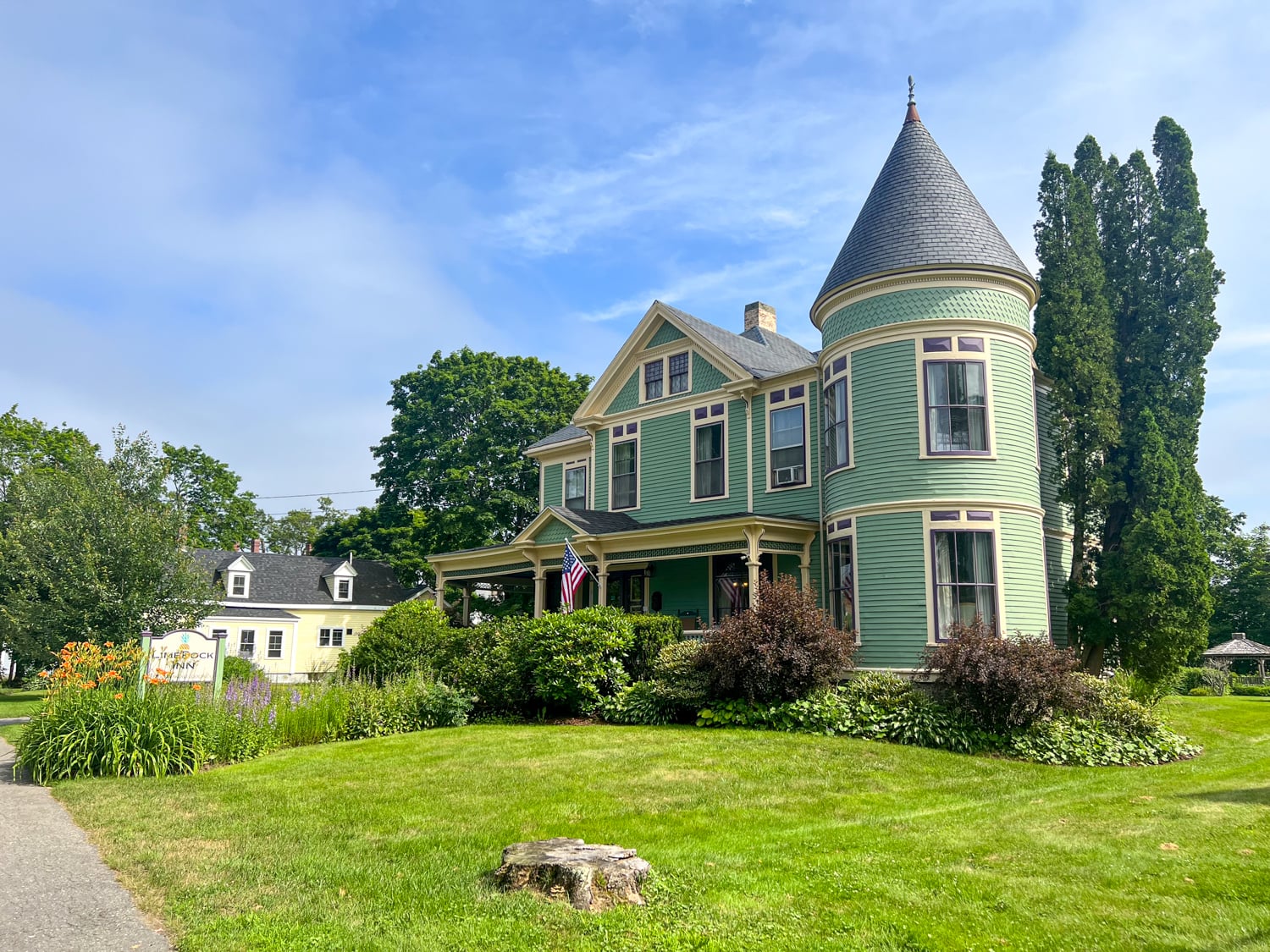 For those arriving by bus, it's about a half-mile walk from the Maine State Ferry Terminal bus stop to the purple front door of the LimeRock Inn.
According to their website, the "Victorian mansion is an exquisite example of Queen Anne and Eastlake architecture." The two-story turret stands out as a unique feature of the building's design.
A U.S. flag welcomes guests, and a wraparound porch offers rocking chairs and other seating options.
I arrived about ten minutes before 4 p.m., the check-in time, and was greeted by the owner, who lives in a separate dwelling (the former carriage house, I believe) on the property.
She briefly introduced me to the B&B and its history before showing me to my room for the night.
B&B History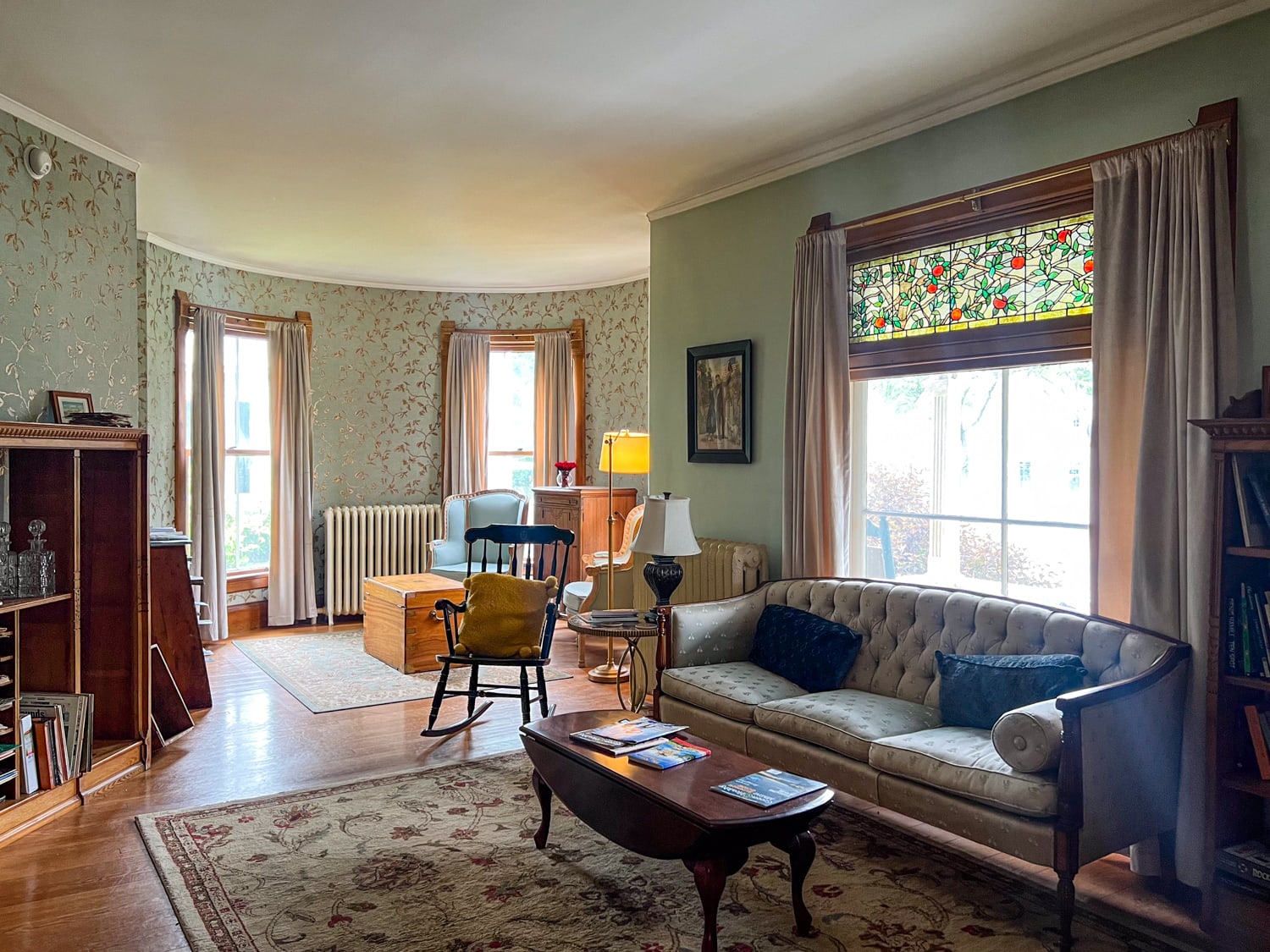 Constructed in 1892 by architect E.E. Lewis, the LimeRock Inn was originally the home of Congressman Charles E. Littlefield.
Littlefield had an illustrious career, serving in many government roles:
Maine State Representative
Speaker of the House
Maine Attorney General
U.S. Representative
The turret was not part of the original design and was added later.
In 1950, Dr. Oren Lawry Jr. bought the house and used it for his medical practice for nearly 50 years.
In 1994, the house was sold to a couple from New Hampshire who wanted to save it from potential demolition or conversion into apartments.
That's when it became Rockland's first bed & breakfast, retaining the name LimeRock Inn.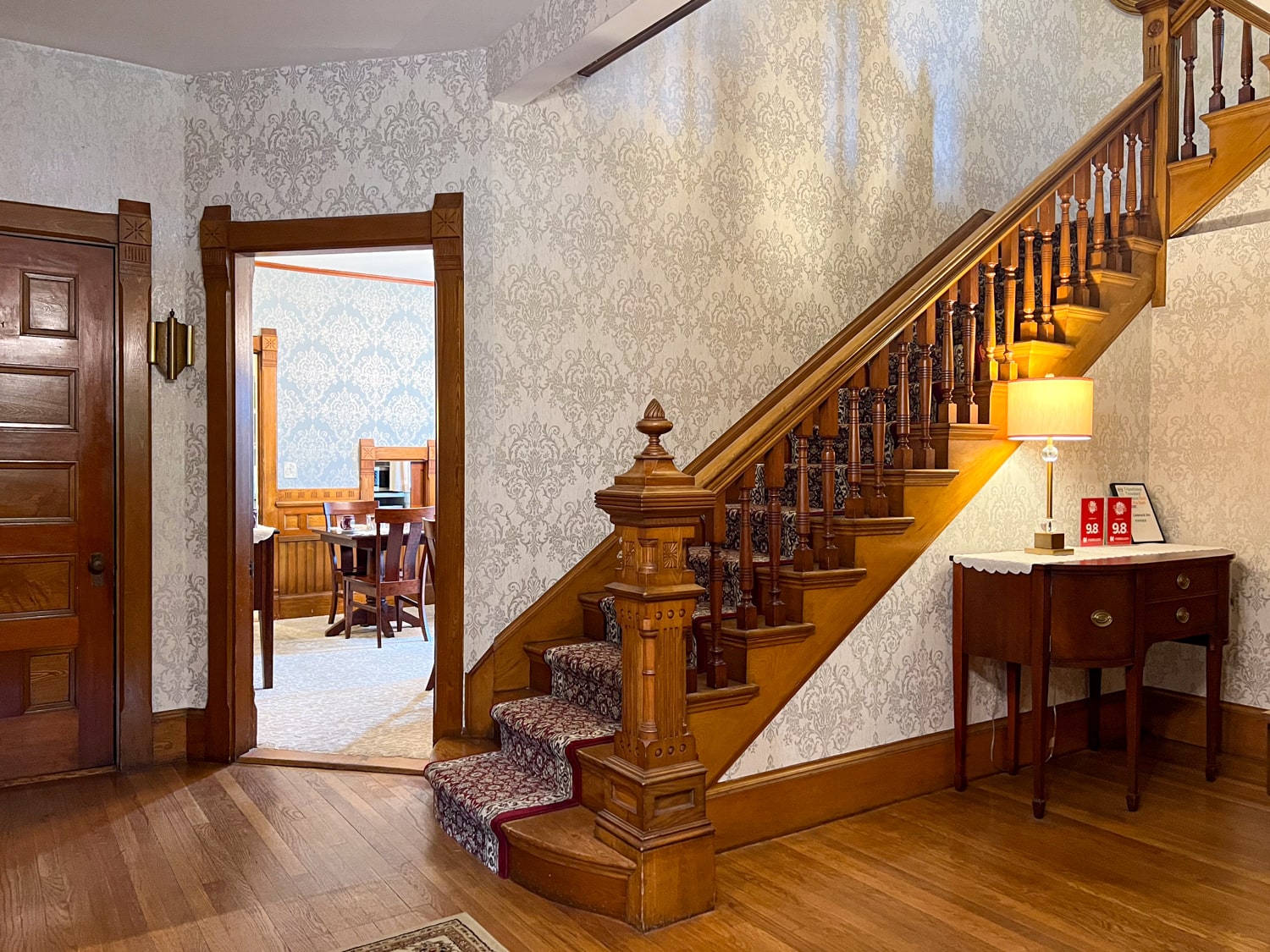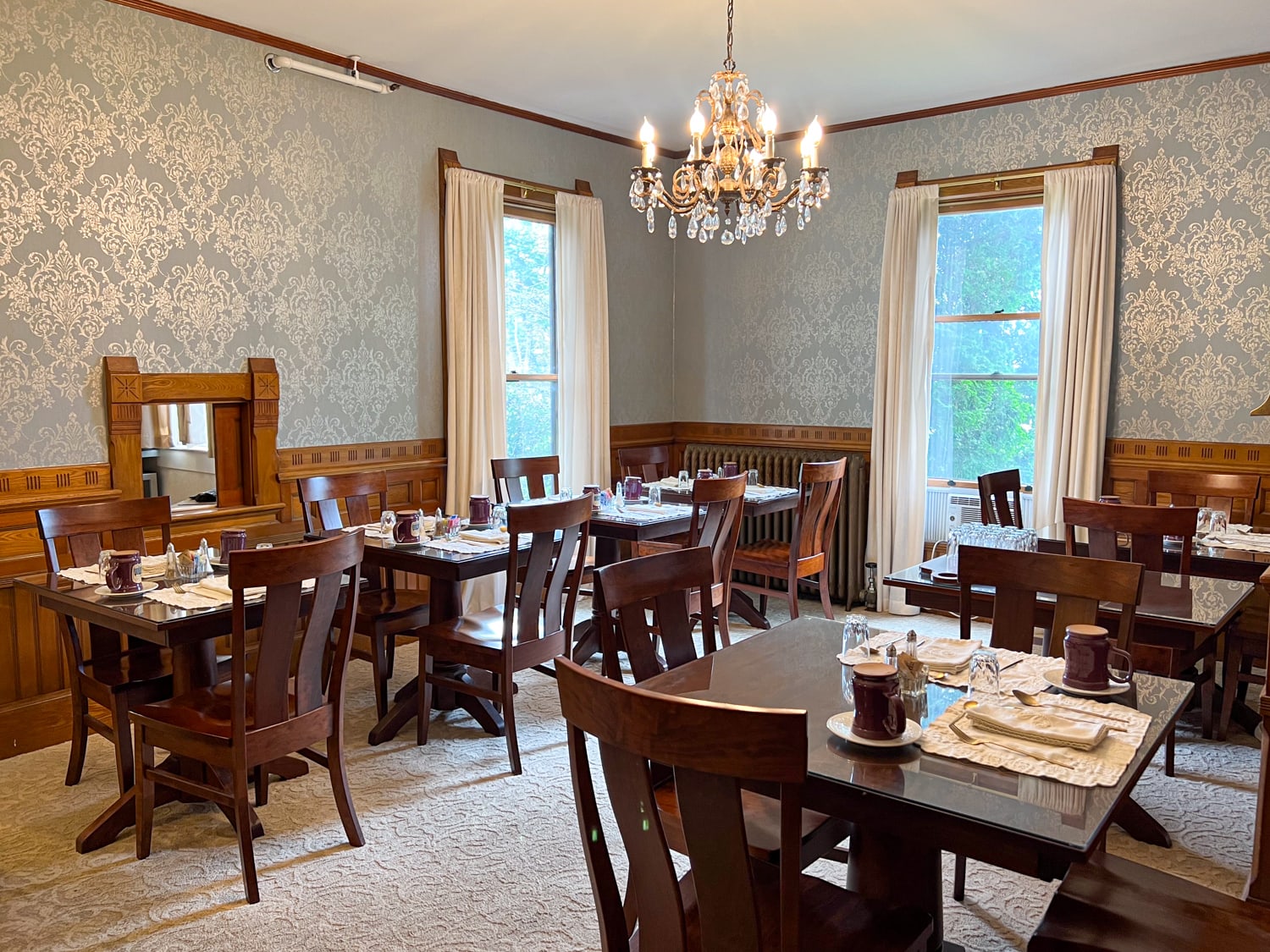 LimeRock Inn's name pays homage to Rockland's early industrial years when lime production was booming.
In 1854, the city had 12 quarries and, due to its shipbuilding prowess, plenty of boats to transport the mineral to other parts of the United States.
So, from a congressman's residence to a doctor's office and finally a B&B, the LimeRock Inn has had quite the journey!
Guest Rooms
The LimeRock Inn offers eight guest rooms named after regional islands or architectural elements. Every room has an ensuite bathroom.
The Monhegan Room is named after Monhegan Island in the Gulf of Maine, ten miles east of the mainland (Population: 119).
This beautiful second-floor guest room was once the primary bedroom of the house and features a king-sized French Louis XVI bed.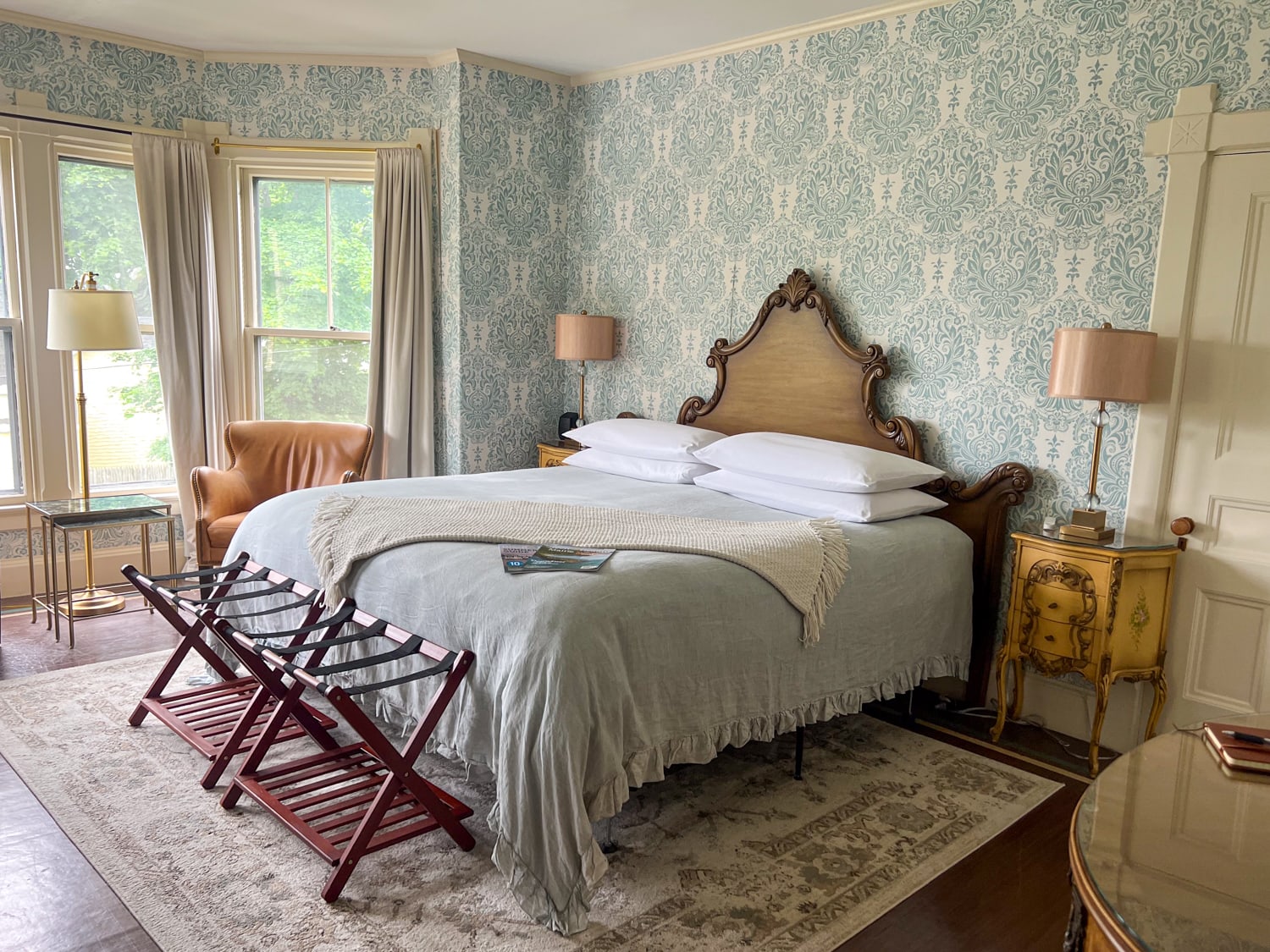 Another room I got a glimpse of was the ground-floor Island Cottage Room.
Luxury features include a king-sized bed, a jetted bathtub, a shower, and views of the English gardens and gazebo in the backyard.
The LimeRock Inn sits on one acre of land in a quiet residential neighborhood.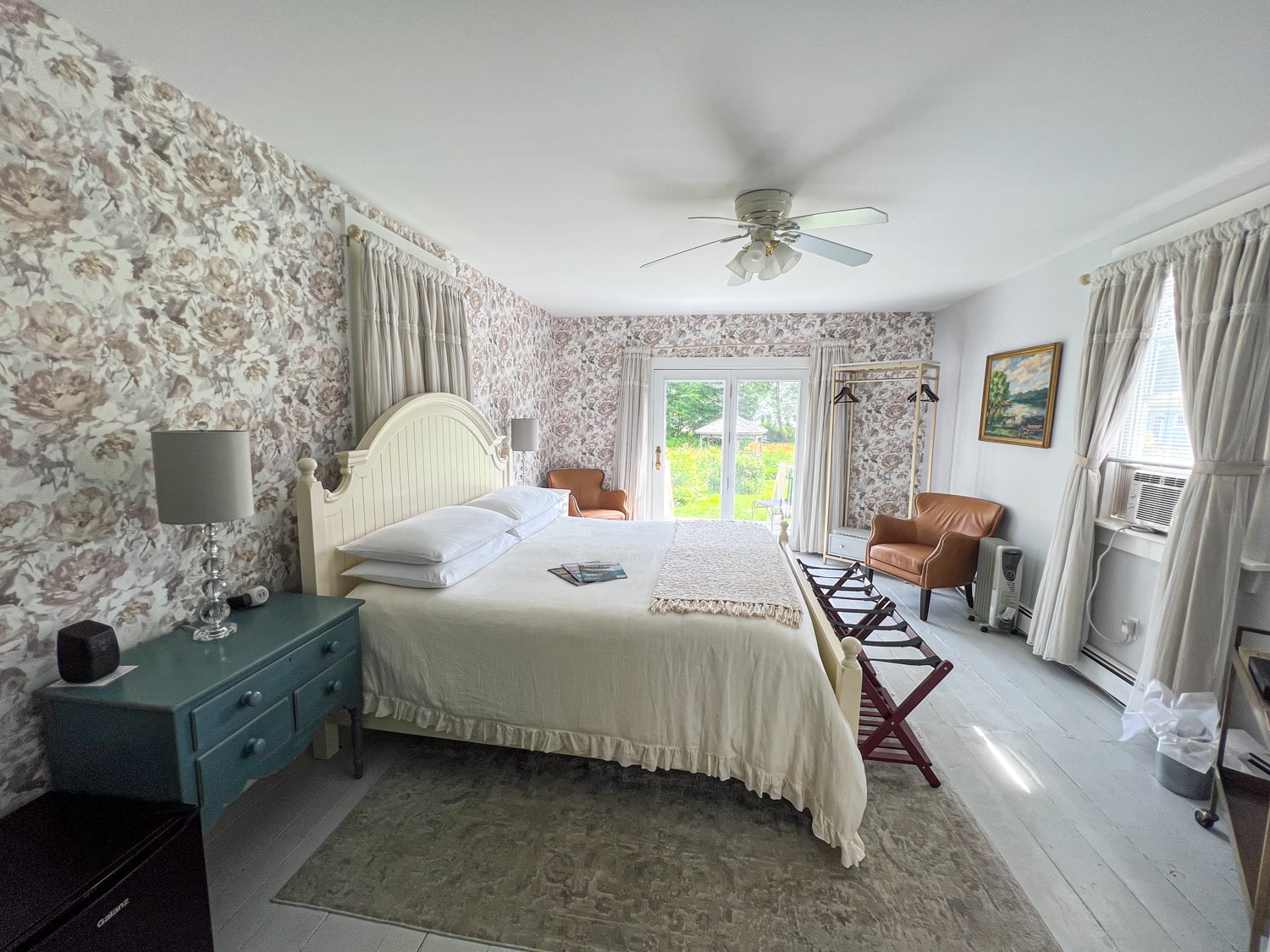 The second-story Turret Room is the largest available and includes plenty of natural light, a seating area, and a clawfoot tub.
I spent the night in the smaller Seguin Room, named after Seguin Island, an uninhabited island accessible by ferry.
The 19th-century Seguin Island Light Station and a small museum offer reasons to visit.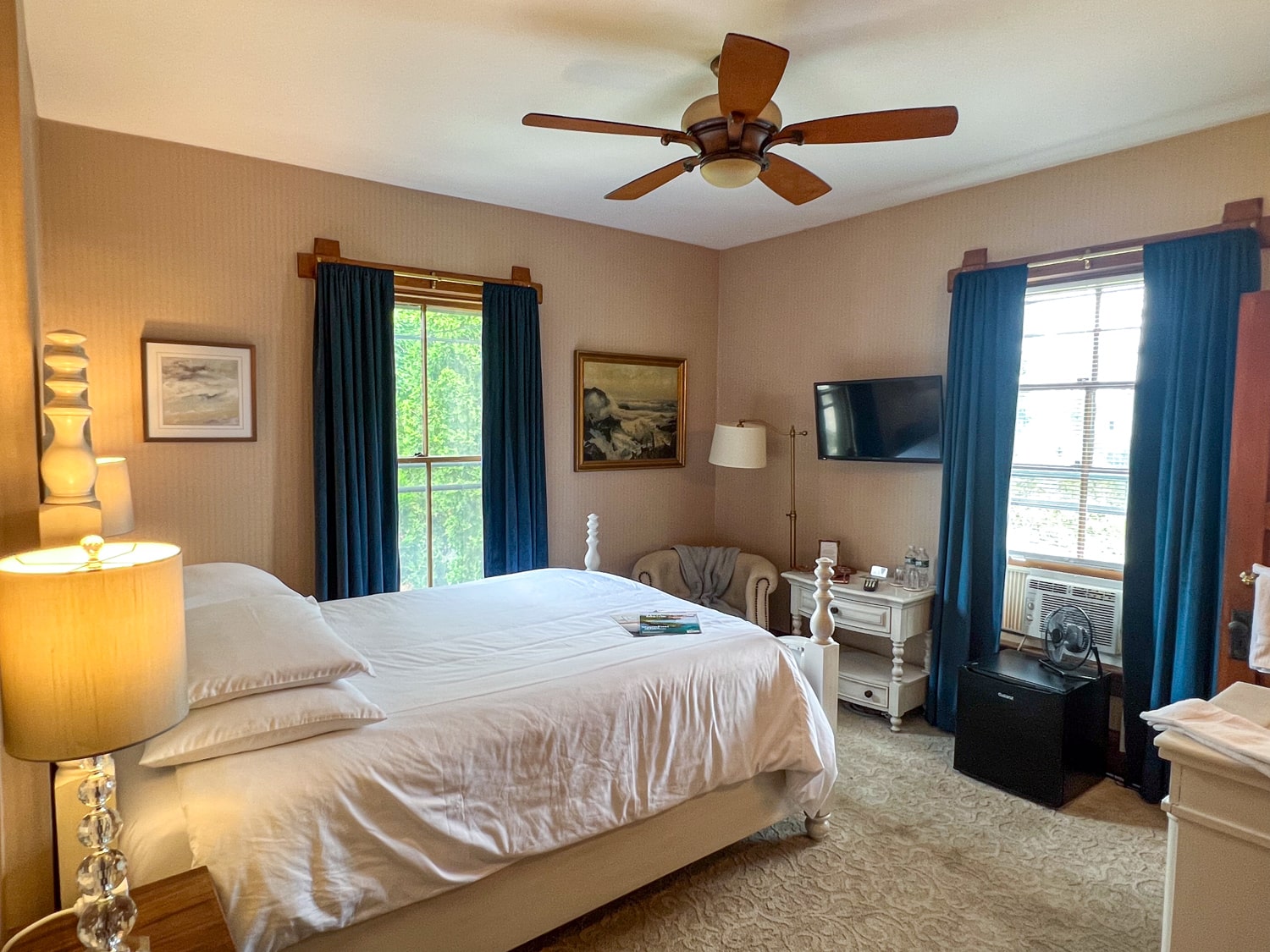 The room featured everything I needed: a comfortable bed, an air-conditioner and space heater, a ceiling fan, a mini-fridge, a flat-screen TV, and free Wi-Fi.
A few bottles of water and chocolates were waiting for me when I arrived, a nice touch. The owners offer 24-hour concierge services and daily housekeeping.
After setting my things down in the room, I had to find a taxi to dinner at Primo Restaurant, a mile south of town.
The proprietor gave me two numbers to call, as rideshare apps don't service the Rockland area.
After a terrific farm-to-table dinner at Primo's, I returned to the LimeRock Inn, crawled into bed, and quickly fell asleep.
Breakfast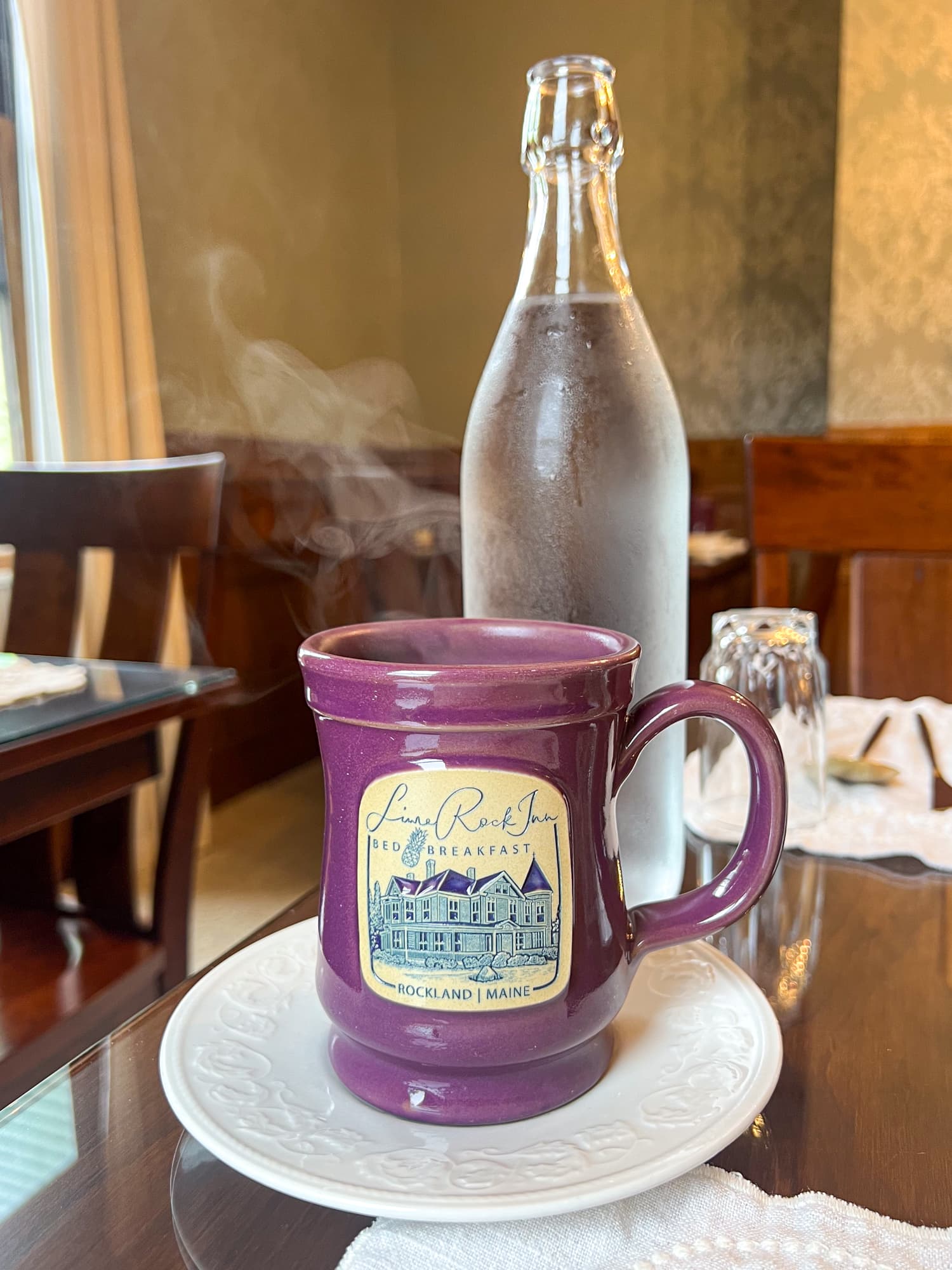 I awoke around 7 a.m. the following day, excited to see what was in store for breakfast. A few minutes before 8 a.m., I walked to the dining room.
First, coffee. The LimeRock Inn uses attractive custom maroon mugs for it. Tea and fresh orange juice are also available.
The breakfast began with a blackberry parfait; the berries were served warm over a light creamy yogurt.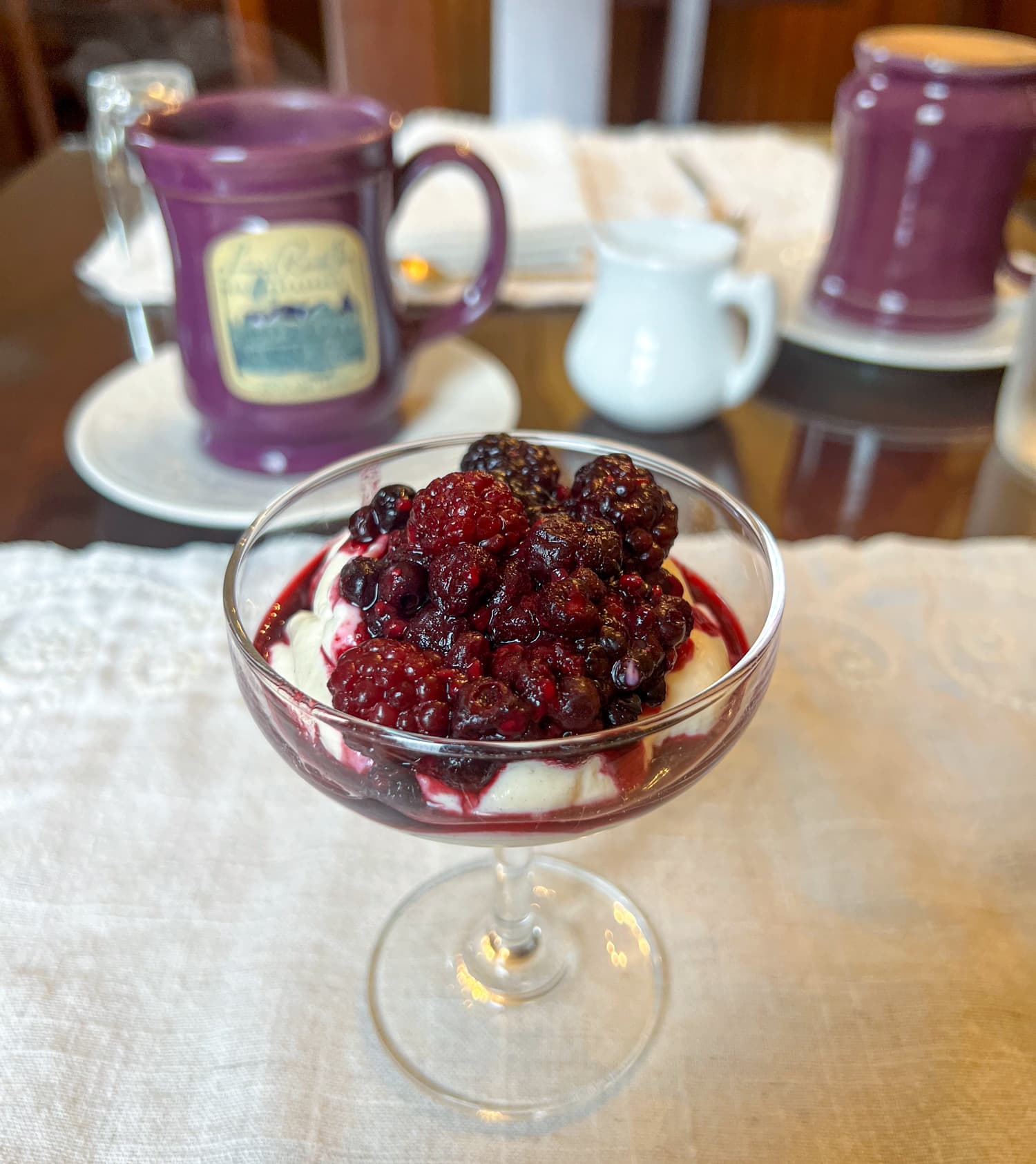 Next, a small lemon poppy muffin was delivered. And for the third and final course, French toast was baked with its own sugar and served with maple syrup and a side of sausage.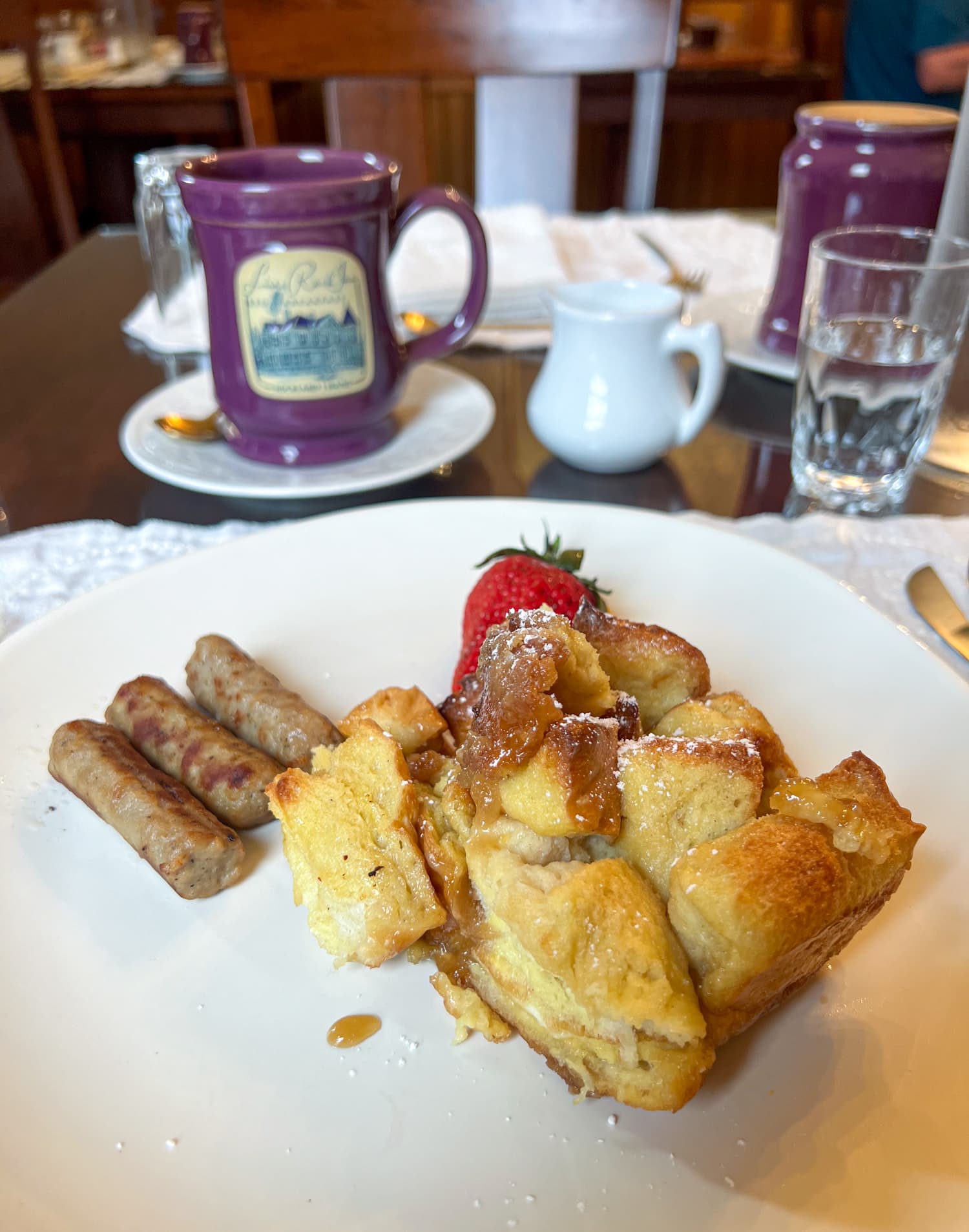 I spent about 30 minutes eating and a further 30 minutes chatting with a friendly North Carolina couple sitting next to me.
As with the Sand Bar Cottage Inn in Bar Harbor, I was delighted with my room, the history behind the B&B, and the gourmet food served.
And I'm hardly alone. The LimeRock Inn was twice voted the "Best B&B in Maine" by readers of DownEast magazine.
I spent the rest of my cruise departure day sightseeing in Rockland.
I was allowed to store my luggage at the B&B, and it's only a three-block walk from the Inn to Main Street in the center of Rockland.
From there, the renowned Farnsworth Art Museum, Maine Lighthouse Museum, and Rockland Harbor Trail are all easily accessible.
Book Your Stay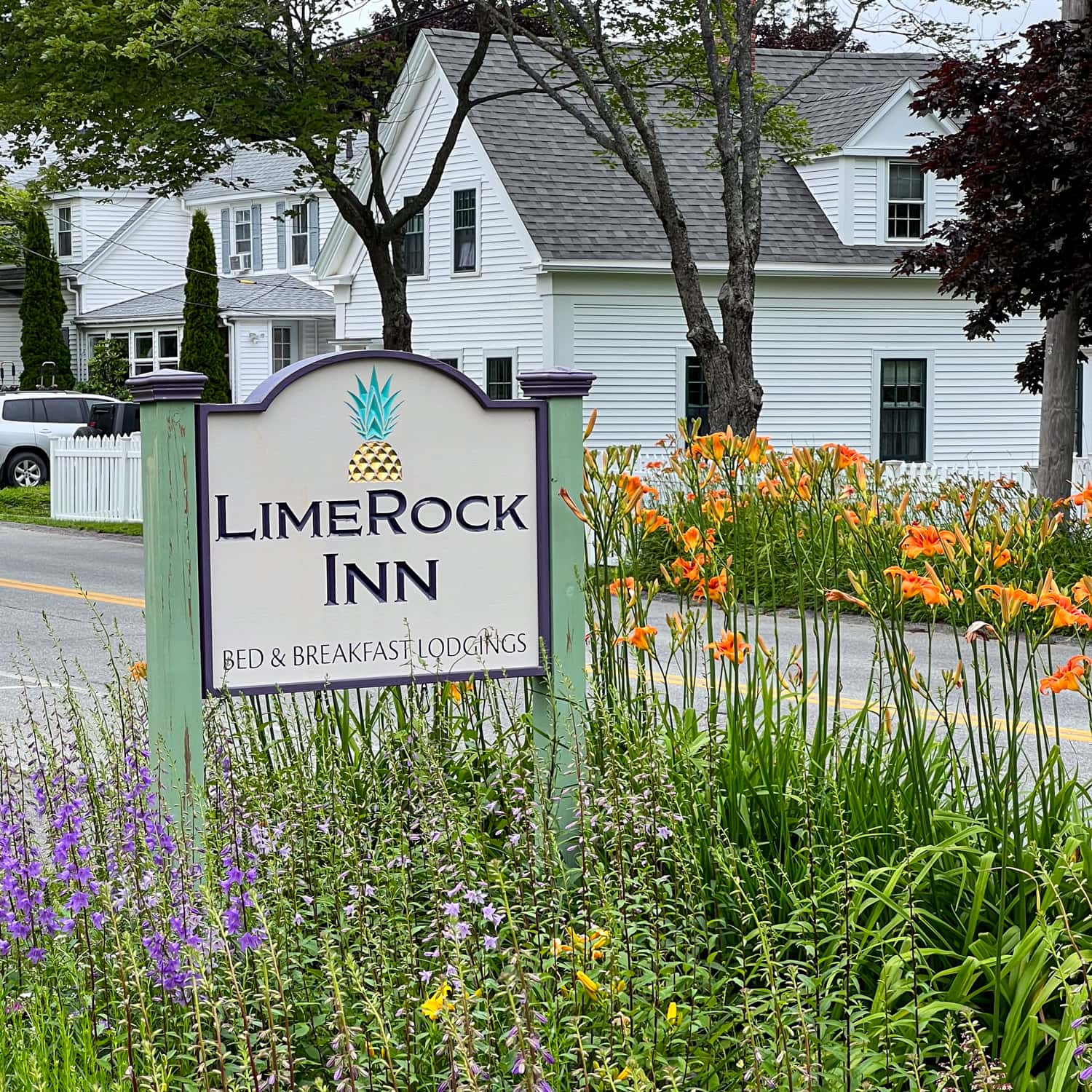 LimeRock Inn
96 Limerock St
Rockland, ME 04841
United States

Check availability and pricing on the official website.
_____
Thank you to the Maine Office of Tourism for arranging my complimentary stay at the LimeRock Inn.