Montreal's best places to eat range from bagel shops to fine dining restaurants.
I first visited Montreal for a long weekend in the spring of 2016 out of sheer curiosity.
The weather was gorgeous, flowers were in bloom, and locals were out in force enjoying picnics and drum circles in the parks.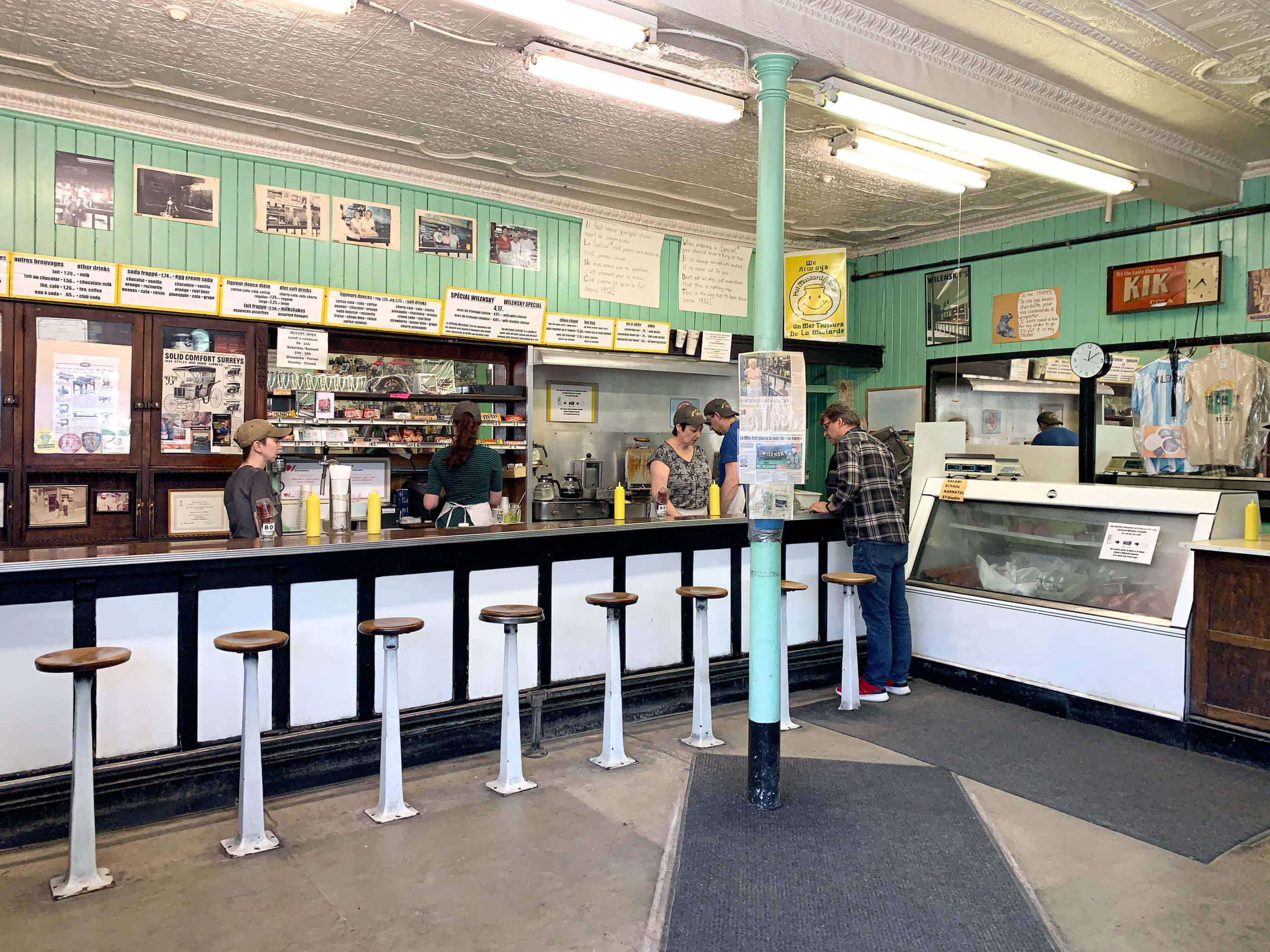 I became enamored with the street mural scene. I couldn't take a 30-square-foot wall home, but I did buy a colorful, abstract painting in one of the art galleries.
Food wasn't my focus, so it wasn't until my second visit to Montreal in spring to see my friend Jodi and attend the Canadian Grand Prix that I ate at most of the restaurants on this list.
I've organized them by the time of day, from breakfast food to late-night poutine.
Anthony Bourdain featured many of these places to eat in Montreal on his shows over the years.
"This is a great country because of this city. Without Montreal, Canada would be hopeless. It's where the cool kids hang."

Anthony Bourdain, Montreal episode of The Layover (2011)
I happened to be in Montreal for the first anniversary of his passing and can't think of a better way to have celebrated his life than to eat at the places he chose to highlight.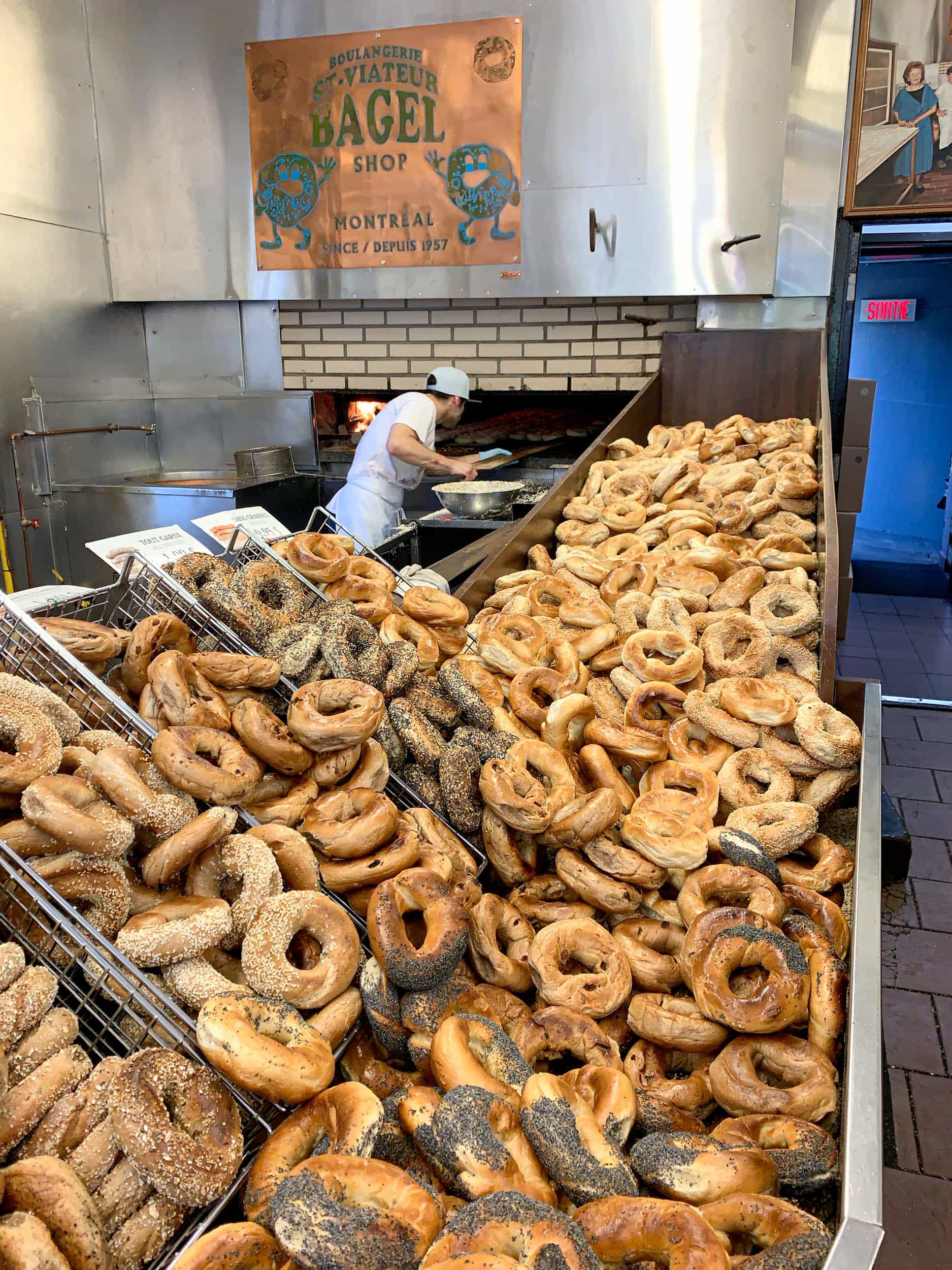 Where to Eat in Montreal
St Viateur Bagel Shop
Start your day at the St Viateur Bagel Shop, a family-owned shop where some of Montreal's best bagels are handmade in wood-burning ovens 24 hours a day, seven days a week.
Bagels are a source of great pride in the city, and there's a fierce rivalry between Montreal and New York City as to who has the best.
I'm a native New Yorker, so I grew up with the large, doughy, cream-cheese slathered NYC variety.
Montreal's bagels are smaller, sweeter (made with honey water), and a little crisper on the outside.
I ordered a simple sesame seed bagel for 95 Canadian cents ($0.73) with a side of Philadelphia cream cheese.
They won't slice the bagel for you nor add the topping. However, there's space in the front of the shop where you can do both.
There's no seating, so plan to eat your fresh bagel on the go.
158 Rue Saint Viateur O, stviateurbagel.com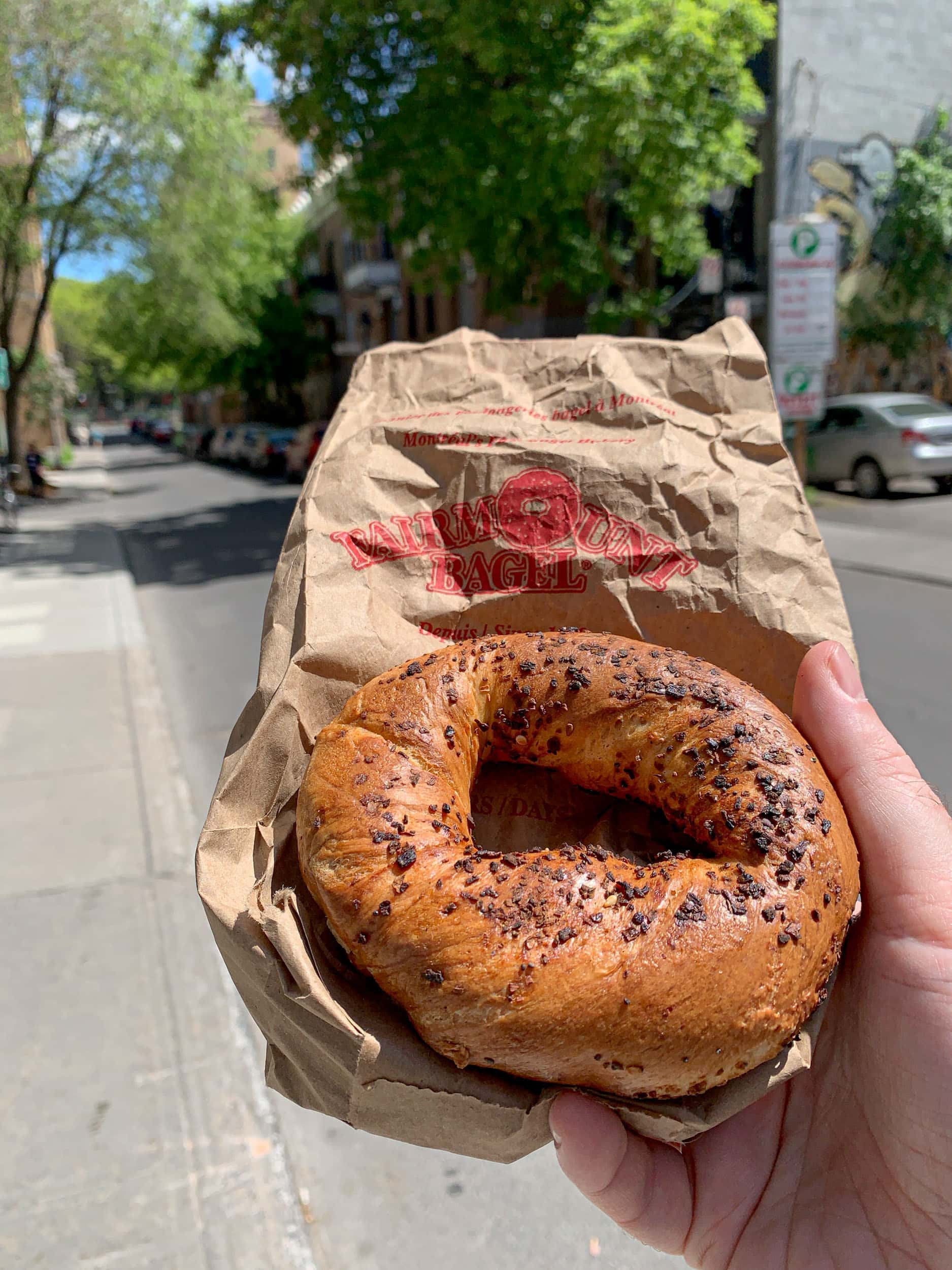 Fairmount Bagel
Fairmount Bagel is another family-owned bagel shop dating back to 1919, when Isadore Shlafman immigrated to Canada.
In 2008, these bagels went to outer space when astronaut Greg Chamitoff took 18 Fairmount bagels to the International Space Station.
Here, I ordered an onion bagel with a side of cream cheese.
Like St Viateur, there's no seating, so whatever you order, you'll be eating it outside the shop.
74 Avenue Fairmount O, fairmountbagel.com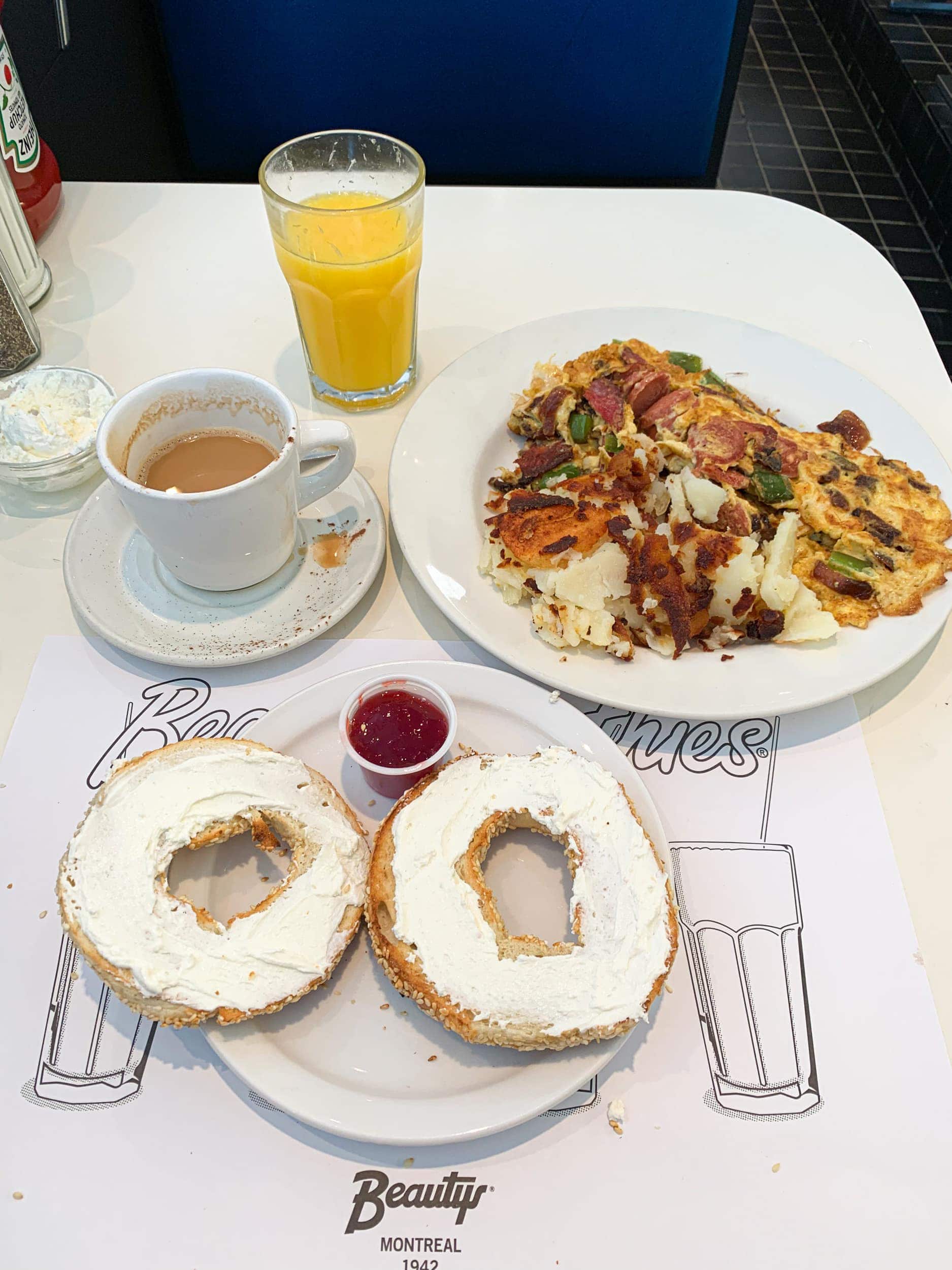 Beauty's Restaurant
One of the friendliest places to eat in Montreal is the family-owned Beauty's.
Beauty's Restaurant was founded in 1942 by Hymie & Freda Sckolnick when they bought the Bancroft Snack Bar.
As their luncheonette grew in popularity, patrons referred to it by Hymie's bowling nickname, Beauty's.
Freda created two signature dishes still on the menu today:
Beauty's Special - cream cheese, smoked salmon, tomato, and onion on a bagel
Mish Mash - an omelet with a hot dog, salami, green pepper, and fried onion with a side of home fries and a bagel
I ordered the mishmash, a cappuccino, and glass of fresh-squeezed orange juice, and one of their fruit smoothies.
I was having so much fun at this beloved diner; I bought one of their souvenir coffee mugs to take home with me.
93 Mont-Royal Ave W, facebook.com/beautysmtl
See also: Best Restaurants in Austin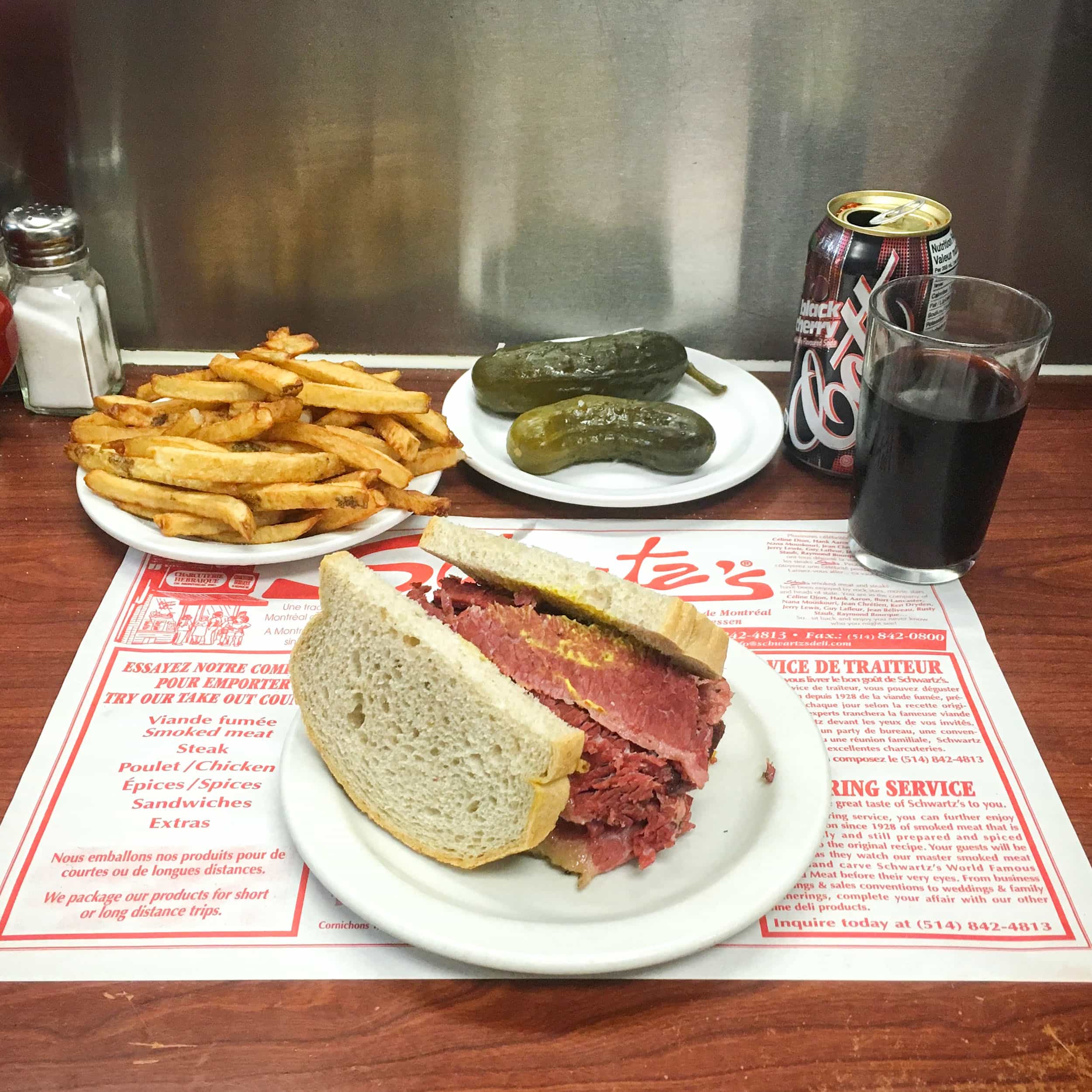 Schwartz's Deli
In addition to bagels, first-time visitors to Montreal must try the smoked meat. And there's no better place to try it than at Schwartz's Deli.
Opened in 1928 by Reuben Schwartz, a Jewish immigrant from Romania, the deli has stayed true to its founder's vision despite several changes in ownership over the years.
I went here for lunch in 2016, and despite a short wait to be seated at the counter, I was soon ordering the signature smoked meat sandwich (10.45 CAD, $8) with a side of fries, pickles, and a black cherry soda.
The meat is brisket; smoked daily, and preservative-free.
3895 St Laurent Blvd, schwartzsdeli.com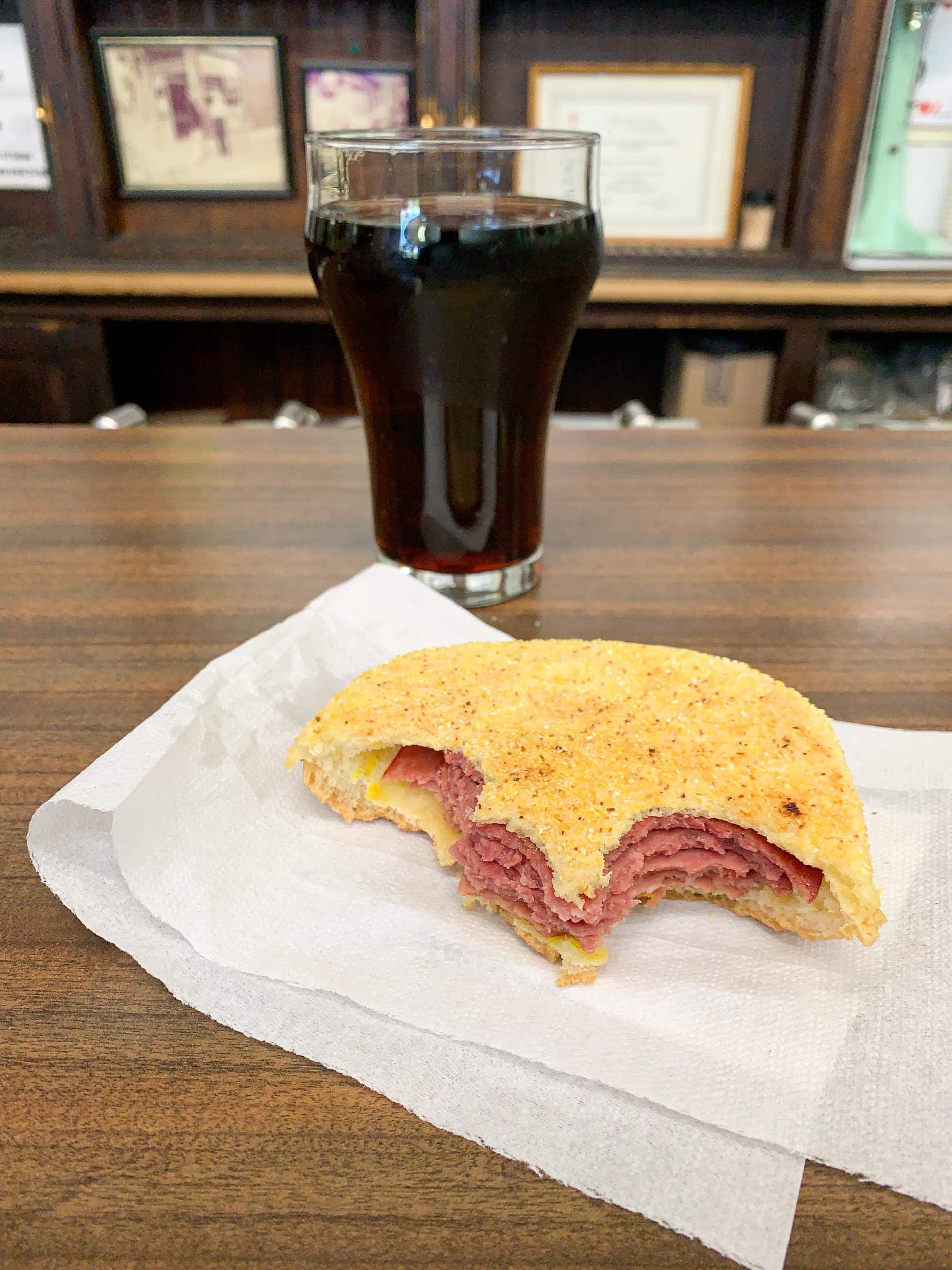 Wilensky's Light Lunch Inc
Wilensky's Light Lunch is yet another family-owned restaurant serving Montrealers for generations.
In 1932, Moe Wilensky, the son of a Russian immigrant, began serving soda fountain drinks, hot dogs, and cigars, among other things, in the front of his father's barbershop.
Once they acquired a grill, Moe came up with their trademark dish.
The Wilensky Special sandwich is all-beef salami and bologna with mustard, grilled on a roll (4.17 CAD, $3.18).
I ordered the original and a glass of their homemade cherry soda.
All-beef hot dogs, egg sandwiches, grilled cheese, pickles, and milkshakes are also available.
34 Avenue Fairmount O, wilenskys.com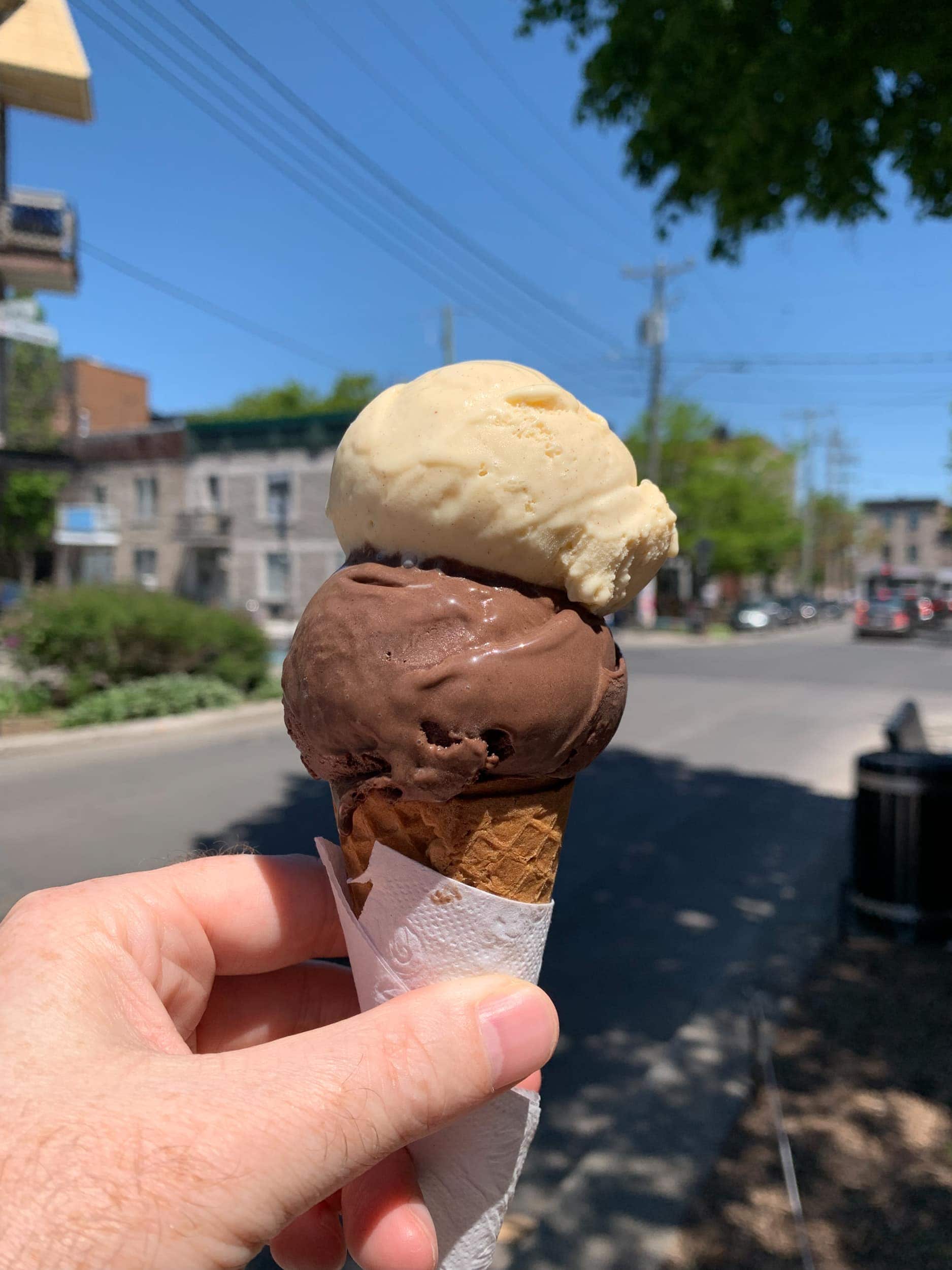 Kem Coba Glaces & Sorbets
Kem Coba Glaces & Sorbets is the only place on this list I stumbled upon by accident.
It's across the street from Wilensky's, and by the time I was done eating my light lunch there, it had opened for the day.
I stopped inside to sample some flavors and was immediately taken by the salted butter. And chocolate. You can't go wrong with chocolate!
60 Avenue Fairmount O, kemcoba.com
Related: Best Gelato in Bologna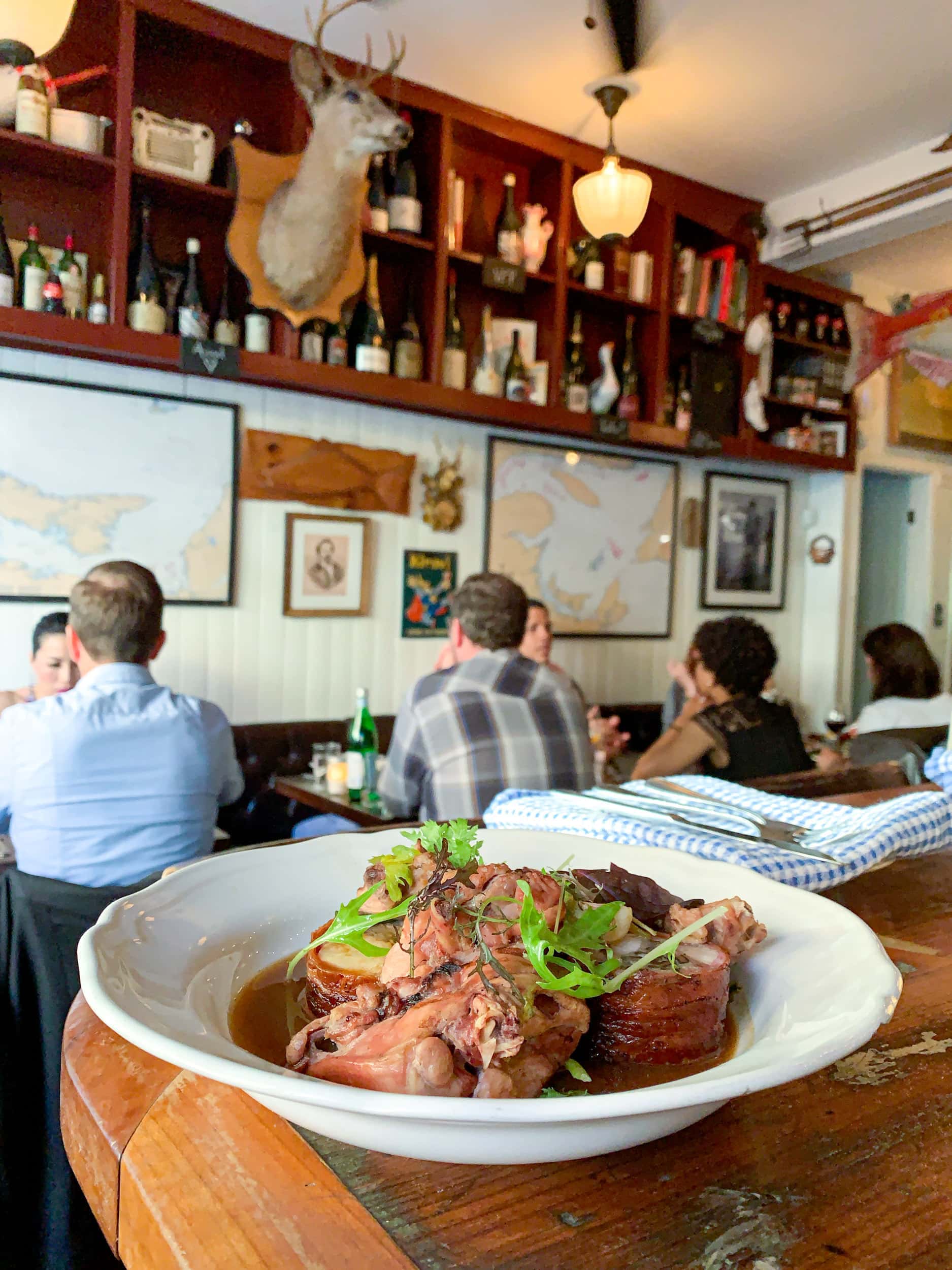 Joe Beef
Widely considered one of the best restaurants in Canada, Joe Beef topped the list of places I wanted to eat in Montreal on my return visit.
I first learned about this revered French restaurant, opened in 2005 by Fred Morin, David McMillan, and Allison Cunningham, on the 2013 Canada episode of Anthony Bourdain's Parts Unknown.
I lucked out with a last-minute reservation and was seated at the end of their small bar, directly facing a chalkboard with the day's menu written in French.
Thankfully, the friendly young bartending staff was there to help translate.
I ordered caramelized onion and beef-stuffed pasta in asparagus butter, half a rabbit as an entree, and Marjolaine Classique, a traditional French layer cake for dessert.
If you can't get into Joe Beef, try its sister restaurant, Liverpool House, next door, where former President Barack Obama ate with Canadian Prime Minister Justin Trudeau in 2017.
2491 Notre-Dame St W, joebeef.com
Related: Joe Beef and the Excesses of Restaurant Culture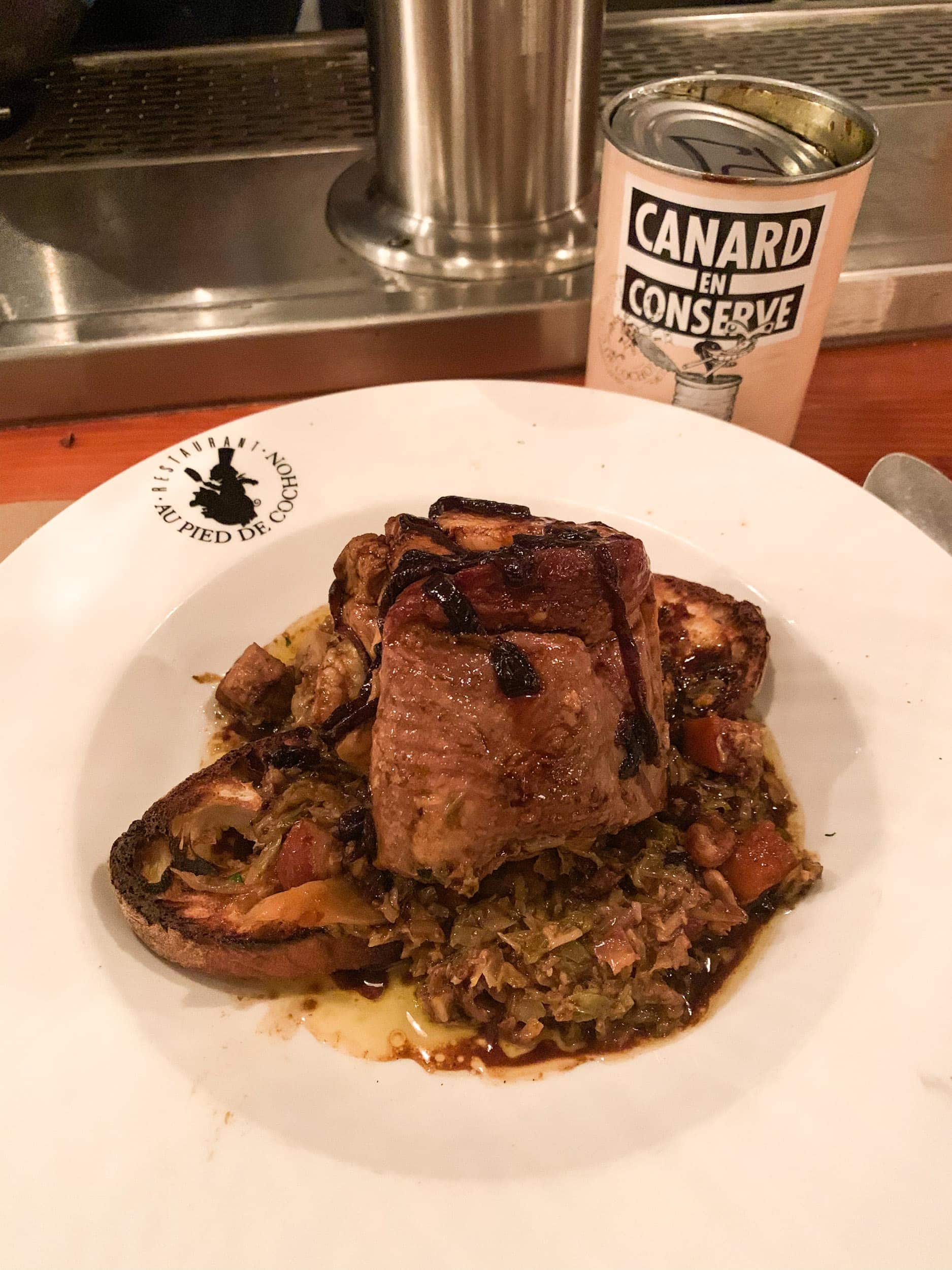 Au Pied de Cochon
When it comes to unapologetically gluttonous dining experiences, few places can top Martin Picard's Au Pied de Cochon.
Chef Picard is a proponent of "snout to tail" cooking, which means using all parts of the pig (or other animals).
I've never seen so much foie gras on a menu. Fatty duck liver had its section with six different preparations, including foie gras poutine.
I went all in, ordering:
The signature Plogue a Champlain, a buckwheat pancake topped with foie gras, cheese, bacon, and maple syrup,
Duck in a can, which included another 100 grams of foie gras
An incredible banana french toast with dulce de leche and black maple ice cream
Every dish was over the top in terms of richness and portion size.
As my meal progressed, I found the combined noise of the kitchen, music, and ambient conversation of diners to be a bit too much. Next time, I'd arrive early and ask for a table.
536 Avenue Duluth E, aupieddecochon.ca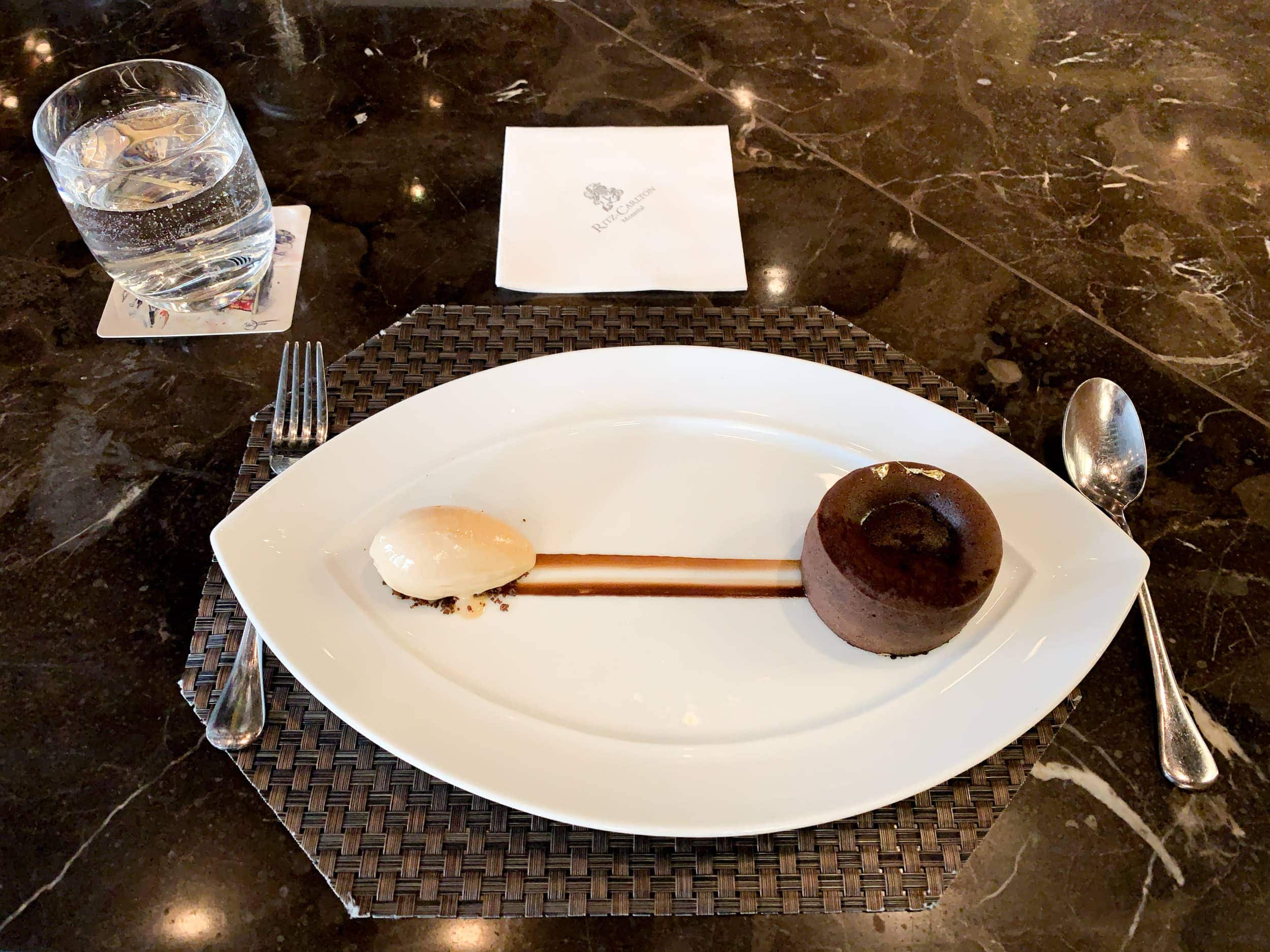 Maison Boulud
One of the best places to eat in Montreal for a French fine dining experience is Maison Boulud at the Ritz-Carlton Montreal.
Chef Daniel Boulud's restaurant offers some of the same dishes available at his New York City restaurants and ones inspired by Quebec.
I intended to go for lunch. However, I arrived too late.
Instead, I took a seat at the bar and ordered a cocktail and the chocolate coulant with fleur de sal caramel and caramelized milk ice cream. Just the good stuff, I figured!
The bar menu also offers small plates to snack on, a club sandwich, Romain salad, a burger (with or without pork belly and Morbier cheese), and a 10 oz ribeye steak.
Dinner service is based on an a la carte menu or 3, 4, and 8-course tasting menus.
1228 Sherbrooke St W, maisonboulud.com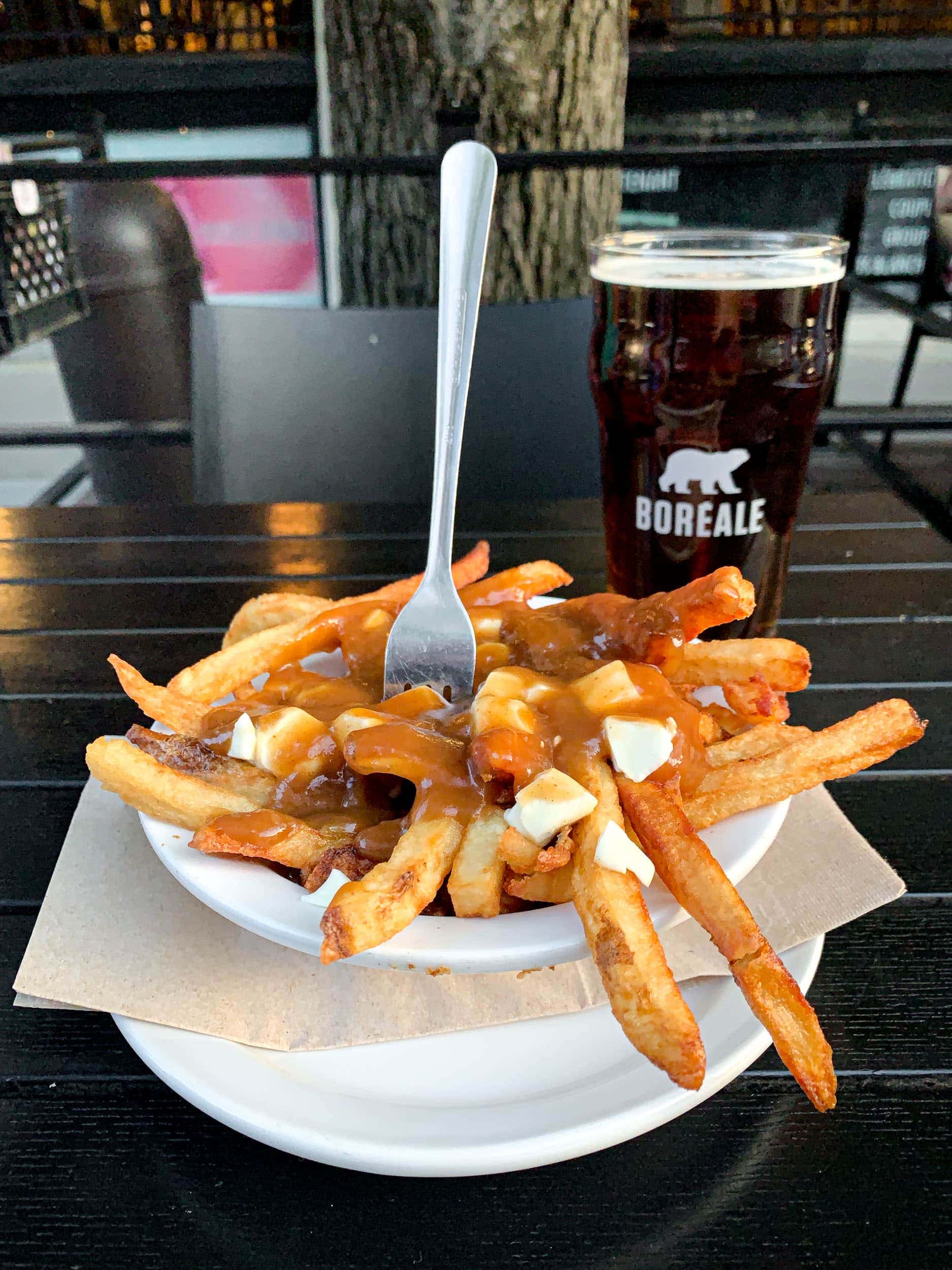 Frite Alors!
Poutine, that glorious Quebecois invention featuring french fries and cheese curds doused in gravy, is a must for every first-time visitor to Montreal.
The most famous spot is La Banquise, which serves poutine to the hungry (sometimes drunken) masses 24 hours a day.
I asked my friend Jodi, a local, for her recommendation, and she suggested Frite Alors!
Like La Banquise, their poutine menu features a variety of toppings, such as ground beef and onions, pulled pork, and shredded duck.
But, this is a situation where less is more, and I choose to follow my friend's guidance and stick to the regular poutine.
Pro tip: the cheese curds should make a squeaky noise when chewing them. That's how you know you've got quality cheese in your poutine.
1710 St Denis St, fritealors.com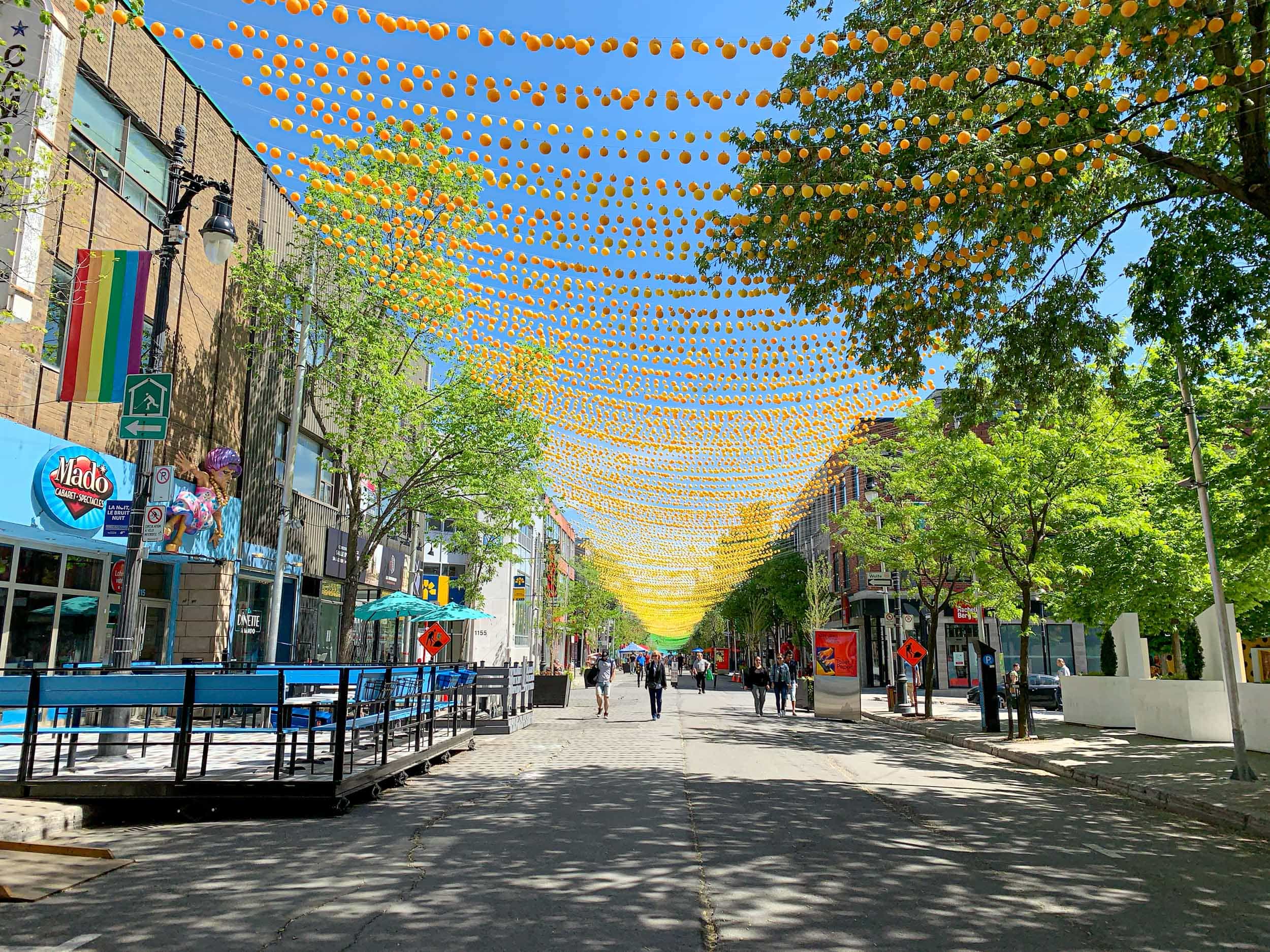 Where to Stay in Montreal
I recommend staying in either the Le Plateau Mount Royal neighborhood or the southern edge of Gay Village.
This will put you within walking distance or short Uber rides to many restaurants on this list and more.
Downtown Montreal is another option, though this area functions more like a business district.
Montreal also has a cheap, easy-to-use underground metro system.
Budget
Hotel M Montreal - Boutique hostel with rooftop bar and hot tubs in the Gay Village neighborhood. Within walking distance of many restaurants and nightlife, and just a five-minute walk to the nearest metro station.
Mid-Range
Le Square Phillips Hotel & Suites - a 4-star downtown hotel with a 9.3 user rating on HotelsCombined. Spacious, comfortable rooms, indoor pool, on-site restaurant.
Luxury
Ritz-Carlton - Opened in 1912, the Ritz-Carlton Montreal is one of the oldest luxury hotels in the city. In 2012, it underwent a $200 million renovation. Amenities include an indoor pool and rooftop saltwater pool. Dine at Maison Boulud on the ground floor.