Dining at Sezanne, a two-star Michelin French restaurant at the Four Seasons Hotel Tokyo at Marunouchi, ranks among the most elegant meals of my life.
British chef Daniel Calvert and his team deliver a tour de force of modern French cuisine in a comfortable and relaxed space.
Sezanne has vaulted to the top of Tokyo's dining scene with impressive speed. Within six months of opening in July 2021, Sezanne earned its first Michelin star. A year later, it was awarded a second.
On the list of Asia's Best Restaurants for 2023, Sezanne ranks #2, and it recently entered the World's 50 Best Restaurants list at #37.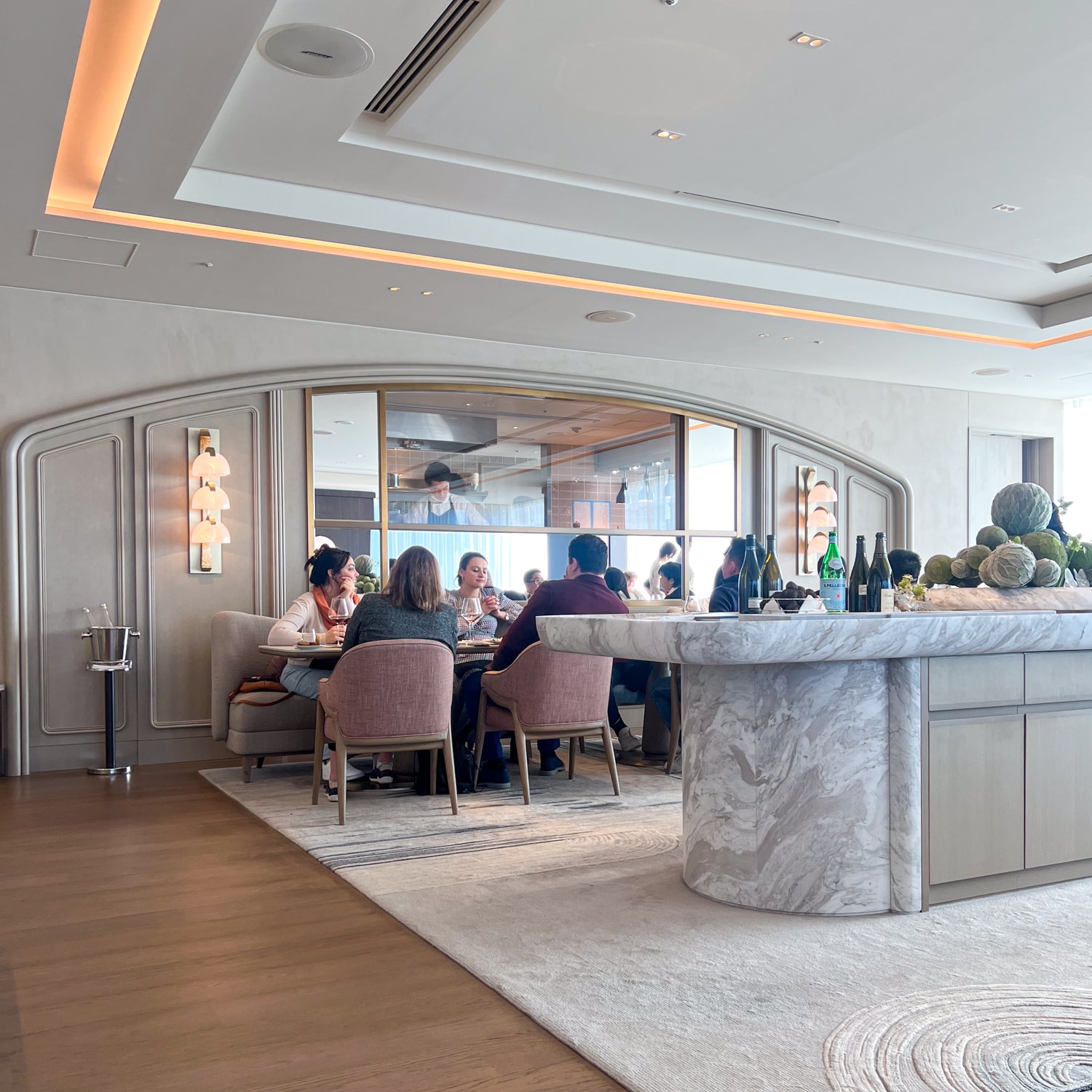 Working at award-winning restaurants is nothing new to chef Daniel, whose resume includes being sous chef at Per Se in New York, a three-star Michelin restaurant by chef Thomas Keller of the French Laundry, and five years at Belon, a neo-Parisian restaurant of his own in Hong Kong.
I chose Sezanne as a fine-dining restaurant in Tokyo that I wanted to experience for several reasons.
They're open for lunch, launched a weekday Menu du Jour at an attractive price, accepted solo diners, and made it easy to make a reservation online.
Arriving at Sezanne
The day after a fantastic lunch at Florilege, another French restaurant in Tokyo with two Michelin stars, I spent a lovely morning touring Japan's Imperial Palace.
Afterward, I walked east into the Marunouchi business district and past the train tracks of Tokyo Station, where travelers depart on the Shinkansen (bullet train).
I took several such train trips on my first visit to Japan in 2011, seeing Nagano in the north and Kyoto and Hiroshima in the south. But on this day, Sezanne at the Four Seasons was my destination.
I arrived on the ground floor of the building a few minutes before my 12:15 p.m. reservation and was directed to an elevator. Sezanne is located on the 7th floor of the Four Seasons Hotel.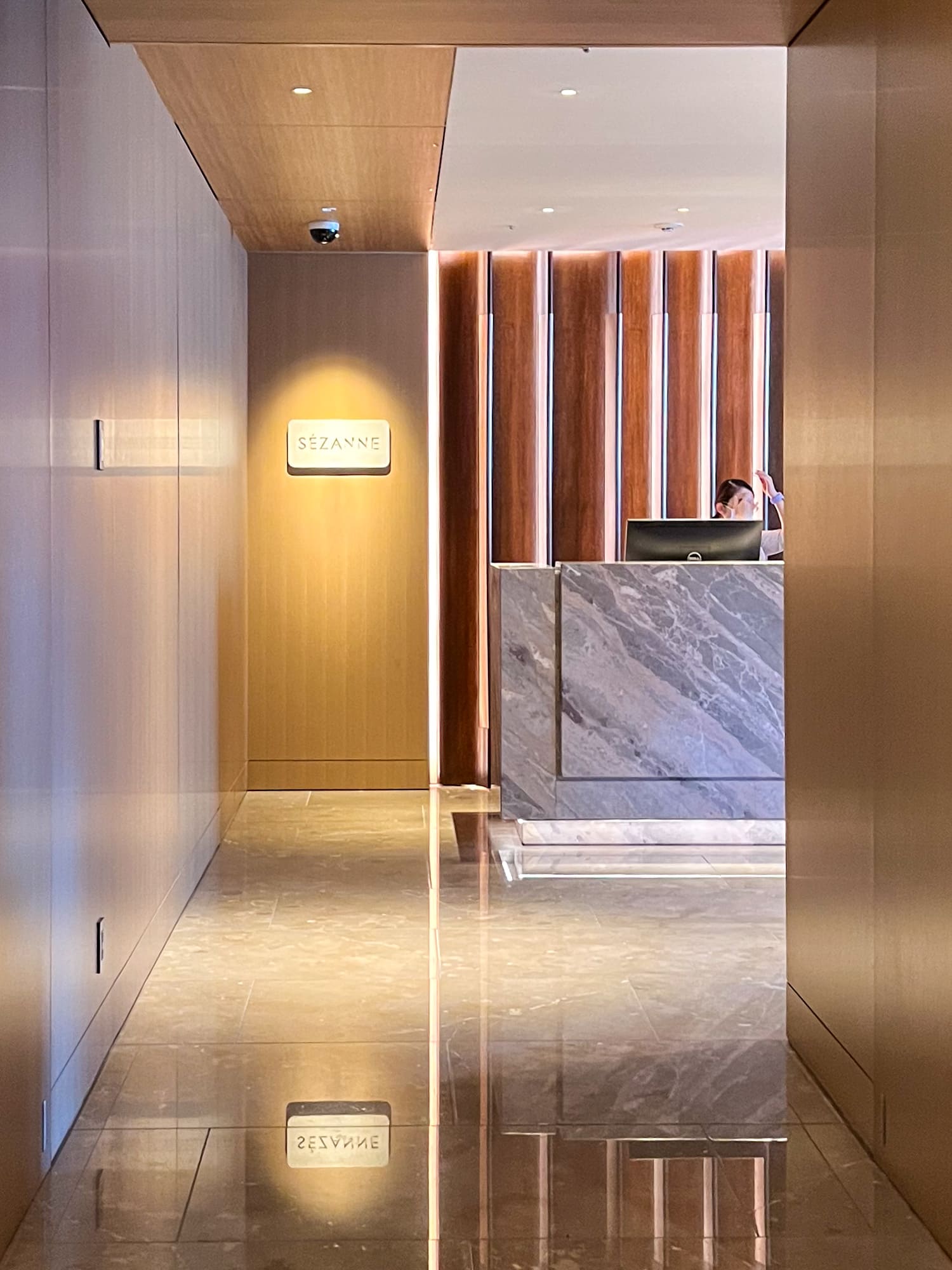 Upon exiting, I introduced myself at the host stand. To my right was an empty bar in the Salon, which would be full by the time I left.
In addition to drinks, they offer an afternoon tea service that appears popular.
Main Dining Room
I was immediately shown to a table for two in the main dining room, where I sat facing the kitchen. It has a window large enough to see chef Daniel at work.
Andre Fu, an acclaimed architect from Hong Kong, designed Sezanne's refined, Zen-like interior. Having created the interior for the restaurant that preceded Sezanne, he was already familiar with the space.
Fine materials were used, including eucalyptus wood, traditional Japanese mud paint, and delicate French Lelievre silk. The dining room is anchored by a central service station carved from white Carrara marble.
The pastel tones are instantly calming, and the floor-to-ceiling windows allow the space to fill with natural light (even with closed curtains).
Light jazz was playing, and there was a gentle mix of sounds from diner chatting, servers clearing dishes, and the kitchen.
The ambiance in the main dining area evoked memories of how it felt to eat at Geranium in Copenhagen, voted the #1 restaurant in the world in 2022.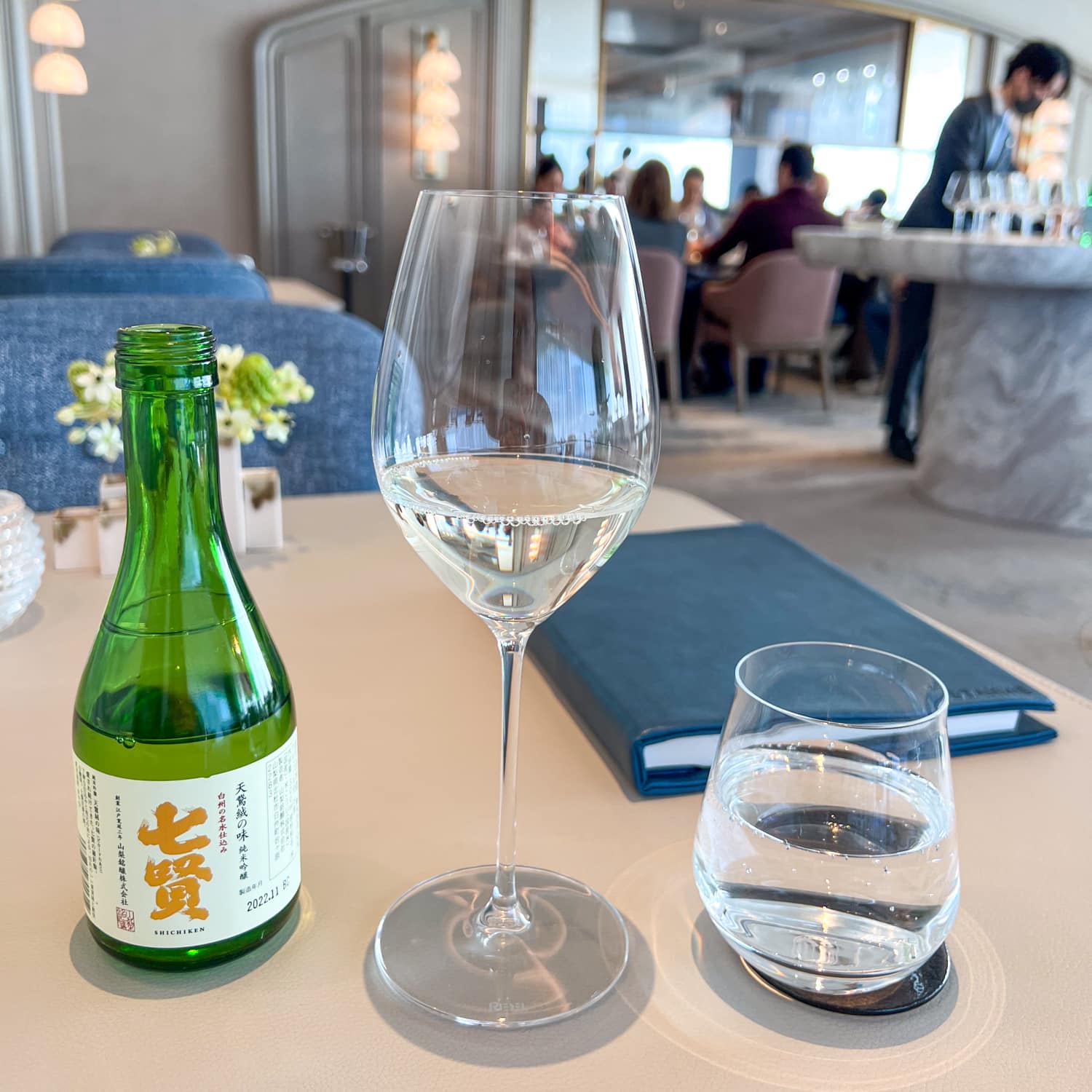 Soon after taking my seat, a Christofle Champagne trolley with Baccarat crystal glasses was rolled to my table for consideration.
I declined this opening invitation. And despite being in a French restaurant with expert sommelier Nobuhide Otsuka, I opted for a small bottle of Dassai 39 sake by Asahi Shuzo instead of European wine.
Menu du Jour
As previously mentioned, I'd made a reservation to try the Menu du Jour, a seasonal menu that included ten courses plus a few extras.
Snacks
The first bite to arrive at my table was a cheese ball with a warm gooey center.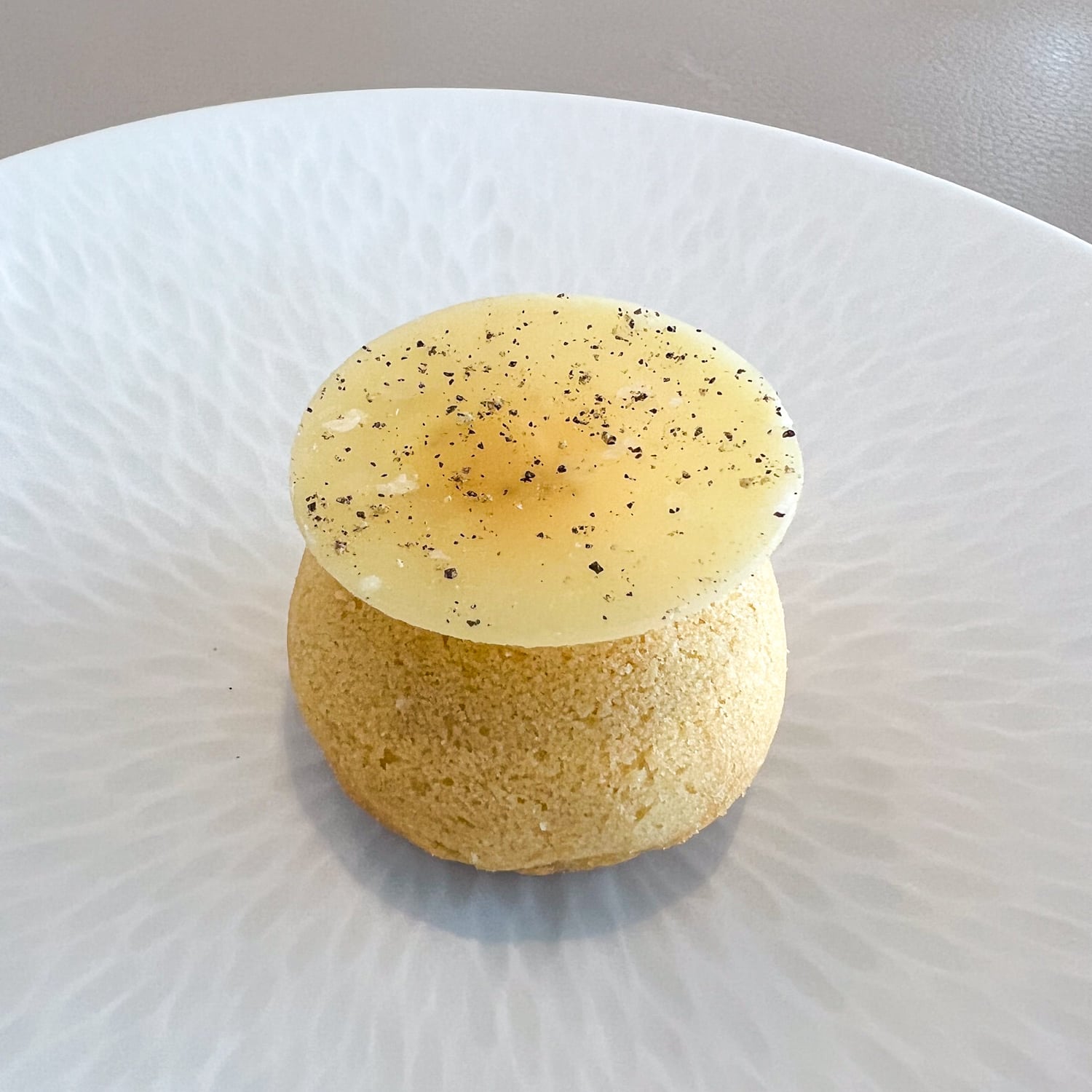 Next, a bowl of giant black winter truffles was placed before me.
My second invitation (after the welcome Champagne) was to upgrade my meal with these earthy morsels from Montpellier, France.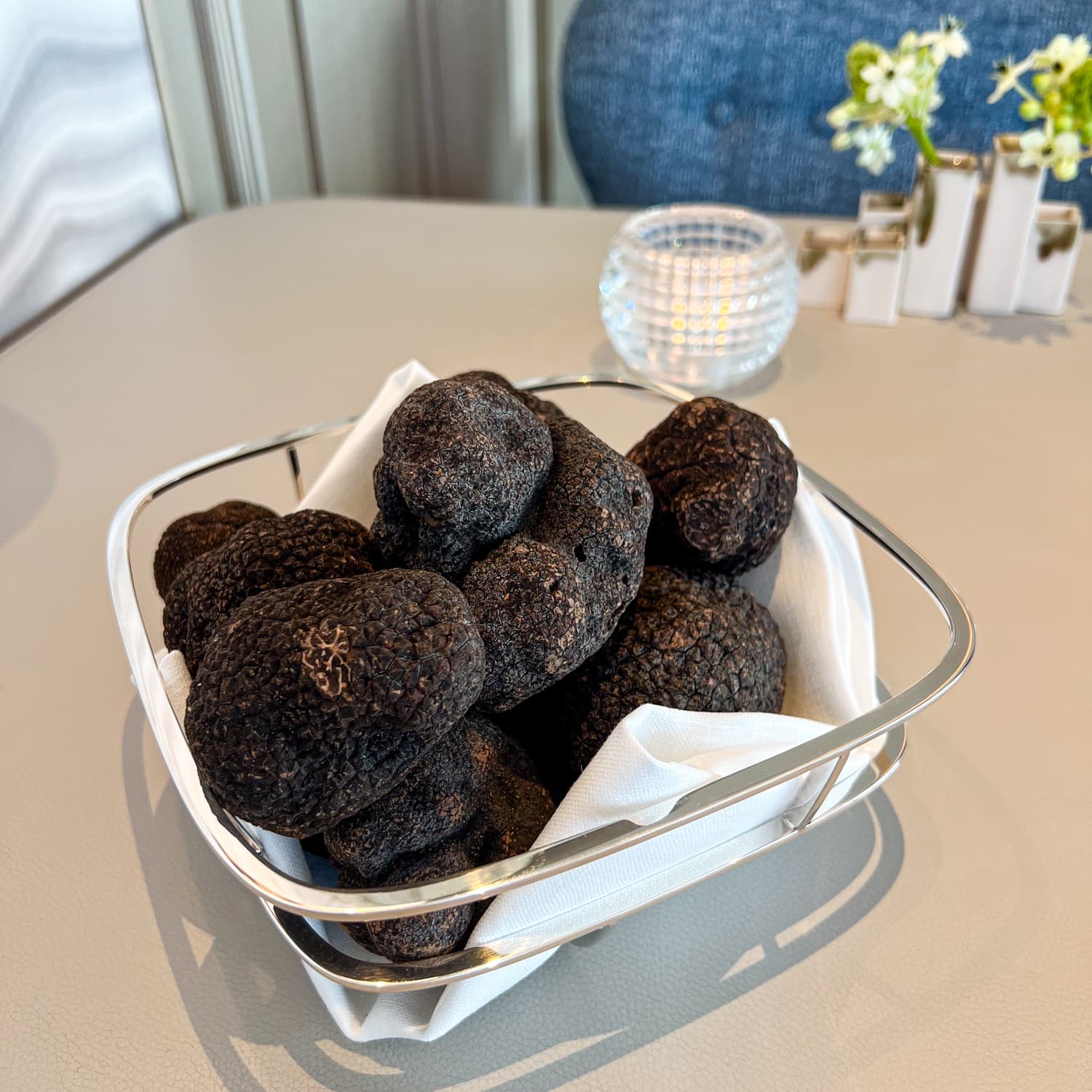 The addition would've doubled the meal cost, so I again declined.
Soon after, the first course, a "Radis Beurre," was delivered. Chef Daniel's take on this traditional French appetizer, made by dipping radishes in room-temperature butter and sea salt, was colorful. And satisfyingly crunchy.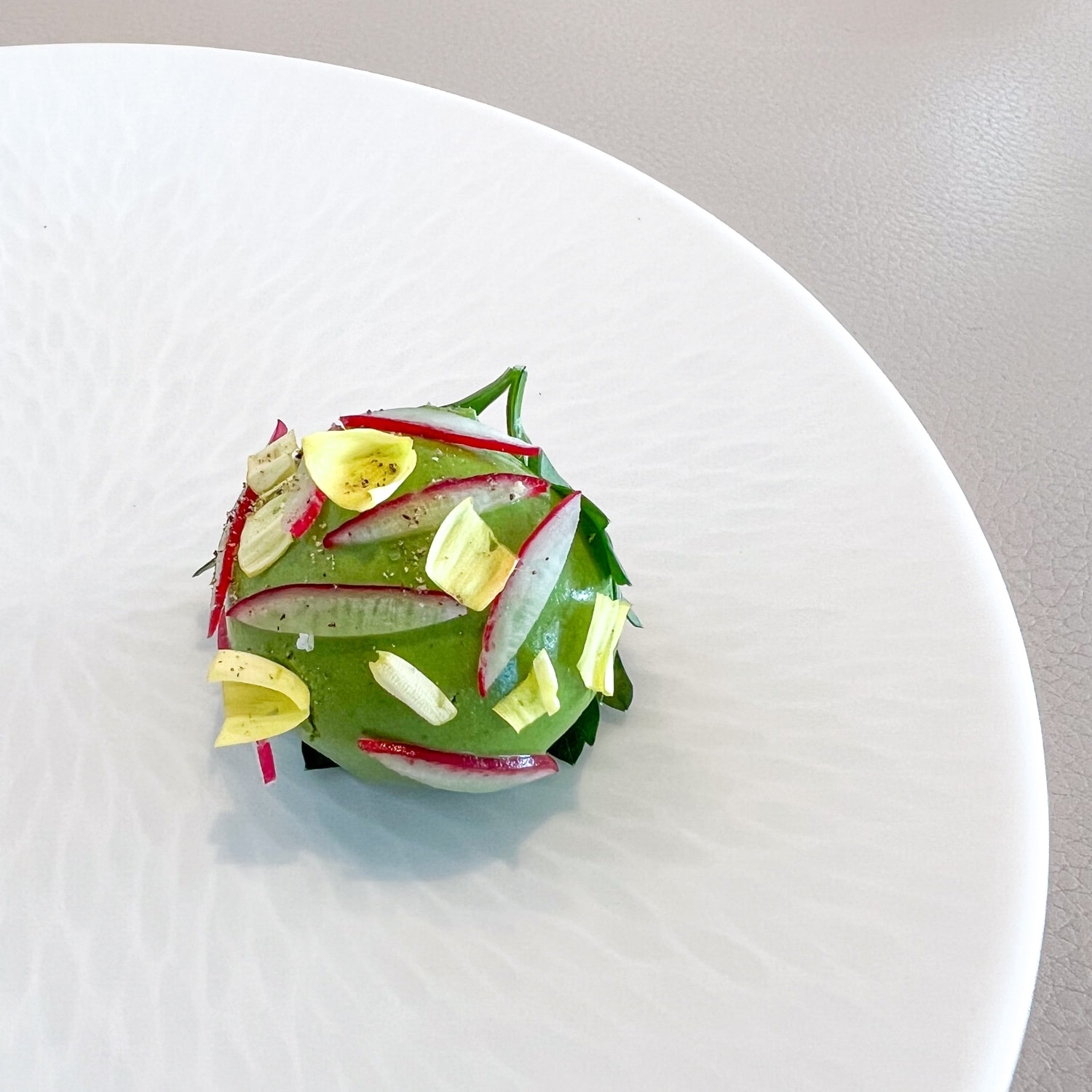 The second course, "Botan Ebi" from Hokkaido, was a shrimp chip canape with celery cream presented on a shimmering mother-of-pearl plate. The shrimp flavor was subtle.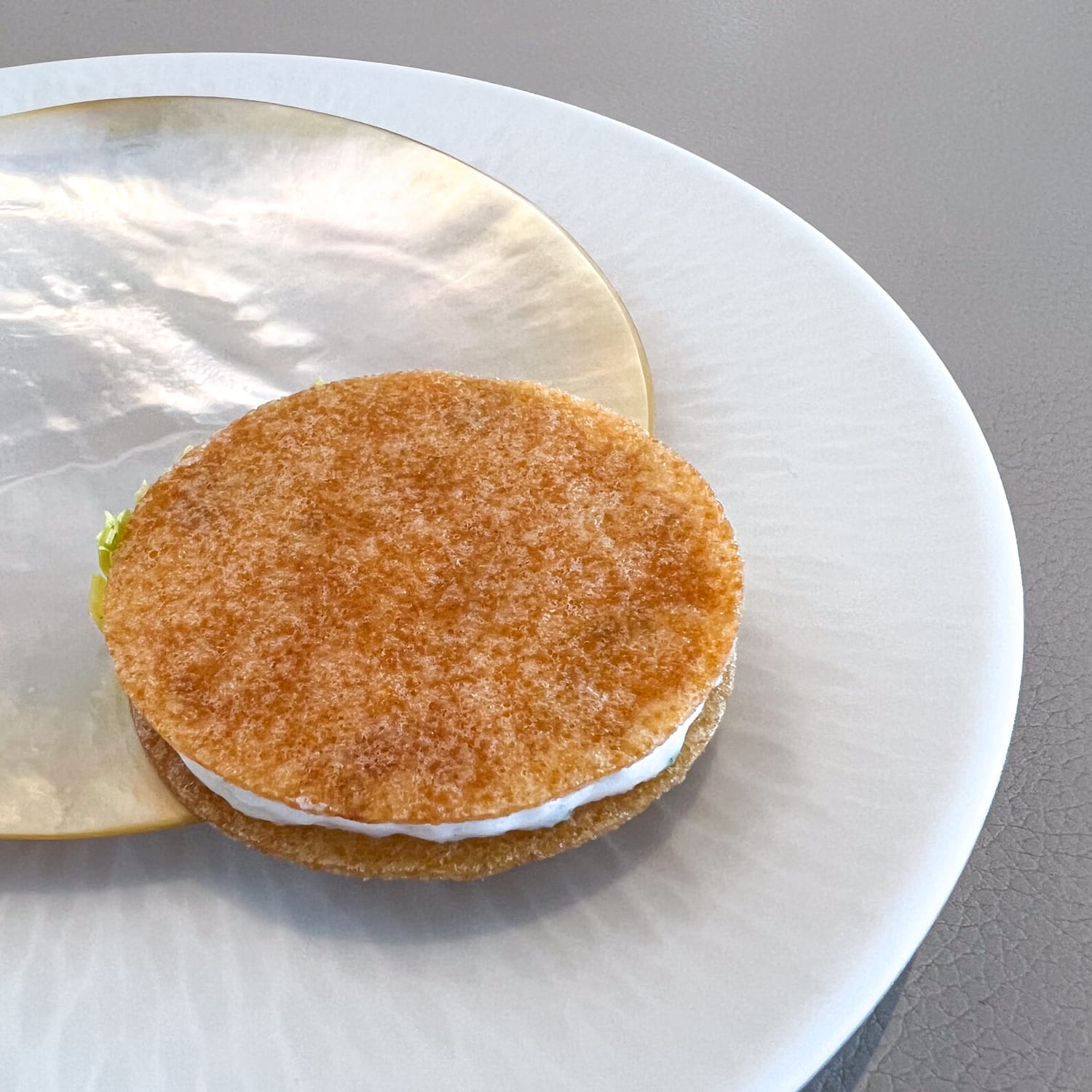 A mother-of-pearl spoon was provided for the next course, "Tsar Imperial" Ossetra Caviar with Avocado and Sudachi.
The dish's composition included a cracker on the bottom, avocado cream/mousse, caviar, a slice of avocado, and sudachi zest on top.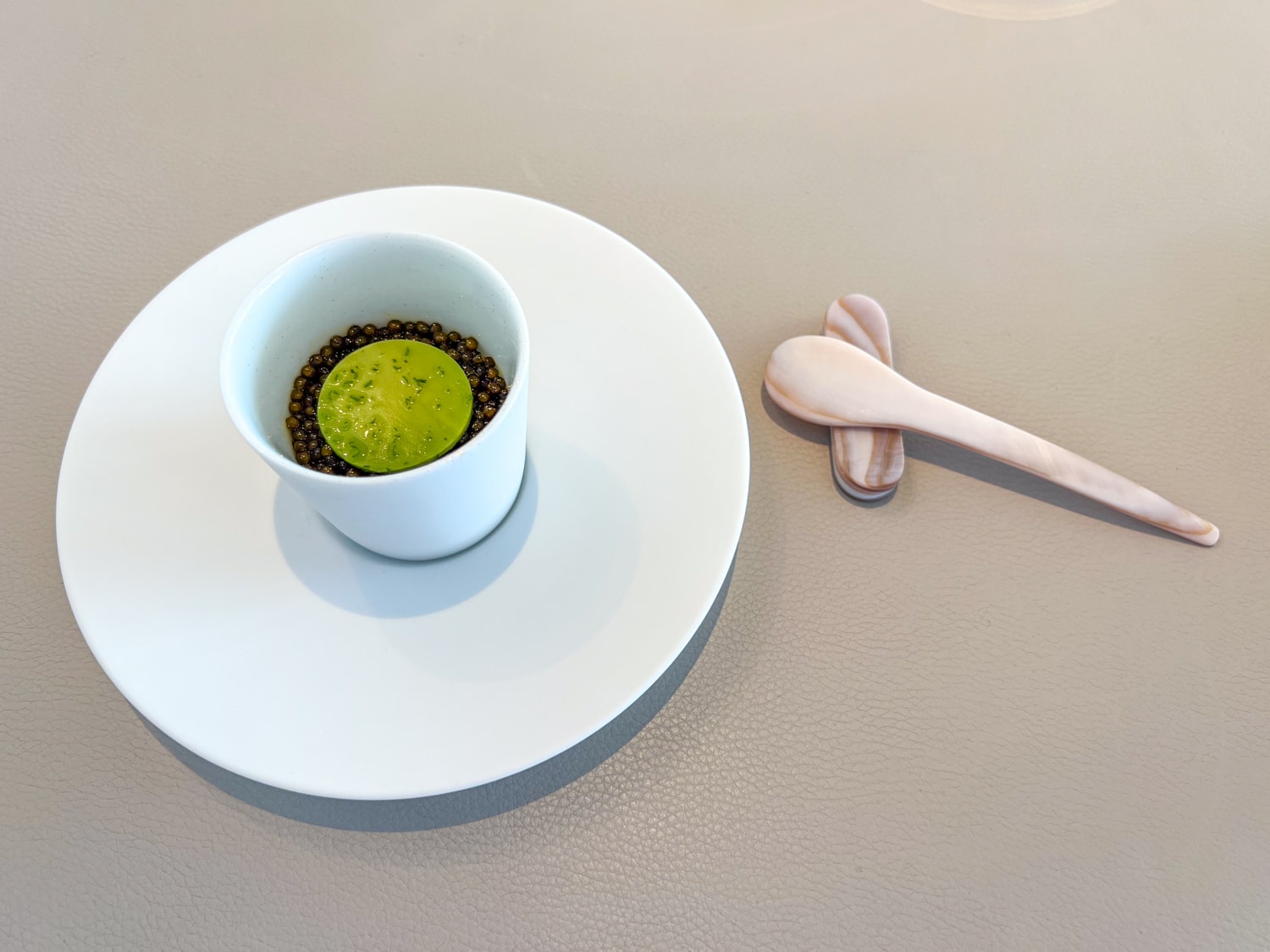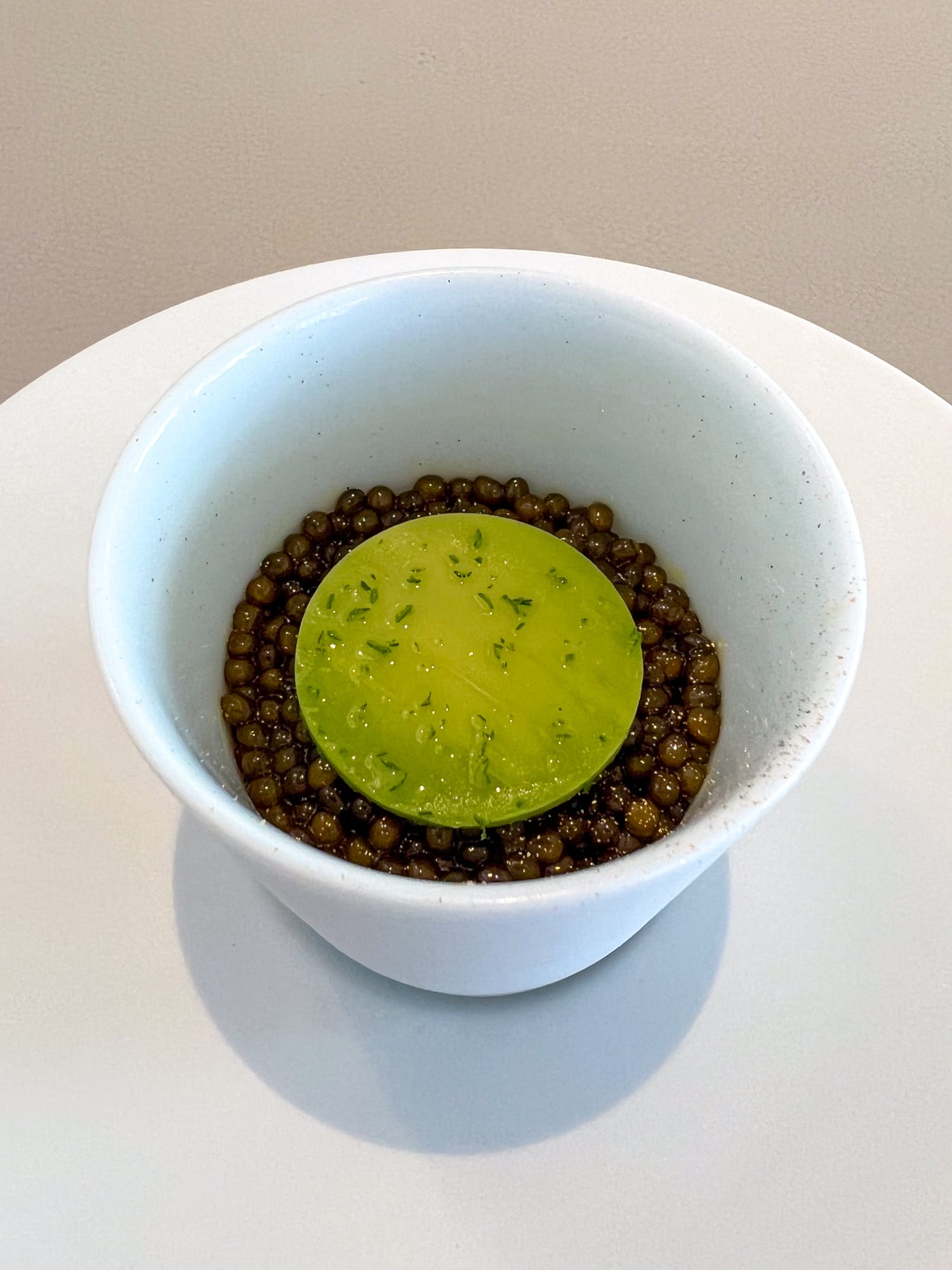 Mother-of-pearl spoons are traditionally used with caviar because they're a non-reactive material, which ensures the utensil isn't affecting the flavor of the delicate fish eggs.
This caviar dish wasn't on the printed menu I received at the end of my meal at Sezanne in Tokyo, so I won't count it as an official course.
Homemade malted barley sourdough with Brittany butter was on the menu as course number three.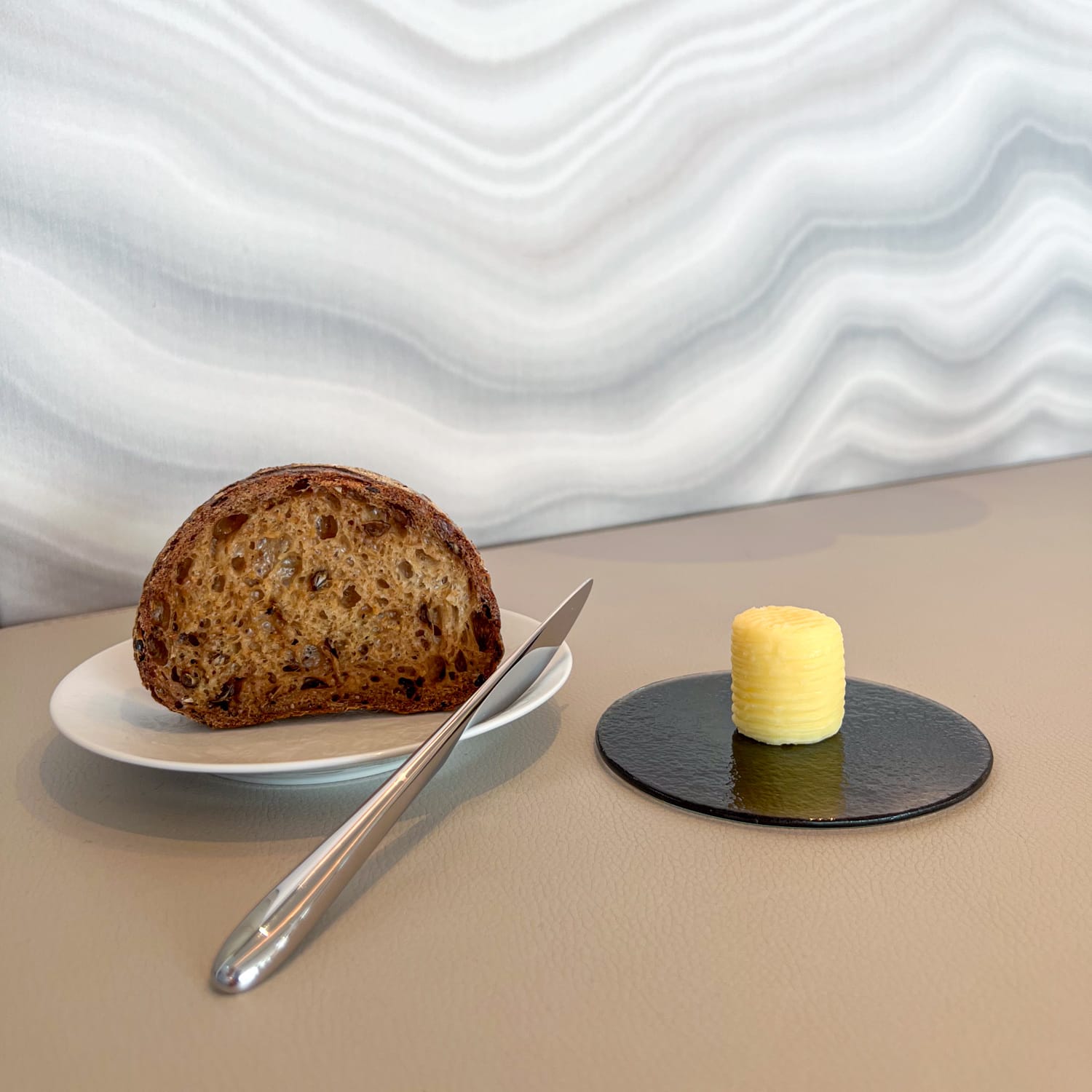 Akkeshi oyster with Koshihikari rice and wild sorrel followed it.
These oysters hail from Hokkaido in Northern Japan. Every October, a 10-day Akkeshi Oyster Festival is held to celebrate them.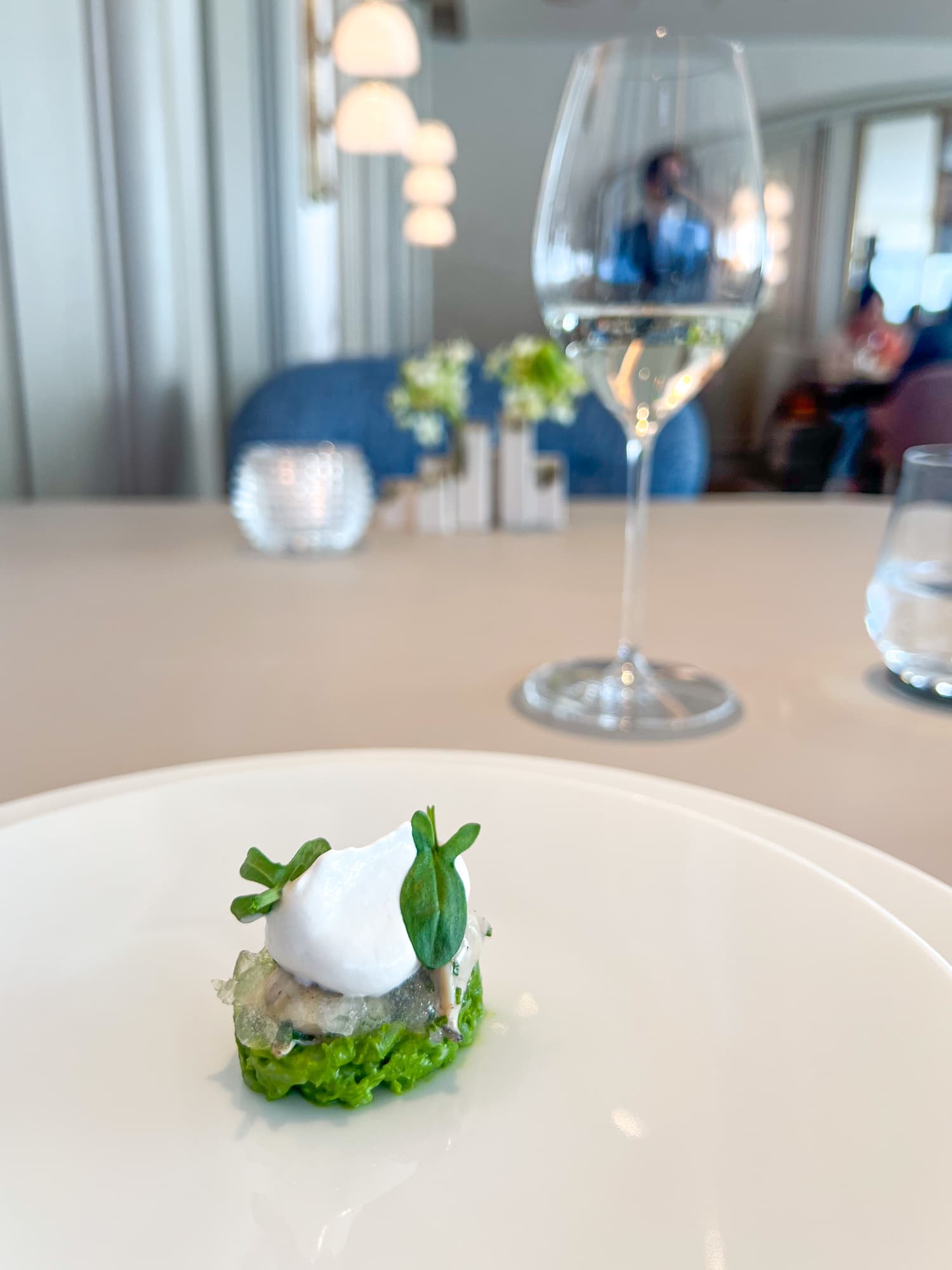 Since I have yet to visit Hokkaido, I'll take a delicious bite of their oysters wherever I can get them.
Larger Dishes
Course number five was "Tara Shirako," with potatoes and herbs. This fancy French potato soup was served in a hot while bowl and disappeared in three-to-four bites.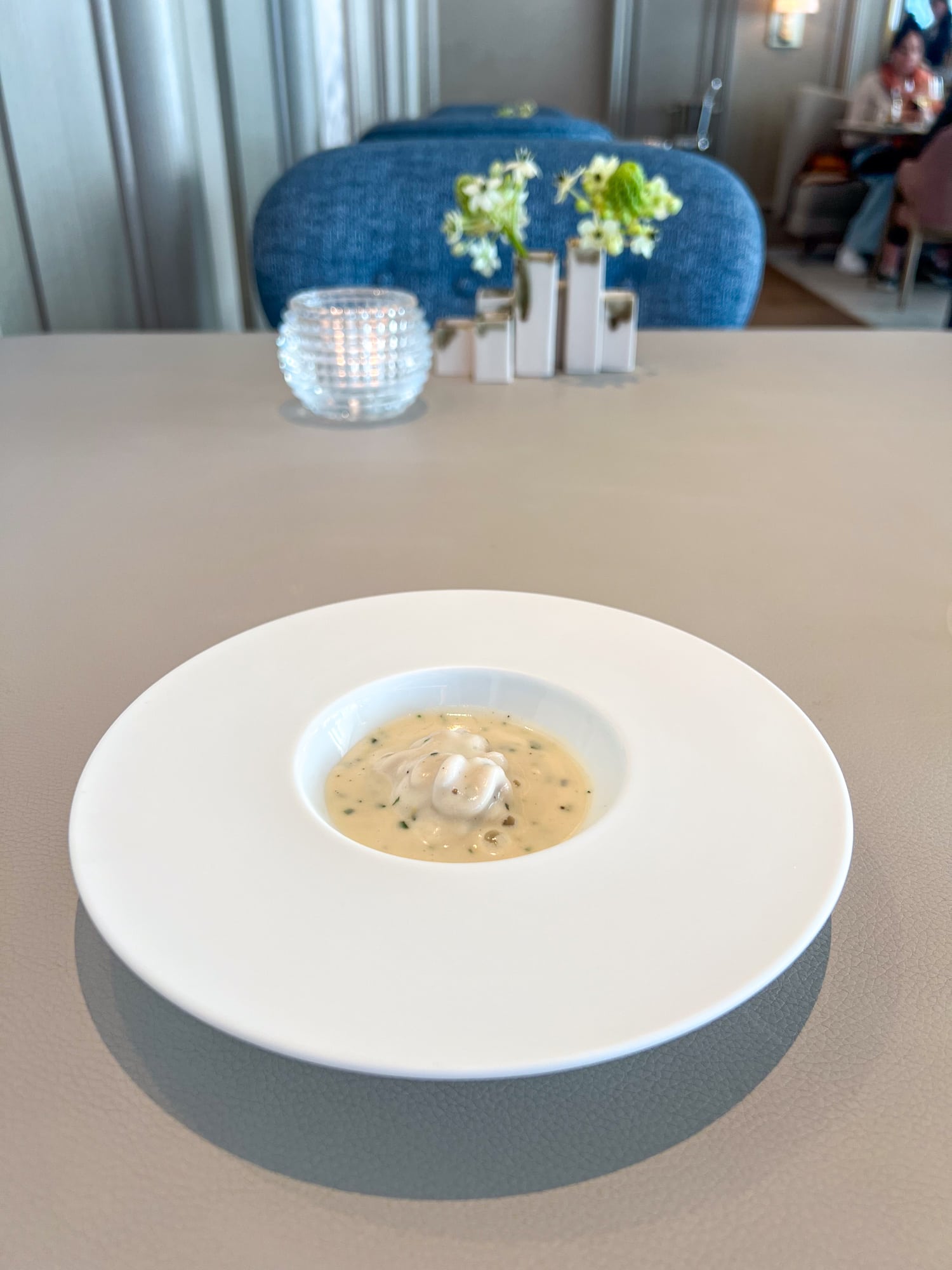 Hokkaido scallops with buckwheat and white beer sauce were presented for course six. The dish was sauced at the table. A dollop of pureed onion was also present on the plate.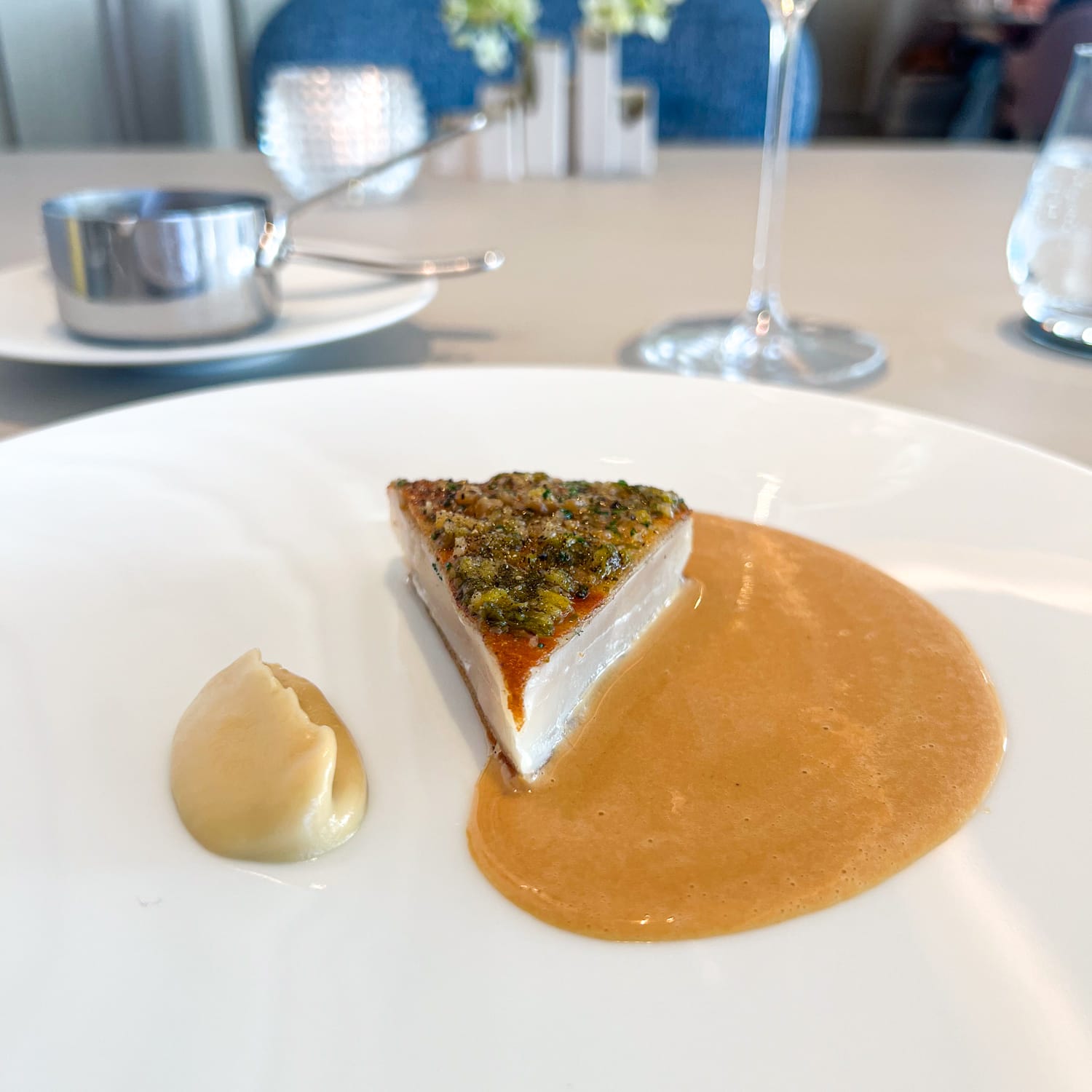 The scallop dish looked incredible and smelled and tasted delicious. It was my favorite dish of Sezanne's Menu du Jour thus far.
Morel mushrooms with yellow wine and roasted chicken sauce were served for course seven. The mushroom was stuffed with lard and foie gras. Viva France!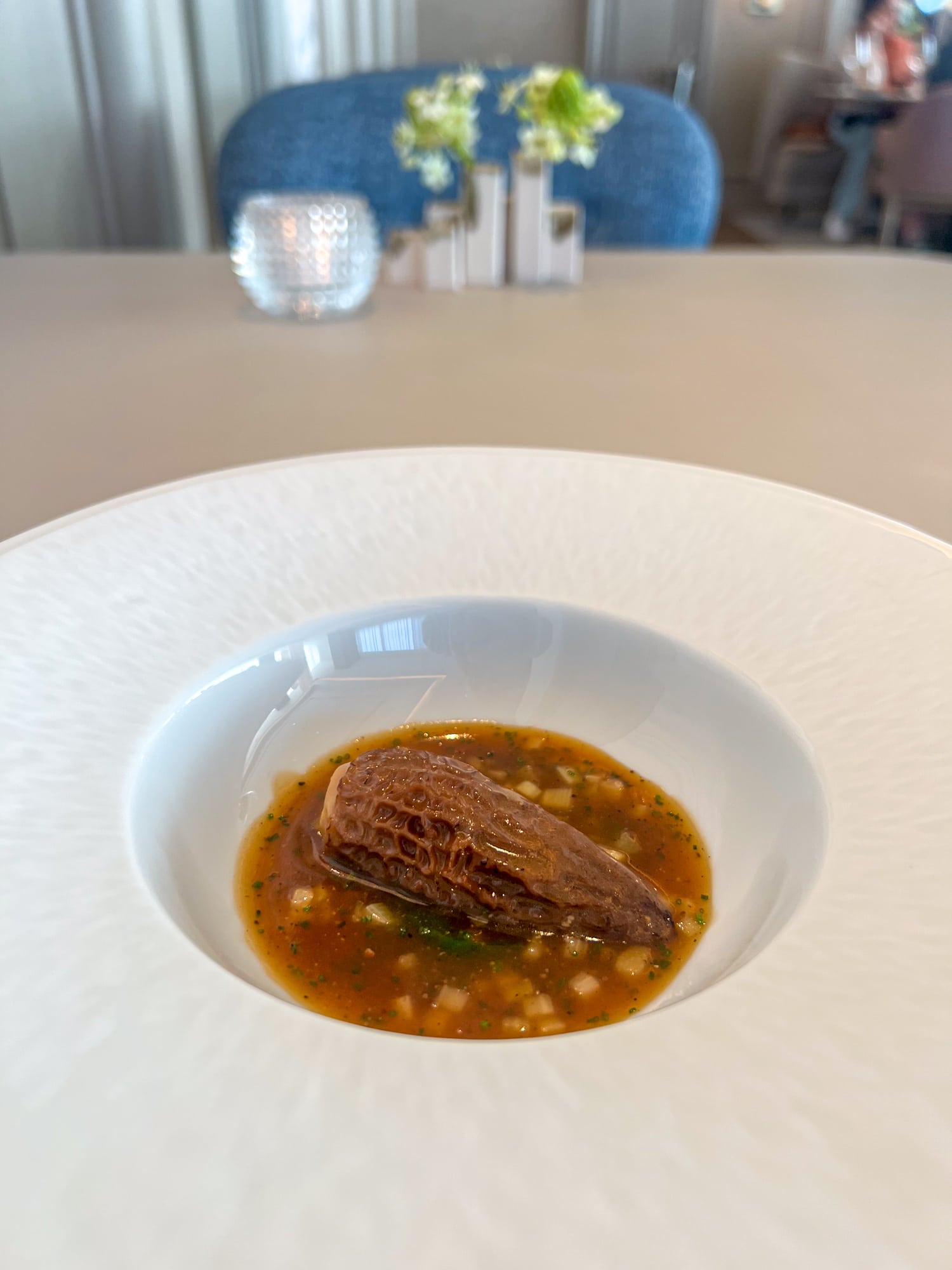 The eighth and final savory course was a beauty — Venison from Shiranuka Town (Hokkaido) with sweet potato and "sauce au poivre."
The sauce was once again provided tableside, delivering a little extra entertainment for the dish.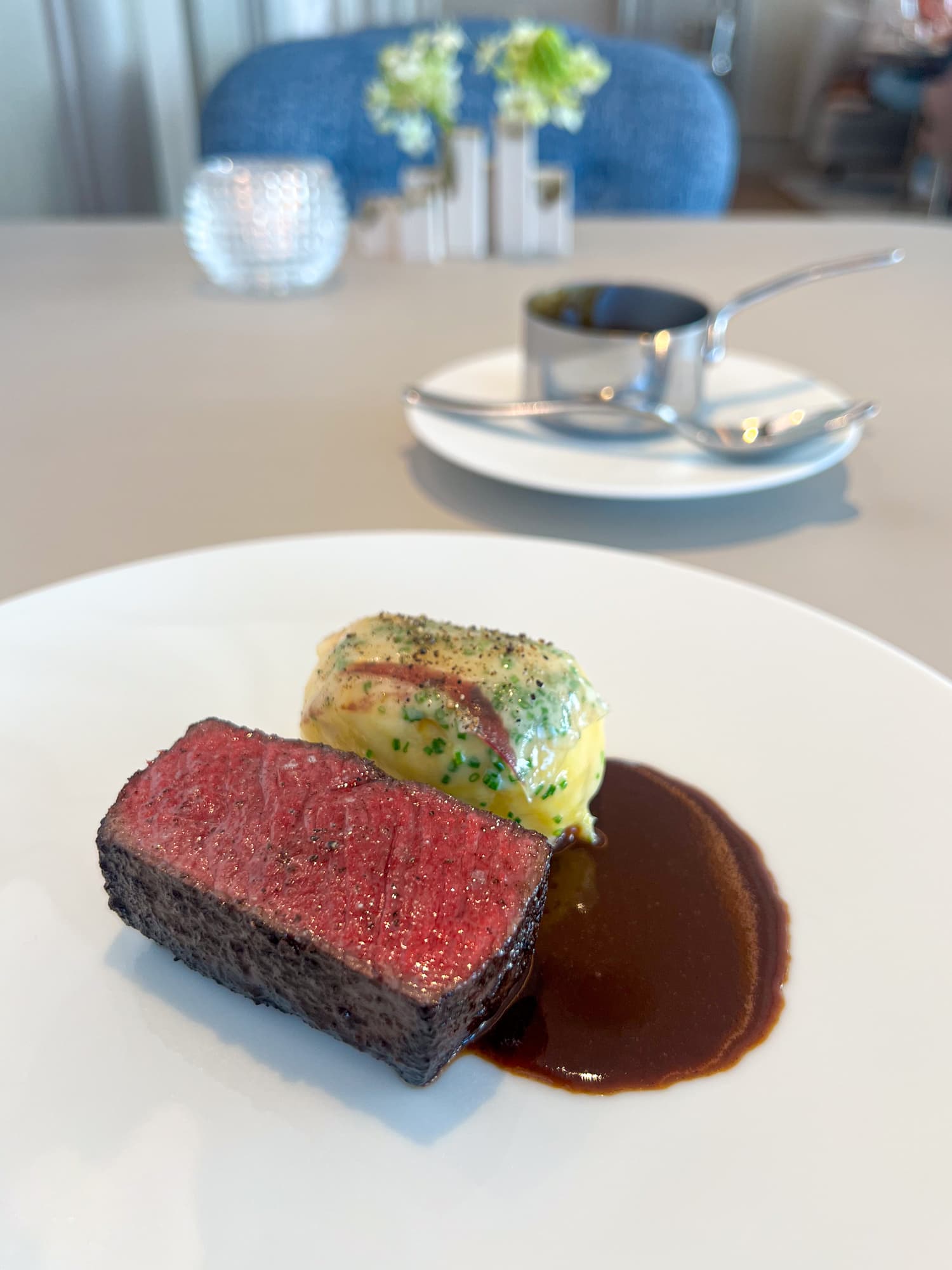 The tender, crimson-red meat was cooked a perfect medium-rare. I savored every bite.
As a diner, I felt at ease with the friendly service and was completely satisfied with the quality of the ingredients and the precision of chef Daniel's modern French cooking.
Now, it was time to turn my attention to the efforts of Sezanne's British pastry chef, Elwyn Boyles, who spent a decade working under Thomas Keller at The French Laundry and Per Se.
Desserts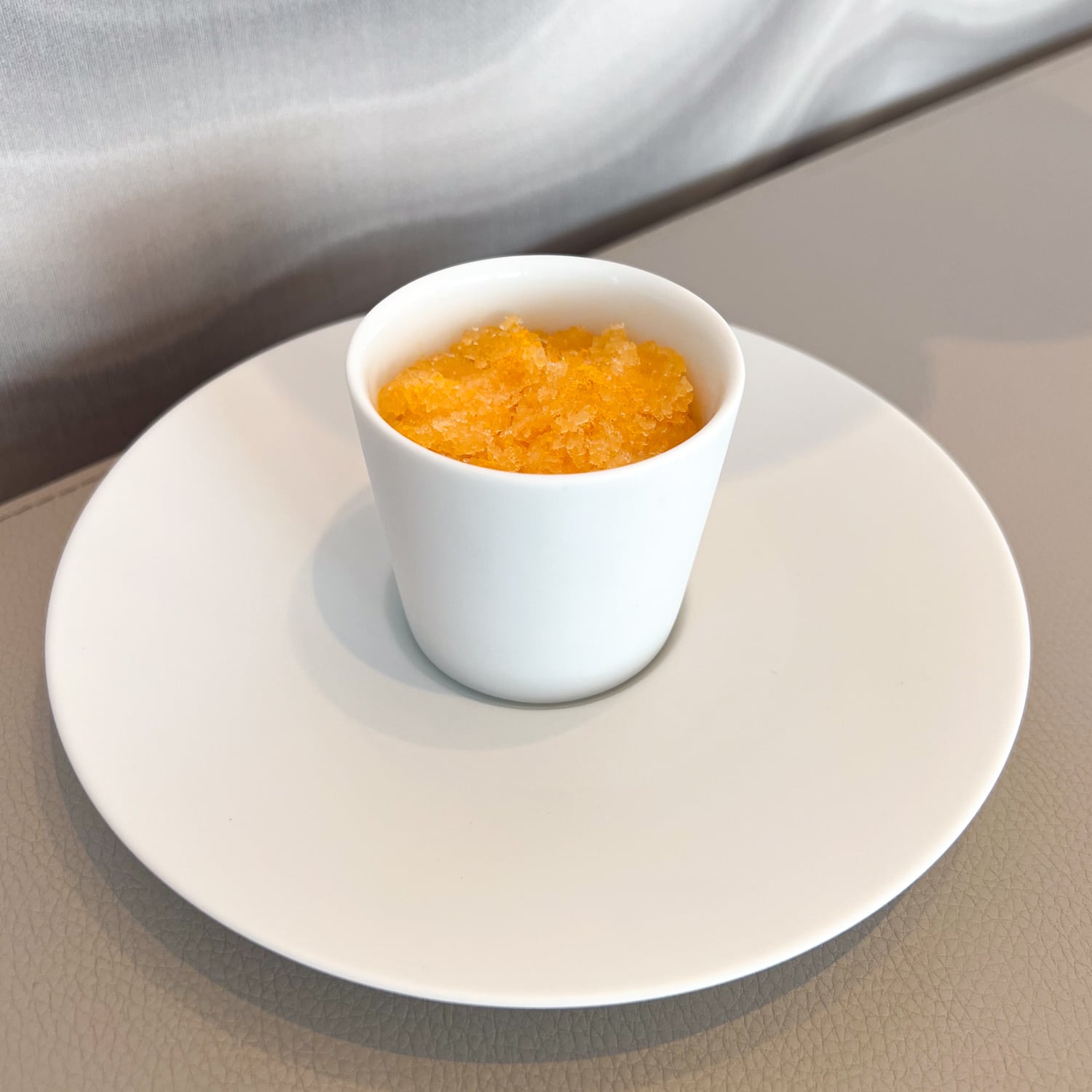 The first plate to arrive from the pastry team held a small bowl of Japanese orange granita. Beneath the orange-flavored ice, there was a mousse.
It was a light and refreshing palate cleanser, aptly preparing my taste buds for more sweets.
At this point, the server presented me with a silver tray full of fresh macarons and asked which flavors I'd like. I chose vanilla and coffee, but they weren't given to me immediately.
Instead, the main event, Setoka orange from Ehime with yuzu kosho and orange blossom, was delivered.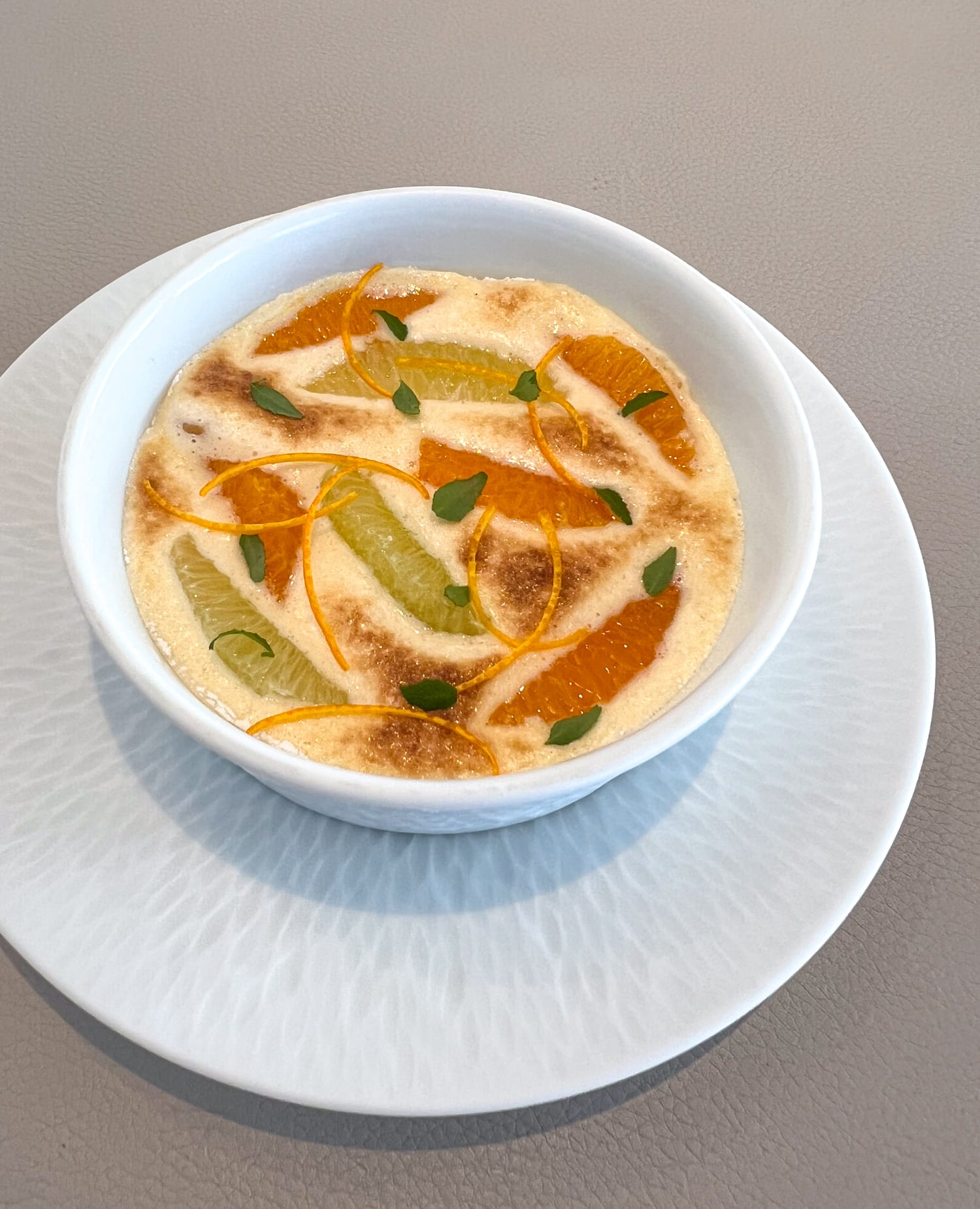 Multi-colored slices of orange were arranged in sabayon, a light dairy-free sauce, and served warm.
It was pretty and tasted fine; however, I would've preferred a thicker, more mousse-like consistency.
I was having a wonderful time during my lunch at Sezanne in Tokyo, so I ordered coffee to buy some time.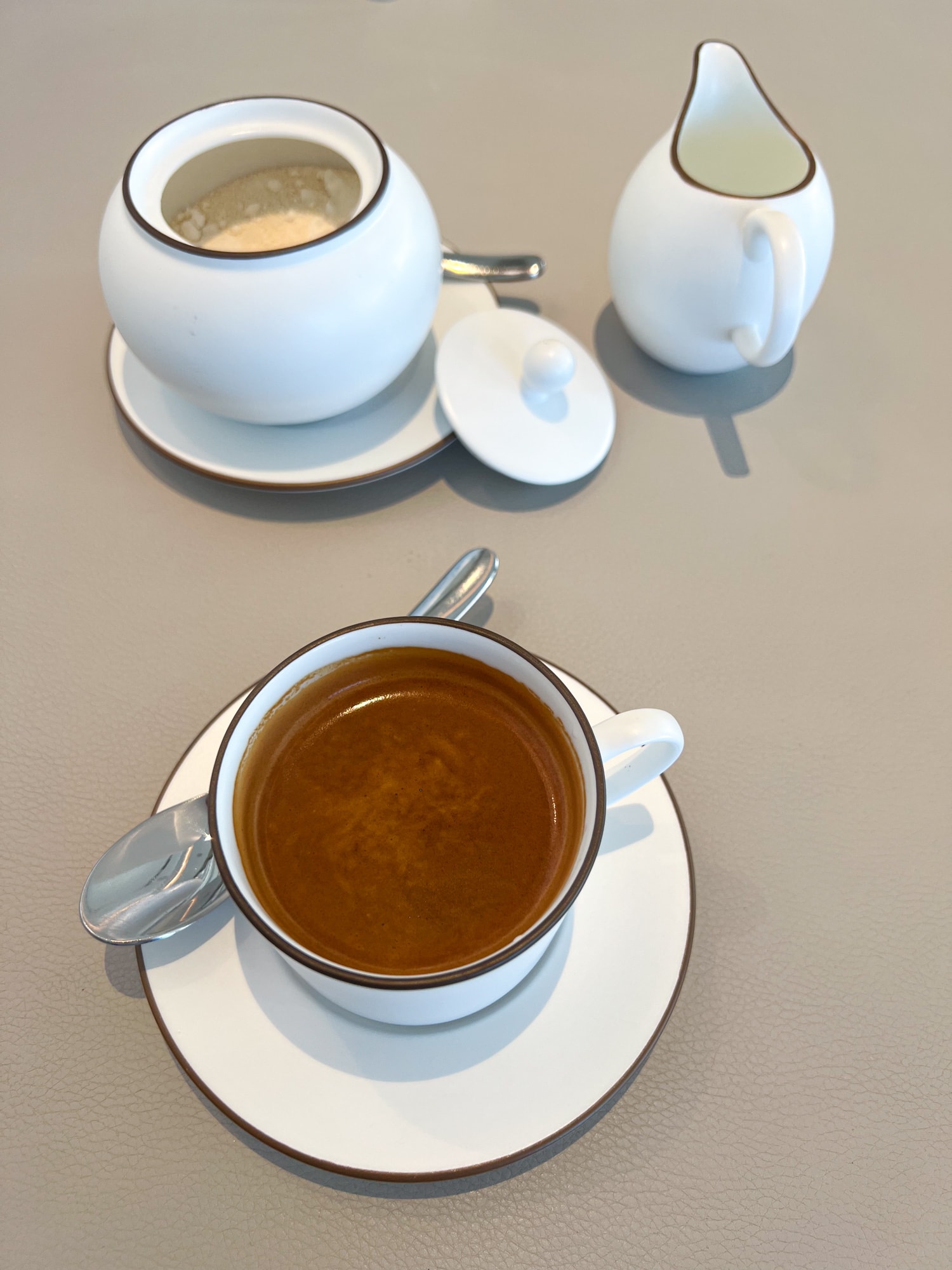 Once it was delivered, my macarons and a madeleine with berry filling were too.
It was coming up on two hours since I arrived for lunch, and it felt bittersweet for the experience to be almost over.
Related: World's Best Restaurants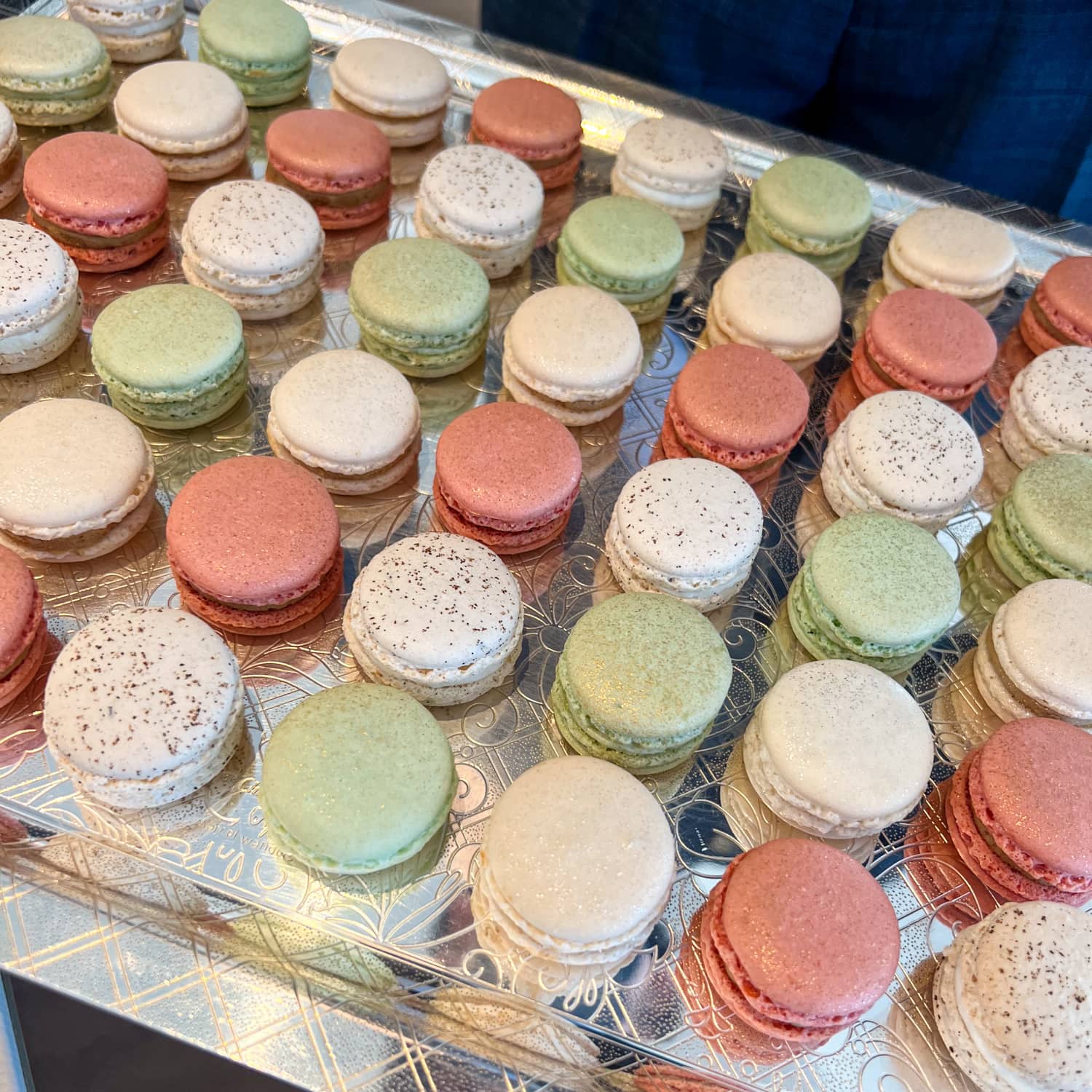 The service was consistent throughout the meal, a credit to the entire staff from the kitchen to the front of the house.
Like the interior decor, the professional service also reminded me of Geranium. Chef Daniel has everything going for him to potentially earn a third Michelin star for Sezanne in due time.
Additional Notes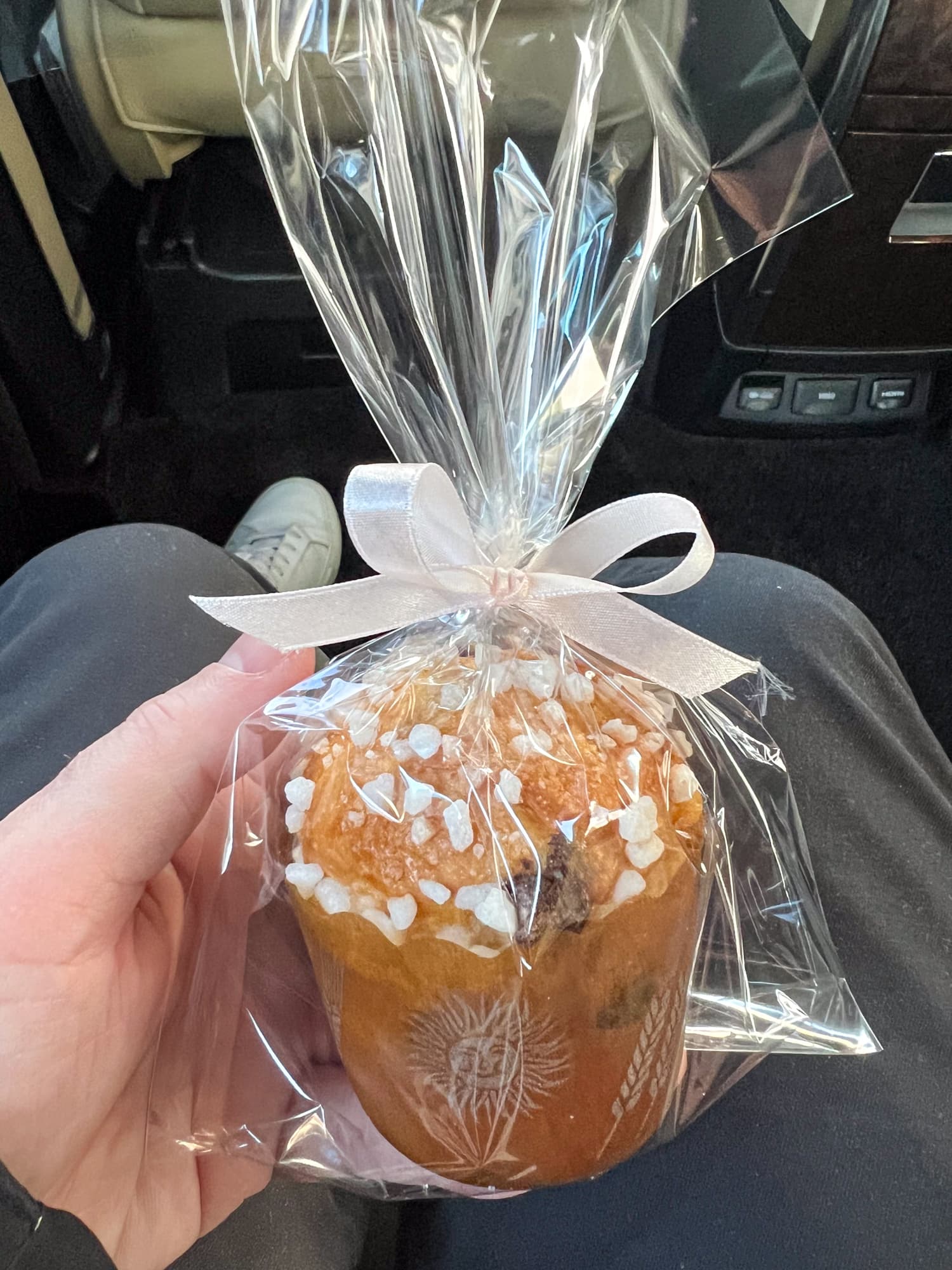 How much does a meal at Sezanne cost?
In early 2023 when I ate at Sezanne in Tokyo, the Menu du Jour was priced at 16,000 yen. However, once you add a 10% tax and a 15% service charge, it's 20,000 yen (or about $138). Plus drinks, of course.
My sake was 2,200 yen, plus 850 yen for bottled water, bringing my drink total to 3,050 yen (about $21). Add that to my food total, and we're at $160.
As I write this, the Menu du Jour price has increased to 18,000 yen or 22,770 yen, including tax and service (about $155).
In addition to the Menu du Jour, the longer 14-course Menu Sezanne is available for lunch or dinner. It's currently 30,000 yen or 37,950, including tax and service (about $260).
Remember, the prices of the food menus do not include drinks. Wines are available by the glass and bottle, and there are two wine pairings.
At the time I dined at Sezanne, there were two wine-pairing options:
Decouverte (Discovery) for 31,625 yen, including tax and service (about $220).
Haute-Couture for 69,575 yen, including tax and service (about $480)
Private Dining Room
For an additional fee, you can book the Chef's Table, a private dining room with a window into the kitchen. Your host will be chef Daniel himself.
Maison Marunouchi
If the dynamic French cuisine at Sezanne is out of your budget, consider a meal at Maison Marunouchi, the Four Seasons' casual French bistro concept. Chef Daniel oversees this restaurant as well.
Visit SEZANNE in Tokyo
Address: PACIFIC CENTURY PLACE MARUNOUCHI, 7階, 1 Chome-11-1 Marunouchi, Chiyoda City, Tokyo 100-6277, Japan. Website
Reservations: Necessary and accepted online through the Omakase website. You'll need to create an account. And there's a 390 yen fee (about $2.70 charged when you make a reservation).
The Omakase website doesn't offer the ability to make a reservation for one person, so call the restaurant or do as I did and email the Four Seasons Hotel to notify them if you're dining alone.
Dress code: Smart casual. Men are asked to wear a long-sleeve collared shirt; jackets are preferred but not required. Men are not allowed to wear shorts, t-shirts, or beach sandals.