My first visit to Bar Harbor, Maine, offered a tasty introduction to some of the best restaurants in this northern New England town. As I was on a three-day cycling tour, the decision of where to eat in Bar Harbor came down to our Maine guide.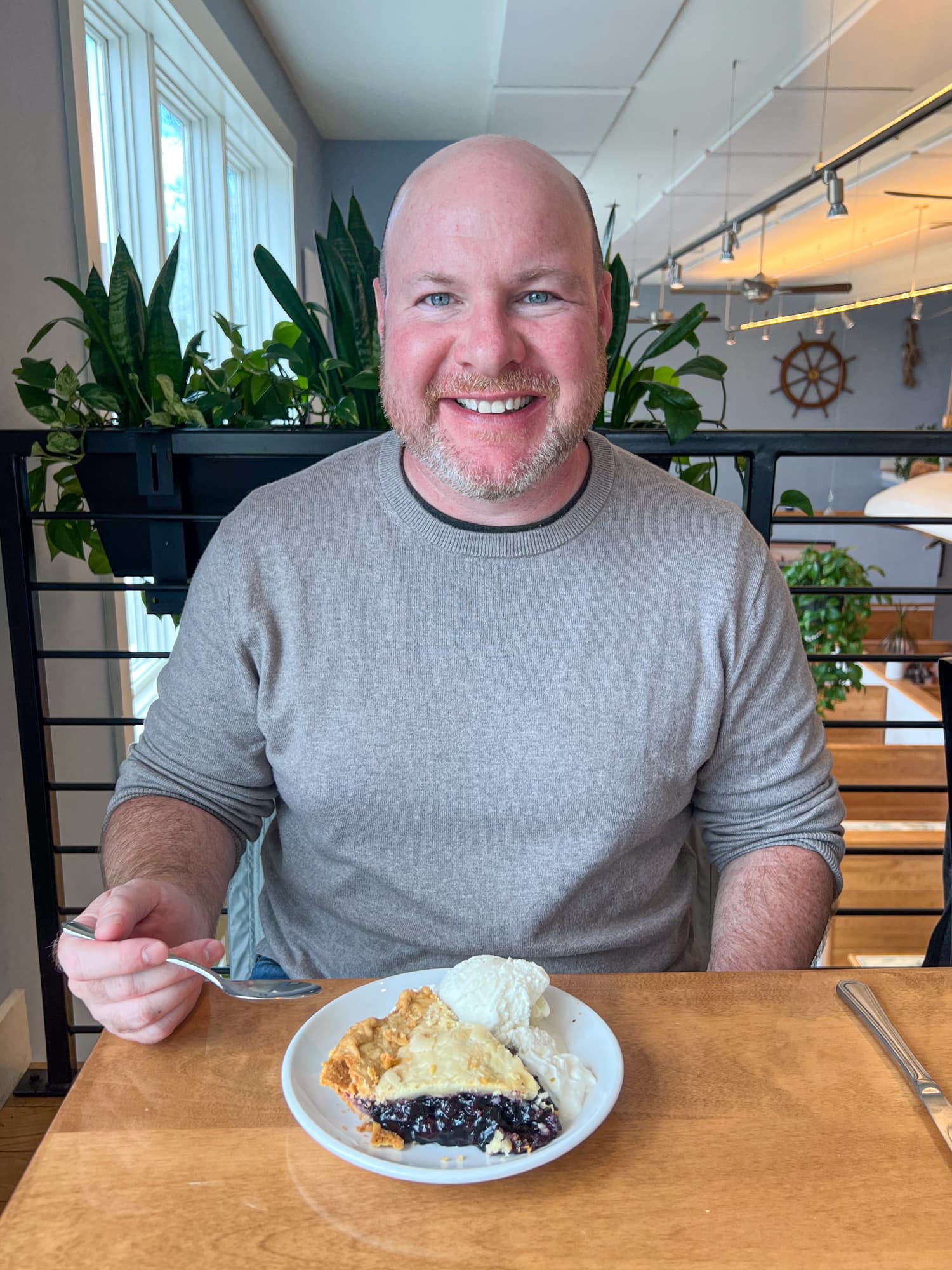 Norman, the owner of Summer Feet Cycling, has been leading cycling tours in Maine for over 20 years, so we were in good hands.
Bar Harbor Restaurants
We'd built up a big appetite after our first day driving up the Maine coast from Portland to Bar Harbor and cycling the Schoodic Peninsula.
McKay's Public House
The five-block walk from Sand Bar Cottage Inn to McKay's Public House on Main Street for dinner gave us our first glimpse of the town.
Along the way, we passed Agamont Park, with its sweeping views of Frenchman Bay and the Village Green in the center of town.
As we walked through the relaxed atmosphere of McKay's front patio, we ran into the owner. He told us a little about the restaurant, including that the same historic Victorian building had previously been used to sell moonshine.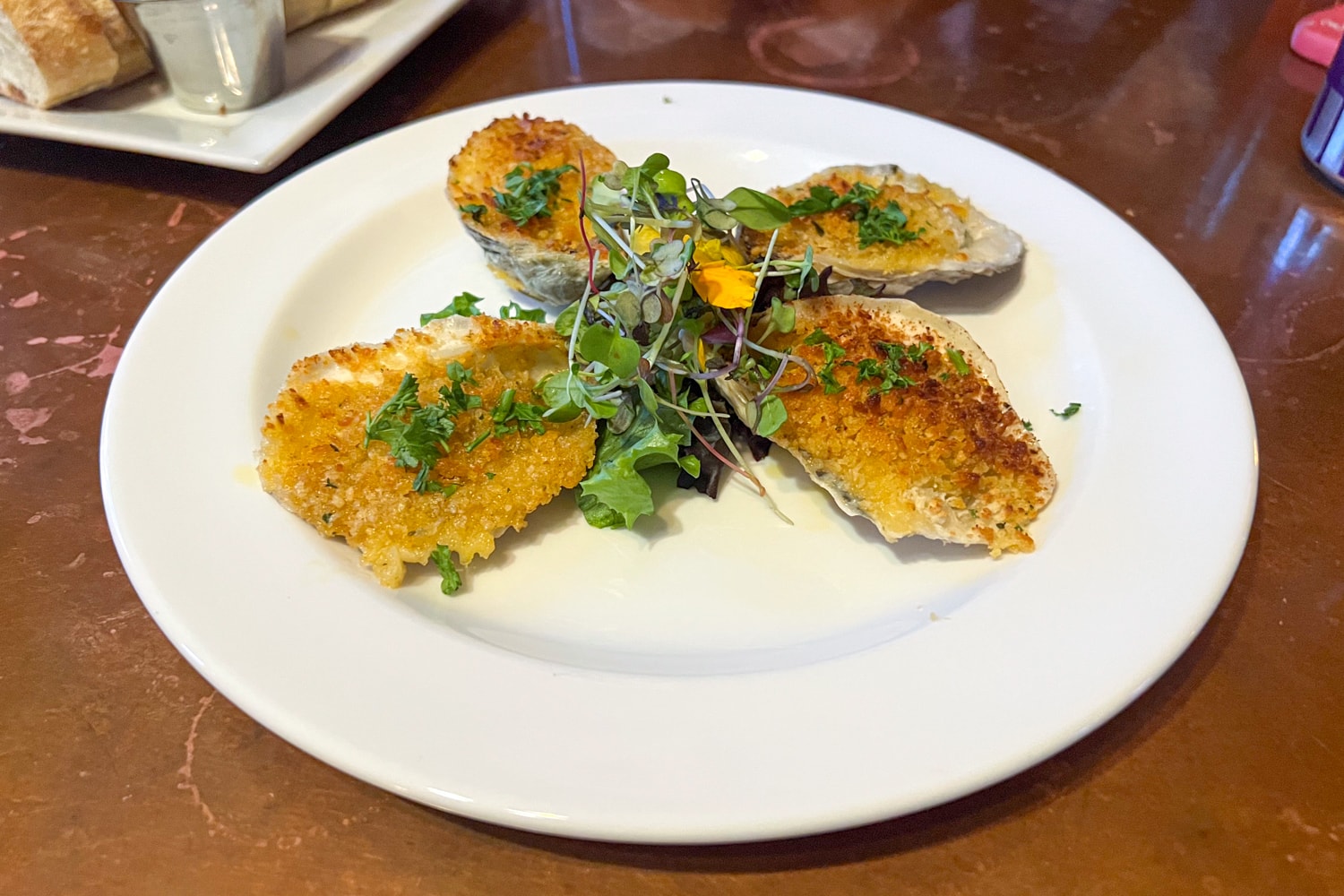 Also of note, McKay's Public House is open year-round and celebrates its 20th anniversary in 2023. Given only about 5,000 residents live in Bar Harbor, that's an impressive accomplishment.
It shows that McKay's is a local favorite and a popular spot for tourists in town for summer vacation.
After the friendly introduction, we walked inside and were shown to a large table in one of the first-floor dining rooms.
The menu at McKay's is elevated pub food which an emphasis on serving the freshest seafood available. The restaurant also uses organic and locally-sourced ingredients.
Starters
I began by ordering a Freedom's Edge cider. And soft bread with honey butter was delivered to the table.
For appetizers, we shared an order of bruleed Bar Harbor oysters with Creole butter, lemon, Parmesan, and breadcrumbs. They reminded me of the Oysters Rockefeller I'd tried at Antoine's in New Orleans.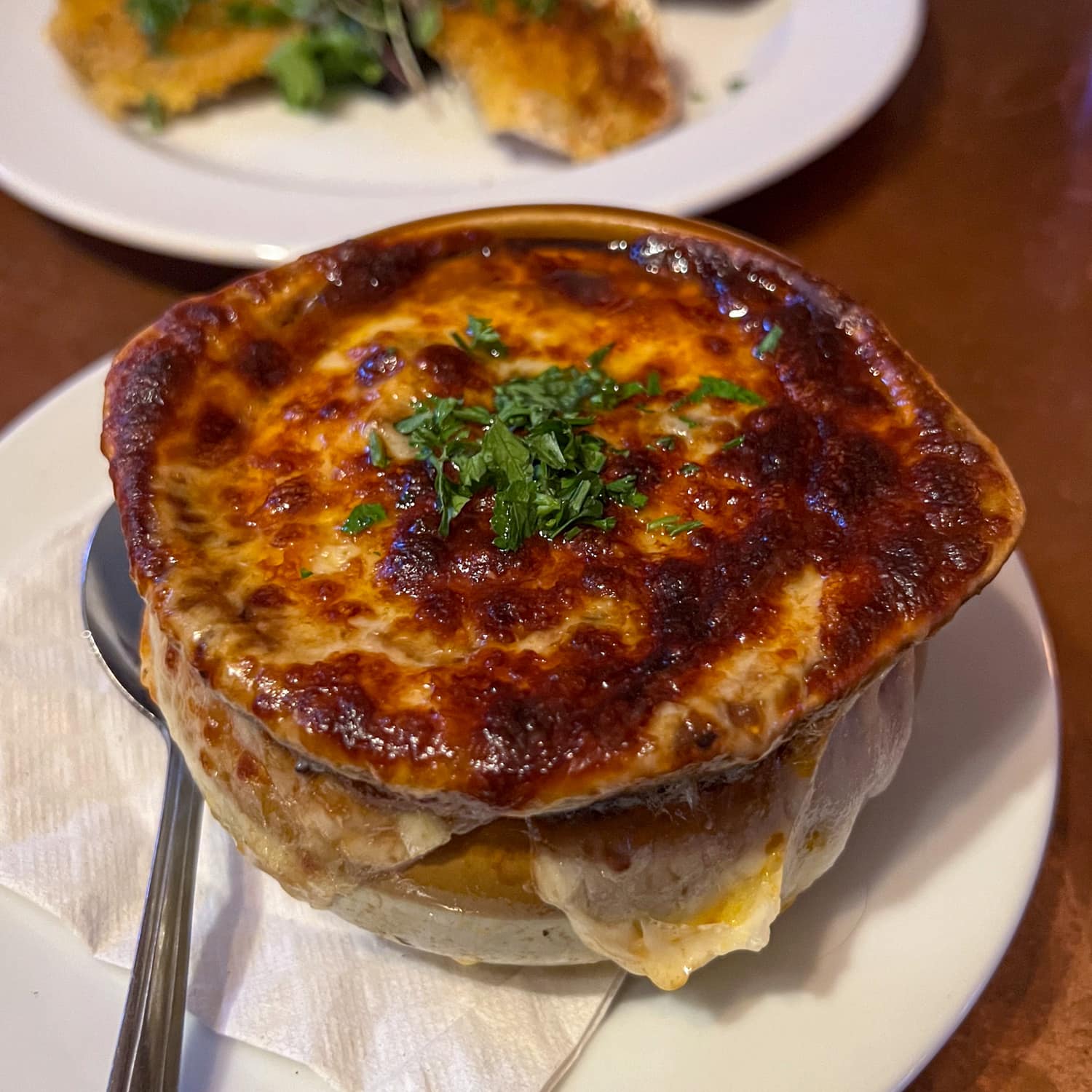 I also ordered the French onion soup with umami vegetable broth, house-made croutons, and lots of melted Gruyere cheese on top.
Additional appetizers include lobster stew, crab cakes, wings, pork belly, and salads for those seeking a lighter option. The cast-iron brie with apple slices also sounded terrific.
The pub fare section of the menu offers comfort food like fish and chips made from local haddock, beef and veggie burgers, and meatloaf with peppercorn gravy.
Seafood Risotto
I was looking for something more substantial and ordered their incredible seafood risotto with fresh lobster, Maine scallops, jumbo shrimp, truffle oil, and grated Parmesan.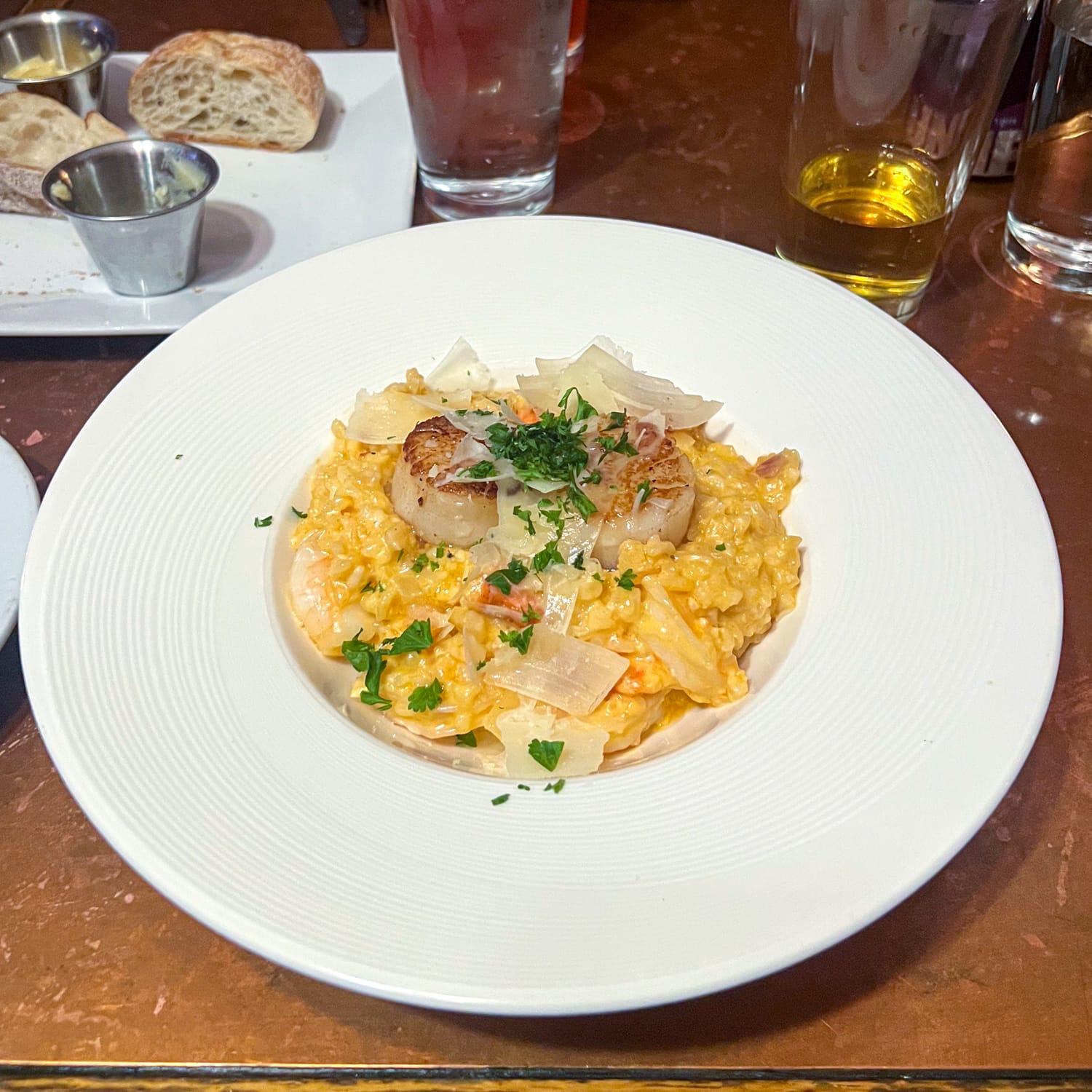 The generous portions of seafood mixed with the creamy risotto were divine. I gobbled the soft-seared scallops and shrimp before uncovering a few large chunks of lobster claw meat.
It's a heavy dish, so I'd go easy on the appetizers, if any. By the time I was done, I was almost too full for dessert (gasp!).
Other entrees include braised beef short ribs in a red wine garlic rosemary sauce, pan-seared halibut, steak frites, and 1.5-pound whole hard-shell Maine lobster with red potatoes and asparagus.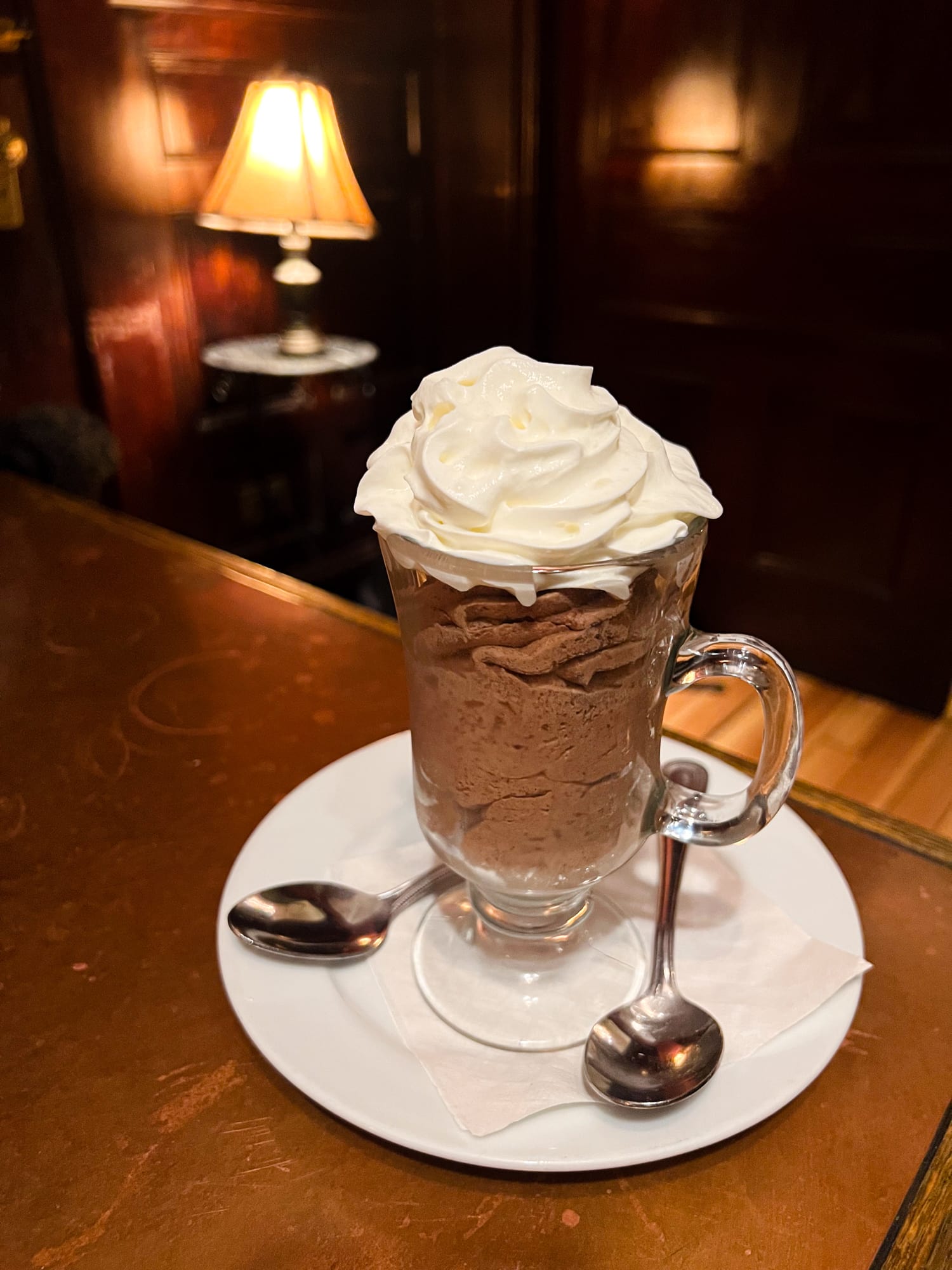 I soldiered on, not wanting to pass on Uncle Jim's boozy mousse, given I have an "Uncle Jim" in my life. This dessert, though, is named after the chef at McKay's.
The dessert is made with Belgian chocolate and Bailey's Irish Cream and topped with fresh whipped cream.
McKay's dessert menu includes sticky toffee pudding, creme brulee, and a brownie sundae.
McKay's Public House, 231 Main St, Bar Harbor, Maine, mckayspublichouse.com
West Street Cafe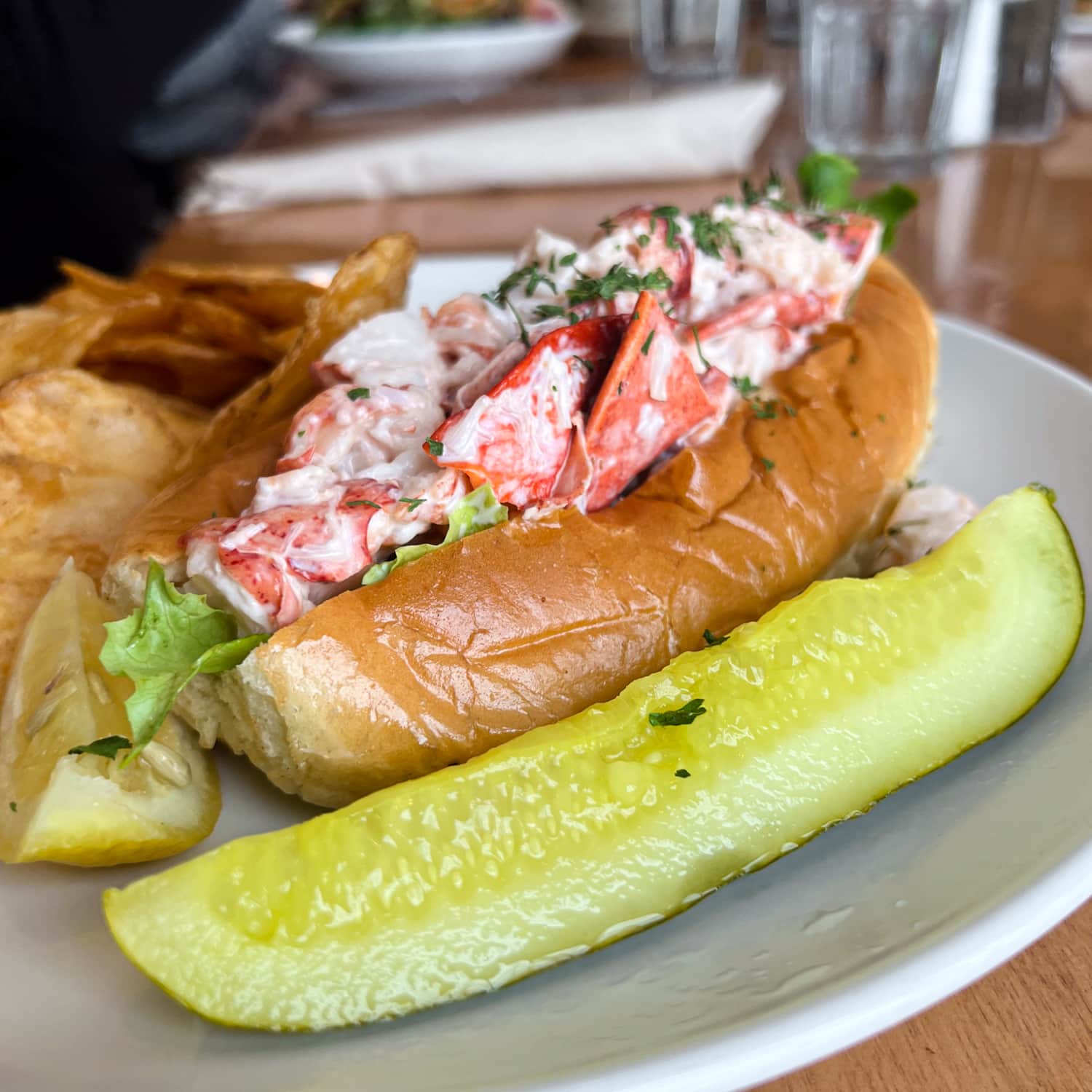 The following morning, we cycled Park Loop Road in Acadia National Park. After cleaning up at our B&B, we walked one block east to the West Street Cafe in downtown Bar Harbor.
The restaurant is across the street from the Bar Harbor Marina, our departure point for a Lulu Lobster Boat Ride.
On the ground floor, a nice design touch at the booths is the tabletop maps of Mount Desert Island, on which Bar Harbor was founded by European settlers in the mid-1800s.
Given our large group size, we sat at a table on the second floor. We had a panoramic view of the waterfront from the second level. Lots of windows meant plenty of sunshine streaming in.
Lobster Rolls
At West Street Cafe, one of the best places to eat in Bar Harbor, I indulged in a cold lobster roll with mayo and lettuce on a butter-toasted brioche roll.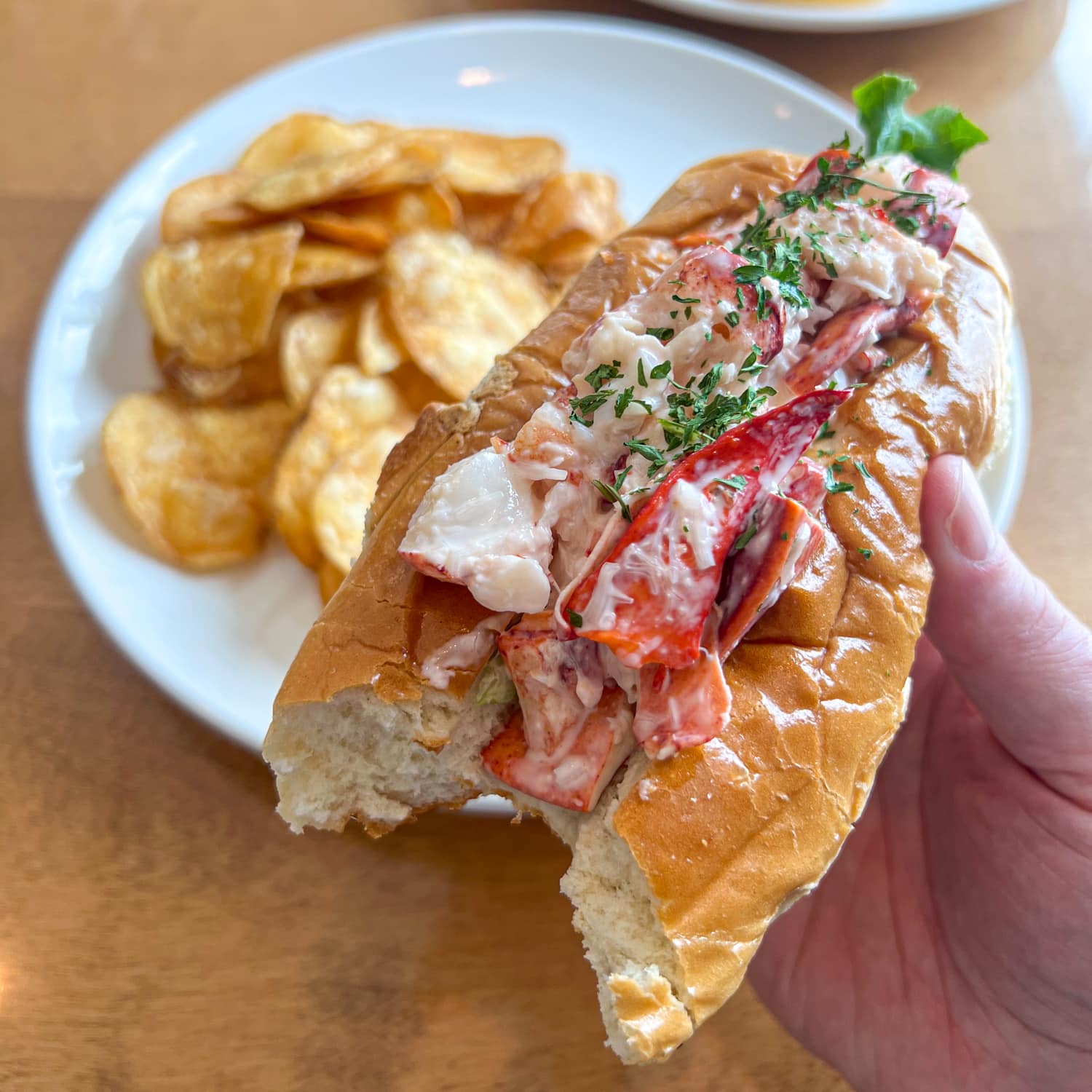 The roll came with a healthy portion of fresh lobster meat that did not leave me wanting more.
If you can see beyond the lobster roll on the menu, they've also got a crabmeat roll, burgers, a haddock sandwich, and veggie grilled cheese.
House specials include The Downeast Special, consisting of 1.25 pounds of lobster, New England clam chowder, and a slice of blueberry pie.
The Shore Dinner trades the chowder for mussels and throws in French fries.
Whole lobster, baked-stuffed lobster, and lazy lobster (where the meat is removed from the shells before it's served) are also available.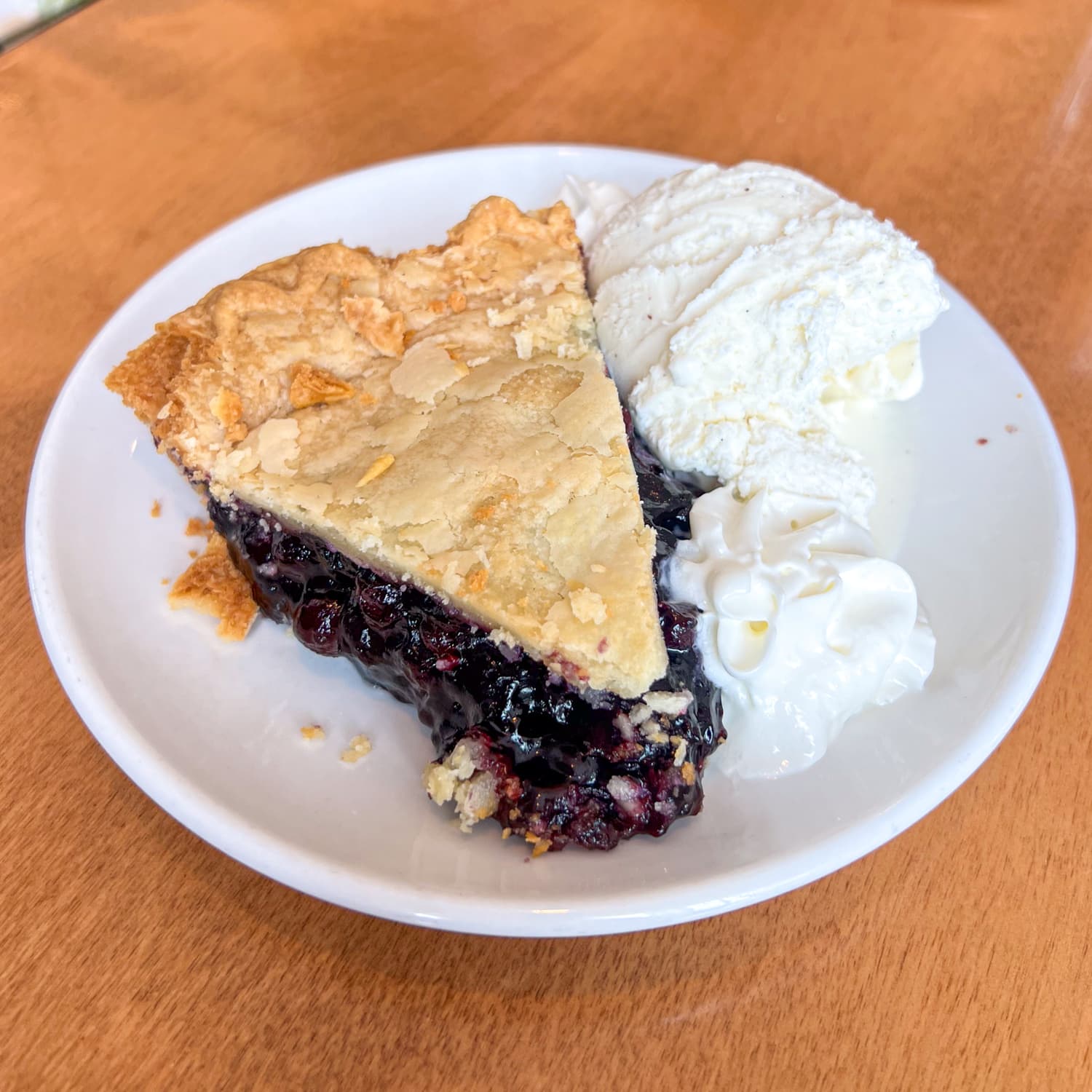 Blueberry Pie
Before arriving in Maine, Kel had implored me to try the blueberry pie.
Maine is the largest producer of low-bush blueberries, also known as wild blueberries, in the United States. In 2021 alone, it produced 104.9 million pounds of blueberries!
I was going to pass on an opportunity to eat the state fruit of Maine in pie form. And boy, did West Street Cafe deliver a memorable experience.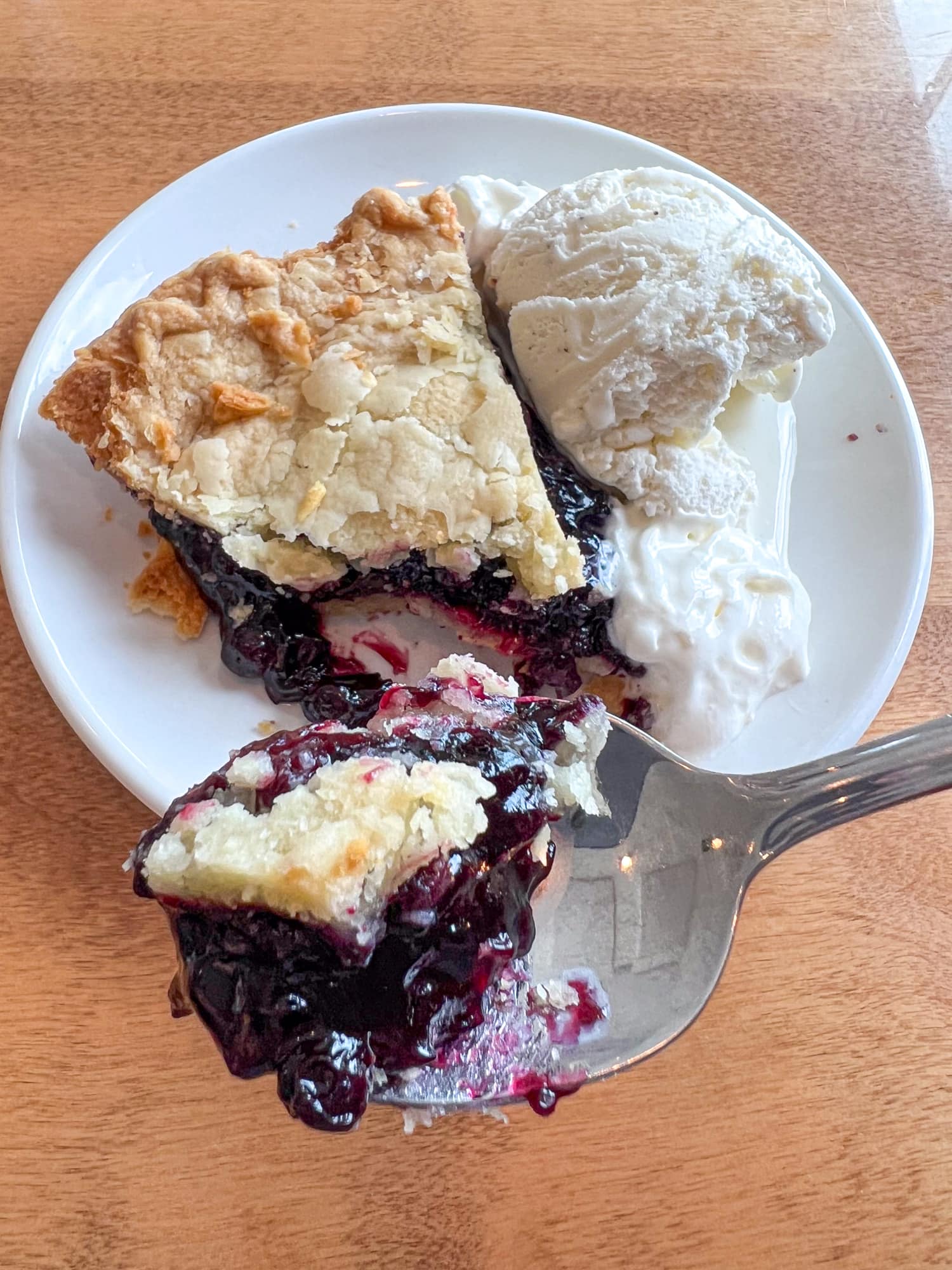 My slice of Maine blueberry pie a la mode was served warm with a scoop of vanilla ice cream and a dollop of whipped cream on the side.
All it took was a bite to tell the crust was made from scratch. And the soft, warm blueberries melted in my mouth. At that moment, I remember thinking it was one of the best pieces of pie I'd ever eaten.
West Street Cafe, 76 West St, Bar Harbor, Maine, weststreetcafe.com
Galyn's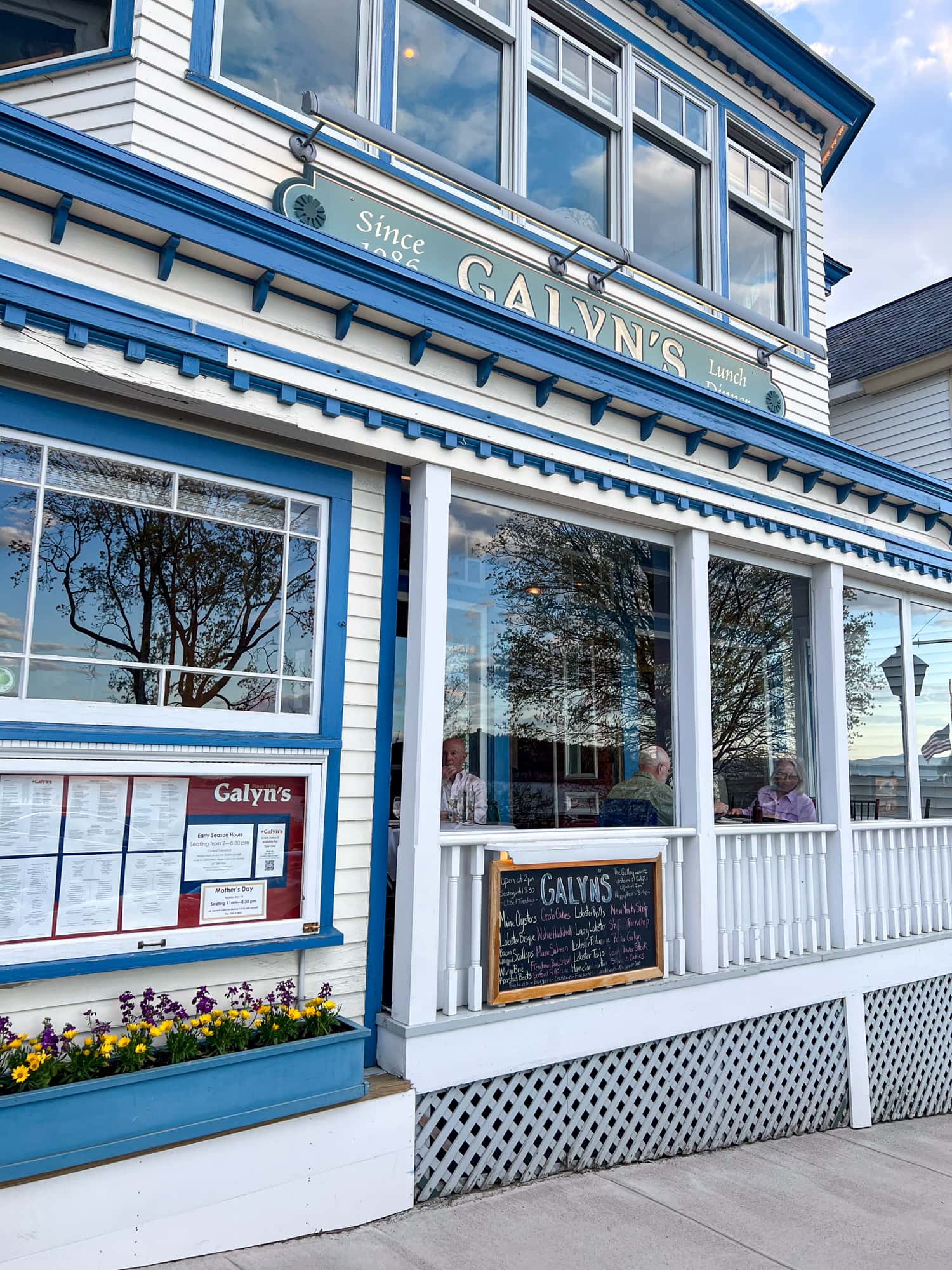 Following a fun and informative lobster boat tour in Bar Harbor and a walk along Bar Harbor's Shore Path, we met for dinner at Galyn's Restaurant adjacent to Agamont Park.
This attractive blue-and-white building dates back to the 1890s when it served as an inn for sailors. During the Prohibition era, a speakeasy operated in the basement.
Galyn's Restaurant opened in 1986 and has operated there for 37 years. Outside, a chalkboard lists some of the many seafood plates available.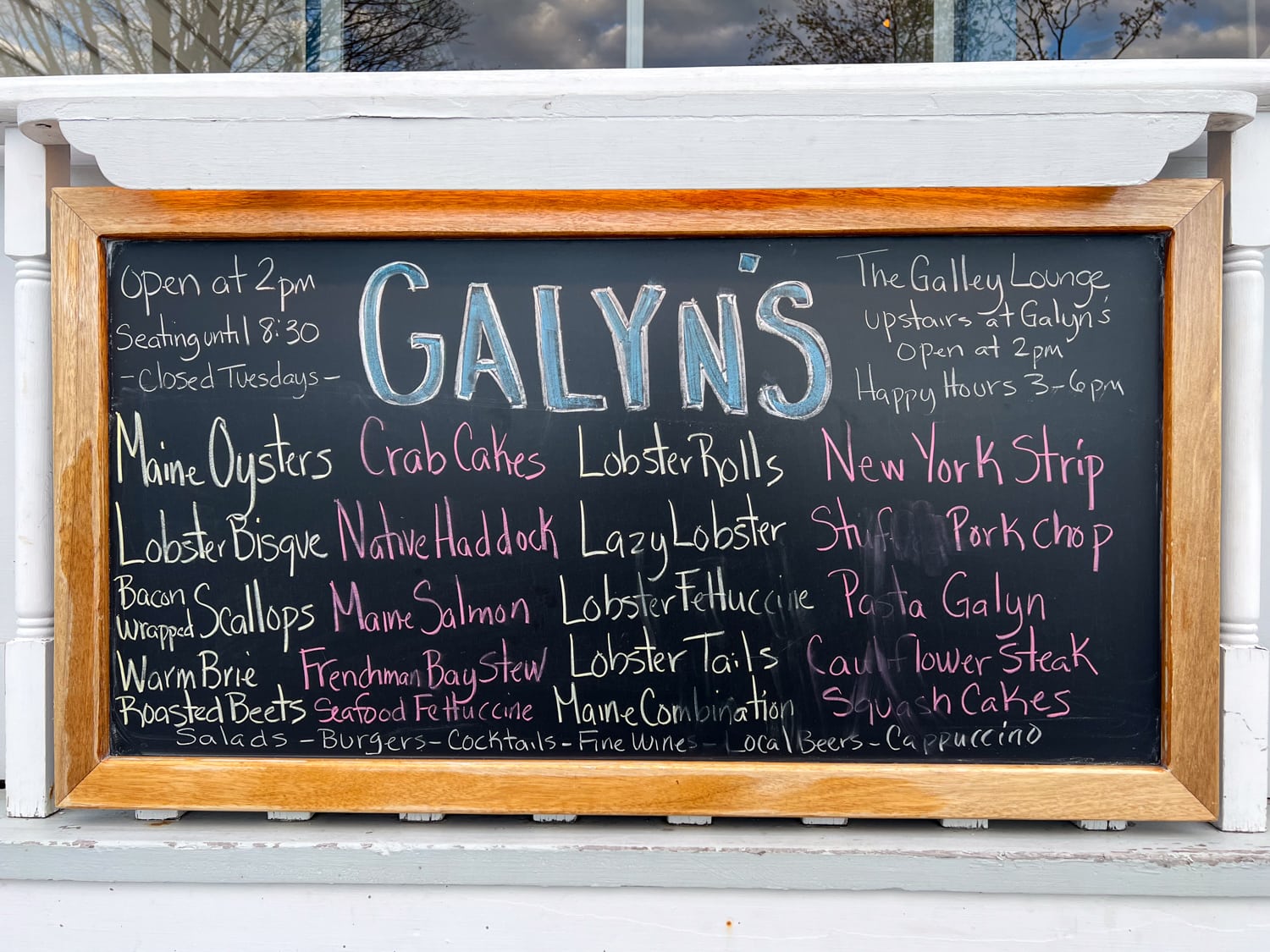 With the state of Maine's official berry still on my mind, I began dinner with a blueberry margarita made with Casamigos tequila and wild Maine blueberries.
I was still a bit full from lunch and an afternoon ice cream which I'll get to in a minute. So, I went light for dinner at Galyn's and only ordered the traditional lobster bisque.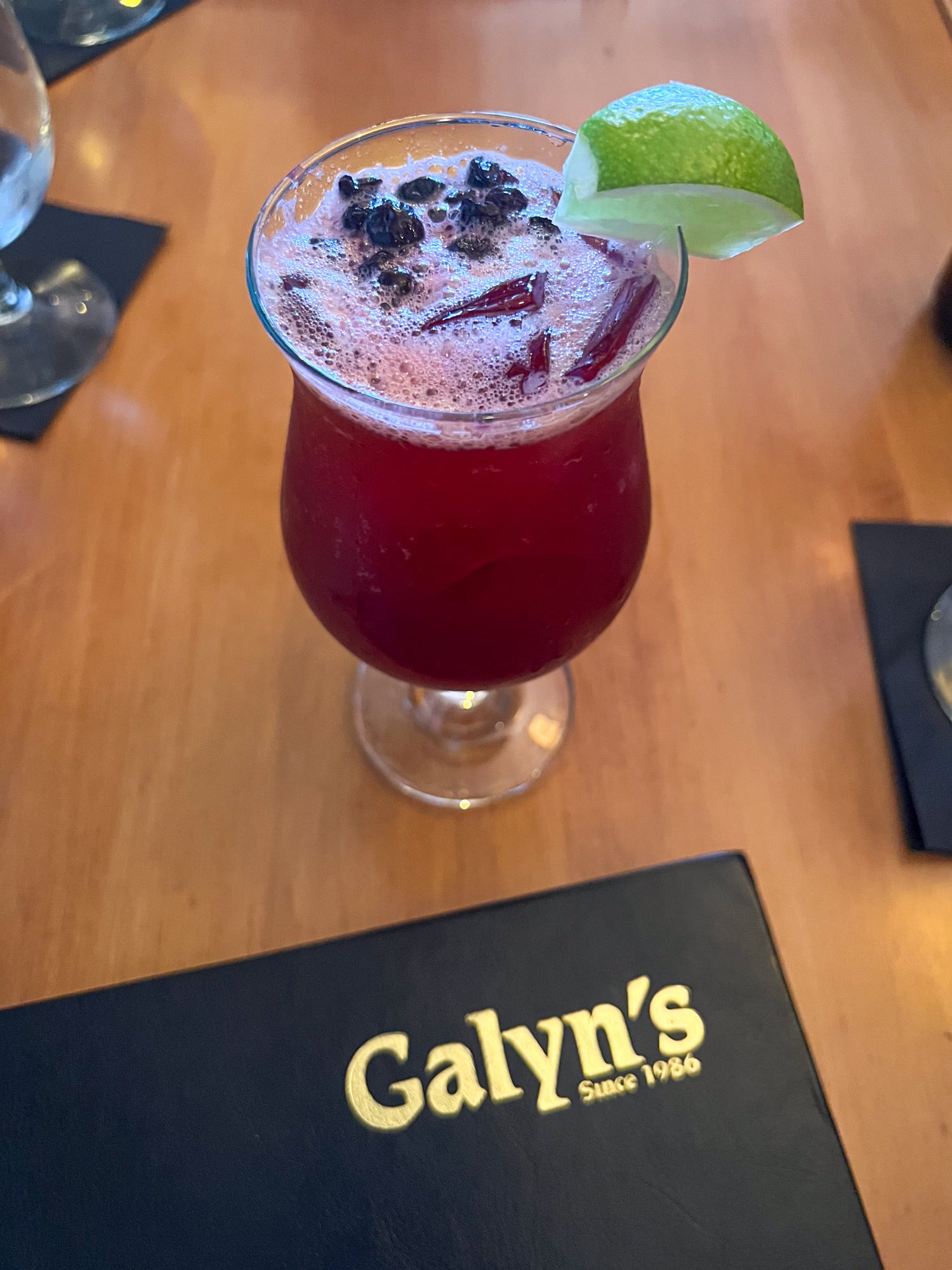 Meanwhile, others were hungrier for Maine lobsters. Stephen, a Canadian journalist, immediately to my right, ordered the lazy lobster with fresh-picked lobster claw and tail meat served over wild rice and broccolini.
To Stephen's right, Jules went big, ordering a whole 1.25-pound Maine lobster with clarified butter.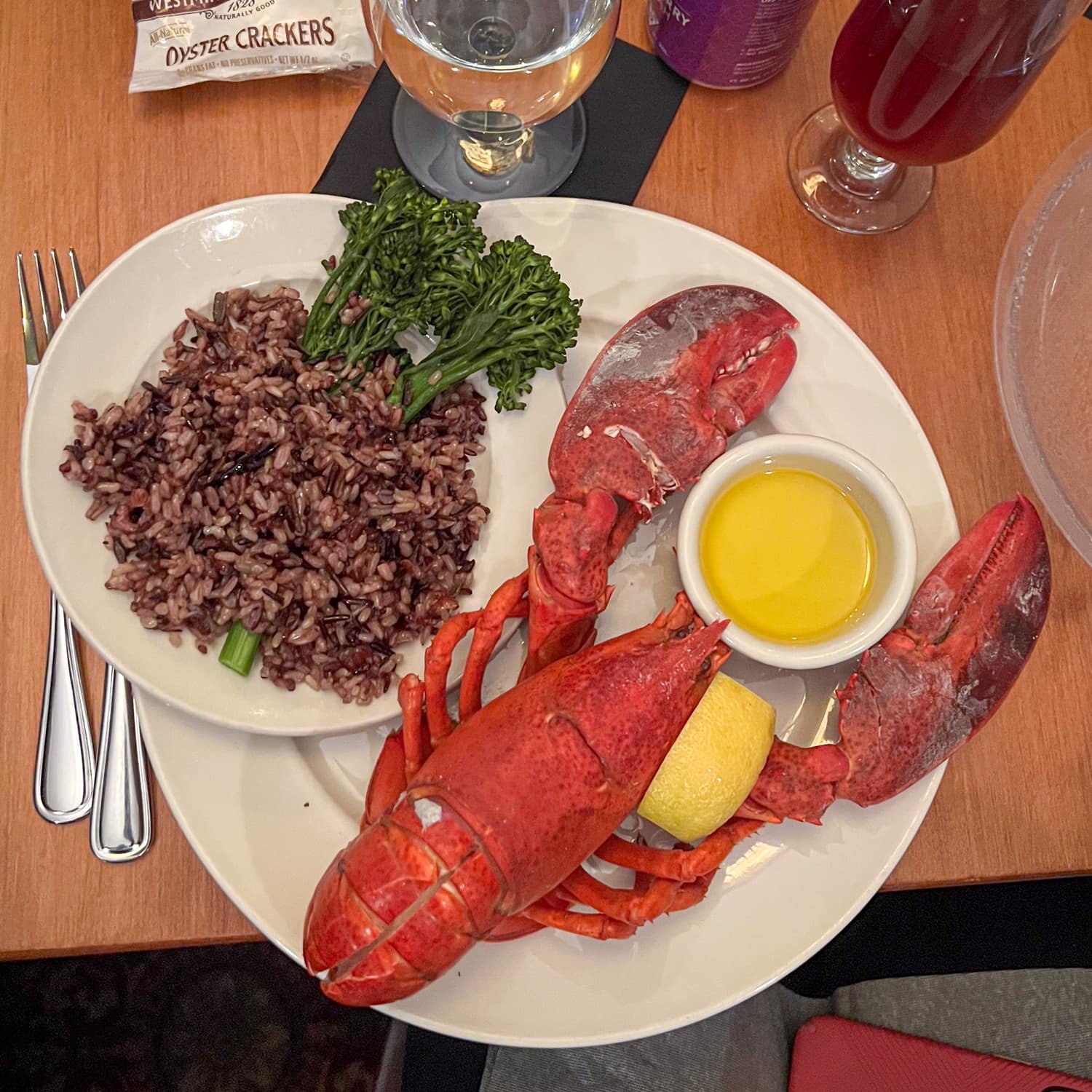 Galyn's Restaurant was the perfect place for Jules to break apart and enjoy her first Maine lobster.
Galyn's, 17 Main St, Bar Harbor, Maine, galynsbarharbor.com
Additional Places To Eat
Beyond the restaurants I've mentioned, I found delicious bites at a few more places to eat around Bar Harbor, Maine.
Ben & Bill's Chocolate Emporium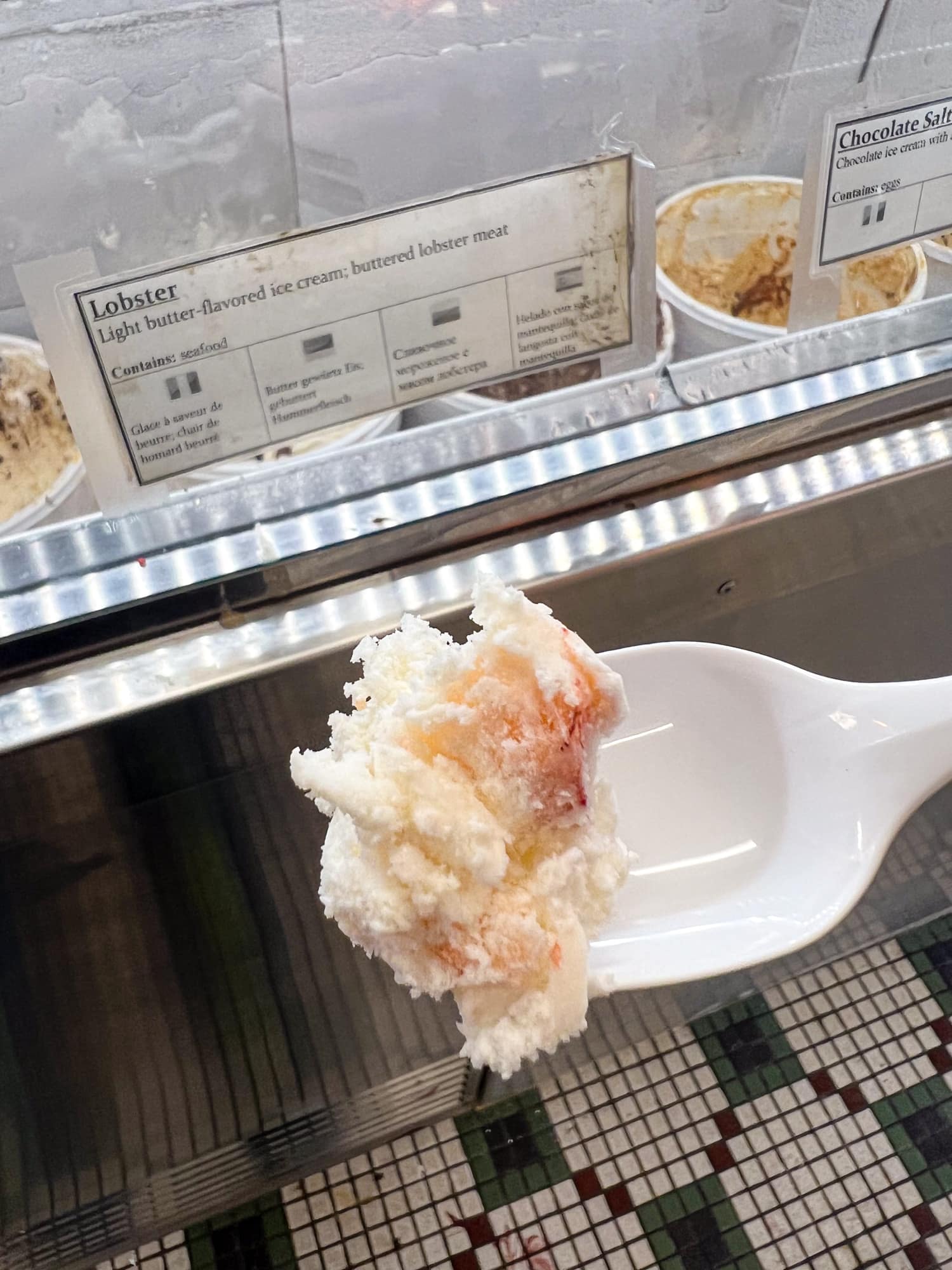 First and foremost, if you're up for lobster ice cream, head to the family-owned Ben & Bill's Chocolate Emporium; you can sample light butter-flavored ice cream with chunks of buttered lobster meat.
You have to ask for it, though, as you may not see it in the display case before someone asks for your order.
They have 64 flavors of ice cream, plus 12 gelatos, so choosing can be a bit overwhelming. And lines are standard during the summer months.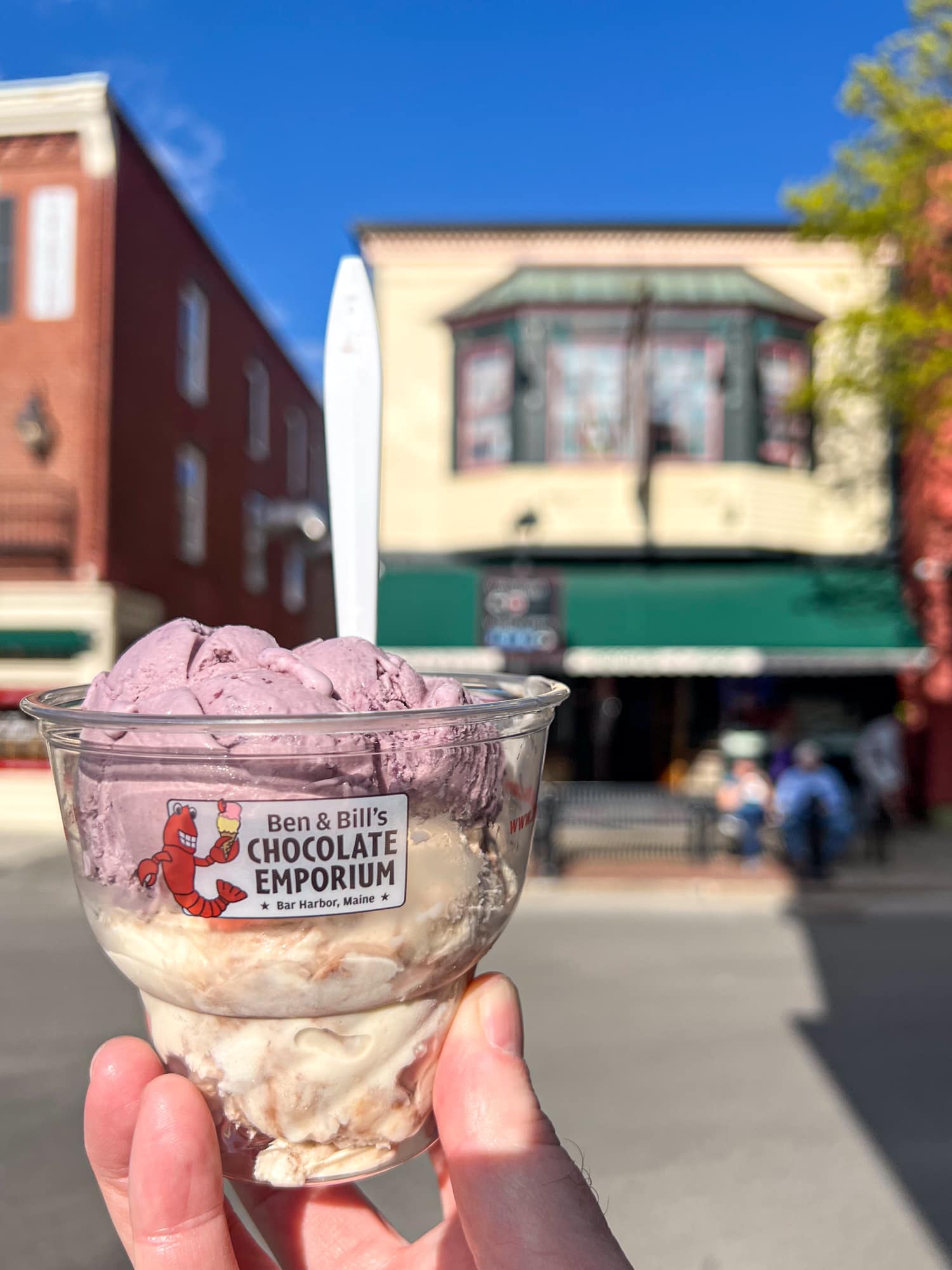 The lobster ice cream was an interesting experience. I didn't get a strong flavor, and the lobster meat felt frozen.
Instead, I opted for a scoop of blueberry ice cream and Irish mudslide with Bailey's.
After taking a quick photo outside, I joined my tour guides, who were enjoying their own ice creams on a nearby bench.
This shop also produces homemade fudge, chocolate, and sugar-free candies.
Ben & Bill's Chocolate Emporium, 66 Main St, Bar Harbor, Maine, benandbills.com
Sand Bar Cottage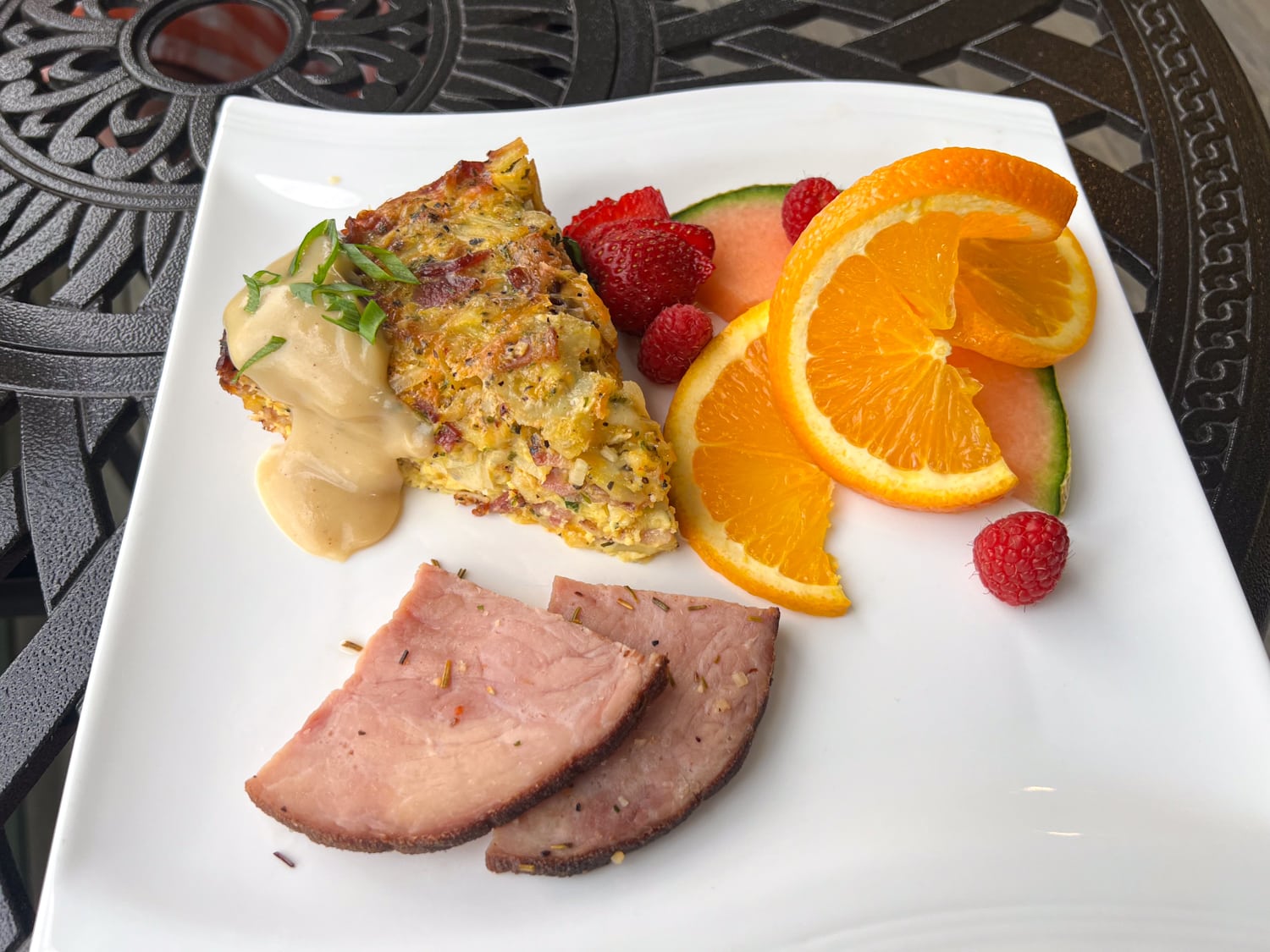 I'd also like to highlight the breakfasts at the Sand Bar Cottage Inn, where I spent my two nights in Bar Harbor.
Each morning, I was treated to my choice of a sweet or savory breakfast plate and a fresh pastry.
The first morning, I chose the savory Nantucket Pie with bacon, egg, and cheese. The second morning I got pumpkin pancakes with apple cider maple syrup.
Plus, every afternoon, there was iced tea and sweet snacks to nibble on in the dining room. Chocolate cake, orange cake, and fresh-baked M&M cookies were offered during my stay.
Related: Join Me on a Portland Food Tour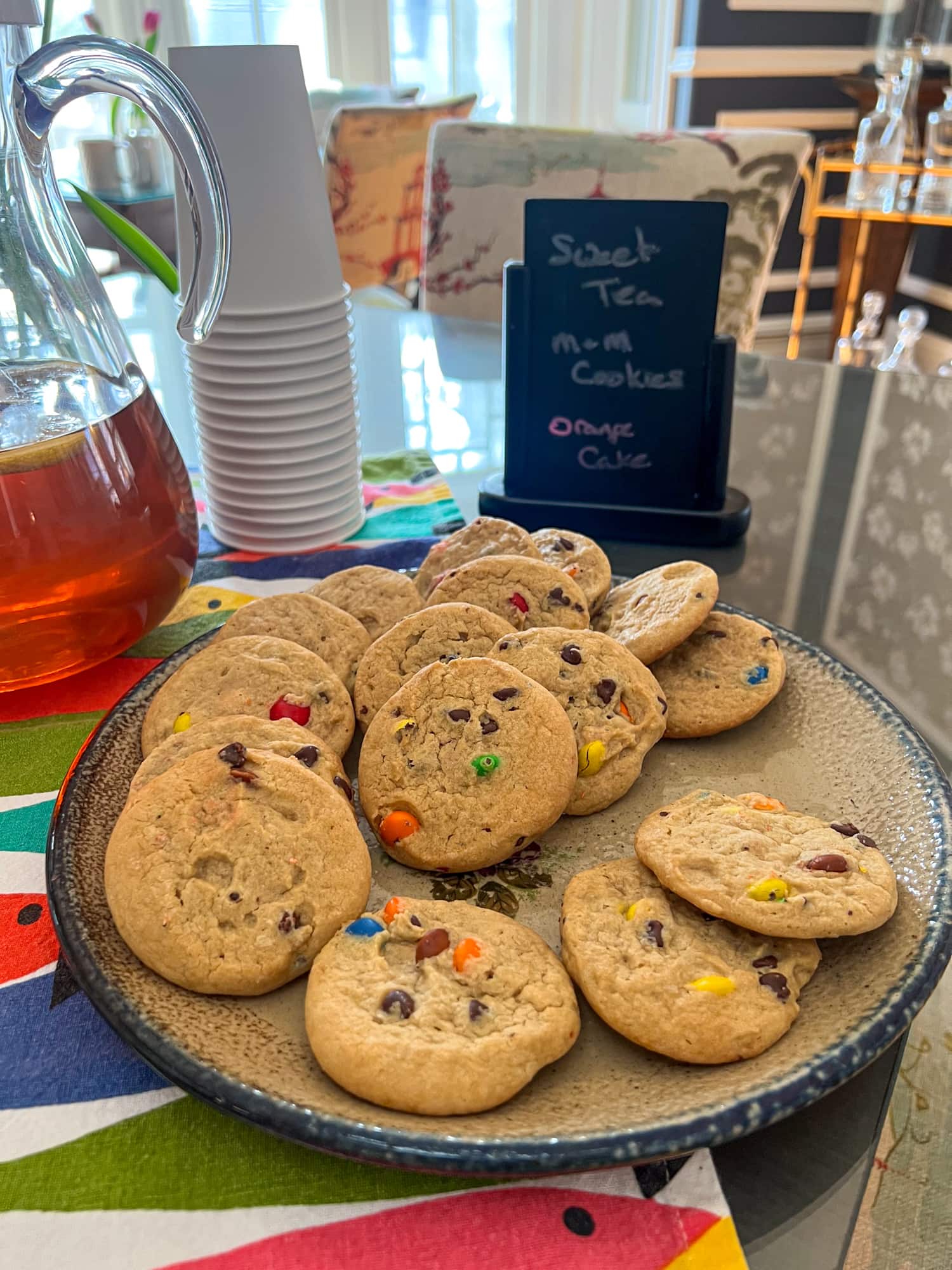 Where I'd Eat Next Time
Group tours offer the benefit of guides with local knowledge, which can be beneficial when you're only in a place for a day or two.
Now that I've tasted the local cuisine in Bar Harbor, Maine, I look forward to future visits to try more of the best restaurants.
Here are some that are already on my shortlist:
Reading Room Restaurant at Bar Harbor Inn - Established in 1887, the town's oldest inn boasts the Reading Room Restaurant for a fine dining experience with an ocean view.
Paddy's Irish Pub at the West Street Hotel - It initially struck me as a bit odd to see a pub offering Irish-American cuisine in a prime waterfront space, but the outdoor seating alone is a reason to try it. That and the lobster eggs Benedict on the breakfast menu sound amazing.
Havana - "American fine dining with Latin flair" is how this Bar Harbor restaurant describes itself. They celebrated their 25th anniversary in 2023.
If you arrived on this page wondering where to eat in Bar Harbor, Maine, I hope you're leaving with a few local restaurants to consider.
Given the availability of fresh seafood, there's excellent Maine cuisine to be enjoyed all around town.
_____
My visit to Bar Harbor was arranged in partnership with the Adventure Travel Trade Association and the Maine Office of Tourism as part of my attendance at AdventureELEVATE North America.