Built on a bluff with panoramic views of Sedona, Mariposa Latin Inspired Grill offers diners fabulous food and scenery.
When the chance to visit Sedona with Kel on my birthday arose, it meant hiking trails and a restaurant meal worthy of a special occasion.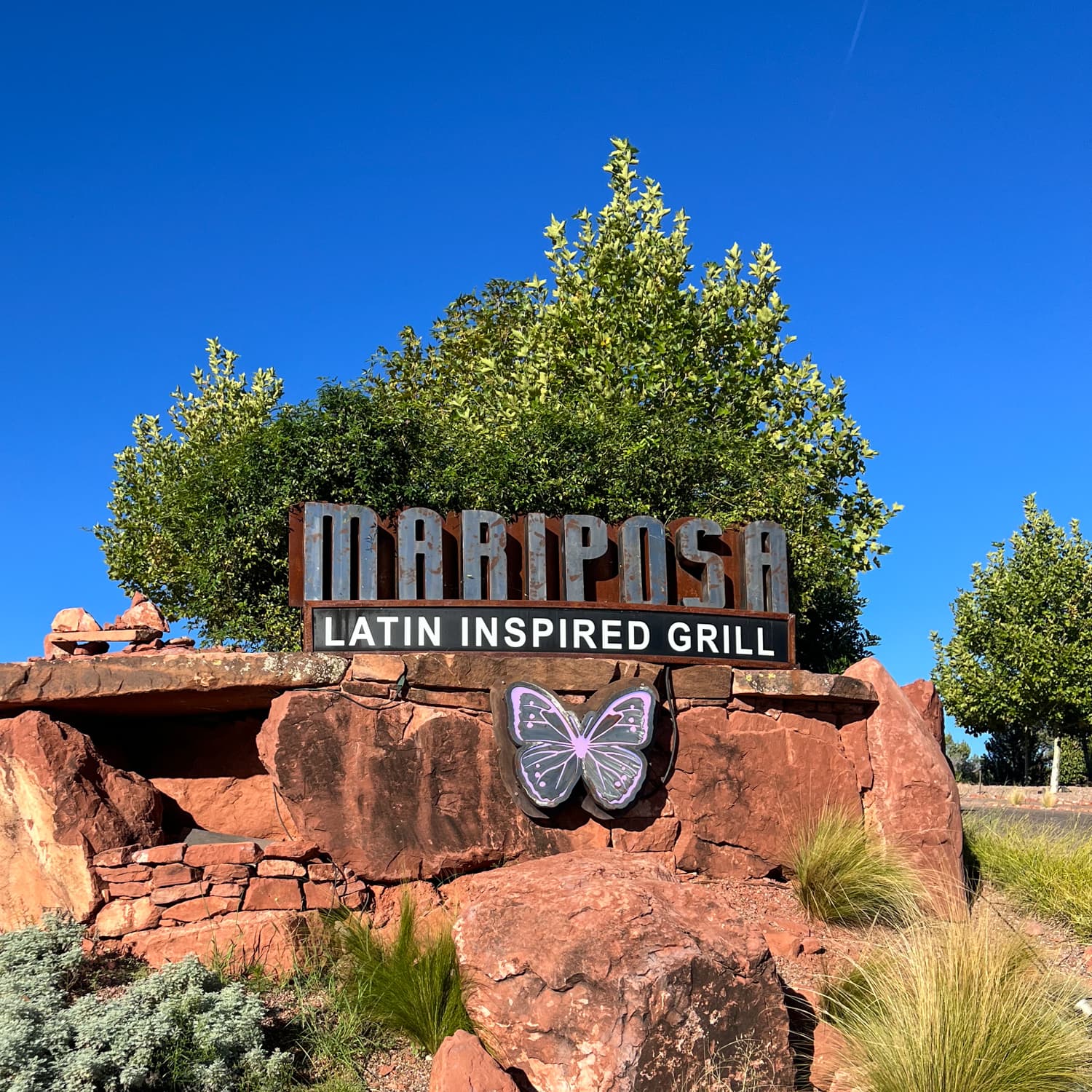 As our late-September weekend trip approached, I researched the best restaurants in Sedona and chose Mariposa by chef Lisa Dahl.
According to her bio, Chef Dahl was the first to introduce fine dining to small-town Sedona in the late 1990s.
She's a self-taught chef, cookbook author, and long-time resident and restauranteur in Northern Arizona.
She opened Mariposa, her fourth restaurant and first to offer non-Italian cuisine, in 2015.
Mariposa is Spanish for butterfly, an insect symbolizing growth and transformation, and related imagery can be seen throughout the restaurant.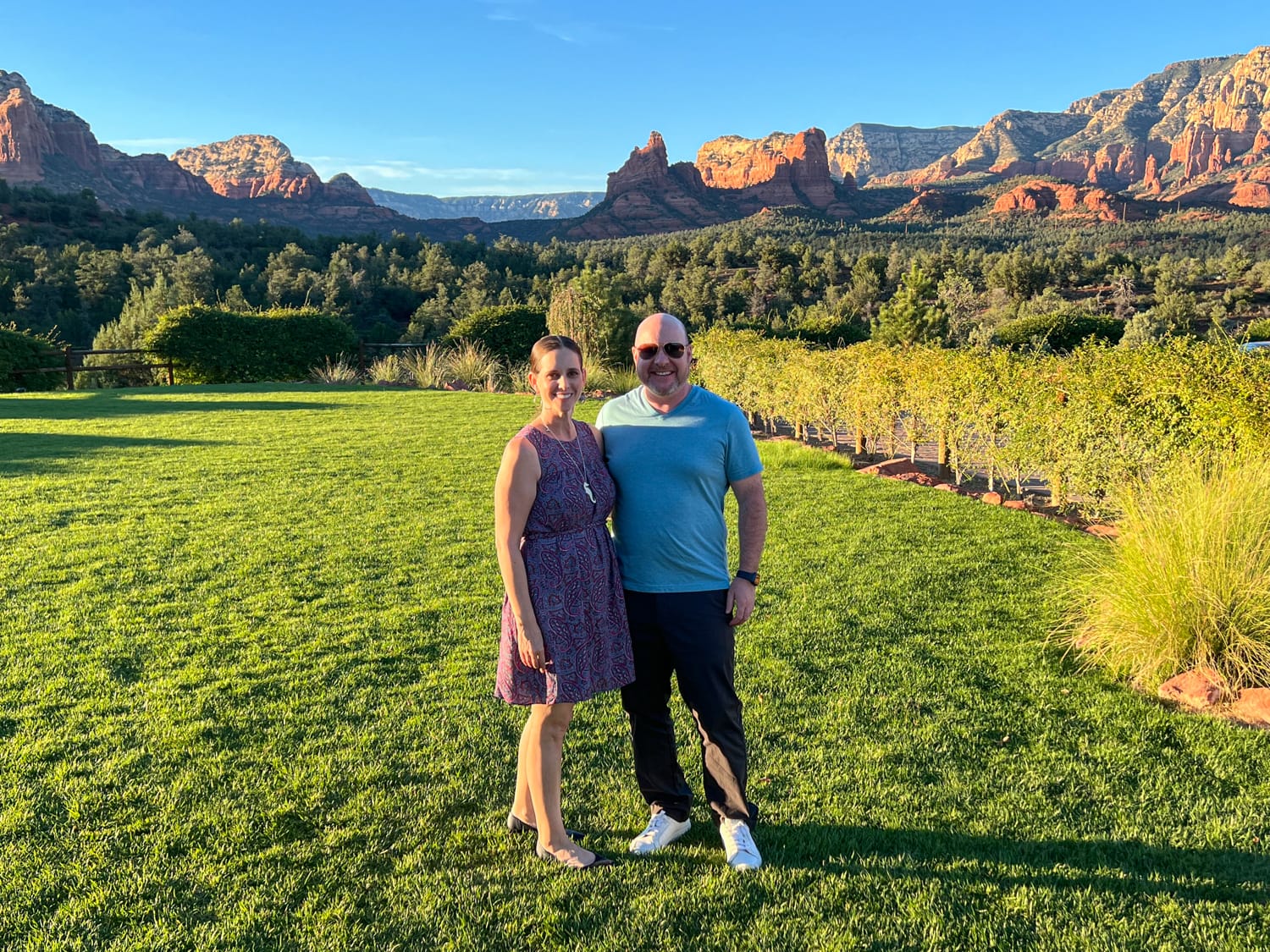 Arriving at Mariposa
Like a handful of other popular restaurants in Sedona, Mariposa requires a reservation, and they can get fully booked months in advance.
Thankfully, we'd planned the trip far enough ahead that I could get a table on the covered patio for the Saturday night we were in town.
A few minutes before 6 p.m., we pulled into Mariposa's parking lot off Route 89A in the heart of Sedona.
The sun was setting, illuminating the red rock canyons to the north and east.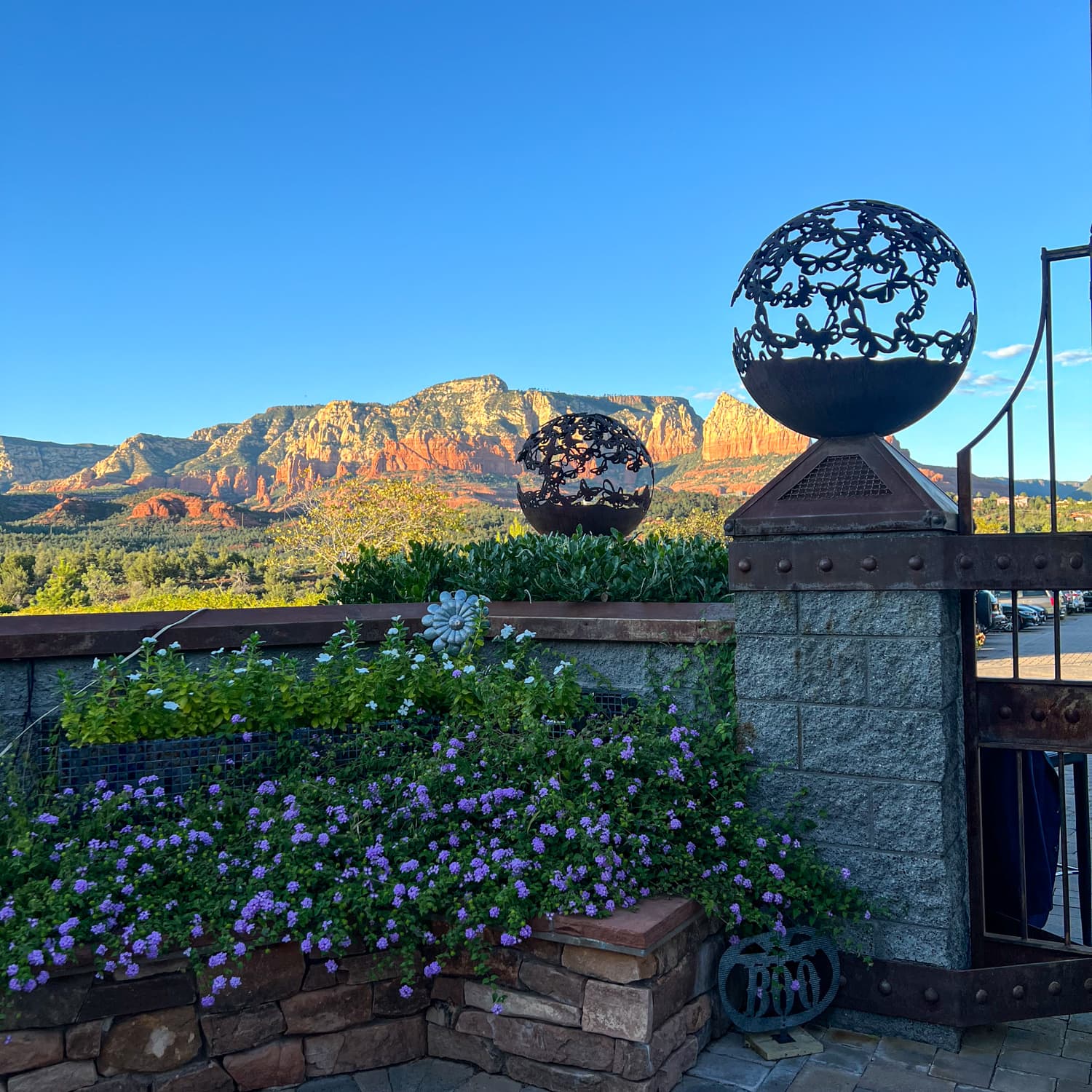 After a brief chat with the valet, who took our photo on the restaurant's lawn (fit for a proposal or wedding ceremony), we entered the 13-foot terrace gates.
Four hollow globes with butterflies framed the entrance. They looked neat as they were but even more fantastic on our way out when fires burned inside.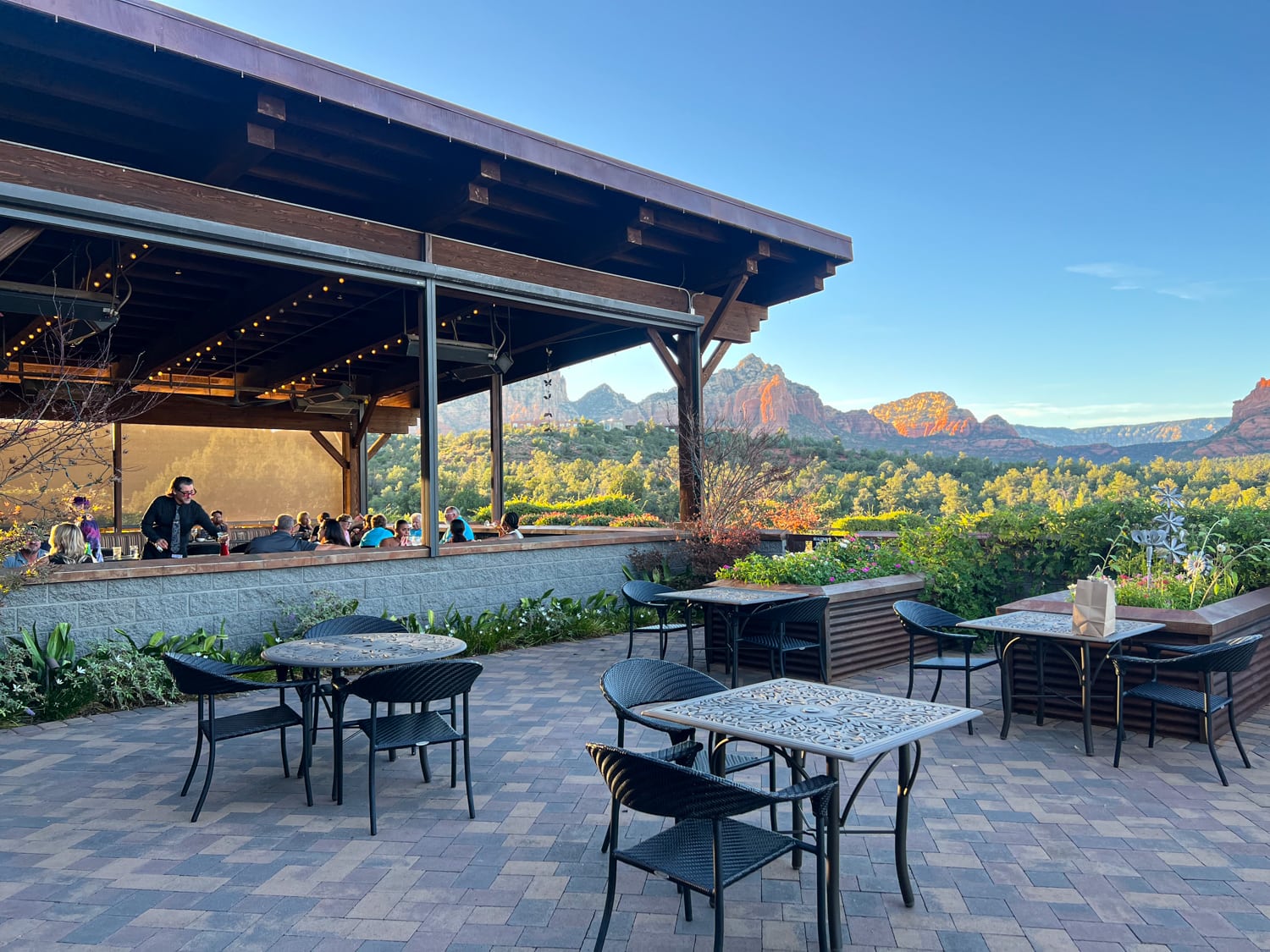 Here we got a better view of the expansive outdoor patio where we'd be eating; it was even prettier in person. I couldn't help but feel grateful for the gorgeous weather, too.
A day earlier, soon after we'd arrived in Sedona, there'd been a late-afternoon thunderstorm, which would've led to a very different dining experience.
I was looking forward to a relaxing evening. We'd been up before dawn to hike Devil's Bridge, and in the afternoon, we'd climbed Cathedral Rock.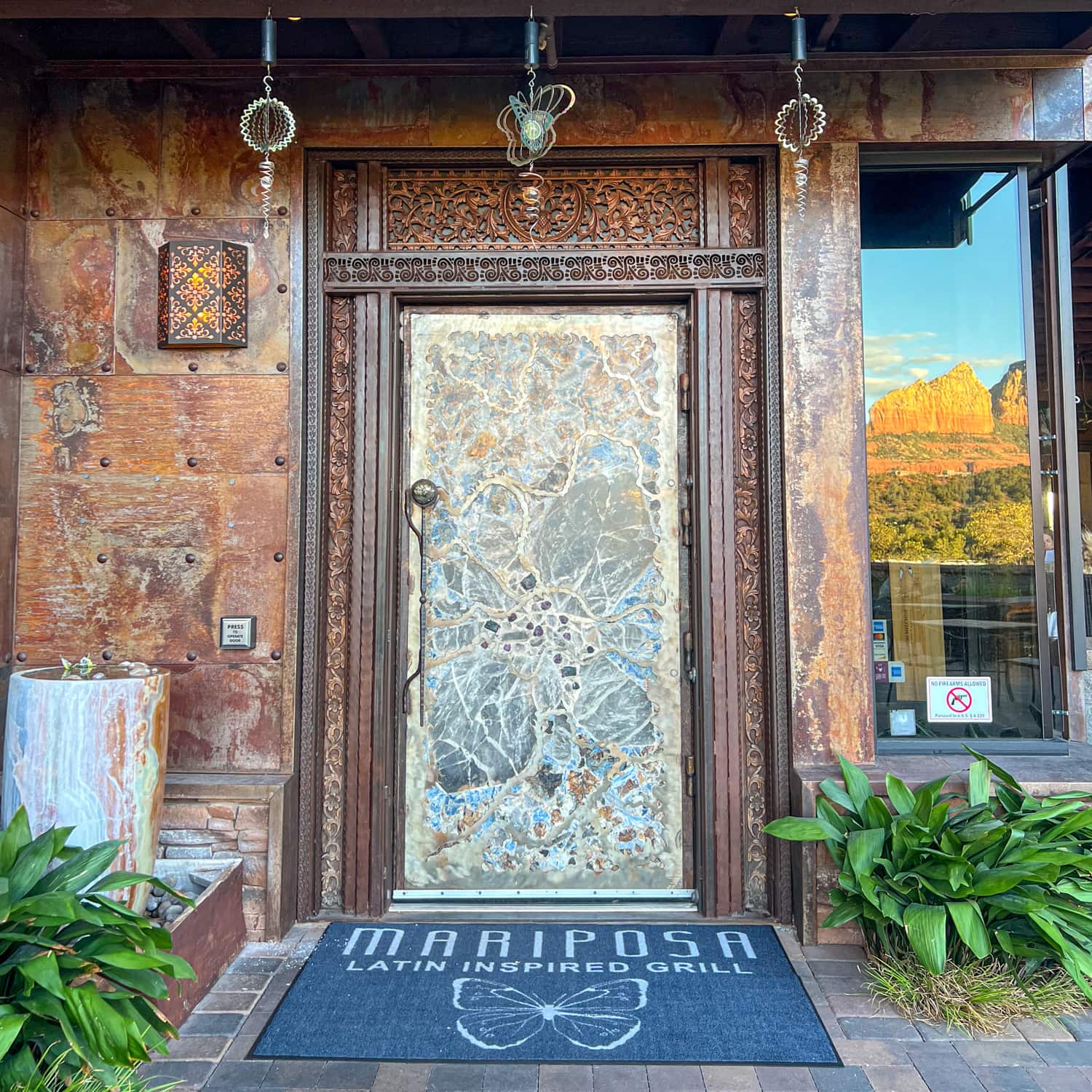 After entering the restaurant's exquisite 1,000-pound door handcrafted with precious minerals and stones from South America and Africa, we were greeted by the host and shown to our table on the covered patio.
The table for four was in a far corner and allowed Kel and I to sit next to each other to enjoy views of the majestic red rocks.
Mariposa's main dining room features 23-foot-tall floor-to-ceiling windows for those who prefer to sit inside. So, the views inside the restaurant from this scenic bluff are impressive, too.
Birthday Dinner
Chef Dahl traveled through Chile, Argentina, and Uruguay to prepare Mariposa, working with local chefs and learning the cuisines and wines.
I, too, ate my way through these countries in 2012 as I sought to experience more of South America following time in Colombia, Ecuador, and Peru.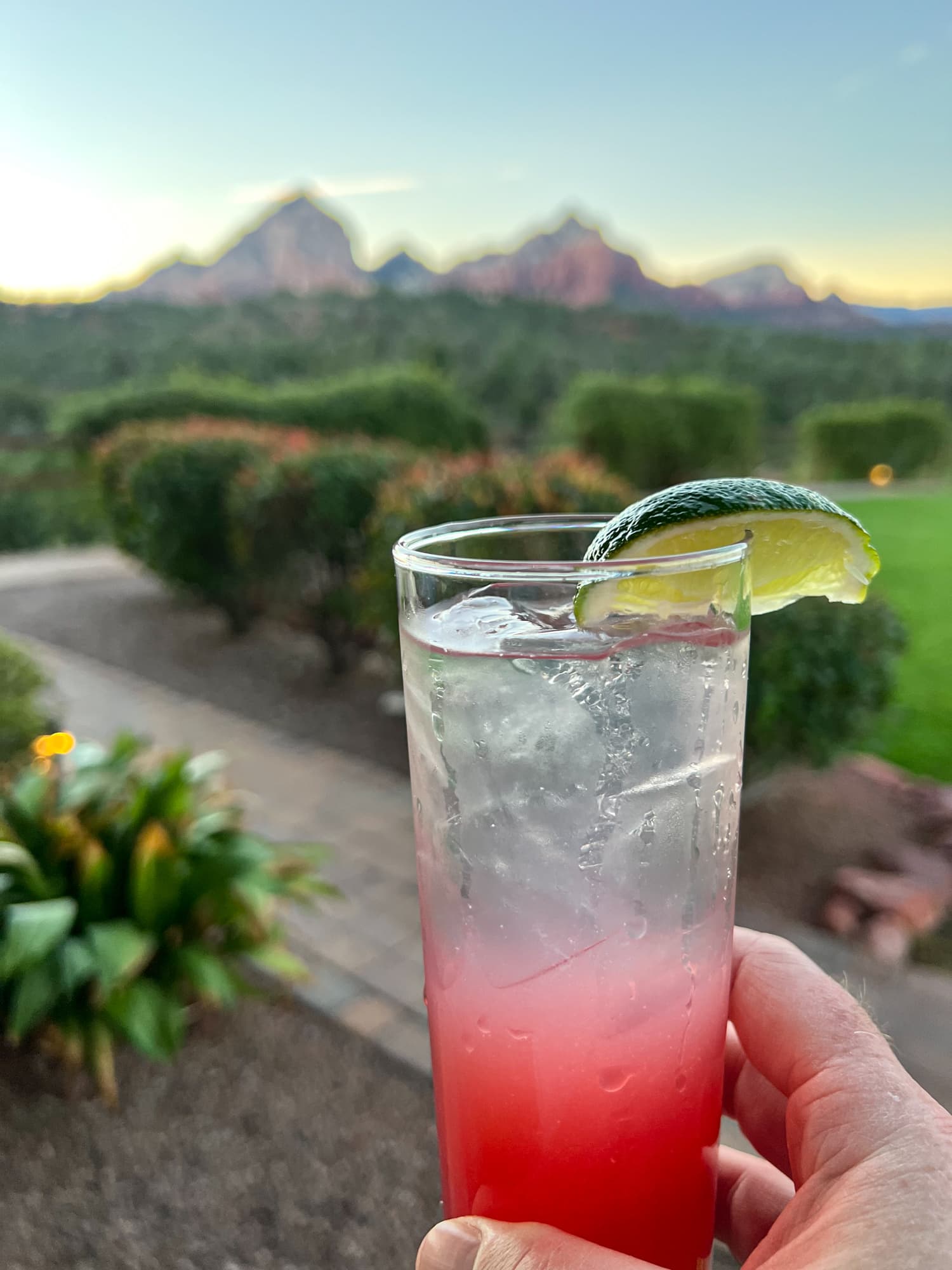 Drinks
My birthday celebration began with a prickly pear swizzle cocktail made with Corazon Tequila while Kel ordered the housemade sangria (available in red, white, or rose).
If you prefer your tequila (or mezcal) neat, there's a fine selection of both, plus bourbons and whiskies.
Try a caipirinha (Brazil) or pisco sour (Peru) for a traditional drink from South America.
Mariposa's wine program features 140 wines, including many South American varieties from Argentina, Chile, and Uruguay, and European and U.S. wines.
A glass-enclosed wine vault is used to store red wines in a temperature-controlled environment, and it makes for an attractive wall in the dining room.
The restaurant has been recognized with the Wine Spectator Award of Excellence yearly since 2016.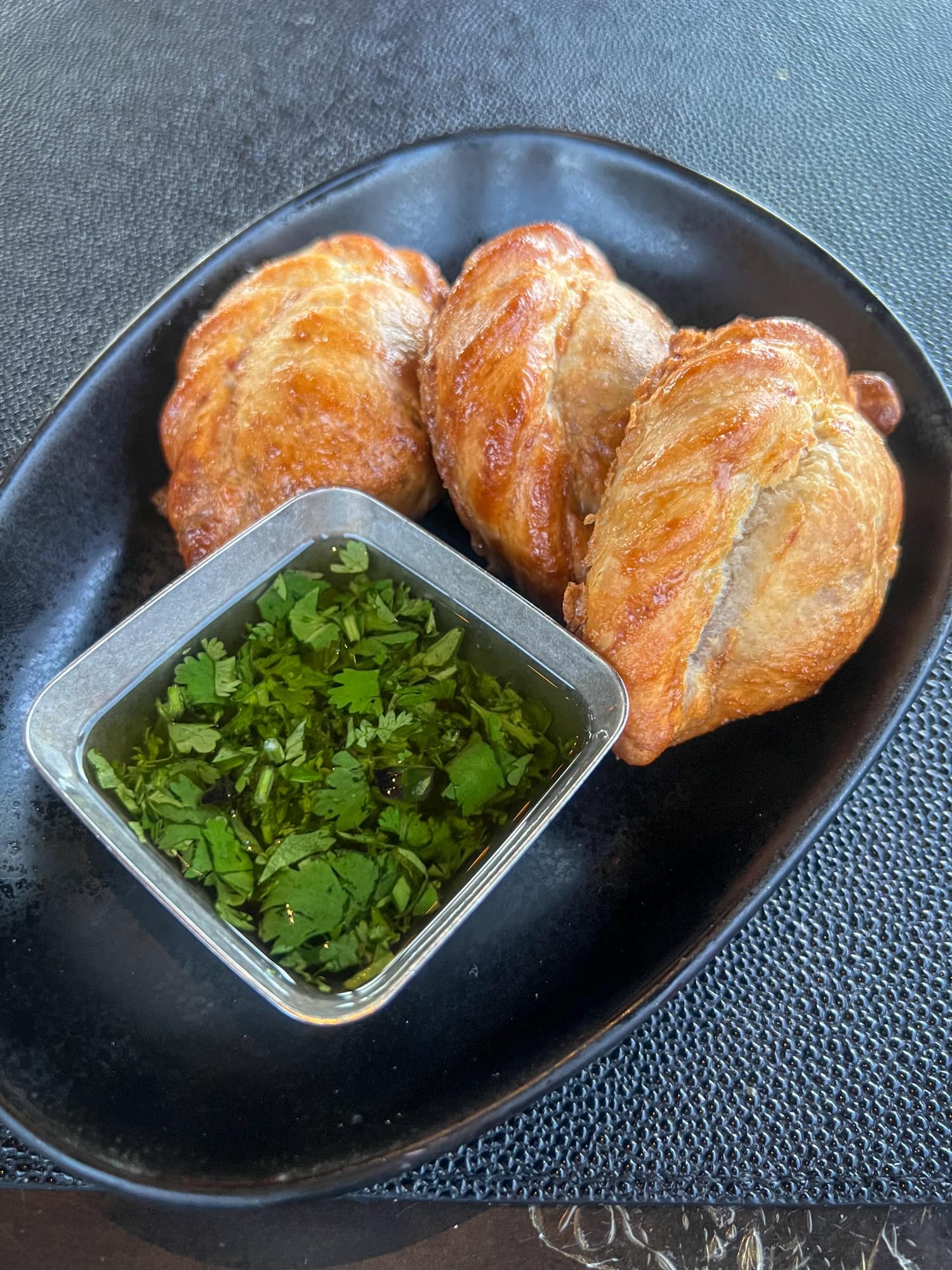 Appetizers
Moving on to the Latin-inspired food menu, tapas get you started. Kel was keen to order the handmade empanadas with chimichurri sauce.
They come with three per order, and you've got three choices for fillings:
Filet of beef, roasted potatoes, onion, and queso (cheese)
Portobello, poblano, caramelized onion, and gouda
Chef's choice
We went with the beef empanadas, baked to a light golden brown, and they were a familiar and easy way to start the meal.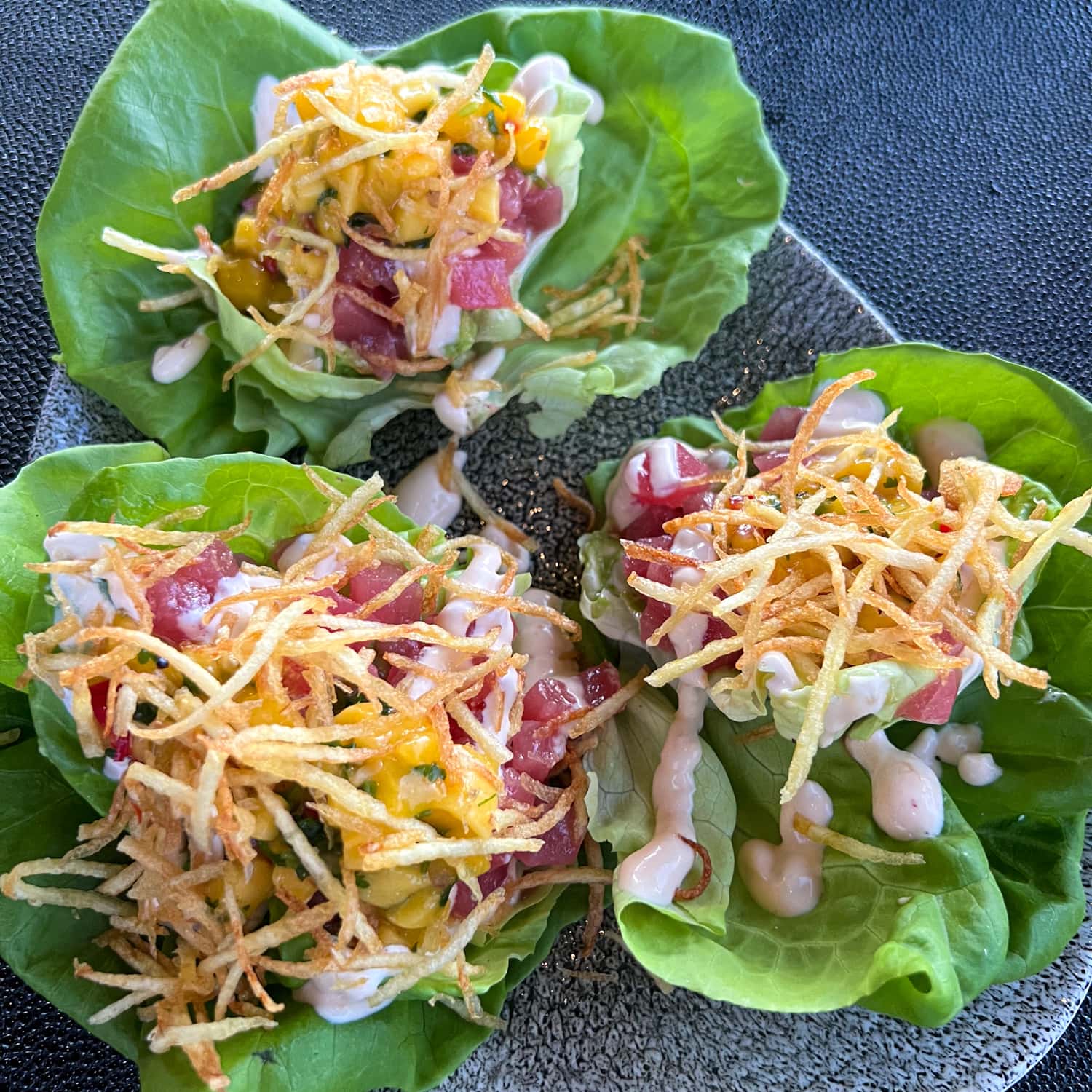 While I shared Kel's empanadas, I also wanted to try the tuna parfait with avocado, mango, and chipotle aioli in butter lettuce cups.
The sushi-grade tuna combined with the creamy aioli and soft lettuce was delicious. There was nothing not to love except, perhaps, the shoestring potatoes, which seemed unnecessary.
Additional appetizers, or tapas as they're referred to on the menu, include yucca fries, a Gaucho plate with chorizo, beans, and focaccia, shrimp cocktail, shrimp ceviche, sea scallops, and grilled octopus.
Plates range from $15 for empanadas to $26 for the Spanish octopus.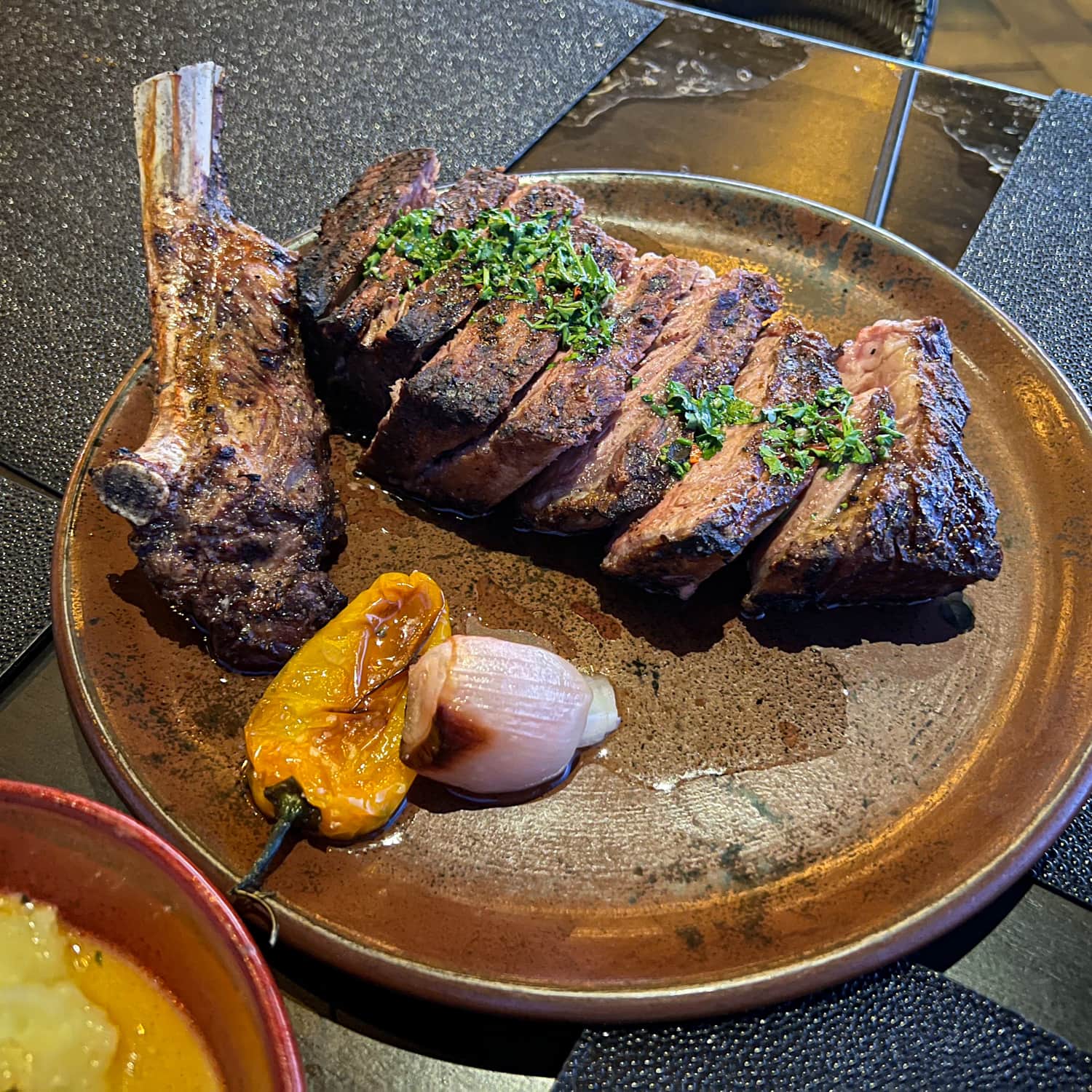 Entrees
Kel and I were on the same page when ordering our entrees at Mariposa in Sedona, as we both had our eyes on the meats from the wood-fired grill.
I was leaning toward the 8-ounce filet mignon, though the mushroom gorgonzola chipotle sauce sounded like it had a lot going on.
Kel was leaning toward the Australian rack of lamb with cilantro mint pesto and yellow pepper coulis (which, I've got to say, sounded mighty good to me too).
Ultimately, we got neither and shared a massive 32-ounce bone-in ribeye steak. The $100 price tag was similar to ordering two other entrees.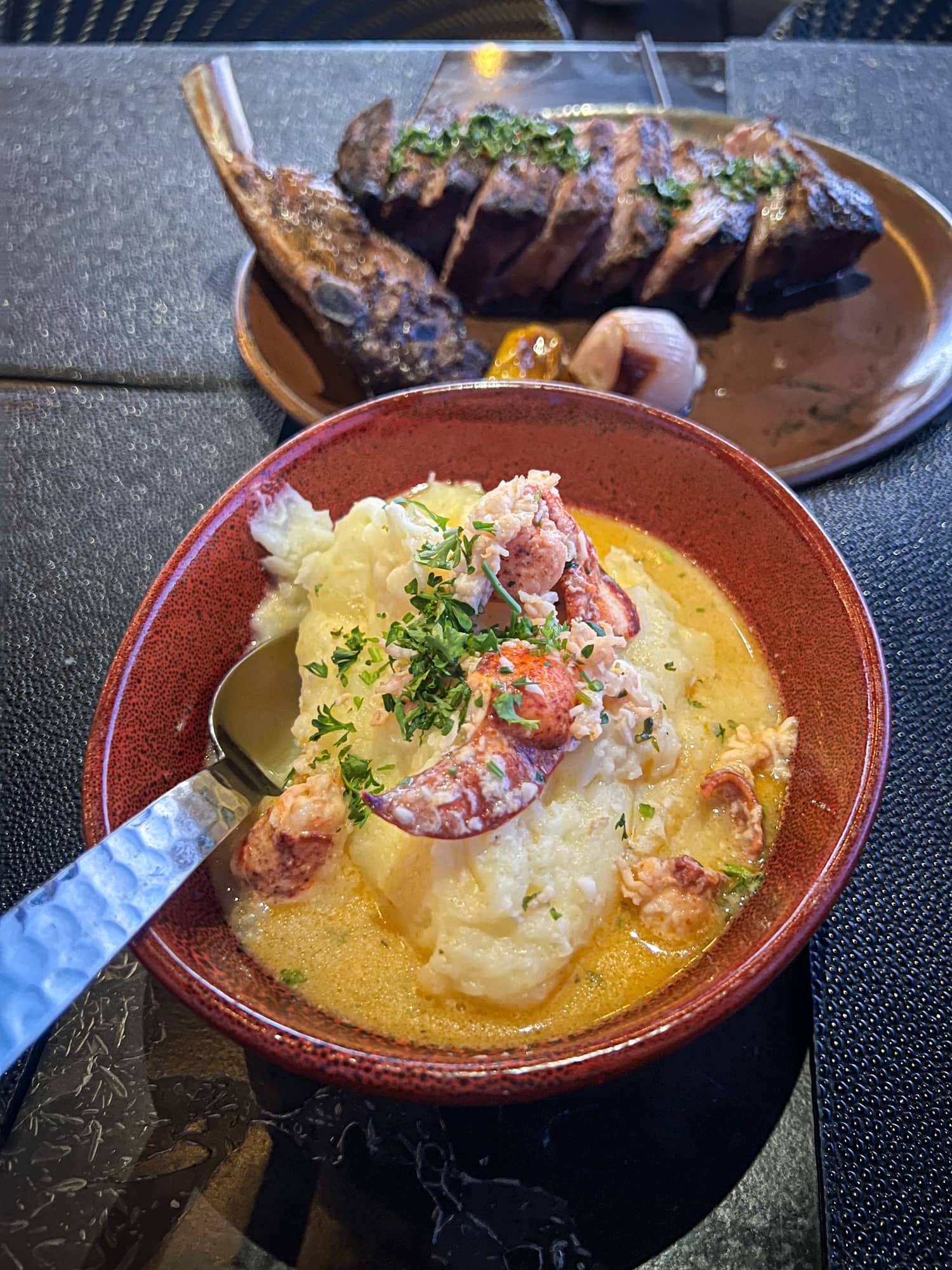 The meal's highlight wasn't our massive steak, nor the desserts I'll share in a moment; it was Lisa's Lovely Lemon Mashed Potatoes with Luscious Lobster Scampi.
This decadent side dish is a house specialty that you won't want to miss.
Large chunks of fresh lobster meat are served with creamy mashed potatoes doused in a butter lemon sauce.
I scooped small portions onto my plate and worked through as much of the steak as possible.
Related: Hestia - Live Fire Cooking in Austin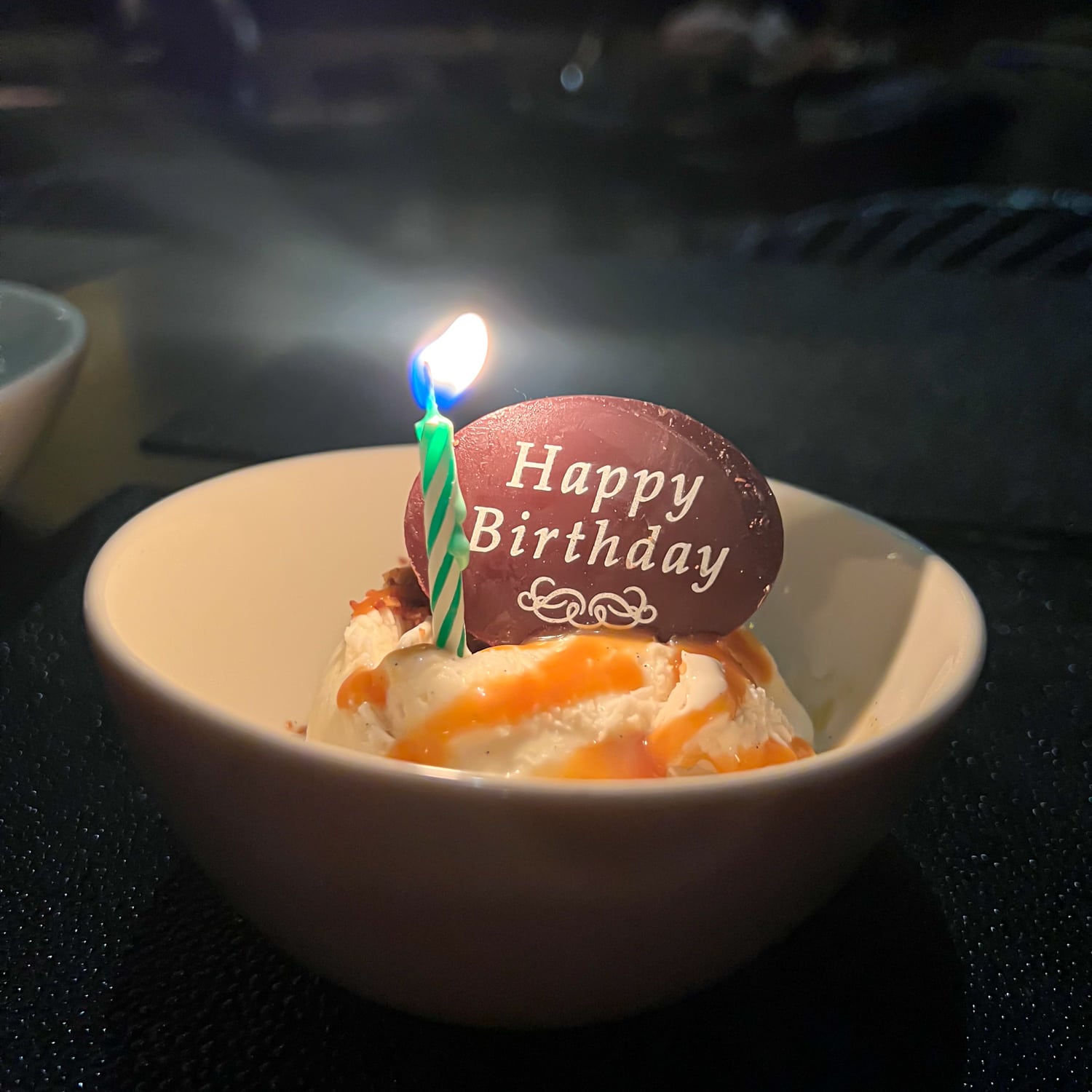 Desserts
The desserts followed, starting with a complimentary scoop of vanilla ice cream with dulce de leche sauce and a candle.
Free desserts are always appreciated; however, we both wanted something more substantial.
Enter the tres leches cake with Mariposa's signature three-milk, rum-soaked sponge cake with fresh strawberries.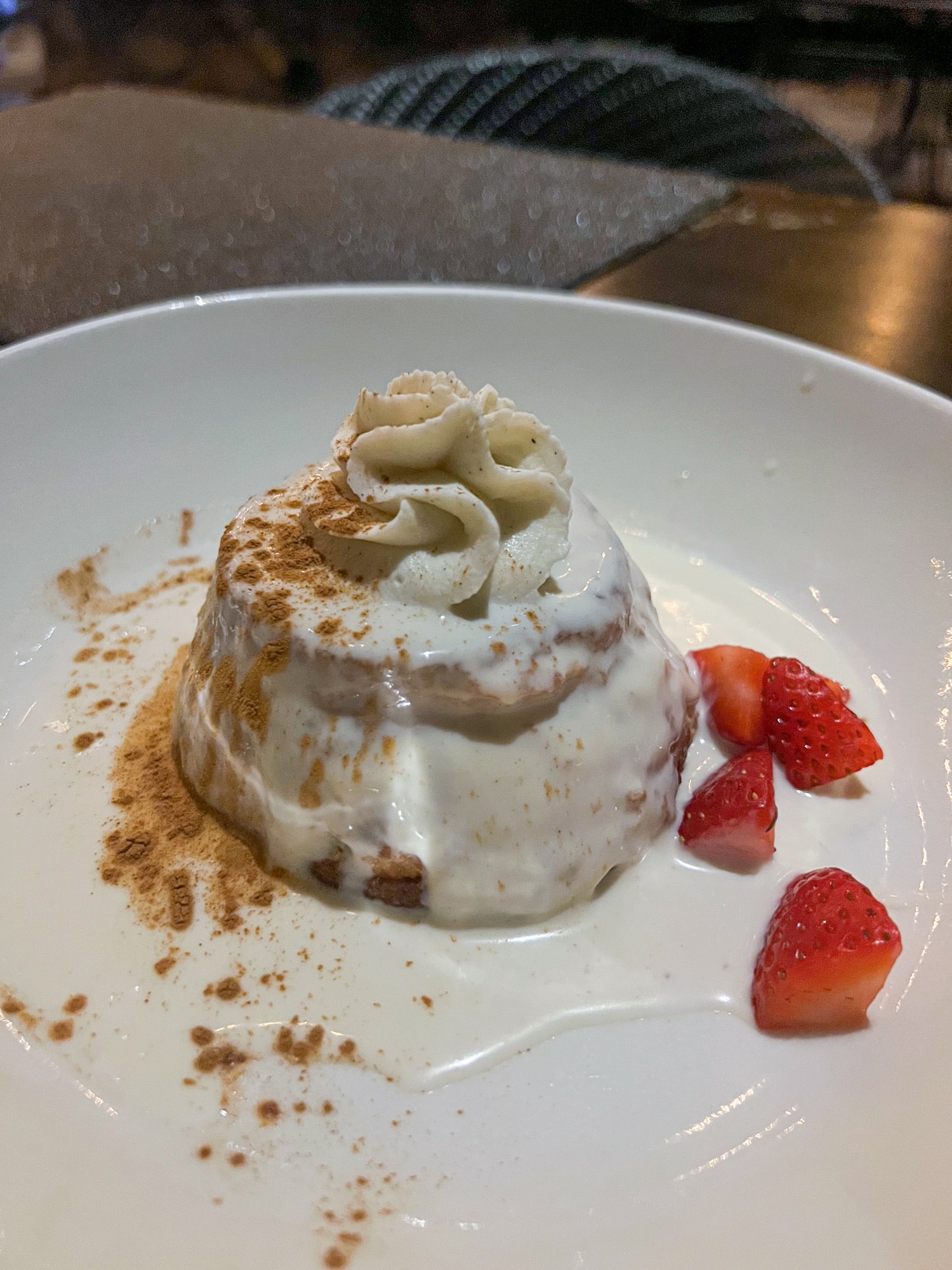 Additional desserts included key lime pie with coconut Chantilly cream, prickly pear cheesecake, homemade churros, and Boca de Muerto, a flourless chocolate torte with salted caramel gelato.
I don't think you can go wrong with the desserts if you have room for them by the end of your meal. We barely did.
If you're looking for a great restaurant in Sedona with excellent service to celebrate a special occasion or enjoy a meal amid the red rocks, Mariposa will deliver.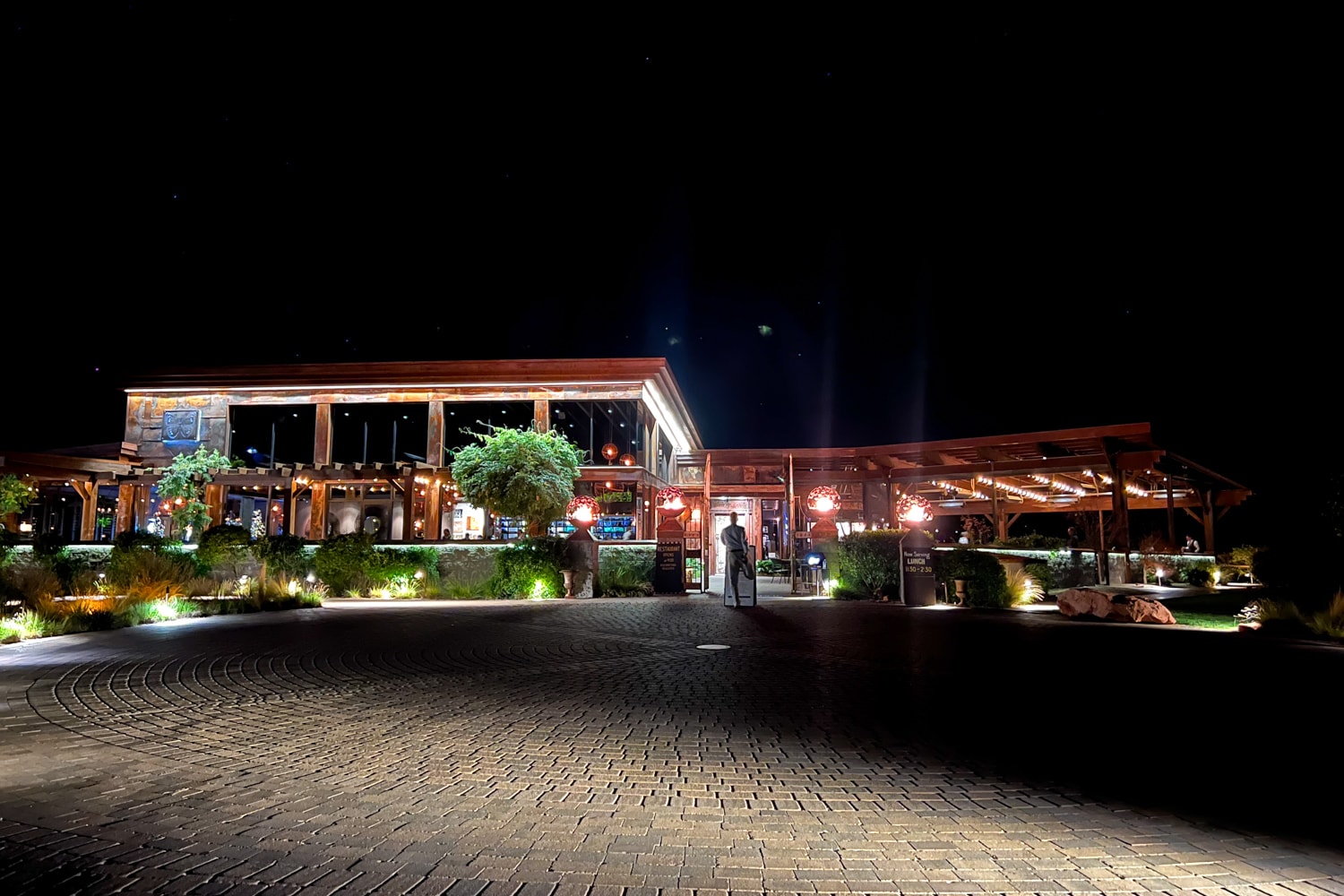 Visit Mariposa in Sedona
Address: 700 W Arizona 89A, Sedona, AZ 86336
Hours: 11:30 a.m. to 9 p.m., Sunday to Thursday, and 11:30 a.m. to 10 p.m., Friday and Saturday
Reservations: Required. Make a reservation.