A traditional Maine lobster bake was tops on my to-do list when I returned to The Pine Tree State for the second time.
On my first trip, I encountered delicious lobster rolls, both warm and cold, and even tried lobster ice cream in Bar Harbor.
But I'd been dancing around ordering a whole lobster, partly because I find them intimidating.
Don't get me wrong. I've always enjoyed lobster meat. The act of getting to it myself always left me skittish.
So when the opportunity to take a Lucky Catch cruise across Casco Bay for a sunset lobster bake at Island Lobster Company on Peaks Island in Portland arose, I was up to the challenge.
I wouldn't leave Maine again without learning this all-important seafood skill.
Cruise in Casco Bay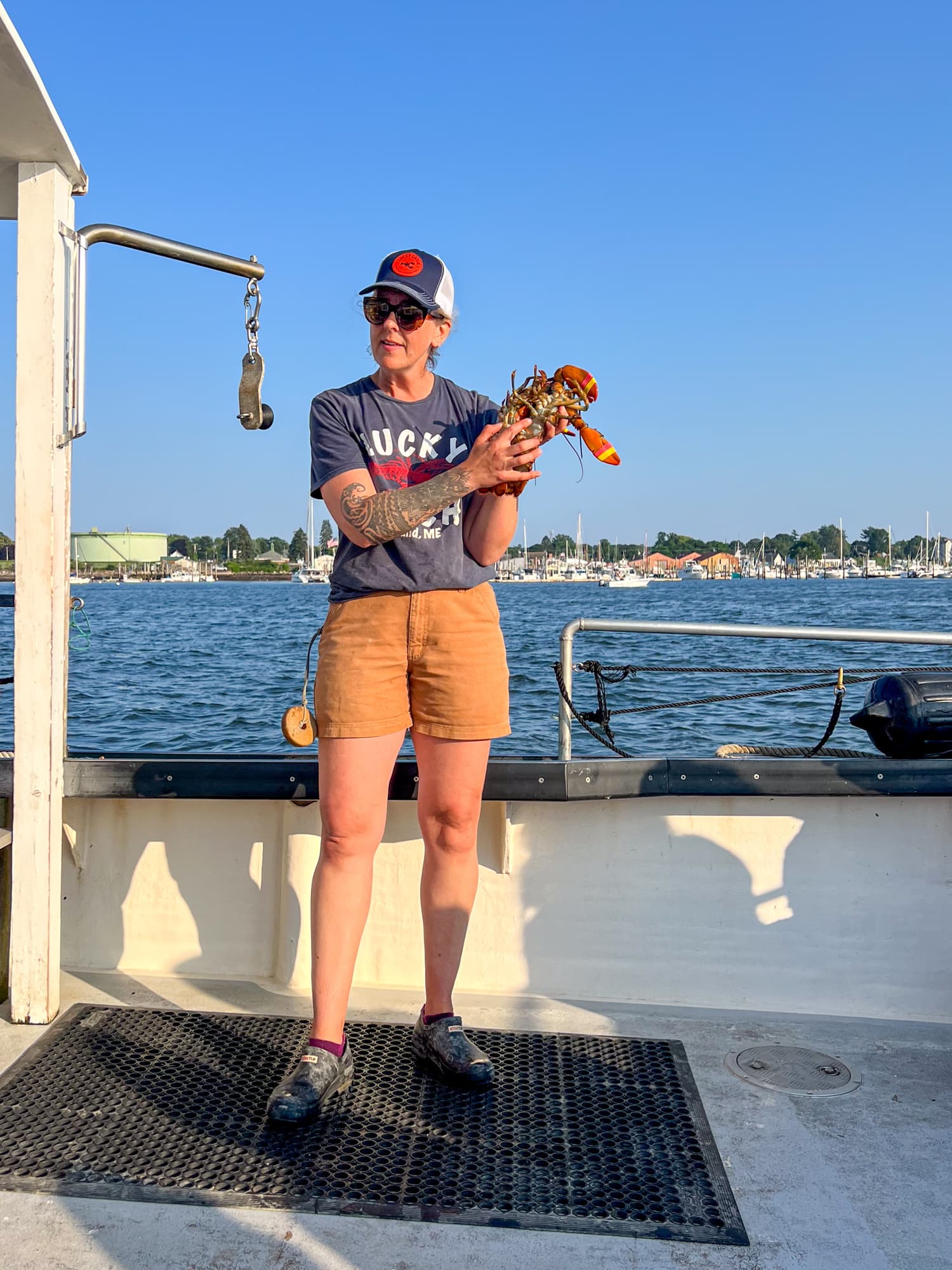 A few hours after Kel and I checked into Aloft Portland, ME, our hotel for the night, we walked north on Commercial Street to the Lucky Catch Cruises kiosk.
We confirmed our reservation with the staff and waited until 6:30 p.m. to board the St. Croix, a 40' Maine-built lobster boat that initially operated in Bar Harbor.
After our guide gave a brief introduction and overview of the sunset tour, the Captain took us out.
Our little lobster boat was dwarfed by Podium, Roger Penske's $120 million luxury superyacht in port.
Lobsters
The guide wasted no time pulling a live Maine lobster out of a saltwater tank and sharing details about the ten-legged crustaceans.
Did you know the two front claws are technically considered legs, even though they walk with the eight smaller ones under their bodies?
The larger claw is called the crusher claw and is used for smashing its prey. The smaller claw, the pincher claw, is used for tearing.
Lobster fishing season runs from July to December, when the lobsters move closer to shore to molt and mate. After that, it's the off-season as they move further away.
Everyone who wanted the chance to hold a live lobster could do so.
Lighthouses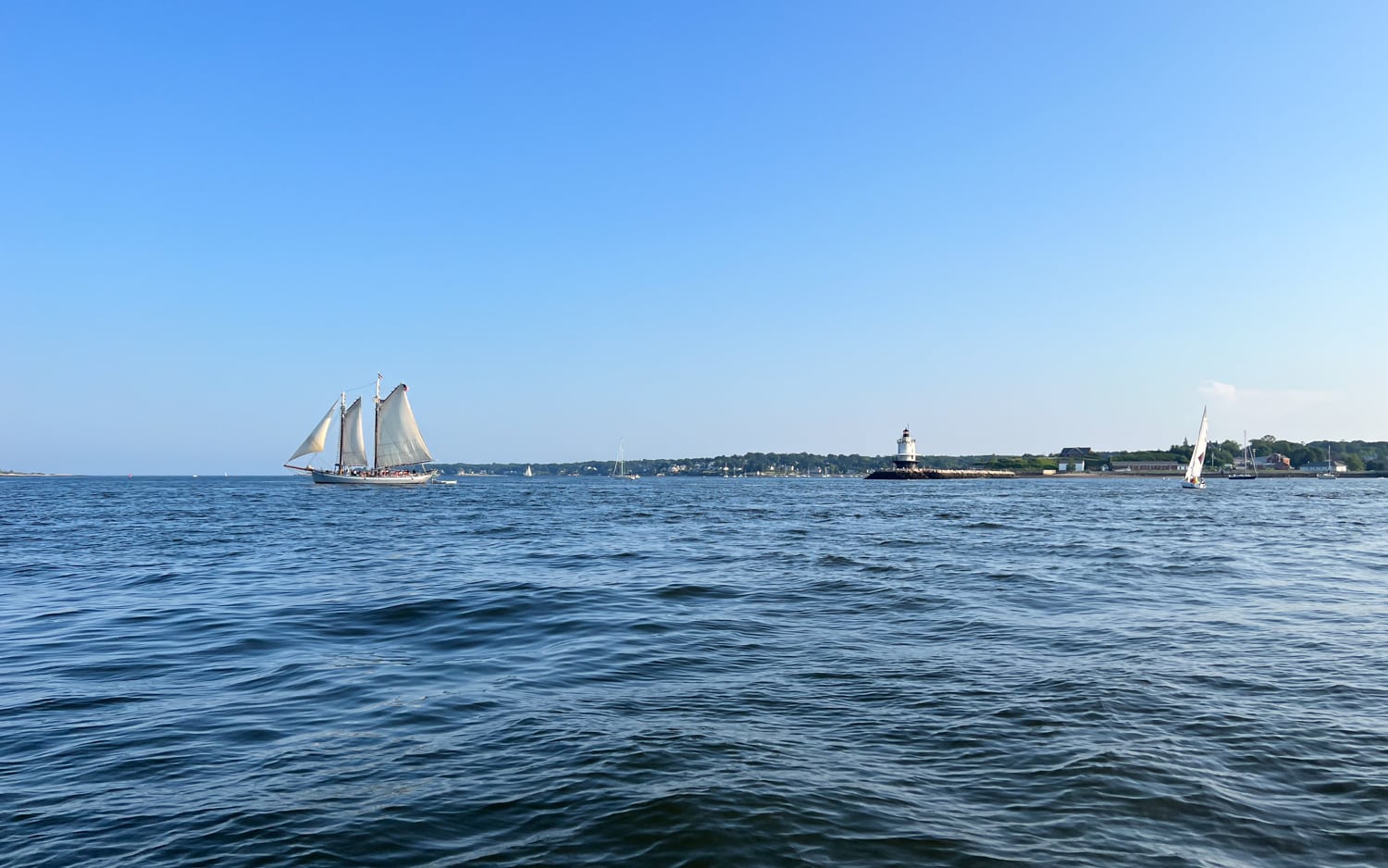 We were only about five minutes out of port when we passed Bug Light, the first of two lighthouses along the route to Peaks Island.
The second, Spring Point Ledge Lighthouse, was visible a few minutes later. We saw a schooner on a day cruise sail right by it.
To our left (the west) was Fort Gorges, a 19th-century military fort accessible by boat.
Our guide informed us that by the time it was built on a small island in Casco Bay, it had already become obsolete by military standards.
Lobster Trap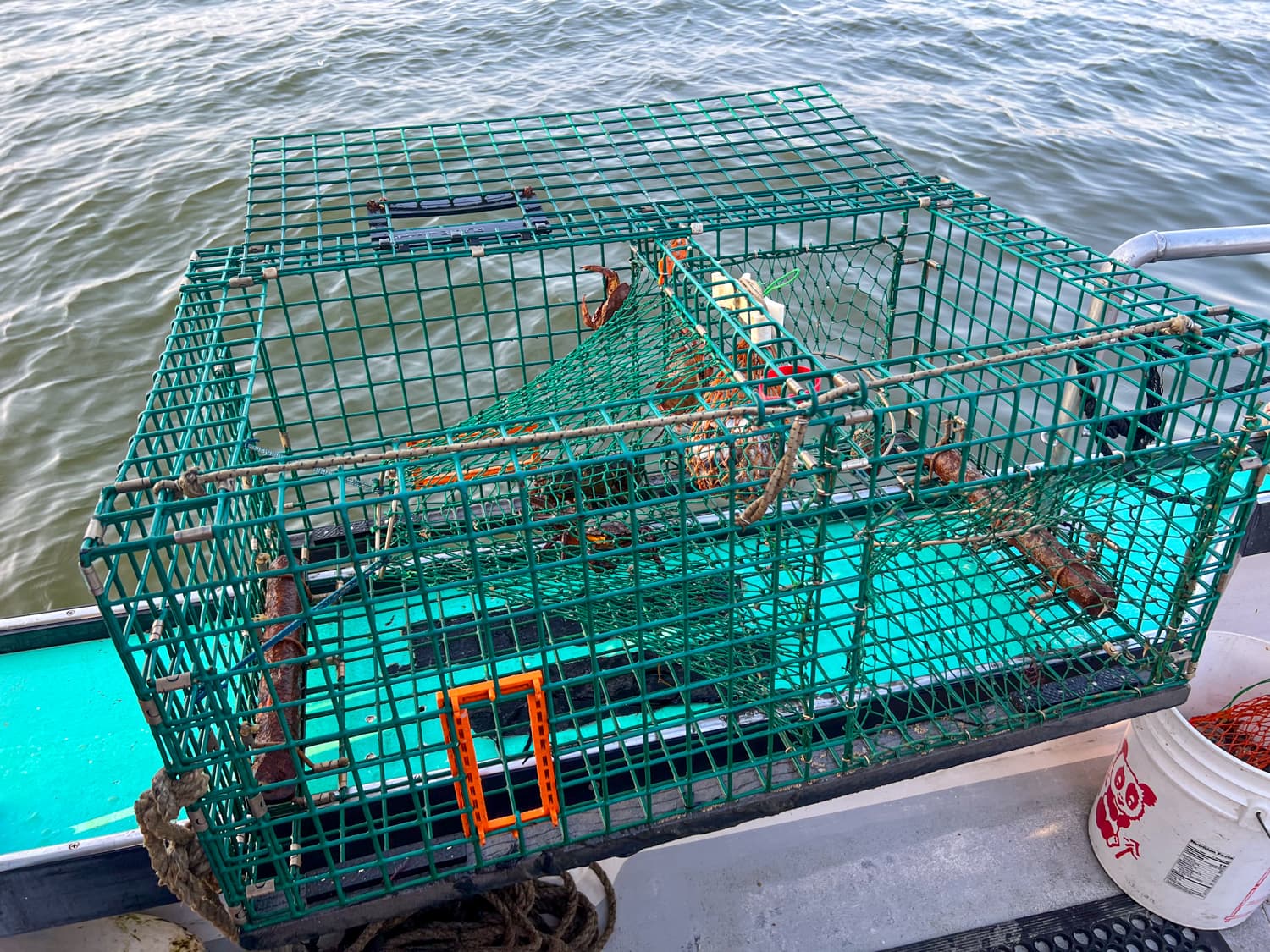 Fifteen minutes into our Lucky Catch cruise, the Captain stopped the boat near House Island. Our guide called on two volunteers to help pull up a lobster trap.
As I'd learned on the Lulu Lobster Boat tour in Bar Harbor a few months earlier, strict regulations exist for the size and types of lobsters that can be held.
Only lobsters between 3.25 and 5 inches can be removed from the water for sale. The rest are thrown back.
Additionally, if a female lobster has eggs on her, like the one our guide pulled out of the trap, that lobster must also be thrown back.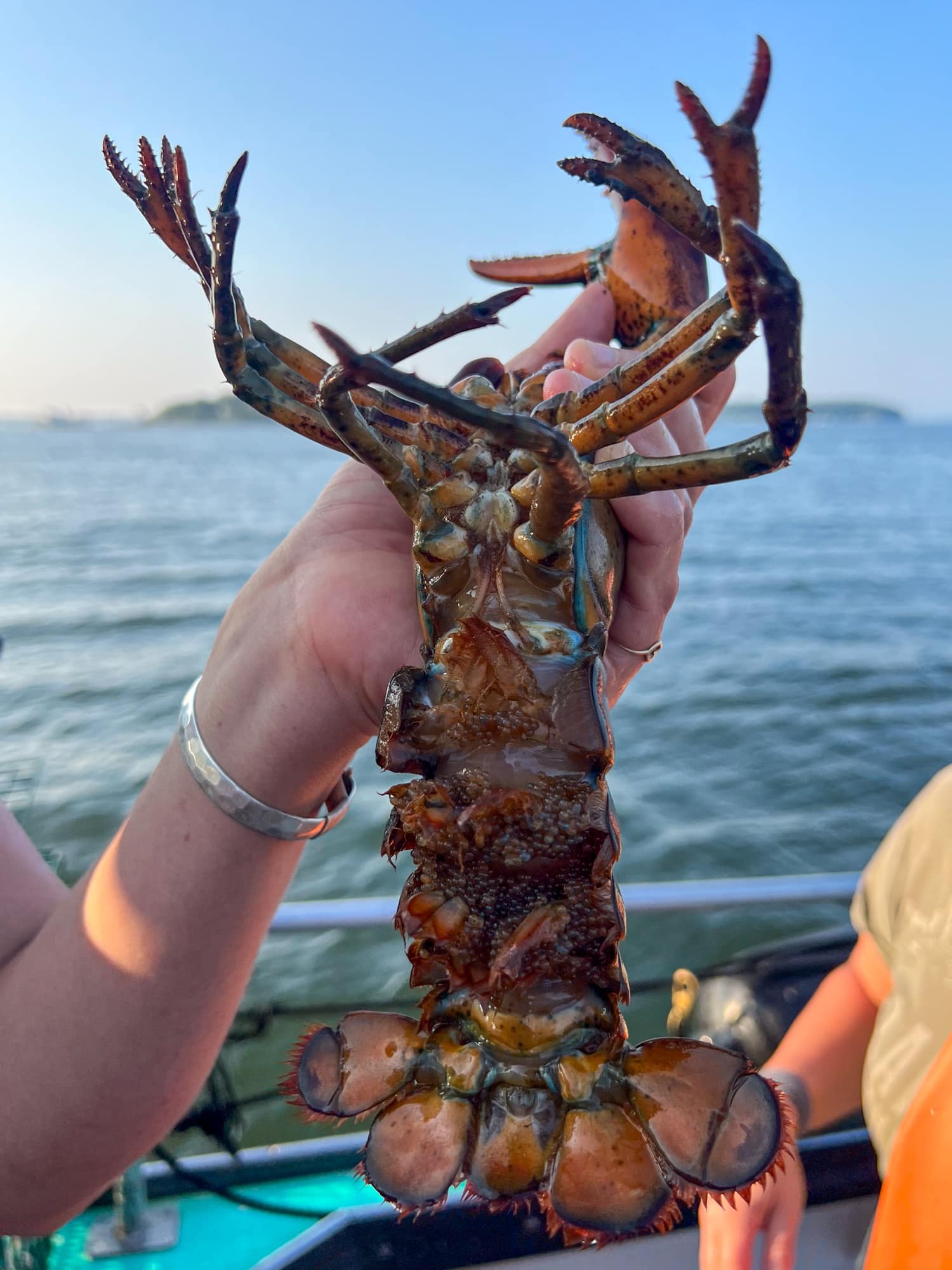 She will lay eggs for the rest of her life and exponentially more as she ages. Therefore, she's critical to maintaining Maine's lobster populations.
Before she's thrown back in the ocean, a little "v" clip is made in her tail fin, which tells other lobstermen that it's an egg-bearing female. This protects her for life.
If one lobster in the trap is a keeper, that's a good result. Lobstermen typically pull 300 traps per day.
When it was time to push the lobster trap back into the water, I was happy to assist. It was a lot easier to give it a shove than pull it up!
Peaks Island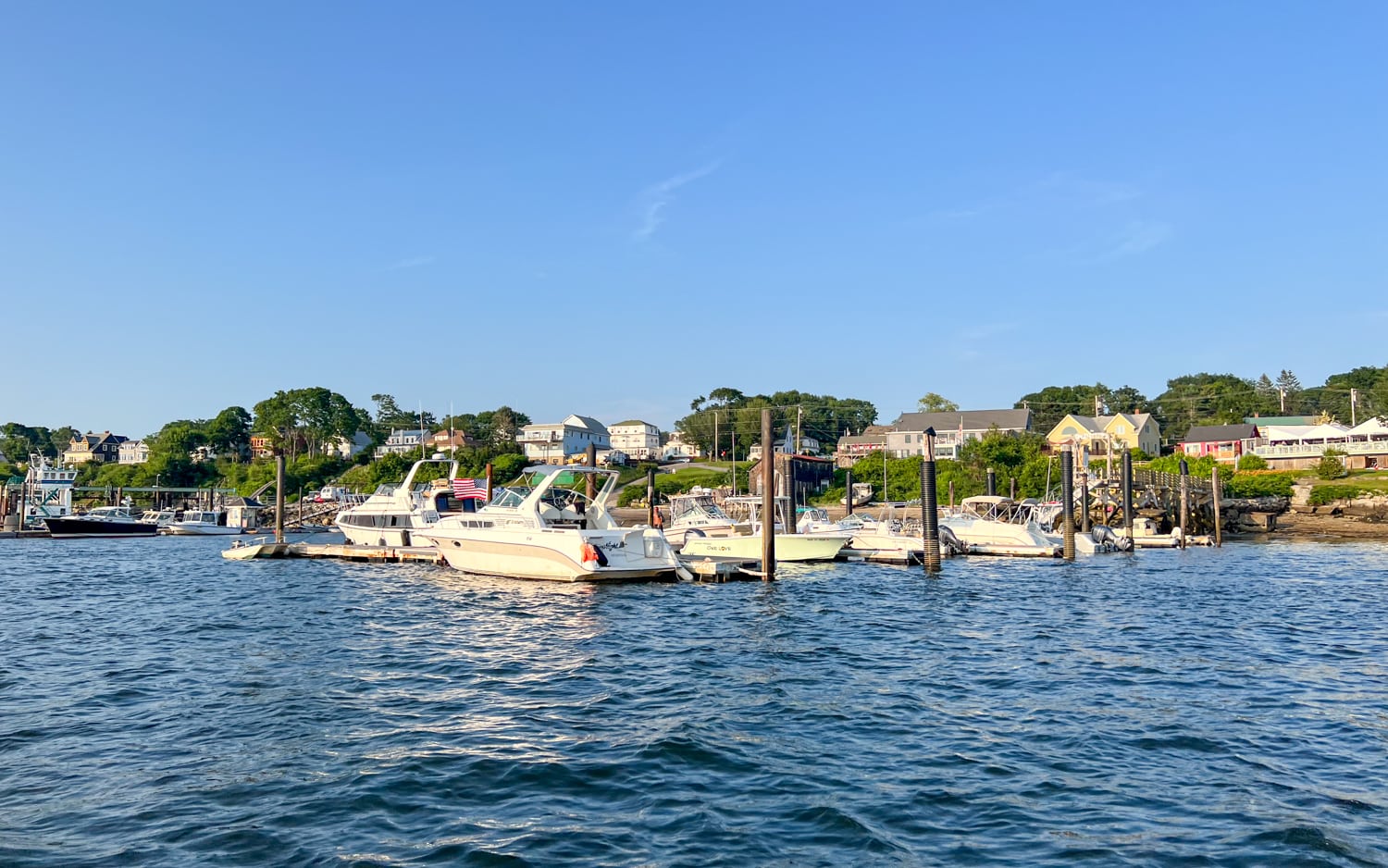 We approached Peaks Island Marina a few minutes before 7 p.m. Boats bobbed by the docks, and houses and restaurants lined the waterfront.
Kel and I disembarked the St. Croix and followed our guide and group for the short walk to Island Lobster Company.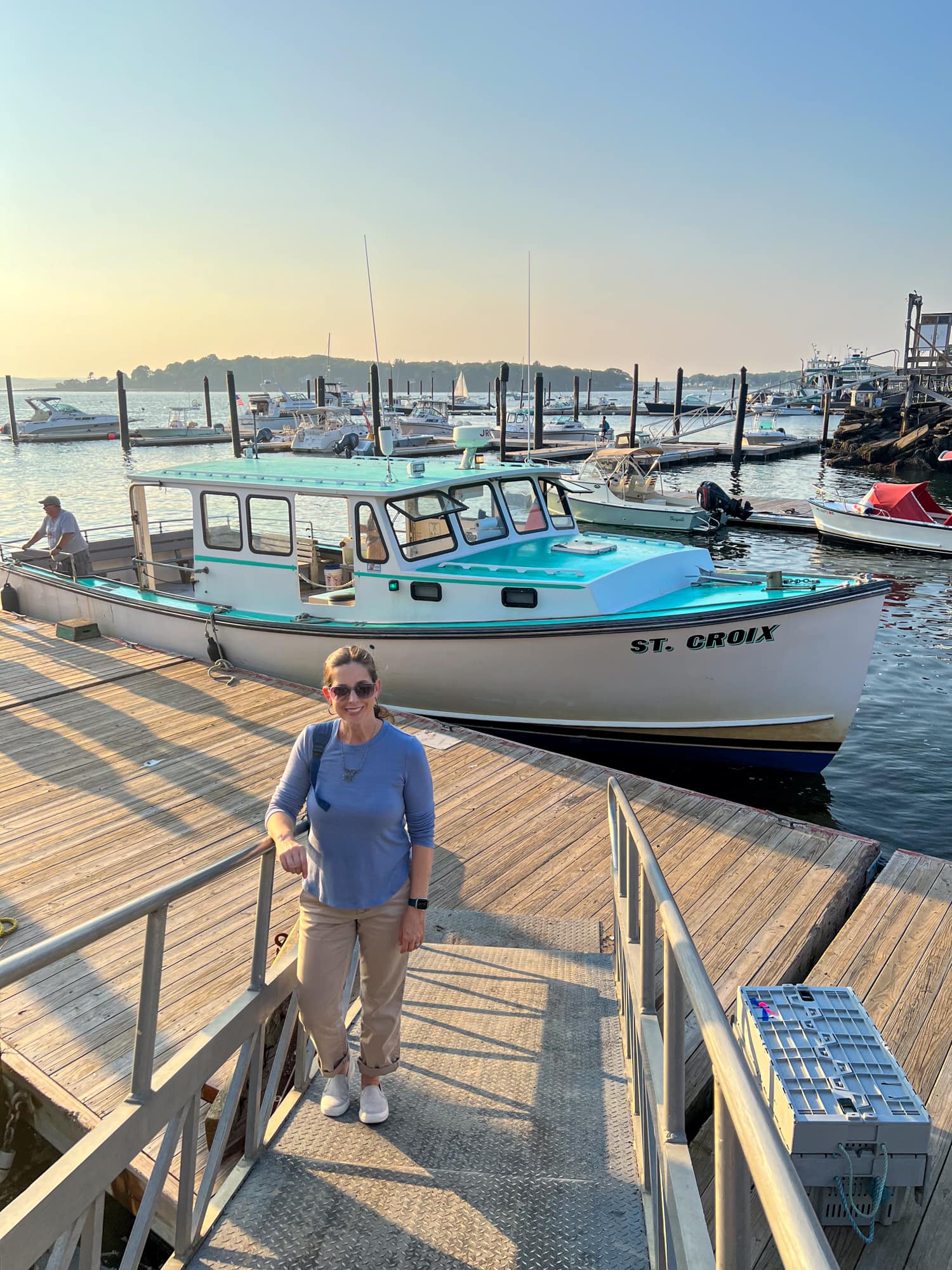 The Werners, a commercial lobstering family, run the restaurant and source all their lobsters from their boat, Patience.
Tents were set up on the lawn, and the restaurant's property extended to a beach. Eighties music was playing, and the vibe was relaxed.
White Adirondack chairs were available for guests to sit and enjoy the sunset.
We had 15 minutes before the Maine lobster bake dinner would be ready, so I went to the bar.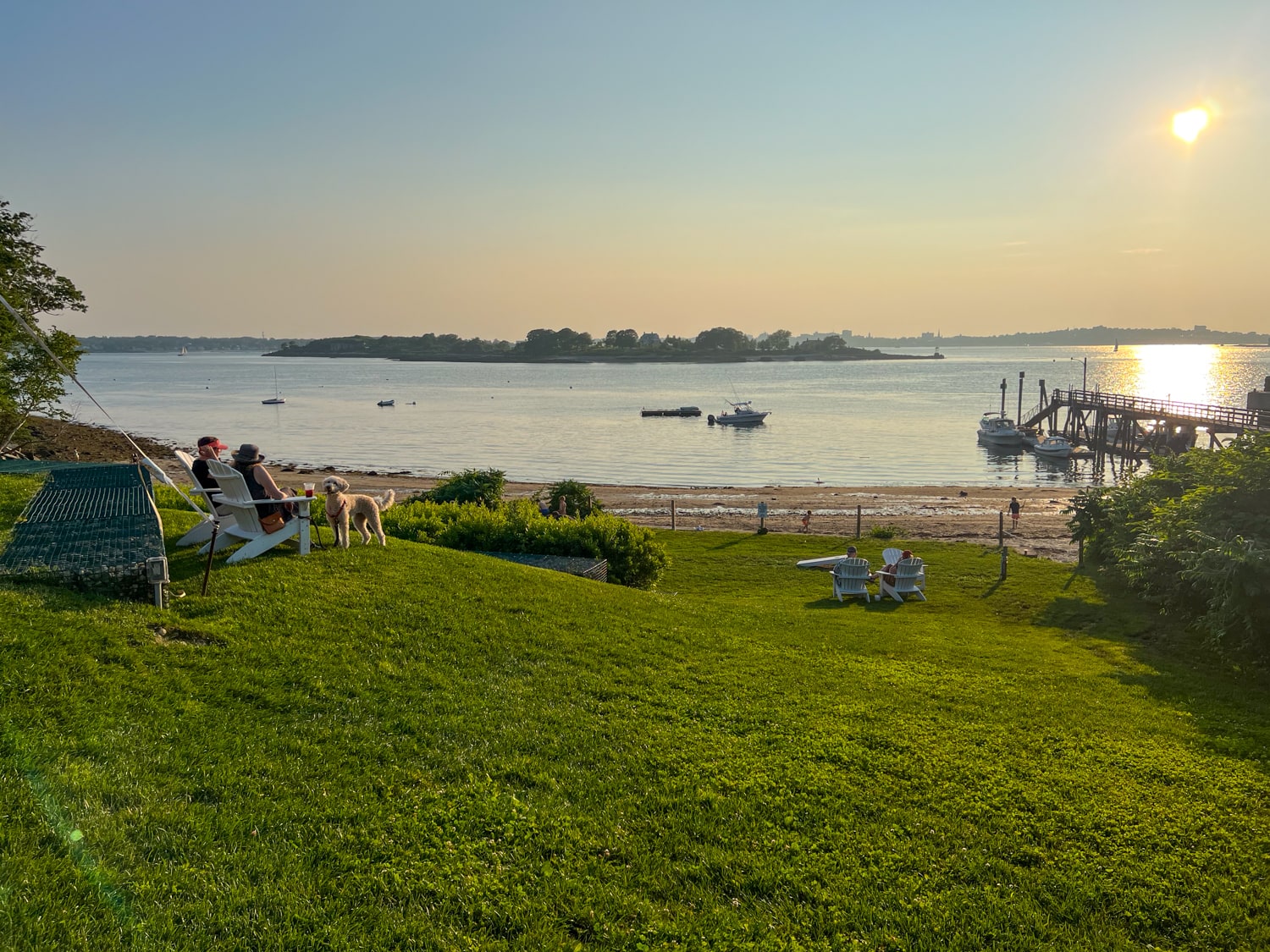 The cocktail menu was appealing, with drinks like a Casco Bae Lemonade with blueberry vodka and a Peaks Tequila (watermelon, tequila, triple sec, and lime).
However, I wanted to take it easy, so I ordered an On Your Mark, an American Blonde beer by Kit NA Brewing, Maine's first non-alcoholic craft brewery.
It fits the mood, and I wouldn't have to worry about ill effects the next day.
Maine Lobster Bake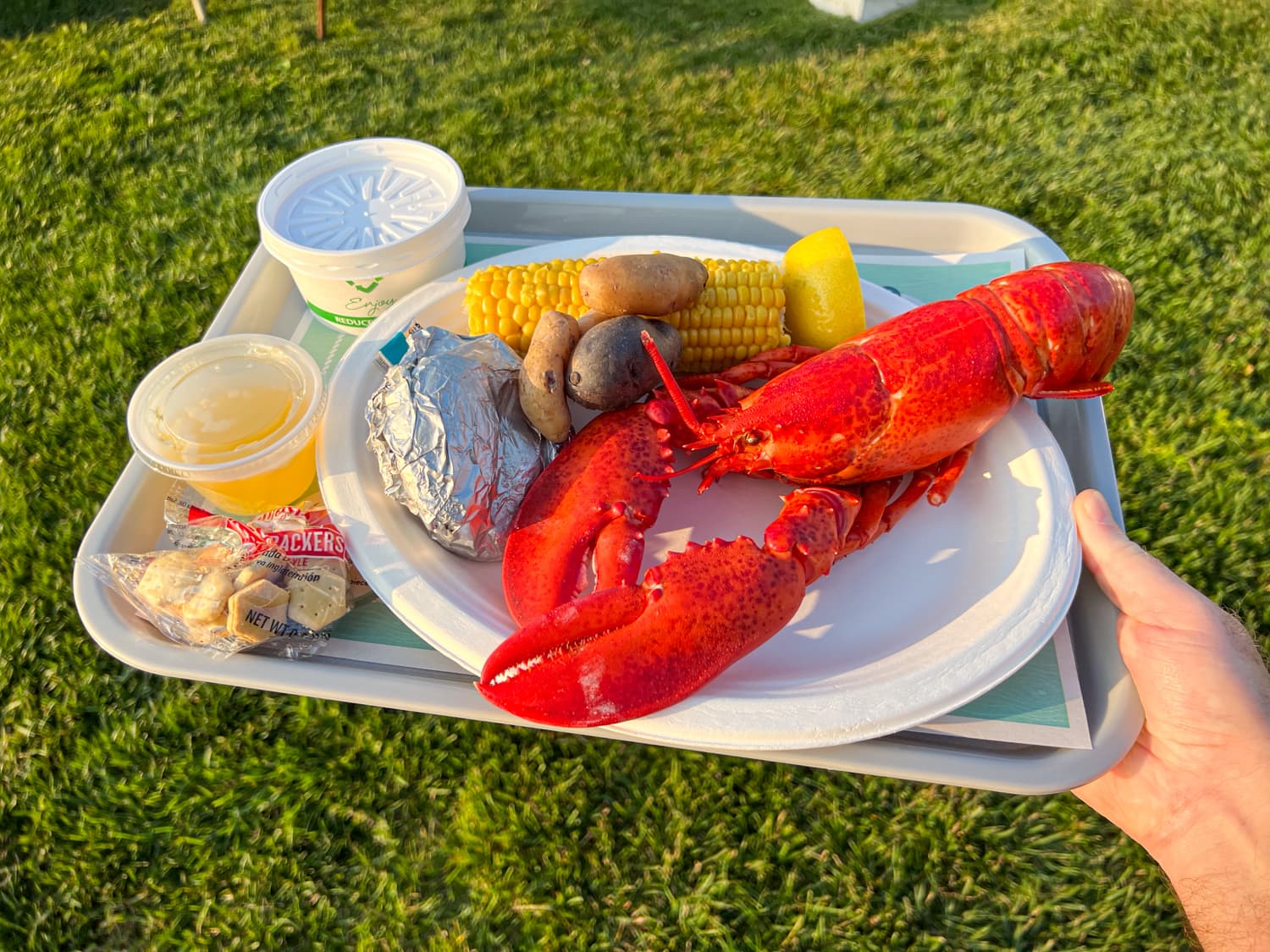 Our traditional lobster bake was served buffet style and included the following delicious food:
Maine lobsters with butter and lemon wedges
New England clam chowder with oyster crackers
Clams
Corn on the cob
Potatoes
Participants who don't or can't eat lobster can choose chicken or a veggie burger as an alternative.
Plastic lobster bibs were provided, and I put mine on as I was new at this. Every tray was lined with step-by-step instructions for dismembering lobster.
So, I set aside my anxiety about removing my lobster's limbs and focused on the task.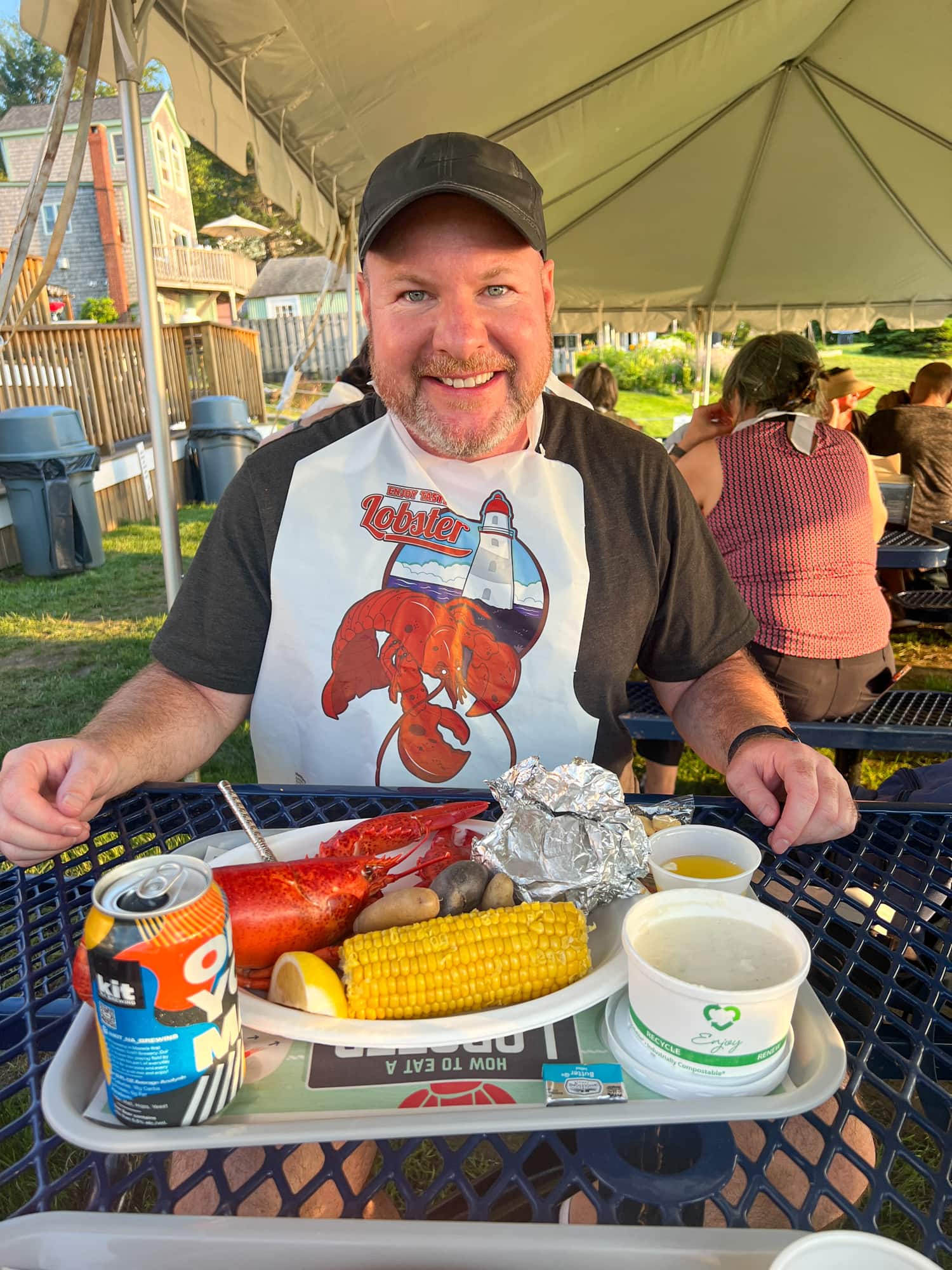 I began by twisting off the claws and using a metal cracker to break into them.
The twisting off of appendages was easier than cracking the shells. I eventually get the claw meat out, soaked in melted butter, and into my belly.
Next, I turned my attention to the tail. Once again, I used a twisting motion to separate the tail from the body. Expect water and fluids to drain onto your plate.
I broke the thin flippers off the lobster tail. And I used my fork to push the tail meat from the back of the shell out the front.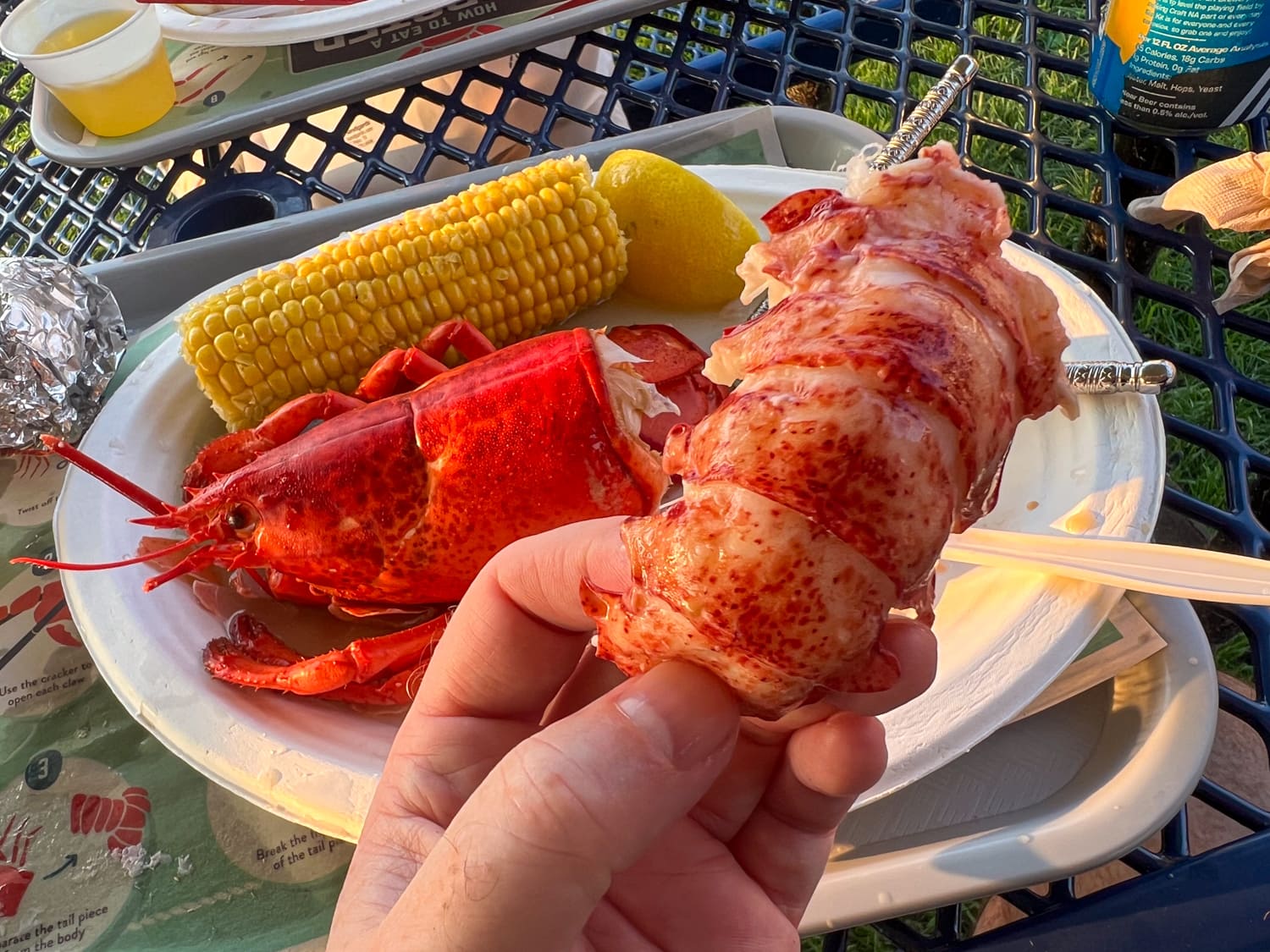 I managed to do it perfectly for a first-timer, preserving a single massive piece of lobster meat.
By this point in the Maine lobster bake, I felt pretty proud. It's also where I decided to stop.
If you want more than the claw and tail meat, separate the rest of the lobster shell from its body and then open the body by cracking it apart sideways.
Avoid the Tomalley
Inside, you'll see soft green stuff called tomalley, which some seafood fans consider a delicacy.
This tissue acts as the lobster's liver and pancreas, filtering pollutants. As a result, toxins may accumulate there.
In 2008, the FDA advised consumers to avoid eating lobster tomalley. There's no indication that lobster meat is dangerous, though.
Finally, to enjoy every last bit of lobster, twist off the thin walking legs, break them open, and suck out any meat or juices like a straw.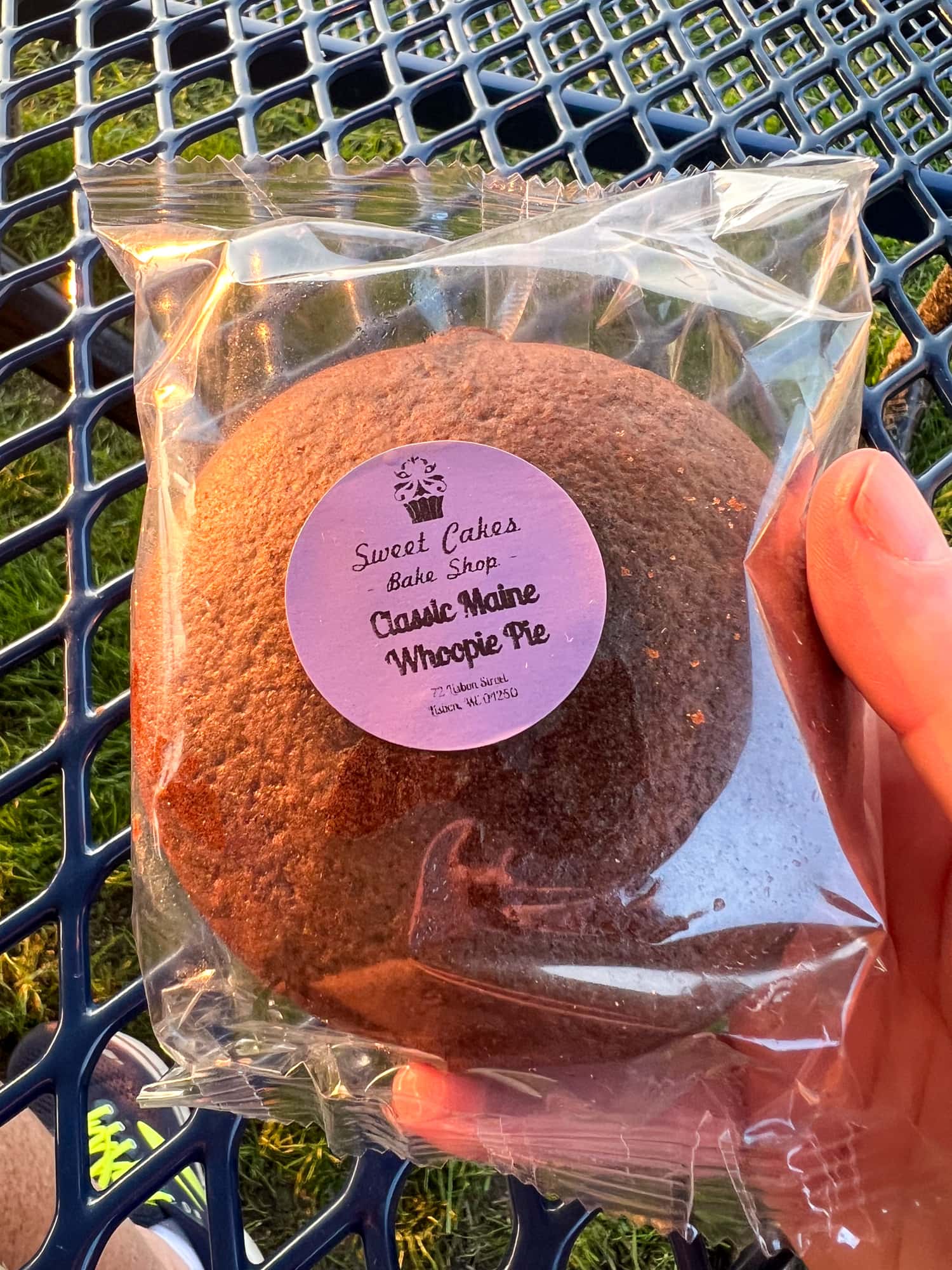 At about 7:45 p.m., we received packaged Maine whoopie pies for dessert. Kel and I shared one on our walk back to the marina.
Departure
The boat was ready for us at 8 p.m. sharp, as the sun was hitting the horizon and casting off an orange glow.
Guests who take the Lucky Catch cruise to the lobster bake can stay on Peaks Island longer; they'll need to pay for a ferry ride back.
During the 20-minute sunset cruise back to the Old Port, we got additional looks at the lighthouses, Fort Gorges, and the Portland skyline.
Whether you're a seasoned traveler or simply looking for a unique dining experience, a sunset cruise and lobster bake on Peaks Island is a must when visiting Portland, Maine.
It's not just a meal; it's an adventure that engages all the senses and leaves you with a sense of connection to this beautiful coastal region.
So, next time you find yourself in Portland, don't miss the chance to embark on this unforgettable journey. It's a taste of Maine that you'll savor long after the last bite.
For more information about this cruise and lobster bake, visit Lucky Catch Cruises or their tour calendar.
_____
Thank you to Lucky Catch Cruises, Island Lobster Company, and the Maine Office of Tourism for organizing this educational lobster bake excursion.