Imagine beautiful bay views and a sense of serenity every time you walk into your Tampa, Florida, hotel room. That's the experience at The CURRENT Hotel, Autograph Collection, where every room faces scenic Tampa Bay.
Beyond the water views standard with every guest room and suite, there's delicious food and cocktails from the restaurant and rooftop bar, an enticing pool, and a sandy beach.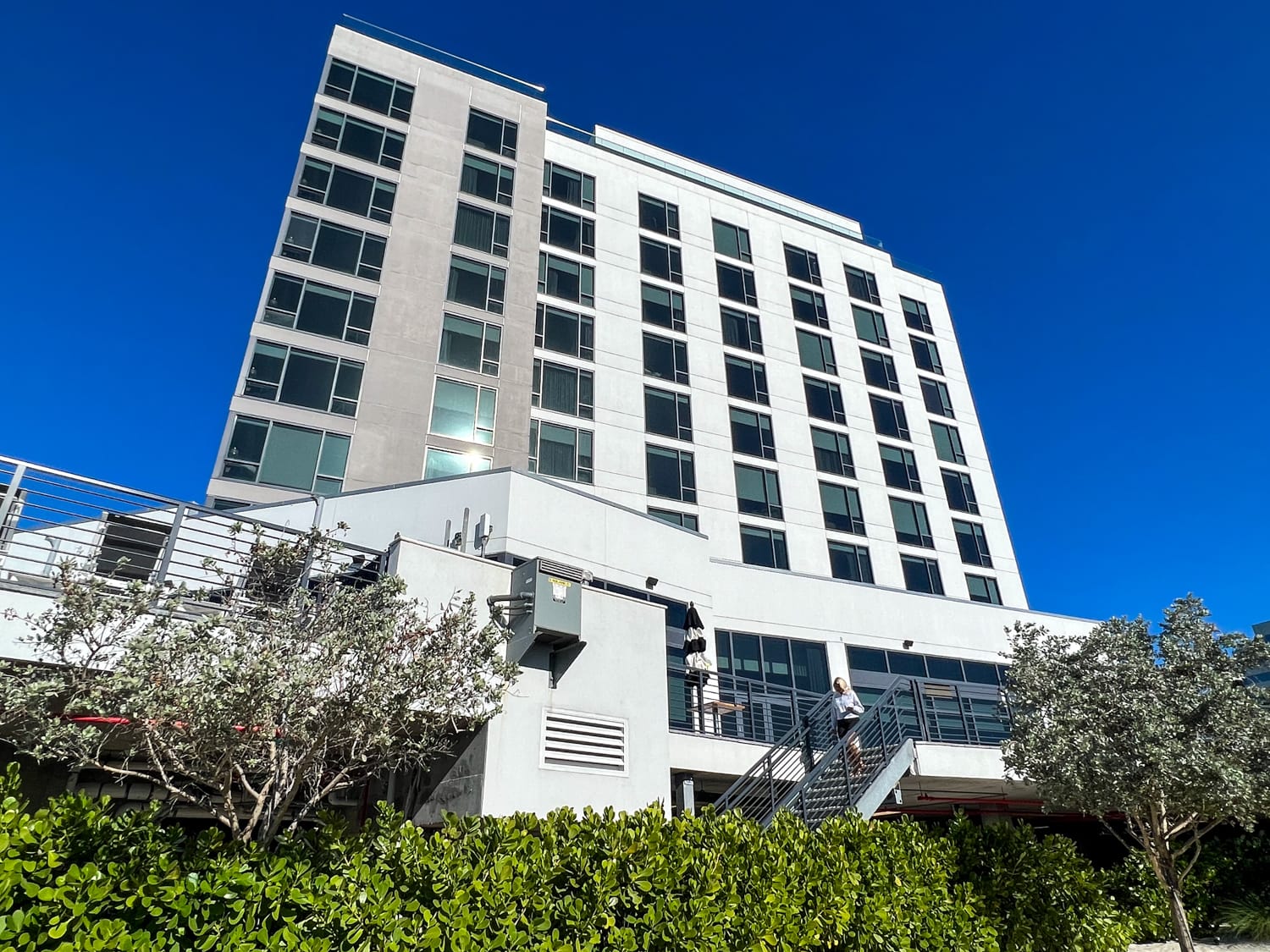 In this article, I'll give you an inside look at The CURRENT Hotel, where I spent three nights during my trip hosted by Visit Tampa Bay, and share what it felt like every step of the way. Let's go!
The CURRENT Hotel
I arrived at the nearest airport, Tampa International Airport, around lunchtime on a Tuesday and hopped in an Uber for the five-to-ten-minute drive to the hotel.
The CURRENT Hotel is at the southern tip of a small island, connected to the mainland by the Courtney Campbell Causeway.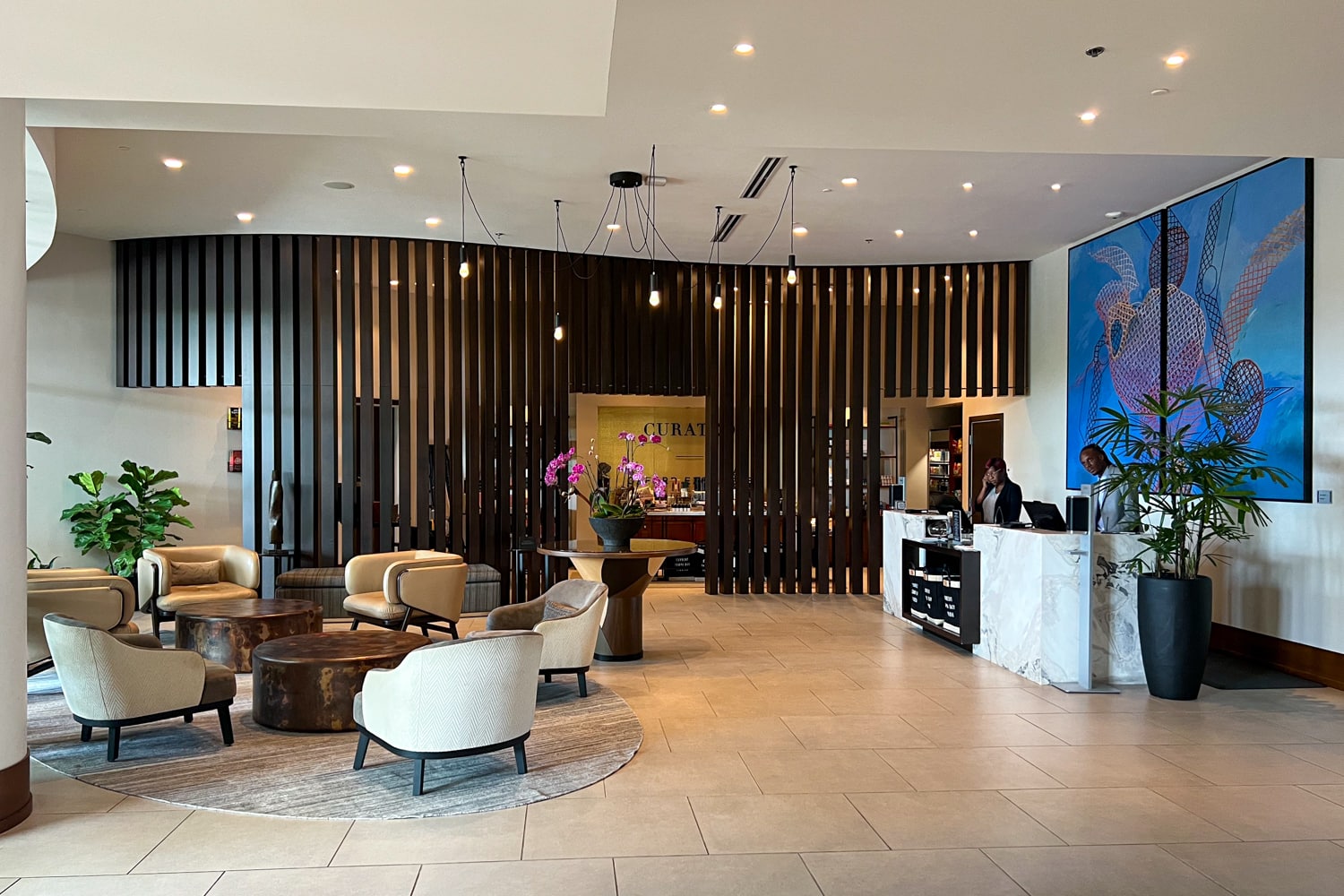 The proximity to the airport makes arriving and departing by air a breeze. And aviation enthusiasts will appreciate the views of planes taking off.
I saw a lot of Southwest planes, in particular. They're one of two carriers flying directly between Austin and Tampa (American is the other).
If noise is a concern, know up front that the rooms are quiet.
Check-In
Upon arrival at The CURRENT Hotel, I was immediately struck by the stylish lobby. You can see straight through the hotel to the bay side.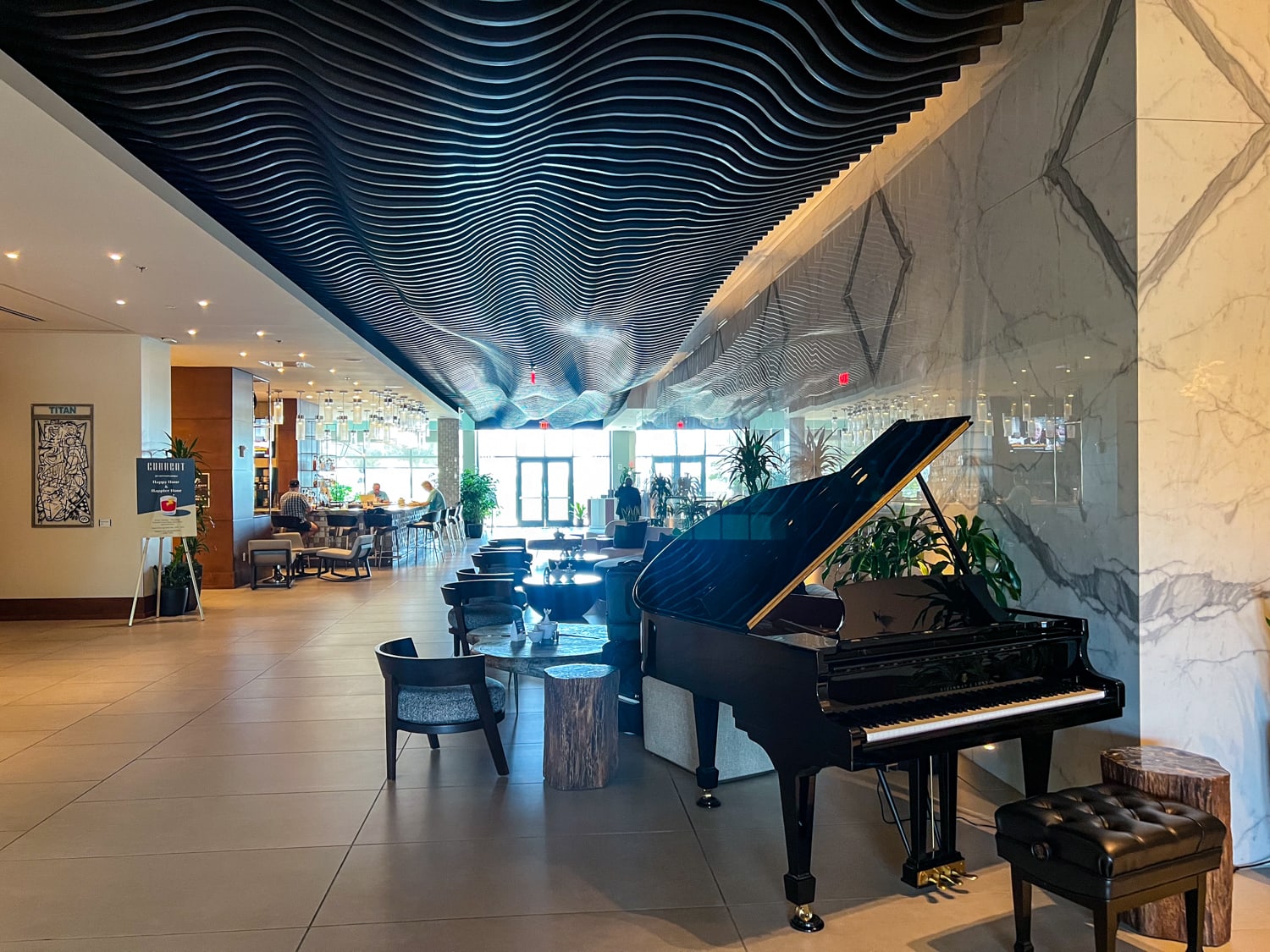 To my immediate left was an attractive reception area and gift shop curated by The Oxford Exchange, a popular downtown Tampa cafe, restaurant, and store.
My room wasn't immediately ready (check-in is 4 p.m.), so I looked around the ground floor.
The center interior was a little dark, relying on natural light during the day. However, there was a lovely sunlit lounge at the far end.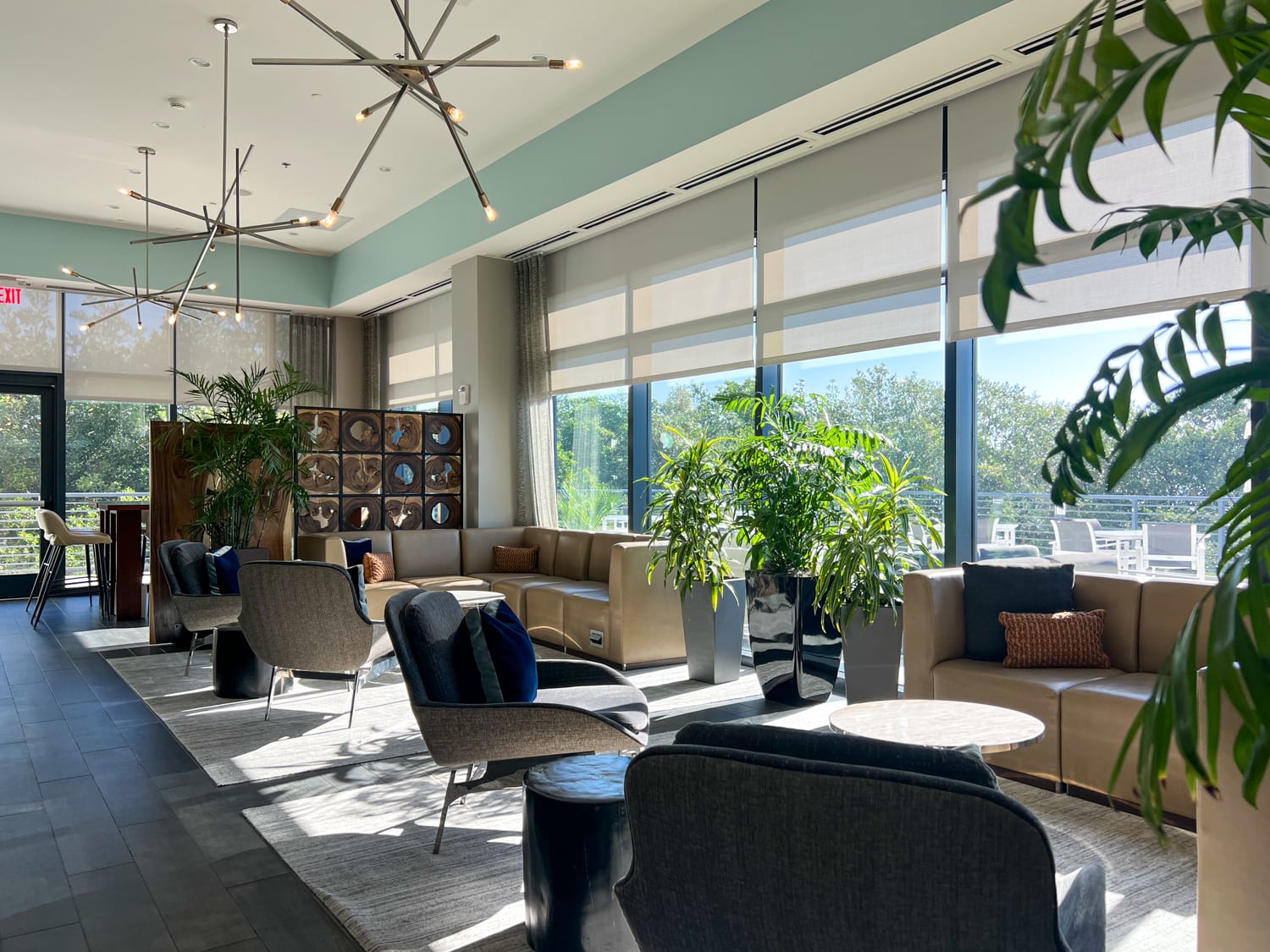 A wrap-around bar and Buddy Brew coffee counter are also there, along with Julian, The CURRENT Hotel's restaurant.
Buddy Brew is Tampa's homegrown coffee company, which began with a single cafe in 2010 and has grown steadily ever since.
You'll find them in many of Tampa's top hotspots, including Armature Works, The Oxford Exchange, and Hyde Park.
A door exiting the building leads to the outdoor pool and private beach area.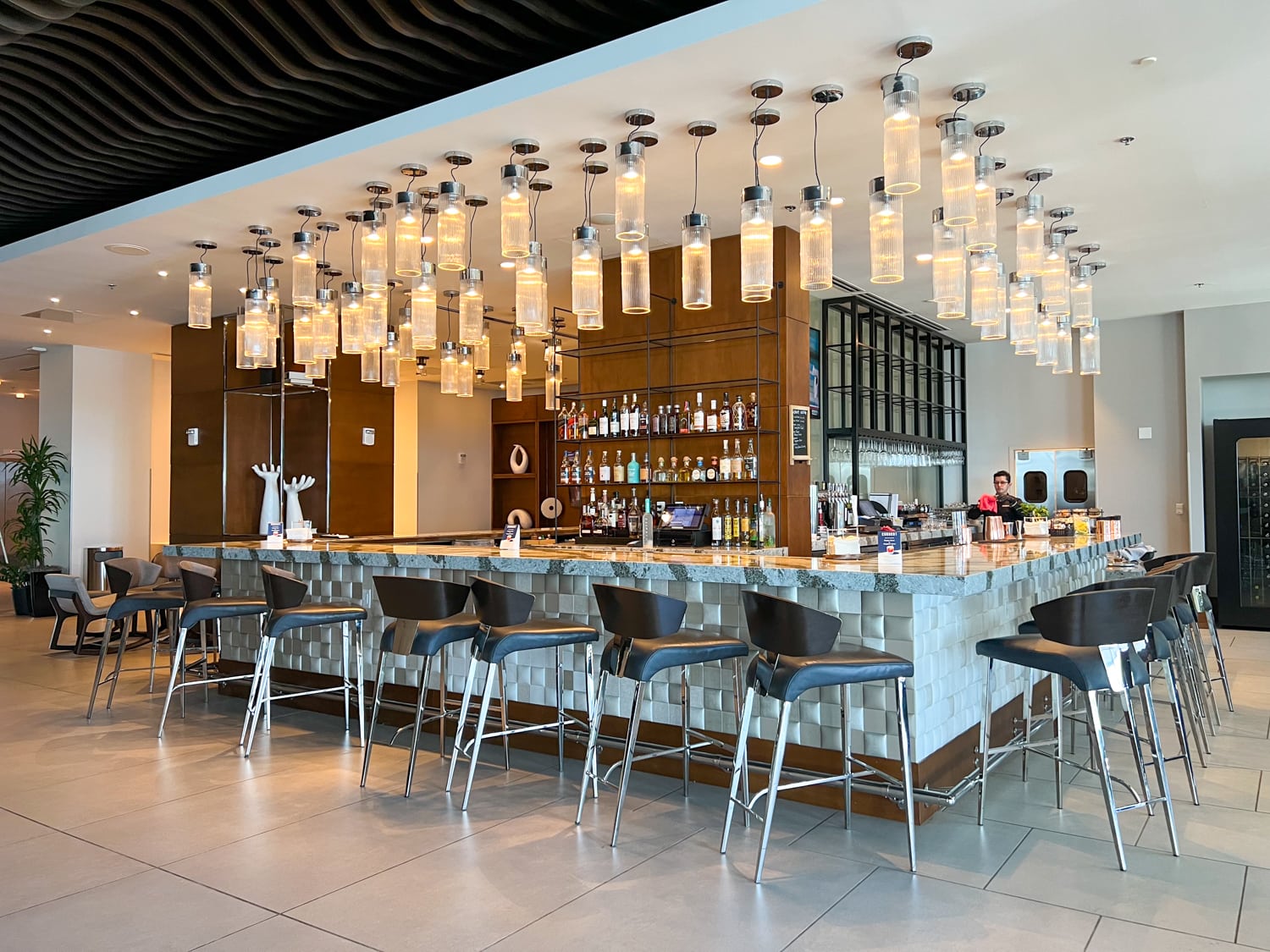 My room wasn't ready before I was due for lunch at Anchor & Brine on the waterfront downtown, so the valet stored my bags.
I spent the sunny afternoon dining and boating along the Tampa Riverwalk.
After dinner, I returned to The CURRENT Hotel from downtown Tampa via Uber, a 10-mile drive (and about 20 minutes, depending on traffic).
Note: If you fly into Tampa, you'll want to weigh the estimated cost of rideshares versus renting a car (at the airport)—factor in the hotel's valet parking, an additional charge of $25 per day.
Once I got my luggage out of storage, I picked up the key at the front desk, provided an American Express credit card for incidentals, and took the elevator to the sixth floor.
The lobby and hallways feature rotating artwork that adds to the ambiance.
Hotel Rooms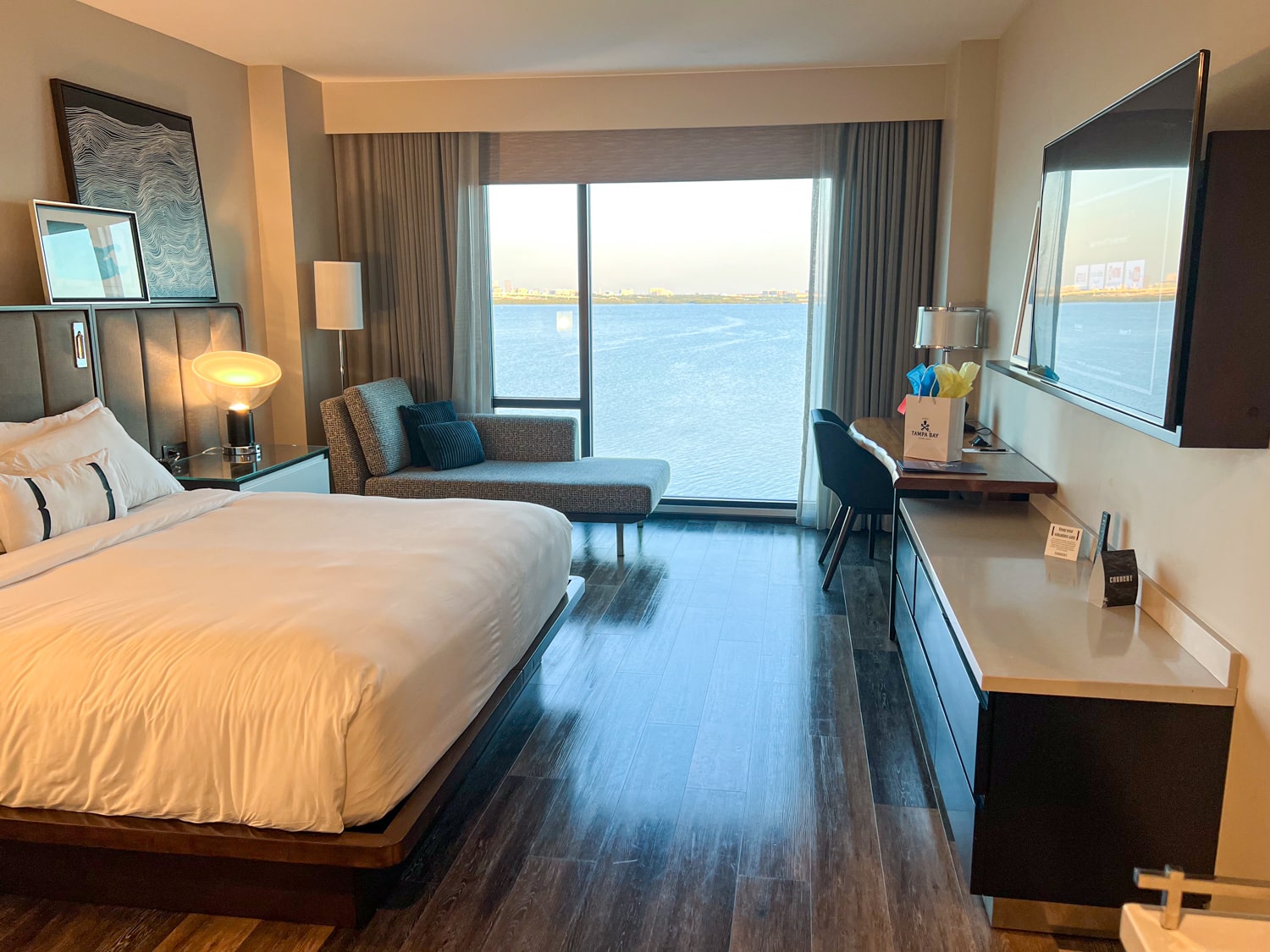 Walking into my air-conditioned room at The CURRENT Hotel for the first time was a relaxing experience, as it would be every time I returned to it.
The large window with views of Tampa Bay draws you in, so you can gaze out at the tranquil waters.
The silhouettes of Tampa's tallest buildings are visible on the horizon. Departing planes appeared as fast-moving specks across the sky.
Highlights of the Standard King Room include:
Floor-to-ceiling windows with water views.
Comfortable king-size bed with luxurious bedding.
55" LED smart TV with premium channels (CNN, ESPN, HBO) and easy access to streaming services (Netflix, Apple TV, and Amazon Prime).
Marble bathroom with rainfall shower head.
Sitting area and desk by the window.
Complimentary Wi-Fi
Mini fridge and coffee/tea maker
Iron and ironing board
The bed was so soft and comfy; I appreciated every minute. And the water pressure in the shower felt wonderful.
The Wi-Fi was fast enough for typical internet activities and social media use (though I didn't have much time for either).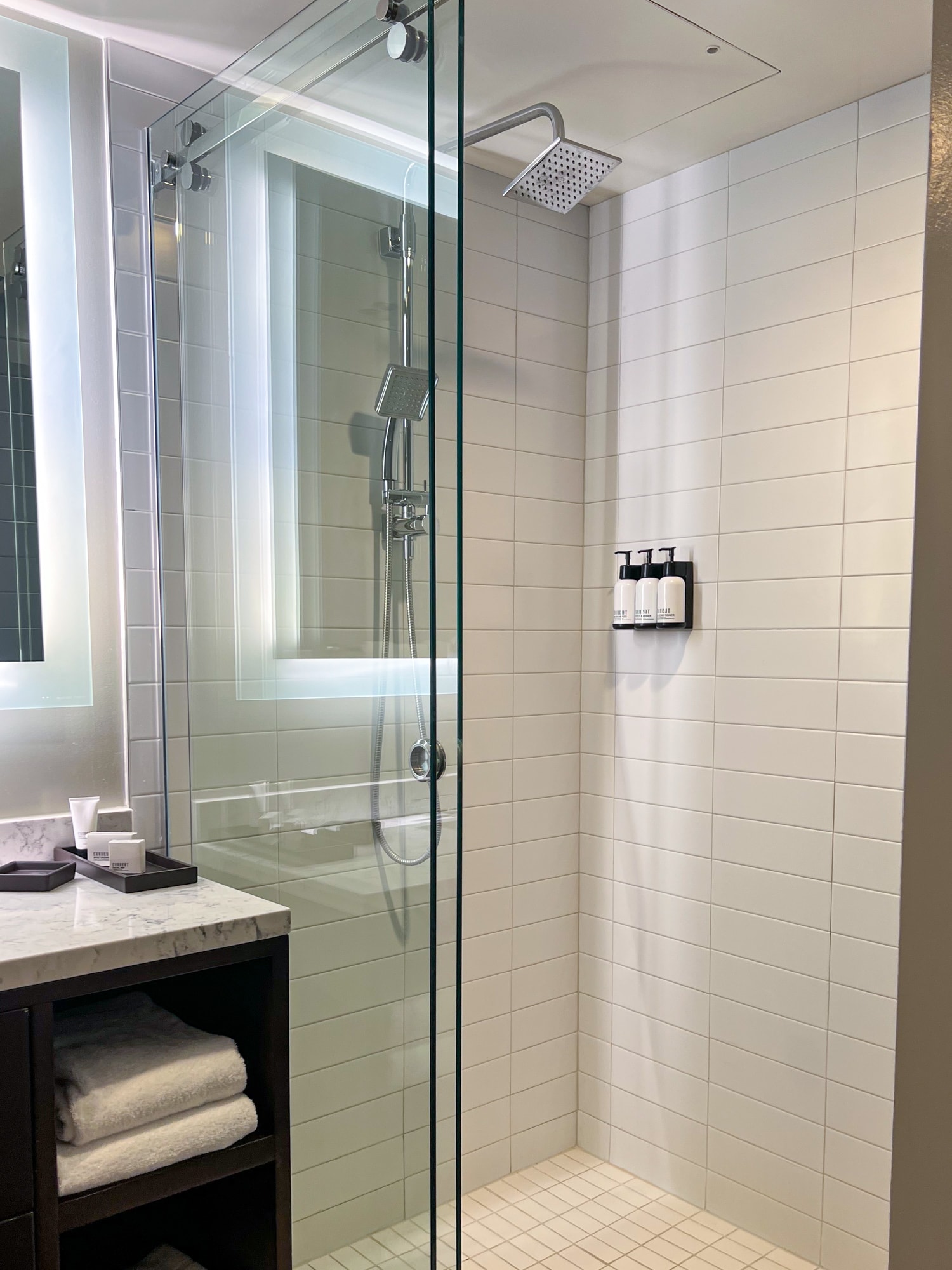 View From the Room
All of these creature comforts were enjoyed. However, my favorite aspect of the room was the spectacular view of Tampa Bay at sunrise.
I tend to wake up early in the morning, and at The CURRENT Hotel, I was awake before dawn all three mornings.
I'd leave bed just long enough to slide the curtains open and then crawl back in to watch the sky change colors.
There was a peacefulness to it that I couldn't get enough of, as fleeting as those morning moments turned out to be.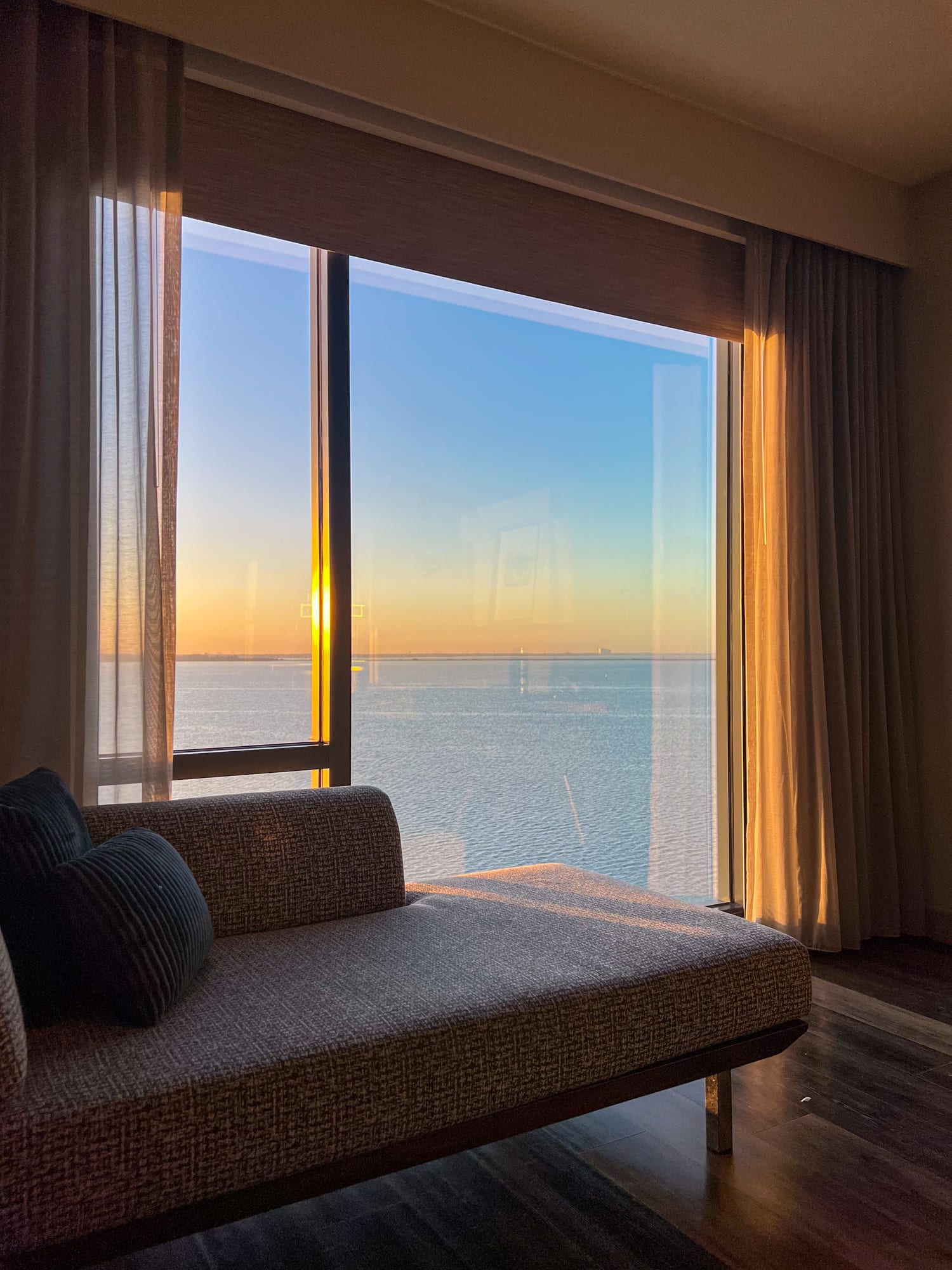 Looking directly out the window from the foot of the bed, you could see the entire eastern horizon aglow with oranges and yellows. It was my ideal way to start each day in Tampa.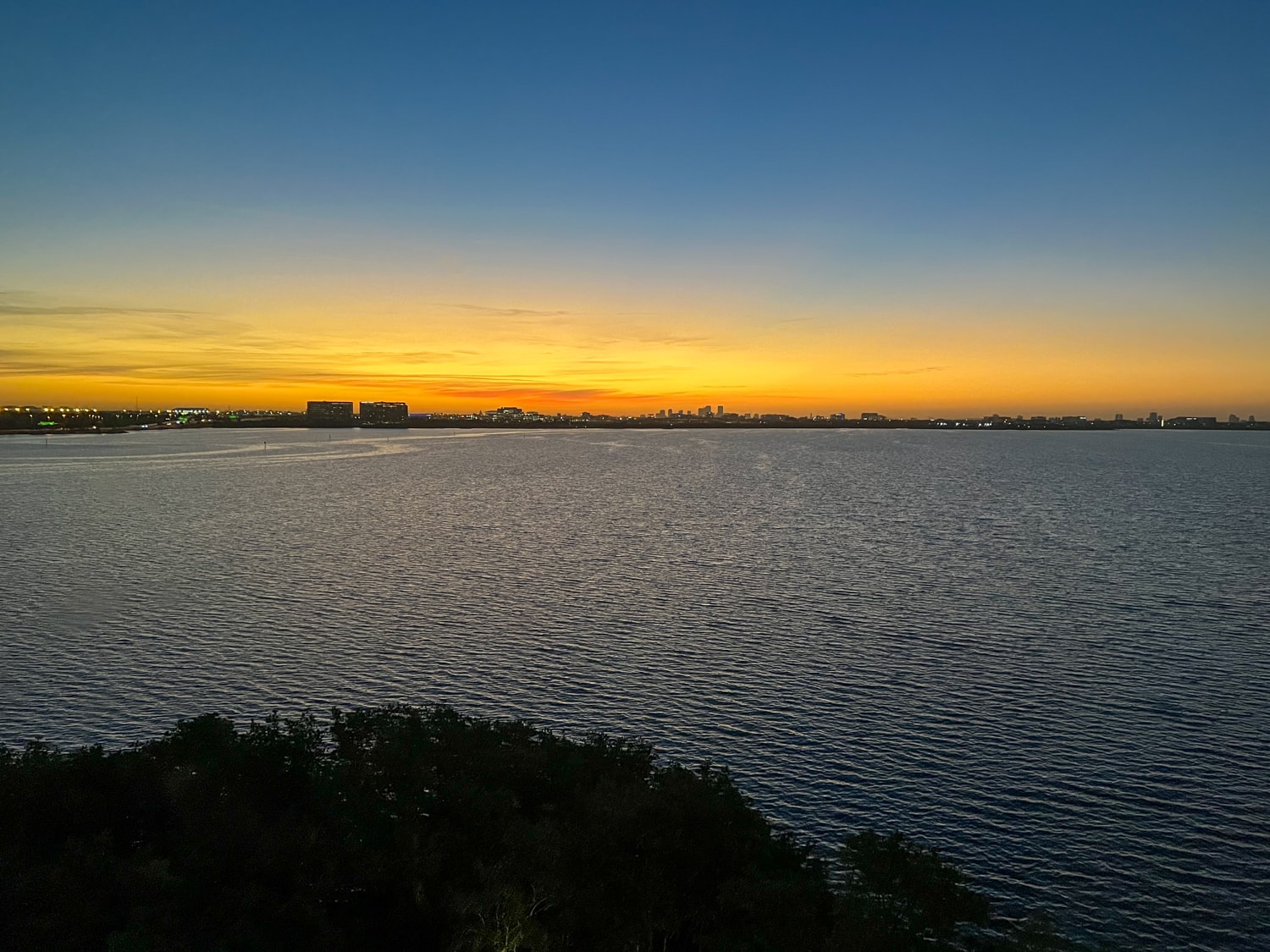 When I had to return to my room mid-day, I'd also take time to enjoy the views of the bay.
With the sun higher in the sky, you can get a better sense of the shallowness of the water in Old Tampa Bay (northeast Tampa Bay). On average, Old Tampa Bay is only about six to 16 feet deep.
Closer to downtown, humans have dug channels as deep as 40 feet or more to allow cruise ships and other large vessels to access the city.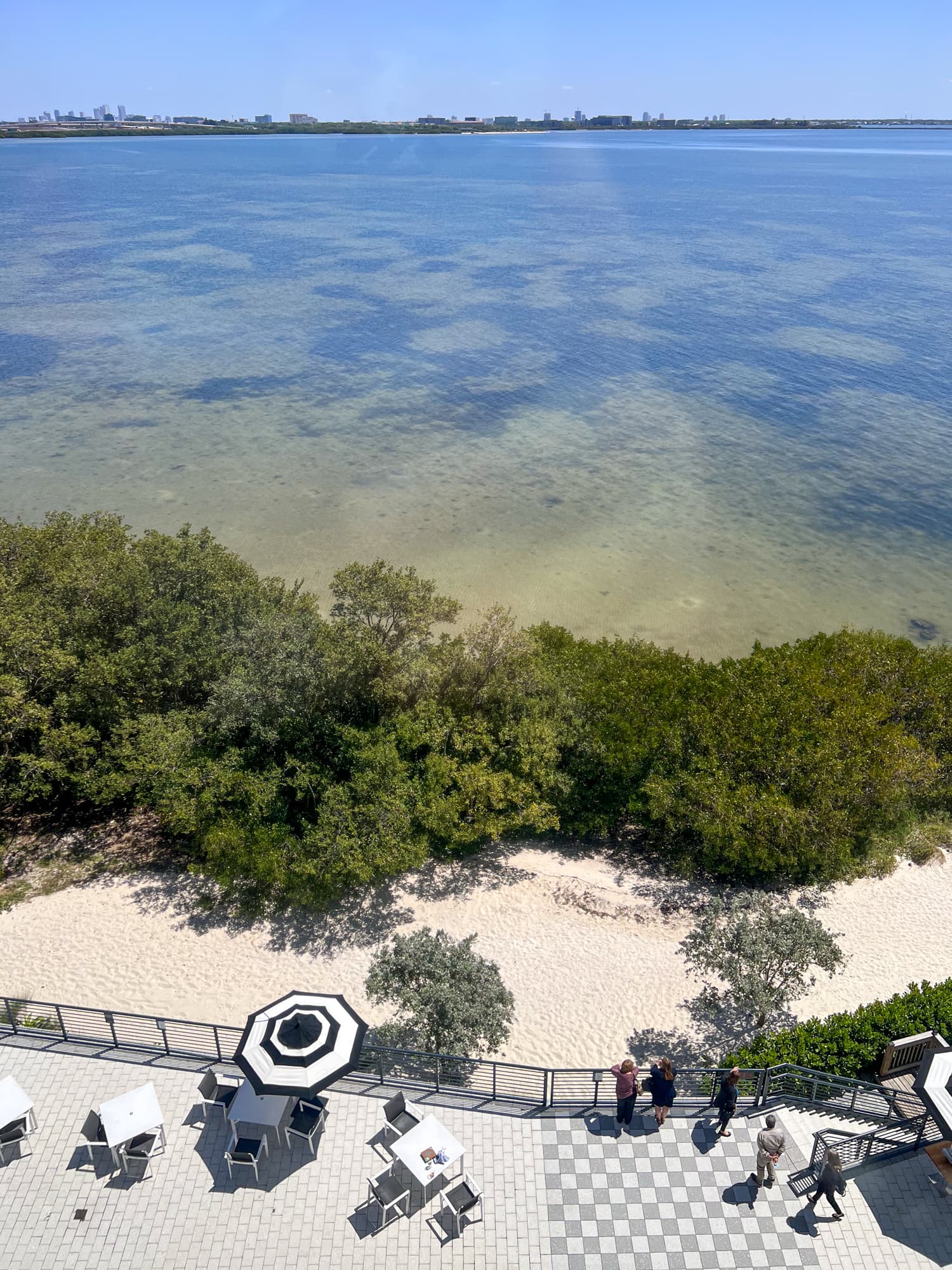 Amenities
Pool
My room on the sixth floor also had a bit of a view of the pool, and it looked so inviting that I put pool time on my calendar.
After a zipline session at a nearby park in western Tampa on my third day, I returned to The CURRENT Hotel and changed into a bathing suit.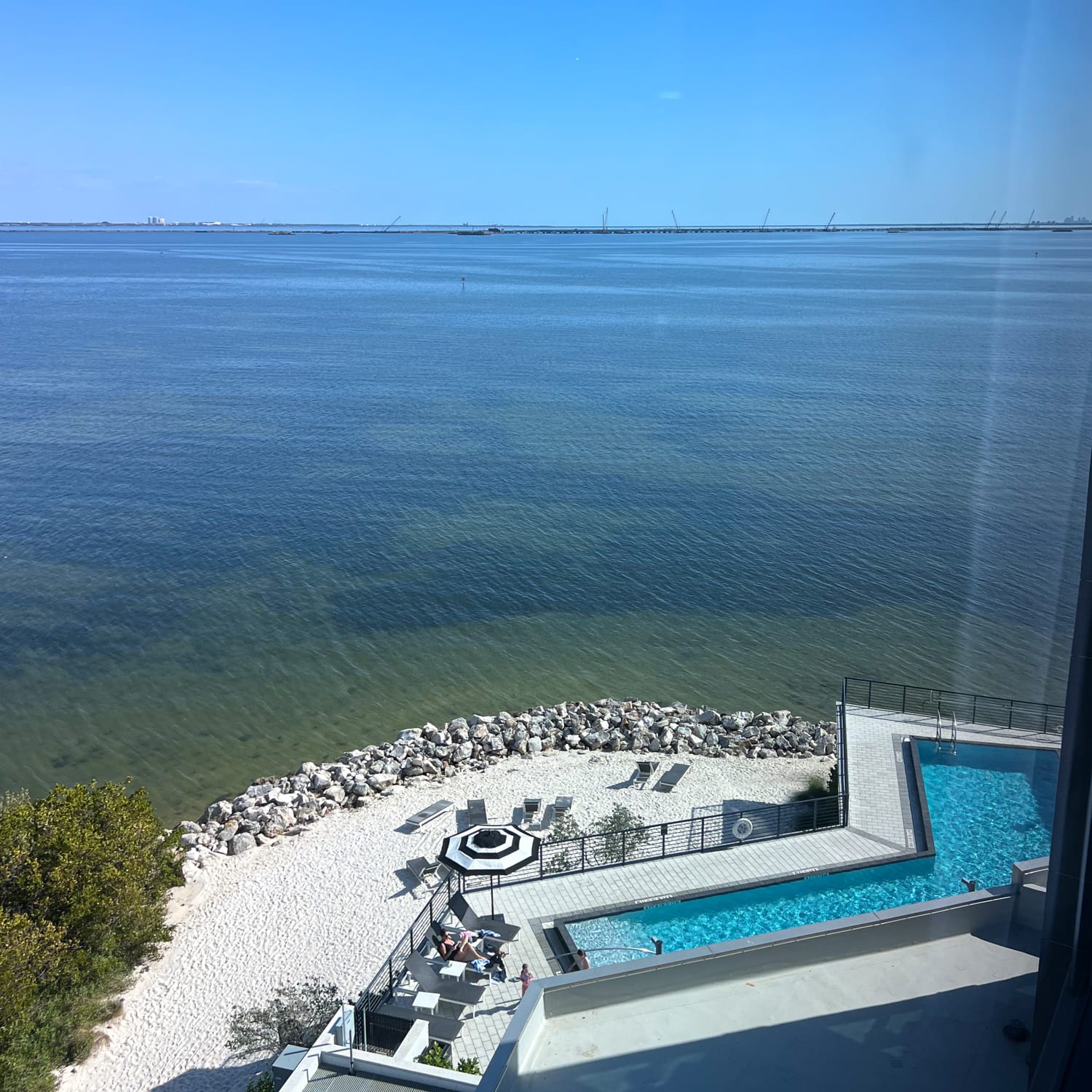 Towels are available at no cost on the pool deck, accessible from the ground floor with your room key.
It's shaped like a boomerang, and once I picked out a chair and lay down, I realized it was an infinity pool.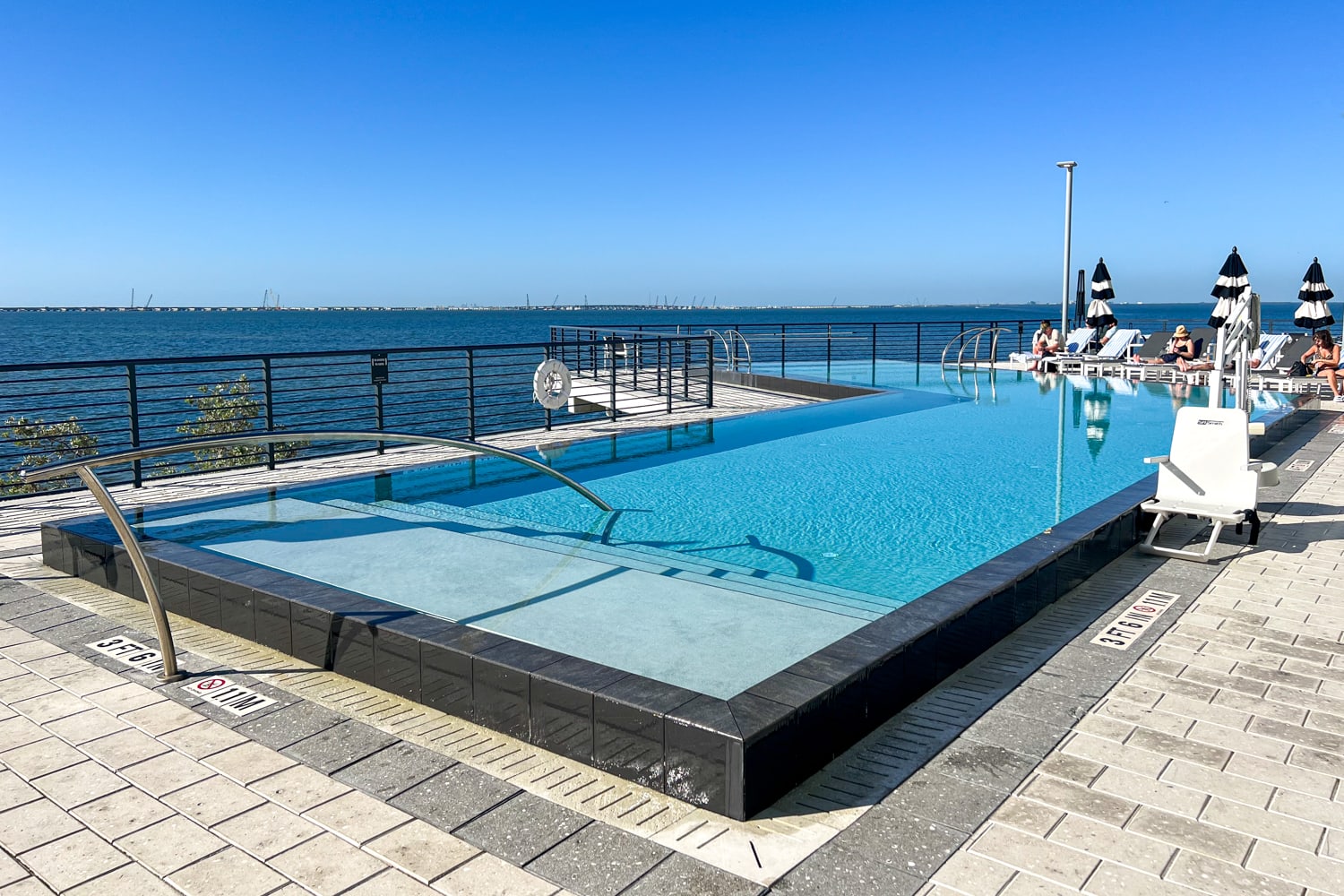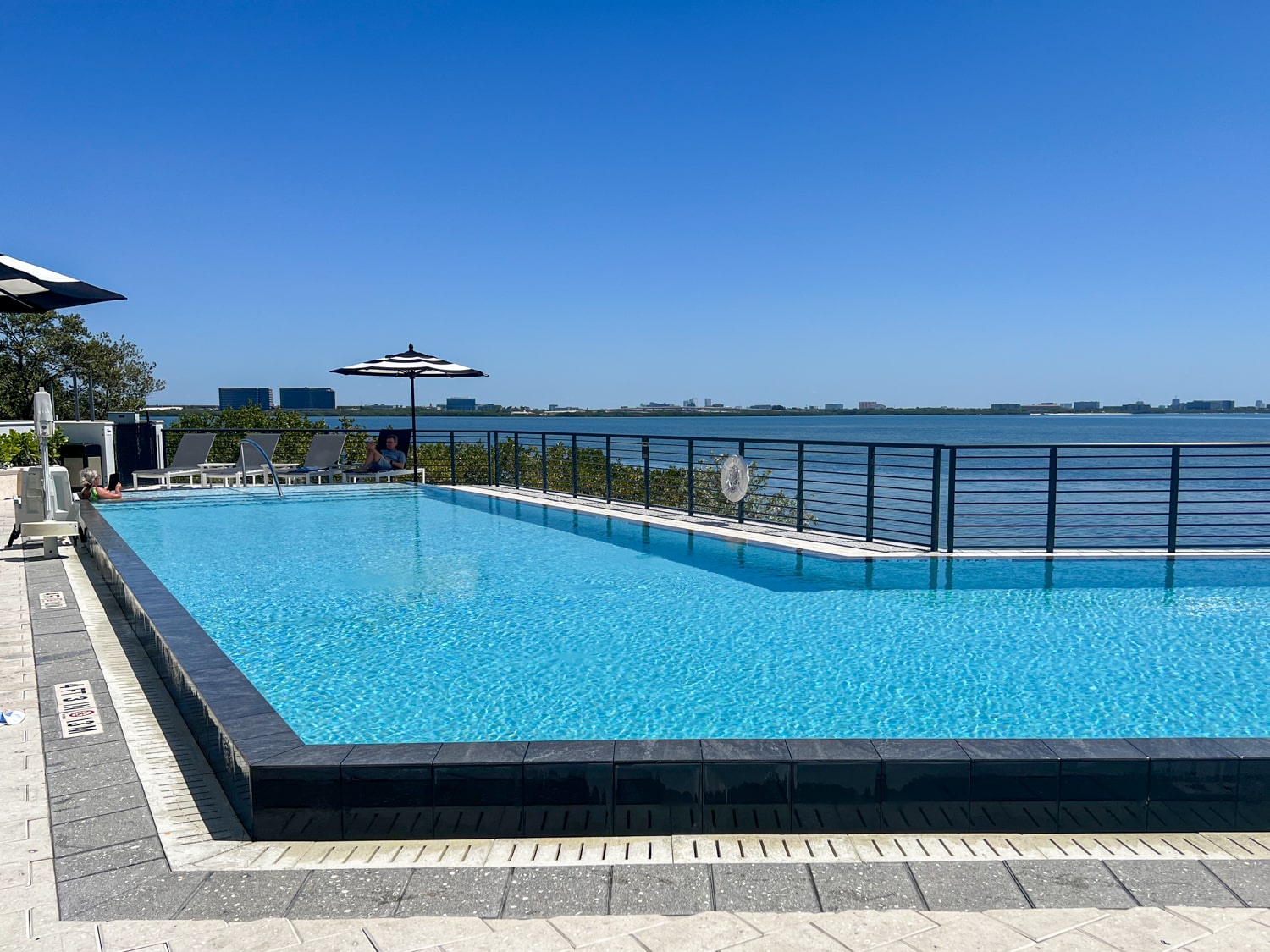 It was midday, and the pool water was sparkling. I took a quick dip and spent the rest of the time admiring the view of Tampa Bay.
There are umbrellas; however, they were all taken, so I didn't linger too long.
Later that night, I returned to the nearly-empty pool deck after dinner to catch the fast-fading sunset.
I heard some splashing in the dark waters and realized I was looking at a dolphin swimming nearby! It was a delightful moment.
Beach
Another fantastic feature of The CURRENT Hotel, Autograph Collection, is the private sand beach.
It's got about eight lounge chairs, which seemed enough to give the people using them some space.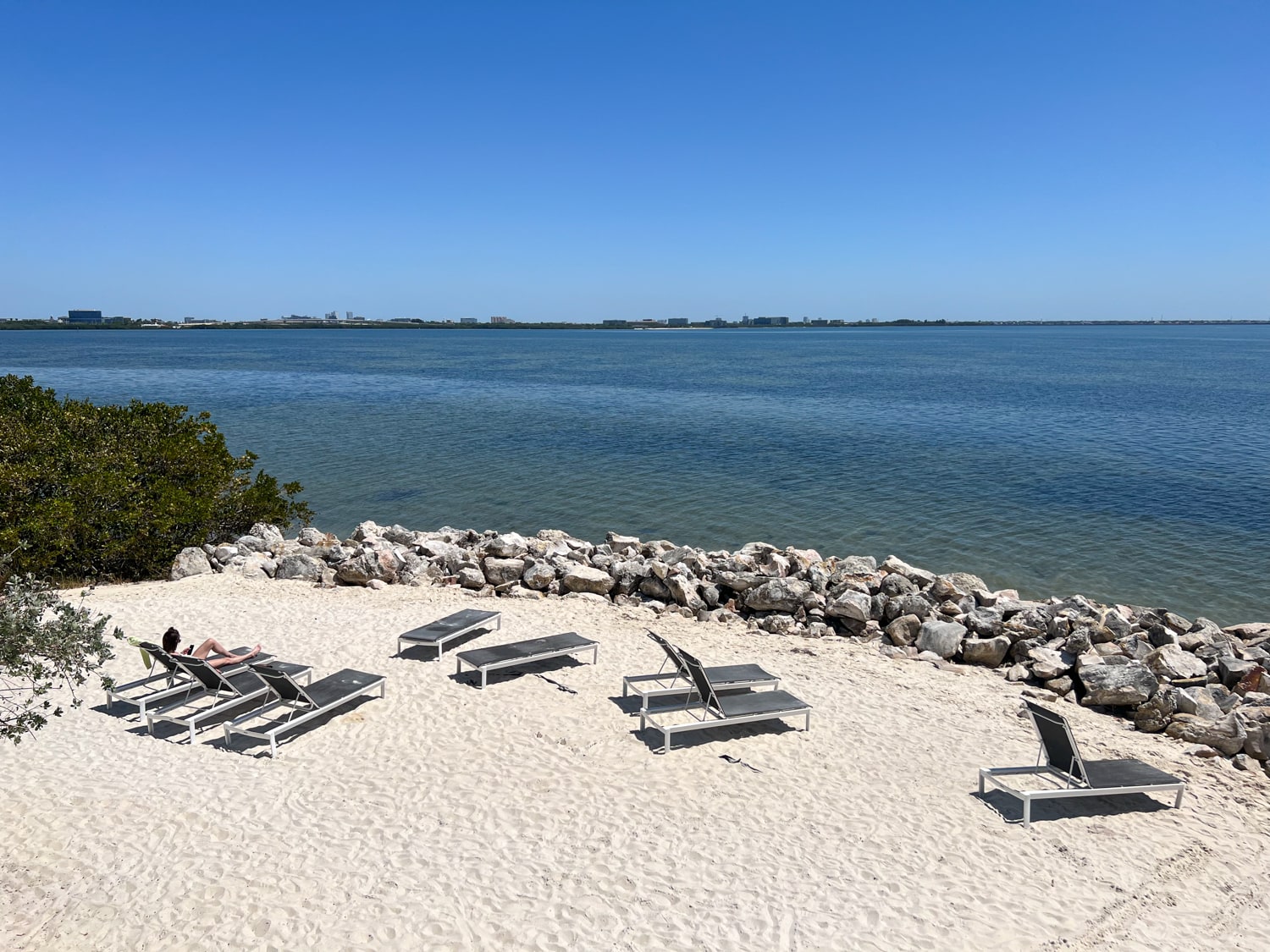 There's plenty of coastline around Tampa Bay but few beaches, so this is a rare opportunity to enjoy sand under your toes.
Fitness Center
The ninth floor has a modern fitness center with cardio equipment and free weights.
If you want to sit on a stationary bike and get some miles in, you'll enjoy a terrific view of the water as you do.
Dining
The CURRENT Hotel dining options extend from the ground floor to the roof. Let's start at the top.
Rox Rooftop Bar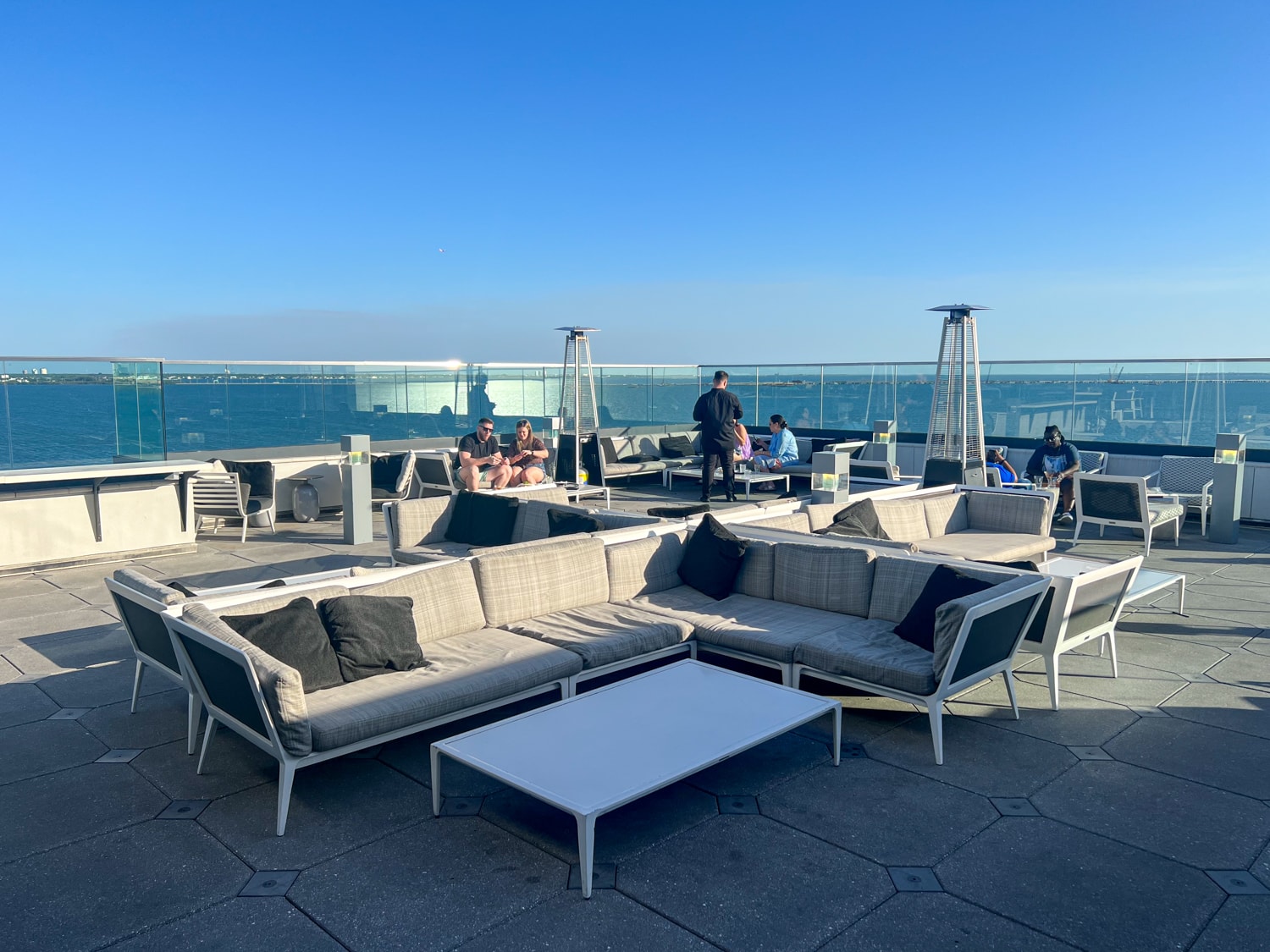 Tampa's highest rooftop bar is the Rox on the 12th floor of The CURRENT Hotel. The bar opens at 5 p.m. daily, and happy hour runs until 7 p.m.
There's indoor and outdoor seating and plenty of room for everyone interested in drinks with a view.
The happy hour menu features small plates such as blue crab dip, lobster lettuce wraps, and yellowfin tuna tacos.
CURRENT Concoctions are $12 each and include a mule, old fashioned, negroni, mojito, and margarita. These are typically priced from $14 to $18.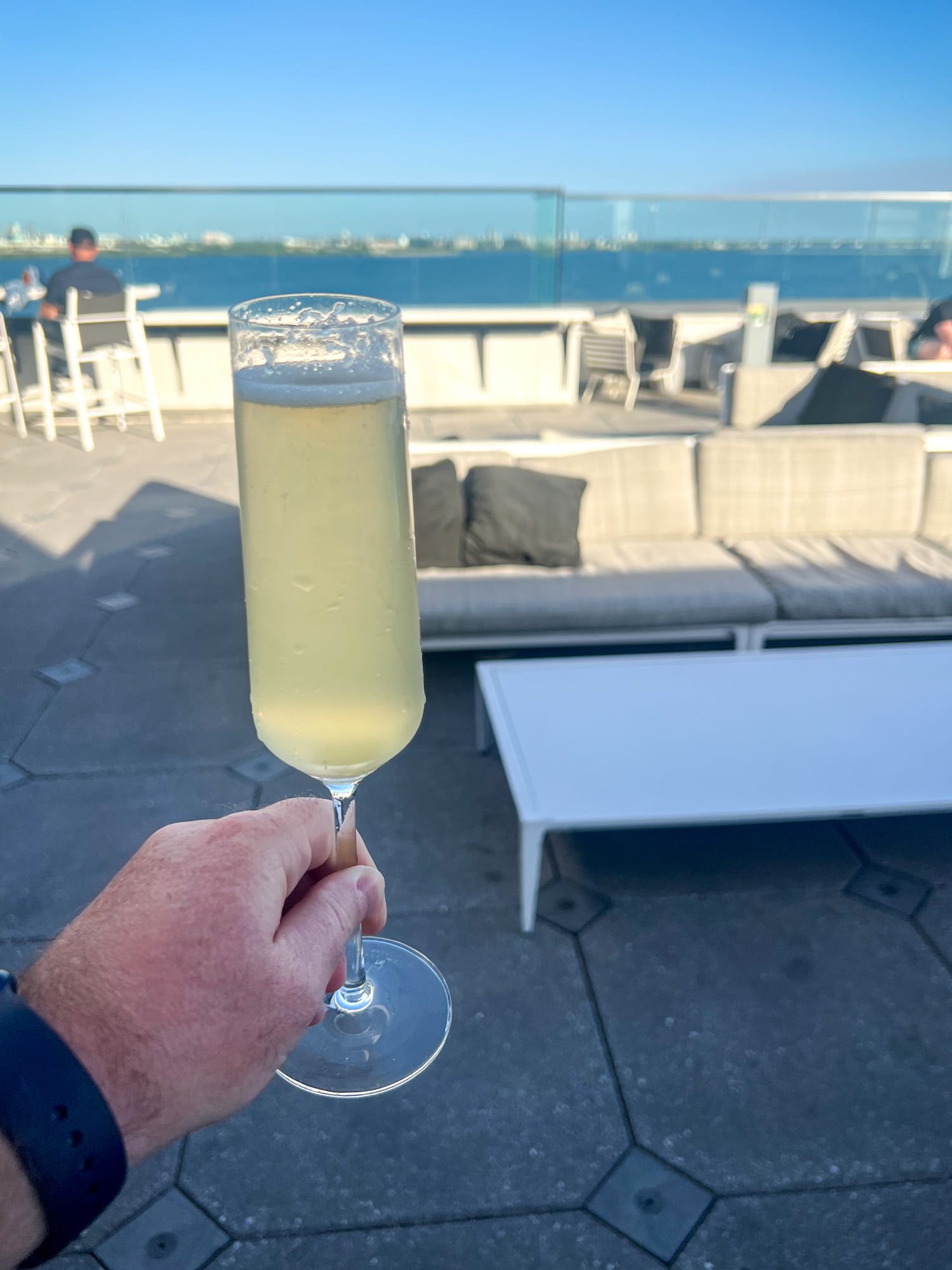 I ordered Love Potion, a French 75 with Wheatley Vodka, lemon, and Jeio Rose Prosecco.
Other fancy cocktails included Peach, Please, a twist on a mint julep, and Swipe Right, a floral tequila cocktail.
They've also got a selection of wines and beers available. A 20% service charge is included on each check.
Julian Restaurant
On the main level, Julian Restaurant serves chef-inspired dishes using fresh local ingredients.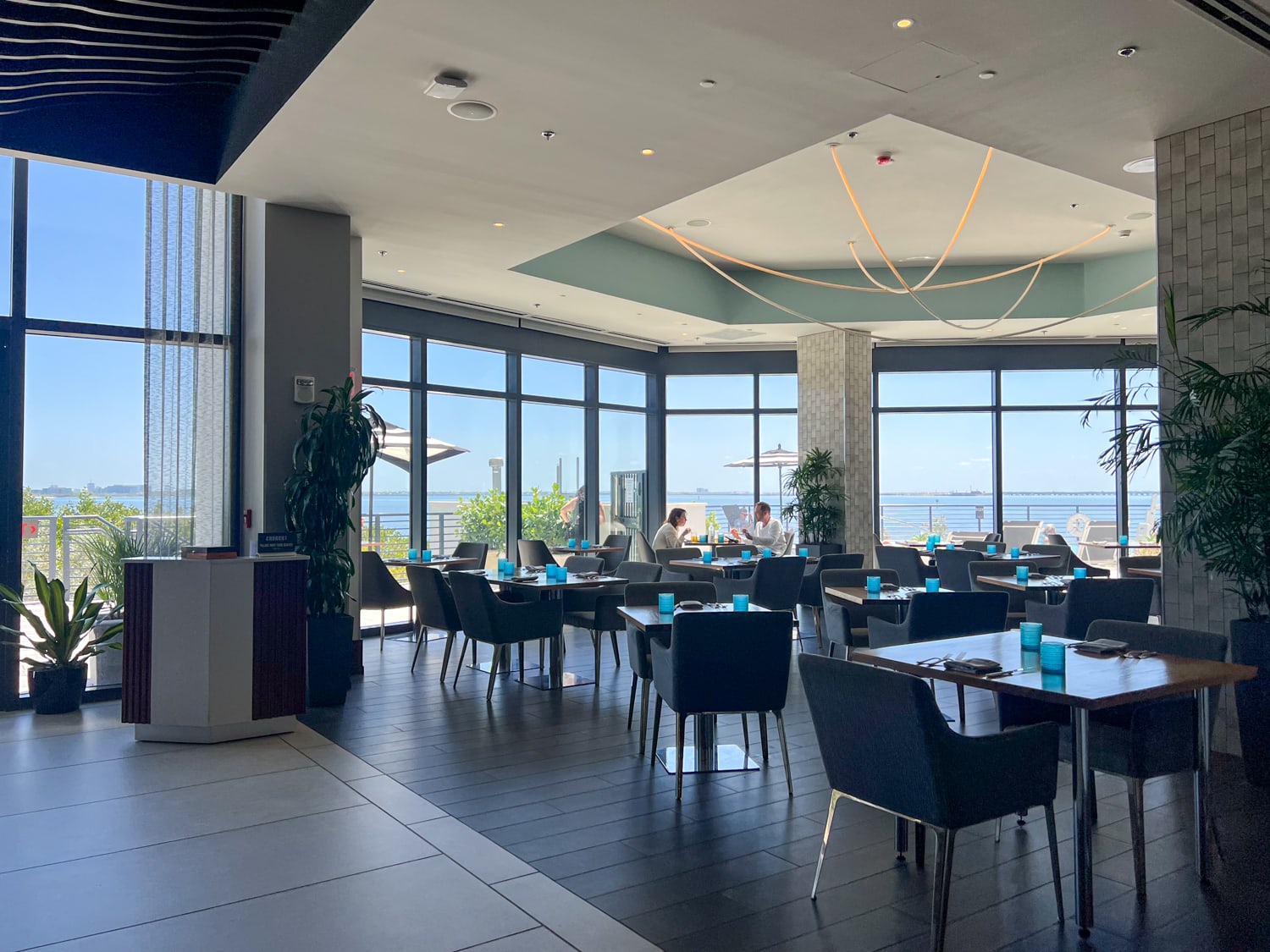 I hadn't planned to get another drink after happy hour on the rooftop, but the options on the restaurant drink menu looked appetizing.
The pink Vaporwave cocktail is as refreshing as it is colorful, made with Hendricks Gin, hibiscus, ginger, and rose.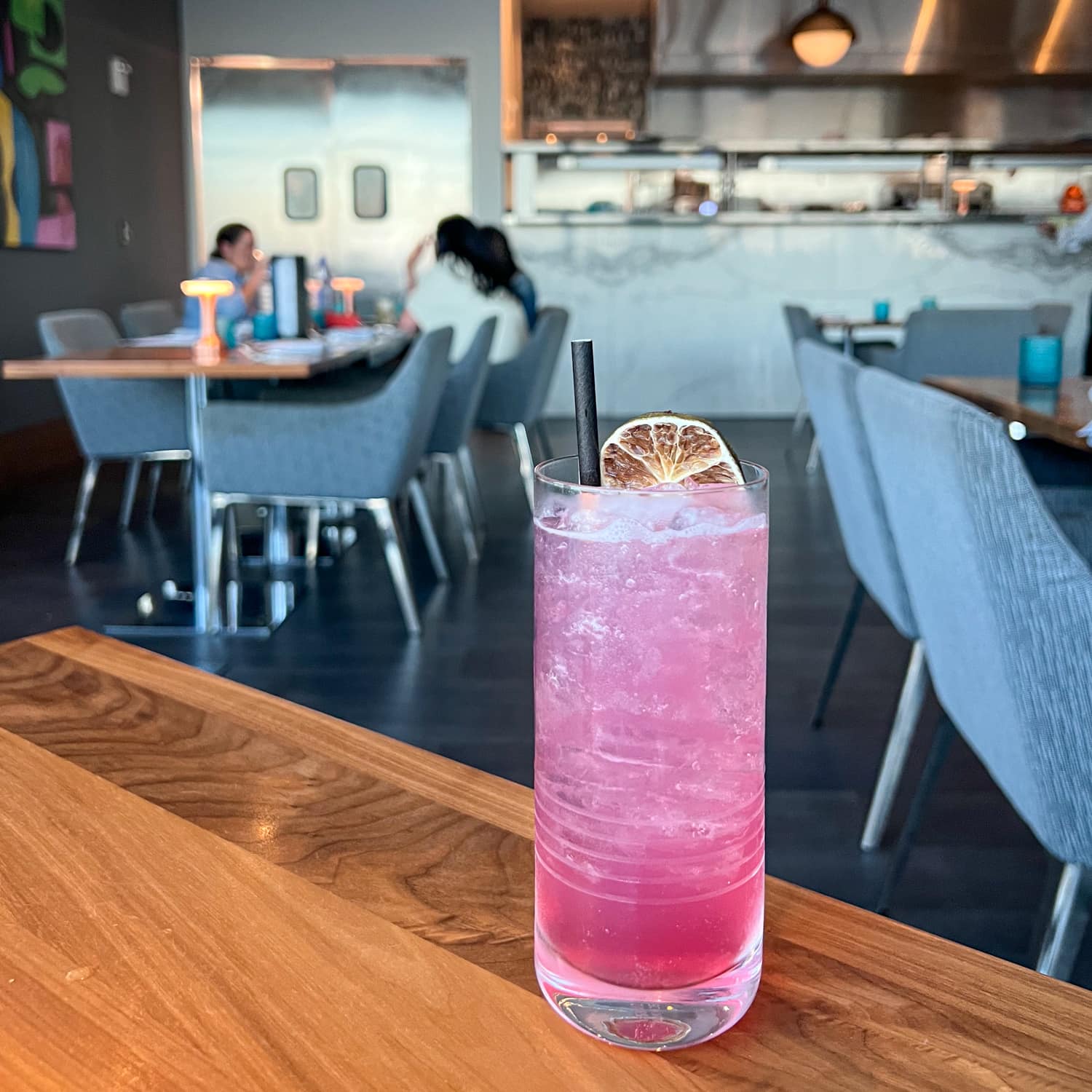 I felt fortunate to be there as I sipped my drink, perused the dinner menu, and occasionally looked up to see guests enjoying the pool.
Julian's signature dish at the time was a whole Florida Yellowtail Snapper, which would've been a bit too much for me.
There was a selection of salads for those eating healthy and small plates such as pork belly, crab cake, and lamb lollipops.
Shareable plates included crispy Brussels sprouts, tuna tartare, and duck confit arepas.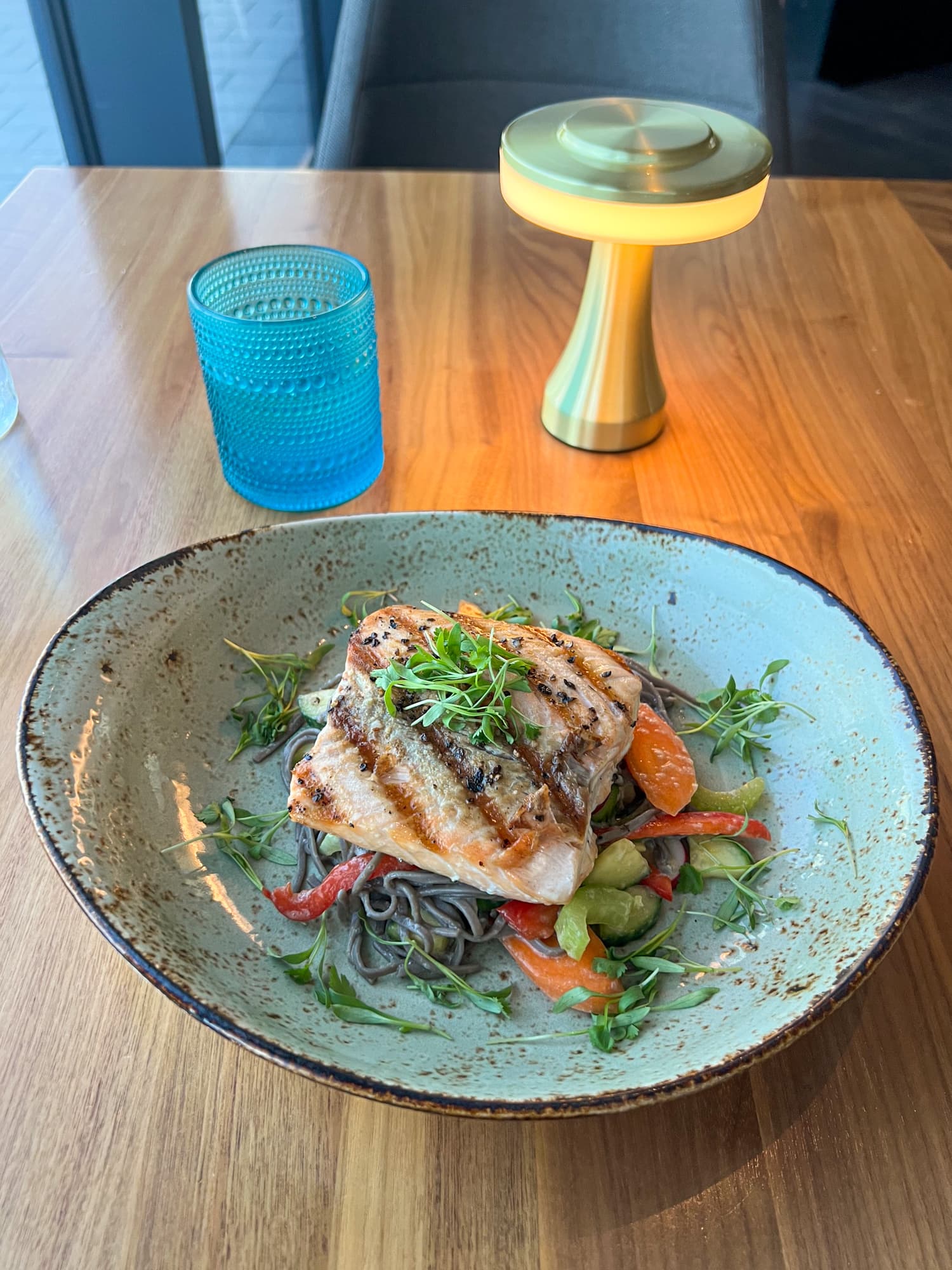 I went with a single entree, the Verlasso salmon with soba noodle salad, fresh vegetables, and a coconut and pistachio soy dressing ($34). It looked and tasted fantastic!
Other options included a grilled swordfish, Cheshire pork chop, filet mignon, and burger with caramelized red onion.
I got the Espresso Pots de Creme with Buddy Brew espresso chocolate custard, fresh whipped cream, and berries for dessert. It, too, was tasty.
At the restaurant, a 20% gratuity is only automatically added for parties of six or more.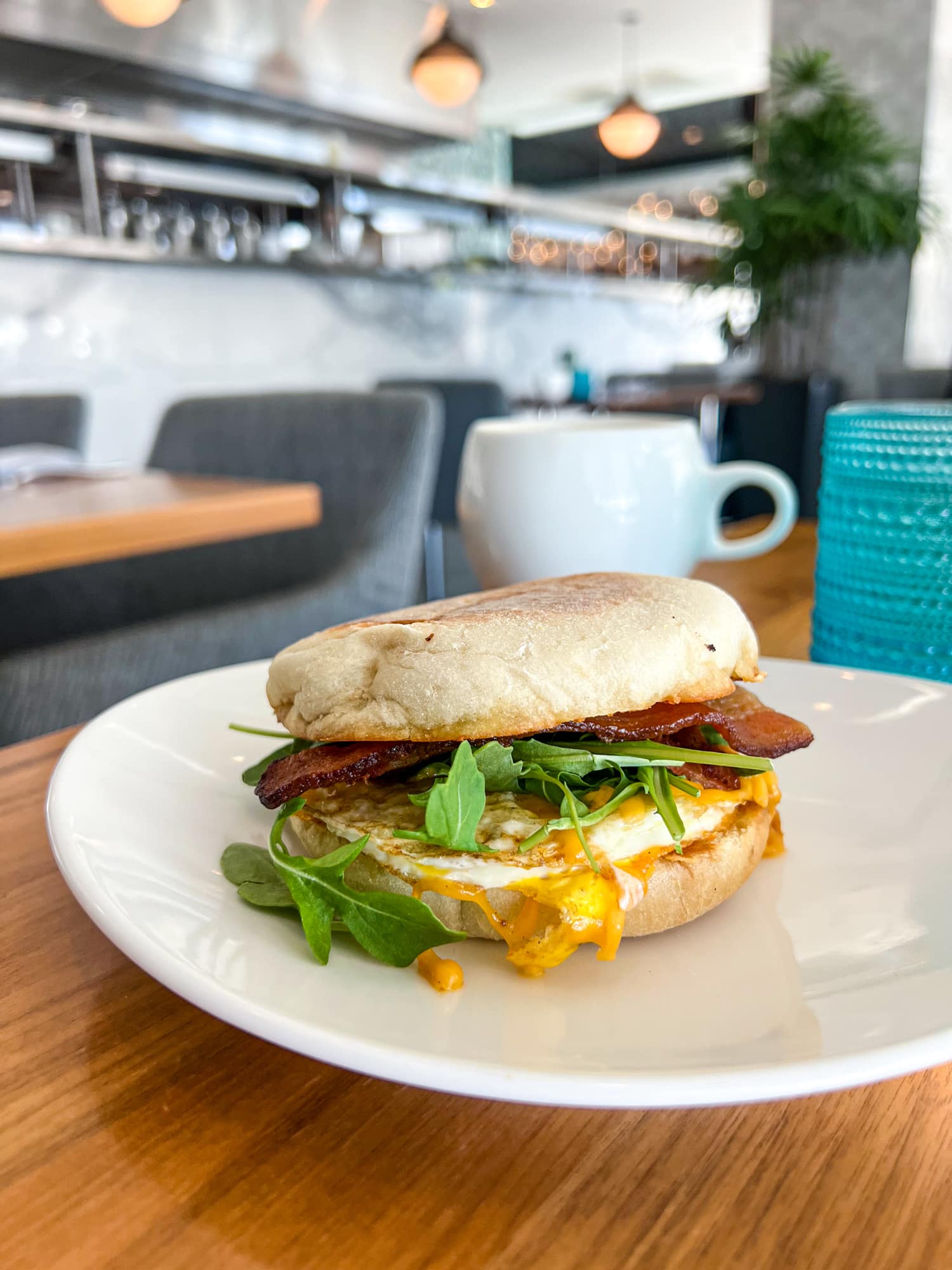 On my final morning at The CURRENT Hotel in Tampa, I returned to Julian Restaurant for breakfast, ordering a cappuccino and breakfast sandwich.
It was a simple but tasty meal to wrap up my stay at the hotel. The only thing left was to pack and check out before noon.
What's Nearby
Top Restaurants
The following are three of the roughly 20 Michelin-recommended restaurants in Tampa:
Activities
The following attractions and points of interest are listed in order from those nearest to farthest from the hotel.
Courtney Campbell Causeway West Trail - A 16.2-mile trail for biking or walking.
Ben T Davis Beach - A narrow stretch of sandy beach a short distance west of Rocky Point, along the causeway.
Rocky Point Golf Course - Dating back to 1911, this course, located between the hotel and the airport, offers 18 holes.
Raymond James Stadium and George Steinbrenner Field - Home of the Tampa Bay Buccaneers football team and the New York Yankees spring training, respectively. The stadiums are next to each other, about 5.5 miles away (12 minutes).
Tampa Convention Center, Marina, Riverwalk, and Amalie Arena - It's about 9 miles (a 20-minute drive) to reach the central waterfront and the Tampa Bay Harbor District.
Empower Adventures Tampa Bay - A zipline and obstacle course that's fun and challenging for all ages. It's about 11 miles away (a 20-minute drive).
ZooTampa at Lowery Park - See orangutans and many more cute animals at Tampa's zoo, about 13 miles from the hotel (a 20-minute drive).
Airports
Tampa International Airport - 4.6 miles
St. Petersburg-Clearwater International Airport - 20 miles
Final Thoughts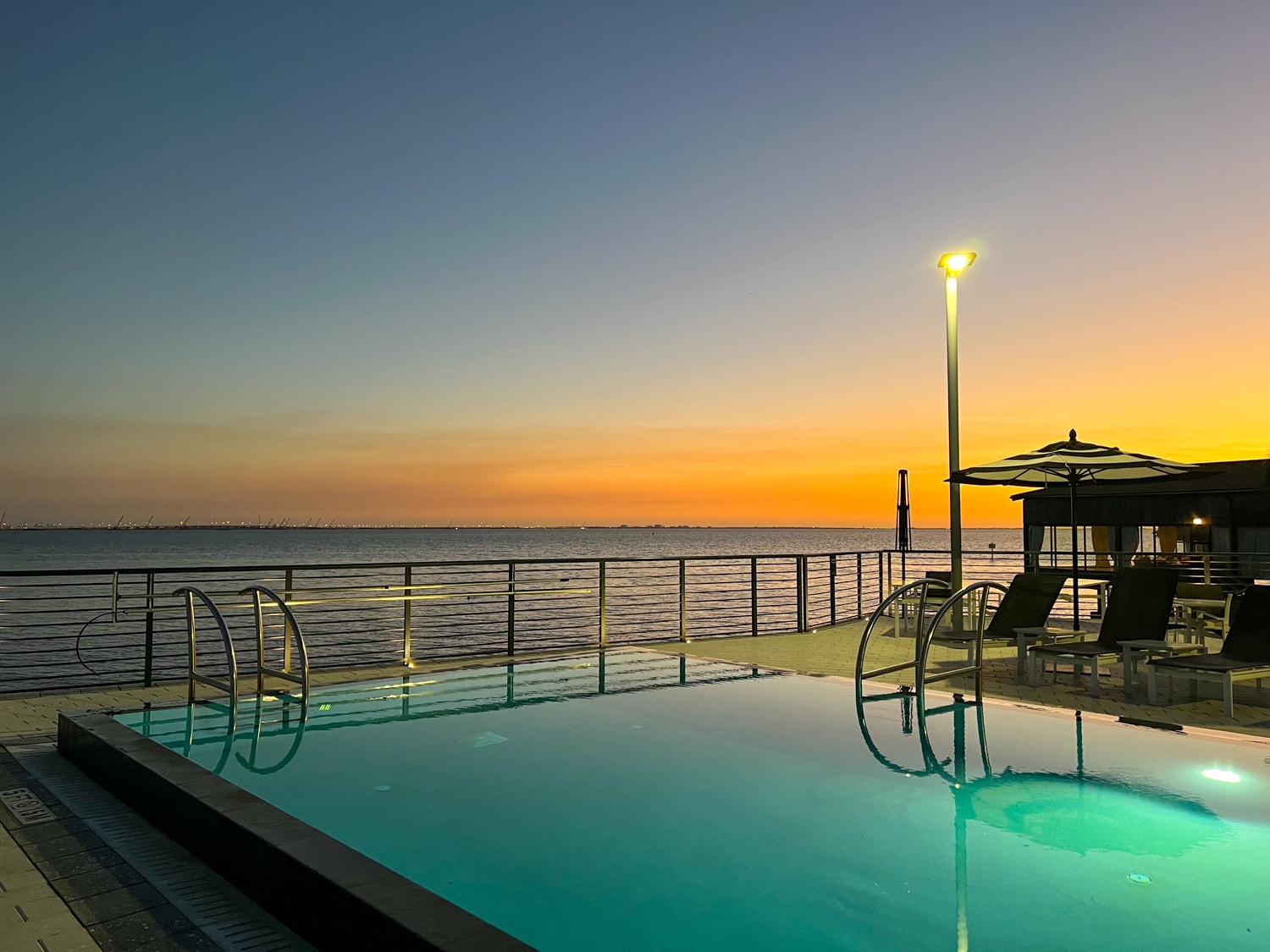 Overall, I had a wonderful stay at The CURRENT Hotel, which offers comfortable rooms, all with water views, and unique amenities like Tampa's tallest rooftop bar and a sandy beach from which to read a book or watch for dolphins.
It's a little removed from downtown Tampa, but that's part of why people choose to stay here. I was reminded of that every time I walked into my room and felt instantly at ease.
The CURRENT Hotel, Autograph Collection
2545 North Rocky Point Drive
Tampa, FL 33607, United States
Marriott.com
_____
My stay at this hotel was part of a trip hosted by Visit Tampa Bay.