For foodies traveling to the Pacific Northwest, there's no better place to begin than Pike Place Market in downtown Seattle, Washington.
Created on August 5, 1907, Pike Place Market is one of the United States' oldest and largest continuously operating public farmers markets.
This historic district holds a century's worth of stories within its vendor stalls and restaurants, so I felt a food tour would be an excellent way to get my bearings.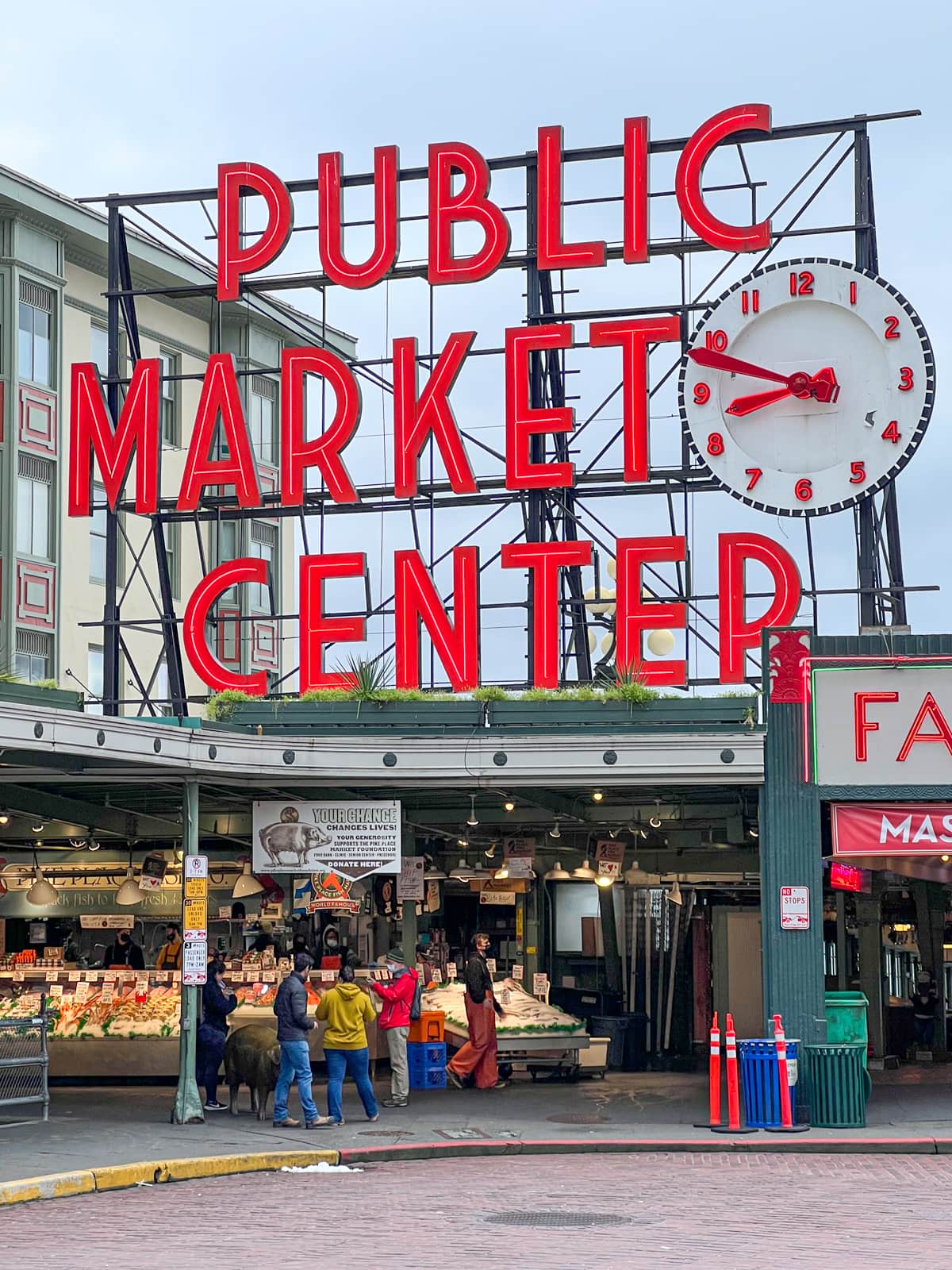 Pike Place Food Tour
A quick Google search led to Show Me Seattle's Taste Pike Place Market Food Tour.
The two-hour guided tour runs several times a day, costs about $49, plus tax and tip (I paid $69 total), and includes plenty of samples.
Before my tour, I took a quick walk past the famous gum wall, one of Seattle's most popular attractions; it's equal parts fascinating and gross.
Then, I met our guide, Nola, under a giant hanging squid inside Pike Place Market for a 1:30 p.m. tour on a Friday afternoon.
Six other tourists were joining us; Nola told us group sizes could swell to twice that in the spring and summer.
We sat at a small table in front of Atrium Kitchen, a food bank of sorts that serves over 35,000 free meals for seniors and people experiencing homelessness.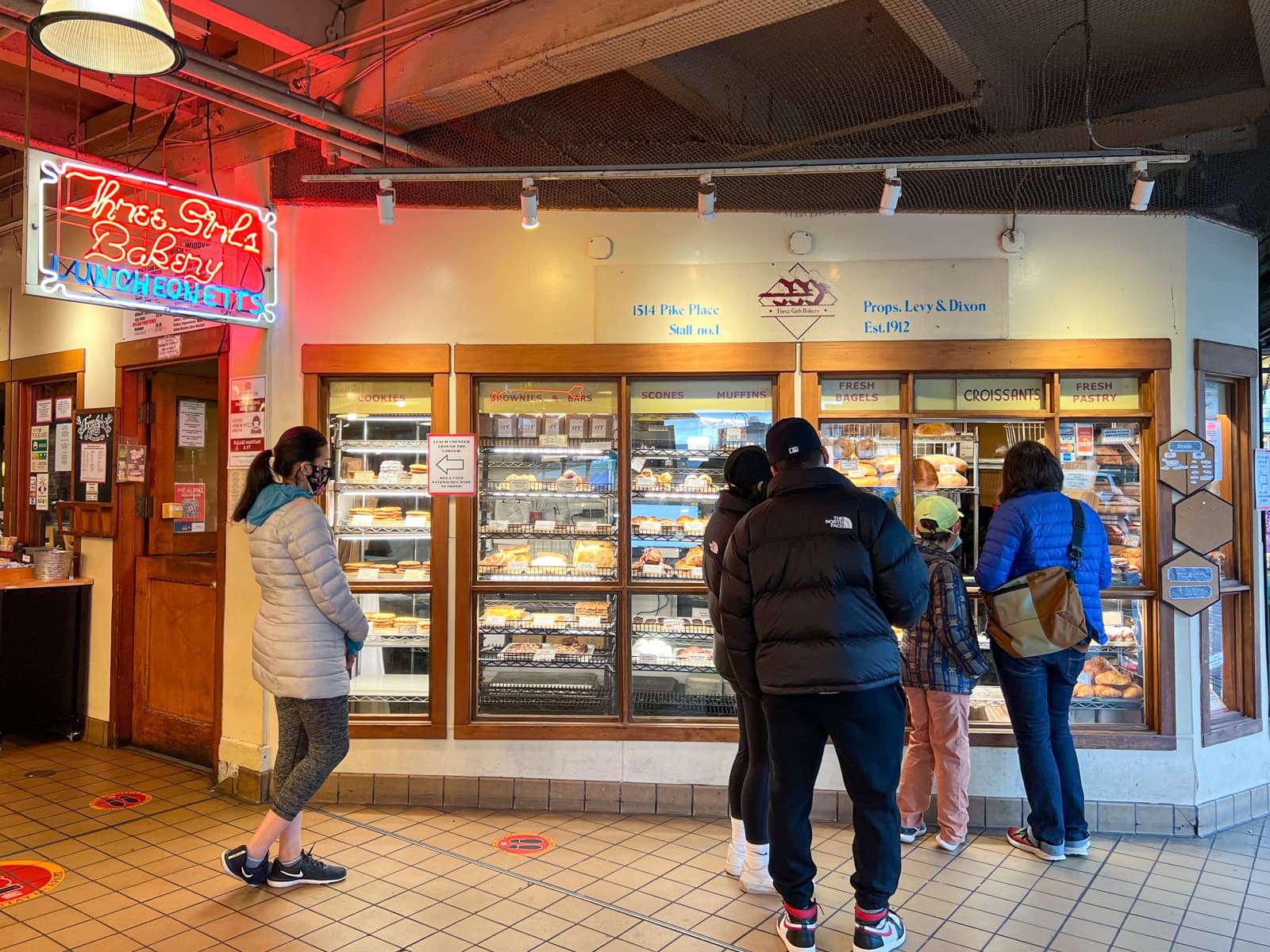 Three Girls Bakery
After introducing ourselves, she began unwrapping our first treat, a raspberry bar from Three Girls Bakery.
The Three Girls Bakery has been in business at Pike Place Market since 1912 and was the first business licensed to women in the city of Seattle.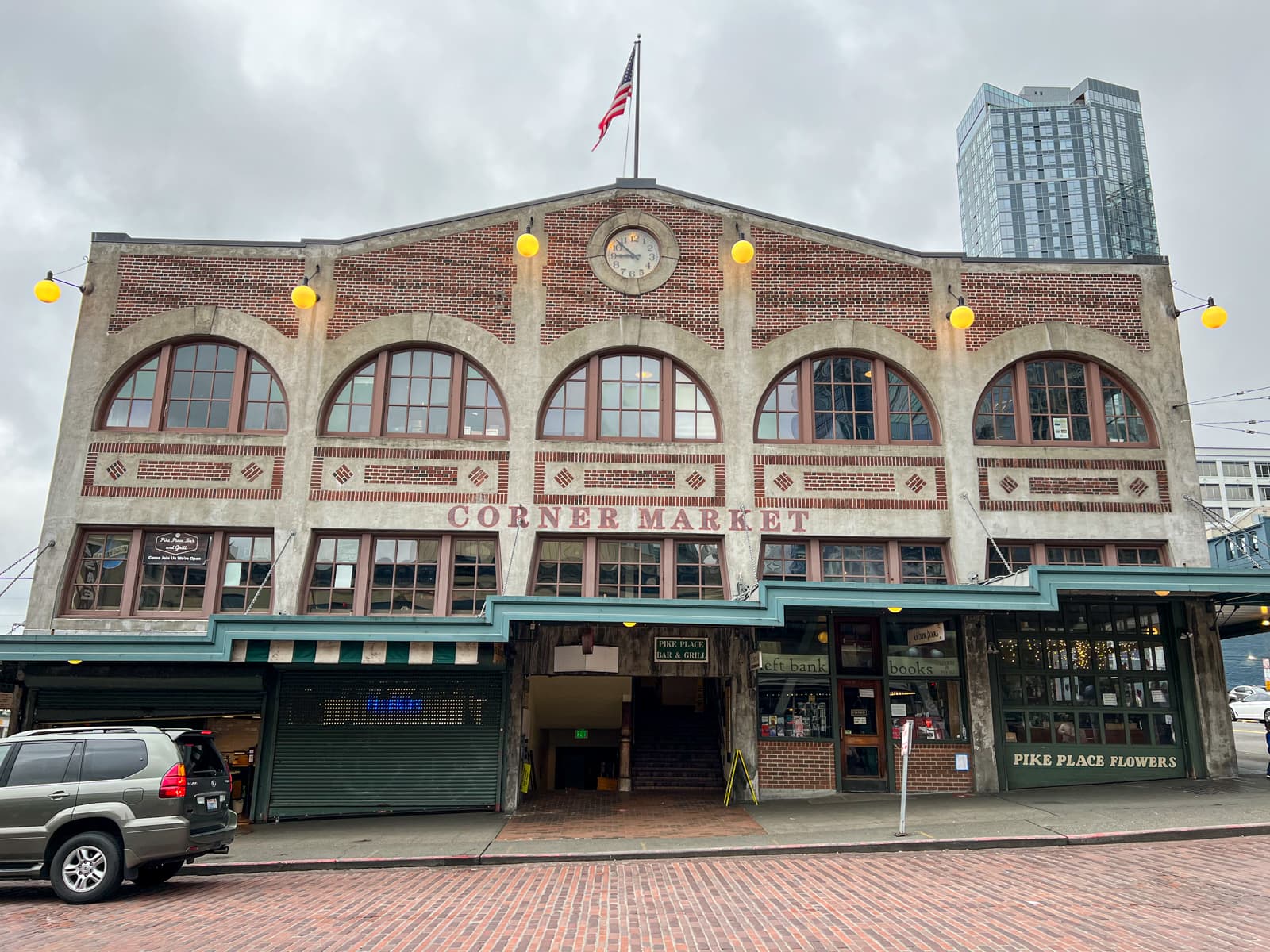 Ellenos Greek Yogurt
Next, Nola led us out of the building and across the street to a newer business, Ellenos Greek Yogurt, a great place where we sampled fresh blueberry yogurt.
The rich, full-fat yogurt reminded me of Noosa, one of my favorite store-bought brands.
The yogurt shop occupies a prime location in the red brick Corner Market building where Pike Street turns into Pike Place, and the famous red neon Public Market Center sign can be seen.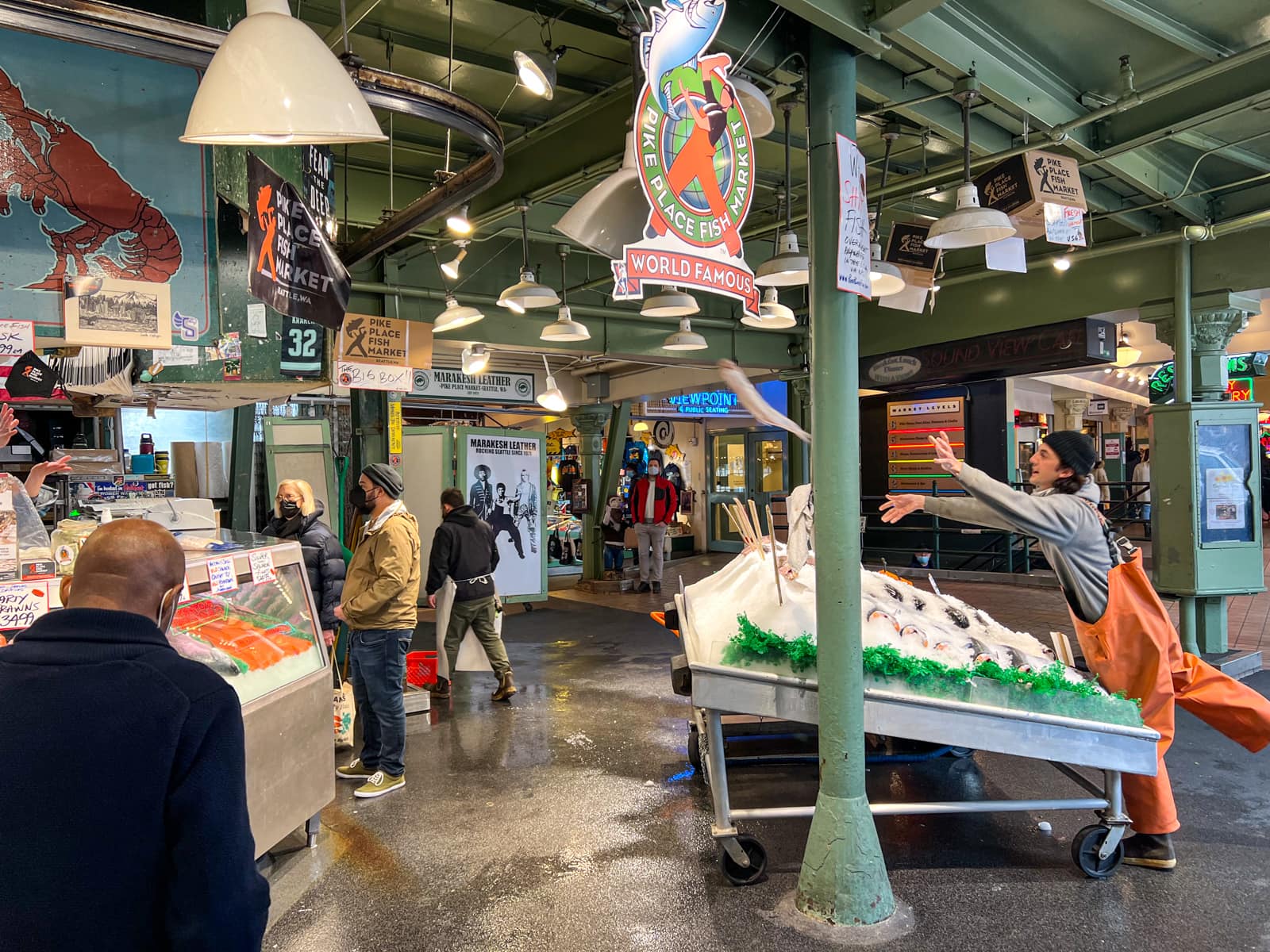 Pike Place Fish Market
Under that sign is the Pike Place Fish Market, where you can see the world-famous flying fish.
I saw fish tossing at Pike Place Market on the intro to MTV's Real World: Seattle, which aired in 1998.
Nearly 25 years later, I'd finally made it to the Emerald City and was admittedly excited to see the show.
Fun fact, it's surprisingly hard to photograph fish being flung across the market. But, that didn't stop me and others from trying to capture the action.
Our guide told us that the fresh fish get bruised from repeatedly being thrown, so they're donated to the local zoo to help feed the bears.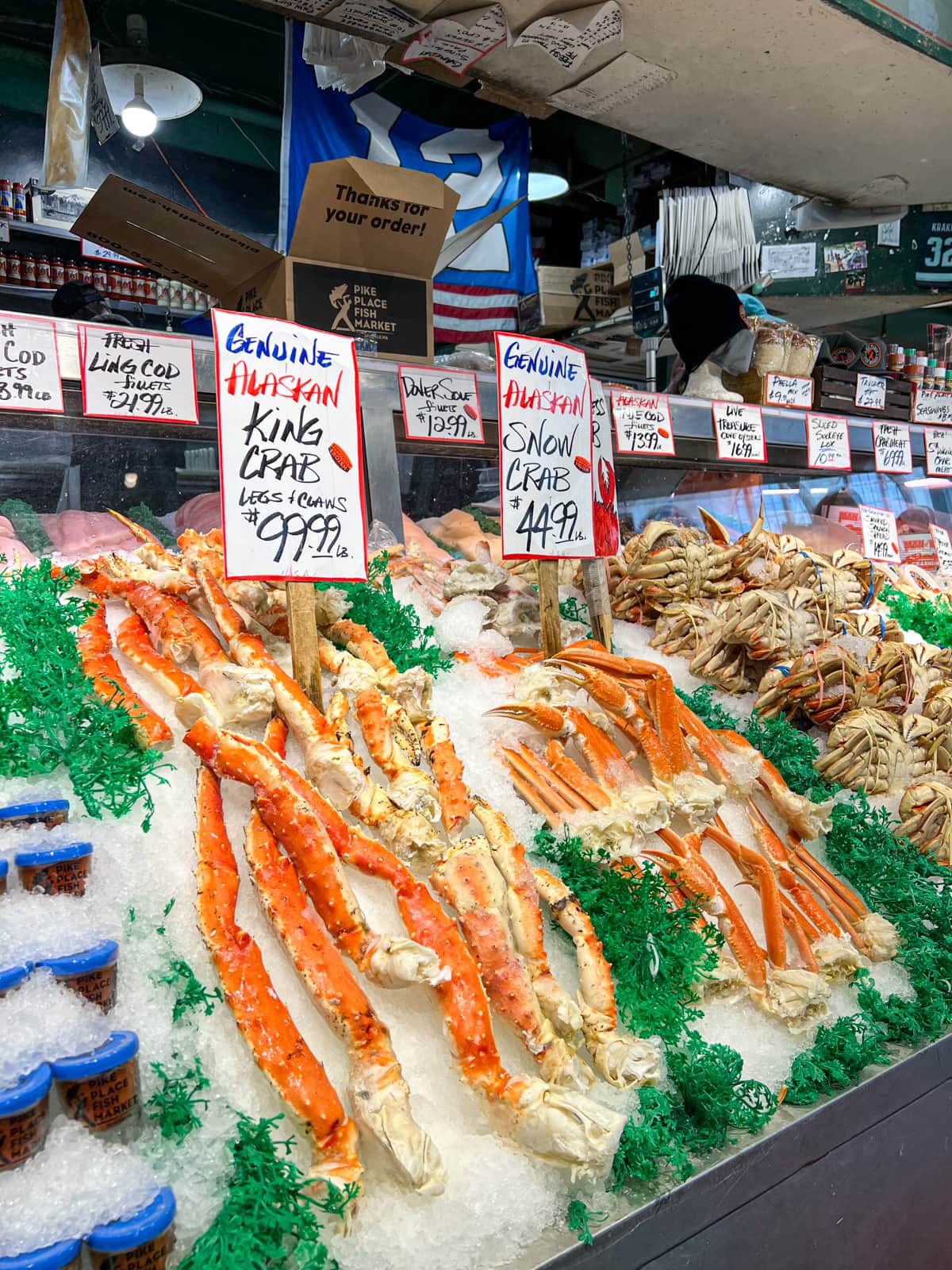 Gargantuan Alaskan king crab legs and claws were for sale at a penny shy of $100 per pound.
The Alaskan snow crab was a little less than half the price, and there was Dungeness crab, too.
Wild Alaskan salmon, Chilean sea bass, cod, and oysters were available, and everything could be shipped anywhere in the U.S. overnight via UPS.
As part of our food tour, we were given a sample of smoked salmon.
Secret Garden
Nola led us from the Pike Place Fish Market to the Secret Garden. Here, seniors living in apartments at the market grow fresh produce on the rooftop.
We sipped samples of spiced tea from Marketspice while watching ferries criss-cross Elliott Bay.
The sky was a steely grey, and the temps were in the forties, so we didn't linger long before heading to our next vendor.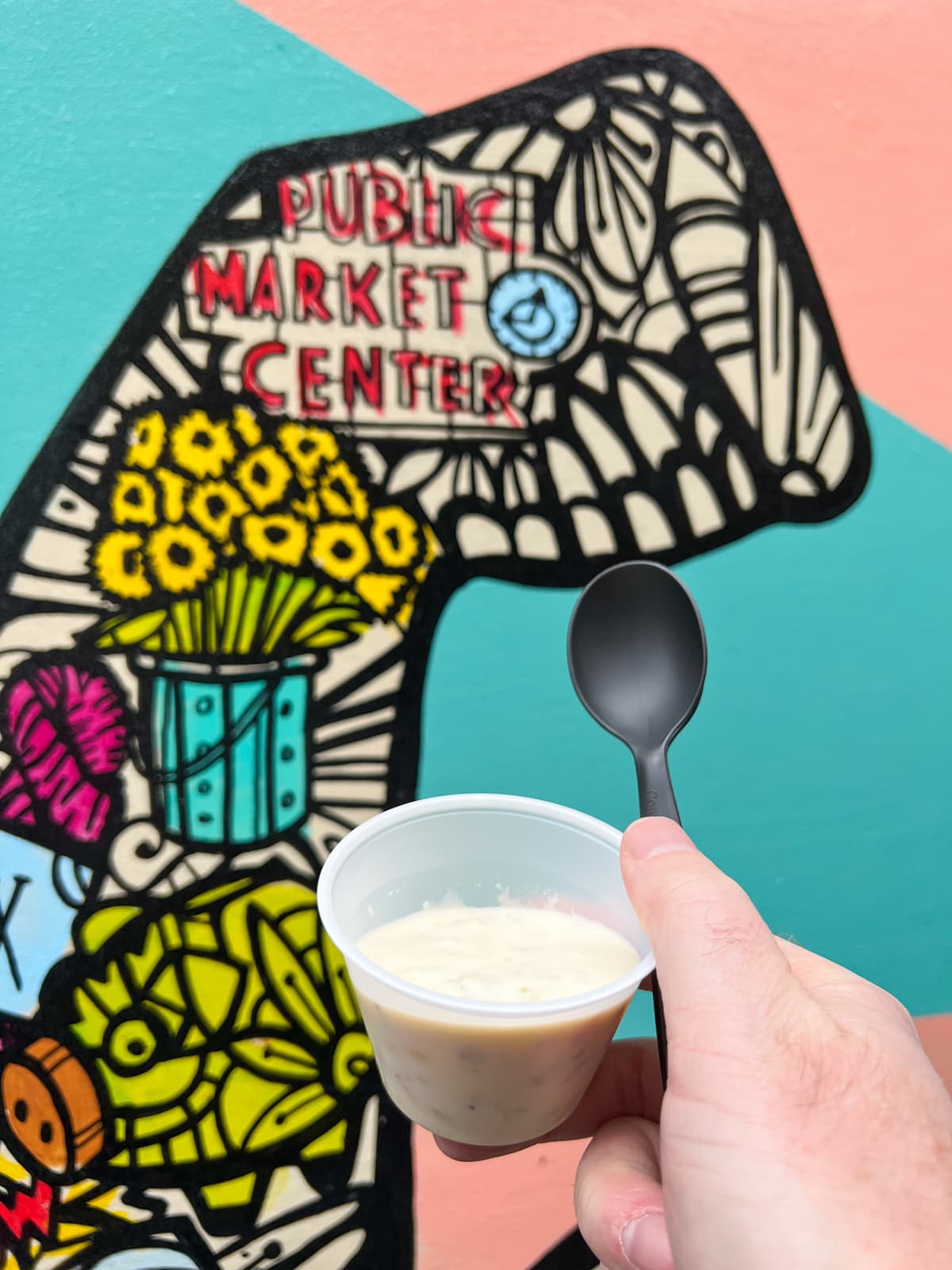 Pike Place Chowder
Pike Place Chowder specializes in one thing — chowder, and they do it exceptionally well.
This award-winning chowder restaurant opened in 2003 and has received regional and nationwide acclaim.
"Chowder: a rich soup typically containing fish, clams, or corn with potatoes and onions."

- Oxford Dictionary
Despite growing up in the Northeast U.S., I'm a latecomer to clam chowder. I tried New England clam chowder for the first time at the historic Union Oyster House in Boston and liked it.
The sample of New England clam chowder we were served from Pike Place Chowder warmed us up, and the tour continued.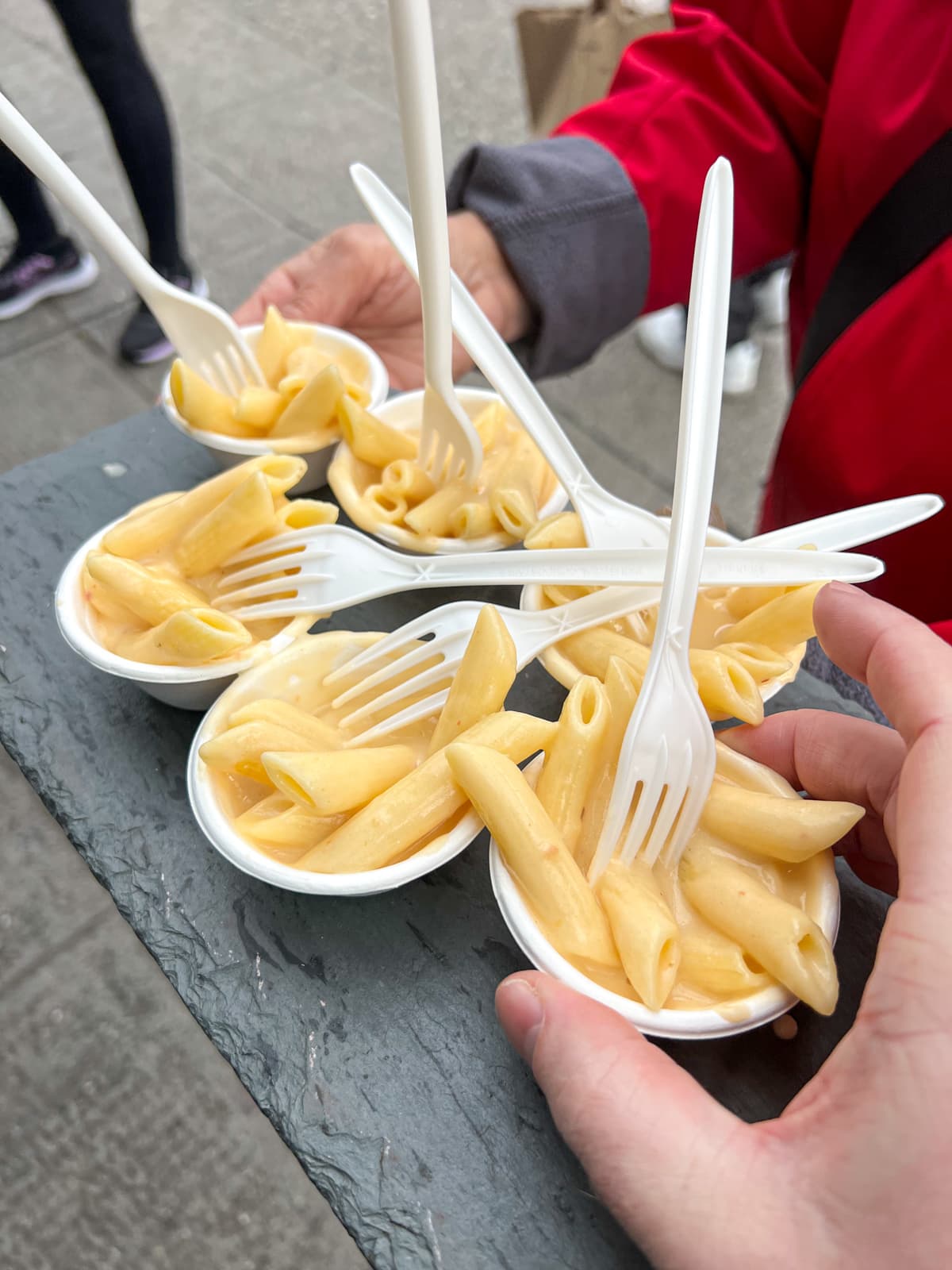 Beecher's Handmade Cheese
Around the corner, at the intersection of Pine Street and Pike Place, is beloved Beecher's Handmade Cheese.
One of Seattle's first artisanal cheese shops was opened by Kurt Beecher Dammeier here in 2003.
The glass windows of the corner location allow anyone walking by to see the cheesemaking process in action.
The equipment reminded me of my visit to a Parmigiano Reggiano factory in Emilia-Romagna, Italy.
While standing outside the shop, our guide brought cheese curds on crackers and samples of warm Beecher's mac 'n cheese to devour.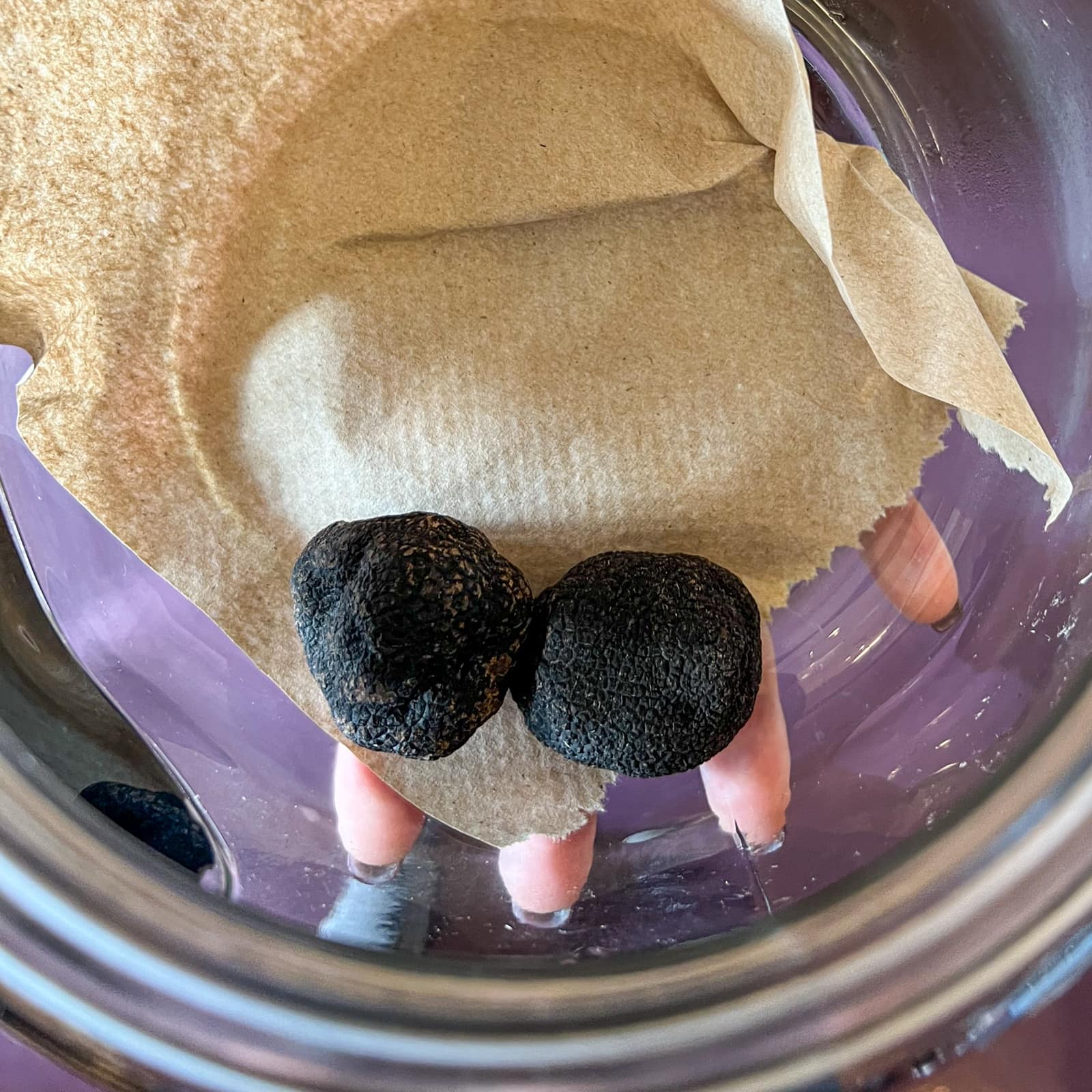 Truffle Queen
Half a block south of Beecher's is the Truffle Queen, a small family-owned shop specializing in truffles and truffle products at Pike Place since 2003.
(Clearly, 2003 was a banner year for Pike Place Market with Beecher's, Pike Place Chowder, and Truffle Queen all opening.)
Here, we were shown a pair of black truffles from Italy and tasted black truffle salt (surprisingly intense!), truffle sauce, and truffle and Parmigiano Reggiano.
Pike's Pit Bar-B-Que
The food tour continued with a sample of bbq pulled pork and coleslaw from Pike's Pit Bar-B-Que.
Our farmers market food tour was winding down; however, we still had a few stops.
Related: Best BBQ in Austin, TX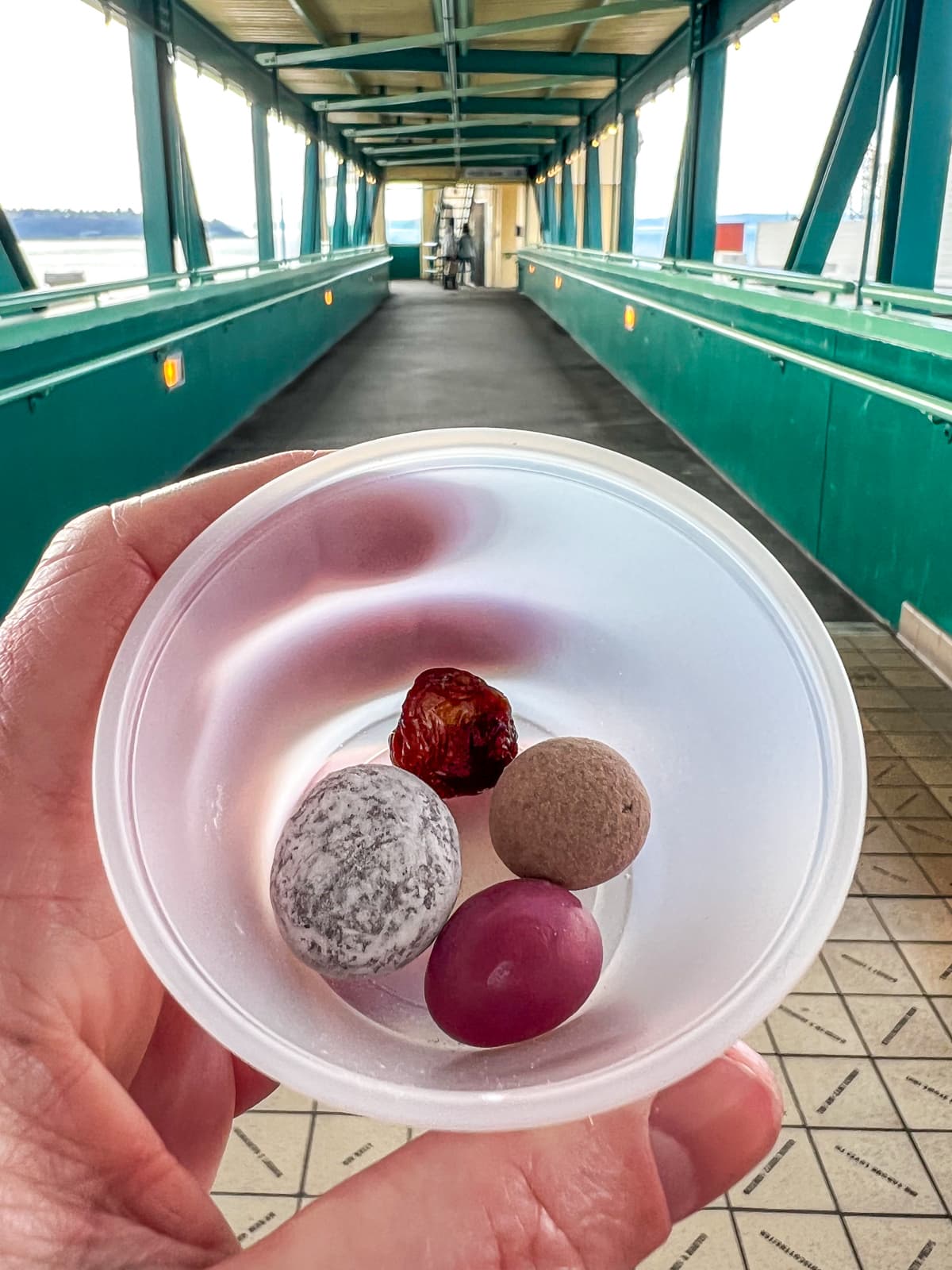 Chukar Cherries
Named after the chukar, a "rotund game bird and aerial speedster," Chukar Cherries produces a variety of dried and chocolate-covered cherries and nuts.
We sampled these tasty treats on a pedestrian bridge over Western Avenue.
My girlfriend had asked me to pick her up a bag, which I did, taking full advantage of the 10% discount tour participants receive from vendors we visited.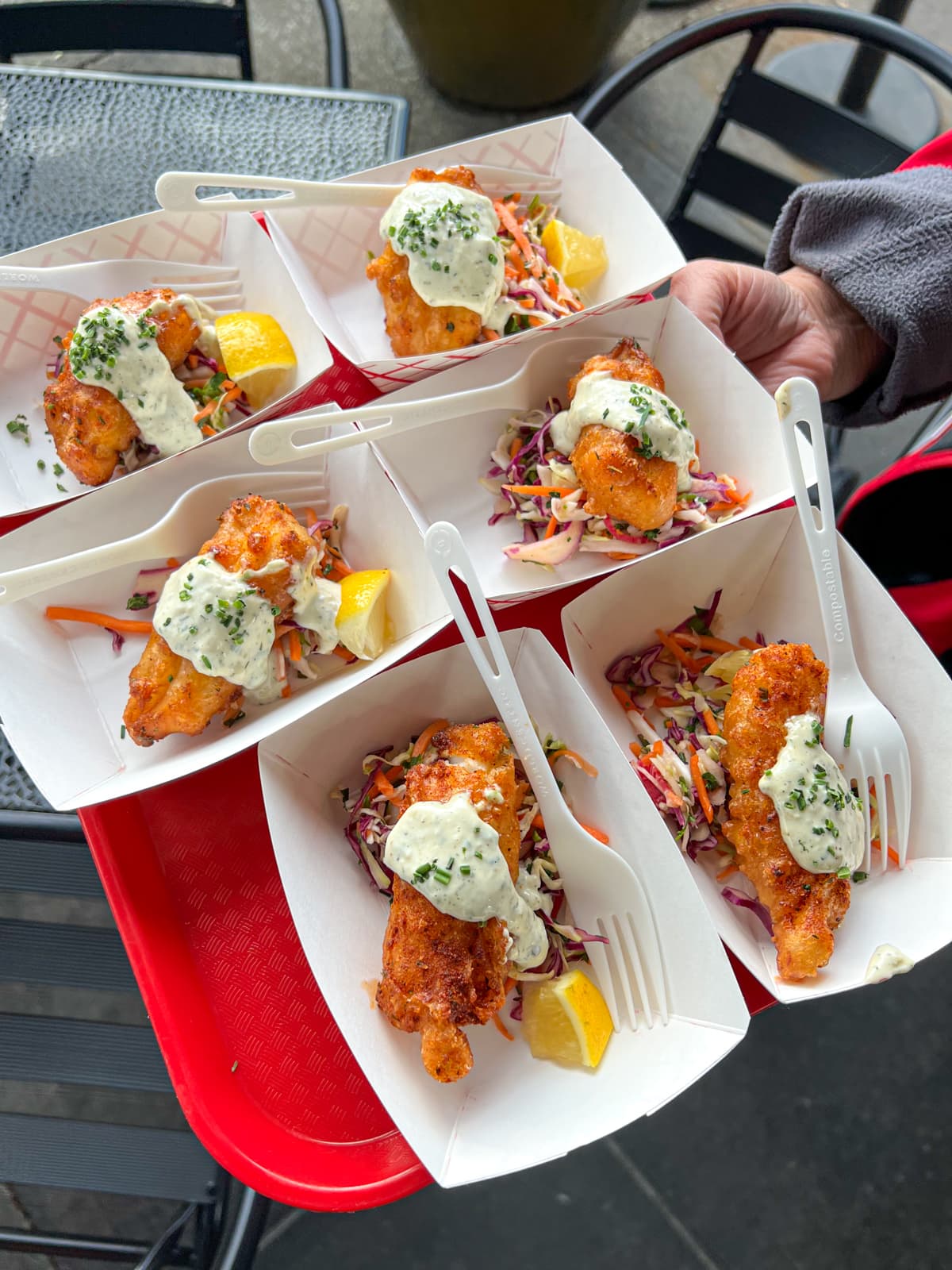 Seatown Rub Shack & FishFry
Our two-hour tour concluded on the heated sidewalk patio of Seatown, as we sampled fresh cod with ginger slaw.
The servings of cod were presented piping-hot with an appealing golden-brown crust, which quickly gave way to the soft white fish inside.
It was a fitting end to a fun two hours exploring Pike Place Market.
At this point, I left Pike Place in search of Seattle's best speakeasies, but I returned the following day to see more.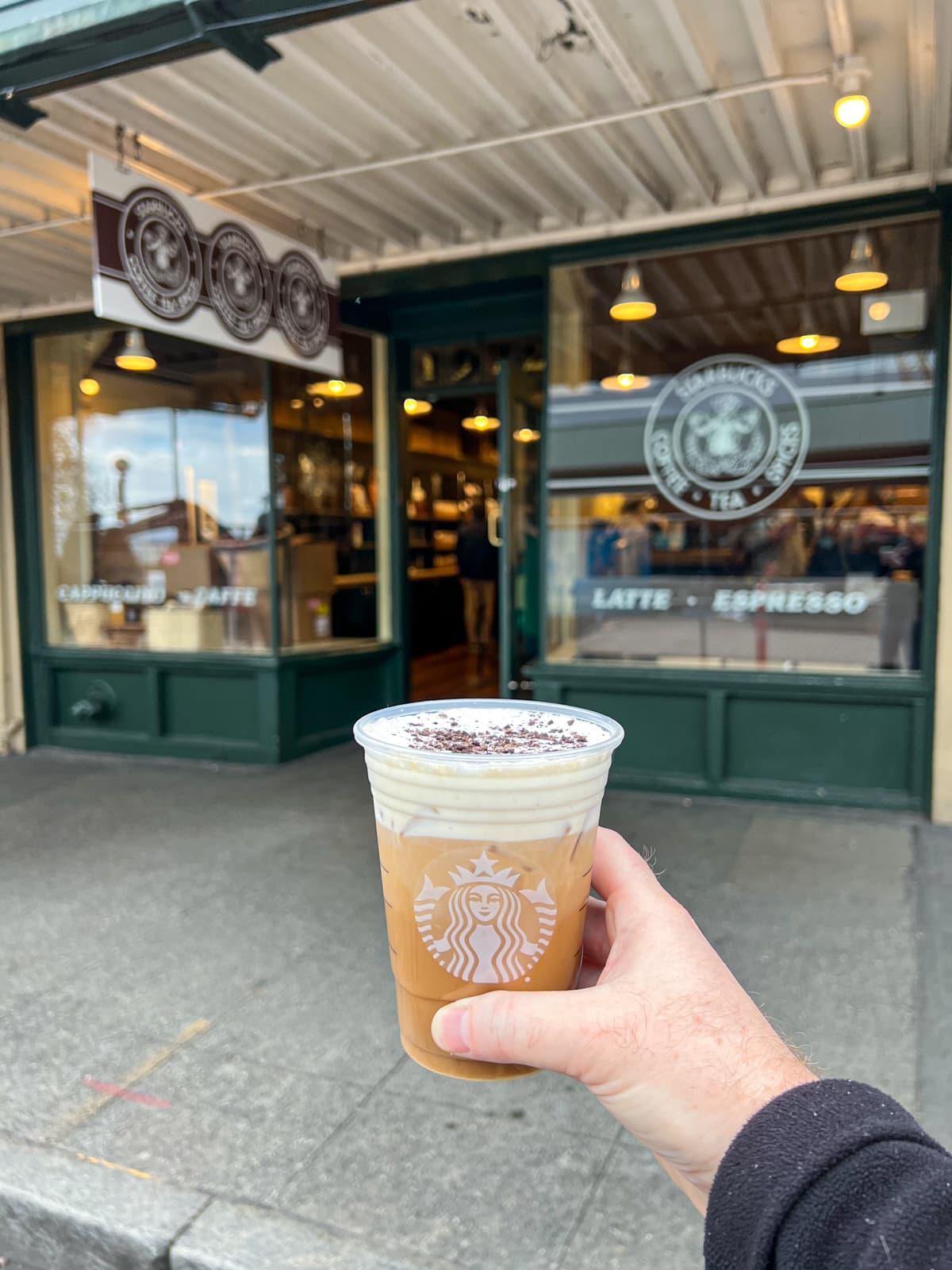 The First Starbucks
We walked past the first Starbucks cafe on the food tour at 1912 Pike Place. It was mid-afternoon, and about 20 people were in line to get in on the sidewalk.
Our guide mentioned it's a popular tourist destination. Customers like to buy the merchandise, including mugs, featuring the original Starbucks branding (a semi-nude siren).
The cafe itself is tiny, and there's no seating, so whatever you order, it's to-go.
Arriving at 8 a.m. on a cold Saturday morning, only a few people were in line ahead of me, and I got an iced cookie and cream latte.
This Starbucks location is open from 6:30 a.m. to 8:30 p.m. daily.
Related: Best Coffee Shops in Austin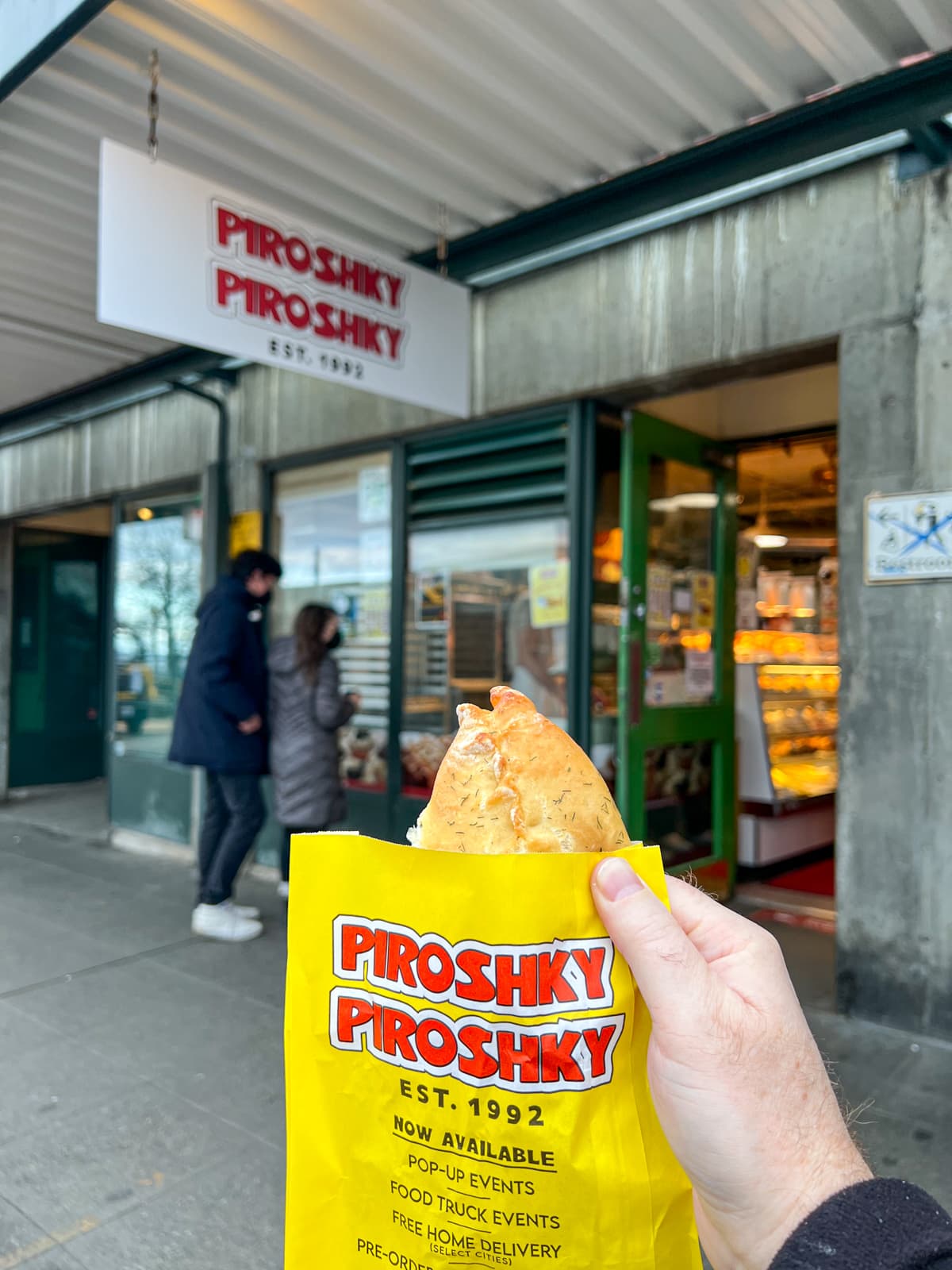 Baker
Piroshky Piroshky
Once caffeinated, I began my Pike Place Market bakery crawl next door at Piroshky Piroshky.
This Russian bakery established in 1992 serves 30 varieties of piroshkis or hand pies.
Savory choices included beef and cheese, chicken curry and rice, and bacon hash brown egg and cheese.
On the sweet side, fresh rhubarb and a cinnamon cardamom bun reminded me of the bakeries in Copenhagen I'd visited.
They all looked enticing, so it wasn't an easy decision. I took a chance on smoked salmon pate with cream cheese and dill, and it was surprisingly good.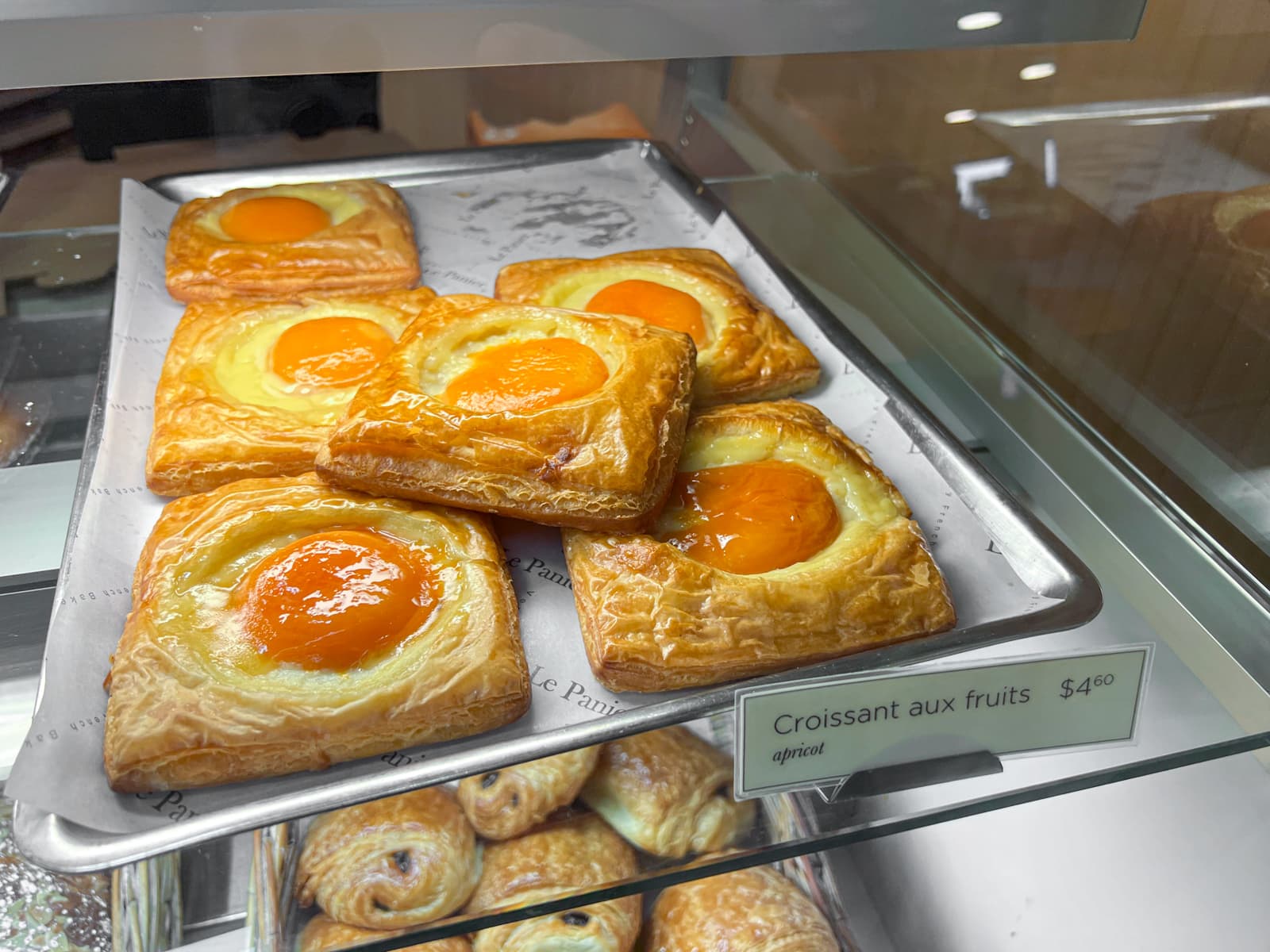 Le Panier
Hand pie consumed, it was on to the French bakery, Le Panier, next door. As you can tell, this bakery crawl did not require a lot of walking on my part!
Inside Le Panier, there was a steady flow of customers ordering freshly baked pastries.
Once again, I wanted everything in the display cases but settled on pistachio and lemon macarons, which I ate outside, and a delectable apricot pastry which I held off on eating until the following day.
Le Panier's apple and peach tarts looked incredible and are available for $4.25 by the slice (or $26 per pie).
Related: Best Bakeries in San Francisco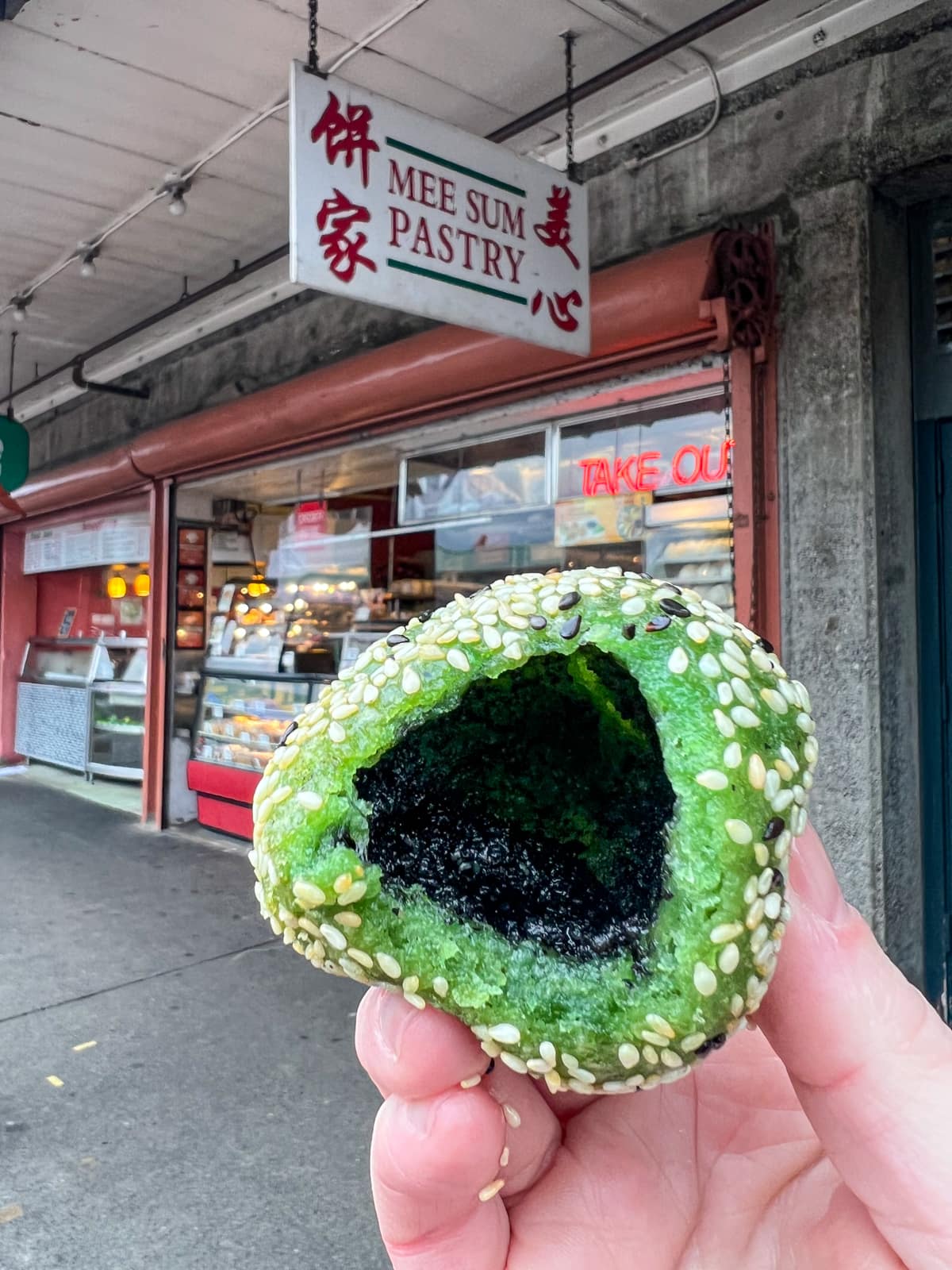 Mee Sum Pastry
Half a block south of Le Panier is Mee Sum Pastry, a Chinese food stall that began as a bubble tea shop in 2007.
They were getting some customers, and I was curious, so I tried it. I ordered a green tea sesame ball, a heavy, hollow pastry soaked in syrup.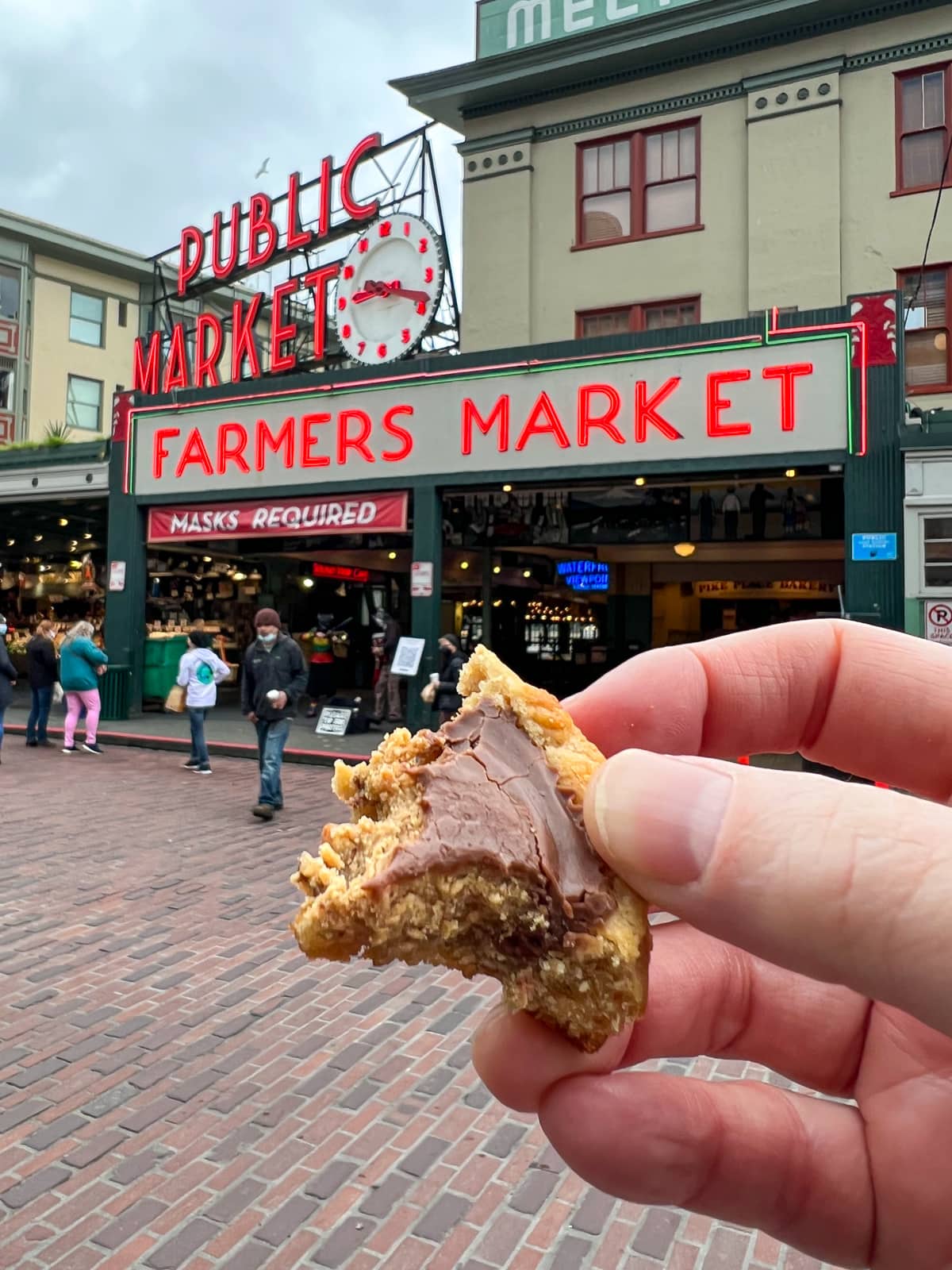 Three Girls
Further south on the same block in the heart of Pike Place Market is the Three Girls Bakery.
As the previous day's food tour didn't stop in front of the bakery, I wanted to check it out.
The display case was chock full of enticing options. I was already feeling full in my bakery crawl, so I kept it simple with a chocolate peanut butter cookie.
In search of warmth, I headed inside Pike Place Market to another spot I learned about on the food tour the day before.
See also: Best Brunch in Austin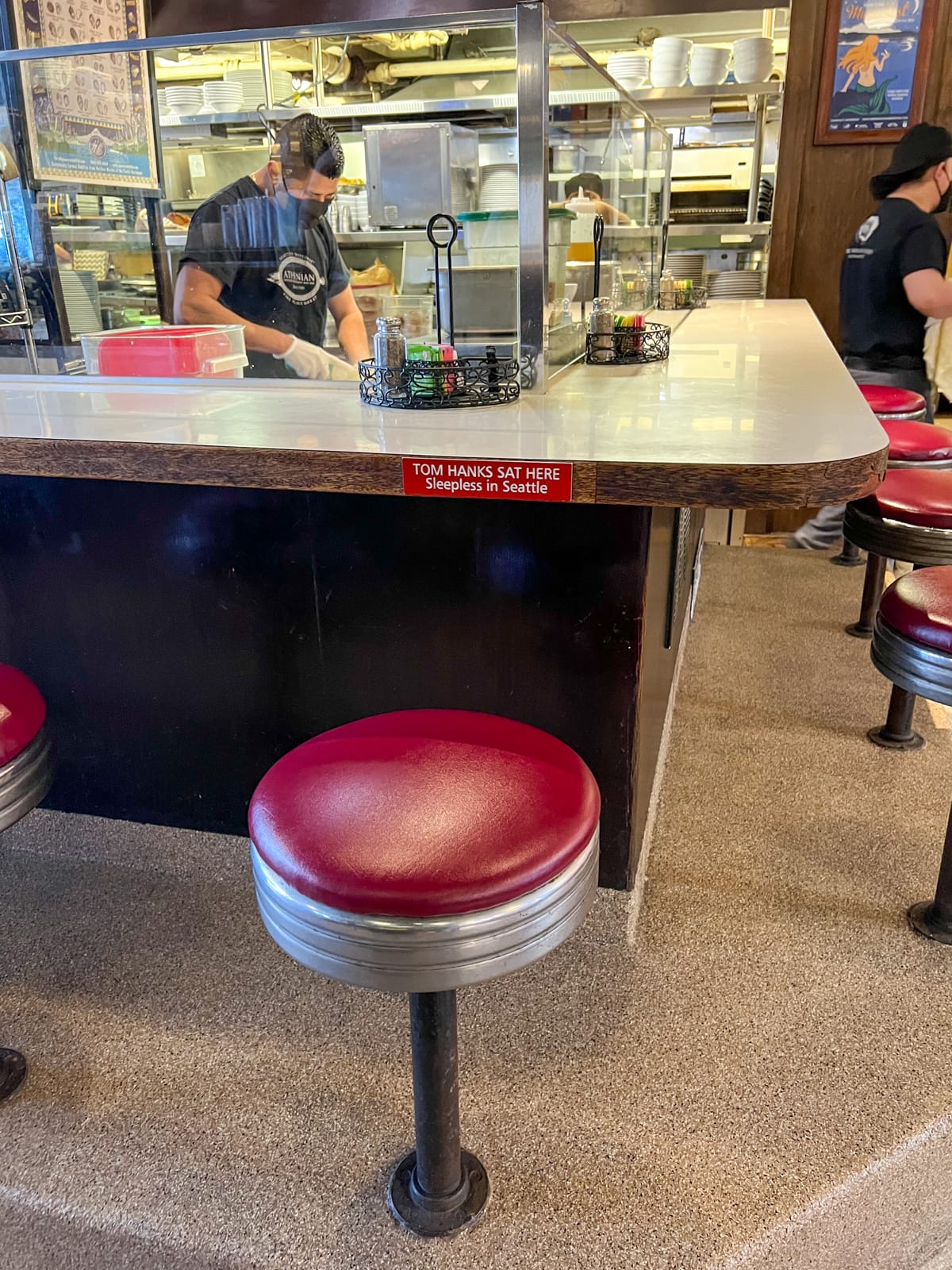 The Athenian (Sleepless in Seattle)
The Athenian Seafood Restaurant and Bar was opened by three Greek brothers in 1909. Today, they serve breakfast, lunch, and dinner Thursday through Sunday.
The restaurant was used as a filming location for Sleepless in Seattle (1993).
A small plaque indicates the seat where Tom Hanks sat and learned about modern dating from Rob Reiner's character. Reiner was also the movie's director.
I wanted to do more than take a photo, so I asked for a table on the second floor of this special place, which has small wooden booths with bay views.
The lightest thing I could find on the breakfast menu was a cup of New England clam chowder, so that's what I ordered.
After spending hours roaming around over two days, it felt good to sit down and relax somewhere at Pike Place Market.
***
This wraps up my experiences at Pike Place Market in Seattle, however, it's by no means a reflection of everything there is to see, eat, and drink there.
If I go back, I'd want to try the fresh fruit grown by local farmers, see more of the lower level, check out independent coffee shops, and enjoy a wine tasting.
Flower shops abound, and I saw plenty of people carrying recently-bought bouquets, but that one's a tougher sell if I'm only in town for a few days.
Related: Country Breakfast at Salish Lodge
Bonus: Virginia Inn, Scene from Singles
I can't resist sharing one more spot I got a kick out of visiting.
Fans of another 90s romantic comedy set in Seattle, Singles, can walk around the block from the original Starbucks to get a bite at the historic Virginia Inn (1937 1st Ave).
I re-watched Singles for the first time in years ahead of my trip to Seattle; it reminded me of my teenage years, a young Eddie Vedder, and a talented Chris Cornell (RIP).
Related: Loupe Lounge in the Space Needle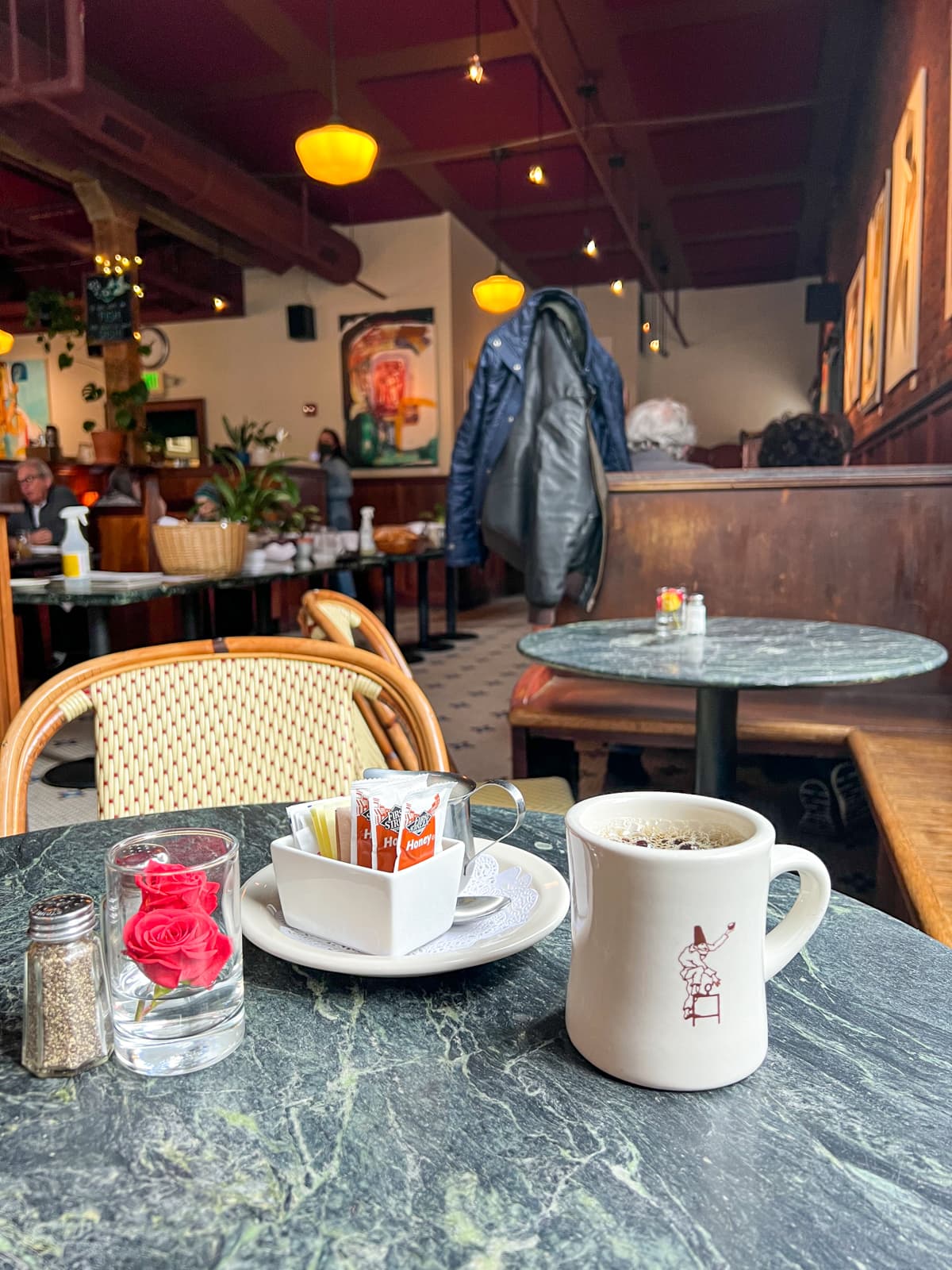 The scene inside Virginia Inn is between Campbell Scott and Kyra Sedgwick's characters, as they sit at a corner booth talking.
In contrast, Paul Giamatti's character is busy making out with a woman nearby.
When I stopped by, the front corner table was open, and I treated myself to a hot cup of Seattle coffee and a bowl of mushroom soup.