Peru's national dish, ceviche, and lomo saltado (beef stir fry), were the dishes Kel and I learned to make during our cooking class in Cusco.
The interactive class was held outdoors in the beautiful courtyard of our luxury hotel, Palacio del Inka, and taught by Carlos, one of their friendly sous chefs.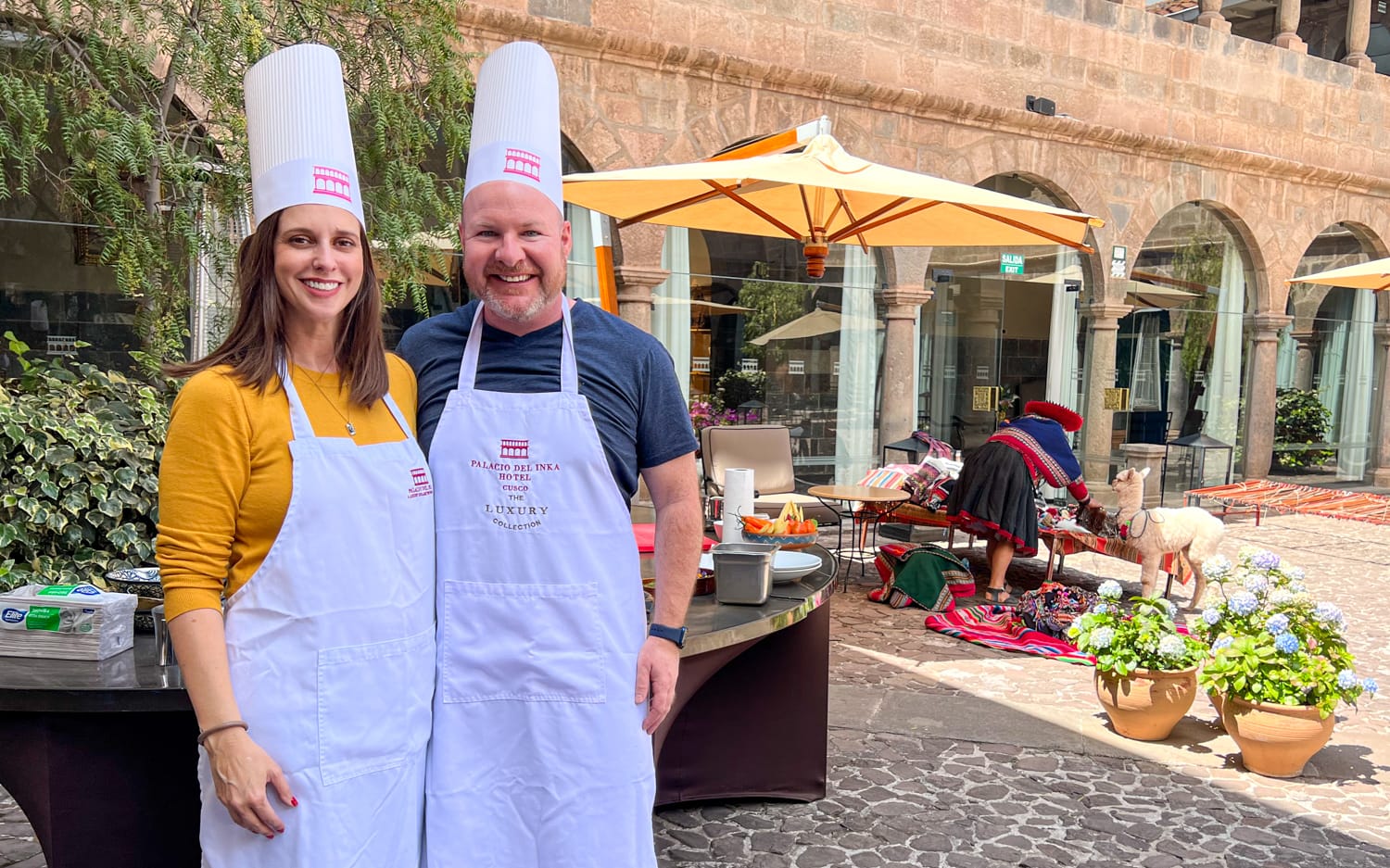 I've taken a handful of cooking classes in my travels, from learning to make Thai food in Chiang Mai and momos (dumplings) in Northern India to paella in Barcelona.
They've all been group classes and a lot of fun. Plus, there's always the pride and pleasure of eating what you learned to cook!
Following our adventures at Machu Picchu the day before, a relaxing cooking experience with a professional chef felt like a good call.
Cooking in Cusco
After spending the morning sightseeing around Cusco's Plaza de Armas, we returned to the Palacio del Inka at 12:30 p.m. for our Peruvian cooking class.
We were met by chef Carlos and the hotel staff, who helped us don snazzy white aprons and toques (chef's hats).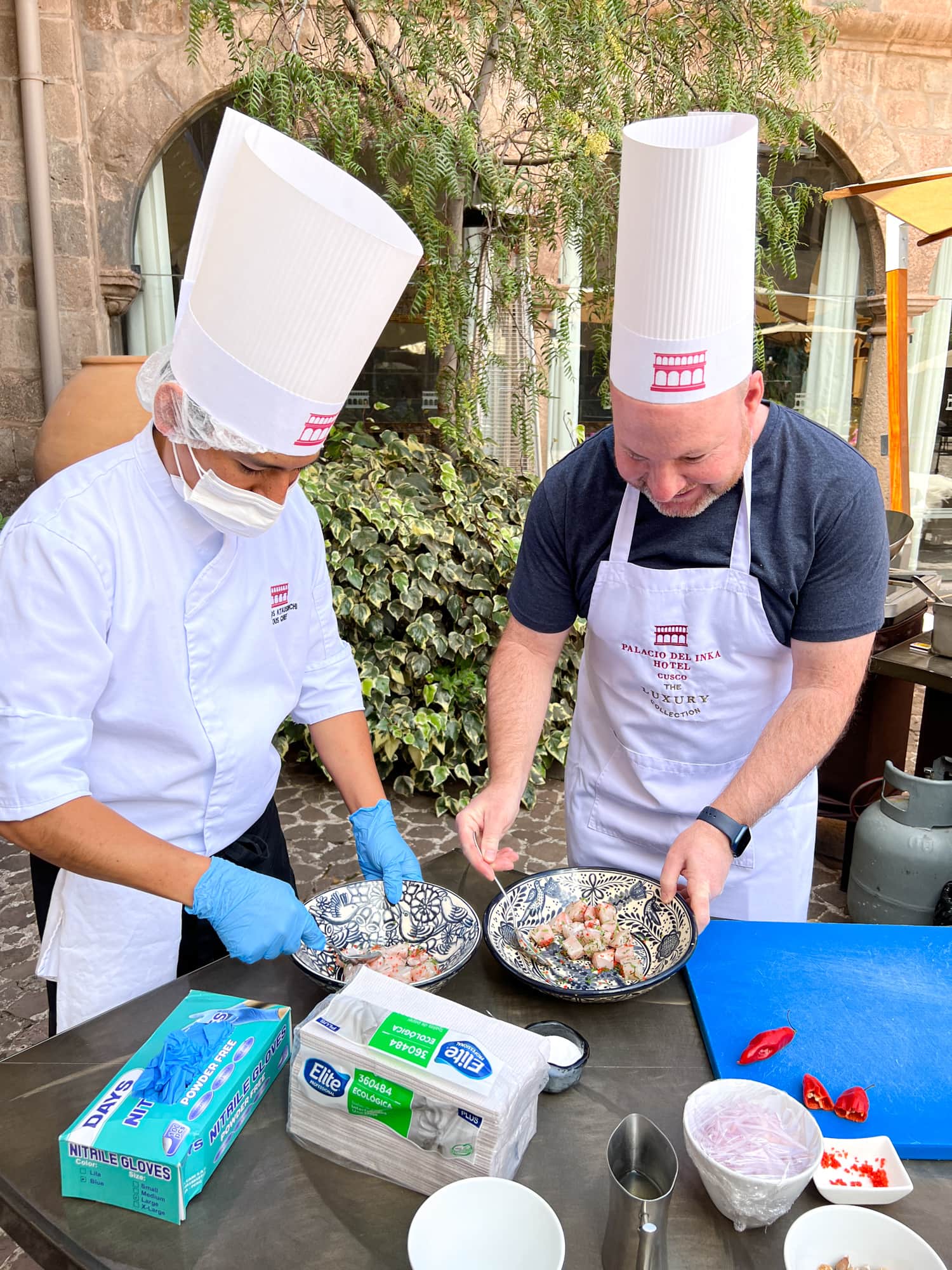 Ceviche
The mise en place for making ceviche was already taken care of, meaning almost all ingredients were chopped, sliced, and portioned out.
As a result of the prep work, the private cooking class progressed quickly. I led on making our first dish, ceviche, while Kel took photos.
Carlos began by adding salt to the cubes of raw fish and then had me mix in finely chopped cilantro and minced red pepper.
Next, he had me slice six small limes in half.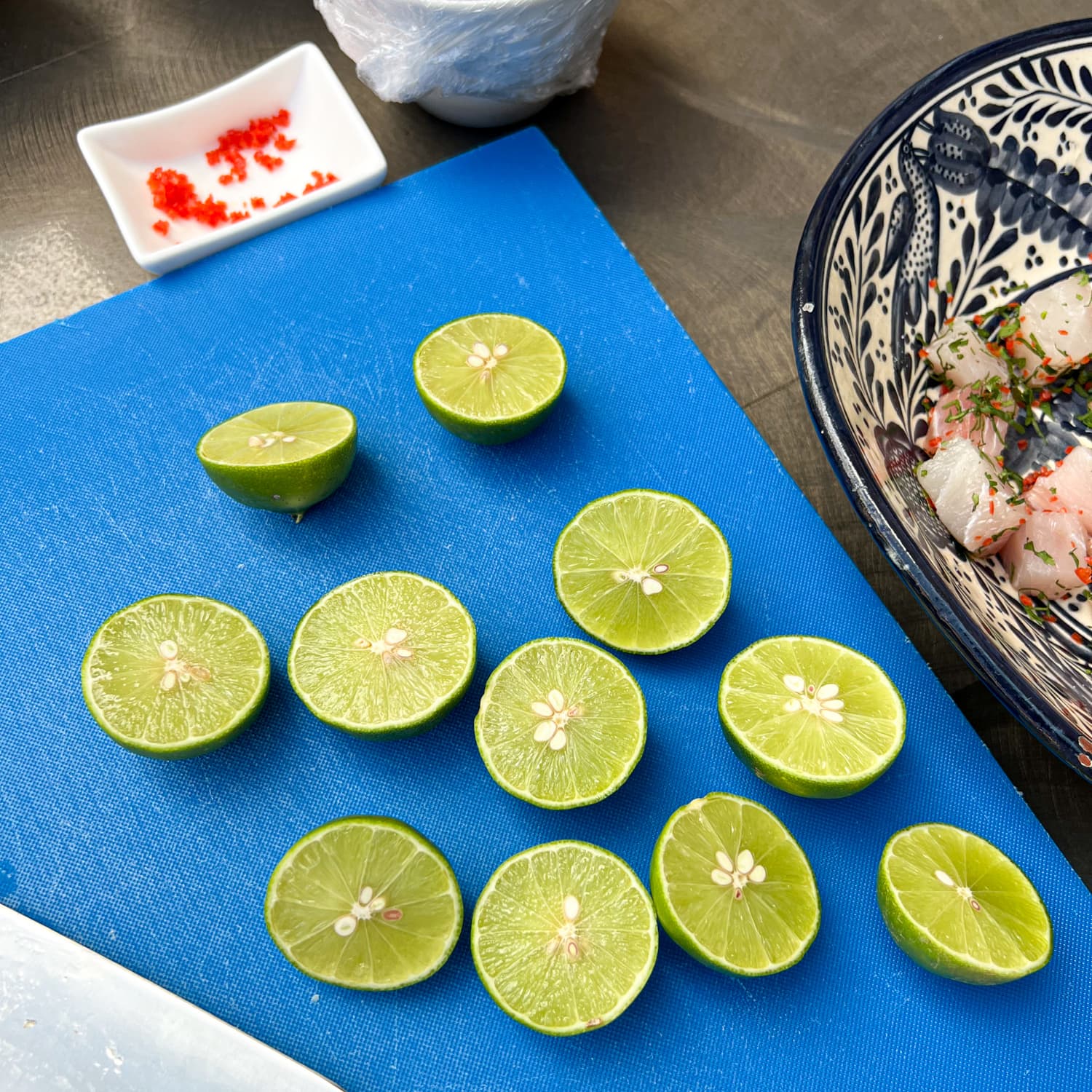 Carlos demonstrated using a handheld citrus squeezer to juice the lime halves over the fresh fish. This is where the magic happens.
The acidity of the lime juice cures the fish, essentially cooking it. As the fish marinates, it begins to firm up and turn opaque.
We added raw onion and a vibrant, mildly spicy pepper sauce.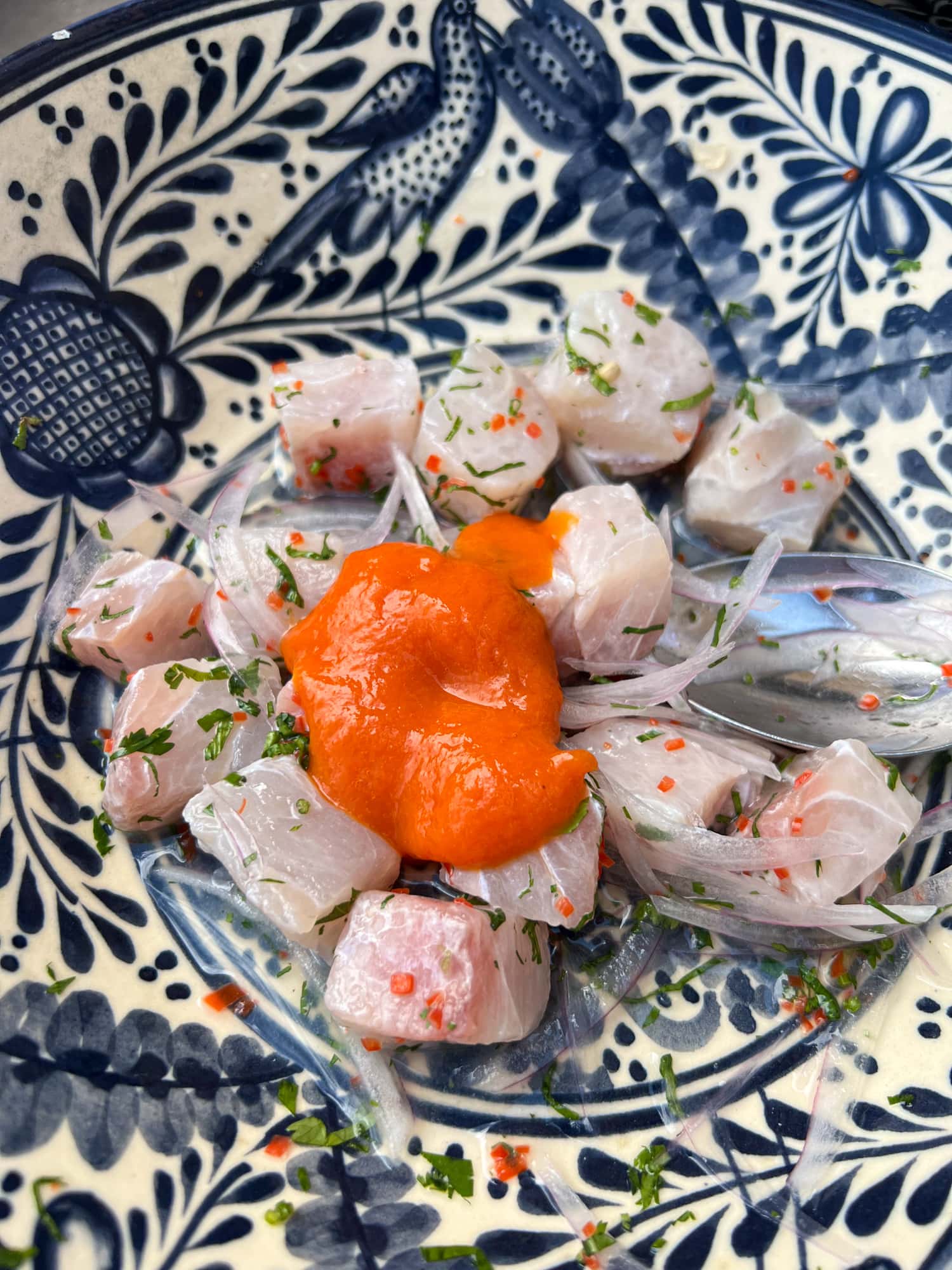 The ingredients were mixed together as the fish continued to "cook."
The citrus-based marinade that develops from this process is leche de tigre (tiger's milk).
Carlos plated both portions of ceviche in black glass bowls and showed me how to top them with more raw onion and spoonfuls of leche de tigre.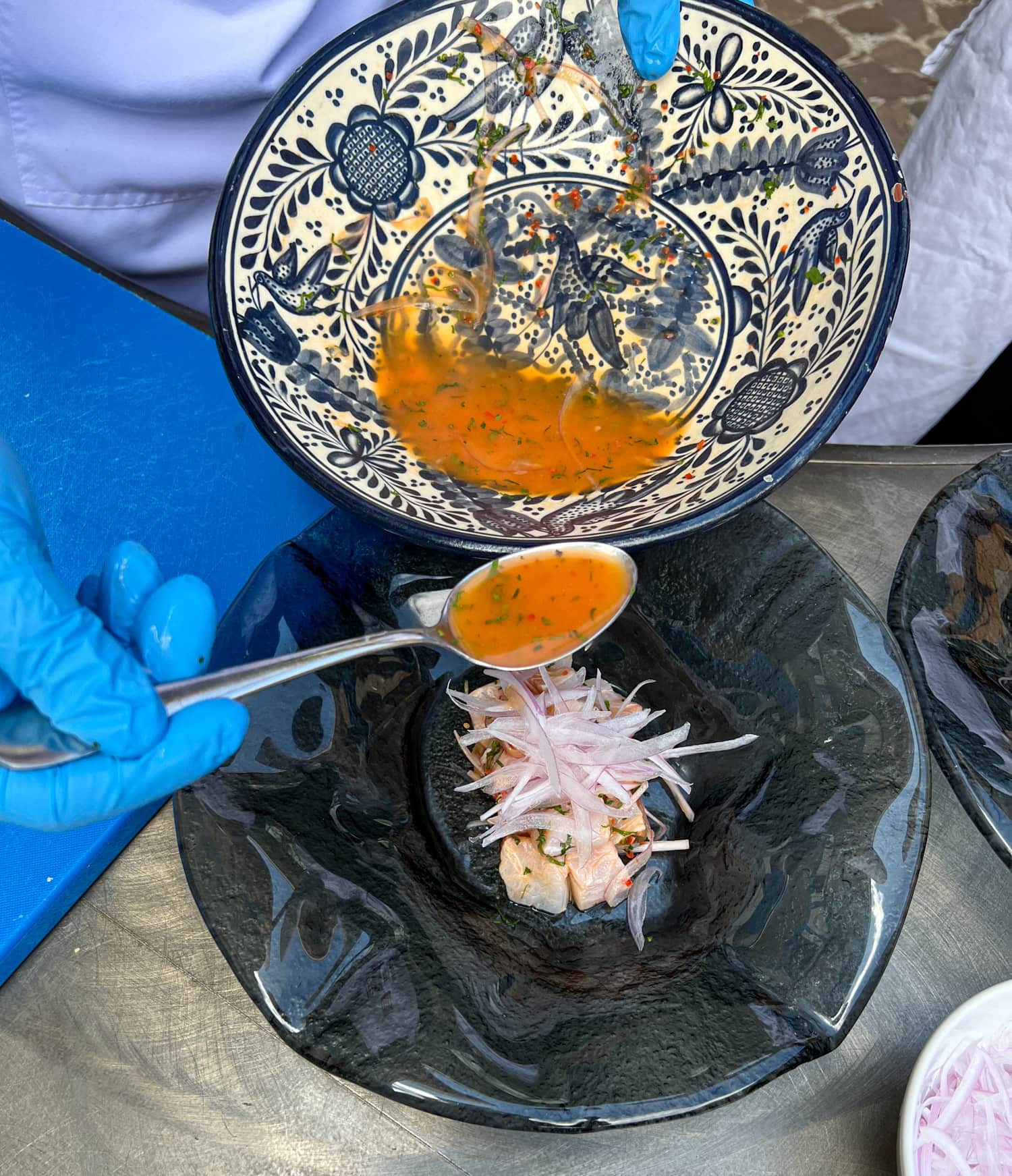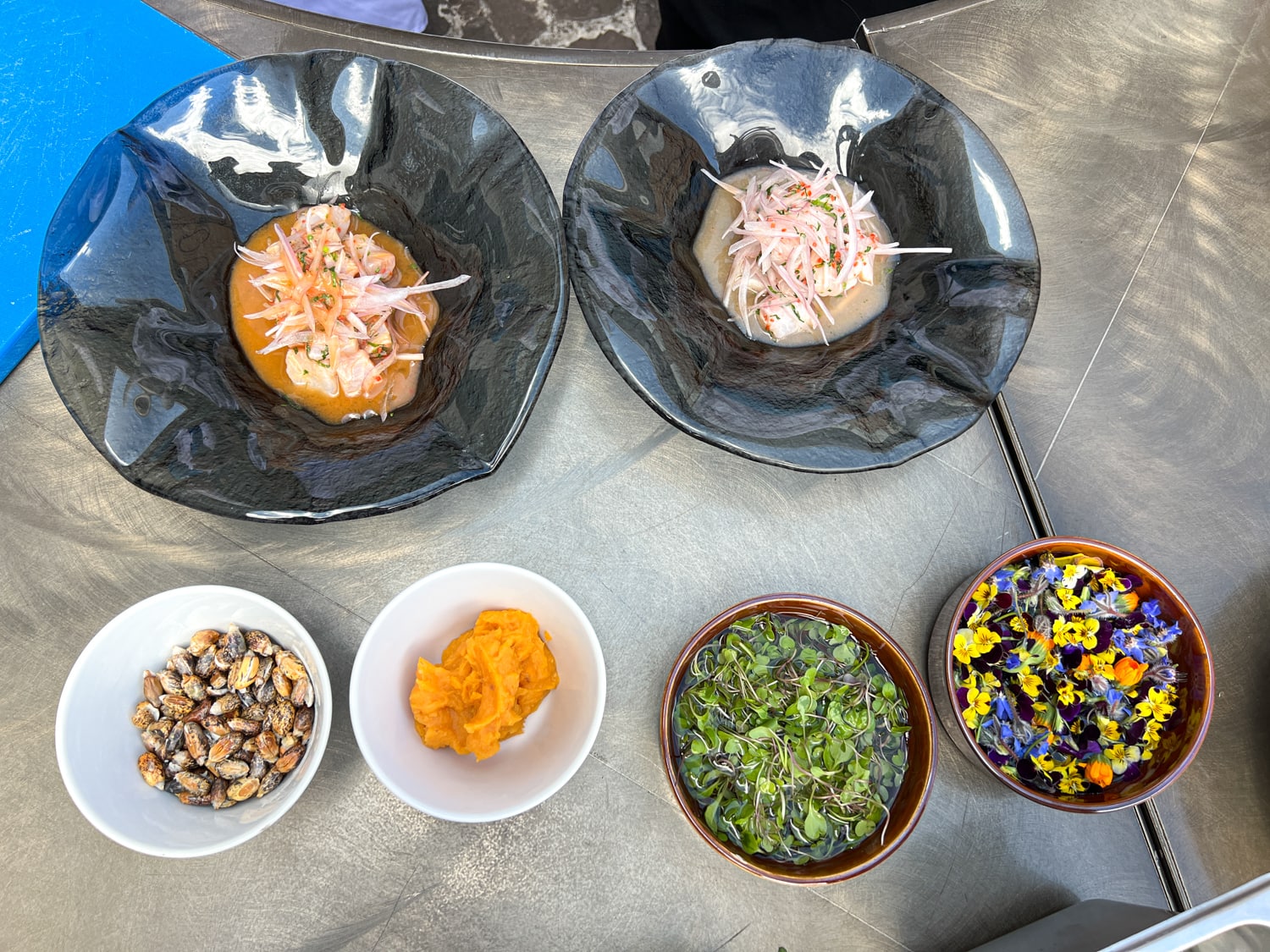 The ceviche we were making in our Cusco cooking class was coming along nicely; however, there were a few more ingredients left to add.
At this point, Carlos taught me how to make quenelles using mashed sweet potatoes.
Quenelles are a way to present soft foods like potatoes or ice cream in a refined way.
The professional cooking technique involves placing the ingredient on one spoon and then passing another spoon over it as you smooth its edges.
The ingredient is then passed to the other spoon, and this is repeated several times (or until you're satisfied).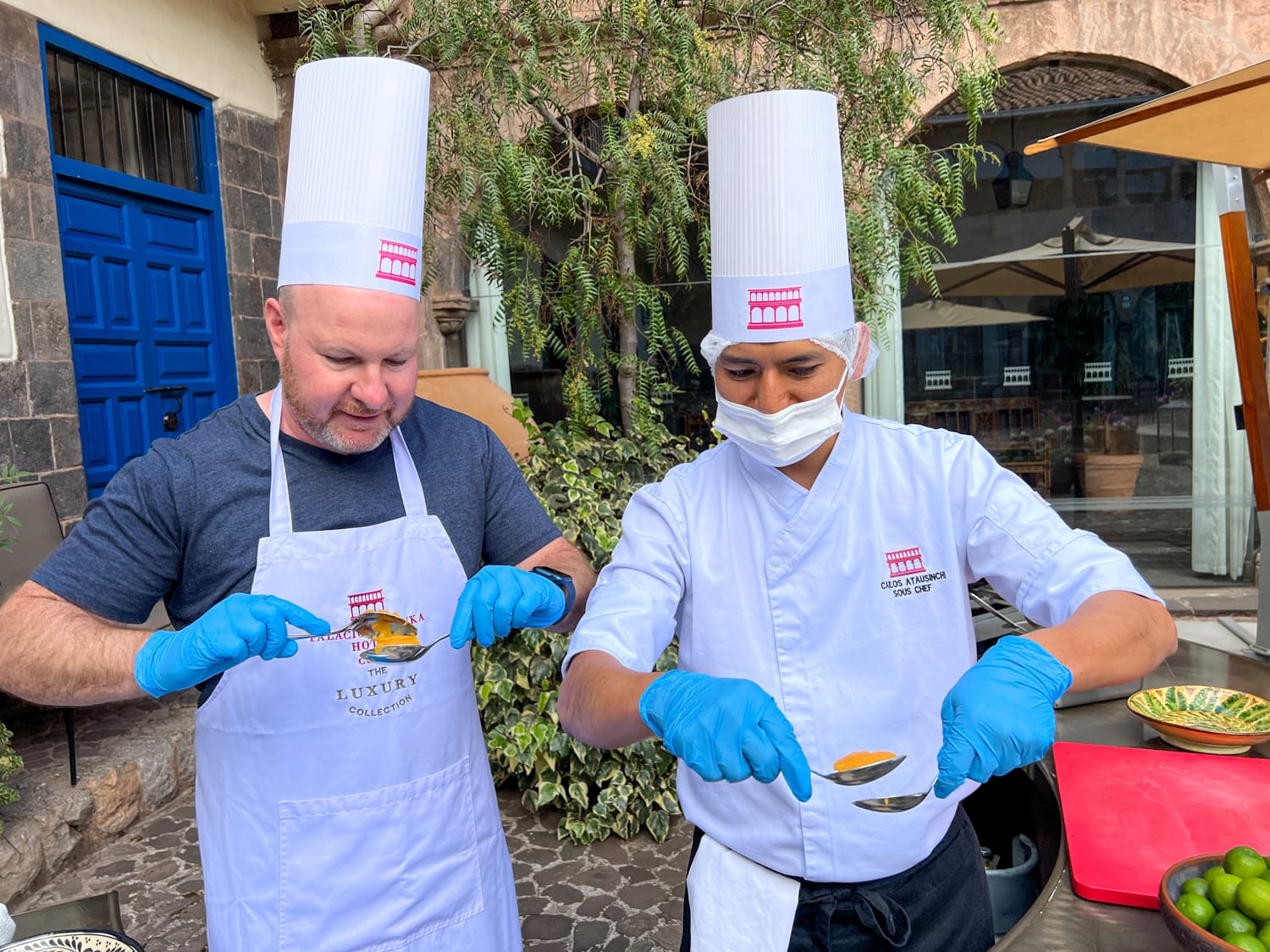 Once we were happy with the sweet potato quenelles, they were each placed in a bowl alongside the ceviche.
Another standard accouterment of ceviche is cancha (toasted corn), a popular snack in and of itself in the Andes.
A specific type of corn, maiz chulpe, is used. When the kernels are heated, they expand but don't burst open like traditional popcorn. The result is a salty, crunchy snack.
I suppose the crunch is a welcome compliment to the softer ingredients in ceviche, but I wouldn't say I like to mix the two.
The soft texture of the marinated fish in a ceviche attracts me, similar to the enjoyment I get from sushi.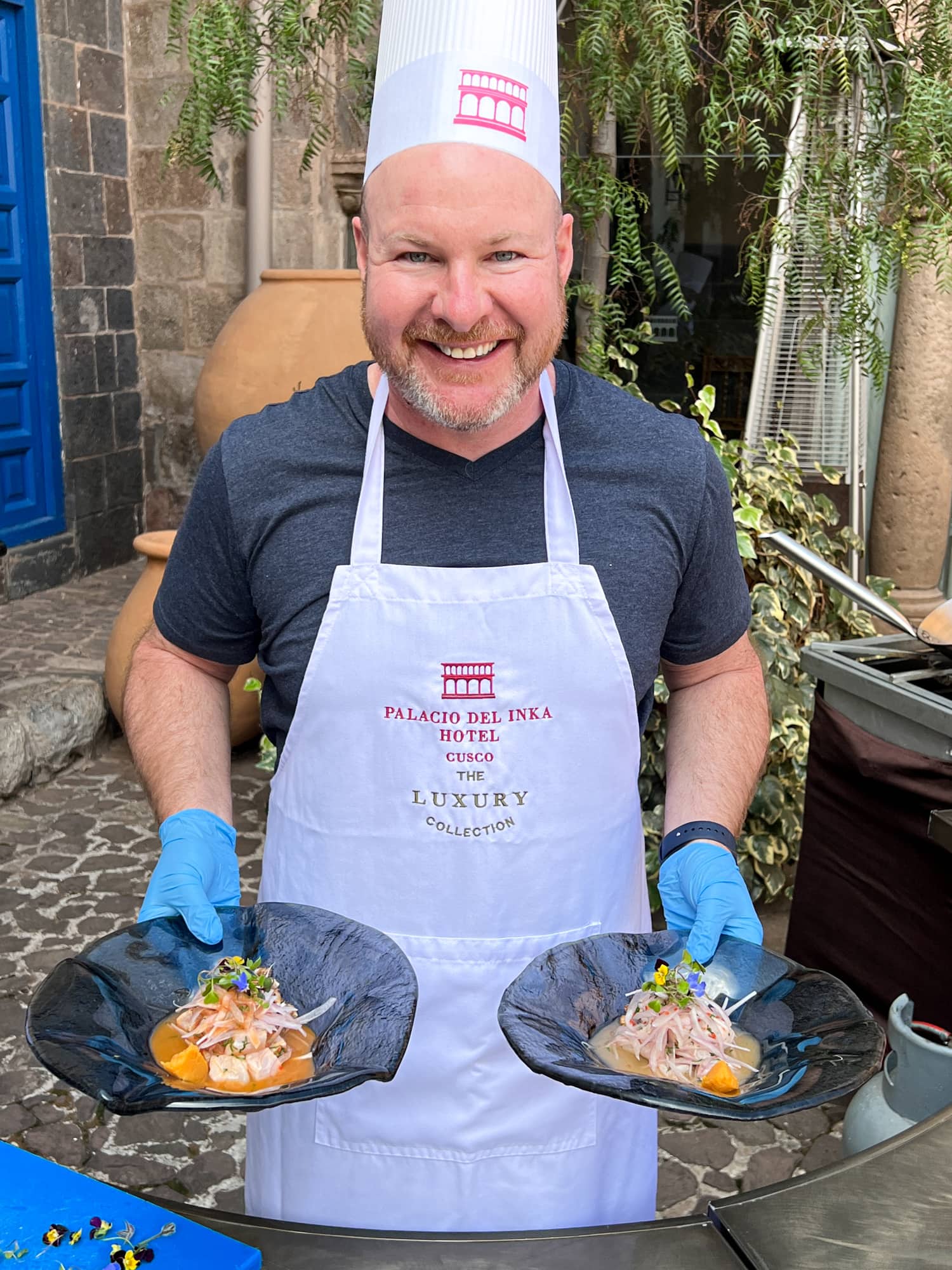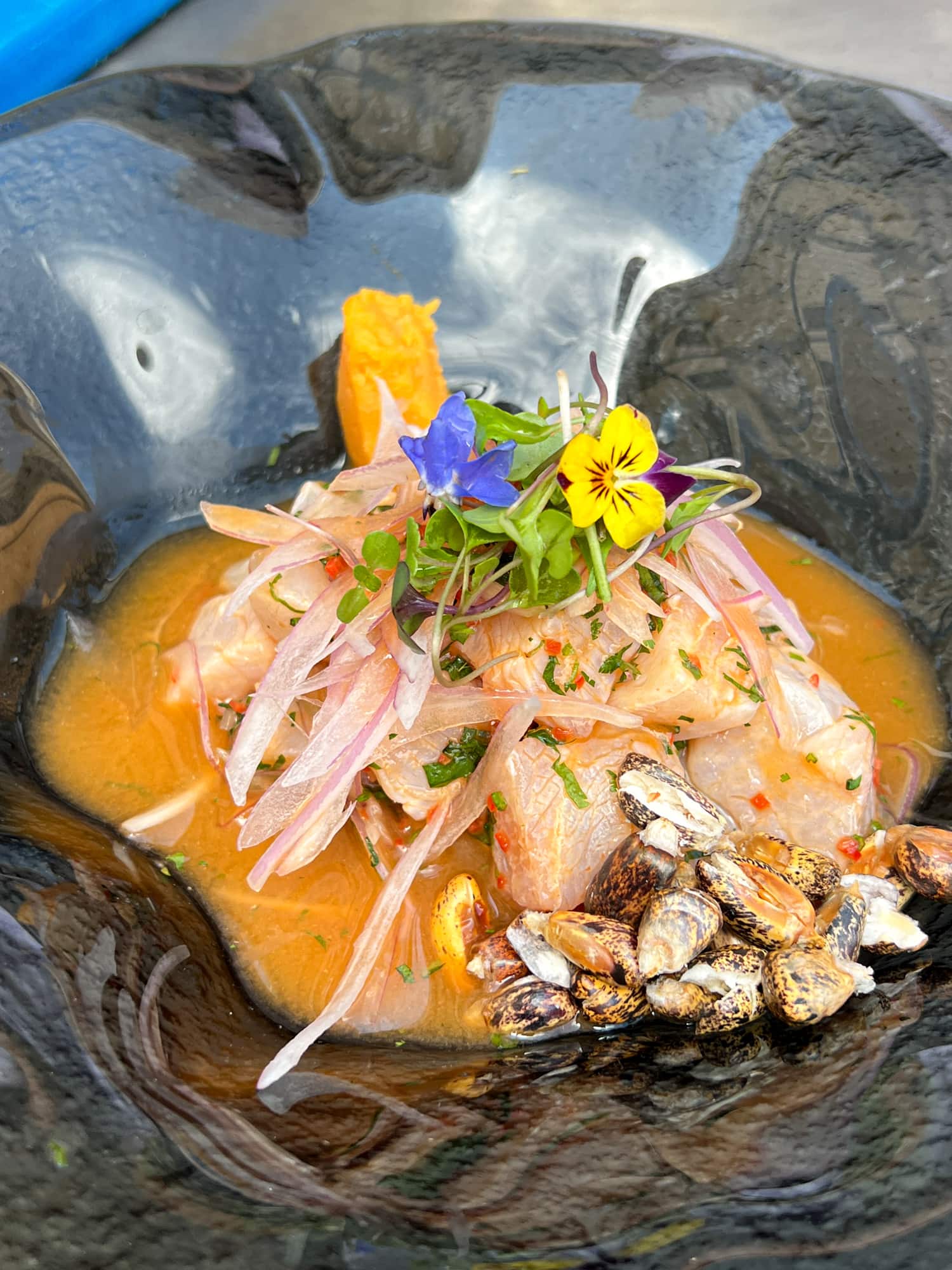 Finally, we added some micro greens and edible flowers as garnishes. The result was quite attractive.
I was excited to remove the hat and apron and sit with Kel in the courtyard to enjoy an authentic Peruvian meal.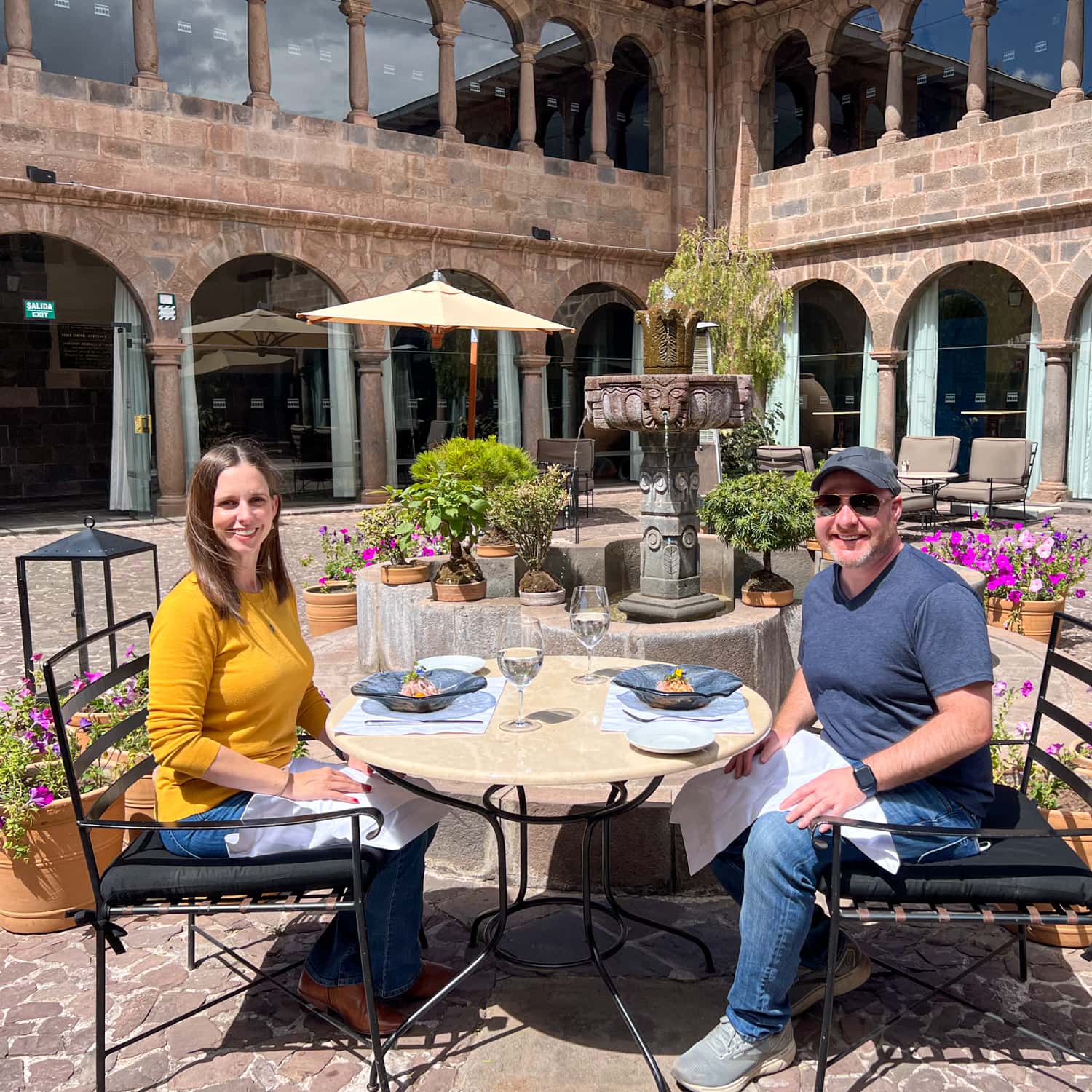 Palacio del Inka's courtyard was nearly empty as most guests were out visiting the many archaeological ruins and points of interest in Peru's Sacred Valley.
I took great joy in biting into the tender chunks of fish, the leche de tigre adding depth, color, and a spicy kick.
Upon finishing our first course, it was time to get back to work.
Lomo Saltado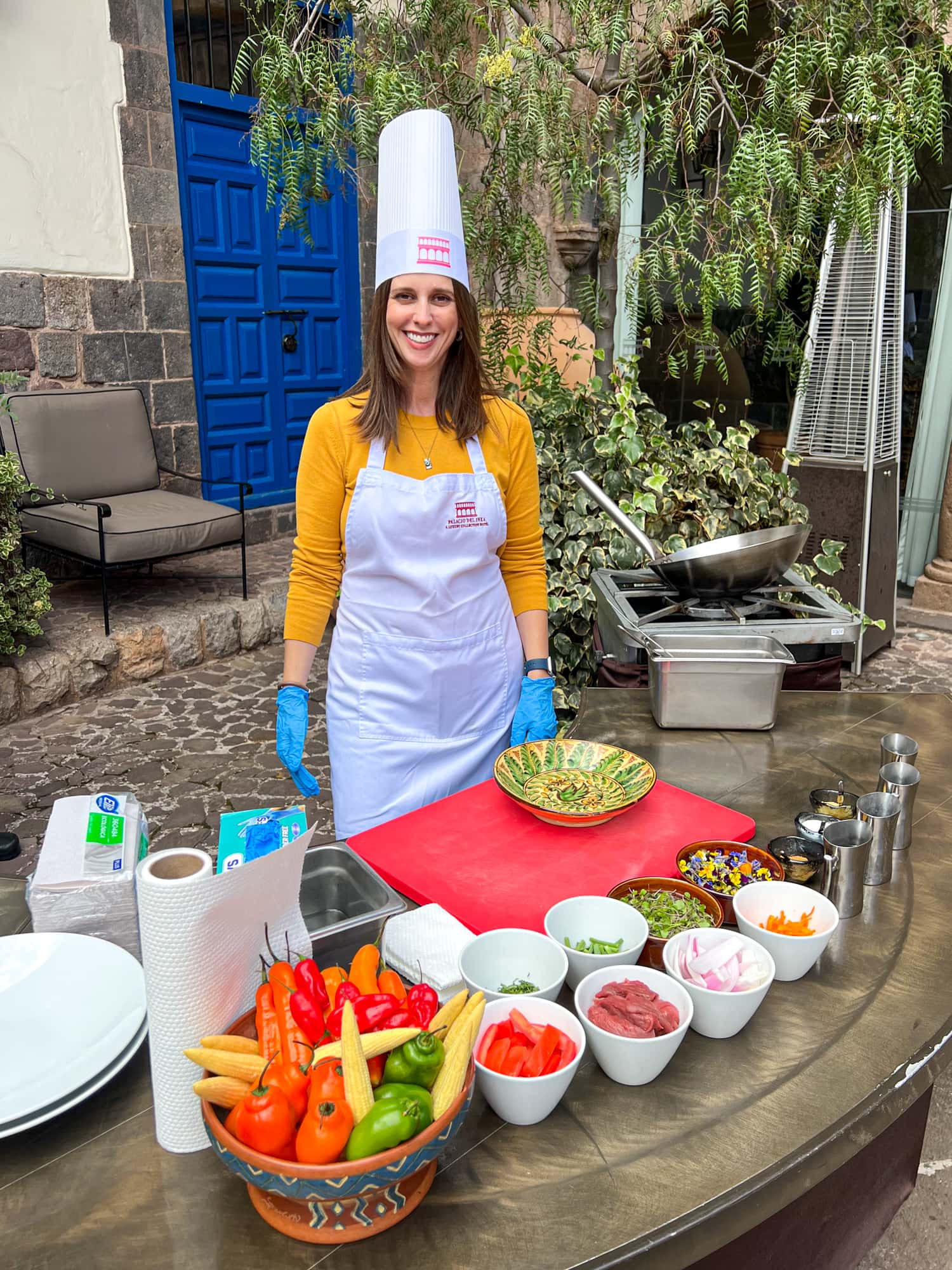 Kel took the lead in cooking our second course, the lomo saltado.
This beef stir fry with vegetables is one of Peru's traditional dishes and, therefore, a typical restaurant menu option.
While we'd been eating the ceviche, Carlos had arranged the ingredients for the second course.
The main ingredients included beef, onion, tomato, carrots, scallions, microgreens, and flowers to make it look pretty.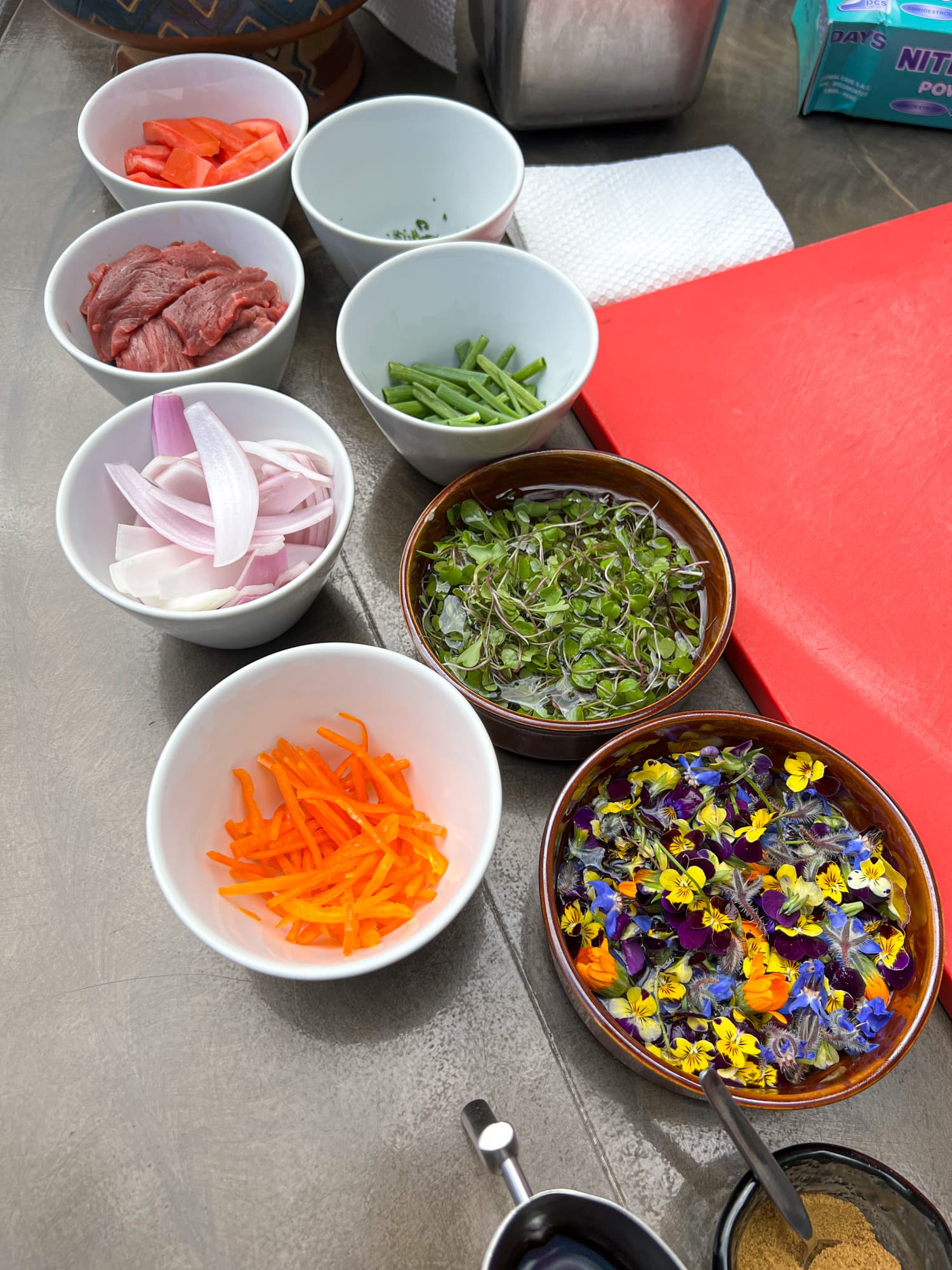 Kel began by adding salt and another spice to strips of raw beef in a bowl. She then massaged the rub into the meat.
Then, Carlos turned on the gas stove and poured some cooking oil into the wok, which heated up quickly.
Chef Carlos scraped the beef into the wok, and it began to sizzle immediately.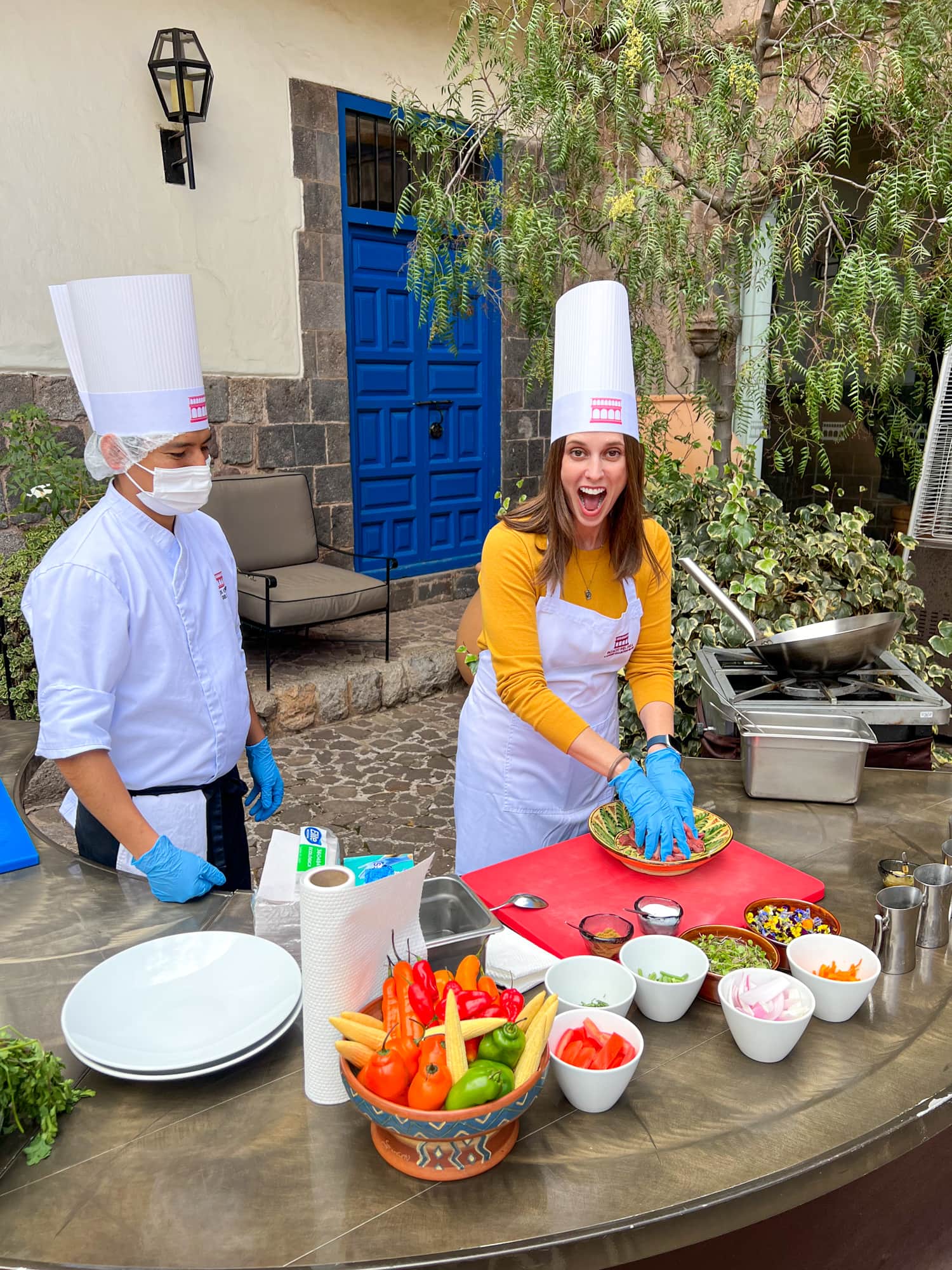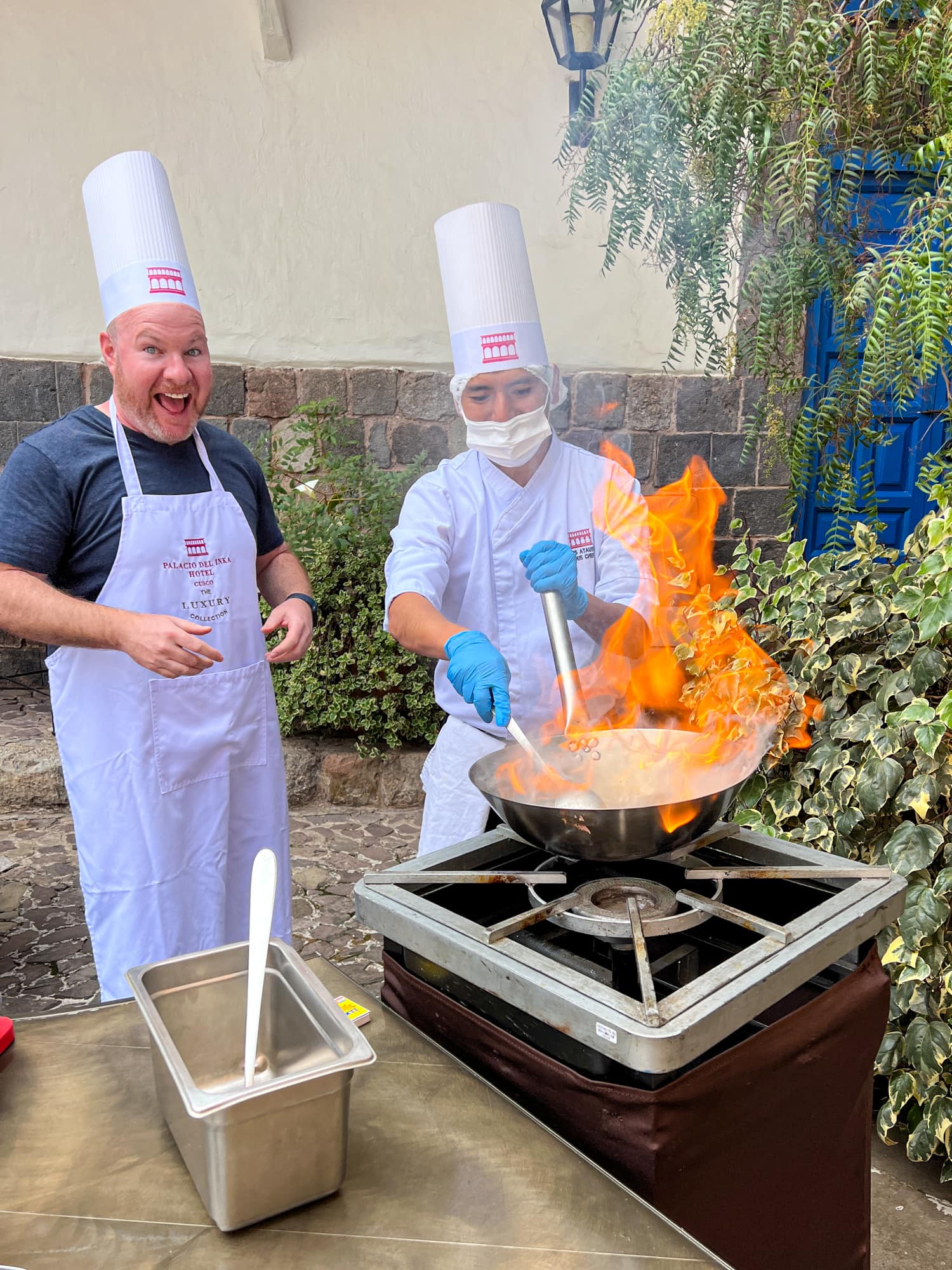 Kel helped him turn the meat so it cooked on all sides. When I switched places with Kel, flames engulfed the wok, much to my surprise!
Carlos then slid the beef out of the wok and onto a plate before adding raw tomato, onion, carrot, and some mashed garlic.
He made quick work of the veggies and added the beef to the wok, so everything was cooking together.
Kel and I both took turns at the wok as the flames settled down until the lomo saltado was fully cooked.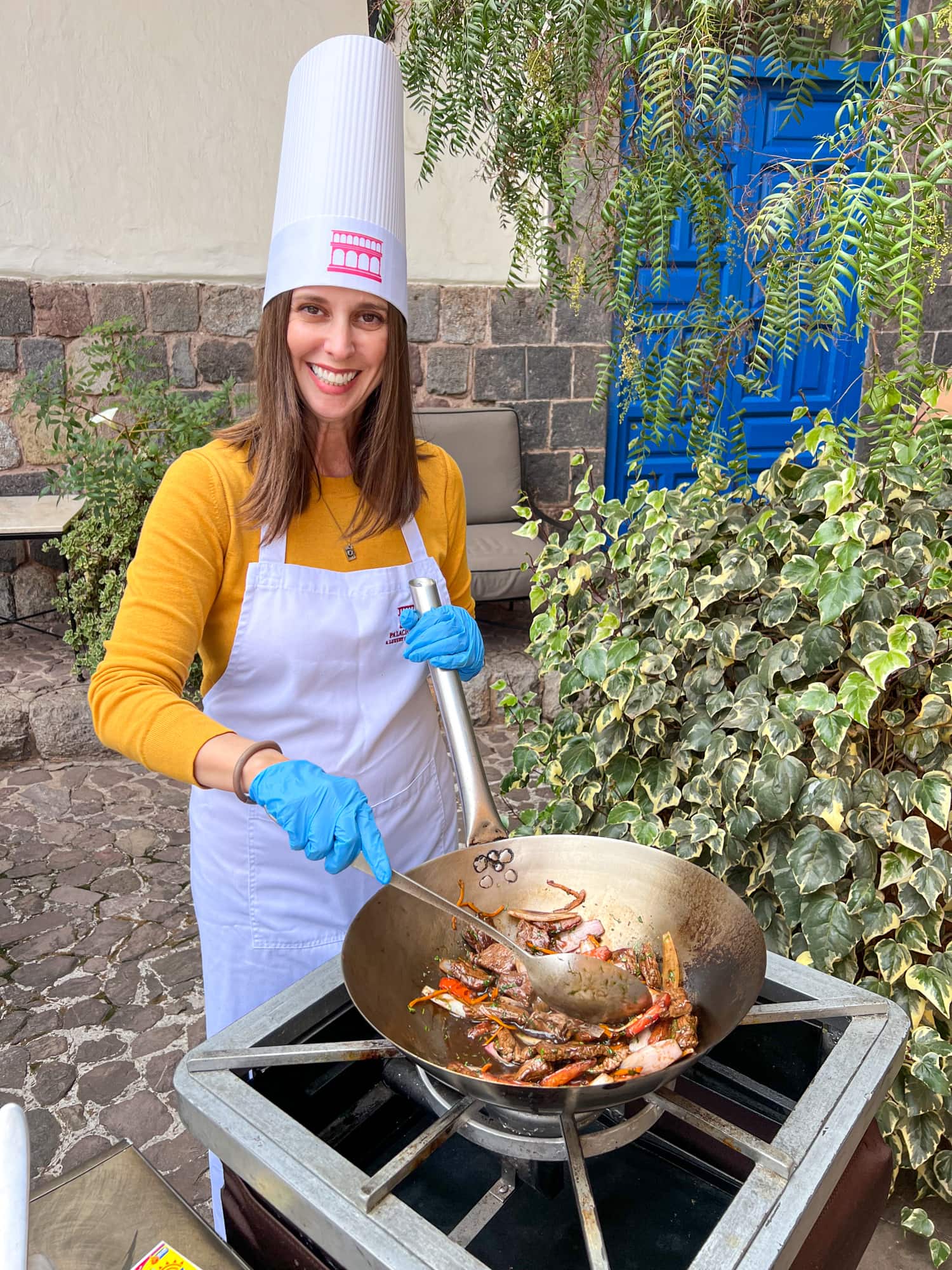 Carlos then plated two portions of the beef stir fry in shallow white bowls. The brown sauce looked incredible.
I added some scallions and edible flowers, and then some French fries were brought out for Kel to arrange in each bowl.
The fries were a nice golden brown and fried enough to offer a crisp exterior. Unlike dry corn with ceviche, I enjoyed the fries with lomo saltado.
Related: Lunch at Central in Lima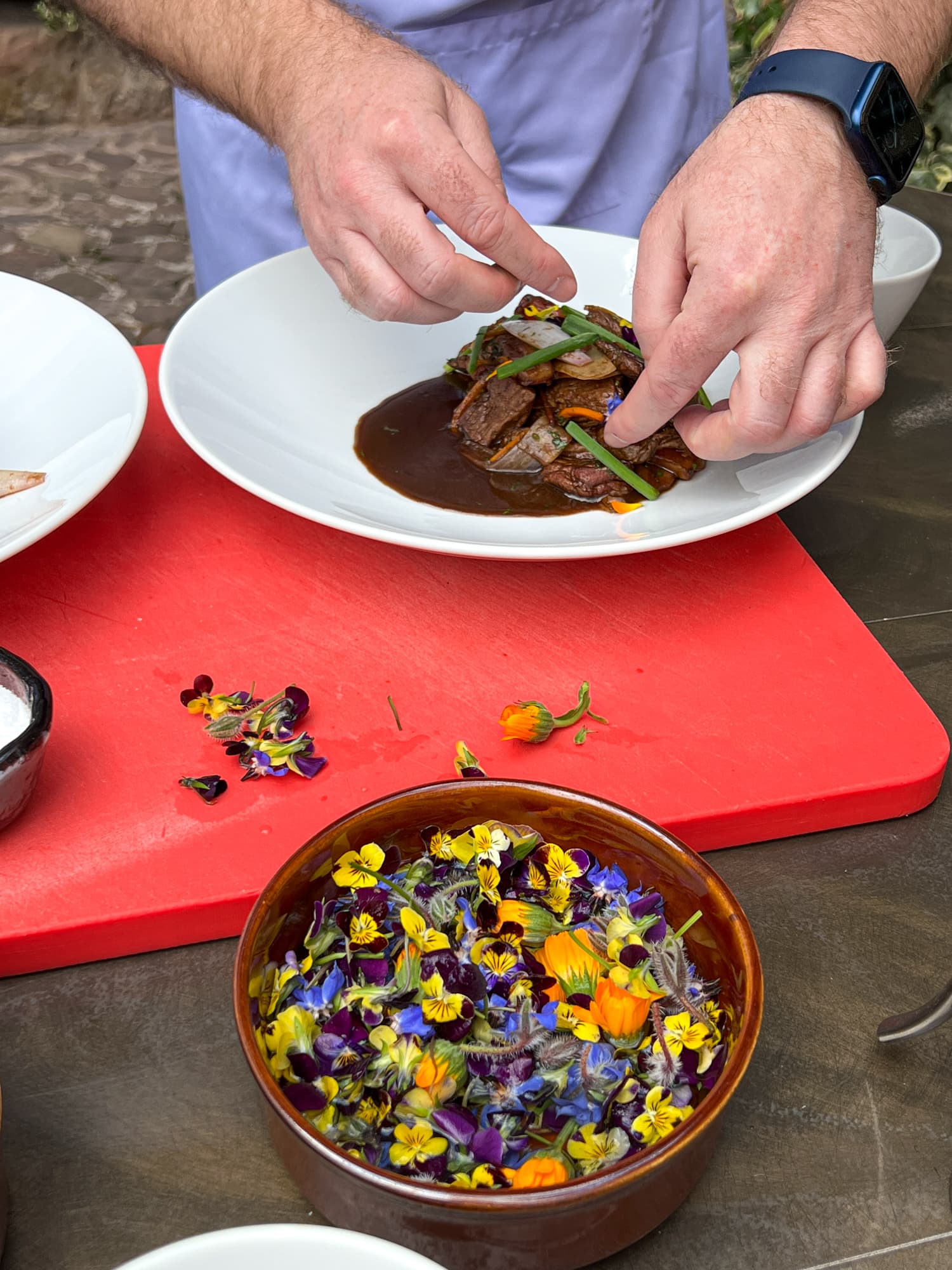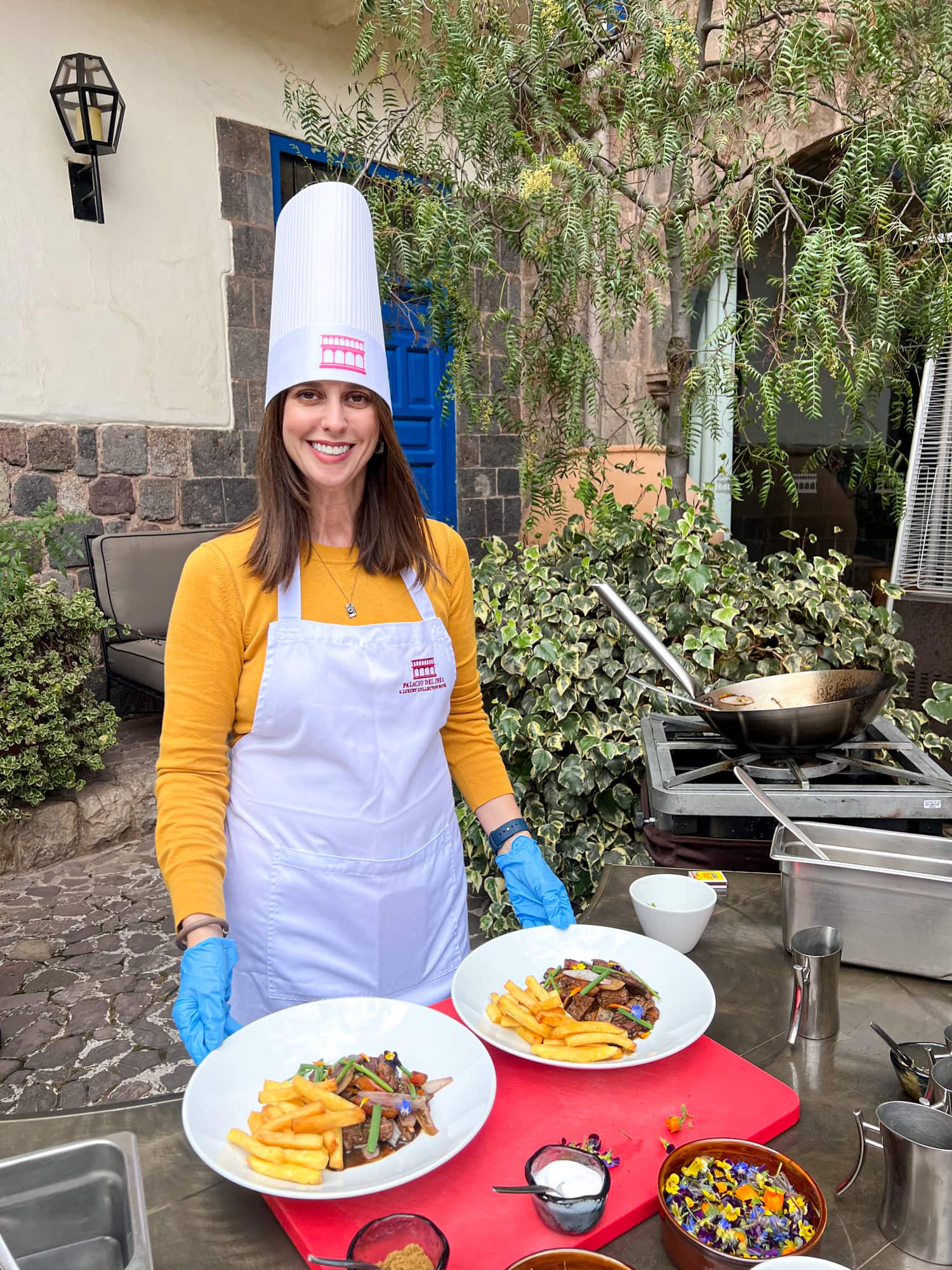 Once our second course was complete, we removed the gloves, aprons, and hats and returned to our table for another taste of modern Peruvian gastronomy.
The lomo saltado was delicious. The meat was tender, and the vegetables and flowers brightened it up.
The salty fries tasted better with some of the stir fry's sauce.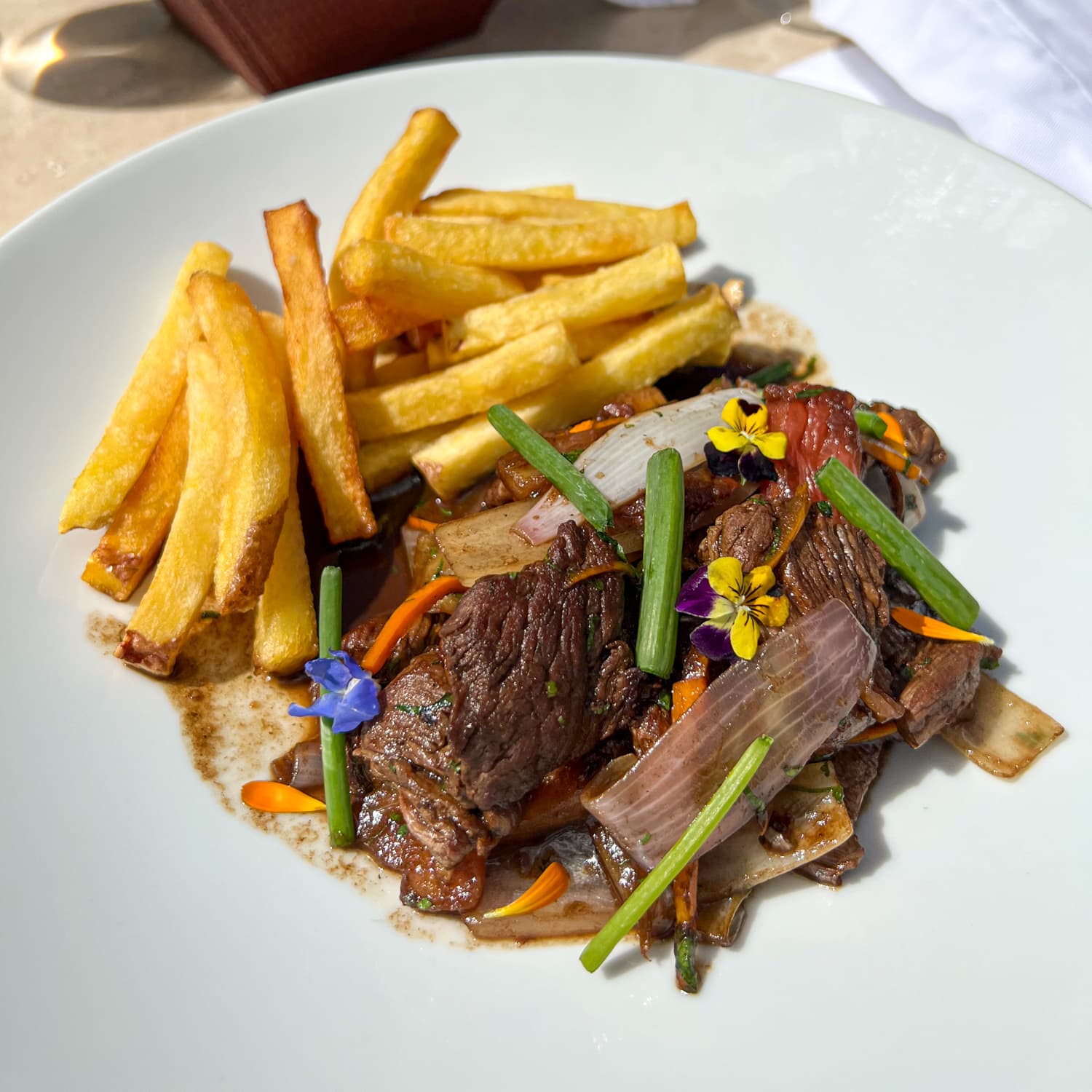 Overall Impressions
Our cooking class in Cusco, Peru, with chef Carlos in the courtyard of Palacio del Inka, was a highlight of the day and vacation.
I discovered this great experience through the hotel's website, one of many Peruvian food and beverage offerings available to guests.
Additional Peruvian cooking classes include:
Culinary Journey - a professional Peruvian chef guides you through San Pedro, a local market, followed by a cooking class where you'll make trout ceviche and lomo saltado.
Roasting Boxers and Burners - a unique opportunity to try two popular Andean types of meat, alpaca and guinea pig (cuy), cooked in a Chinese roasting box.
Or, if you prefer to skip the cooking, consider these options:
Ancestral Tasting Menu - a five-course tasting menu with international dishes and Andean flavors.
Pisco Masterclass - learn how to make Peru's famous pisco sour.
Pisco Tasting - learn the history of pisco while tasting a selection of them by Viñas de Oro.
Visit the dining page on the hotel's website for all the latest offerings.