In a country as young as the United States, few restaurants have been in business for over a century. The Columbia Restaurant in Tampa Bay is one such historic place, having opened in 1905.
Florida's oldest restaurant has survived Prohibition, the Great Depression, hurricanes, and pandemics, to become the largest Spanish restaurant in the world.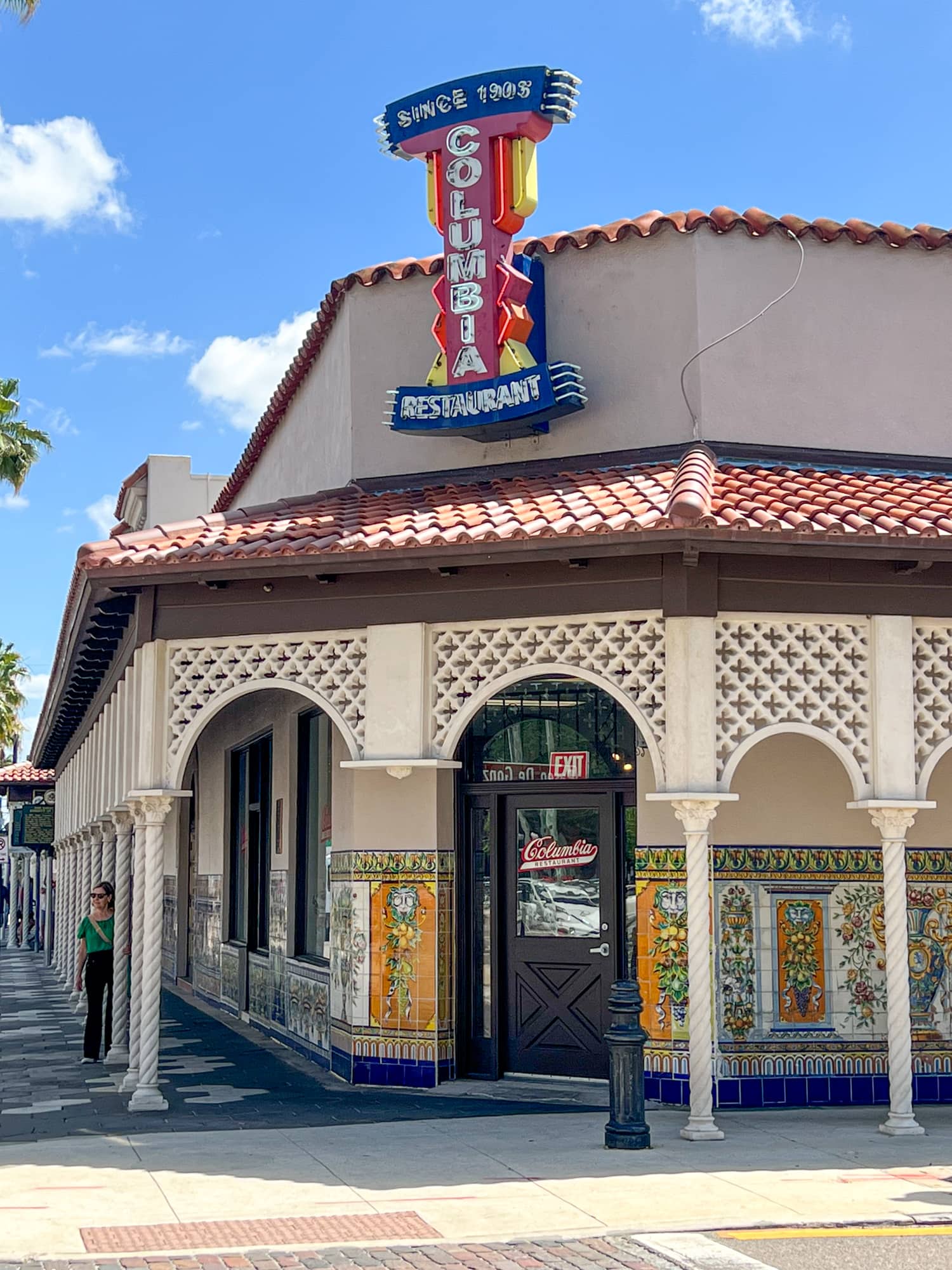 The original location occupies an entire city block, with 15 dining rooms for up to 1,700 diners and a gift shop with ceramics from Spain.
Just walking up to the restaurant on East 7th Avenue in Ybor City, the Latin Quarter near downtown Tampa, is a treat.
The facade is covered in colorful hand-painted terra cotta tiles imported from Spain, and an arcade wraps around it.
Before we get to the food of one of the best places to eat in Tampa, a bit of local history.
History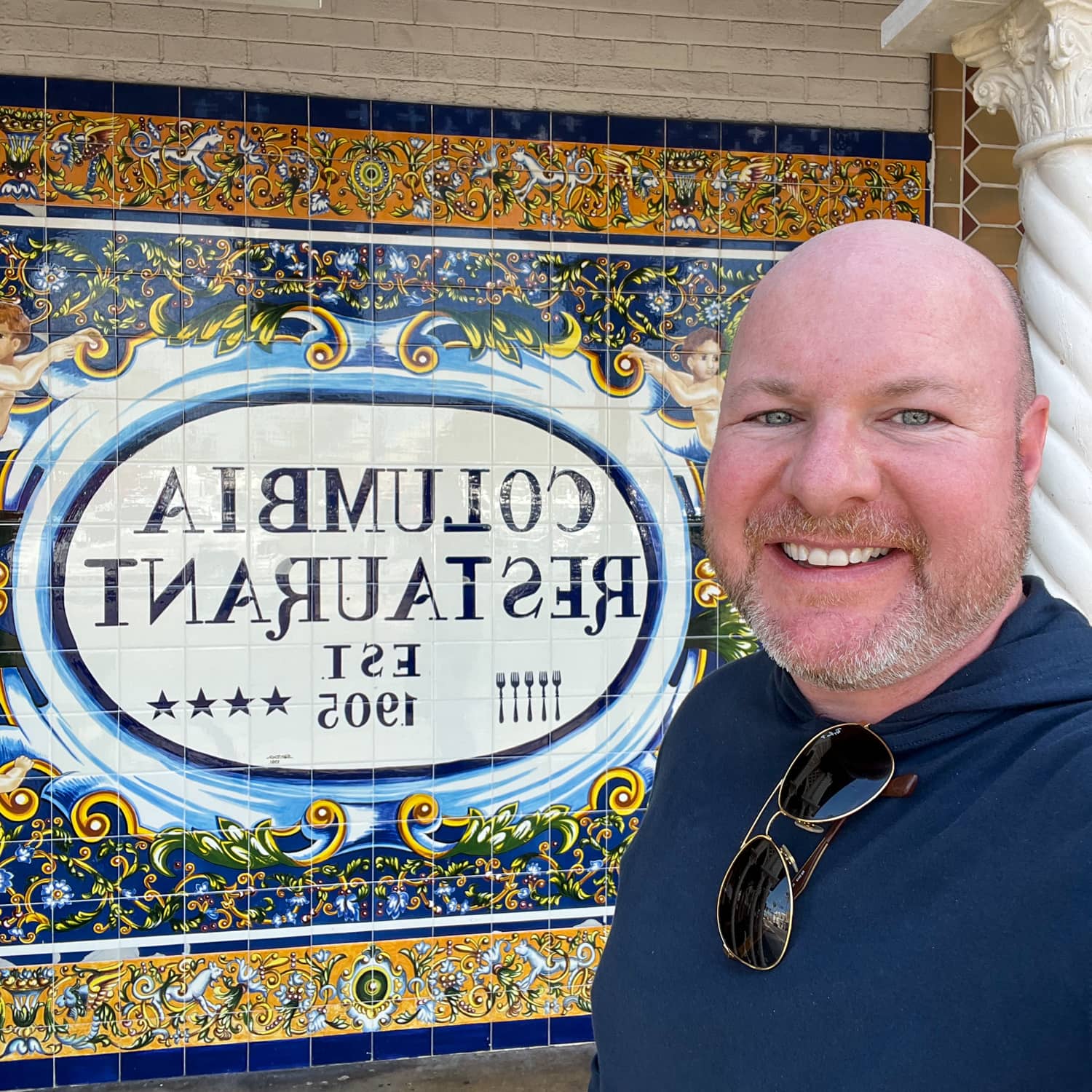 In 1885, Vicente Martinez Ybor, a Spanish entrepreneur and cigar manufacturer, founded Ybor City on 40 acres northeast of downtown Tampa.
The warm weather and humidity were ideal for cigarmaking. He and others set up large factories, turning Ybor City into the Cigar Capital of the World.
The rapid growth and need for workers led to an influx of tens of thousands of immigrants, mainly from Cuba, Spain, and Italy (Sicily).
First Generation
In 1902, Casimiro Hernandez, Sr., a Spanish-Cuban immigrant, and his family were among the new arrivals in the United States.
He initially worked at a brewery in Ybor City, but by 1903, he was ready to build his own business.
What began as a small saloon quickly evolved into the Columbia Cafe. There, factory employees could grab a coffee and Cuban sandwich on their way to/from work.
Casimiro named his cafe after his favorite song, "Columbia, the Gem of the Ocean." It celebrates the first American ship to circumnavigate the globe, the Columbia Rediviva (1790).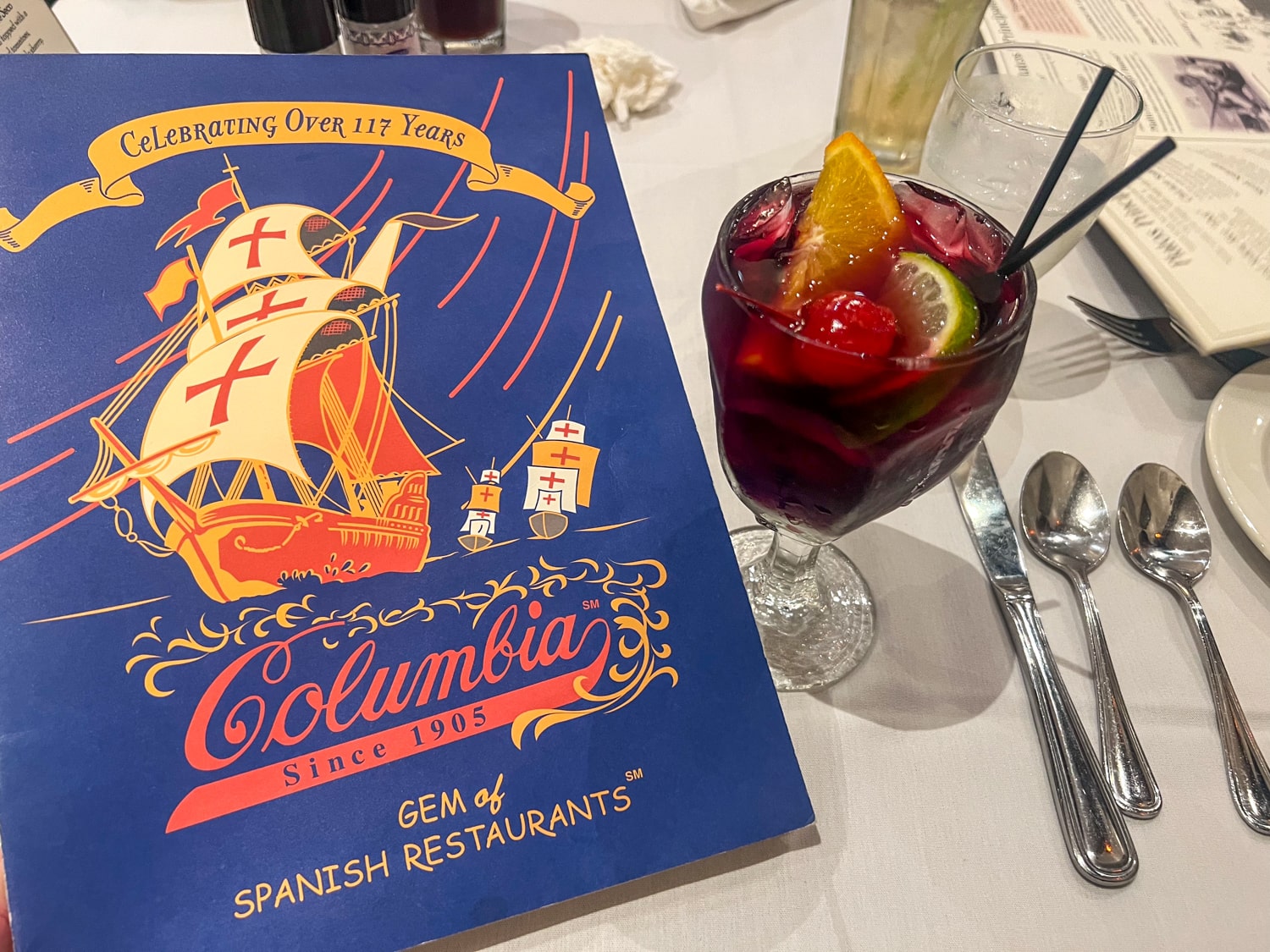 When Florida prohibited alcohol sales in 1918, the business evolved again, and the Columbia Restaurant in Tampa was born.
Despite serving more food, they still found ways to hide the booze and make money from alcohol sales.
In the Columbia Restaurant's bar, you can still see the hollowed-out pillars used to hide liquor from the authorities. And there was a speakeasy upstairs.
A framed search warrant in the lobby shows authorities searched the premises in 1929 but didn't find alcohol.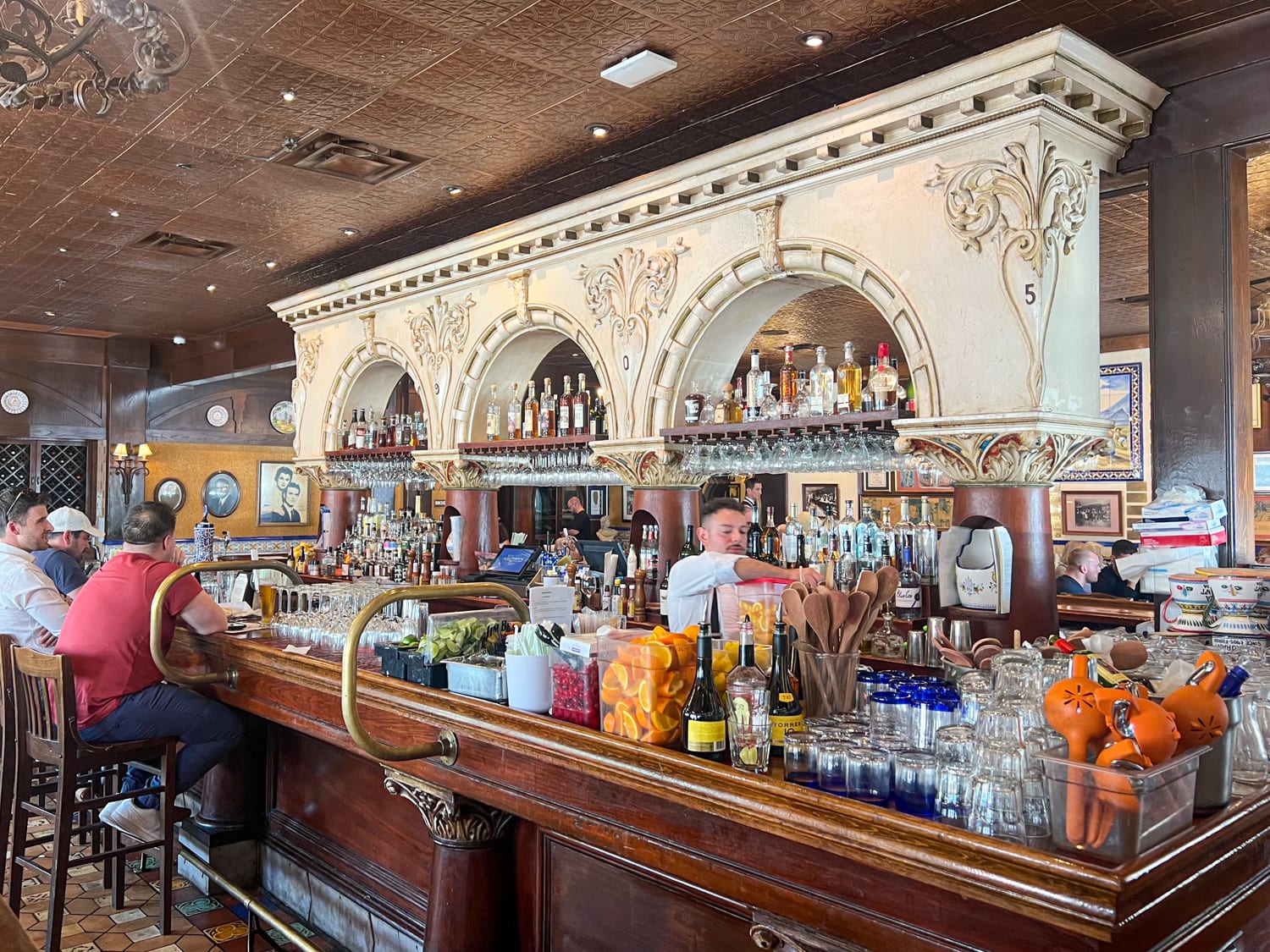 Second Generation
That was the same year Casimiro Hernandez Sr. passed away, leaving the restaurant (and significant debt) to his four sons. Casimiro Hernandez Jr. took the lead, eventually buying out his three brothers.
Despite the Depression, Casimiro Hernandez Jr. envisioned the Columbia Restaurant as a fine dining hotspot where people went for the music, dancing, and delicious food and drinks.
During his tenure, he built the first air-conditioned dining room in Tampa, The Don Quixote Room, complete with a dance floor and crystal chandelier. His gamble paid off, and Columbia's reputation grew.
Third Generation
Casimiro Hernandez Jr.'s only child, Adela Hernandez, became a concert pianist and married violinist Cesar Gonzmart. The couple performed in supper clubs while touring the U.S. and Cuba in the early 1950s.
They became more involved in running the family business in 1953 when her father's health was failing. They further invested in hosting musicians.
Fourth and Fifth Generation
Today, the Columbia Restaurant continues to be family-owned and operated, as the legacy (and responsibility) passes from generation to generation.
Richard Gonzmart, son of Adela and Cesar Gonzmart, is the President of the Columbia Restaurant Group and 1905 Family Of Restaurants.
Their other son, Casey Gonzmart Sr., is the board chairman of the Columbia Restaurant Group.
The fifth generation of the Gonzmart family is represented by Andrea Gonzmart Williams and Casey Gonzmart, Jr., who grew up in the business.
With so much history behind it and a Michelin recommendation as of 2022, I was excited to dine at the original Columbia Restaurant in Tampa.
Columbia's Menu
A restaurant with 118 years of history has many stories to tell. Some of those stories are presented as you flip through the menu of Spanish-Cuban food.
There's Casimiro Hernandez, Sr.'s original recipe for Spanish Bean Soup made with garbanzo beans, smoked ham, and chorizo. And a family recipe for Cuban Black Bean Soup. Cool off with Gazpacho Andalucia.
Over a dozen tapas, including Ybor Devil City Crab Croquettes, made with blue crab meat, paprika, garlic, and Cuban bread crumbs, are on the menu.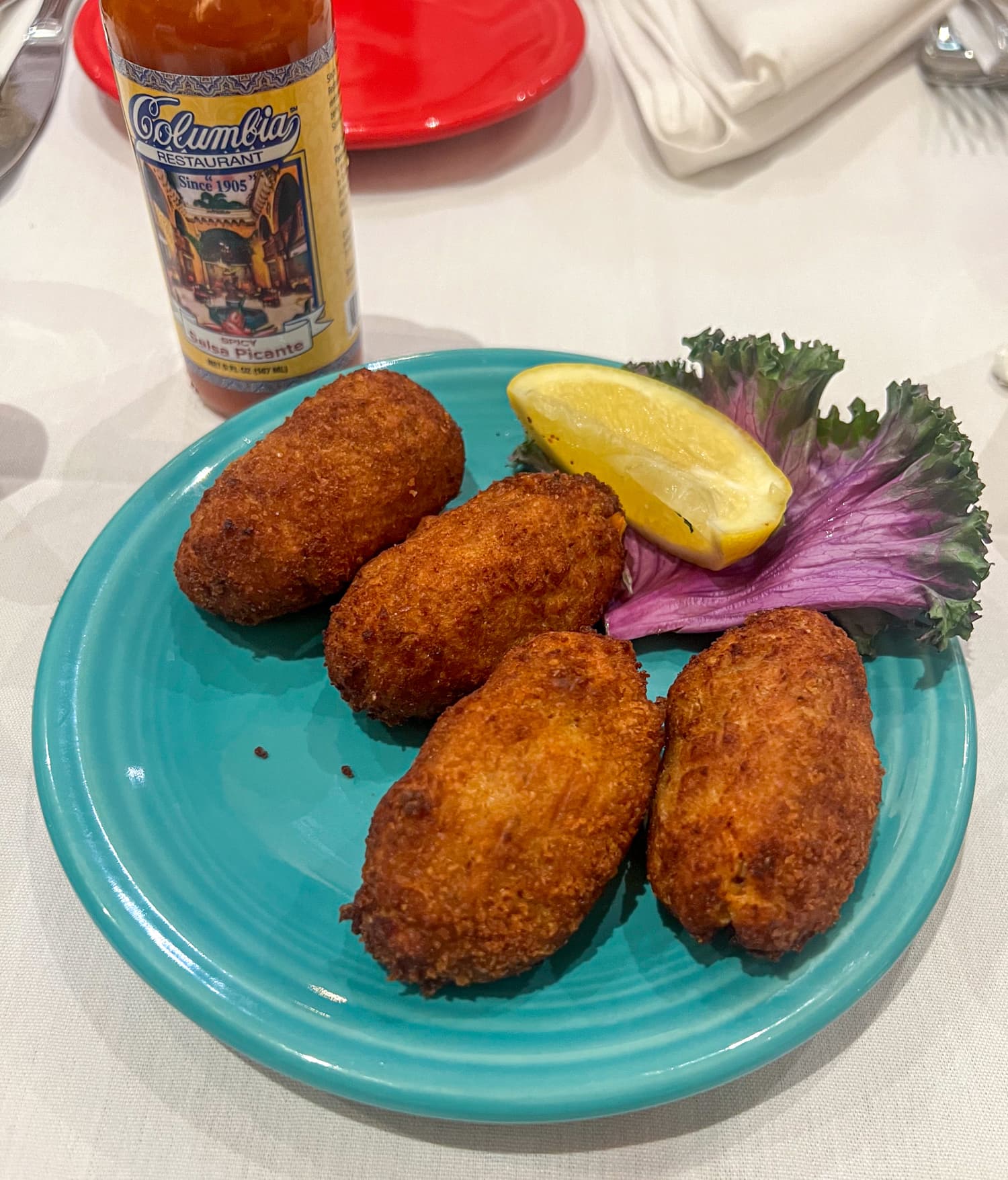 You'll receive two per serving and Columbia's bottled Salsa Picante.
Croquetas de Pollo (chicken) is also available, as are Empanadas de Picadillo (beef empanadas) and Queso Fundido (melted cheese) with Cuban bread.
1905 Salad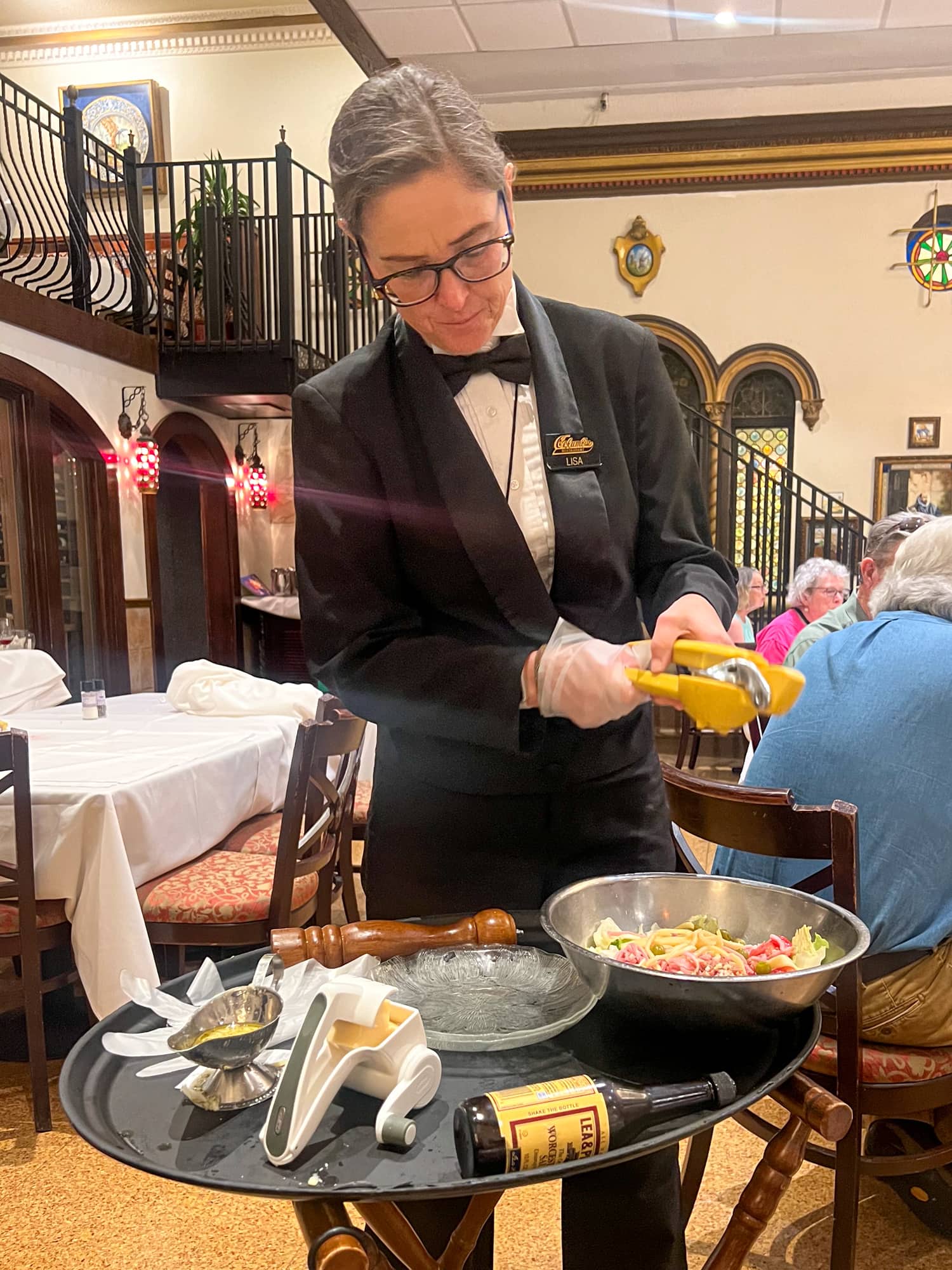 One of Columbia Restaurant's signature dishes is the 1905 Salad. It's tossed tableside with iceberg lettuce, baked ham, Swiss cheese, tomato, olives, grated Romano cheese, Lea & Perrins Worcestershire sauce, and garlic dressing.
The salad is inspired by Ybor City's immigrant population and the fresh ingredients grown in Florida, such as tomatoes.
My first experience with the 1905 Salad was at Columbia Restaurant in Sand Key near Clearwater Beach (30 miles west of Tampa).
There's little not to like in this crisp, cold salad (except the olives, which I deftly avoided -- I'm not an olive guy).
Columbia's Original "1905" Salad is available as a full plate ($15) or a side along with any entree ($8). Adding turkey is no extra cost; shrimp is $3 more.
The Original Cuban Sandwich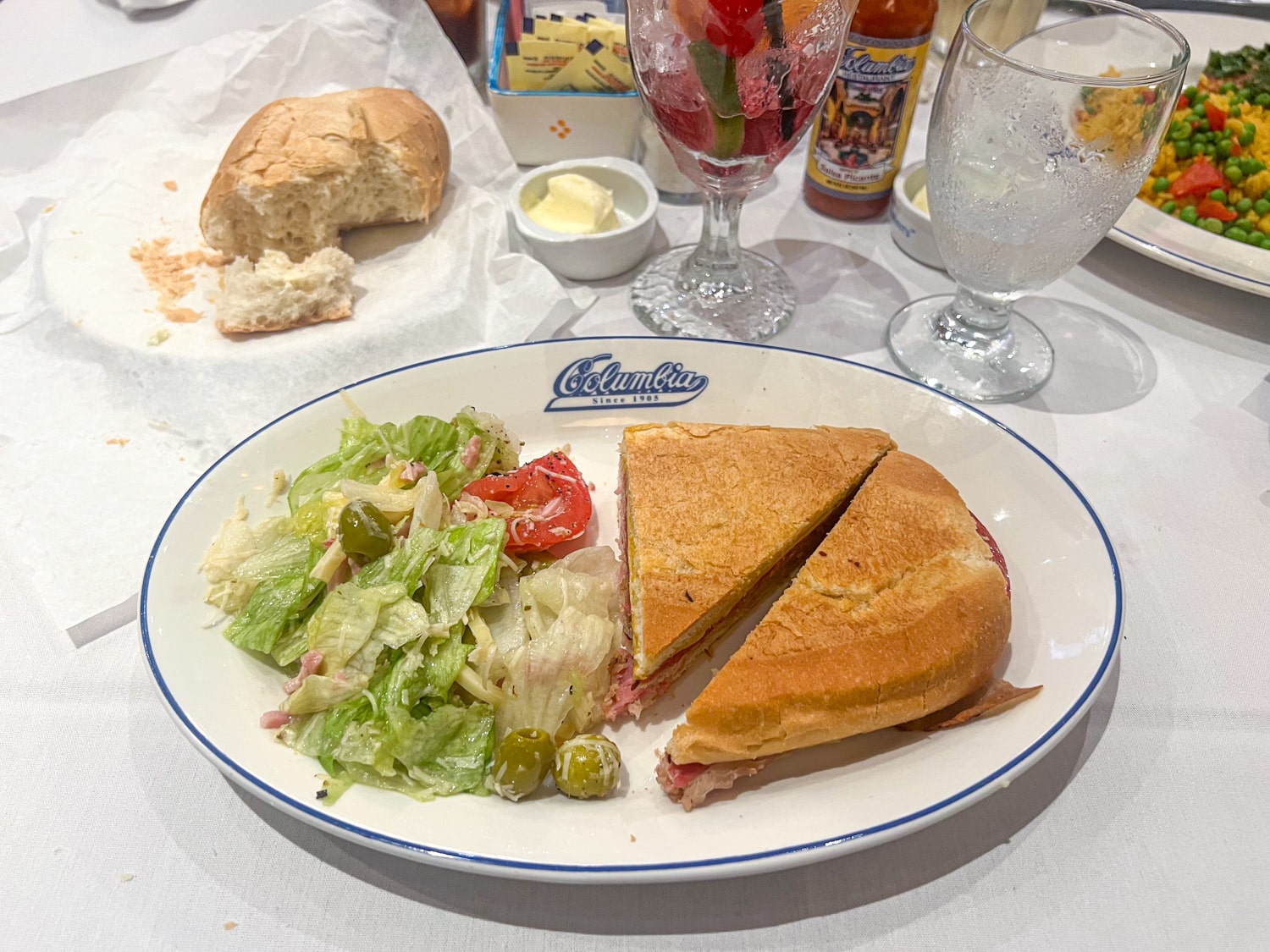 I'd always associated Cuban sandwiches with Miami. However, based on my most recent visit and reading, I learned they first developed in the Tampa area.
The sandwich grew out of the confluence of immigrants and culture in Ybor City during its heyday as a cigar-manufacturing hub in the late 1890s and early 1900s.
Press the ingredients between fresh-baked Cuban bread from nearby La Segunda Central Bakery (in operation since 1915), and you've got a winning combo.
I ordered Half and Half Combo, The Original Cuban Sandwich ($14) with a side of 1905 Salad, and delighted in every bite.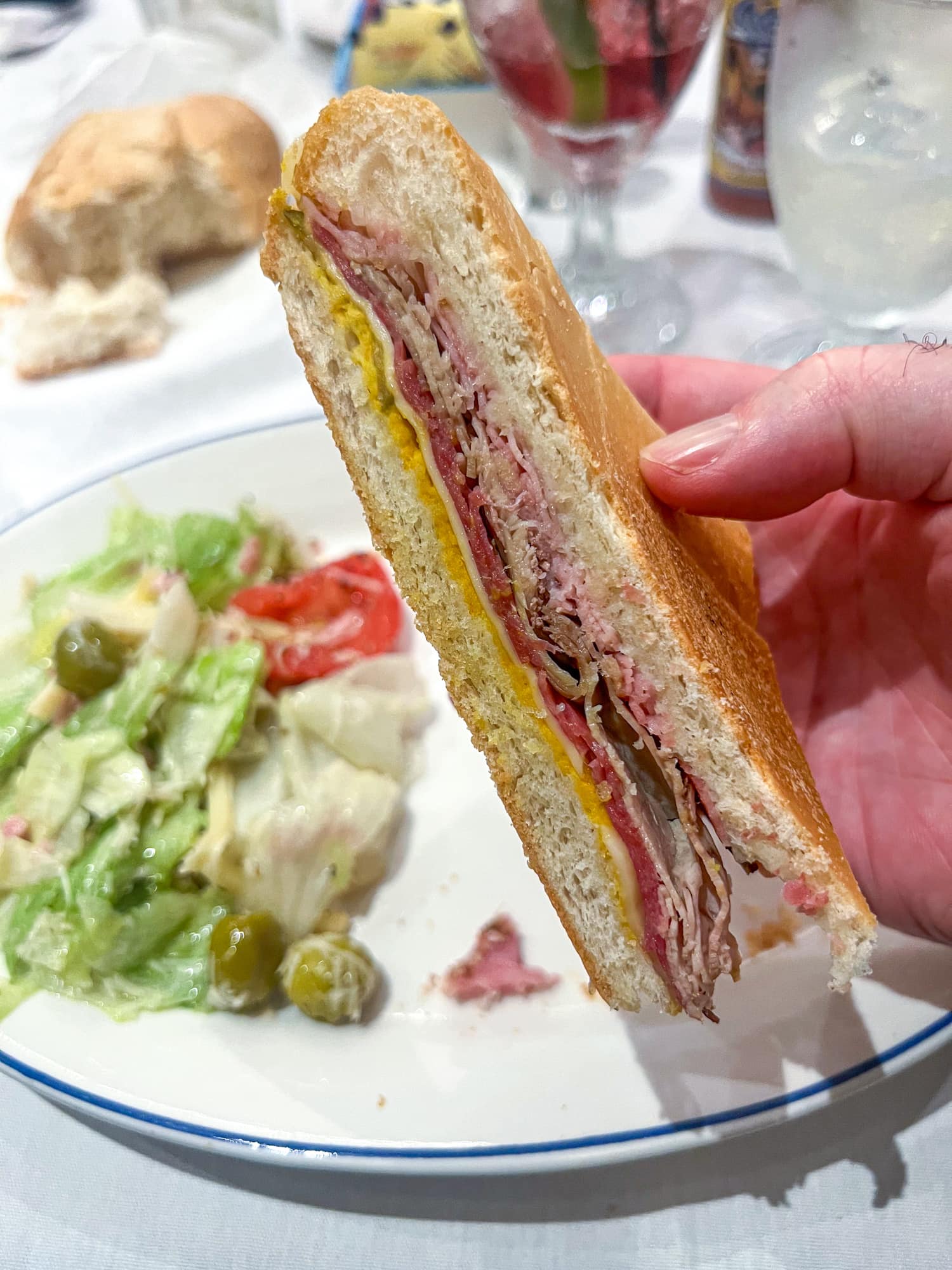 The slight crispness of the Cuban bread quickly gives way to the tasty meats and cheeses inside.
It's easy to see how such a sandwich could be eaten on the go in Tampa if you walked to the cigar factory and passed Columbia Restaurant along the way.
As the menu description says, this version uses the same recipe and proportions of meat as it did when Casimiro Hernandez, Sr. made it.
Additional sandwiches include the Palomilla Steak Sandwich with thinly-sliced Cuban steak, a Mahi-Mahi Cubana, and Curt's Meatloaf Sandwich.
Entrees
I didn't order an entree, as I only had room to eat so much, but there were appealing menu items.
Highlights include the following:
Chicken and Yellow Rice "Ybor" - a traditional dish from Ybor City, it's baked chicken with yellow rice, green peppers, onions, tomatoes, spices, and extra-virgin olive oil.
Ropa Vieja - a Cuban classic with shredded beef, onions, green peppers, and tomatoes.
Snapper a la Rusa - breaded and grilled snapper with lemon butter, chopped hard-boiled egg, and parsley.
Paella "Española" - seafood, chicken, pork, and fresh vegetables mixed with rice.
White Chocolate Bread Pudding
Let's move on to dessert, often my favorite course, though it's hard to choose favorites at Columbia Restaurant.
I had the White Chocolate Bread Pudding, with the same Cuban bread as the sandwiches, topped with Bacardi rum sauce. Served warm, it was obscenely good.
Additional desserts include the flan, based on a family recipe dating back to 1935. I've tried flan many times, including at Bodega 1900 in Barcelona, yet this custard dish always leaves me wanting more.
Columbia Restaurant also offers the state pie of Florida, Key Lime Pie, and churros with chocolate, caramel, and guava dipping sauces.
The family recipes for the 1905 Salad, Devil Crab Croquettes, and Original Cuban Sandwich are all available on Columbia's website.
Dining Rooms
During a post-lunch tour, I got a slight feel for how challenging it must be to run one of the best restaurants in Tampa.
I'd eaten in the main dining room, The Don Quixote Room, built by Casimiro Hernandez Jr.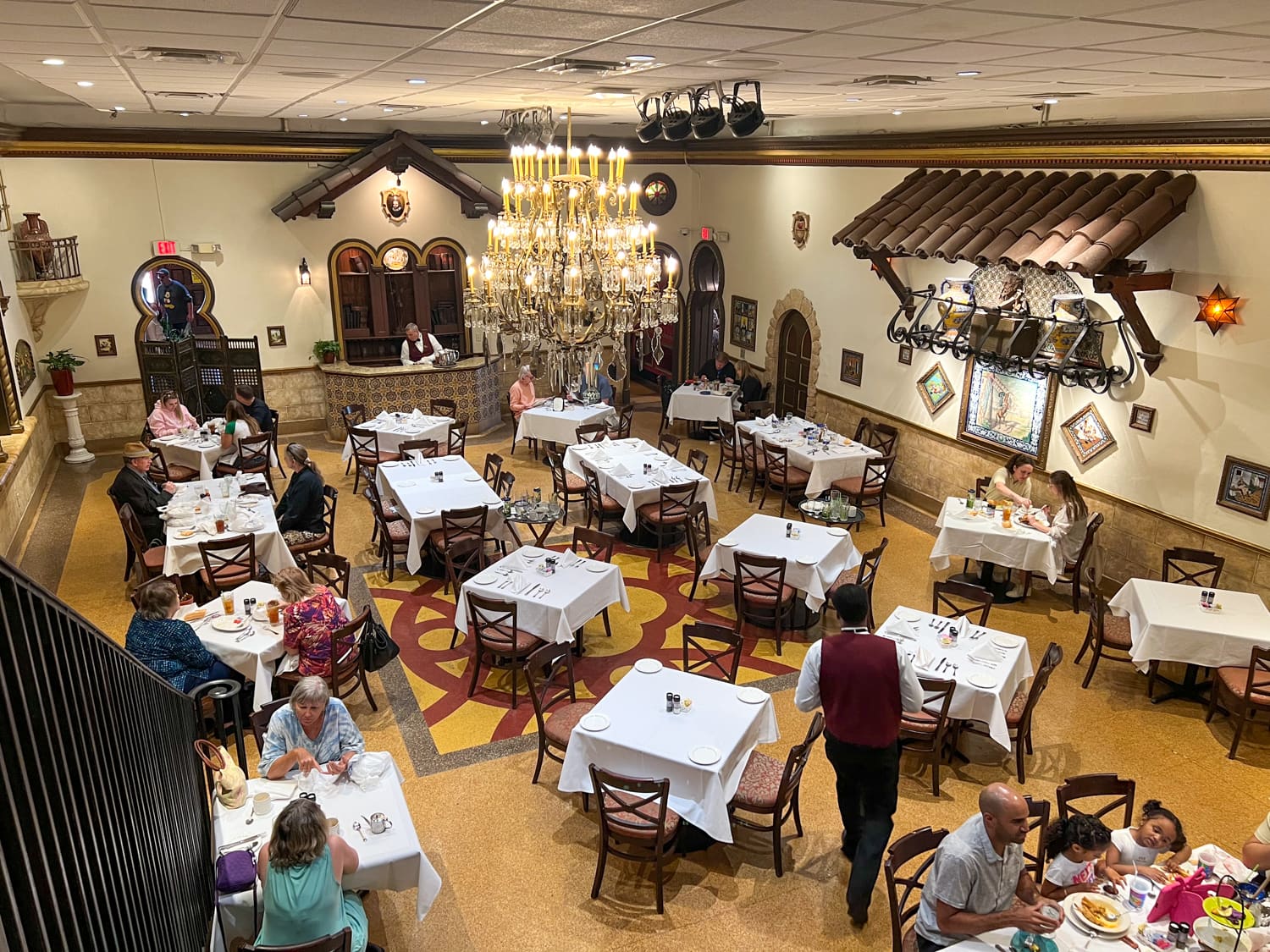 Originally, hand-painted Spanish tiles depicted Don Quixote's story; however, most were lost in a previous renovation. What wasn't discarded is still on the walls. The wishing well is also a nod to Don Quixote.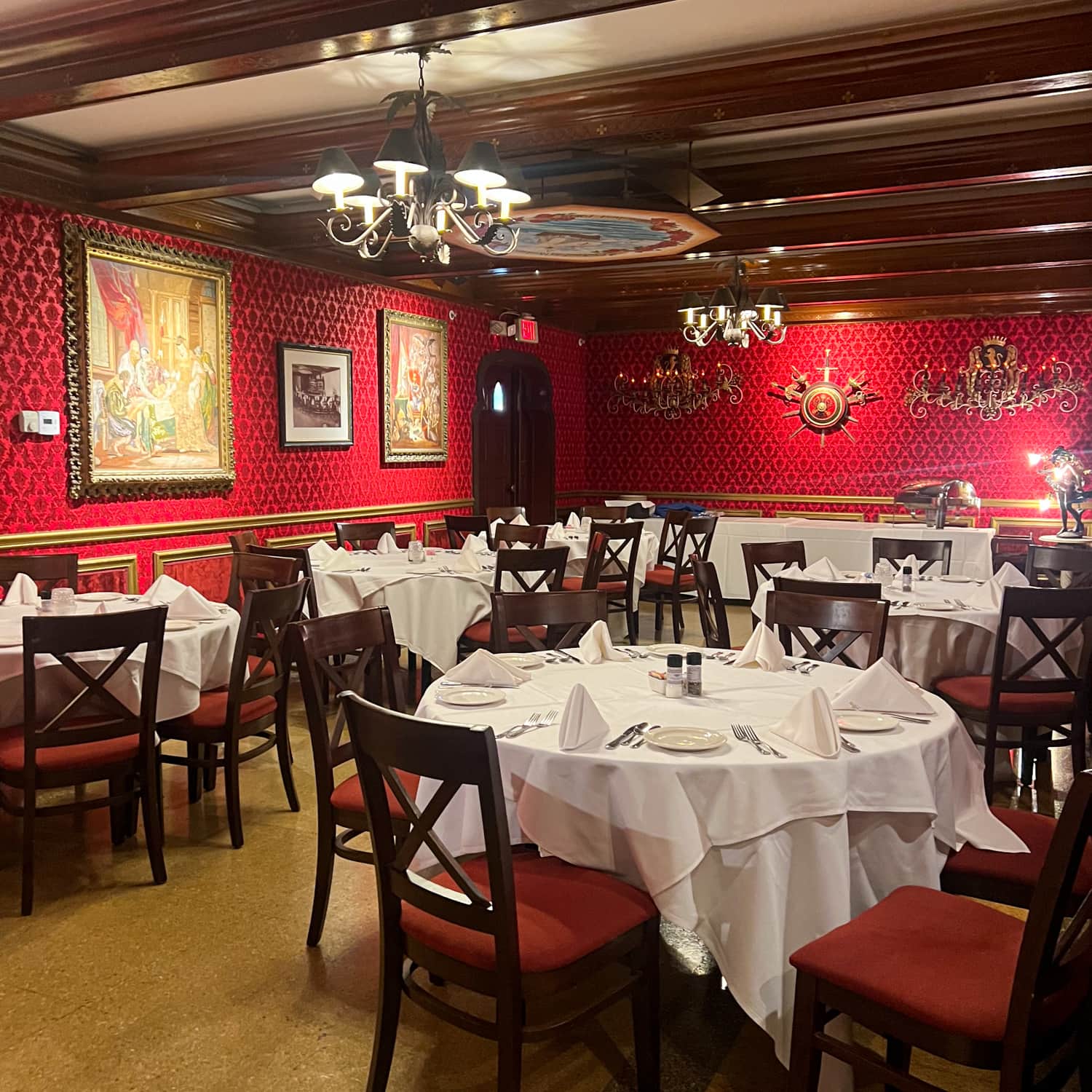 Nearby, there's an elegant dining room with beautiful red wallpaper and wooden beams on the ceiling. Paintings of Don Quixote adorn the walls.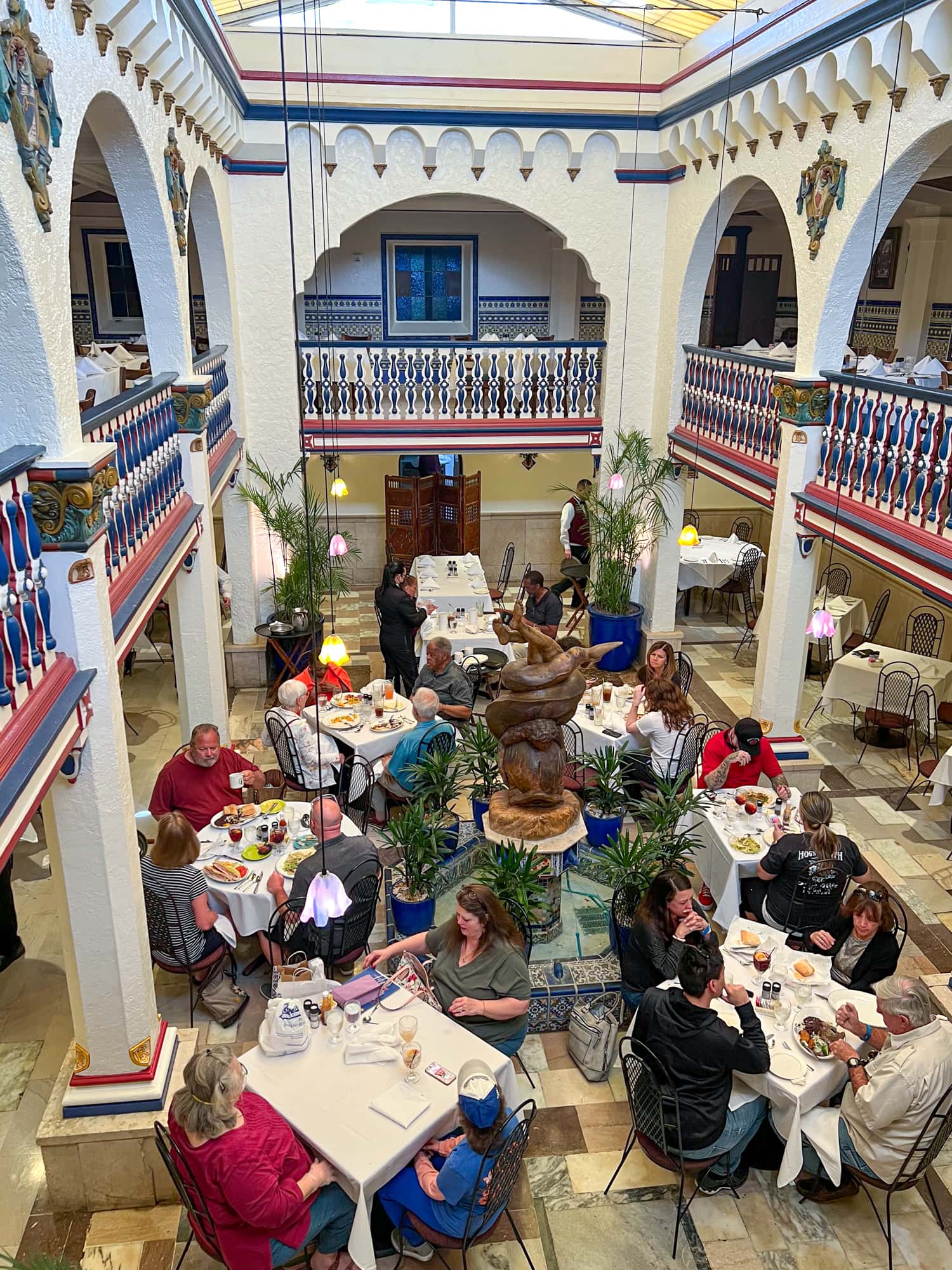 A split-level dining room features a water fountain on the ground floor and a wrap-around balcony.
The space is filled with natural light during the day, reminiscent of dining al fresco in Spanish plazas.
Near the entrance to the kitchen, there's a corner table where Babe Ruth sat for a meal (and was kicked out for getting drunk).
He wasn't the only New York Yankee to eat at Columbia Restaurant in Tampa. Marilyn Monroe dined there with Joe DiMaggio, too.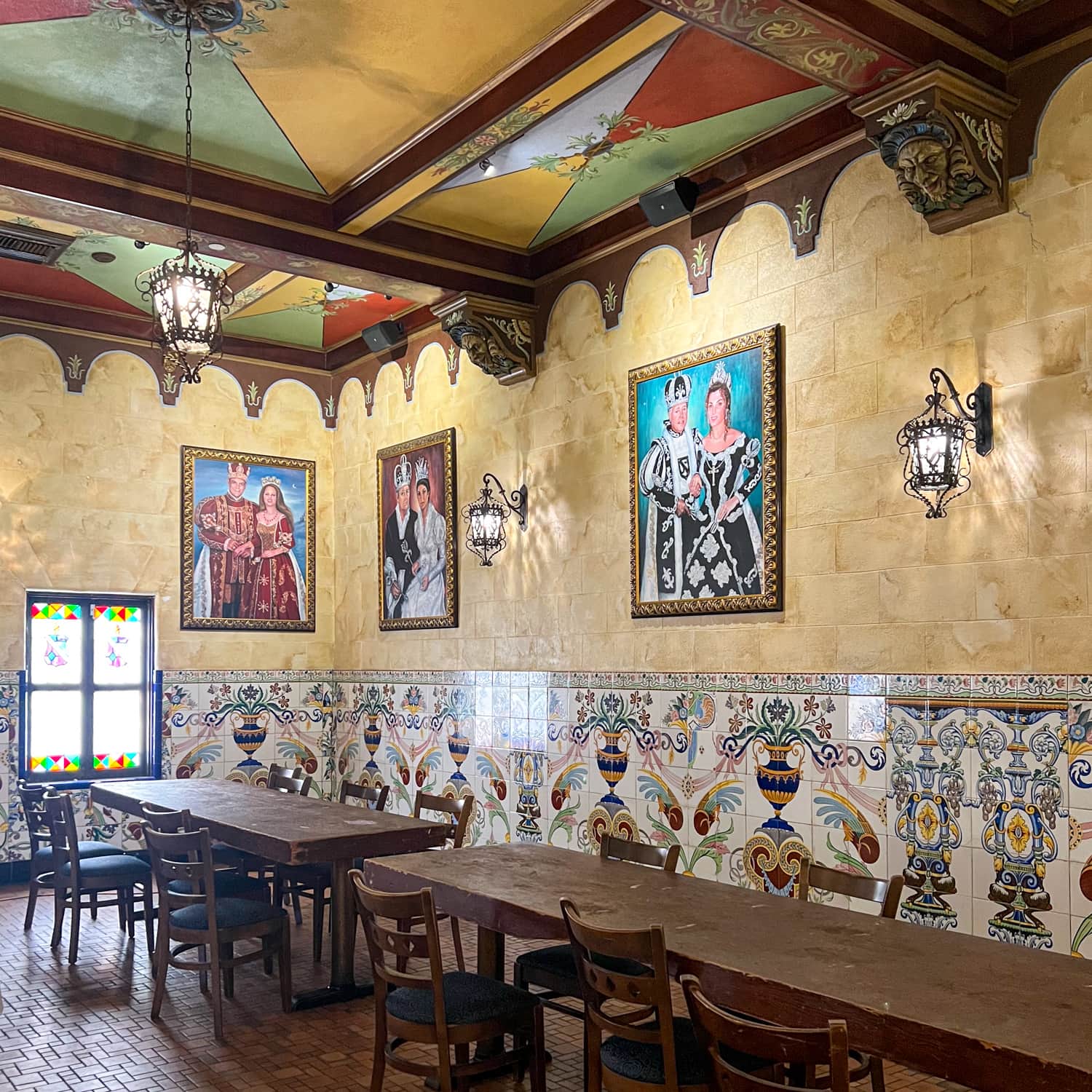 One of the last dining rooms I saw looked straight out of a medieval castle, with a painted ceiling and portraits of the owners.
The many dining rooms reminded me of other historic restaurants like Antoine's and Commander's Palace in New Orleans.
Visit Columbia Restaurant in Tampa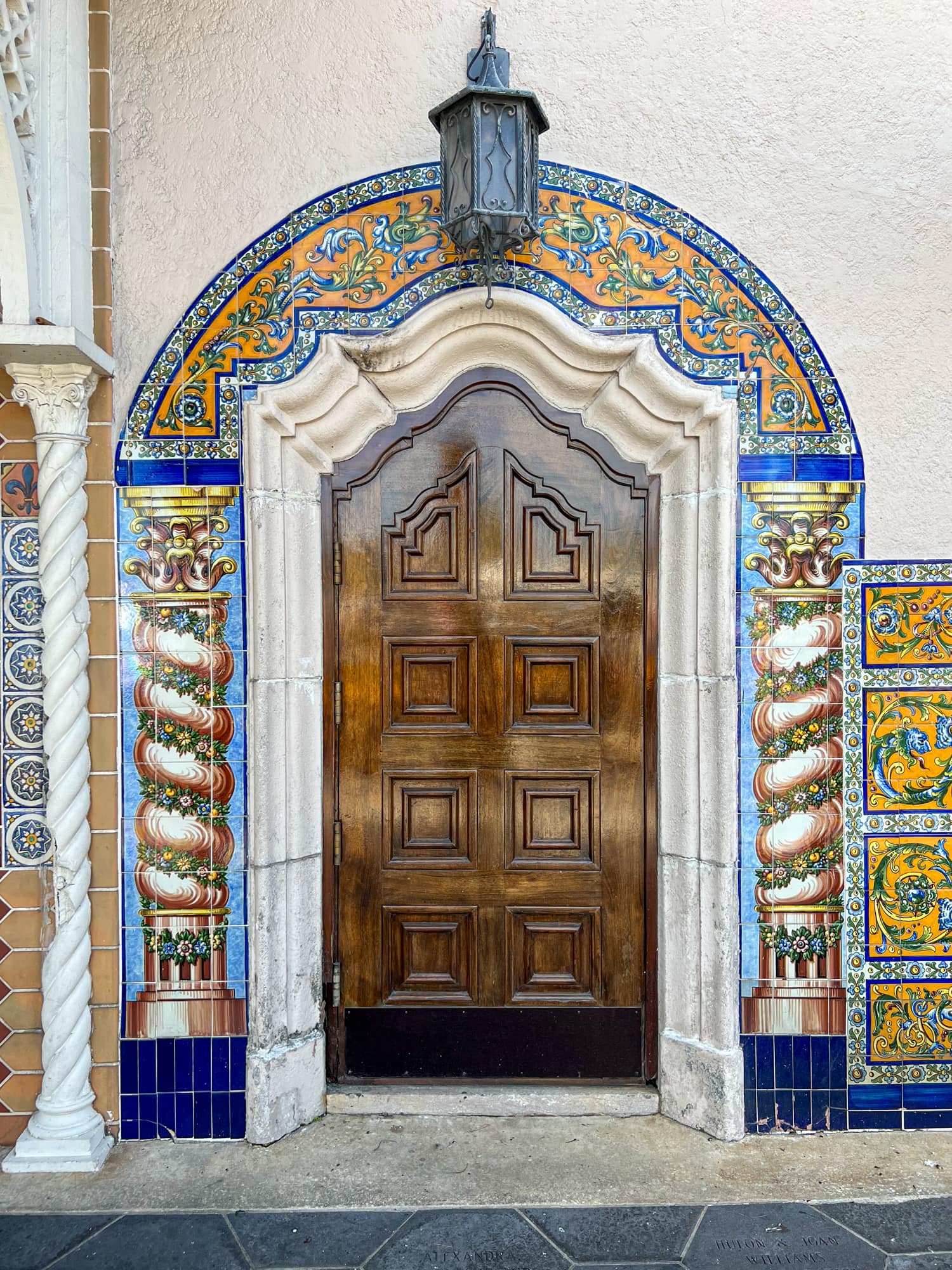 Address: 2117 E 7th Ave, Tampa, Florida
Dress Code: Yes. Casual attire is allowed, but they ask men to wear sleeves.
Reservations: Recommended and available on OpenTable. Tuesday through Saturday, a Flamenco show happens at specific times during dinner service. There's an $8 cover charge per person. Call 1-813-248-4961 to confirm availability.
Website: columbiarestaurant.com
Since the 1950s, the Columbia Restaurant has opened in other places beyond the Ybor City location. These include:
St. Armand's Circle, Sarasota (the city's oldest restaurant)
Historic District, St. Augustine
Sand Key, Clearwater
Celebration, near Orlando
Columbia Cafe at the Tampa Bay History Center on the Tampa Riverwalk
Columbia Cafe at the Tampa International Airport
_____
My meal at Columbia Restaurant in Ybor City was part of a press trip organized by Visit Tampa Bay. The CURRENT Hotel, Autograph Collection, provided the accommodation.