The Austin Food and Wine Festival returned to Auditorium Shores on the first weekend of November 2022.
It's the second year in a row the festival in downtown Austin, Texas, has been held in the fall. Previously, the festival occurred in the spring.
The weather was beautiful, with blue skies and lots of sun. It was my fourth time attending, and the weather has yet to fail me, spring or fall.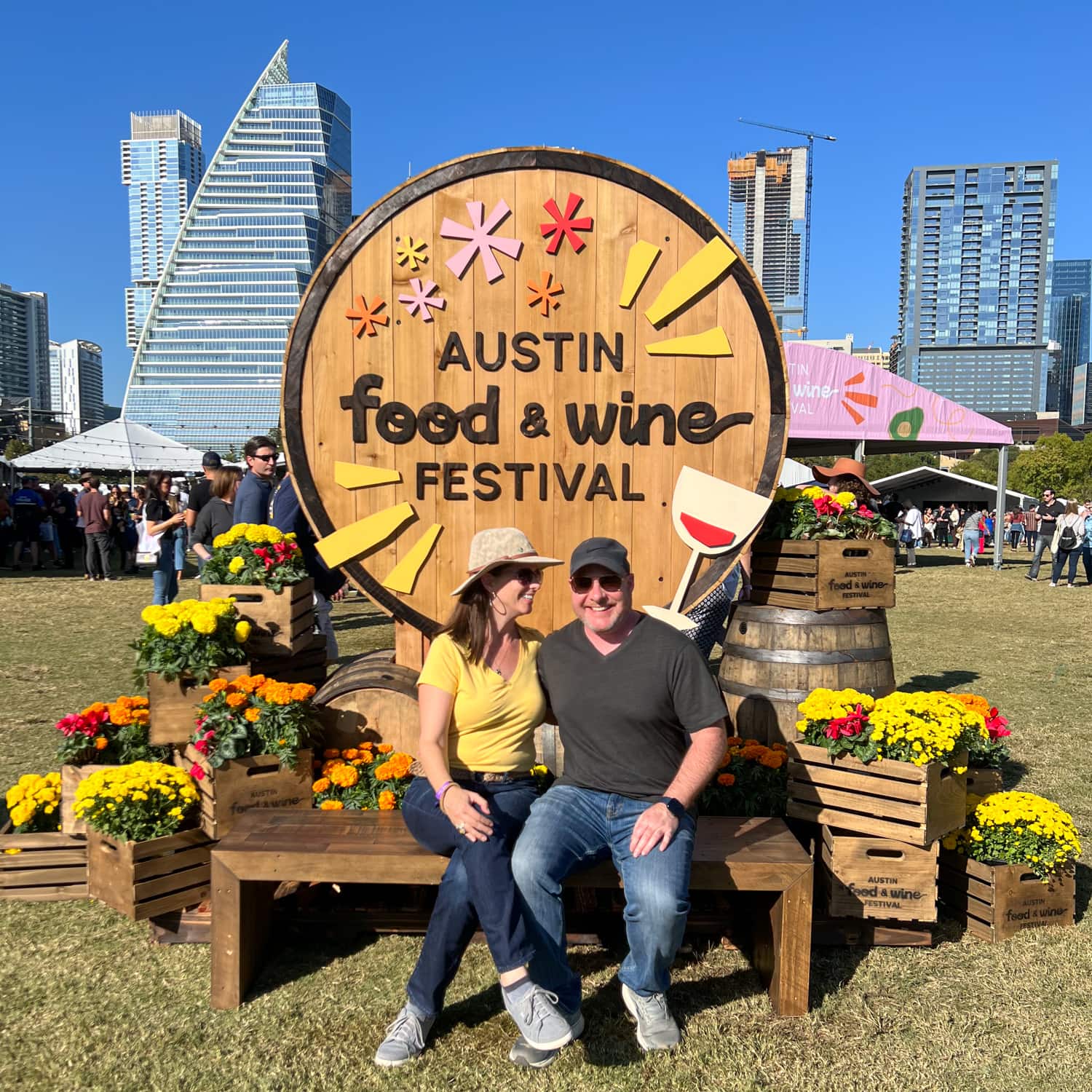 This year, I was in the company of my girlfriend, Kel. It was her first time, and I was excited to share why I enjoyed the annual Central Texas event.
I'd bought two Weekender tickets for us the day they went on sale months earlier. It was a good thing, too, as they quickly sold out.
The ticket price was $250 per person, or about $275 when you included tax and fees.
The Weekender ticket gives you access to the main event at Auditorium Shores, a park on Ladybird Lake in downtown Austin, TX, on Saturday and Sunday.
Once you're inside, it's all you can eat and drink from 1 p.m. to 5:30 p.m.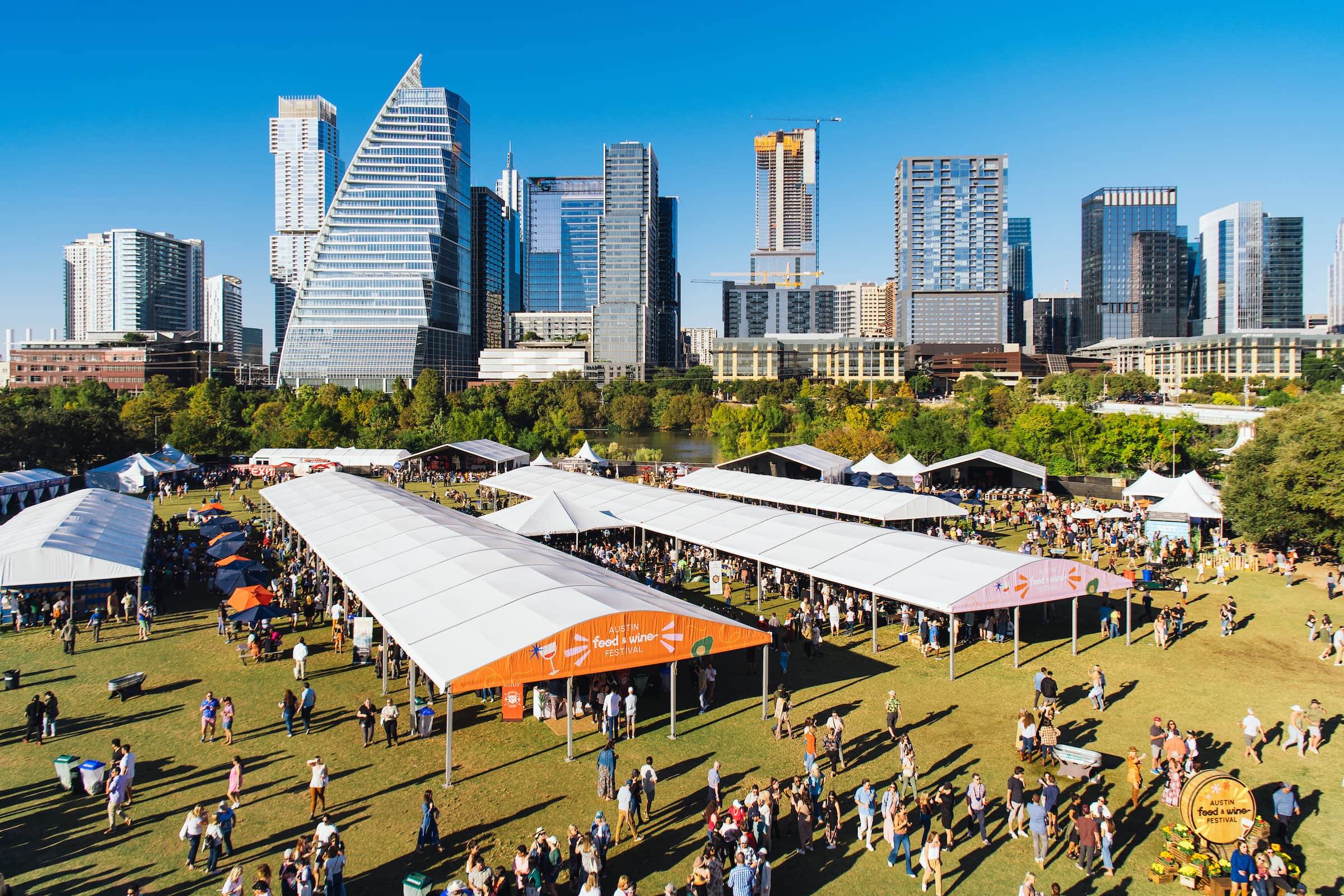 In 2022, organizers offered single-day tickets for the first time for about $150 (or $175, including tax and fees).
It was the first year they've done this, and not surprisingly, they sold out faster than Weekender tickets.
Now, let's check out some bites from Austin's renowned chefs and top-rated restaurants.
Day 1 at Austin Food and Wine
Kel and I arrived at about 12:30 p.m., a half-hour before the event began.
The line wasn't too long, and while they began allowing people through security before 1 p.m., we still had to wait on the other side for the show to begin.
At 1 p.m., the amassed crowd fanned out over the park grounds in search of signature bites and drinks.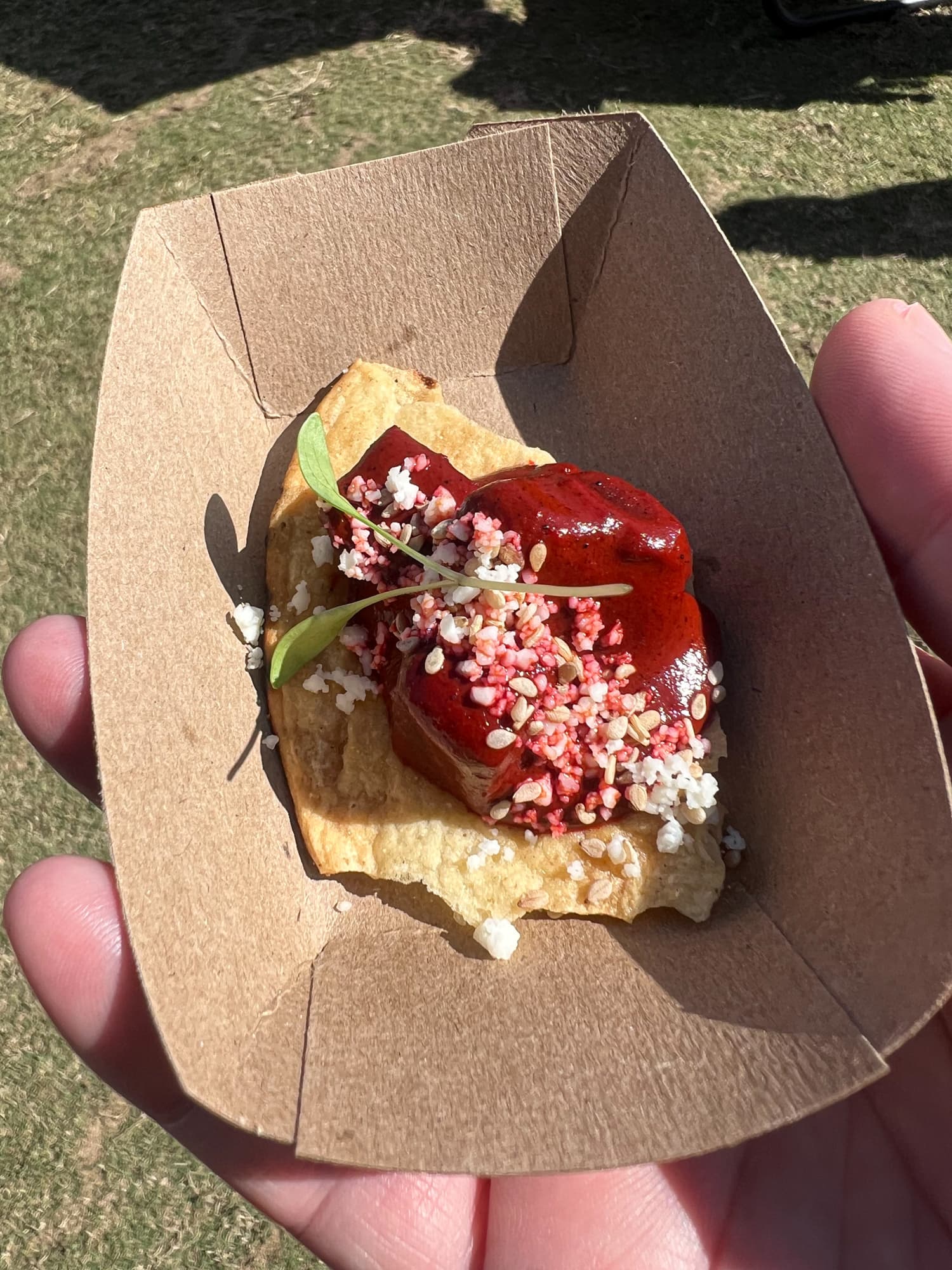 The Grand Taste
We began in The Grand Taste, four long tents in the middle of the park where 100 food, beer, wine, and spirits vendors were offering samples.
This is the heart of the Austin Food and Wine Festival, complete with a live DJ in the middle providing tunes.
My first savory bite was a country pork pate with smoked bacon, pistachios, and cherries from chef Jacob Euler of Le Vacher, a French restaurant in Dripping Springs, TX.
No sooner did I eat that than Kel handed me a tasty tortilla with beet mole from Tacodeli.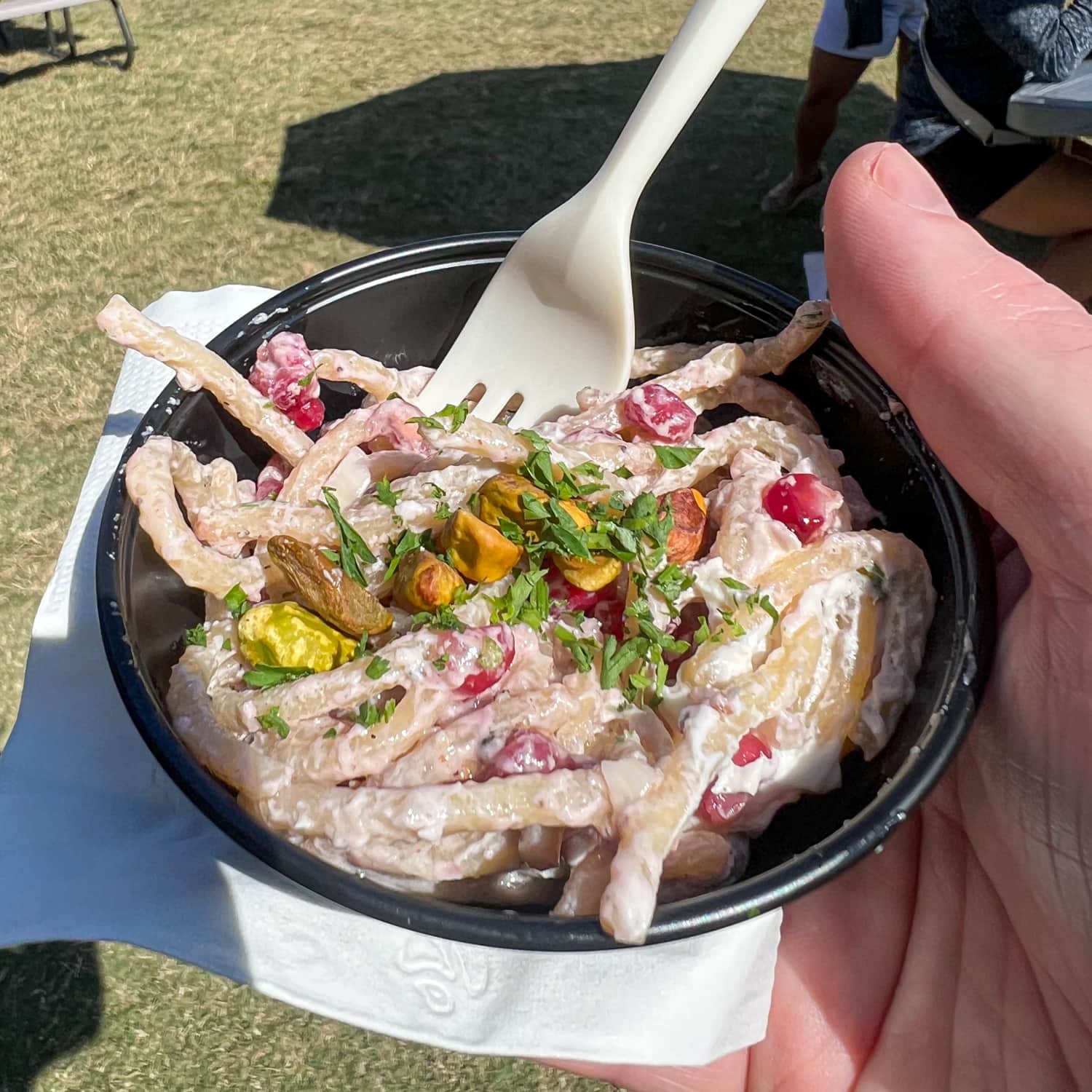 The early hits kept coming when I picked up a bowl of fresh pasta with pistachios and pomegranate seeds by chef Wade Guice of Juliet Italian Kitchen, a restaurant with locations in North and South Austin.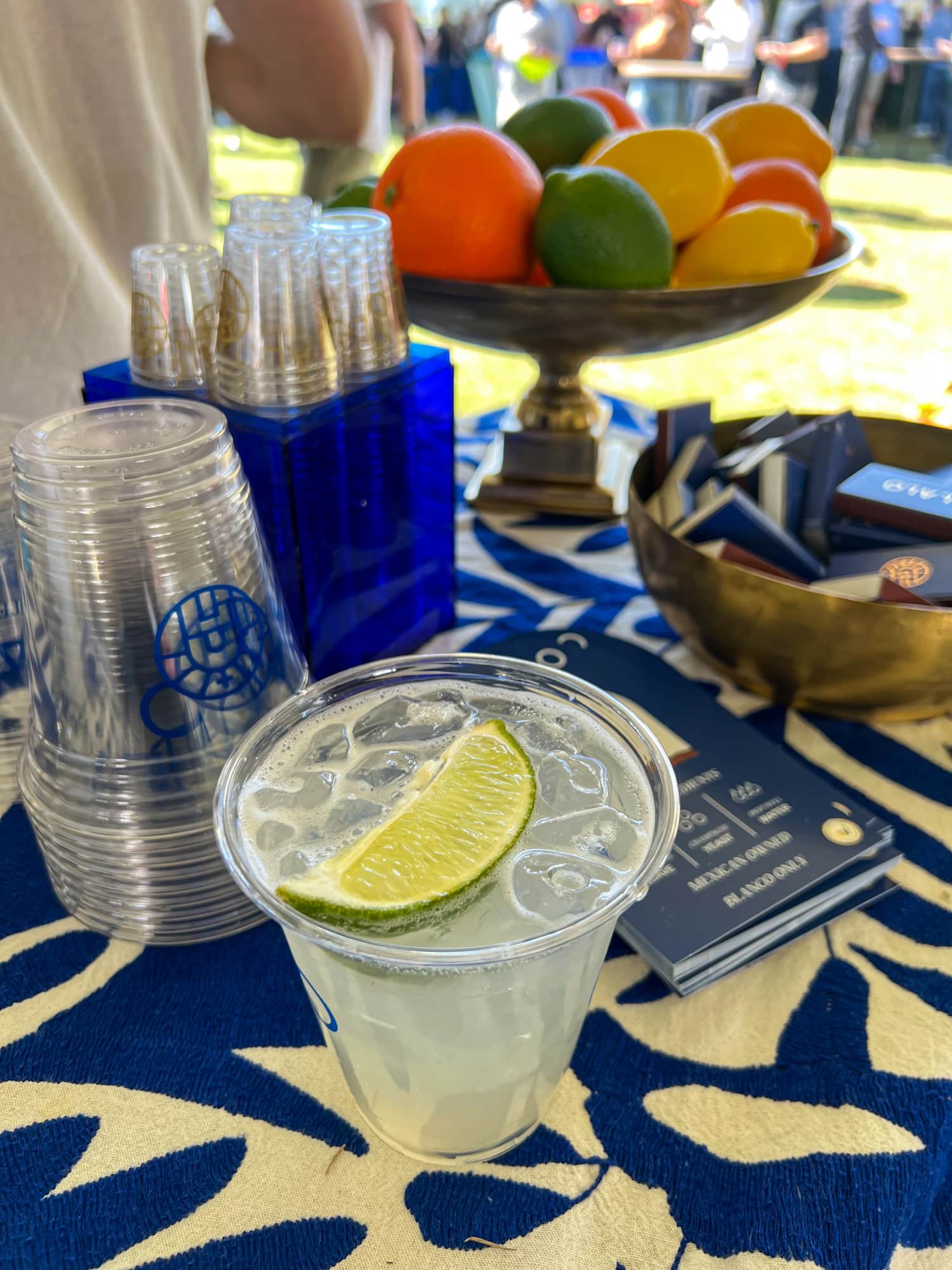 I was starting to get thirsty when we came upon LALO, a tequila brand named after its founder, Eduardo "Lalo" Gonzalez, who received the nickname from his father, a tequila producer.
They were serving generous cups of ranch water with lime, and I was happier for it.
Despite the word "wine" in the festival's name, spirits have a strong presence at the Austin Food and Wine Festival.
I'm more drawn to cocktails offered by liquor companies than the wineries.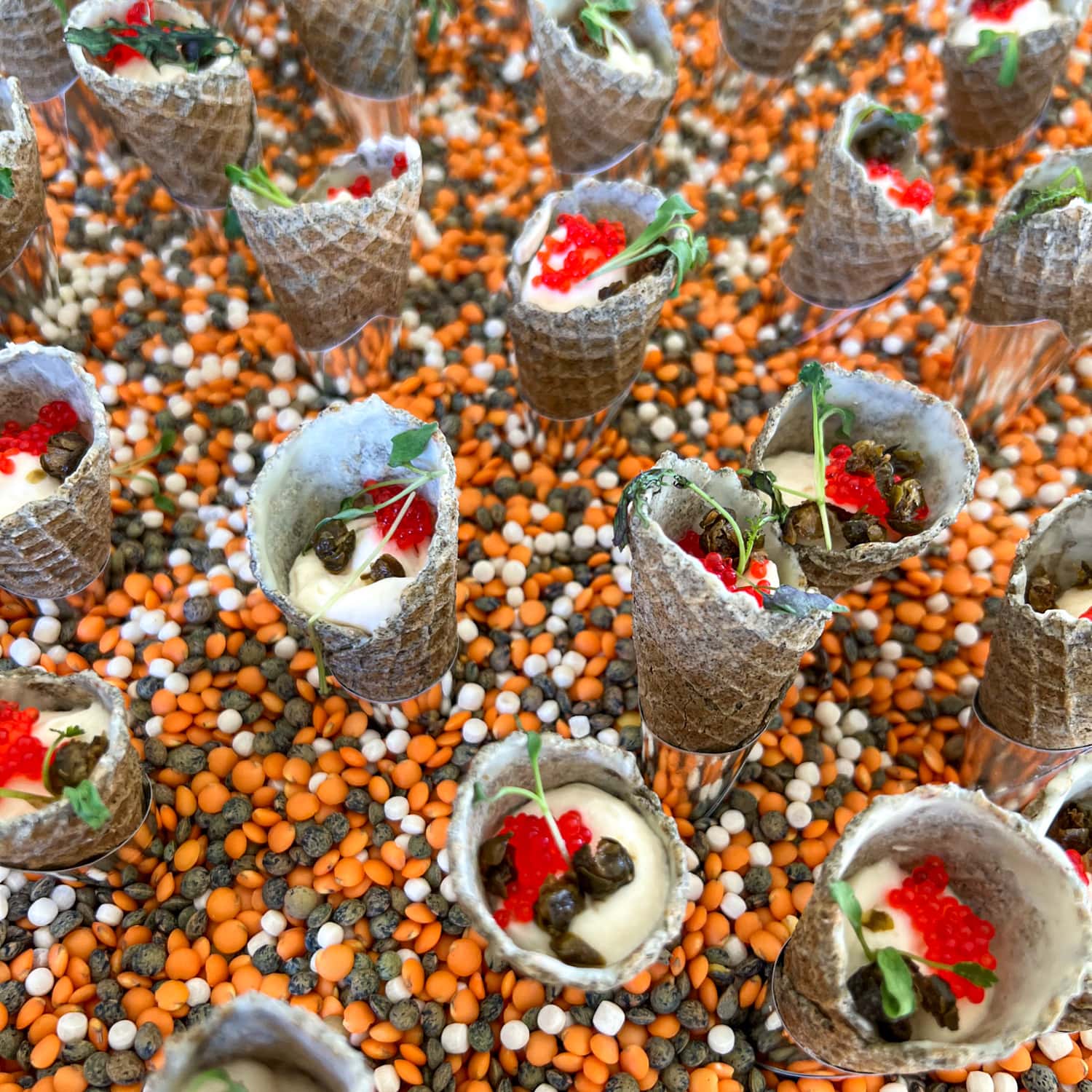 One of my favorite bites of day one came soon after I began drinking the ranch water.
Blind Salamander Kitchen & Bar served smoked salmon dip in a seaweed cone with capers and tobiko (fish roe).
I loved the crunch of the cone, the creamy filling, and that it was easy to pick one up and eat while holding a drink in one hand.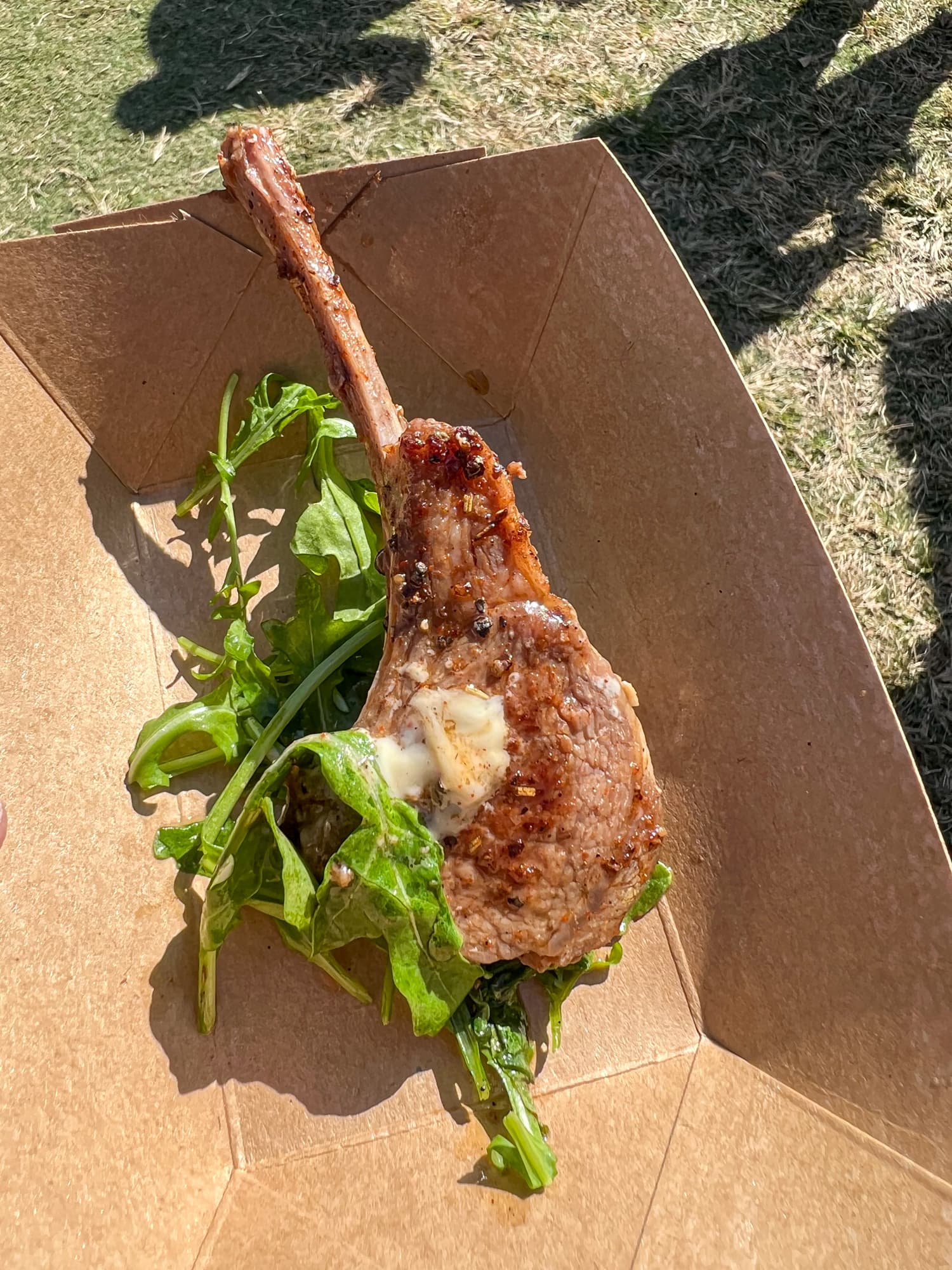 Bento Picnic, an East Austin restaurant, served colorful king salmon daikon rolls featuring fresh fish from Big Glory Bay, New Zealand.
Another raw option was tuna tartare by Revue, a restaurant in the food hall at the Fairmont Hotel.
The grilled lamb with yuzu aioli by Lonesome Dove, a restaurant I was looking forward to trying in Forth Worth the following weekend, also stood out.
Over the years, I've frequently seen chef Tim Love, owner of Lonesome Dove, at the Austin Food and Wine Festival.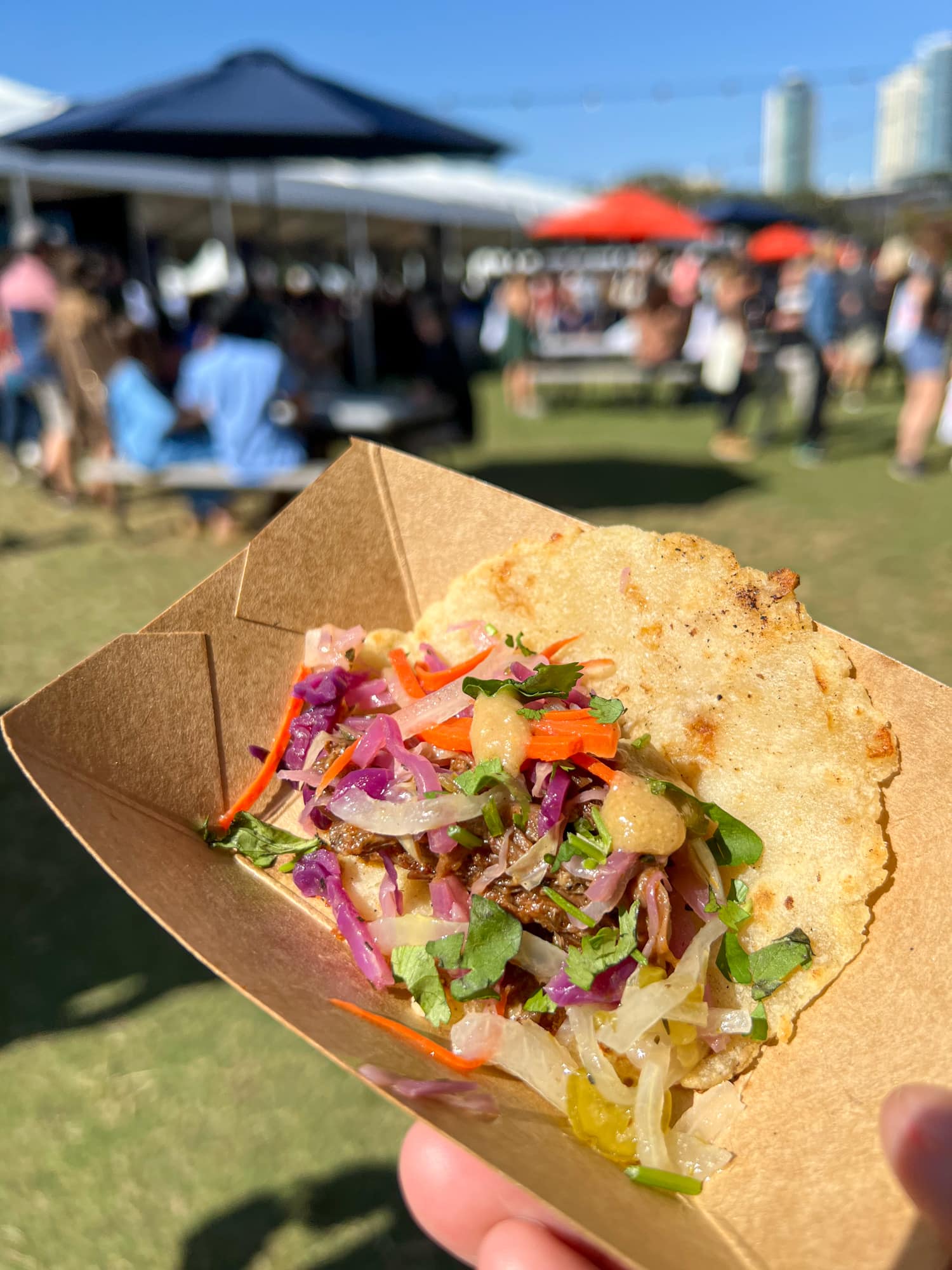 The Garnacha with Oaxacan cheese and a 50-50 mix of short ribs and flank steak birria by Cantina, a food truck (I believe) at Austin Beerworks, was both colorful and flavorful.
Related: Street Foods and Markets in Oaxaca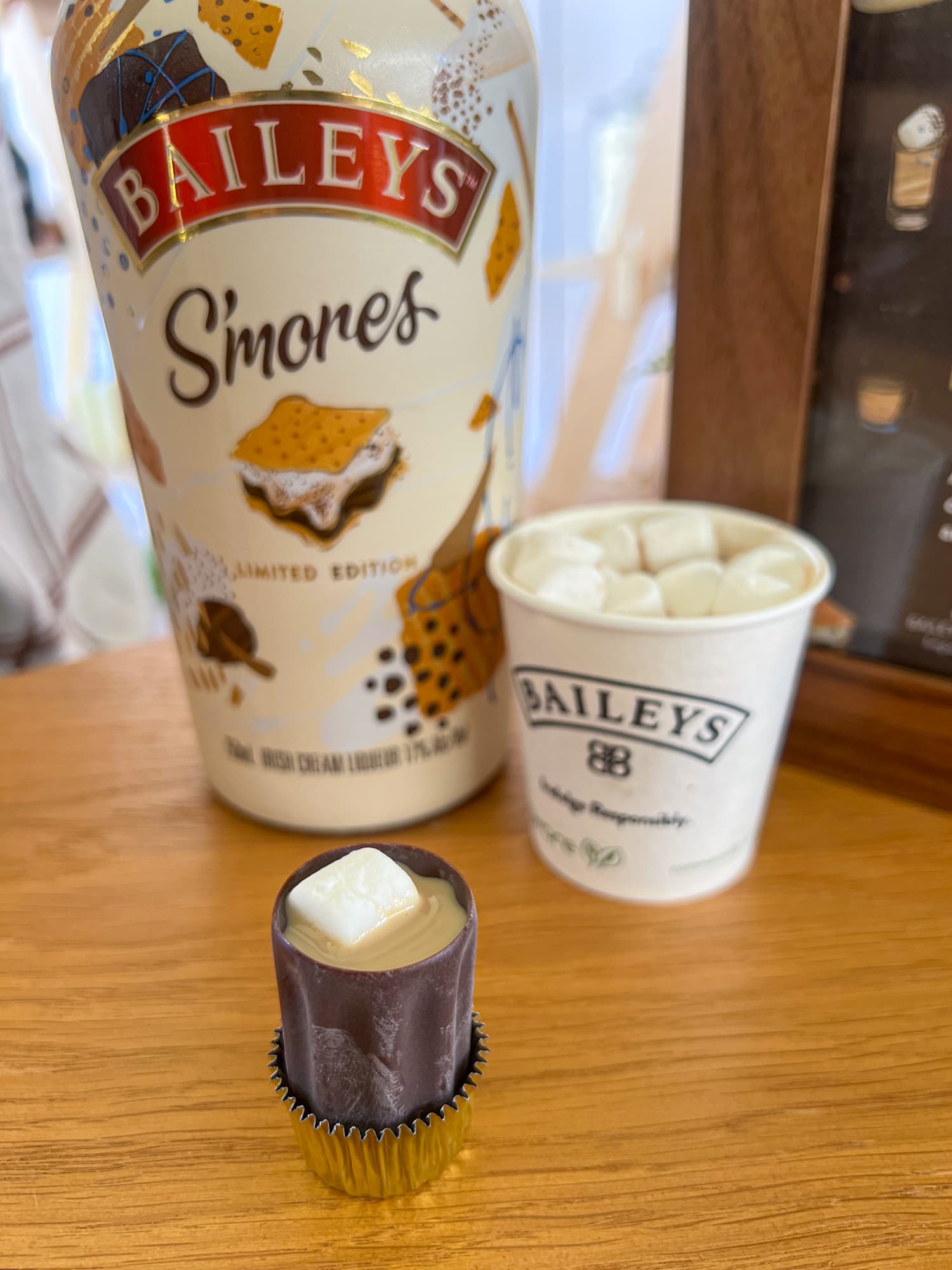 The cutest drink I saw was a shot of Baileys S'mores liquor topped with a marshmallow and served in an edible chocolate cup.
It was fun to shoot the sample and then chomp down on the chocolate it was served in. I went back for more on the second day.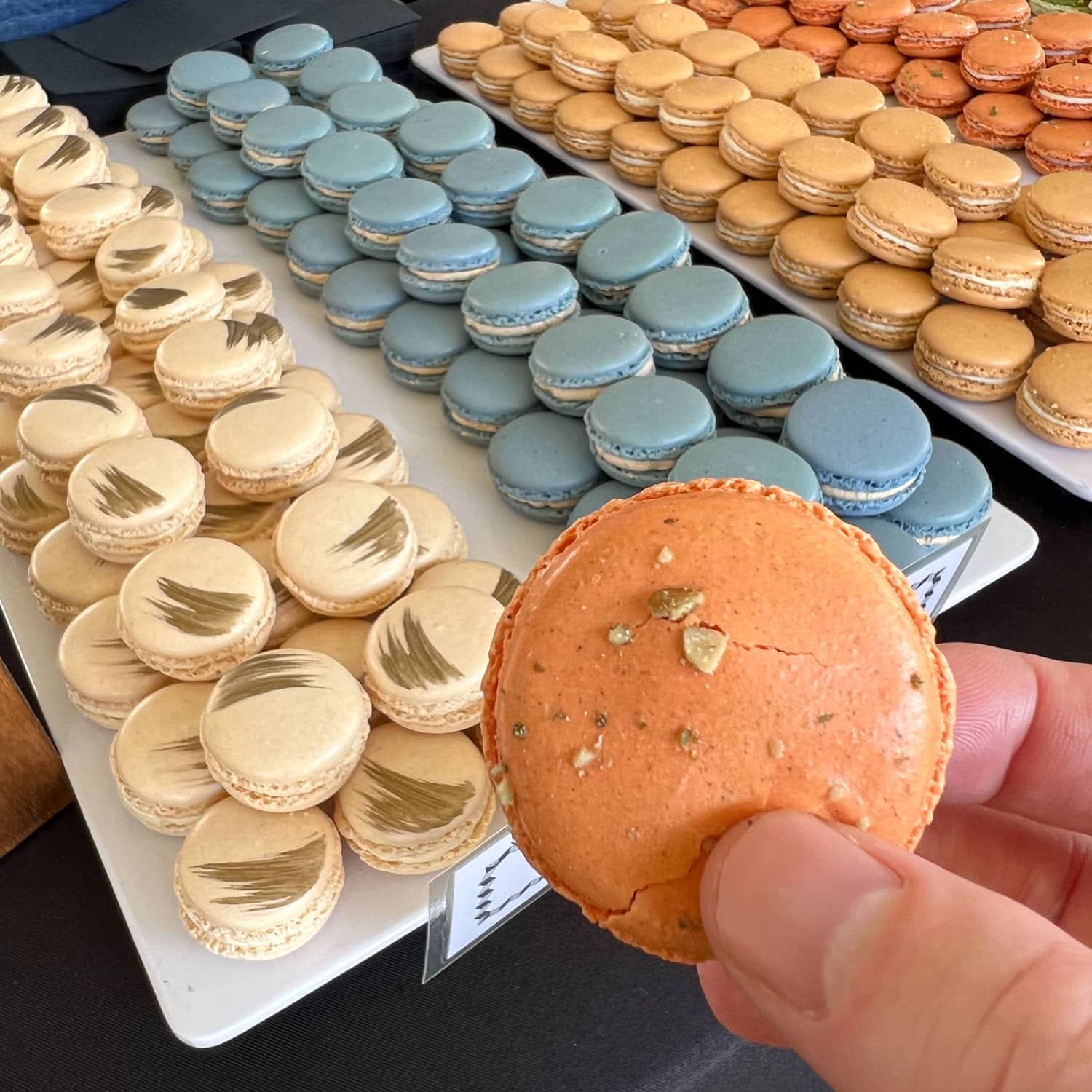 The Austin Food and Wine Festival can feel barren for pastry fans. For whatever reason, there are way more savory bites served than sweets.
So, coming upon Bakery Lorraine and its colorful macarons was like seeing an oasis in the desert. I went seasonal, picking a pumpkin cookie to enjoy.
Related: Best Bakeries in Austin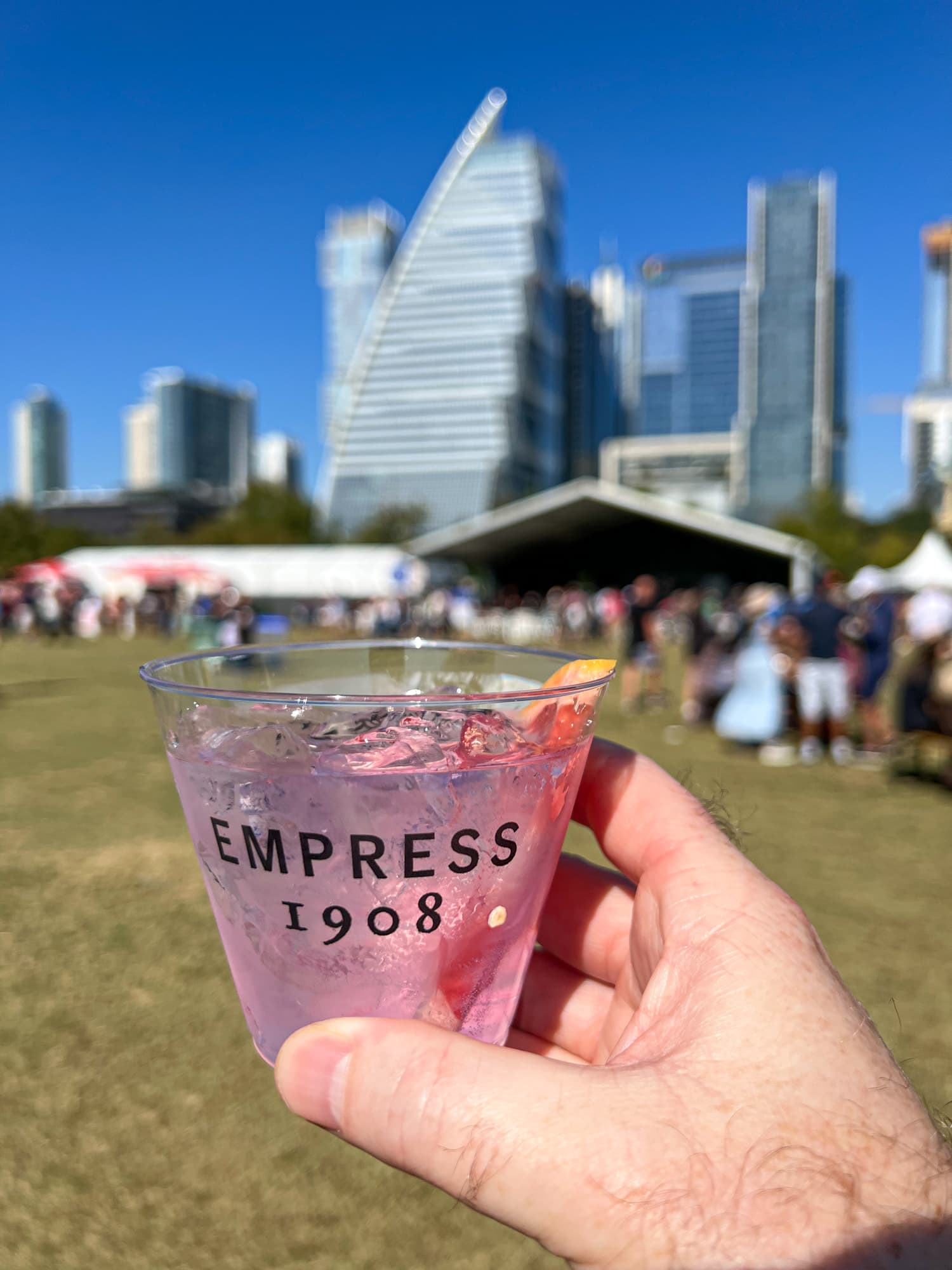 Eat, drink, eat, drink. It's the rhythm of the festival. After seeing the macarons, I was delighted to come upon Empress 1908, a Canadian gin.
I first encountered Empress 1908 Gin at Midnight Cowboy, one of Austin's best speakeasies, and I've been a fan ever since.
They were serving two cocktails: an Empress and Tonic with grapefruit slice and a Festive Empress Gin Fizz made with gin, cranberry juice, and ginger beer garnished with cranberry and thyme.
I toasted life with the former on Saturday and went back for the Gin Fizz Sunday.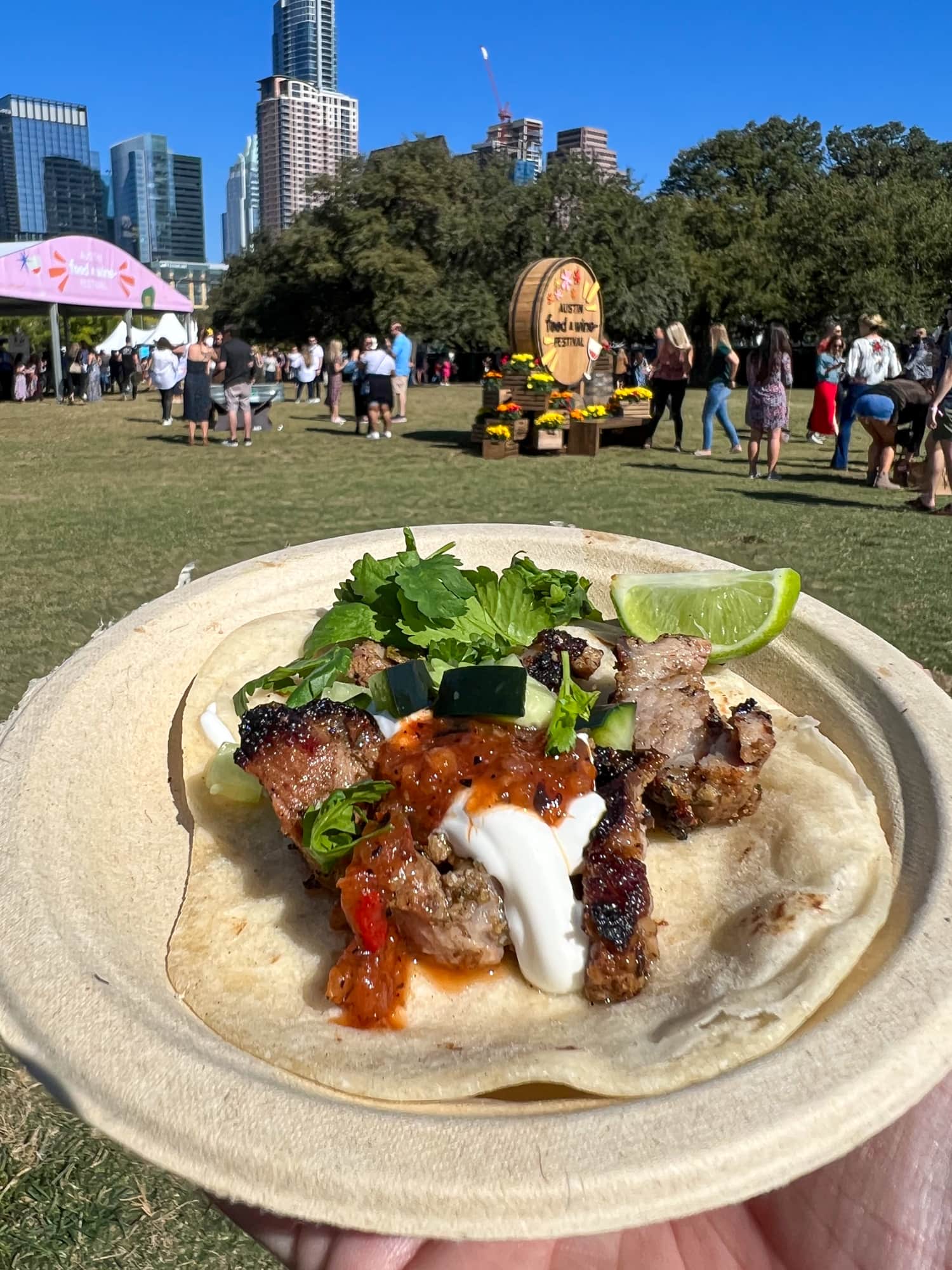 Around 2:15 p.m. (yes, it'd only been an hour), Kel and I got in line at the Fire Pit to try barbecue.
These are some of the longest lines at the festival, and they're like that from open 'till close. You have to be patient.
I find this easier after running around eating and drinking for at least an hour.
Our foray at the Fire Pit paid off with a delicious shawarma-style pork taco by chef Jesse Kuykendall of Ocho in San Antonio and Milpa Food Truck.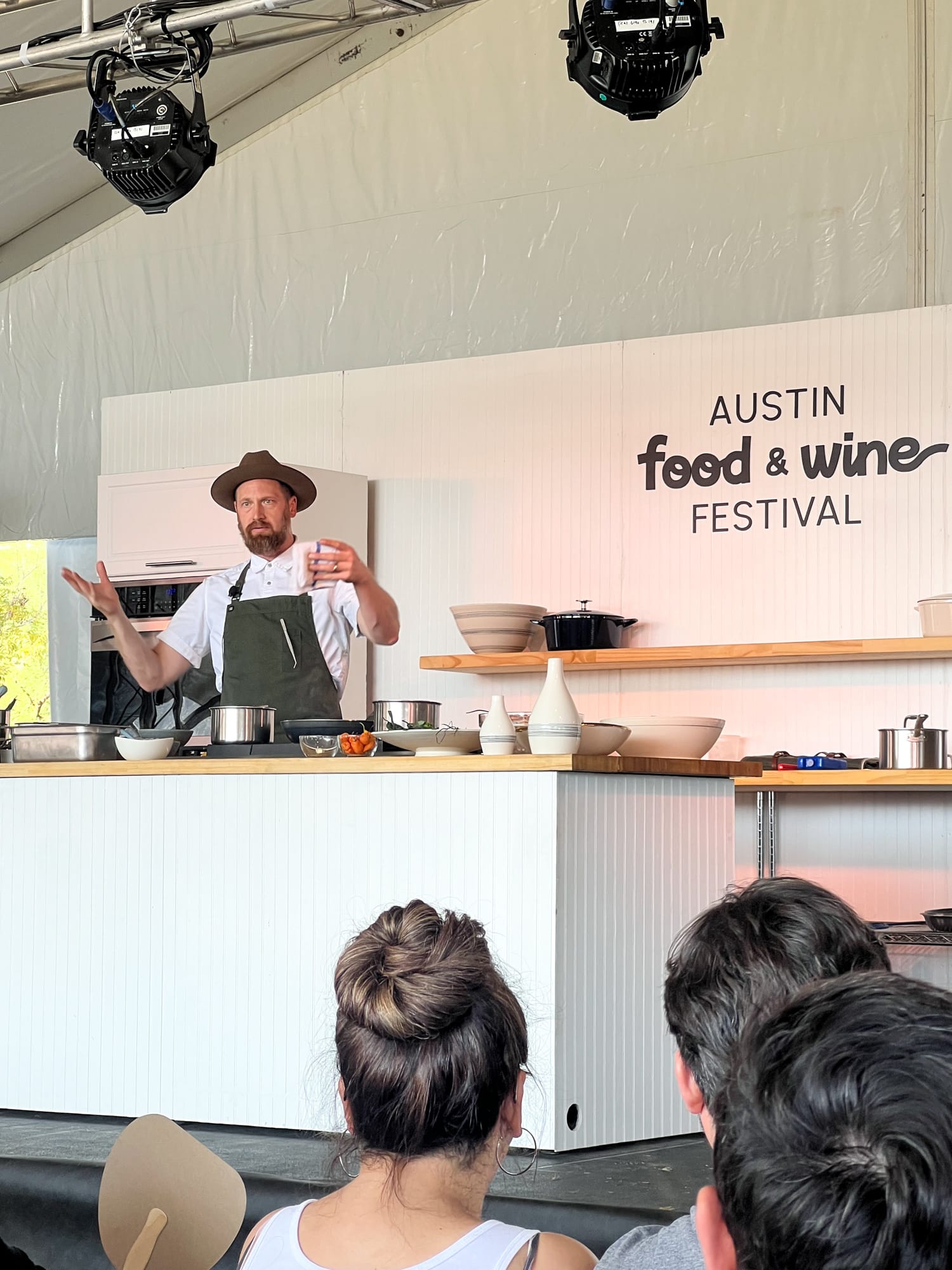 Chef Demo
By 3 p.m., I wanted to sit down and escape the sun for a bit, so we headed to the Chef Demo tent.
Kevin Fink of Emmer & Rye and Hestia gave a demo on cooking diver scallops.
I'd seen Andrew Zimmern give demos in prior years, but he didn't attend it this year.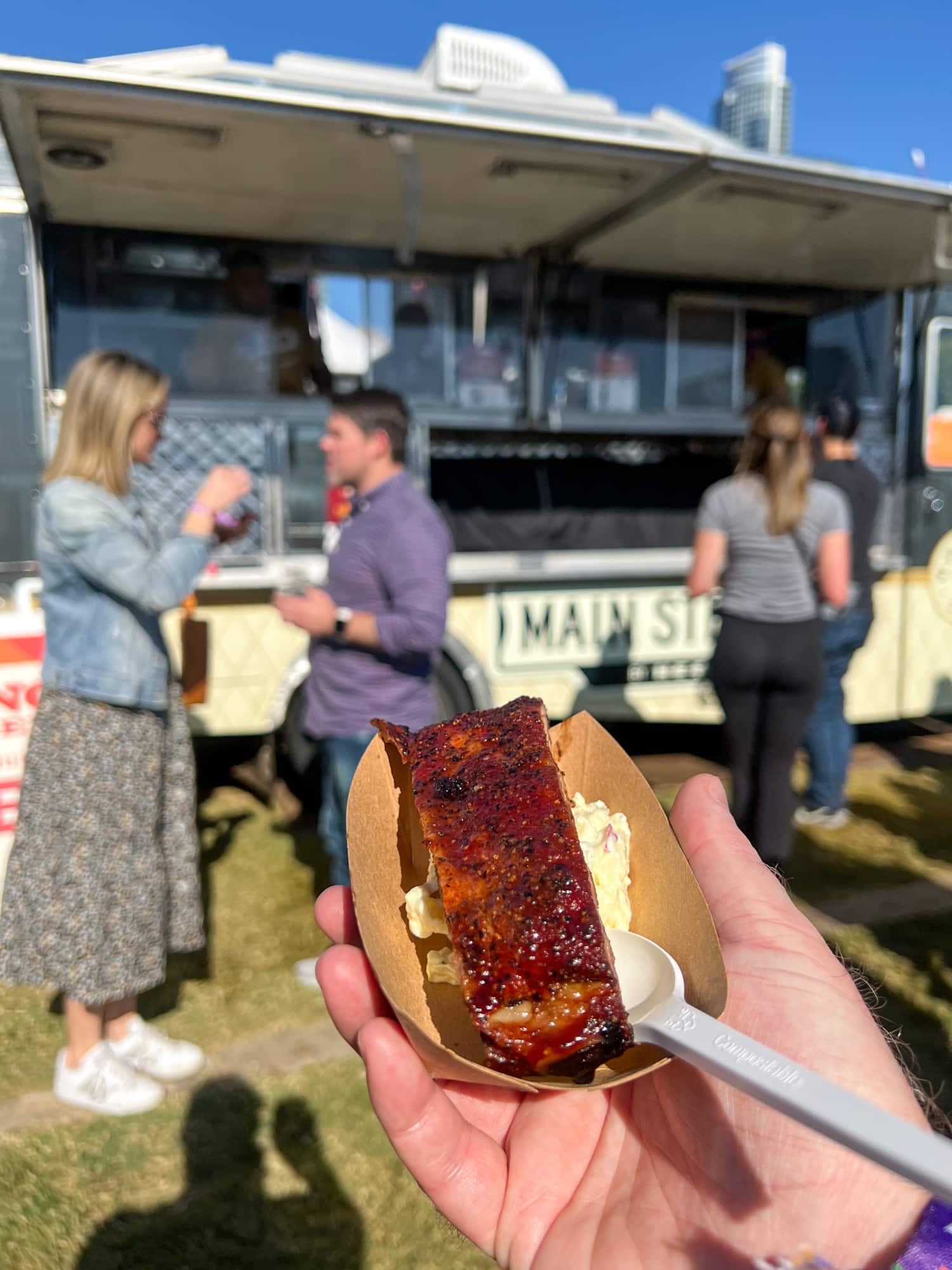 H-E-B
Adjacent to the Chef Demo tent was the H-E-B food trailer, which turned out pork ribs with potato salad and banana cream pudding.
For those not from Texas, H-E-B is a well-liked grocery chain. They offer generous portions at the ATX Food and Wine Festival.
On the second day, they upped the ante by giving out giant beef ribs.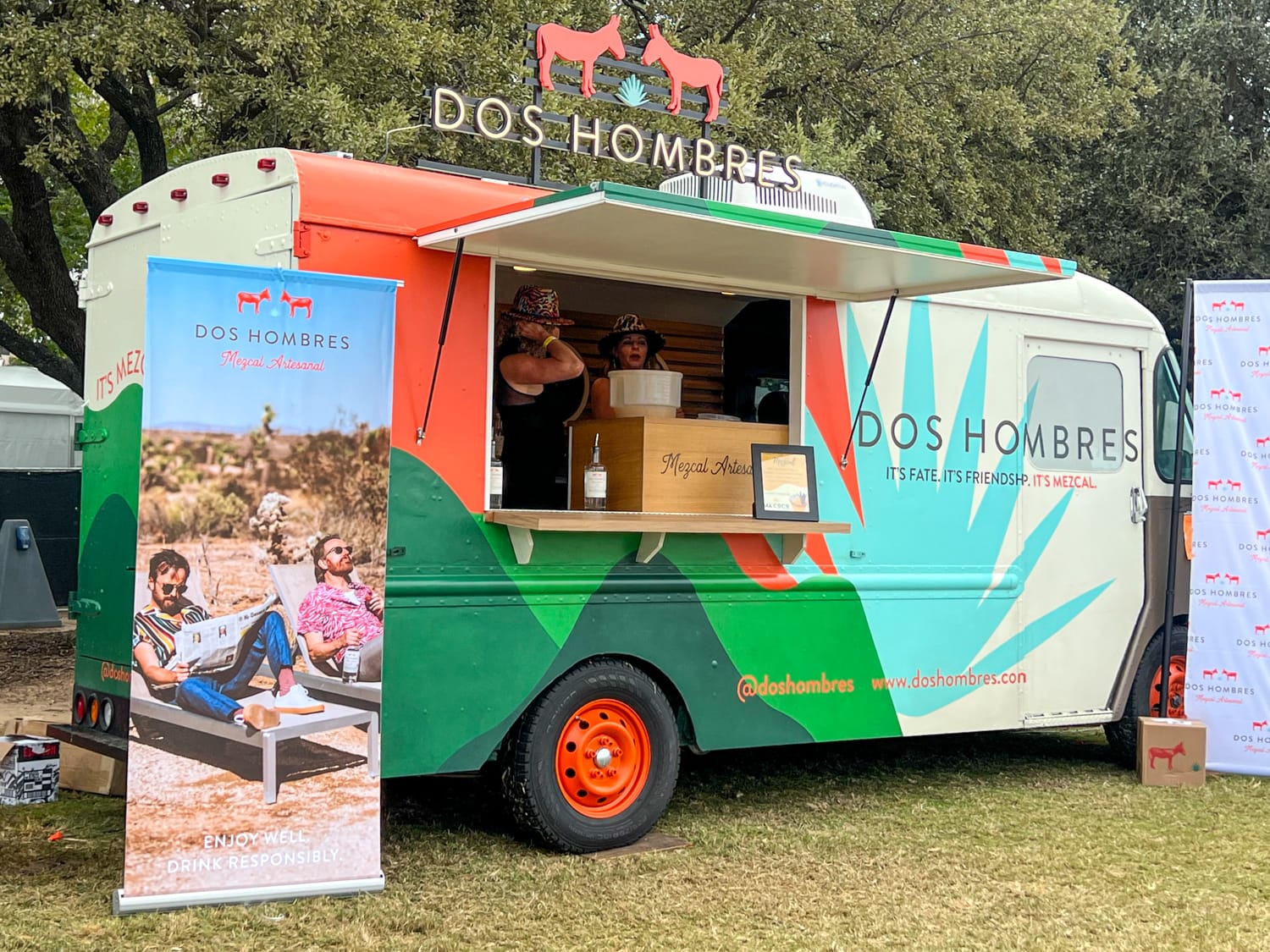 Dos Hombres
By late afternoon, my energy and appetite were waning, and I could tell I wouldn't last till 5:30 p.m.
Meanwhile, a crowd was forming at Meet the Maker tent, where actors Aaron Paul and Bryan Cranston of Breaking Bad were about to appear.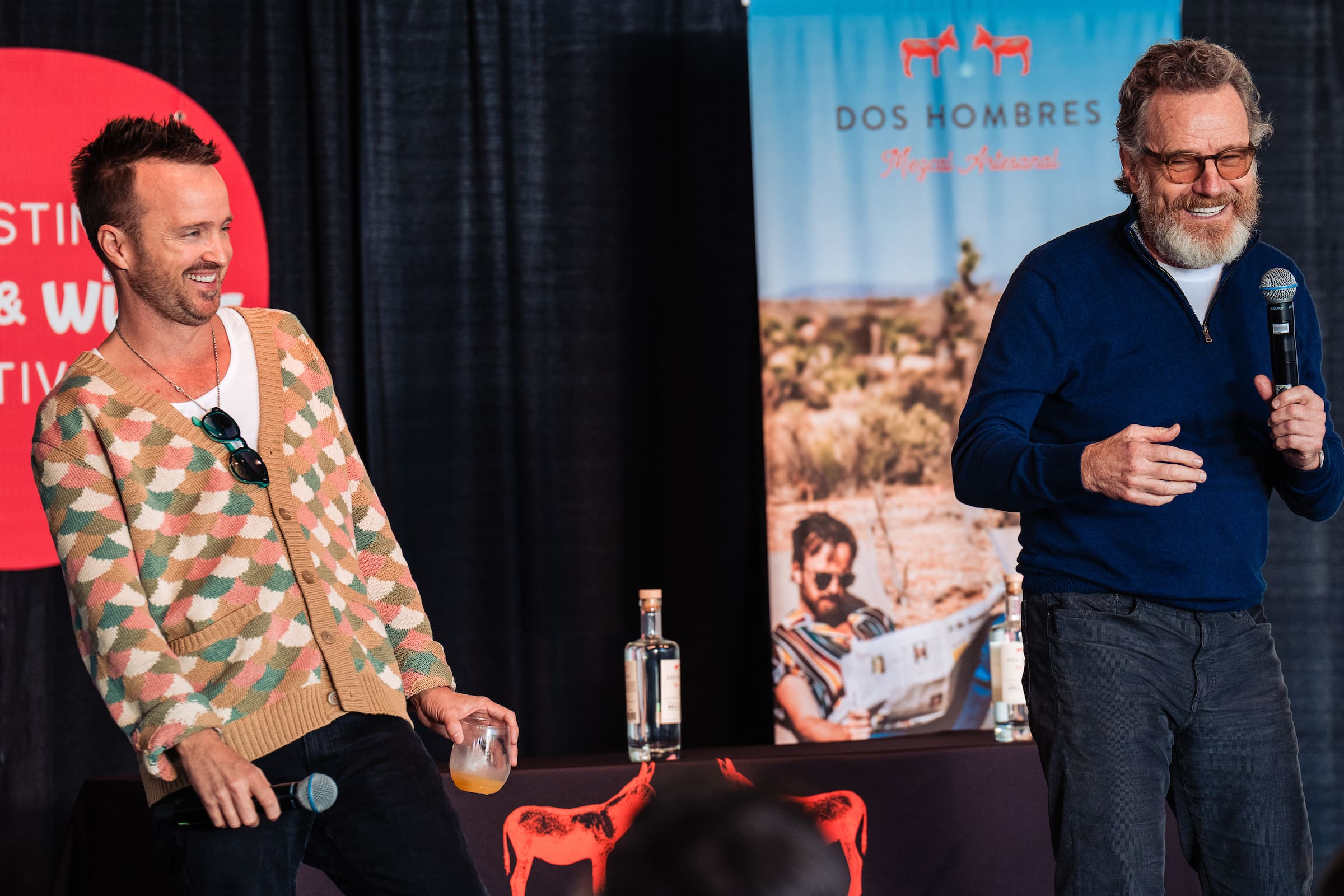 They and their trailer were at the Austin Food and Wine Festival in 2022 to promote their award-winning Dos Hombres mezcal.
I didn't have the energy to stick around for it after getting off to a fast start at the festival. Kel and I left at 4 p.m.
Despite leaving with 90 minutes left in the festival, I felt like I'd had my fill and gotten my money's worth for the day.
Day 2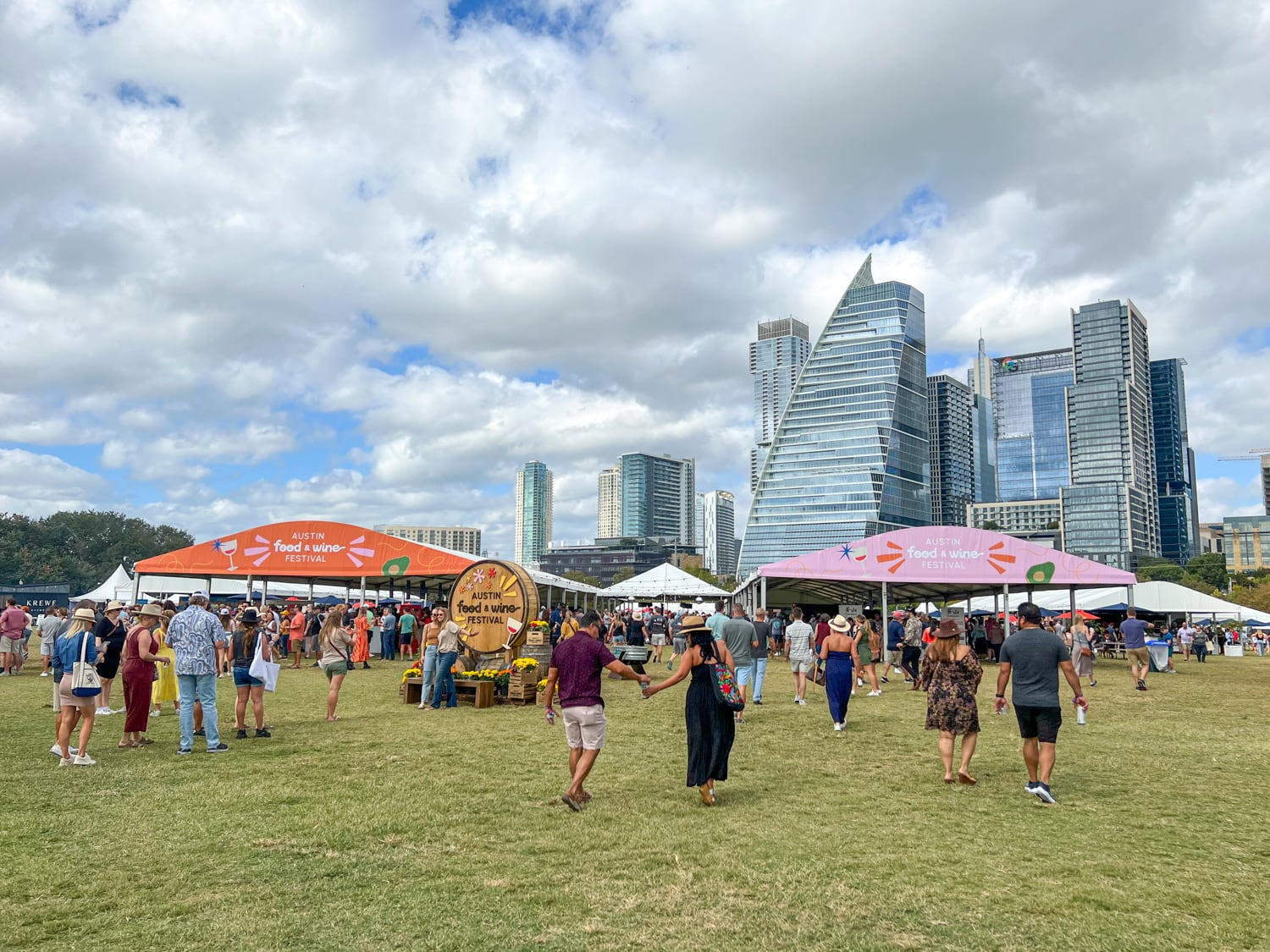 We were back at Auditorium Shores at a quarter to 1 p.m. on Sunday, day two of the 2022 Austin Food and Wine Festival.
They seemed to be short screeners at the entrance, as we were at the back of a very long line this time. After about 30 minutes in line, we were inside and ready to feast.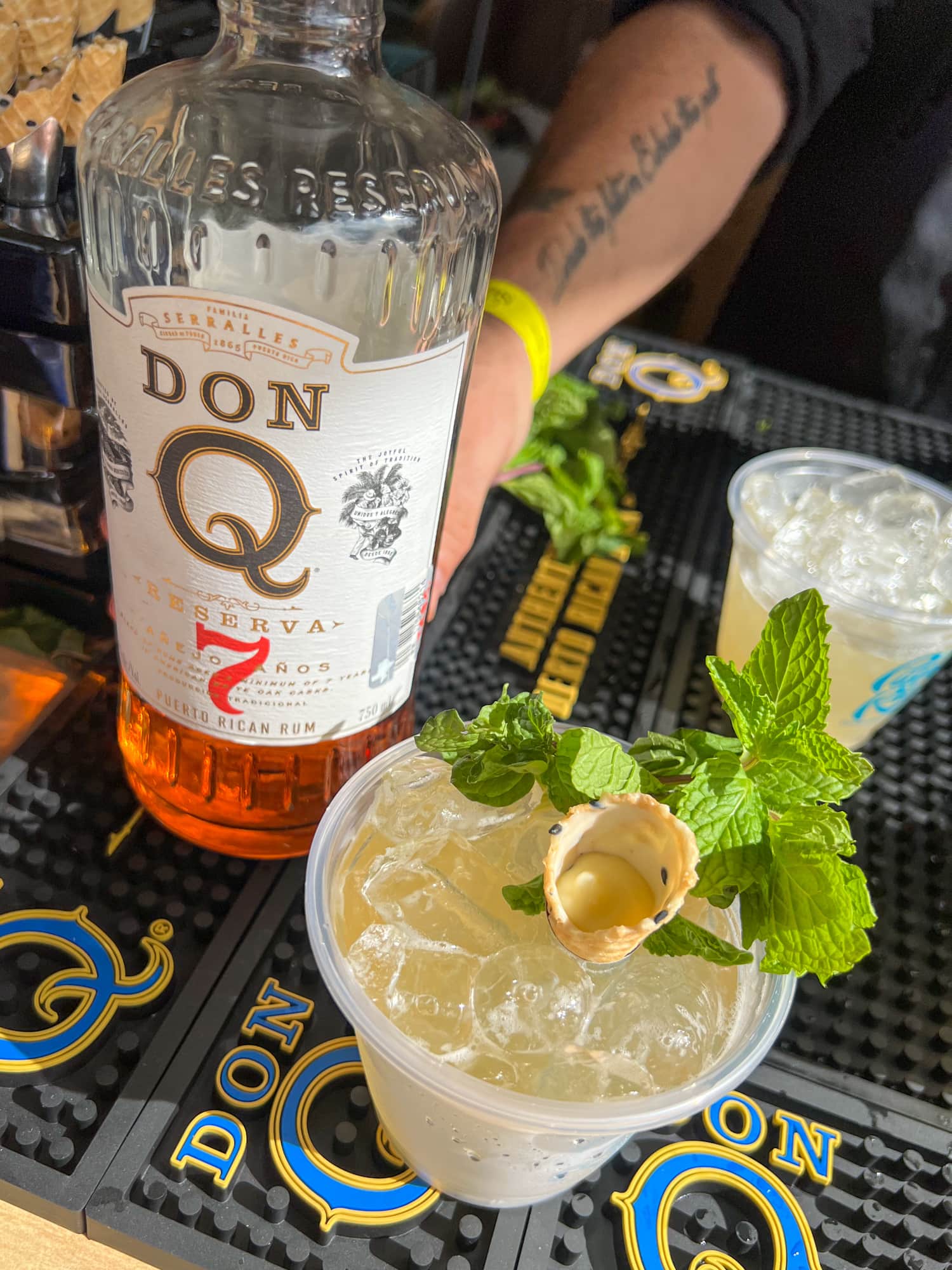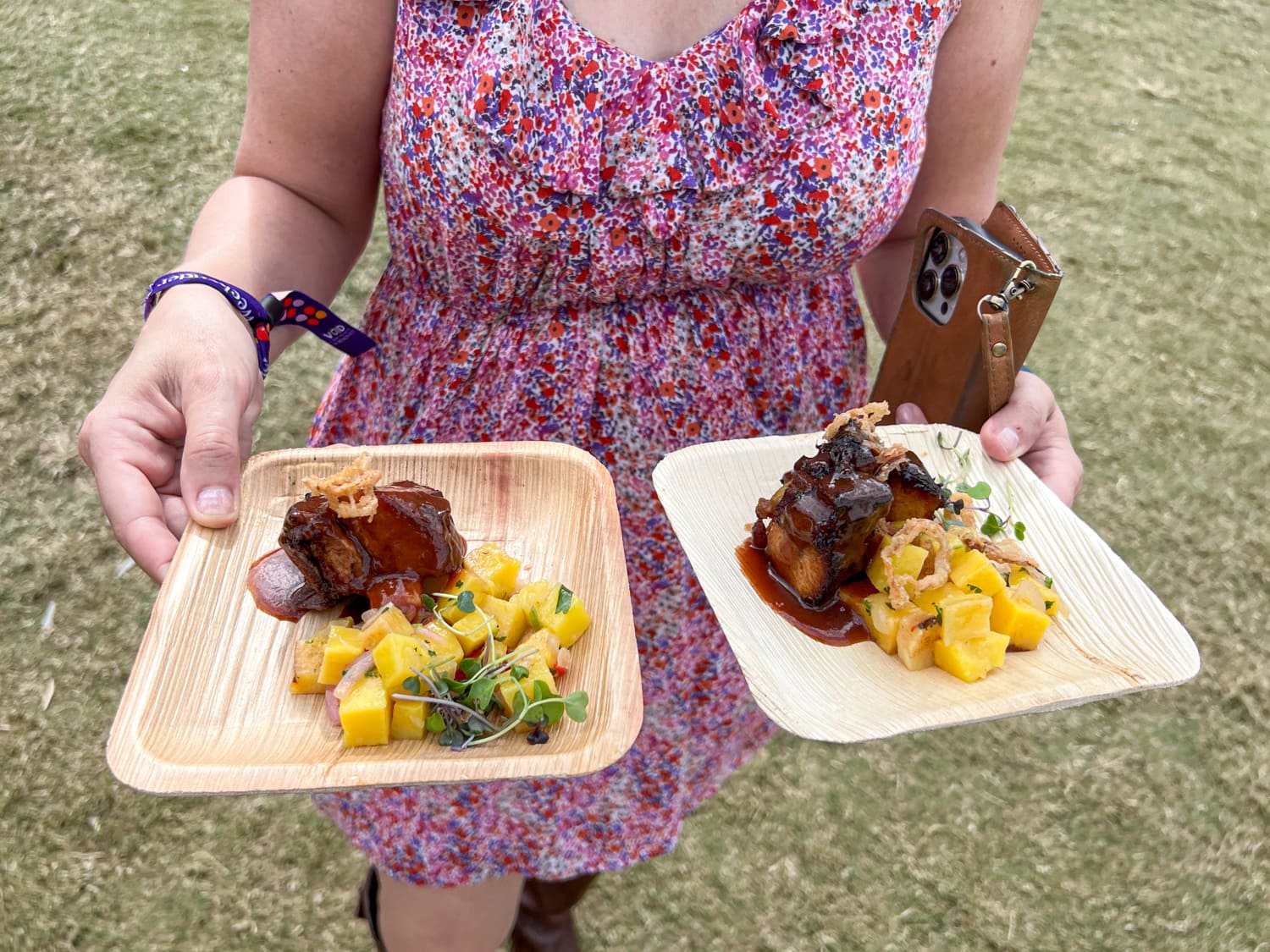 Puerto Rico
I was most interested in the Discover Puerto Rico tent to start the afternoon, as we'd missed them the day before.
A few nights earlier, I'd been invited to a rooftop dinner by Discover Puerto Rico and Don Q, a Puerto Rican rum.
The cocktails and multi-course meal by chef Mario Pagan were terrific and left me wanting more.
On the second day of the Austin Food and Wine Festival, they served tender short ribs with guava and a mojito with Don Q Reserva 7, lemon juice, mint infusion, fresh pineapple, and a salty cone with dulce de coco (coconut cream).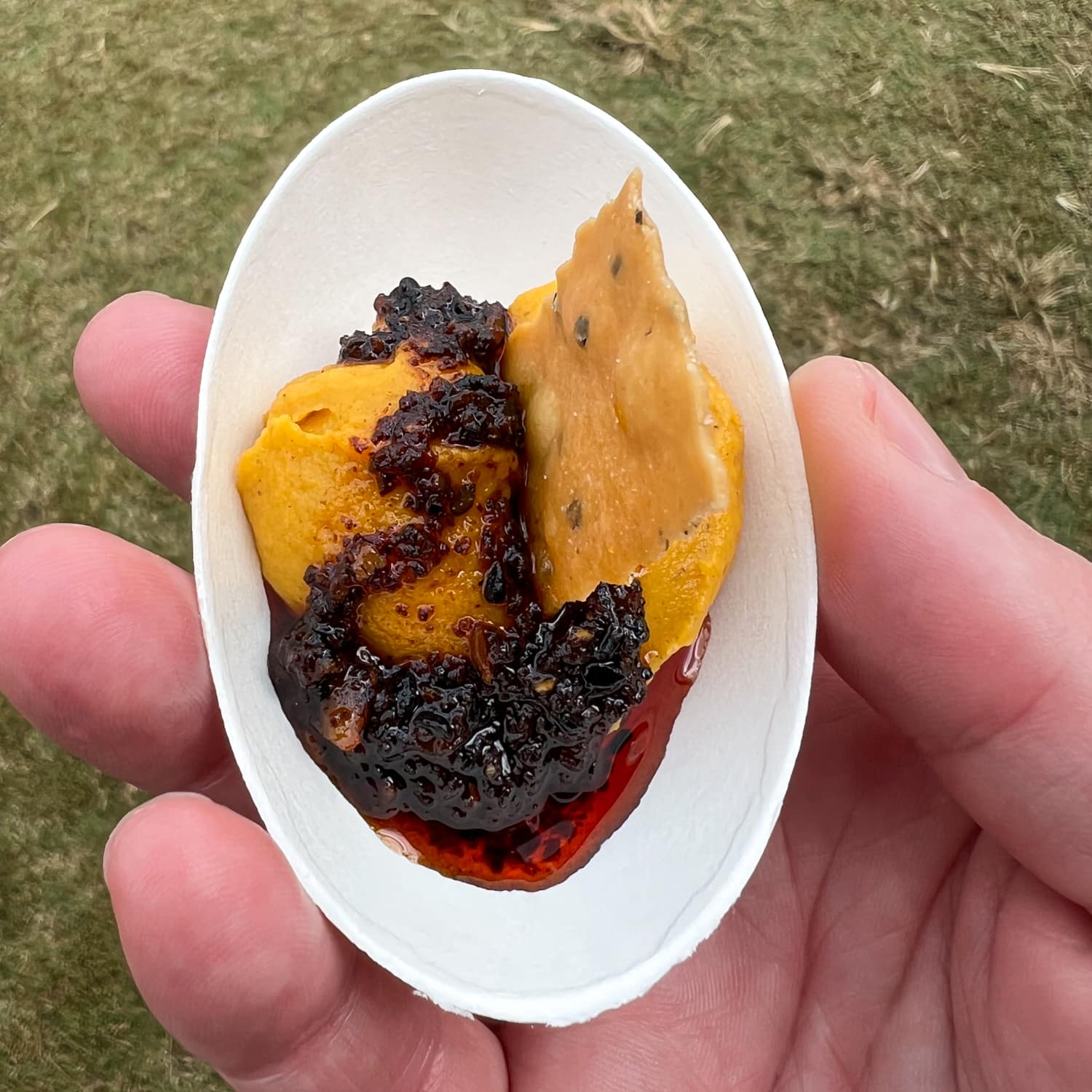 We dropped by H-E-B's trailer again, and they were serving brisket sliders and tacos, all of which we picked up with more banana pudding.
Returning to the tents of The Grand Taste in the middle of the park, I spotted Aba, an excellent Mediterranean restaurant on South Congress.
They were serving pumpkin hummus with pecan matcha salsa. Yum!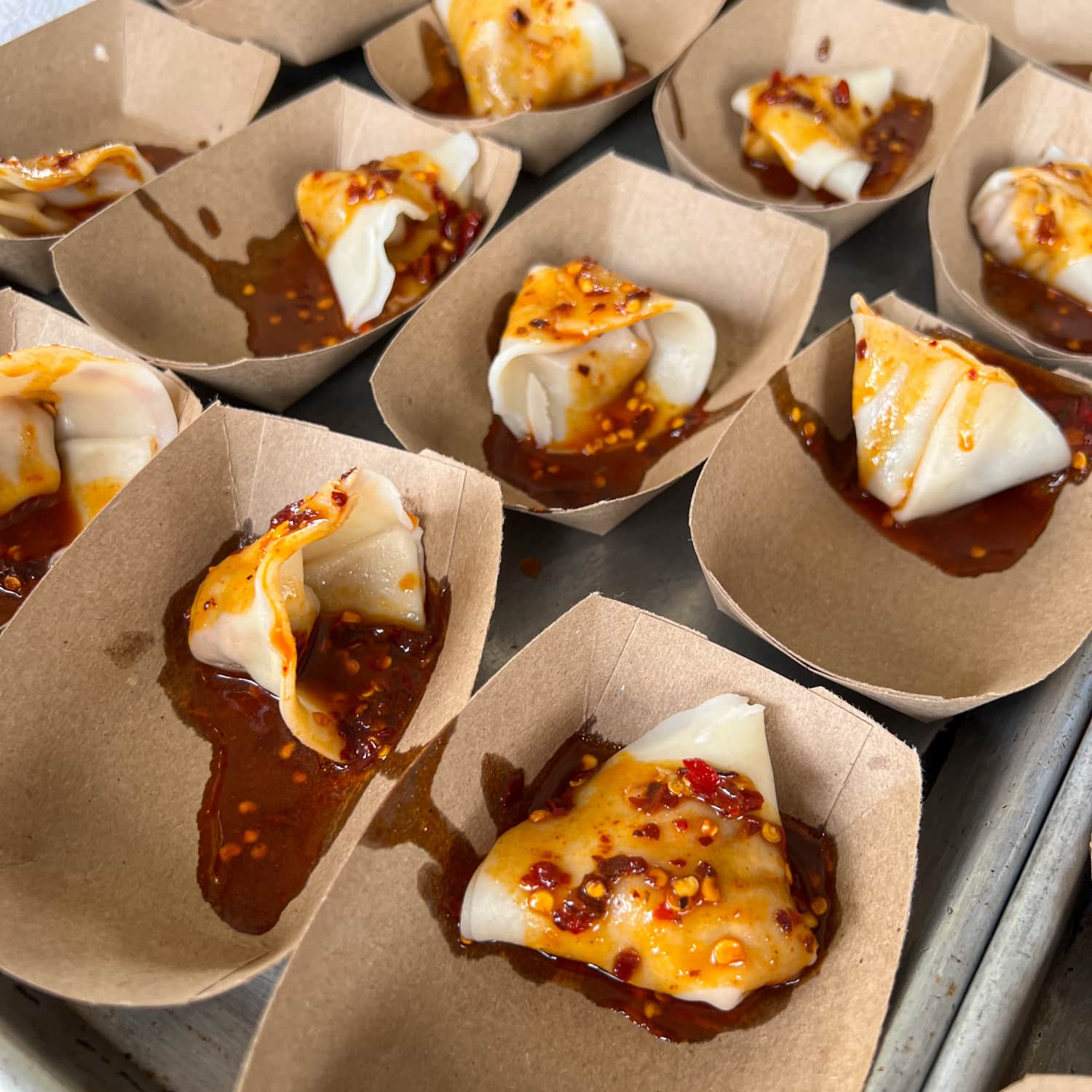 I followed that up with a smoked carrot wonton with Szechuan fire sauce by Old Thousand, a modern Chinese restaurant in East Austin.
In 2008, during my trip around the world, I spent two weeks in Chengdu, the capital of Sichuan province in Southwest China.
I became a big fan of pork dumplings there, which typically arrived in a bowl of deep red pepper sauce.
At the food festival, however, I regretted eating this a bit because while I enjoyed the heat and flavor, it lingered on my tongue for a long time.
I felt like it interrupted my ability to fully tasted other items.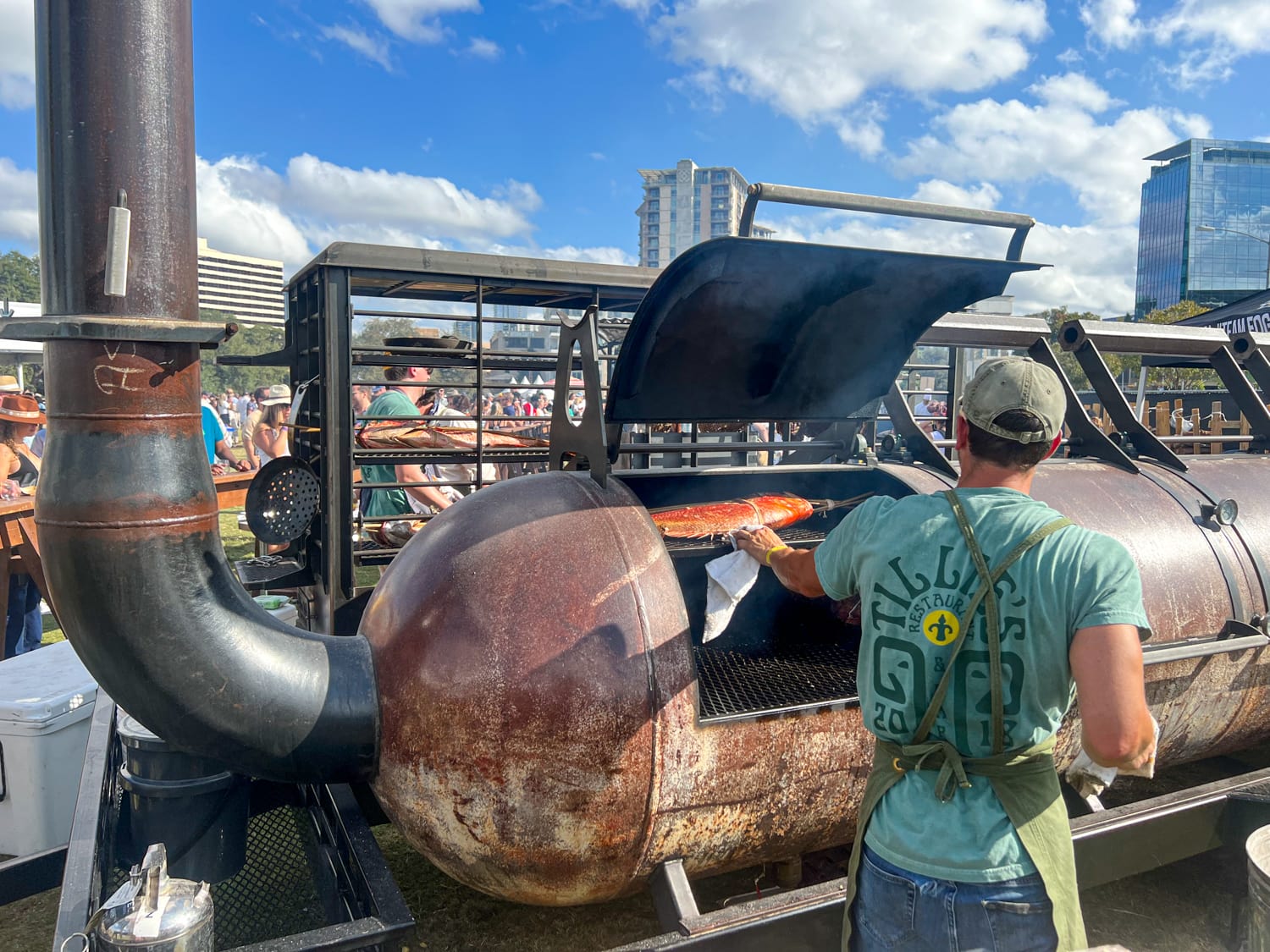 A sample of Citrus Pale Ale from Central Machine Works brewery in East Austin, where Kel and I first met, helped, as did a hibiscus spritzer with Volcan De Mi Tierra tequila blanco.
By the time I reached the front of the line at the Fire Pit, my taste buds had cooled.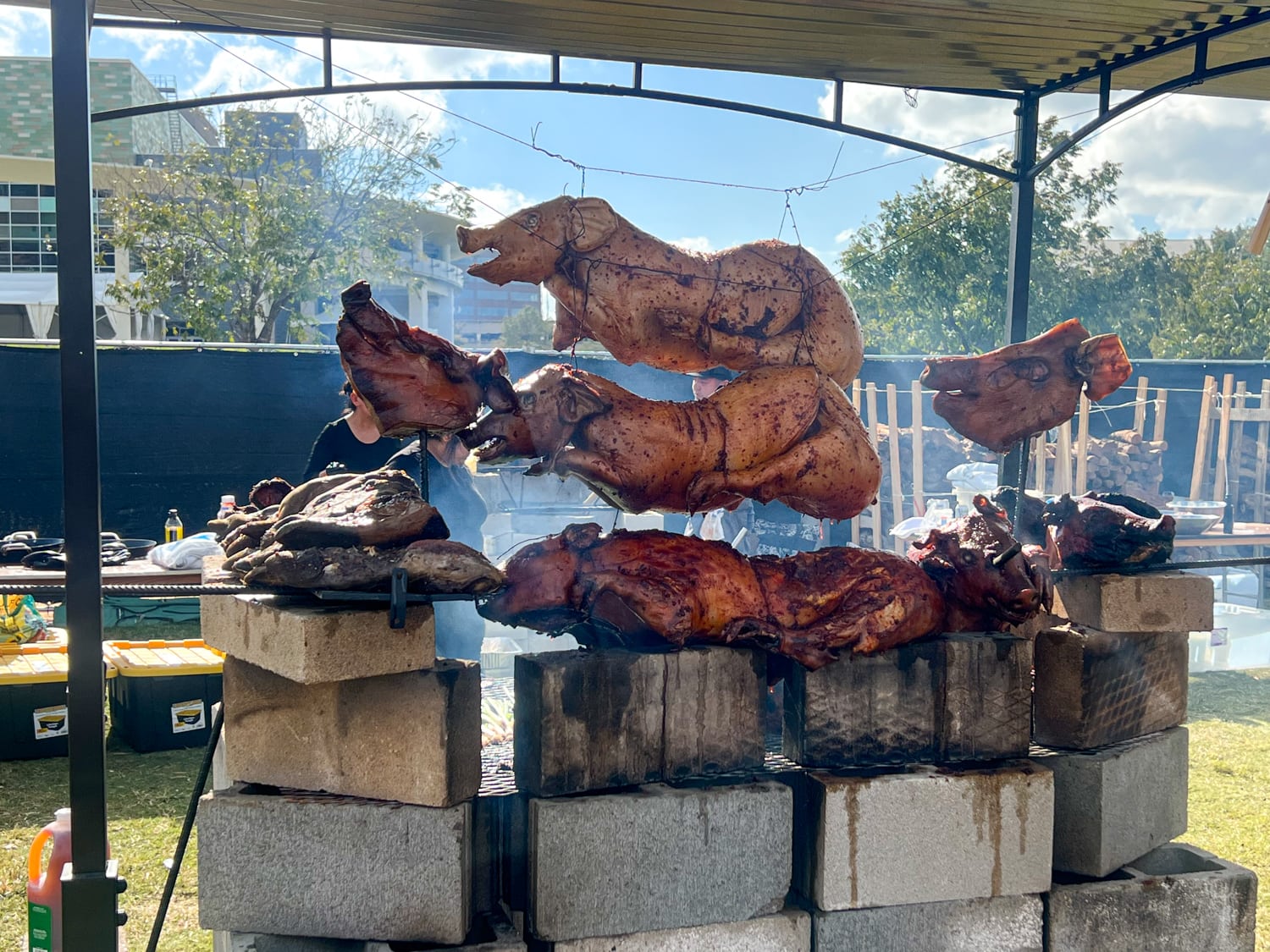 Fire Pit
I tried the cochinita pibil, a Yucatan-style barbecued pork, with a blue tortilla by ATX Cocina in downtown Austin.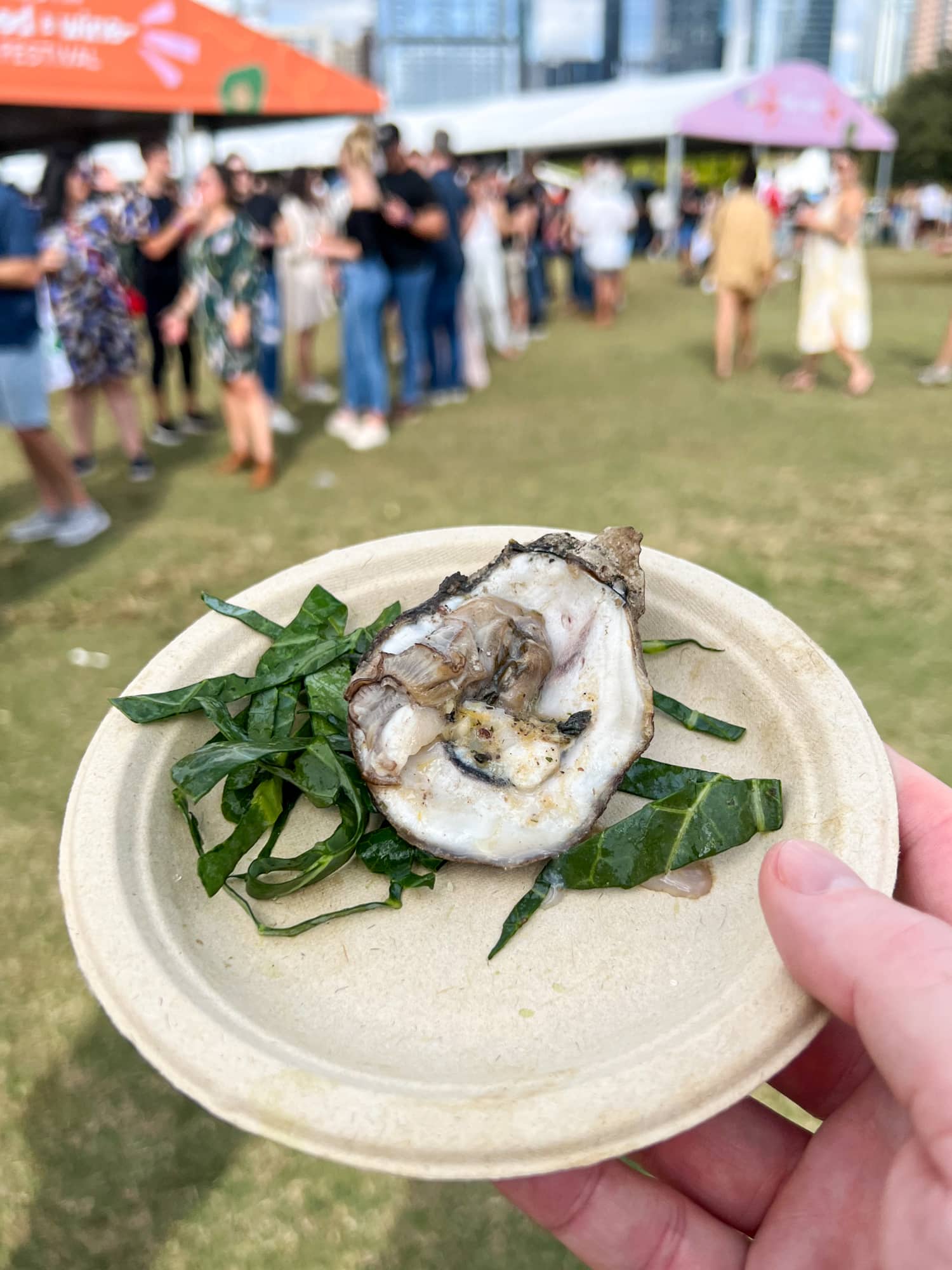 That was followed by a grilled oyster with butternut squash compound butter by Hillside Farmacy, one of my favorite brunch spots.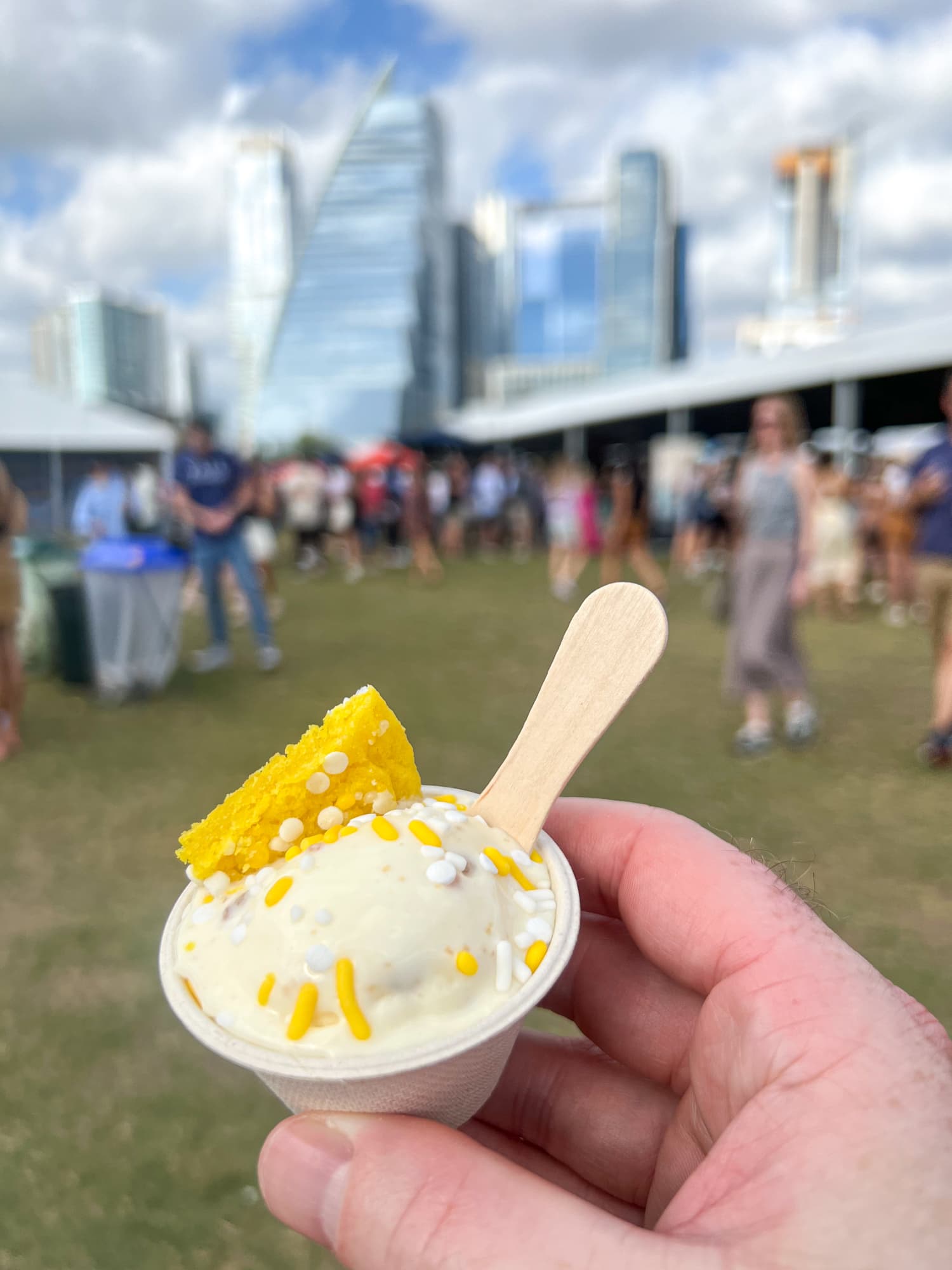 On the other side of the Fire Pit was Chunkers Creamery, handing out small samples of their lemon meringue ice cream.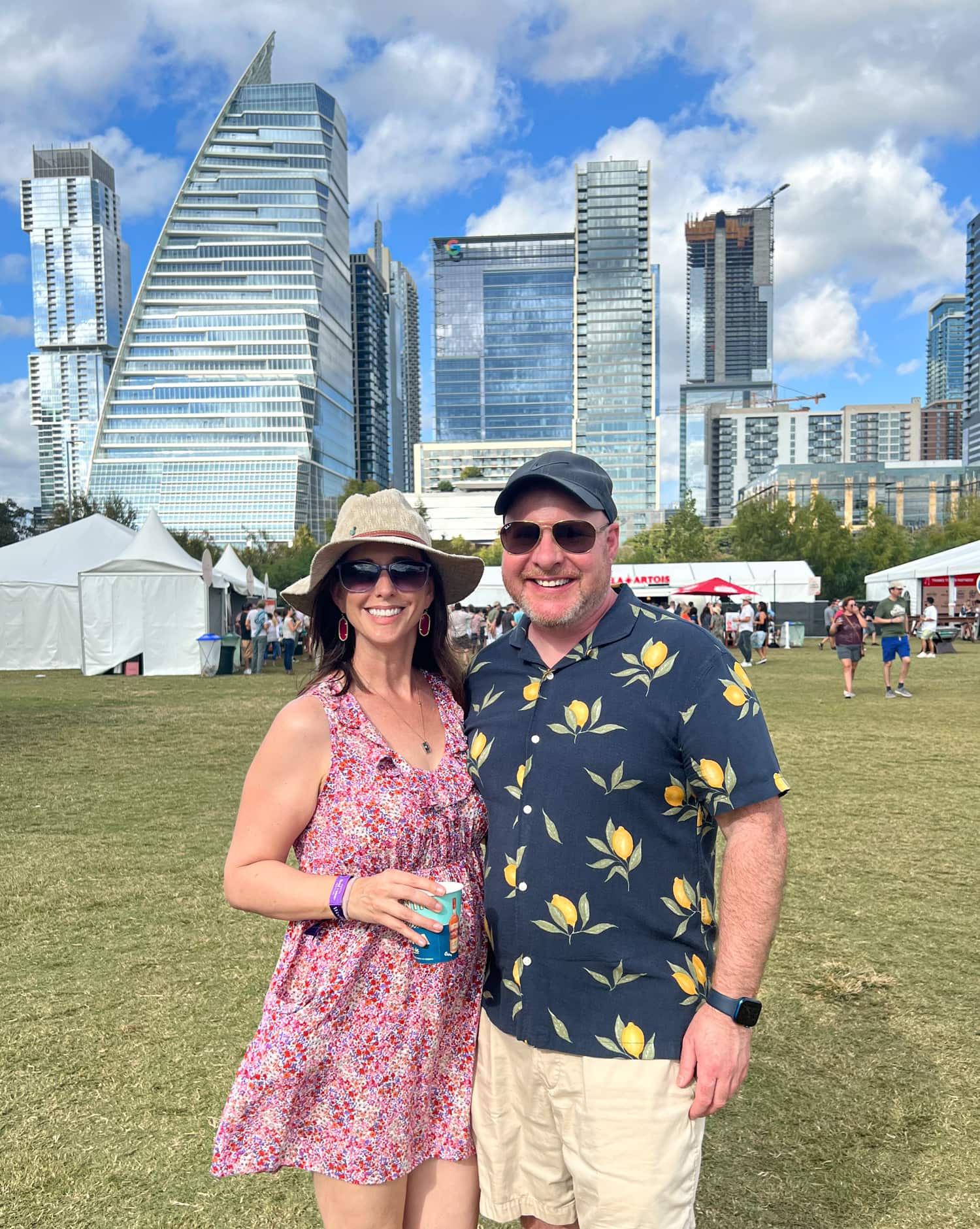 Our second day at the festival was just as fun as the first.
Kel had to leave early, but I stuck around for another hour, talking with friends and seeking out any appealing bites I missed.
Related: Austin Restaurant Weeks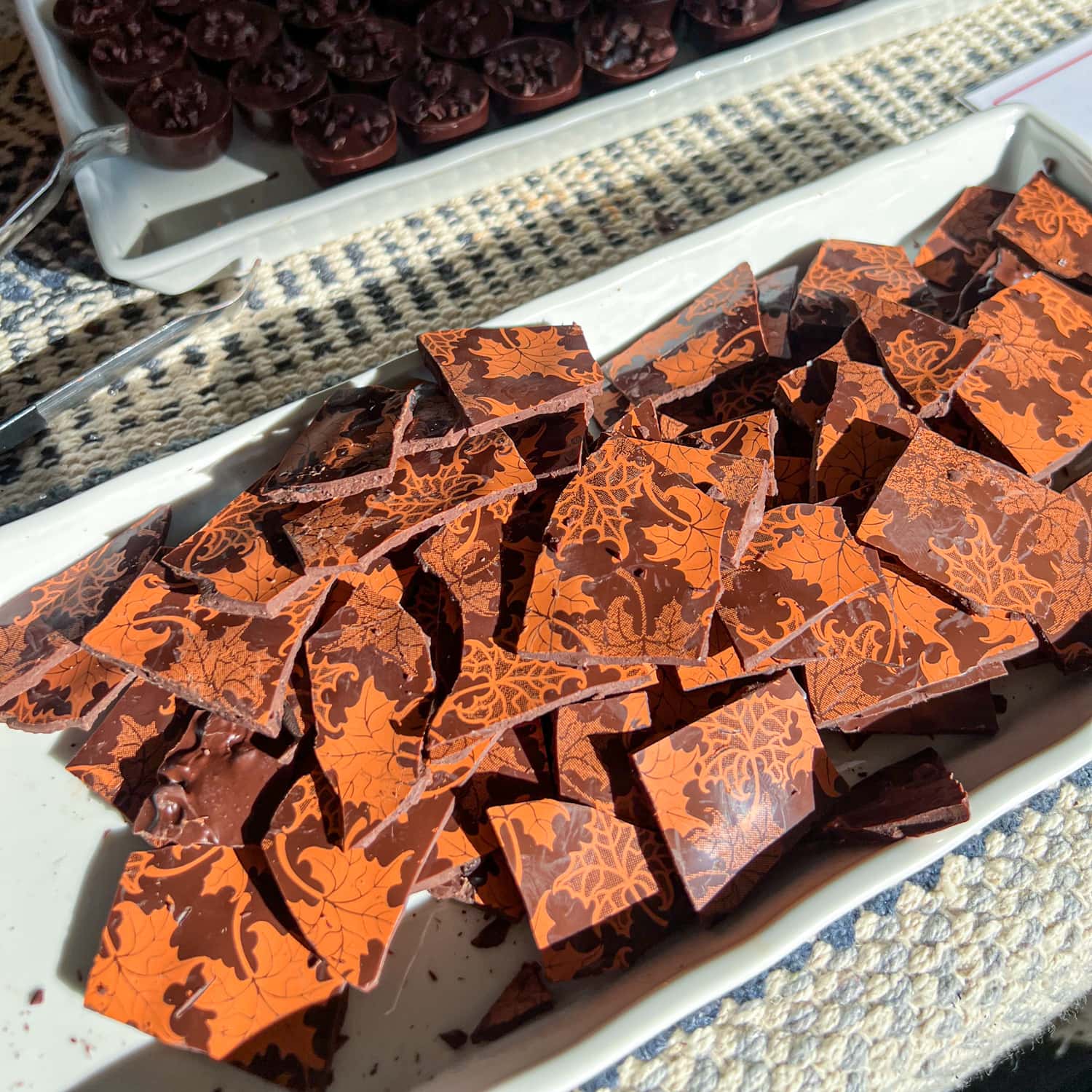 I found a few she would've enjoyed, including chocolate bark and truffles from Krystal Craig of Intero (an Italian restaurant in East Austin) and chocolate-covered strawberry gelato by Gelato Paradiso on South Congress.
My last bite of the 2022 Austin Food and Wine Festival was a beet tartare with mango on tumeric toast by Vixen's Wedding, a Goan spot on my list of the best restaurants in Austin.
I highly recommend the future Austin Food and Wine Festival. And given the success of the single-day tickets in 2022, I imagine they'll be available again, making the event more affordable and accessible.