Midnight Cowboy was one of the first speakeasies I learned about after moving to Austin, Texas.
Opened in 2012, this hidden bar was created in a former brothel that billed itself as a massage parlor; it was called Midnight Cowboy Modeling Oriental Massage.
It is located in the heart of 6th Street, one of the city's most raucous nightlife districts.
For those who haven't been to Austin yet, 6th Street is especially popular with young people, college students, and tourists.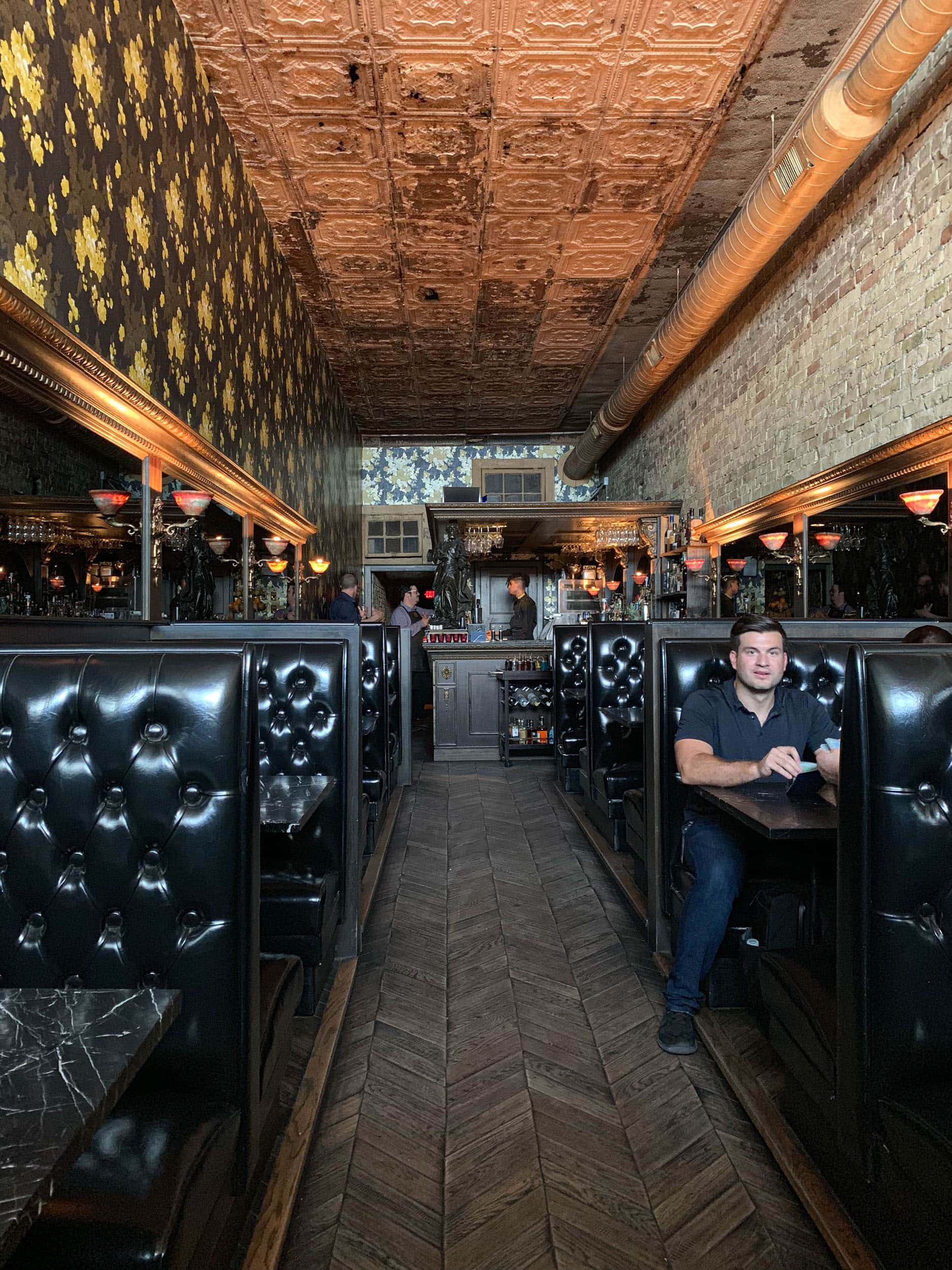 The fact that it's nicknamed "Dirty Sixth" should say it all. Midnight Cowboy is the exception on a street otherwise full of bars competing to offer the cheapest drink deals.
Don't let the location scare you away. This intimate bar is another world of service and sophistication once you're inside.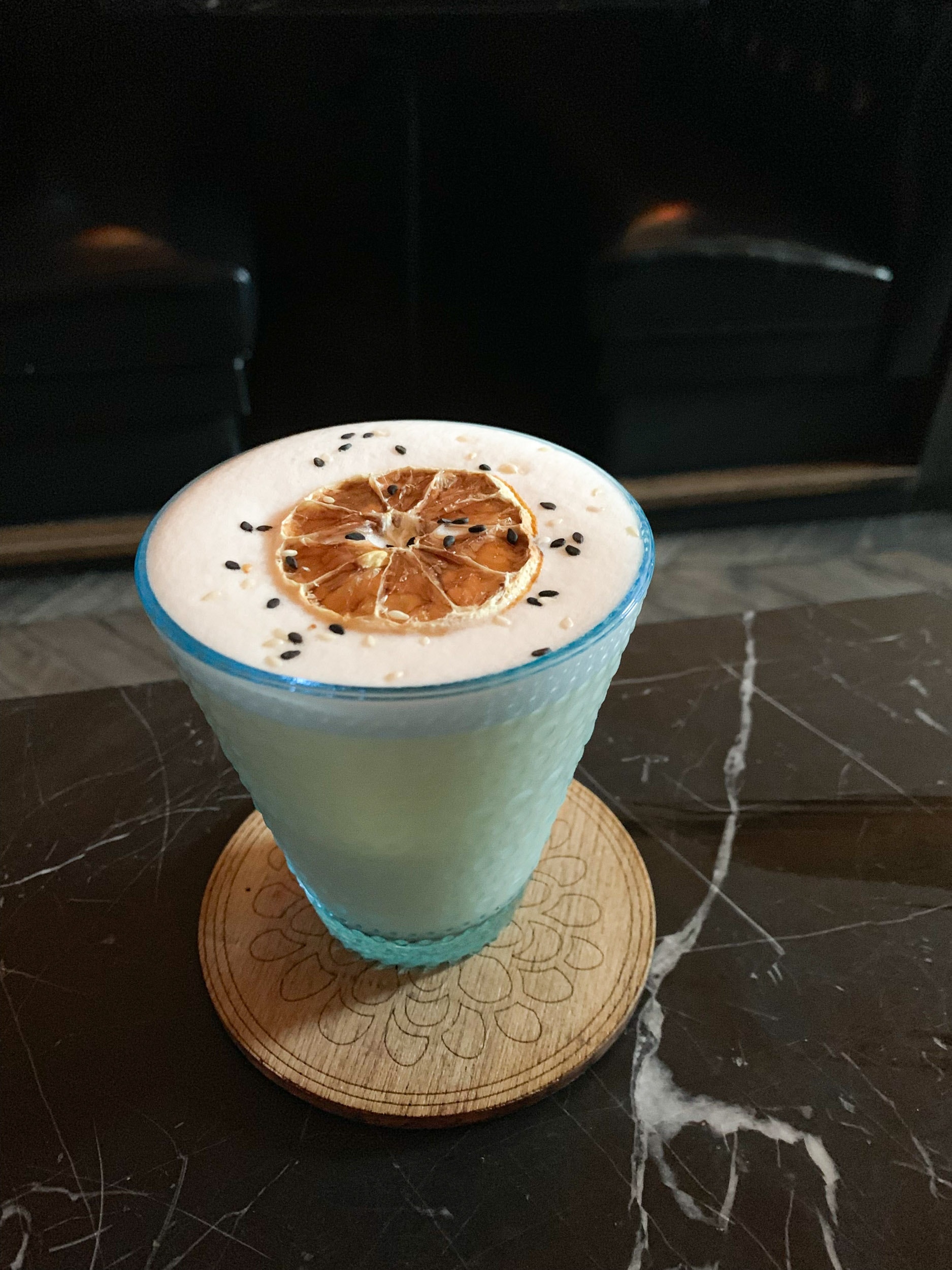 Cocktail Menu
Upon entering Midnight Cowboy in downtown Austin, you'll be shown to your table and presented with a cocktail menu.
As of 2019, it's in the shape of a passport and highlights over a dozen signature cocktails inspired by faraway places.
The menu was a little hard to read in the low light; however, as a traveler, I appreciate the work that went into the design.
Yah-Sas
With some help from my iPhone, I perused the cocktail bar's menu and chose a Greece-inspired drink to start.
The Yah-Sas features:
Gin Mare
Metaxa Brandy
Herbed honey
Greek yogurt
Lemon
Aquafaba foam
Fenugreek
Sesame
This light, fresh drink was beautifully presented in a blue glass with toasted citrus resting on the foamy head.
As I caught up with my friend Jack, who I had invited to join me, I noticed how quickly and easily I was consuming my first cocktail.
Related: Best Speakeasies in Austin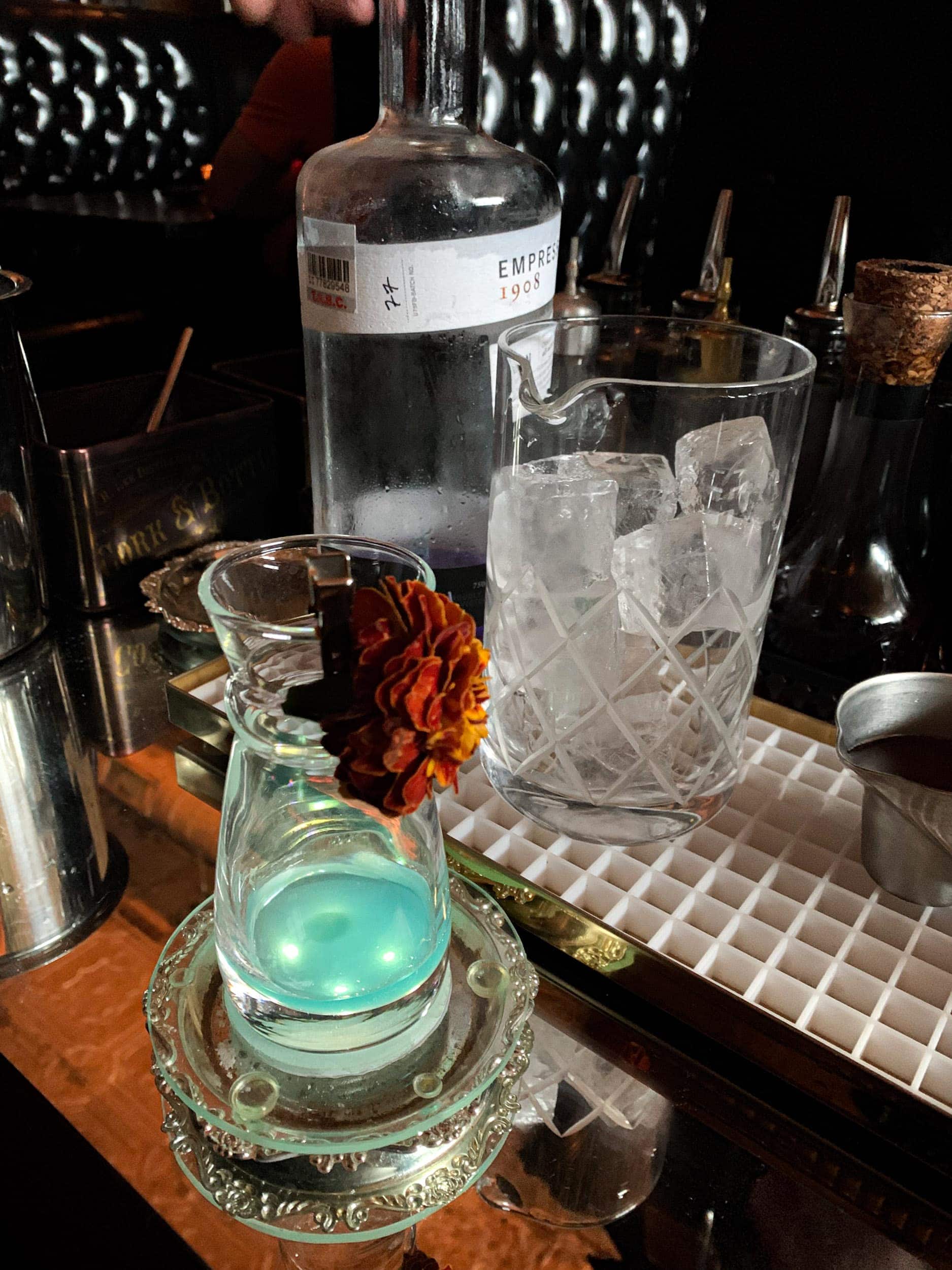 Kaleidoscope
It wasn't long before I was ready for round two. This time, I ordered an Alaska-inspired Kaleidoscope, one of the tableside cocktails that are part of the Midnight Cowboy bar cart service.
The cart was wheeled over to us, and the mixing began. It was fun having a front-row seat for such a colorful show.
The Kaleidoscope includes:
Empress 1908 Gin
St. Germain
Italicus Bergamot Liqueur
Salers Aperitif
Green apple
Citric acid
Sparkling wine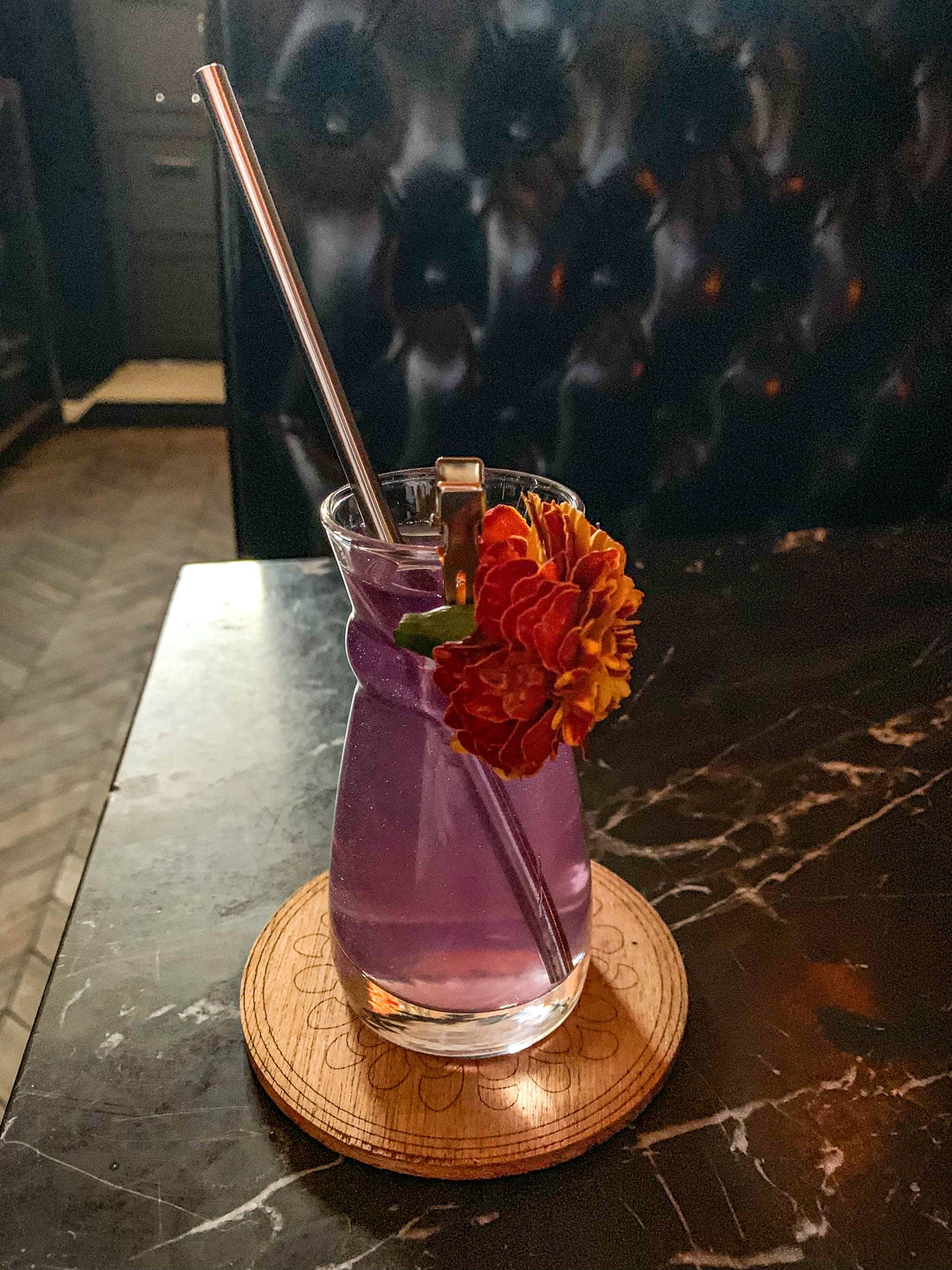 As you can tell, the original color of the liquid in the beaker-like glass was a light turquoise blue.
However, once the indigo-colored Empress 1908 Gin was added, the whole mix swirled into varying shades of violet.
This was my first experience with Canada's Empress 1908 Gin.
According to their website:
Micro-distilled in small batch copper-pot stills, Empress 1908 is hand-crafted using eight signature botanicals: tea, juniper, rose, coriander seed, grapefruit peel, ginger root, cinnamon bark, and butterfly pea blossom.
Good job, Canada!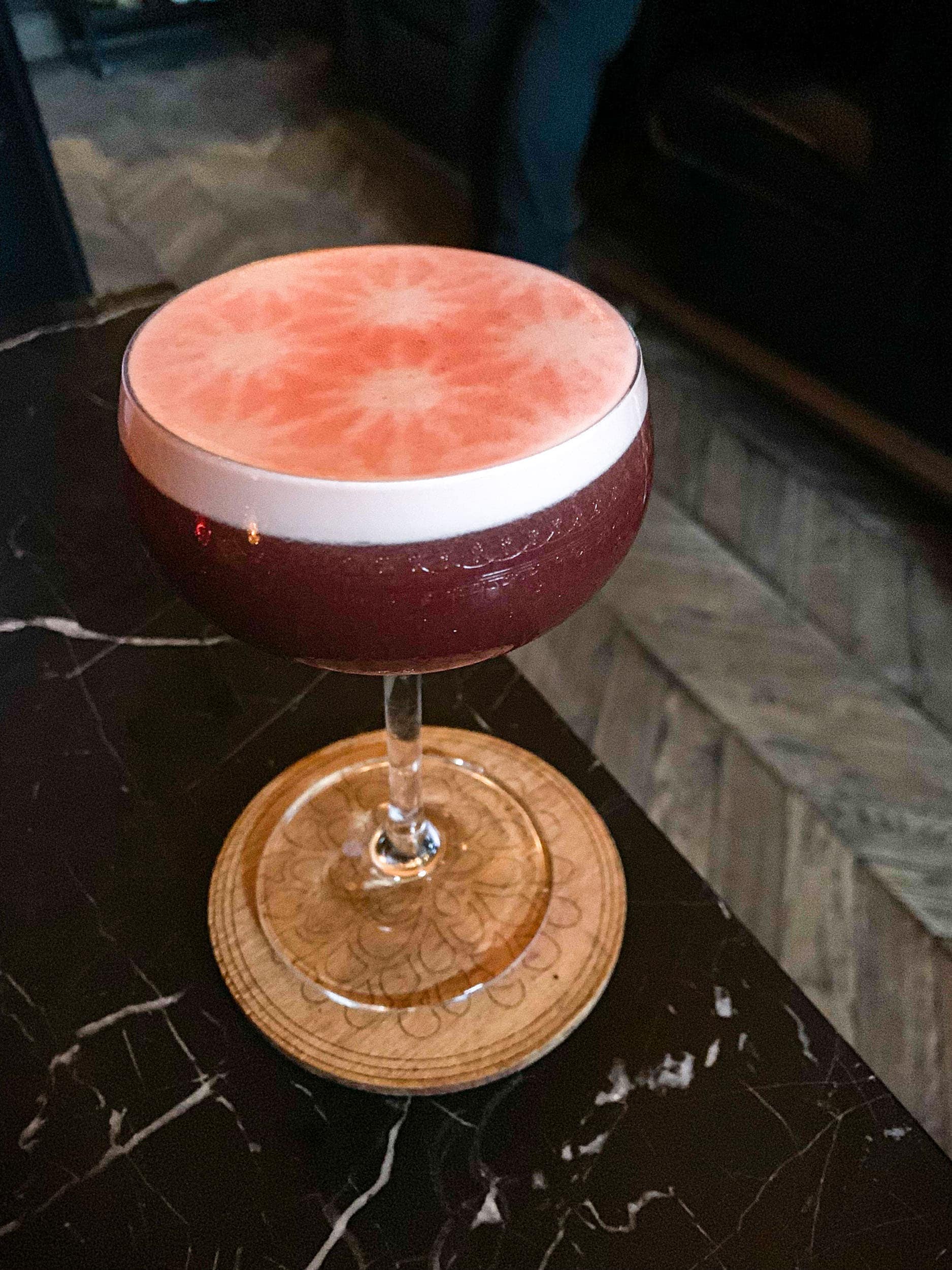 Sanda Bashi
My third and final drink of the night was the Middle East-inspired Sanda Bashi:
Hendrick's Gin
Italicus Bergamot Liqueur
Fruit cordial
Sekanjabin
Lemon
Egg white
Black tea tincture
Sekanjabin is an old Iranian sweet and sour syrup with honey and vinegar.
This was the most potent drink of the night and a little fruitier than I'd typically go; however, I enjoyed it all the same.
Drink prices at Midnight Cowboy are in the $14 to $16 range, with discounts available for some if you order two or four servings.
For example, a single Kaleidoscope is $14, or you can order two for $26 or four for $48.
Related: Here Nor There in Austin
Visit Midnight Cowboy in Austin
First and foremost, I recommend you make an online reservation through their website. It's a small bar, best suited for tables of 1-4 people.
While on their website, read the rules, which include no "smoking, guns, phone calls, laptops or rowdiness."
Once your reservation is confirmed, you'll receive an email confirmation.
Go to 313 E. 6th St. at your assigned time and push the button for Harry Craddock near the unmarked door. A member of the staff will greet you.
Walk-ins
Midnight Cowboy in Austin also accepts walk-ins if they're not fully booked. A red light above the door signals there's space available.
Patio
Since my last visit, Midnight Cowboy has opened a patio. No reservations are required; if the vacancy sign is on, there's space.