I'd saved the best for last when I dined at Pasjoli, Dave Beran's Michelin-starred French bistro in Santa Monica, on my most recent trip to Los Angeles.
Beran, a James Beard Award winner and one of Food + Wine's Best New Chefs (2014), opened the French restaurant in September 2019.
It was his second restaurant in Santa Monica at the time, riding on the heels of Dialogue.
The 18-seat fine dining spot earned the chef his first Michelin star since leaving Next in Chicago for California.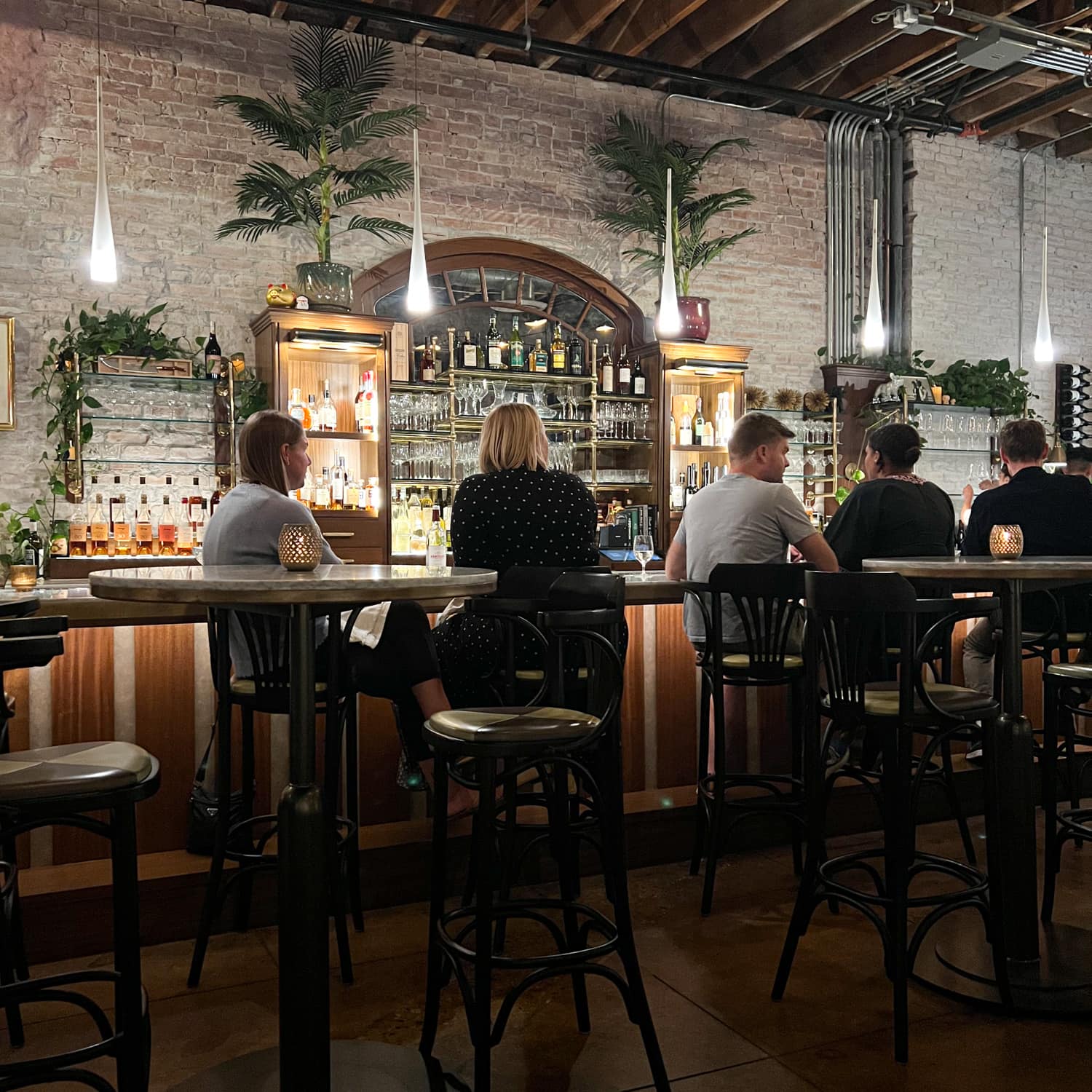 By all accounts, Pasjoli ("not pretty" in French) was on the same path to success.
It quickly became known for its tableside pressed duck service, a three-course meal for two.
Six months later, both of Beran's restaurants faced the challenges presented by a global pandemic. Pasjoli pivoted to takeout and al fresco dining; Dialogue had to close.
Two long years later, in September 2021, Pasjoli earned a Michelin star. I was eager to see why. And beyond the promise of chocolate soufflé, I had a personal connection.
Ann Hsing, the sister of one of my oldest friends, worked there. She'd met chef Beran while they were both at The Alinea Group.
I didn't make it to Alinea while she was there, so I was excited to try Pasjoli.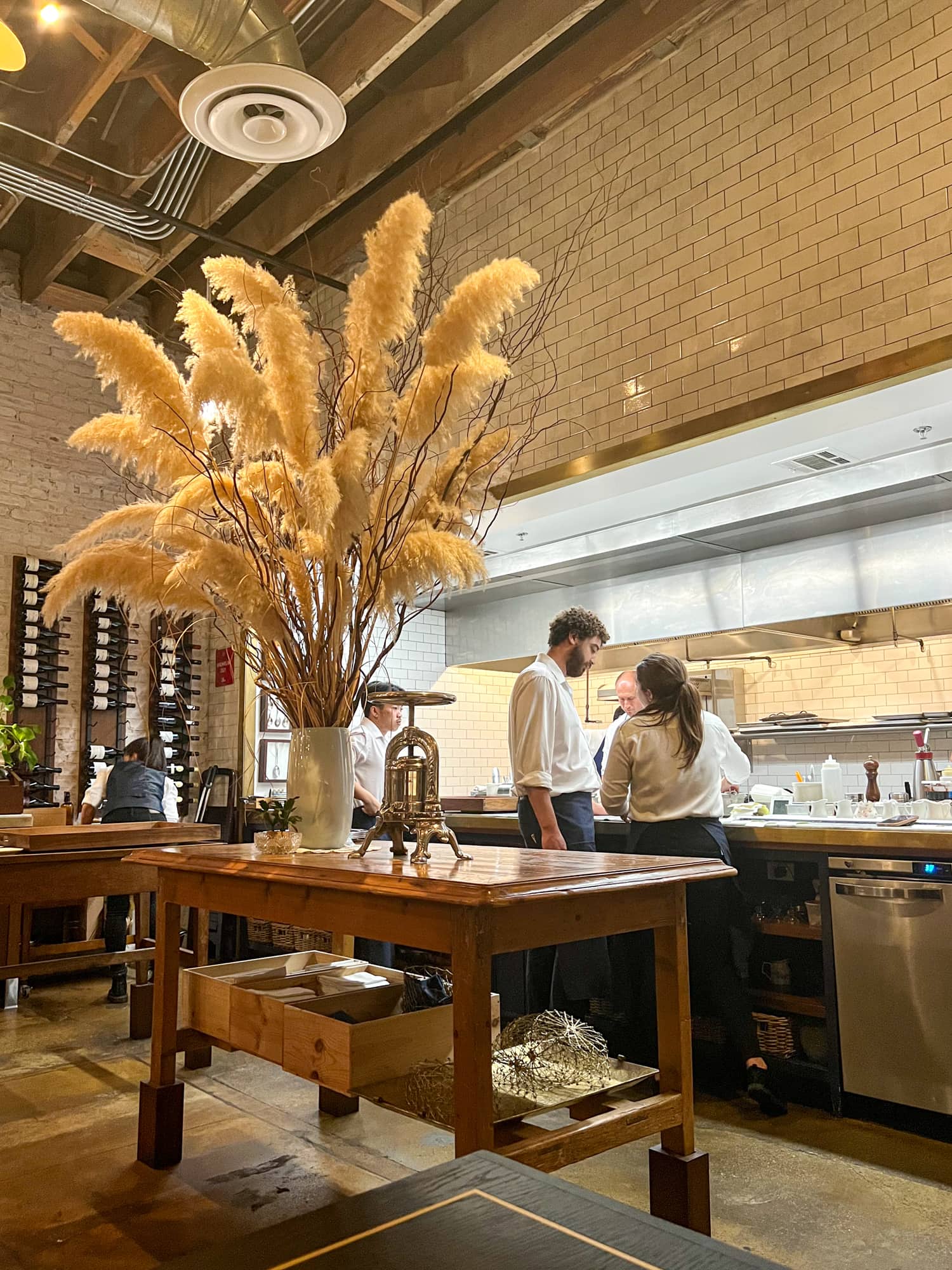 Dinner at Pasjoli
Thanks to LA's infamous traffic, my girlfriend, Kel, and I arrived at Pasjoli late for our dinner reservation.
Pasjoli's dining room features exposed brick walls, wooden rafters, and duct work.
Along the lefthand side are a small seating area, marble bar, and hi-top tables. Seating in this section is first come, first serve, and the full dinner menu is available.
Standard tables are available along the right side, leading to an open kitchen where you can watch the chefs at work. A silver antique duck press sits on a nearby table.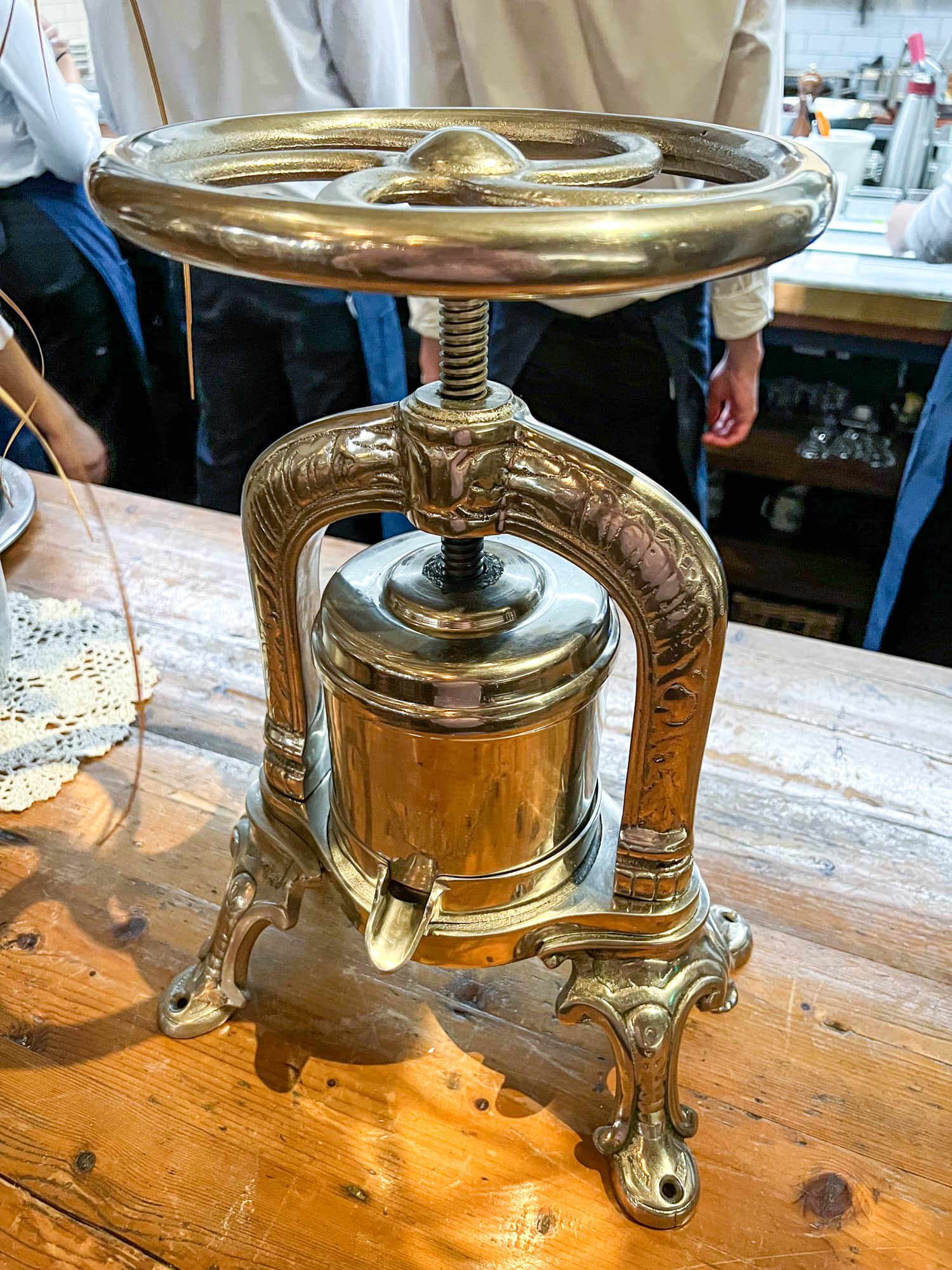 The rustic interior underscores this is a casual and approachable space, despite the high-quality French food being prepared.
Drink Menu
Once we were settled at a table near the Pasjoli kitchen, I reviewed the drink menu.
There's a long list of French wines by the glass and bottle, including several rare vintages from Bordeaux, a city I visited in 2008 on a trip around the world.
And eight varieties of Champagne are available if you're feeling celebratory.
Cocktails, a few beer and cider options, and non-alcoholic drinks are also offered.
I ordered a glass of French red wine while Kel got a pear cider. We then turned our attention to the food.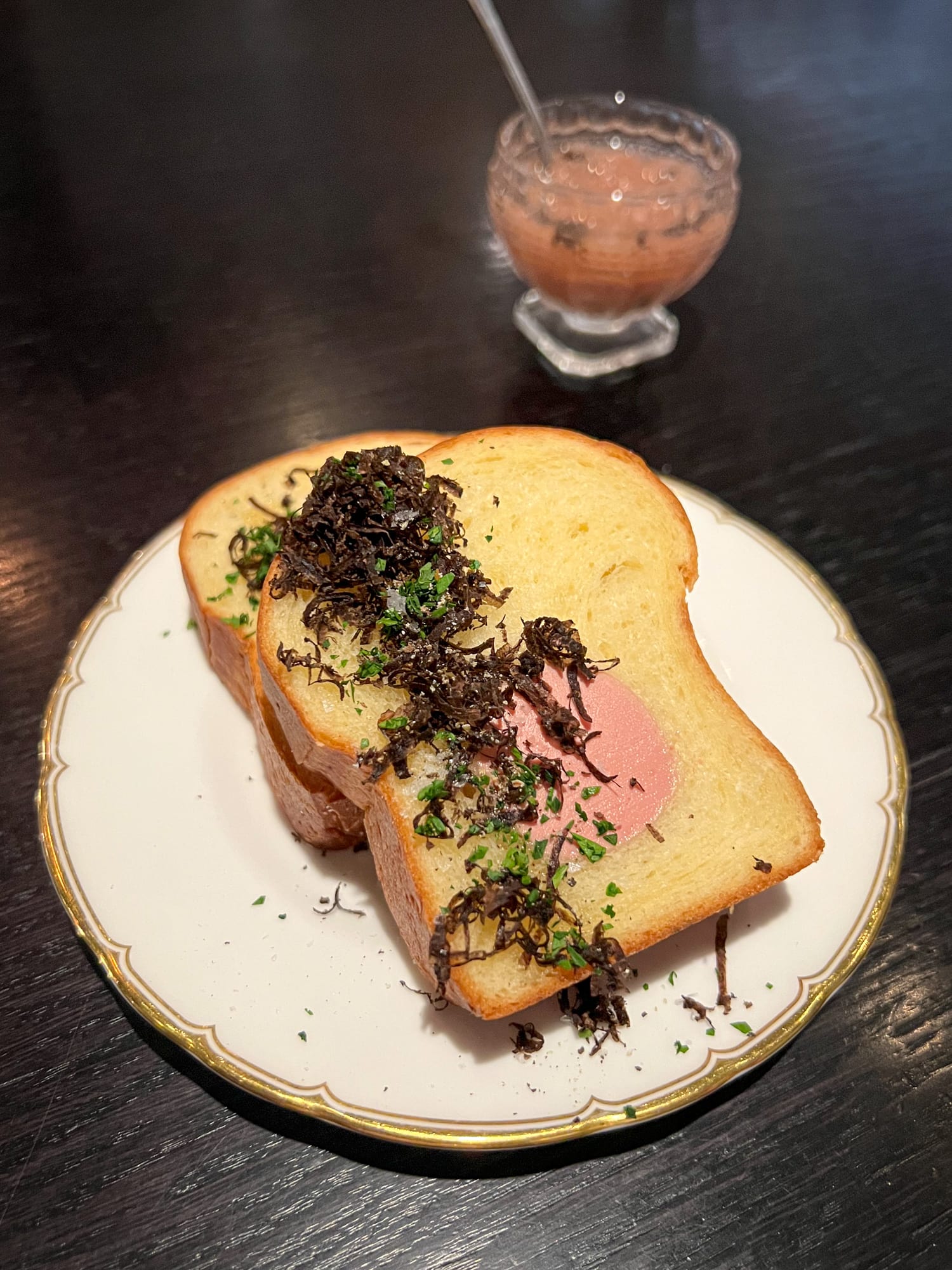 Appetizers
Pasjoli's food menu is concise enough to fit on a single page and presents elevated French cuisine inspired by Southern California produce.
The starters are split into cold and warm options, plus dishes meant to be shared.
There's a salad with shallots, gruyere, and burnt onion ash, or more interestingly, marinated crab with cauliflower custard and fermented yuzu.
Parisian gnocchi is made with bay scallops, snap peas, avocado puree, and a green garlic beurre blanc (butter) sauce.
Shareable options start with an $8 baguette and end with golden Osetra Caviar for $145 per ounce.
I settled on the middle option, a small foie de poulet à la Strasbourgeoise (Escoffier 3495) — brioche filled with chicken liver mousse, topped with shaved black truffle, and presented with a side of jam.
The brioche was light and fluffy, the mousse smooth and silky. It reminded me of the foie gras mousse and sweet bread I had at M by Jeremy Shigekane in Honolulu.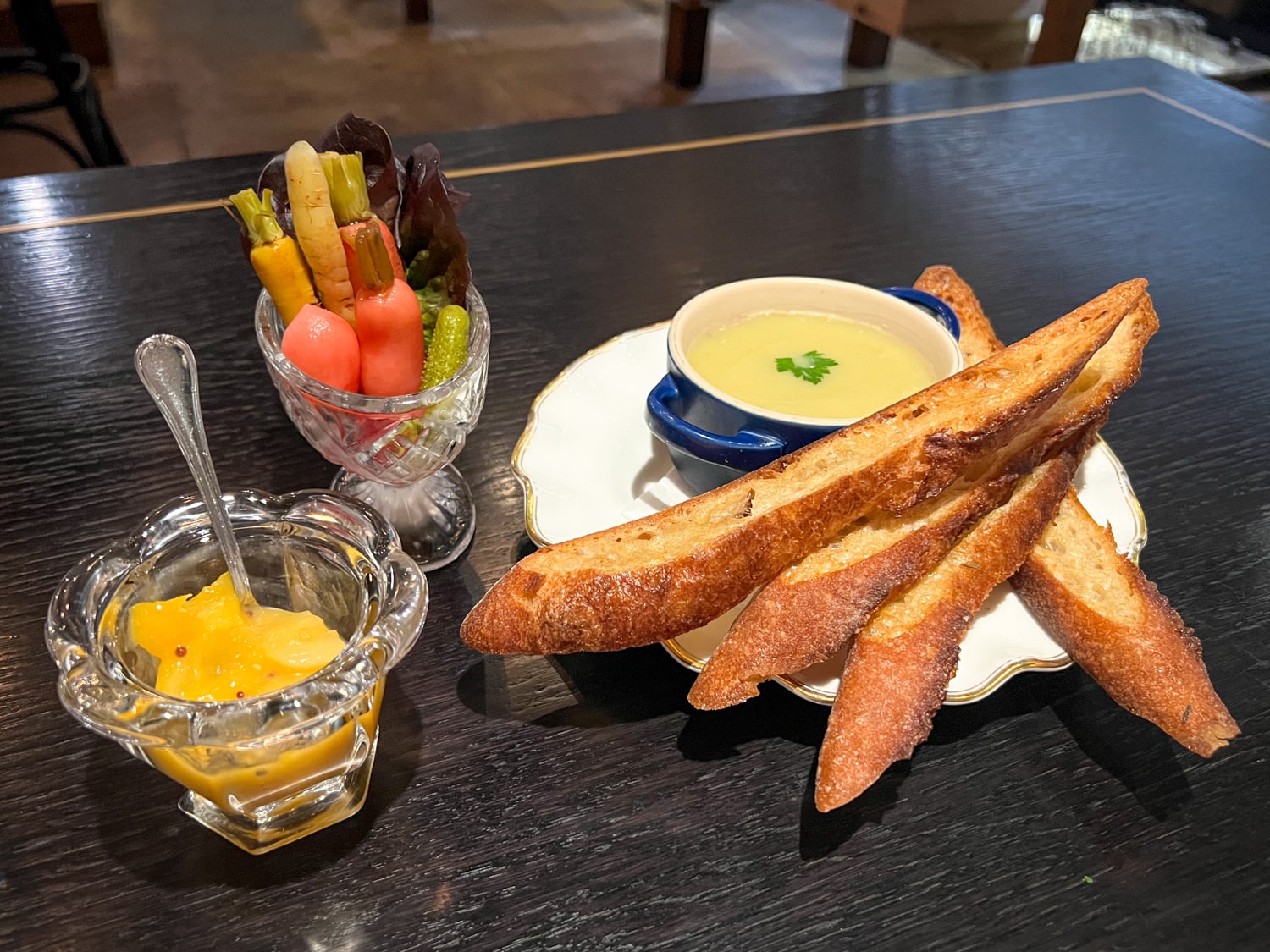 While I was finishing my first dish, a gift from the kitchen arrived in the form of the duck leg rillettes with pickled vegetables, apricot and mustard jam, and baguettes.
Rillettes is an old preservation method that involves shredding, seasoning, and slow-cooking meat, then sealing it in a container with fat. The result is typically spread on toasted bread.
This was my first time trying rillettes, and while I liked all the components, the toasted baguette was a bit too hard and crunchy for me to enjoy fully.
Related: Au Pied de Cochon in Montreal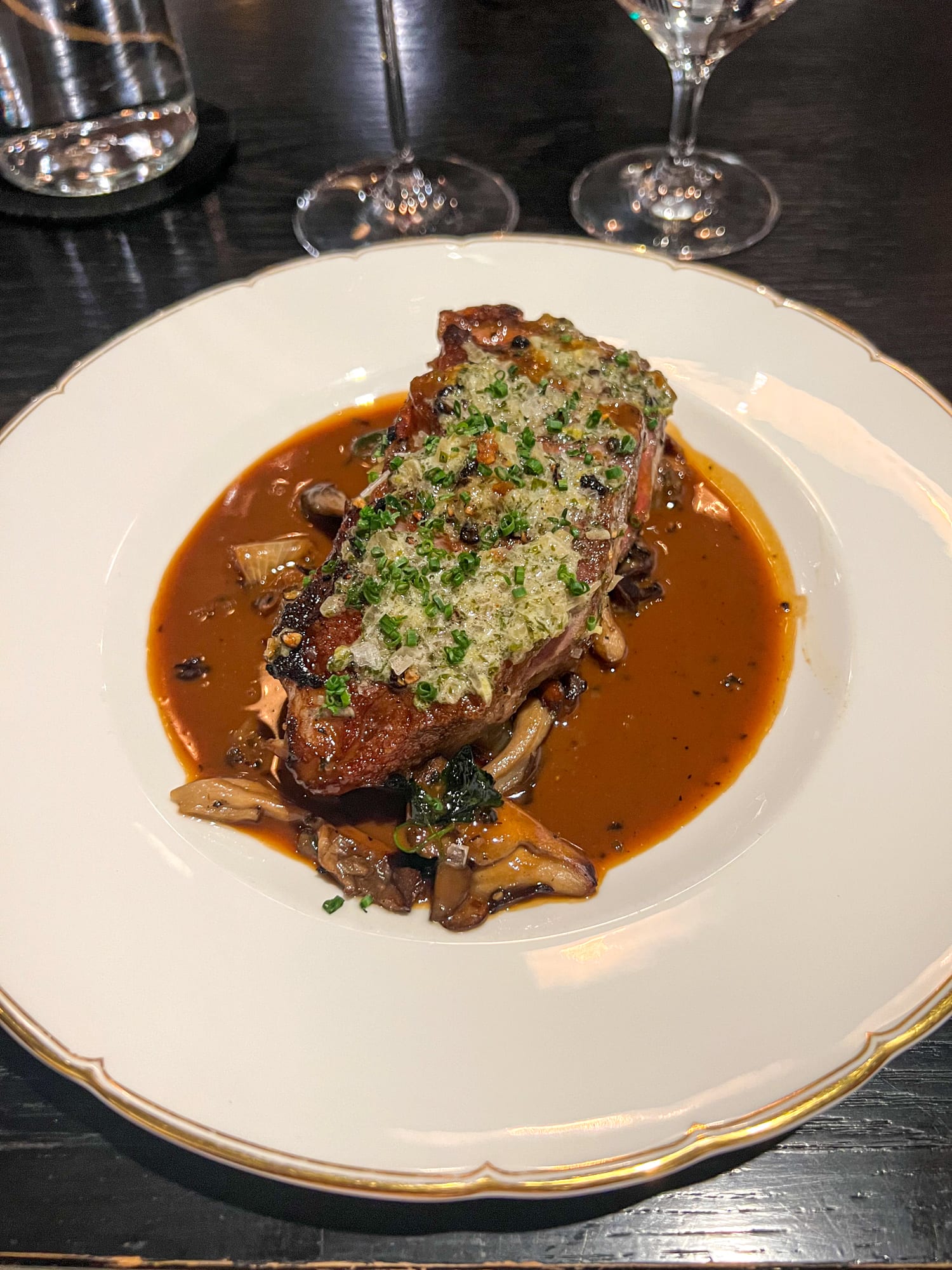 Main Courses
Moving on to Pasjoli's main courses, we had a tough decision.
The signature duck press service would've been quite a show, but neither of us wanted to make duck the principal ingredient of every course.
Diners interested in the $195 tableside show for two can look forward to:
Crispy duck skin salad
Roasted duck breast in a sauce of duck juice with cognac and red wine
Duck leg bread pudding
I went with a classic French dish, steak au poivre, made with an 8-ounce dry-aged New York strip, oyster and maitake mushroom, cipollini onion, and peppercorn jus. The steak's brown pepper sauce was incredible.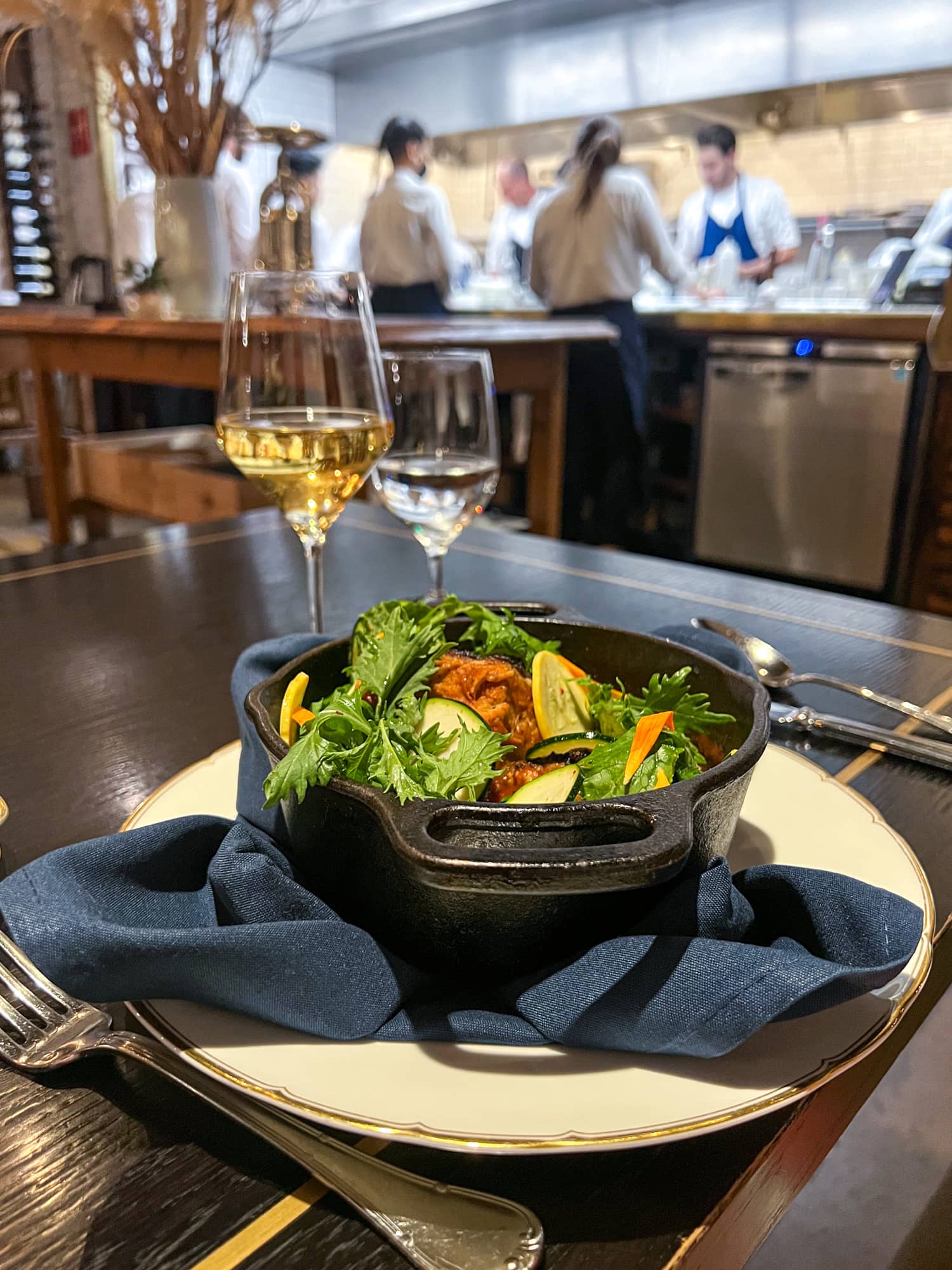 Meanwhile, Kel enjoyed her 8-hour braised pork shoulder with roasted summer squash, wilted onions, and tomato sauce served in a small cast-iron bowl.
Other dishes include pan-roasted sea bass with lobster velouté, pan-roasted halibut with brown butter and lemon sauce, and a white bean ragoût with asparagus and yuzu beurre blanc.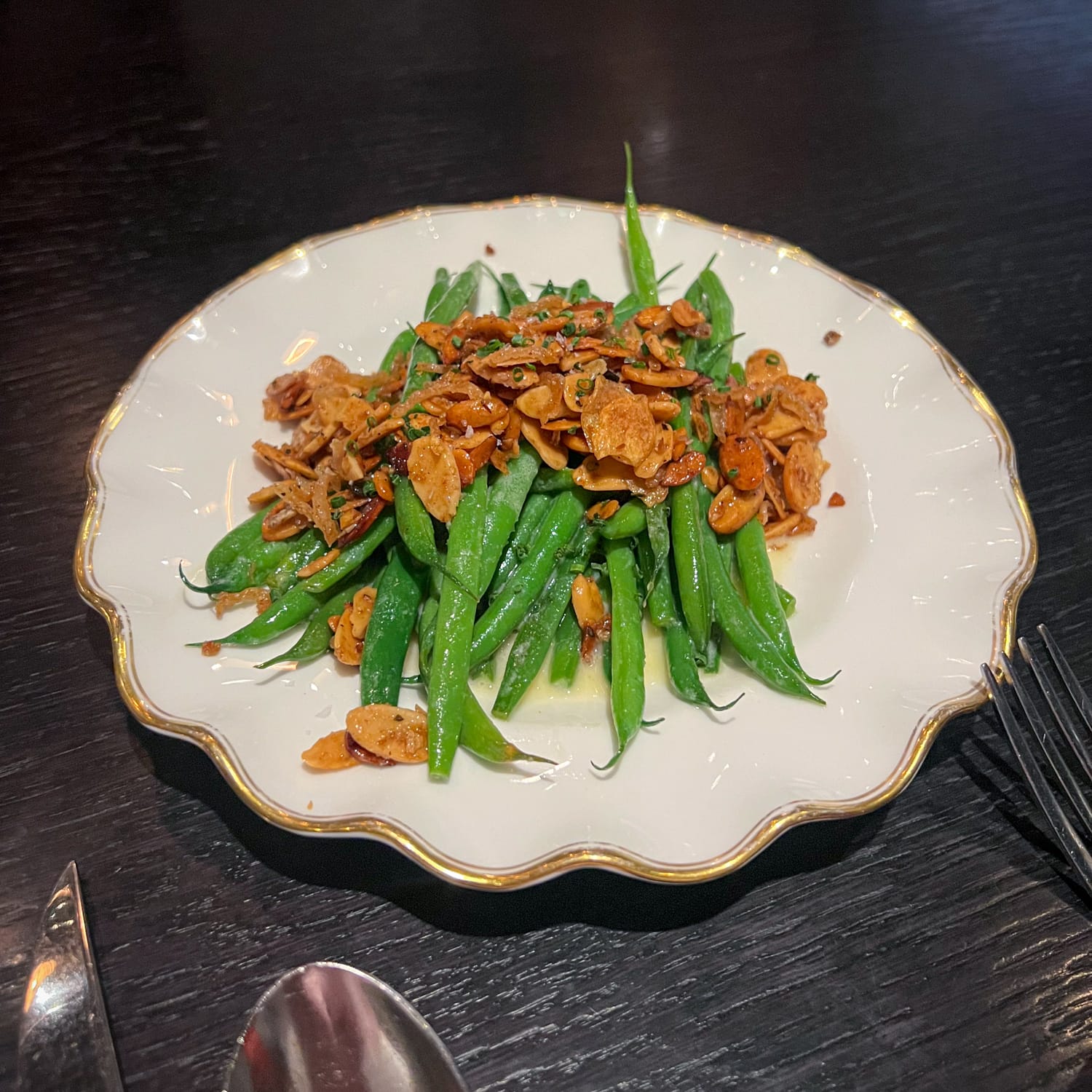 We'd also ordered a side of French string beans with almonds to share. The fresh green beans were bright and crunchy, just the way we like them.
Another option was a heavier gratin dauphinois with potato, gruyère cheese, and cream.
At this point, I was starting to feel full. However, my favorite course was still ahead, not to mention another surprise from the kitchen.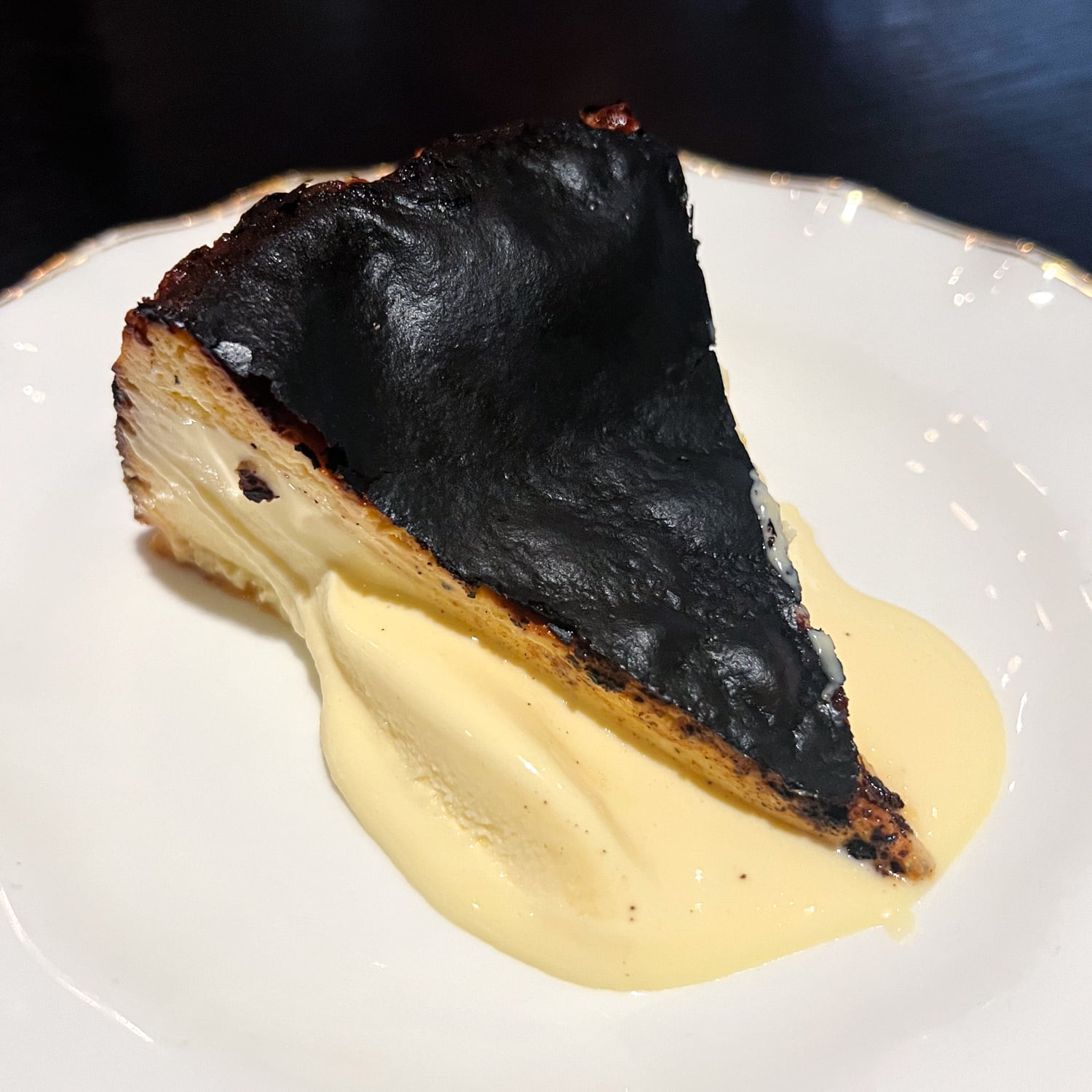 Dessert
Peak happiness at Pasjoli in Santa Monica came with the arrival of not one but two fabulous desserts.
We'd opted for the bitter chocolate soufflé with vanilla ice cream and chocolate sauce when we placed our initial order. It takes 45 minutes to bake, so don't delay.
Before that classic French dessert could arrive, we received our second gift from the kitchen, an exquisite slice of Basque cheesecake.
It seemed to be melting into the plate, and whether that was by design or accident, I didn't care. My eyes widened, and we began to take bite after luscious bite.
It was heavenly and better than the first Basque cheesecake I ever had at one of Copenhagen's best bakeries.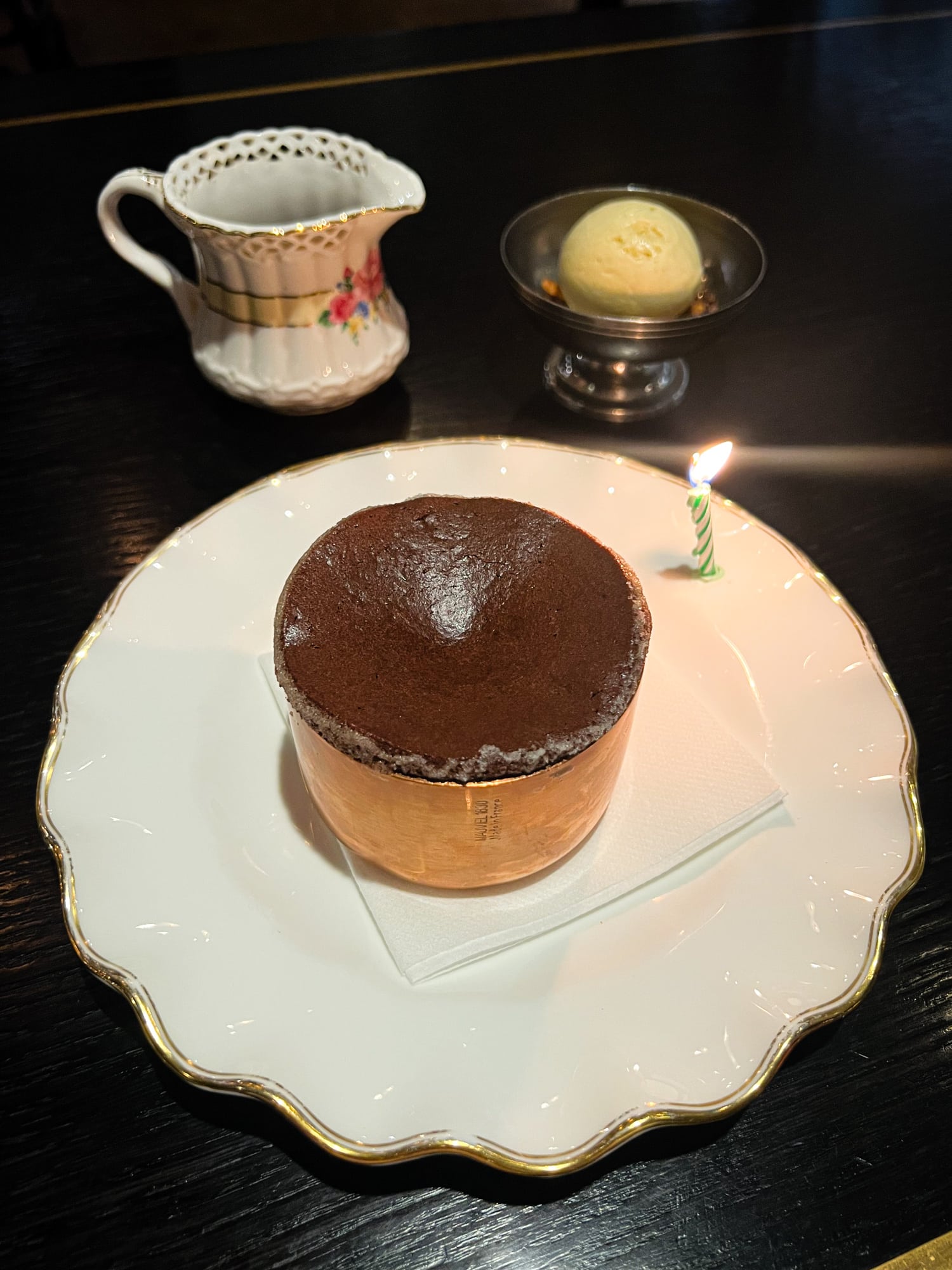 Before we could finish the cheesecake, our second dessert, the chocolate soufflé, arrived.
A small candle had been lit to recognize our anniversary, which we were celebrating that night.
I invited Kel to pour the hot chocolate sauce into the soufflé while I attempted to take a video. Once done, we began dipping our spoons into the light and puffy cake.
Feeling spoiled for choice, I briefly returned to take another bite or two of the cheesecake before retiring my spoon for the night.
Related: Mr Chow in Beverly Hills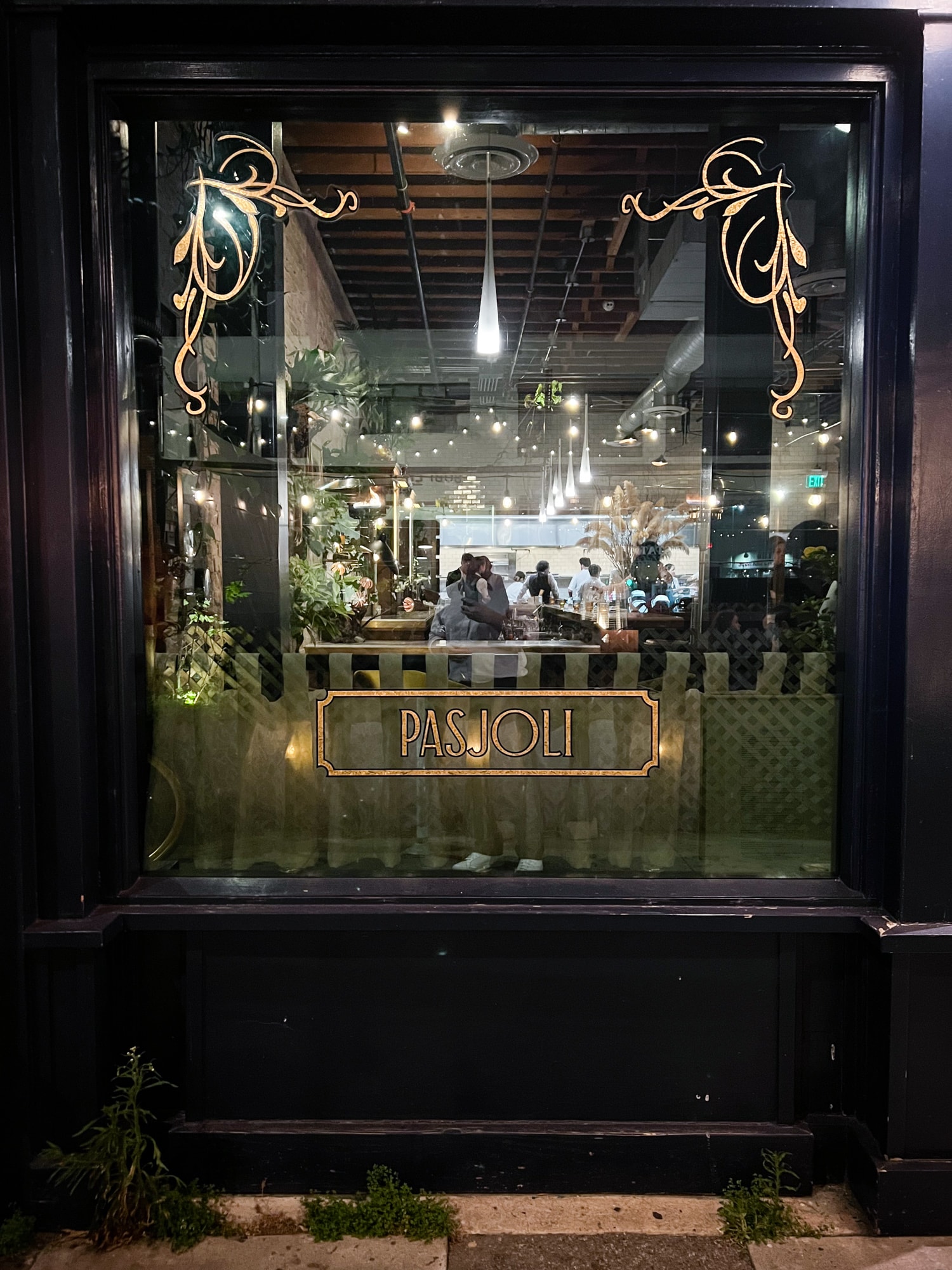 Overall, I felt like our dinner at Pasjoli met my expectations for a one-star Michelin restaurant experience.
The atmosphere was lively but not too loud, the Pasjoli team was attentive, and the food was superb.
Menu prices include a service fee; additional gratuity is optional.
Dine at Pasjoli
Address: 2732 Main St, Santa Monica, California
Hours: 5:15 p.m. to 9:30 p.m. Sunday to Thursday, 5:15 p.m. to 10:30 p.m. Friday and Saturday
Dress Code: Casual
Reservations: Highly recommended; walk-ins are also welcome.