Calling all pastry lovers. Let's embark on a delicious journey through the best bakeries in New Orleans, a city where the scent of fresh beignets mingles with the Mississippi breeze.
From century-old establishments tucked in the heart of the French Quarter to innovative spots pushing the boundaries of baking, New Orleans' bakery scene is as diverse as its culture.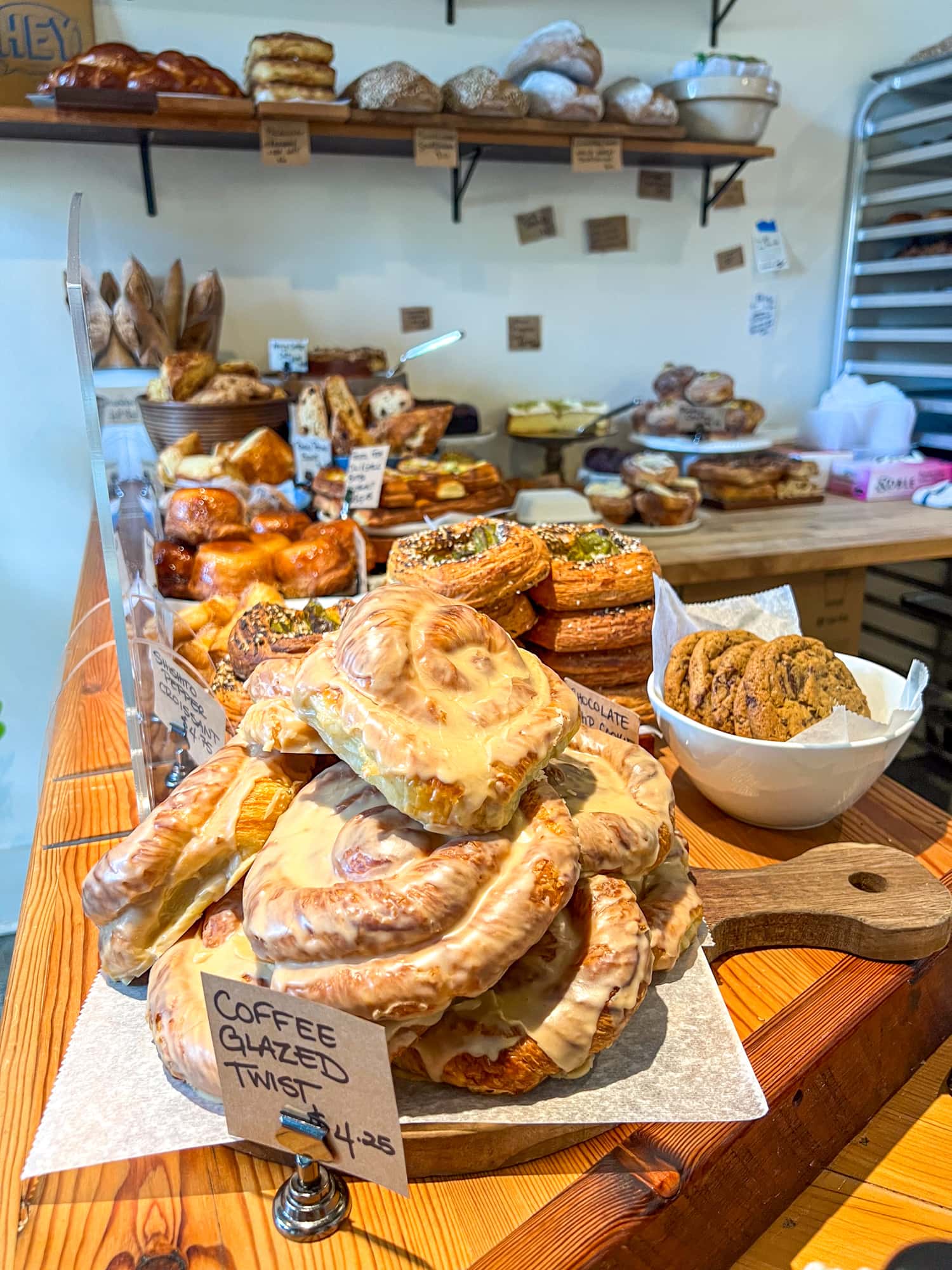 Get ready to indulge in flaky pastries, decadent cakes, and those iconic, powdered sugar-coated beignets that have become synonymous with New Orleans' culinary charm. Join me as we explore the sweet side of the Big Easy!
Where To Eat Pastries in NOLA
1. Levee Baking Co.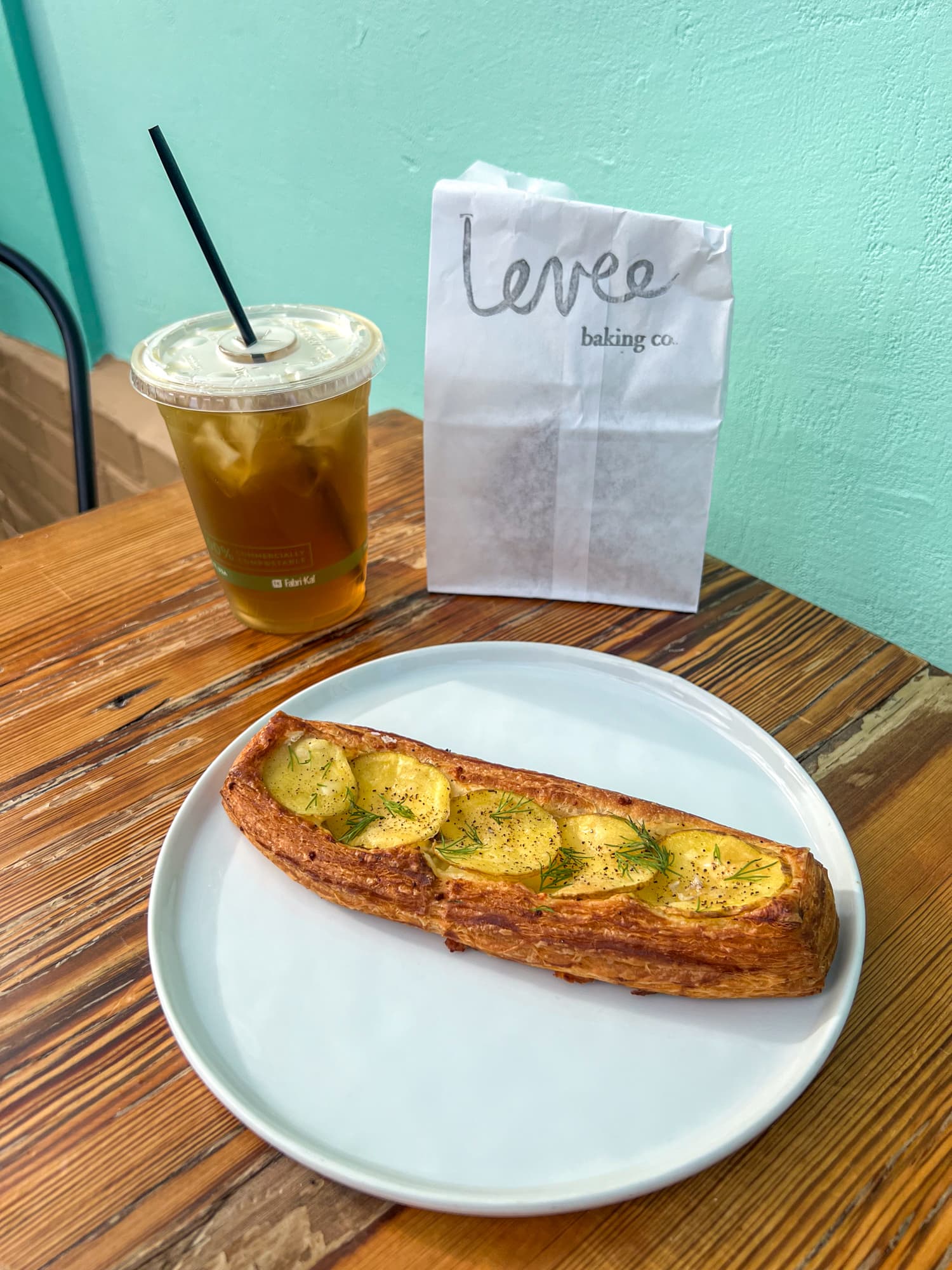 Allow the aroma of fresh baked goods to lead you inside the sea-green-painted facade of Levee Baking Company off Magazine Street in the Irish Channel neighborhood.
Founded by Miami-native baker Christina Balzebre as a pop-up while working at Willa Jean, Levee Baking Co. ultimately grew into a brick-and-mortar pastry shop. New Orleans Magazine named the upstart their 2019 Bakery of the Year.
Inside is an open kitchen and a display counter overflowing with artisan breads, cakes, and sweet pastries that blend traditional techniques with innovative flavors.
From flaky croissants to seasonal cruffins, each item at this small-batch bakery is crafted with locally sourced ingredients.
I was tempted by the lemon pistachio cake, as was a previous customer, who I was told bought four slices.
I chose a chocolate vegan salted chocolate olive oil cookie (outstanding!) and a soft chocolate chip cookie instead. For something savory, I picked the potato dill garlic croissant.
3138 Magazine St D, New Orleans, LA, leveebakingco.com
2. Ayu Bakehouse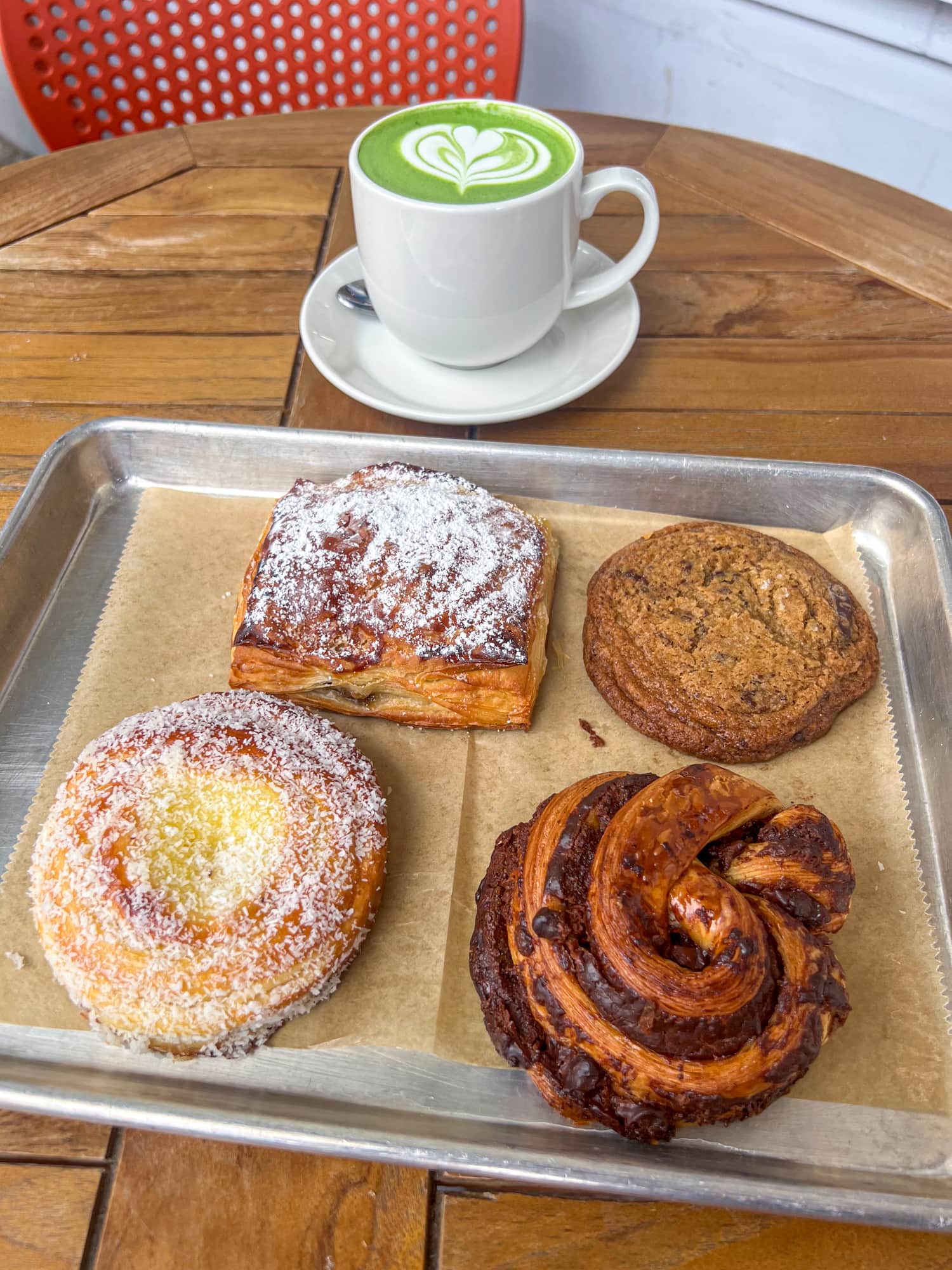 The newest bakery on my list is Ayu Bakehouse, which opened on June 7, 2022, in the space of a former restaurant on Frenchmen Street.
Co-owners Samantha Weiss and Kelly Jacques met at culinary school in New York and later, as the pandemic eased, collaborated on opening a bakery in New Orleans.
Inside the old wooden building with white shutters and a second-floor wrap-around balcony is a bright, modern space with reddish-brown concrete counters evoking the colors of the pastries they display.
Behind the register are the ovens, where you can watch the latest fresh-baked goods being retrieved.
According to Weiss, whom I spoke with during my visit, they bake many of their menu items throughout the morning and early afternoon. It's a bit of a misnomer that the best time to visit a bakery is the early morning.
I began with a signature savory item, the Boudin Boy, a sausage and egg-filled pastry served with hot chili oil for dipping. I could've ordered a few more and called it a day, but I wanted to satisfy my sweet tooth.
There was a perfectly baked apple turnover, a soft and sumptuous Kaya Bun with coconut filling, and a slightly crisp chocolate chip cookie. My favorite sweet treat was their chocolate babka knot, which left me licking my fingers.
Bakery lovers have their choice of a half-dozen communal chairs inside, tables on the sidewalk, or taking their goods across the street to Washington Square Park.
801 Frenchmen St, New Orleans, LA, ayubakehouse.com
3. Bywater Bakery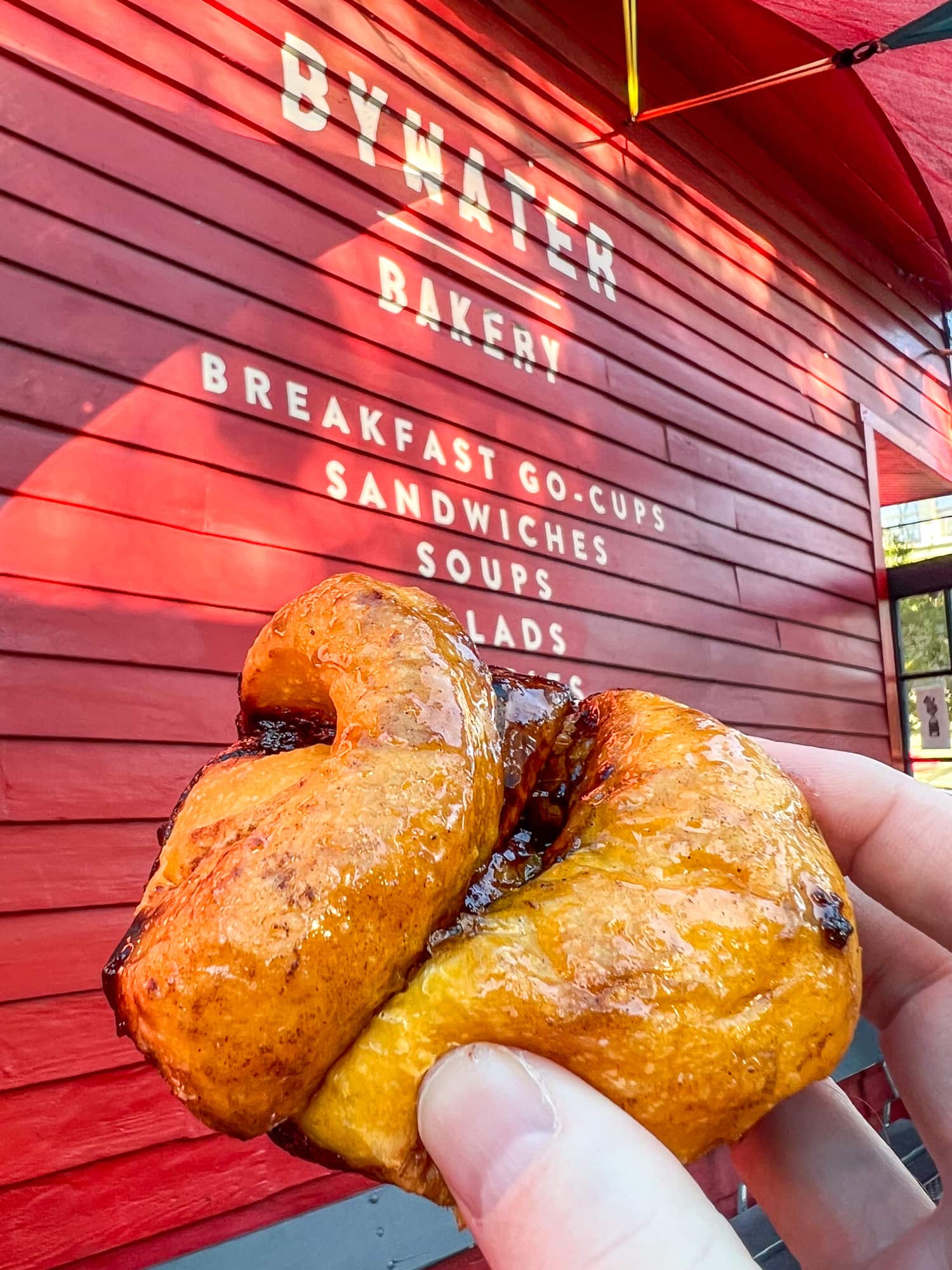 Travel one mile east of Ayu on Dauphine Street to reach Bywater Bakery, named after the neighborhood it has served since 2017.
Pastry chef Chaya Conrad opened the bakery with her husband, Alton Osborn, and thus turned their corner of Dauphine and Independence Street into a community hub for friends, families, and musicians.
Bywater Bakery is known for its wedding cakes and specialty cakes. It was the bakery of choice for Taylor Swift's birthday cake in December 2022.
Tasked with making something special for the pop superstar in only one night, the NOLA bakery produced a Lavender Haze-inspired two-tier cake with banana mascarpone cream and vanilla butter cake on top and chai chocolate cake with chocolate ganache and caramel on the bottom.
While I left the custom cakes to Taylor, that didn't make decision-making any easier when I entered the family-owned bakery. A glass display case suggested this was the perfect place to go overboard.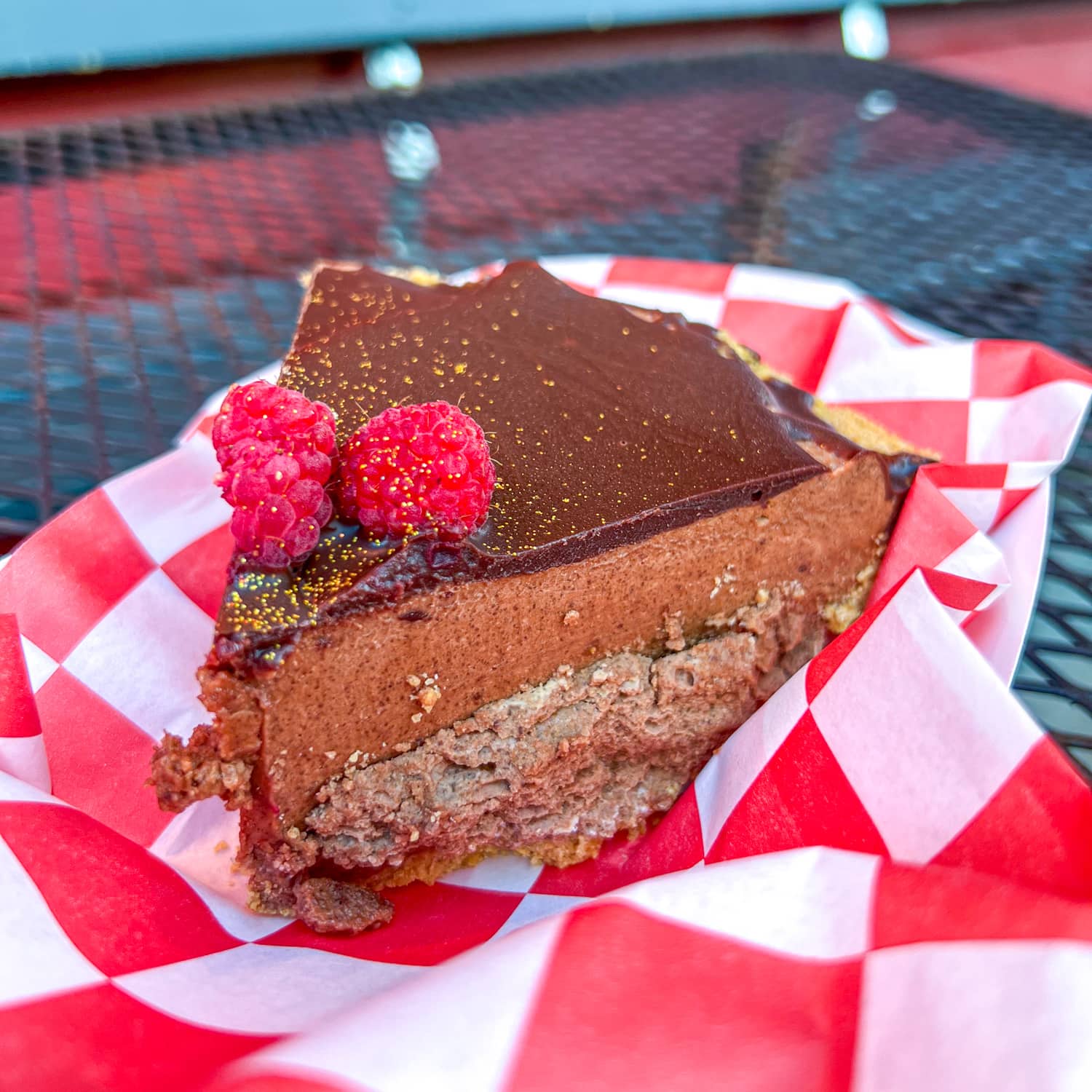 I hemmed and hawed between blueberry bundt cakes, brownie bombs, croissants, scones, and cookies before choosing the sweet potato sticky bun. And a chocolate brownie. And a slice of French silk pie.
After paying, I took my bounty of baked goods to one of the outdoor tables; my taste buds were primed. It was a lovely fall morning, and jazz music played over the bakery's sound system.
The sticky bun lived up to its name. I expected the French silk chocolate pie to be light and airy, but it was dense, with a crunchy crust that I enjoyed. As for the chocolate brownie, I took it home as a souvenir before promptly devouring it.
3624 Dauphine St, New Orleans, LA, bywaterbakery.com
4. Cafe du Monde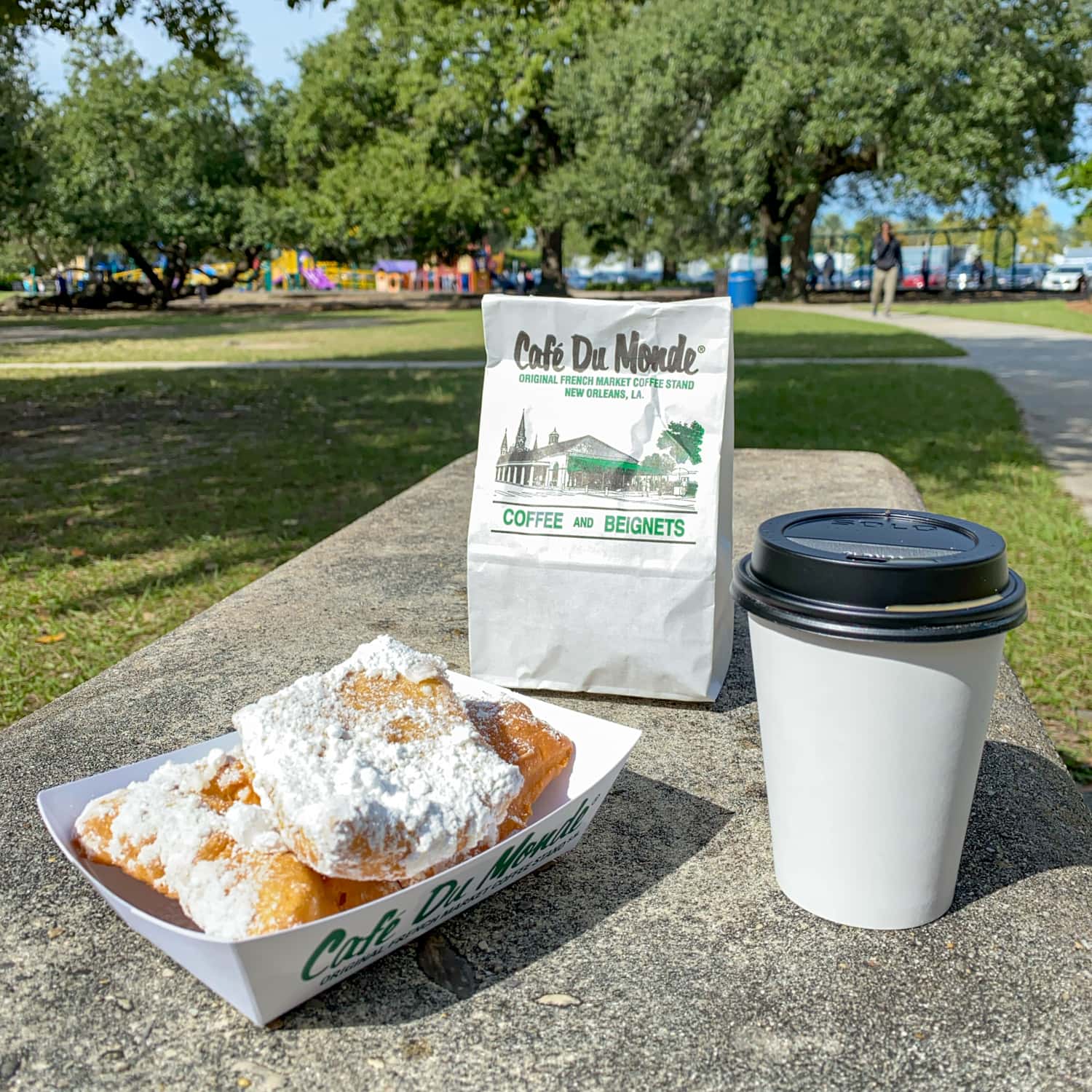 The most famous coffee shop in New Orleans is Cafe du Monde, and I'm including it in this story because they're synonymous with beignets.
Opened in 1862, Cafe du Monde has served cafe au lait and traditional beignets with powdered sugar to New Orleanians for over 160 years.
Their Decatur Street location in the French Quarter, just off Jackson Square, often has long lines.
I prefer the quieter Cafe Du Monde City Park location, which you can pair with a walk through the lovely Sydney and Walda Besthoff Sculpture Garden (free), the New Orleans Museum of Art ($15), or both.
Go beyond Cafe du Monde with my guide to the best beignets in New Orleans.
French Quarter: 800 Decatur St, New Orleans, or City Park: 56 Dreyfous Dr, New Orleans, LA, cafedumonde.com
5. Angelo Brocato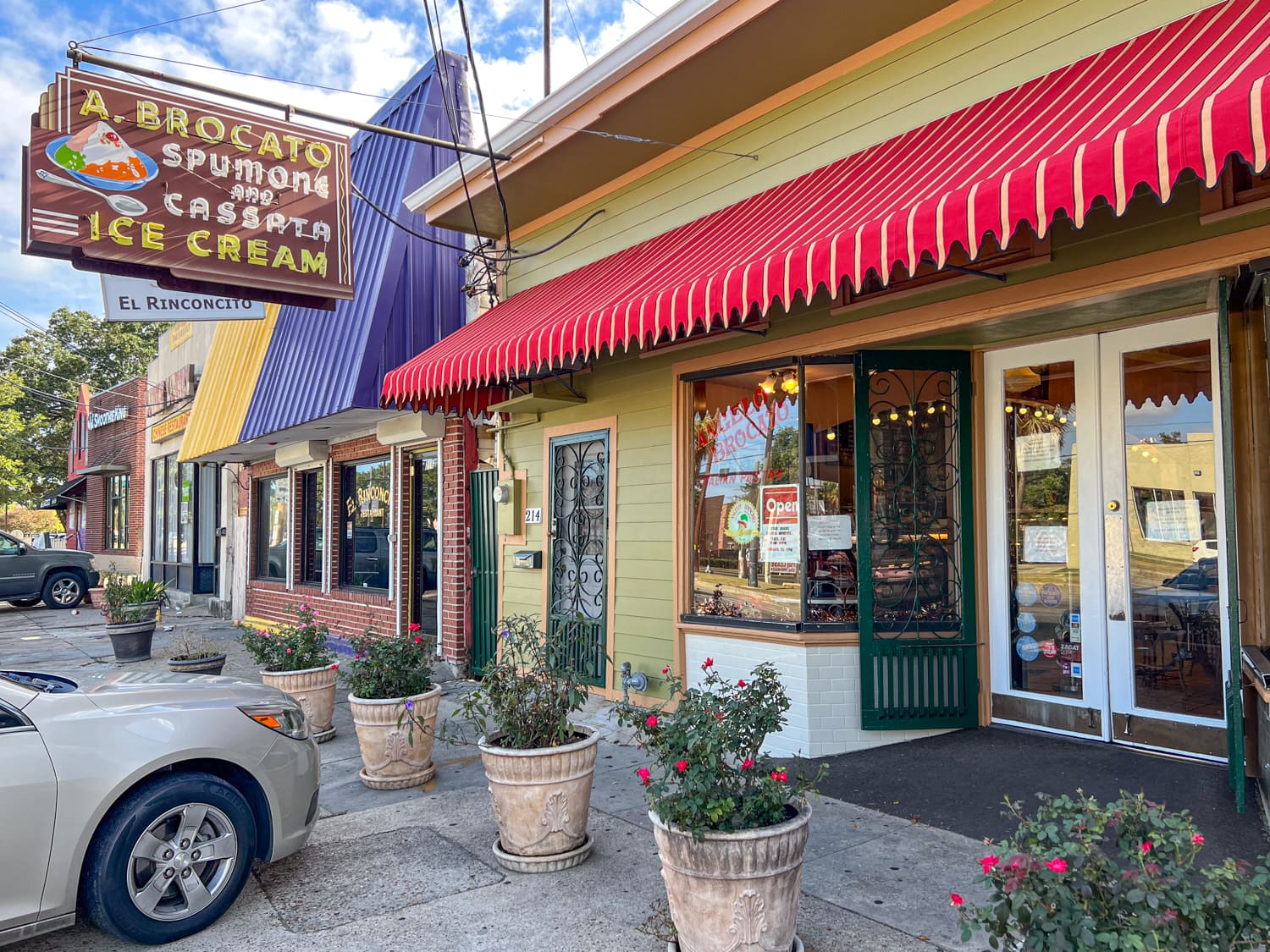 Head to Angelo Brocato Ice Cream & Confectionery in Mid-City for made-to-order cannolis and Italian gelato with the finest ingredients.
Italian immigrant Angelo Brocato opened his eponymous ice cream shop in 1905, which has remained in the family ever since. Today, it's operated by his grandson, Arthur Brocato, and his wife, Jolie.
Initially located in an Italian neighborhood in the historic French Quarter, the Sicilian ice cream shop relocated to its current address in the late 1970s.
A few months after undergoing significant renovations in time to celebrate the shop's 100th anniversary, Hurricane Katrina hit and flooded the business.
Related: Top Bakeries in Austin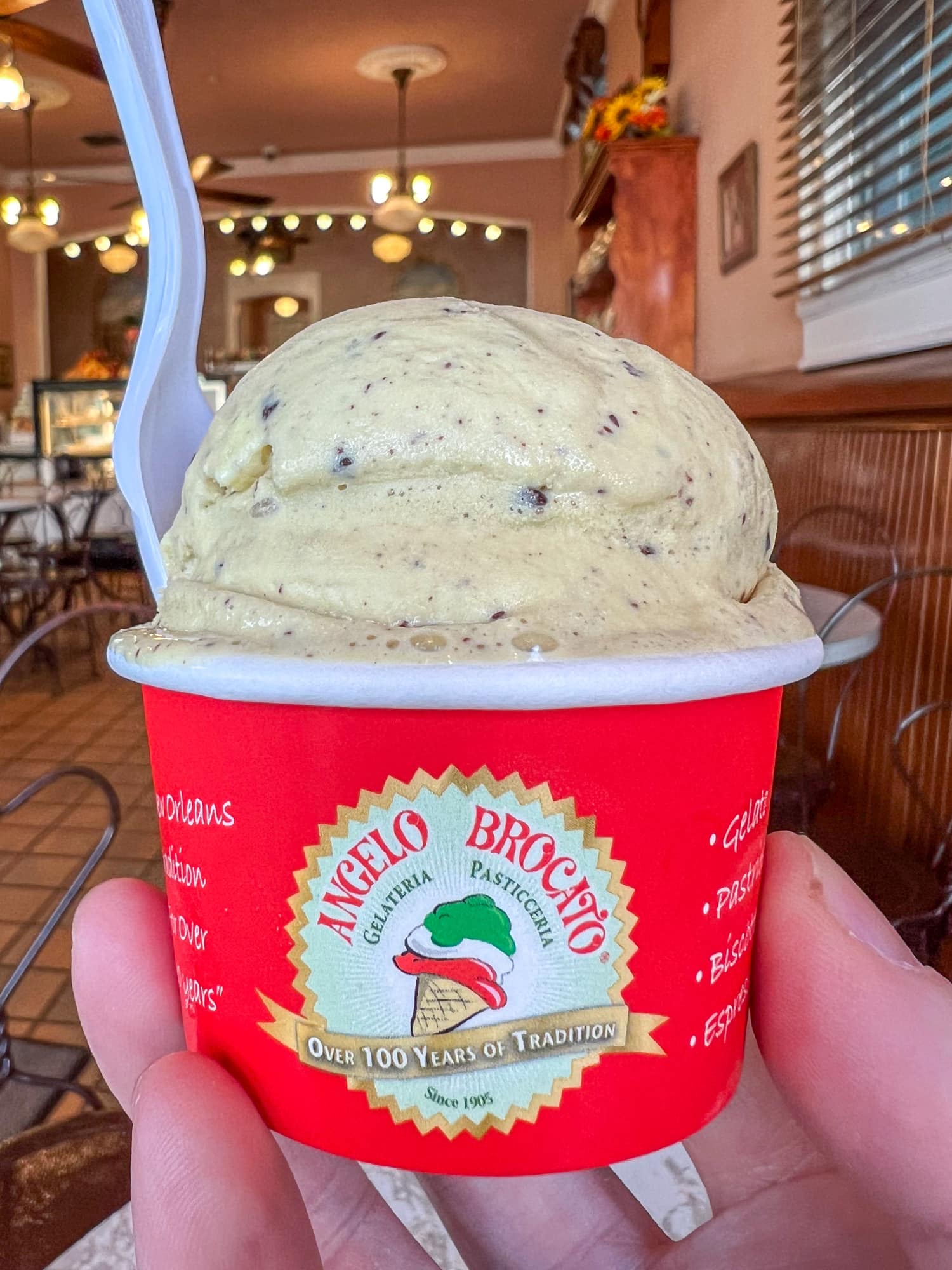 Thankfully, they persevered, and the Angelo Brocato re-opened for business a little over a year later. Many old family recipes are still used today, including torroncino, a vanilla-based gelato with cinnamon and almonds.
On my first visit, I ordered a mini traditional cannoli filled with half vanilla and half chocolate ricotta; the ends dipped in crushed pistachios. The cannolis aren't filled in advance to ensure the shells stay crisp.
Other goodies available at one of the best bakeries in New Orleans included a cannoli cake slice, pistachio ricotta tart, Baked Alaska, and a variety of cheesecakes and Italian cookies.
After sampling a few different flavors, I settled on the creamy rum custard gelato, like edible egg nog with chocolate chips.
Angelo Brocato was a 2023 James Beard Award finalist for Outstanding Bakery.
214 N Carrollton Ave, New Orleans, LA, angelobrocatoicecream.com
6. Bellegarde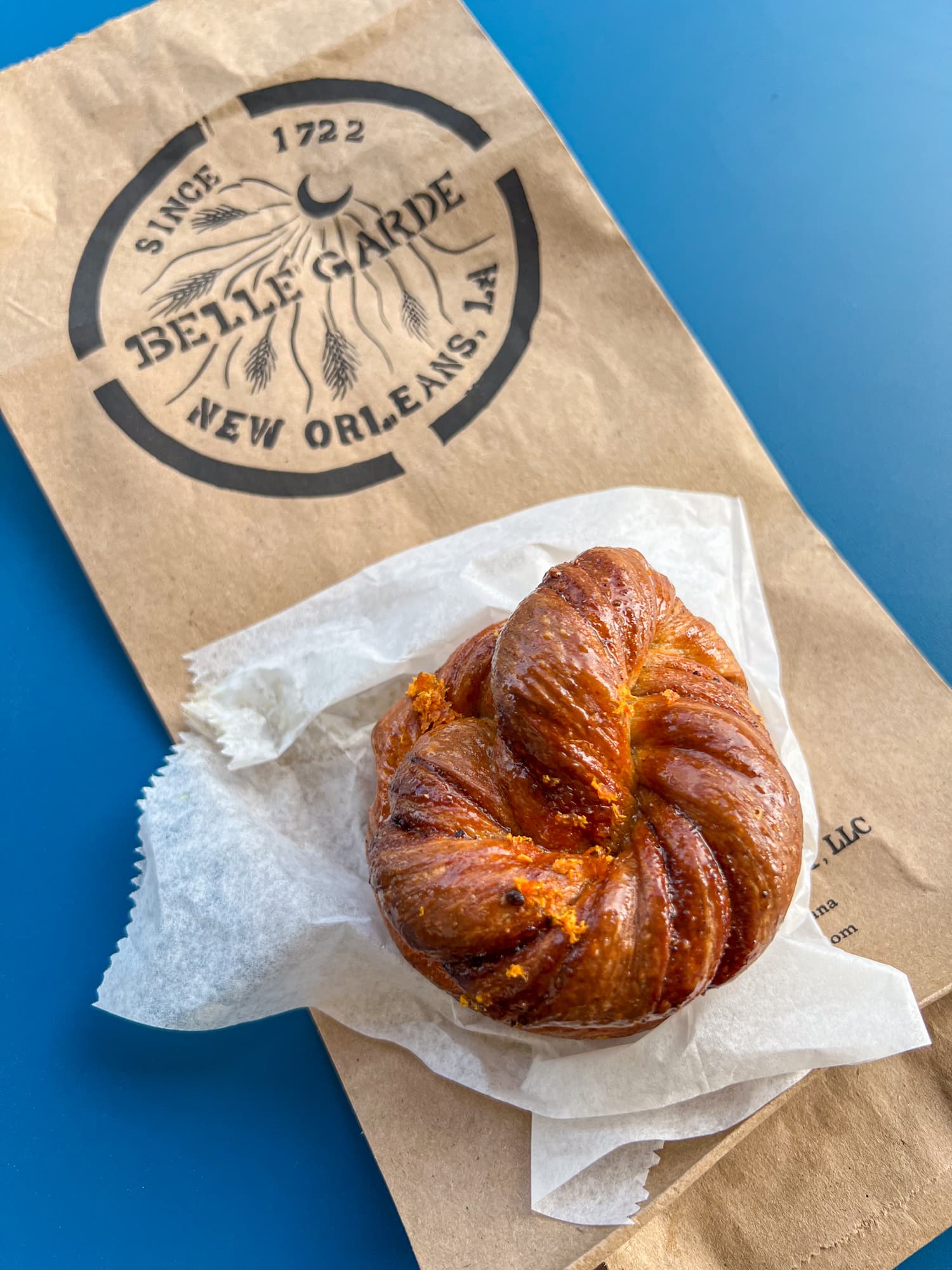 Speaking of James Beard Award finalists, Graison Gill, the founder of Bellegarde Bakery, was recognized as one in 2020. After ten years of growing the bakery, he departed in 2023 for the opportunity to open a new one in London.
However, what he built remains an employee-owned business with a continuing mission "to connect community and ecology through gastronomy."
All the bread baked at Bellegarde is handmade, with much of the space at their Uptown neighborhood bakery dedicated to that process.
Baguettes, ciabatta, country batard, and rye are some options. And while bread is the star here, they offer a handful of fresh pastries. I picked up a cardamom morning bun, a reminder of my time spent in Copenhagen's best bakeries.
8300 Apple St, New Orleans, LA, bellegardebakery.com
7. Bakery Bar
Originally intended as the new home for Debbie Does Doberge, a cake business by Charlotte McGehee and Charles Mary IV, Bakery Bar evolved into a craft cocktail bar and full-service restaurant.
Located in the shadow of the Pontchartrain Expressway in the Lower Garden District, it's a bit tricky to reach but worth the effort.
The doberge cake is a beloved dessert originating in New Orleans in the 1930s. It typically consists of six to eight thin layers of cake, with pudding-like custard, commonly chocolate or lemon-flavored, between every layer.
The cake is then enveloped in a smooth, poured fondant or a rich buttercream frosting. This special occasion cake is a staple of birthday celebrations in New Orleans.
Bakery Bar offers dozens of varieties of whole doberge cakes, five doberge cakes by the slice, Dobites (doberge cake as petit fours), cookies, and salty balls (cake balls with sea salt).
Kel picked a few of the Dobites to take back to our hotel while I selected a slice of the decadent chocolate cake and a chocolate salty ball. Everything we tried was fantastic and left me wanting more (and that goes double for the salty chocolate ball).
1179 Annunciation St, New Orleans, LA, bakery.bar
8. La Boulangerie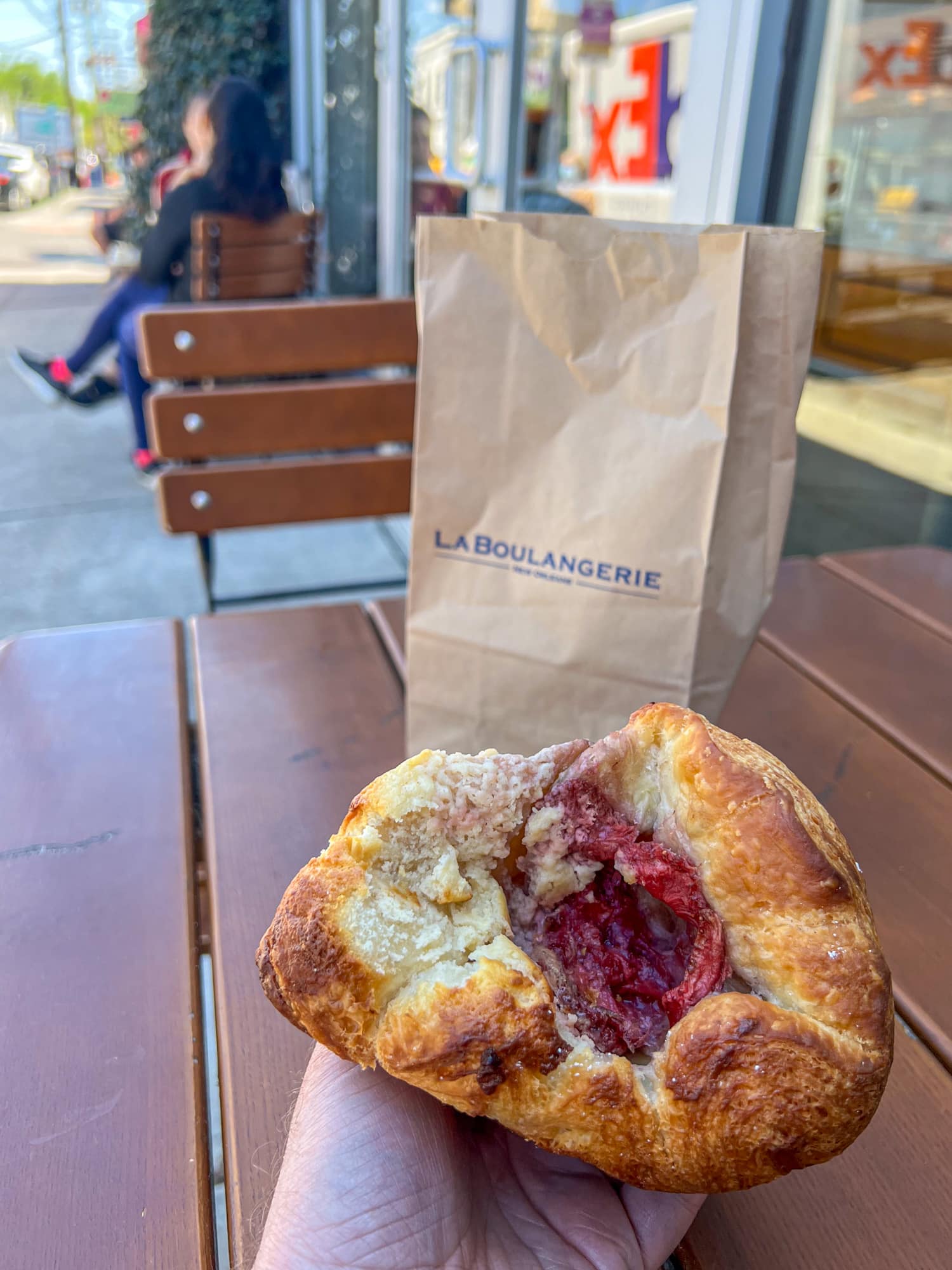 La Boulangerie is a full-service bakery on Magazine Street that belongs to chef Donald Link's family of restaurants.
The main attraction is the French pastries, of which there are many to choose from. I selected a fruit-filled pastry when I walked over from La Petite Grocery.
Other tempting options include chocolate almond croissants, chocolate croissant bread pudding, and ham and cheese stuffed pretzels.
Fresh focaccia, baguettes, and sourdough bread are available daily. If you do not need a loaf of bread, try them on one of their nine sandwiches.
4600 Magazine St #1518, New Orleans, LA, laboulangerienola.com
9. Gracious Bakery + Cafe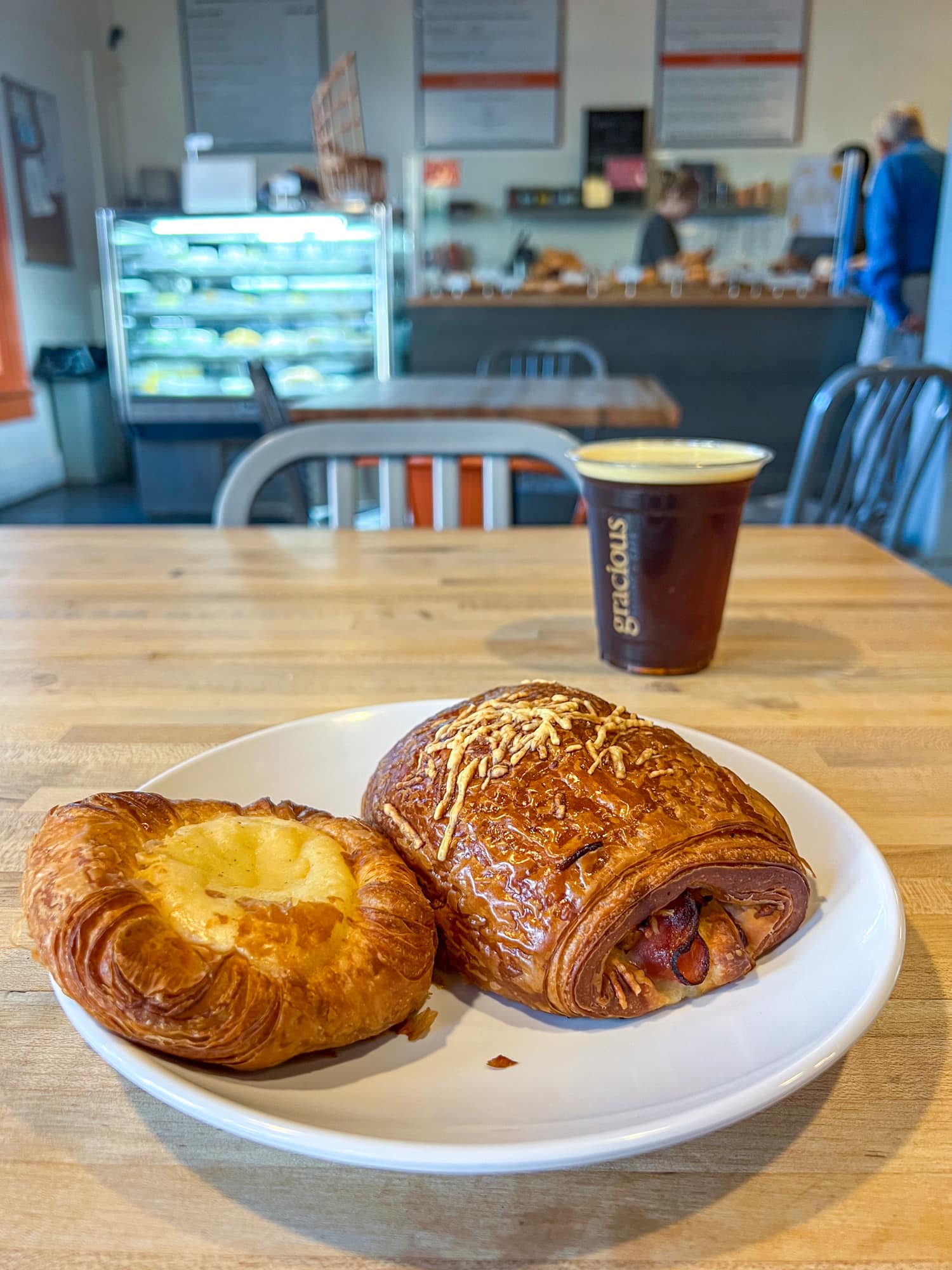 In 2012, pastry chef Megan Forman and her husband Jay Forman opened Gracious Bakery + Cafe in the Garden District.
The bakery specializes in laminated French pastry like the flaky ham and cheese I ordered for breakfast. To balance the savory, I also got a cheese Danish.
Other pastries that caught my eye included a Nutella scone, tiramisu doberge, and German chocolate cake. They also offer a selection of hand pies and lunch sandwiches.
Delicious Bakery + Cafe serves espresso drinks, brewed coffee, chai, tea, and hot chocolate. I appreciated their support of local brewers and enjoyed a cup of Riverboat Coffee Nitro Cold Brew.
2854 St Charles Ave, New Orleans, LA, graciousbakery.com
10. Croissant D'Or Patisserie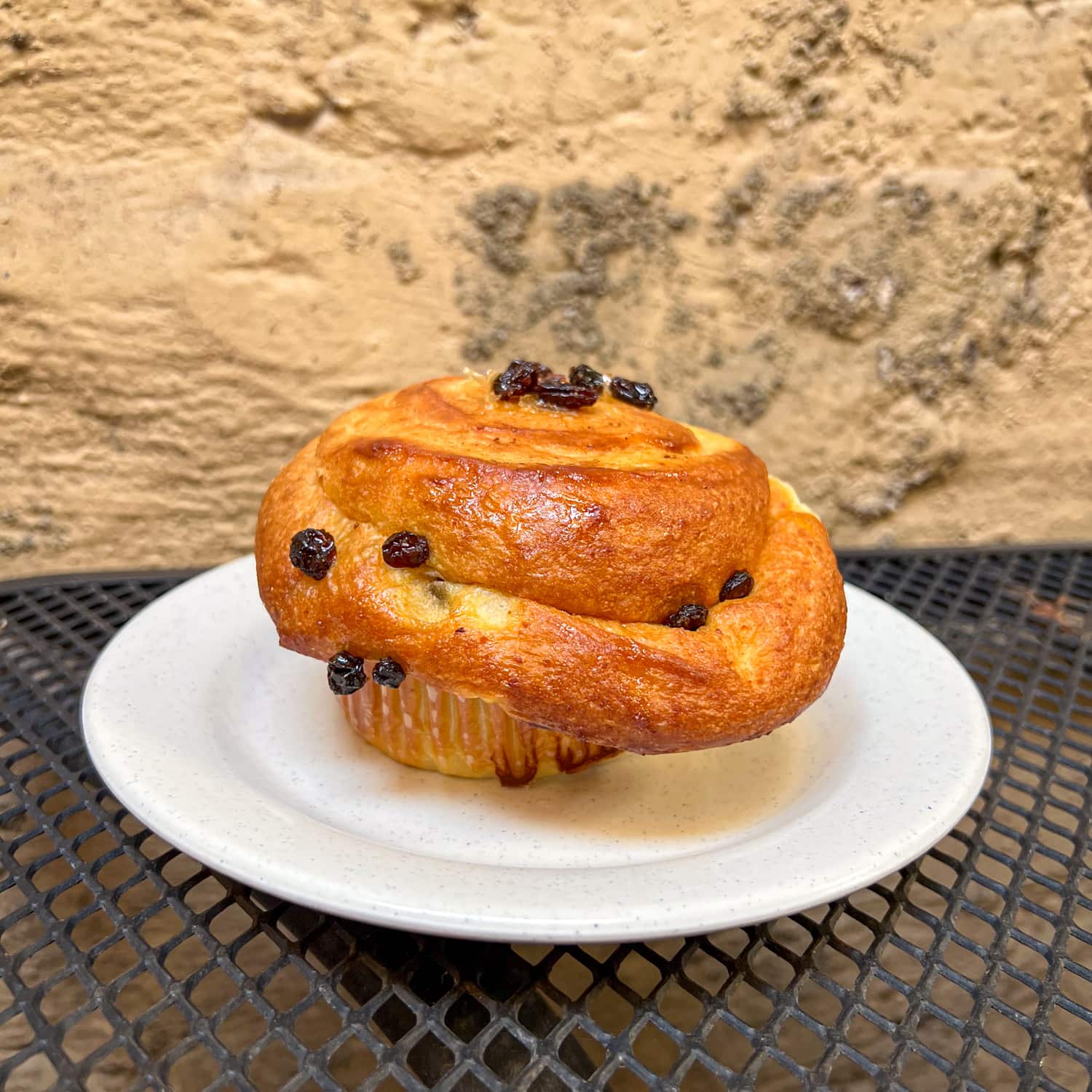 Finally, I present you with Croissant D'Or Patisserie, located in the former French Quarter location of Angelo Brocato.
Original tilework inspired by the parlors of Brocato's home in Palermo, Sicily, line the floors and walls. The Italian gelato shop's name is still spelled in tiles near the front door.
In 1983, pastry chef Maurice Delechelle bought the place and opened Croissant D'Or Patisserie. Twenty years later, he retired and passed the baton to another New Orleans pastry chef, Gerard Marchal.
Thanks to both men's desire to maintain the old-world charm of the original design, stepping into the bakery today feels like stepping back in history.
An assortment of pastries, cookies, and cakes await every customer, and it's not unusual to see a small line to order at the counter. I ordered a pillowy-soft rum bun, which I delighted in pulling apart in the bakery's outdoor courtyard.
617 Ursulines Ave, New Orleans, LA, croissantdorpatisserie.com
Conclusion
As our journey through New Orleans' best bakeries comes to a close, it's clear that the city's reputation for culinary excellence extends well into its baked goods.
From the historic streets of the French Quarter to the vibrant neighborhoods of Bywater and beyond, each bakery we visited gave a unique glimpse into the world of a talented pastry chef.
These local bakeries aren't just places to grab a quick bite; they're places that celebrate the rich, diverse flavors of New Orleans. The next time you find yourself in the Big Easy, visit some of these spots; the title of "best bakery" is always up for delicious debate.