The opportunity to dine at Mayta Restaurant, Peruvian chef Jaime Pesaque's flagship restaurant in Lima, offered the ideal bookend for our recent trip to Peru.
From the moment Kel and I stepped in the attractive entrance for dinner to the moment we left, the service, atmosphere, and creative courses coming out of the kitchen were superb.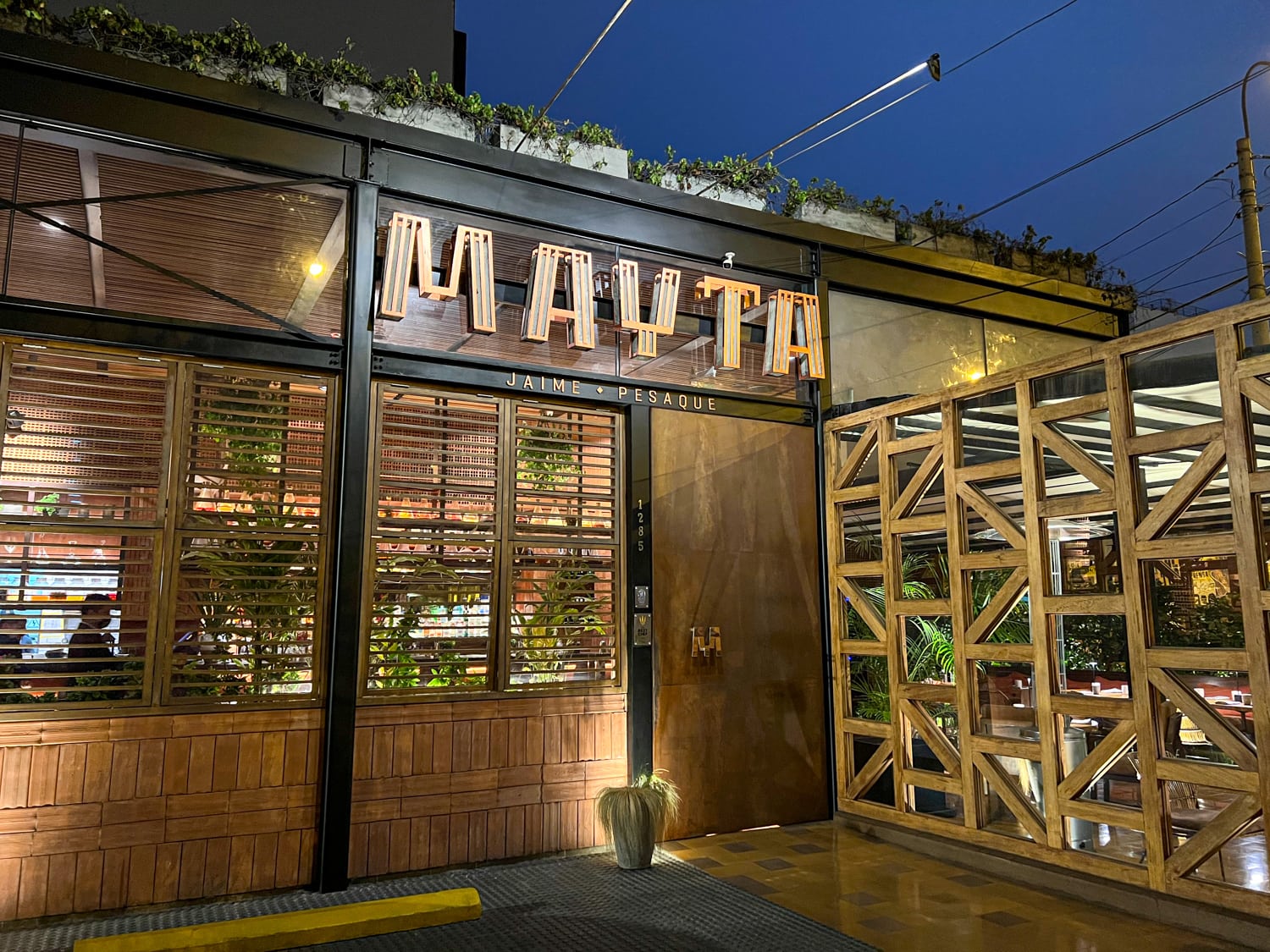 Like many of his contemporaries cooking Peruvian cuisine, Pesaque trained in Europe before bringing his skills and experience to his restaurant in Lima.
Most notably, he apprenticed at El Celler de Can Roca in Girona, Spain; a three-star Michelin restaurant previously ranked #1 on The World's 50 Best Restaurants list.
Chef Pesaque opened Mayta in 2008. According to the chef, "Mayta, which means Noble Land in the Aymara language, is a personal and contemporary expression of the Peruvian cuisine and territory."
Aymara is one of the three official languages of Peru (Spanish and Quechua are the others).
But, it wasn't until 2018, when Pesaque moved Mayta to its current location in Miraflores and reworked the menu, that it began to garner international acclaim.
In 2022, the talented chef and his team were recognized as the 9th-best restaurant in Latin America (behind other Lima hotspots, Central (#1), Maido (#3), and Kjolle (#8) and the 32nd-best restaurant in the world.
Given our impeccable experience at Central the week before, the bar was high for our second and final fine dining meal of the week-long trip.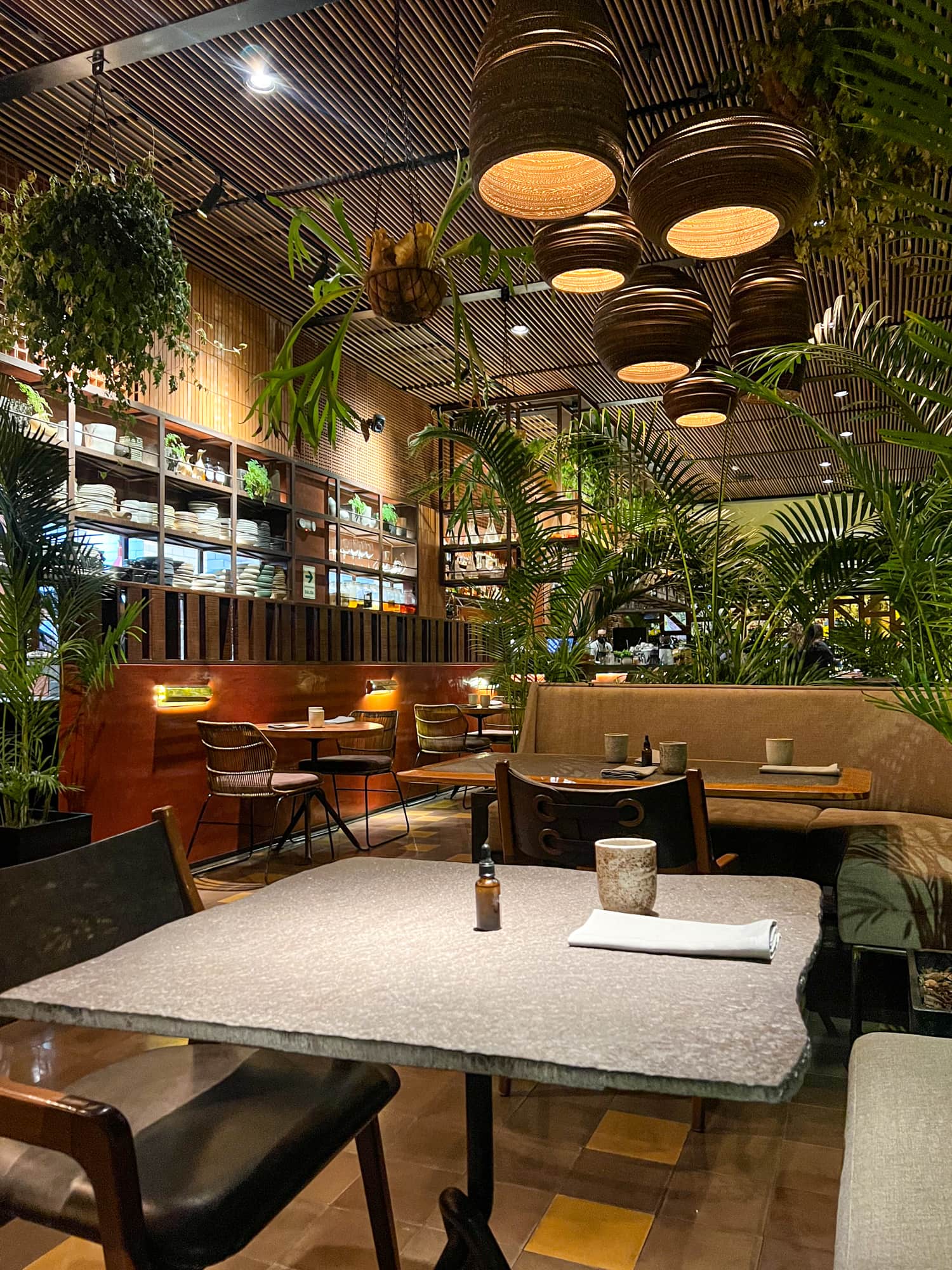 Dining Room
Following happy hour at Carnaval, a fun cocktail bar a five-to-ten-minute drive north in San Isidro, we arrived at Mayta Restaurant.
It was 6:30 p.m. on a Tuesday, and they'd just opened for dinner.
Mayta's architectural design features many materials and textures, from black-painted steel girders framing the front entrance to wood-paneling in geometric designs and heavy stone tabletops.
Planter boxes line the roof outside; inside, plants hang from the ceiling, and palm fronds separate spaces, making an open dining room feel more intimate.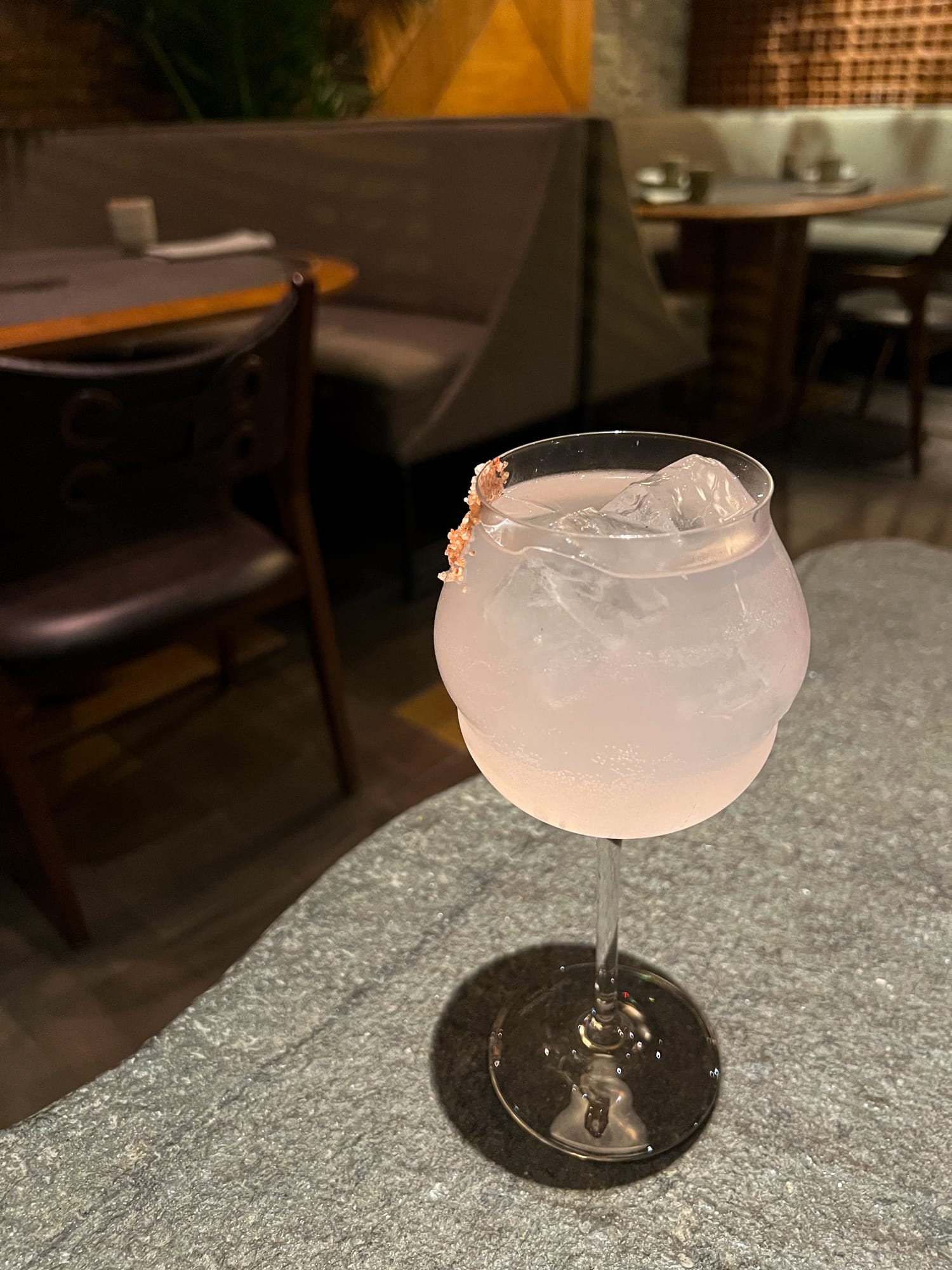 Once seated at our table for two, Joseph, our server, introduced himself and provided cocktail menus.
To celebrate the conclusion of our whirlwind trip to Machu Picchu, I ordered a Paloma Andina with Peruvian agave distillate, pink soda, and white vermouth. It was elegantly served in a bulbous glass and was quite refreshing.
Mayta Restaurant offers an a la carte and a 12-course tasting menu called Yachay. Always up for a culinary adventure, we chose the latter.
Yachay Tasting Menu
1. Tubers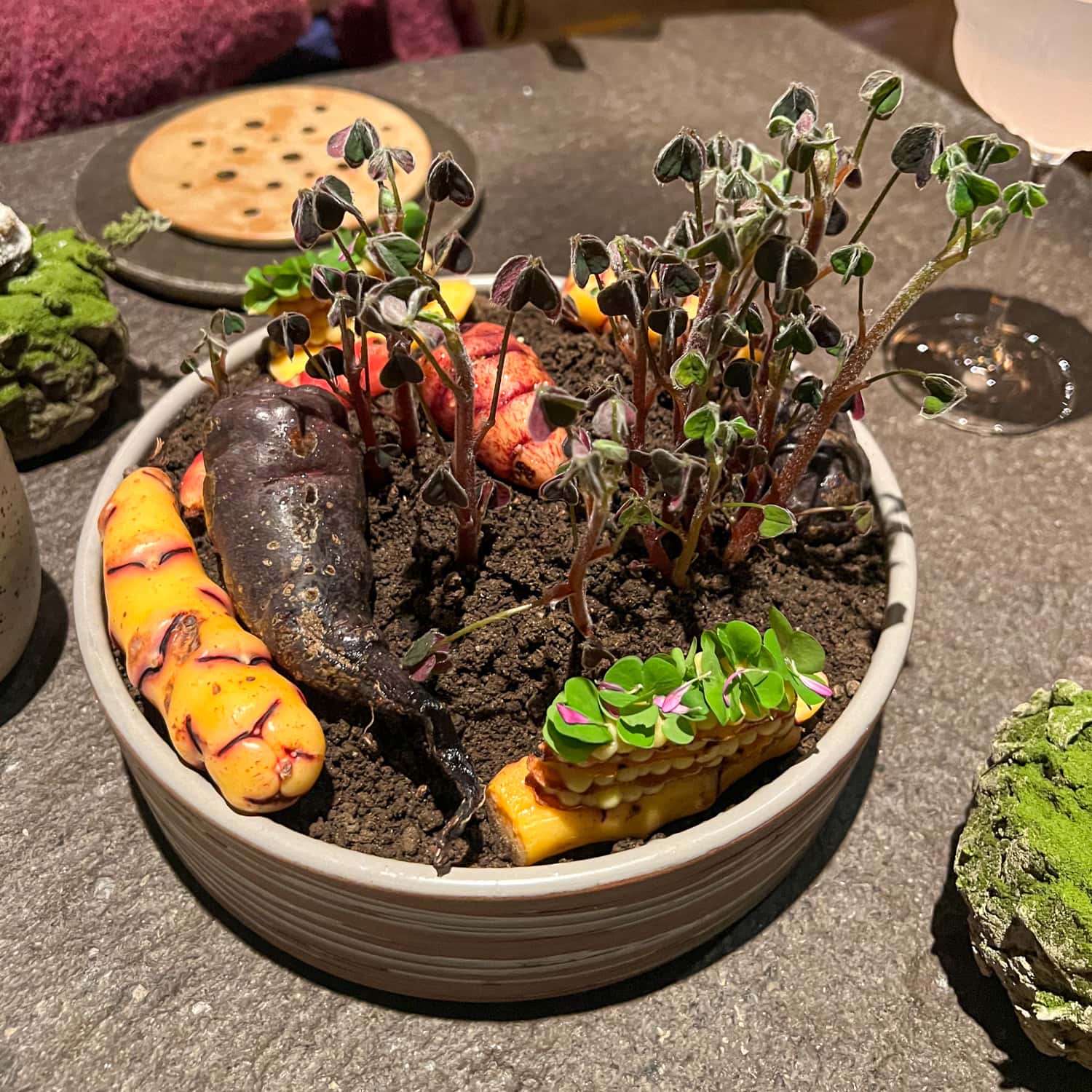 Our first course was a feast for the eyes. A circular dish with soil and oca, a tuber in the same family as potatoes, was placed on the table.
Two snacks were placed atop two root vegetables, each consisting of layered crackers with white, creamy oca and topped with microgreens.
We'd each also received a second snack presented on a small rock, consisting of a white potato with egg yolk on top; Kel noted it had a cheesy taste.
2. Scallops, Fava Beans, and Lime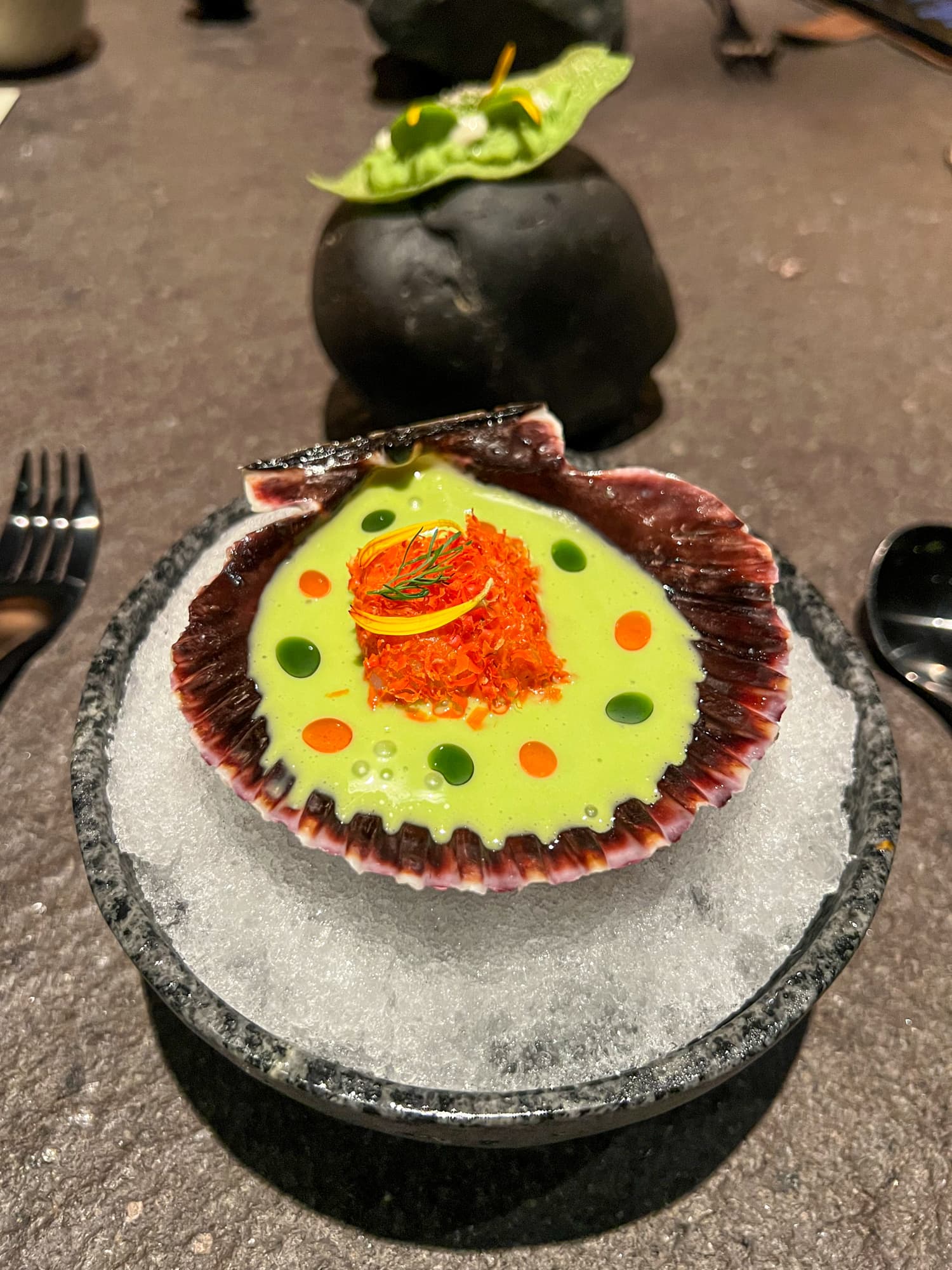 The show continued with the second course, featuring a scallop in its shell, bathed in a colorful sauce. It was almost too pretty to eat.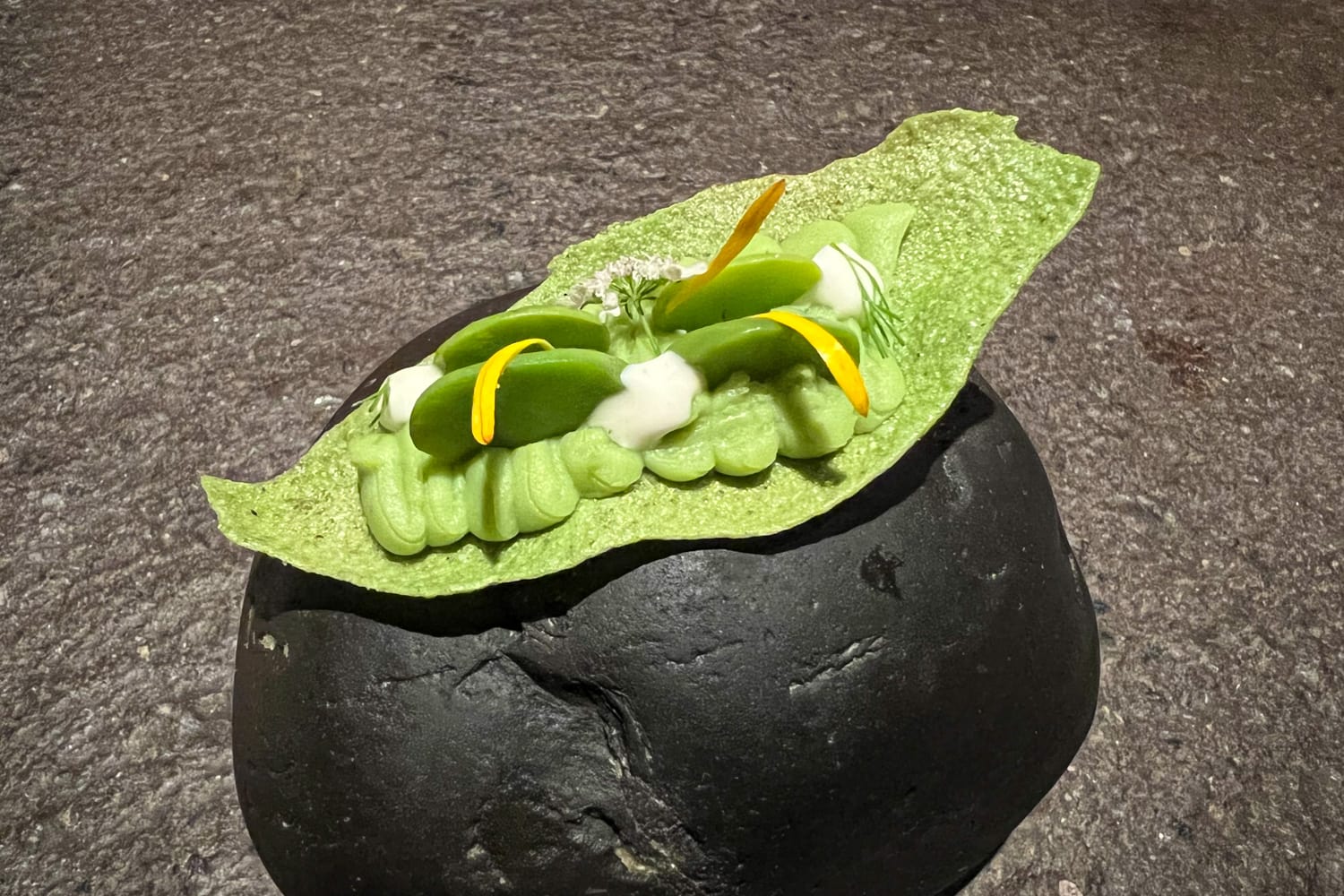 A fava bean crisp with lime was also provided with the scallop. Its delicate composition reminded me of some of the courses at Geranium in Copenhagen.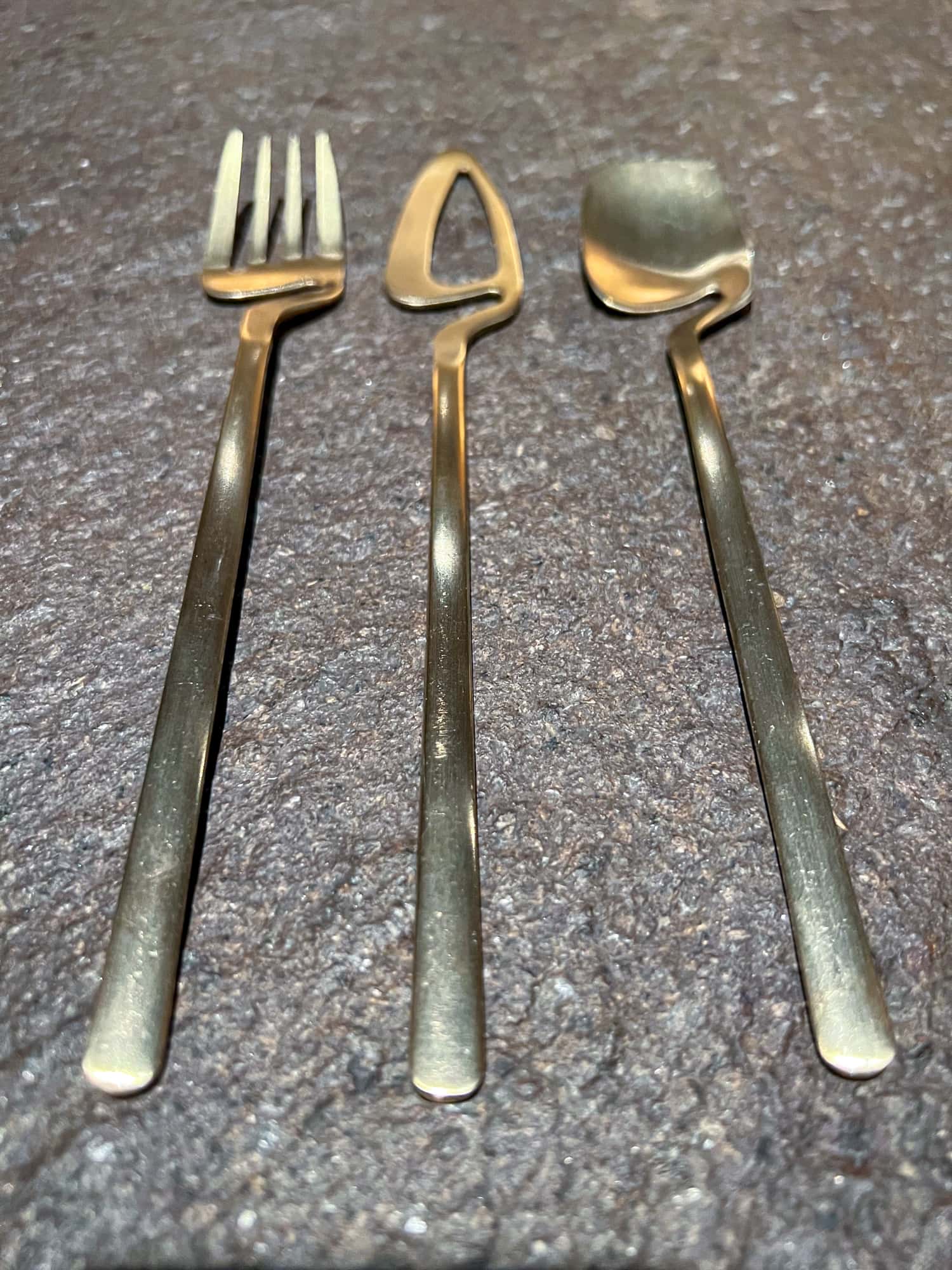 We were only two courses into dinner at Mayta Restaurant in Lima, and I was already impressed.
The custom cutlery, plates, and bowls complimented each dish and the Peruvian ingredients used to make them.
This level of detail can make it so much fun to dine at the world's best restaurants.
3. Carrots, Yogurt, and Leaves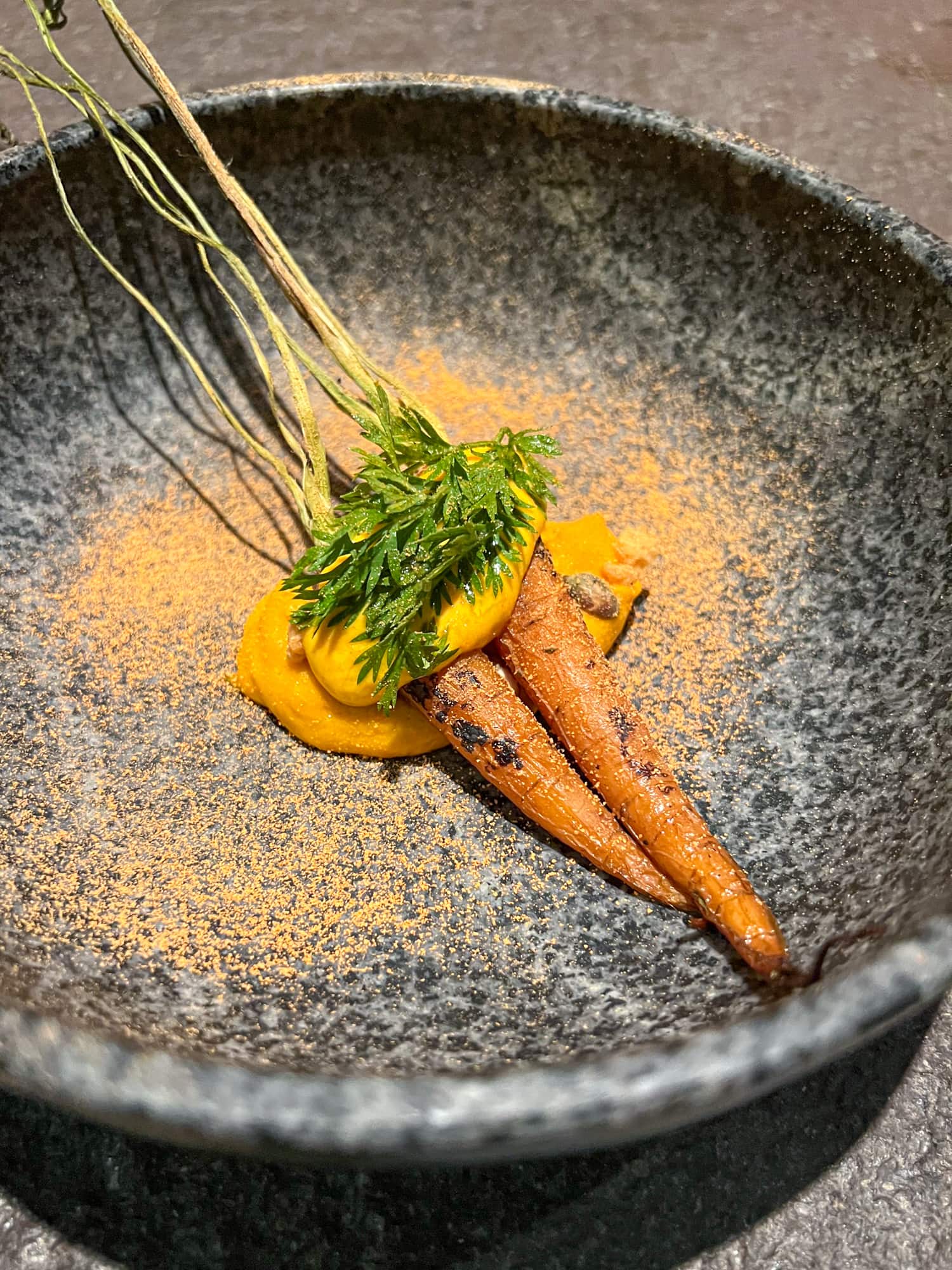 Course three consisted of 100% carrots, including a few farm-fresh carrots served with carrot yogurt puree and garnished with carrot leaf on top.
Dishes like these may seem simple enough, but they let the taste and texture of the main ingredient take center stage.
4. Eggplant, Consomme, and Fennel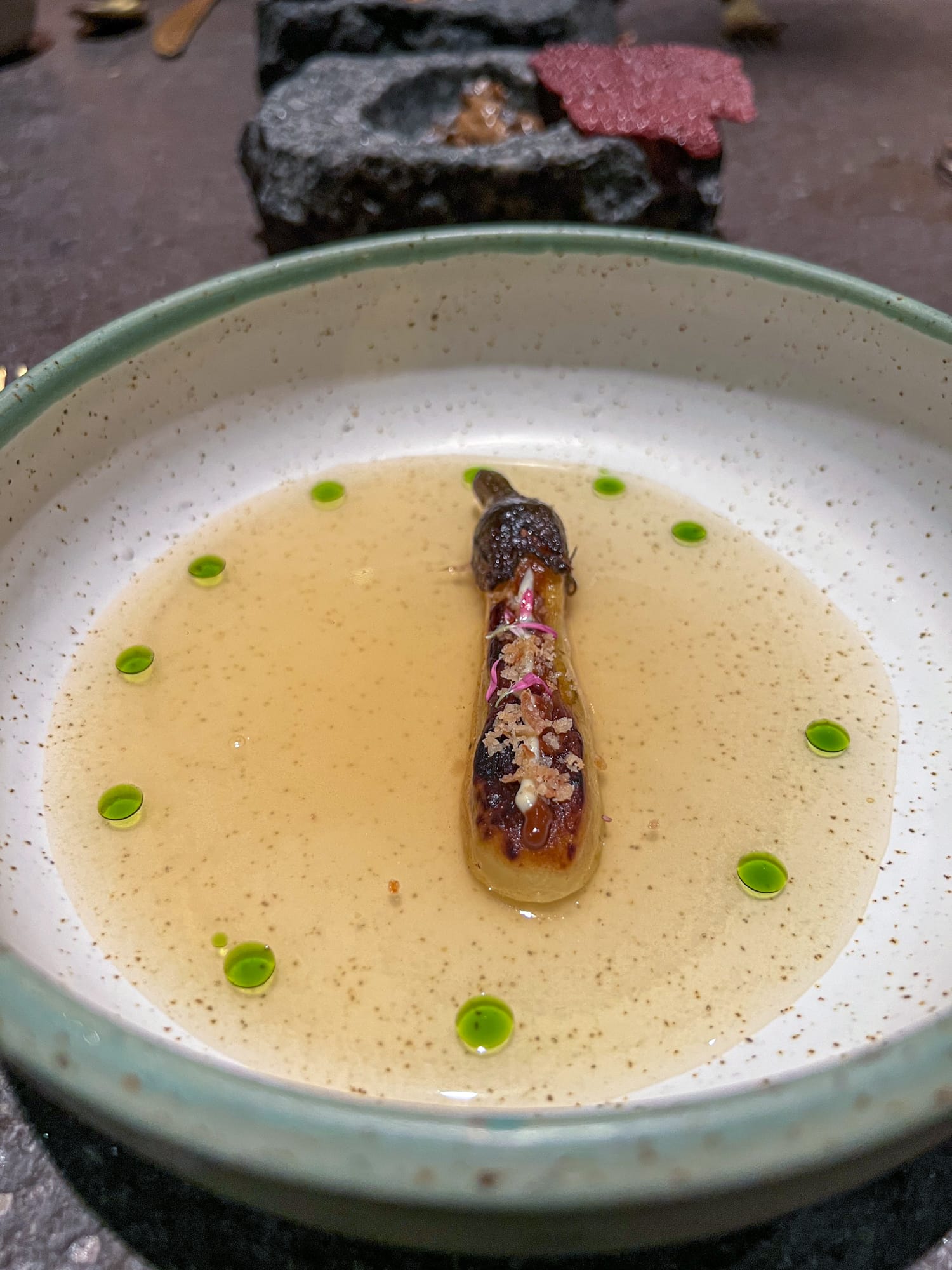 Dish number four was a little more complicated, featuring tender eggplant in a consomme with fennel oil delivered tableside.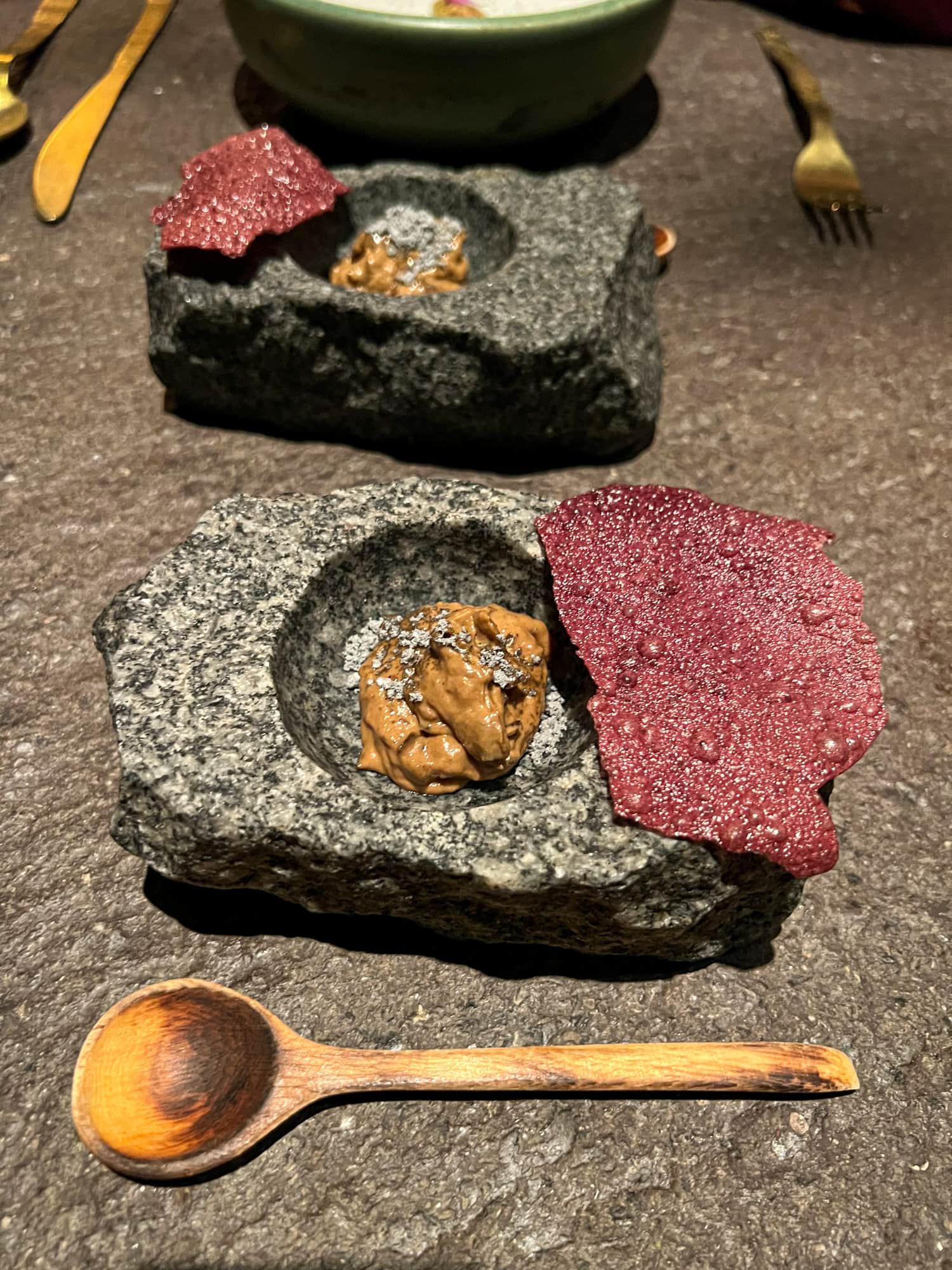 Accompanying the eggplant in consomme was a smoky brown puree with the ash of eggplant skin and a purple cracker.
At this point in our meal, we ordered a second drink to share, a Marujito with 1615 Torontel Pisco, passion fruit, and pisco sour foam.
5. Corn, Quinoa, and Peppers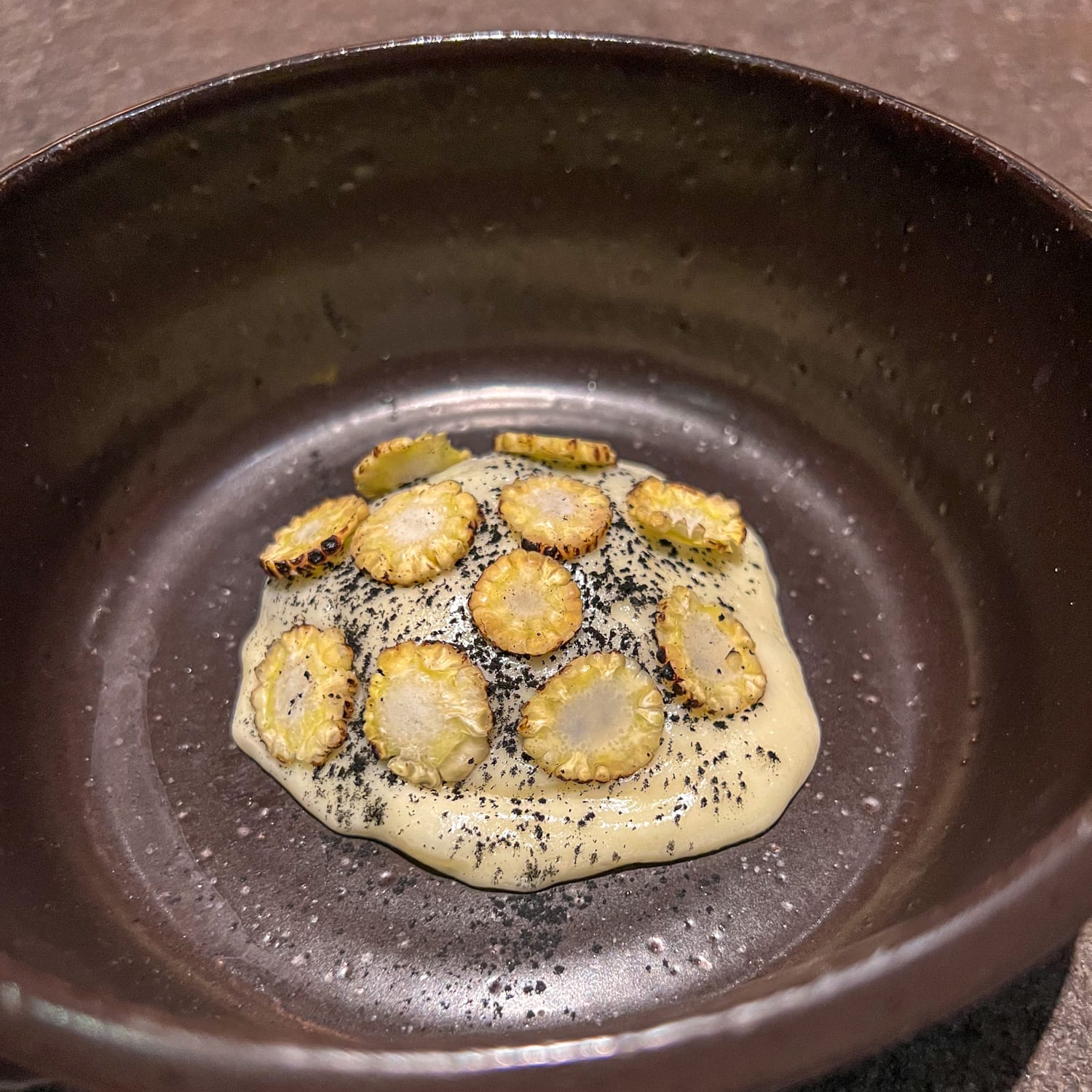 Our fifth course featured a soft mixture of quinoa and peppers under a creamy Peruvian corn coating with roasted corn slices, adding crunch. The ashes of corn skin were sprinkled on top.
This was my favorite so far, and Kel liked it a lot too.
6. Crab, Razor Clams, and Barnacles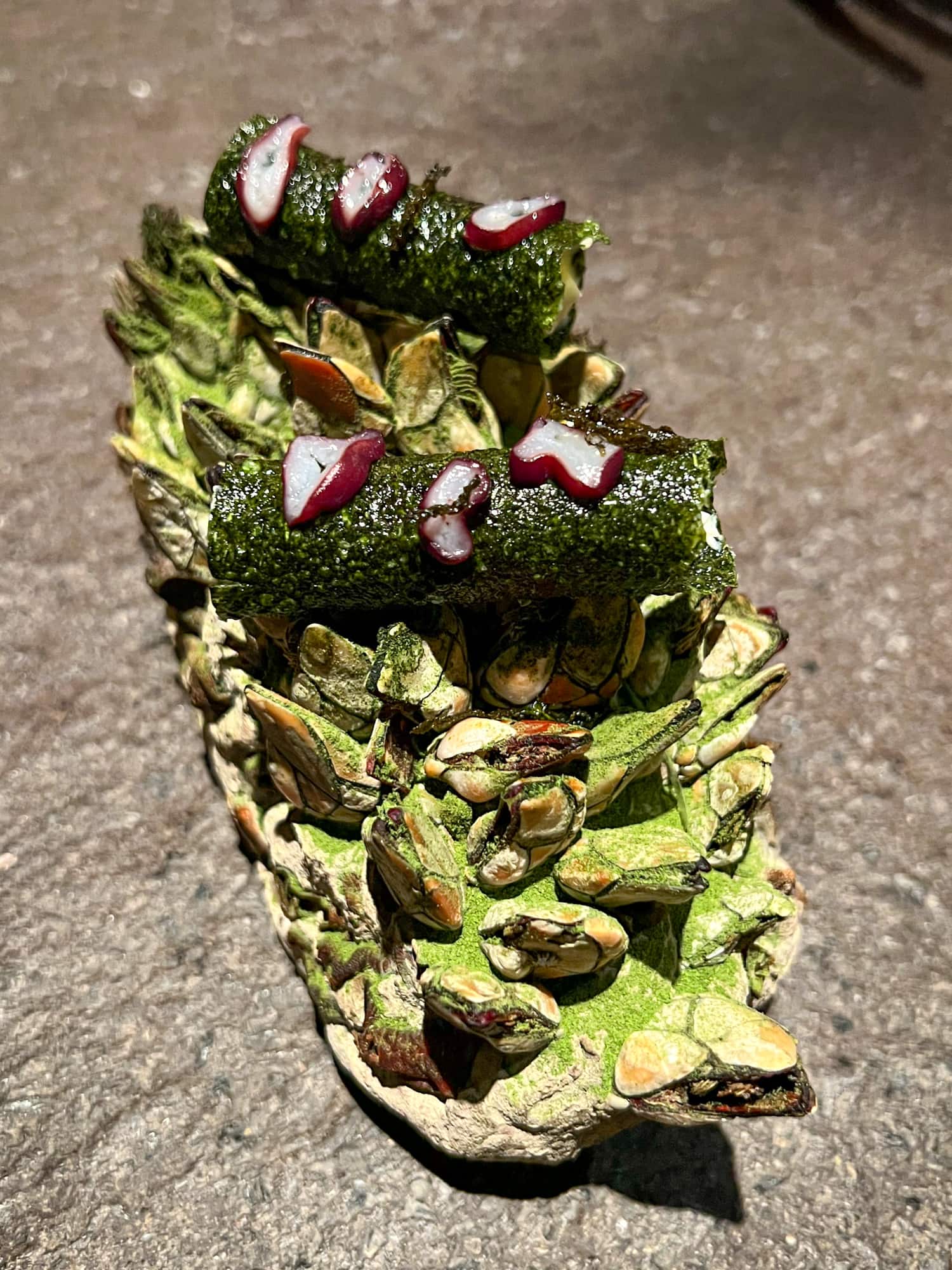 Halfway through the Yachay tasting menu at Mayta Restaurant, we returned to the sea with another bite-size course.
A puree of crabs, razor clams, and barnacles was wrapped in codium, a type of green seaweed, and topped with razor clams.
It tasted like the sea; however, the flavors were too intense for us.
7. Paiche, Tucupi, and Charapita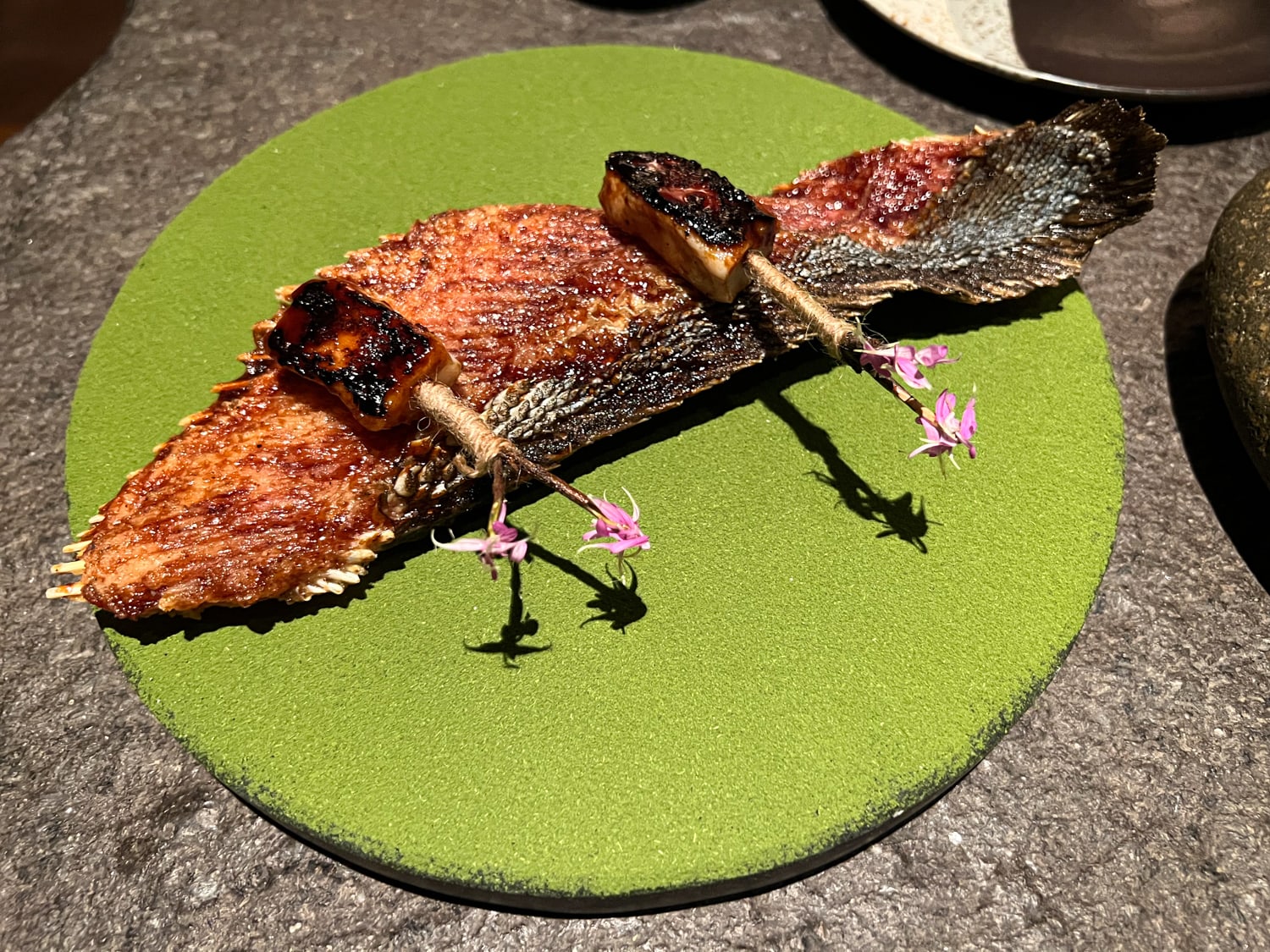 The seventh course highlighted paiche, the world's second-largest freshwater fish, in three ways.
Paiche has lived in the Amazon River for millions of years and is a staple of indigenous people's diets.
The fish offers chefs and diners a firm white flesh that holds up well to being cooked in various ways.
The most eye-catching presentation featured two tender bites of barbecued paiche tail on skewers, resting on a roasted paiche tail and placed over a circle of matcha tea.
Kel and I both went for the BBQ bite first and agreed it was the best.
Next, there were two small fried spheres of yucca with paiche belly inside.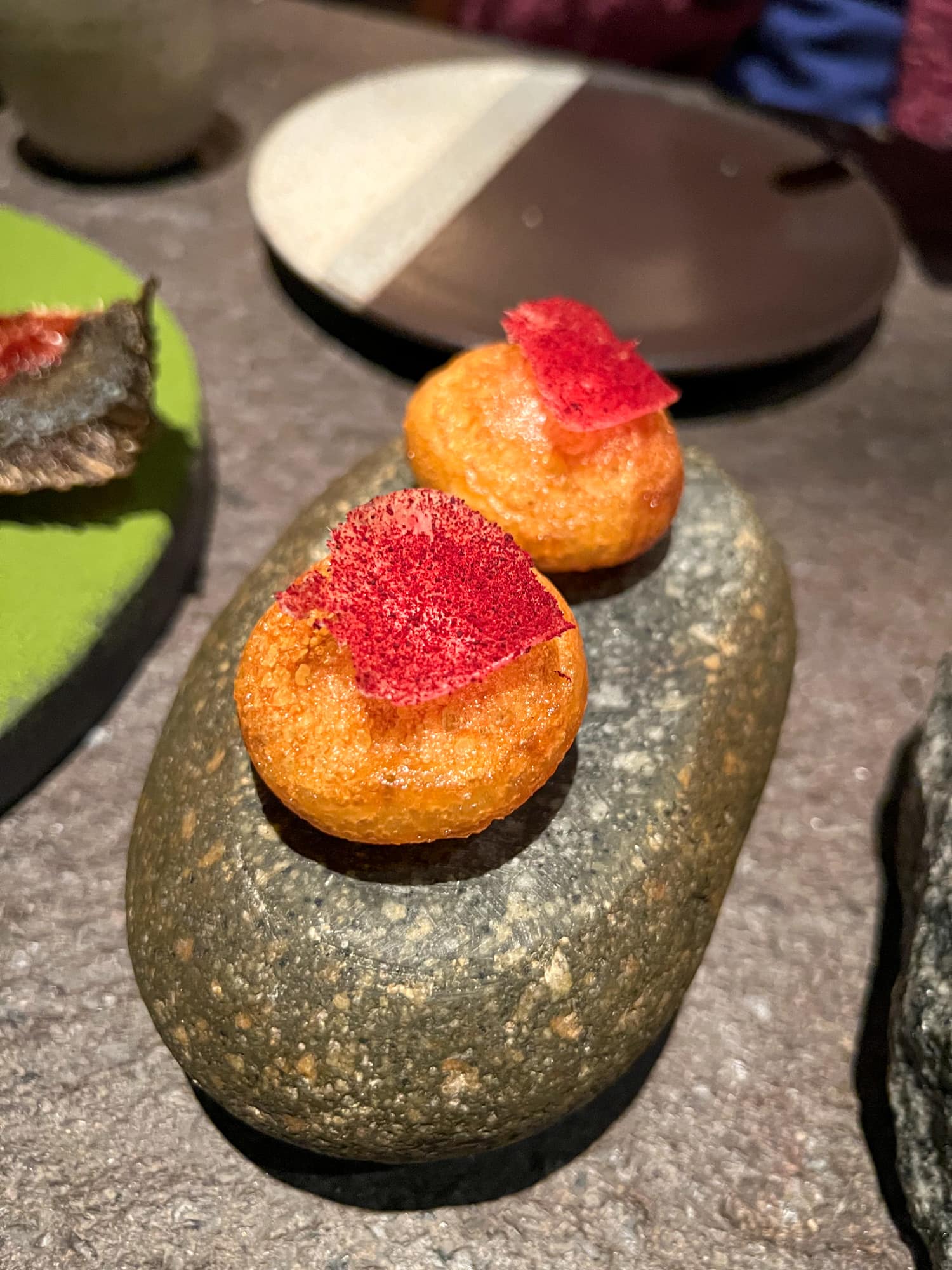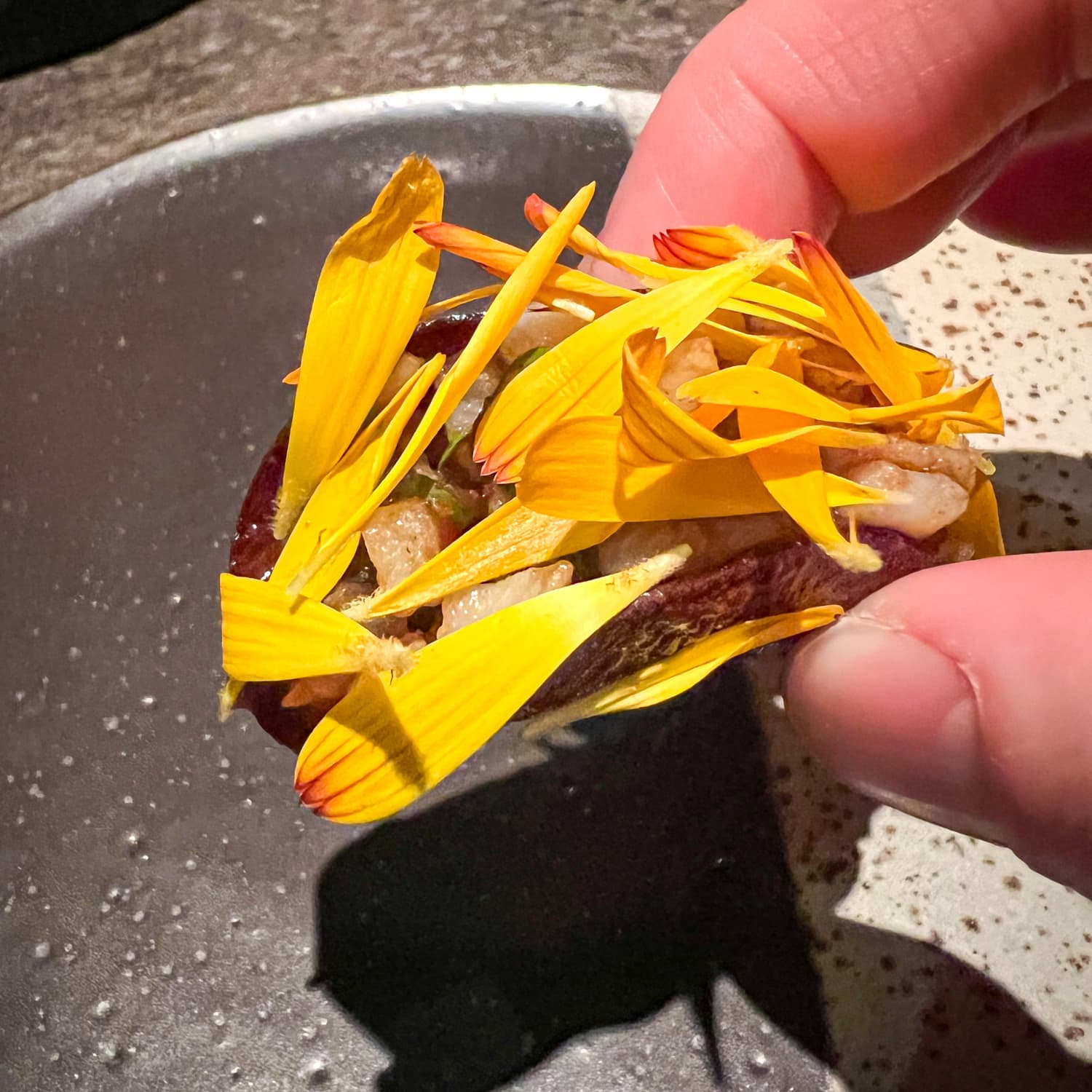 And third, a small taco of Amazonian fish cheek, aji charapita, and edible flowers in a rice cracker.
This bite had a kick to it, thanks to the aji charapita, tiny pea-sized yellow peppers native to the Peruvian Amazon.
8. Duck, Legumes, and Andean Herbs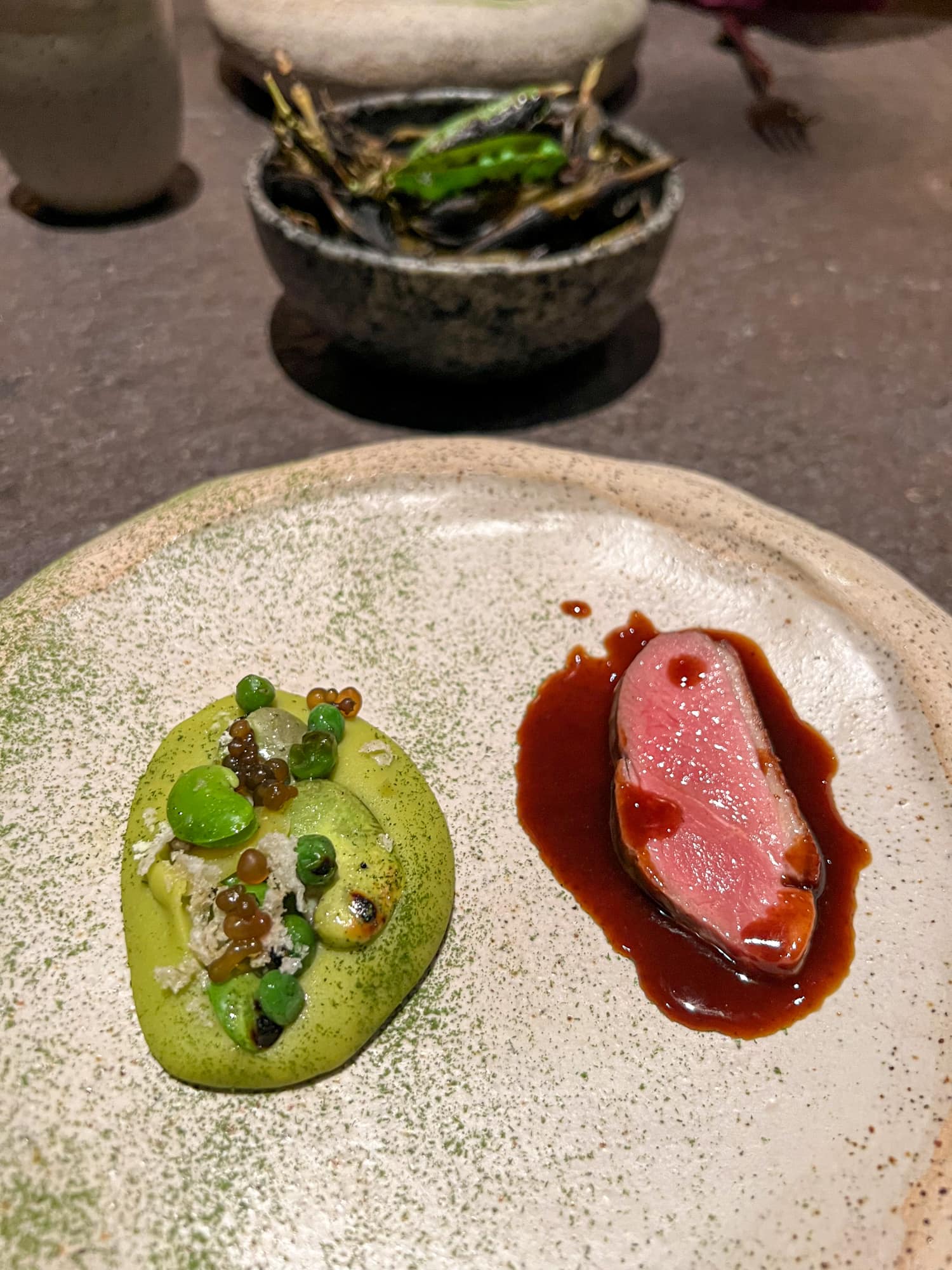 The meat course was duck, covered in demi-glace at the table.
It was paired with a mixture of Andean herbs and cushuro, a blue-green alga found above 10,000 feet in the Andes, where it's long been a source of food, medicine, and fertilizer.
Amazingly, these little gelatinous spheres contain more protein than meat and are a good source of calcium and iron.
Related: Learning to Cook in Cusco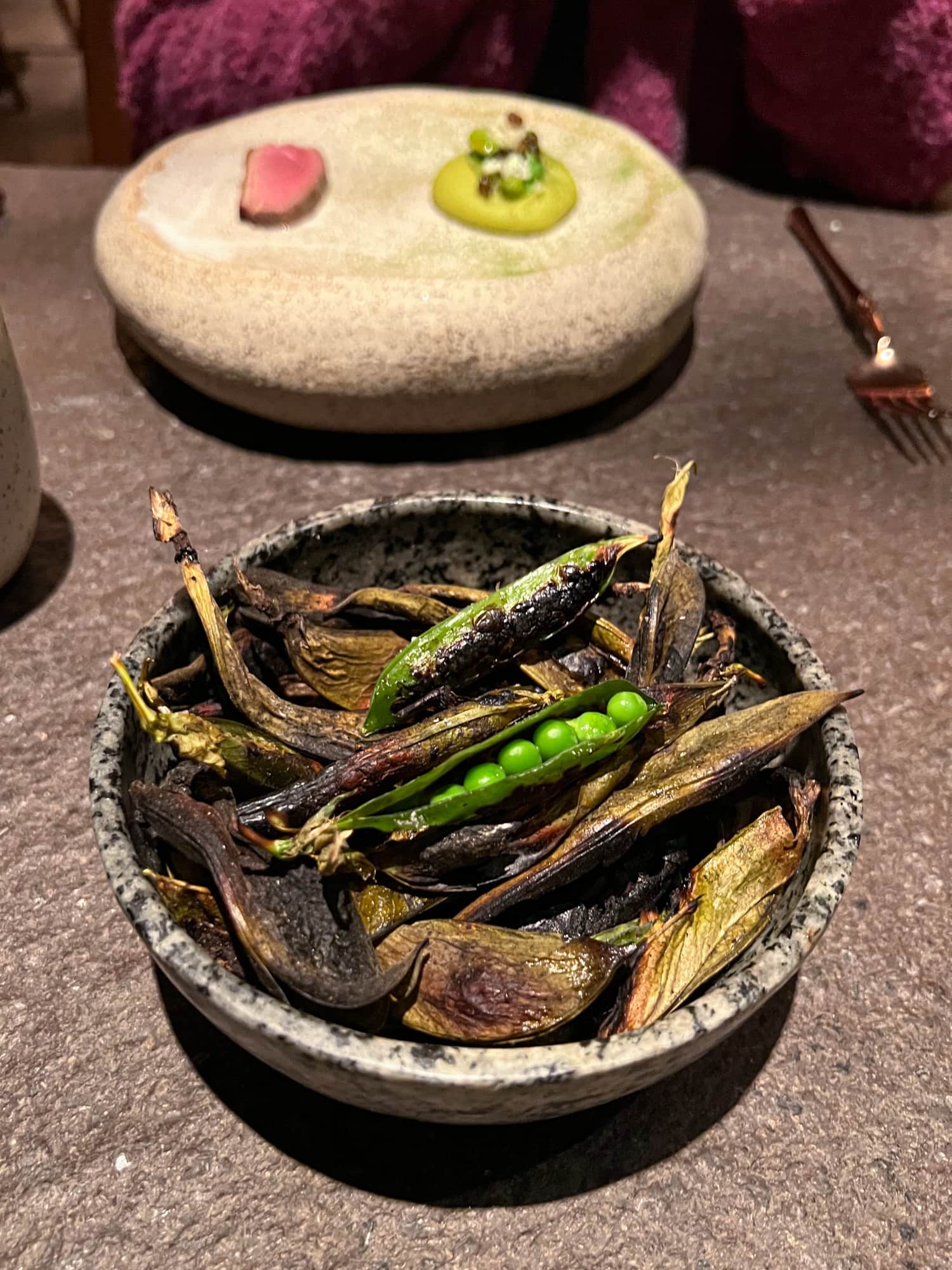 Virgilio Martinez is known for using cushuro; it was at Central in 2014 that I first encountered the "Caviar of the Andes."
In addition to the duck and herbs, vibrantly green peas were presented in a separate bowl, and it was suggested we eat them first.
9. Tunta, Chincho, and Yacon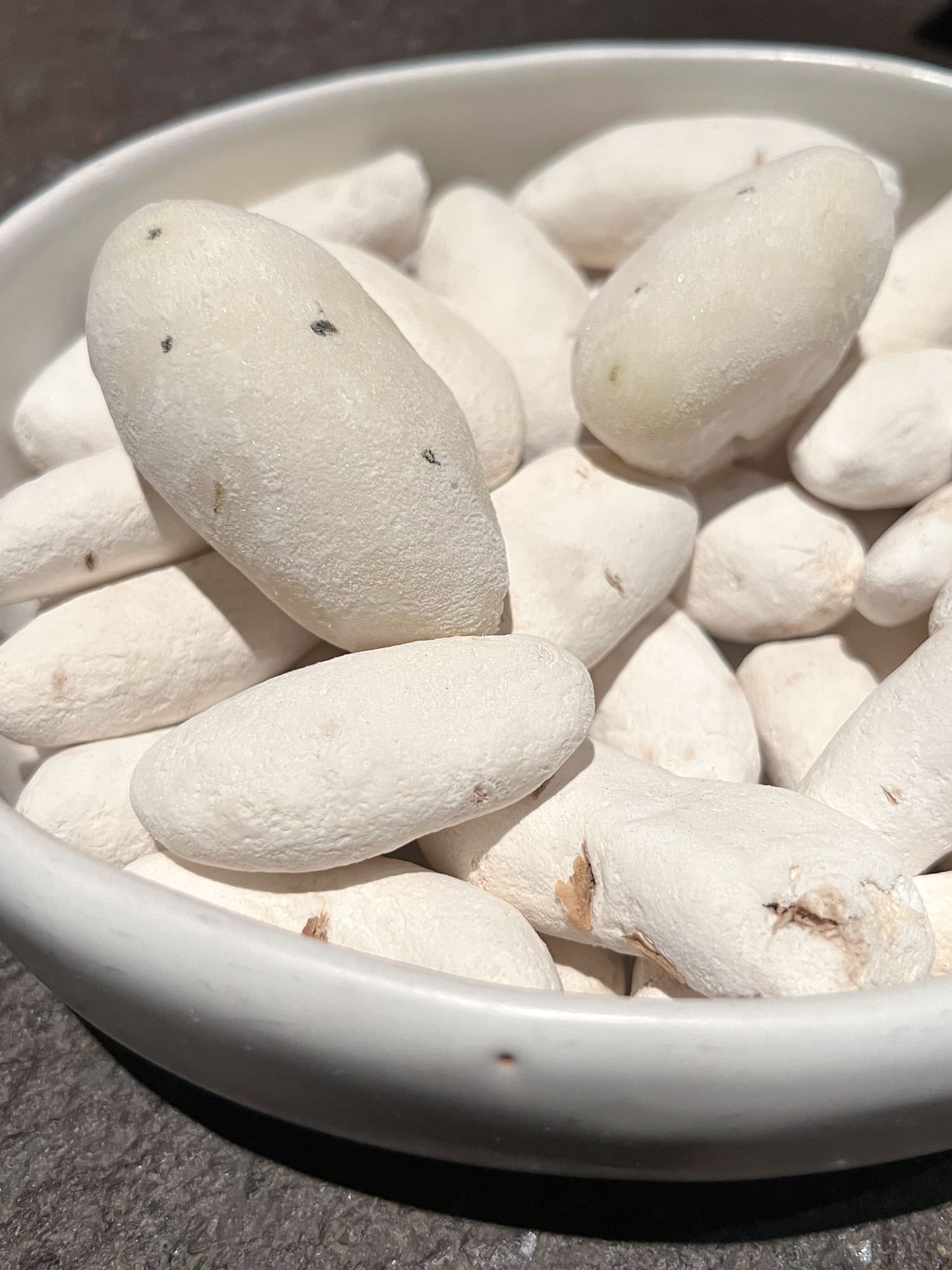 Entering the final third of the tasting menu, we began to see the work of Mayta Restaurant's pastry chef, Jeisson Felipe Garzon, with the pre-dessert.
Course nine was a bowl of tunta, a white sun-dried and dehydrated potato used by indigenous people of the Andean Highlands as far back as 2,000 to 3,000 years.
In a playful twist, amid the potatoes were two camouflaged ice creams made of and shaped like the tunta.
It took me a moment to figure out which was which before grabbing one of the oval-shaped potato ice creams and taking a bite.
As my teeth sunk into the chewy, mochi-like exterior, I soon received the payoff of soft ice cream inside.
The tunta was accompanied by a sweet, crunchy, bite-size cube of yacon root ("watery root" in the Inca language).
10. Tumbo, Caigua, and Pampanis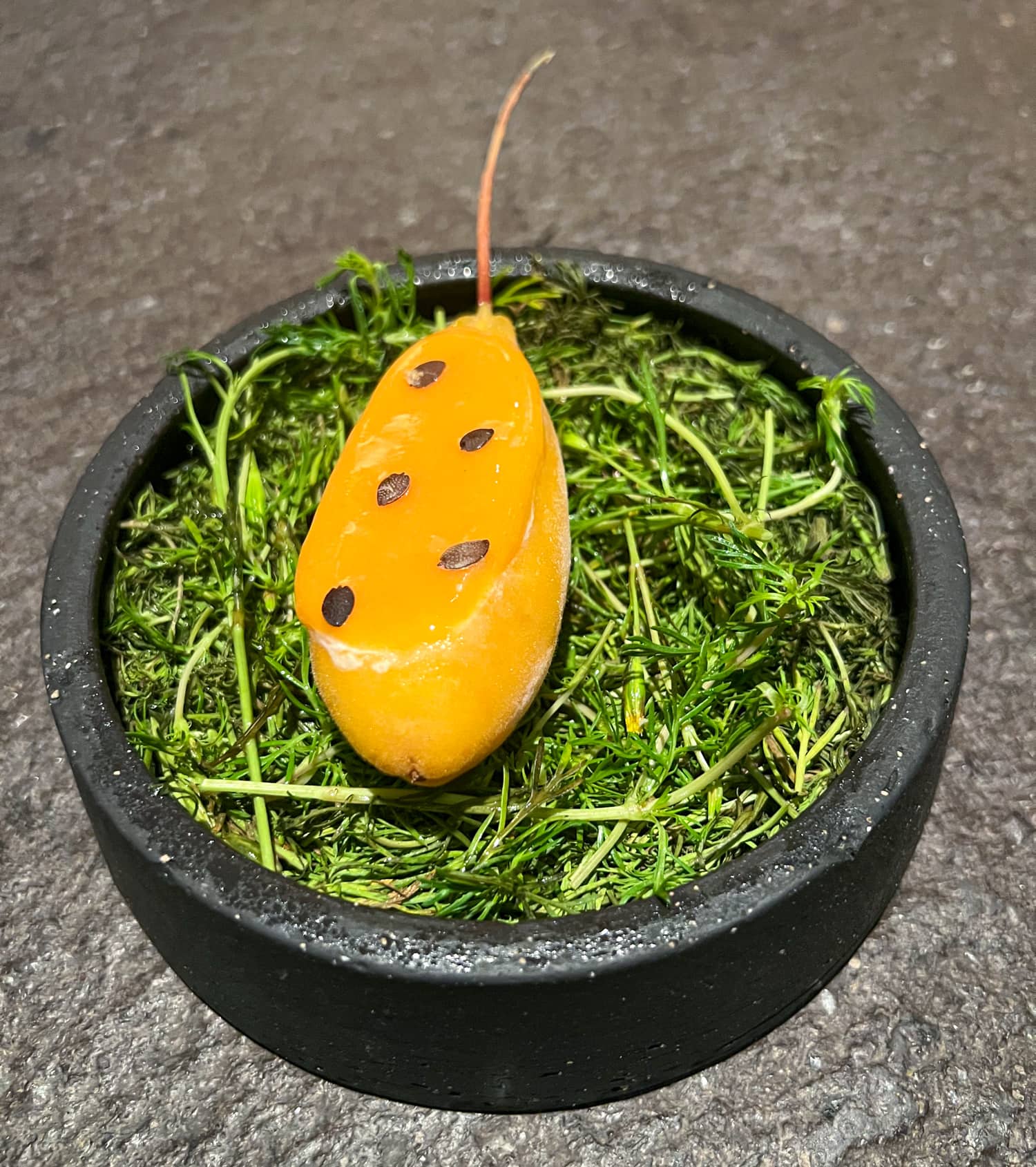 Our first dessert arrived in the form of tumbo, an oval-shaped fruit similar to passion fruit and granadilla.
Typically, if it's sliced in half, you'll see lots of little black seeds in jelly-like encasings.
I prefer to let fruit seeds like these slide down my throat untouched, though some seem to enjoy the crunch of chewing on the seeds.
In this dessert, we didn't face such a choice, as the soft skin of the fruit had been hollowed out and replaced with what felt like a sorbet of tumbo with caigua (another fruit) mixed in.
I haven't figured out what "pampanis" are, but I'd guess they're the little seeds on top.
11. Corn and Andean Cheese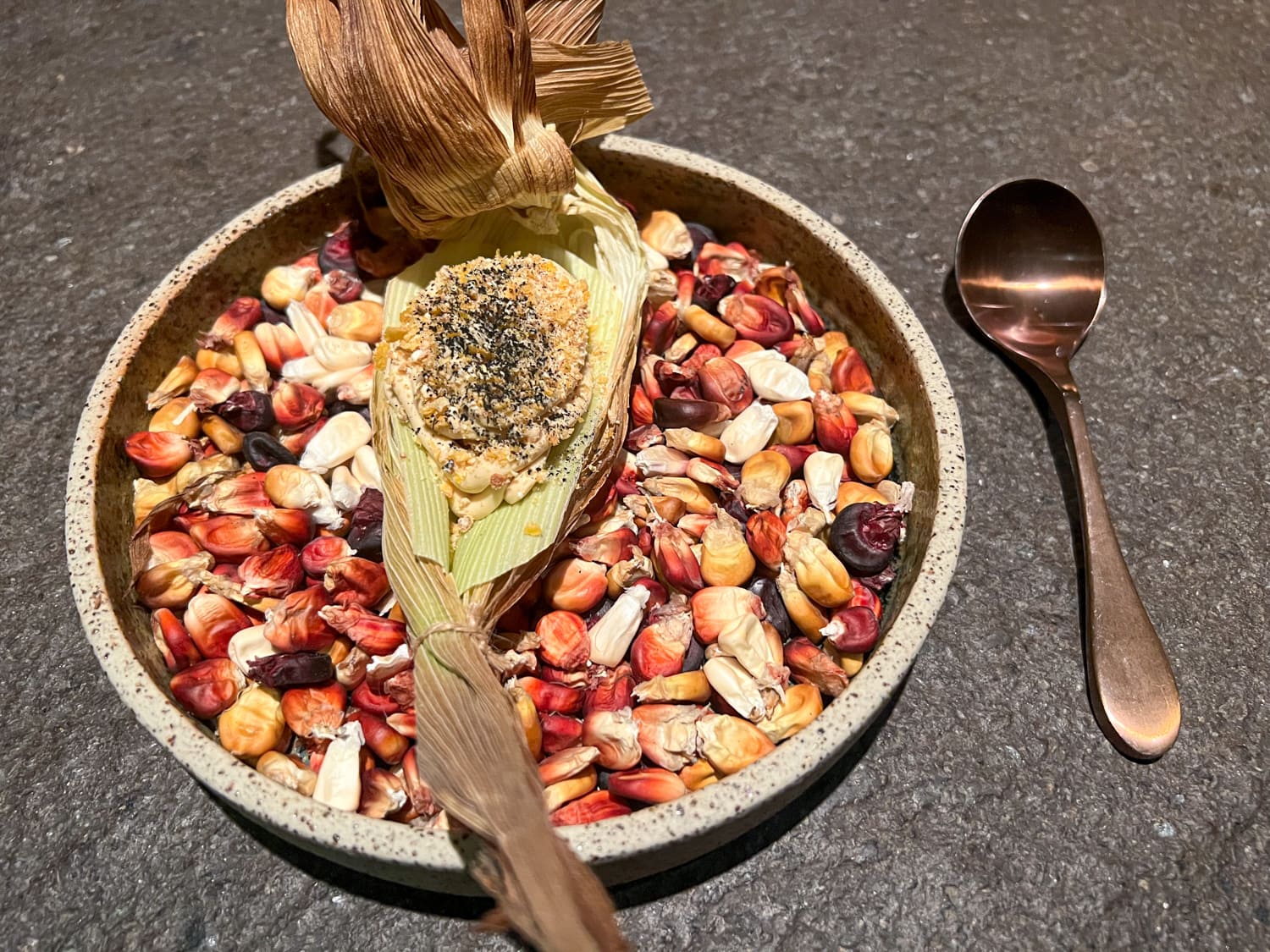 Maiz made another appearance, along with Andean cheese, in this artful display.
Kel described it in her notes as "multiple textures, creamy and crunchy puffy pieces (similar to popcorn); honey, caramel liquid on the bottom for an extra hint of sweet."
12. Pacay and Cacao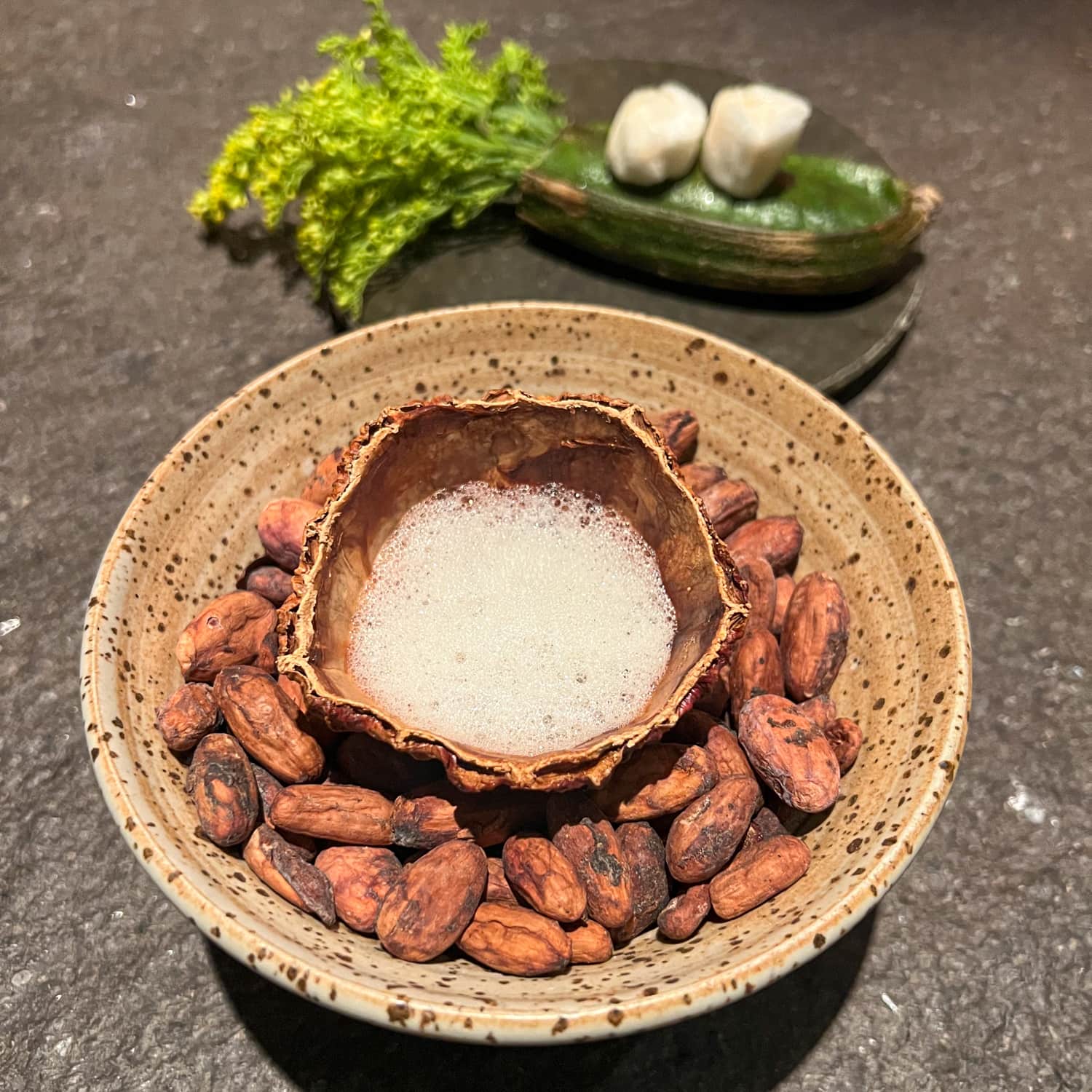 Our third and final dessert at Mayta Restaurant was Peruvian cacao.
We were instructed to eat the white chunks of cacao mucilage first and then drink the cold cacao infusion with foam in the shell second.
While I appreciate the creative approaches to serving cacao at Lima's best restaurants, I can't help but desire a simple chocolate torte or mousse to be included.
***
As our 12-course foray into Peruvian gastronomy concluded, my taste buds were grateful to have concluded our vacation on a high note.
The bill for two people, including two cocktails and still water, came to 1,302 soles or about $342 based on the exchange rate.
Having eaten at both Mayta Restaurant and Central within a week, I feel comfortable saying they're on par with each other.
It's a little less expensive and easier to get a reservation for Mayta, which may be helpful if you didn't plan months ahead as we did.
Visit Mayta Restaurant
Address: Av. Mariscal La Mar 1285, Miraflores, Peru
Dress: I can't find a dress code online. I'd suggest smart casual.
Reservations: Yes, click here to make a reservation.
Website: maytalima.com