In many ways, my experience at Central Restaurante in Lima has been one of the best and most memorable meals of my life.
Chefs Virgilio Martínez and his wife chef Pía León's first restaurant reflects their exploration of Peru's diverse ecosystems.
Virgilio Martínez developed the Mater Elevations menu to showcase native ingredients from the country's three distinct regions: the Pacific coast (and desert), Andes mountains, and the Amazon rainforest.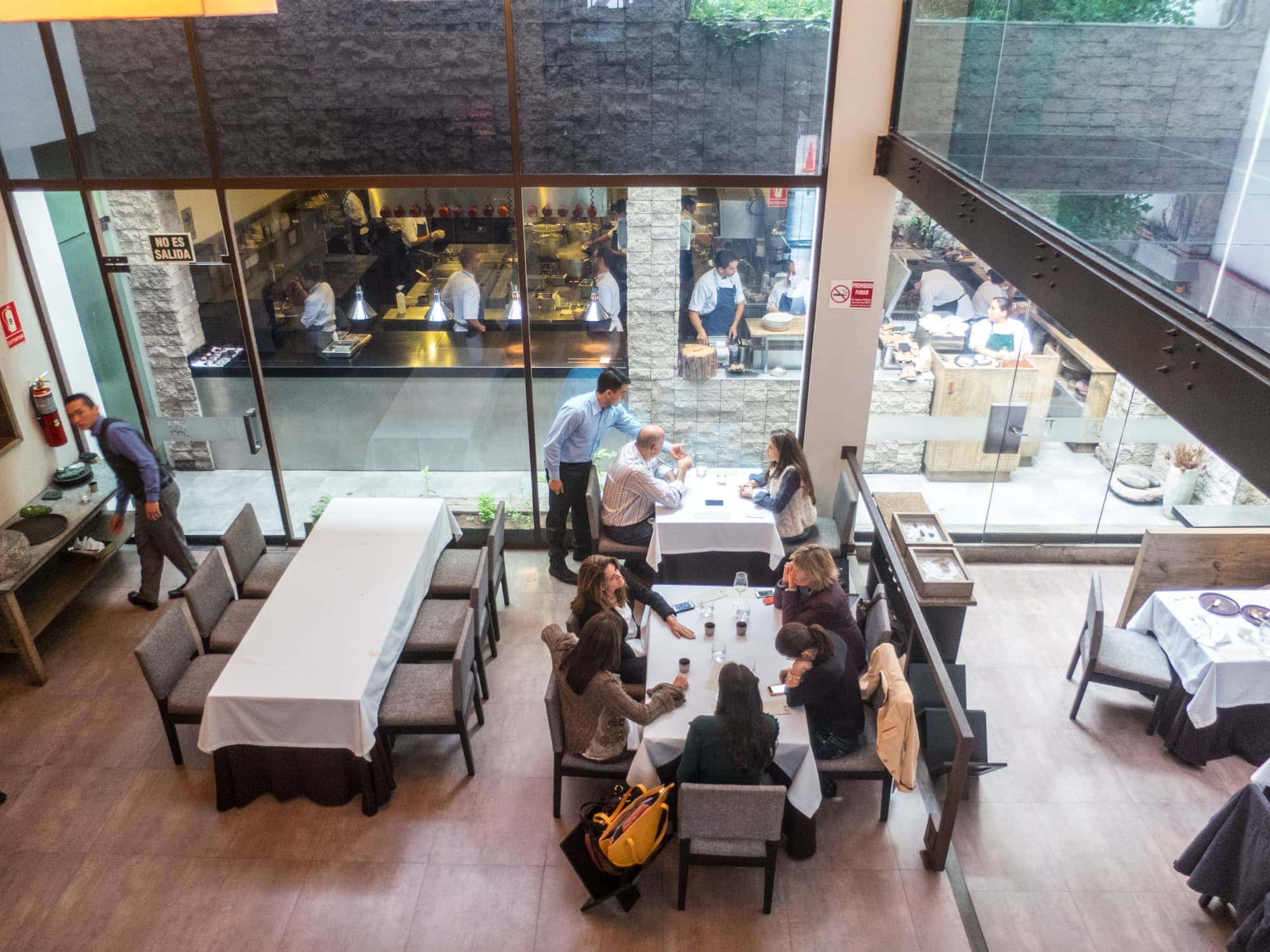 Each course on the tasting menu reflects an entire ecosystem and the altitude at which it exists.
Food is presented on an assortment of textured surfaces, including porous coral, solid rock, and custom-made plates.
As a result, moving through the meal, whether you're there for lunch or dinner, evokes travel to various parts of the country.
Central was rated the #1 restaurant in Latin America by The World's 50 Best Restaurants for three straight years (2014 to 2016).
In 2019, it was rated the #6 best restaurant in the world by the same organization.
Virgilio Martínez was featured on Season 3 of Chef's Table on Netflix.
See also: World's Best Restaurants
***
I first arrived in Peru in October 2011, while traveling overland from central Ecuador.
Traveling by bus, I zigzagged my way through northern and central Peru, stopping in Chachapoyas, Trujillo (the coast), and Huaraz (the Andes), before arriving in Lima.
I quickly became fond of the Peruvian capital, using it as a base to explore more of the country, including Cusco, the Sacred Valley, Salkantay, Machu Picchu, and the Amazon.
During those six months, I became a fan of Peruvian food, which is one of the main reasons I returned to Lima in subsequent years (2014, 2016, and 2018).
Related: Best Restaurants in Lima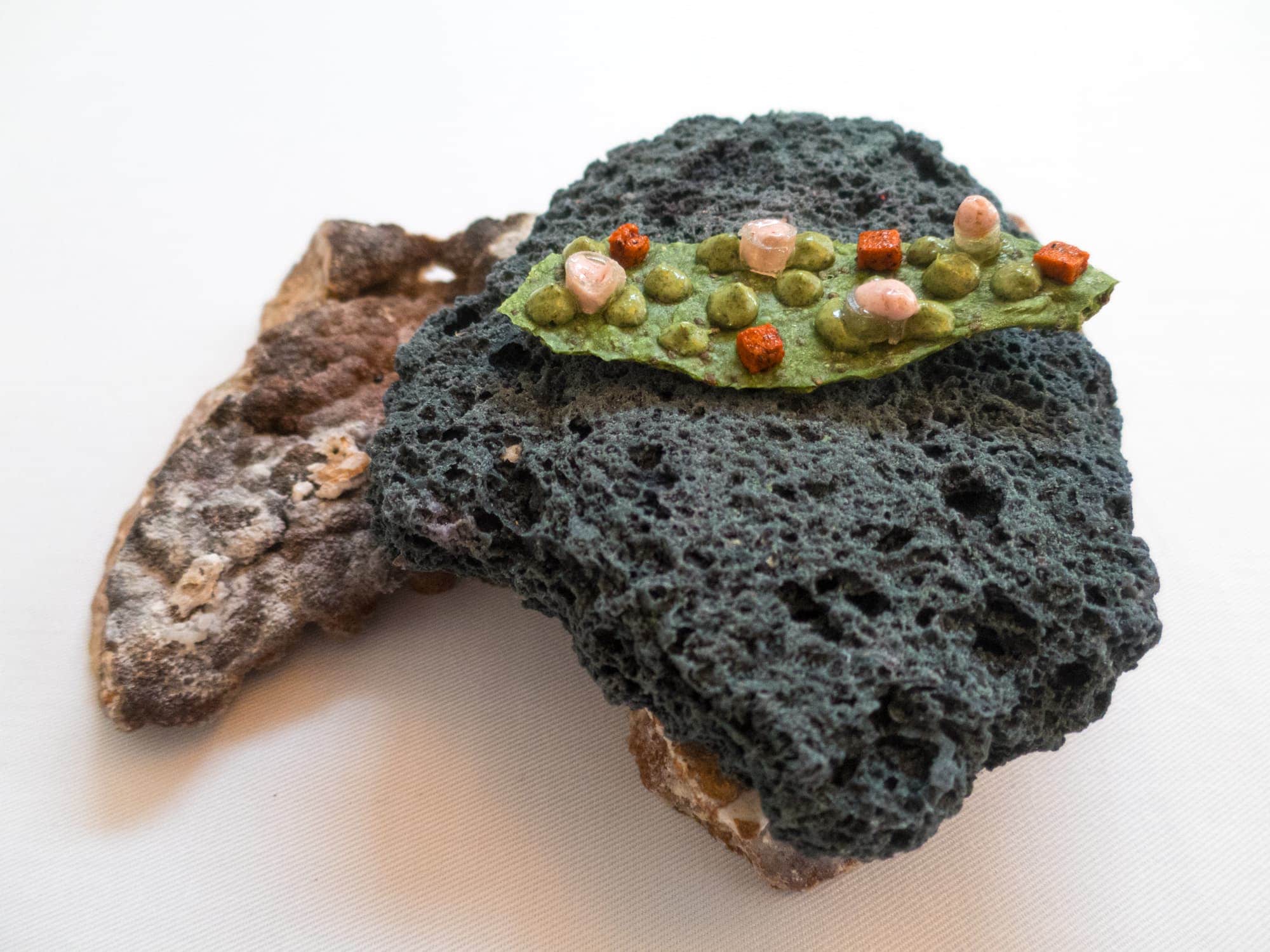 Mater Elevations Menu at Central
A few months after dining at Eleven Madison Park in New York City, my first three-star Michelin meal, I was back in Lima.
On November 18, 2014, I had lunch at Central Restaurante, and the experience surpassed my dinner at EMP.
The menu and presentations were more colorful and creative, the ingredients more exotic and unfamiliar.
The dining room was smaller and more intimate. The kitchen, while separate, was visible through windows. The natural light made photographing dishes easy.
The service was excellent; the dishes were clearly explained to me in English. I kept the menu as a souvenir and still have it with me today.
The cost of it all was significantly less, too.
Lunch at Central began with "Paita Expedition," a course consisting of frogfish and deepwater algae presented on a chunk of black coral (pictured above).
See also: Maido - Intro to Nikkei Cuisine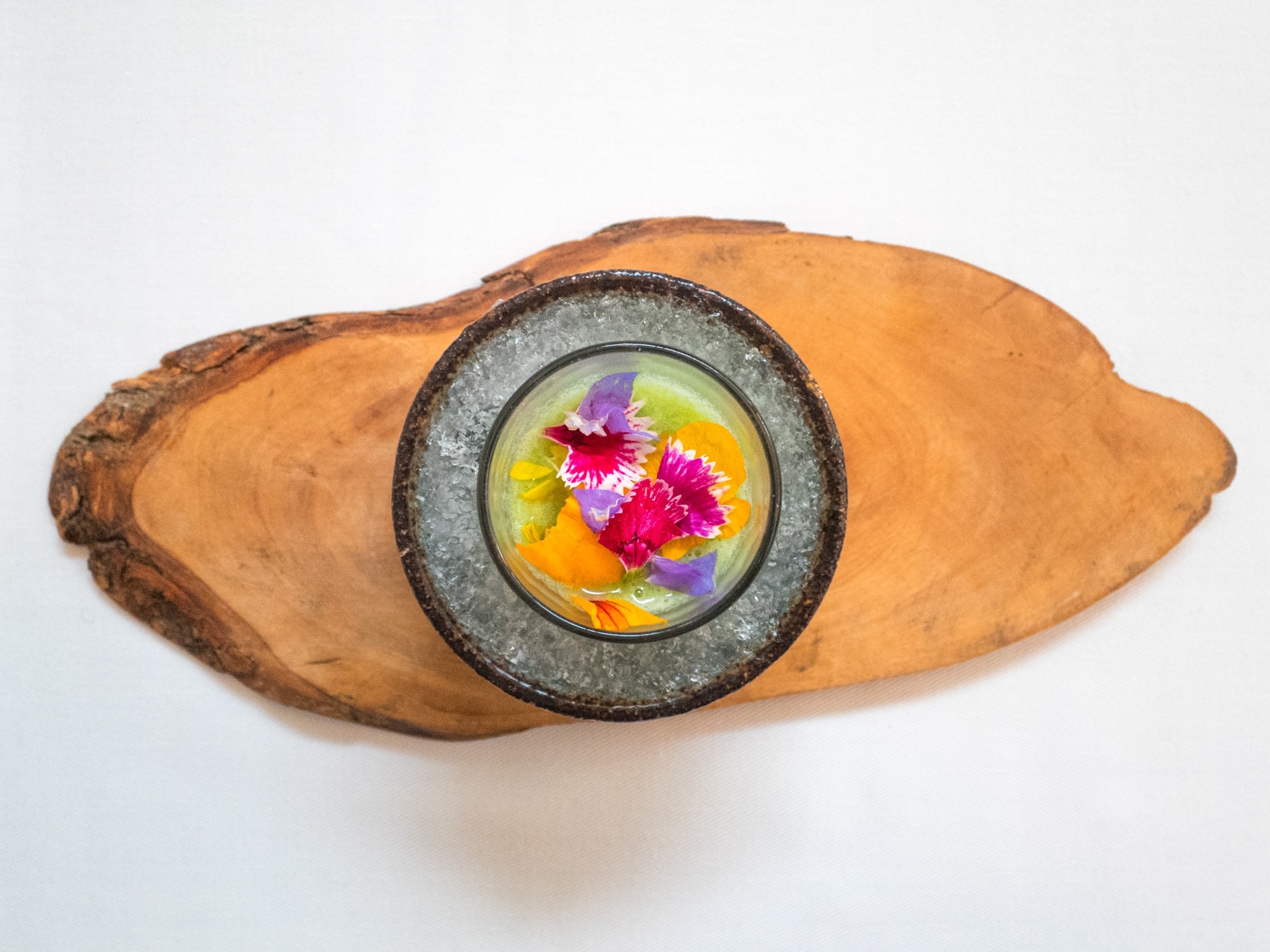 Up next, a chilled glass of cactus milk and retama flower petals.
The presentation of this dish, especially when viewed from the top-down, is strikingly beautiful.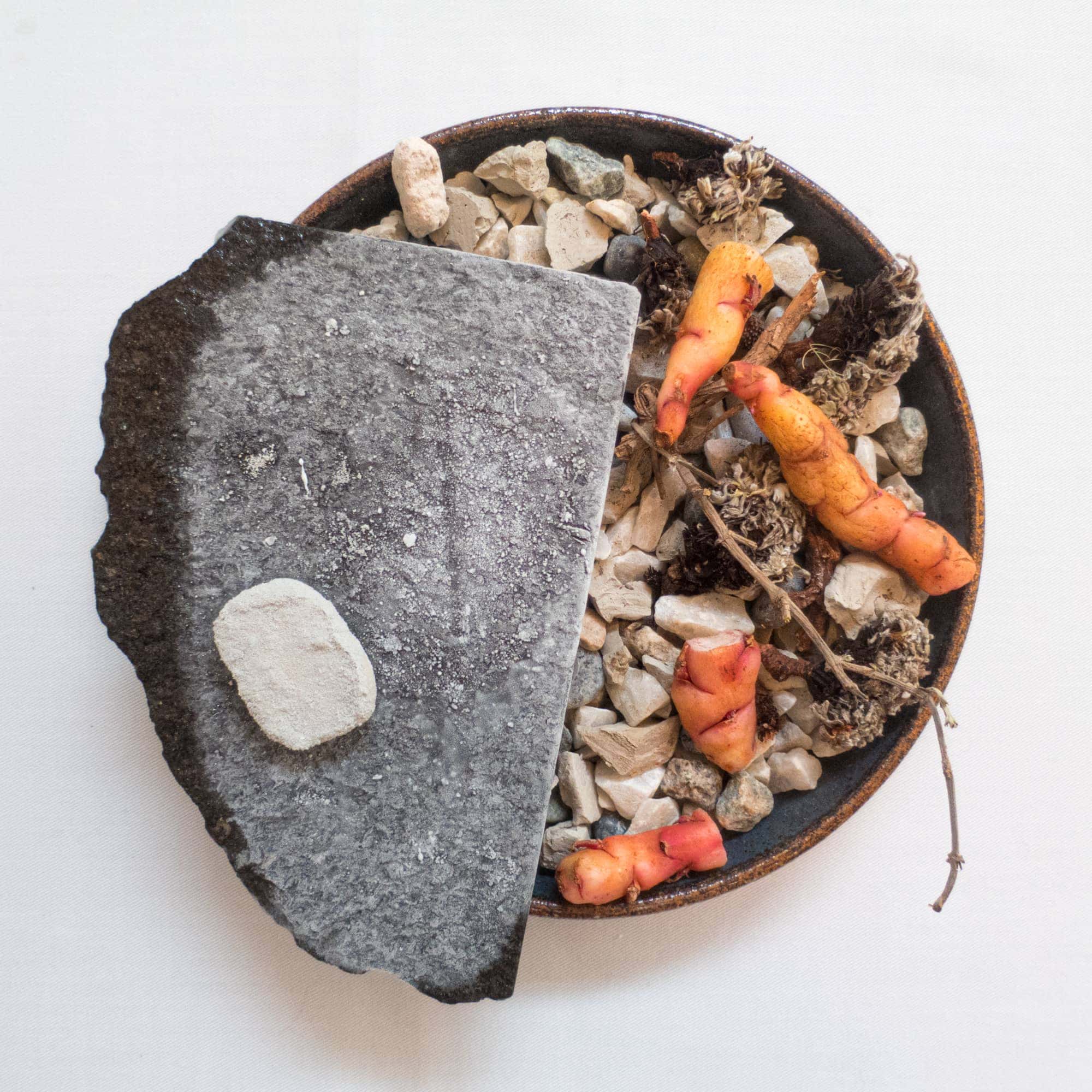 Tasting menus challenge diners, and I felt that when course three, "Dry Andes," was presented.
The edible grey clay was served on a chilled piece of black rock, with ocas, a type of tuber.
I nibbled on the cold clay, sourced in the Andes mountains 3,900 meters above sea level.
It was not unlike the scarlet macaws that feast on clay licks in the Amazon, an activity I'd previously witnessed while visiting the Tambopata National Reserve in southern Peru.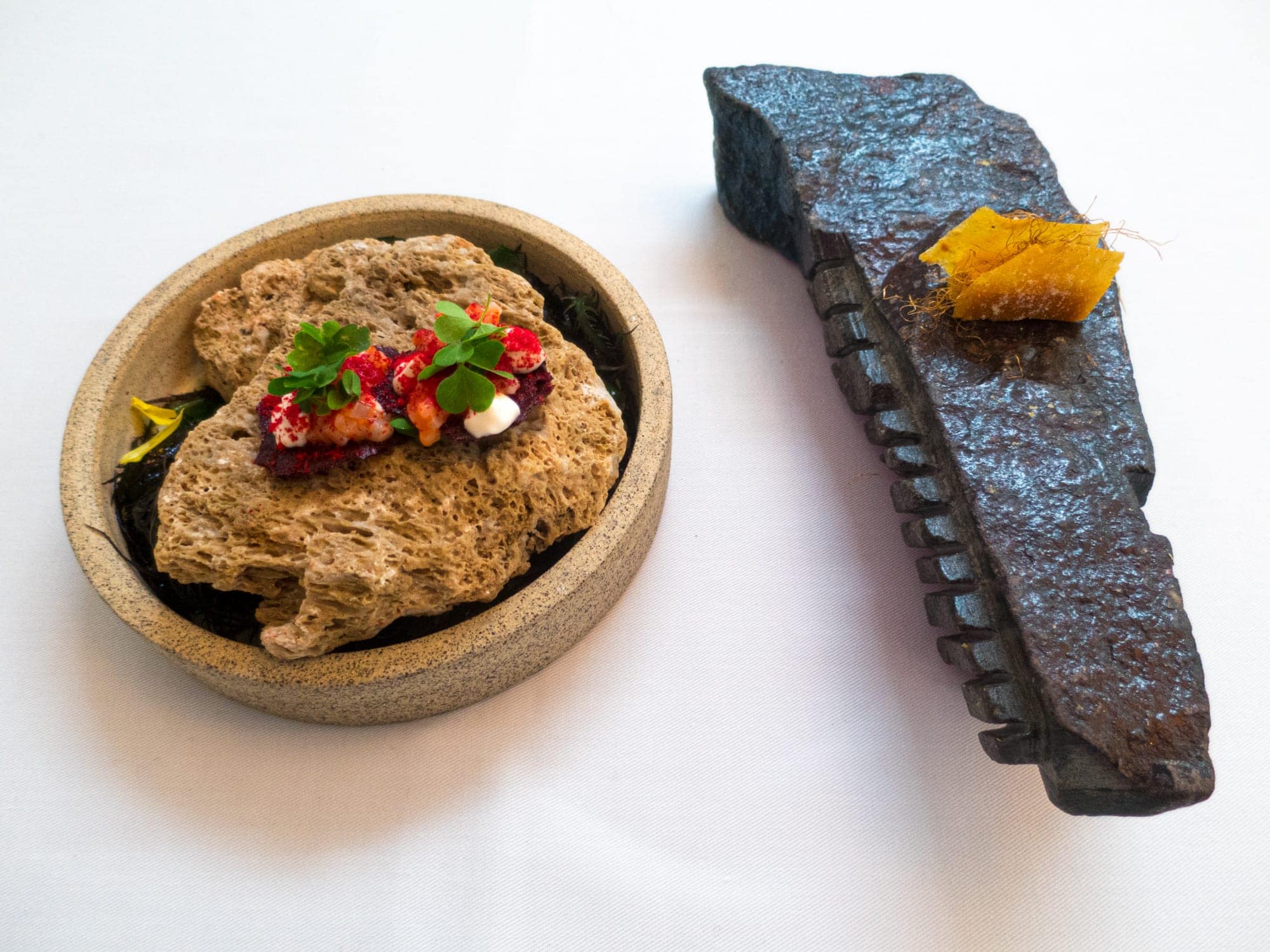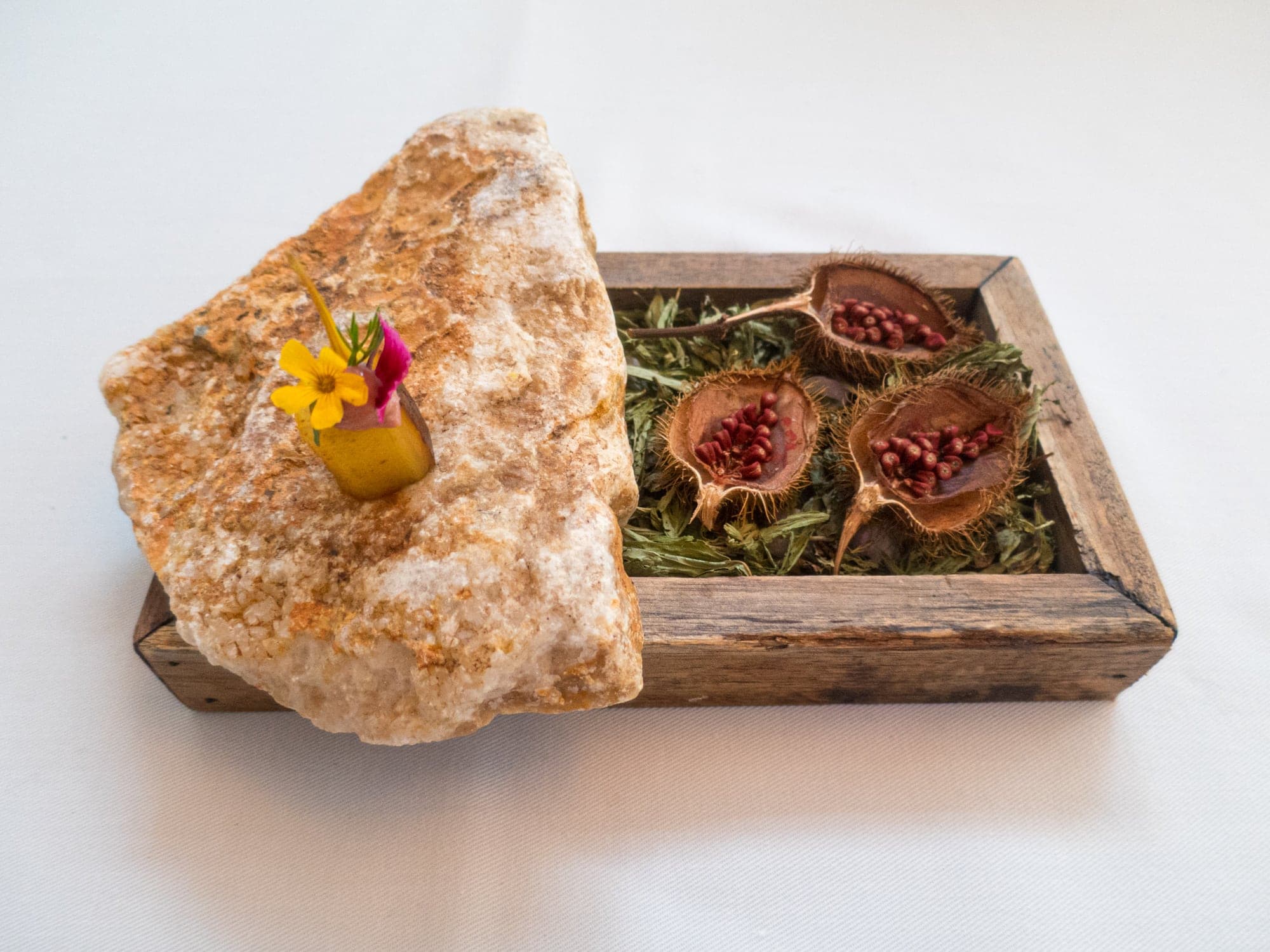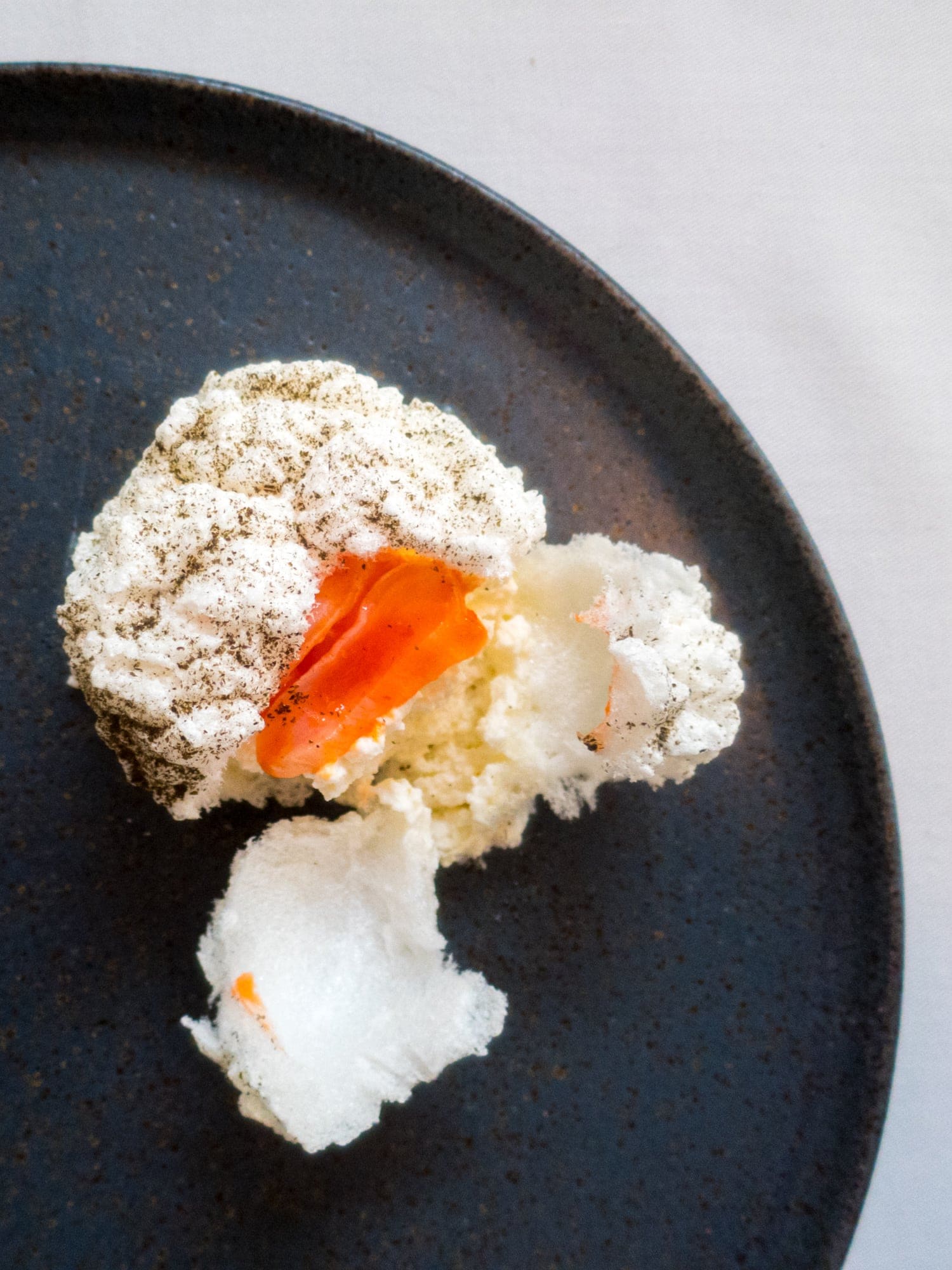 The eighth course at Central Restaurante was a white puffy ball on a black plate. Cutting into the soft exterior revealed a bright slice of fresh clam.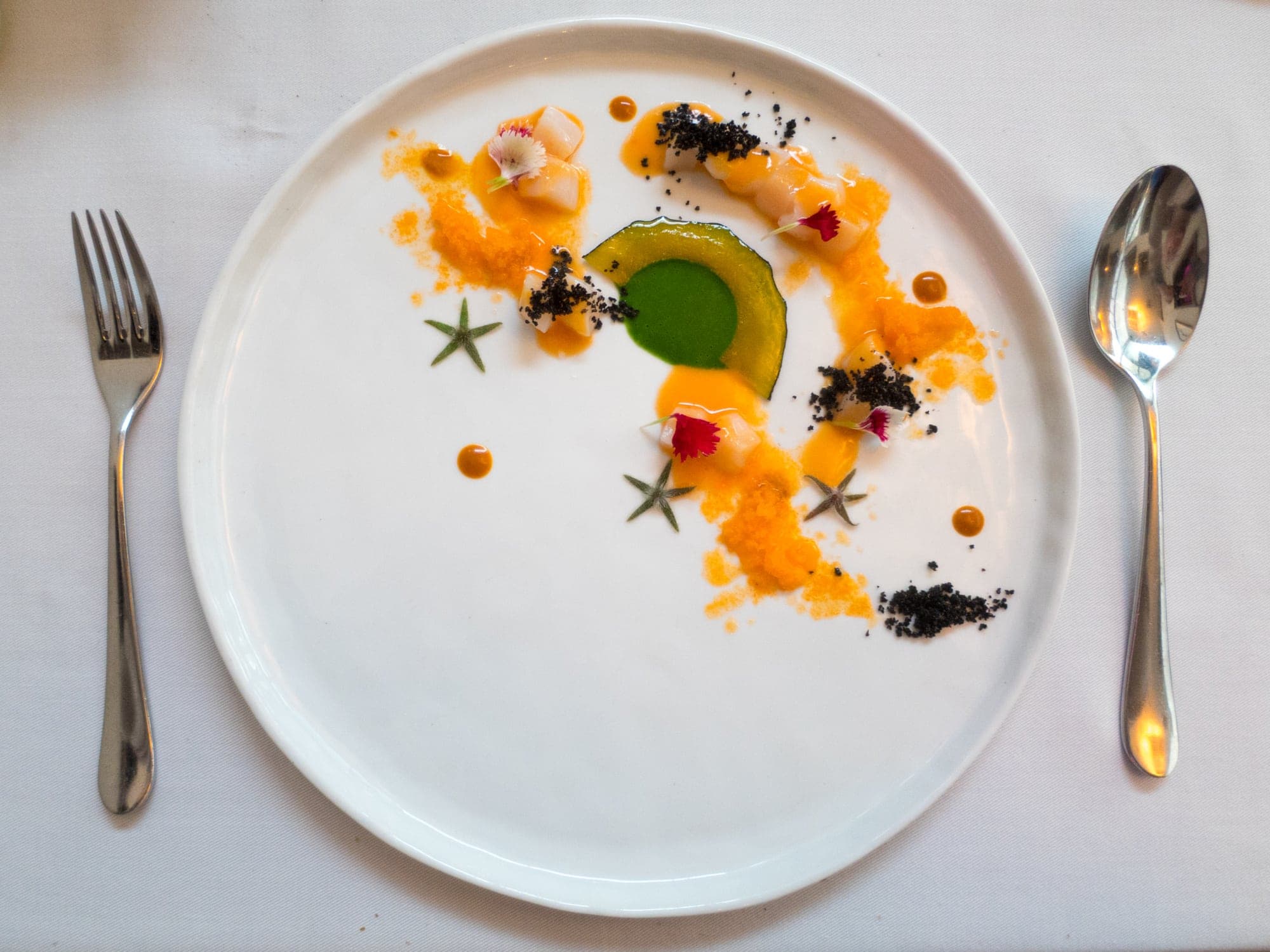 "Cold Cultivation" was the name given to the ninth course, which featured scallops sourced from ten meters below sea level.
The plating was terrific, and I liked the use of negative space, which became a constant midway through the menu.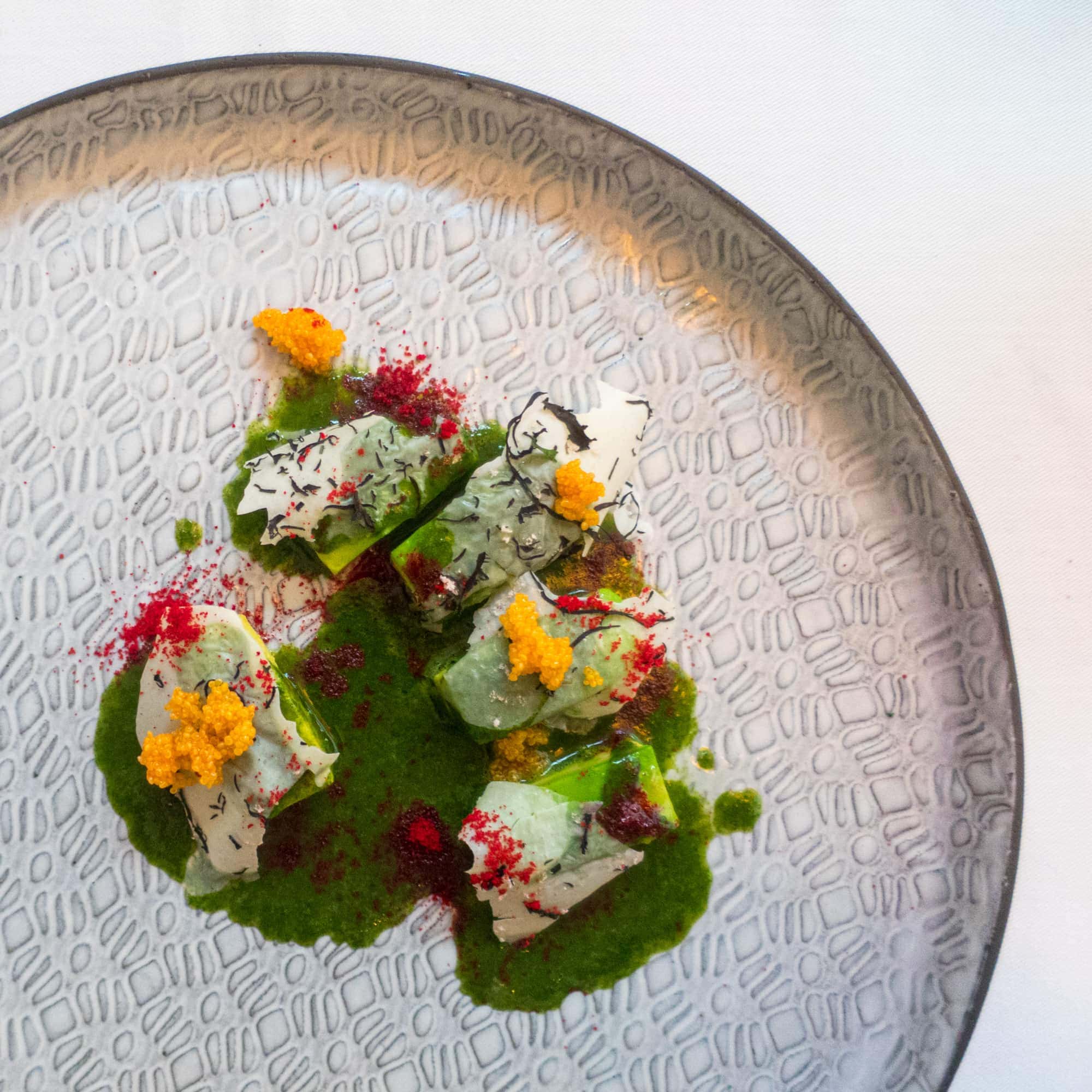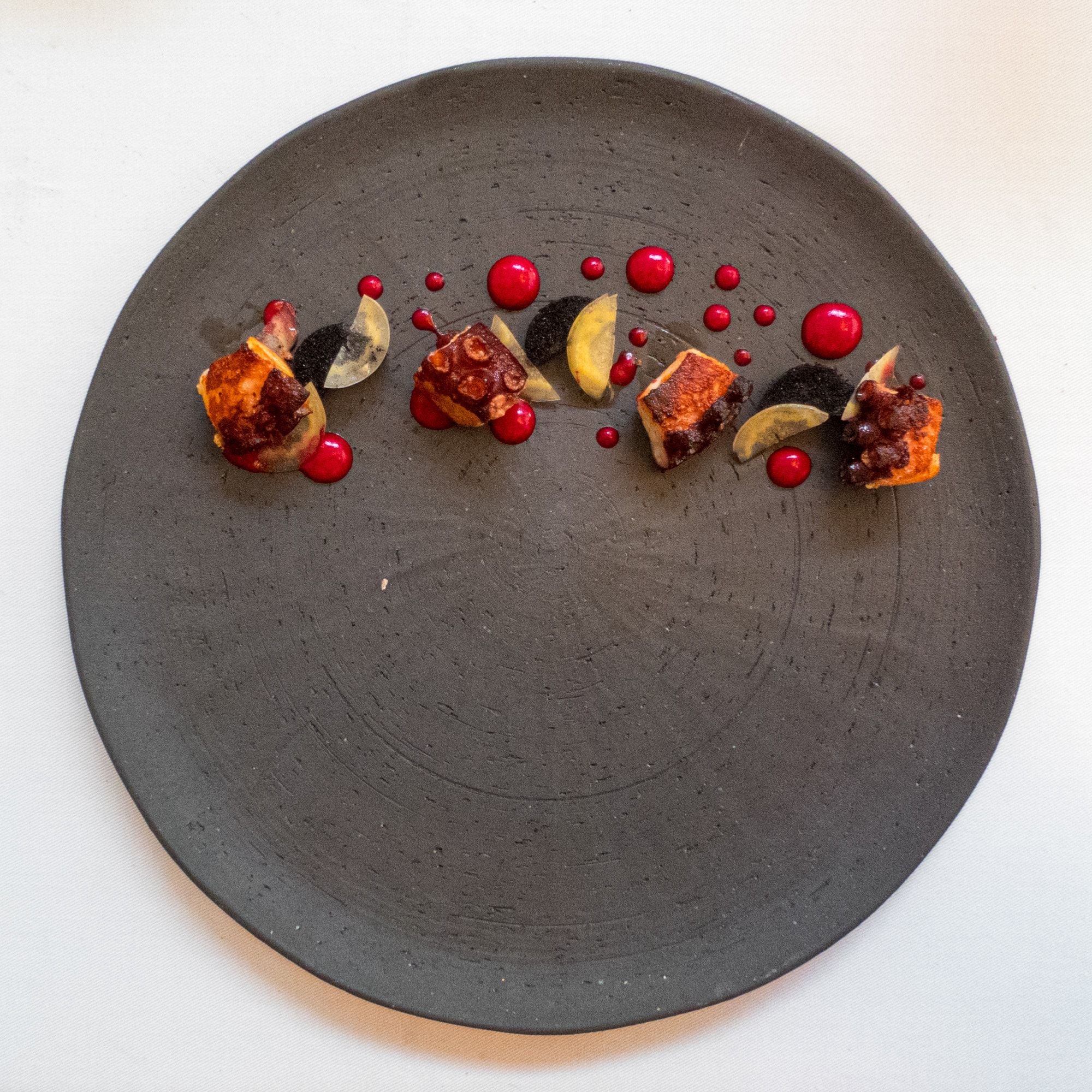 The use of negative space was no better done than on the eleventh course, "Octopus in the Desert."
Visually-speaking, this remains one of my all-time favorite dishes. The octopus was tender and perfectly cooked.
Airampo (Opuntia soehrensii) is a cactus that has succulent, spiny, flattened, semi-circular stems and yellow or red flowers.

It grows in the wild in dry valleys, especially in Cusco and Apurimac and some costal valleys, but it can also be found domesticated.

It has pink edible fruits similar to prickly pears. The seed is used to dye drinks, sweets, and fibers in a beautiful magenta color.

Slowfood Foundation for Biodiversity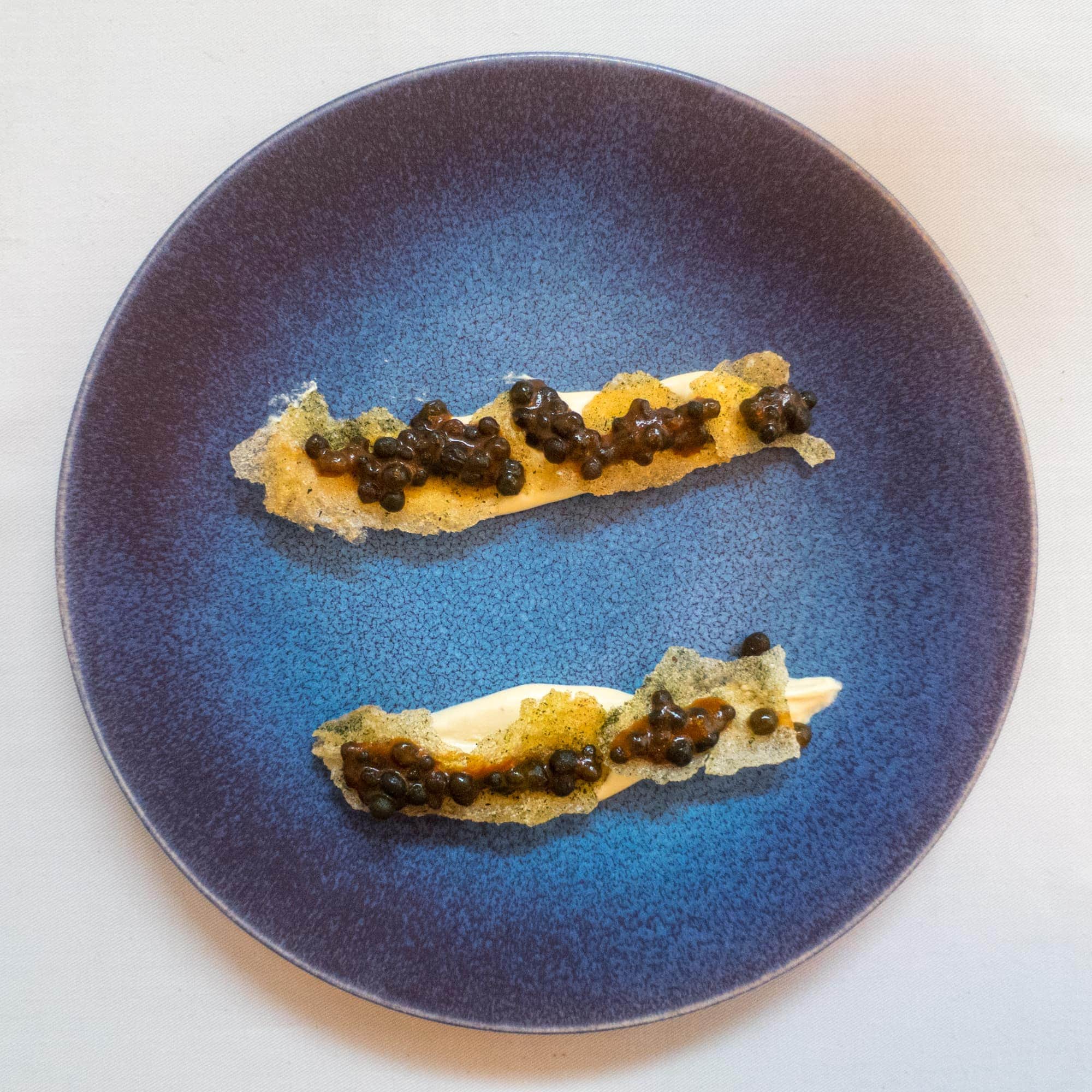 Peru has approximately 2,000 varieties of potatoes. The Isco potato grows high up in the Andes.
It can be hard to believe the diversity of potatoes that exist in Peru, given how few we're exposed to in the United States.
Cushuro is a type of blue-green algae. I love the blue plate used for this dish.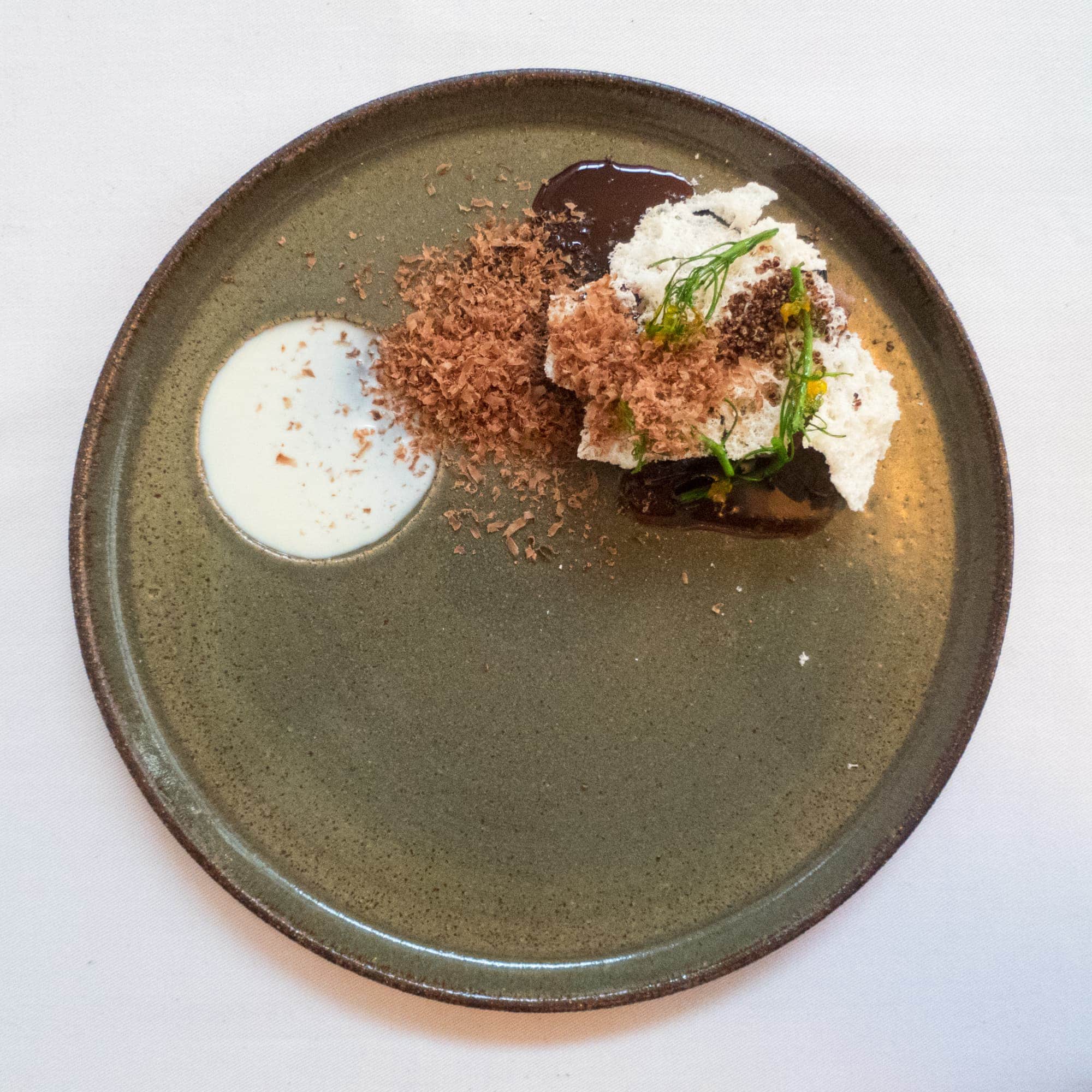 Beef heart (anticuchos) is a commonly eaten food in Peru and one that I first tried at the beach in 2011. Much to my surprise, I enjoyed it.
If I hadn't known ahead of time, I wouldn't have guessed the meat I was eating was cow heart.
Therefore, it was no surprise to see heart on the menu at Central Restaurante.
Once again, the custom plate, with space for milk, showed the attention given to presentation.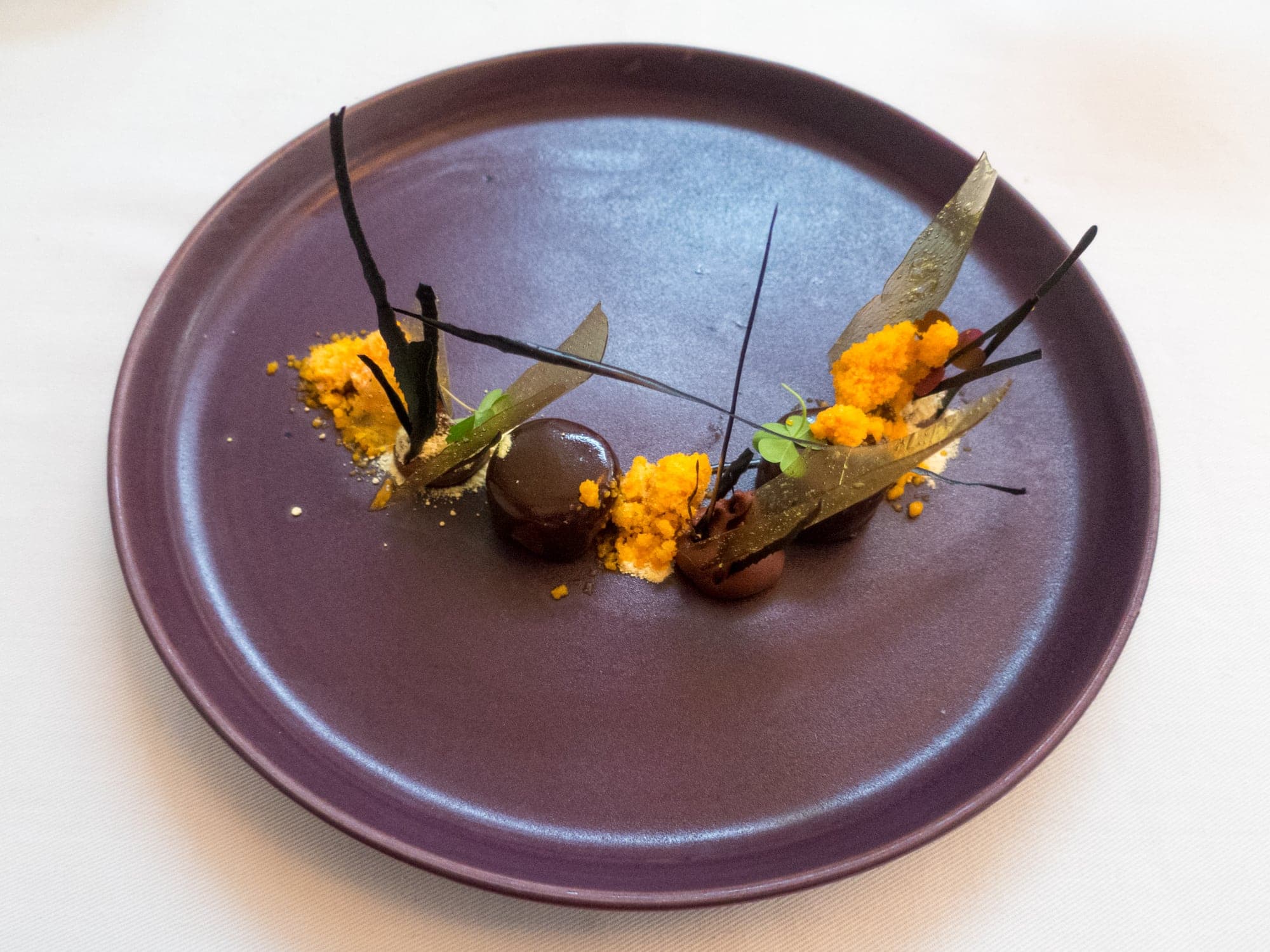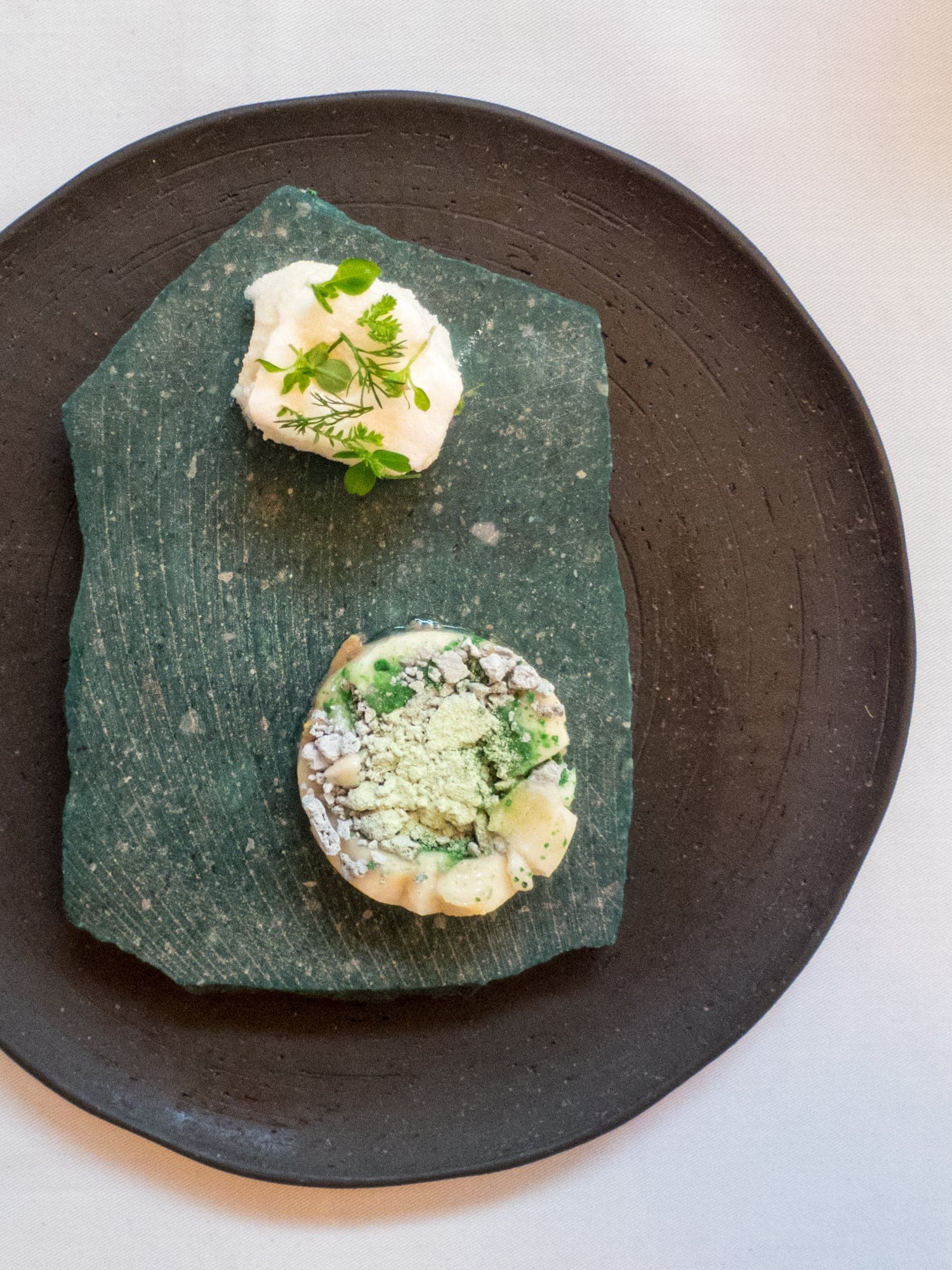 The fifteenth course and second dessert featured was entitled "Coca Leaf Environment" and featured coffee, chirimoya, and mint from 1,750 meters above sea level.
Chirimoya is a green edible fruit native to Peru. In an 1866 newspaper article, Mark Twain referred to chirimoya as "the most delicious fruit known to men."
Once again, I was enamored by the presentation.
The desserts were on a green slab of stone with curved lines that echoed their shapes as well as the black dish below it.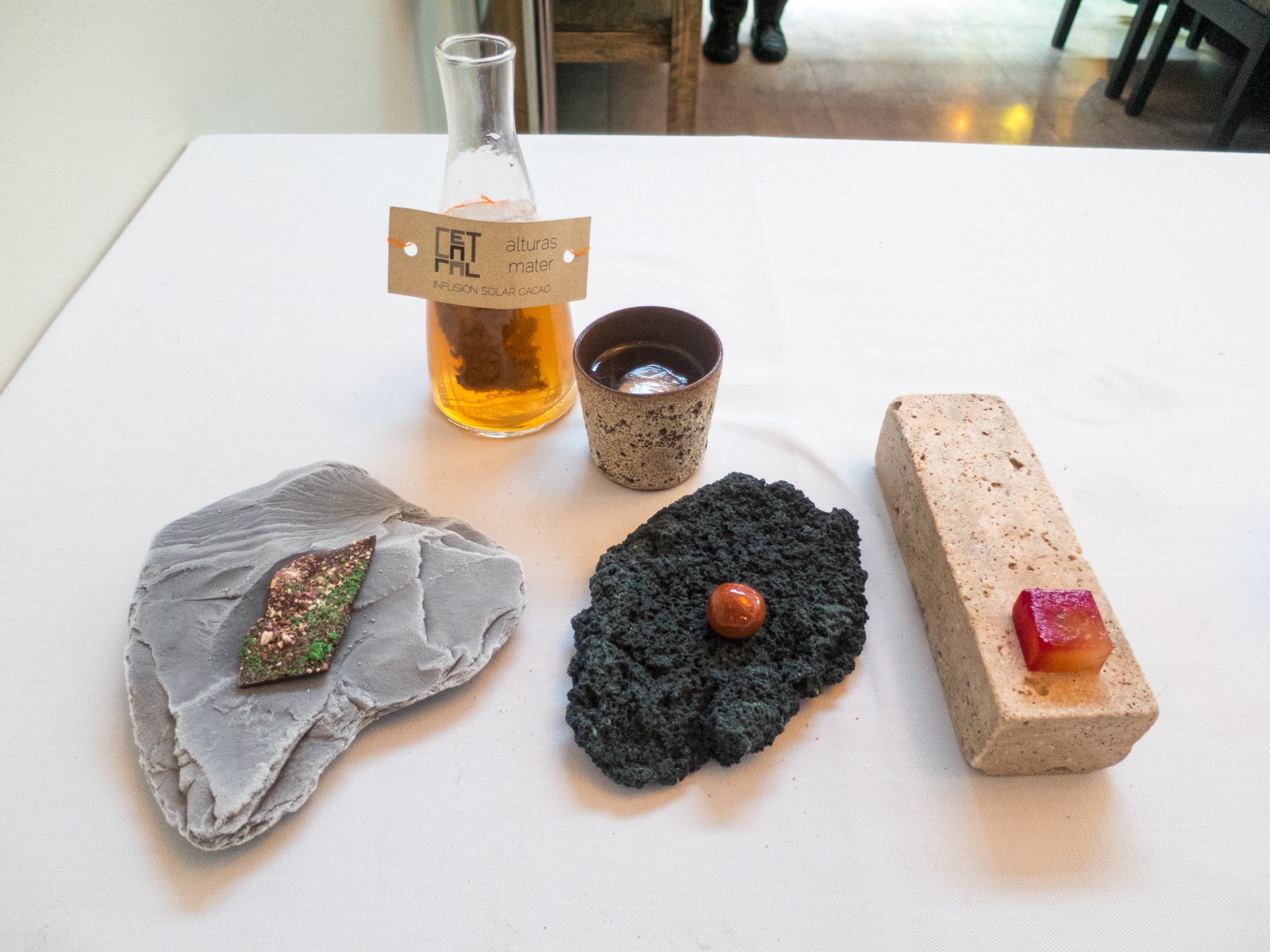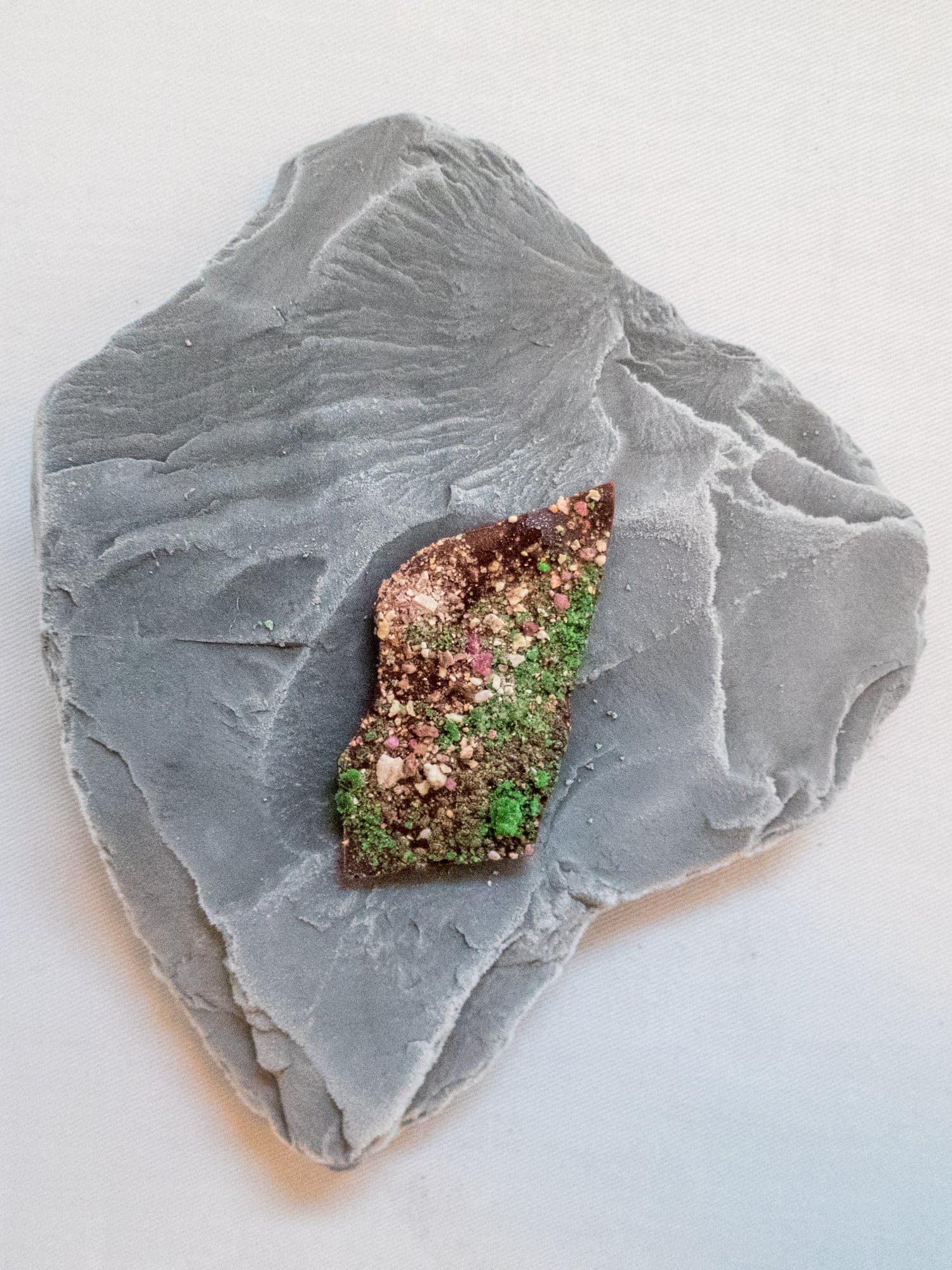 Last but not least, there was the "Barks and Resins" dessert reflecting ingredients from the Amazon.
The chocolate bark was served on another chilled stone, a trick I couldn't get enough of.
They were served along with a solar infusion of cacao.
See also: Best Restaurants in Latin America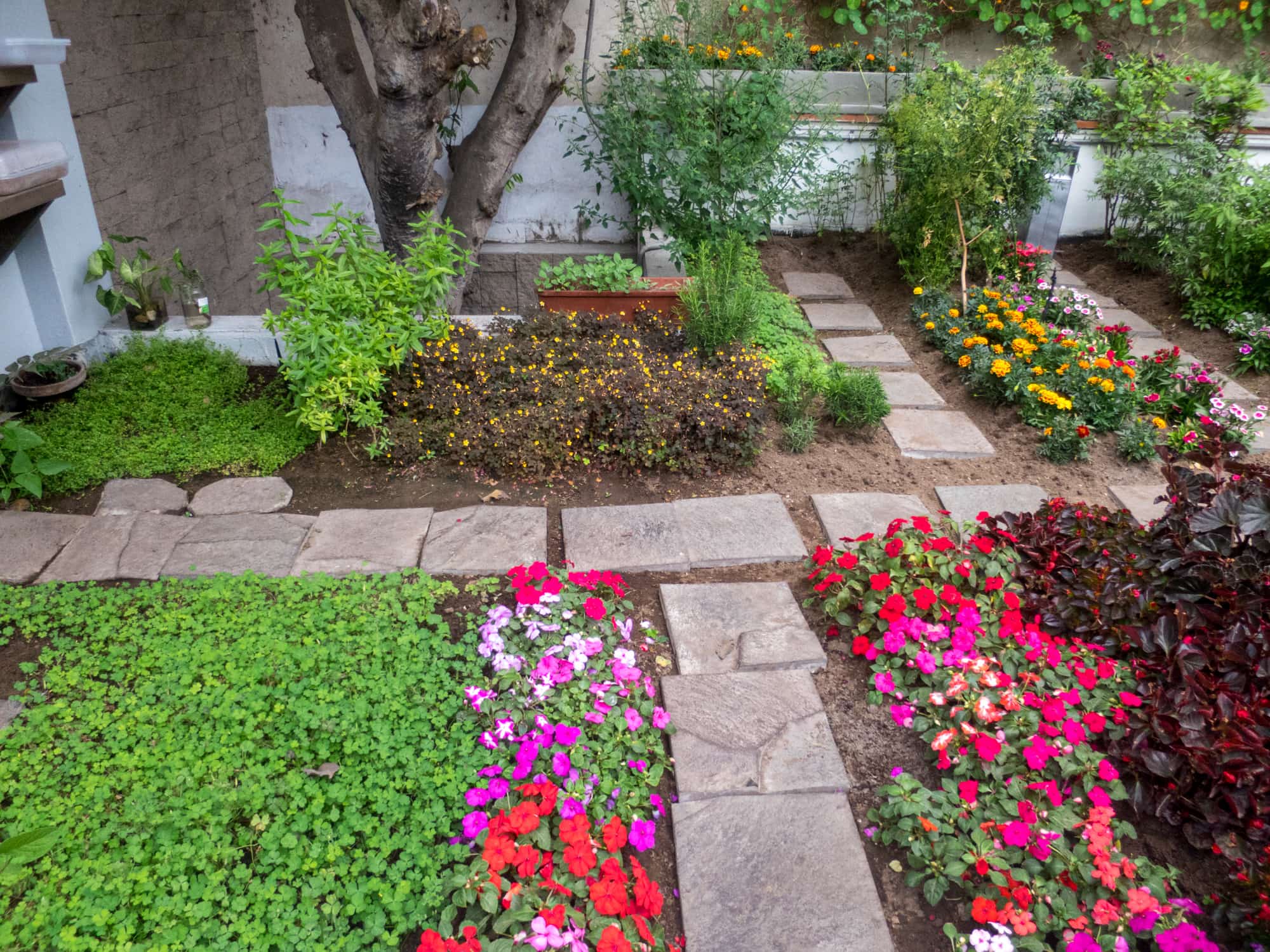 After lunch, I toured Central Restaurante, including a glimpse of their garden and collection of spices and ingredients from around the country.
***
A few years ago, Central moved from its original location in Miraflores, where I dined to the neighboring and more bohemian Barranco district of Lima.
Plan Your Visit
Website: central.com.pe
Address: Av. Pedro de Osma 301, Barranco, Lima, Perú
Dress: casual
Reservations: highly recommended
In 2018, Virgilio Martínez and Pía León opened Mil Centro, a restaurant located at the Moray ruins in the Sacred Valley near Cusco.
This was followed by Pía León's Kjolle in the same restaurant complex as Central in Lima. Kjolle was rated #21 in Latin America by The World's 50 Best Restaurants in 2019.