Eight years after an exceptional lunch at Central Restaurant in Lima, Peru, I was back for more.
The occasion to re-visit chefs Virgilio Martinez and Pia Leon's modern Peruvian restaurant came from a trip to Machu Picchu.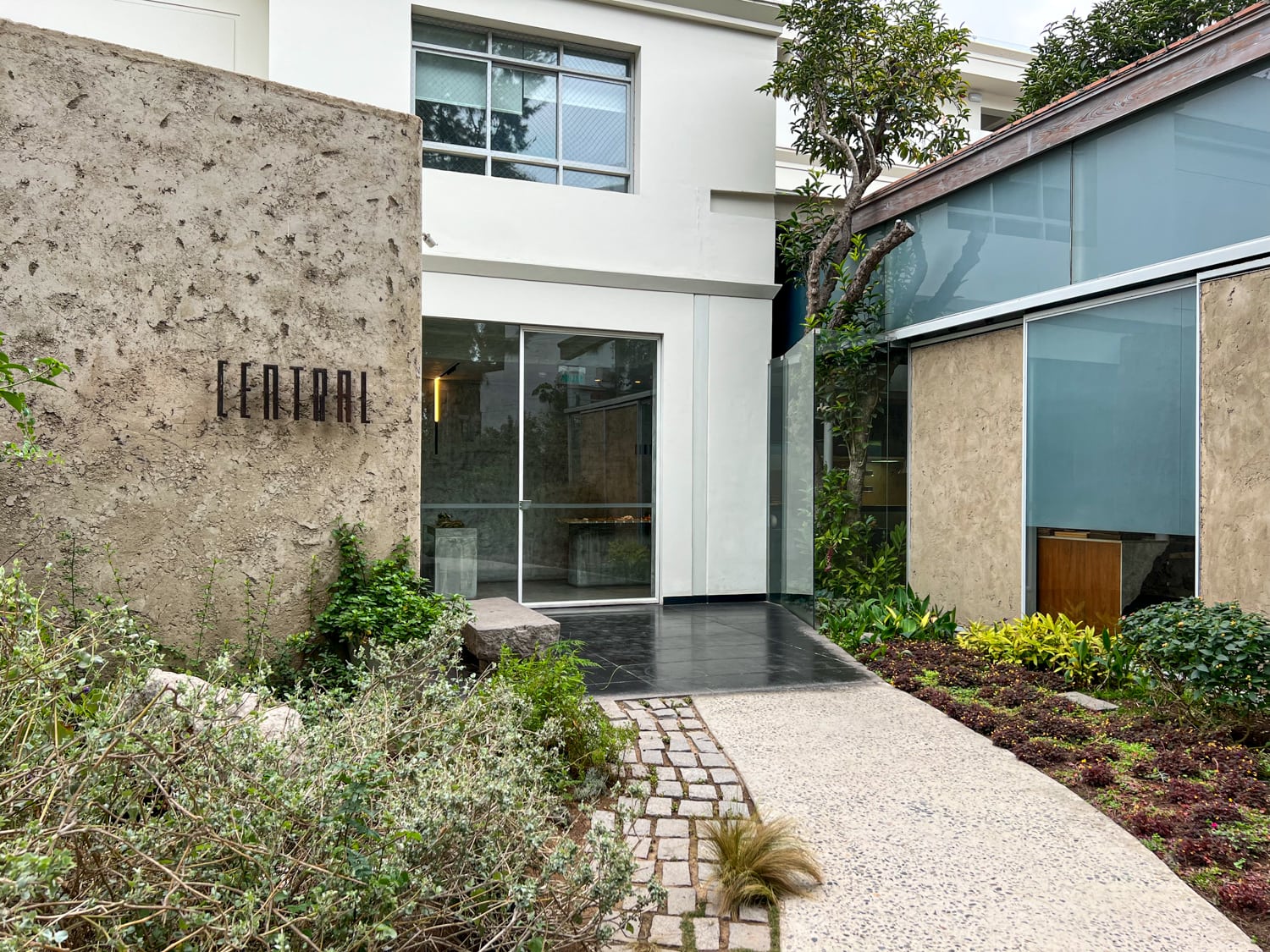 My girlfriend, Kel, with whom I worked on this story, had never been. Vacation planning ensued, with a lunch reservation at Central a given.
I returned to Peru in 2016 and 2018; however, I had prioritized getting to know other restaurants in Lima.
And a part of me didn't want to risk a subsequent experience being anything less than the perfection of my first meal at Central. Was I worrying for nothing?
Since Central first appeared on The World's 50 Best Restaurants list, it has maintained its high status.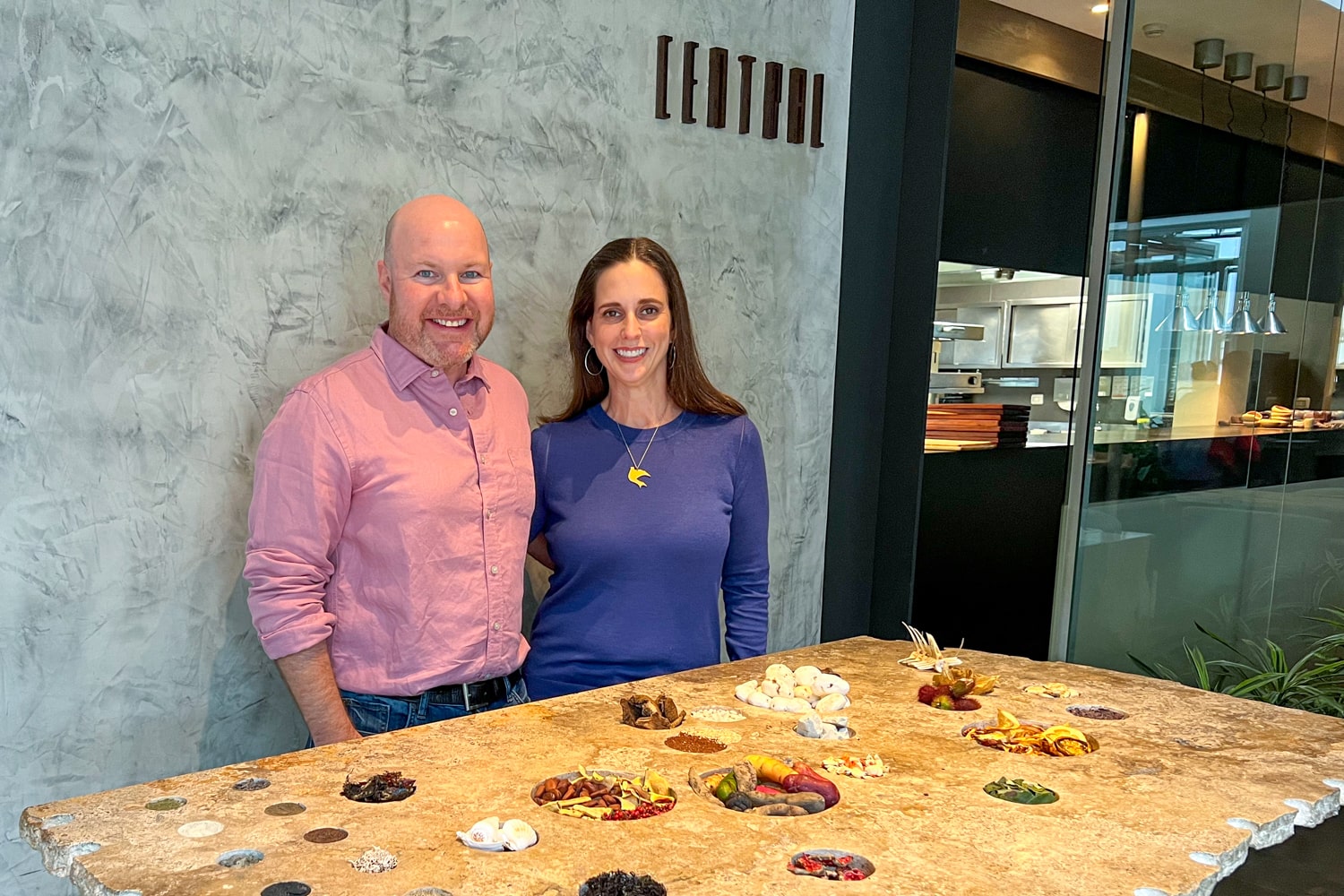 In 2022, it was ranked the best restaurant in South America and #2 worldwide. Only Geranium, a three-star Michelin restaurant in Copenhagen, ranks higher.
There was only one way to find out — go back to Central, one of the top restaurants in Latin America and see if they'd maintained the same level of creativity.
As soon as our flights were booked, I made a lunch reservation for the day after we arrived in Lima. My excitement, as Kel would tell you, was palpable.
First Impressions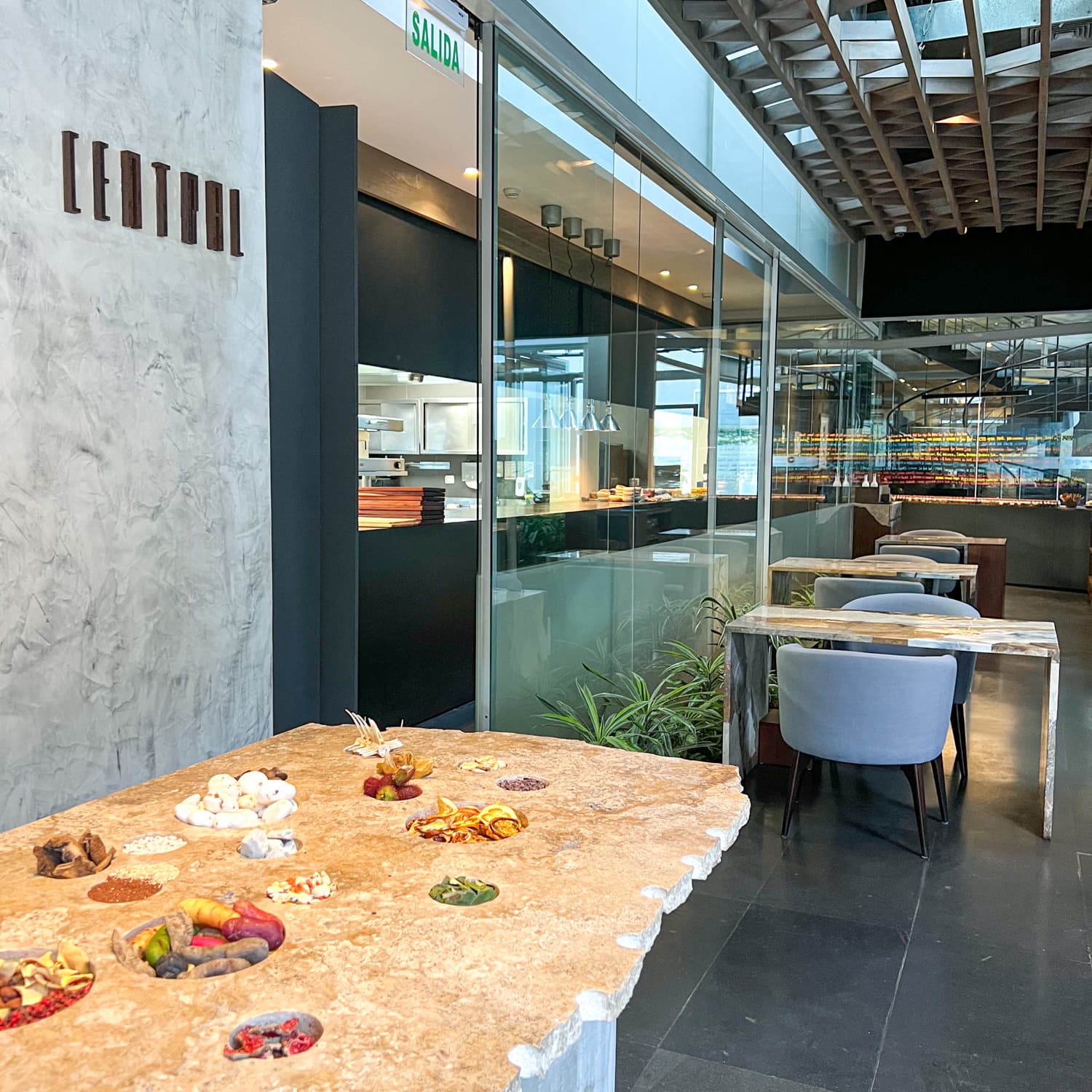 Central Restaurant originally opened in the tourist-heavy Miraflores district of Lima, where I first experienced it (and Chef's Table Season 3, Episode 6 was filmed).
Due to a zoning issue, they relocated in the second half of 2018 to more bohemian Barranco, a neighboring district known for its street art and nightlife.
The building in Barranco is called Casa Tupac and was a former cultural center. It's on a tree-lined street, one block from the beach and the Pacific Ocean.
A vegetable garden with more than 100 species fills the space between the street and the entrance to the restaurant.
This short walk serves as a physical and mental transition from the chaos of Lima's streets to the serenity of Central Restaurant.
The Dining Room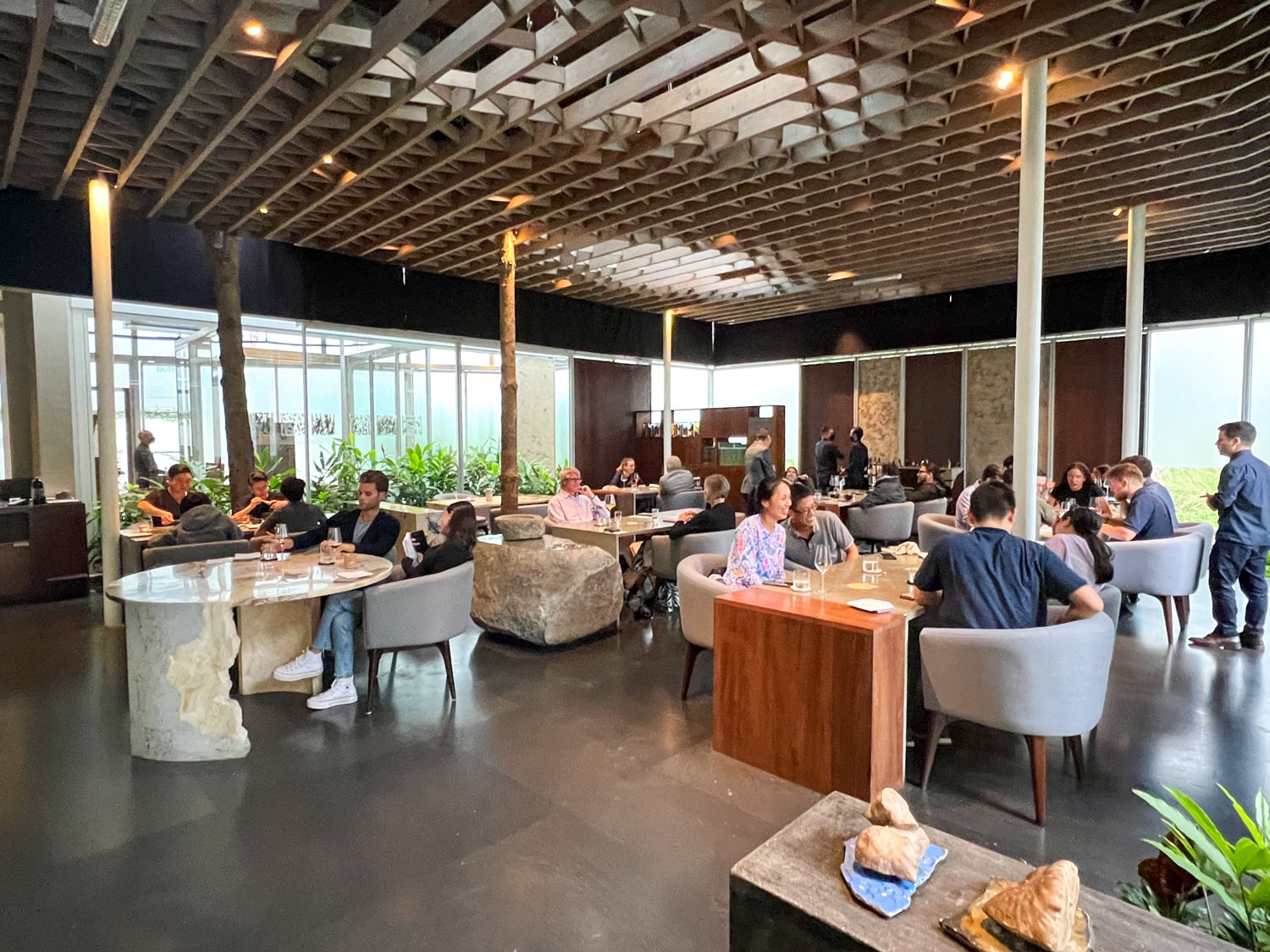 We got our first glimpse of the interior spaces as we entered the main dining room for our 1 p.m. lunch reservation.
I was struck by the various textures, from the polished stone tables to the latticework of wood comprising the ceiling.
Several slender tree trunks rose from the floor and extended through the roof, while plants on the ground brought the feeling of the outdoor garden inside.
Floor-to-ceiling windows make up most of the walls, allowing plenty of natural light to fill the room.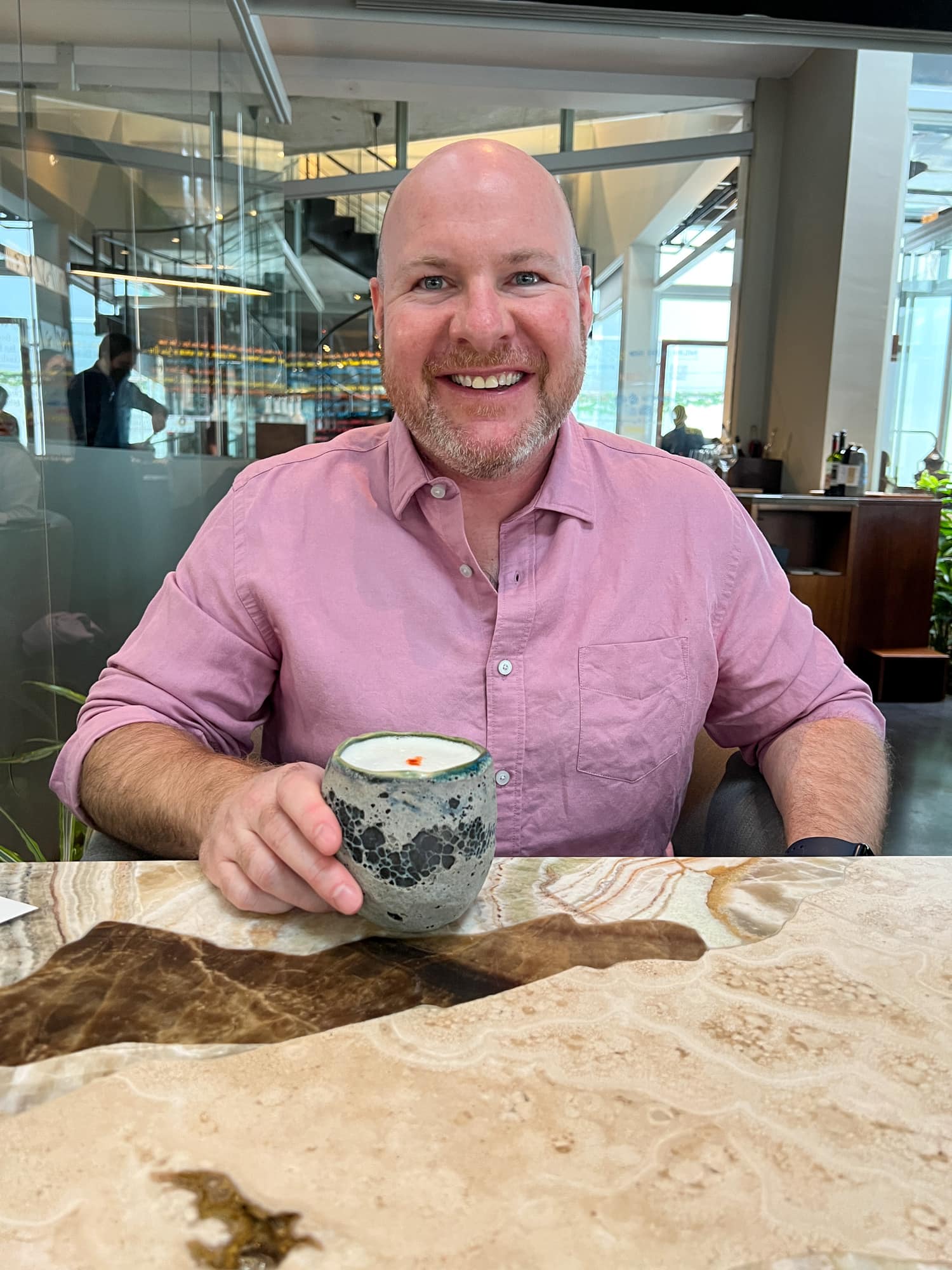 Like the original Miraflores location, glass windows separate the diners from the kitchen, allowing guests to watch the chefs at work.
Kel and I were seated at a beautiful granite table for two in front of the kitchen. The patterns on the table kept me mesmerized throughout the meal.
My seat faced Central's entrance while Kel viewed an office used by Mater Iniciativa, the research organization behind Martinez's and Leon's culinary projects.
The Menus at Central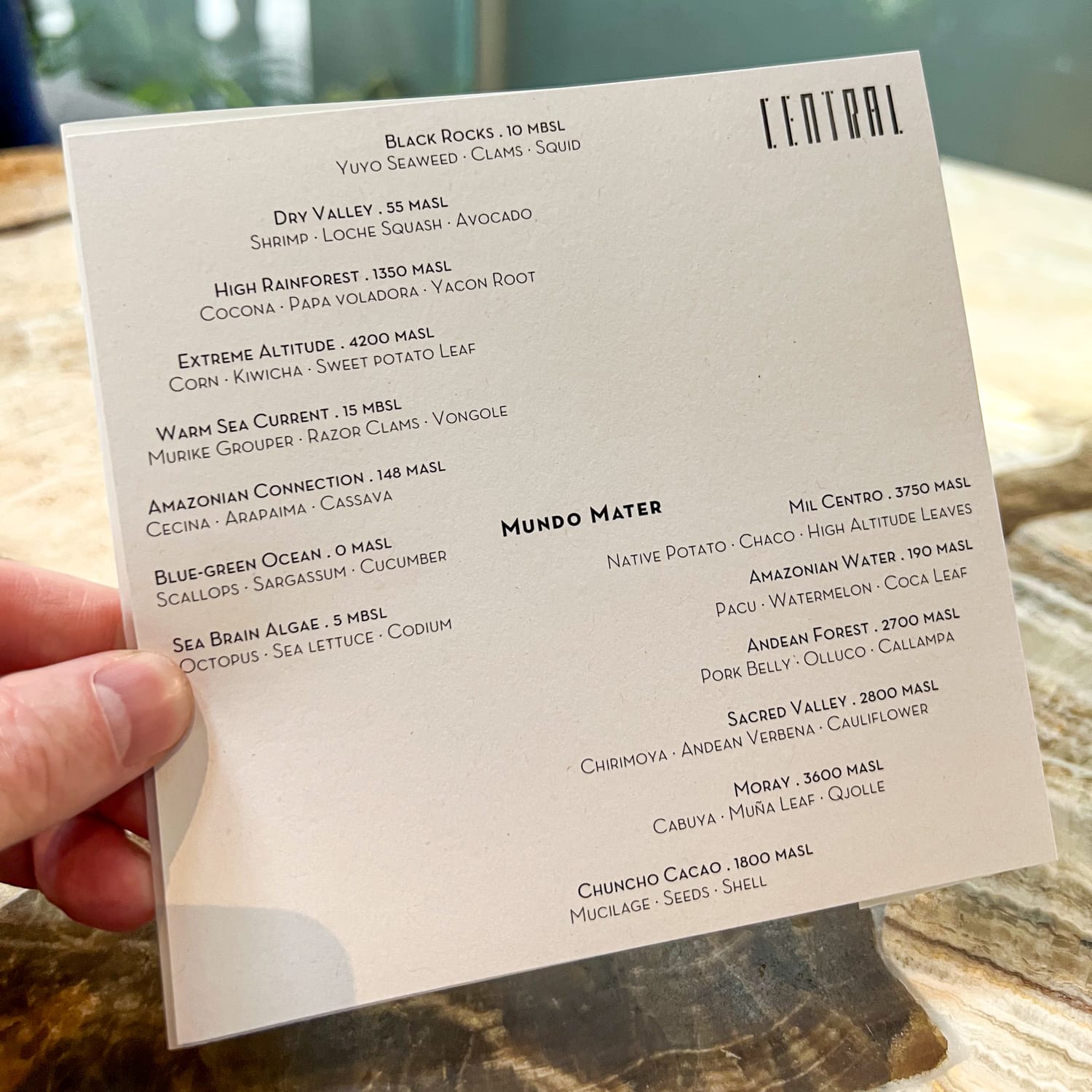 Gerald, our server, gave us each a souvenir box of various textured papers.
According to an insert, this was a physical representation of Peruvian ecosystems, traditions, and diversity.
Tasting Menus
There are four tasting menu options at Central Restaurant in Lima. Prices and exchange rates are accurate as I write this but are subject to change.
The Territorio En Desnivel is 12 courses, each based on an ecosystem in Peru. The cost is 950 soles (about $239).
The Mundo Mater menu is 14 courses and reflects world ecosystems. The price is 1,064 soles (about $267).
Each option includes an equally-priced alternate menu with the same theme but courses that change daily.
The menu prices include tax and a 10% service fee; additional gratuity is optional.
The menu concept at Central focuses on the different elevations above or below sea level where Peruvian ingredients exist.
Drink Pairings
Three drink pairings are also available:
Terroir Wines of the World is 424 soles (about $107) for the 12-course menu and 488 soles (about $123) for the 14-course menu.
Equilibrio Mater, Ferments, Spirits, and South American Wines are 454 soles (about $114) and 518 soles (about $130), respectively.
Experience and Senses (Non-Alcoholic) with Nectars, Extracts, and Infusions with Mater Products are 225 soles (about $57) and 278 soles (about $70).
You make your choices in advance when creating the reservation, though, with sufficient advance notice, I'm sure they can be changed.
I'd signed us up for the Mundo Mater menu without one of the wine pairings. Instead, we each got a cocktail and still water.
My delicious drink was made with Intira Gin (from Puno, a high-altitude region in Southern Peru), sweet cucumber, and sea salt served in an earthenware mug.
Kel's Quiri Quinoa Vodka with grapefruit and hibiscus was bright pink and more alcohol-forward.
Craft cocktails in hand, our avant-garde adventure into Peruvian cuisine was about to begin.
Mundo Mater Menu
1. Black Rocks (-10 Meters)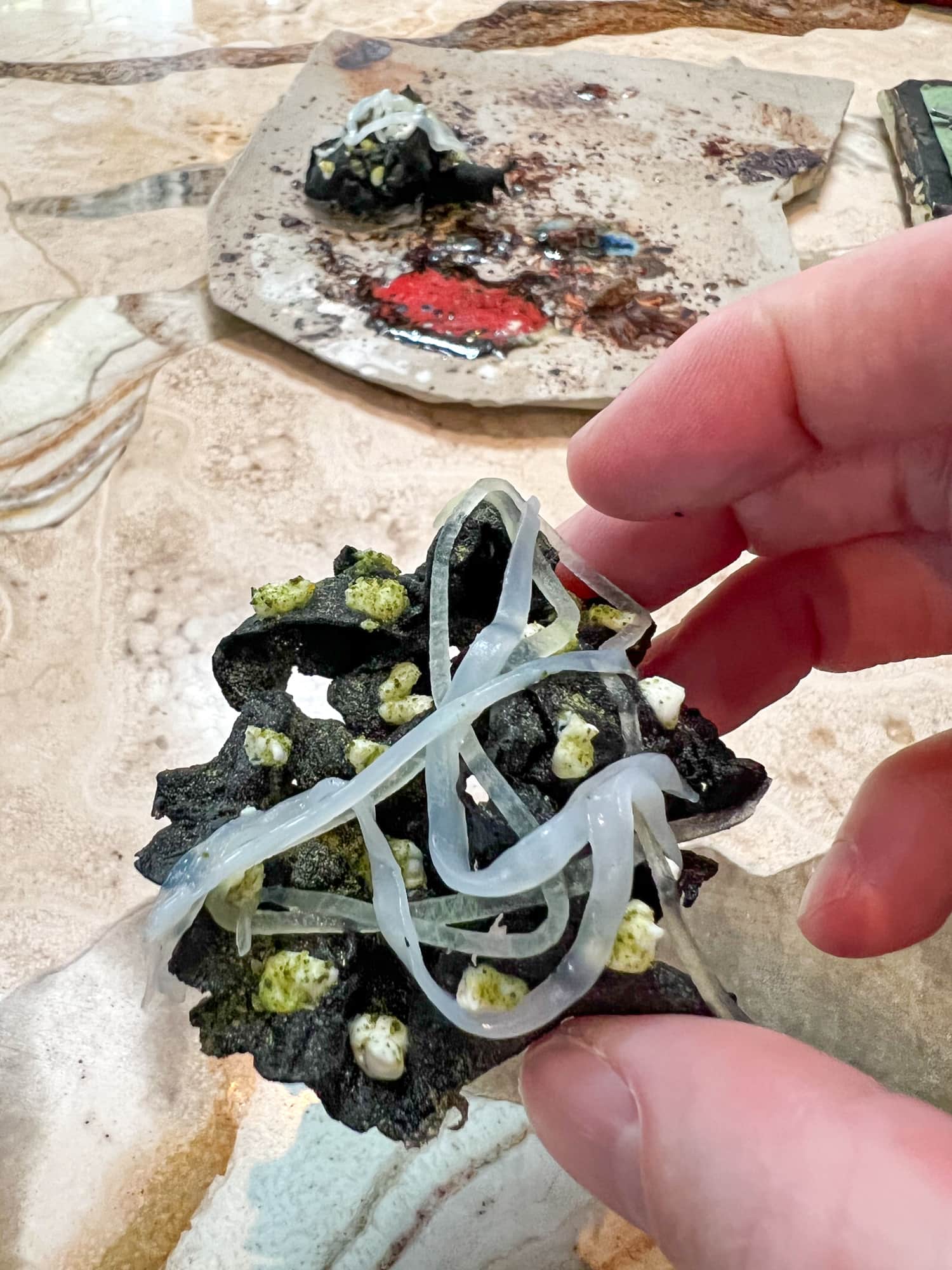 The first course comprised three snacks found 10 meters below sea level.
First, crunchy black crackers with thin strips of squid strung over them. Second, a small bowl containing razor clams.
The most appealing, however, was a bigger bowl of clams and seaweed cream. The splash of color is thanks to spirulina, blue-green algae high in protein.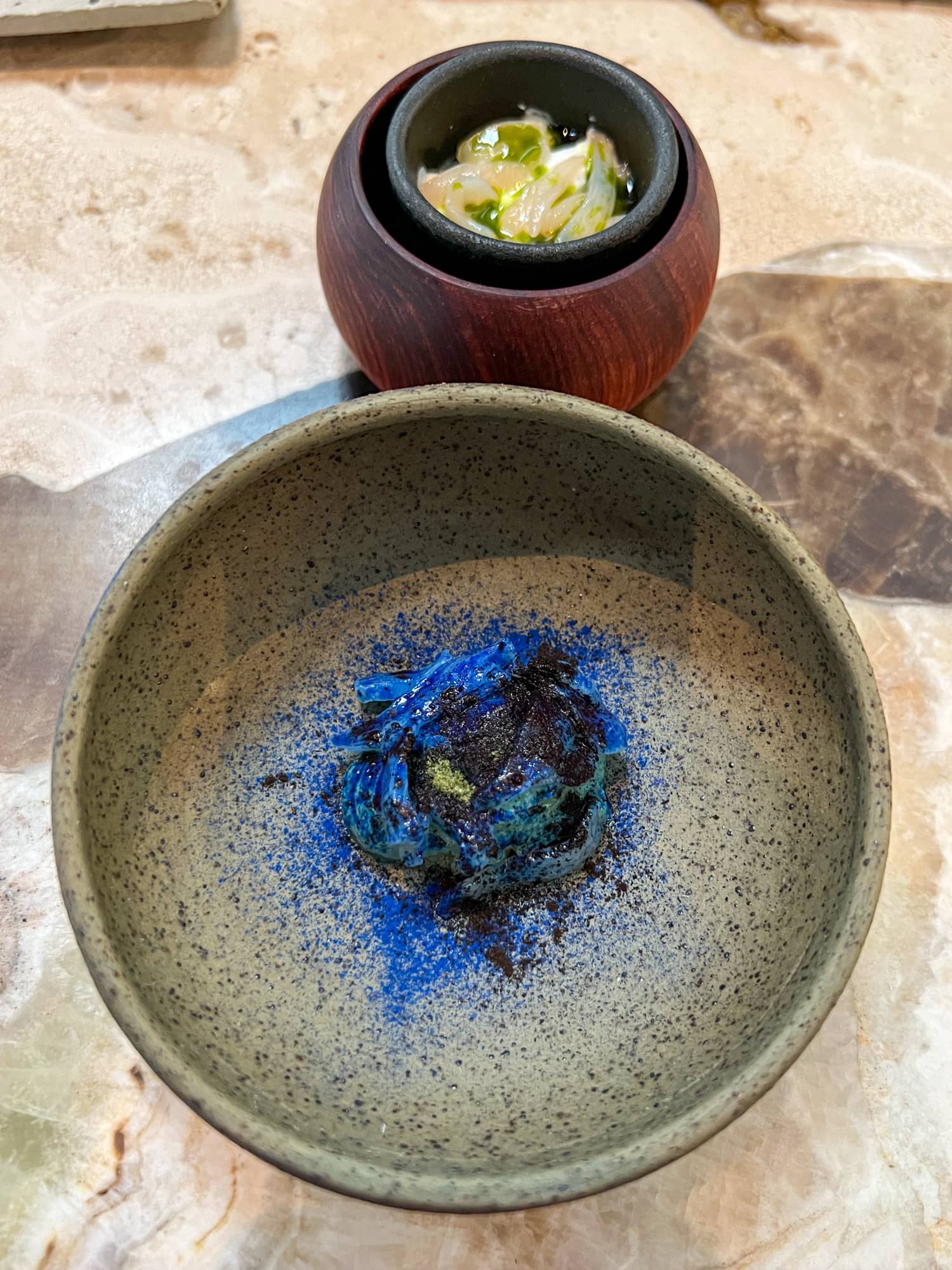 As I learned the first time I ate at Central, the creativity in the kitchen goes well beyond the recipes.
Significant attention is given to presenting the courses with locally sourced, custom-designed cutlery and earthenware.
Each plate, bowl, fork, and spoon is an opportunity to enhance the diners' experience.
This part of the experience is one of the reasons I so enjoyed Central the first time. Only now, they've taken it to a new level.
Gone are the traditional white tablecloths from the original location; they've been replaced by the beauty of the natural materials used to make the tables.
2. Dry Valley (55 Meters)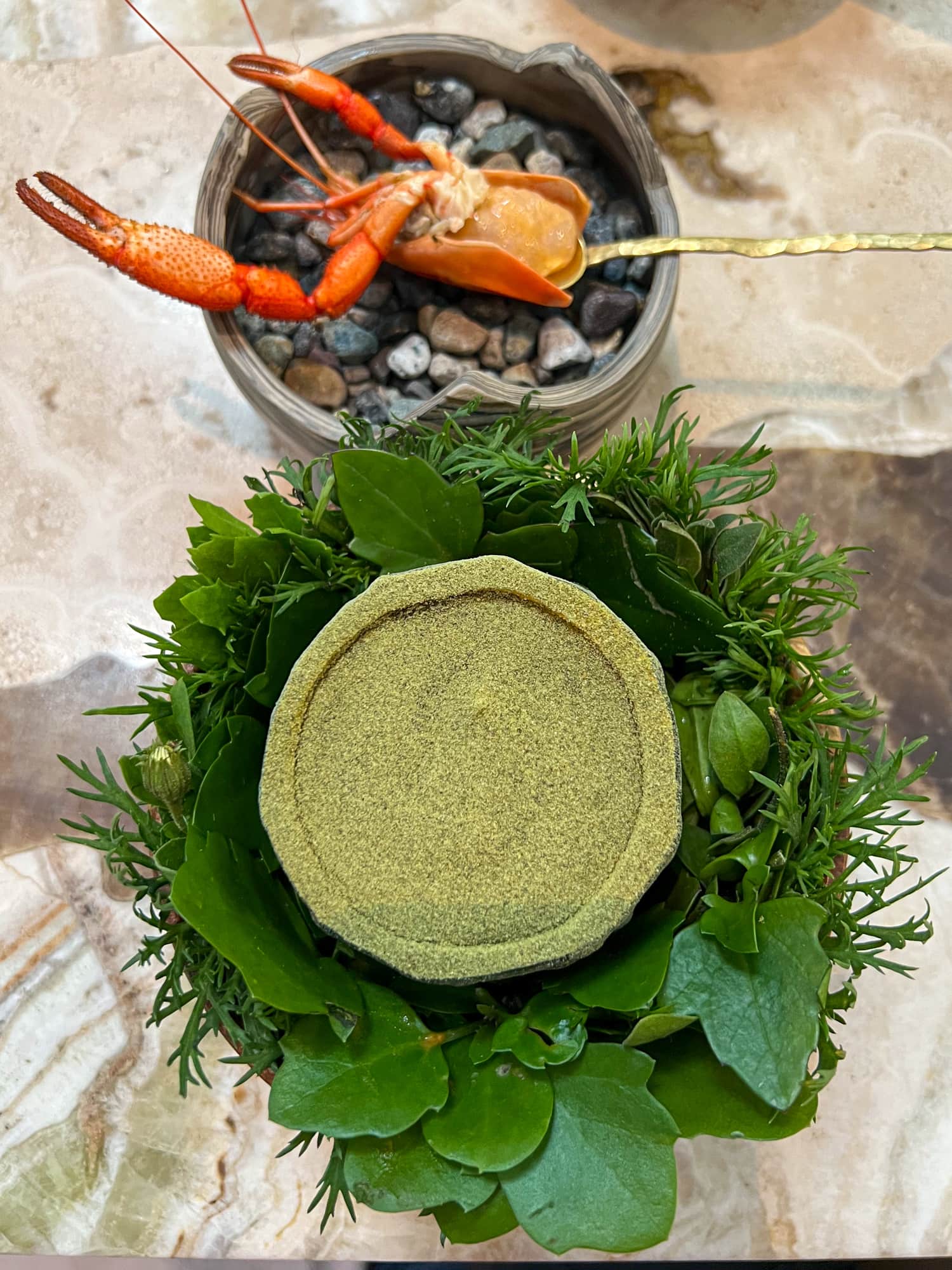 The second course featured two dishes with shrimp. A bowl of lodge squash with avocado, butter, and shrimp was topped with green loche squash powder.
And a bite of shrimp on a gold spoon, playfully presented inside the shell of a langostino and placed on a bed of rocks.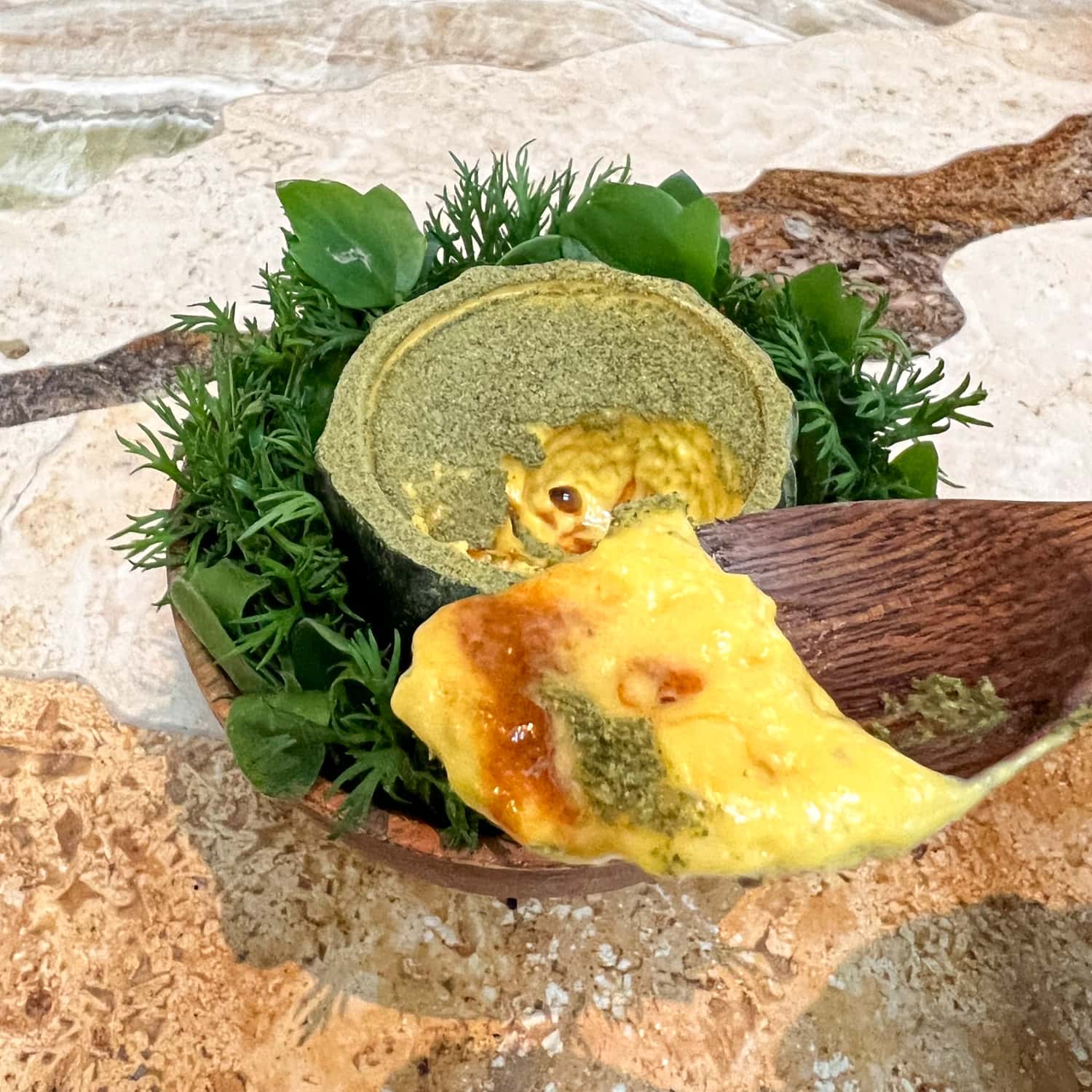 We were instructed to eat the shrimp from the metal spoon first and then use a wooden spoon for the squash, which had a custard-like texture.
3. High Rainforest (1,350 Meters)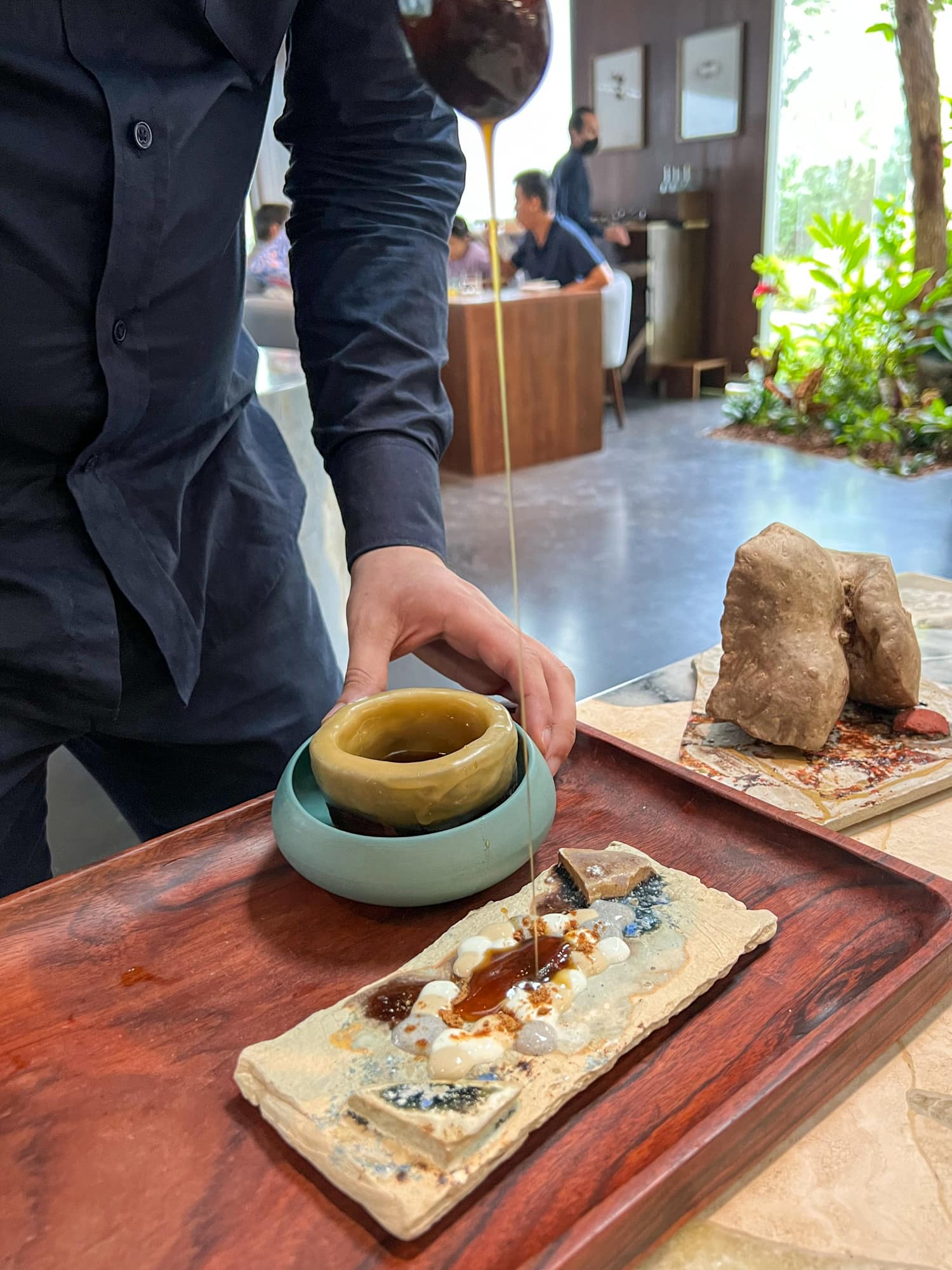 Moving 1,345 meters higher in altitude above sea level, we went from shrimp and squash in a dry valley to potatoes and yacon root in the high rainforest.
A server drizzled yacon root syrup onto a textured plate, reminiscent of the honey presentation I saw during breakfast at Salish Lodge in Snoqualmie.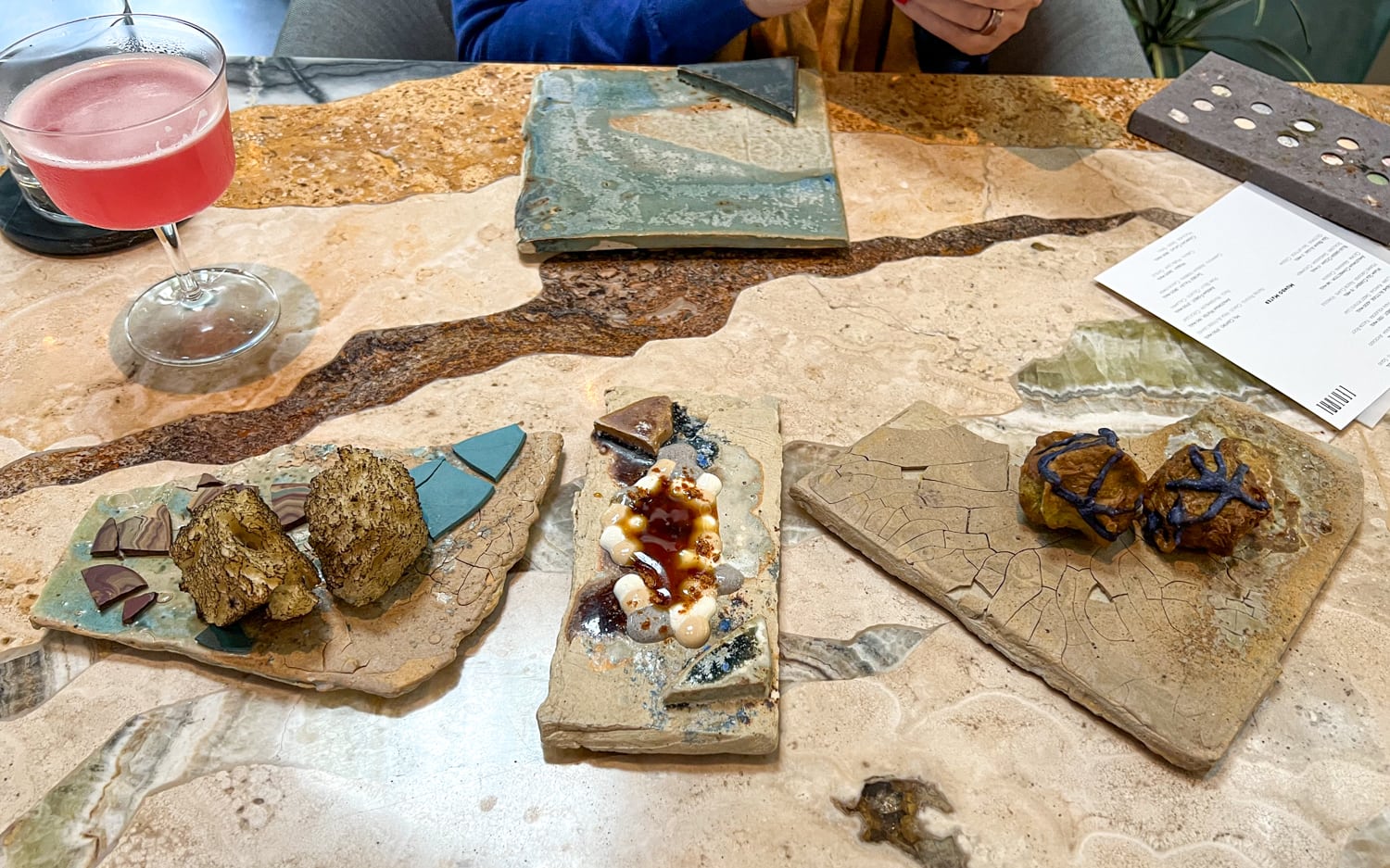 Papa voladora is Spanish for "flying potato" because this tuber grows from a tree instead of the ground.
It was presented as a ball with a crispy surface and soft, spongy interior.
Related: Traditional Peruvian Food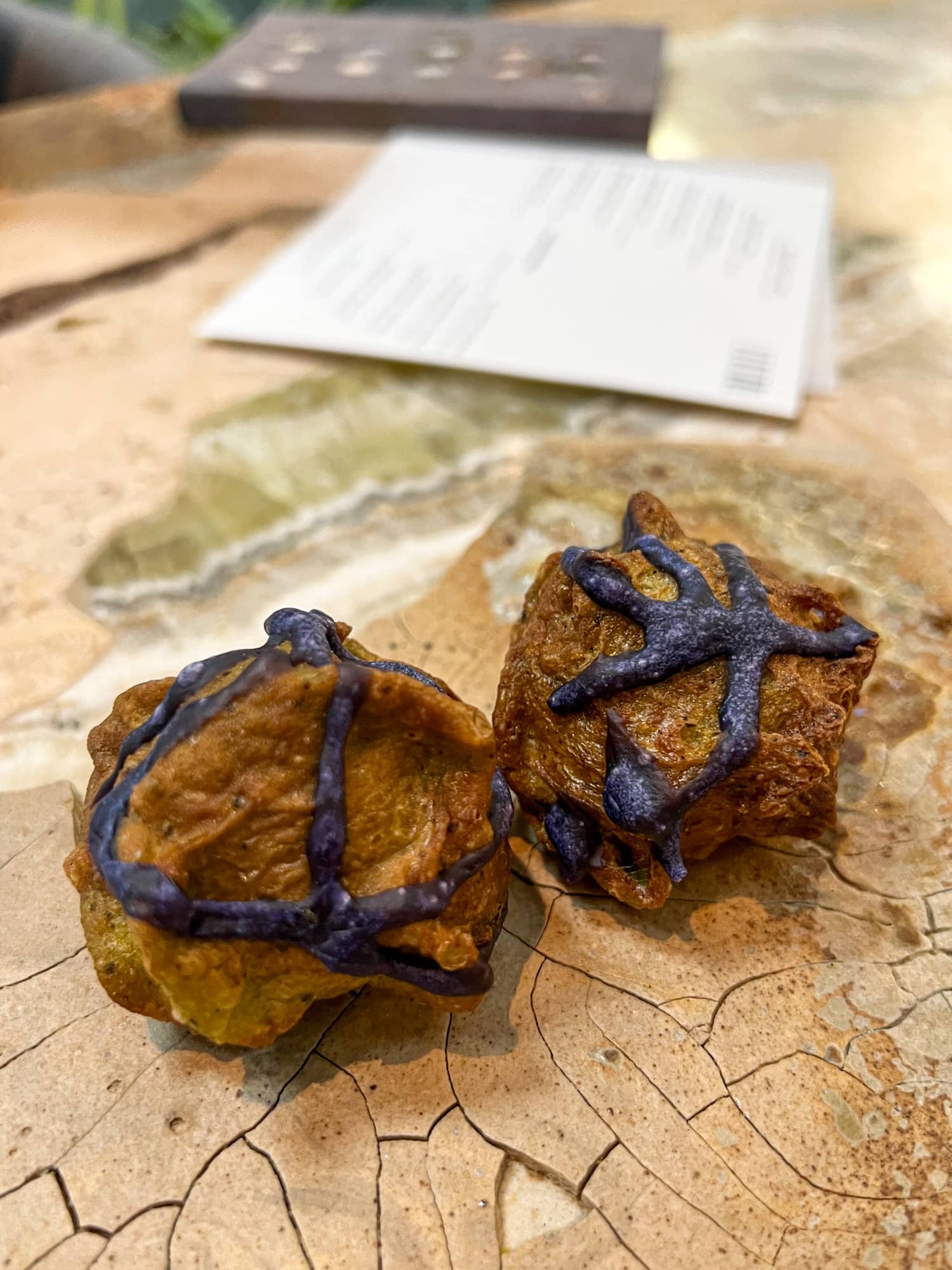 I preferred the papa voladora to the cocona, a small yellow tropical fruit from the Amazon that was slightly charred outside. The smoky flavor was a little bit strong for me.
4. Extreme Altitude (4,200 Meters)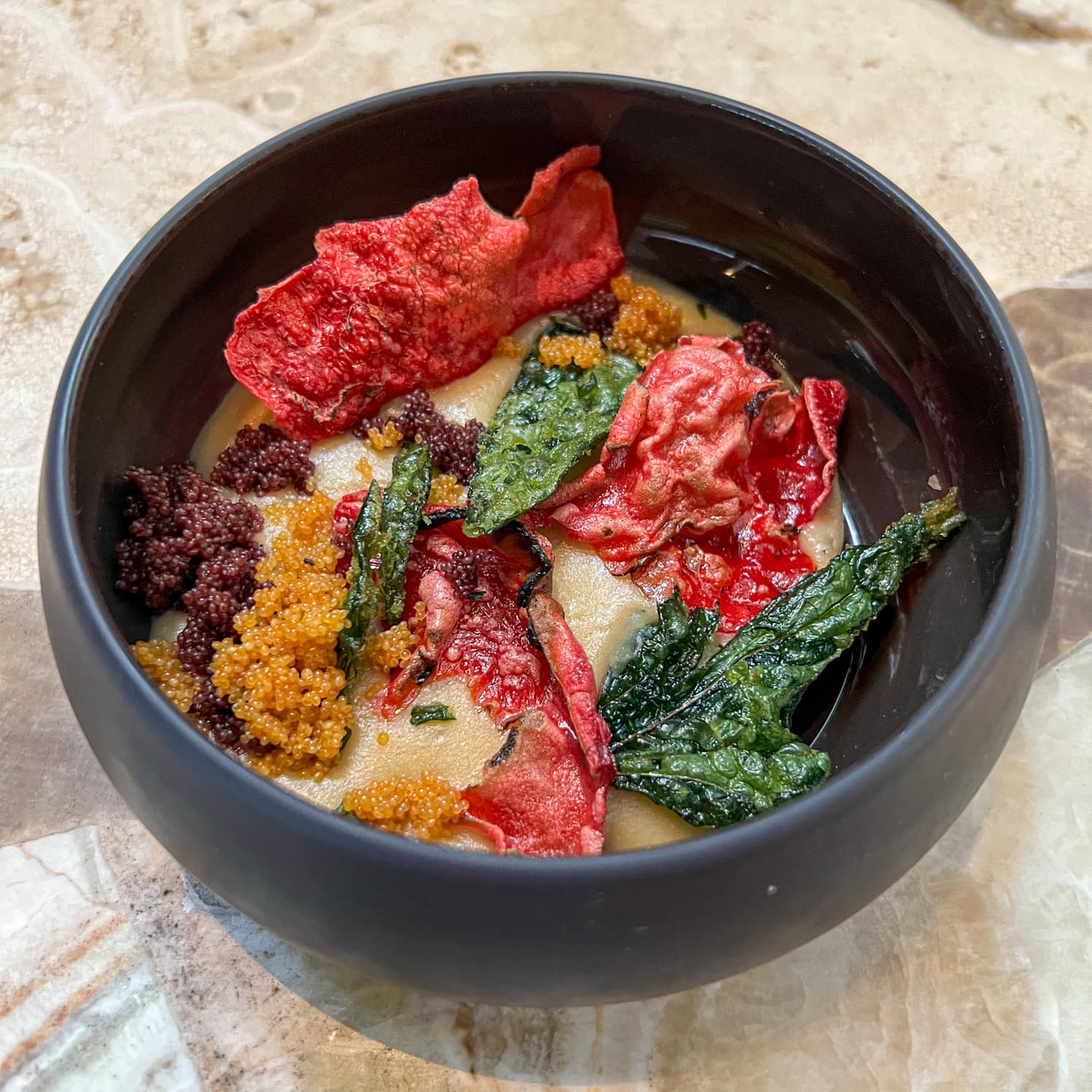 The Mundo Mater menu at Central Restaurant in Lima maxed out at 4,200 meters (13,779 feet) above sea level with a colorful bowl of corn, kiwicha, and sweet potato leaf.
Warm corn porridge is covered in kiwicha, caviar-like balls that belong to the quinoa family, and crispy red and green potato leaves.
This was one of the prettiest and most colorful dishes of the afternoon. Kel noted it was the mixing of textures that was so pleasing to the tongue.
5. Warm Sea Current (-15 Meters)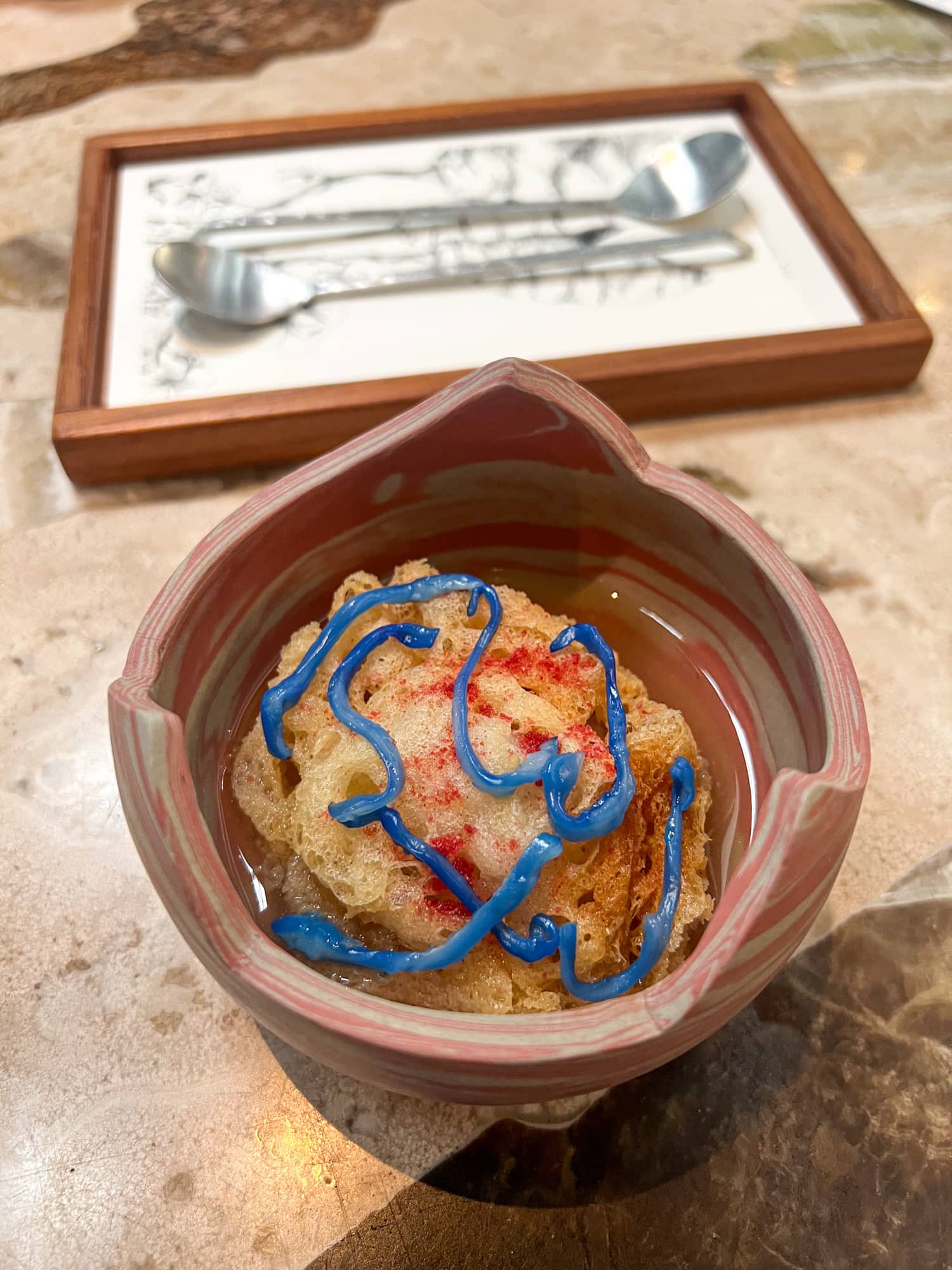 A third of the way through the menu, a pair of silver spoons was provided, and we each received a two-piece clay sphere.
Removing the top revealed thin blue-dyed razor clams strung across fried murike grouper. Vongole is Italian for clams, so there must've been some in there, too!
6. Amazonian Connection (148 Meters)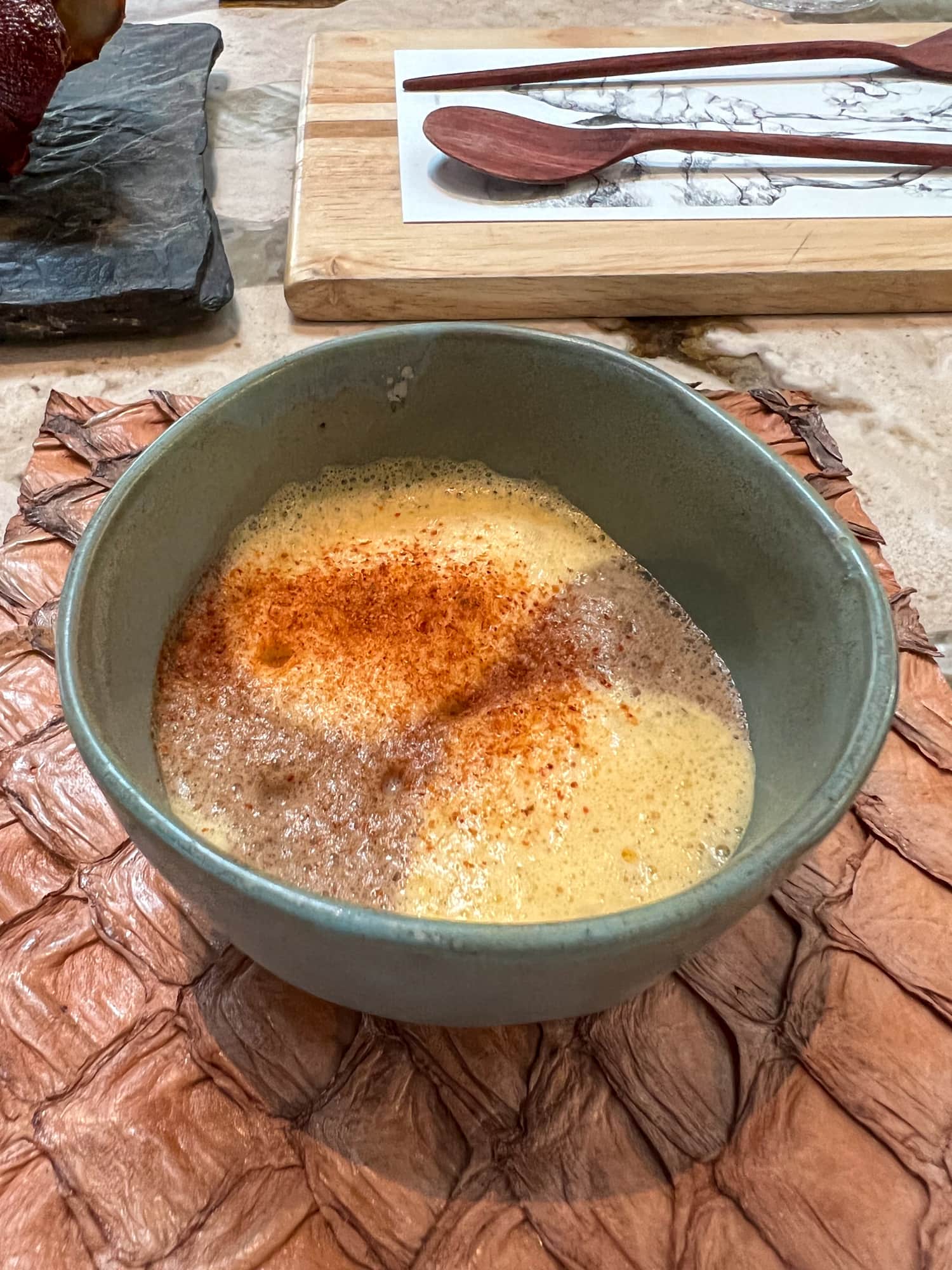 Our sixth course brought chunks of arapaima with cassava in a foamy, two-toned broth.
Arapaima, also known as "paiche" in Peru, is one of the largest freshwater fish in the world, weighing in at up to 440 pounds (200 kilograms).
These incredible fish can grow up to 10 feet (3 meters) long and live for 20 years.
While I liked the taste of the grouper before it, the Amazon River fish was not for me.
7. Blue-Green Ocean (0 Meters)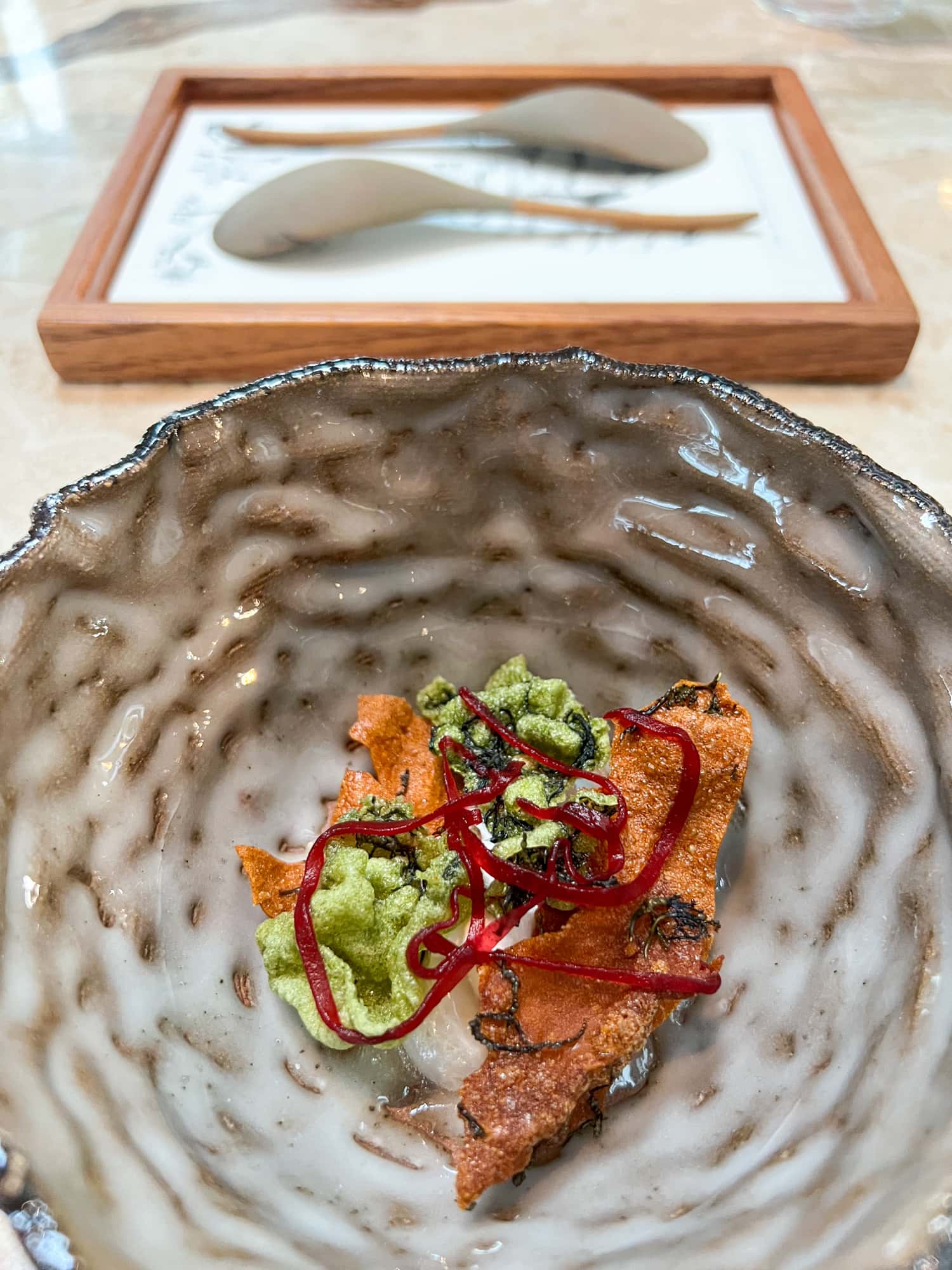 Moving on to lucky number seven, we were given a delicious scallop dish.
The potato-chip-like orange and green crisps are made from the scallops themselves, while a string of cucumber was dyed red with beet juice to use as a garnish.
8. Sea Brain Algae (-5 Meters)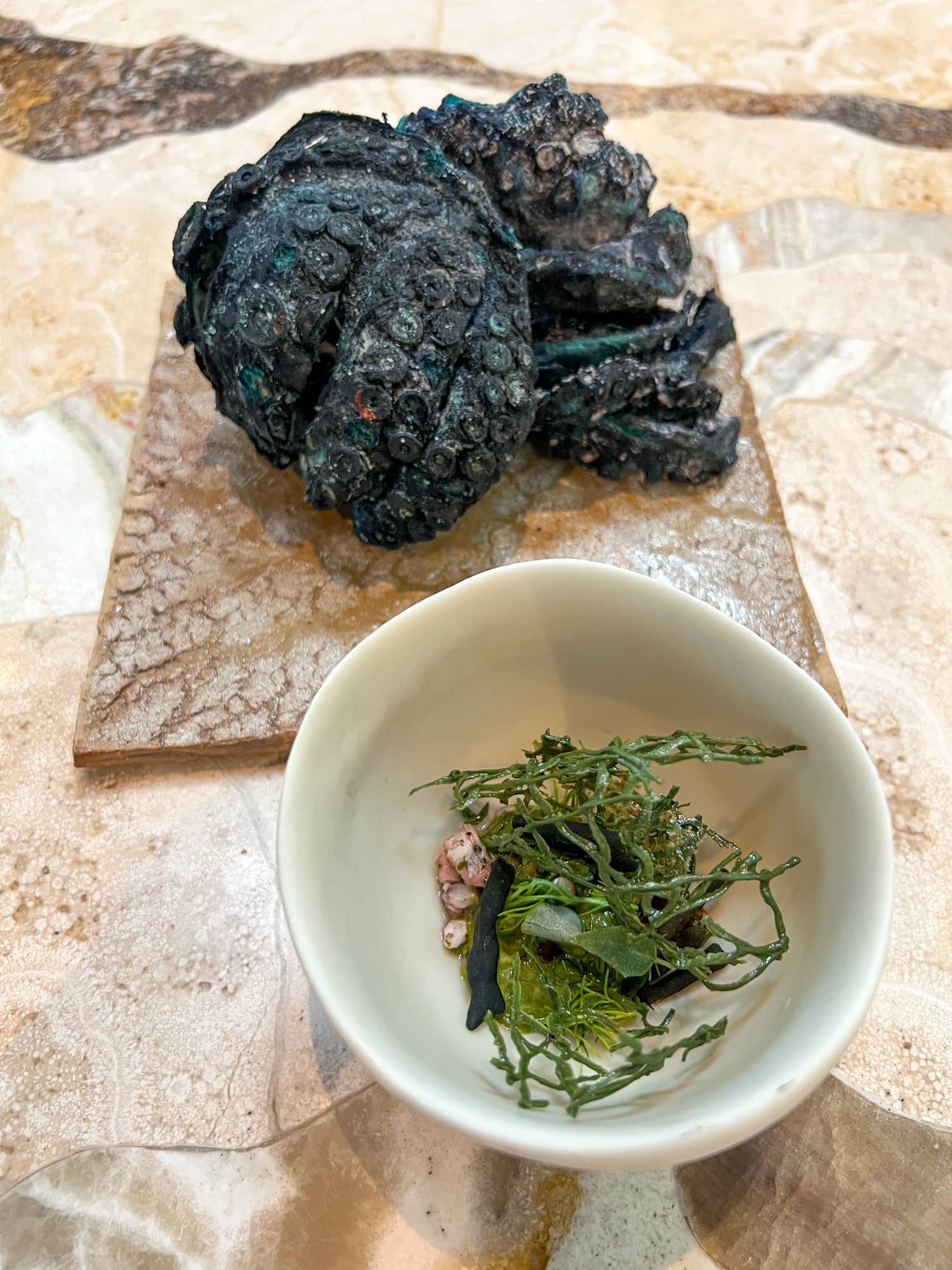 Now a little more than halfway through the Mundo Mater menu, we arrived at the octopus, a mollusk I have a lot more respect for after watching My Octopus Teacher.
The giant blackened octopus brought to our table was just for show.
Our course was limited to a small portion of diced octopus, topped with green sea lettuce and codium, a type of seaweed. I felt this dish was just okay.
9. Mil Centro (3,750 Meters)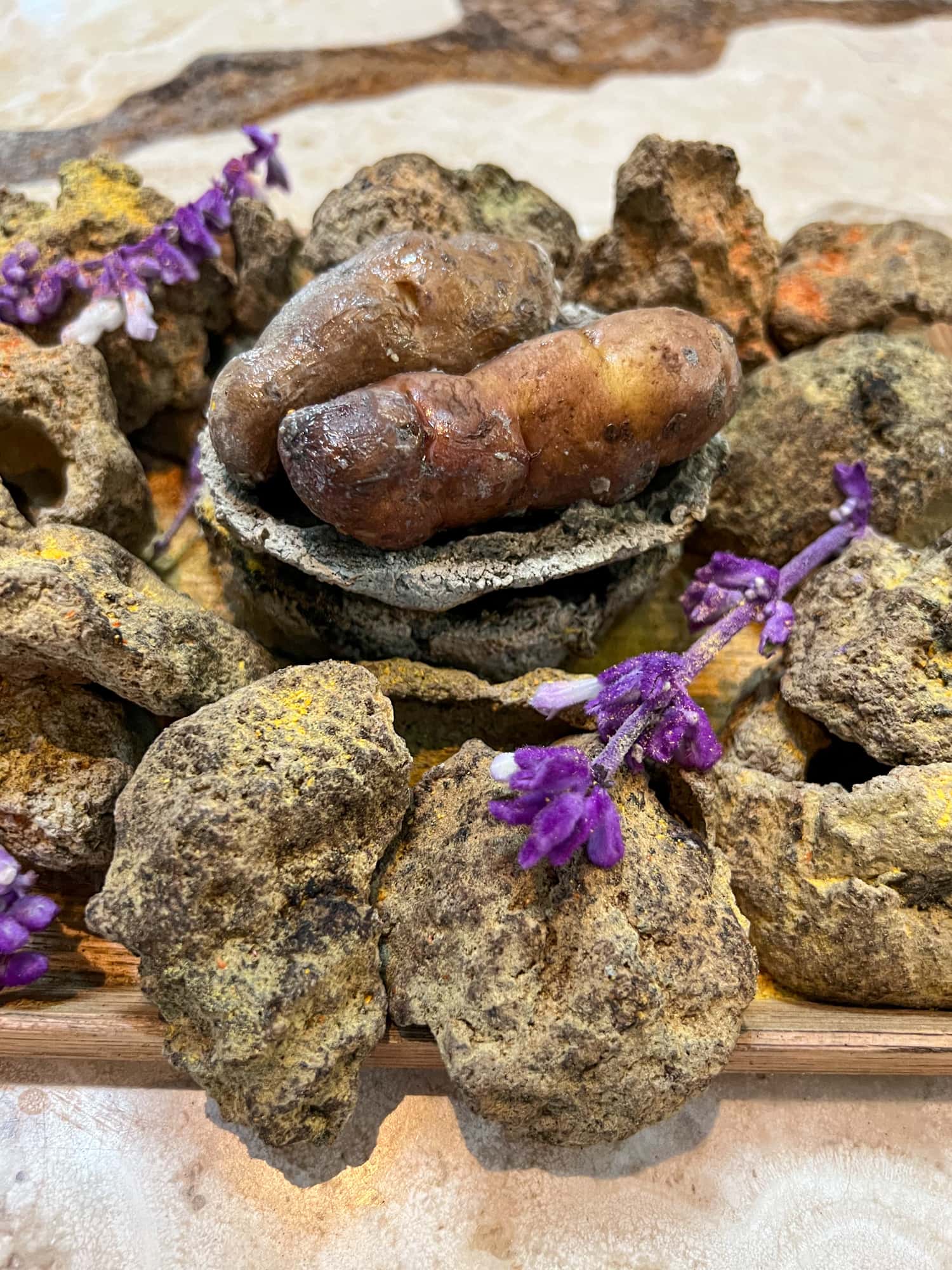 Peru is home to thousands of varieties of potatoes, a far cry from the half-dozen that make up most of the consumption in the United States.
In the Mil Centro course, we were given a pair of piping hot potatoes on a tray of rocks, reflecting the traditional cooking method under a mound of rock and soil.
The Peruvian potatoes were served with a thick, green dipping sauce, and we ate them with our hands.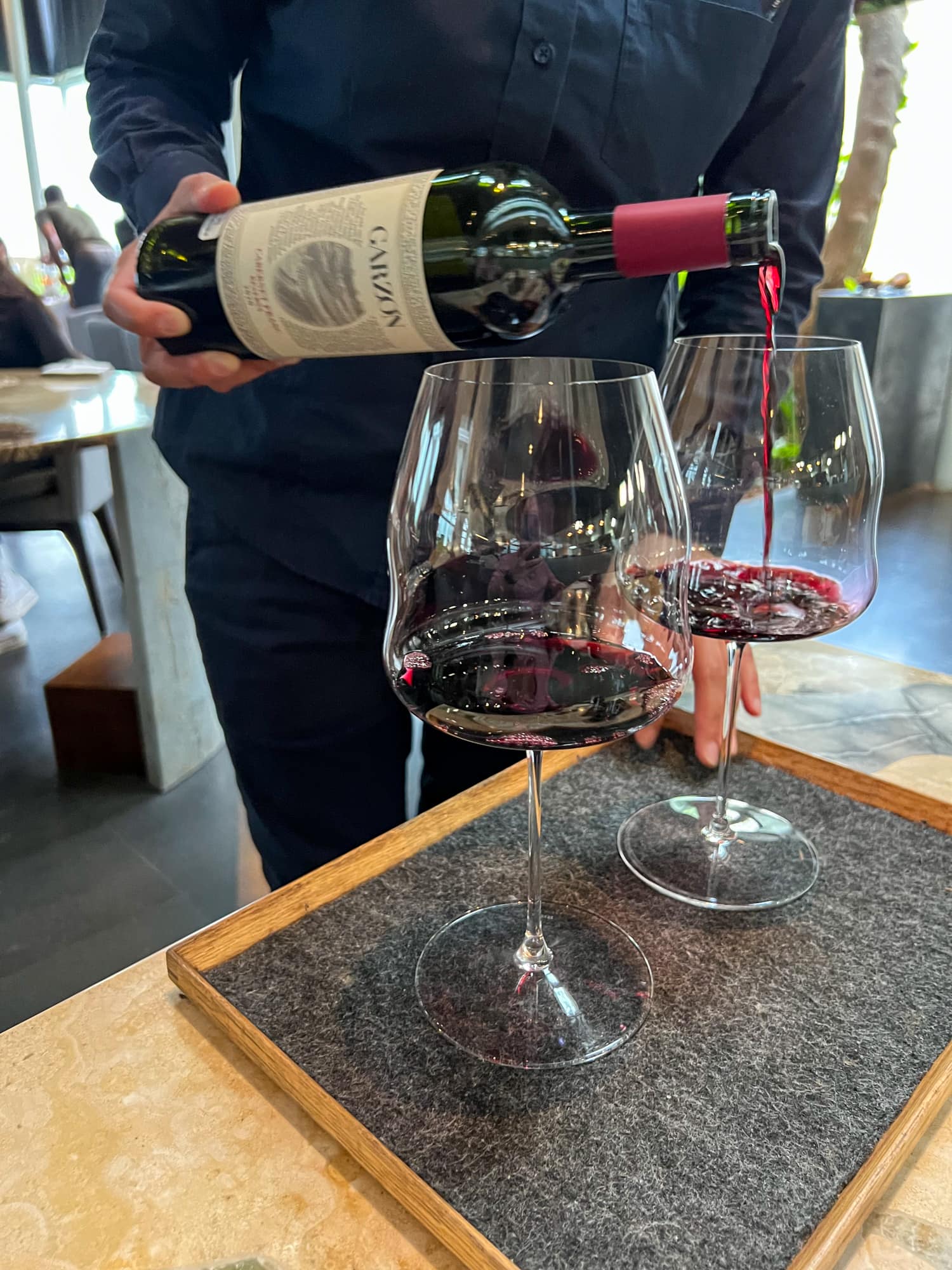 The name for this course, Mil Centro, is from the restaurant by chefs Martinez and Leon located at the Moray ruins in the Andes Mountains (elevation 3,568 meters / 11,706 feet).
The fine dining restaurant is accessible via Cusco, and while Kel and I didn't have time to dine there on this trip, I hope to get there one day.
At this point in our meal, we were given complimentary glasses of Garzon Cabernet Franc Reserve 2020 as a thank-you for returning to Central Restaurant in Lima.
10. Amazonian Water (190 Meters)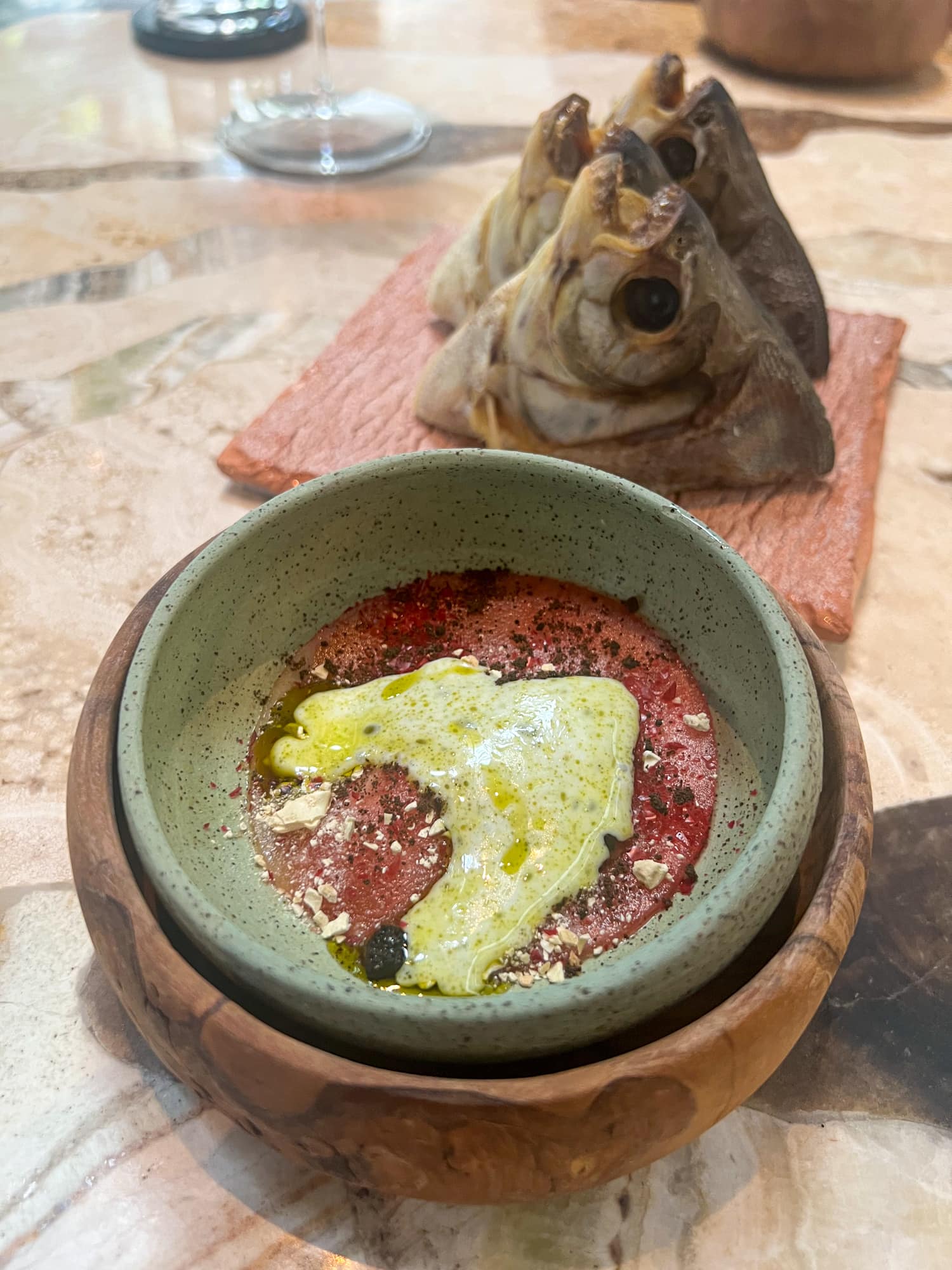 Our wonderful lunch continued with another native ingredient from the Amazon, pacu (piranha), with watermelon and coca leaf.
This was my first taste of piranha, and while I didn't pick up on a distinct flavor for this feisty freshwater fish, it was still one of my favorite dishes.
I will keep an eye out for the filet of piranha the next time I'm in the Amazon.
11. Andean Forest (2,700 Meters)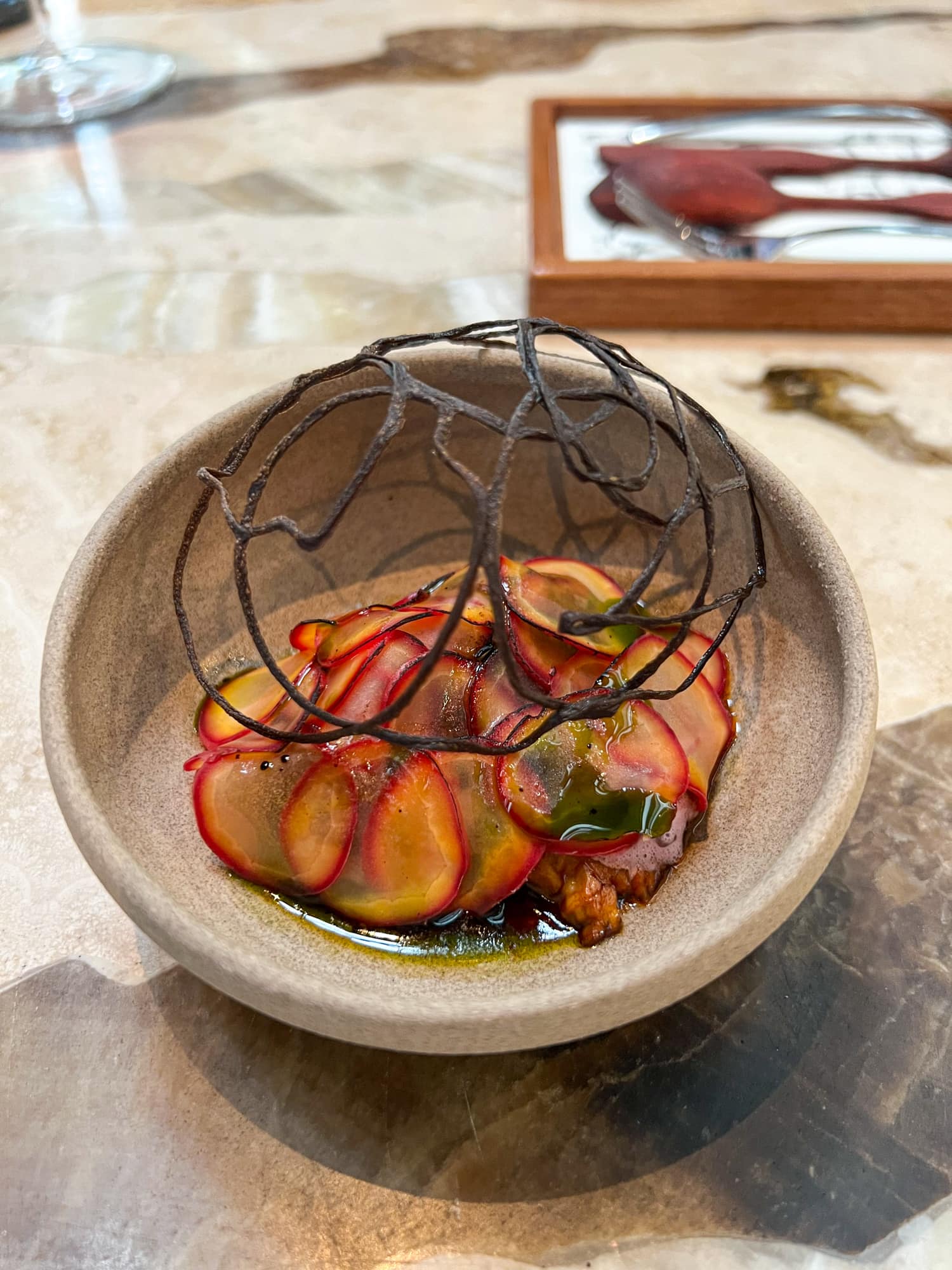 The last savory dish on the 14-course Mundo Mater menu was pork belly, a favorite for both Kel and me.
Colorful red and yellow slices of olluco, an Andean tuber whose name is derived from the Quechua "ulluco," meaning "tuber," surround tender pork belly in a sweet sauce.
The dark web-like structure above it is made from dried callampa (mushroom).
12. Sacred Valley (2,800 Meters)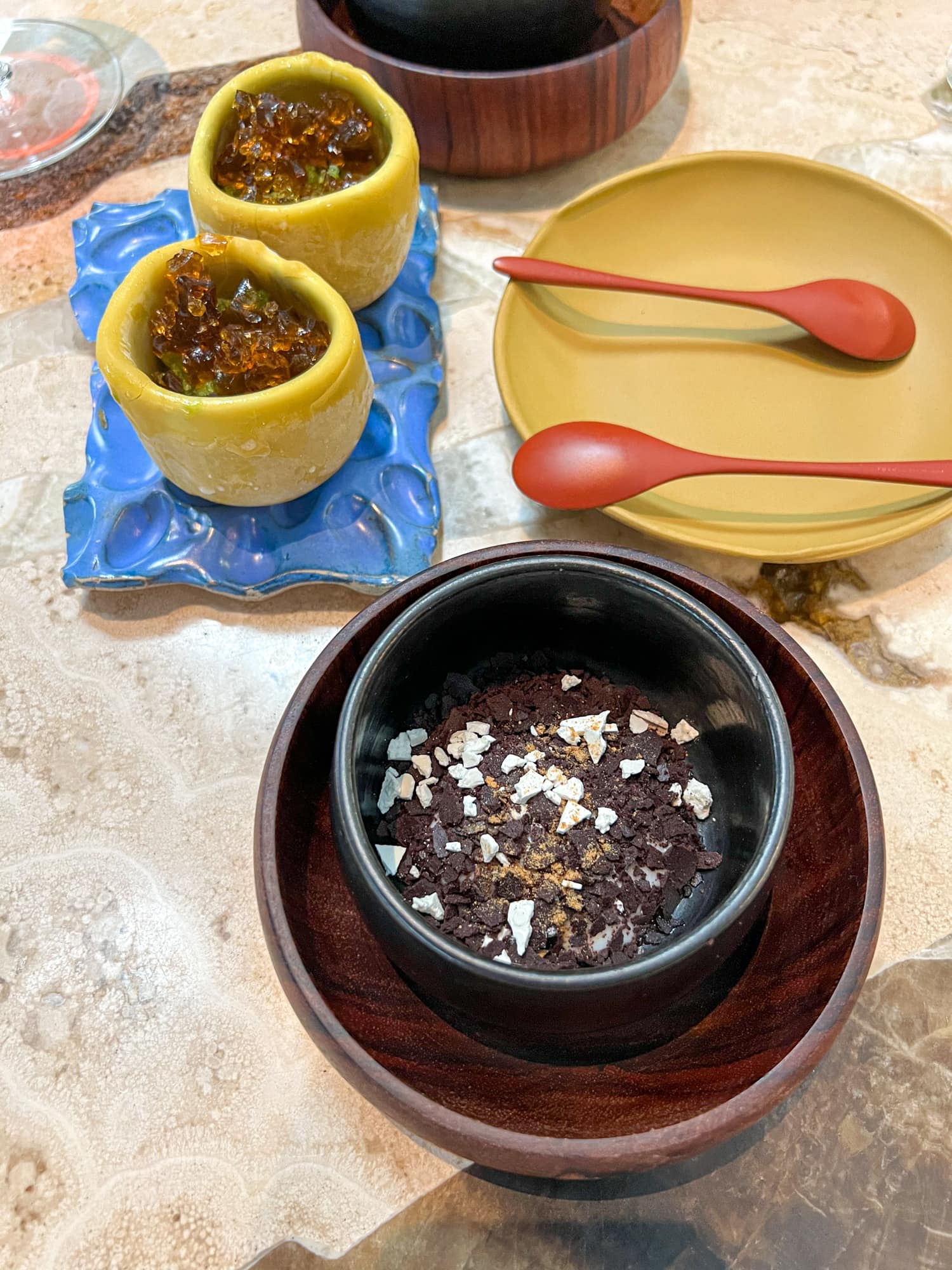 The main ingredients in our first dessert course were chirimoya (a fruit-bearing plant related to sweetsop and soursop), Andean verbena (a flowering plant used to make tea), and cauliflower.
Underneath the dried bits of apple and cauliflower was a sweet purple pudding.
13. Moray (3,600 Meters)
The thirteenth course was an icy green dessert with jelly pieces, which Kel likened to a granita.
Its main ingredients were cabuya, a plant previously used by the Incas, muna leaf (a mint-like herb), and qjolle.
14. Chuncho Cacao (1,800 Meters)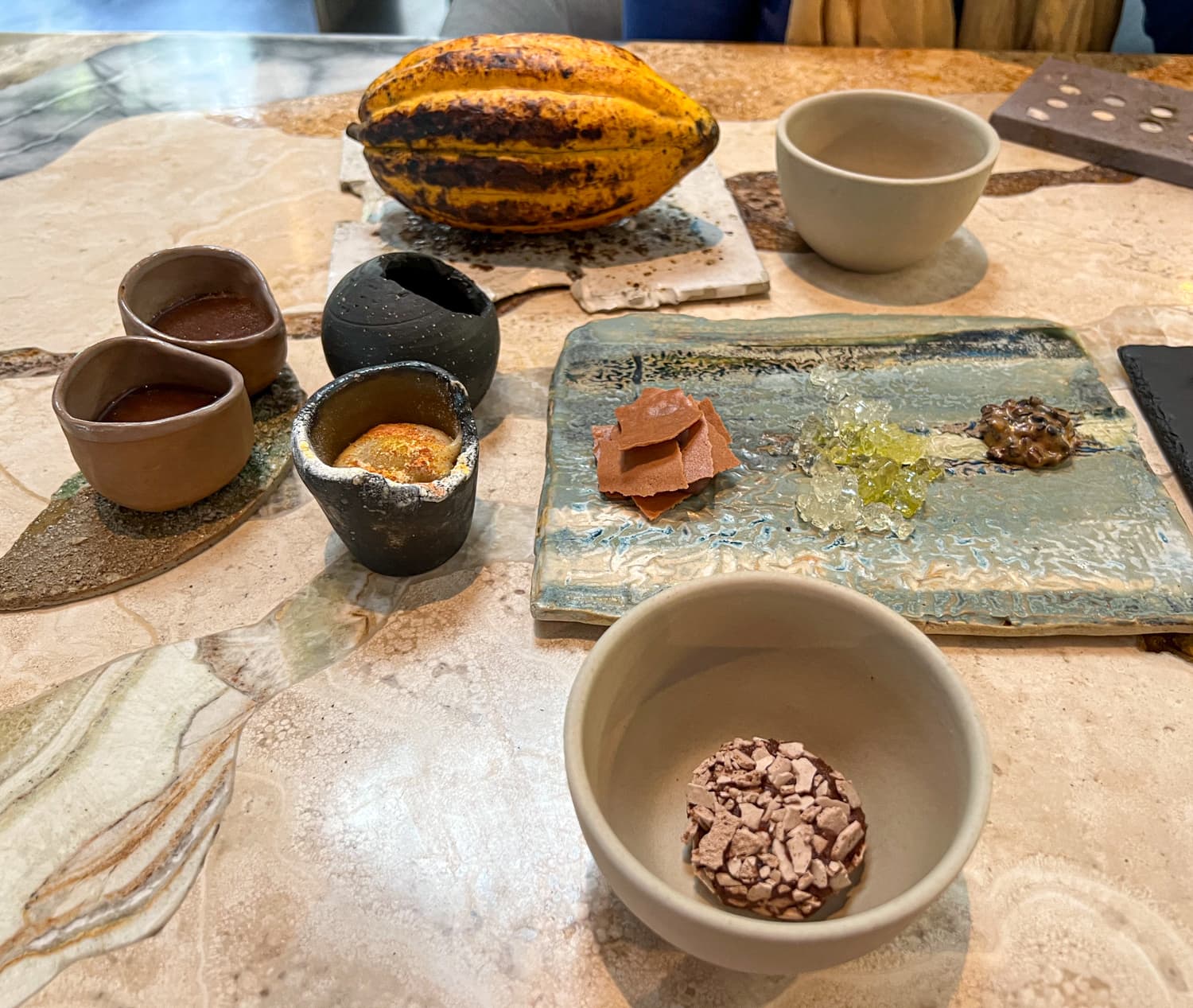 The grand finale featured five ways to enjoy cacao, including preparations with mucilage (the white, fleshy substance around the cocoa beans), seeds, and bits of the cacao shell to minimize waste.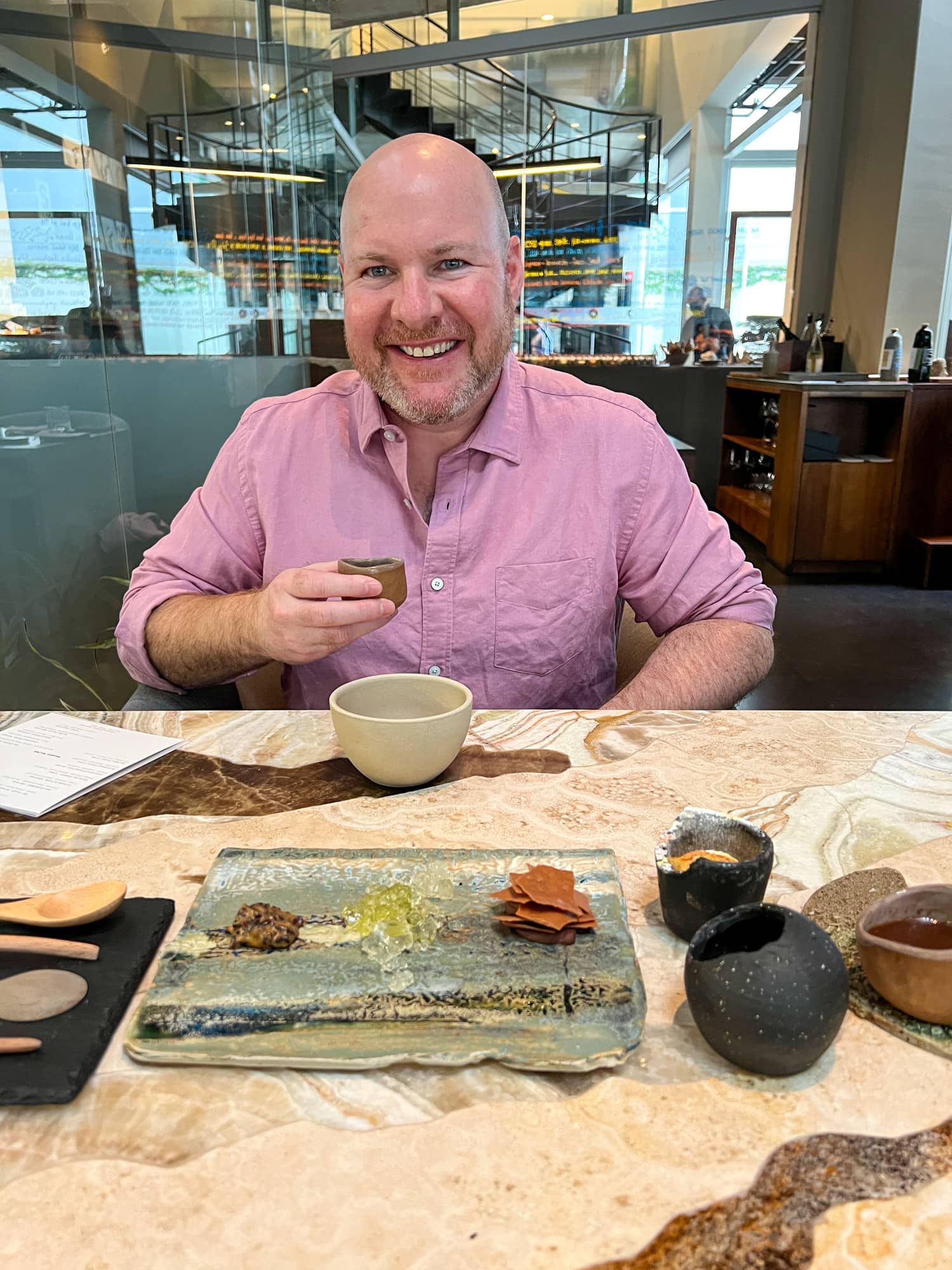 But my favorite option was the small black sphere with what tasted and felt like pure, liquified dark chocolate. It was an entertaining finish to a fantastic lunch.
I ordered an herbal infusion to linger at our table a little longer before paying the bill for two.
How much did lunch at Central Restaurant in Lima cost?
About $500 for two people choosing the Mundo Mater menu, a cocktail each, and one tea.
The tasting menus include tax and a 10% service charge; however, I added a tip for the superb service we received.
Doing a wine pairing, ordering a bottle of wine, or more individual drinks would raise the price further.
Central Restaurant Tour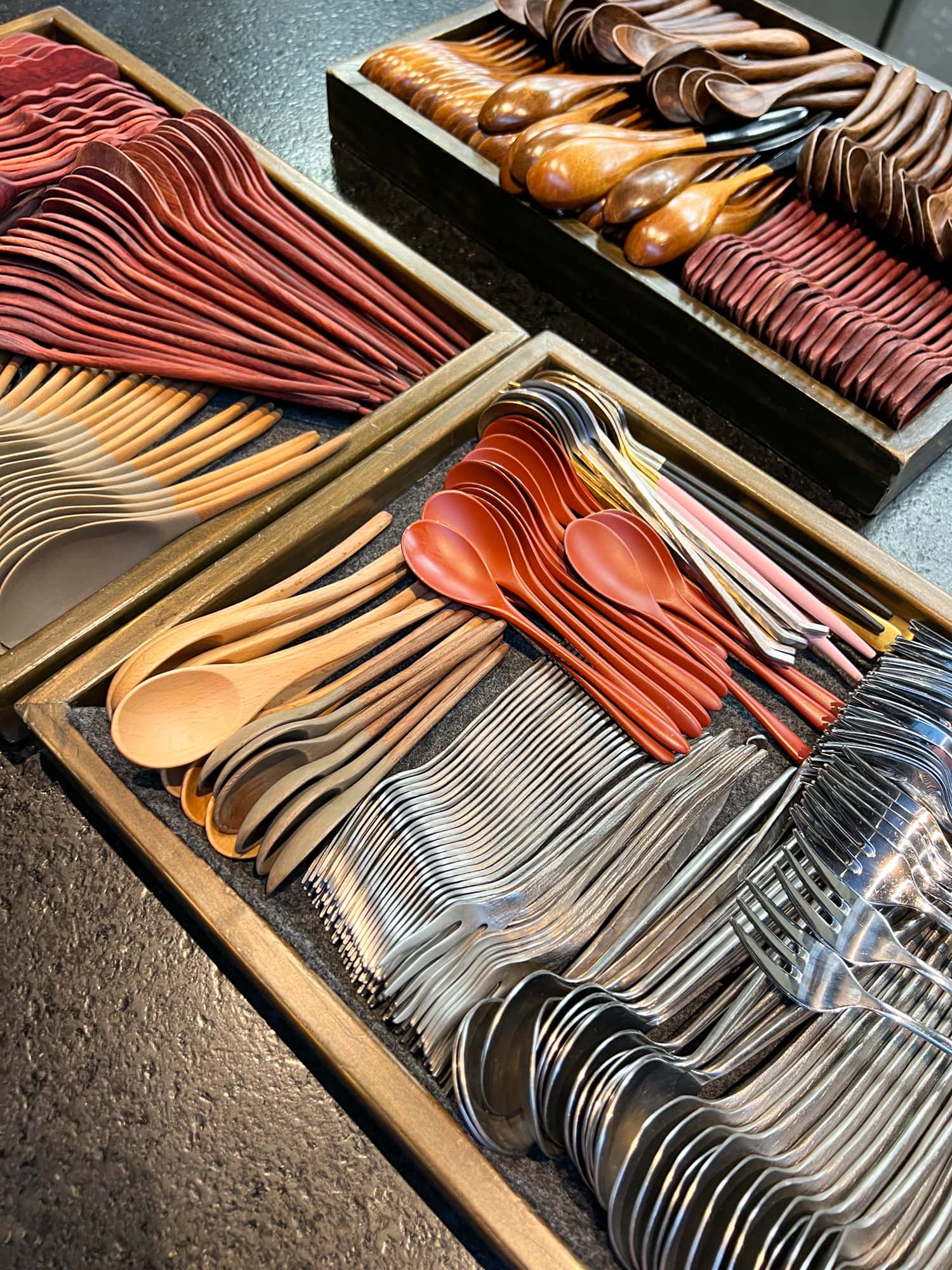 At the end of my first visit to Central, I received a brief tour of the restaurant, so I inquired about doing the same after my second visit.
Since it was nearing the end of lunch service, the kitchen had already been cleaned and was practically empty.
One of the staff was made available to give us the tour, which began on the other side of the glass window we sat next to that afternoon.
The assortment of cutlery we used was clean and ready for dinner guests.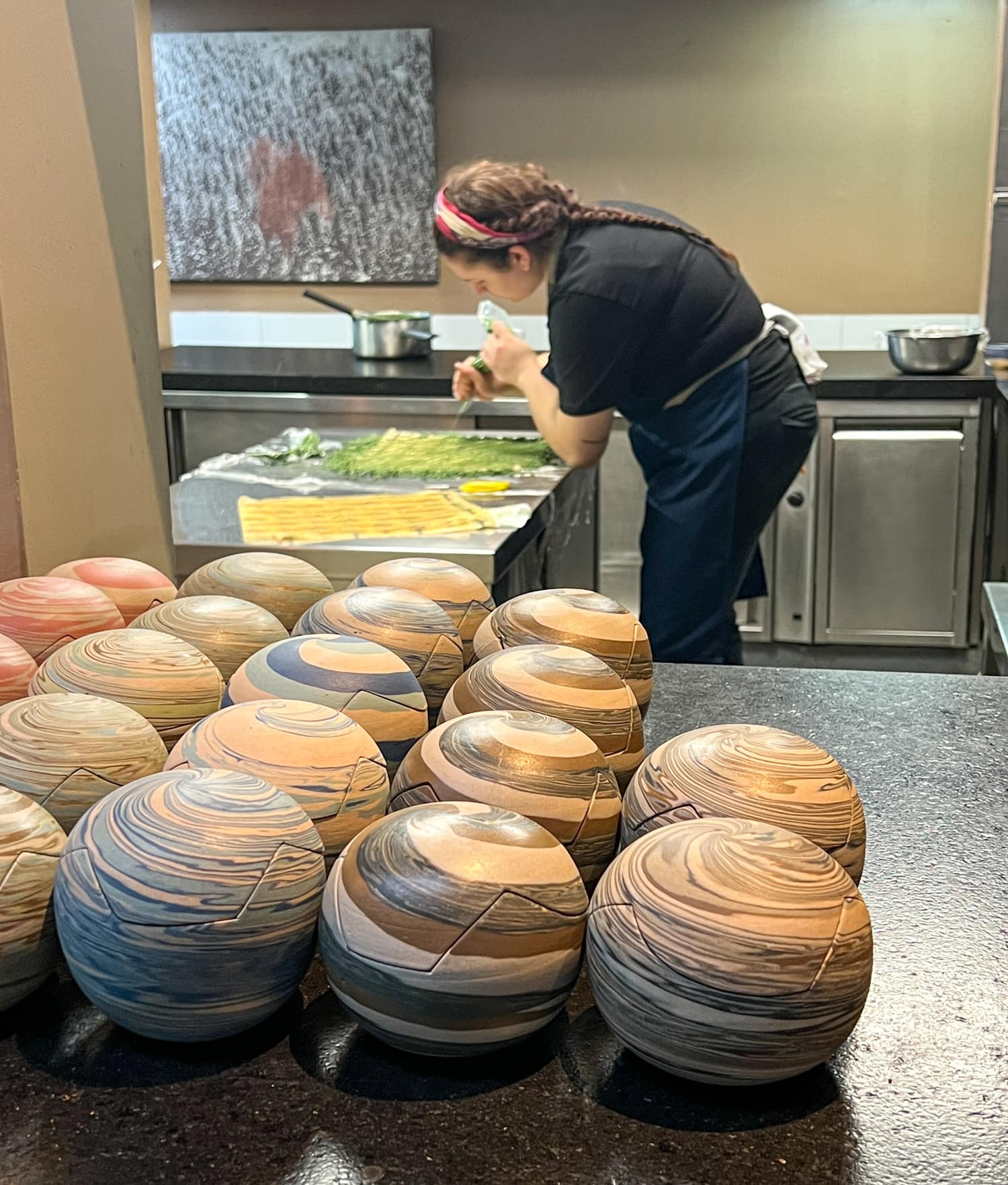 We met a Bolivian chef who began working at Central by way of New York City.
And we saw those swirly clay spheres used to serve the bite of shrimp in our second course and, later, the grouper with razor clams I enjoyed.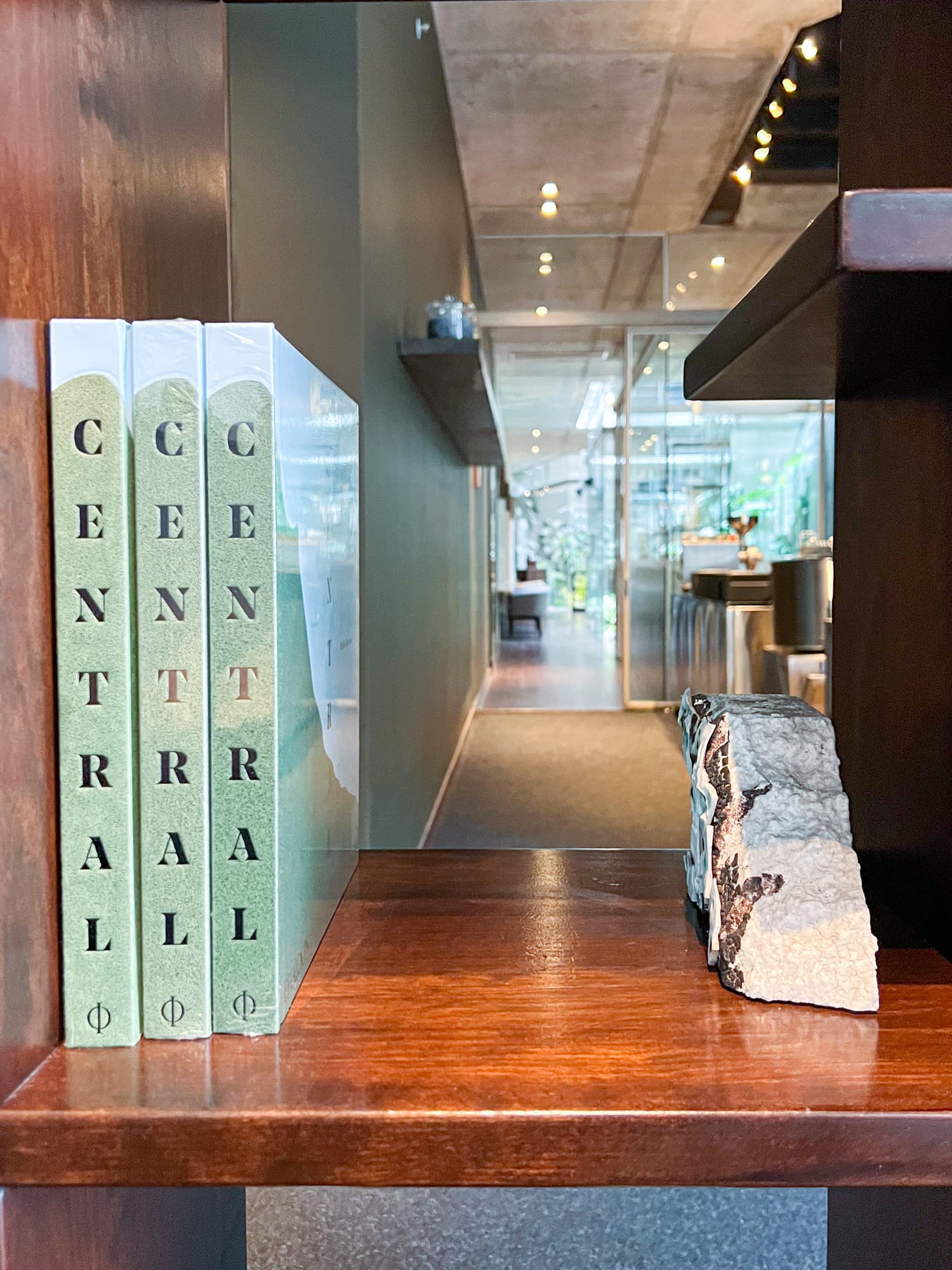 As we walked around the corner, there was a glass-encased room that our guide said was previously used for guests (but had since been re-purposed as an office for the research done by Mater Iniciativa).
Vials of herbs and other ingredients from around Peru were visible on a table.
Past a bookcase holding copies of the hardcover Central cookbook by chef Virgilio Martinez and Nicholas Gill, there was the Cacao Master.
Related: Modern Peruvian Food at Mayta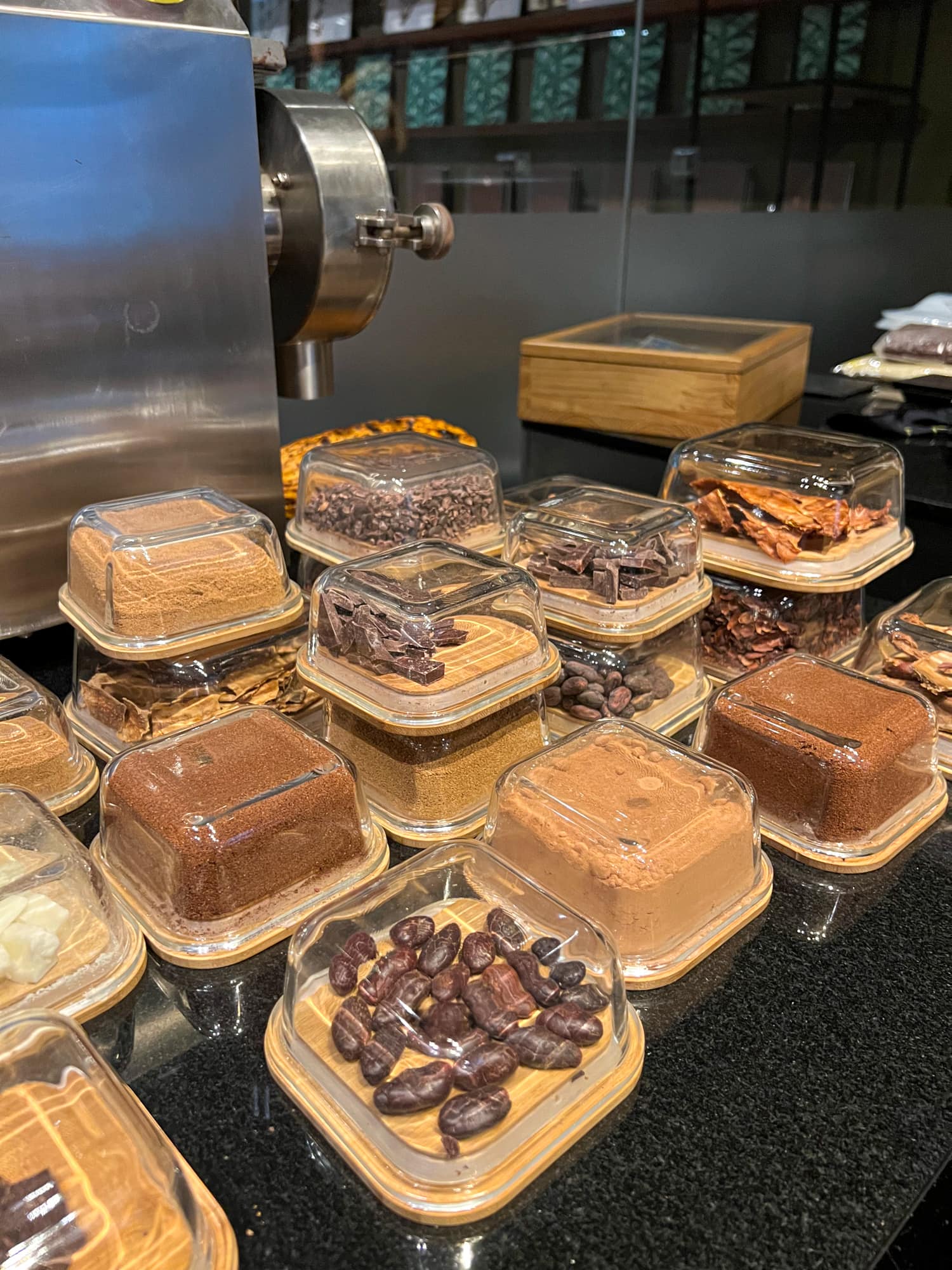 At least, that's how he was introduced to us at his station, which included machines for grinding cacao and what appeared to be lots of samples.
After chatting with him, we saw the back dining room with a kitchen used during dinner service.
Kjolle
We also walked upstairs to see chef Pia Leon's Kjolle restaurant, a passion project she opened in 2018 at the same time Central relocated to Barranco.
For her continued work at both restaurants, plus Mil in the Sacred Valley, Leon received The World's Best Female Chef Award in 2021.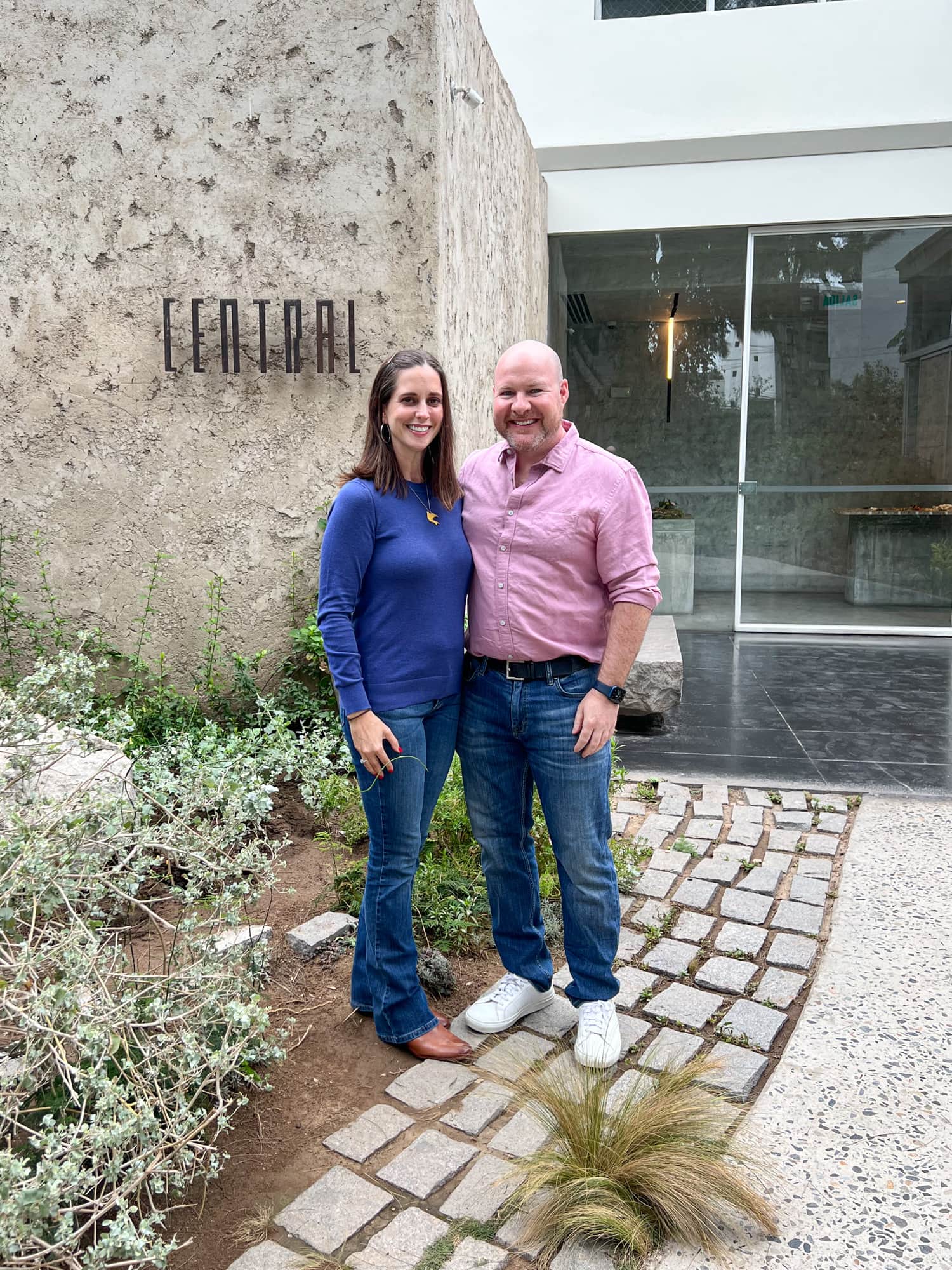 Our tour and culinary journey at Central Restaurant in Lima concluded with a photo near the entrance and a second walk through the garden.
Kel and I were fascinated by the team's exploration of entire ecosystems and the unique ingredients they bring back to Lima.
We guarantee lunch or dinner at Central will be one of the most memorable meals of your life.
Plan Your Visit
Address: Av. Pedro de Osma 301, Barranco, Lima, Peru
Dress: Smart casual
Reservations: Yes. Getting a table as a walk-in is unlikely.
Website: central.com.pe