In downtown Los Angeles' Arts District, Damian offers modern Mexican food by chef Enrique Olvera.
I've been a fan of Olvera since dining at his flagship restaurant, Pujol, in Mexico City nearly ten years ago. Later, I enjoyed Cosme in New York City, too.
When the opportunity to revisit Los Angeles arose recently, I was excited to check out Olvera's latest venture.
Chef Olvera is the rare owner to have two places on the World's 50 Best Restaurants list (at the same time) and has become a global ambassador for Mexican culture.
He tapped Jesus Cervantes (nicknamed "Chuy") as the Chef de Cuisine.
The El Paso, Texas native previously worked at La Condesa in Austin before joining the team at Cosme and later Atla.
I was curious to see how the inspiration and fresh ingredients of Baja California would serve them in LA.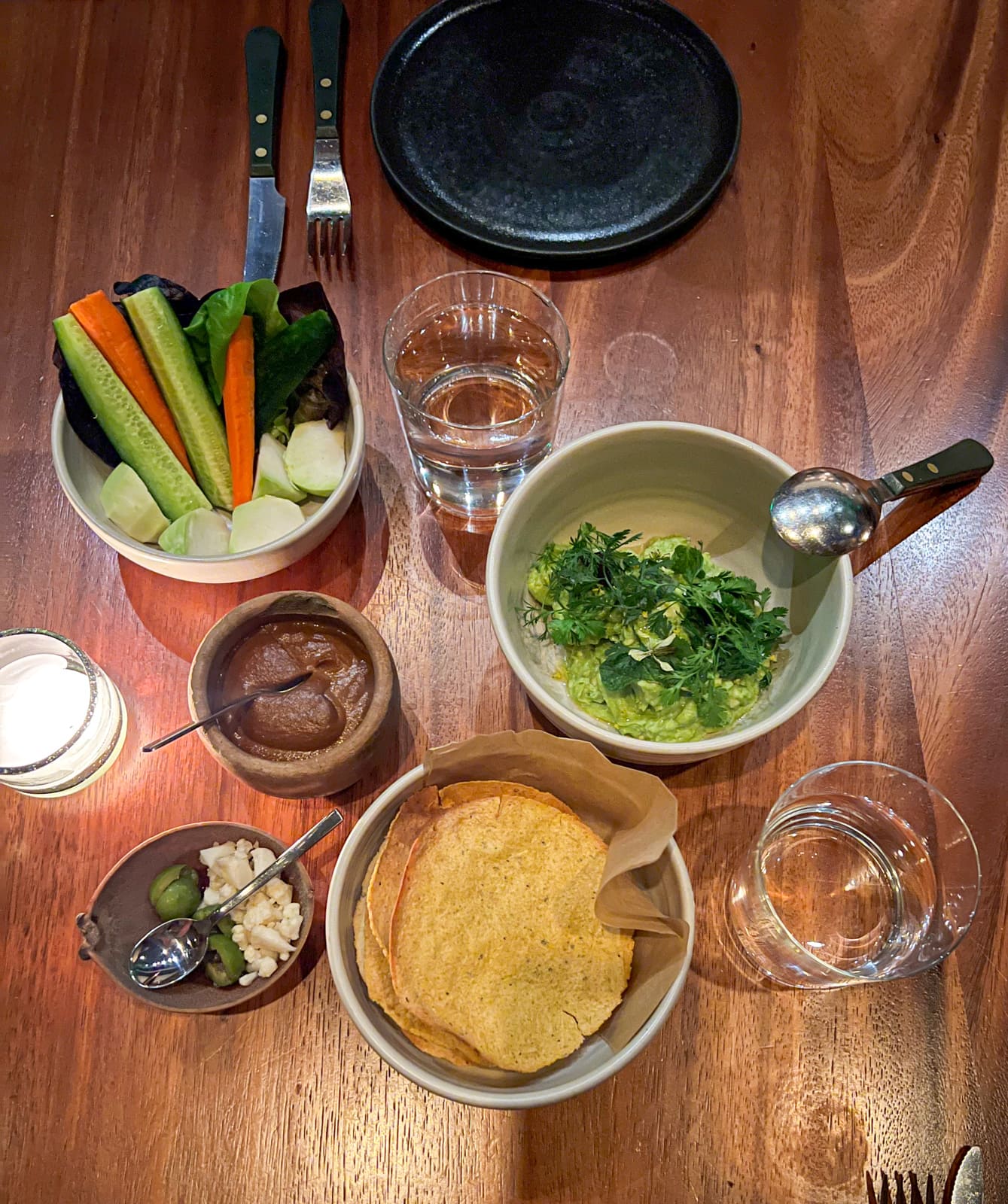 Dining at Damian
Kel and I arrived at Damian on time for our 7:30 p.m. dinner. It was a Thursday night, and the dining room was bustling.
The interior design by architect Alonso de Garay reflects the property's previous function as a warehouse.
Concrete floors, exposed brick walls, and visible ductwork run the length of the restaurant.
Pine wood accents and plenty of plants help soften the otherwise austere feeling of the space. The outdoor patio also features plenty of natural greenery.
We were seated at a two-person table opposite the concrete bar, which was nice for people-watching. But, dim lighting made it hard to discern details and the menu.
And I could quickly tell, between the chatter of customers, bartenders mixing drinks, and background music, that it would be hard for me to hear Kel.
Drink Menu
The beverage program at Damian in downtown Los Angeles is run by Jun Kwon, who hails from Mexico City, and previously worked with Olvera at Cosme.
The cocktail list features five margarita options, including classic, mezcal, and hot.
House cocktails include a paloma, Mamacita Que Bonita with sparkling wine from Willamette Valley, Oregon, and the gin-based Wake 'N Bake. Expect to pay from $18 to $21 per drink.
A curated wine list, including a few wines imported from Mexico, is also available.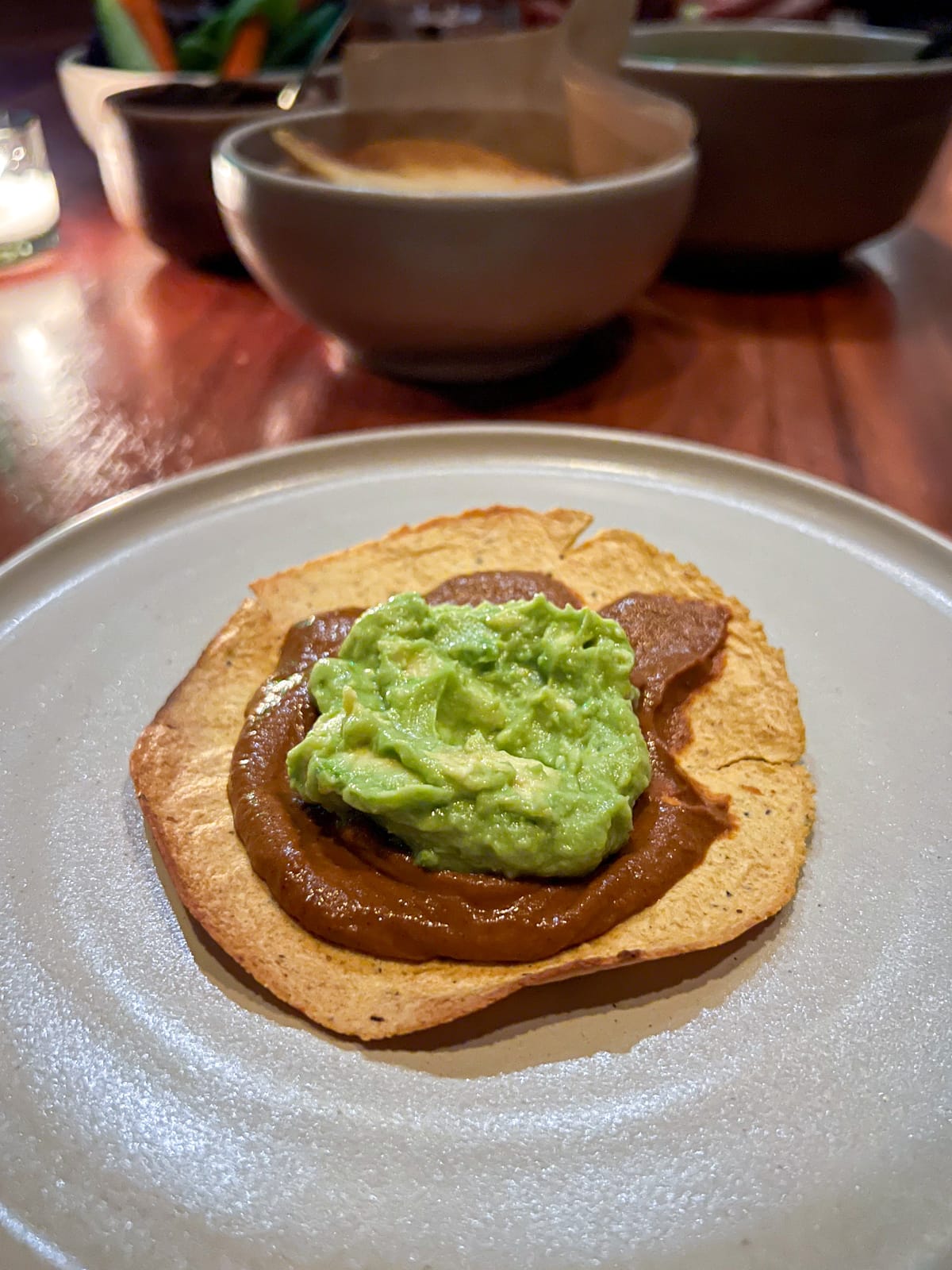 Small Plates
The menu at Damian is set up for sharing, an ideal scenario if you're going with a group of friends or family. Kel and I ordered the guacamole with herbs to start.
It arrived with a stack of homemade tortillas made of corn, brown mole, pickled vegetables, cucumber, and carrots (a substitute for tortillas for Kel).
Slathering the mole and guac on top of the crispy tortilla reminded me of Olvera's famous Mole Madre at Pujol.
Other noteworthy starters include the uni tostada with Caesar salad and Parmigiano, ceviche, and a tlayuda with zucchini, queso fresco, and shrimp shell.
A section of Damian's menu we didn't order from, between the small plates and entrees, includes fish tacos with nori and ponzu, spiny lobster, and a Swiss quesadilla with mushrooms, gruyere, and truffles.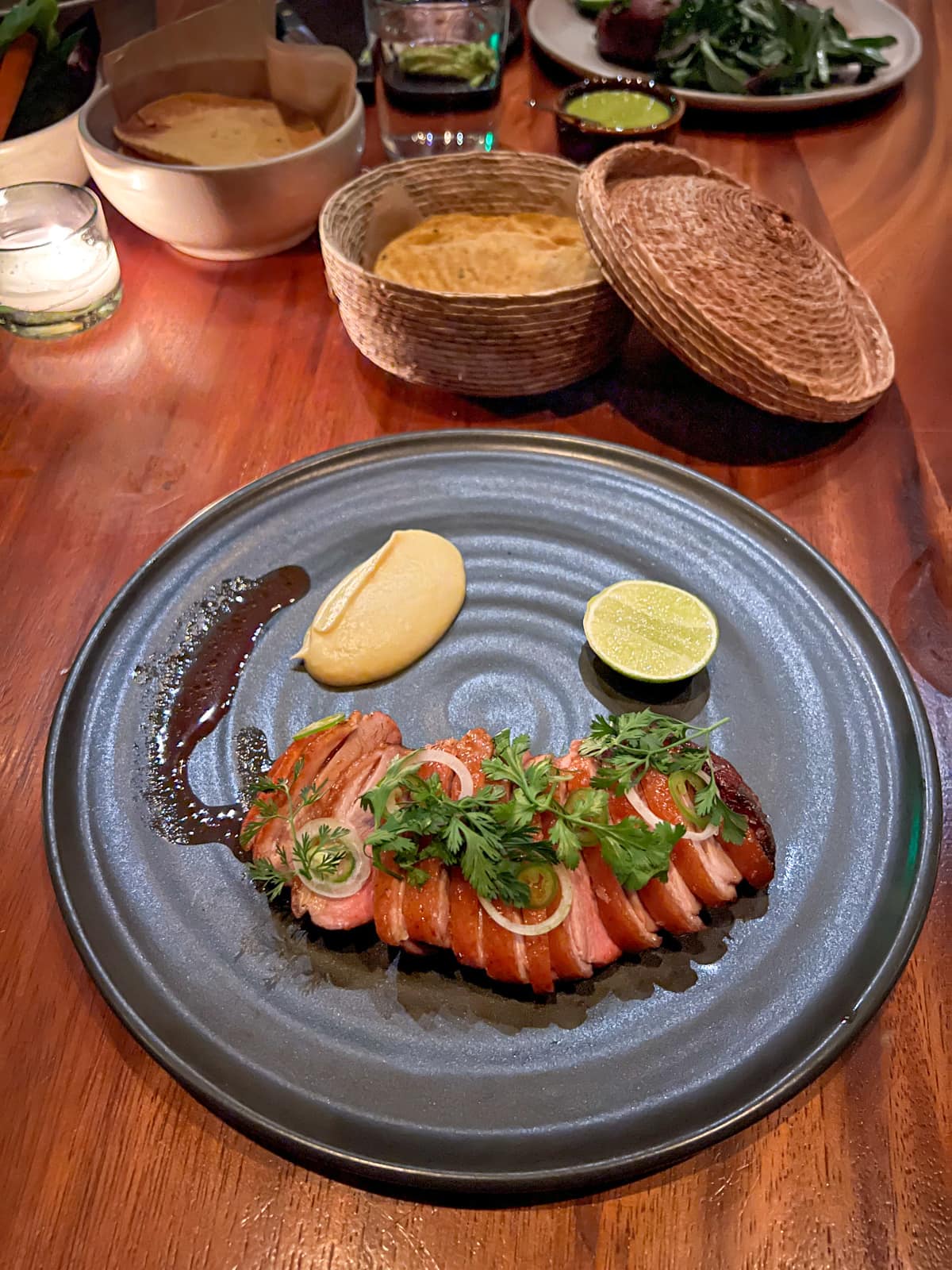 Large Plates
I chose the duck al pastor with pineapple, served with soft tortillas.
The pineapple puree was a refined way of incorporating the fruit's sweetness. The duck was tender and pink, with slightly crisp skin.
Kel had ordered the carne asada with sweet potato and bone marrow, a dish she enjoyed, as did I when she offered me a taste.
A dry-aged striped bass and ribs with kimchi rice are a few alternatives.
Related: Mr Chow Beverly Hills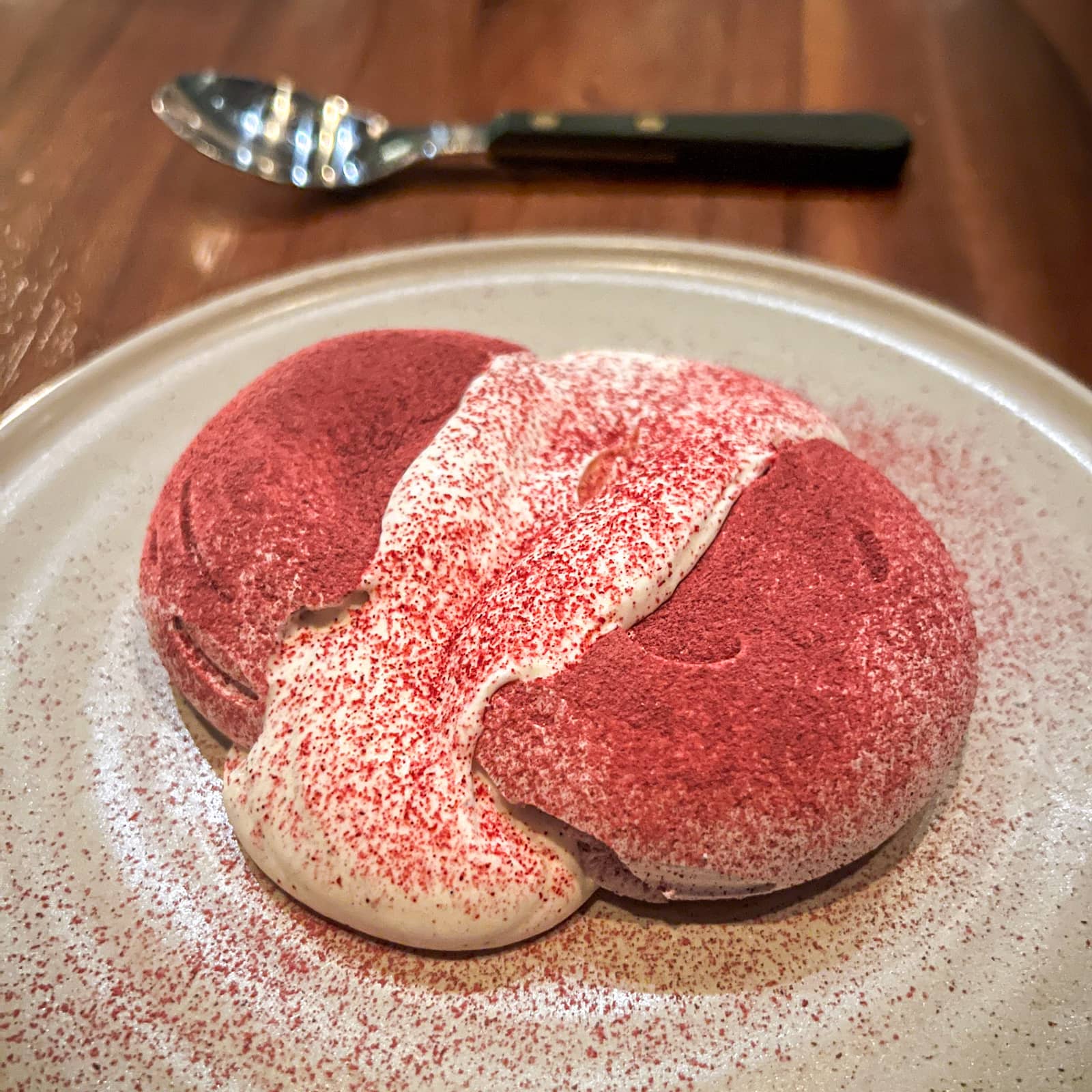 Desserts
I'd already looked ahead to the desserts on the menu with great anticipation.
I wanted to ensure I left room for the hibiscus meringue with strawberry, inspired by Cosme's Insta-famous corn husk meringue dessert.
Sure enough, Damian's Los Angeles version was presented much like the one at Cosme, although it appeared smaller.
It was just as satisfying to crack my spoon into the meringue here as at Damian's twin brother on the East Coast.
Expect the flavors will change with the seasons, as Damian prides itself on using fresh, locally-sourced ingredients.
Don't like meringue? Other options include a toasted coconut pie, a soft serve with hoja santa and raspberries, a pecan tamal with chocolate and plantain, and banana leaf flan.
Related: Brunch at Destroyer in Culver City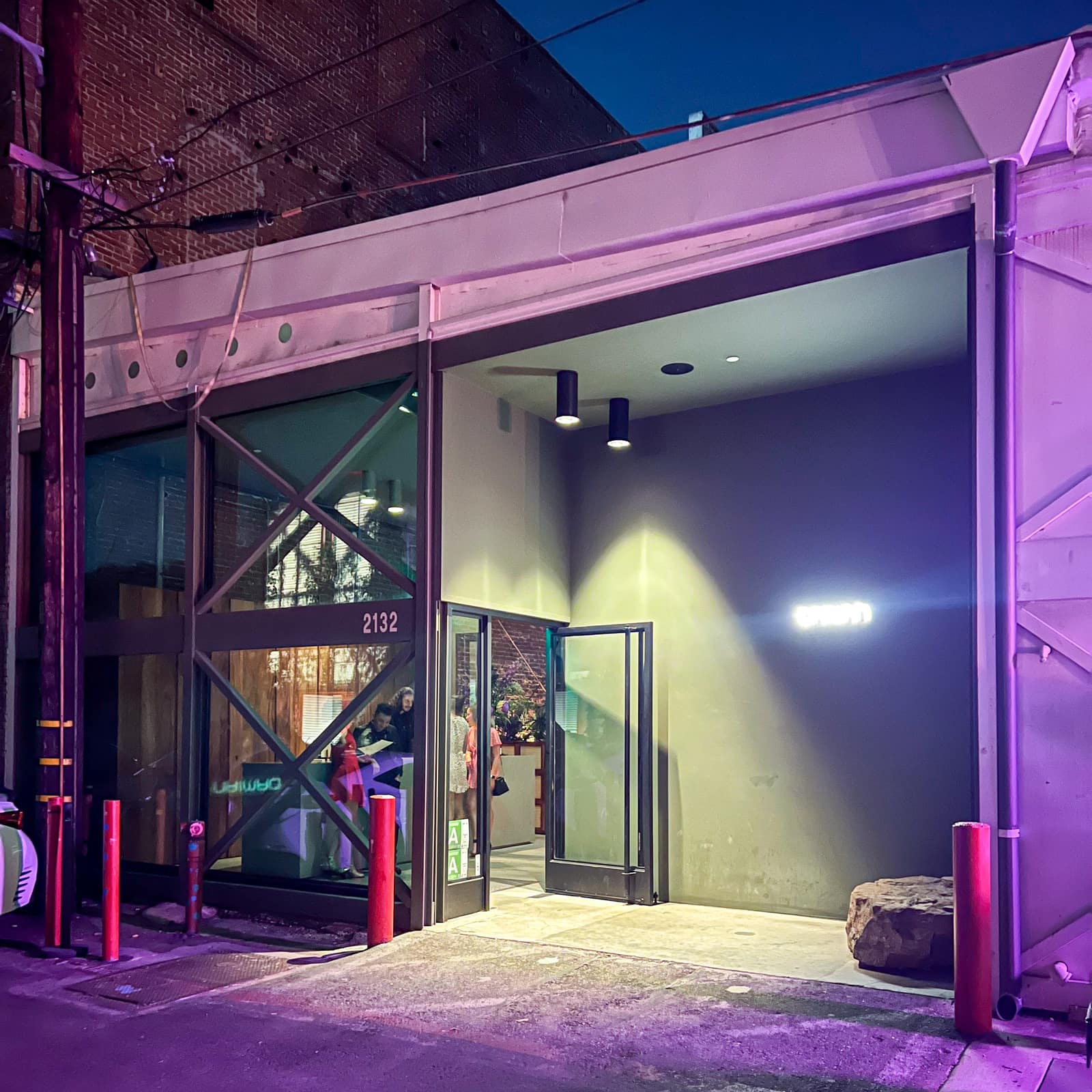 Overall, I enjoyed the Mexican cuisine at Damian in downtown Los Angeles, though it was too dark and loud for me.
I didn't look at the outdoor patio in the back, but it might have suited me better from the photos online.
Note: Chef Daniela Soto-Innes, who helped open Cosme in New York City, didn't have a role in Damian.
Visit Damian in Los Angeles
Address: 2132 E 7th Pl, Los Angeles
Hours: 5:30 p.m. to 10 p.m. Wednesday to Friday, 5 p.m. to 10 p.m. Saturday, and 5 p.m. to 9 p.m. Sunday
Dress Code: None specified, though I'd suggest smart casual.
Reservations: recommended — make a reservation