My epicurean adventures in Sonoma Valley concluded with a Viansa wine tasting at their hilltop winery.
Known as the "Summit of Sonoma" for its panoramic views of the surrounding hills, vineyards, and wetlands, Viansa Winery was a wonderful place to unwind.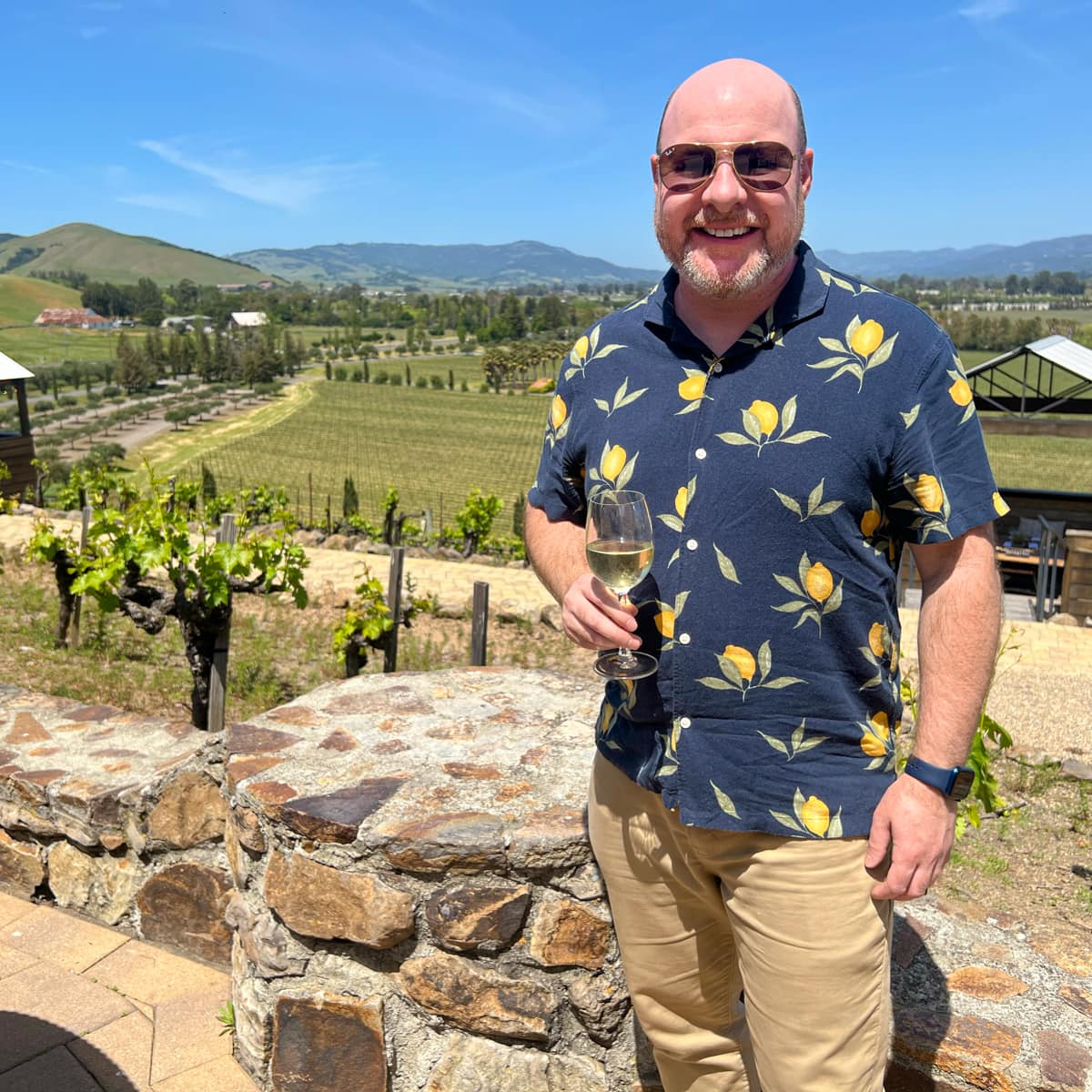 Fifteen minutes earlier, Kel and I had checked out of our hotel in Sonoma, with only a wine tasting at Viansa between us and a flight home.
The drive from Sonoma Plaza south toward San Francisco Bay provided more of the pastoral scenery we'd come to expect from Sonoma County.
Turning left off Route 121 into Viansa's estate provided a vineyard-level view of the winery's Tuscan-inspired villa.
Upon reaching the parking lot, I was captivated by the attractive landscaping. Beautiful flowers bloomed along a stone staircase with a metal railing built to mimic the grapevines planted next to it.
About Viansa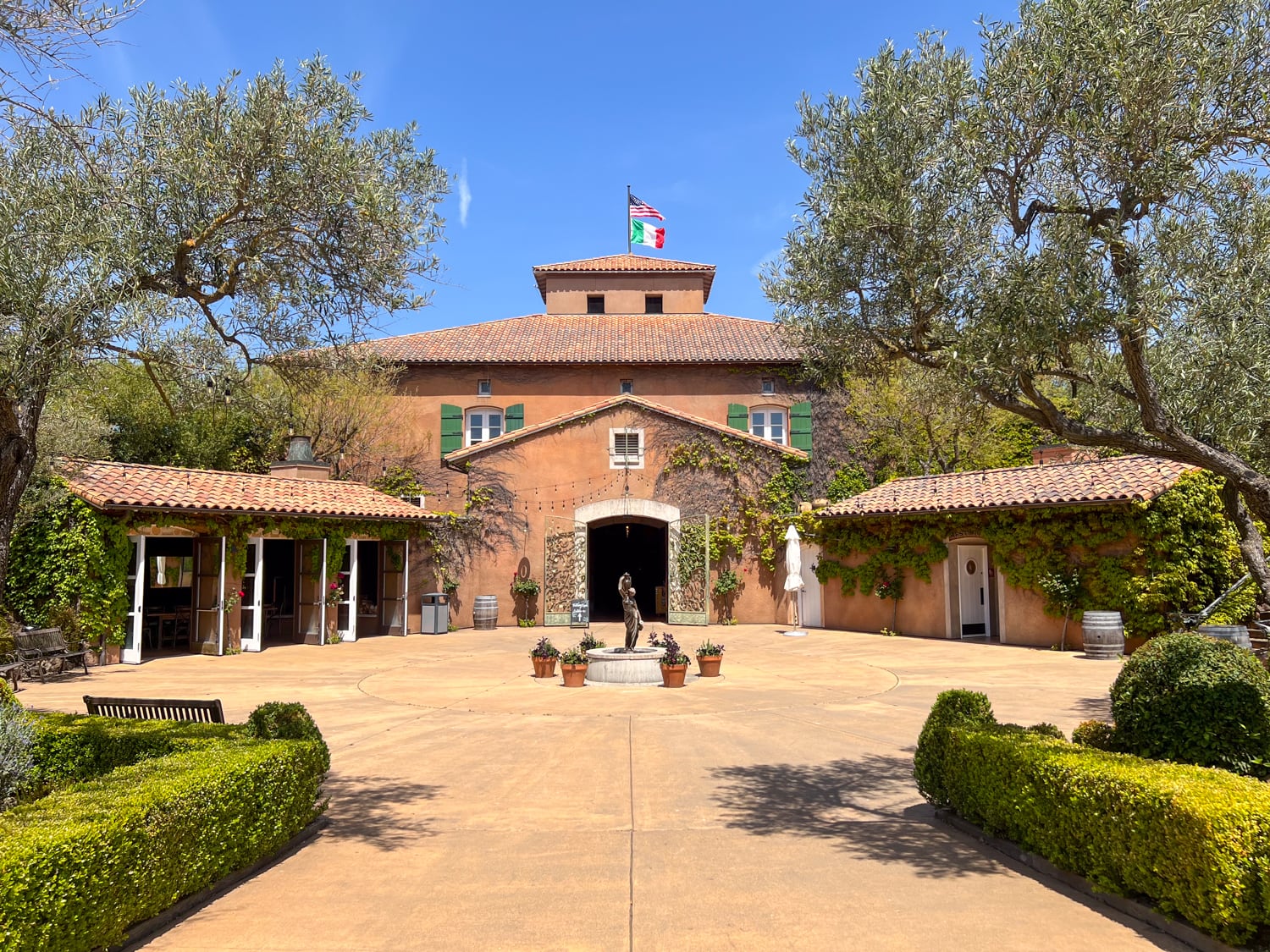 Founded in 1990 by Sam and Vicki Sebastiani, Viansa reflects four generations of wine-making expertise in Sonoma, California.
The Sebastiani family arrived in Sonoma in 1896 when Samuele Sebastiani immigrated to the United States via New York City from Lucca, a medieval town 50 miles west of Florence, Italy.
Sidenote: I visited the walled city of Lucca, a UNESCO World Heritage Site, during a four-day walking tour of Tuscany.
Today, Viansa is run by Sam and Vicki's sons, Chris and Jon Sebastiani, who have maintained a focus on producing Italian varietals with the characteristics of Sonoma terroir.
Guests and wine club members are treated warmly as amici di famiglia, or "friends of the family."
Views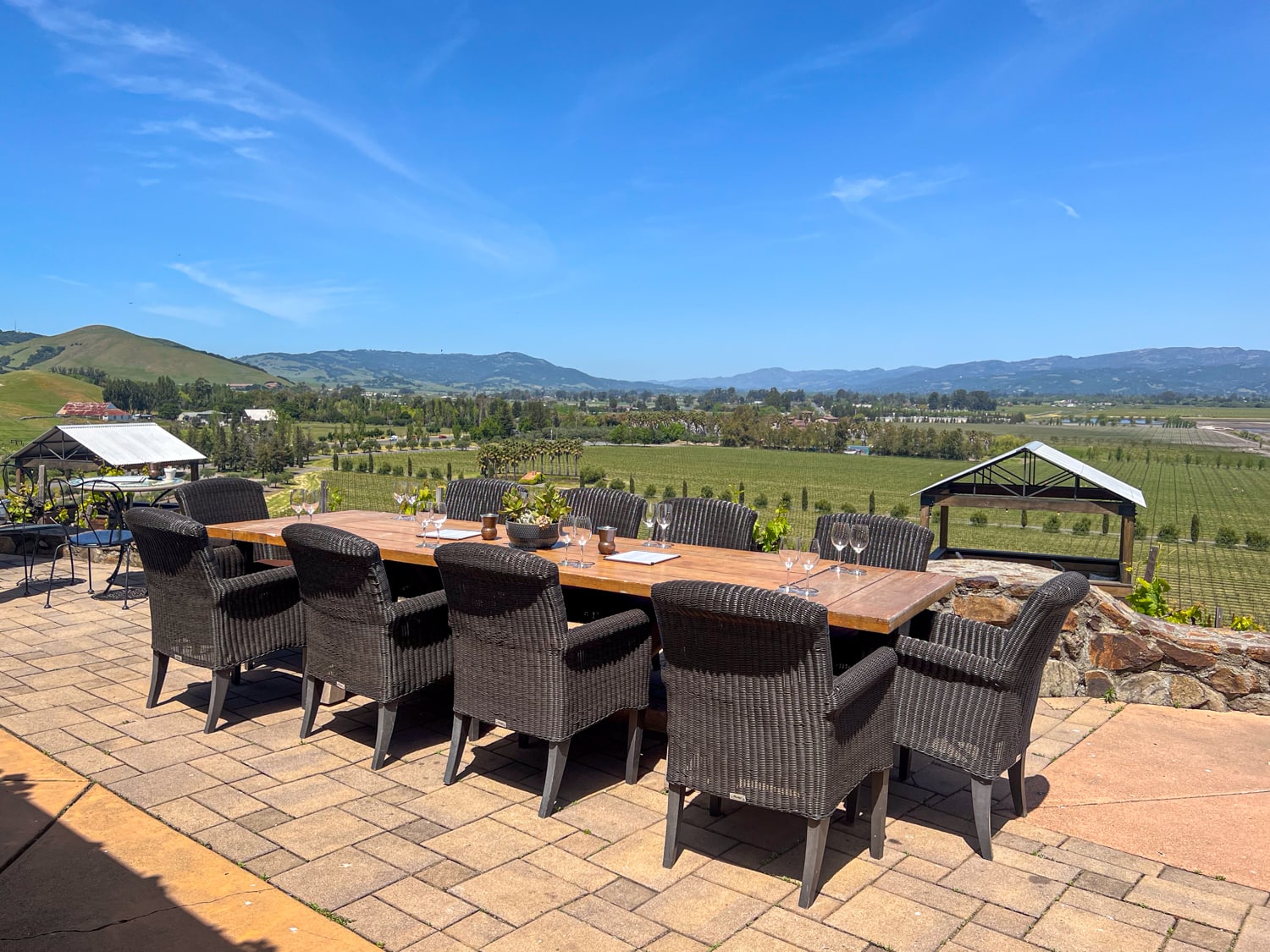 The outdoor terrace primarily faces north, overlooking Estate vineyards, olive trees, and a 97-acre wetland preserve adjacent to Sonoma Creek.
These wetlands are home to a variety of migratory birds and waterfowl. You'll see them soaring through the sky and hear them singing their bird songs.
It's this unique vantage point and location that, above all else, led me to want to visit on my first trip to Sonoma Valley.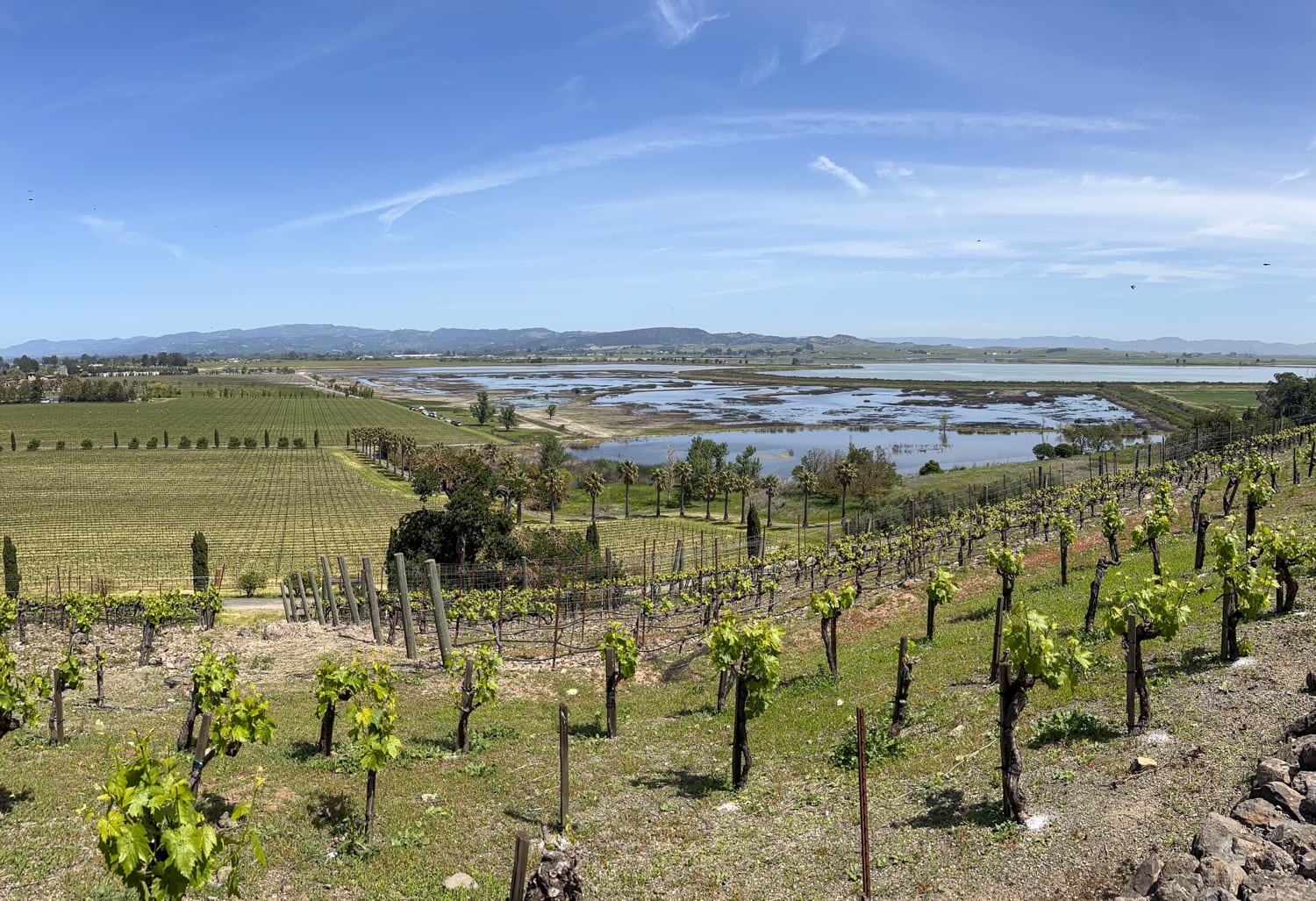 Seating options on the patio run the gamut from bistro tables for two to 10-person tables for groups.
Small groups seeking a private wine tasting can reserve one of the three Outlooks, which look similar to treehouses (minus the trees). They're the perfect spot for birders with binoculars.
Dropping by without a reservation? White picnic tables with umbrellas are available on Viansa's lovely lawn. And food and wine can be purchased at their well-stocked Italian Marketplace.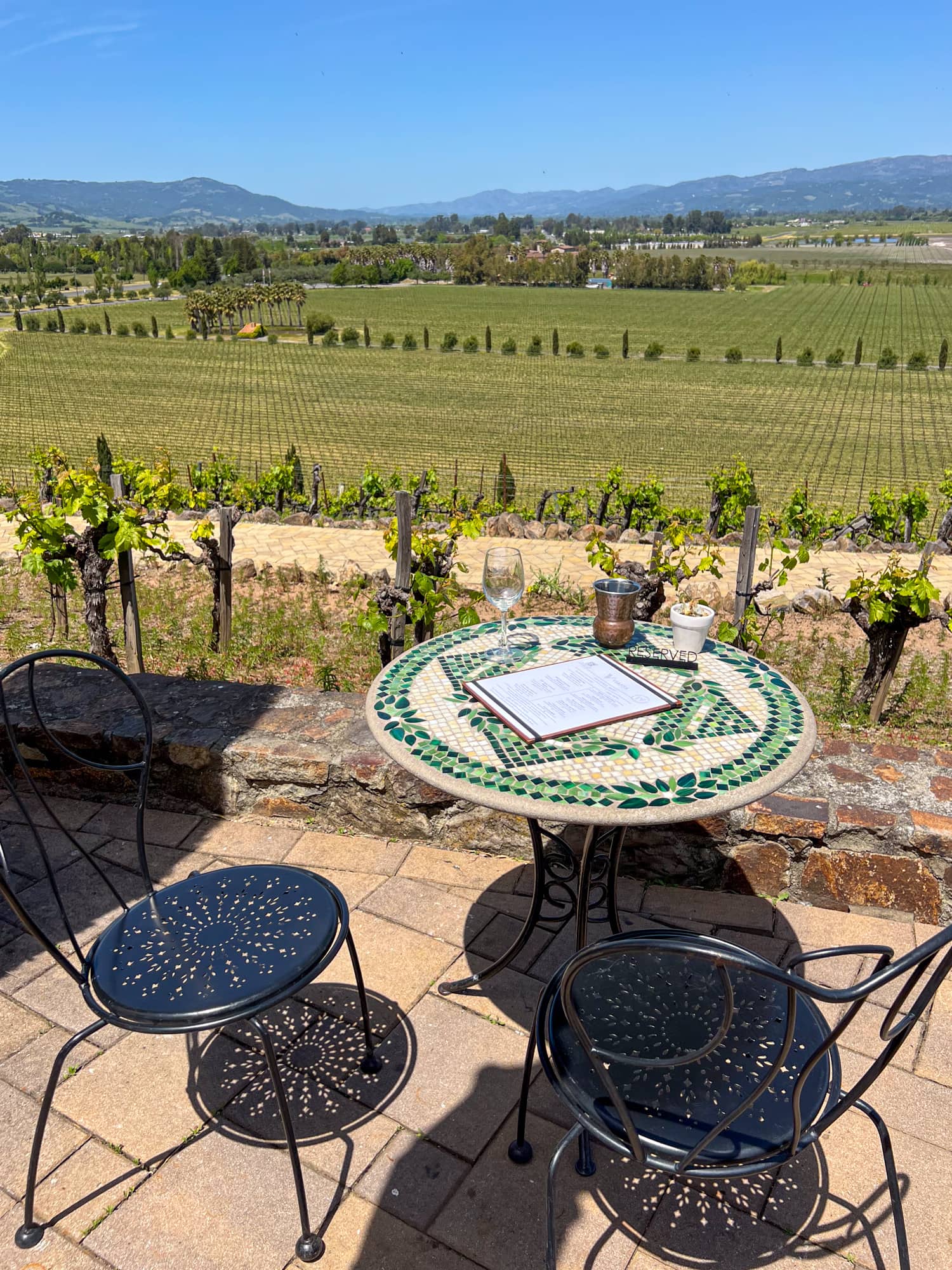 Guests also have the option to taste Viansa's wines indoors in case of inclement weather or personal preference.
Upon arrival, Kel and I were seated at a bistro table on the terrace.
Viansa Wine Tasting
The tasting flight began with a chilled 2022 Rose of Barbera from the Terra Collection. Barbera is an Italian varietal, and I enjoyed the rose with its white strawberry and citrus blossom notes.
Next, there was a smooth 2022 Chardonnay from the same collection, with notes of white peach and lemon blossom.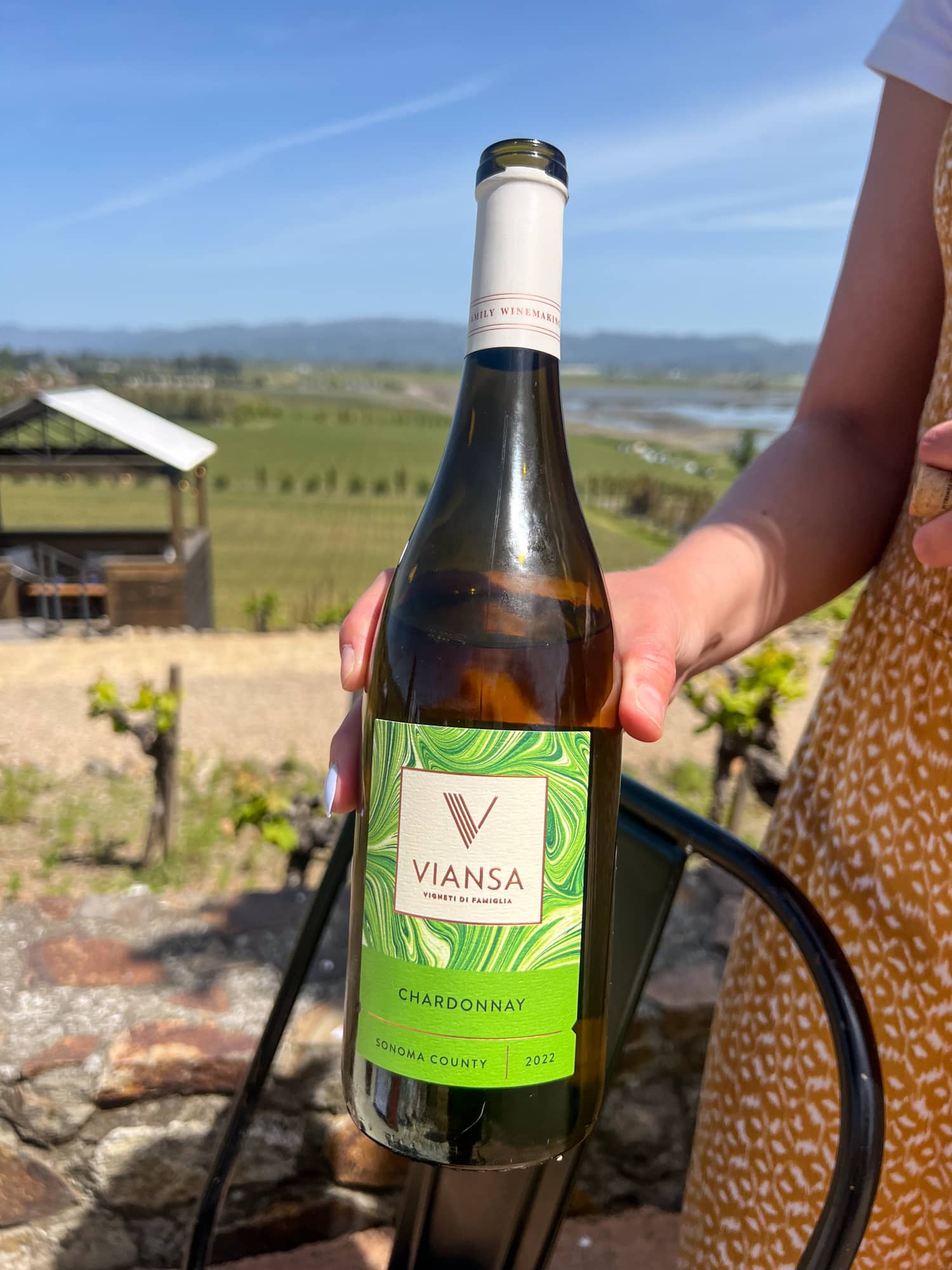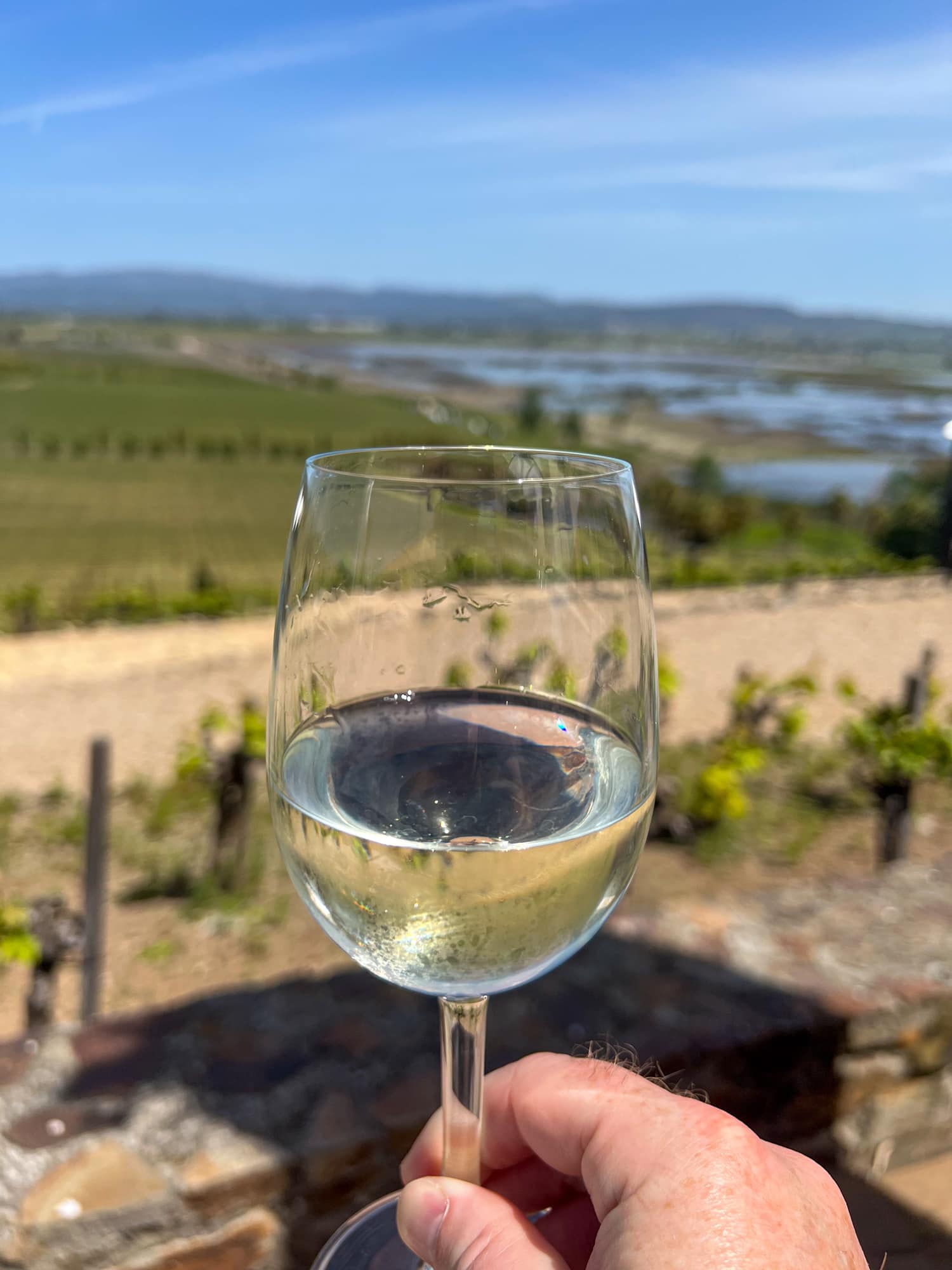 I appreciated it so much that we skipped the two red wines (a Dolcetto and a Cabernet Sauvignon) in favor of more of Viansa's white wines.
Meanwhile, Kel was drinking a glass of sweet Muscat Canelli from Sandy Bend Vineyard, a sustainable vineyard further north at an elevation of 1,400 feet.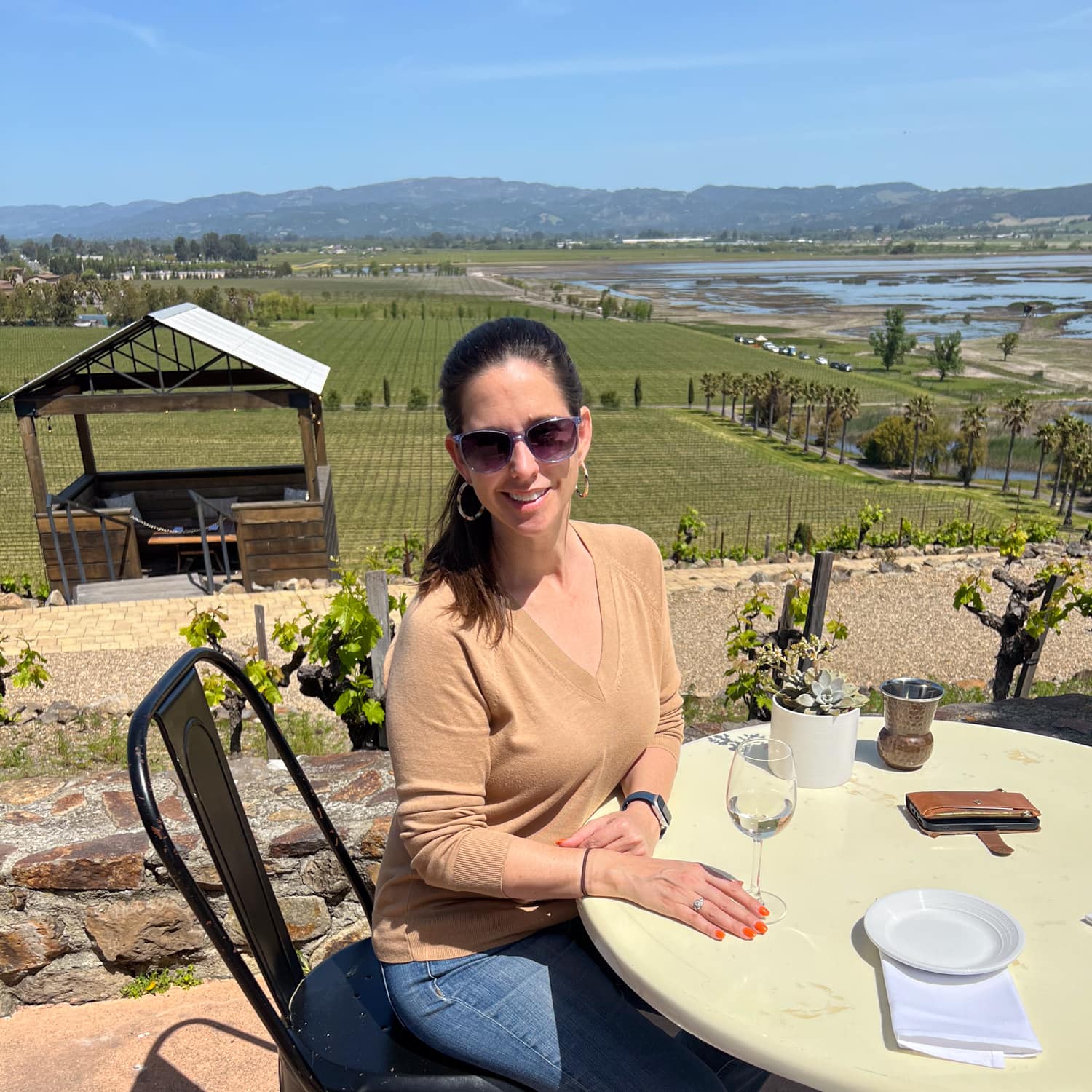 My Viansa wine tasting continued with a glass of 2022 Bianchetta Trevigiana, one of the lesser-known varieties from Los Carneros, an AVA straddling southern Sonoma and Napa Valley.
The grapes came from nearby Santo Giordano Vineyard and were first planted in 1994 by Viansa's founder, Sam Sebastiani, and Jordan Smith.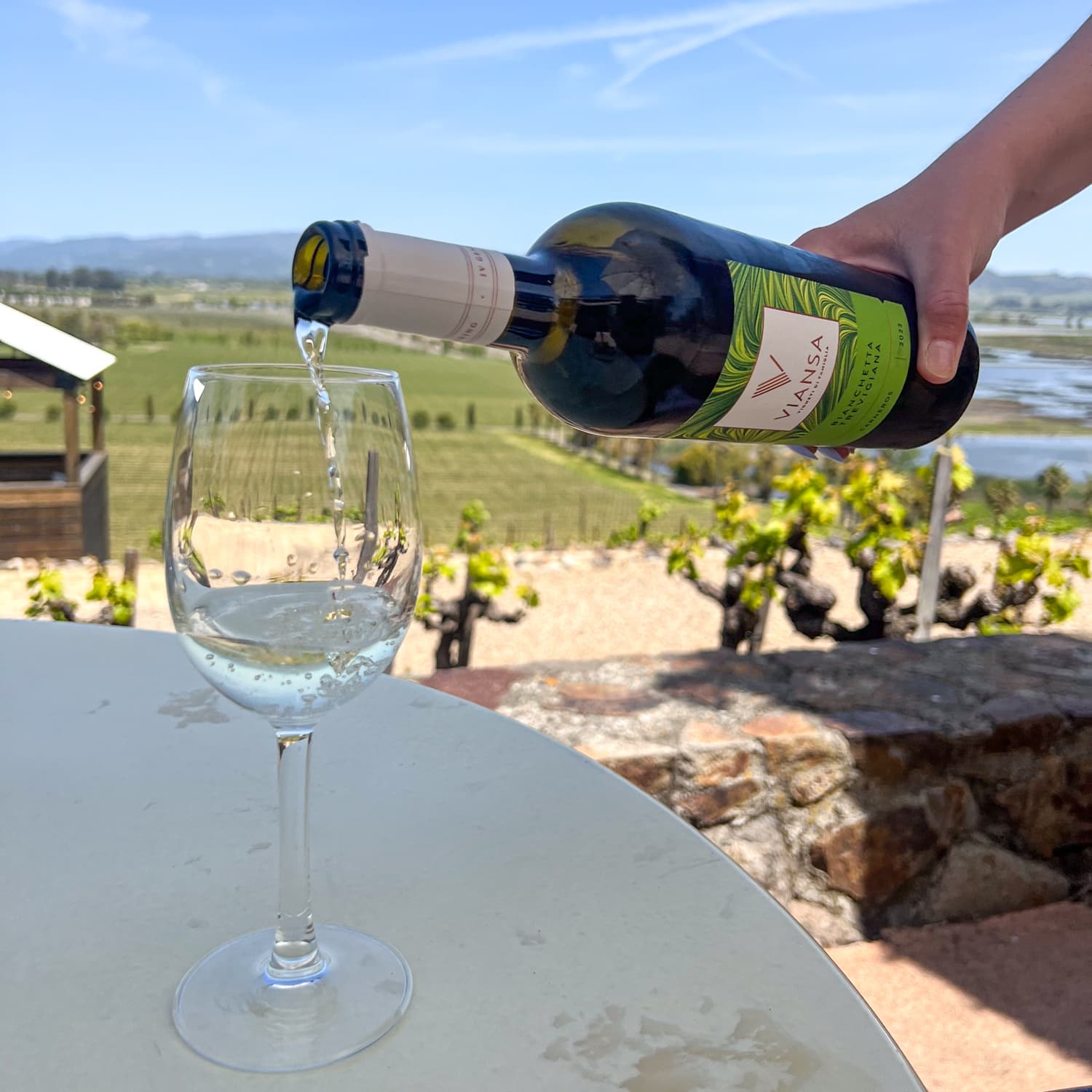 The last wine of my tasting journey was a 2022 Estate-grown Chardonnay from Viansa's Altura Collection.
I savored every last sip on that sunny spring day while lamenting that I wasn't ready to trade the Sonoma winery for San Francisco's airport.
We enjoyed a delicious lunch to extend the experience and further enjoy the views from Viansa's hilltop villa.
Deli Menu and Italian Marketplace
A seasonal deli menu offers a cheese and salumi board ($30), burrata ($14), and a small selection of deli sandwiches ($12).
I opted for a turkey sandwich with provolone, cranberry jam, sliced apples, and lettuce, and Kel chose the Italian ham and brie sandwich with fig jam on a croissant. They were out of the ham, so she subbed it for turkey.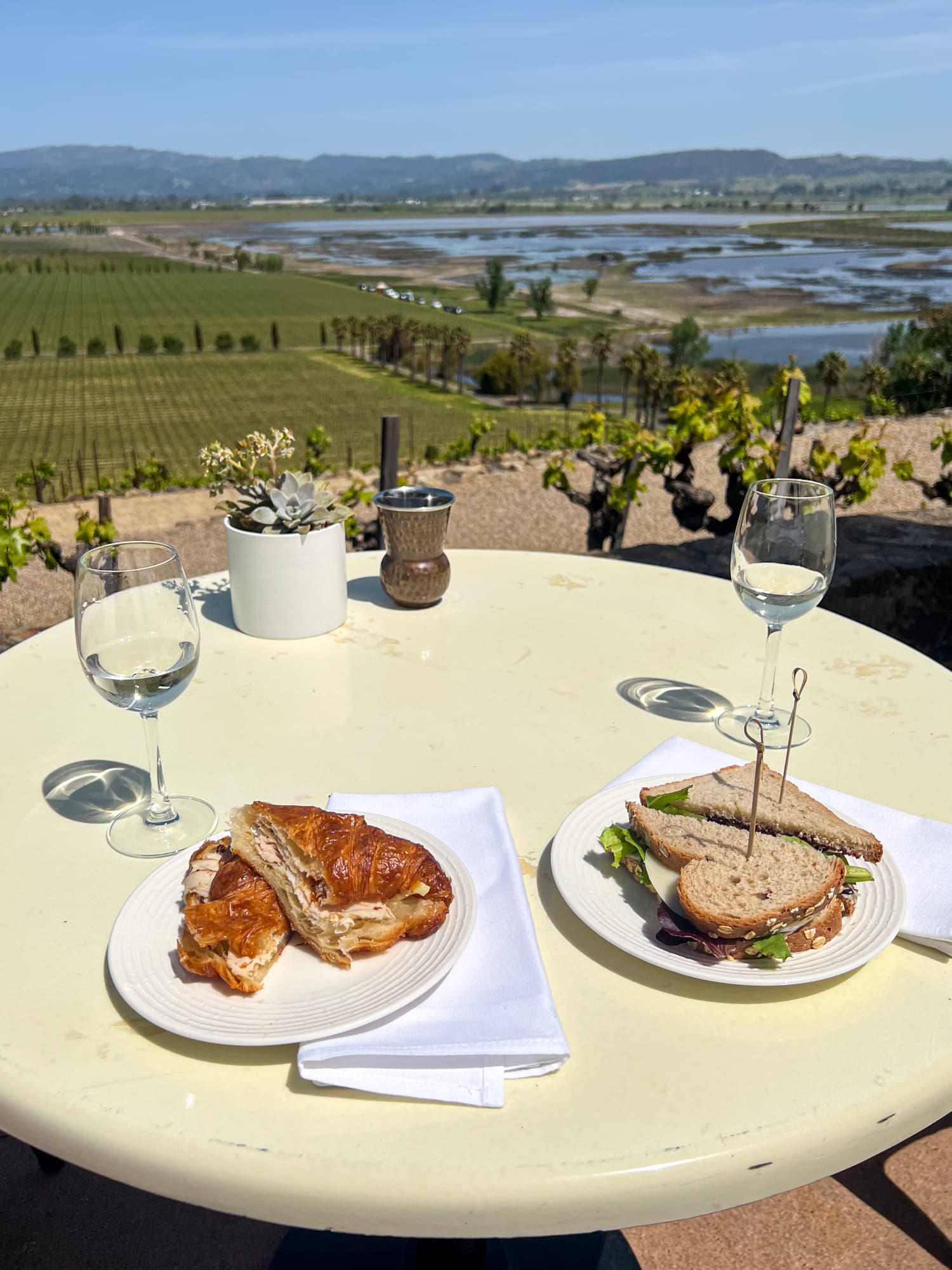 You can buy picnic fare in the Italian Marketplace, including local cheeses, packaged meats, black truffle potato chips, caviar, and fresh pastries.
Bottles of Ace Cider and sparkling Italian sodas are kept at the ready in a fridge. And coffee, tea, and other non-alcoholic drinks are available as well.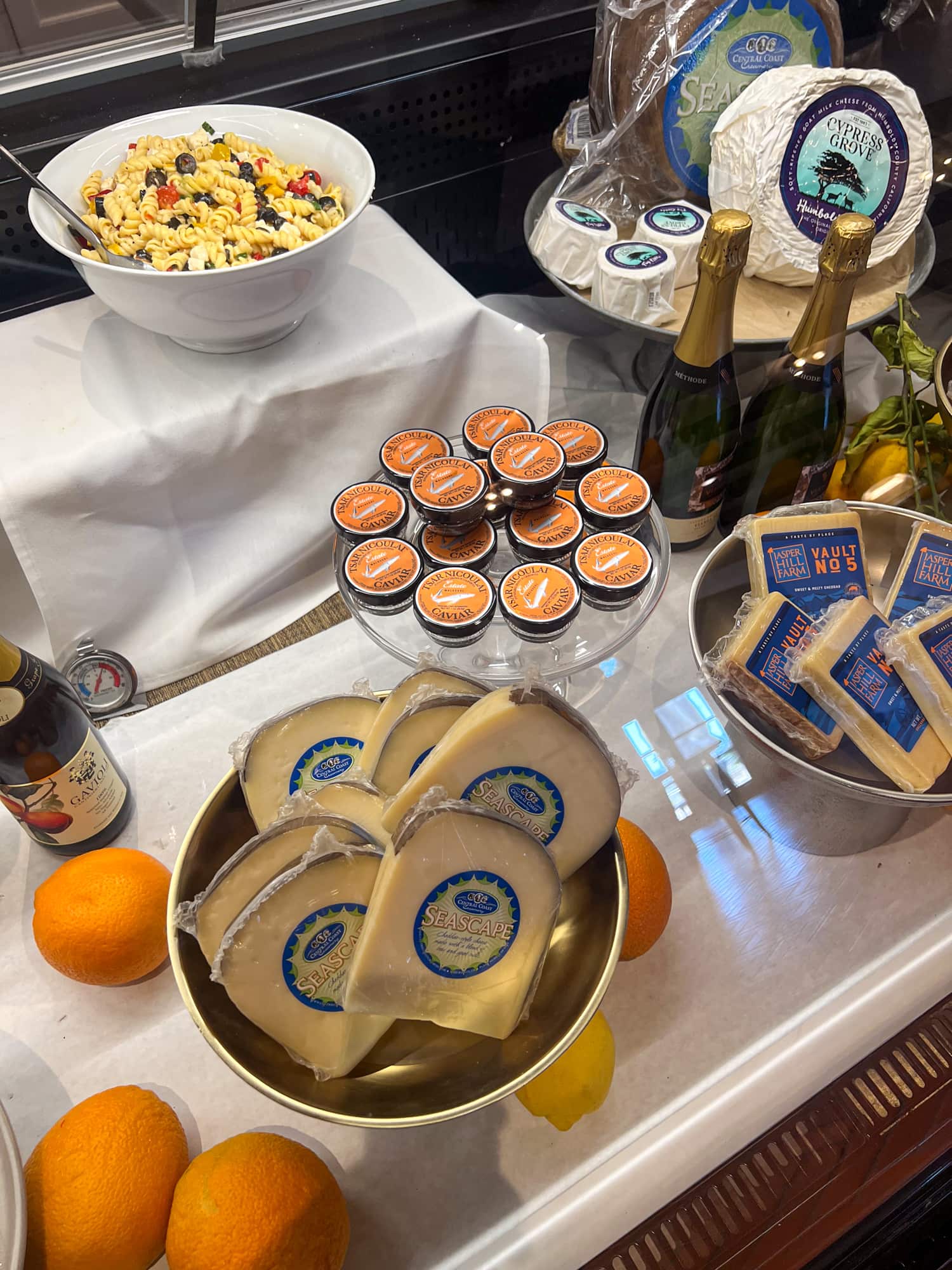 After our sandwiches, I craved something sweet to end the meal.
There's a display dedicated to craft chocolate bars that all sounded enticing. However, I chose a box of handmade, imported Italian cookies instead.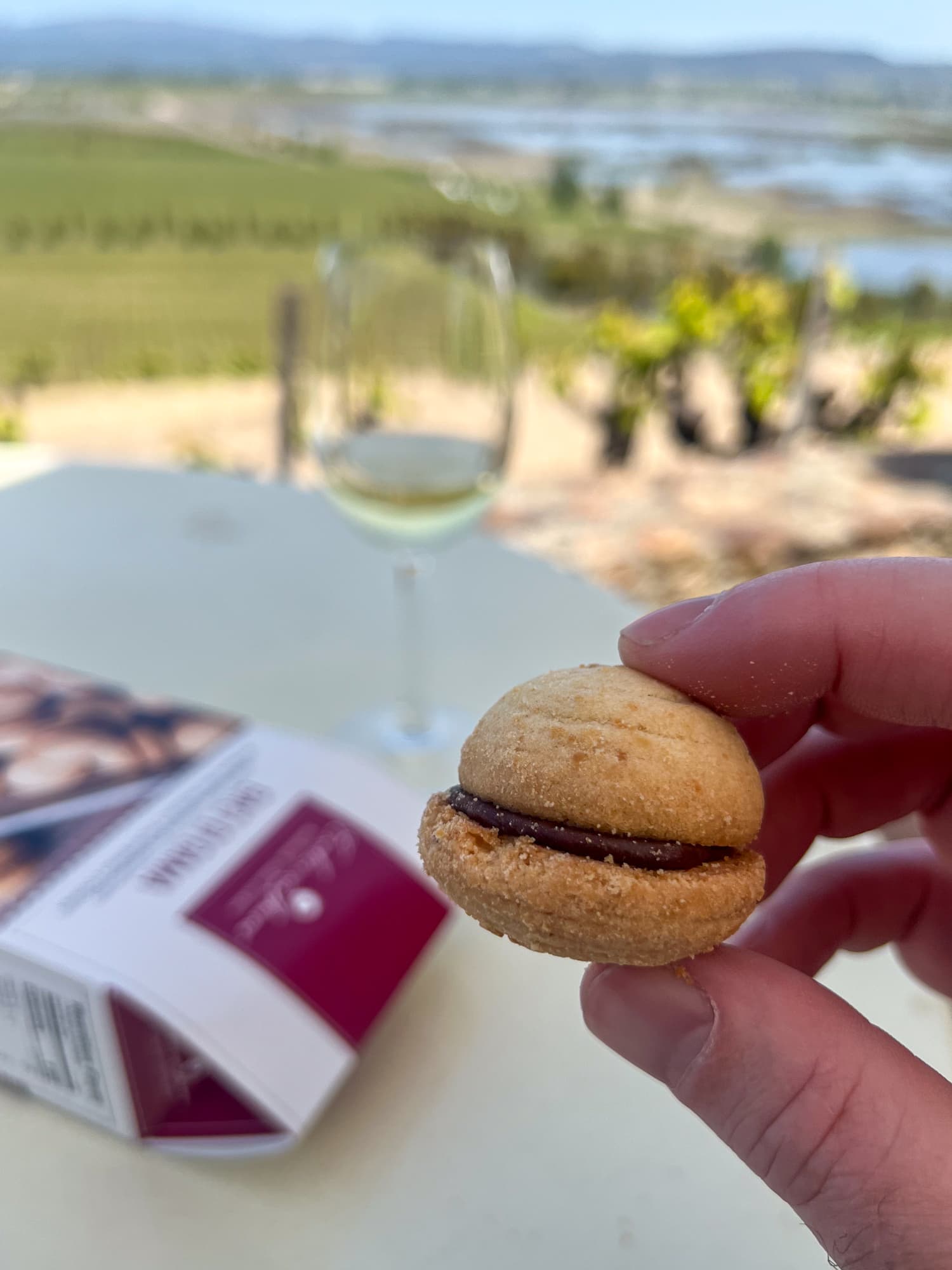 In addition to the food and Viansa wine for sale, an assortment of souvenirs is available, including clothing and hats.
Events
While browsing the store, I also noticed an events calendar.
Fun activities that jumped off the chalkboard at me included:
Puppies + Pinot Grigio
Easter Brunch
Earth Day Yoga + Wetland Walk
Father's Day Lobster Boil
Beginning in May, a summer music series features live bands on the lawn from 12 to 3 p.m. on Saturdays and Sundays.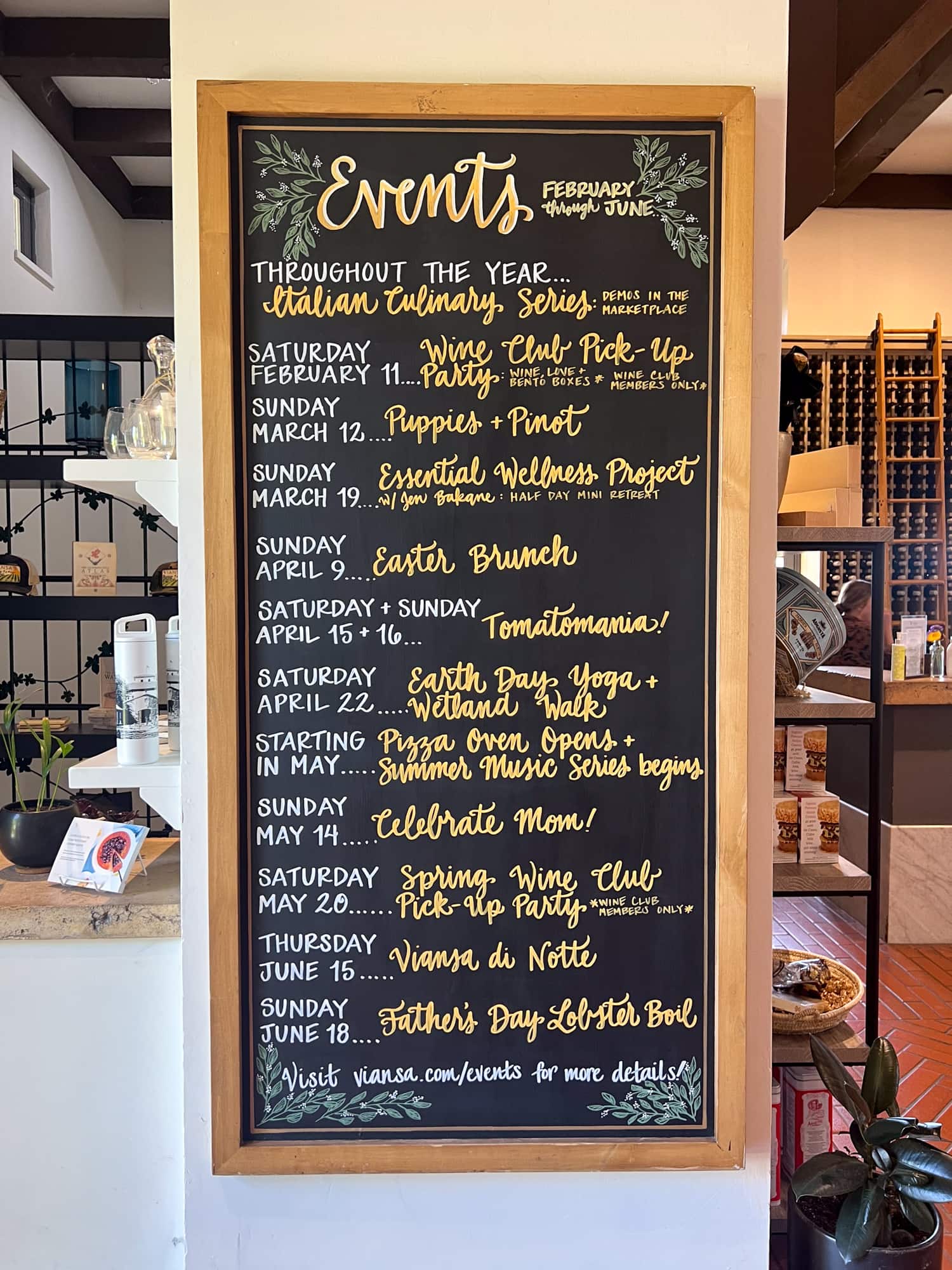 There was even a sign for "Viansa at Sea" advertising a 10-day Mediterranean cruise with stops in Italy, Greece, Malta, Croatia, and Montenegro.
If I lived in the San Francisco Bay area, less than an hour's drive away, I could easily see myself joining Viansa's Wine Club.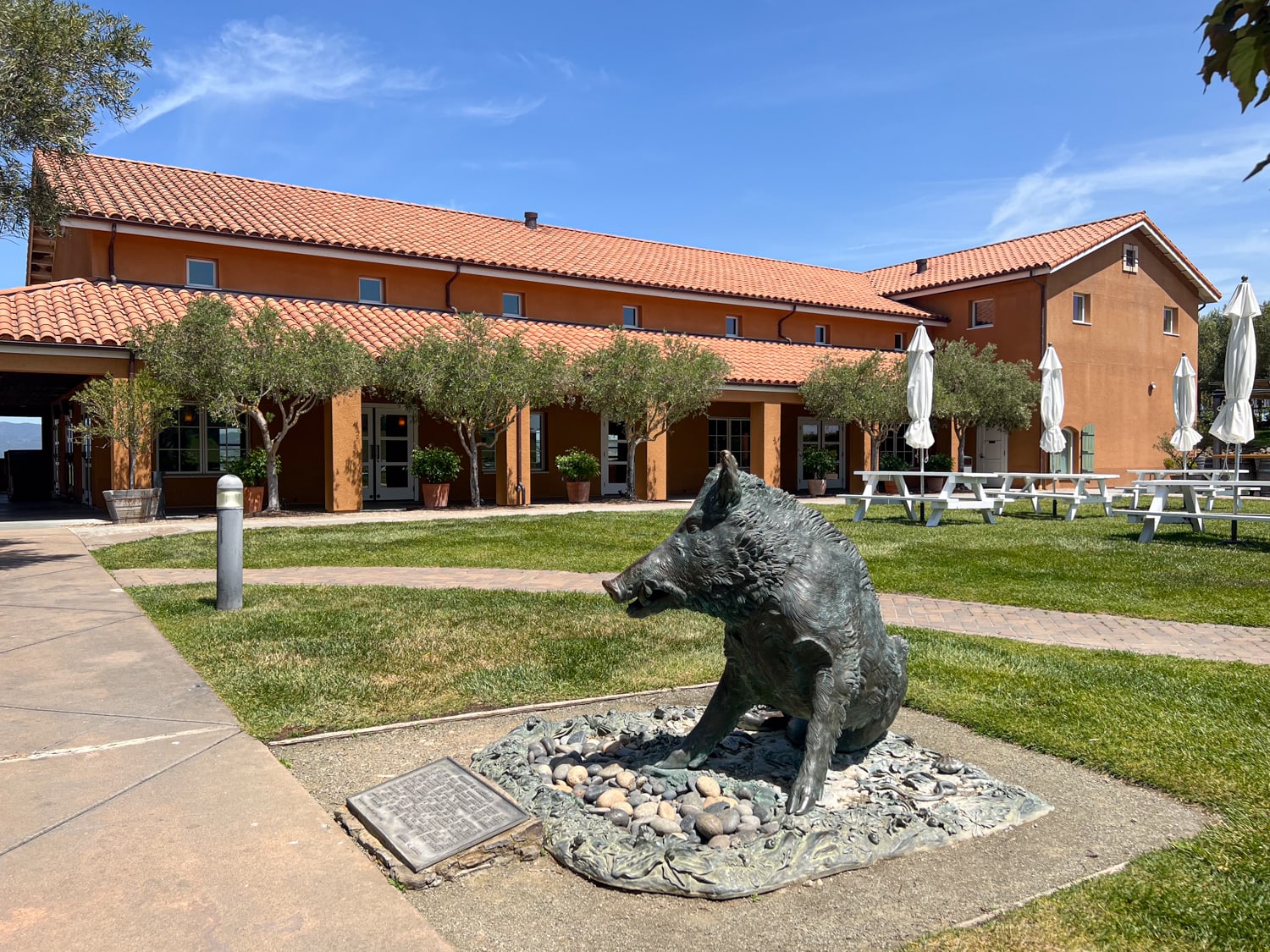 Given the gorgeous grounds and Italy-like atmosphere, it should also be no surprise that Viansa is a popular wedding venue.
Based on the photos I've seen, they've hosted some splendid ceremonies and receptions on the lawn and in front of the villa's vine-lined entrance.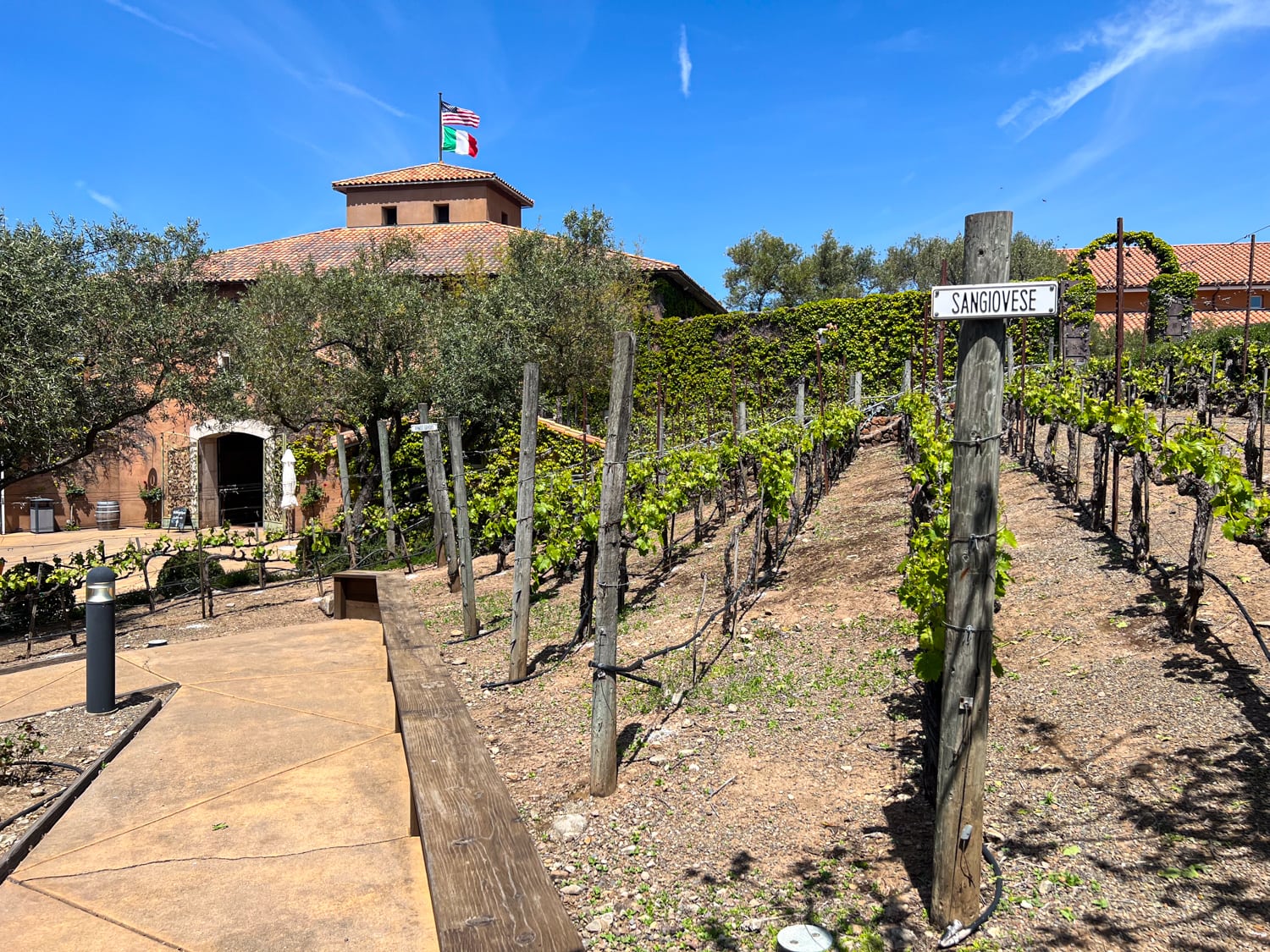 Award-winning wines, good food, and warm hospitality await you at Viansa in Sonoma Wine Country.
If I've piqued your interest in Viansa wine, consider ordering from their website if you can't get to the winery in person. They've got a direct-to-consumer sales model, so those are your only two options.
As I write this, I'm overdue to order a bottle of their Chardonnay that I enjoyed so much.
Visit Viansa Winery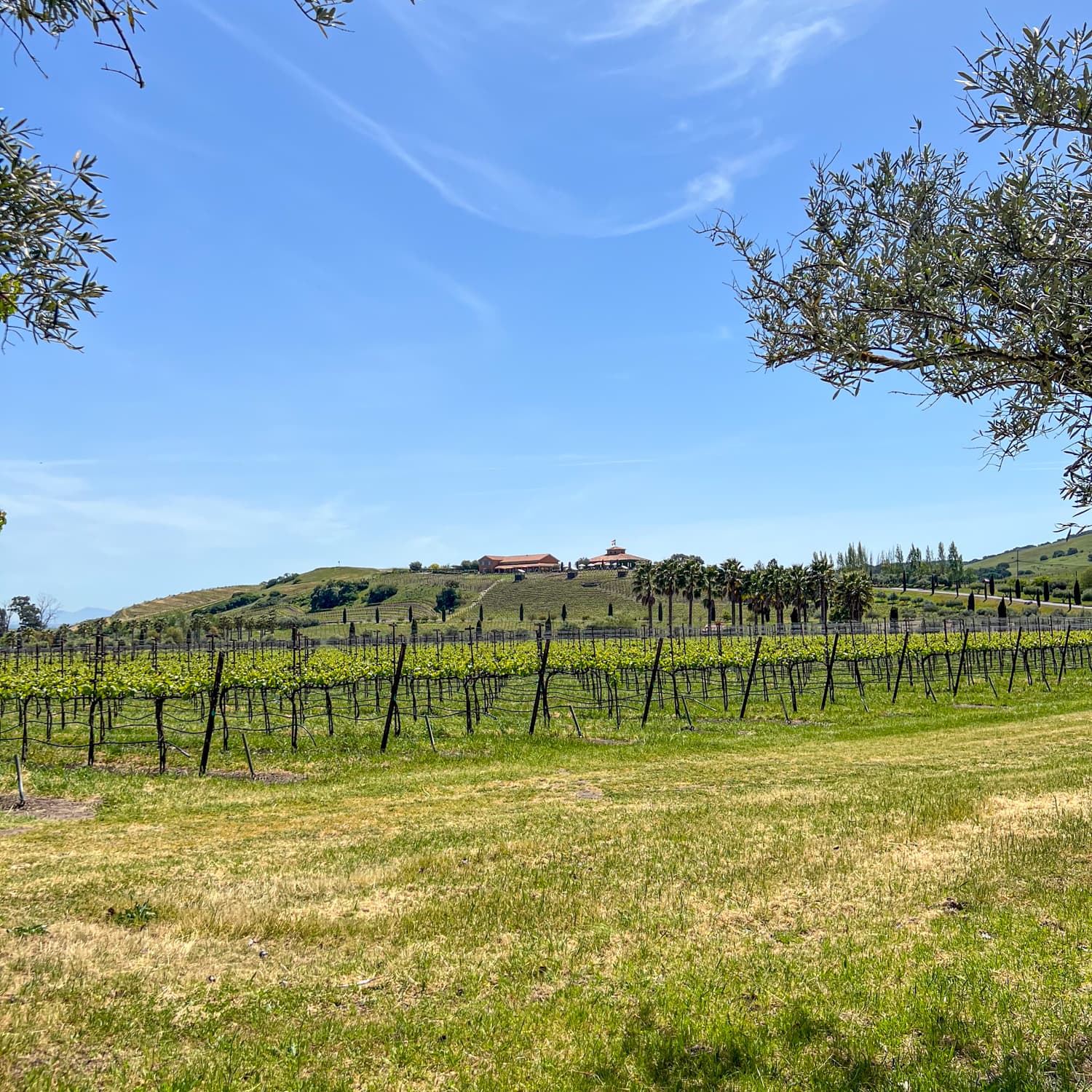 Address: 25200 Arnold Dr, Sonoma, California
Website: viansa.com
Wine Tastings: Walk-ins are welcome to buy a glass, bottle, or unguided wine tasting without reservation. Seating at the picnic tables on the lawn is first-come, first-serve. For a guided outdoor wine tasting, reservations are required via Tock.

Wine Club memberships are available for four, six, and 12 bottles.
_____
My wine tasting and lunch at Viansa were provided at no cost, a part of my collaboration with the Sonoma Valley Visitors Bureau.