Historic Sonoma Plaza offers visitors easy access to some of the best restaurants in Sonoma County, California.
Whether visiting Sonoma on a day trip from San Francisco or spending a few nights in wine country, there's plenty to check out.
The main element of Sonoma Plaza is a large tree-filled park, home to a government building (formerly City Hall), the Sonoma Valley Visitors Bureau, Bear Flag Monument, a duck pond, and a playground.
Historic buildings dating back to the mid-1800s, when Sonoma was founded, surround the plaza, the largest of its kind in California.
Today, these buildings are home to farm-to-table restaurants, bakeries, and tasting rooms.
So find a place to park your car because you're leaving it behind; the culinary offerings in Sonoma Plaza are best explored on foot.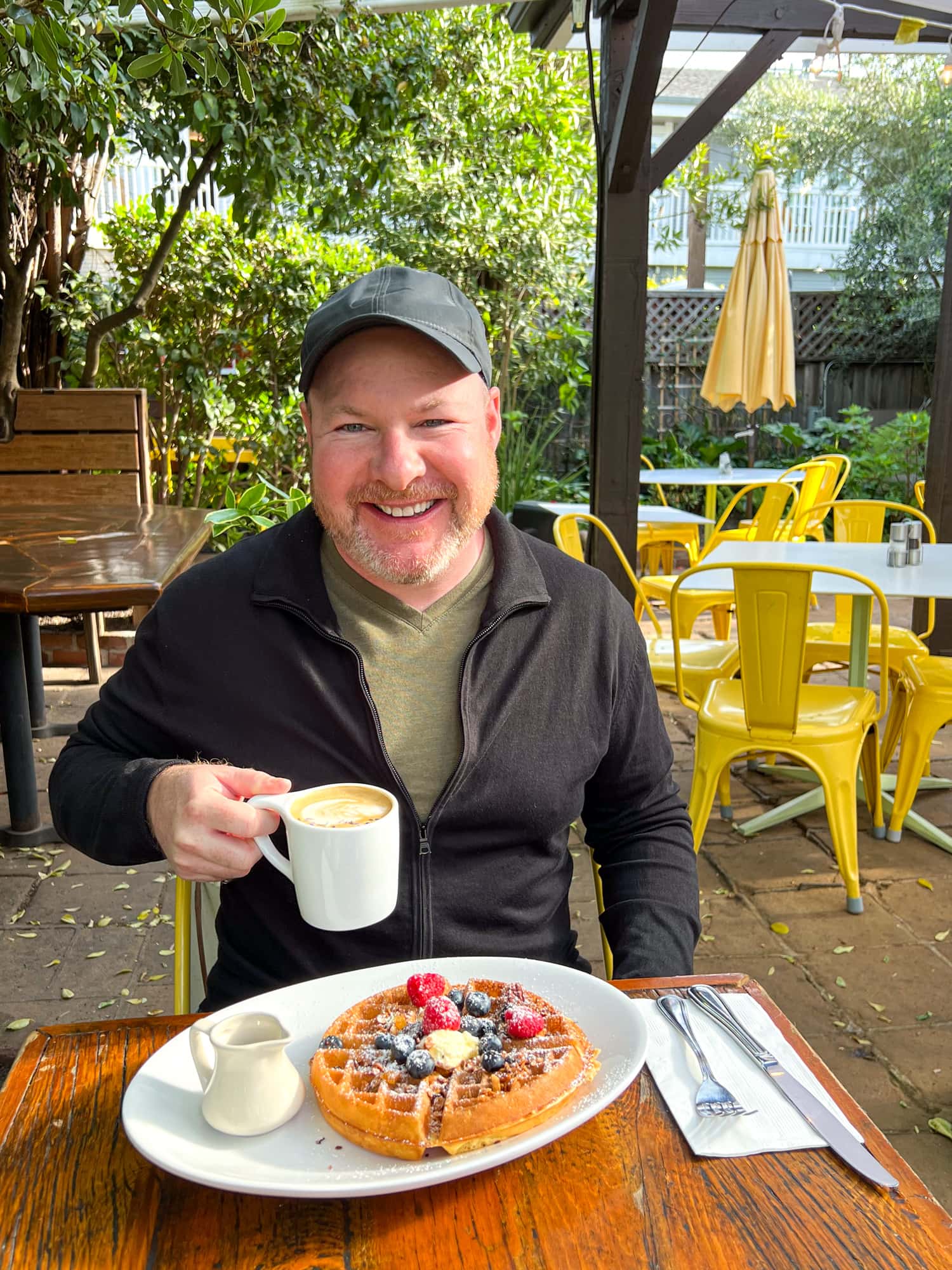 Cafes & Bakeries
Let's begin with a few of the best breakfast options for a warm cup of coffee and fresh-baked pastries.
Sunflower Caffe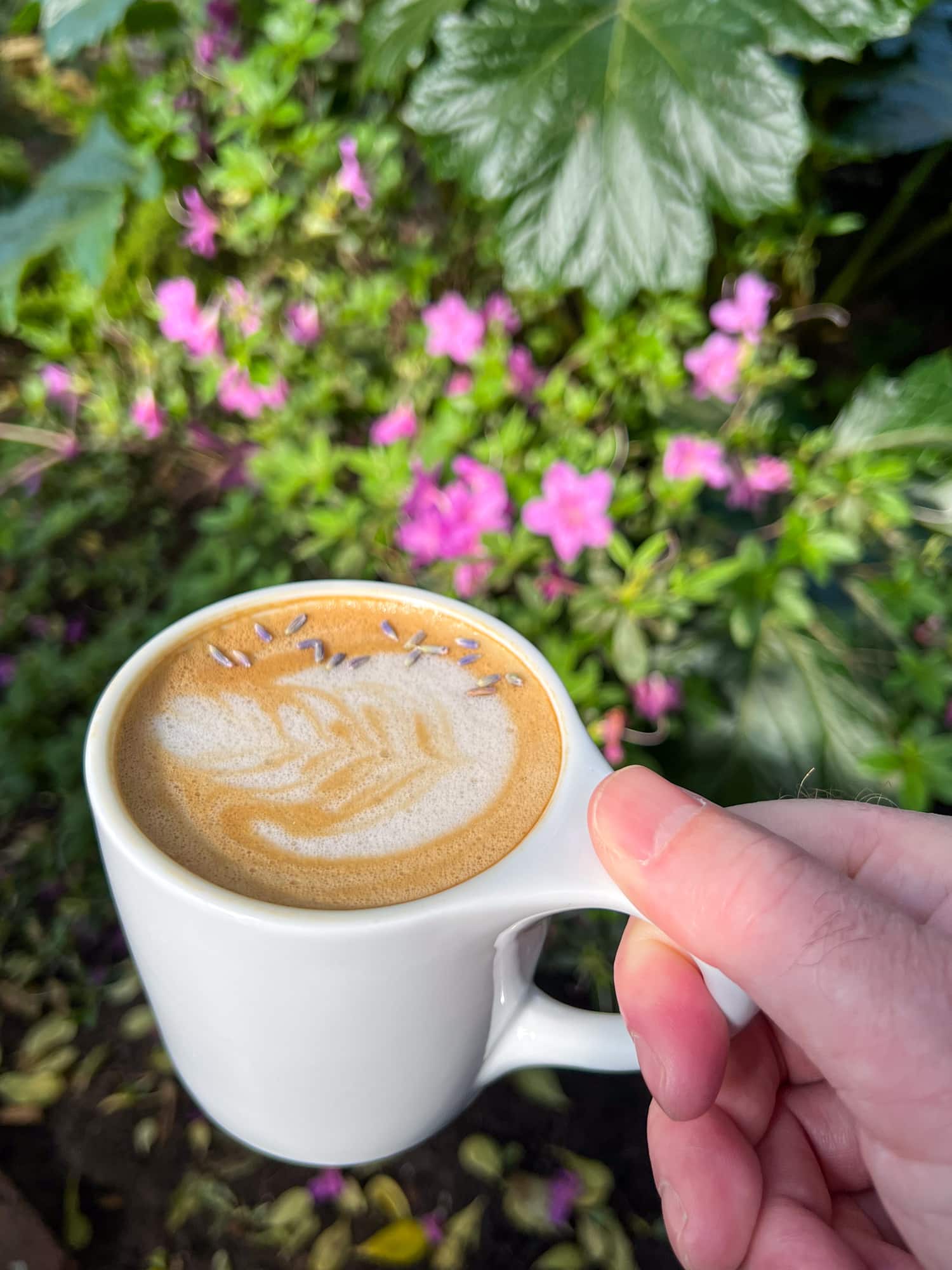 On my first morning in Sonoma, I visited the lovely Sunflower Caffe on the northwest side of Sonoma Plaza.
The cafe's yellow and white exterior initially attracted me, and upon closer inspection, I saw that the adobe building dates back to Sonoma's origins.
Historic Landmark #501 was the former home of Captain Salvador Vallejo, the brother of General Mariano Vallejo, founder of Sonoma.
According to the plaque, it was built by Indian labor between 1836 to 1846, with Salvador Vallejo living there until 1846.
Inside, you can peruse the seasonal menu and pastries before ordering with one of the staff.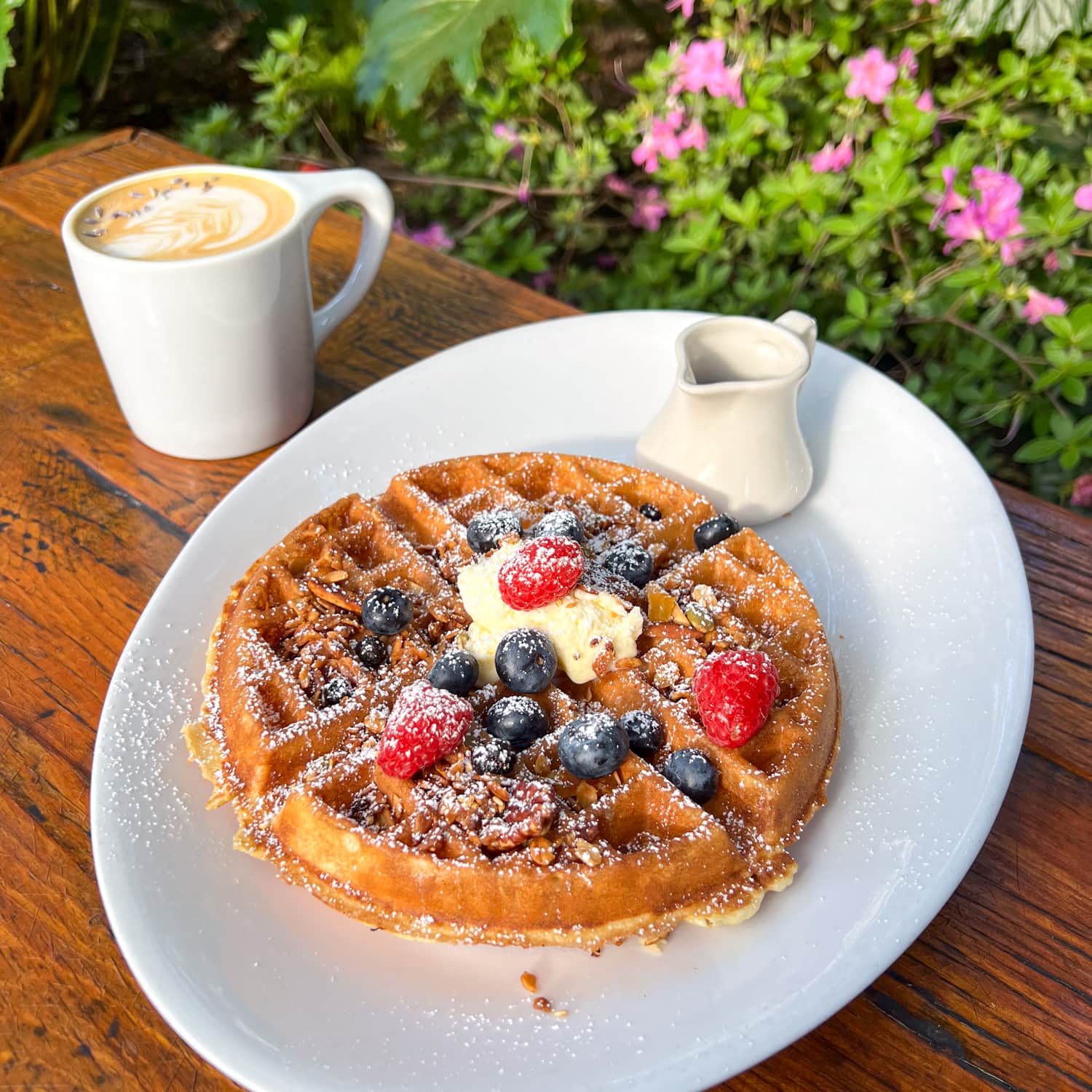 Food
The family-owned Sunflower Caffe prides itself on keeping food simple and sourcing ingredients locally, such as milk and eggs from Sonoma County and salt from San Francisco Bay.
Buttered and almond croissants, brown sugar and cinnamon Pop Tarts, and peach and nectarine kouign-amanns were available the day we visited.
The brunch menu offers a variety of dishes, from American standards like granola waffles and eggs Benedict to more international fare (Turkish eggs, kimchi hash, and a breakfast burrito).
Avocado toast, grilled cheese with locally-produced Vella dry-jack cheddar, and a smoked duck sandwich lean more toward lunch.
Most tables are on the cafe's peaceful patio, which features a water fountain and a garden with lemon trees. The terrace is partially covered.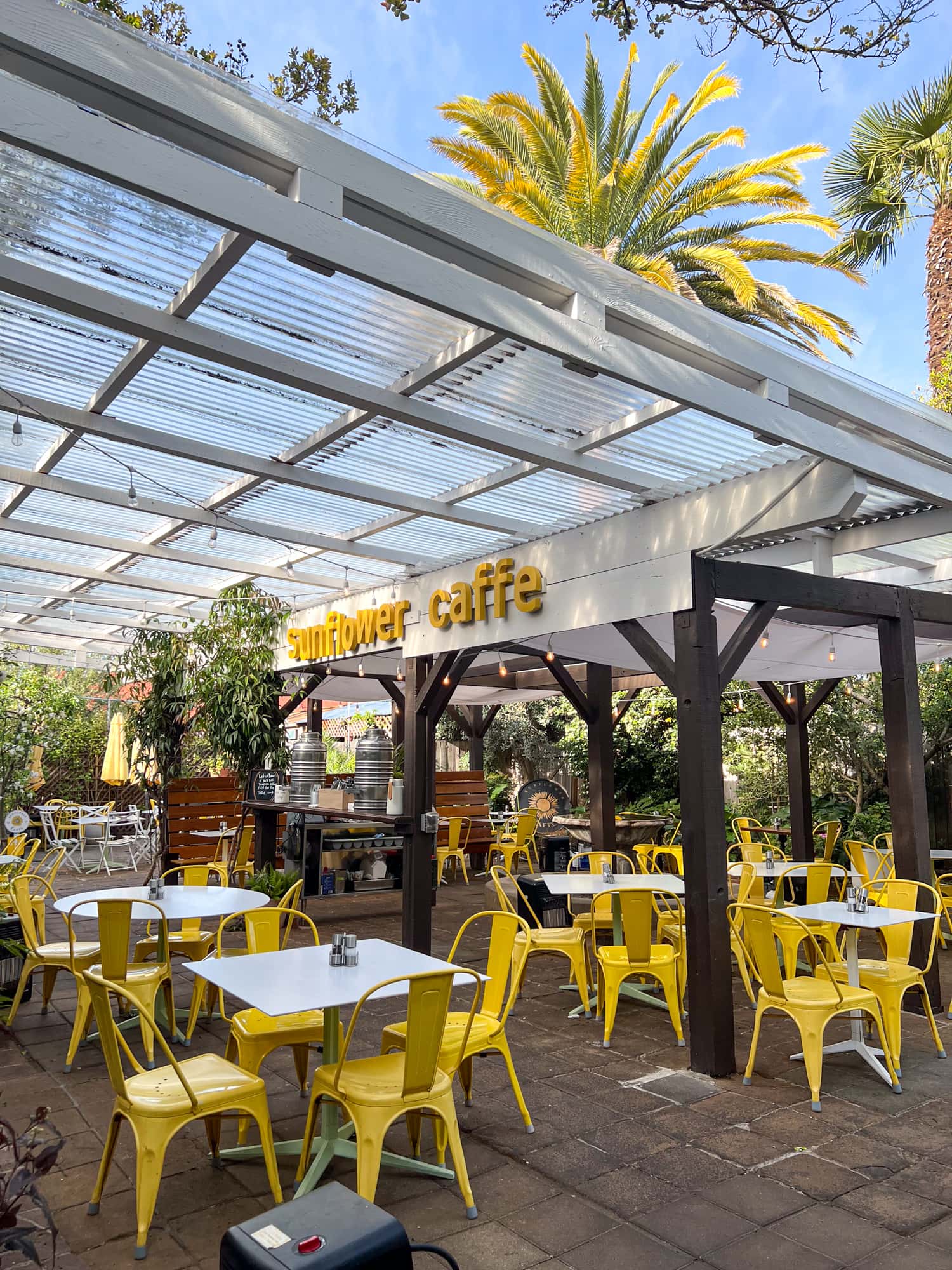 Drinks
Whatever your mood, there's a drink to enjoy, including green juice and blueberry-banana smoothies, cold brew, lattes, and kombucha.
I opted for a warm lavender oat milk latte over the equally delicious-sounding lavender lemonade. Chai, matcha, and other teas are also on the menu.
For a boozy brunch, try one of the sparkling wines mixed with fresh fruit puree:
Pink Guava
White Peach
Mango
Or get a classic mimosa if you prefer orange juice. A small selection of white wines, roses, and chilled red wines are available by the glass or bottle.
If you visit on a Friday, Saturday, or Sunday, try the soft-serve gelato made with water buffalo milk, available in vanilla and salted caramel. I hope to try it next time I'm in the heart of downtown Sonoma.
Sunflower Caffe, 421 1st St W, Sonoma, CA, sonomasunflower.com
Valley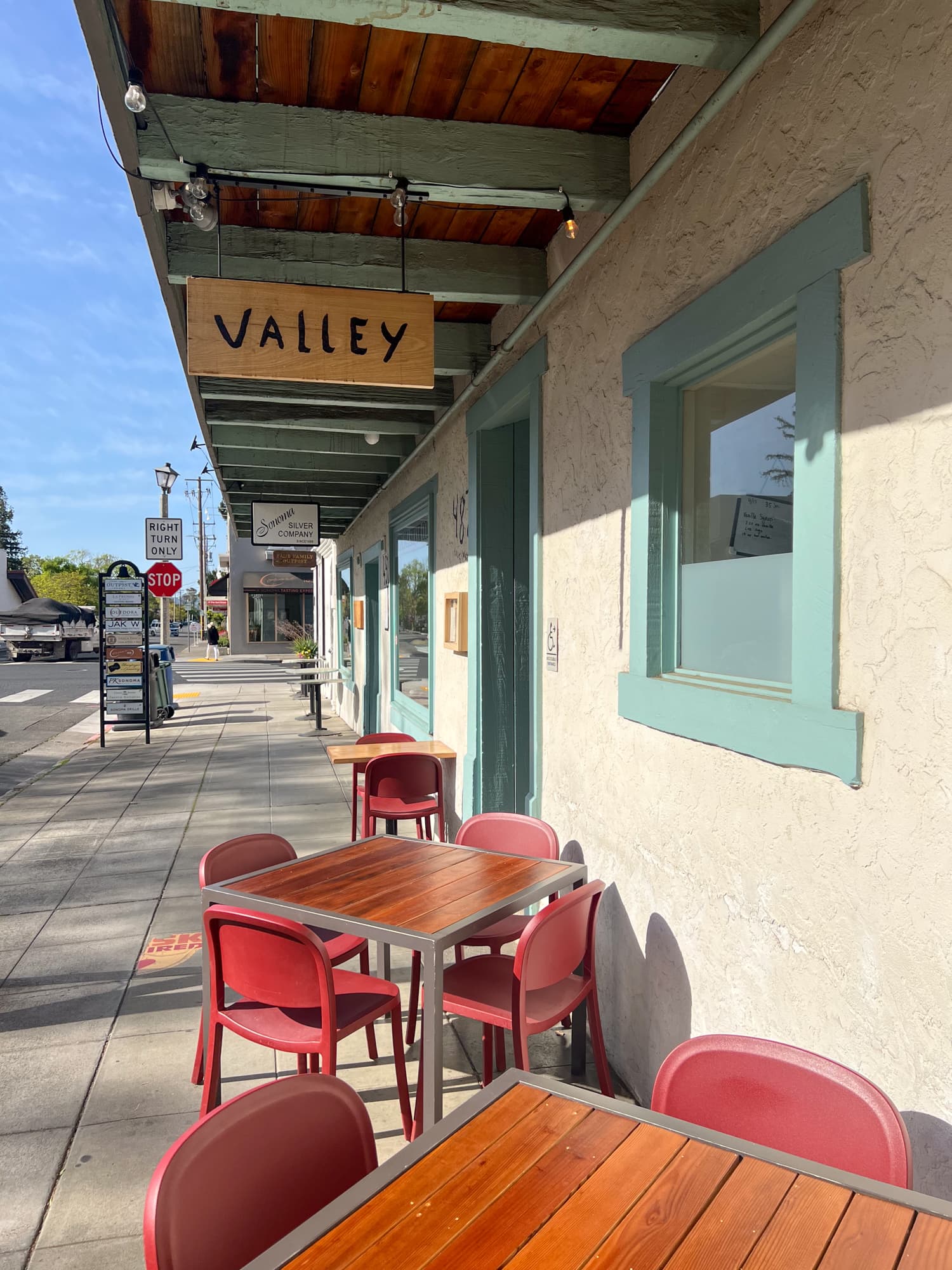 On the southwest side of the park, opposite the duck pond, is another of the best restaurants in Sonoma Plaza.
Valley, a recipient of Michelin Guide's Bib Gourmand award signifying good food and good value, is also an organic wine bar and bottle shop.
I, however, was there for the morning coffee and fresh pastries, which are available on a walk-in basis only from 9 to 11 a.m.
Valley serves Camber Coffee from Bellingham, the best coffee roaster in Washington state, per Food + Wine. The herbal teas are by Leaves and Flowers out of Berkeley, California.
The morning I stopped by, an orange upside-down cake was available and tasted most delicious, and I enjoyed a cappuccino with it.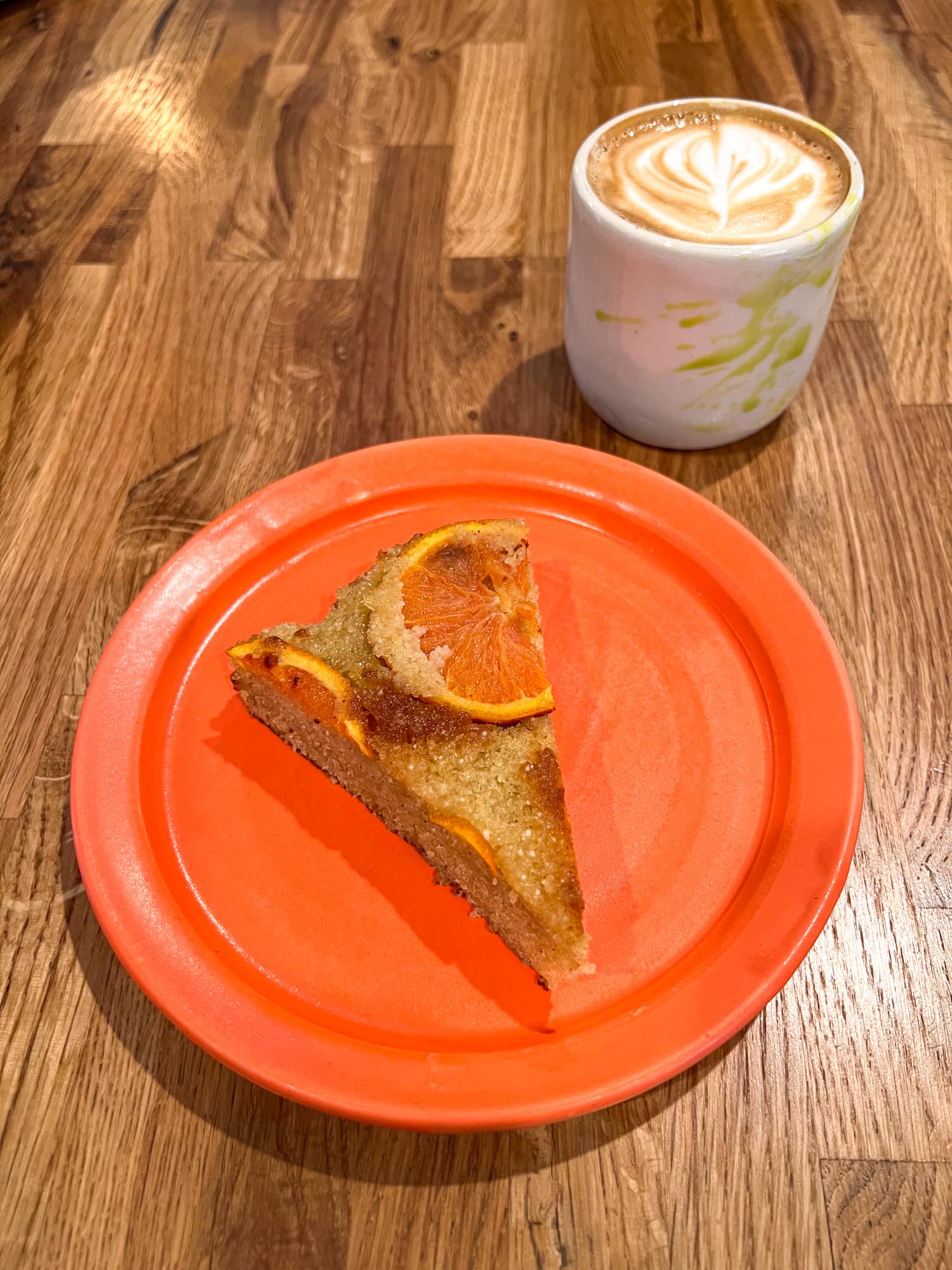 Toasted bagels, a tortilla sandwich, an egg and cheese sandwich with optional bacon, and a morning seed muffin were also on the menu, which changes daily.
Weekday lunch is also available on a walk-in basis. During my visit, lunch options included several salads, a smoked trout plate, California crispy rice with crab, and a delicious-sounding olive oil cake with sour cream and preserves.
Brunch on Saturdays and Sundays, as well as dinner, are also served. Reservations are best, especially in the spring and summer.
Valley, 487 1st St W, Sonoma, CA, valleybarandbottle.com
Chocolate Cow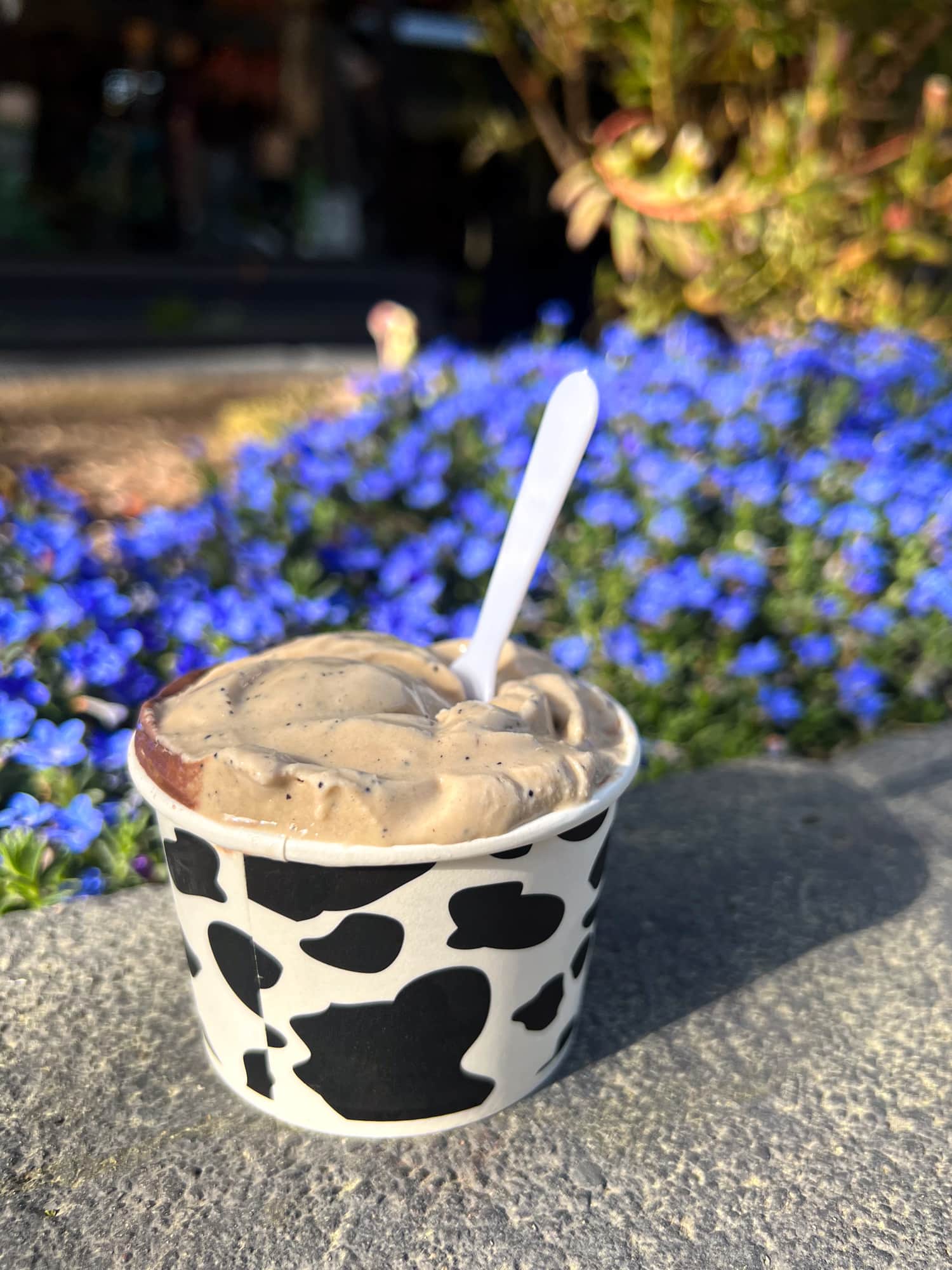 Sonoma Plaza is deceptively large in terms of the businesses operating around it. That's mainly due to the alleyways that lead to small courtyards with more restaurants and shops than you can see from the park alone.
While walking around the plaza's east side, I noticed The Chocolate Cow, a great place to satisfy your sweet tooth.
Upon entering the family-owned and operated chocolate shop, I bypassed the handmade truffles and fudge in favor of the organic ice creams and gelatos.
I'm a bit picky about Italian gelato; once you've eaten gelato in Bologna, it's hard not to be.
However, my samples at The Chocolate Cow met expectations, so I bought a small cup with two creamy scoops of dark chocolate and coffee.
The Chocolate Cow, 452 1st St E, Sonoma, CA, thechocolatecow.com
Restaurants in Sonoma Plaza
Now, let's focus on some of Sonoma Plaza's best restaurants. My time in Northern California wine country was short, so every meal mattered.
the girl & the fig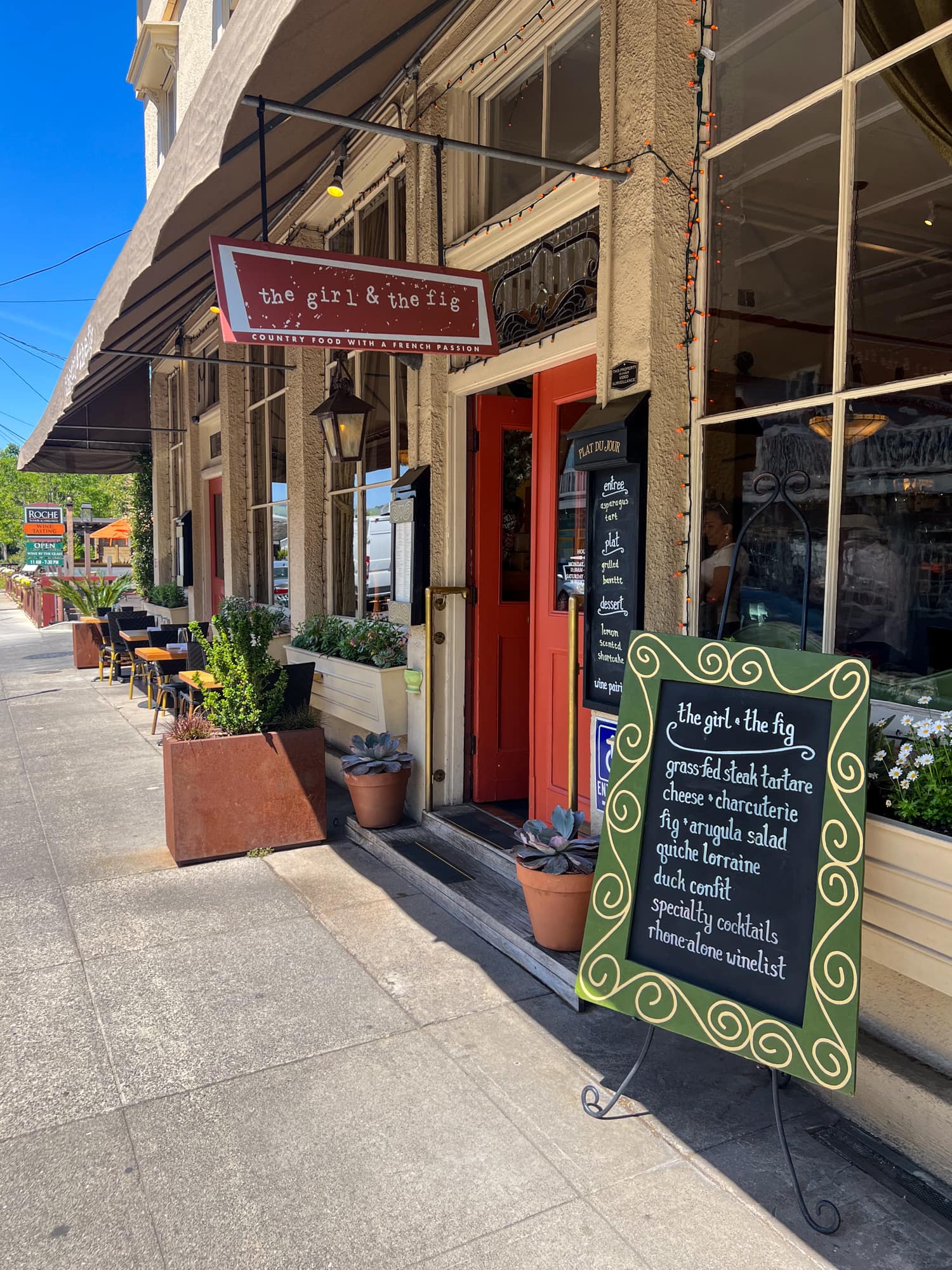 My first dinner was at the girl & the fig, a longstanding French bistro on the ground floor of the Sonoma Hotel.
Upon entering the restaurant for my 7 p.m. Sunday reservation, I noticed the place was packed. The elegant antique wood bar was busy, and diners' conversations filled the air.
I was shown to a table on their garden patio. It was now dusk, and thankfully there were heaters as I hadn't dressed warmly enough.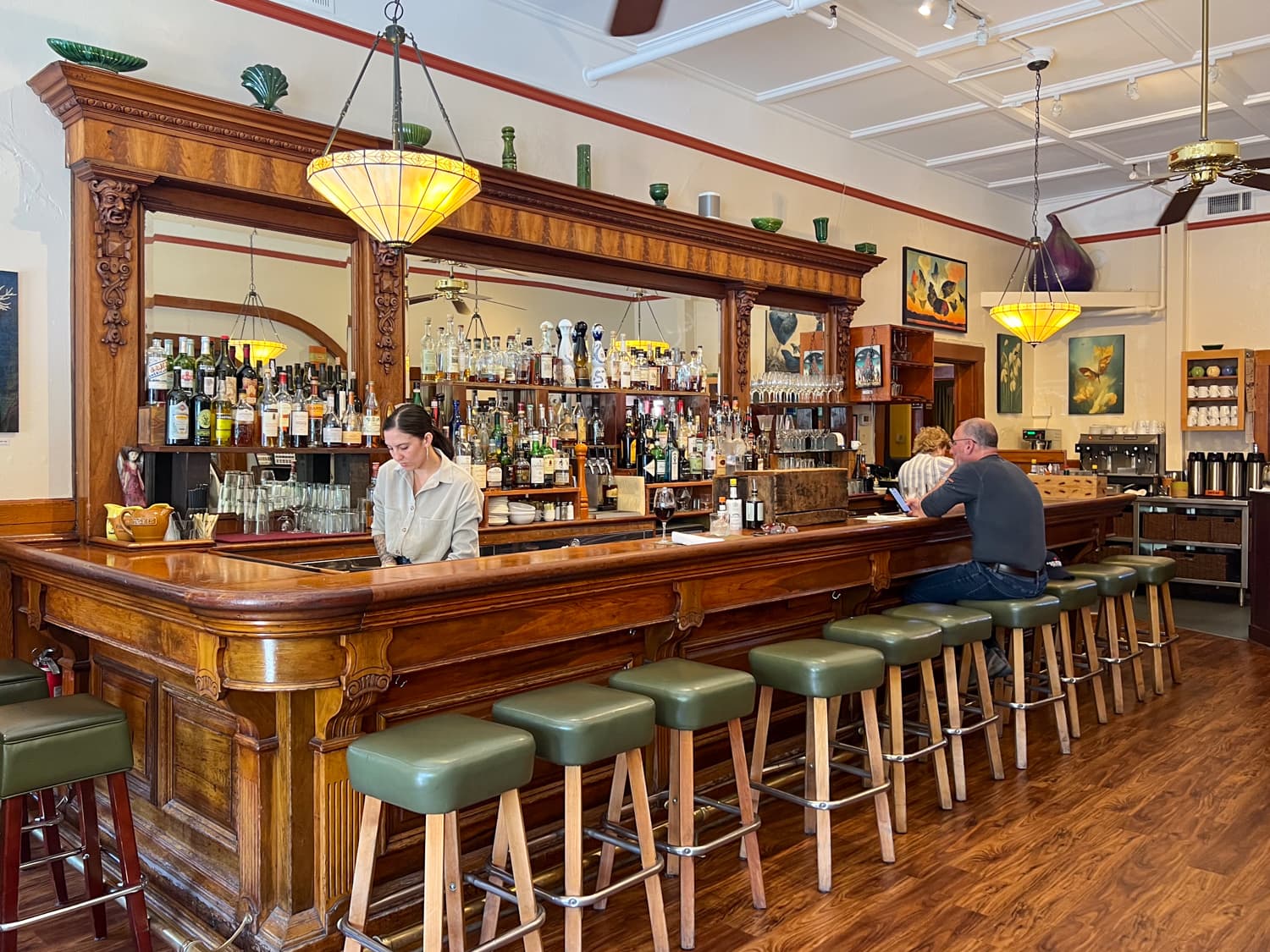 Food
The first thing that caught my attention on the menu was the Bistro Daily Specials, which included three courses for $48 and an optional wine pairing for an additional $20.
The night I was there, it consisted of an asparagus tart with caramelized onions and gruyere, grilled bavette (steak) with potatoes, and lemon-scented shortcake with strawberry-rhubarb compote.
Given the excellent value, I was tempted to stop there and order it, but I continued looking and later asked the waiter for recommendations.
I began with a half-portion of the signature arugula and fig salad with toasted pecans and pancetta. Farm-to-table dining is epitomized in such salads.
It was followed by one of the restaurant's oldest and most popular dishes, wild flounder meuniere on a bed of Yukon potato puree and spinach with lemon-caper brown butter.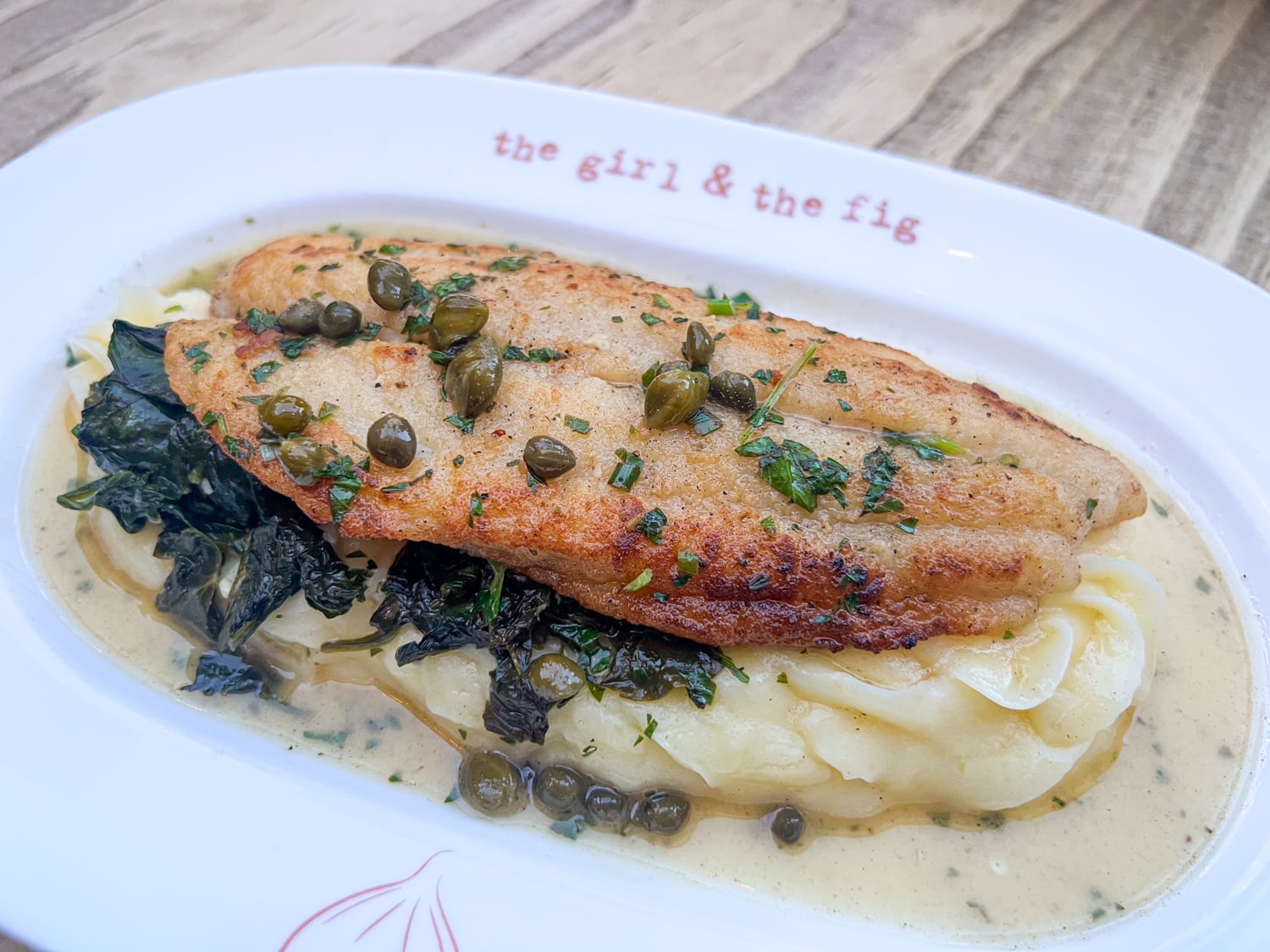 The fish was cooked to a light golden brown and was easy to pull apart with my fork. One delicious bite followed another, and it was quickly devoured.
Dessert was a salted fig trifle with chocolate budino, candied cocoa nibs, and Italian meringue. It was incredibly rich and chocolatey, as the waiter promised.
I departed for the hotel with two chocolate chunk sea salt cookies, a gift for Kel, who couldn't join me for dinner.
the girl & the fig, 110 W Spain St, Sonoma, CA, thegirlandthefig.com
El Dorado Kitchen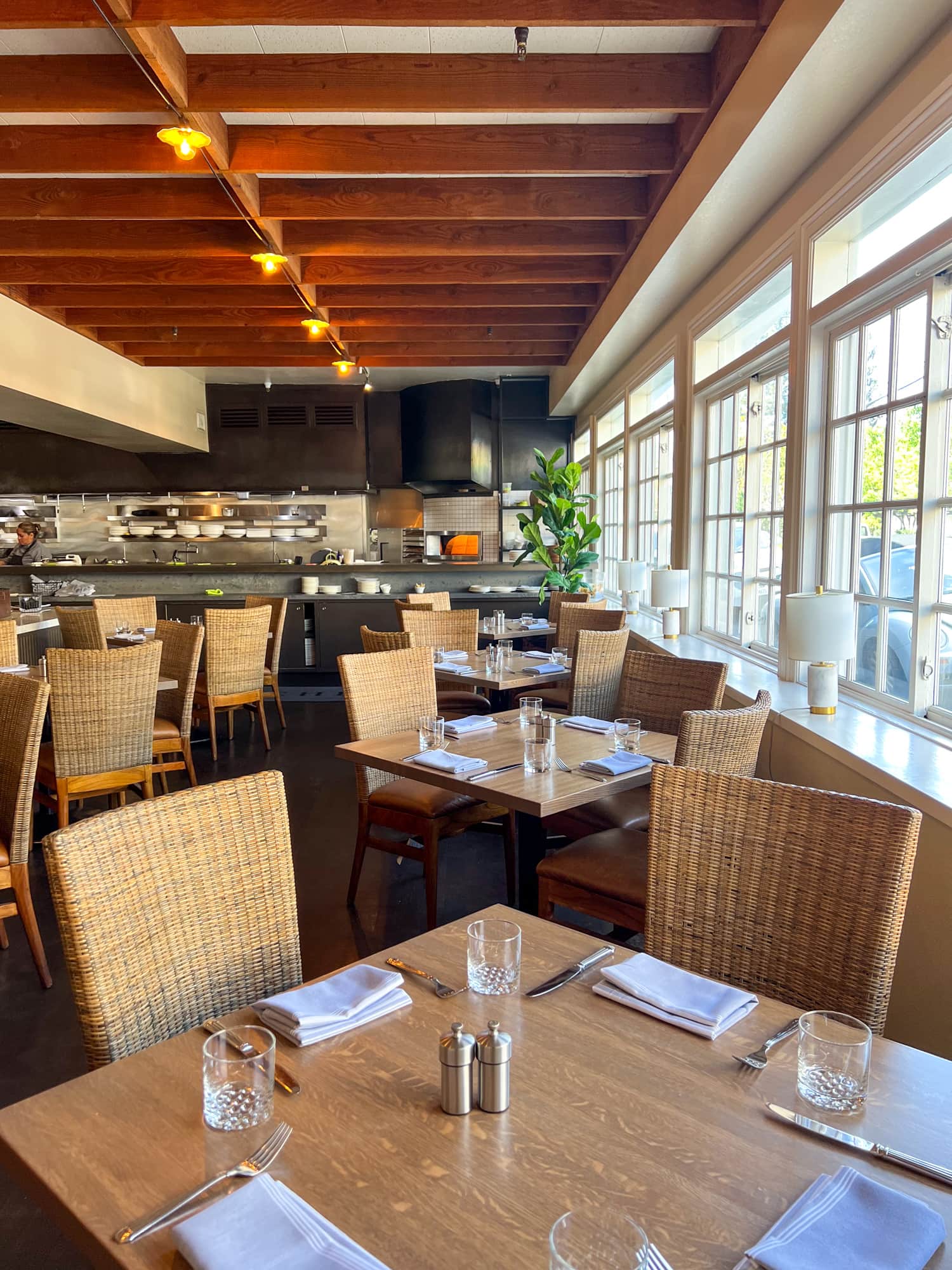 Following a tasting at Caddis, one of the many wineries in Sonoma Plaza, Kel and I met for lunch at El Dorado Kitchen.
El Dorado Kitchen is on the ground floor of the El Dorado Hotel in the northwest corner of Sonoma Plaza, between the Sunflower Caffe and the fig & the girl.
I can safely say this corner of the plaza fed me well on my first trip to Sonoma.
The main dining room is spacious, with an open kitchen at the far end and lots of natural light.
If you prefer to dine al fresco, there are tables on a large tree-lined patio, but I liked the interior design and opted to sit inside.
Executive Chef Armando Navarro went to culinary school in California and later worked at top restaurants like Le Bernardin in New York City before returning to the west coast.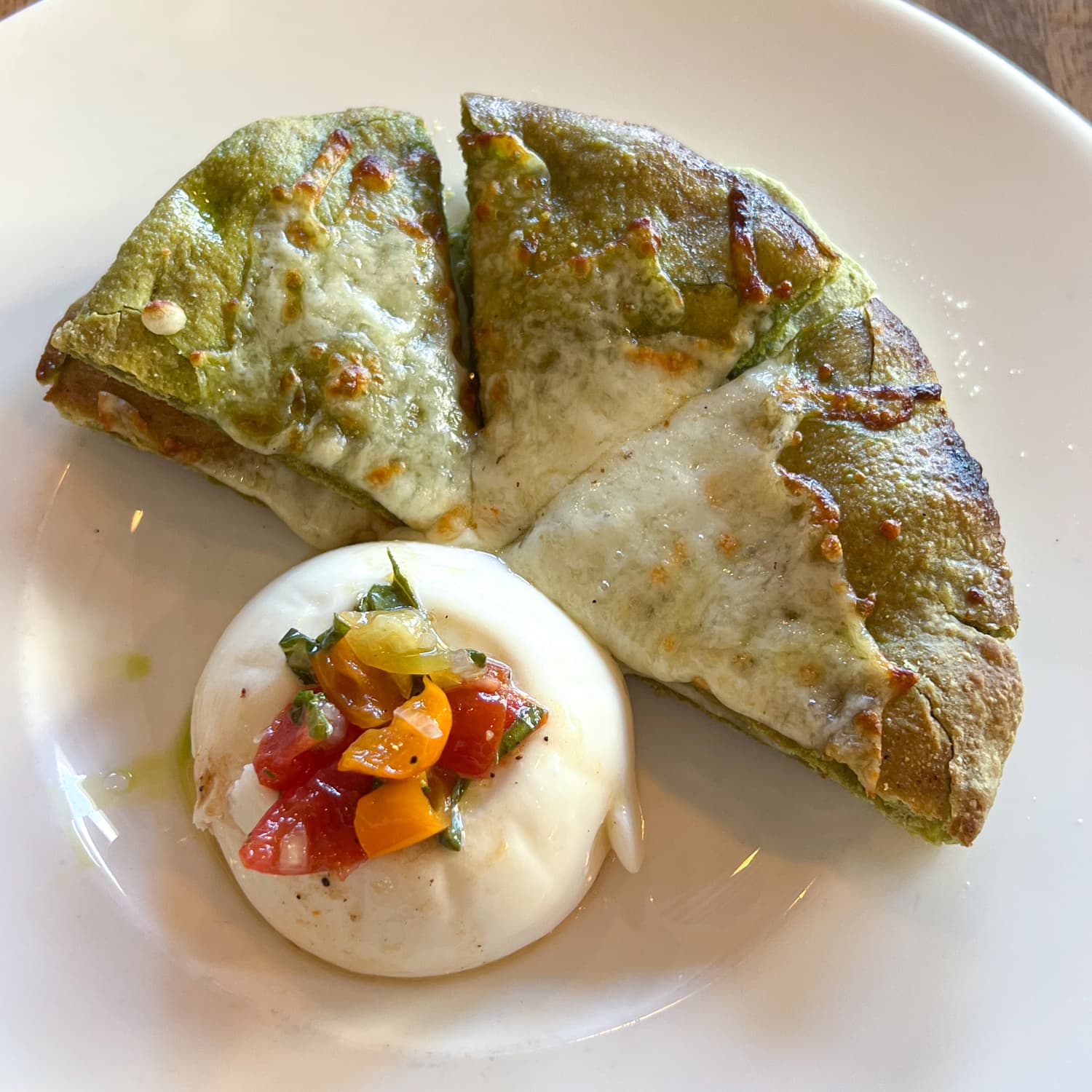 Food
El Dorado Kitchen serves California cuisine for breakfast, lunch, and dinner, plus a Saturday and Sunday brunch. As with every restaurant I share, the menu changes frequently based on what's in season.
Our lunch in Sonoma Plaza began with two glasses of Brut Rose from Anderson Valley.
Caviar, oysters, shrimp cocktail, steamed mussels, and ceviche were all available as appetizers. However, we got the fresh burrata with cherry tomatoes, basil, olive oil, and pizza-like pesto bread.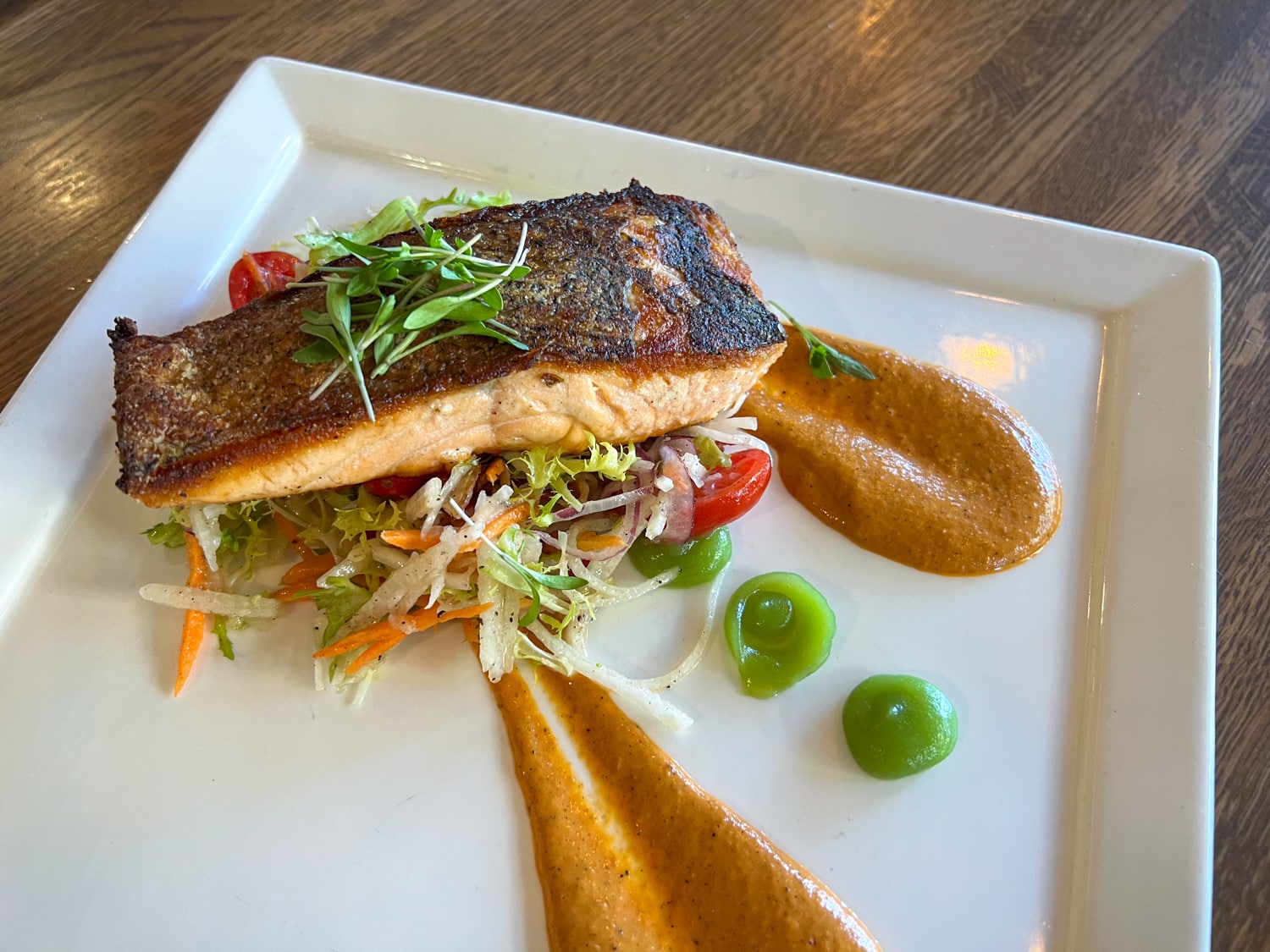 I ordered the pan-roasted salmon with bacon, cherry tomatoes, cucumber avocado sauce, and tomato roasted red pepper sauce for an entree. It was beautifully plated and cooked a perfect medium rare.
Kel liked the light batter of her crispy fried shrimp tacos, of which I had a bite. They were served with cole slaw, spicy crema, guacamole, and cotija cheese.
For dessert, one of my favorites—chocolate molten cake with vanilla ice cream.
The El Dorado Kitchen, 405 1st St W, Sonoma, CA, eldoradosonoma.com
Della Santina's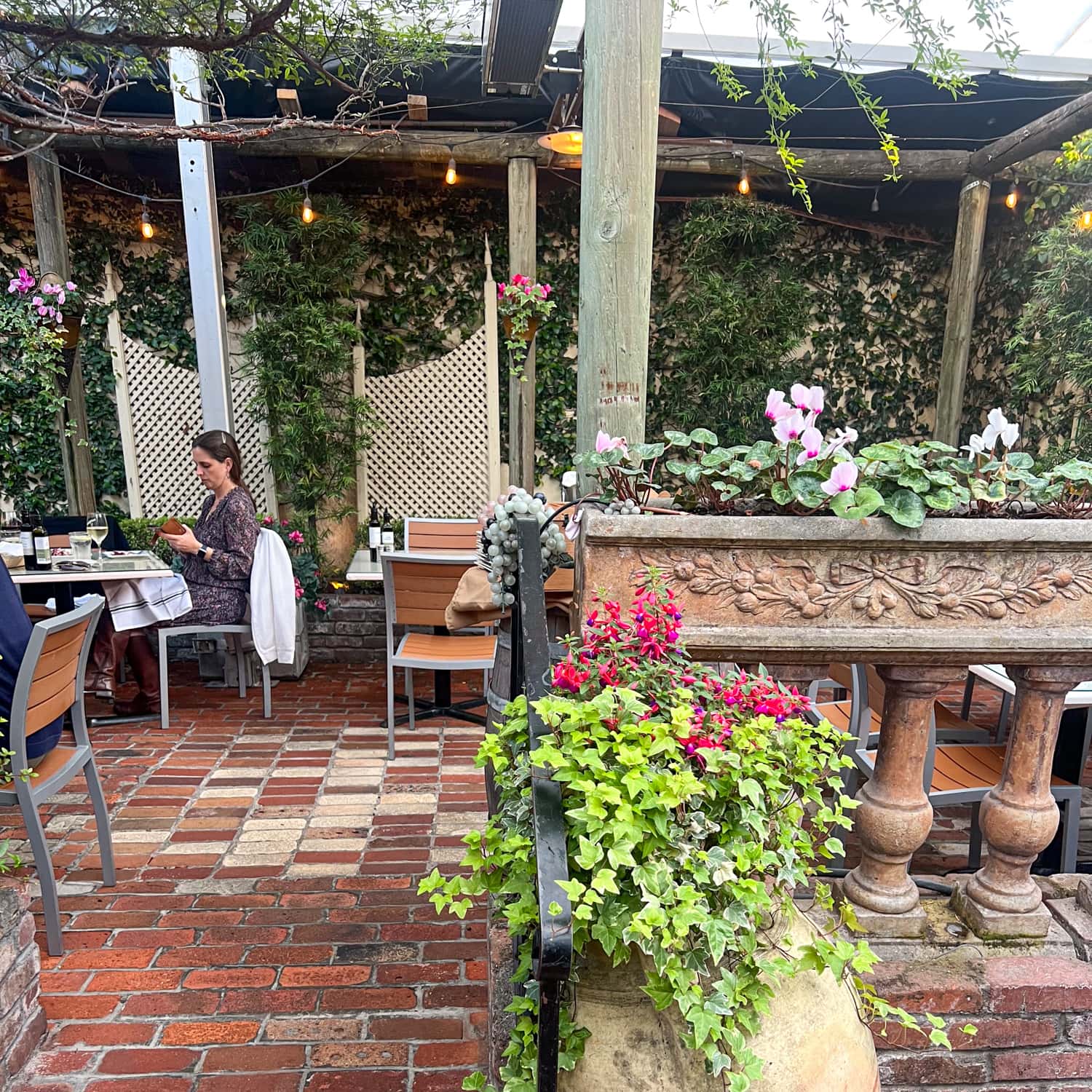 Tuscan soul food is on the menu at Della Santina's, a third-generation family-owned Northern Italian restaurant in the southeast corner of Sonoma Plaza.
This local favorite was opened in 1990 by Quirico (Dan) and Shirley Della Santina.
The Italian couple was motivated to serve Tuscan food in the tradition of Dan's mother, Pia Della Santina, and mother-in-law, Clary Barsotti. And more than 30 years later, they're still running strong.
We ordered two glasses of wine to kick off dinner on their charming flower and vine-filled patio.
I enjoyed the 2017 Toscano Rosso (Italian red wine), while Kel ordered a 2019 Moscato d'Asti (Italian white wine).
Food
Fresh burrata with imported ham from Alto Adige was served as an appetizer, and there were many kinds of pasta to consider for our main courses.
Some of the handmade pasta options include:
Linguini al Pesto - spinach pasta with basil, garlic, and olive oil
Tortellini alla Panna - pork and chicken-filled pasta in a light cream sauce
Cannelloni Florentine - chicken, veal, and ricotta crepes in a tomato and bechamel sauce
I chose the Penne Contadina with Italian sausage in a pear tomato sauce. Kel chose the housemade gnocchi in a white cream sauce, and both were topped with fresh Parmigiano Reggiano.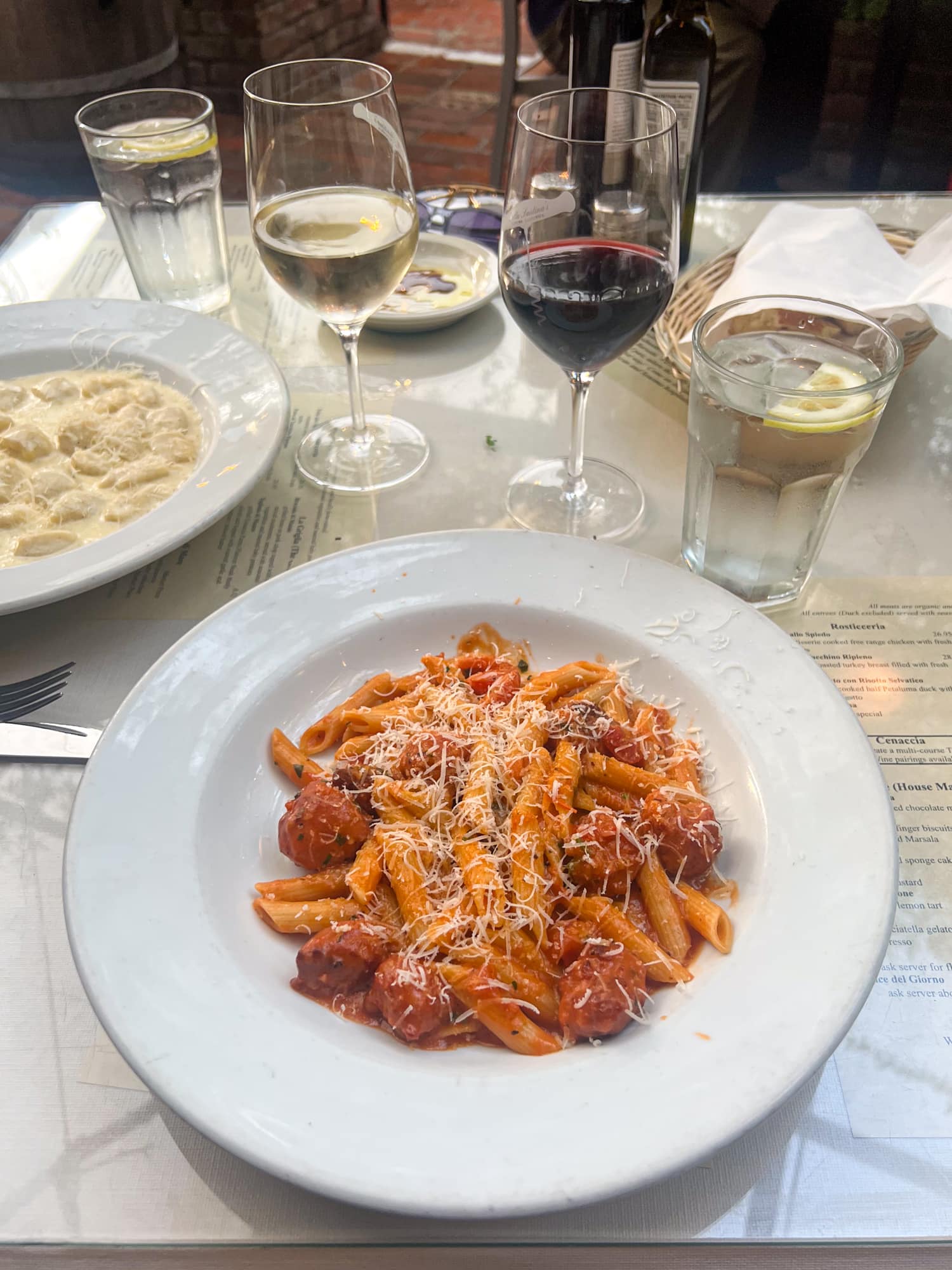 If you're not in the mood for pasta, there's also organic and locally-raised rotisserie chicken, turkey, duck, veal, and steak. Prawns and a limited selection of fresh fish are also available.
You can ask your server to create a multi-course Tuscan meal with optional wine pairing for a true feast.
And no dinner would be complete without something sweet, and certainly not in an Italian restaurant.
Some options include a housemade chocolate torte, tiramisu with espresso, rum, triple sec, and Marsala, and a Tuscan lemon tart.
Ultimately, we shared a white chocolate cheesecake that was worth the calories.
Della Santina's, 133 E Napa St, Sonoma, CA, dellasantinas.com
Additional Options
My stay in the town of Sonoma was all too brief. I want to share a few more of the restaurants in Sonoma Plaza I didn't have time to try. Consider this the Quickfire Round!
I sincerely hope this story has given you a sense of the great food awaiting you at Sonoma Plaza in the heart of Sonoma Valley, California.
Whether you're looking for great wine, fine dining, a French passion for pastries, or homemade ice cream, you can find it here.
_______
Our meals at El Dorado Kitchen and Della Santina's were complimentary as part of my collaboration with Sonoma Valley.