The girl & the fig was abuzz with diners when I walked in the front door of the iconic French restaurant in downtown Sonoma.
It was 7 p.m. on a Sunday, and I looked forward to a delectable dinner after a day spent sightseeing in Sonoma County, an hour north of San Francisco.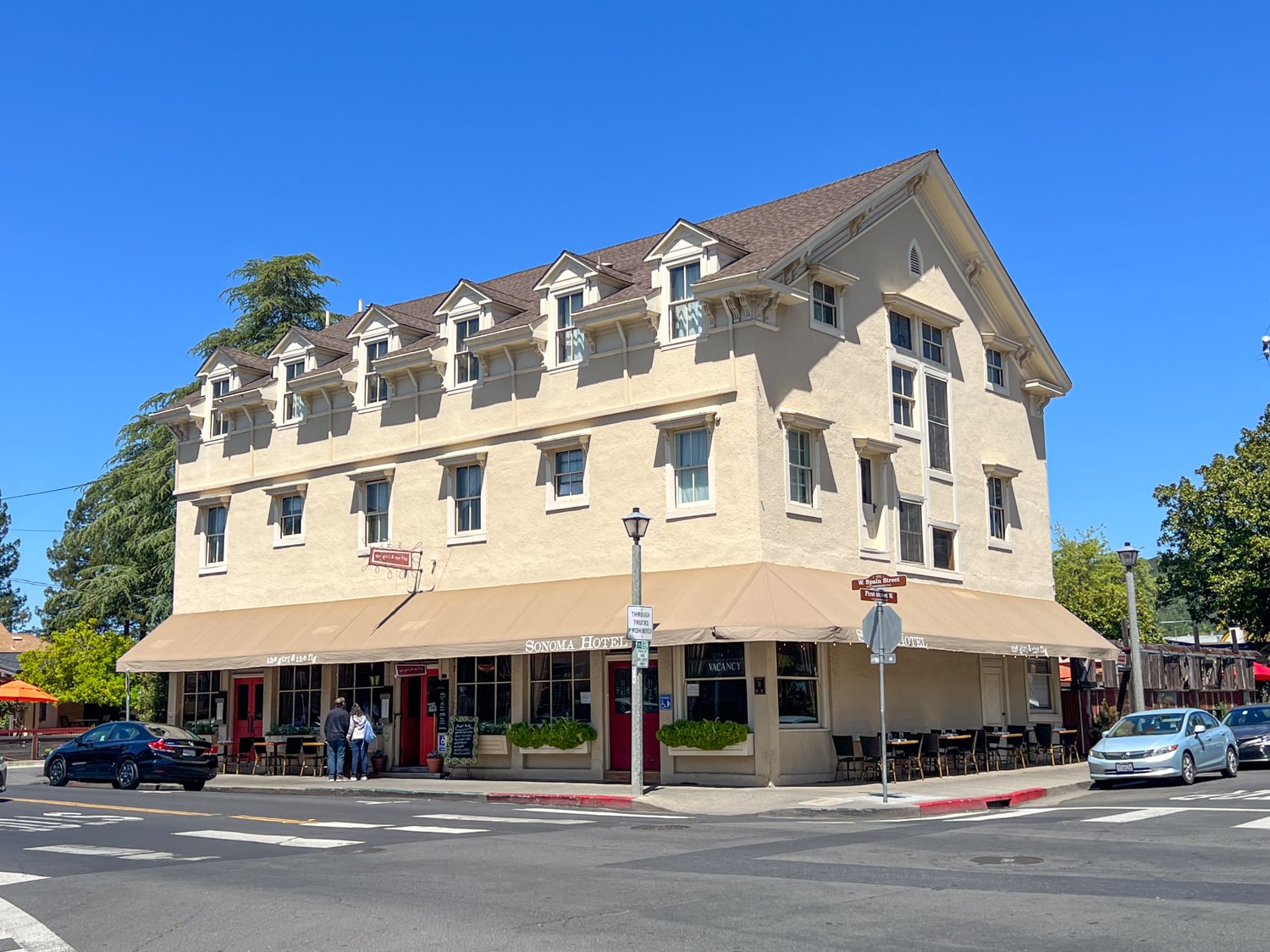 Inside, an inviting antique wood bar with cushioned stools stands ready to show visitors a good time.
A hostess led me to my table on the outdoor patio, equally full of dinner guests as the interior rooms.
In August 2022, the girl and the fig celebrated its 25th anniversary, a notable milestone for any restaurant.
A story in The Press Democrat marked the occasion and provided background on its evolution according to owners Sondra Bernstein and John Toulze.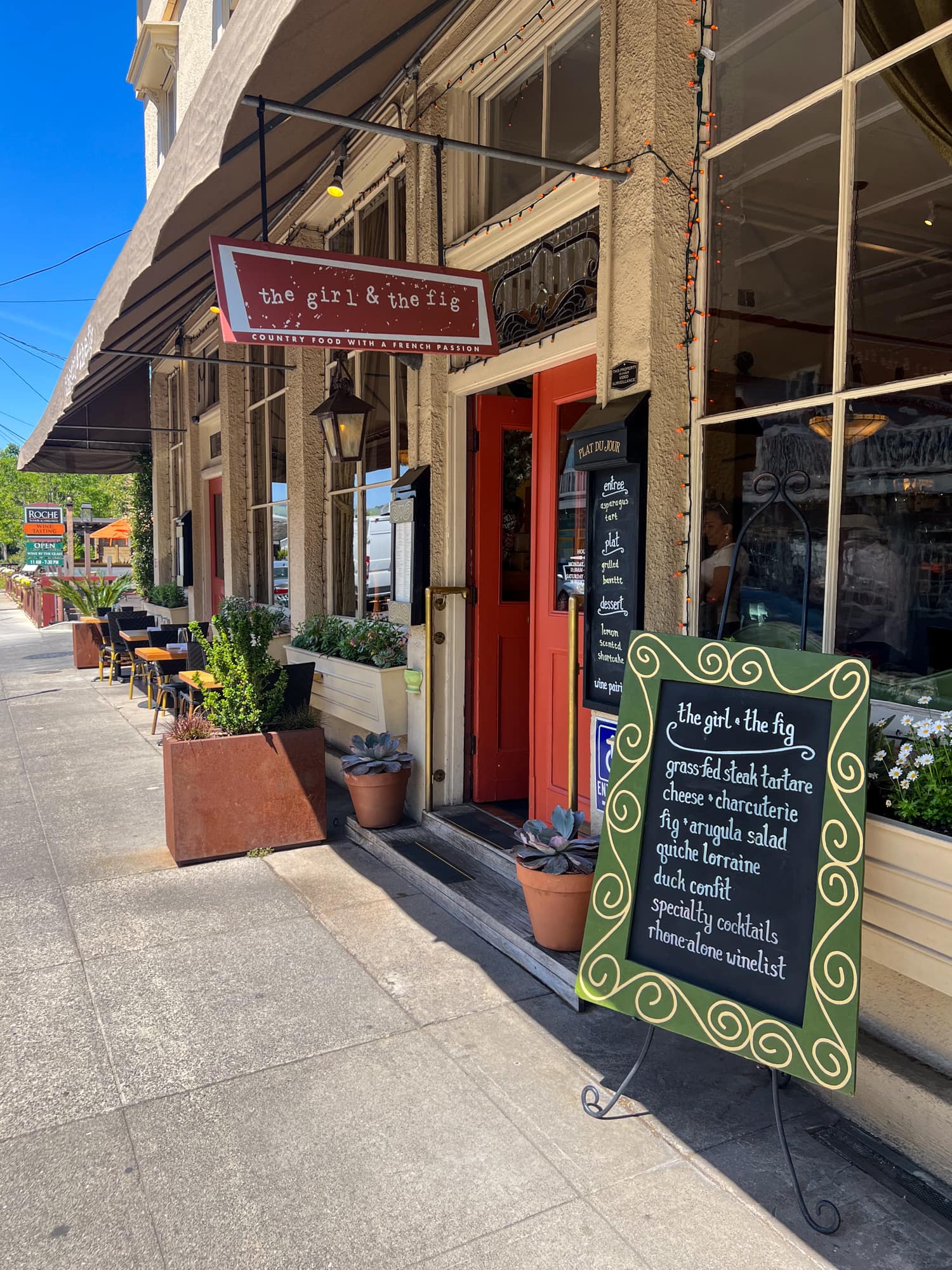 The pair previously worked together at Viansa, a Sonoma Valley winery, where Bernstein was the Director of Operations, before opening the girl & the fig in Glen Ellen, seven miles north of Sonoma.
In 2000, three years after opening, they moved the French restaurant to its current location at the northwest corner of historic Sonoma Plaza.
the fig cafe & winebar continues to operate out of the same building in Glen Ellen where they first opened the restaurant.
Dinner at the girl & the fig
Wine List
The wine list at the girl & the fig only features Rhone grape varietals, of which there are 22, including Mourvedre, Roussanne, and Syrah/Shiraz.
Whether you want to drink a local wine or an international one, you'll have plenty of options. The girl & the fig is the perfect place to explore new wines.
Cocktails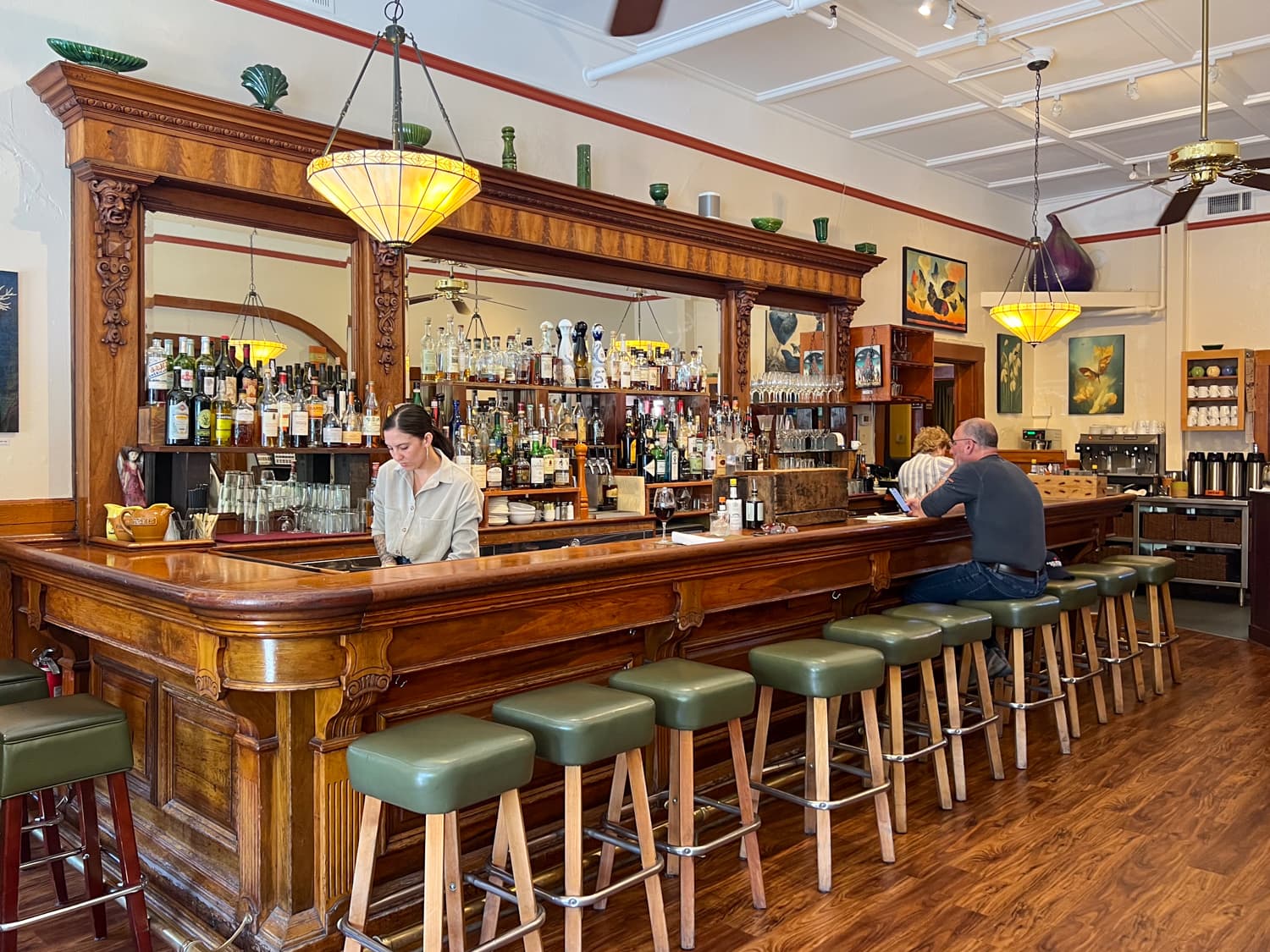 I had a full day of wine tasting the following day, so I was more interested in a cocktail.
Under "Fig Classics," there are various takes on classic cocktails made with the restaurant's caramelized fig syrup.
For example, there's the fig fashioned with bourbon, caramelized fig syrup, bitters, dried figs, orange, and brandied cherries.
Other mixed drinks that caught my eye included:
Havana ooh na na - Havana Club dark rum, apricot, citrus, and rosemary
Pimm's summer - Pimm's, ginger syrup, strawberry, mint, lemon, and soda
Lavender mojito - rum, mint, lavender simple syrup, soda, and lime
Caramel Irish coffee - Jameson's Irish Whiskey, Baileys, coffee, whipped cream, and fig caramel drizzle
I ordered the Fig Royale with sparkling wine and caramelized fig syrup. I'm glad I tried it, but I would probably have enjoyed one of the above more.
A selection of California craft beers and non-alcoholic drinks are also available.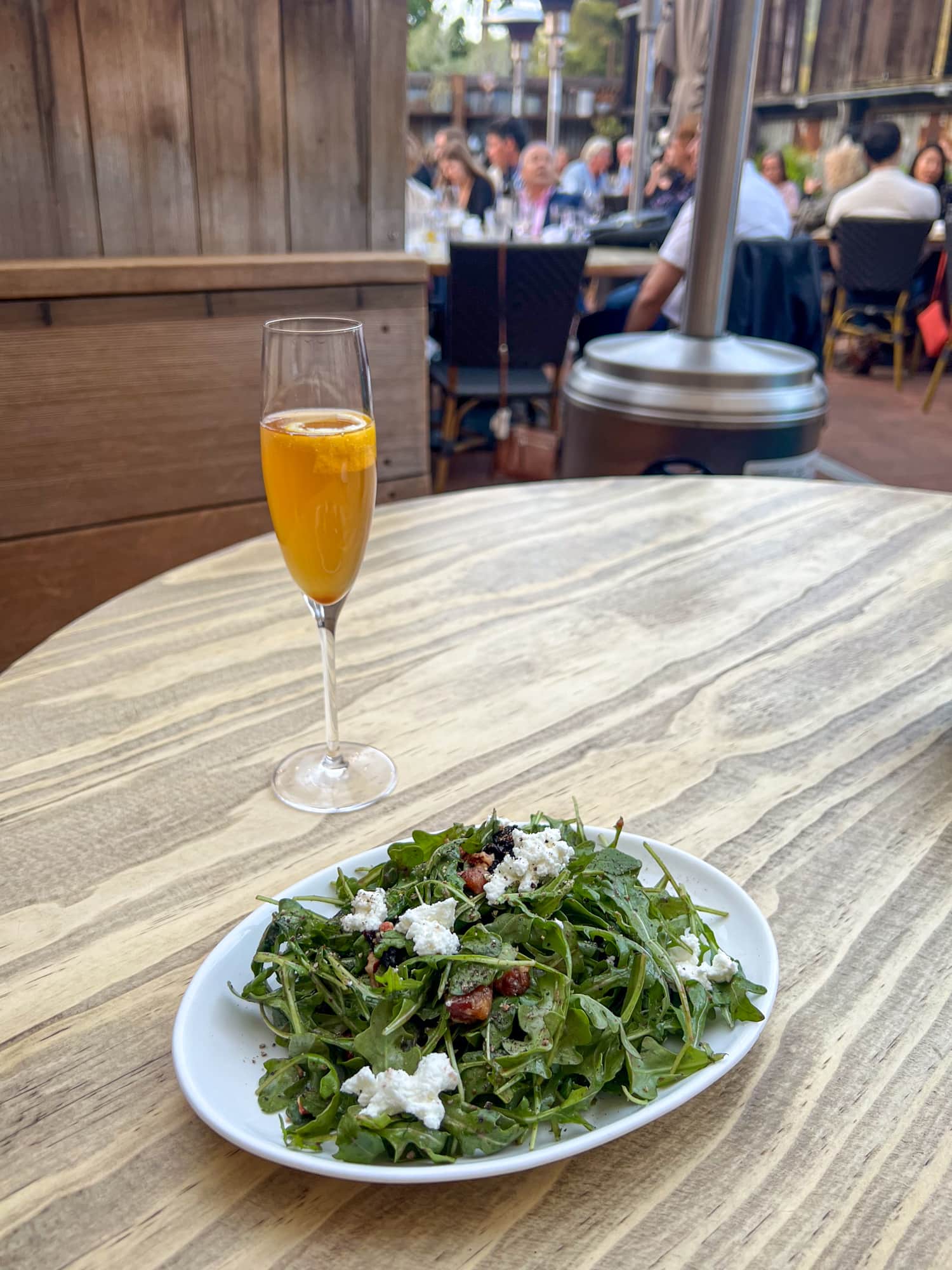 Food
"Country food with a French passion" is the girl and the fig's tagline and reflects a seasonal menu showcasing Sonoma Wine Country's bounty.
Bistro Plats du Jour
The menu begins with the Bistro Plats du Jour, a 3-course meal with optional wine pairing updated every Thursday. Given the quality of local ingredients, it's a fantastic deal at $48.
The week I was visiting Sonoma, the Bistro Plats du Jour included:
Asparagus tart with caramelized onions and gruyere.
Grilled bavette with potatoes and fava beans.
A choice of lemon-scented shortcake or single cheese with nuts, fig jam, and seasonal fruit.
Appetizers
Popular starters include the steak tartare with raw egg, caperberries, and lavender sea salt, and pastis-scented steamed mussels and frites.
Cheese plates are available with either charcuterie or fresh fruit. A duck liver mousse with heirloom apple butter and brioche toasts also sounded tempting!
I ultimately landed on a half-portion of the fig & arugula salad, which Bernstein said "...encompasses the Wine Country simply by combining ingredients that are wonderful on their own yet when served together create entirely different flavors."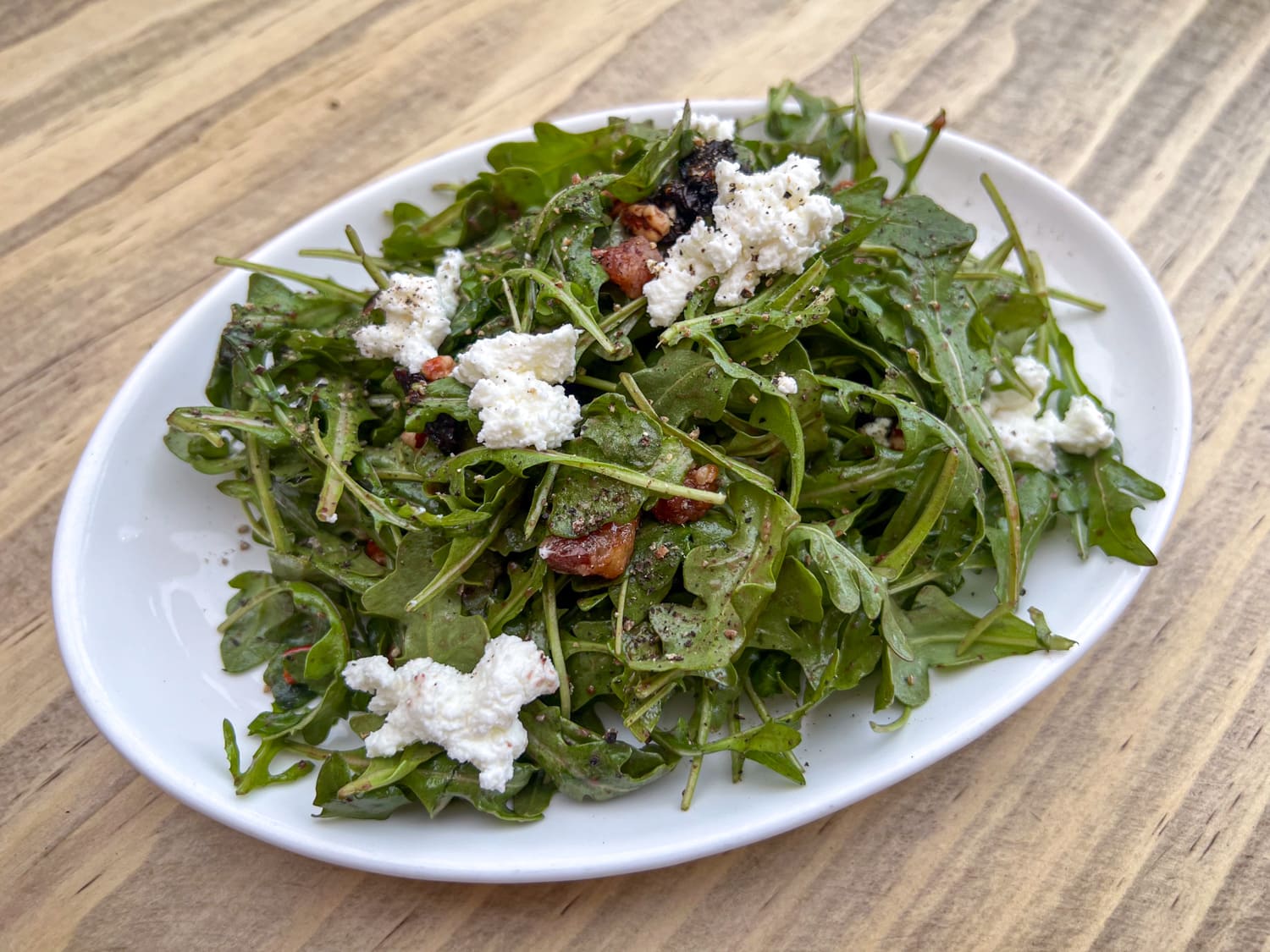 The salad has arugula, fresh figs, toasted pecans, pancetta, Laura Chenel chevre (goat cheese), and a fig & port vinaigrette.
I don't often order salads as appetizers, but I enjoyed every bite of this one, and all the ingredients tasted farm fresh.
Entrees
I'd debated the best things to order well before arriving at the restaurant.
Many main dishes had jumped off the web page at me, including spring pea risotto with roasted shallots, duck confit with lyonnaise potatoes, and a rock shrimp ragout with spring onions and asparagus.
Even the sandwich section was mouthwatering, as it featured one of my favorites, croques monsieur, made with applewood smoked ham, local cheddar, and bechamel sauce.
A fig burger topped with bacon-fig jam, tarragon aioli, and smoked goat cheddar sounded terrific.
I ultimately ordered the wild flounder meuniere served on Yukon potato puree and spinach and bathed in a lemon-caper brown butter sauce.
Related: Things To Do in Sonoma Valley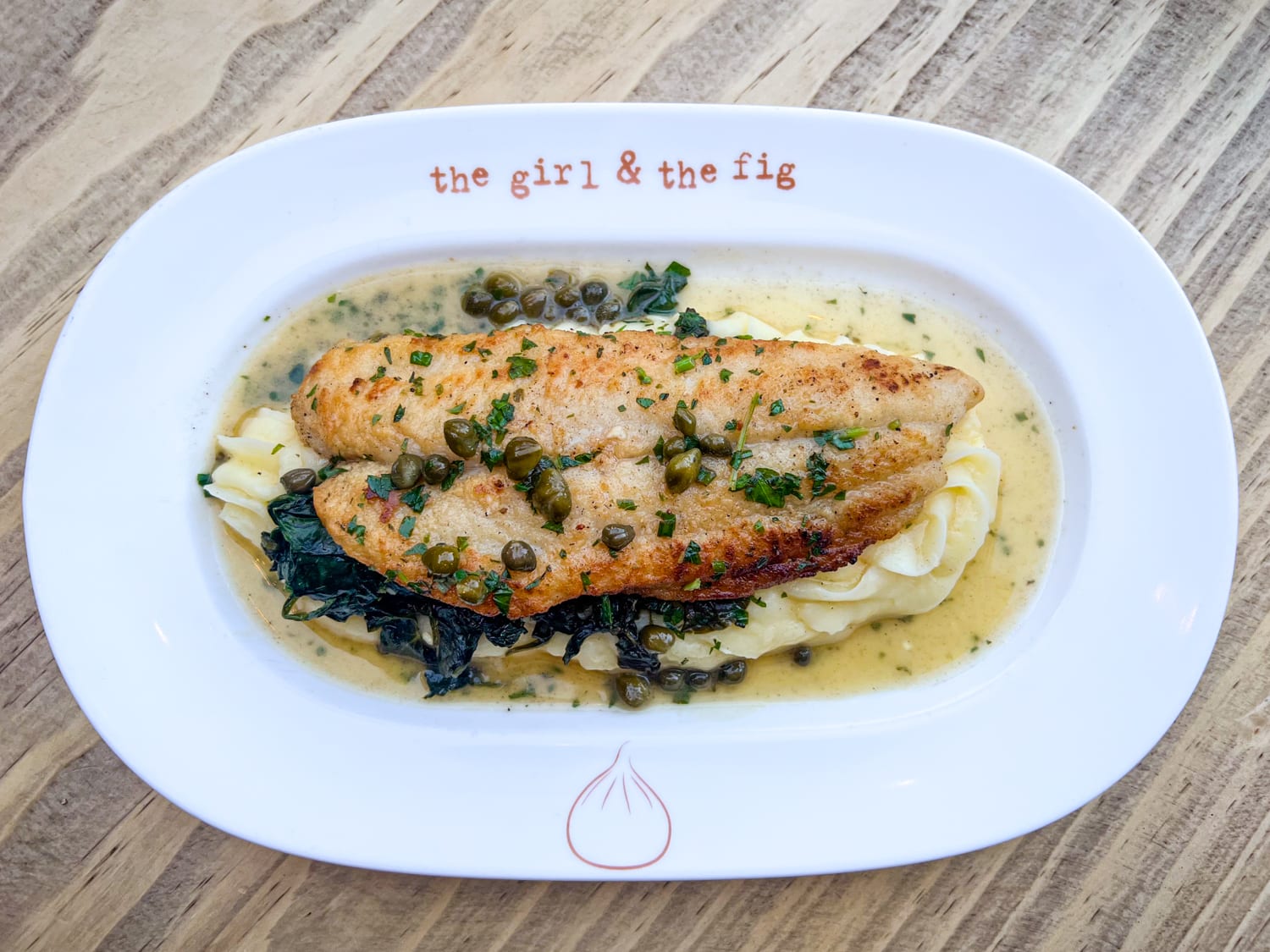 The flounder is another signature dish at the girl & the fig and one that my waiter heartily recommended.
It was perfectly cooked and nicely presented. No knife was needed; the tender white flakes of flounder were easy to pull off with my fork.
Dessert
The only task left was to select a delicious dessert, and it would not be easy.
There was a Meyer lemon curd with orange chiffon crumble and candied kumquats and a butterscotch pot de creme with whipped mascarpone and chocolate shavings.
I wanted to stay on theme and ordered the salted fig caramel trifle with chocolate budino, candied cocoa nibs, and toasted Italian meringue.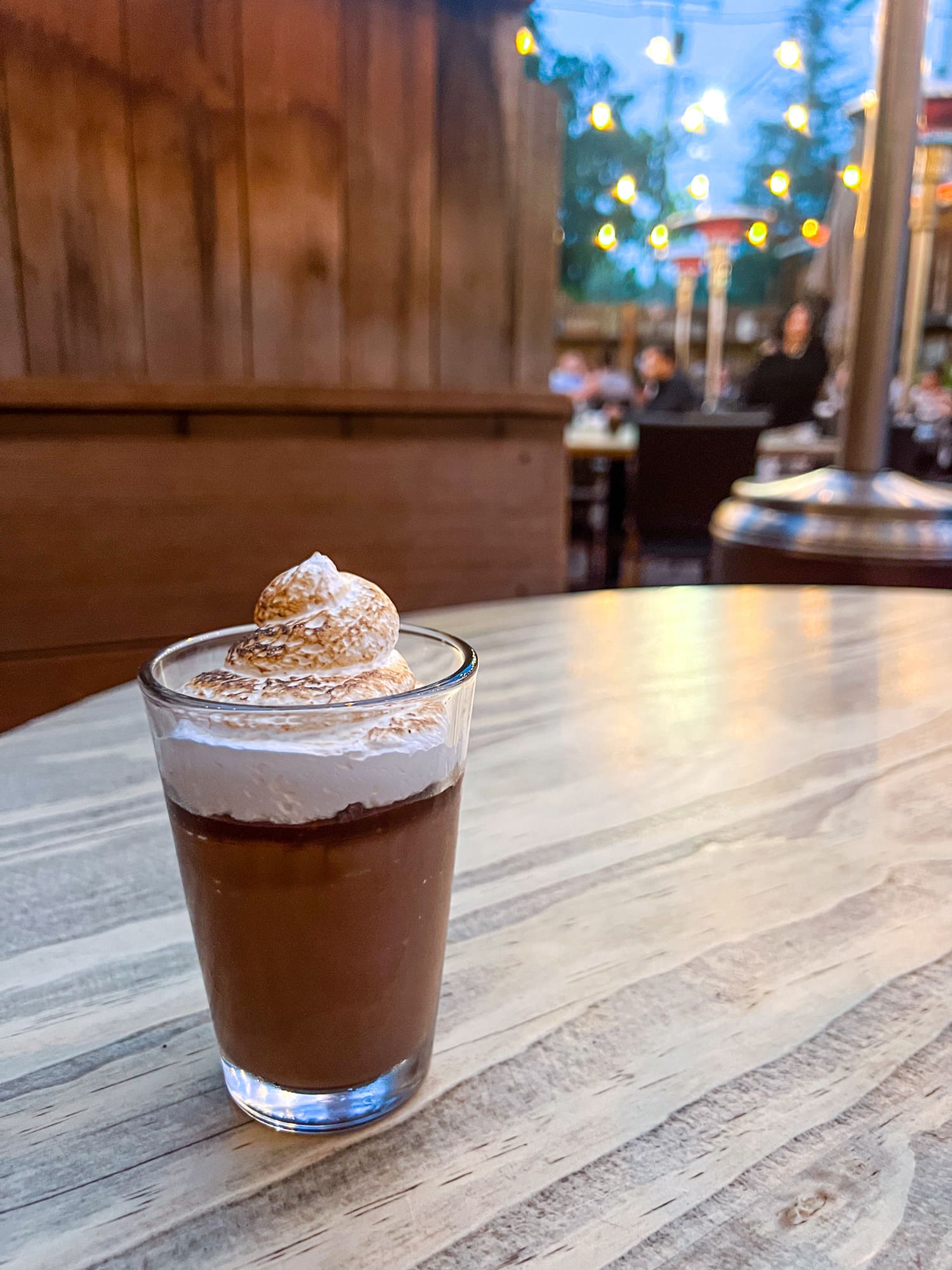 The small portion is deceptive, as each spoonful was incredibly rich and chocolatey.
Given our late lunch at the Korbel Winery, Kel had decided not to join me for dinner.
I ordered a few chocolate chunk sea salt cookies to-go, and they were well received at our hotel. (They're available by mail within California.)
Related: Best Bakeries in San Francisco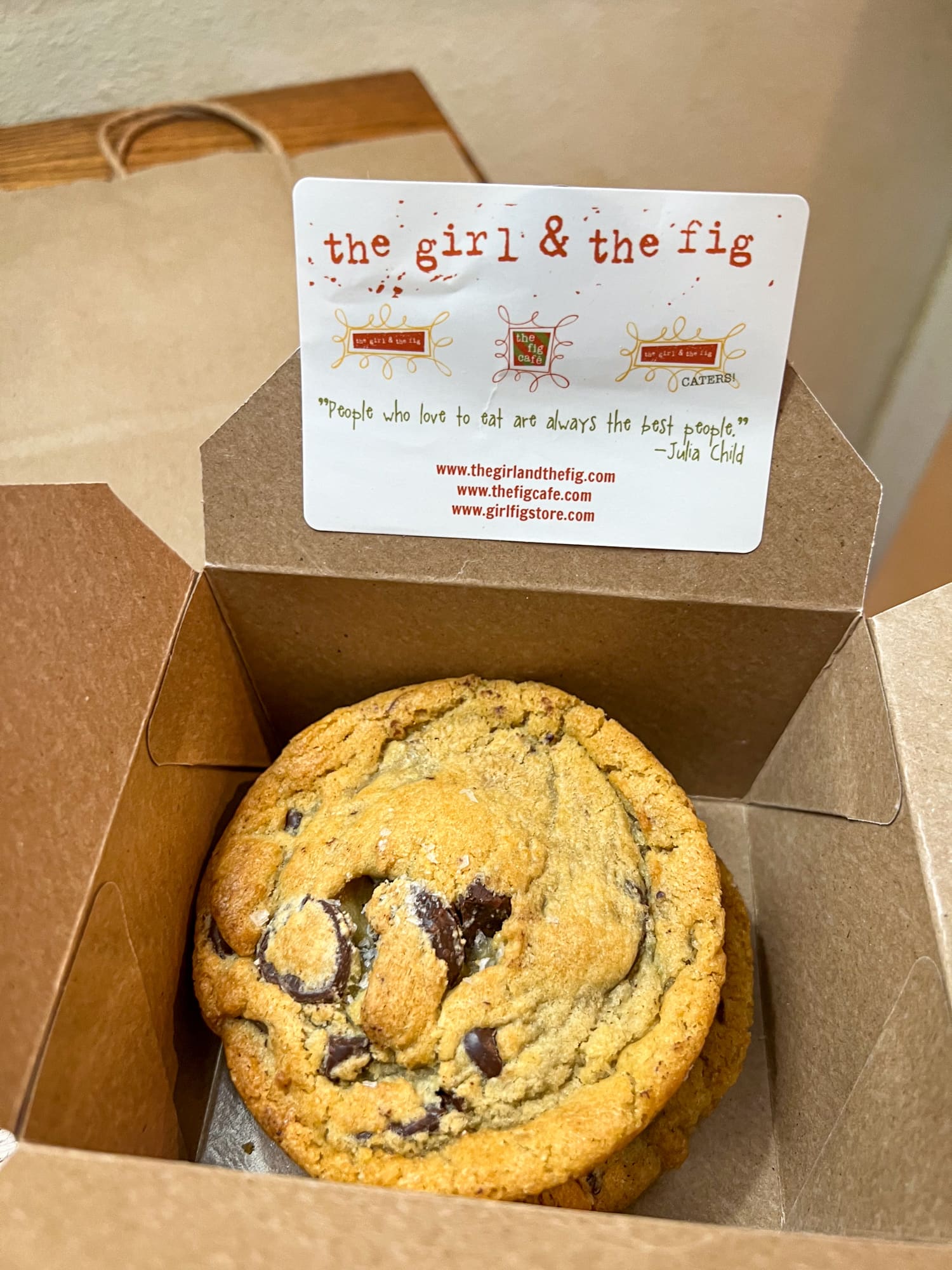 Visit the girl & the fig
Address: 110 W Spain St, Sonoma, California
Dress Code: Casual
Reservations: Recommended. Available on Open Table or by phone. Outdoor seating on the sidewalk is available on a first-come, first-serve basis.
Website: thegirlandthefig.com
If the French food I've shown you looks appealing, but you can't make it to Sonoma, consider cooking it at home.
Sondra Bernstein is the author of the girl & the fig cookbook: More than 100 Recipes from the Acclaimed California Wine Country Restaurant.
_____
My visit to Sonoma was in collaboration with Sonoma Valley. Accommodation was provided courtesy of Sonoma Valley Inn.