My introduction to the creative world of chef Jordan Kahn came on a sunny Saturday morning at Destroyer LA in the Hayden Tract district of Culver City, California.
Kel and I met my friends Mark and Fe for brunch. After moving to Los Angeles, they'd become fans of the Scandinavian-inspired daytime spot.
It was 11 a.m., and there was a line out the door to place an order. Dining at Destroyer in Culver City is first come, first serve; they don't take reservations.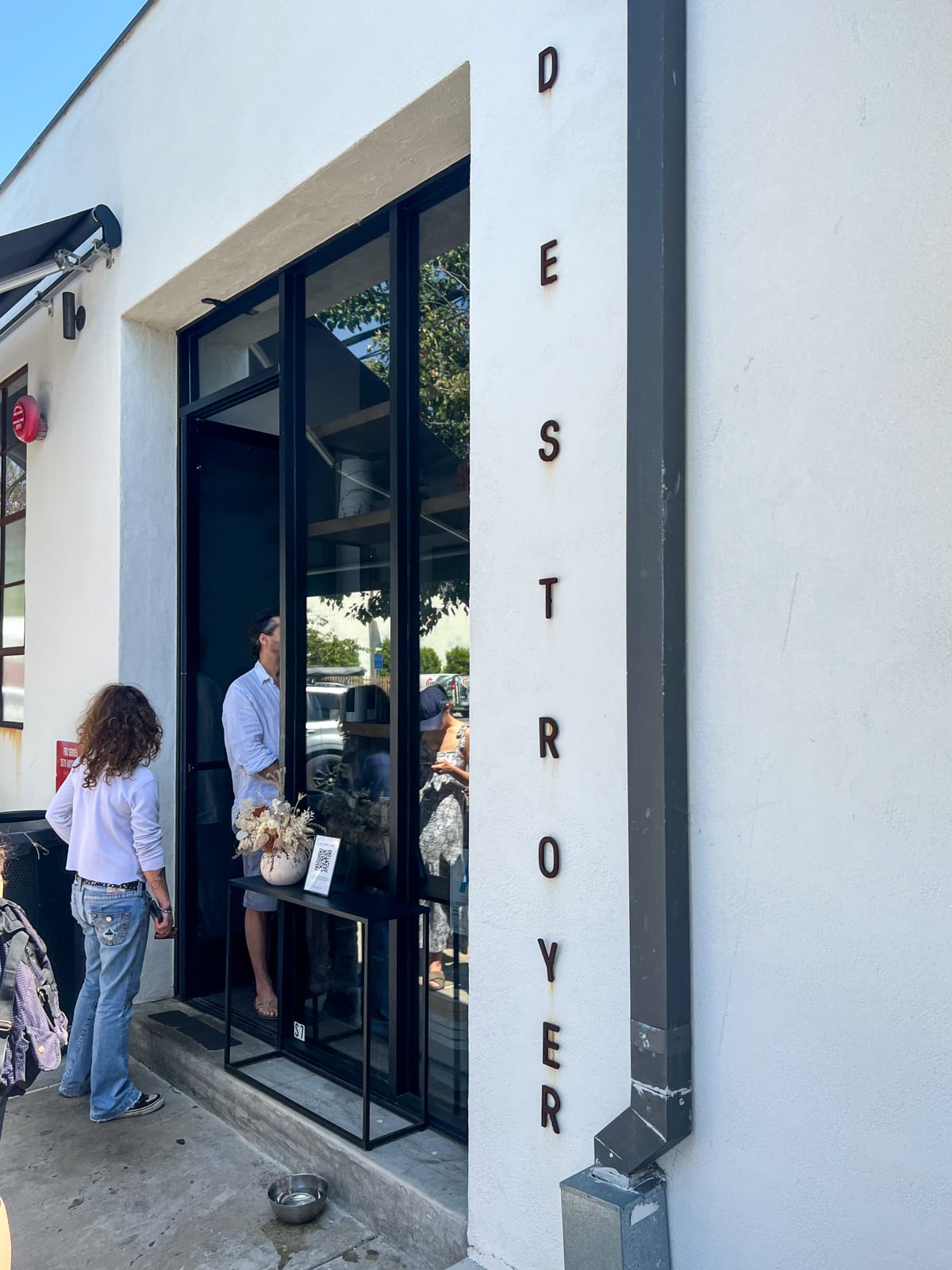 Kahn, the chef inspiring such demand for avocado toast and raw oatmeal with red currant, began his culinary career at 17.
He apprenticed for Thomas Keller at The French Laundry, where he found a passion for pastry.
Kahn went on to help Keller open Per Se in New York City before a brief stint at Alinea in Chicago and later garnering praise as the pastry chef for Varietal (NYC).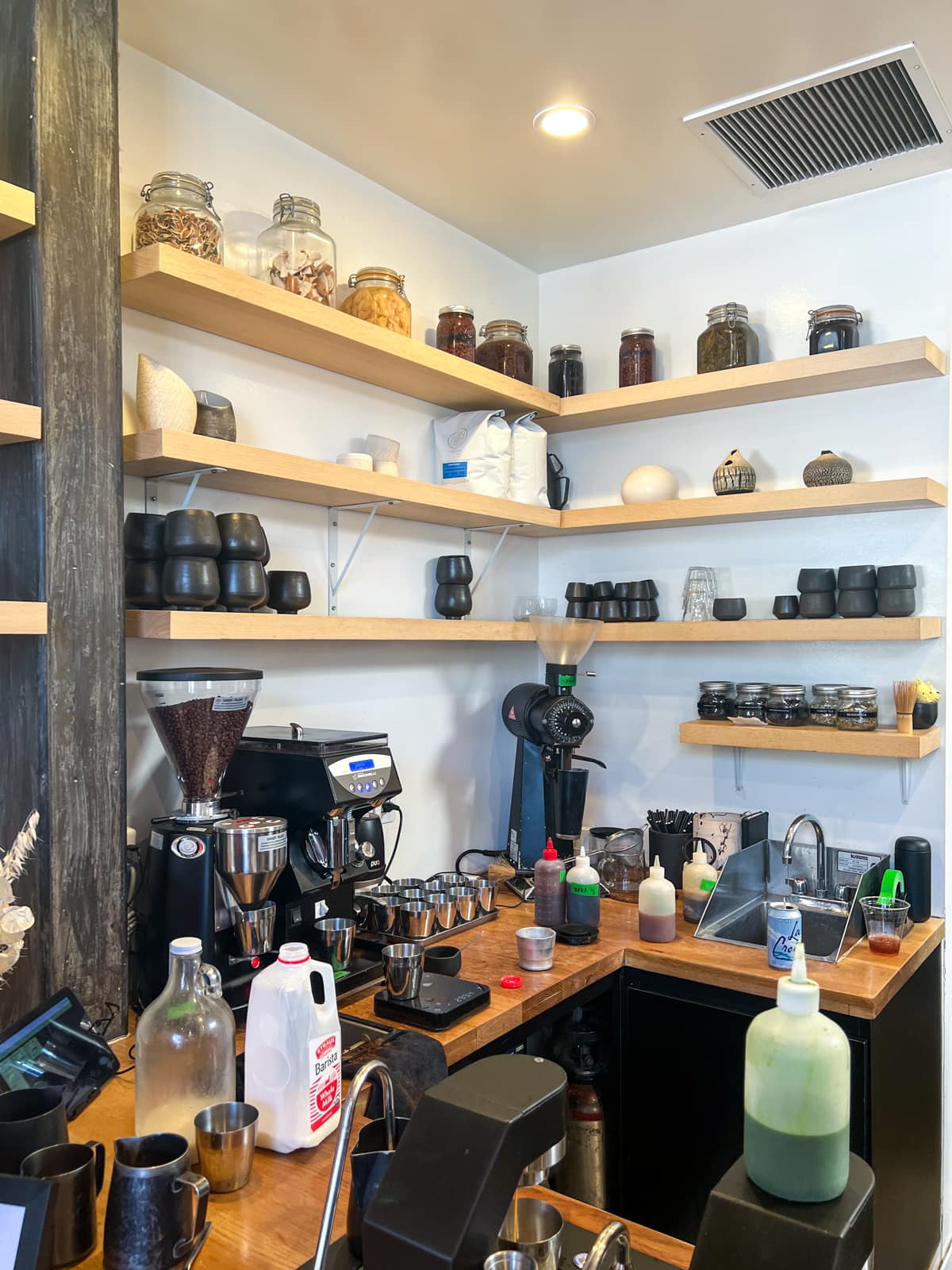 The visionary chef opened his first restaurant, Red Medicine, in Beverly Hills, followed by Destroyer in Culver City in 2016, and Vespertine, his two-star Michelin restaurant across the street, in 2017.
It's not uncommon for Michelin-starred chefs to open casual eateries, a trend I appreciate. It's easier on the wallet and makes the chef's food more accessible.
From a marketing perspective, diners can get to know the chef's food and style before spending hundreds of dollars on a meal.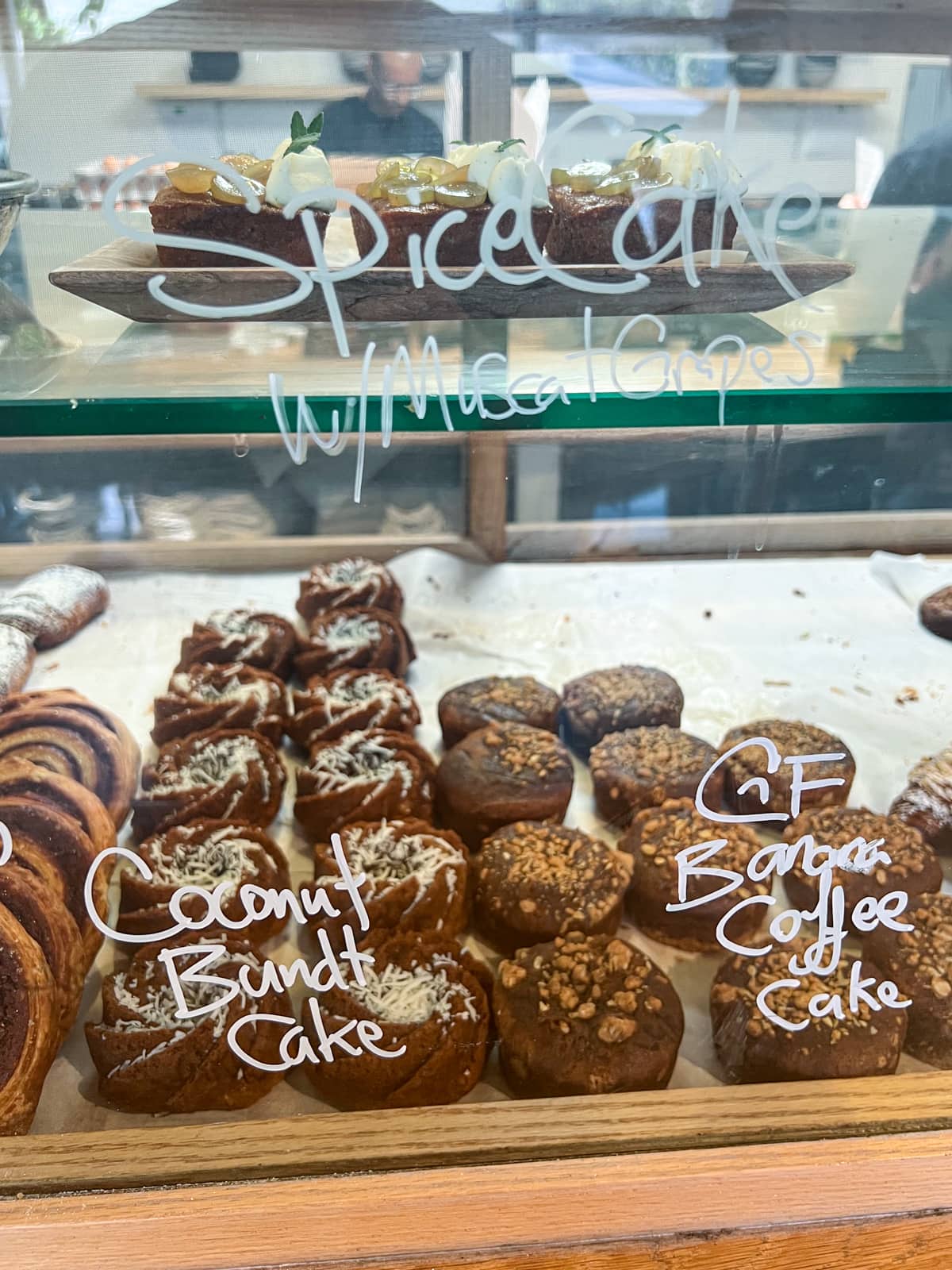 Inside Destroyer
A lot is going on once you get inside the front door of Destroyer, which features an open kitchen.
The restaurant menu is projected on a wall — not the easiest to read, much like their website.
The pastry counter features fresh baked goods. Why can't I eat it all, I wonder, as I recognize choices will soon need to be made.
Still, the coconut bundt and spiced cakes with muscat grapes were appealing.
When it was my turn to order, I asked for a chai tea, the sunchoke waffle, a kale and onion tart for my girlfriend, and the milk chocolate dessert.
The chicken confit Jonathan Gold recommended in his glowing review for the Los Angeles Times is no longer available.
I was handed a number and waited for my chai tea to be prepared. It was served in the same earthenware mugs on display for sale.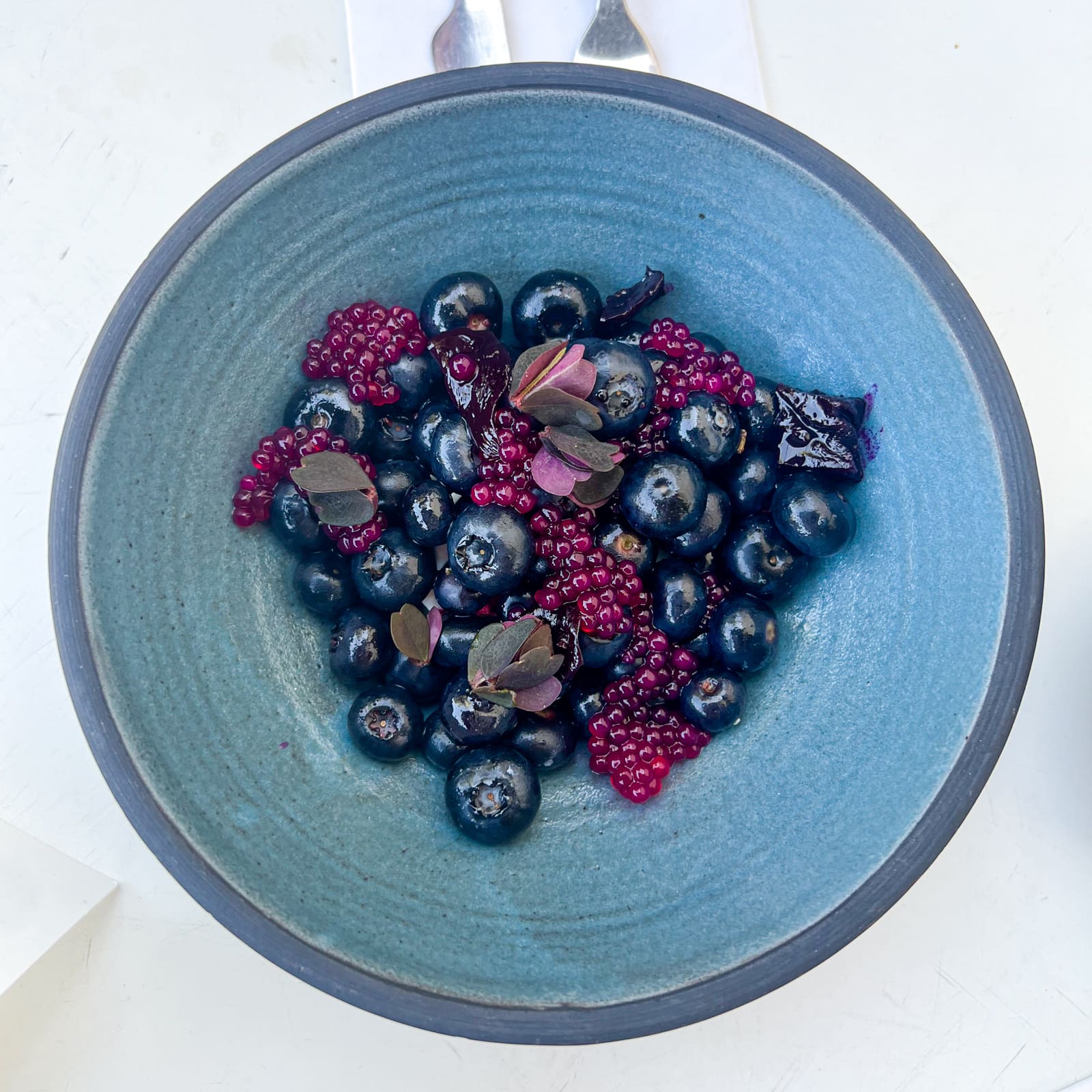 Brunch
Fe, who'd arrived earlier than us, had already received a beautiful bowl of farm-fresh blueberries with house-made coconut yogurt, pearl tapioca, candied beets, vanilla almond oil, and black currant.
The presentation of the food and attention to detail at Destroyer in Culver City reminded me of Geranium in Copenhagen.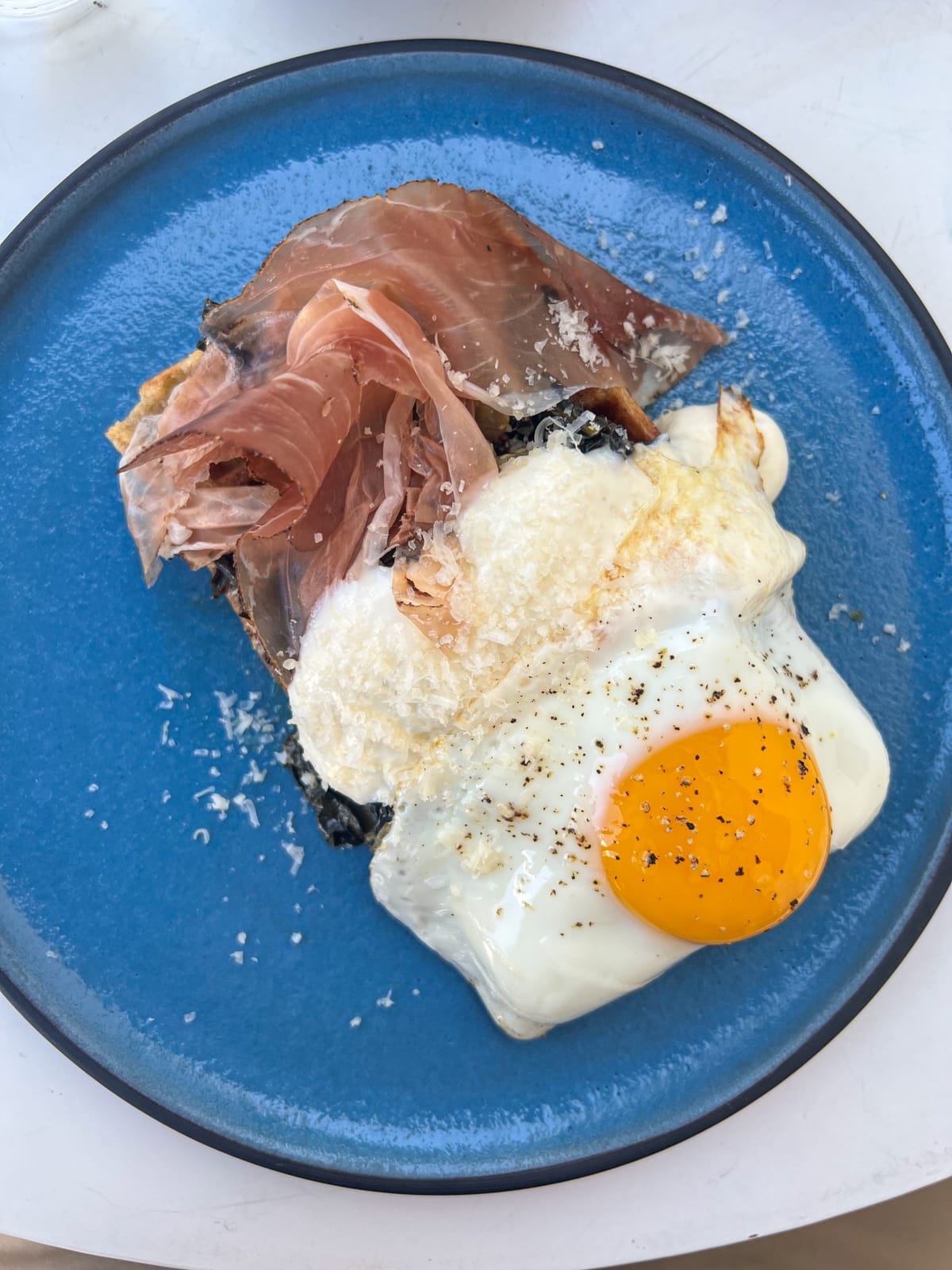 About ten minutes later, my gruyere sourdough sunchoke waffle with fried organic egg, gruyere cheese emulsion, shaved speck (a cured Italian ham), braised kale, and spicy pepper jelly arrived on a blue plate.
Not surprisingly, this dish was thoughtfully put together too. I liked the contrast of the food's colors (yellow, white, pink) against the deep blue of the plate.
Flavor-wise, it was okay. I enjoyed it but knew there were other dishes on the menu I would've liked more, such as the strawberry French toast or avocado confit with country bread. Next time!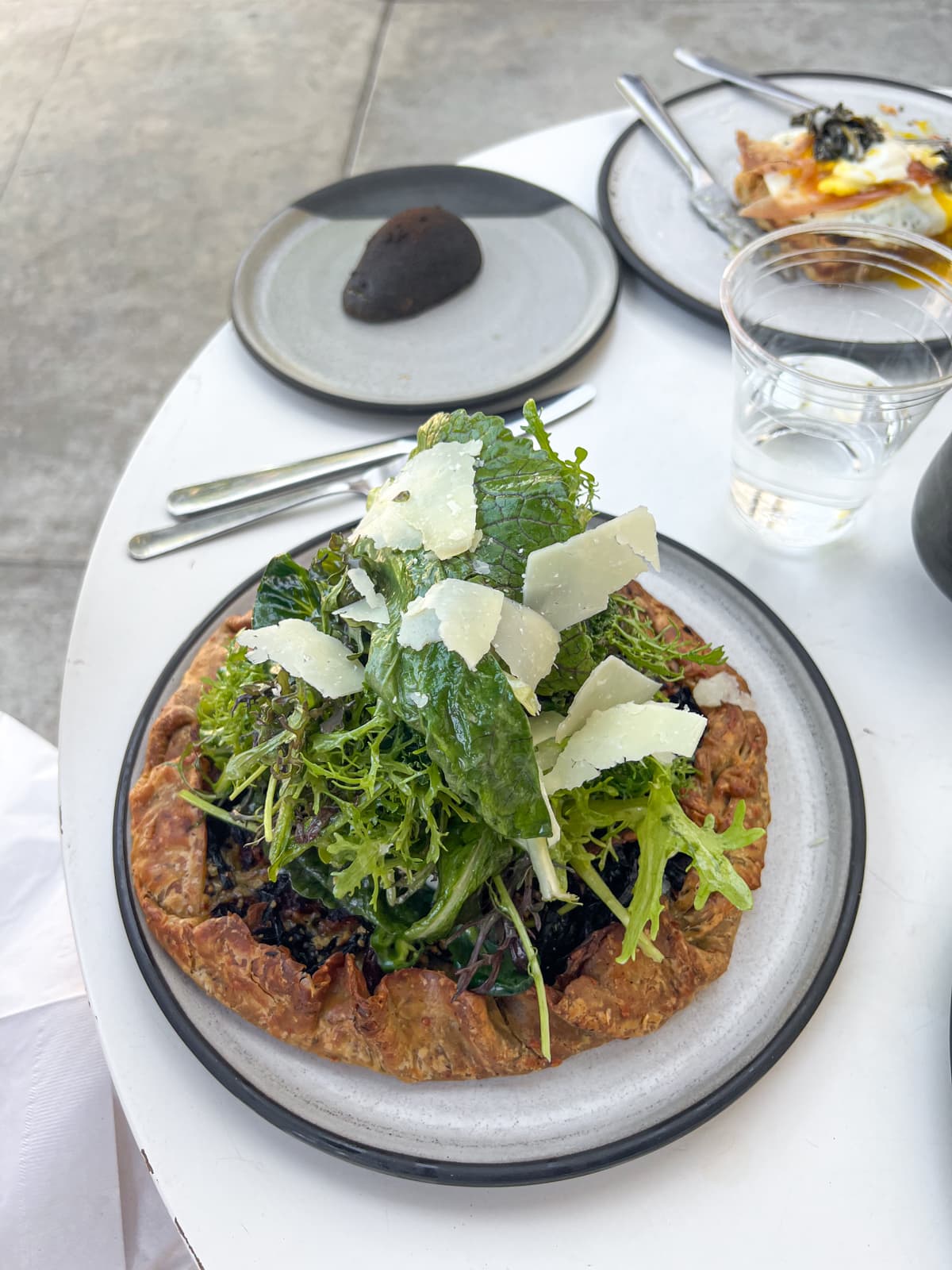 Meanwhile, Kel was staring down a towering salad of baby greens and shishito peppers atop her creamed kale and smoked onion tart with organic chicken sausage and dates.
I often think of tarts as the small ones you see in pastry displays; this one was the size of her plate.
See also: Modern Mexican at Damian in Downtown LA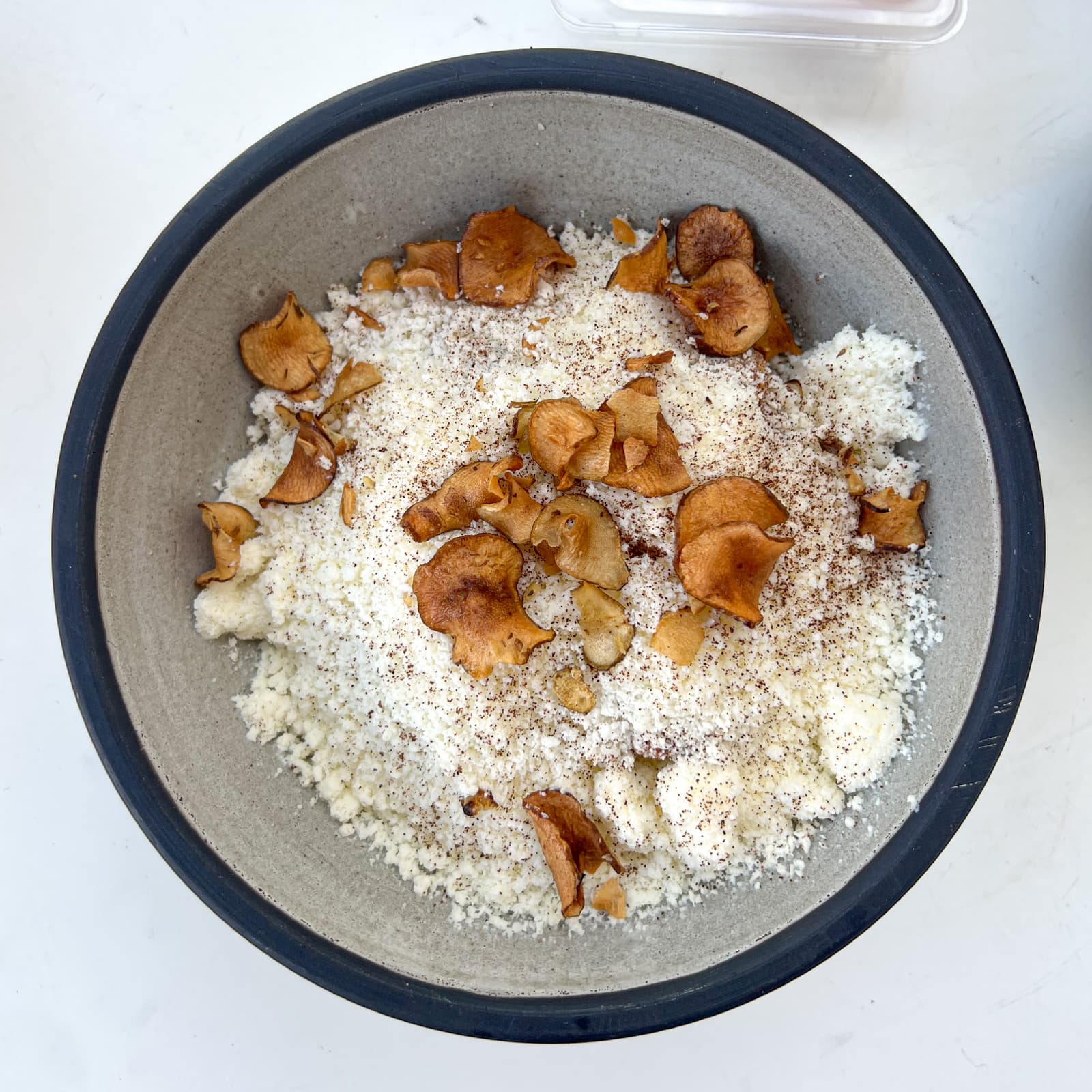 Dessert
As we finished our entrees and the conversation continued, the line to order inside Destroyer never let up. When the server saw I was ready, she delivered dessert.
I didn't know what to expect. I ordered the milk chocolate with salted cashew, crispy sunchokes, frozen cream, and coffee streusel.
And seeing the large bowl placed in front of me didn't help. What quickly became apparent as I dipped my spoon into it was that there was more than meets the eye.
A large portion of cold, chocolate, creamy goodness was underneath a white powdery blanket. Sort of like a heavy mousse or pudding, perhaps.
I mainly remember thinking I'd bitten off more than I could chew, yet that didn't stop me from eating the entire sweet and salty combo.
The high-quality dessert reminded me of the coffee ice cream with fermented plums and hazelnuts I had at Koka, a Michelin-star restaurant in Gothenburg, Sweden.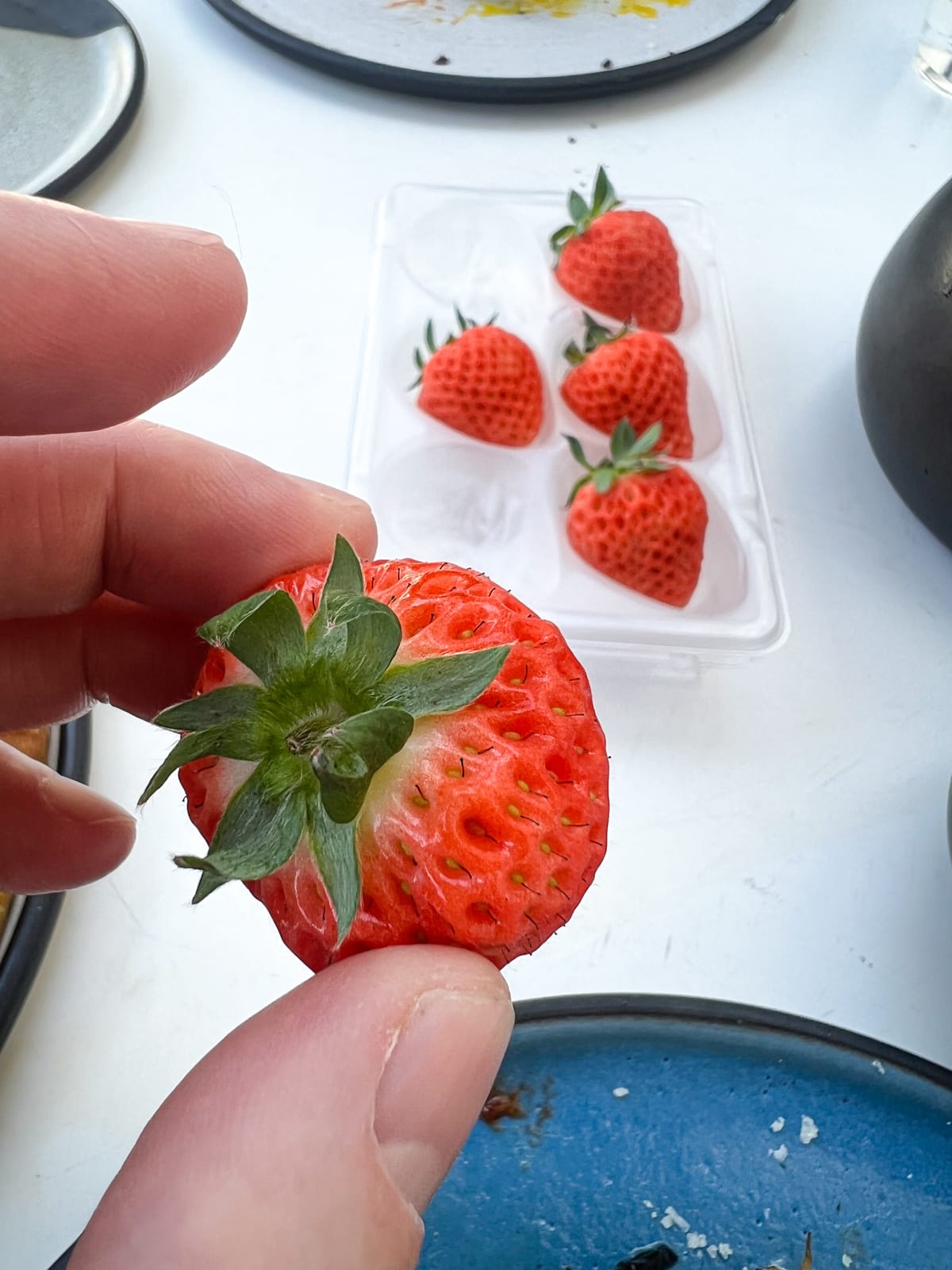 Fancy Strawberries
As we wrapped up brunch at Destroyer LA, Mark introduced us to The Omakase Berry® by Oishii.
This New York-based startup has raised $50 million in funding to grow a variety of strawberries native to the Japanese Alps in the world's largest vertical indoor strawberry farm.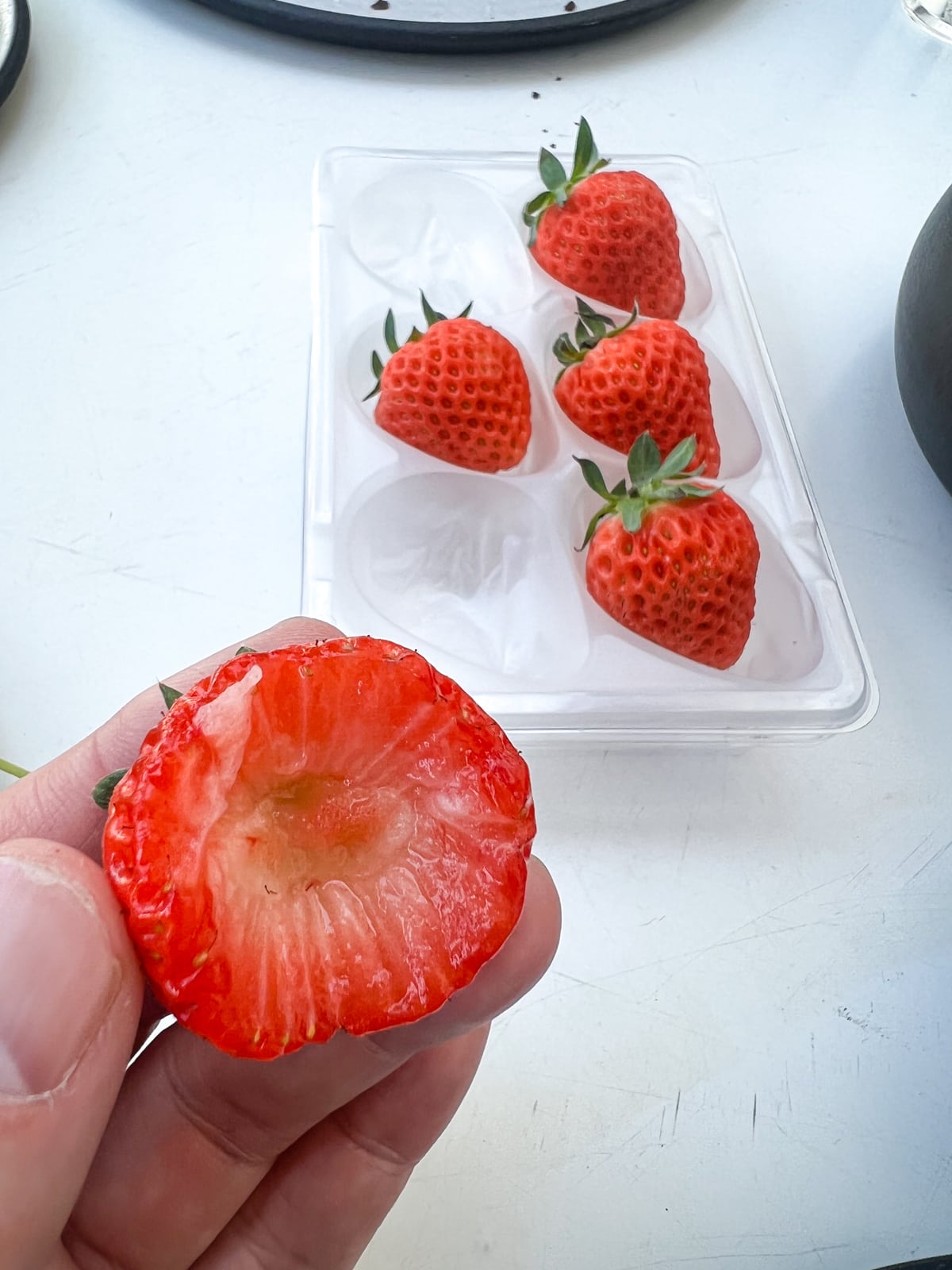 Destroyer is Oishii's first retail partner in Los Angeles, so they're pricey at $5 a piece; however, the hope is that price will continue to decrease as the technology improves.
Visually, they're perfect, uniform in color and size. The skin feels waxier than the typical strawberries we consume in the U.S., and the seeds are sunken on the surface.
Once I bit into it, the texture and taste were on par with a regular ripe strawberry.
Related: Best Brunch Spots in Austin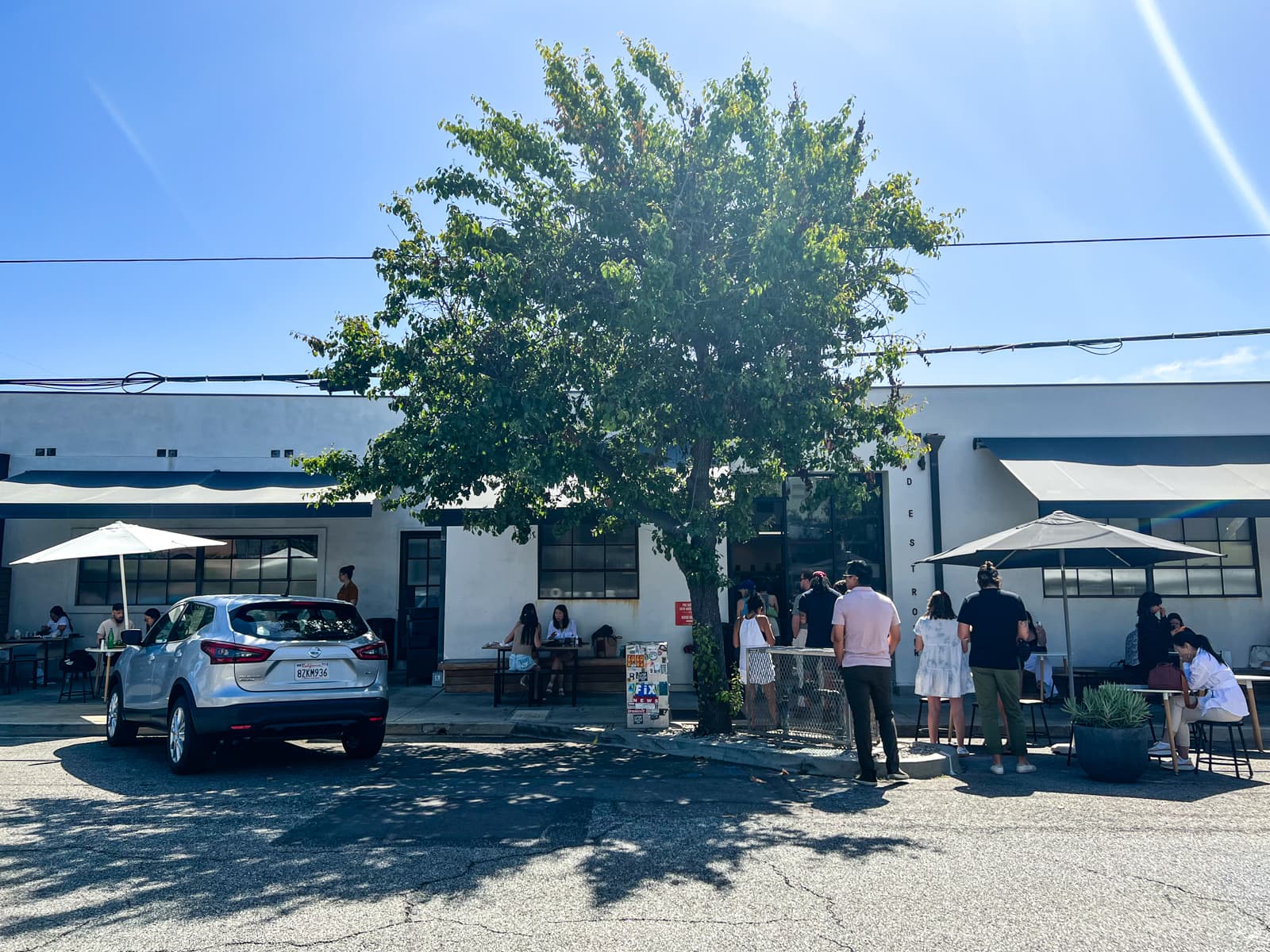 Visit Destroyer in Culver City
Address: 3578 Hayden Ave, Culver City, California
Hours: 8 a.m. to 4 p.m., Wednesday to Sunday
Dress Code: Casual
Reservations: Not available