The quintessential Pacific Northwest breakfast experience is 30 minutes east of downtown Seattle at the Salish Lodge restaurant in Snoqualmie, Washington.
Perched above a powerful 268-foot waterfall in King County, the Salish Lodge & Spa is a luxury hotel with humble origins.
First and foremost, the region has long been home to the Snoqualmie Indian Tribe, which holds the falls in spiritual regard.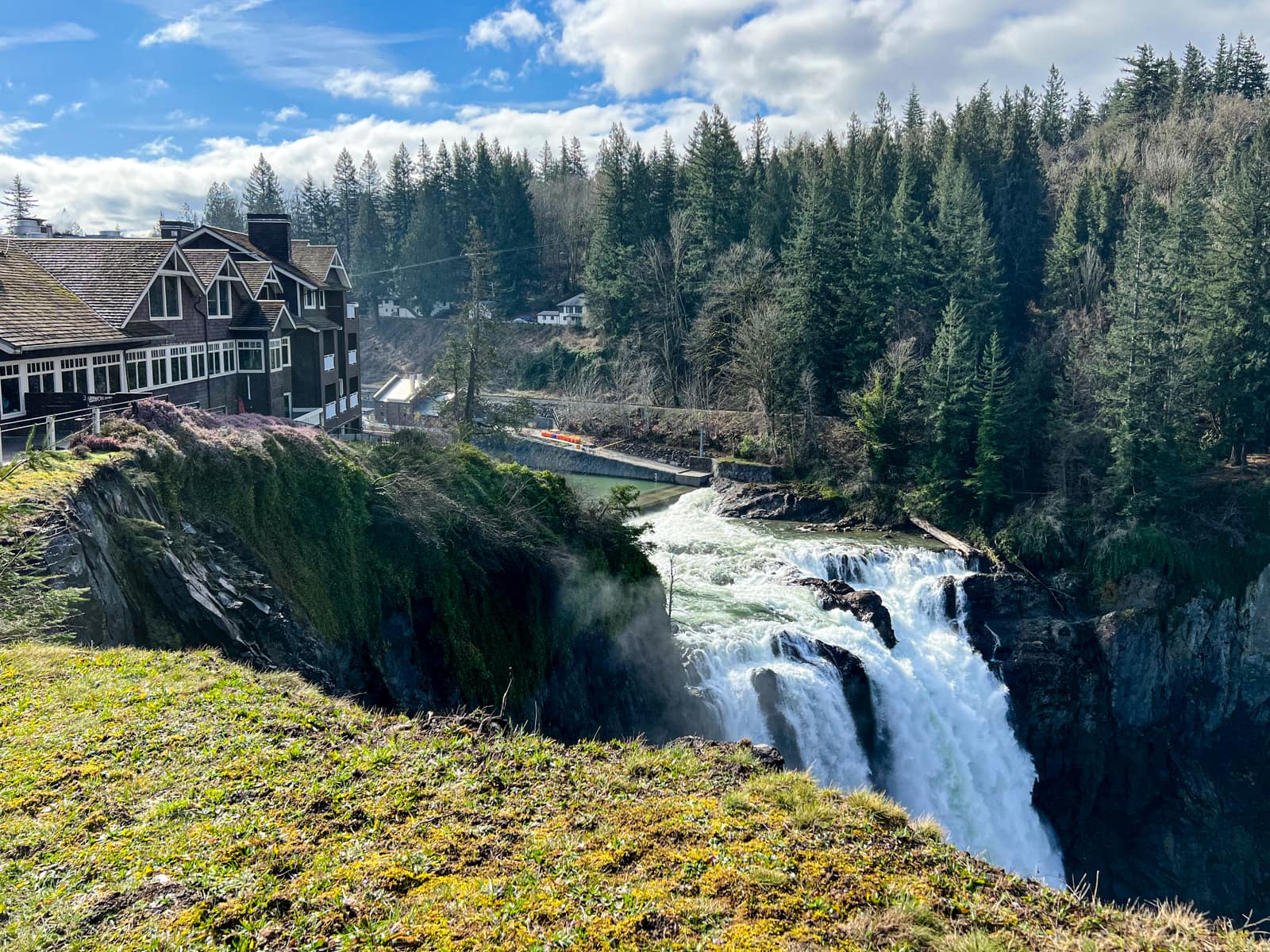 In 1916, The Snoqualmie Falls Lodge opened atop the waterfall with just eight rooms. The inn served a four-course Country Breakfast to nourish travelers crossing a nearby mountain pass.
In 1988, this hotel adjacent to the Snoqualmie River was remodeled and reopened as the Salish Lodge.
It became synonymous with Twin Peaks, a cult-classic TV series by David Lynch a few years later. The lodge features prominently in the show and is known as the Great Northern Hotel.
While I've never seen the show, I've been aware of its popularity for decades. When my girlfriend, Kel, suggested we go for breakfast, I agreed.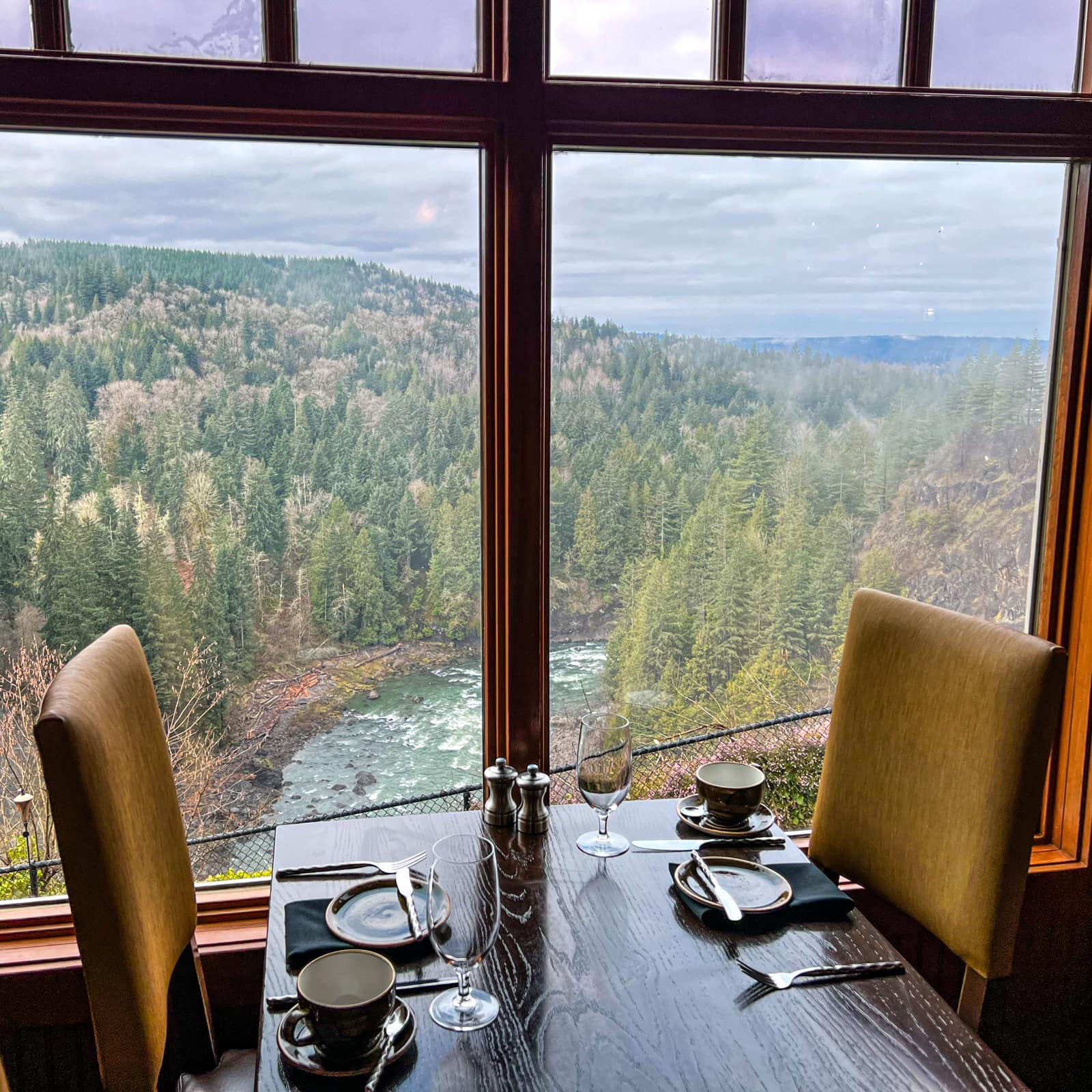 The Dining Room at Salish Lodge
The drive out of Seattle was a breeze on Interstate 90; the urban landscape quickly gave way to green forested lands.
We parked our rental car in the free guest lot and walked across Railroad Avenue via a covered pedestrian bridge.
Before entering the Salish Lodge restaurant, we watched Snoqualmie Falls kick up a significant mist as the water crashed on the rocks below.
Inside the lodge, we had a brief wait to be seated for our 9 a.m. Sunday reservation.
The Salish Lodge & Spa has 86 guest rooms; however, The Dining Room is a popular destination for non-guests, too, so it's best to book ahead.
There are a limited number of four-to-six-person tables along the windows, which offer gorgeous views, though it's hard to see much of the falls.
We were seated at a smaller two-person table next to an outdoor walkway.
I wasn't aware of a specific dress code for the Salish Lodge Dining Room, so I wore a long-sleeve button-down shirt and khaki pants with sneakers; Kel wore a fuzzy yellow sweater with blue jeans.
Smart casual seemed appropriate for Sunday brunch; business casual for dinner.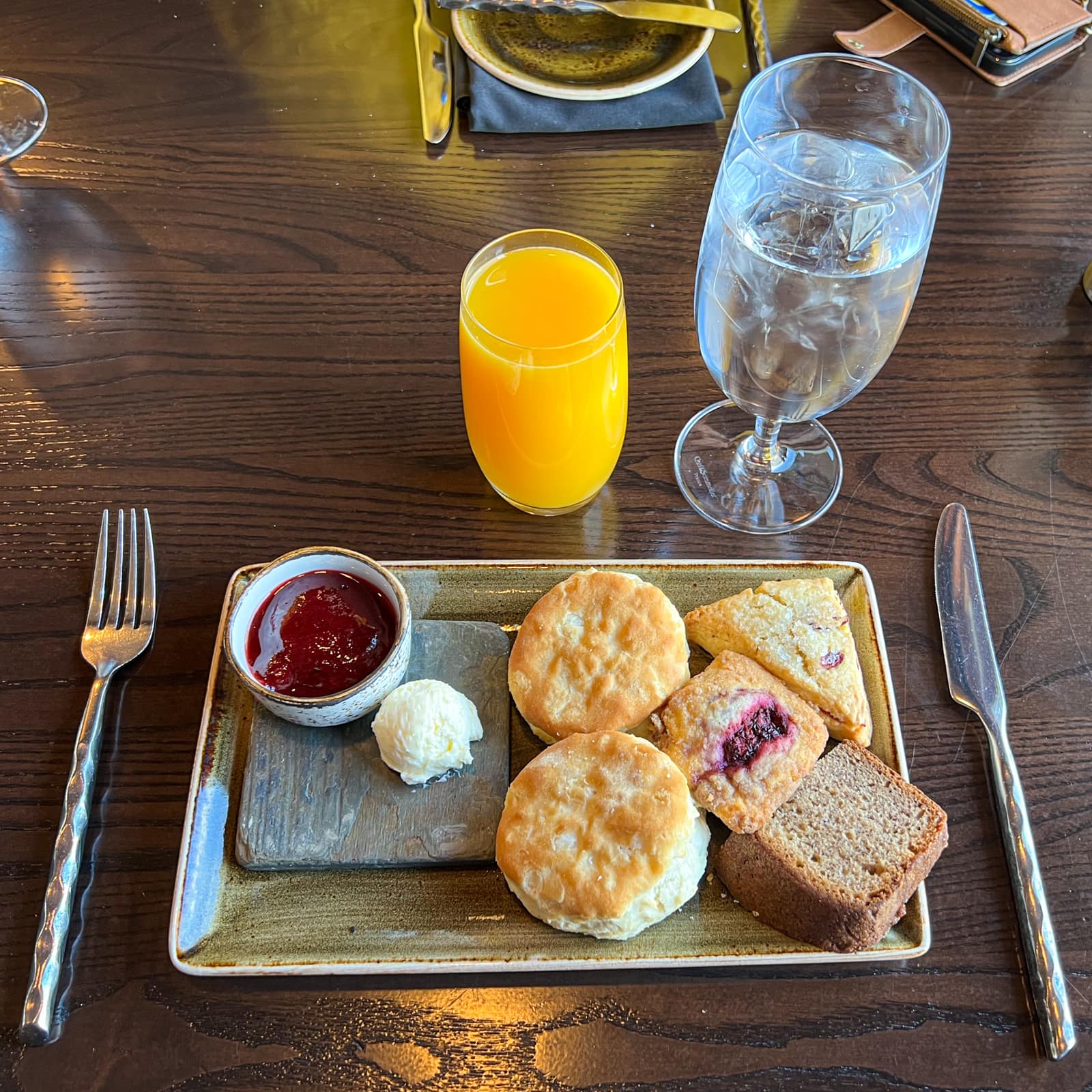 Breakfast Menu
The breakfast menu highlights Pacific Northwest cuisine using seasonal ingredients and the best ingredients.
Kel had previously been to the Salish Lodge restaurant for their famous four-course Country Breakfast and was excited for me to experience it, too. This story focuses on that option.
If four courses for breakfast sounds like too much, you can also order a la carte.
Light and healthy(ish) options include steel-cut oats, avocado toast, and honey granola with greek yogurt and run $17 to $20.
Salish specialties include buttermilk fried chicken with Salish honey funnel cake and a spiced honey French toast with vanilla-blueberry compote.
Under the classics, there's pork belly with Yukon potato hash, a wild mushroom and pesto omelet, and a smoked salmon omelet.
If you're craving something heavier, there's a classic eggs benedict with smoked ham shank and hollandaise sauce, a vegetarian version with seasonal vegetables, and a Dungeness crab benedict with avocado, pico de gallo, and hollandaise.
The eggs benedict dishes have a higher price of $24 to $32 each, while the specialty and classic dishes are between $20 to $27.
The availability of menu items may change, so take this with a grain of sea salt.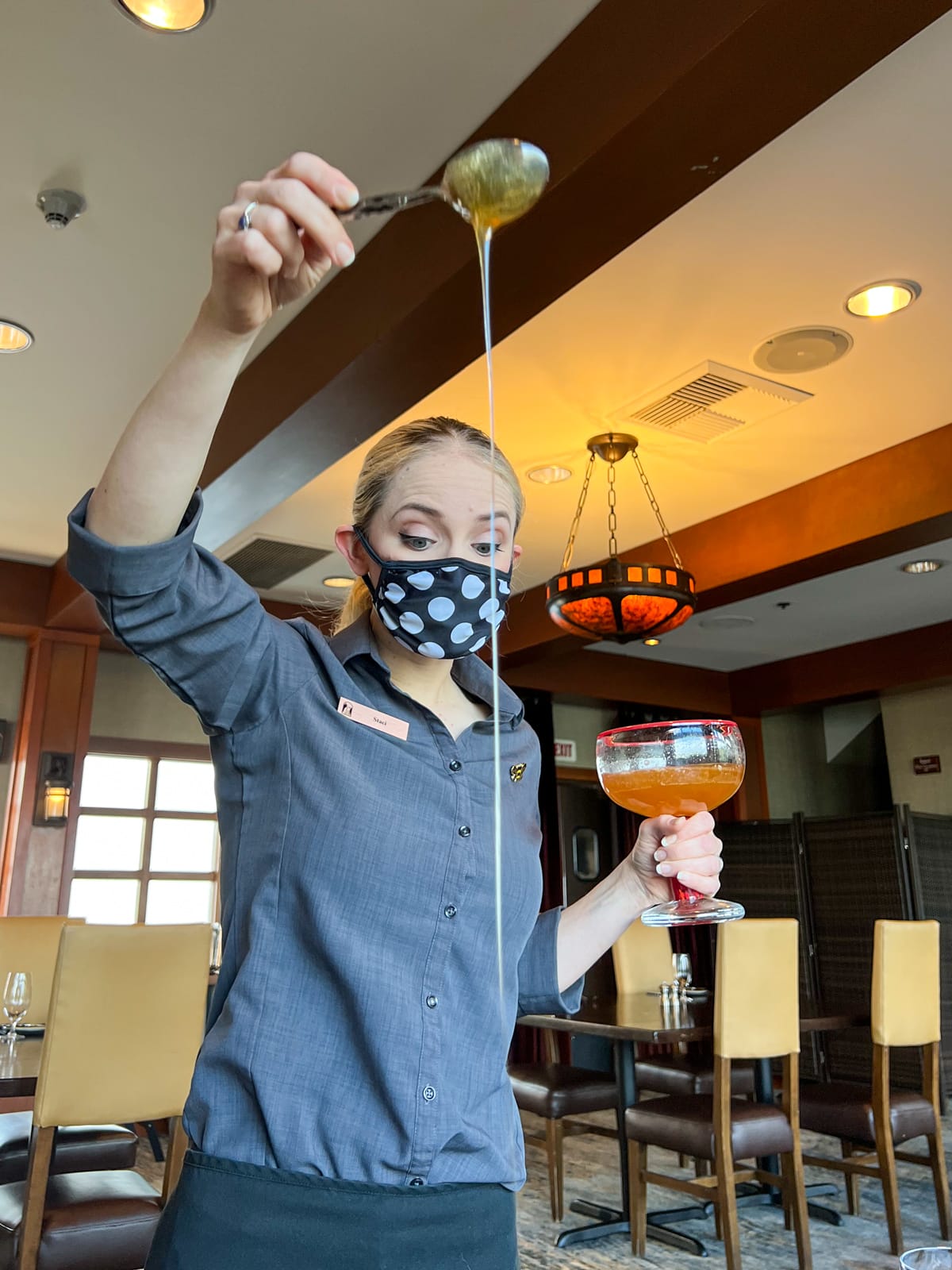 The Country Breakfast
Course 1: Pastries with a side of Biscuits
The service begins with a Baker's Basket of Fresh Pastries and your choice of juice, tea, or coffee. I chose orange juice and added a side of biscuits, served with their trademark "Honey from Heaven."
Our waitress came over with a glass goblet of fresh Salish honey from the lodge's beehives and poured it over the biscuits from above her head.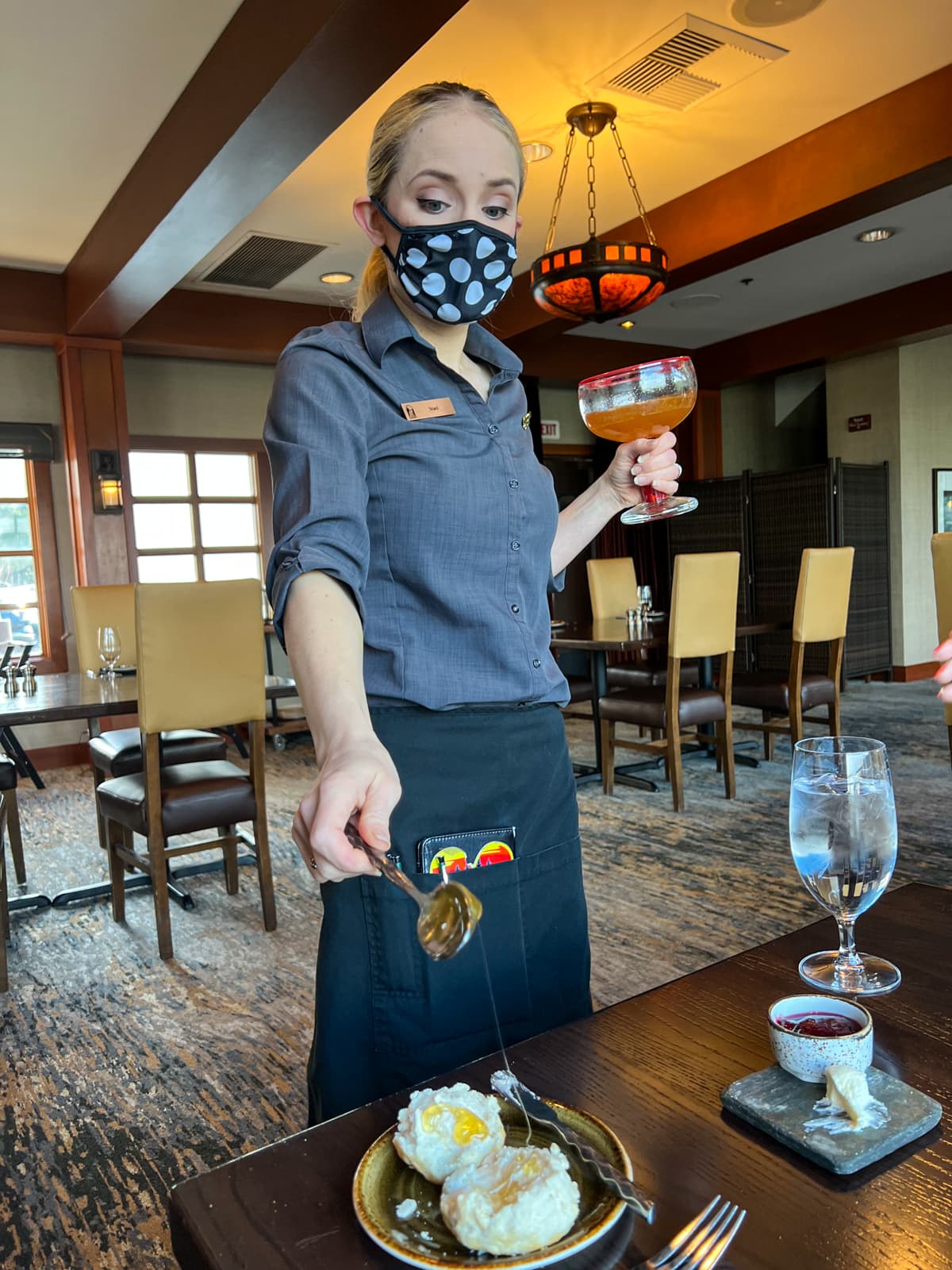 Her aim was excellent, and the honey hit its target (my buttered biscuit)!
The Honey from Heaven tradition used to entail servers standing on ladders; today's approach of keeping one's feet firmly on the ground seems safer.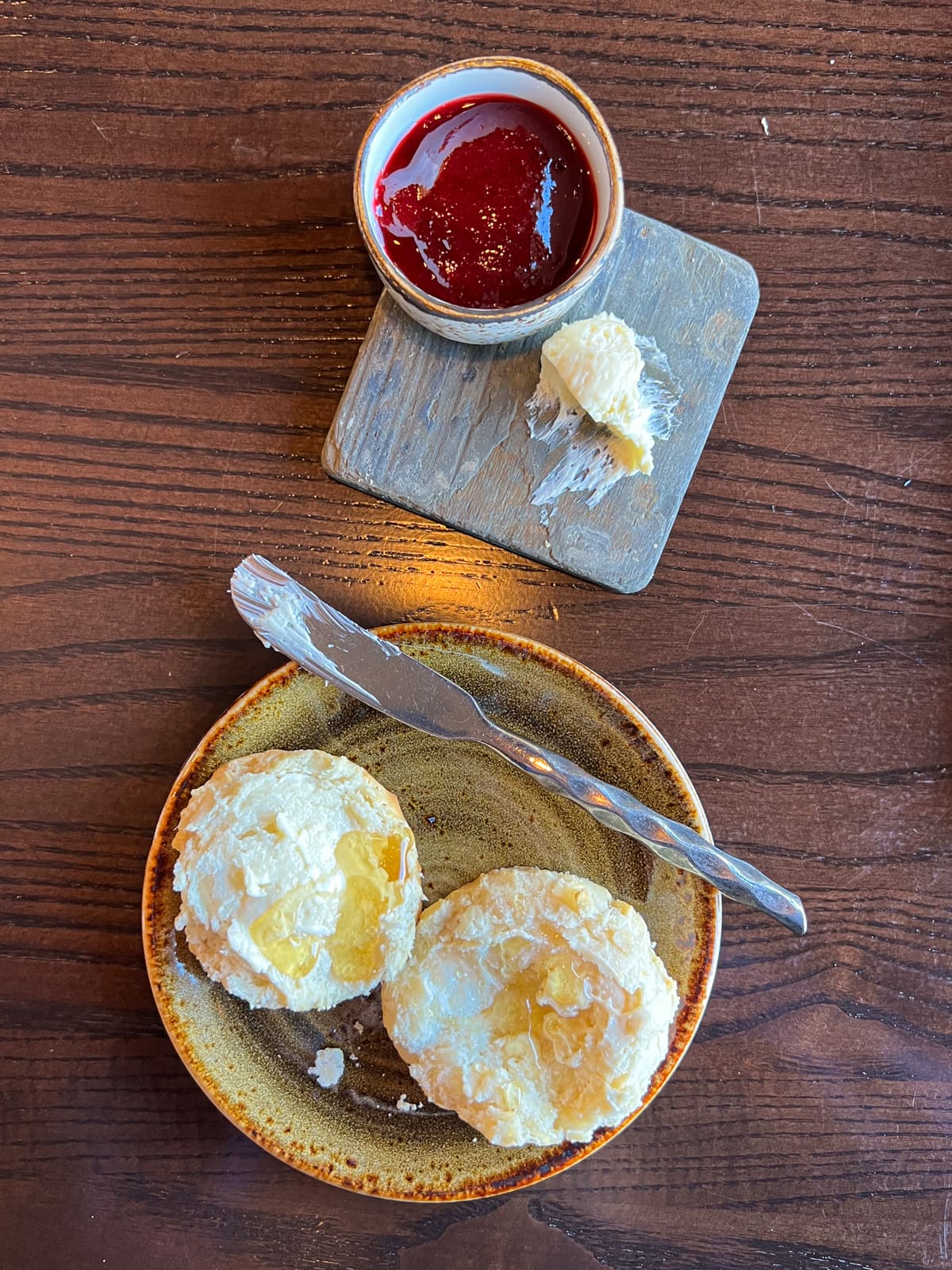 The biscuits were excellent, and the showmanship was something extra I'd never experienced at breakfast or brunch before.
I was also happy to help keep the Salish Lodge's bees and "Beeman" gainfully employed.
In addition to the Country Breakfast and biscuits, I'd ordered a Breakfast in Bed cocktail made with Irish cream, rum, maple syrup, and bacon.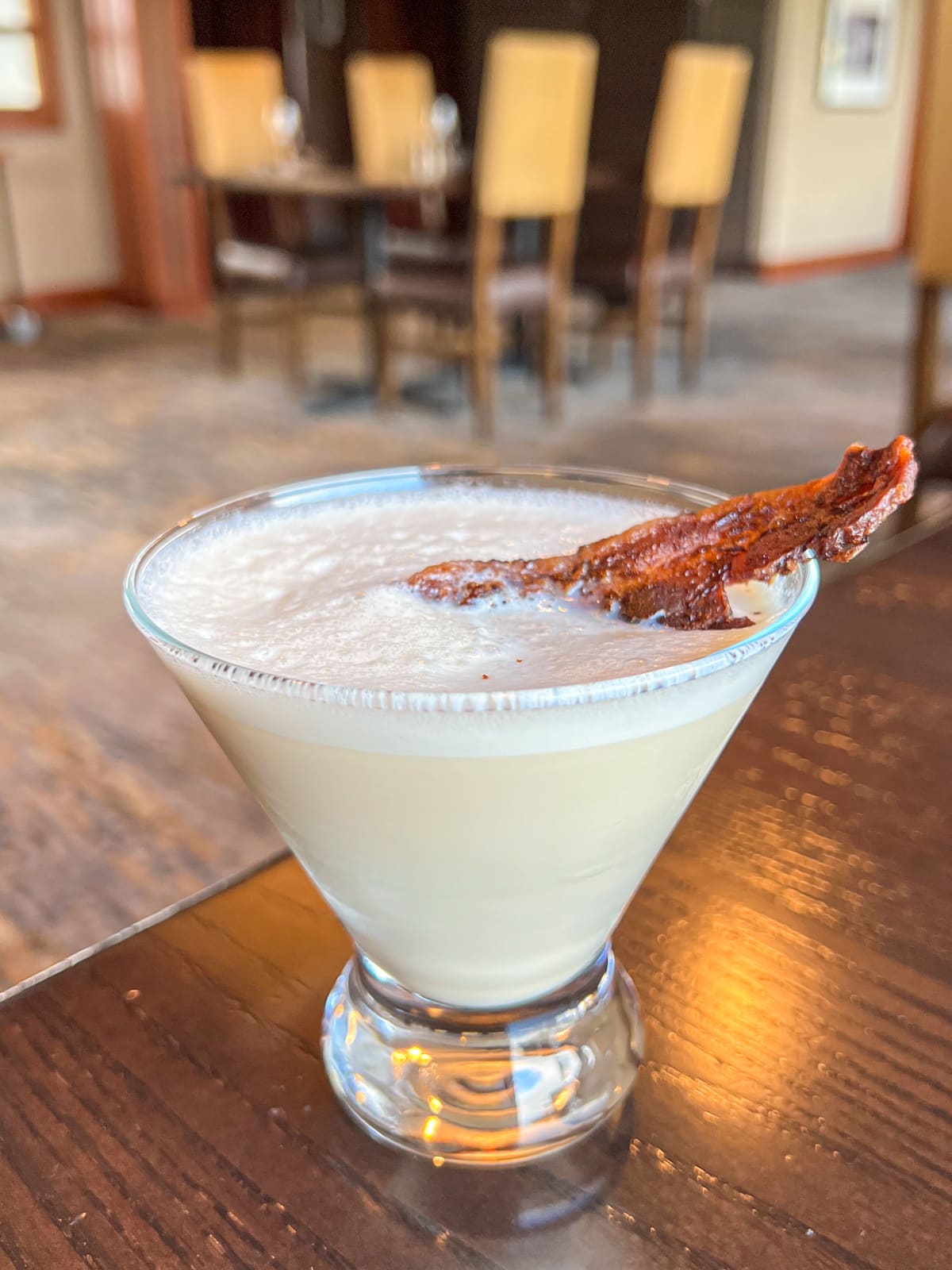 This drink lit up my eyes; it was like sipping on a morning protein shake with an added kick.
Other "sunrise libations," as they refer to them on the menu, include:
Infused Bloody Mary
Salish Caesar with vodka, clamato, and potlatch salt (prawns and bacon optional)
Snoqualmie Coffee with Irish cream and hazelnut liqueur
Mimosas (of course)
Between the setting, company, buttered biscuits, and rum cocktail, I was having a terrific time in the Salish Lodge restaurant.
Related: Best Speakeasies in Seattle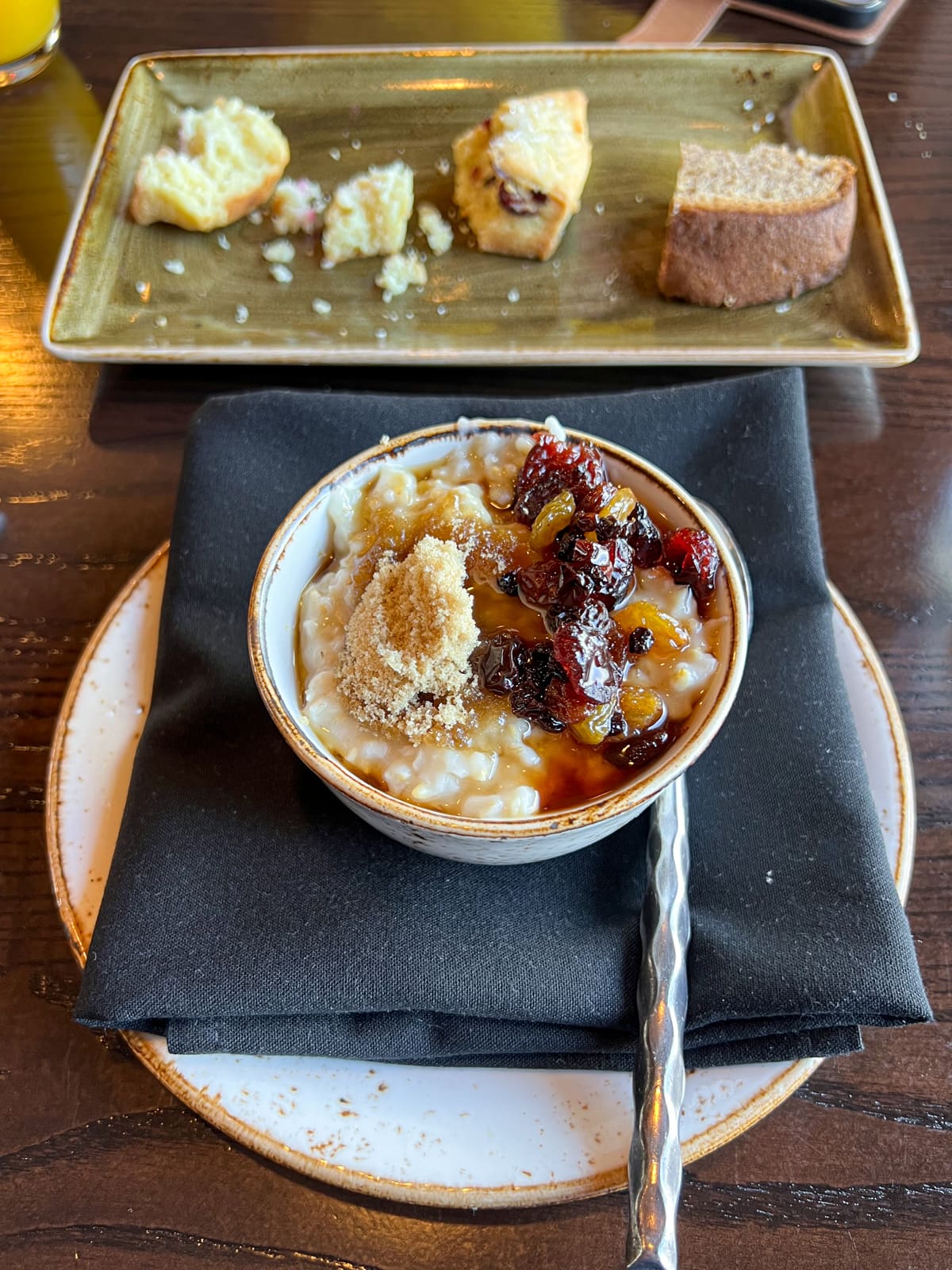 Course 2: Old Fashioned Steel Cut Oats
The second course was a small bowl of steel-cut oats, served with Salish honey poached fruit and brown sugar.
I don't typically order oats when I'm out to breakfast, but this was oats taken to another level.
I enjoyed every spoonful but was careful not to finish as there were still two courses to go.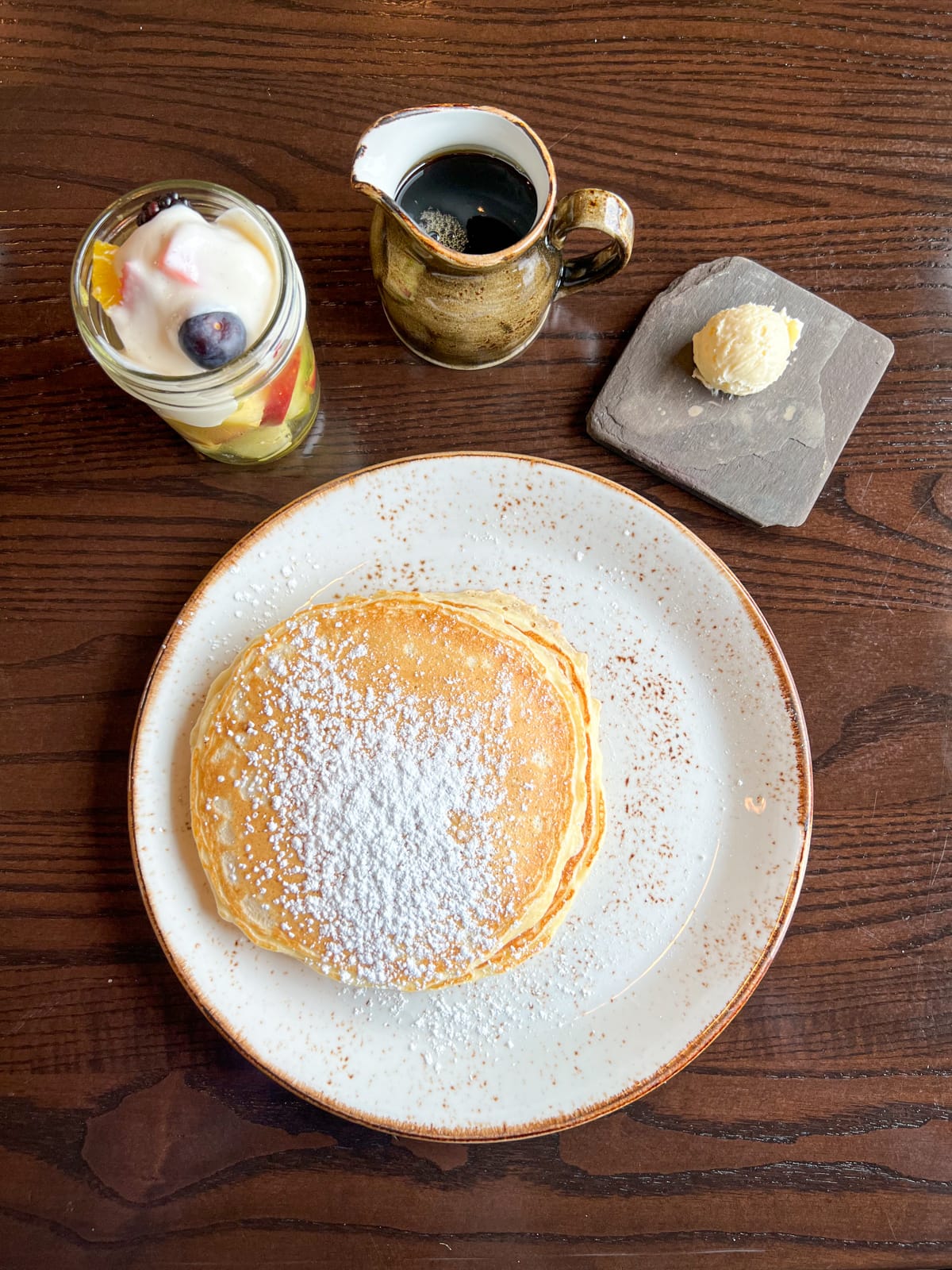 Course 3: Buttermilk Pancakes with Maple Syrup and Fruit
For the third course, I was presented with two large buttermilk pancakes sprinkled with confectioner's sugar and served with maple syrup, butter, and a side of fresh fruit and yogurt in a mason jar.
I poured a healthy serving of syrup over the pancakes and went at them. At this point, I was feeling a little self-conscious.
After all, two pancakes and some fruit is a typical breakfast for me, and at Salish Lodge, it's just the third of four courses.
Related: Breakfast at Brennan's in New Orleans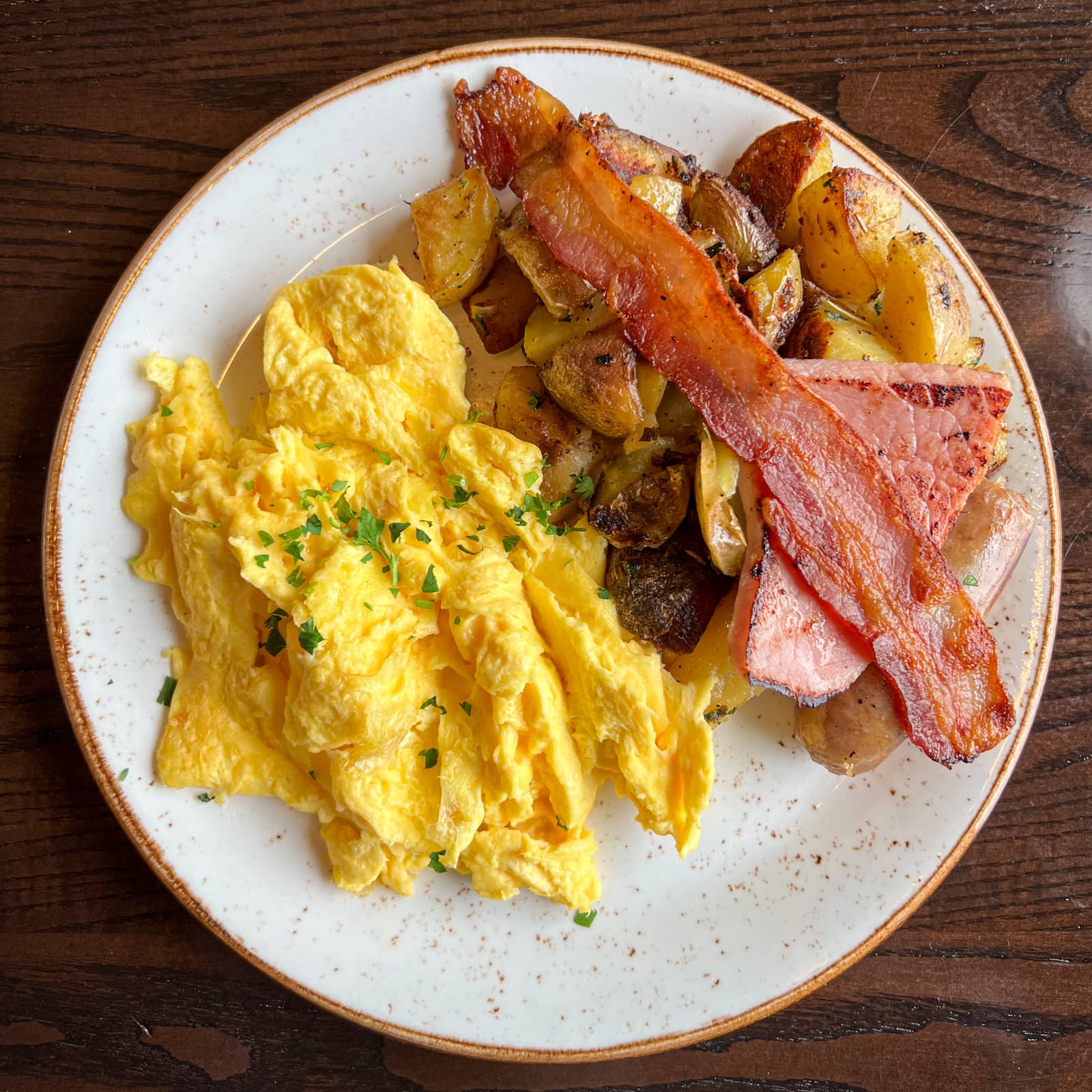 Course 4: Eggs, Bacon, Ham, Sausage, and Potatoes
The size of the Salish Lodge restaurant's Country Breakfast hit home when the fourth and final course arrived.
I was looking at three free-range eggs (scrambled, at my request), smoked bacon, a thick slice of ham steak, a link of apple pork sausage, and Yukon potatoes.
By the time I finished, I was full. I'd typically have ordered a dessert (the Damn Fine Cherry Pie a la mode, a throwback to Twin Peaks, was top of mind), but it would've been a waste of money. There was no way I could eat more.
The Country Breakfast at Salish Lodge runs $42 per person or $90 for two people with mimosas. It's well worth the cost, given the ambiance, service, history, and views.
Related: Best Brunches in Austin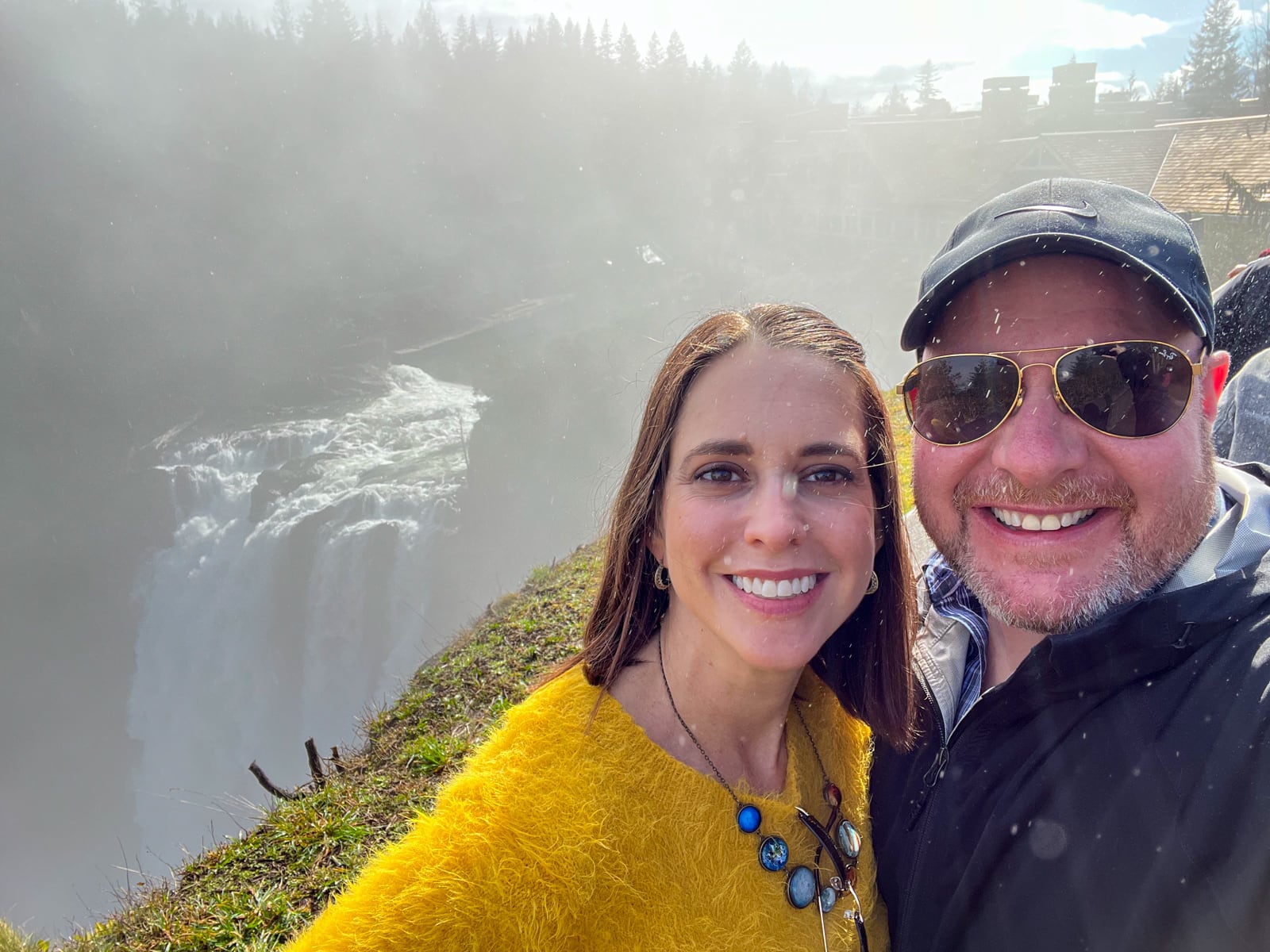 Visiting Snoqualmie Falls
After breakfast, Kel and I walked out to the upper observation area again, and as you can tell from the photo above, it was still mighty misty.
The Snoqualmie Falls Lower Observation Deck is only a minute's drive down the road and allows you to park for free, walk past the hydroelectric plant that's still in operation, and gaze up at the falls from a boardwalk below.
Related: Sedona Restaurants With a View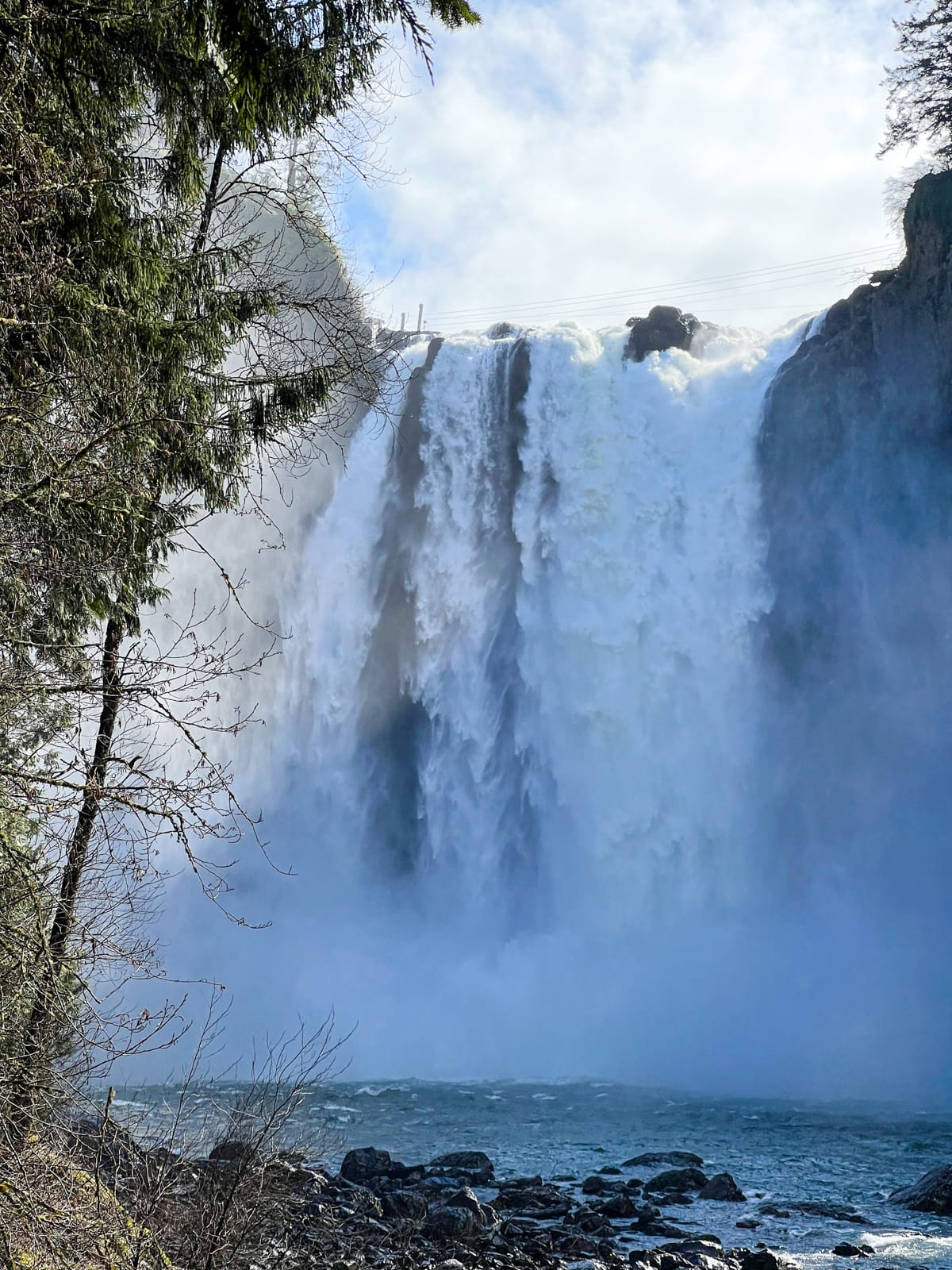 The power and grandeur of Snoqualmie Falls are something to behold.
The Snoqualmie Indians have had a presence here for hundreds of years, if not longer, and as of November 1, 2019, they own the lodge and surrounding sacred land.
If you're looking for Pacific Northwest cuisine in a stunning setting, with the option of an iconic honey service, look no further than the Salish Lodge restaurant in Snoqualmie, Washington.
Salish Lodge & Spa, 6501 Railroad Ave, Snoqualmie, WA 98065, salishlodge.com