One of the highlights from my latest trip to Peru was a two-night stay at Palacio del Inka, a Luxury Collection Hotel by Marriott in Cusco.
This unique hotel in the heart of downtown Cusco reflects the confluence of Inca civilization architecture, authentic Hispanic art, and traditional colonial decor.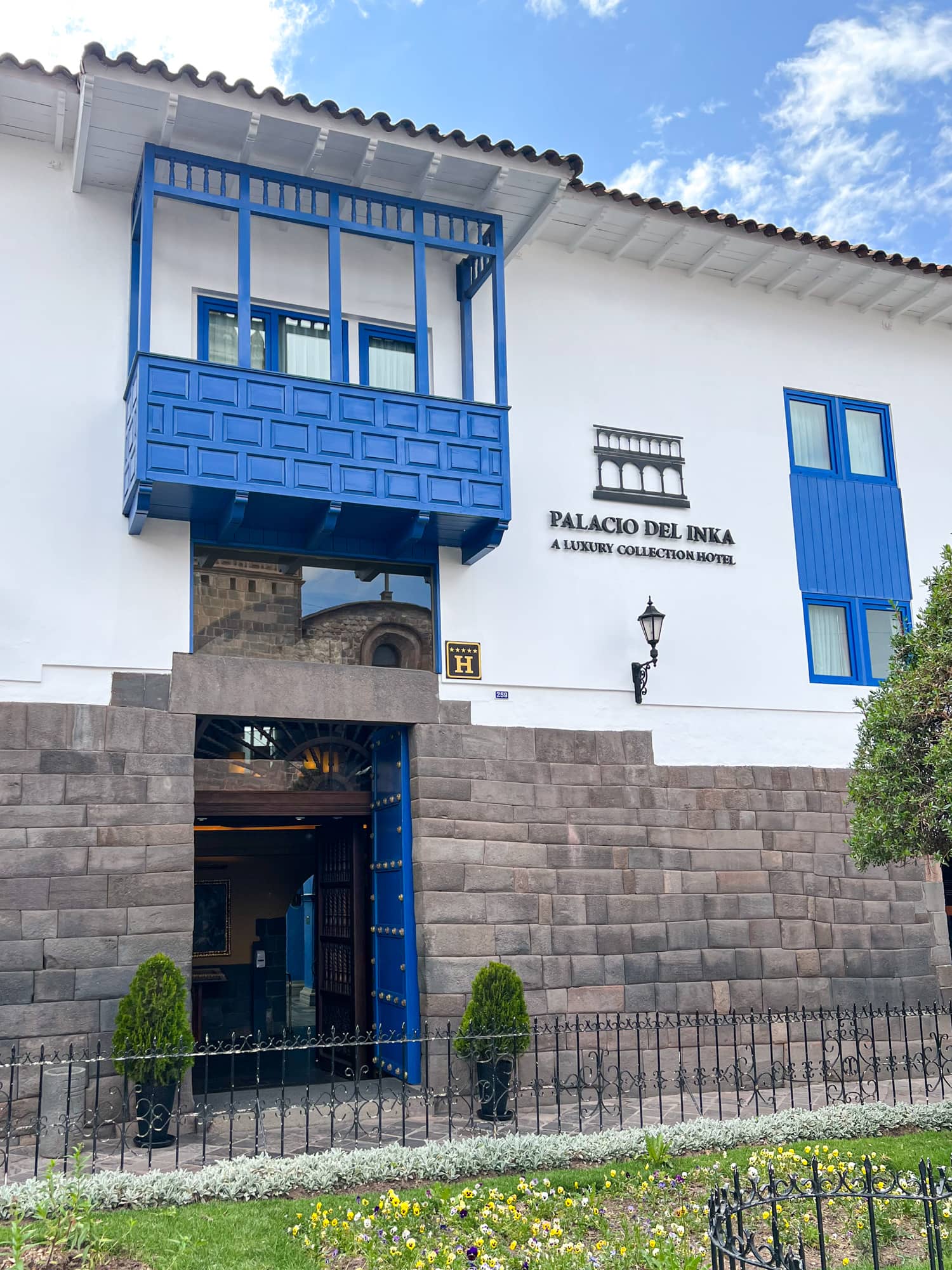 Palacio del Inka Hotel
History
Five hundred years ago, the Inca palace was built adjacent to Qoricancha ("Temple of the Sun"), a 15th-century religious and cultural center.
Original Inca-constructed walls support this historic landmark within the designated UNESCO World Heritage Site area.
They're visible outside the hotel and throughout the interior, which also boasts massive stone archways.
During the Spanish conquest of Peru in the mid-16th century, Gonzalo Pizarro, brother of Francisco Pizarro, acquired the palace.
In 1572, the Spanish conqueror and first mayor of Cusco, Juan de Salas y Valdés, initiated colonial construction on the former Inca site.
After he added four busts of himself and his family members to the facade, it was subsequently known as the Casa de Los Cuatro Bustos ("Home of the Four Busts").
The five-centuries-old mansion turned museum, and later hotel was renovated in 2012 to ensure it offers modern conveniences and world-class luxury.
Ready to book your stay? Visit the listing for Palacio del Inka on Booking.com to review rooms and make a reservation. If not, keep reading.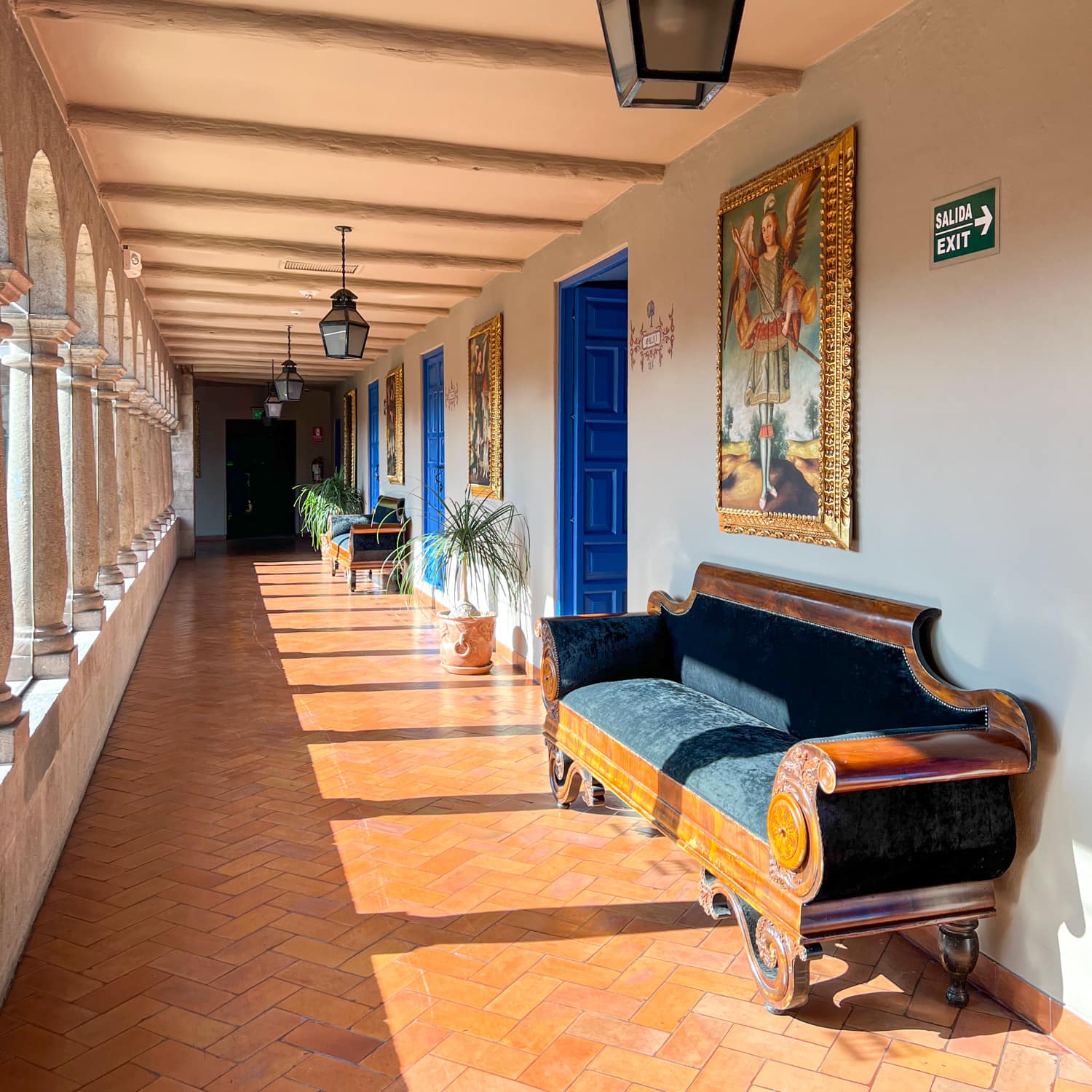 Art
The charm of Palacio del Inka extends to its decorations, which include 195 antiquities and pictures dating back to the pre-Inca periods.
Sixty works are from the 17th-century Cusco School of Art.
The hotel offers a free 45-minute guided tour at 5 p.m. daily. I was interested in attending; however, we didn't have time for it.
Location
The luxury hotel's location in the heart of Cusco is also convenient for sightseeing.
It's a three-block walk to the Plaza de Armas (Main Square), where you can visit the spectacular Cusco Cathedral, book tours, find plenty of restaurants, and shop for souvenirs.
A taxi ride to/from Cusco International Airport (CUZ) is about three miles and can take 15 to 30 minutes, depending on traffic.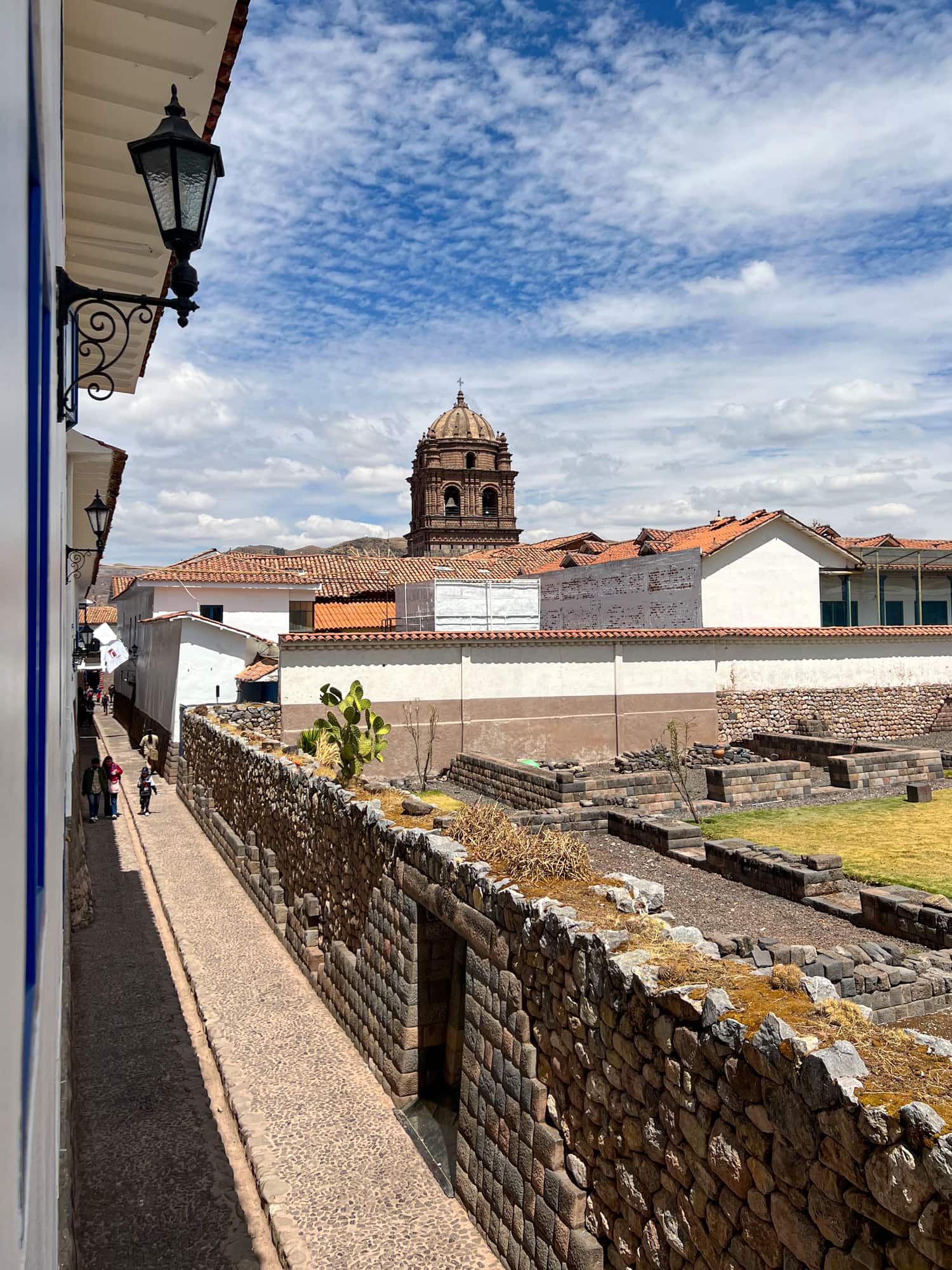 This was my third trip to Cusco and the Sacred Valley, one of the most visited regions in South America.
My first adventure was on a backpacker's budget in 2011, staying in hostels and doing the five-day Salkantay trek to Machu Picchu.
I returned in 2018 thanks to a trip for two I won from G Adventures; we stayed in comfortable but basic hotels and took the train into Aguas Calientes.
My third visit was in 2022 to fulfill Kel's wish to see Machu Picchu. I wanted to treat myself and her to a luxury stay in Cusco this time.
Limited by vacation time, I'd planned a six-night trip from Austin, TX, to Peru and back.
From experience, I knew it'd be tiring to reach Machu Picchu and that it'd be our free day in Cusco after that if there were time to relax.
Palacio del Inka appealed to me due to its history, location, art and architecture, and food and beverage experiences. Oh, and the resident baby alpaca!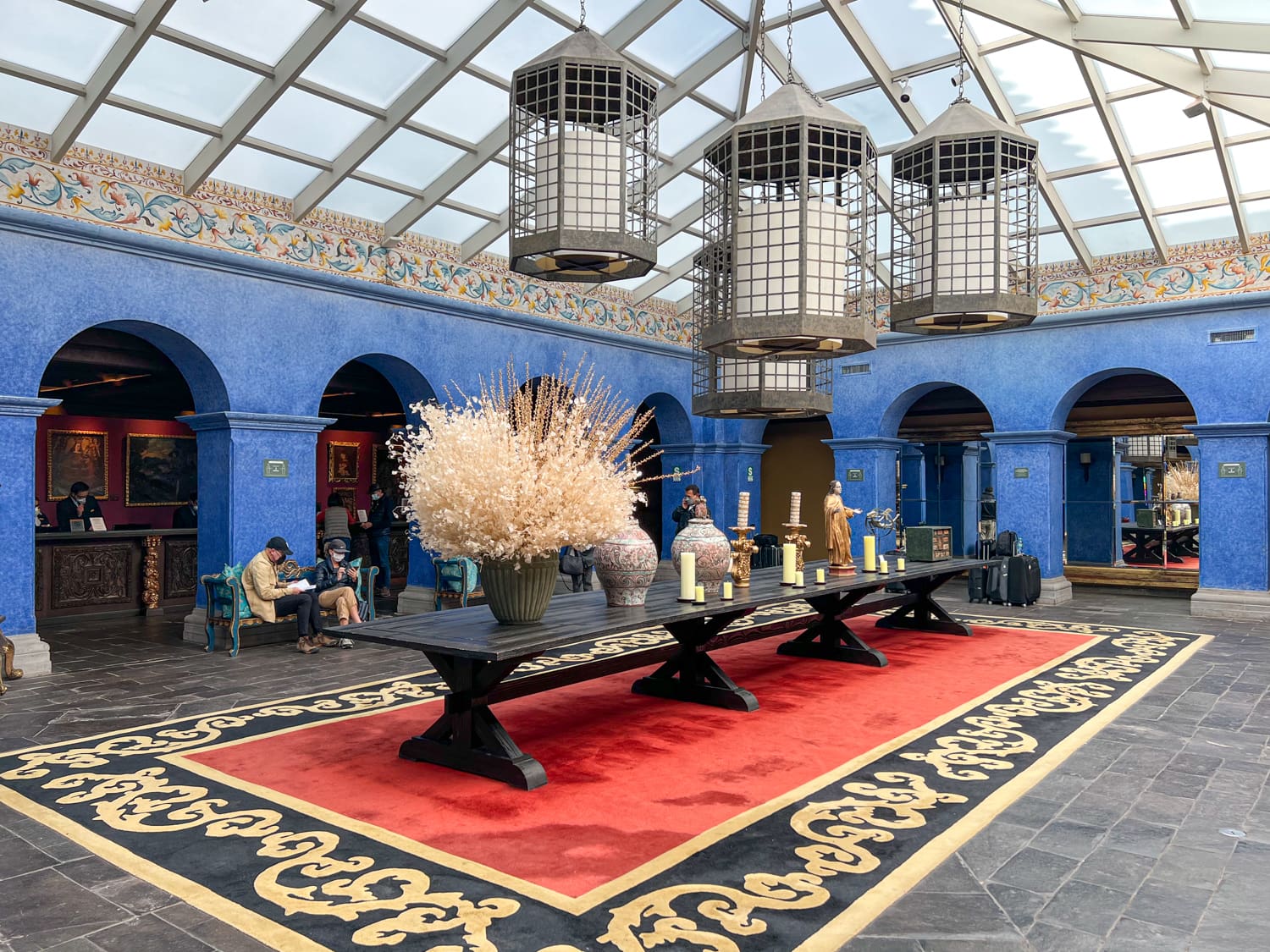 Booking Our Stay
The Classic room rates were about $270 per night when I booked our stay, including tax. The hotel would also collect a resort fee of $38.40 per night at checkout.
The resort fee includes spa access, two bottles of water per day (as tap water is not safe to drink), concierge service, Wi-Fi, and more.
I booked our stay at Palacio del Inka in Cusco through the Chase Ultimate Rewards Travel portal.
I used 36,190 points worth $542.86 to cover the nightly cost of the Classic room with a king-size bed for two nights.
If this seems like a great valuation, it's because points are worth 50% more when booking hotels through the Chase Travel portal.
This left $76.80 in resort fees, plus any activity costs, to be paid at checkout.
Additionally, as a Chase Sapphire Reserve cardholder, I benefited from the Palacio del Inka Hotel being a part of Chase's Luxury Hotel & Resort Collection.
Daily breakfast for two was included, and we received a $100 spa credit.
Travel Tip: Take advantage of deals like these by applying for a Chase Sapphire Reserve credit card.

Receive 60,000 bonus points after spending $4,000 in the first three months. That's a $000 value when redeemed through the Chase Travel portal.

Disclosure: I receive bonus points for each referral through the link above, which supports me in creating stories for Feastio.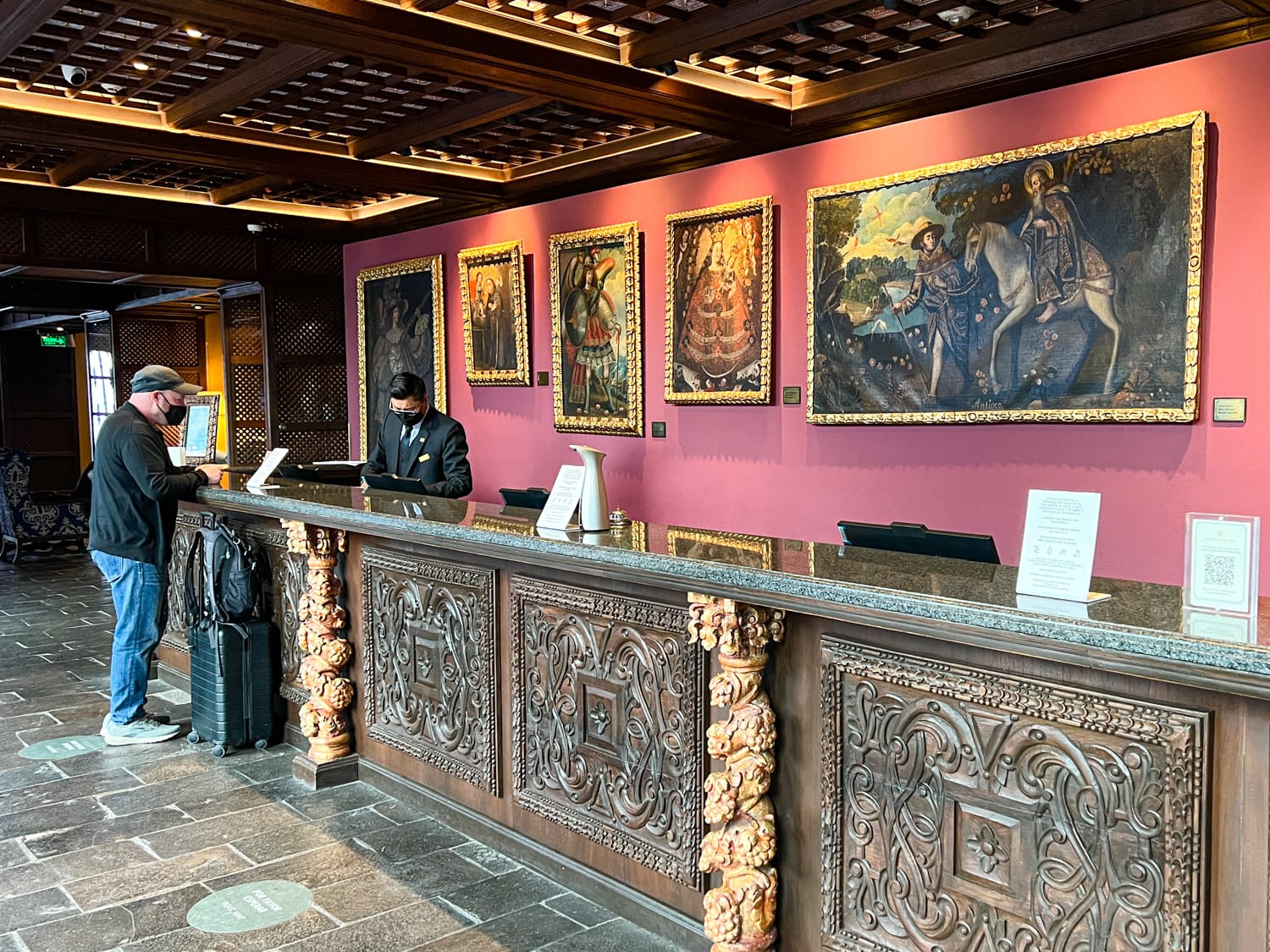 Check-In
We arrived at Palacio del Inka around 8 p.m. after a very long day, which began at 5 a.m. for a 7 a.m. entry to Machu Picchu and a two-hour climb of Huayna Picchu.
Following a lunch of cuy (guinea pig) in the town of Aguas Calientes, it was a four-hour train plus a half-hour taxi ride to reach Cusco.
I was relieved to enter the comfort and quiet of a luxury hotel like Palacio del Inka.
According to the hotel's website, the lobby's "sky-blue color is a tribute to the Andahuaylillas church, known as the Sistine Chapel of Americas due to the paintings that adorn its ceiling."
The long reception desk featured rich wood-carved panels and a backdrop of centuries-old paintings against a maroon wall.
As I'd hoped, the check-in process was quick and easy, and we were soon led to our room by a bellhop.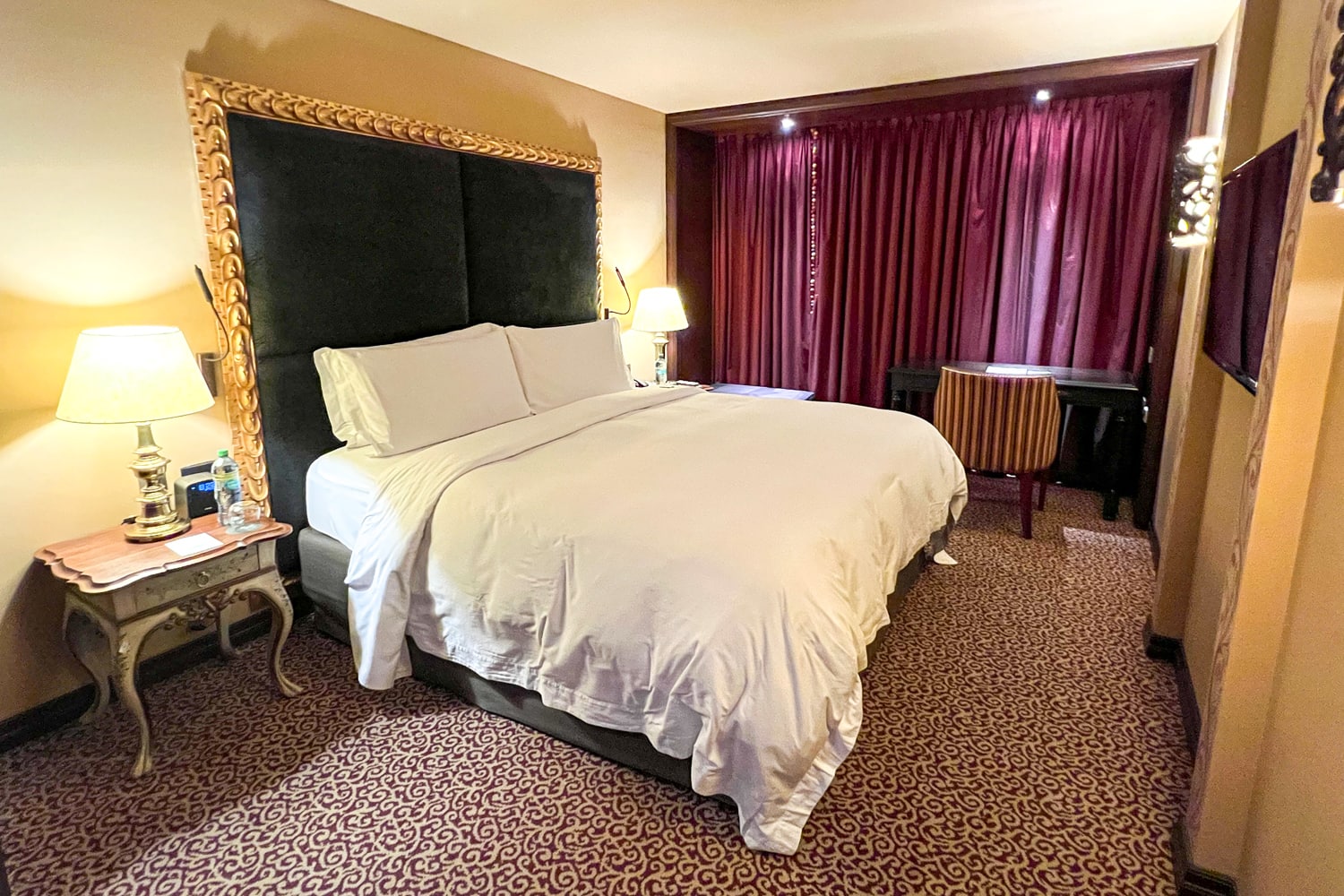 Classic Room
The Classic room we entered was small but inviting. We spent most of our time exploring the hotel and Cusco, so the lack of space wasn't an issue.
The king-size bed and sheets were comfortable, which was what mattered most.
The headboard, night tables, rug, and curtains were lovely but not nearly as fancy as the appointments in the more expensive rooms and suites.
Two bottles of complimentary water and two chocolates were on the bed, plus some paid snacks and a mini-fridge with sodas, beers, and liquors.
Modern amenities include a flat-screen TV, free Wi-Fi, and a digital safe in the closet.
Our room looked out over Kusicancha, an archaeological site on the west side of the hotel that produced ritual objects (ceramics and textiles) and food and drinks for use in the Temple of the Sun.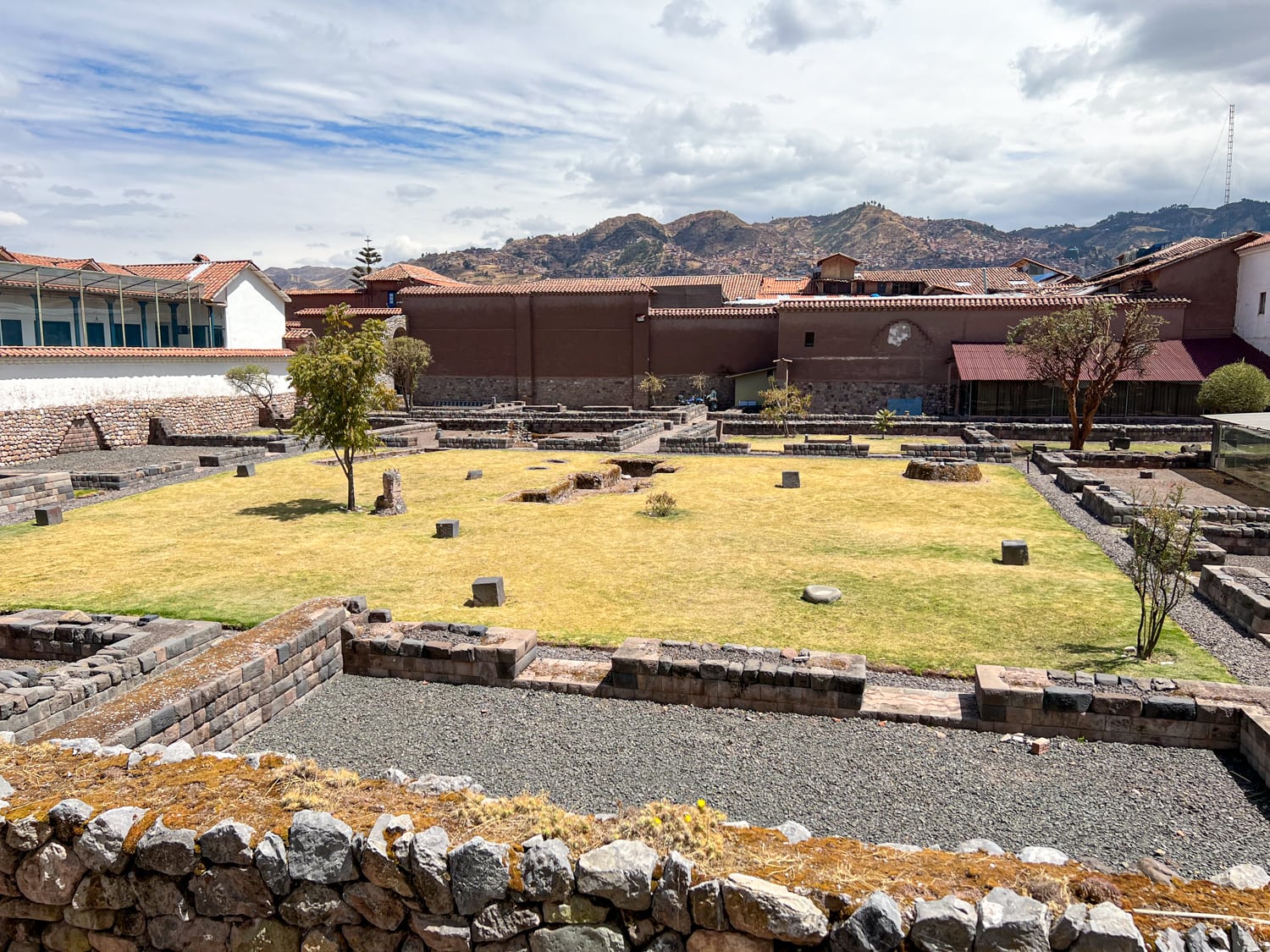 The hotel room was also high enough to see some distant mountain peaks surrounding Cusco, and I preferred this to the rooms with courtyard views.
A pedestrian alley runs between the hotel and the ruins of Kusicancha. The rooms' windows are high enough for there to be no security concerns.
The closet contained bathrobes, slippers, and a digital safe, which was easy to use.
Rooms offer heating but not air-conditioning, which most hotel guests won't miss.
The city's temperatures don't get too high, and it's possible to open the windows if you want air.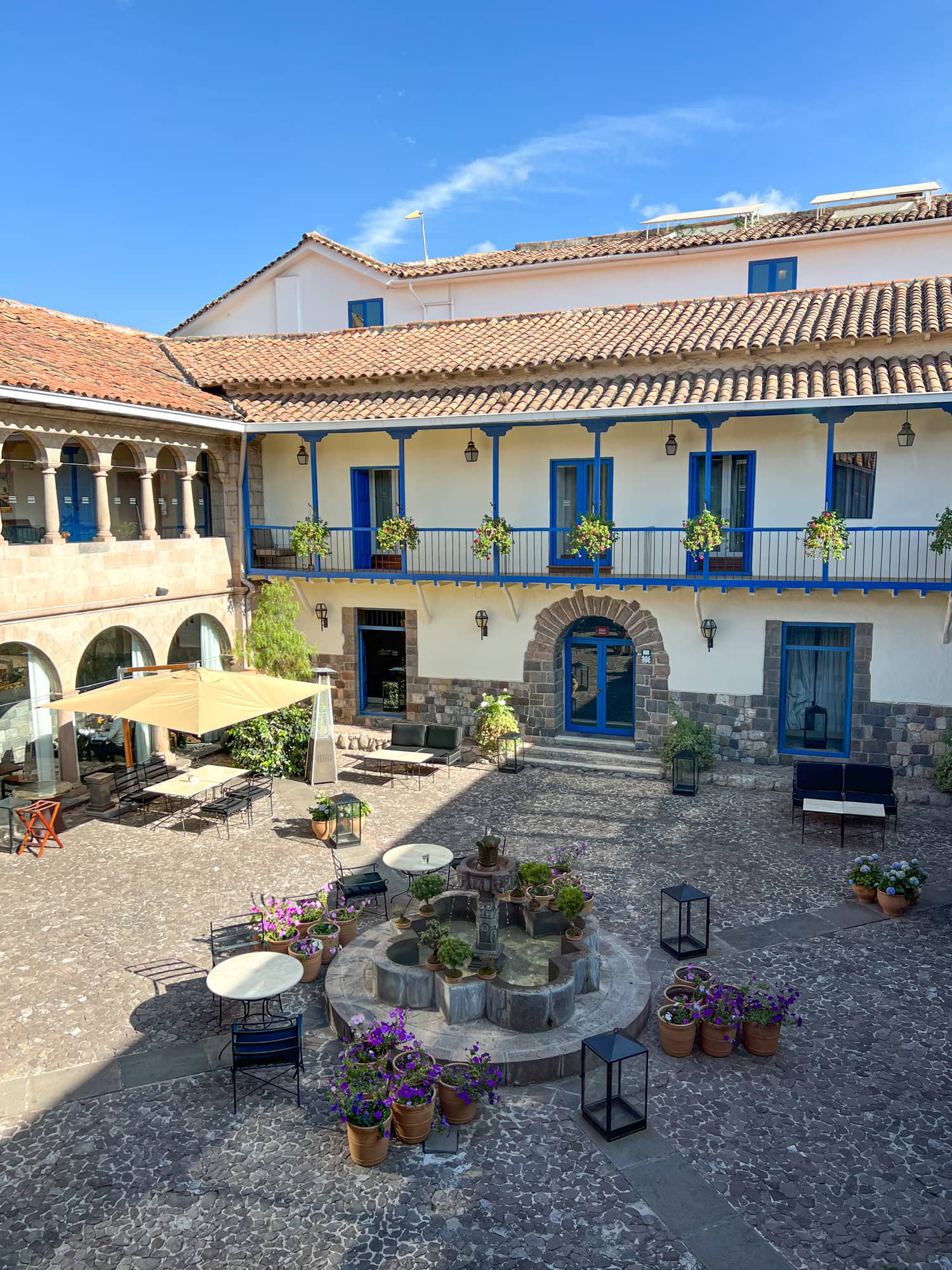 Courtyard
Of the many beautiful spaces in Palacio del Inka, my favorite is the inner courtyard open year-round.
Here, guests enjoy happy hours, meals, and experiences the hotel offers (such as the cooking class we signed up for).
A local Peruvian person brings a baby alpaca to the premises every morning for those who want to pet one.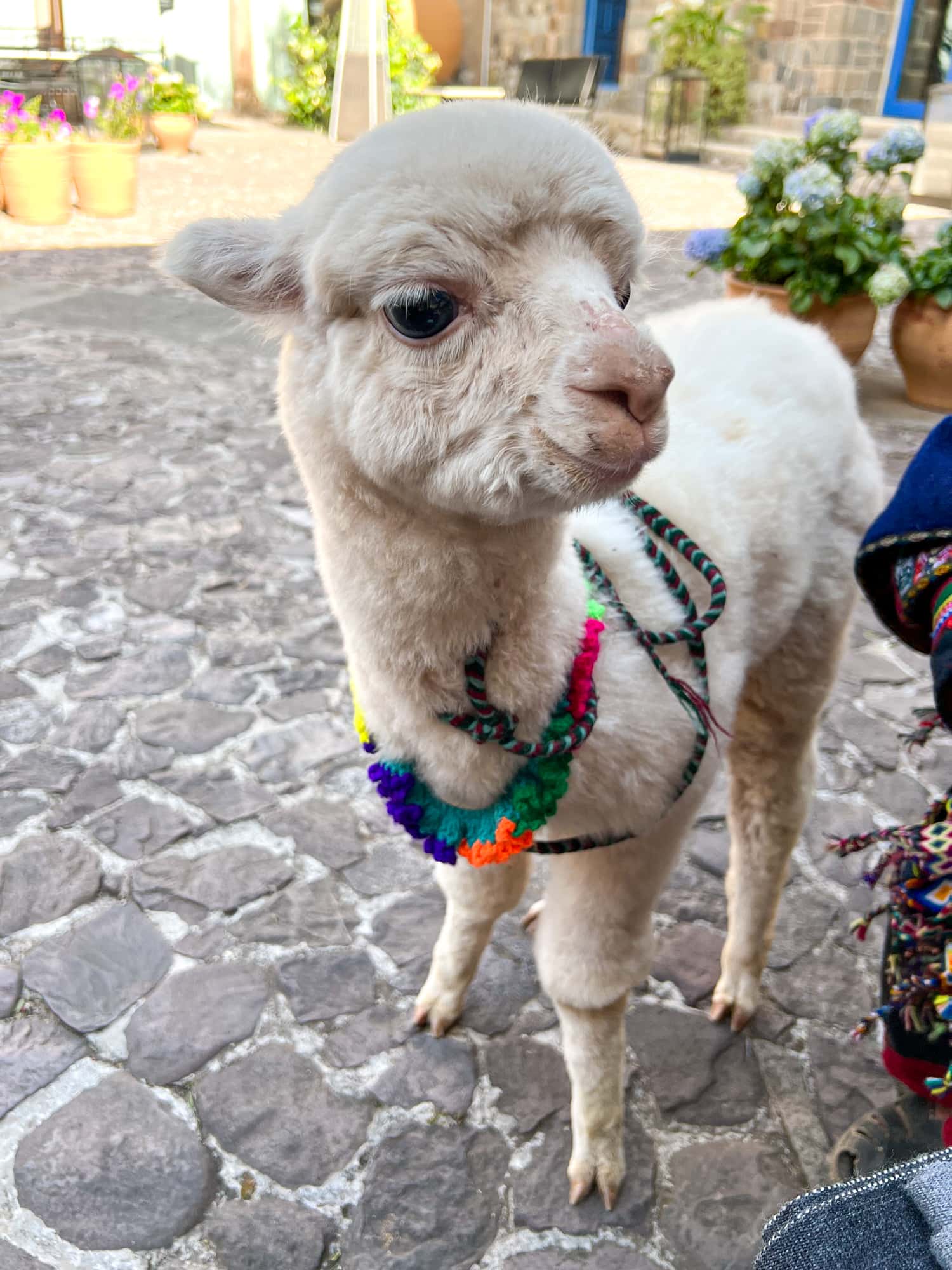 They're adorable, and enjoying the experience here can be less stressful than doing so on the streets of Cusco, where tipping is expected.
The person caring for the alpaca also sets up various souvenirs, including alpaca hats, gloves, and sweaters if you'd like to pick a souvenir.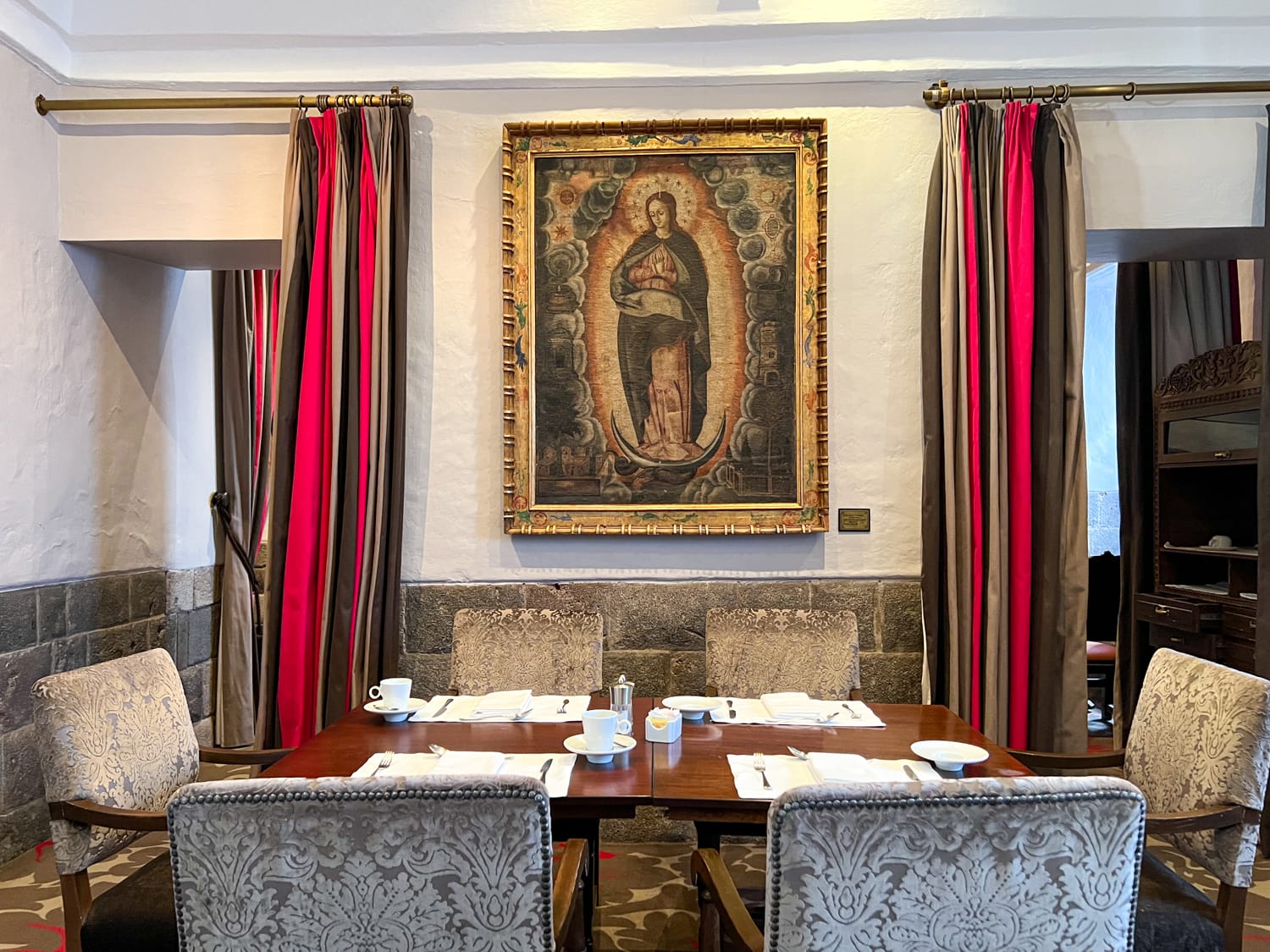 Inti Raymi Restaurant
The hotel's on-site restaurant, Inti Raymi, is accessible from the courtyard and vice versa.
The interior is decorated much like the rest of the hotel, with original artwork, vintage furniture, and blue-painted doors.
Original Inca stonework is on display, a reminder of the 500 years of history behind the palace walls.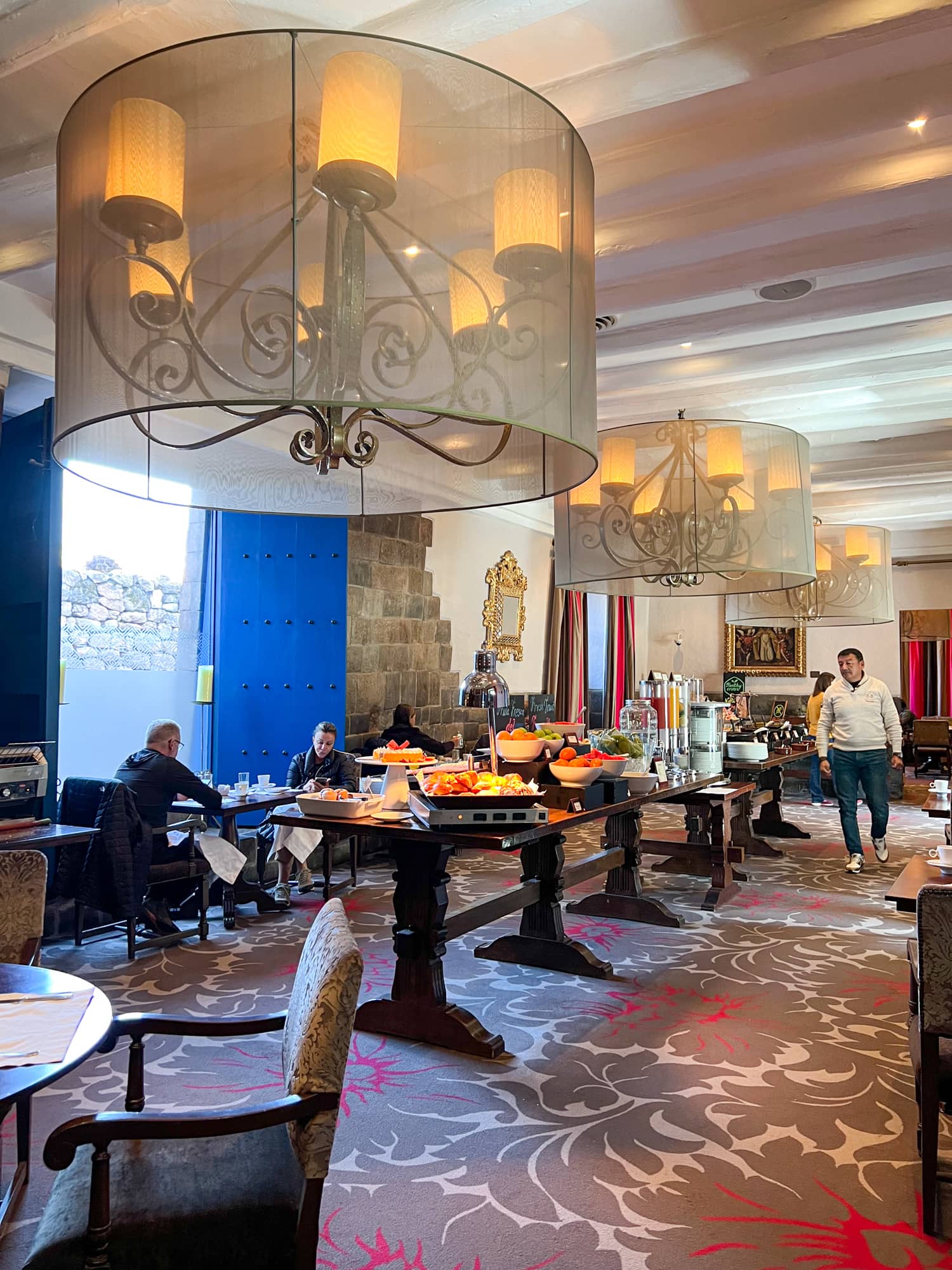 Breakfast Buffet
Kel and I enjoyed the breakfast buffet during our two mornings in Cusco. The dining area is well-lit, thanks to oversized windows and light entering from the courtyard.
Those who prefer more natural (like me) can sit on the veranda between the interior dining rooms and the courtyard. Bring your sunglasses!
Wooden tables at the center of the main room are filled with fresh tropical fruits, juices, pastries, cereals, and honeycomb, dripping fresh honey into a mason jar.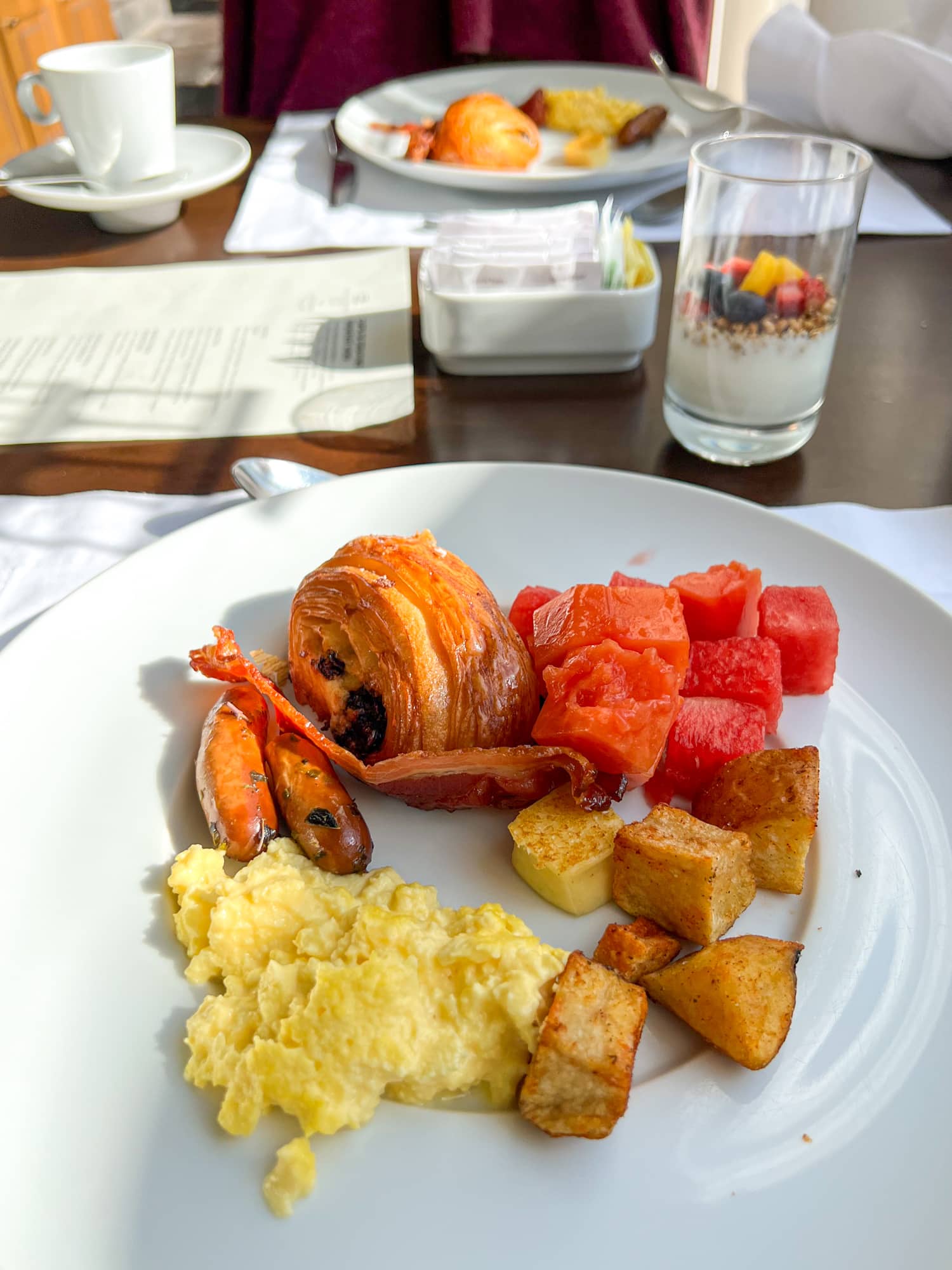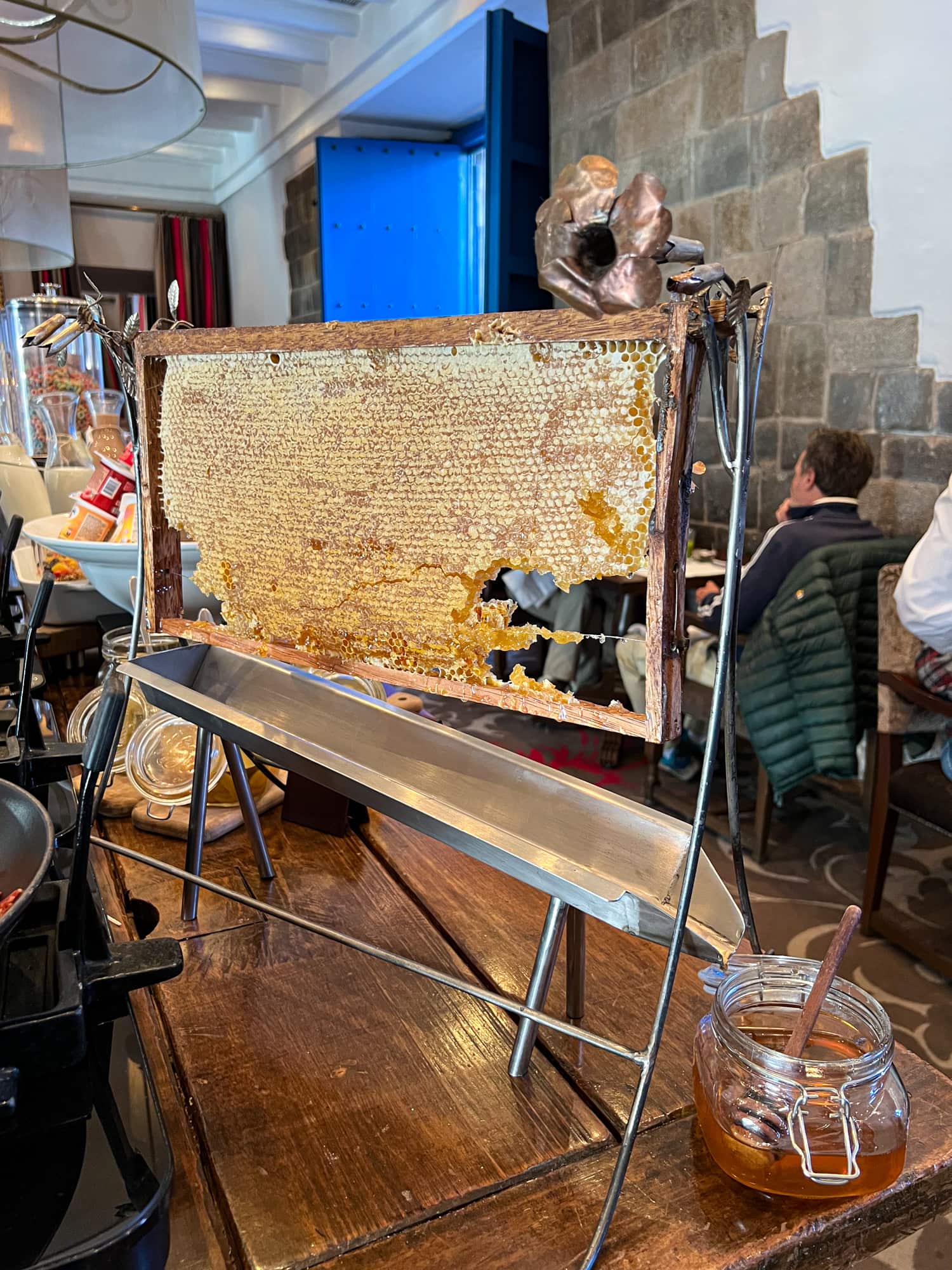 There's also a small table with gluten-free pastries catering to guests with food sensitivities.
And a tea station, where you can get your daily dose of coca tea to (hopefully) alleviate the effects of Cusco's high elevation (11,152 feet above sea level).
A live harpsichordist adds to the casual elegance, filling the indoor dining areas with relaxing Andean music.
Related: Central Restaurant in Lima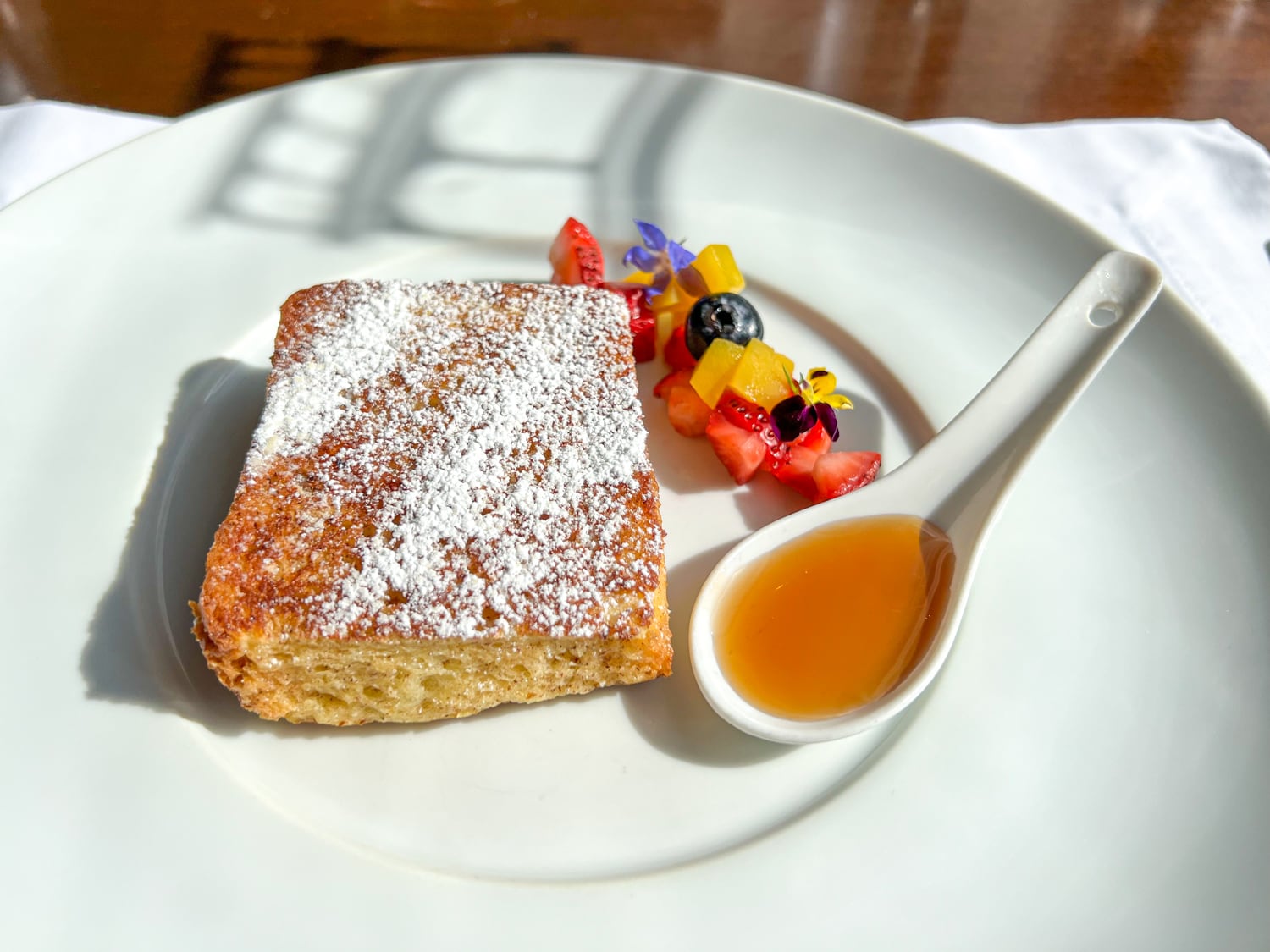 A La Carte Menu
In addition to the buffet, there's an a la carte menu, the cost of which was included with our breakfast.
The a la carte menu included:
Eggs hard-boiled, soft-boiled, poached, fried, or rancher's style.
Eggs with smoked trout, turkey, ham, or bacon.
Omelets with a variety of filling options.
Egg casserole with tomato sauce, oregano, and mozzarella.
Quesadilla with sauteed chicken and mozzarella.
Avocado toast with a poached egg or smoked trout.
Waffles or French toast with brioche bread, maple syrup, and fruit.
While I would've liked to have seen more authentic Peruvian dishes, I still took advantage of the menu on both days.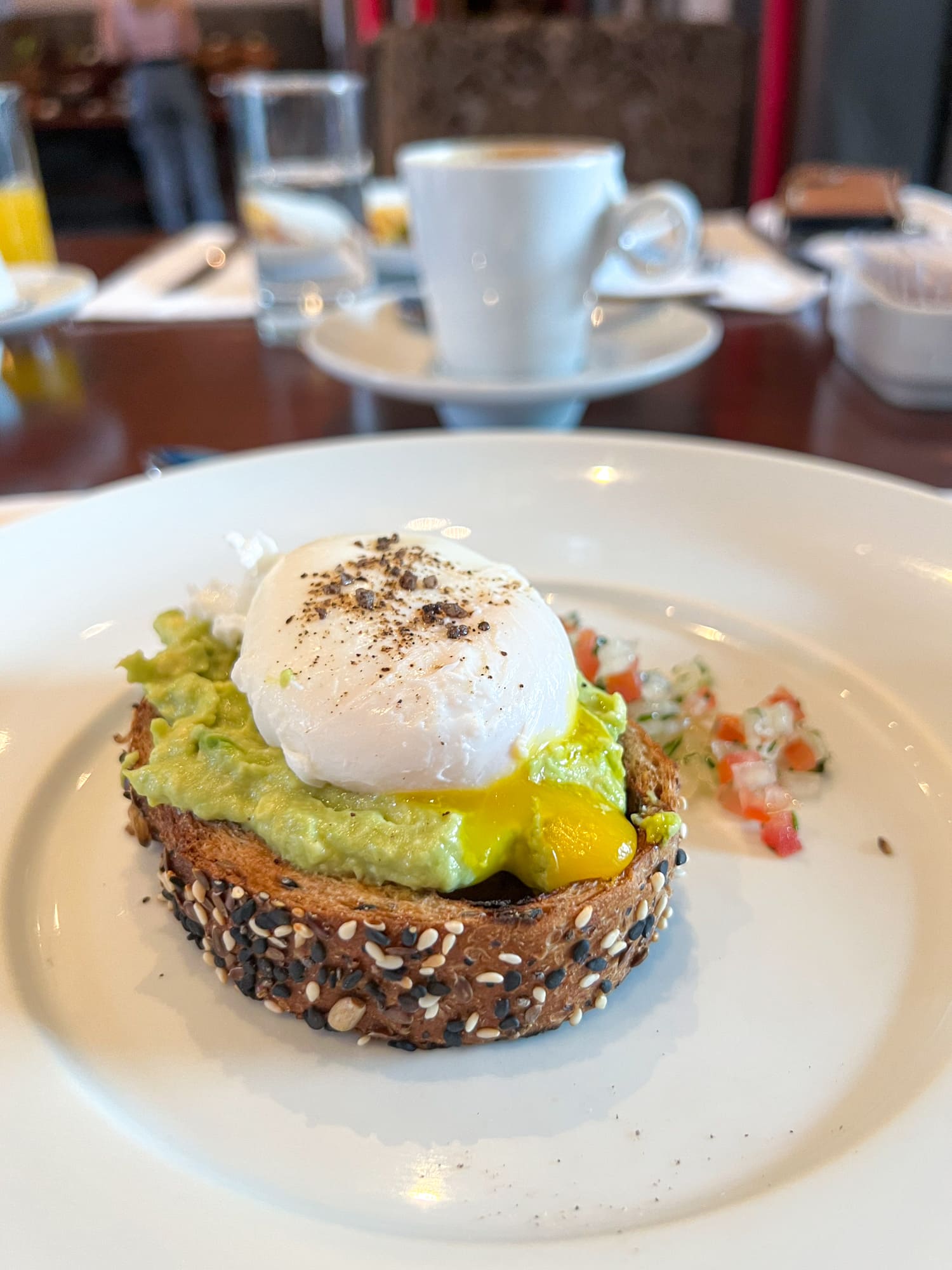 I tried the French toast on the first day and the avocado toast on the second.
They were both on par with what I'd expect from a coffee shop in Austin. You can also order espresso drinks like lattes and cappuccinos from your server.
Overall, I was delighted with the breakfast experience at Palacio del Inka.
Related: Modern Peruvian Food at Mayta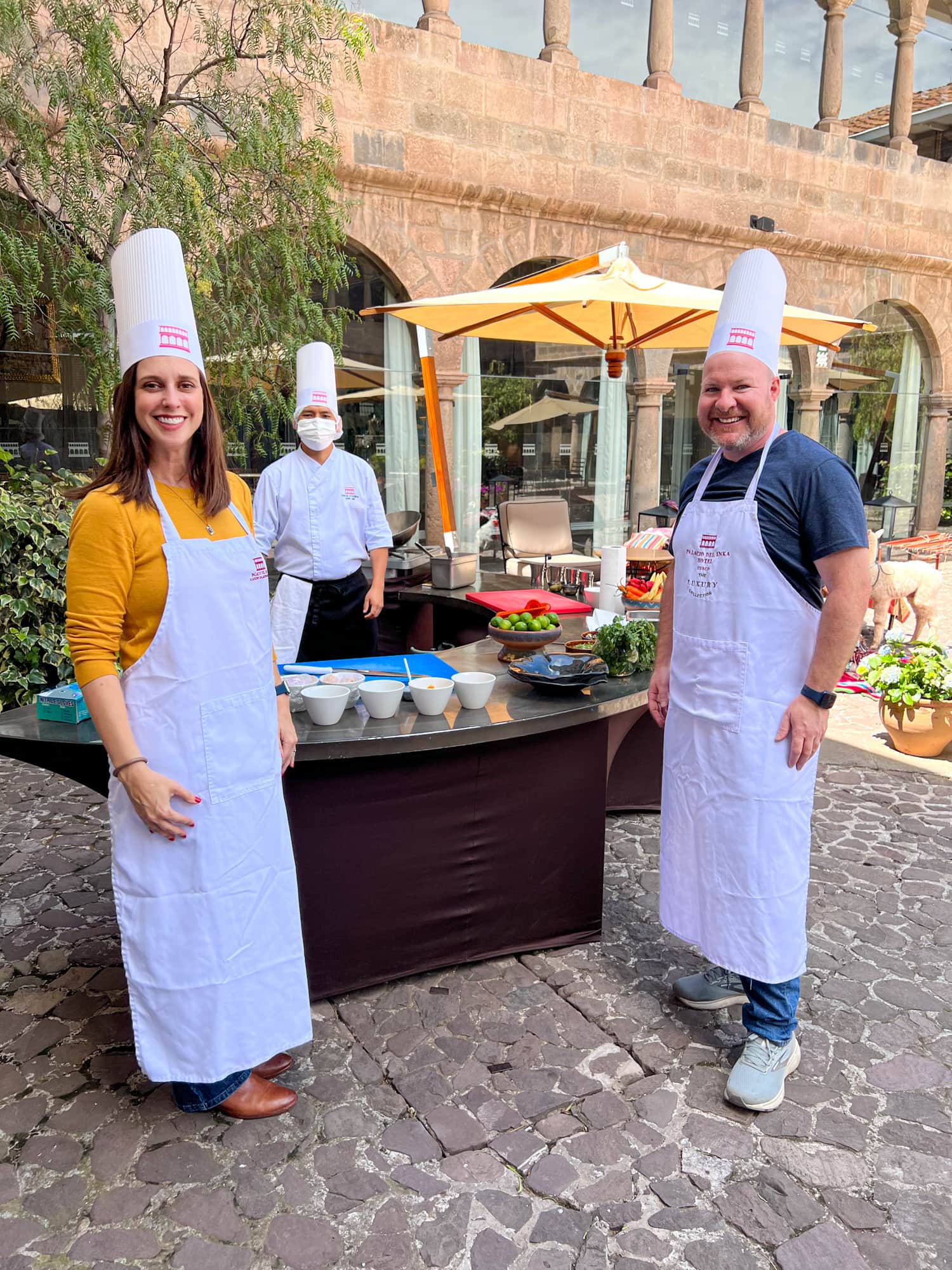 Palacio del Inka Experiences
Palacio del Inka offers a range of free and paid experiences, another reason I was attracted to the luxury hotel.
I struggled to choose from the many appealing food and beverage options.
Before arriving in Peru, I emailed the hotel's concierge to ask about the availability and cost of several.
Some of the epicurean experiences that interested me most:
Ancestral Tasting Menu is a five-course menu with four glasses of wine featuring international cuisine and Andean ingredients.
Cooking Class (currently on their site under "Flagship Seasoning"), where you'll learn to make two of the most popular Peruvian dishes, ceviche and lomo saltado, in the open-air courtyard (weather permitting).
Pisco Masterclass, where you'll learn about the history of pisco and how to make a pisco sour.
Mixology Class for Gin & Tonic Lovers
These experiences are priced per person and subject to change.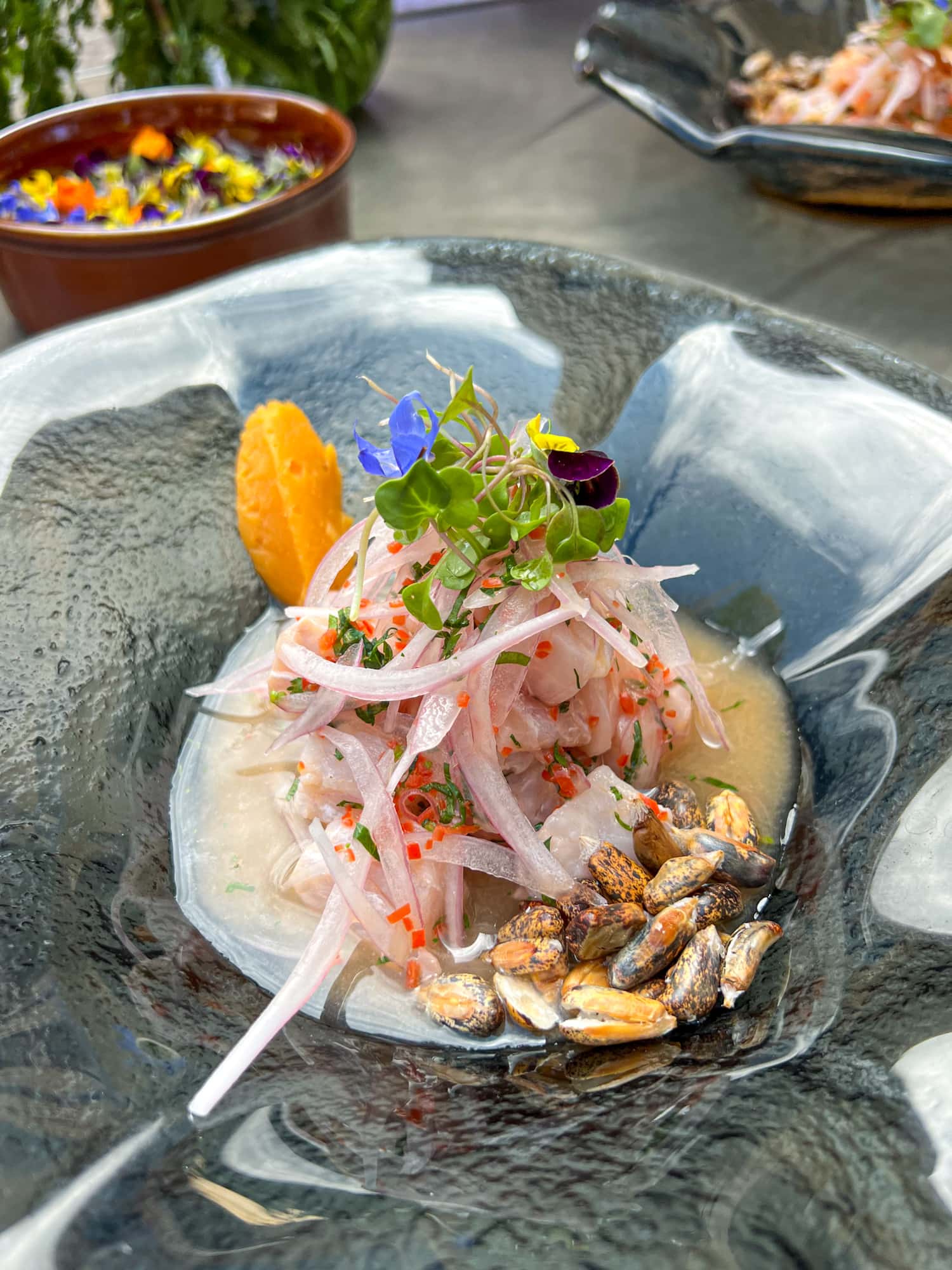 Cooking Class
I didn't want our culinary experiences to end with breakfast, so I signed us up for a cooking class to coincide with lunch on our one full day in Cusco.
Our other commitment was a night sky tour through Planetarium Cusco from 5:30 to 8:30 p.m., which meant we'd forego a sit-down dinner.
That gave us most of the morning and afternoon for sightseeing and enough time to take advantage of our spa credit.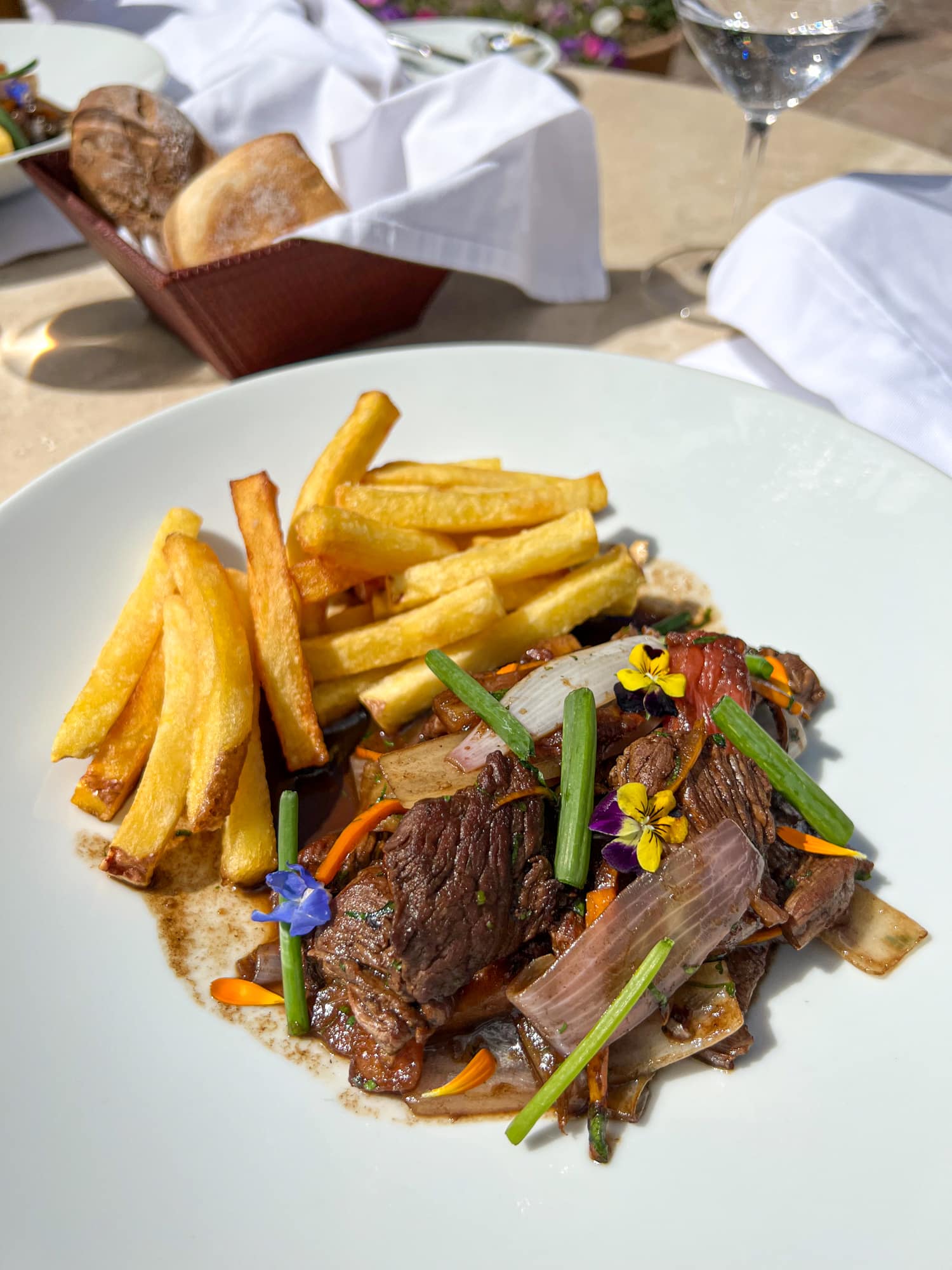 Skipping a big dinner didn't turn out to be an issue, as there was plenty of food at lunch.
We had a blast dressing up in aprons and hats to prepare fresh ceviche and lomo saltado in the hotel's outdoor kitchen.
Read more about our Peruvian cooking class with Carlos, the talented sous chef from Palacio del Inka.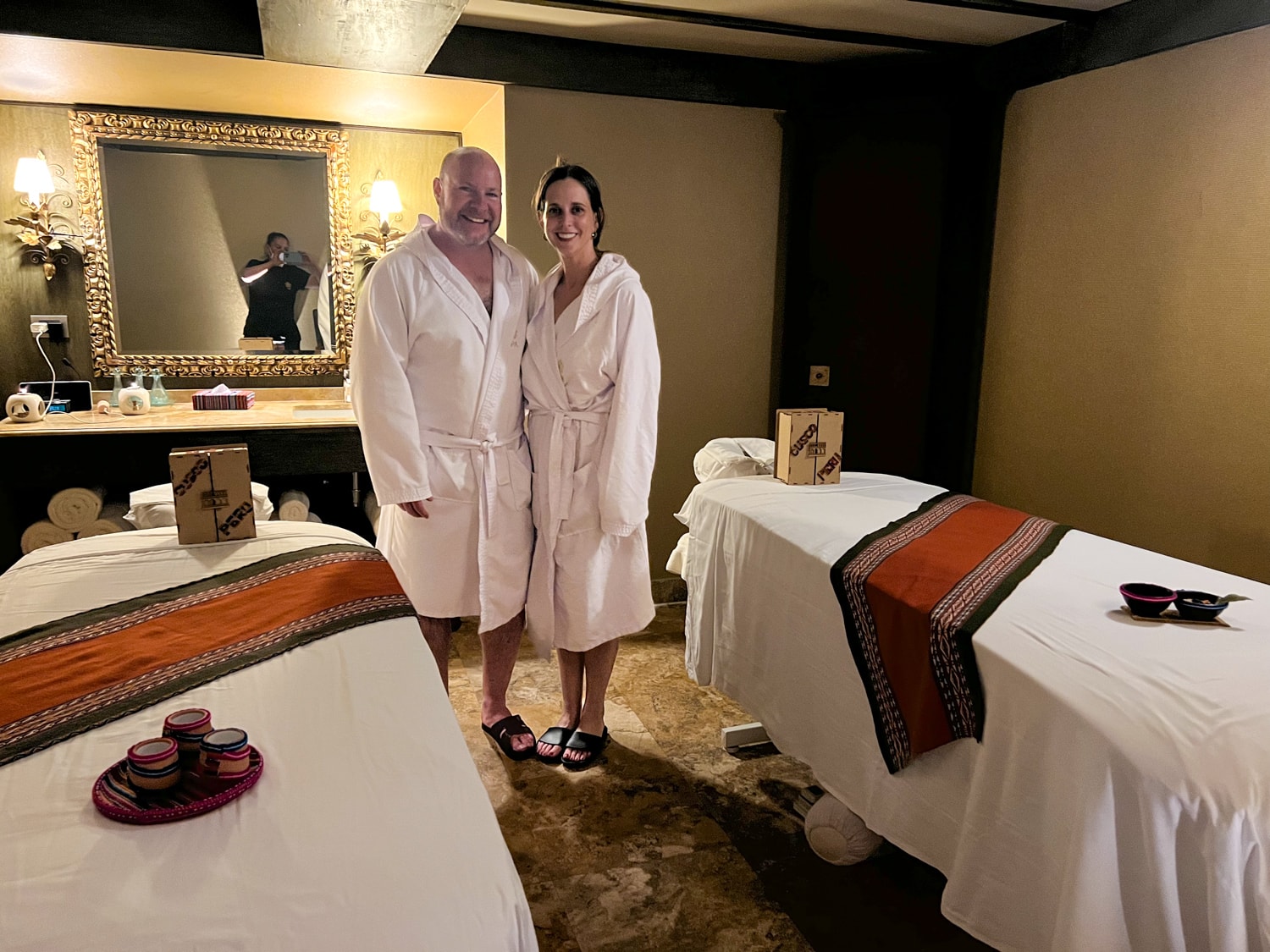 Andes Spirit Spa
Speaking of the spa, we made the time to squeeze in a couple's massage.
While the credit I received as a Chase Sapphire Reserve cardholder was $100, what I failed to understand (despite being written on the coupons) was that it was $50 per day.
Since we only went for one spa service, the discount we got was $50. Not that it stopped us; we both enjoyed the aromatherapy and relaxation.
We were given a cute handwritten note from the massage therapists afterward and a small gift of quinoa and bath salts.
In addition to individual and couples massages, the spa offers indigenous treatments and Cusco's only Thermal Circuit:
Dry sauna
Turkish bath
Spanish showers with lighting effects
Heated whirlpool
Related: Cayena Beach Villa in Colombia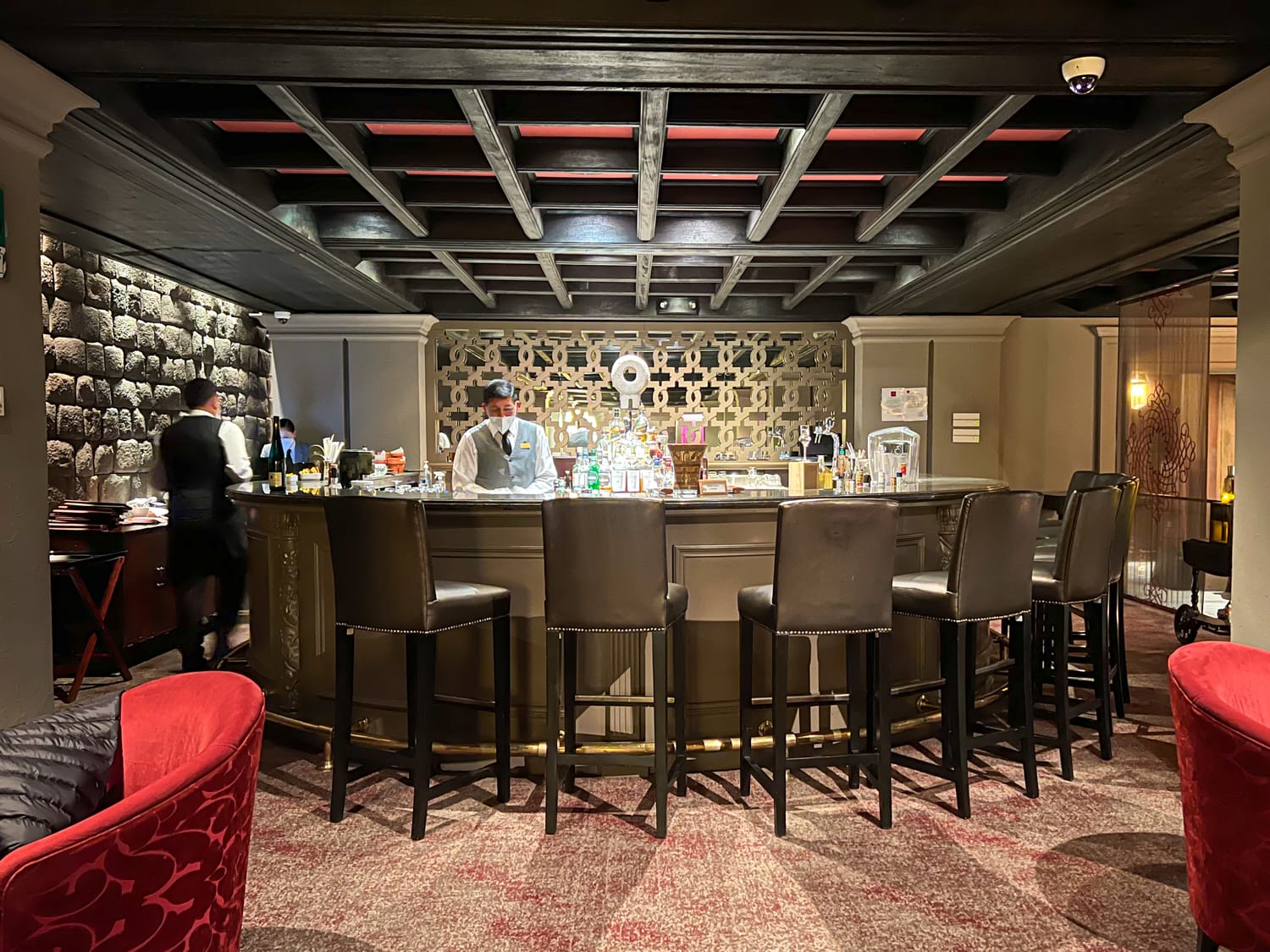 Rumi Bar
Following our chilly night's tour of the Cusco sky as the Incas saw it hundreds of years ago, we returned to Palacio del Inka for a nightcap.
The chic Rumi Bar was open for business, so we grabbed a table next to another exposed Inca stone wall.
On the wooden table next to us was a display of Peruvian piscos.
The hotel bar hosts pisco tastings and a Pisco Masterclass for guests curious about Peru's national drink.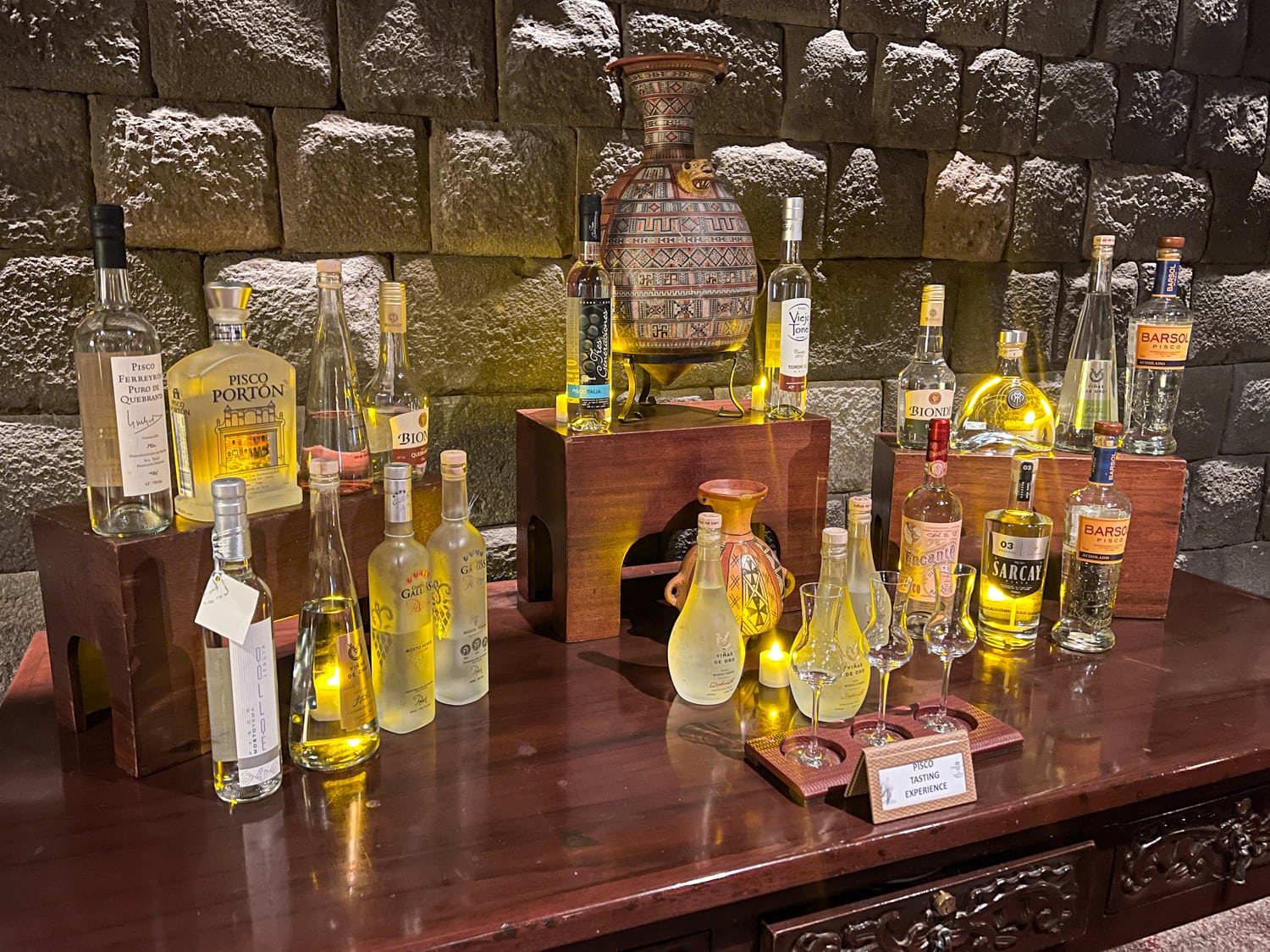 Running out of time for our stay at the Palacio del Inka hotel in Cusco, I was content to order cocktails from the menu.
Kel and I began with a pair of pisco sours, expertly prepared and decorated with L's in their foamy head (which happens to be the first letter of our last names).
Related: The St. Anthony, a Luxury Collection Hotel in San Antonio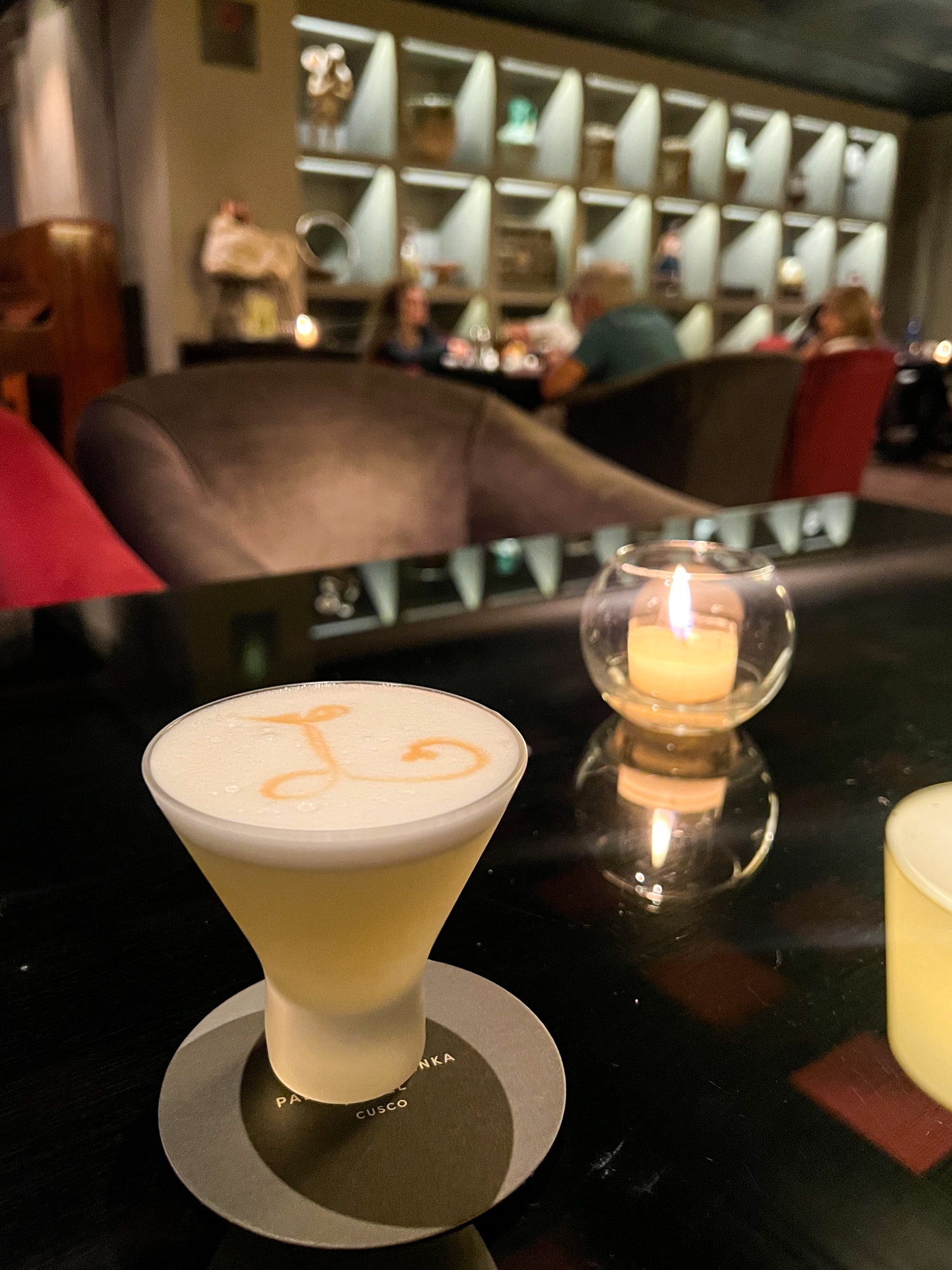 I appreciated the moment, space, and company and suggested a second round. This time, we ordered two of the bar's signature cocktails.
I got Competition's Winner, made with Pisco, Ciroc vodka, sweet passion fruit syrup, and lemon.
It arrived with the drink in a stemless glass, suspended over a colorful garnish in a separate glass holding the beverage.
Our bar experience was a tasteful and elegant end to our last night in Cusco.
Final Thoughts
Overall, Palacio del Inka, a Luxury Collection Hotel in Cusco, lived up to my expectations based on what's advertised on their website.
Staying in a storied mansion turned-hotel with 500 years of history behind it was a remarkable experience.
The hotel facilities and interior design, from the lobby to the rooms, restaurant, courtyard, bar, and spa, offer a seamless experience.
We received friendly service from everyone we interacted with, including the concierge and reception desk staff, restaurant servers, the sous chef, bartenders, and massage therapists.
Click here to see current rates and availability on Booking.com.